Peloton took the world by storm in 2012 when it brought a spin class into your home through a static training bike and subscription-based service.
The Peloton brand arrived because its founders understood the difficulties of getting to their workout classes - a problem we can all relate to given work life, family life, and time constraints. So, they decided that bringing immersive and challenging workouts to the masses was the way forward.
Naturally, a pandemic proved to be a highly successful time for Peloton, seeing as gyms were shut and we were all confined to our homes. And then, of course, there was its role inAnd Just Like That..****__. which even prompted Peloton to release its own advert in response. In short, Peloton has become more than just a workout option.
Stationary cycles have been around for a long time...
The stationary bike used by Peloton isn't revolutionary - the first patent was taken out on a stationary cycle in 1866. Jump forward many decades, and the bikes were popular again - with the addition of Lycra and dance music - all over the UK capital as spinning became the new way to workout.
London spin studios were being set up all over the city, with the likes of Boom Cycle offering different workouts and Digme Fitness covering a more high-end experience. They all follow the same format - an instructor at the front showing you exactly what to do as you cycle to the beat and work up a sweat.
The advent of Peloton meant that we could all enjoy these classes from the comfort of our own homes, wherever we live.
What does Peloton offer?
In its simplest form, Pelton is a training platform that costs £12.99 per month. But Peloton isn't just famous for its platform - it's also known for its bike.
For £1,845, you can buy a Peloton + Bike, or for £ 1,345, you can buy the standard Peloton bike. These packages can be paid for in instalments, of 0% APR £35 for the standard bike and £43 for the Bike+.
So, the full-blown Peloton experience is pretty expensive, and then you need to consider the extra equipment you might need - cycling shoes, cleats, and activewear.
As well as the initial expense, there's another issue with Peloton and its bike. If you decide that Peloton is not for you, you have a bike that cannot connect to other third-party apps.
What do you want from a stationary bike home workout?
If you want to shift from a gym cycling studio to training at home, there are different options for you to try. But there are a few things you need to decide before you decide which is best for you.
First, you should ask yourself first whether you want something with an instructor-led class, like Peloton. If the answer to the above is no and you don't want a trainer hyping you up, this really opens your options.
There are loads of platforms out there which will help you train and achieve your fitness goals, whatever they may be. Let's take a deep dive into what we can do to keep our legs spinning and endorphins pumping.
Alternative platforms
The best Peloton alternatives are third-party apps that treat exercise and training like it's a game. We find this gamification of working out to be an effective way of encouraging exercise and tracking progress.
Though, there's no way to beat the game. The fitter you get, the harder you train. Essentially, you are the big boss in the end, and no one can defeat you!
Most of these third-party apps and platforms are subscription services that you can cancel. Check before you purchase any of them to see whether it's affordable for you and what your options are if you decide to cancel.
Remember, the list below includes third-party apps only. You'll still need to have a stationary bike or turbo trainer, which we will discuss later.
Born out of a busy lifestyle, Zwift was founded in the States and is now used by riders worldwide.
The glory of Zwift is that you can log onto a ride in its in-app worlds any time of the day, any day of the year. You'll rarely be the sole one riding as riders from all over the world will be joining you at some point.
There is a selection of workouts, and different group rides to choose from, or you could choose to roam the Zwift world on your own, doing your own thing. There are hills to climb and jerseys to be won in your pursuit of fitness.
Zwift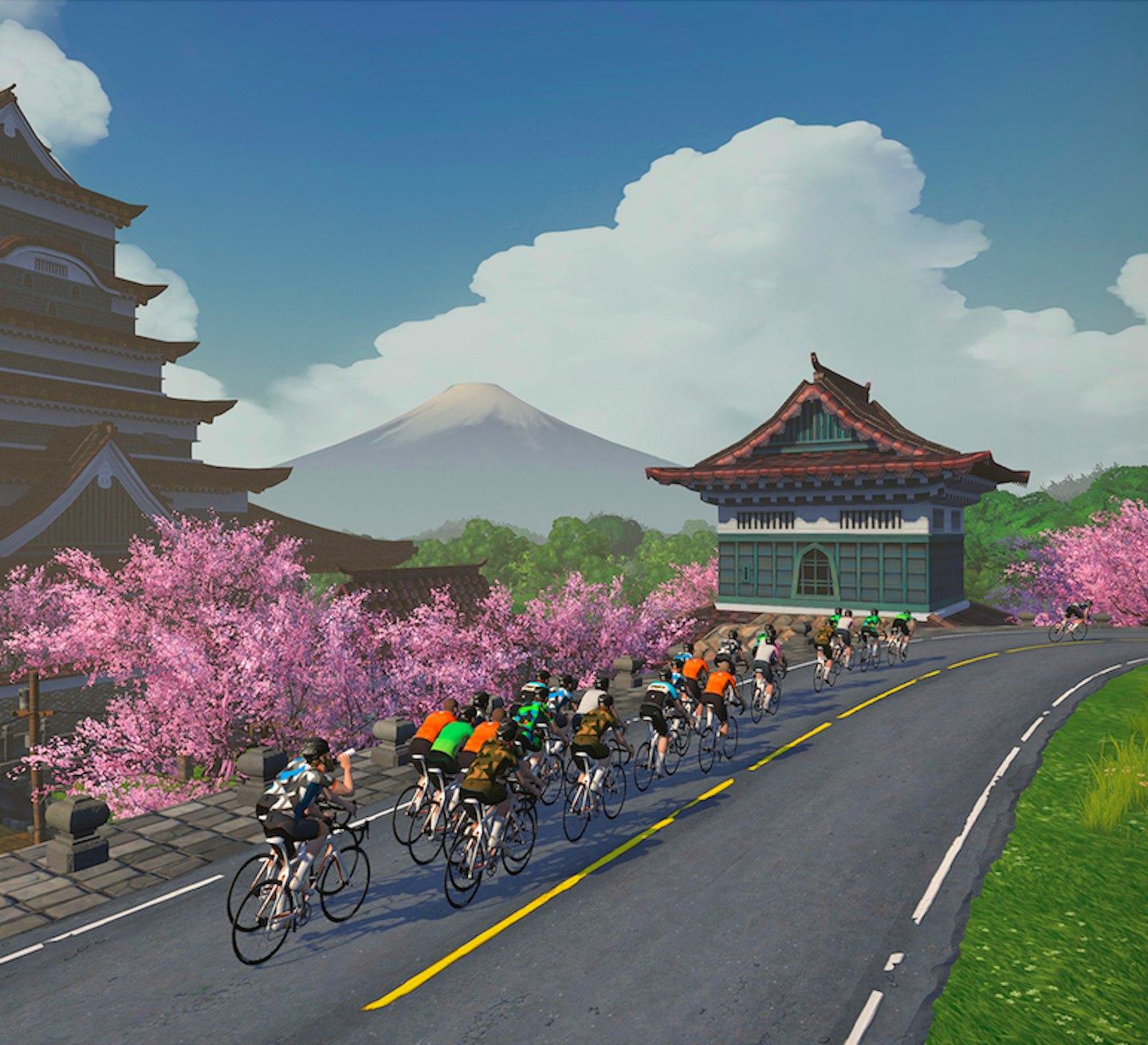 1 of 1
Zwift, £12.99 a month
This was formerly known as The Sufferfest, but we guess the new name sounds a little nicer. In truth, Wahoo absorbed Sufferfest back in September 2021 after being bought by the US giants in 2019.
A subscription to Wahoo X gives you access to all of the premium features of Wahoo, both Wahoo SYSTM (pronounced 'system') and RGT. The SYSTM package offers you workouts designed by world-class coaches to help you achieve results faster, while RGT is a virtual training platform.
Wahoo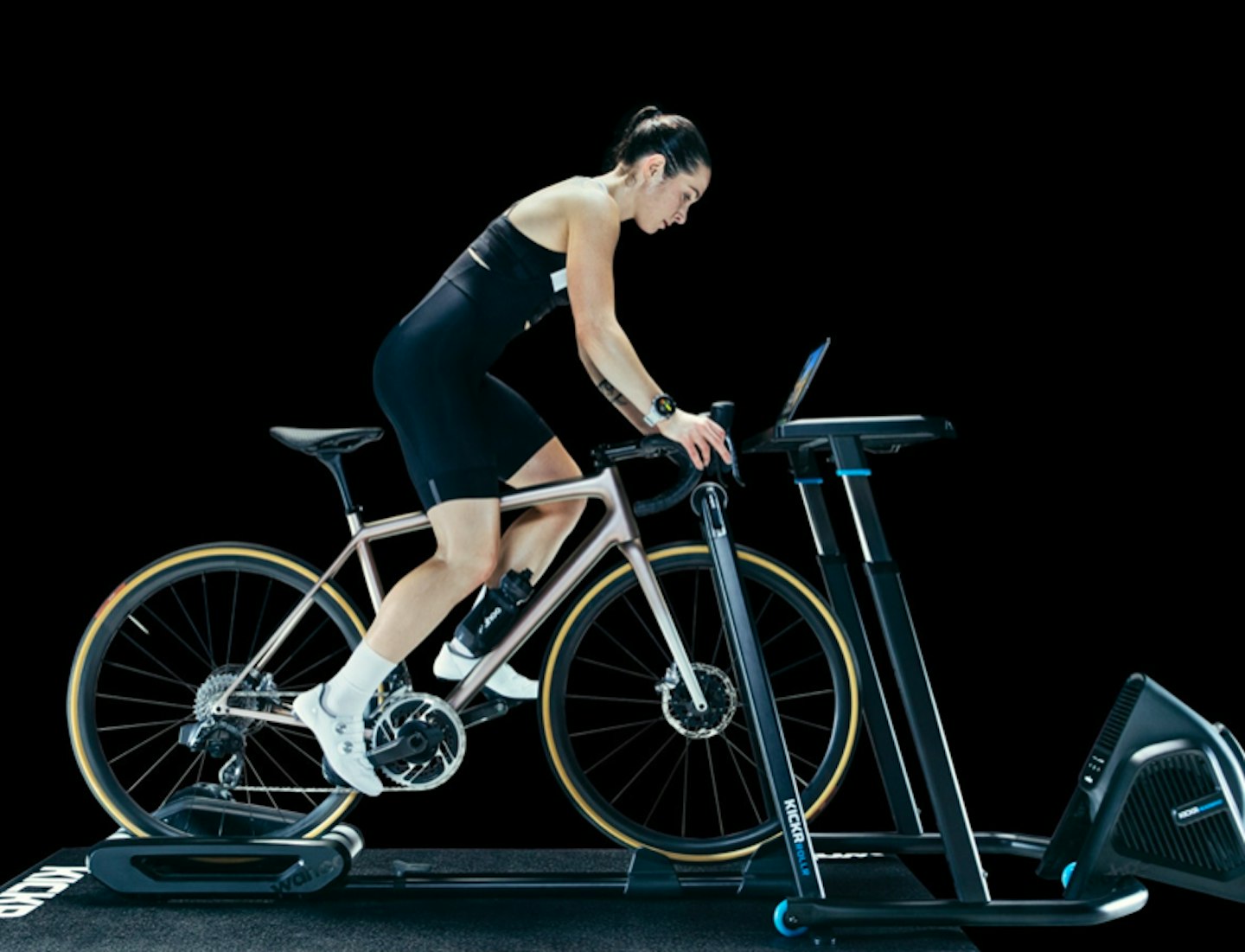 1 of 1
Wahoo X, £102 a year
Augmented virtual reality videos provide a 100% realistic riding experience which you can enjoy on Windows, Mac, Apple TV, phone or tablet.
Rouvy will take you to iconic international cycling locations, from the Passo Dello Stelvio in Italy to Alpe d'Huez in France, all from your front room. The app has over 700,000 members, 500 routes, and 100 weekly events and is compatible with most smart trainers.
Rouvy
1 of 1
Rouvy, $15 for one month
Turbo trainers and alternative exercise bikes
If you want to look at alternative apps to Peloton, you will need a turbo trainer or stationary bike to help you do that.
The beauty of these bikes is that most of them are connectable via Bluetooth to all third-party apps. So, you should be able to ditch an app and move on to another if you so wish (we'd still recommend double-checking before you commit to subscriptions, to be sure).
Turbo trainers are ideal for those who already own a pushbike, while stationary bikes provide the indoor cycling experience in one package. It can all seem confusing and expensive, but you are likely to find it much cheaper to buy a turbo trainer or stationary bike and a third-party app subscription than to buy a Peloton bike and subscription.
Turbo Trainers
You may hear this term bandied about quite a bit by the MAMIL (Middle-aged Man In Lycra). Usually in a sentence that goes, "I had an intense session on the turbo last night." But don't let this put you off.
These devices hold the rear wheel of an outdoor bike on a static stand, thereby transforming it into a stationary exercise bike. Resistance is added to simulate outdoor conditions and terrain.
There are a few types of turbo trainers available. Wheel-on turbo trainers attach your bike and wheel to the trainer, while others have you take the wheel off and secure your bike by its cassette gears to the turbo.
This is a fantastic entry-level offer to indoor cycling by Wahoo, including the Wahoo X app and a whole load of cycling products to get you on top of your game.
Here you have a turbo trainer that drives an electromagnetic flywheel that offers up resistance to mimic that of hills and climbs. There is a rubber matt to help reduce noise from the turbo - very handy if you have a flat below you - and a table where you can put your laptop/tablet.
The turbo has an accuracy of +/-3% and a maximum power output of 1,500 watts; this may be all the trainer you will ever need.
Wahoo Turbo Kit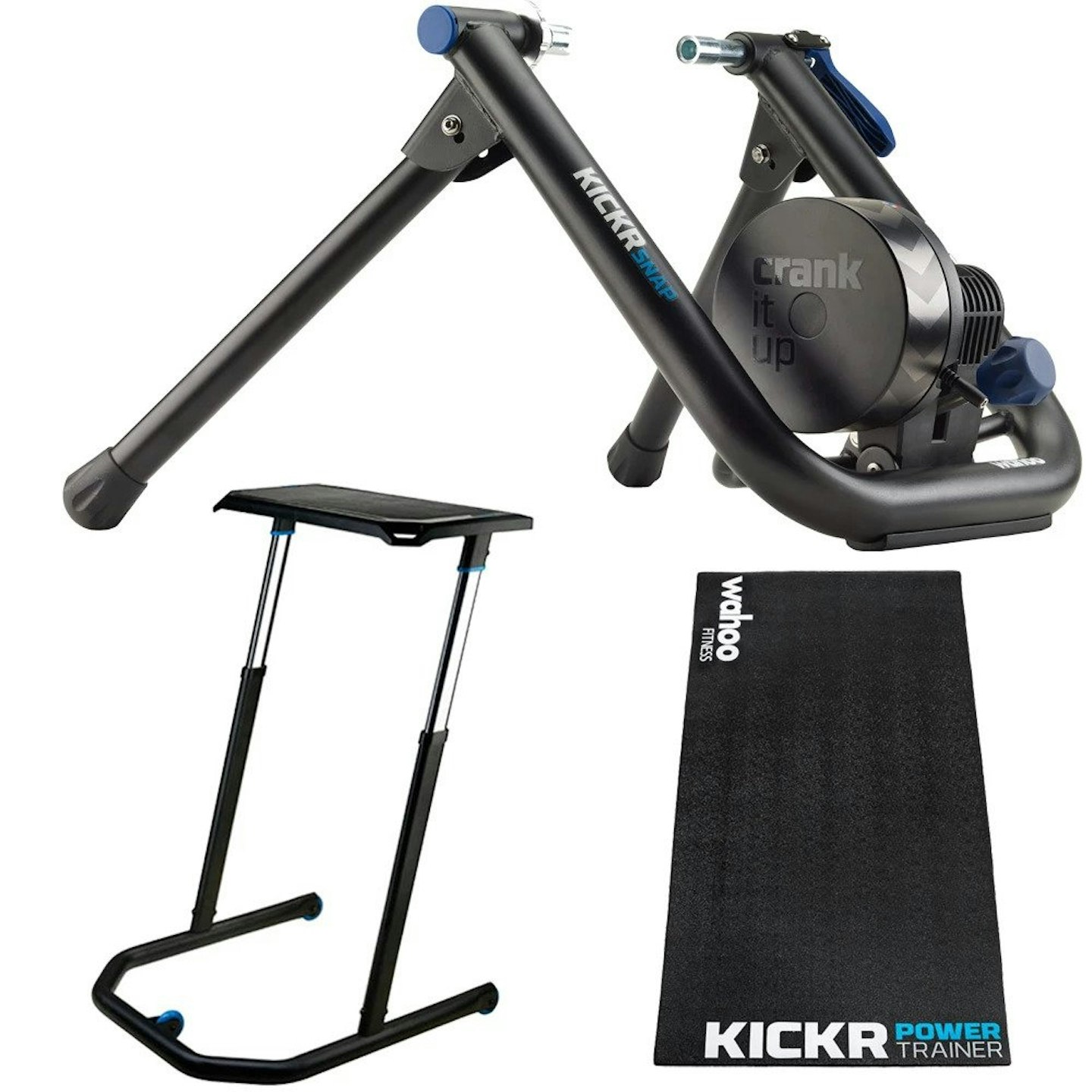 1 of 1
Wahoo, Pain Cave Kickr Snap Smart Trainer Bundle, £625
This stylish looking turbo is straight out of the design houses of Adriano Design; the Tuo is as much home furnishing as it is a turbo trainer. Described as 'beautiful during use, elegant when folded', the Tuo offers the same Elite performance you expect from the brand alongside classic Italian design.
The custom drive unit is sleek, brushed aluminium, while the frame is black steel. The legs are the real eye-catcher, thanks to the beechwood construction. While they look fantastic, they also serve a functional purpose in that beechwood is a natural shock absorber, so it prevents feedback into the ground from vibrations.
The square drive unit was designed specifically for the Tuo and boasts a maximum power output of 2050 Watts at 60KMH. It can even simulate climbs of up to 10% and automatically adjusts the resistance when connected to your favourite virtual training software via Bluetooth or ANT+. The Tuo will also provide power readings with an accuracy of 3%.
Tuo Smart Turbo Trainer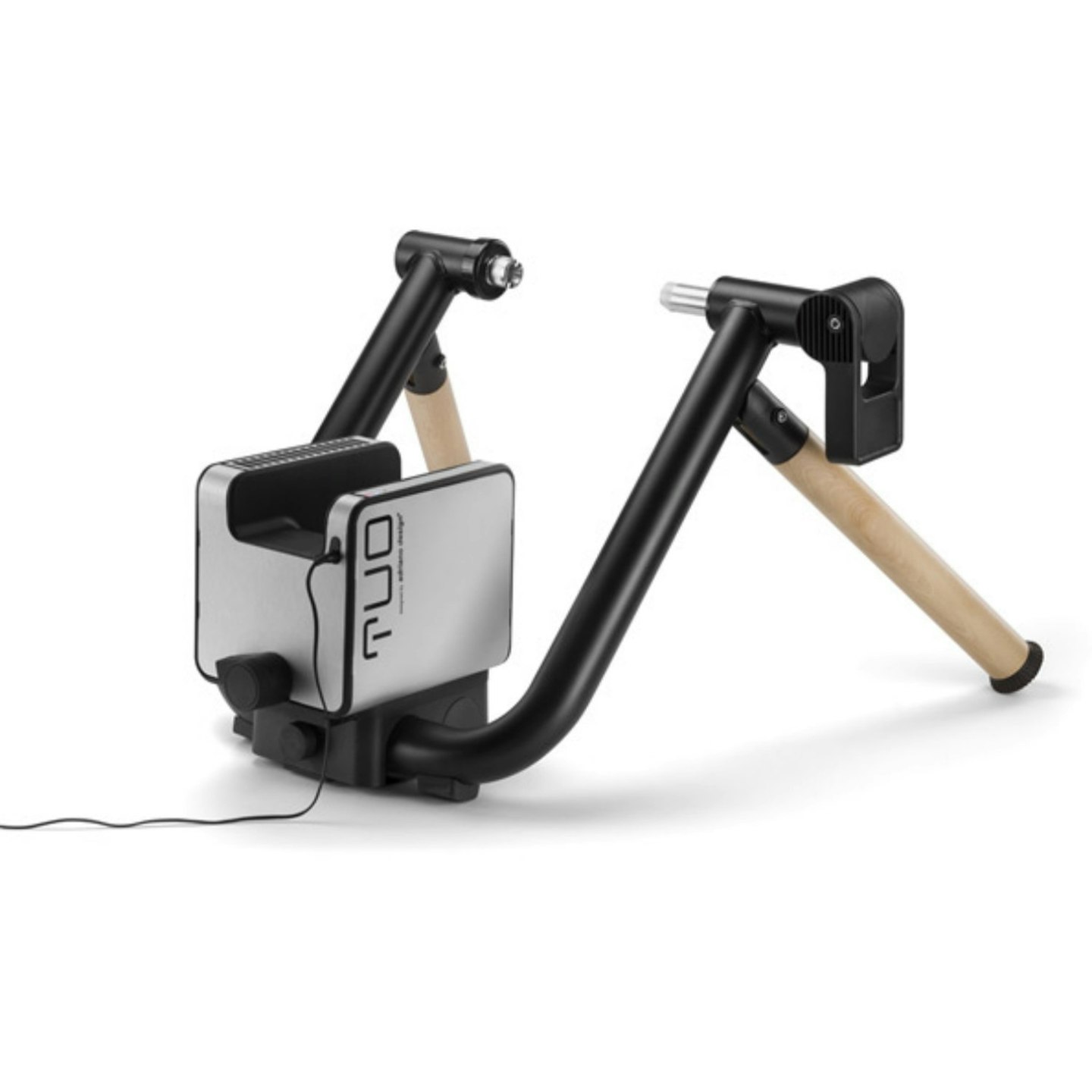 1 of 1
Tou Smart Turbo Trainer, £298
This is not a smart trainer, so it will not adjust to your ride on one of the third-party apps the same as the other trainers above. Tacx Boost Turbo Trainer is an ideal partner for serious winter training and intense interval sessions.
The powerful magnetic brake unit has a 1.65kg flywheel that combines with its traditional on-wheel format to generate a smooth, regular feel that closely mimics the sensations of riding outside on the road. The flywheel generates up to 1050 watts of resistance to make this indoor trainer suitable for demanding VO2 max and FTP raising interval sessions.
Ten different resistance levels let users adjust sessions according to their training target, and the robust and handlebar-mounted control lever easily flips between them. Regardless of the resistance level used and the watts cranked out, the unit remains quiet thanks to its closed format, meaning that the user won't disturb other people in the house or the flat below.
Tacx Turbo Trainer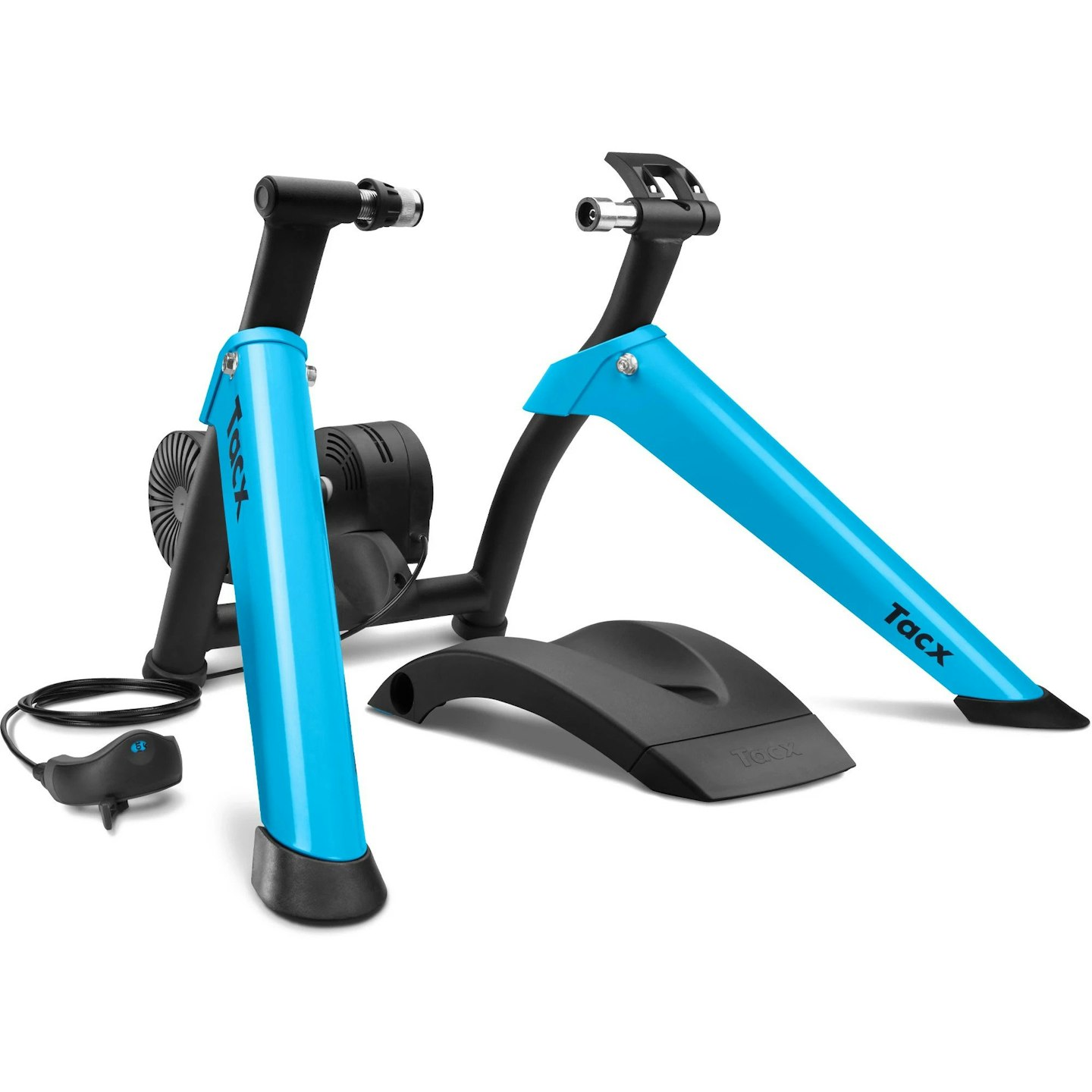 1 of 1
Tacx, Boost Turbo Trainer, £179
The Elite Direto-XR T OTS Turbo Trainer now offers more resistance, greater accuracy and steeper inclines than ever before to make indoor training more fun and effective. It can reproduce 24% slopes for those who like hills and 3,600 watts or resistance for sprinters, making this a versatile machine.
It has been independently certified as being accurate to +/-1.5%, thanks to the exact Optical Torque Sensor technology. The oversized gearing wheel provides an improved, more road-like feel, making it more realistic to ride.
It is compatible with all modern standards: 1x drivetrains, 130mm or 135mm quick-release and 142 x 12mm thru-axles, and 148 x 12mm adaptors are available separately. Shimano and SRAM 9, 10 and 11-speed cassettes can be used, or freehubs are available for Campagnolo cassettes or Shimano and SRAM 12-speed standards.
When not in use, it can fold down for carrying or storage, but the wide stance gives it excellent stability for maximal efforts when set up. The trainer includes a 12-month subscription to Elite's My E-training App and a one-month Zwift membership.
Elite Turbo Trainer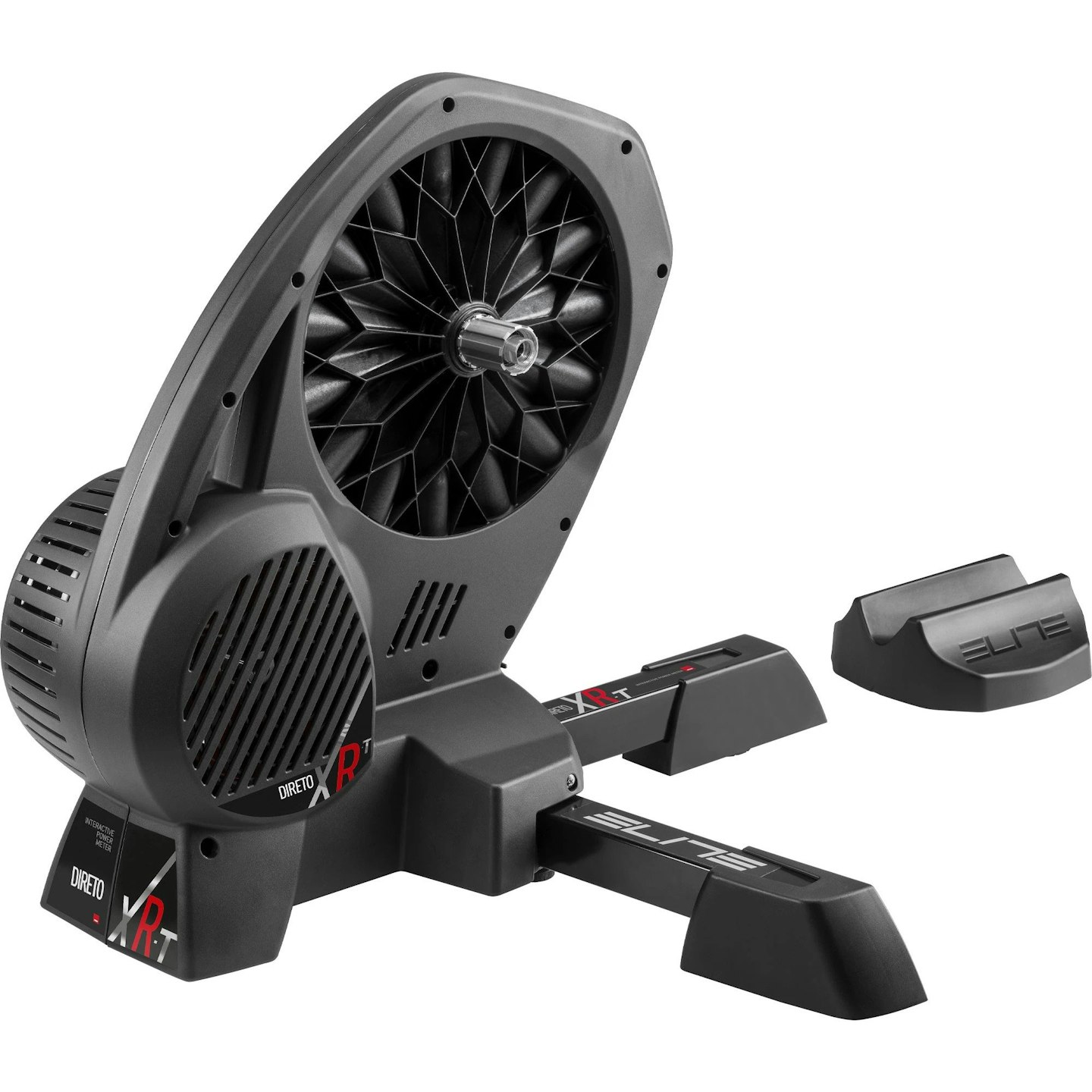 1 of 1
Elite, Directo-Xr T OTS Turbo Trainer, £830
Stationary bikes
There are a few things to consider here: the lower cost bikes will often have a belt-driven flywheel with resistance applied via a brake. These are good but bear in mind that the belt will stretch and need replacing in time, and the friction form of resistance will also wear down and need replacing.
The higher-end bikes will offer a magnetic form of resistance, meaning there is no contact between the flywheel and resistor, keeping maintenance costs down.
When encountering crosswind in pro cycling, riders bunch up into a protective 'echelon', providing shelter and making riding more accessible. However, you'll always be indoors with this bike, so you won't have to worry about that.
The Echelon Connect Sports Exercise bike offers 14 live classes per day, thousands of on-demand courses by world-class trainers and scenic rides.
Echelon Stationary Bike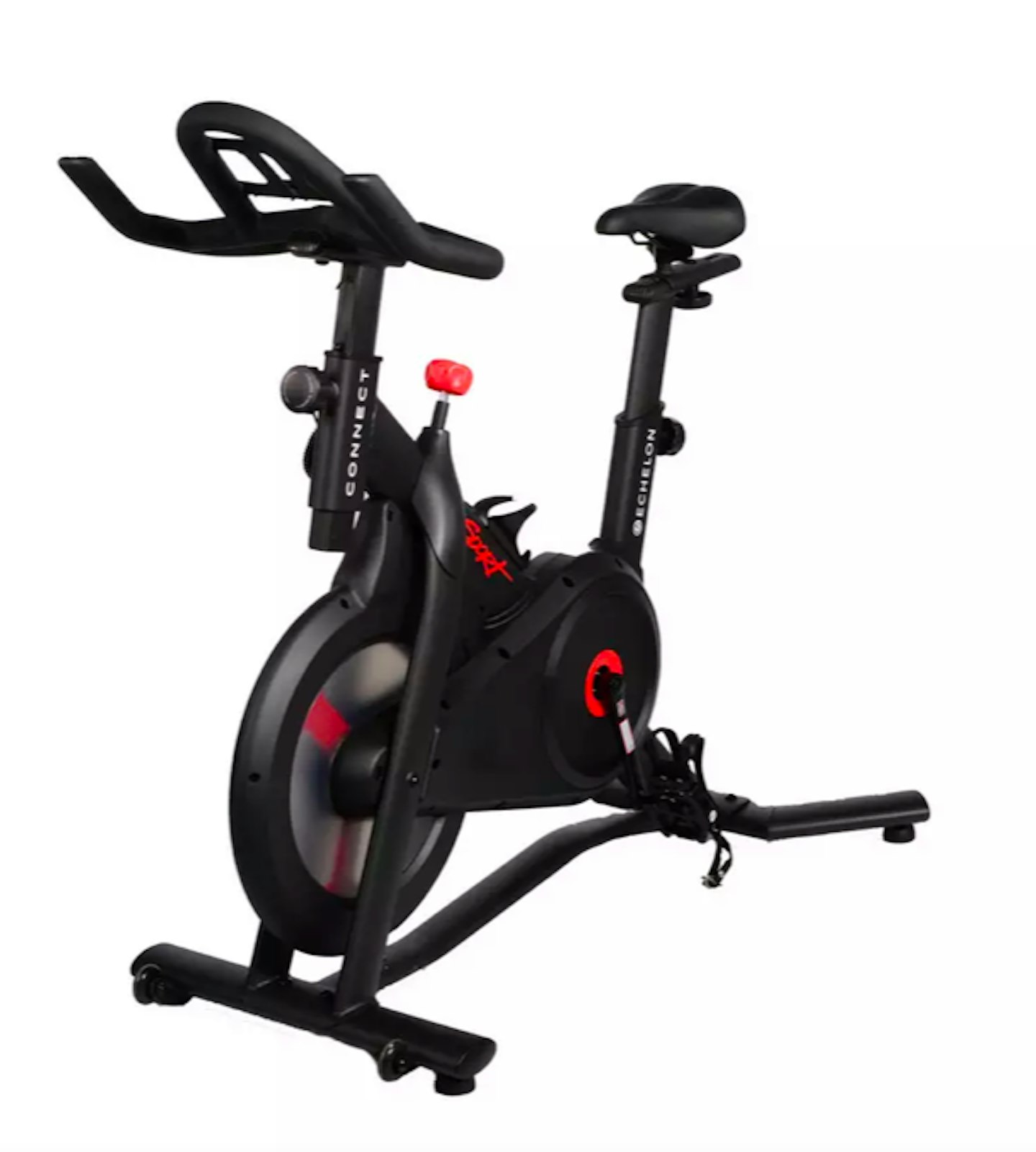 1 of 1
Echelon, Connect Sport Exercise Bike, £799
Possibly the most complete and customisable indoor training bike on offer today. The price is enough to purchase a small second-hand car, but what you'll get in exchange is a bike which does not compromise when it comes to indoor cycling.
Virtual shifting from custom gears allows you to match gear ratios found on conventional push cycles, while you can adjust the bike to fit you perfectly. You can go from zero to riding in seconds as it pairs with your PC, laptop, phone, tablet, and other Wahoo products.
If you're going to take up indoor bike races (yes, they are a thing), you'll want something like this.
Wahoo Stationary Bike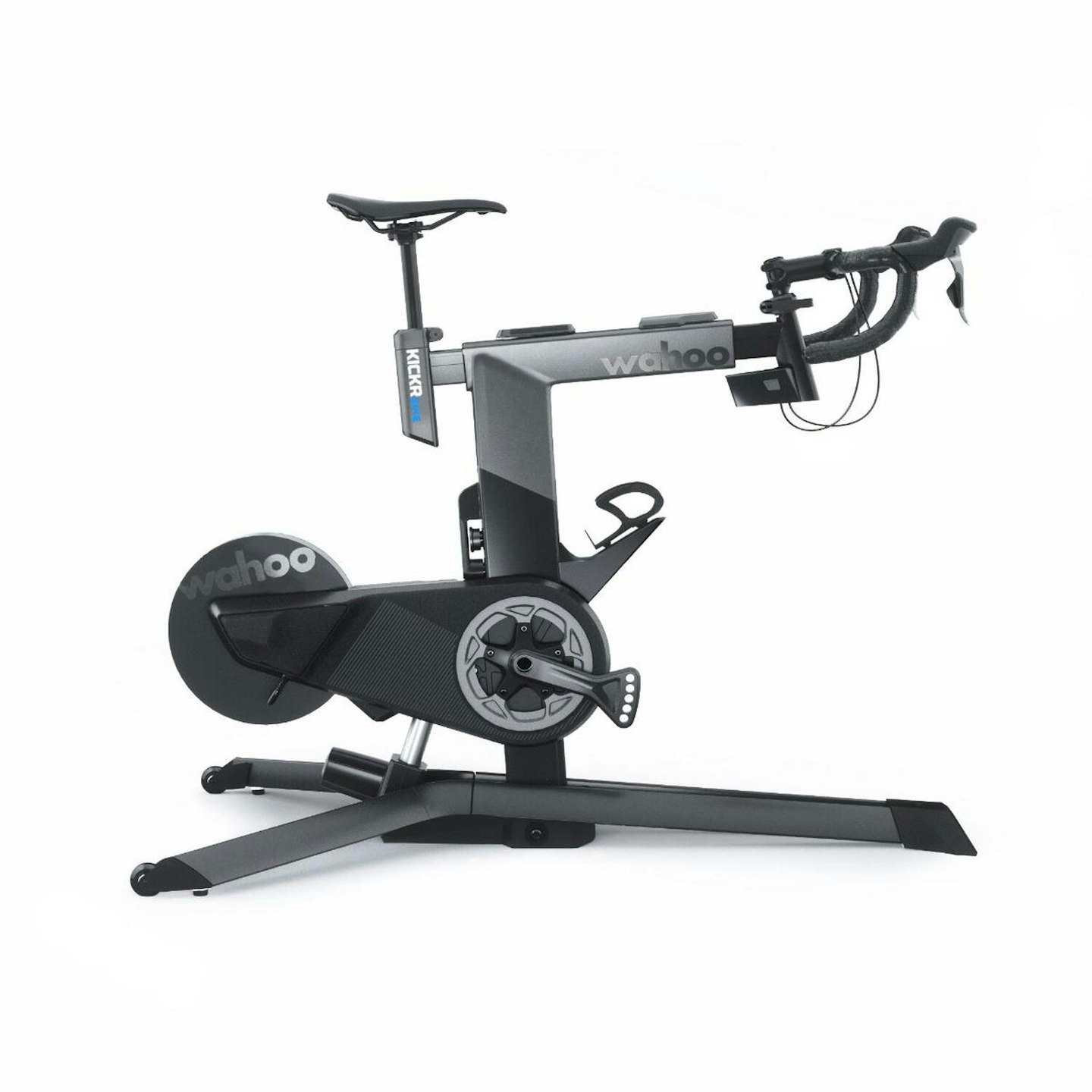 1 of 1
Wahoo, Kickr Bike, £2,699
Owned by Garmin, the Tacx Neo Smart Trainer is a fully immersive indoor training experience which can power up to 2,200 Watts (anyone who can reach this level of watts is not human).
To simulate outdoor cycling, the bike uses software to monitor what the rider is doing and what is happening in-app. It then adjusts the setting to make your ride feel more realistic.
The trainer will also work with Tacx software or the Zwift app to make the trainer vibrate and simulate the feeling of riding on different road surfaces, such as cobblestone and gravel. While you ride, the gear feel mimics the sensation of your chain jumping into place.
Descent simulation accurately simulates a downhill drive (when connected to an external power source). Plus, the NEO Bike Smart trainer measures the position of your left and right legs to analyse your pedalling technique and help you develop a more effective stroke.
Tacx Stationary Bike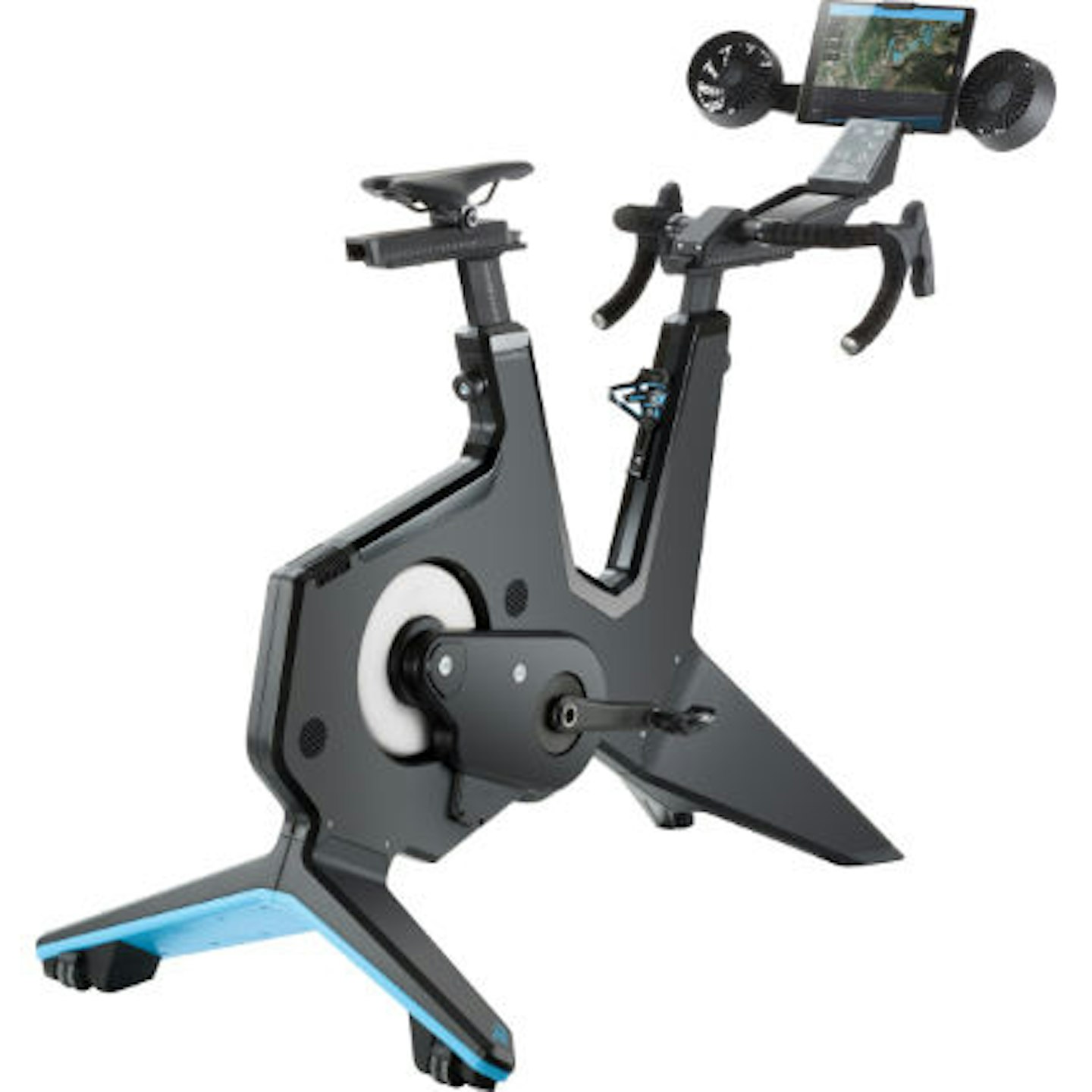 1 of 1
Tacx, Neo Bike Smart Trainer, £1,899.99
The Schwinn IC8 is compatible with Zwift, Rouvy, Peloton and others; the backlit LCD screen will show you your speed, how long you've been on the bike and how many calories you've burnt.
It comes with cradles for your water bottles and weights if you want to do some bicep curls as you ride.
Schwinn Stationary Bike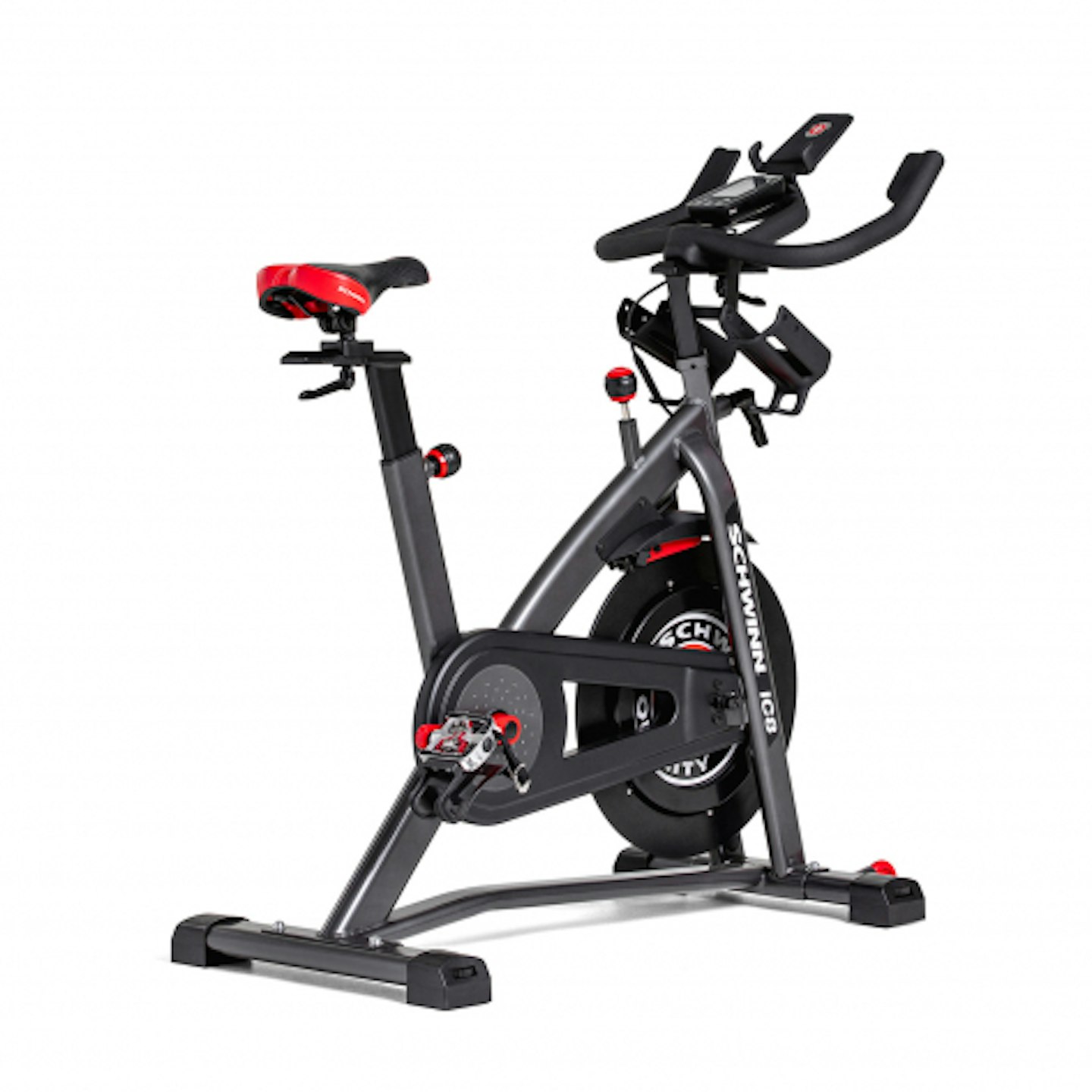 1 of 1
Schwinn, IC8, £799
This is very much a bike for people who don't cycle outside. It has all the tech and gadgetry you'd expect from a £2,000 stationary bike. It will adjust the difficulty of your ride to match your third-party app. For example, let's take Zwift; if you're riding up a 6% climb on Zwift, the Atom will apply resistance to the flywheel to replicate a 6% climb. Very clever.
The Atom will read your riding data 1,000 times a second to get an +/- 1% accuracy level. The handlebars have a screen holder which will take an iPad.
Wattbike Stationary Bike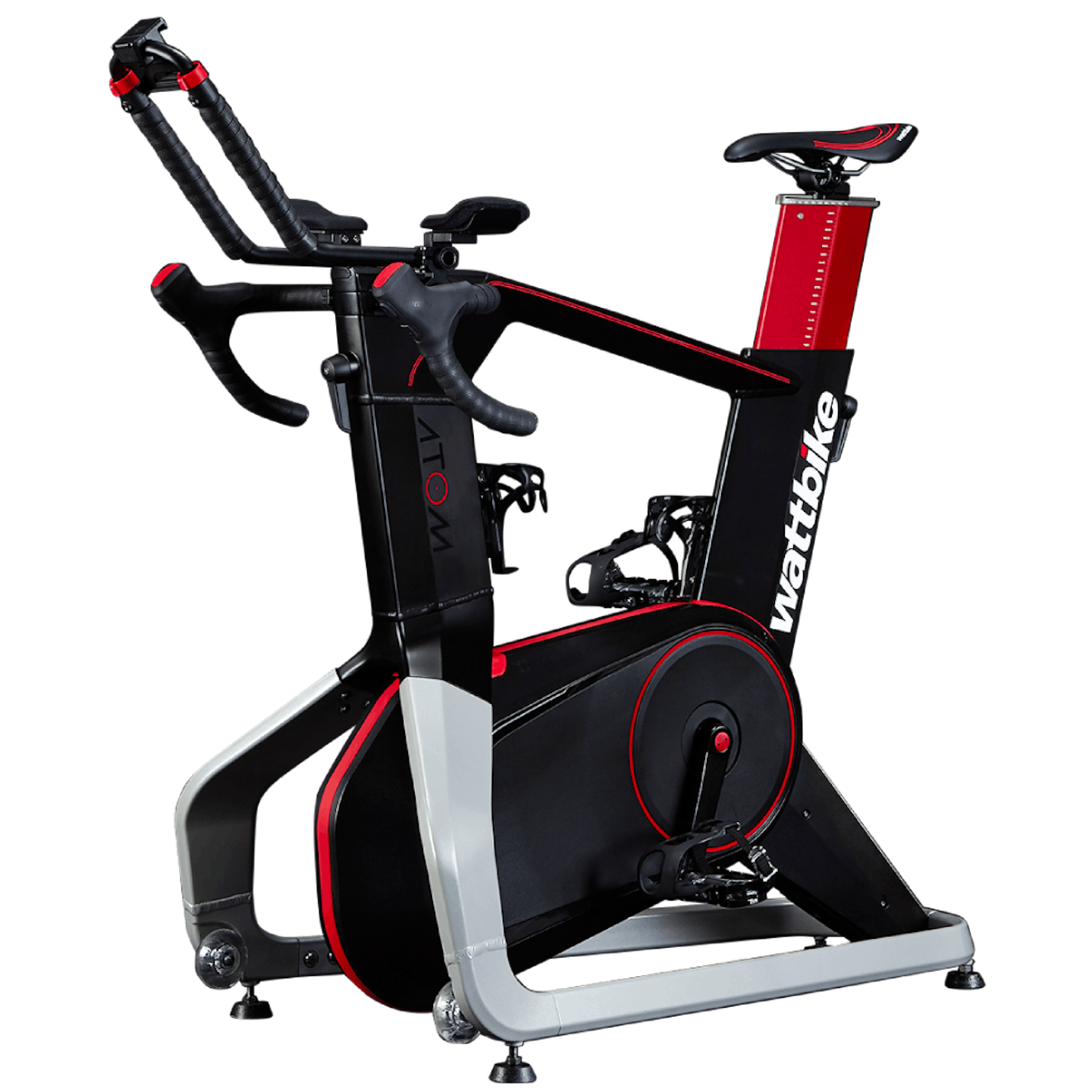 1 of 1
Wattbike, Atom, £1,999