There's nothing like sliding into a fresh bed after checking into a hotel and feeling the crisp, clean bed linen against your skin. It's supremely indulgent and something we'll forever chase to have in our home. Here is our guide to where to buy the best 'hotel' bedding style bits online.
In hopes of making our bedrooms even more luxurious (alongside our herbal diffusers and full-length mirrors), we've been on the hunt to find the most similar 'hotel' bedding, that will up the ante on your old mattress.
The Best Last Chance Black Friday Deals On 'Hotel' Bedding
Black Friday may be *officially* over, but guess what - Last Chance sales are a thing, and it brings even more outrageous deals and discounts to cap off the end of the sales period. Want to grab a bargain? These are the retailers that have the best Last Chance Black Friday deals on hotel bedding right now or keep scrolling to continue reading our buyer's guide.
Shop the best 'hotel' bedding deals on: Emma Sleep UK | Very | Debenhams | La Redoute | Liberty
70% off: SANDERSON 'Ashbee' Double Duvet Cover , WAS £160 - NOW £48
65% off: Emma Sleep 100% Cotton Sateen Set, WAS 419.97 - NOW £147
Now half price: Elina 100% Linen Duvet Cover, WAS £100 - NOW £50
Now under £10: Bianca Cottonsoft 180 Thread Count 100% Egyptian Cotton Standard Pillowcase Pair, WAS £10 - NOW £8
Our homes are a haven for relaxation, especially our bedrooms. Collapsing into a fresh set of bed linen after a challenging week is everything we ever want. When it comes to bedding sets, there's a lot to think about - from sateen and percale finishes to silk or Egyptian cotton materials, there's something for everyone.
What do I need for a full luxury 'hotel' bedding set?
If you're going to invest in some high-quality bedding, you'll want to make sure you're really upgrading your whole set without forgetting anything. From dreamy pillows to soft-to-touch sheets, this is what will make the difference between regular rest and the extremely cosy sleep we get from hotel stays.
Firstly, you'll want to think about your bottom sheet. When it comes to bedding, you can either grab fitted sheets or flat sheets and that is definitely a case of personal preference. Think about looking into cotton sheets which are breathable, soft as well and easy to clean. Linen sheets also make for a popular choice, if you're looking for something lighter.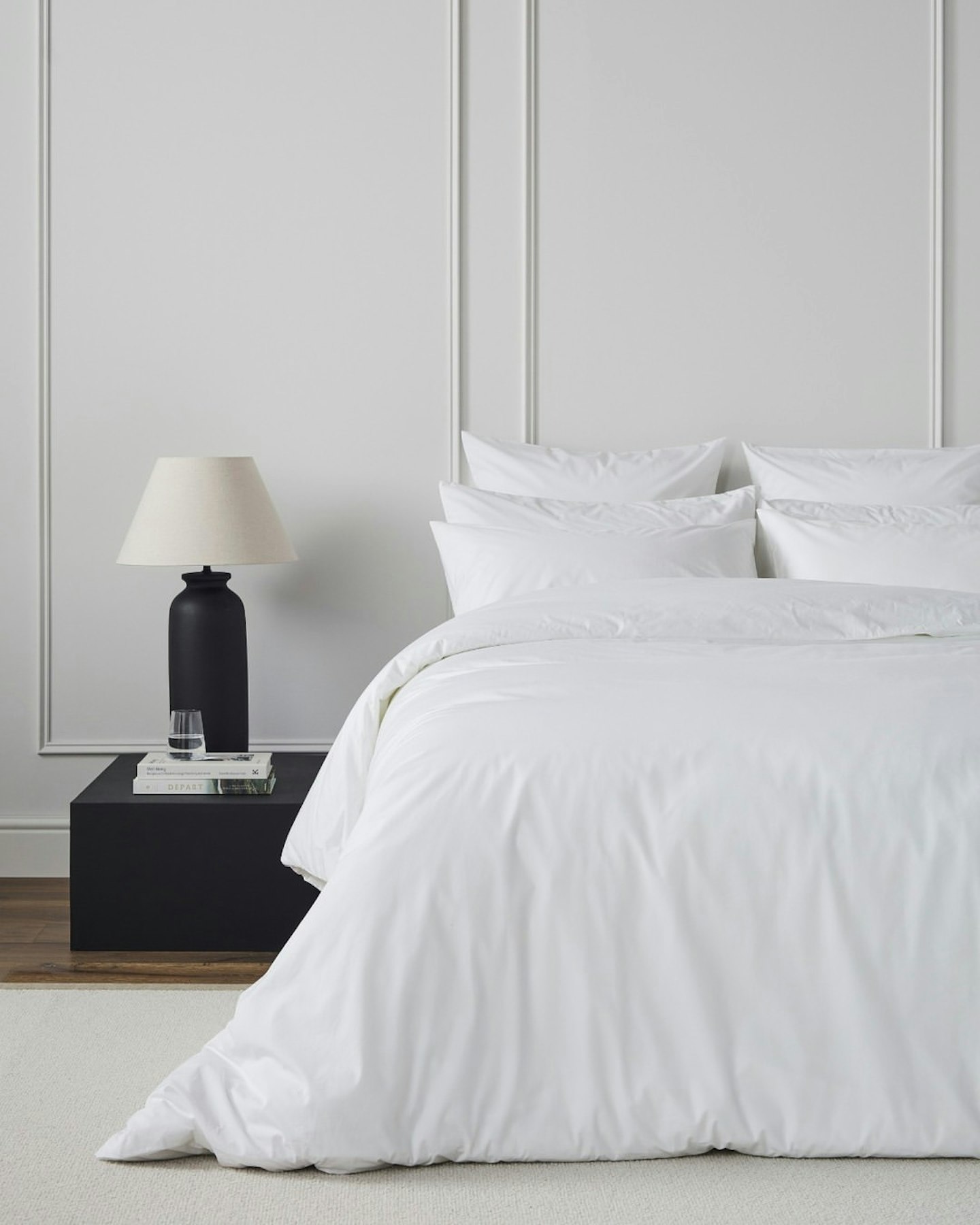 Next up are pillows and duvets. Pillows are important to think about because a soft or firm pillow can be the difference between a restful and restless night's sleep. From memory foam to duck feathers, there are lots of choices out there and you'll probably know which one suits your neck and sleeping pattern more. If you like your bedding to feel heavy and warm, go for a high-feather filling in duvets and pillows, as these can naturally create a more cosy feel.
Depending on the finish of your bedding set, pillowcases and duvets can be the real key to getting that 'hotel' bedding feel. Sateen finishes offer a high-shine look that is familiar to hotel goers and then silk can be beneficial to skin and will feel indulgent. Go for a classic 100% cotton choice if you want to keep it simple but luxurious.
Throws and bedspreads are the last things you want to think about and can add something just extra special to any bedding set. They're not necessary but can help to make your bedding unique.
What bedding do they use in hotels?
To get that crisp and smooth feeling of a hotel bed, many luxury hotels will use the highest-quality materials to really ensure a comforting finish every single time. The most popular choice at hotels is 100% cotton sets with long staples and single-ply in white. Most of the time the sheets will come with a percale finish, making them light and crisp, but sateen is also a popular choice and how you will get that silky feeling. If you're not a fan of cotton, go for a silk or linen finish to get that indulgent feeling without having to go cotton.
Ready to dive into the comfiest selection of bed sheets, duvet covers and pillowcases? Here's our selection of the best luxury and 'hotel' bedding you can buy.
SHOP: The Best 'Hotel' Bedding For Your Bedrooms
SHOP: Best Hotel Bedding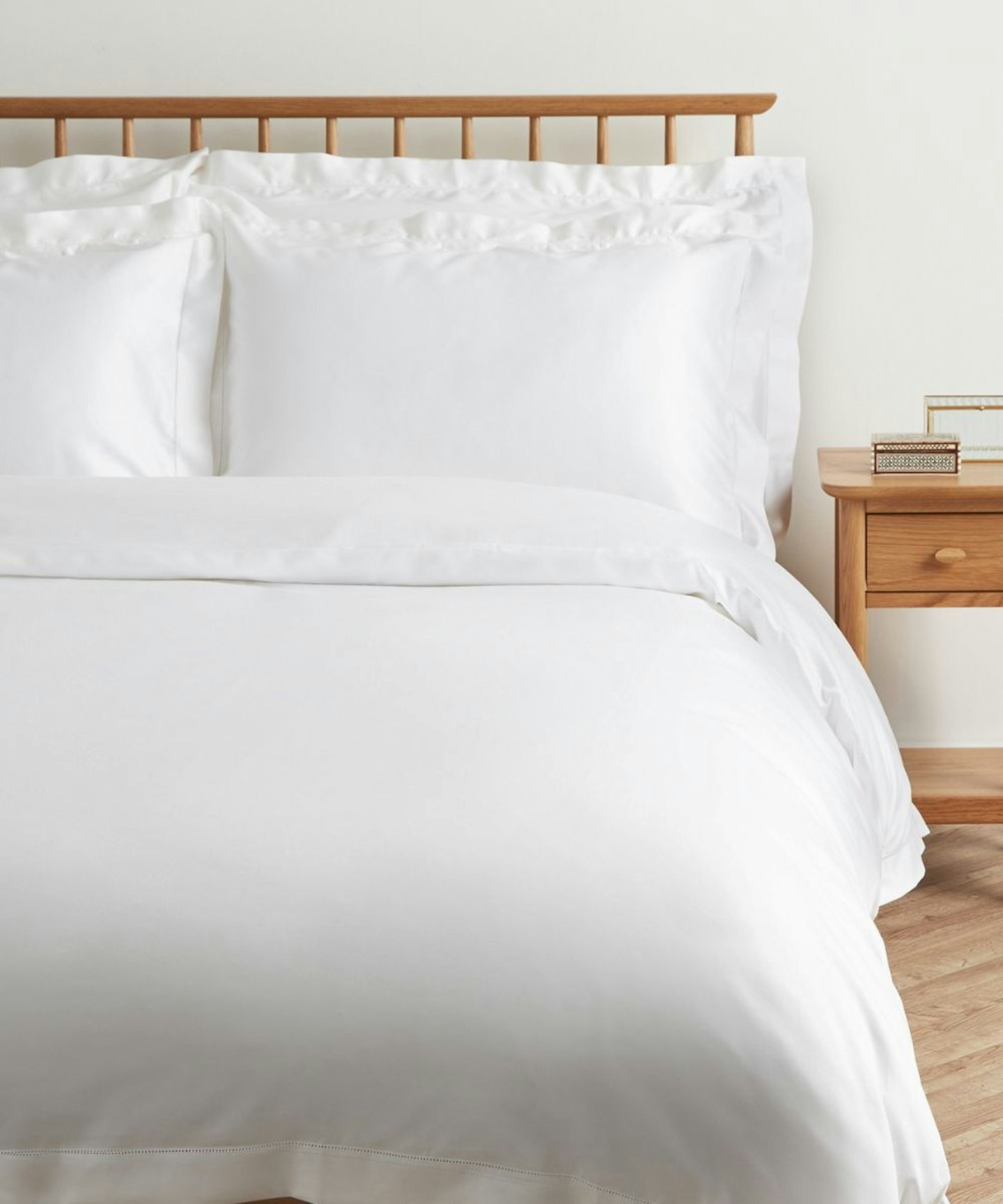 1 of 10
CREDIT: Fenwick
Fenwick Mayfair Ultimate Egyptian Cotton Sateen Duvet Cover
ON SALE
You can get the sheen of hotel bedding with a sateen finish like this Fenwick Egyptian cotton duvet set. Made with 1000-thread cotton, this is made with the finest Portugal materials from UNESCO-listed Guimarães.
Material: Cotton
Wash: Machine washable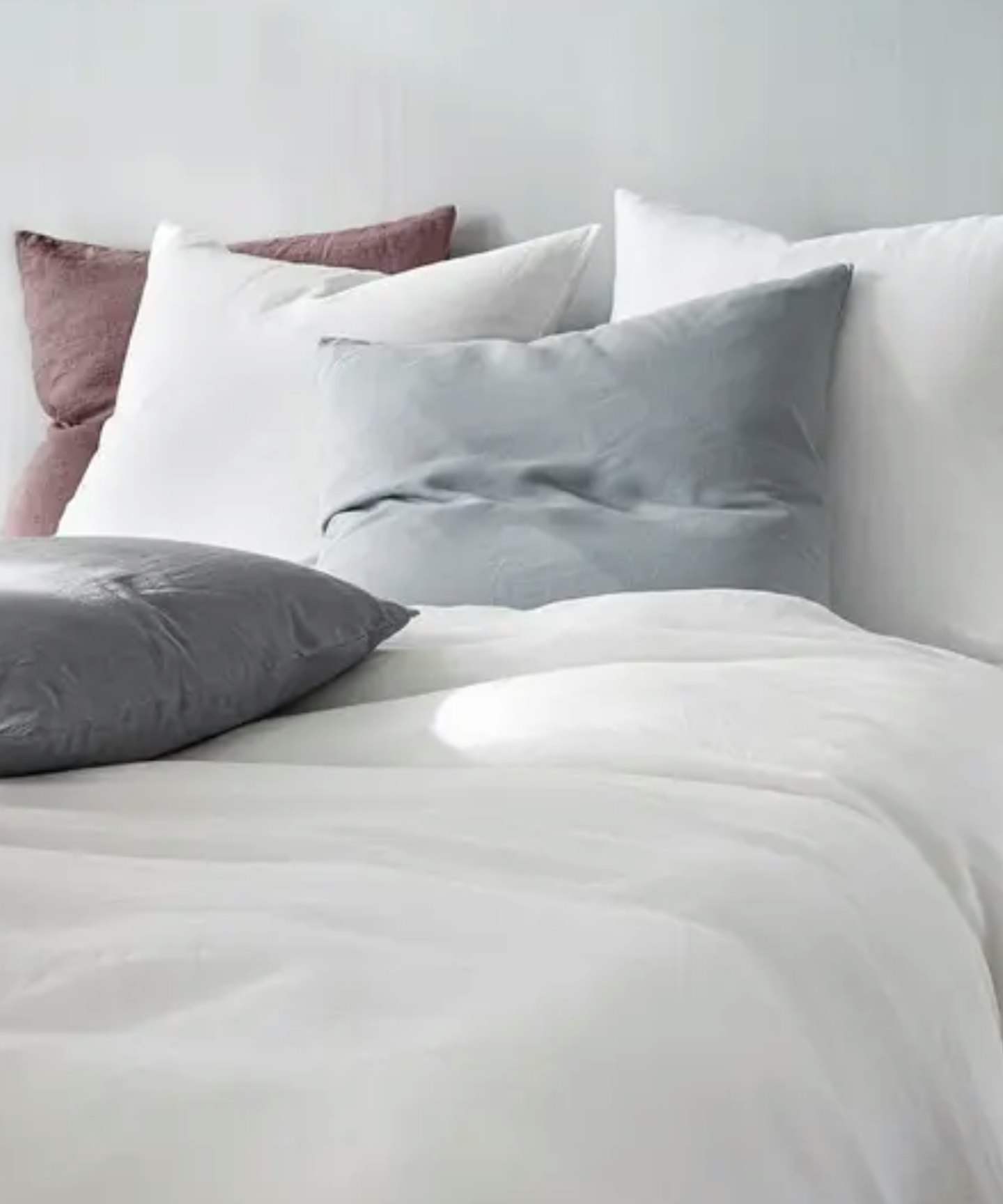 2 of 10
CREDIT: La Redoute
La Redoute Adèle 100% French Washed Linen Duvet Cover
ON SALE
Linen can be a great choice to achieve that hotel look whilst also having breathable and light sheets. Made in France, this linen cover from La Redoute is timeless and perfect for the summer months.
Material: 100% linen
Wash: Machine washable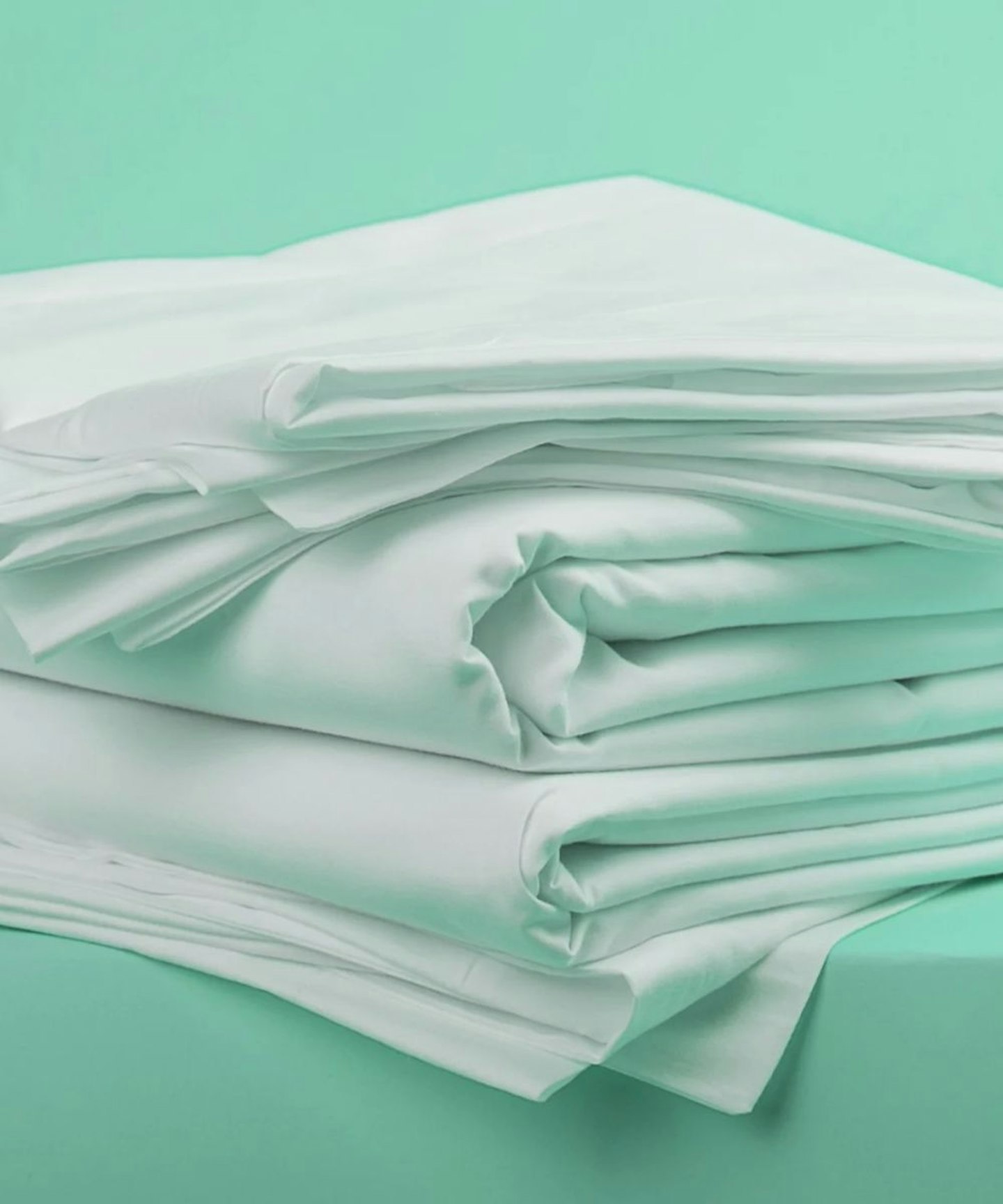 3 of 10
CREDIT: Tielle
Tielle Classic Hotel 300 Thread Count Bedlinen Set
Have you ever craved that satiny but crispy feel that you get when you dive into a hotel bed? Well, now you can. Tielle supplies the most luxurious hotels with their bedding - think The Savoy, The Dorchester, Goring and more - so you know they know what they're talking about.
Co-founder Robert Lancaster Gaye says that this five-star hotel bedding is the key to a good night's sleep: "There is nothing more comforting than slipping into bed with freshly laundered bedlinen. The feel of it and the smell of it is like nothing else. Add to that the quality of the bed linen in a luxury hotel and our fondest memories of a night away almost always focus on the bedroom and the quality of sleep, especially during these cold Winter nights."
Material: 100% Cotton
Wash: Wash up to 90 degrees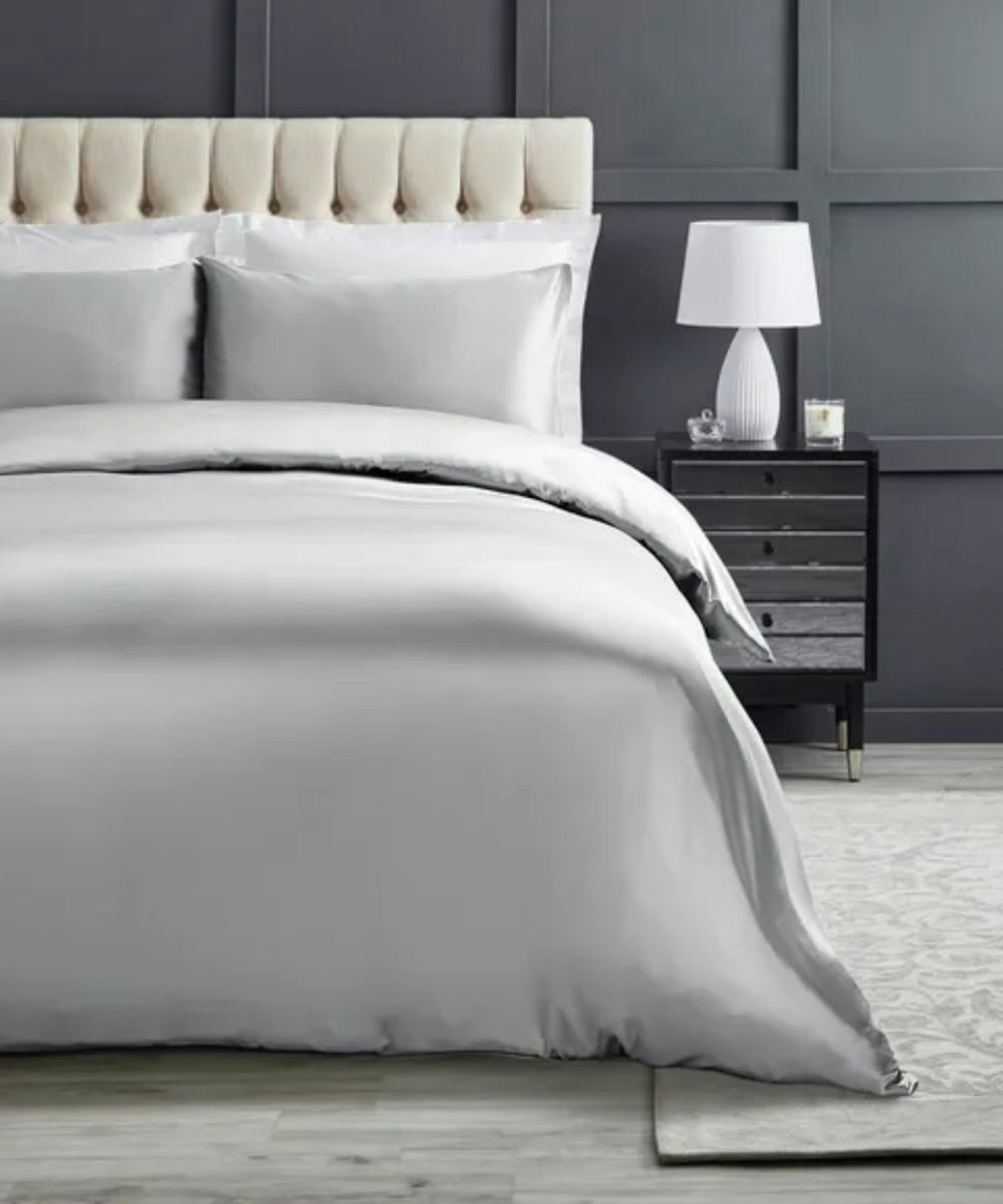 4 of 10
CREDIT: Dunelm
Dunelm Dorma Silver 100% Silk Duvet Cover
Nothing says opulence like high-quality silk, soft and sleek. True silk helps to keep your skin moisturised and has natural hypoallergenic properties, making this a particularly tempting choice.
Material: 100% silk
Wash: Machine washable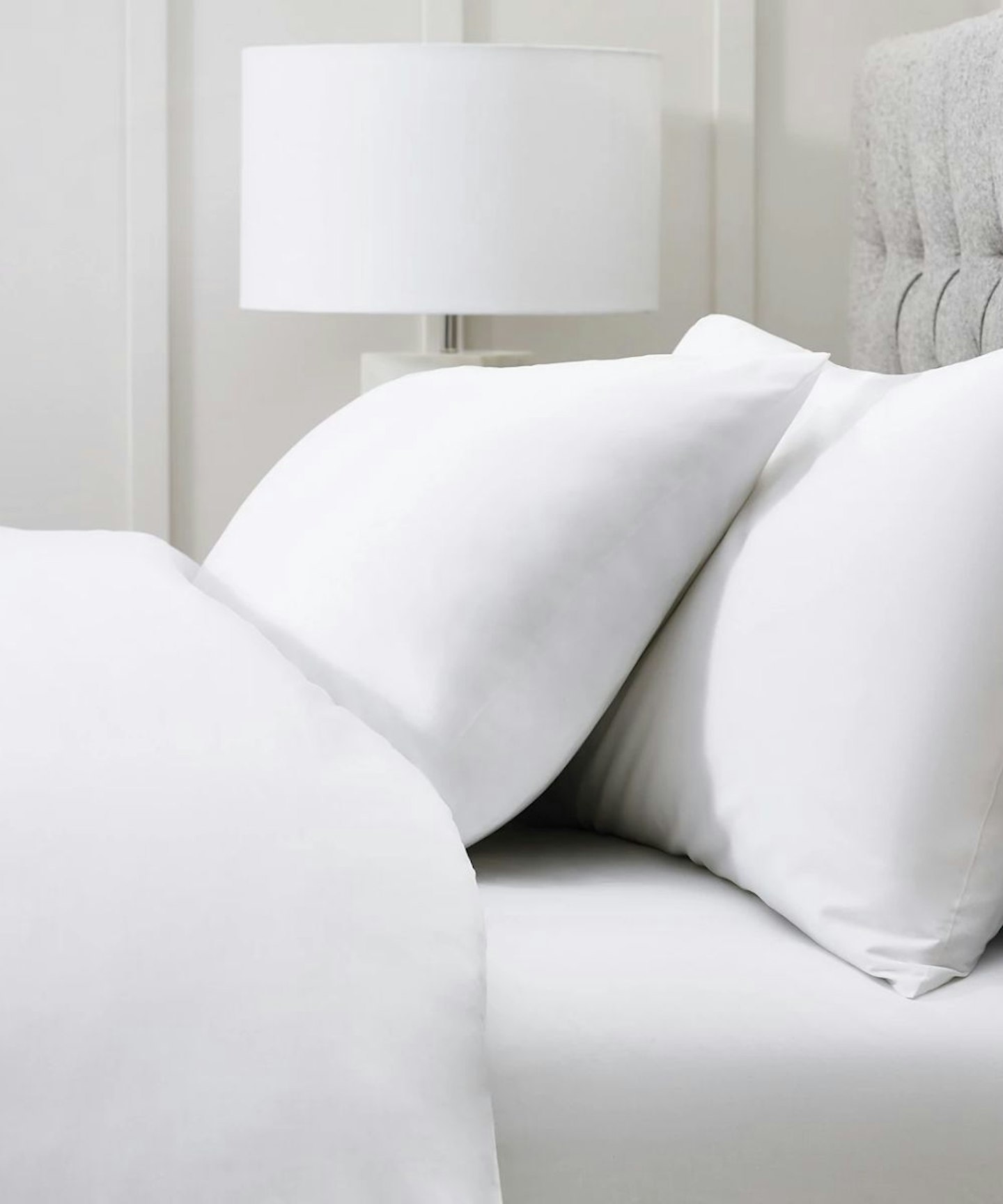 5 of 10
CREDIT: The White Company
The White Company Egyptian Cotton Bed Linen Full Set
If you want the whole package all in one, smooth bedding can easily come all together. The White Company have a 200-thread-count Egyptian cotton full set so you can have crisp sheets that really complement each other.
Material: 100% cotton
Wash: Machine washable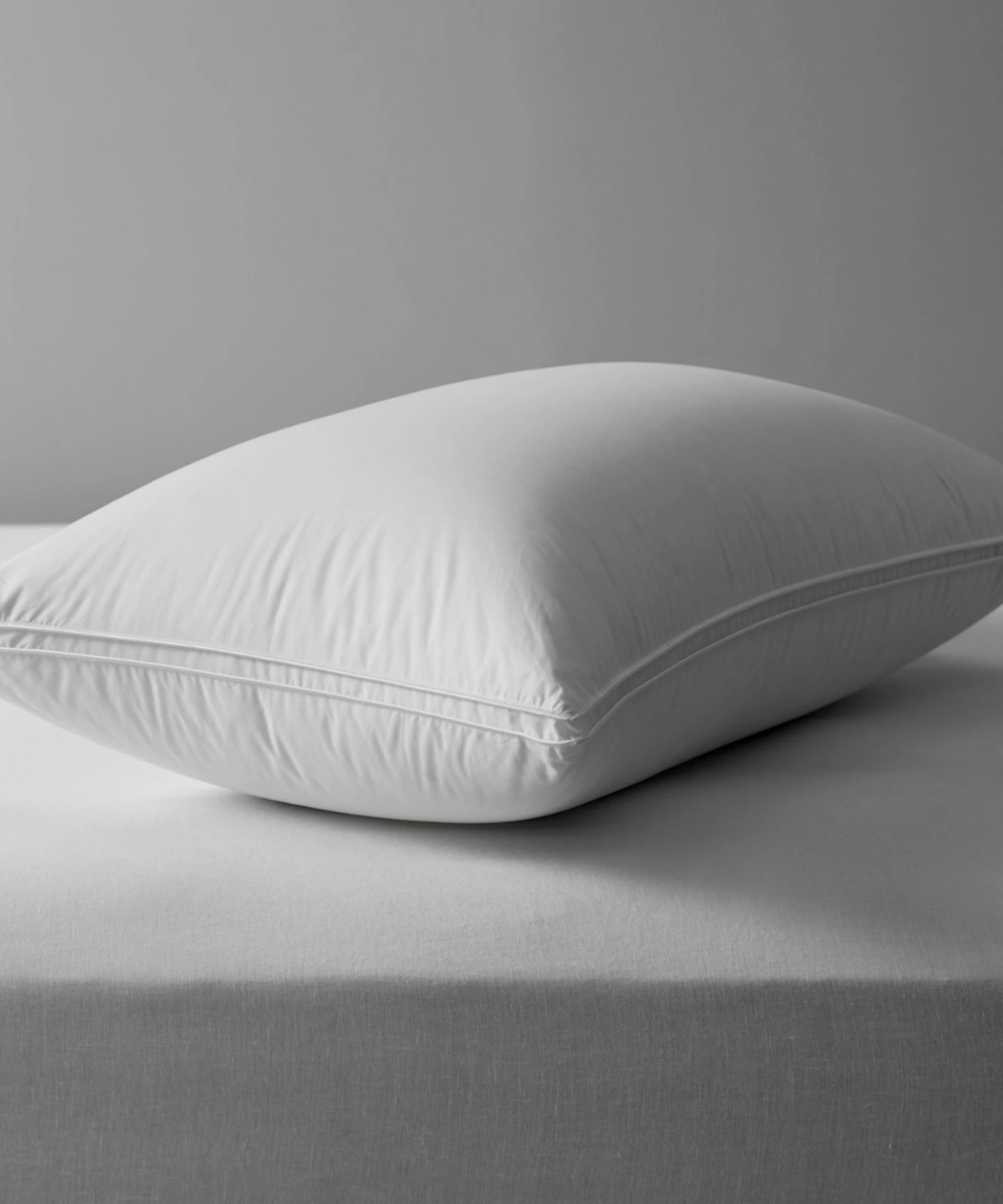 6 of 10
CREDIT: John Lewis
John Lewis & Partners The Ultimate Collection British Goose Down Standard Pillow
There's nothing like a cosy hotel pillow that's a good support for your neck and leaves you snuggling up in no time. For a real treat, invest in some goose pillows like this John Lewis option. Made in Britain, it's filled with free-range geese down, making it warm and soft.
Material: Cotton and British goose down
Wash: Machine washable
7 of 10
CREDIT: Harrods
Sferra Giza 45 Super King Duvet Cover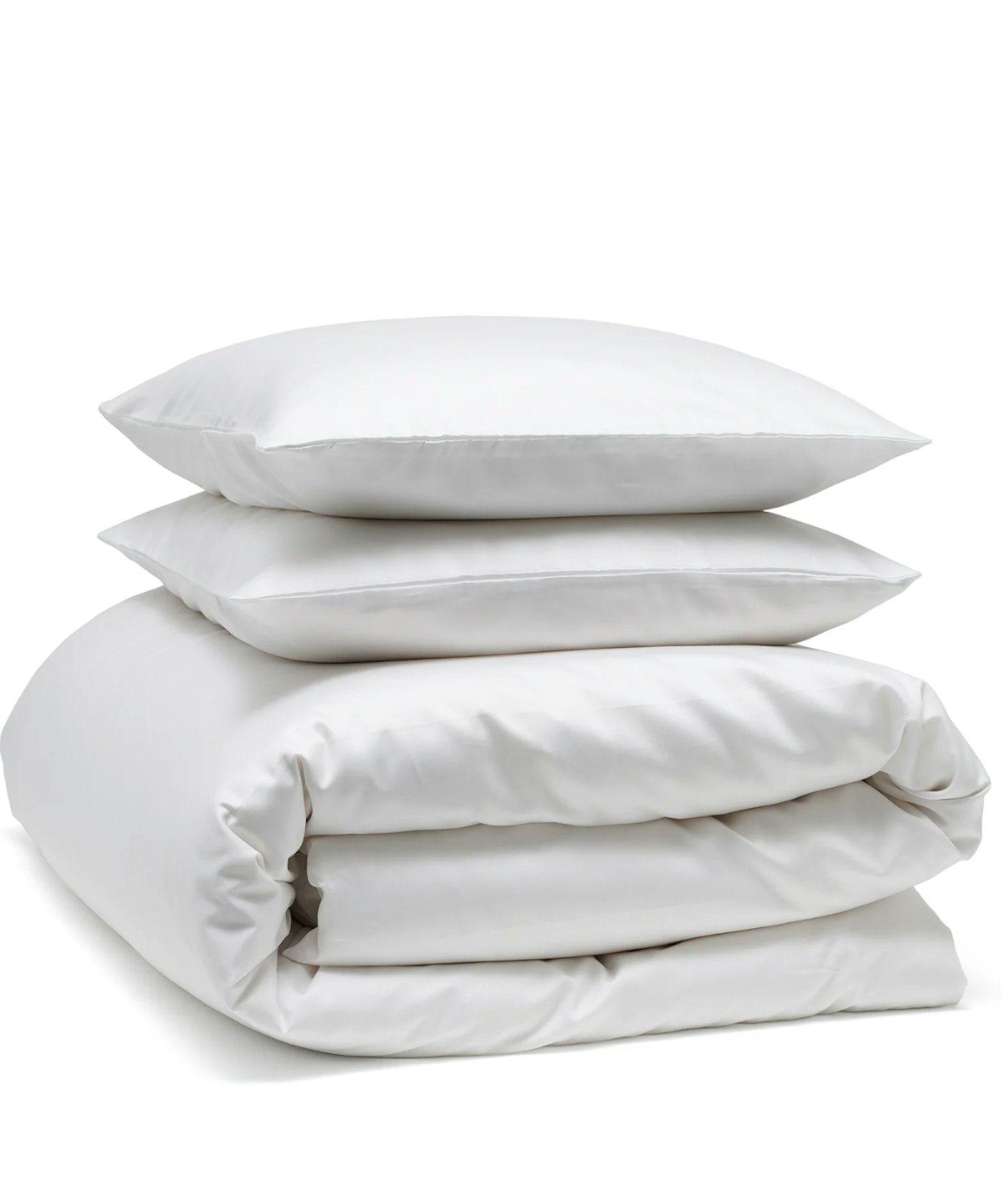 8 of 10
CREDIT: Bedfolk
Bedfolk Luxe Cotton Bedding Bundle
Bedfolk's range is all about comfort and smoothness, making their 100% cotton sateen weave bedding set a top choice if you're looking to unwind. Made in Portugal and finished with a subtle shine, this makes home living easy but sumptuous. They also have relaxed and classic cotton options, if that's more your style.
Material: 100% cotton
Wash: Machine washable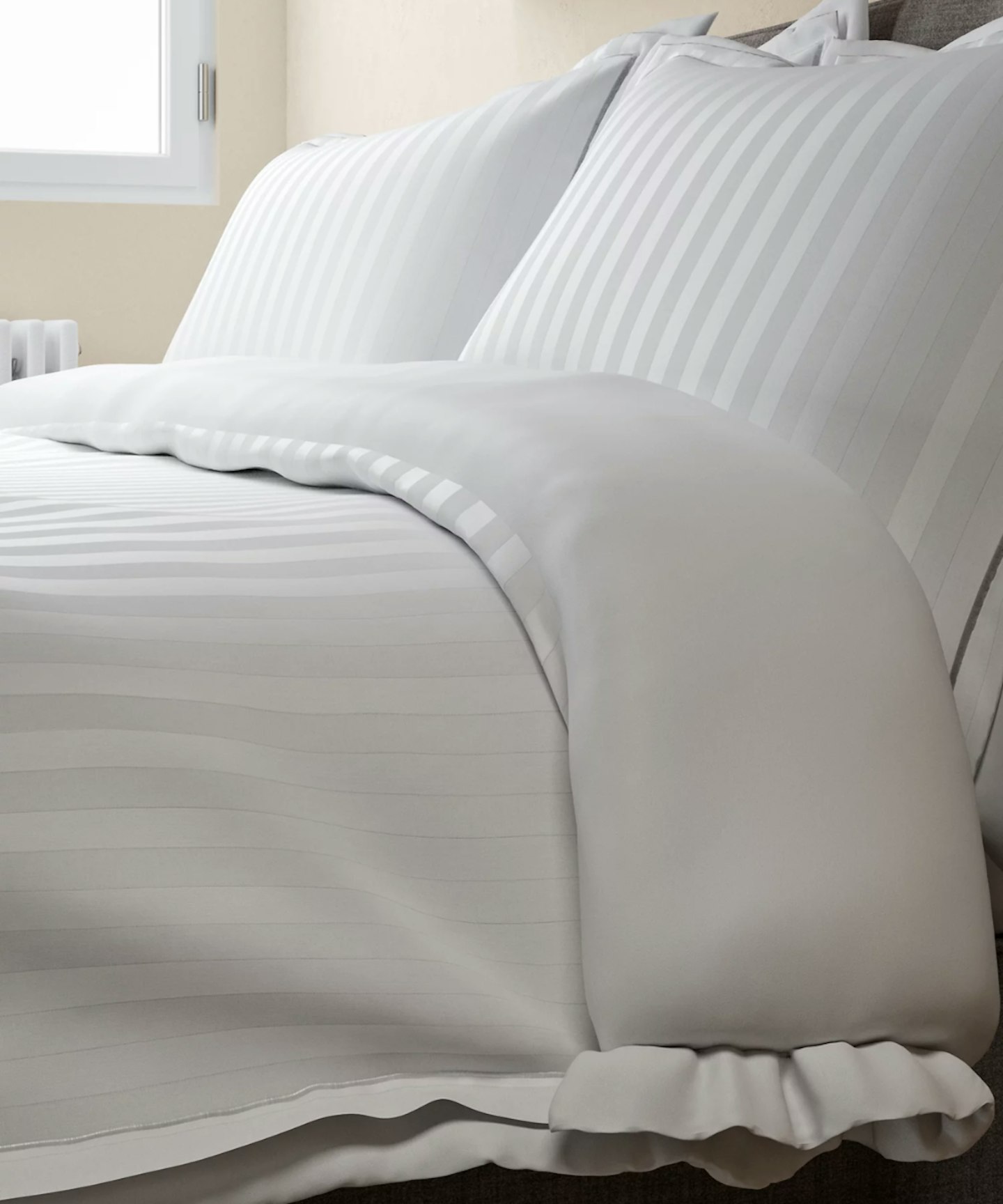 9 of 10
CREDIT: M&S
Autograph Pure Cotton Double Cuff Bedding Set
If you're looking for more than just a white set of bedsheets, this 400-thread-count pure cotton option with a double cuff trim may be the right choice. Finished with a subtle stripe shine, this makes a chic hotel bedding option with something a little different.
Material: 100% cotton
Wash: Machine washable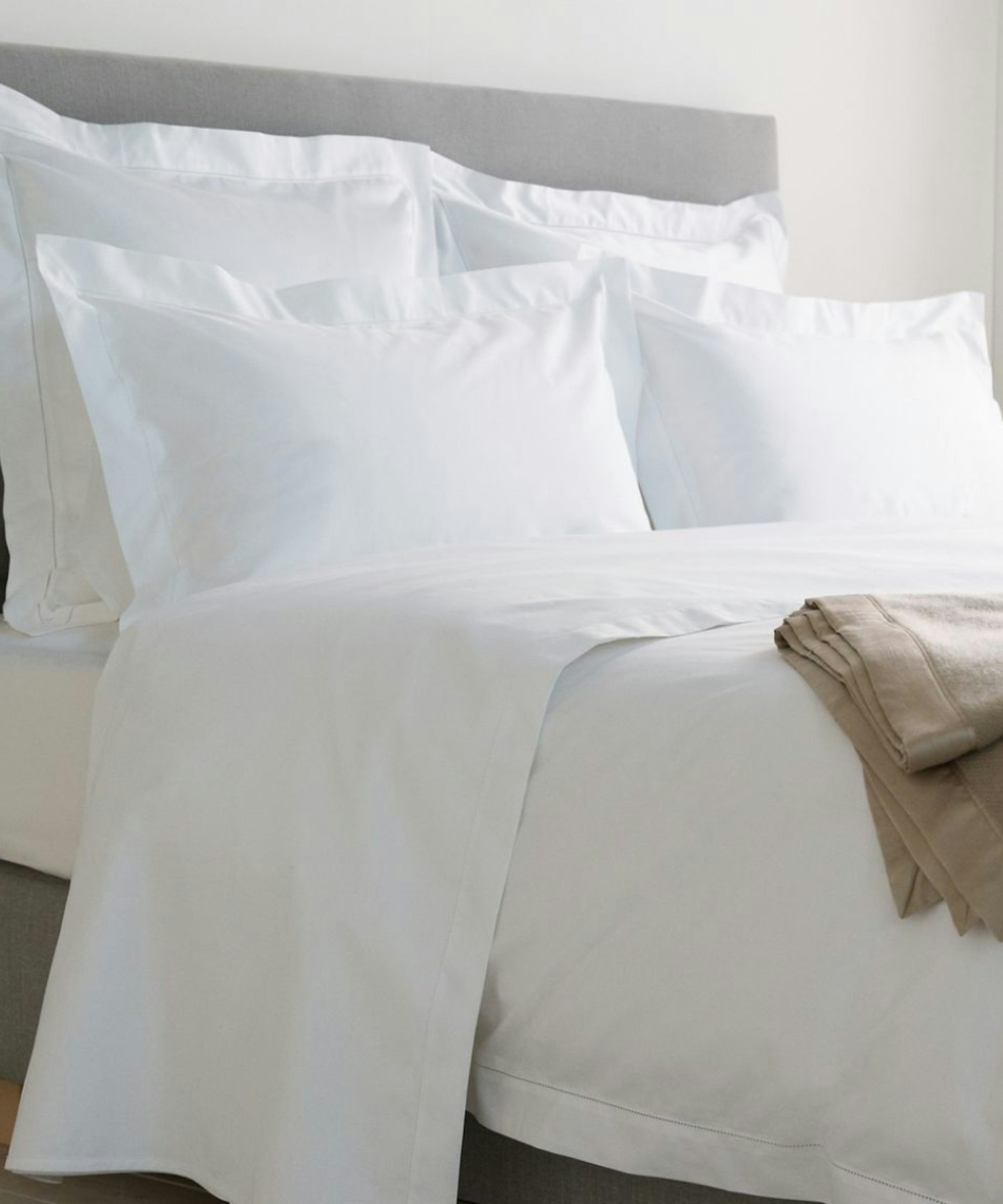 10 of 10
CREDIT: Harrods
Harrods of London Cadogan Super King Duvet Cover Set
You can never go wrong with buying directly from Harrods of London - this Cadogan duvet set will leave you feeling comfortable and relaxed, ready to loosen up in your sheets. Made with pure cotton percale and having a 200-400 thread count, you'll be rested in no time.
Material: 100% cotton
Wash: Machine washable
Caitlin Casey is a contributing writer for heat, Closer, and Grazia. She covers shopping, women's lifestyle, popular culture as well as all things trending.