If there's one celebrity-endorsed sandal that is the definition of the super chic stealth kind of wealth that has become a critical part of fashion vernacular, it belongs to The Row. Minimal and modest, unfussy and almost ubiquitous among the A-list, The Row sandals are quite simply a cut above the rest.
The Row Ginza Platform Flip-Flops
In the case of the brand's platform flip-flops that are the most perfect iteration of the flip-flop imaginable, they've found fans in Laura Harrier, Kendall Jenner, Elsa Hosk, Zoë Kravitz, Rosie Huntington-Whiteley, Hailey Bieber and, of course, Ashley Olsen, one half of the power twin team behind The Row.
Stylist Monikh Dale is one member of the fan club, packing her white pair on holiday this summer. Wearing hers with a boob tube - yes, they're back - and wide-leg linen trousers, The Row sandals are the ultimate finishing touch (well, those and the basket bag).
If you're not quite ready to spend £960 on a pair of sandals, however, you'll be pleased to know that there exists on the high street a whole collection of homages to the original design. In fact, not only are there similar-looking sandals to the flip-flops, M&S and others also have alternatives to the brand's famous fisherman sandals.
So, whether you're feeling (very) flush and want to buy the original designer shoes or fancy a £16 take from Urban Outfitters, keep scrolling for every option available.
Description
The Row sandals to end all sandals. The Ginza is a leather and suede platform flip-flop that
Description
The Row sandals in white have a platform sole in black. This Urban Outfitters iteration has both,
Description
Made from PETA-approved vegan leather, this Monki pair is selling out fast.
Description
Arket's Chunky Leather Sandals are a thong instead of a flip-flop but still have the sleek vital
Description
Zara's take is slightly more trend-driven than The Row's, with one sand colour that makes these
The Row Fisherman Sandals
The Row's other pair of sandals that gets plenty of press is its caged, fisherman sandals, which incase the toes in woven leather and have a buckled ankle strap. Repped by Kylie Jenner, Elsa Hosk and Hailey Bieber, it's the ultimate version of this summer's most trending sandal style.
Hailey Bieber tends to wear hers with little white ankle socks, lending a cool-girl note to the outfit of a trench coat and baggy jorts earlier this summer.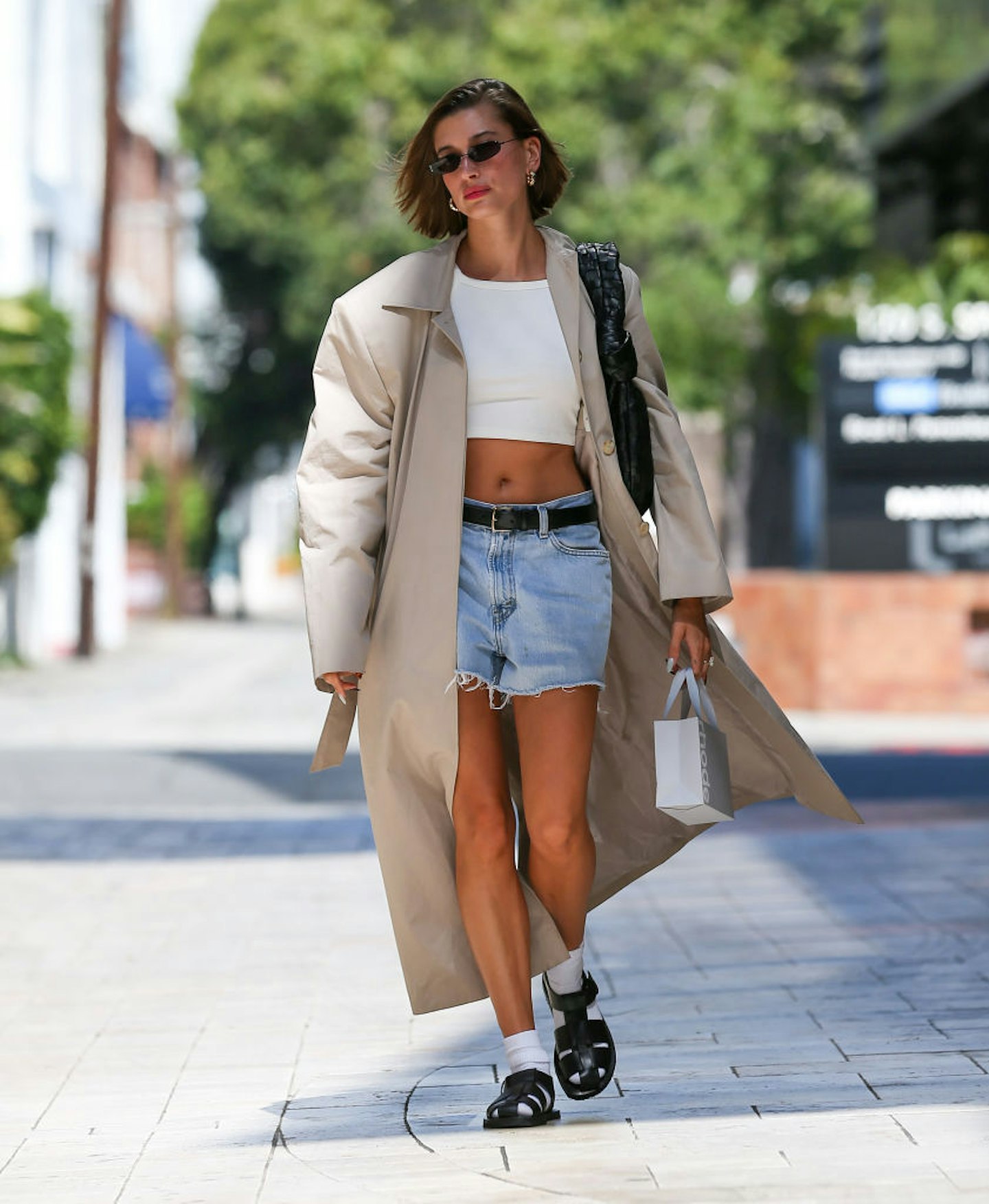 Description
These woven leather sandals have got the stamp of approval from Hailey Bieber.
Description
Schuh's offering features a chunky silhouette with a very slight lift which is perfect for weekend
Description
Made from chrome-free soft nappa leather, this platform sandal has a padded leather insole for
Description
These open-back fisherman sandals are definitely smart enough to do double duty in the office. And
Description
I actually own these chunky sandals from Vagabond - and can advocate for their brilliance. The