Whether you've got a summer wedding coming up and need some wedding dress ideas, or you're just planning ahead for a 2024 nuptial, now is the best time to buy your high street wedding dress.
Why? Because with the likes of Sister Jane, Rixo's new collection and The Own Studio all having amazing new bridal collections and high street brands creating some of the best wedding dresses we've seen this year, you don't want to miss out on finding 'the one'. A dress that is.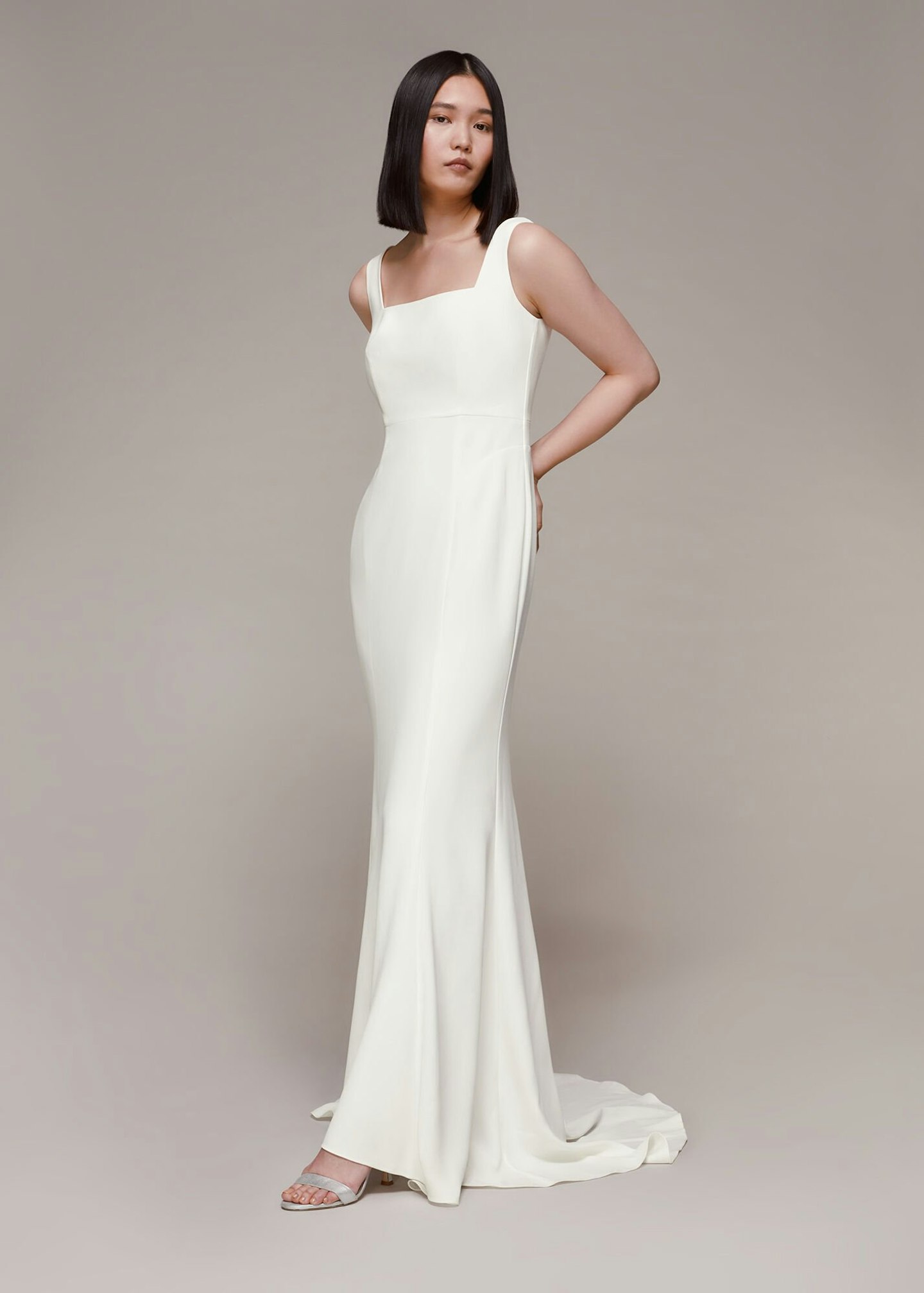 Grazia's Shortlist: The Top Three High-Street Wedding Dresses To Shop
Editor's Choice: Whistles, Frances Lane Wedding Dress, £599
Best high street wedding dress for ruffles: Needle + Thread, Lisette Ruffle Off Shoulder Gown, £500
Best high street wedding dress for a cowl neck: Ghost, Anika Ivory Satin Cowl Neck Wedding Dress, £247.50
These affordable wedding dress options may not be custom-made, bespoke gowns, but they will look every bit as fabulous. Not to mention they're a bit nicer to your purse when it can be a little bit tight on the pocket when splashing on that dream wedding. You don't have to cut on quality when you make a cut on price, though, with tonnes of fashion shops and online stores making beautiful wedding dresses that your guests (and your beau) will be besotted with.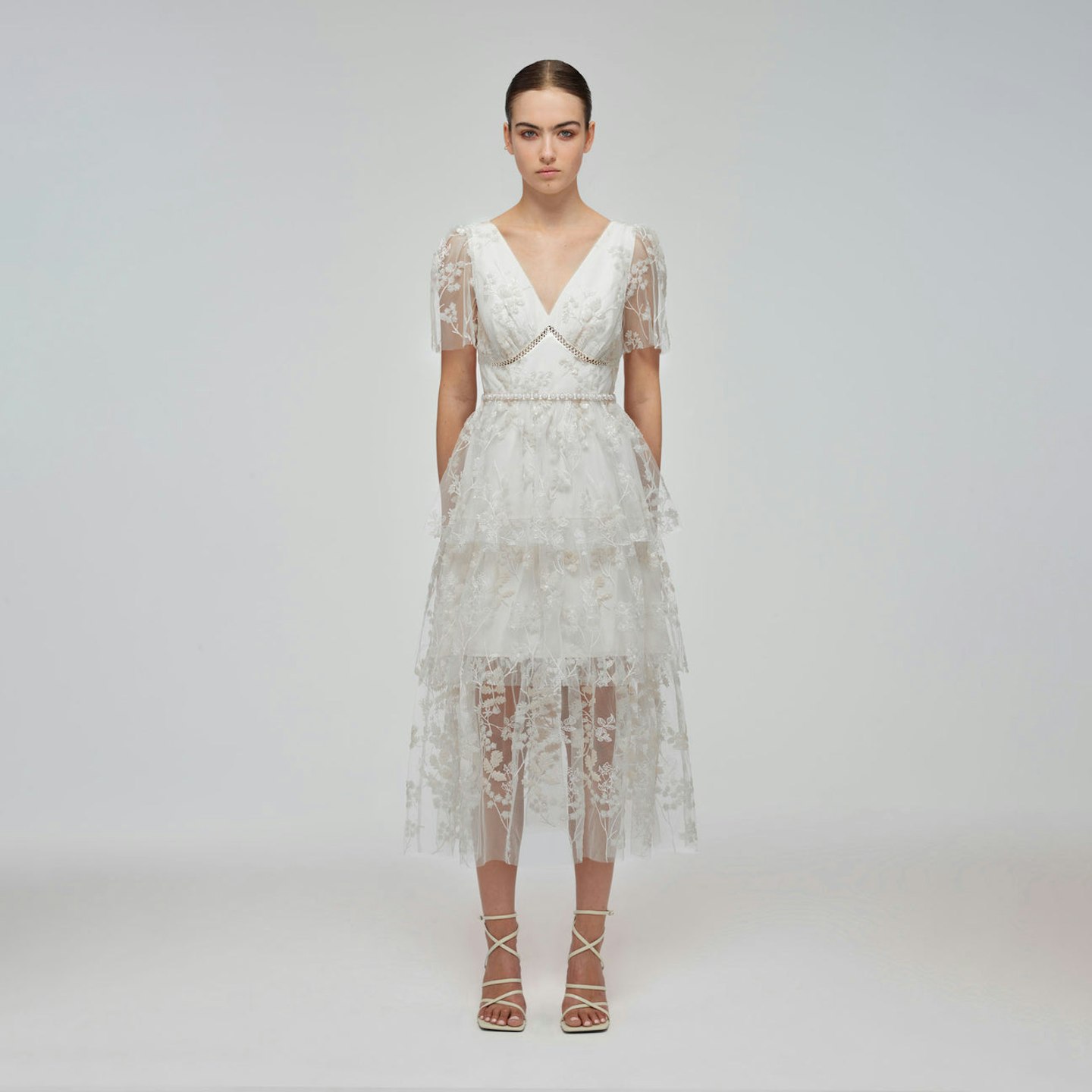 In fact, whether you head to LK Bennett, ASOS, Free People, Self-Portrait or Coast, you'll find maxi dresses, vintage-inspired outfits, full-skirted looks, full-length wedding gowns and even square-neck wedding dresses – everything to ensure you'll not only find the perfect bridal dress, you'll also have a much more affordable wedding on your hands. Even coloured wedding dresses have seen a surge in popularity among more affordable brands. And, not to forget that wedding dresses with pockets are a thing (!).
So, to tick one job off your bridal list, here are the best affordable wedding dresses to order online now.
SHOP: The Best High Street Wedding Dresses
Editor's Choice: Best high street wedding dress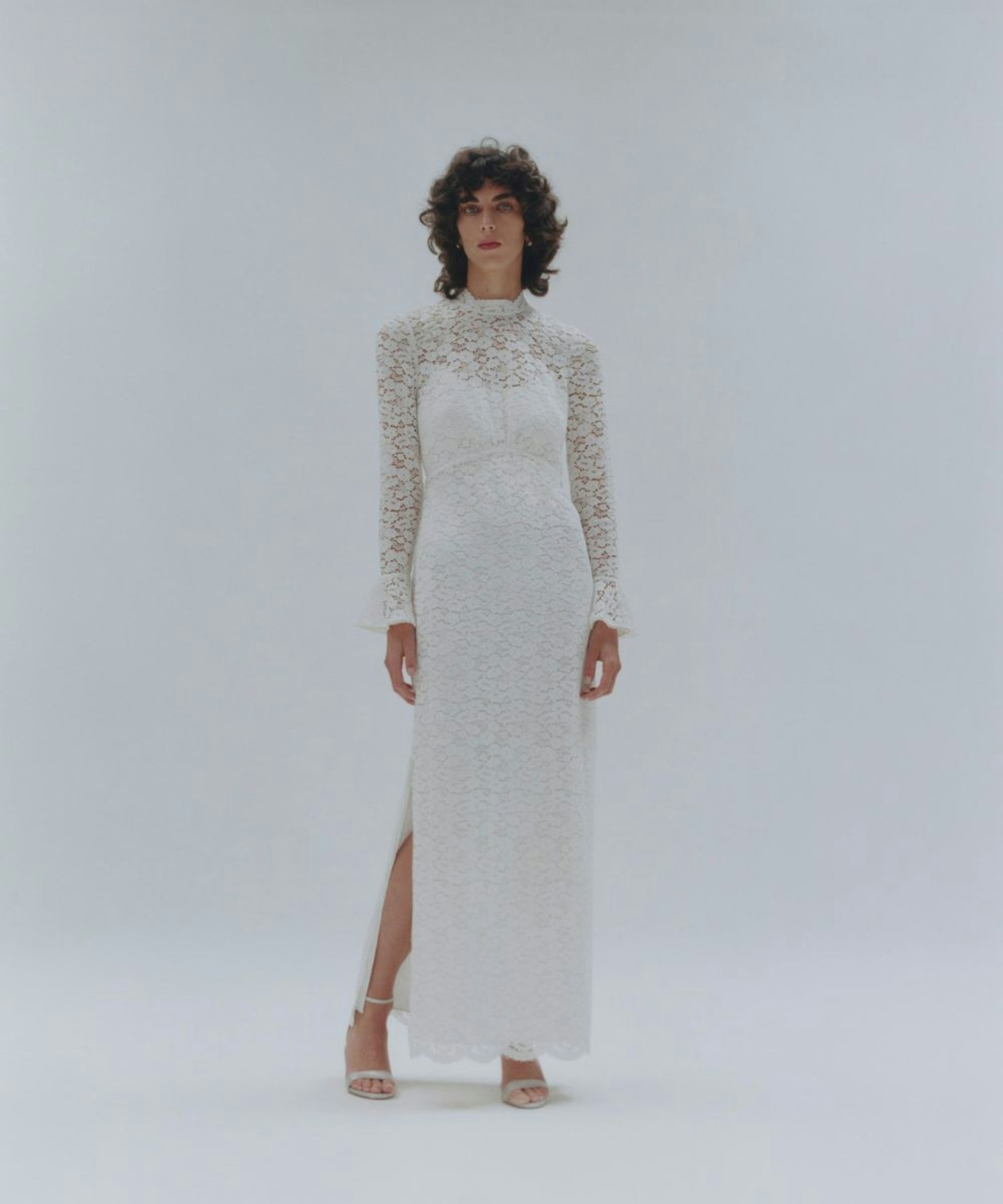 whistles
Description
Best ruffle high street wedding dress
Description
Look pretty in ruffles in Needle & Threads 2023 wedding dress collection. Just divine. The
Best cowl neck high street wedding dress
Description
Ghost's Anika Satin Cowl Neck Wedding Dress gives Old Hollywood vibes for less than £300 in the
Best tulle high street wedding dress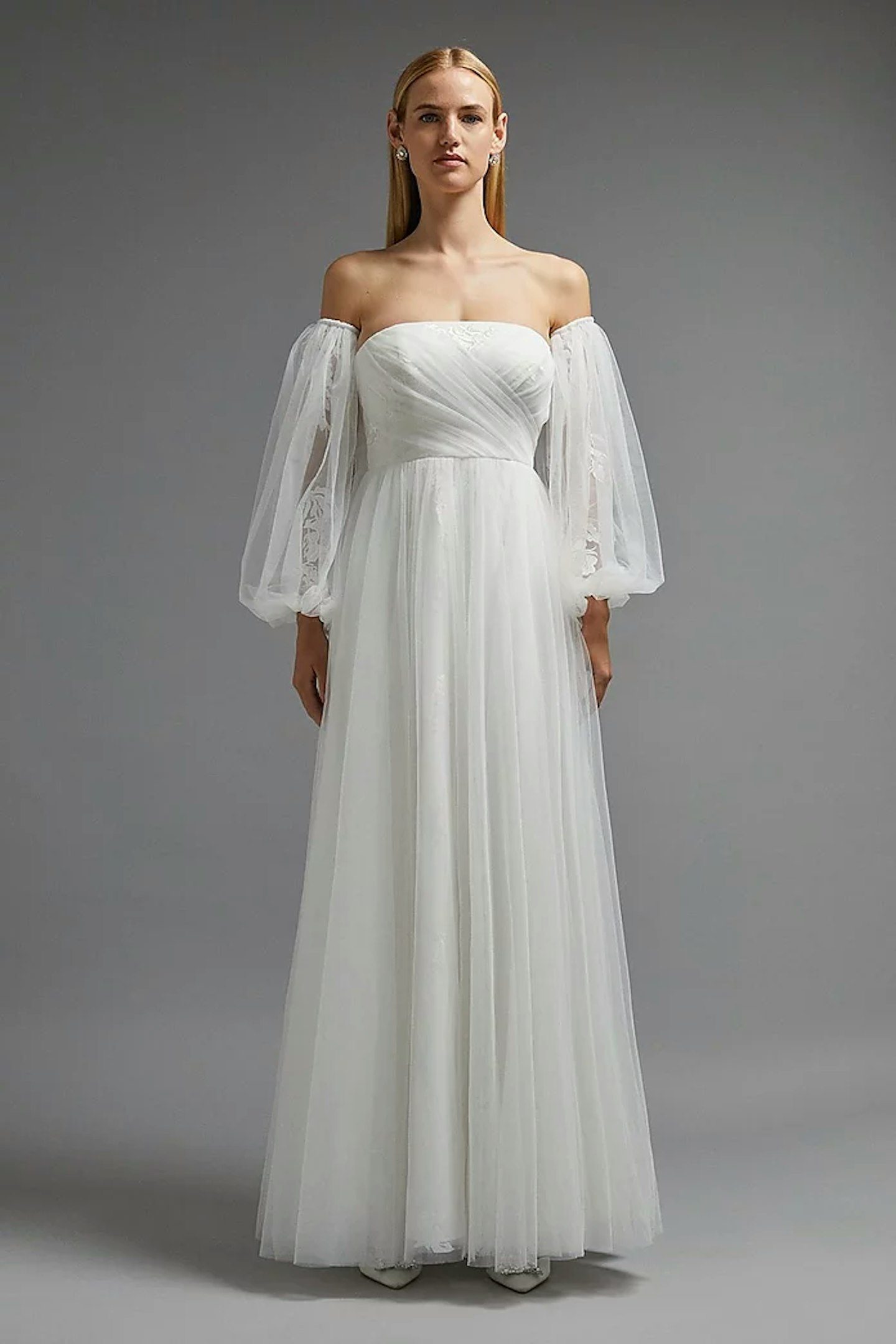 coast
Description
This ethereal Lace Tulle Bardot Maxi Dress was £500 and is now reduced to £150, making it an
Best lace high street wedding dress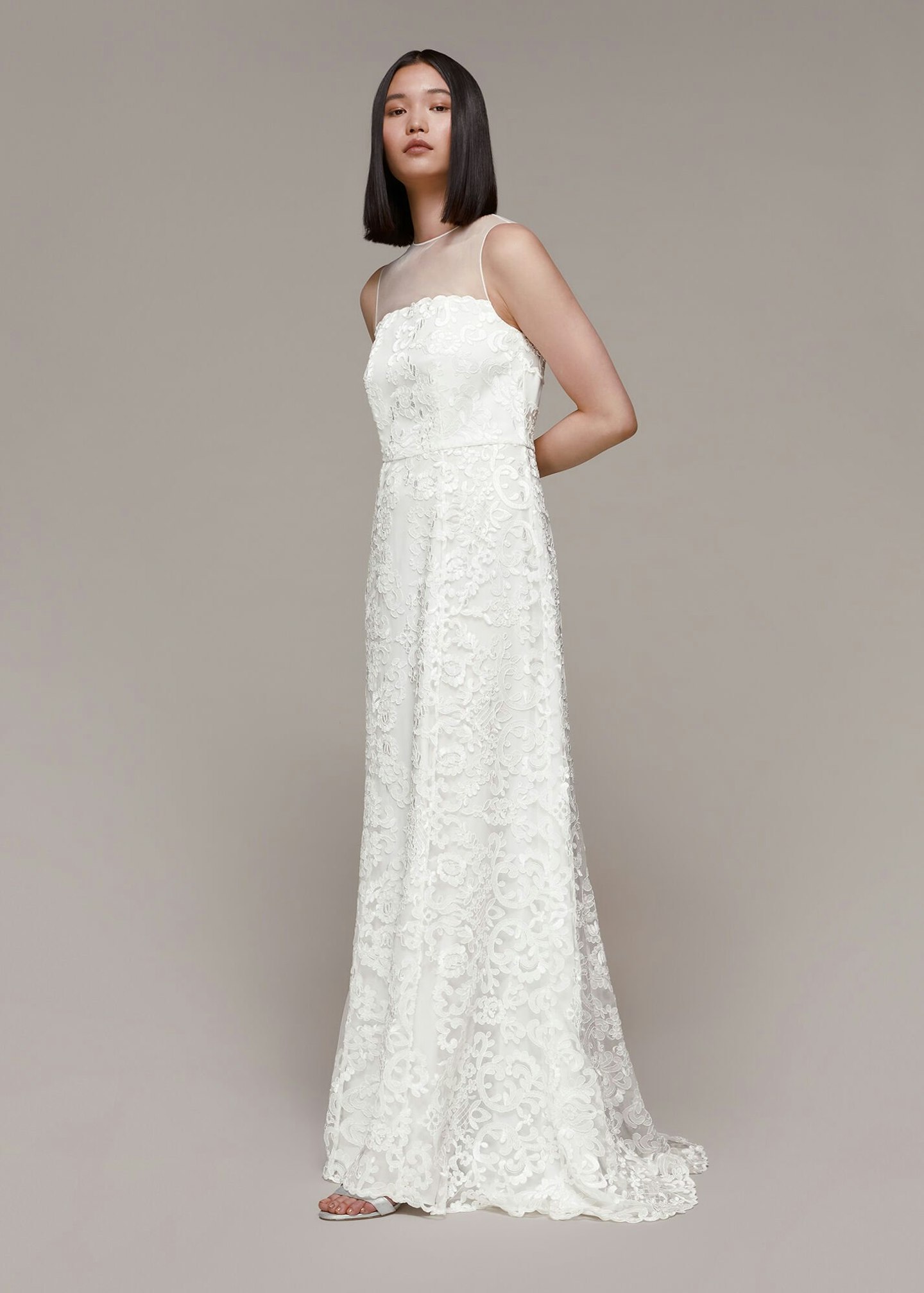 whistles
Description
It's the sheer detail with the lace for us. Dreamy. Available in all sizes, up to 18, the Therese
Best plus-size high street wedding dress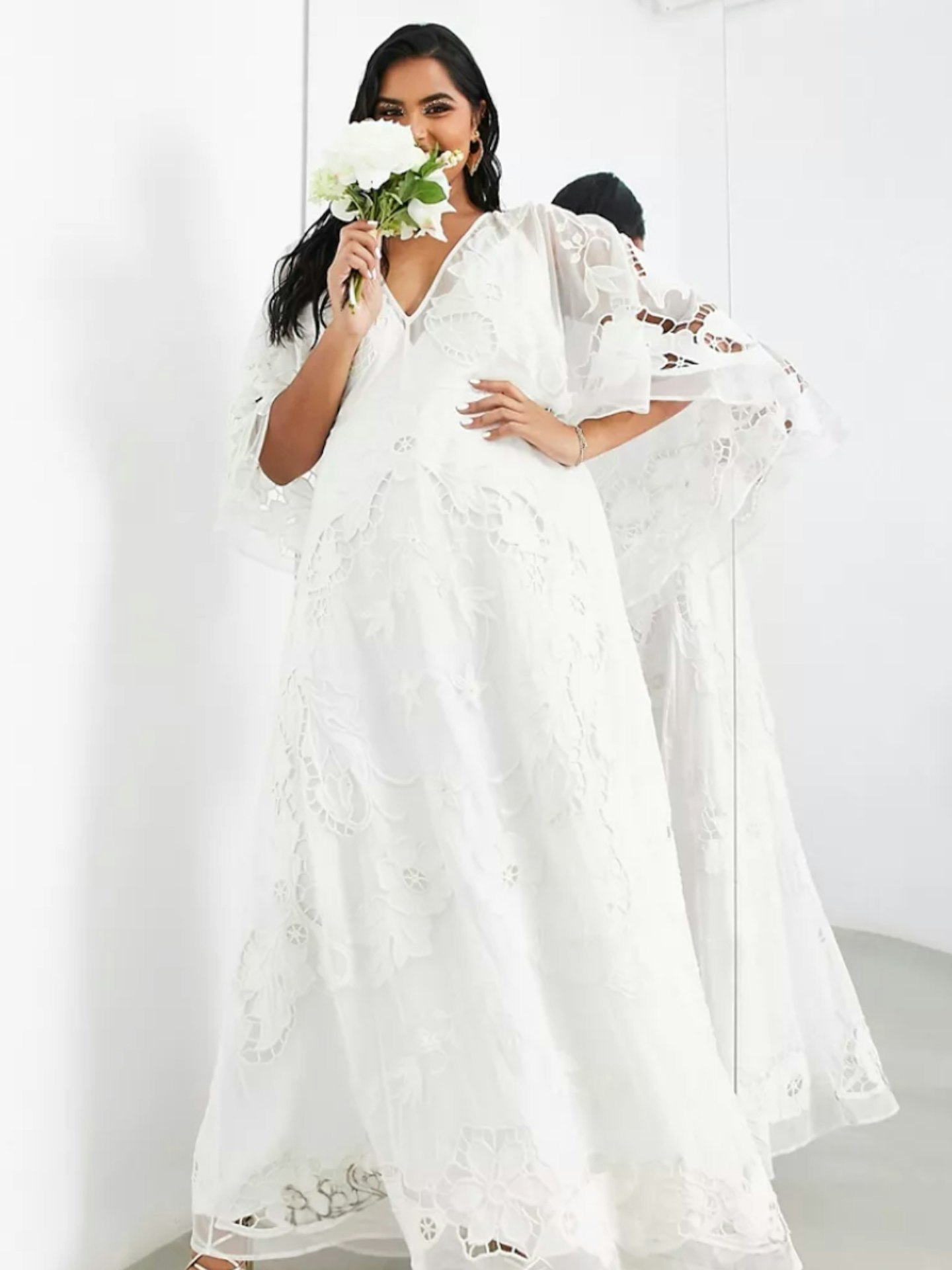 asos
Description
Best long-sleeve high street wedding dress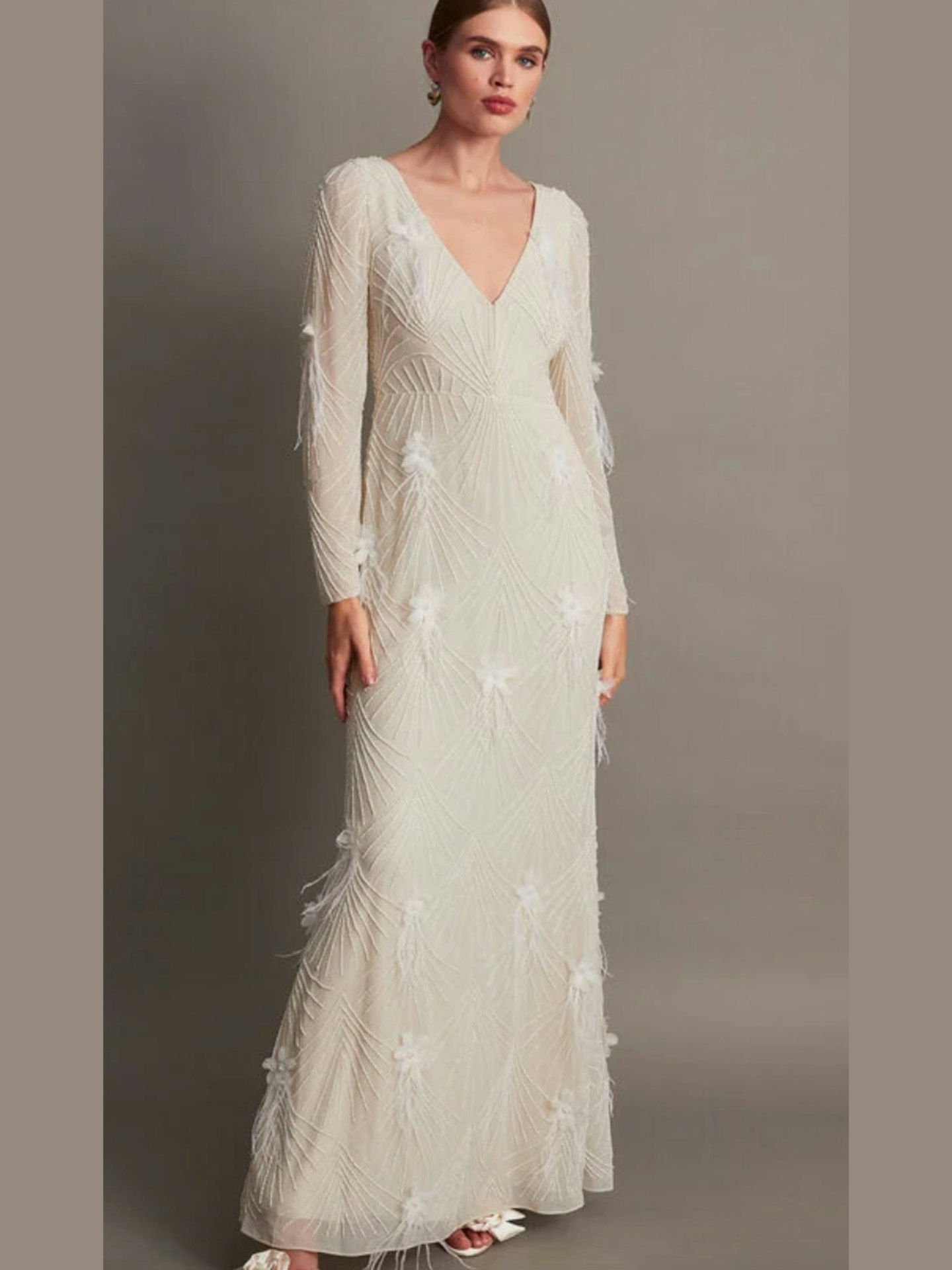 monsoon
Description
The flattering V-neck and the embellished fabric are what make the Monsoon Briana Botton Sleeve
Best customisable high street wedding dress
the own studio
Description
The new Own The Studio collection is worth shouting about. With unique dress shapes and additions
Best vintage-style high street wedding dress
Description
The vintage vibe of this Laurel Cloud Dancer Wedding Dress makes it feel one-of-a-kind. And, of
Best bardot high street wedding dress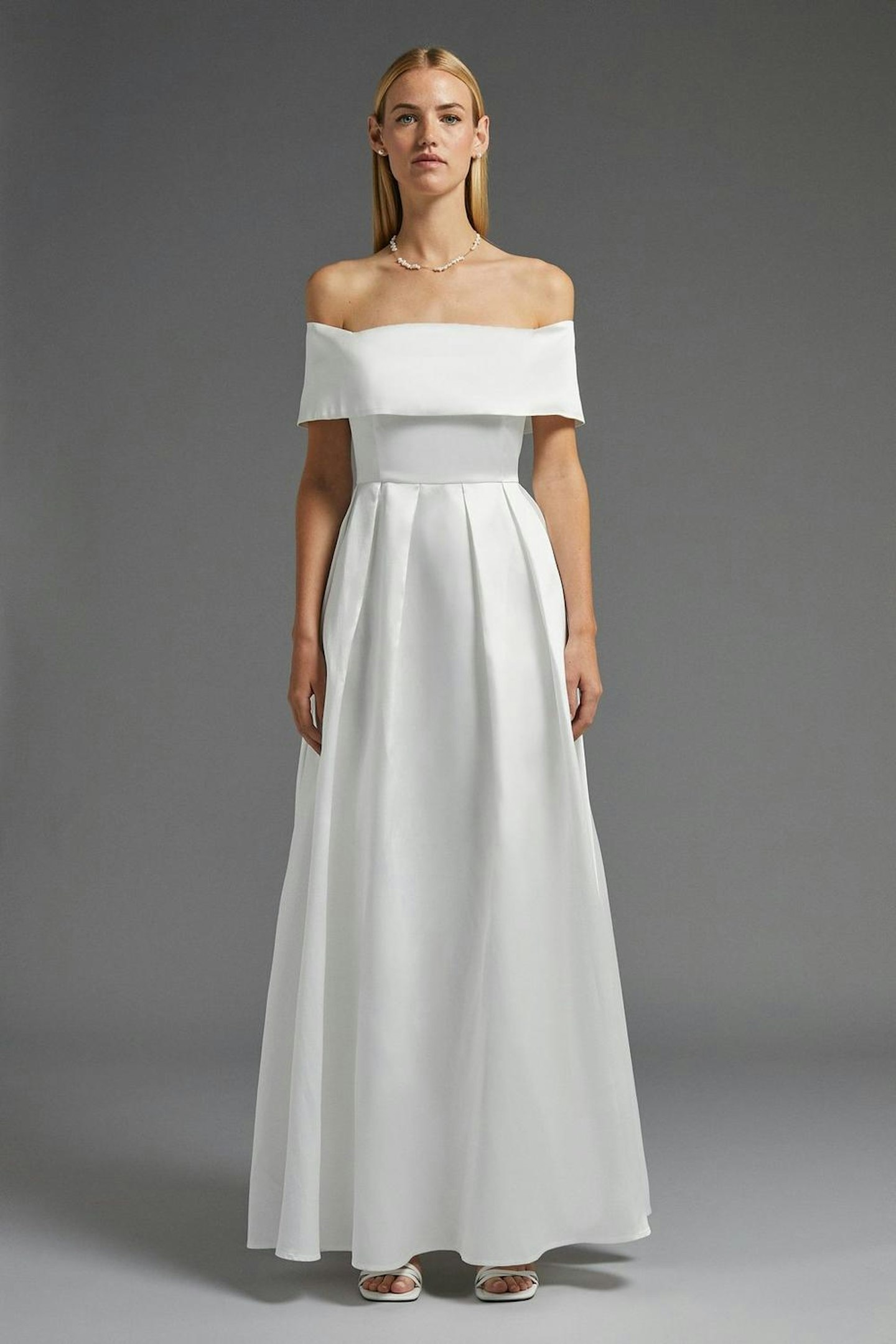 coast
Description
For a more traditional look, the Structured Bardot Full Skirt Maxi Dress, with its
Best short high street wedding dress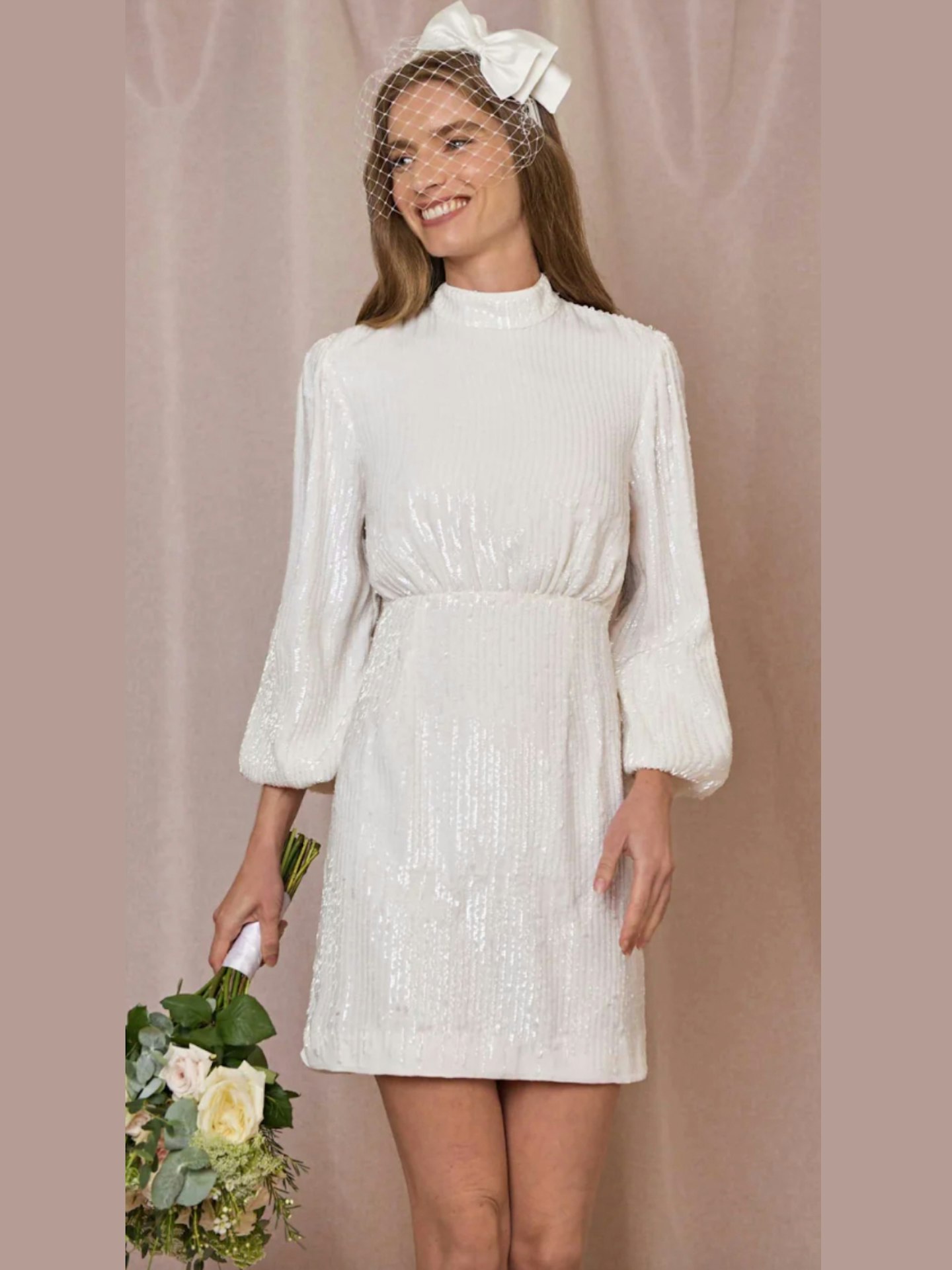 rixo
Description
For a registry office or somewhere abroad, the Rixo Lara Dress with its sparkling fabric is the
Best antique-style high street wedding dress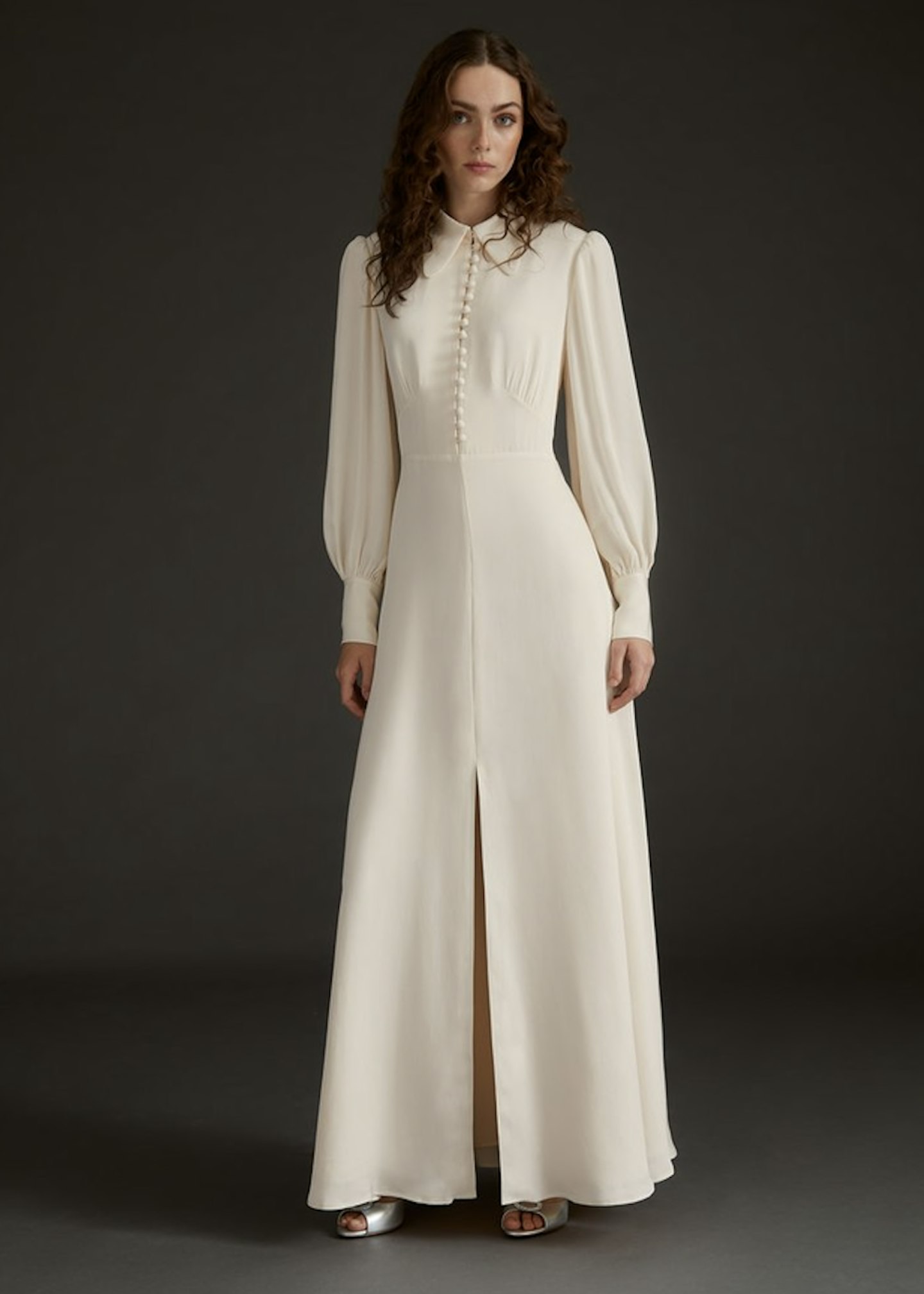 LK Bennett
Description
Wow! How incredible does the Harlow Ivory Satin Wedding Dress look with its collar and puff sleeve
Best square-neckline high street wedding dress
Whistles
Description
Square necklines are currently one of the most sought-after details on wedding gowns. This
How Much Should A Dress For A Wedding Cost?
Short answer - it depends. According to hitched.co.uk's 2023 wedding survey, the average amount spent on a wedding dress in the UK was £1,300. Having said that, your wedding dress could be more or less expensive, depending on what you're looking for.
Brands like ASOS, Reformation and Revolve offer affordable high-street wedding dresses for as little as £300. However, if you're looking for a bespoke dress from a designer, £2,000 may be more realistic.
What Are The Best High Street Wedding Dress Brands To Shop From?
Brands have been launching bridal collections left, right, and centre, and we're seriously impressed. Coast has its premium bridal collection, which offers up plenty of styles and separates ready for you to build your perfect wedding day outfit. From short chiffon mini dresses to flowing plunge-neck sequin gowns, whatever you're feeling for your wedding, they've got you covered. And then there's A-list favourite, Rixo.
High street fave Whistles kicked off 2023's wedding season with a bang, returning with a selection of dresses, tailoring and jumpsuits that offer something for every bride (and bridesmaid), and we're a huge fan of the sleek style every minimal bride will love. And the collection just keeps on giving. Our hero piece? The Mia dress you could easily pair with a faux fur jacket if it's a winter wedding.
Self-Portrait is also the destination for dresses with attention to detail. Think structured hems, intricate lace details and embellishment, and they all start at just £280.
And ASOS' wedding department reported selling around 800 bridal dresses a day, and with its gowns from as little as £50, we can't forget this online hot spot when it comes to getting wedding dresses delivered directly to your door. Add to this, Closet London, Monsoon Fashion and Ghost's wedding site have had huge success with bridalwear, and it's no surprise that so many other high-street brands are following suit.
How Many Months Before The Wedding Should You Buy The Dress?
When shopping for a wedding dress, you need to strike a balance between not shopping too far in advance, but also not leaving it too last minute. Shopping too far in advance could mean a change in trends as well as personal preference while leaving it for a few weeks before can lead to unnecessary stress. The sweet spot? Around eight to 12 months before your wedding day. This will give you time for multiple fittings, as well as alterations, which typically take around three months.
Where Can I Sell My Wedding Dress?
Selling your wedding dress is a great idea for a few reasons. Firstly, you'll be extending the lifecycle of the garment by passing it on to another bride, and you'll also be making some extra cash for the honeymoon. A few of our favourite second-hand retailers to sell pre-loved clothes are Vestiaire Collective and Vinted.
How Much Are Wedding Dress Alterations?
Depending on how minor or major the tweaks are, your alterations could cost anywhere from £80 to £400.
Hannah Banks-Walker is the Head of Fashion Commerce for Grazia, where she waxes lyrical about midi dresses and tries not to collect any more red lipsticks.