Halloween is the perfect time to let your creative juices flow! Whether you're planning to attend a spooky Halloween bash or are just planning on getting dressed up with some friends, there are plenty of outfit ideas to choose from whatever your plans are. So, if you fancy channelling your favourite celebrity moment via your costume or want to go for something a little more scary, here are are some Halloween costume ideas to try now...
Movie Character Halloween Outfit
If you're looking for a costume that the whole family can enjoy, dressing up as a movie character is always a nice choice. The options are endless - and, remember your costume doesn't always have to look scary.
Barbie Halloween Costume
According to Boohoo, Barbie is expected to be the most popular Halloween costume this year, especially as the phrase 'Barbie costume' receiving a average of 18,000 monthly Google searches.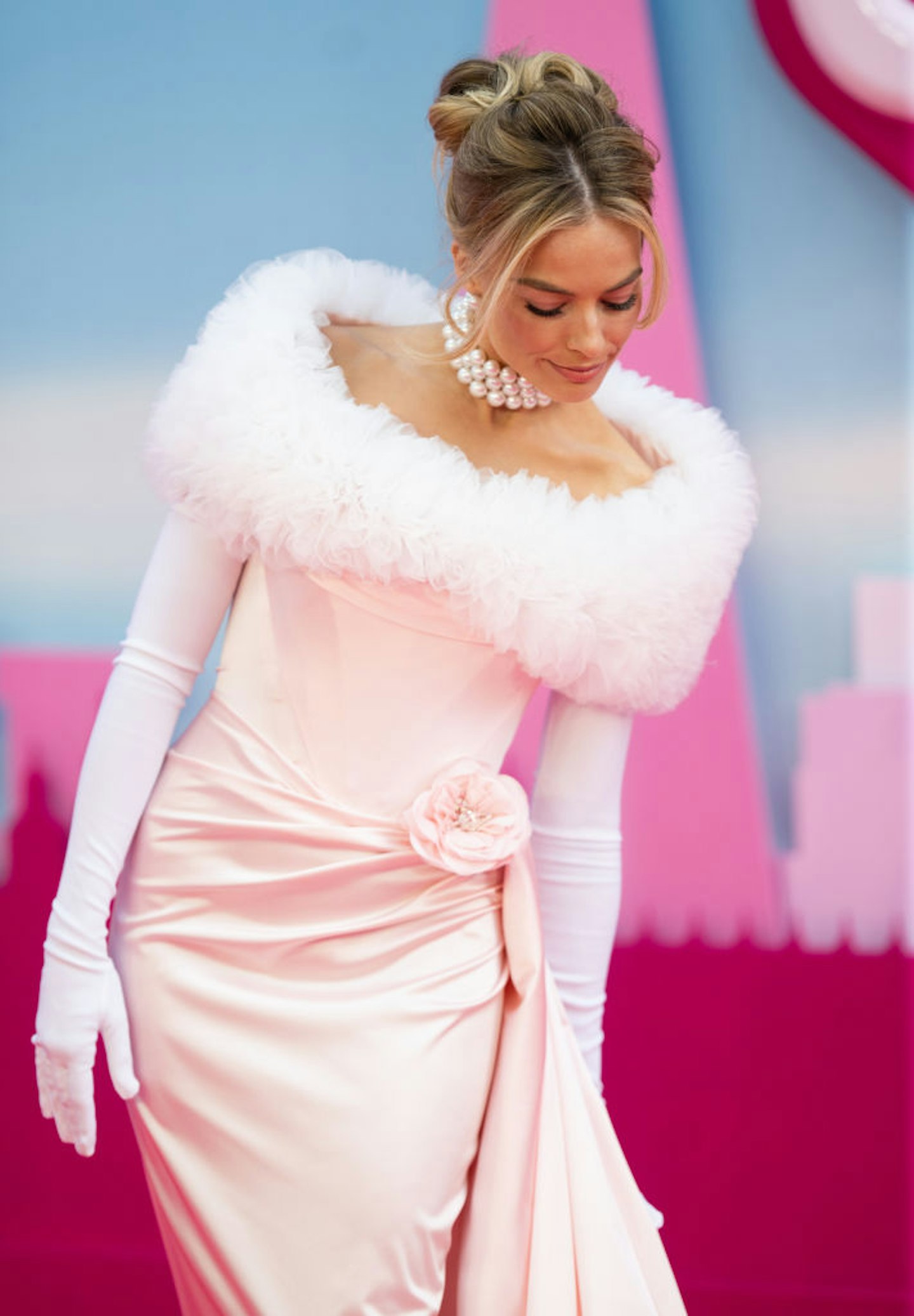 Description
Zara's Barbie collection is a good shout for any Barbie looks, there's bags and even cuter
Nicki Minaj Cinderella Halloween Outfit
Miss Minaj went for a Cinderella look last year! Disney princess' are always a good choice. Why not channel your inner child?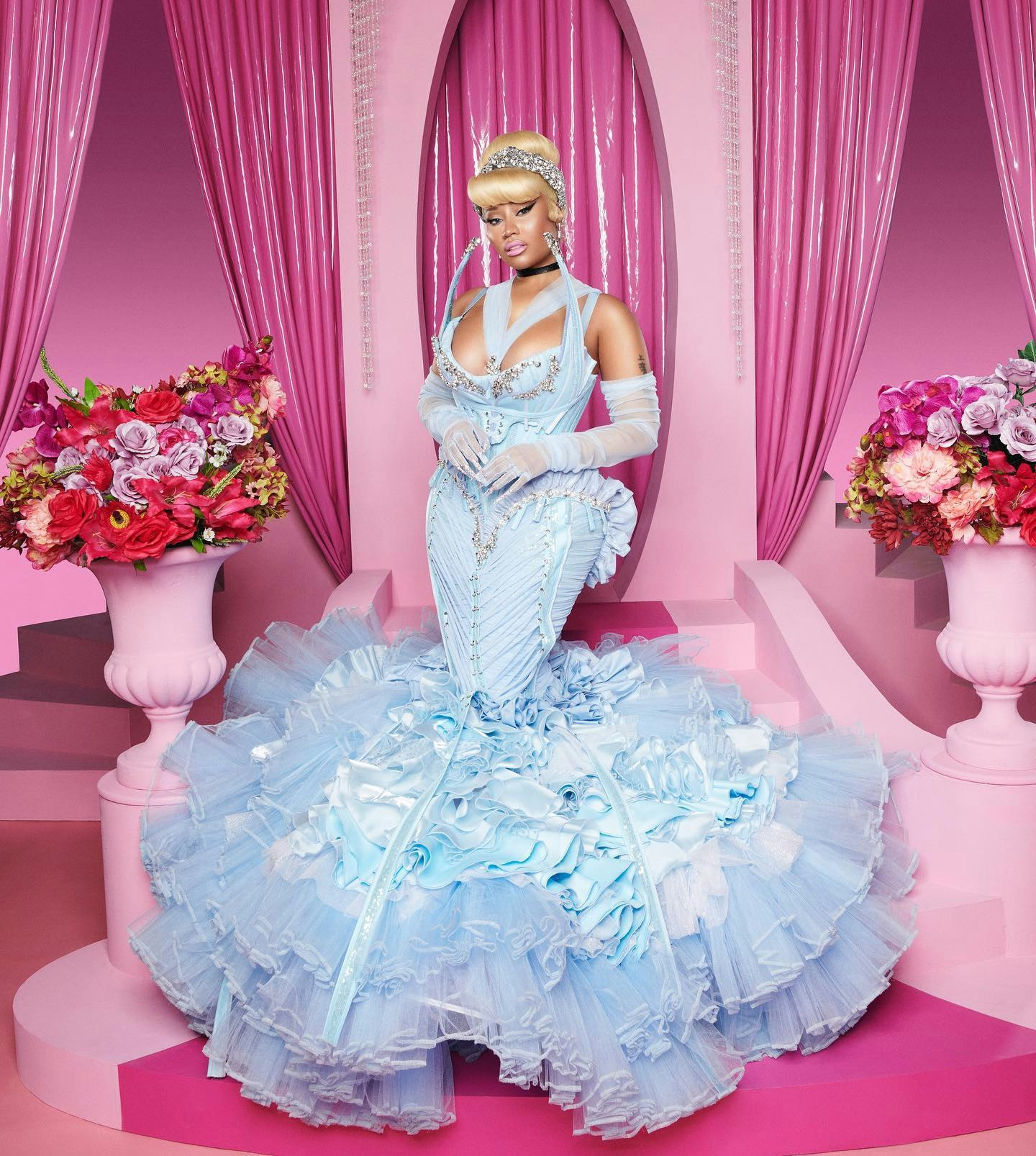 Description
This dress from Oh Polly says modern cinderella. It has been embellished with intricate beading
Description
Cinderella's colour was blue after all. Once spooky season is over this dress can definitely be
Description
Think of this as your final touch to your Cinderella look - after all she loved a black choker.
The Little Mermaid
We are likely to see Ariel has another popular pick, following the recent release of The Little Mermaid live-action adaptation. As a result, the search term 'Ariel costume' is now averaging 8,000 monthly searches globally according to Boohoo style experts. To capture Ariel's iconic style, combine a purple seashell bikini top with a green mermaid tail skirt, accessorise with seashell jewellery, and include her trusty sidekick, Flounder.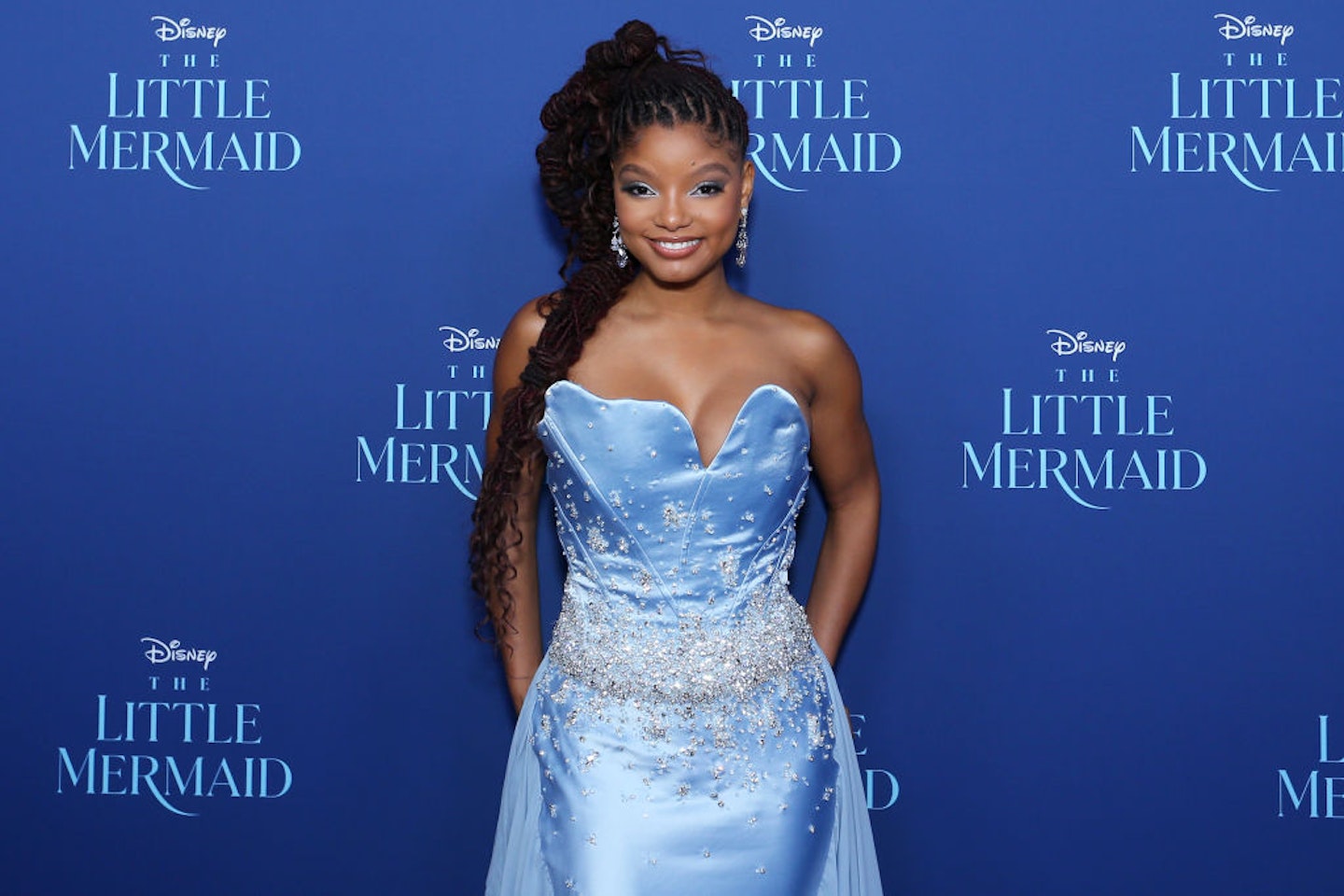 Description
Ariels go to bikini was purple this is a pretty close pairing.
Description
A long green maxi sprinkled with glitter is a creative way to achieve Ariel's mermaid tail.
Description
If a seashell necklace has been on your wish list for a while this is your excuse to buy it. This
Queen Charlotte From Bridgerton
Bridgerton's Queen Charlotte is another set to be one of the most coveted costumes - thanks to Netflix. Bridgerton as you probably know is synonymous with ballgowns and intricate hairstyles, fans now have the ideal opportunity this Halloween to transform into any of the characters!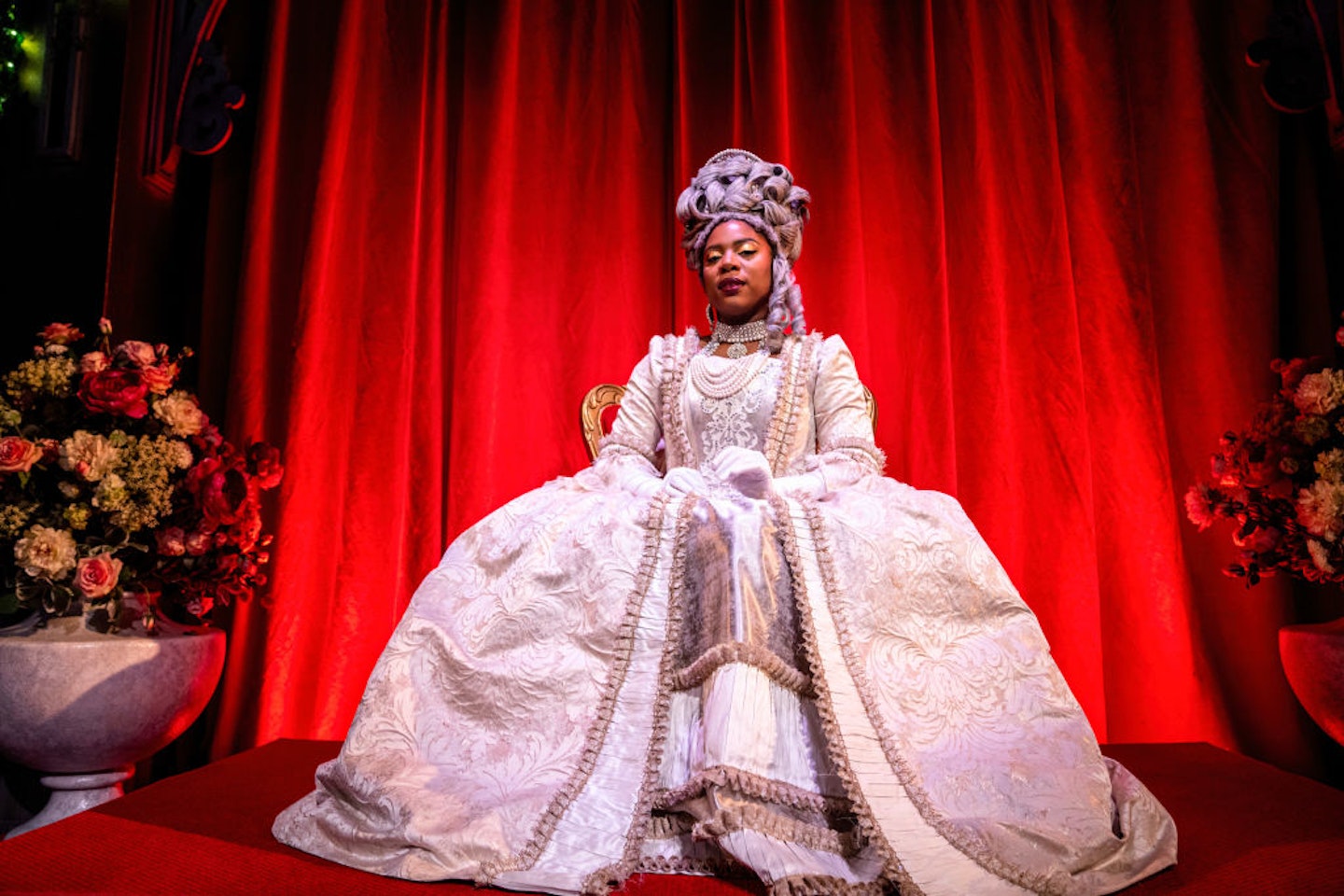 Description
Pastel hues is very much Bridgerton, think lilacs, creams and periwinkles. Team this dress with
Scary Halloween Costume
Why not go down the traditional route? Nothing screams Halloween more than fake blood, fangs, broomsticks and a store-bought costume! This works well as duo too! Just look below!
Jayda Cheaves And Dess Dior The Shining Twins
Want to give spooky and cute? You can recreate Dess and Jayda's take on 'The Shining Twins' with a blue mini skater dress, white high knee socks and a platform boot. You could also add your own twist by playing around with different props.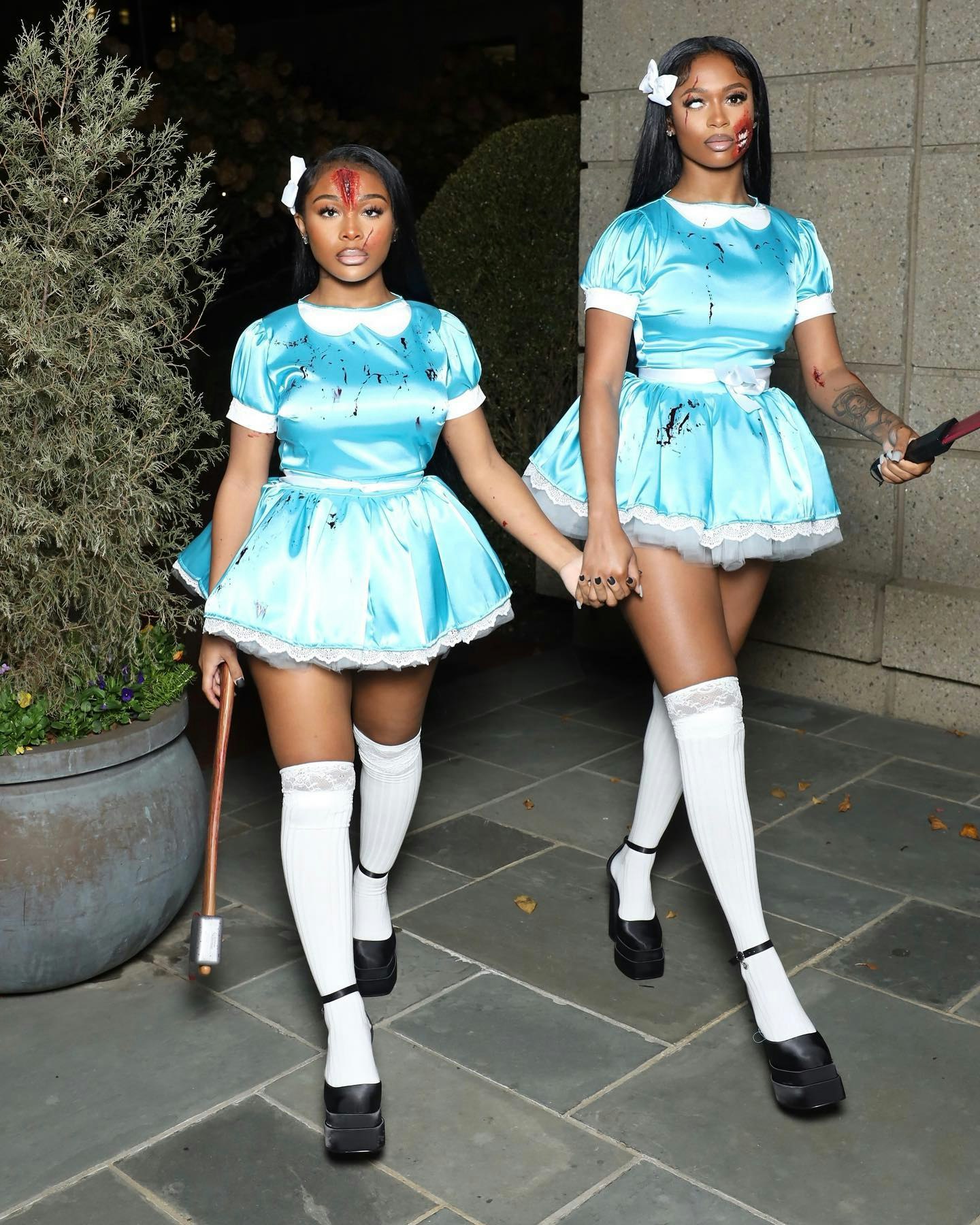 Description
Dolls Kill is a great place to stock up your Halloween gear, they have a lot of interesting pieces.
Description
M&S say this shoe will take your style to new heights and we thoroughly agree. Consider this
Kylie Jenner Bride Of Frankenstein Halloween Outfit
Kylie goes big for Halloween, photoshoots and all. Last year she opted for a custom Jean Paul Gaultier gown and satin skirt. As for the hair a wig and hairspray is your best bet. To achieve the full look scroll down.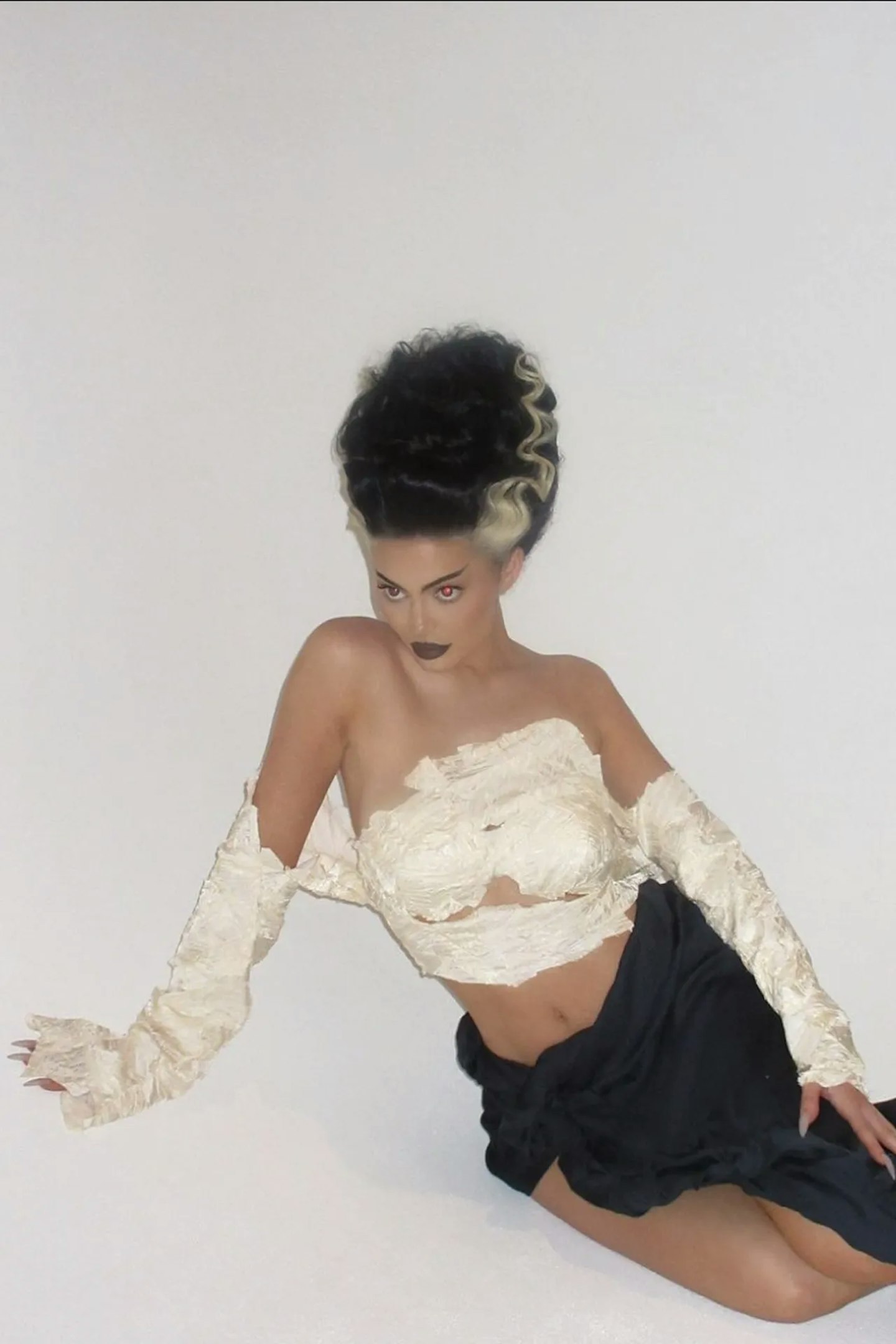 Description
You could probably have fun 'DIY-ing' Kylie's top, but if you're not up for the task shop below.
M3GAN
Despite its early 2023 release, horror doll M3GAN is another one of this year's most popular costumes for those choosing a scarier costume choice. Capture the essence of M3GAN doll by layering a beige dress over a striped long-sleeve top, complemented by white tights, ballet flats, and M3GAN's distinctive blue and red striped kerchief or scarf.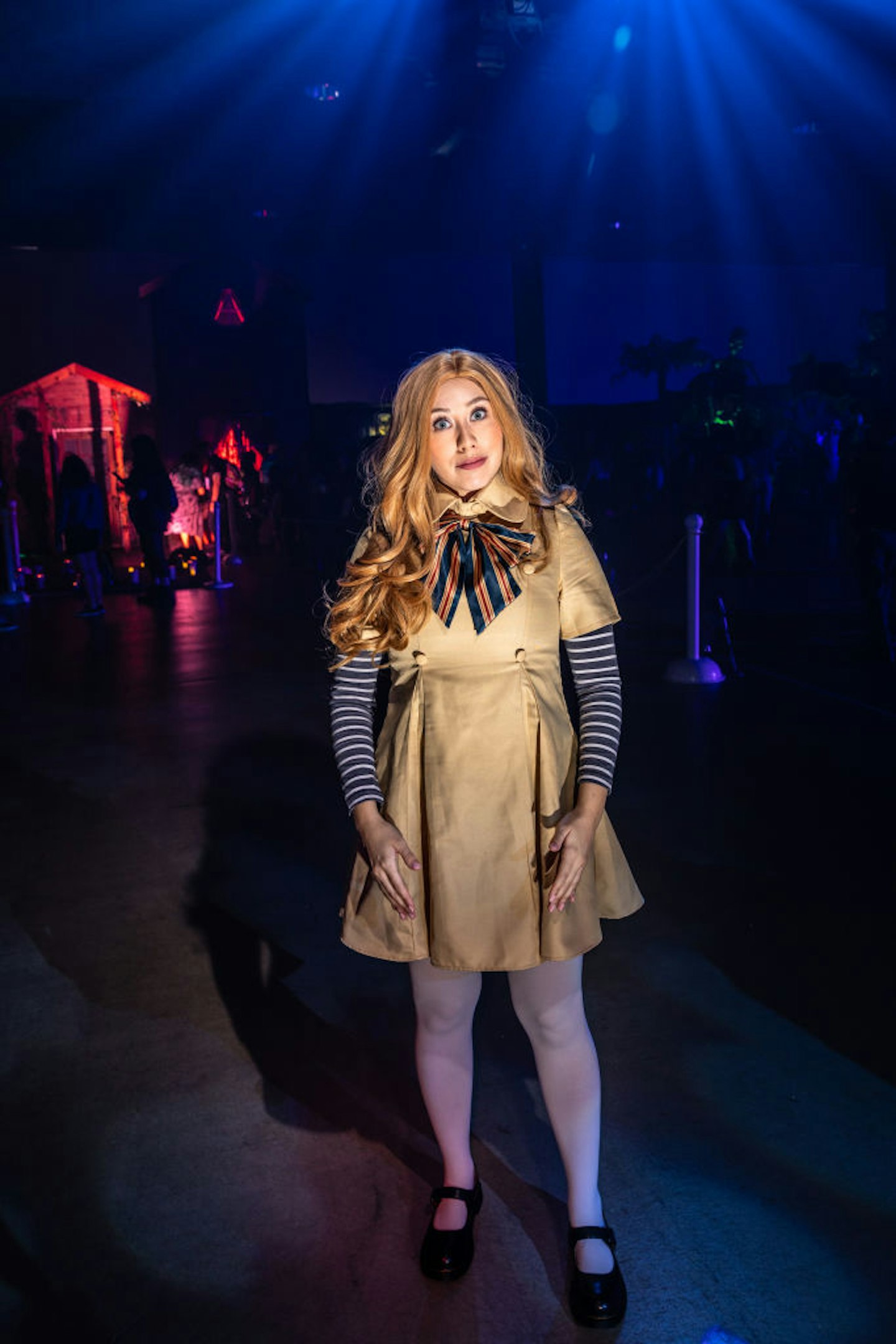 Description
M3GAN would love this Abercrombie & Fitch mini vest dress.
Description
A striped top under your chosen dress is a must for your M3GAN Halloween costume.
Description
Mary Janes and white tights are M3GAN'S preferred shoe choice. This a nice choice to have on
Wednesday Adams
Yes, Wednesday came out in 2022, but you better believe you can still take on this costume this October. To steal Wednesday's style you need two braids, a black dress and a hand...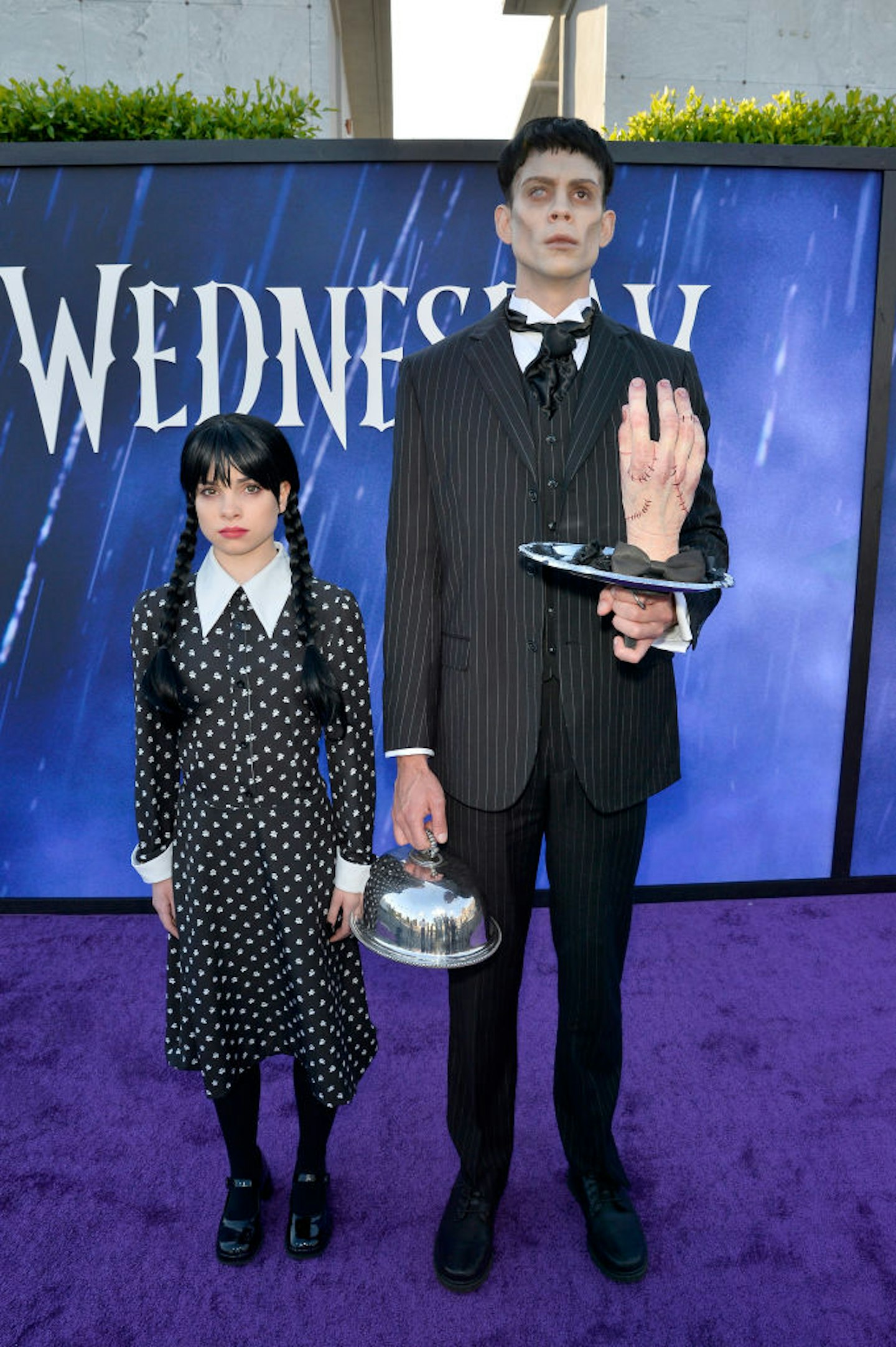 Description
A dress with a shirt poking out is typical Wednesday Adams.
Description
Wednesday Adams is Gothic realness, add some chunky boots and black tights amp your costume up.
Iconic Halloween Outfits
One simple and quick option is dressing up as your much-loved hero. And another plus is you most probably have all the items at home, too!
90s Halloween Costume
North, Saint, Chicago and Psalm pulled this off fantastically, dressing up as legends Aaliyah, Snoop, Sade and Eazy E.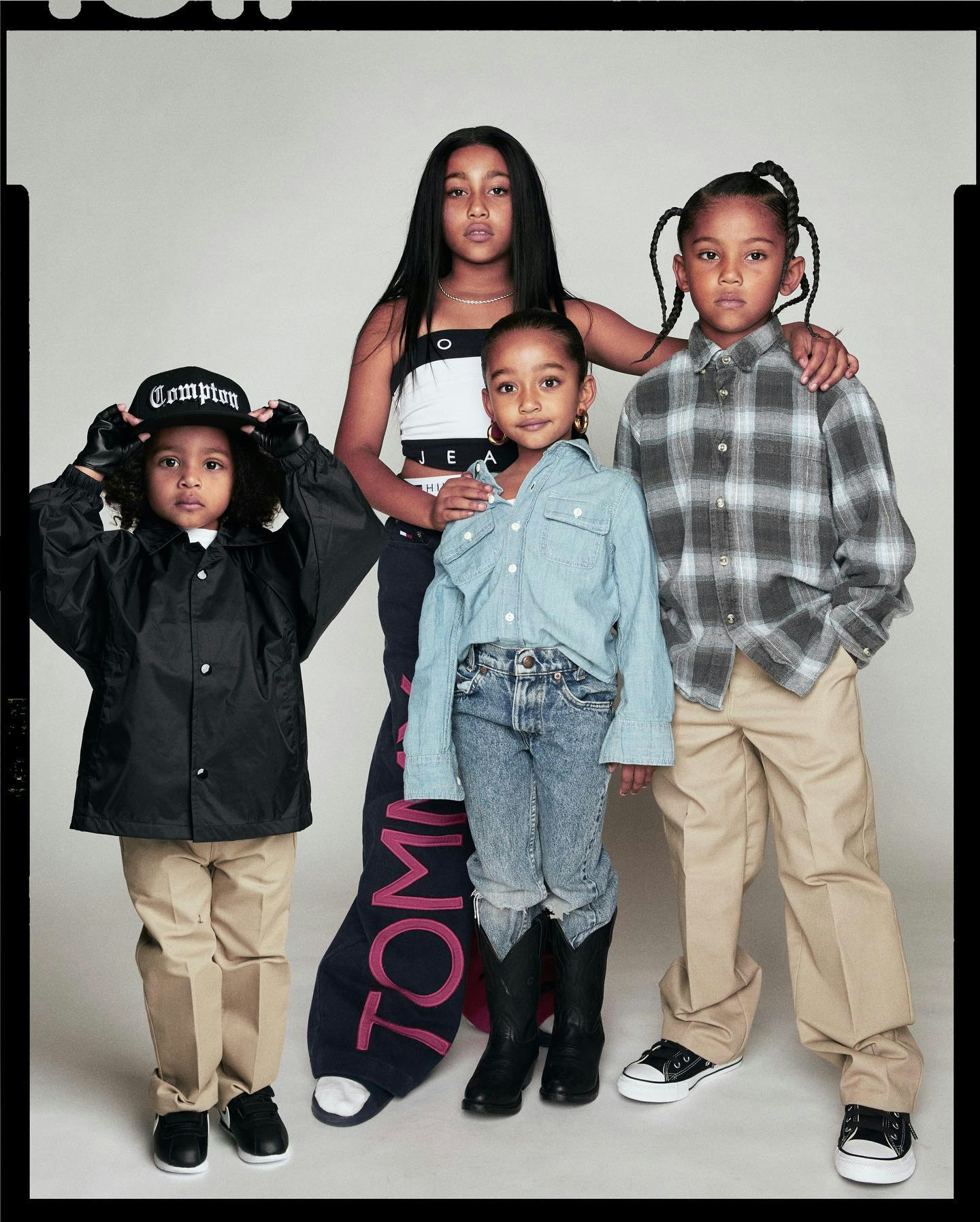 Description
We picked this denim jumpsuit as a good option if you'd like to recreate Chicago's Sade costume.
Description
Forget Halloween for a second, everyone needs a pair of trusty cowboy boots in there arsenal. Its
Description
You most likely have a flannel somewhere in your closet, if not here is an affordable one from Next.
Description
We picked out this pair because its stylish an nicely oversized. These will go the distance well
Description
This is the perfect bandeau if your dressing up as Aaliyah. Tommy Hilfiger will never go out of
TLC Halloween Outfit
Ciara is known for going all out for spooky season. This is her as all the members from 90s girl group TLC.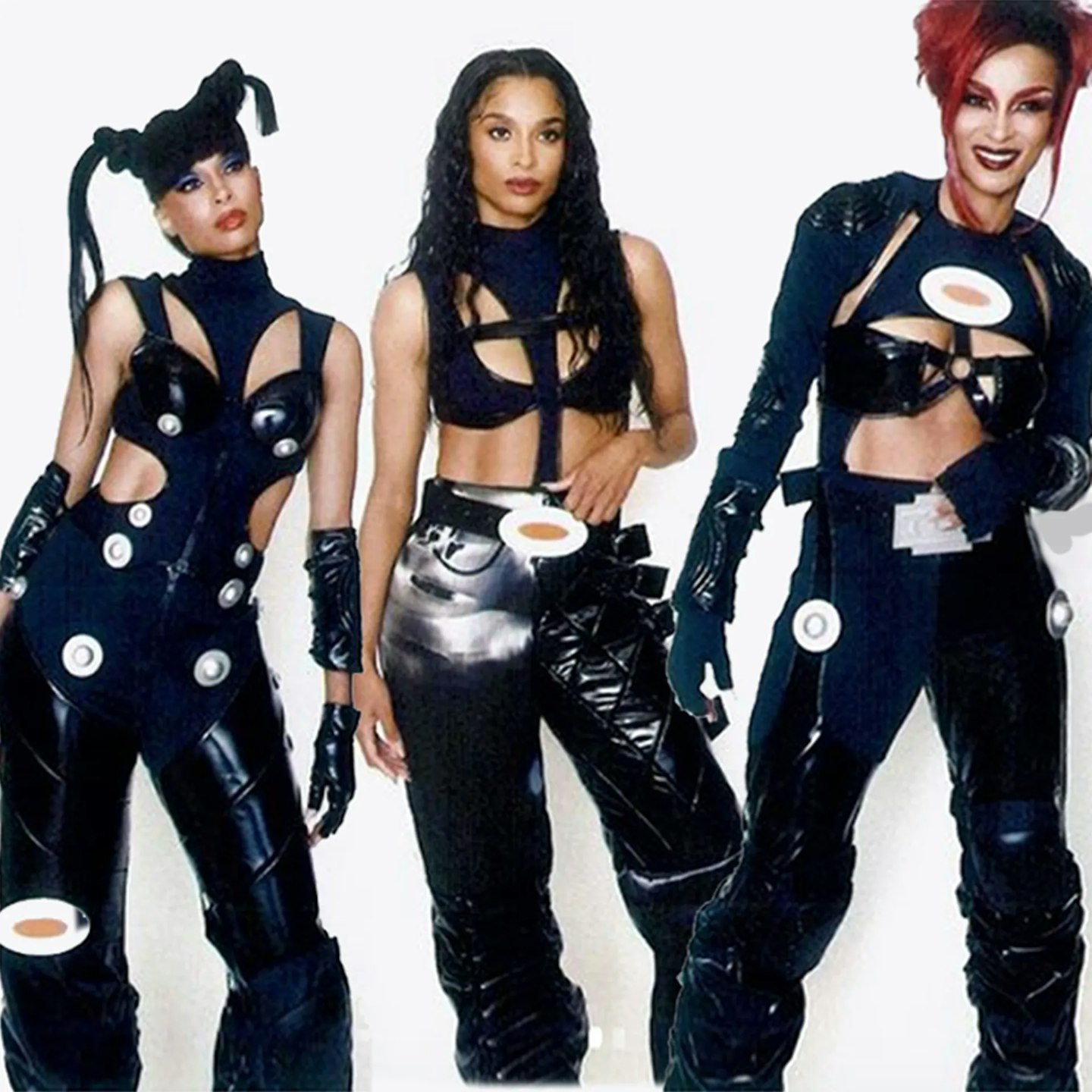 Description
This top is so TLC. Zara have a lot of leather offerings if this is the costume your heart is set
Description
You'll need a pair of trusty cargoes to complete Ciara's TLC look. We love this oversized
Meme Halloween Costume
Another popular choice is to dress up as a popular meme or internet sensation. TikTok memes and catchphrases have both been popular costume choices in recent years (Another way to make sure your outfit is suitably topical is to choose from one of these aesthetic outfits.)
Salt Bae Halloween Outfit
If you're feeling salty, dress up as Salt Bae!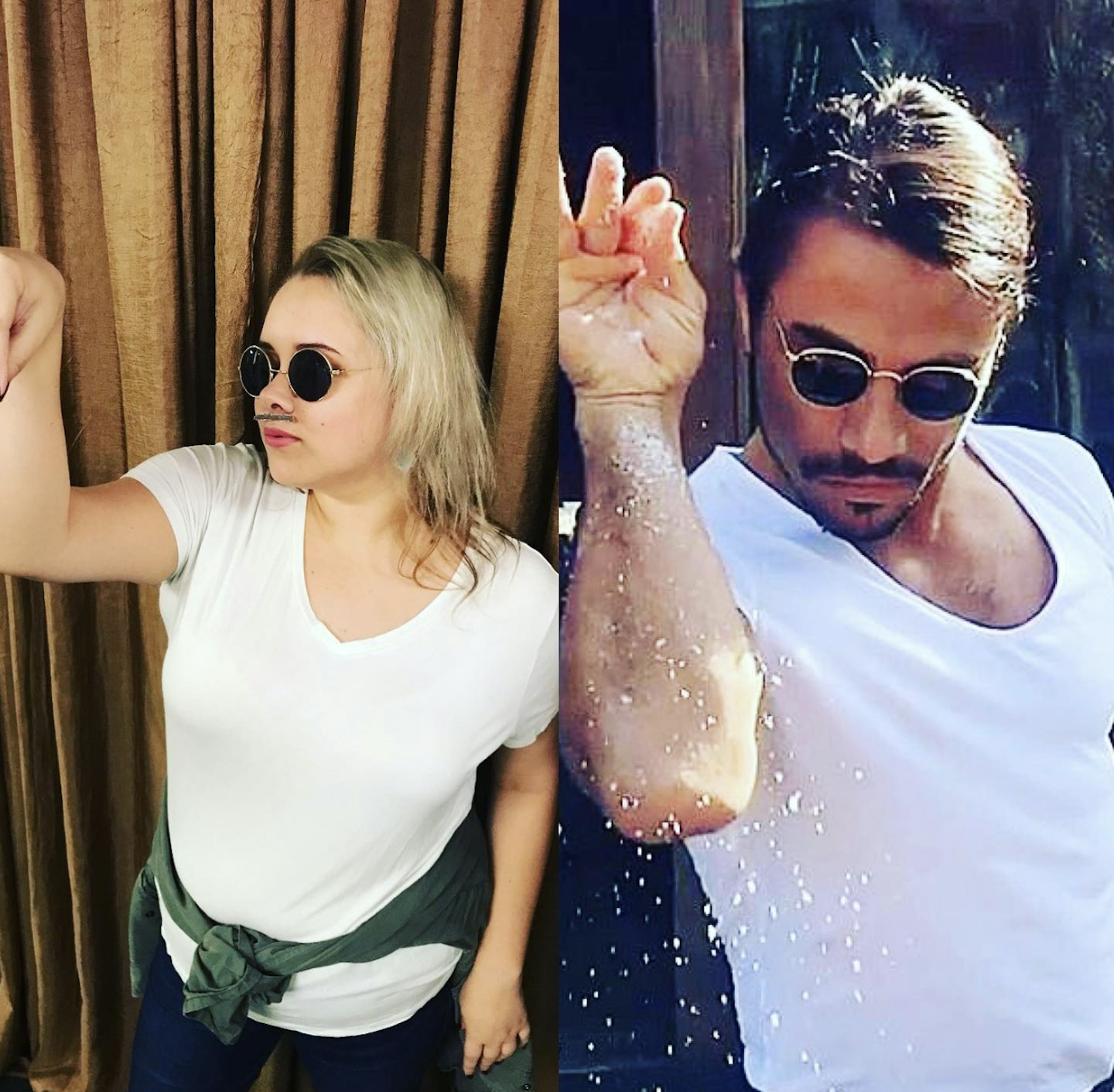 Description
A plain white tees is staple that you most likely have your wardrobe already, if not you need COS.
Description
You can never have too much denim in your wardrobe and Uniqlo do not compromise on quality.
Description
This a vital part of your Salt Bae look, its mandatory these stay on all night.
Kendall Jenner Cucumber Halloween Costume
Kendall Jenner dressed up as a cucumber last Halloween after fans mocked her kitchen skills in her viral TikTok.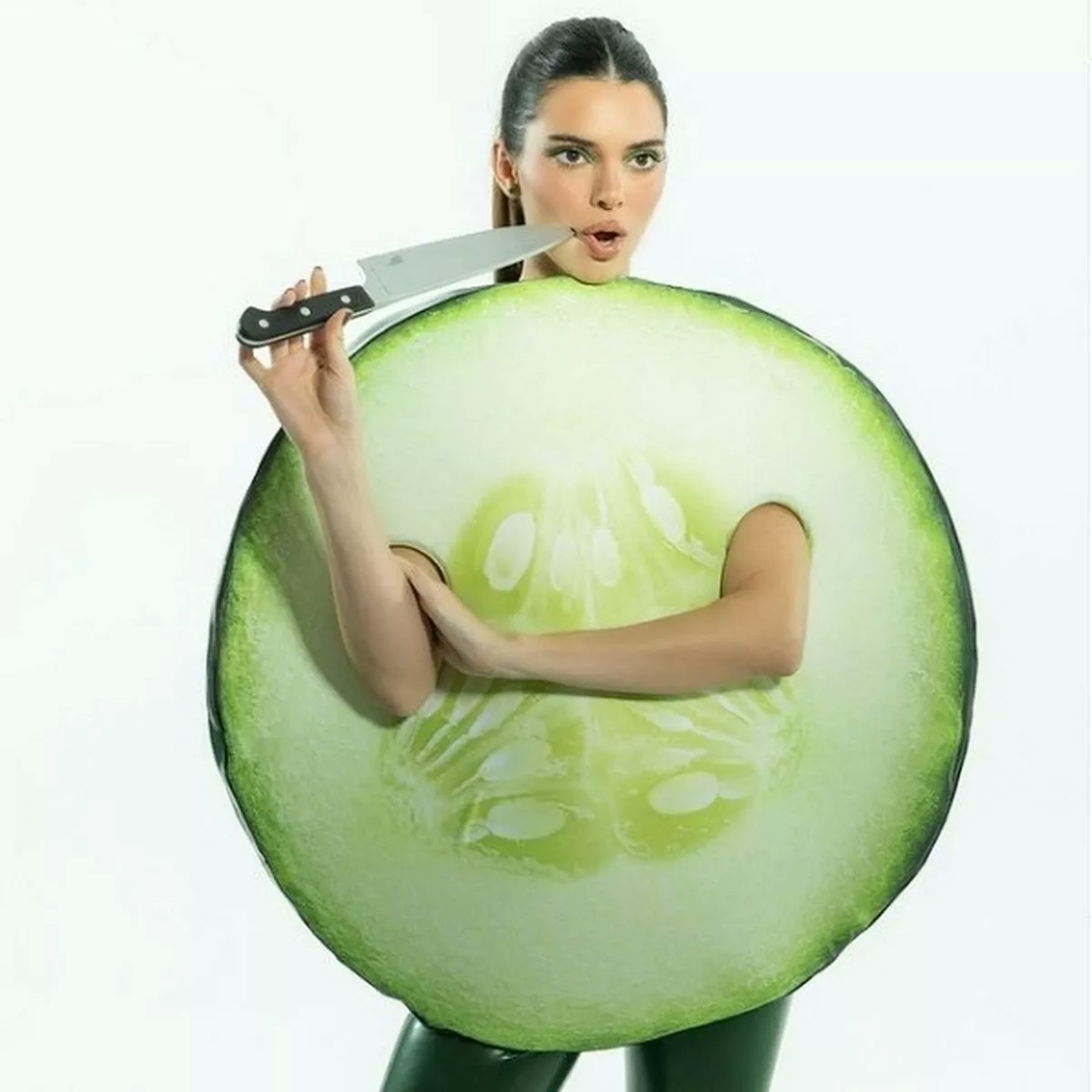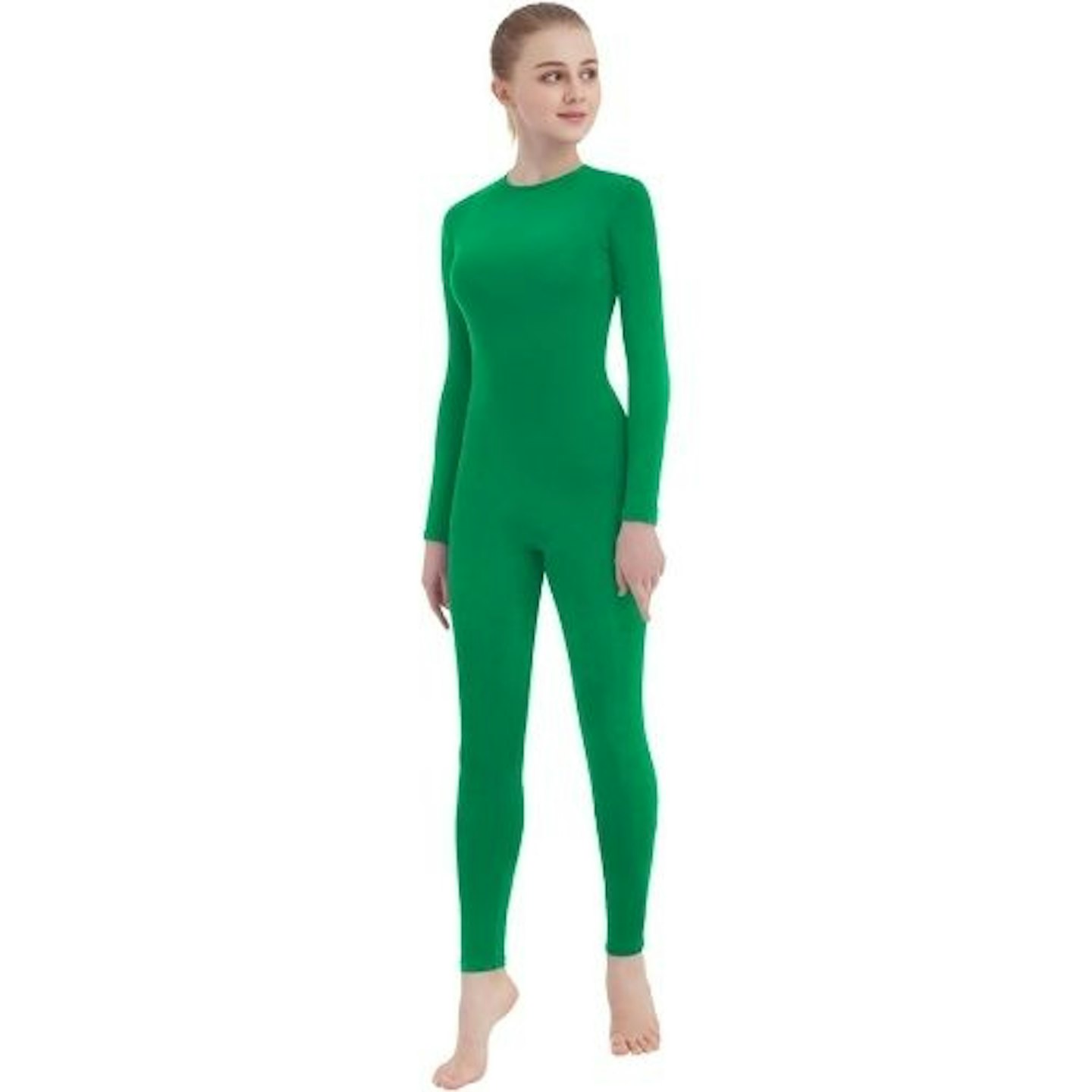 Amazon
Description
This will form the basis of your cucumber look, don't forget to print out a cucumber and add some
Description
Adding a bow to this Halloween costume will complete it. Theres no doubt everyone will know you're