It's official: Elizabeth Debicki in the 'revenge dress' has taken over Instagram. Emma Corrin's replacement in The Crown, which is set to return to screens in November 2022, was spotted filming season five wearing one of the royal's most iconic looks of all time. Of course, Gen Z 'discovered' Princess Diana for themselves when season four was released last year. They were hooked on the aristocratic soap opera, sure, but what they were really wowed by was the Diana 'look' – the oversized collars, the kitsch knits, the gloriously 80s dresses.
But while Diana's early royal looks are indeed charming, it's her post-divorce style that really gets me hot under the (frilly) collar. Having separated from Prince Charles in 1992, before divorcing in 1996, she unveiled a new confidence, with clothes to match. Finally, it was about doing things her way. And it's this wardrobe that we can hope to see more of in season five, which picks up in the early Nineties.
Of course, Diana's ultimate estrangement moment came at a 1994 fundraising event at the Serpentine Gallery, held on the same night that a television interview with Charles was broadcast in which he publicly admitted to adultery. But lots of people don't remember that; what they remember is the 'revenge dress'. Rather than hiding under the covers (even if that was exactly what she wanted to do) or even opting for something sweet that said 'poor little me', Diana chose a sexy LBD by the designer Christina Stambolian. Created for her three years earlier, it was reportedly rejected at the time for being 'too daring'. But good things come to those who wait, and the revenge dress found its perfect moment to strike. It was a look that said: 'I'm in charge. Your loss. Thank you, next!' I guess the equivalent nowadays is posting a best-life thirst trap on Instagram.
That dress might be the most famous of her post-separation style moments, but it's by no means the only revenge look (if you want to go deeper, I suggest you follow @ladydirevengelooks, stat). Other standouts include the succession of wiggle-worthy Versace dresses, the 'I mean business' skirt suits that spelled a new intent, the Catherine Walker cleavage-baring gown worn with slicked-back, wet-look hair at the CFDA Ball in New York in 1996 (there is also a red-hot cocktail dress by Walker worn that same year that is equally deserving of 'revenge' hero status). She was out to recast herself from victim to vixen.
One of Diana's favourite accessories during this time was not just manicured two-fingers to Charles, but the whole of the firm. It was her boxy, quilted, top-handle Lady Dior bag (named in her honour, and still available to buy today) gifted to her by the first lady of France, Bernadette Chirac. British royals were supposed to carry British bags (if they did at all). Her carrying of a bag that wasn't only French, but suitably spacious enough for the modern working woman, revealed she had said 'au revoir' to the formal fashion rules of the firm.
What the Insta generation love from this time too are Diana's gym looks. Departing the Chelsea Harbour Club, in sunglasses, cycling shorts, techy-trainers and slouchy sweaters she looked, quite literally, supremely fit. The temptation after a breakup can be to wallow, to 'let yourself go', to deny yourself essential self-care – but at least according to those pap shots, this wasn't on the agenda for Diana.
And I happen to think the easiest divorce-Diana looks to pull off are her smart-casual ones. The high-waisted jeans and chinos, the white shirts, the bourgeois gold-buttoned blazers, the dashing-around-town Tod's Gommino driving shoes (what better choice for the woman who is now in the driving seat?). By finely tuning a look that was poised, polished and paparazzi-ready at all times, but also easy, breezy, flirty, she reminded the world that although she had lost her HRH status, she was still the quintessential modern princess. Via the denim, the athletic get ups, the va-va-voom dresses, the Dior, she was showing that she was free.
Still, none of this is to say the separation from Charles would have been easy for her. On the contrary, nobody did more to break down the barriers around mental health struggles than Diana did. She, like all of us, was not immune to being heartbroken. And while there is no perfect breakup playbook, I think there are lessons to be learned in Diana's post-divorce style. Namely, that looking great and being happy (or at least appearing to be) is without doubt, always the best revenge. Sometimes you have to fake it to make it. Season five can't come soon enough.
SEE: Princess Diana's Best Looks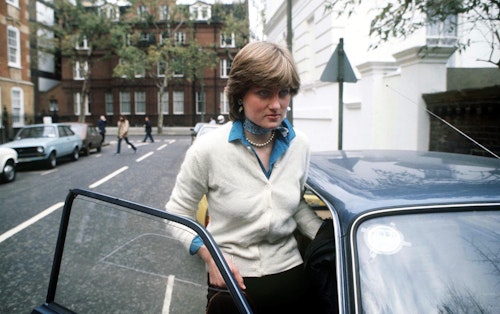 1 of 47
CREDIT: Getty Images
The young Diana Spencer wears a shirt and neck scarf in 1980 - take note if you want to channel this season's preppy vibes.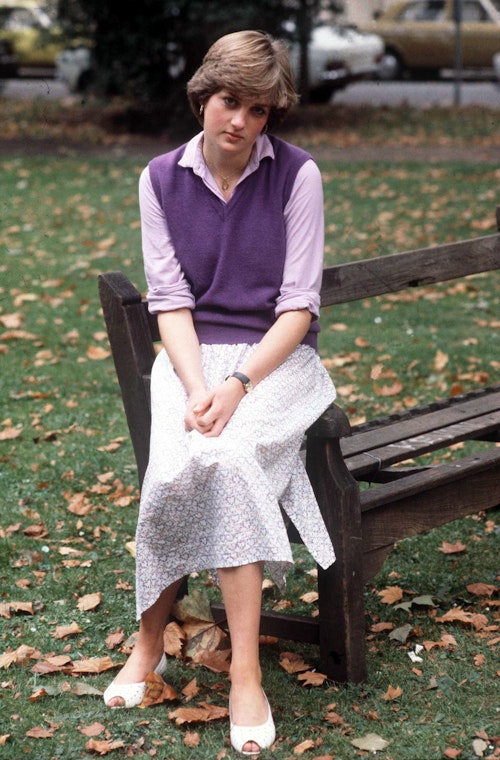 2 of 47
Into the sweater vest trend? Diana shows you how to do it.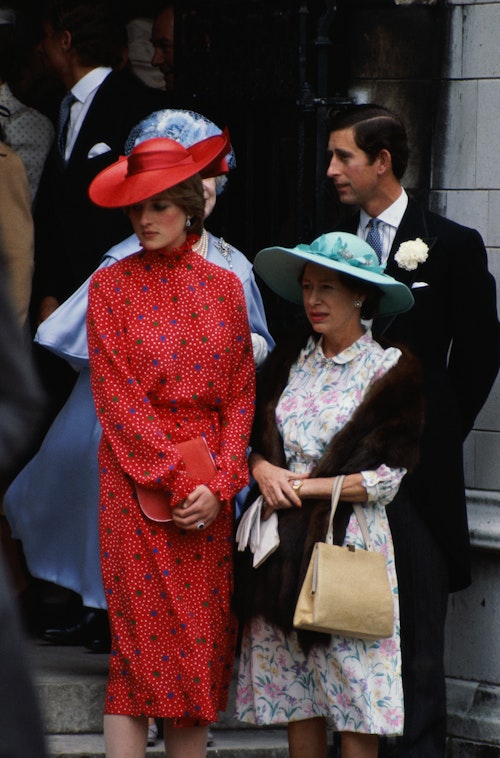 3 of 47
As a soon-to-be-member of the Royal Family, Diana Spencer mastered her hat game fast.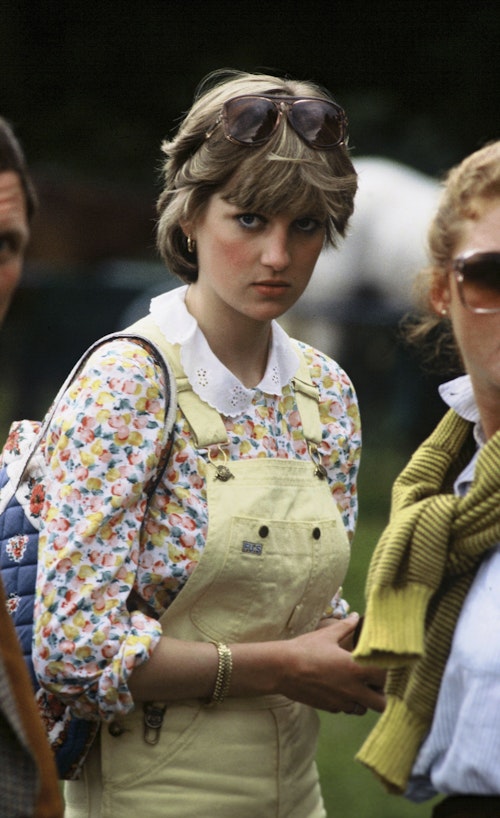 4 of 47
Sherbert dungarees and a sweet floral shirt were on the cards in 1981.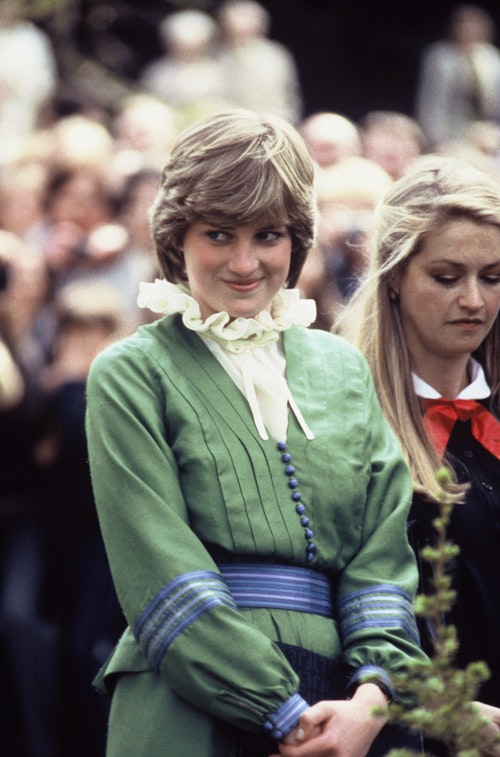 5 of 47
Doing Big Collar Energy long before everyone else got the memo.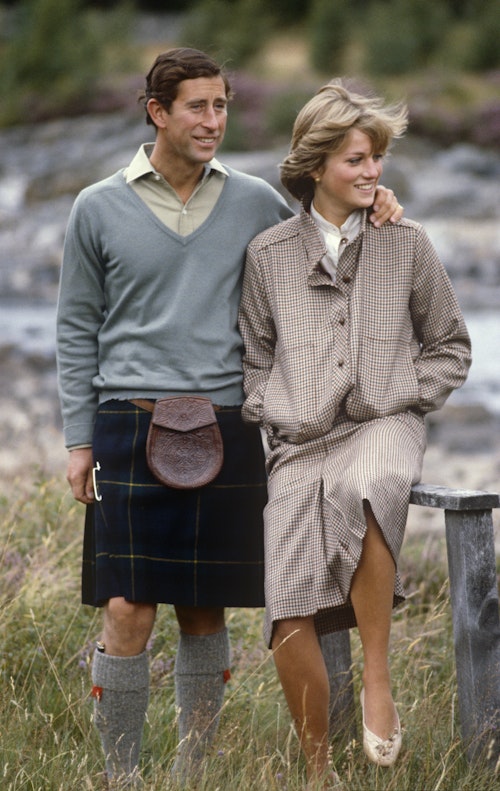 6 of 47
Heritage checks on Diana; a kilt on Charles - you get one guess where they went on honeymoon in 1981.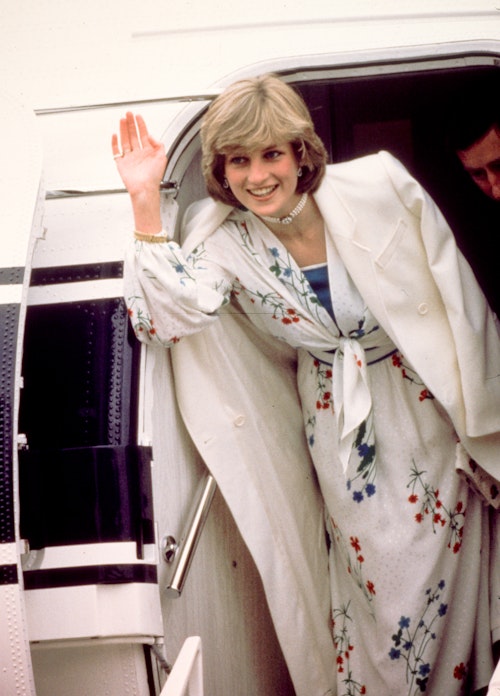 7 of 47
A shrobing masterclass, departing for her honeymoon in 1981.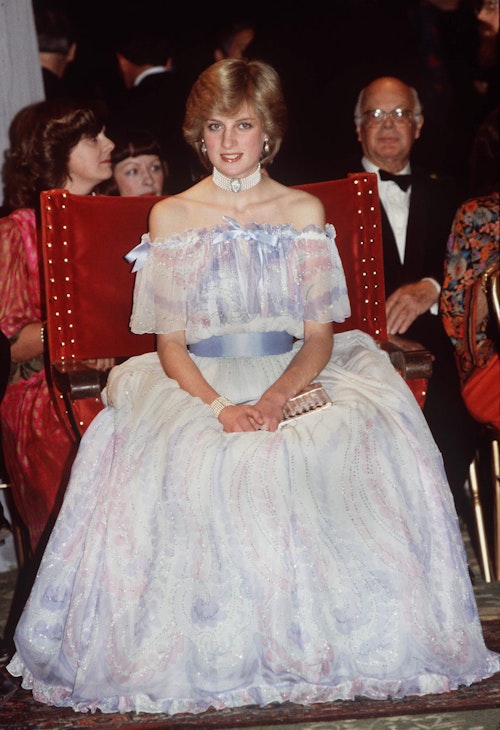 8 of 47
Leaning into her Princess role at the Victoria and Albert Museum in 1981.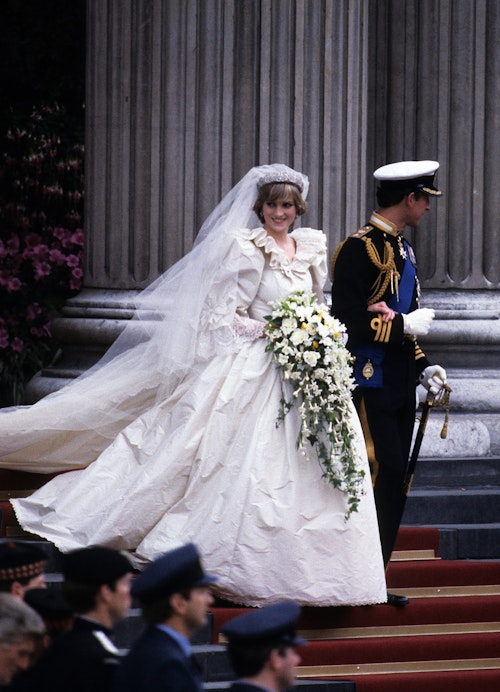 9 of 47
The ultimate wedding dress in 1981.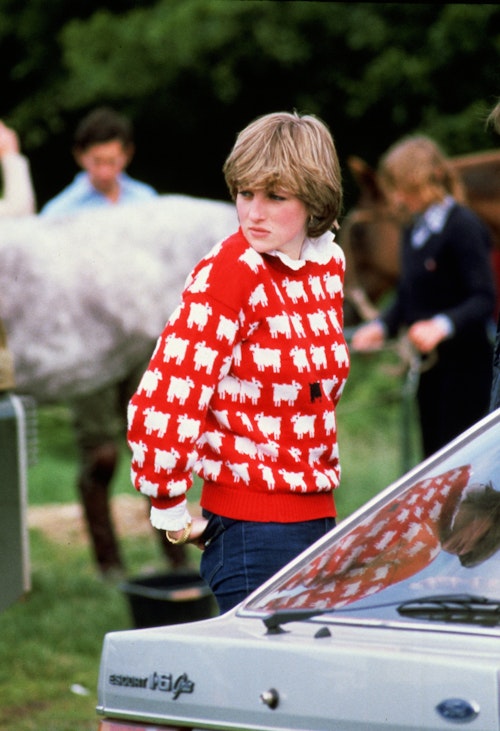 10 of 47
This black sheep sweater has been reissued by Rowing Blazers.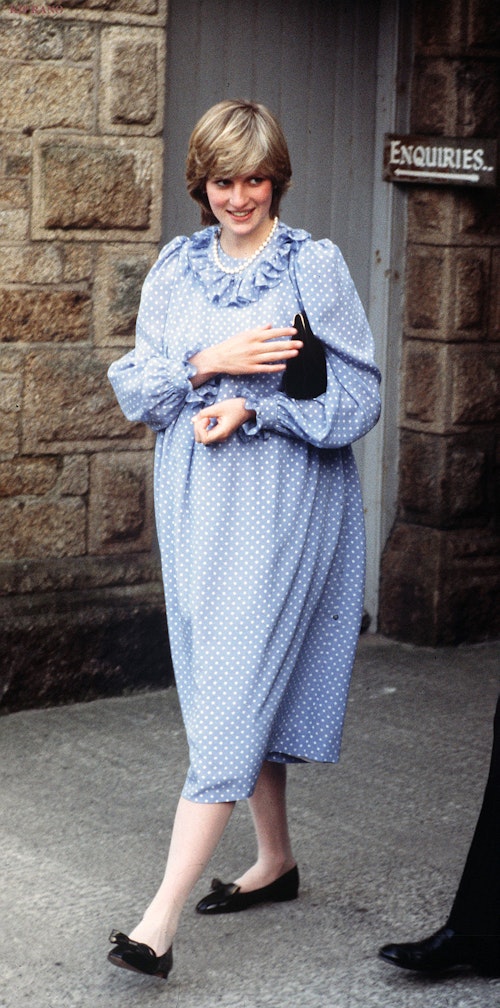 11 of 47
Polka dots, frills and a billowing silhouette in 1982. We would 100% wear this now.
12 of 47
With Prince Charles and Prince William in 1983, in the perfect autumn outfit (seriously, where can we get those boots?!)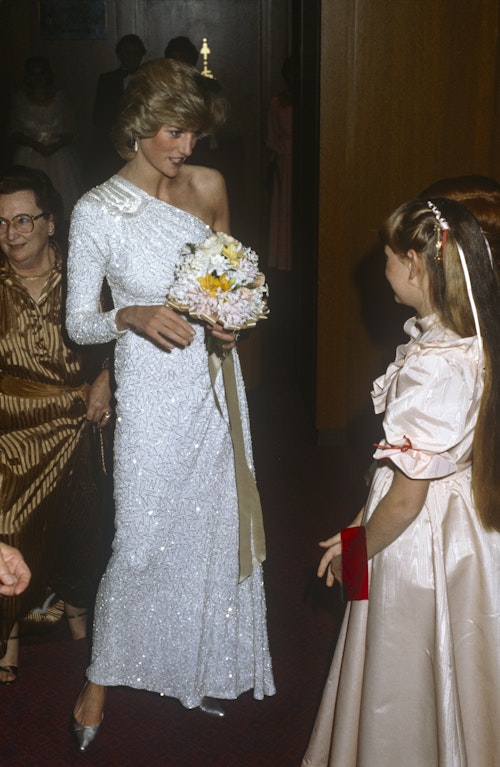 13 of 47
One shoulder dresses were another Diana favourite.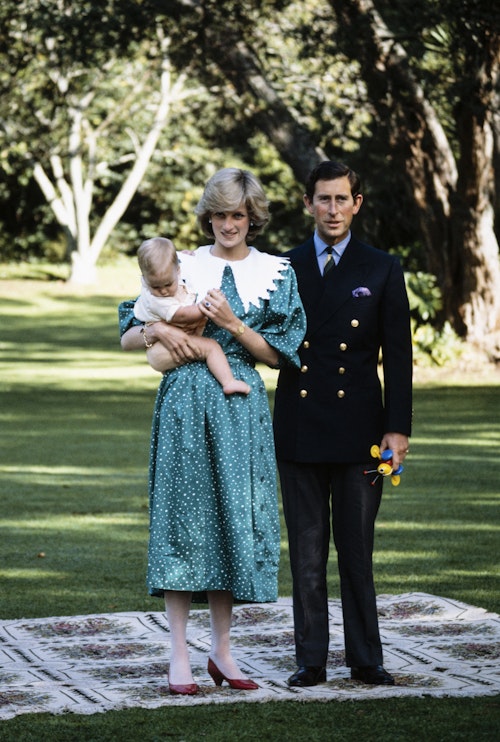 14 of 47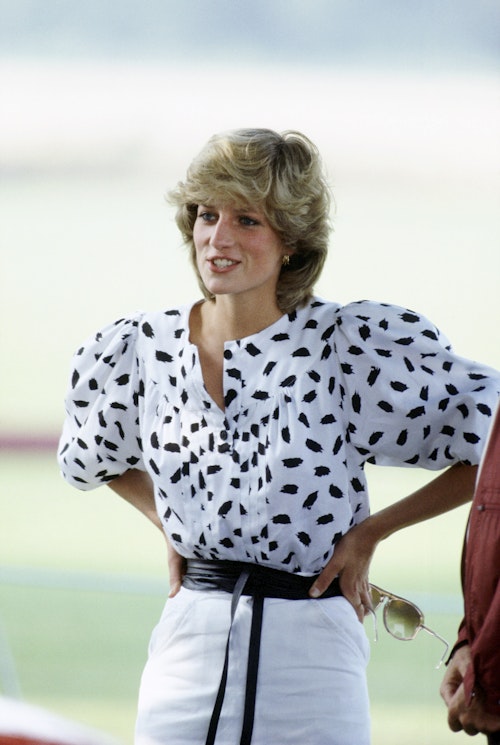 15 of 47
A puffy sleeved statement blouse for the polo in 1983.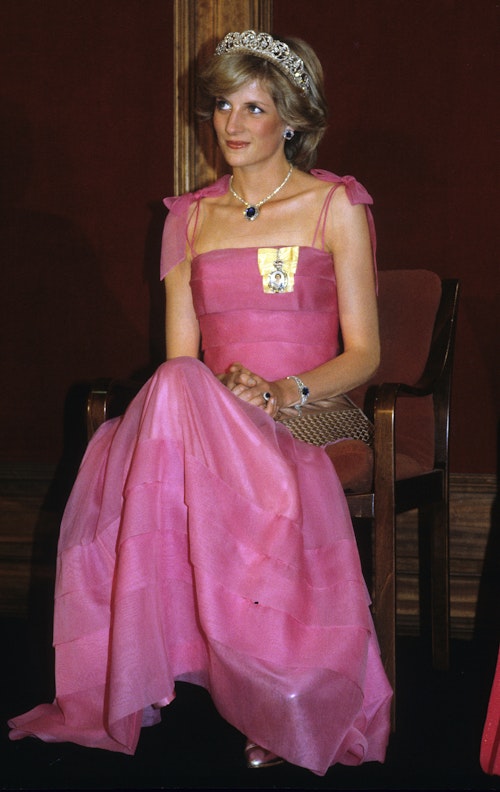 16 of 47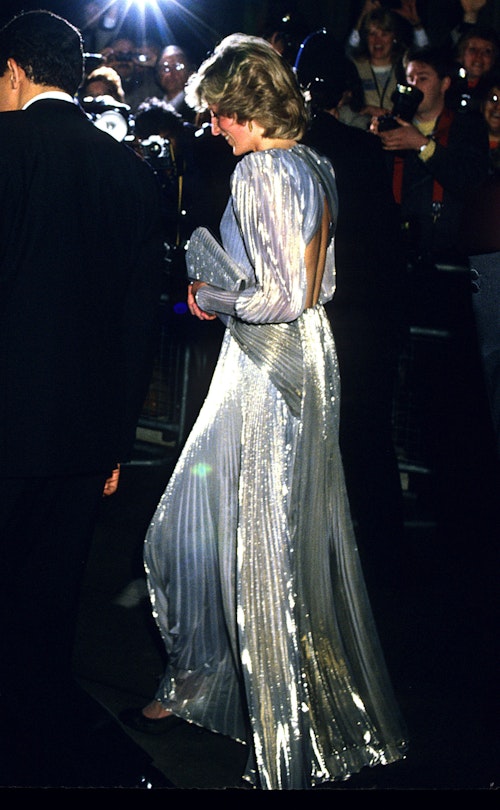 17 of 47
Demure at the front, daring at the back, in her liquid silver dress Diana ensured all eyes were on her at the A View to Kill premiere in 1985.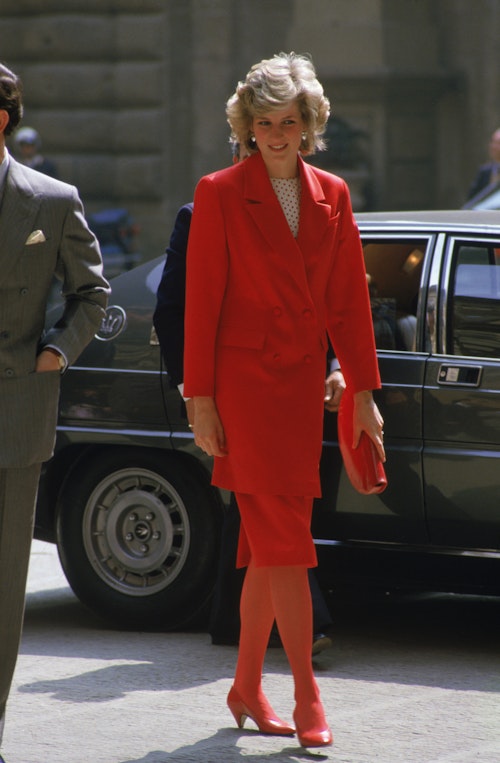 18 of 47
Why blend in when can you can stand out? Head-to-toe red in 1985.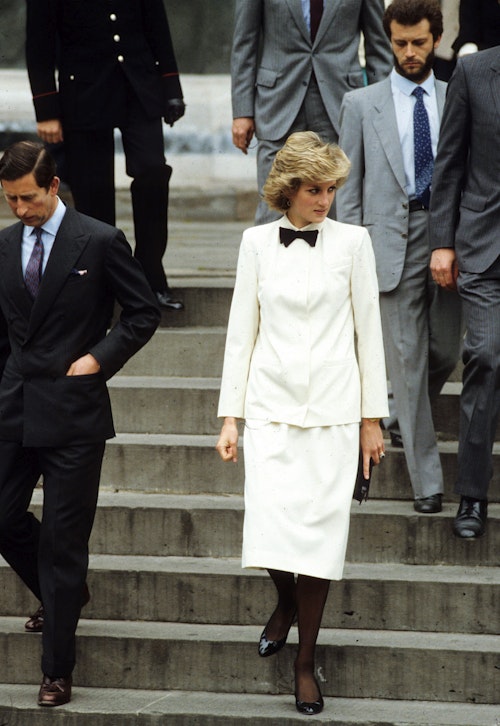 19 of 47
Diana had a thing for bow ties, wearing one here in 1985 with a Jasper Conran skirt suit.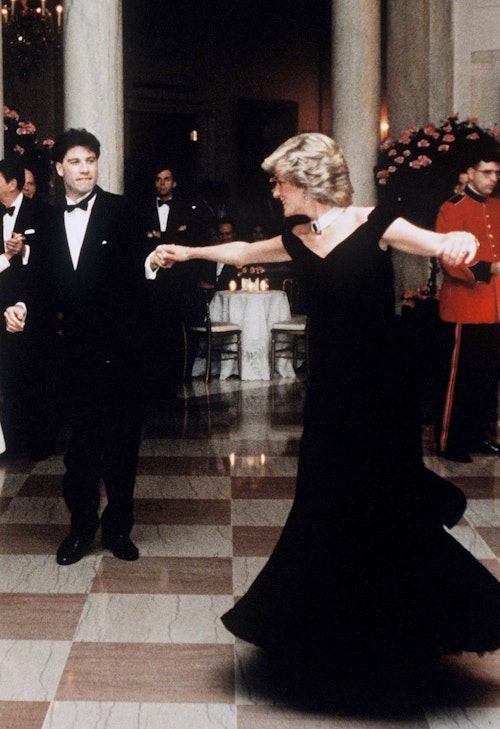 20 of 47
Dancing with John Travolta at the White House in 1985.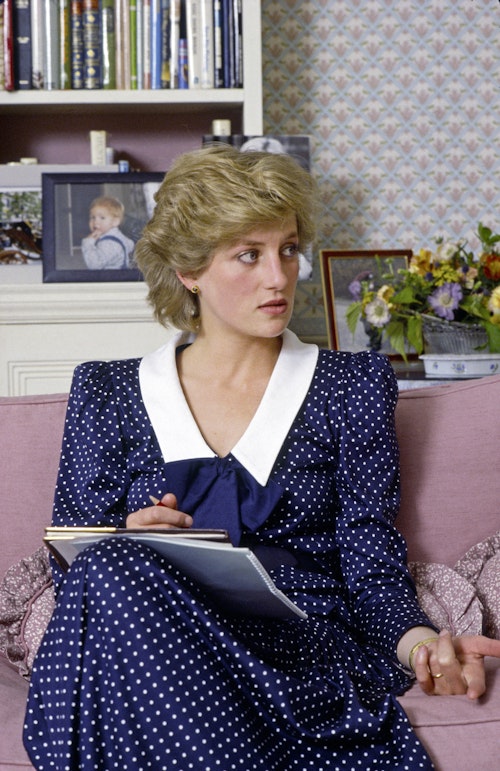 21 of 47
Is it just us, or does this bear a striking resemblance to Kate Middleton's favourite Alessandra Rich dress?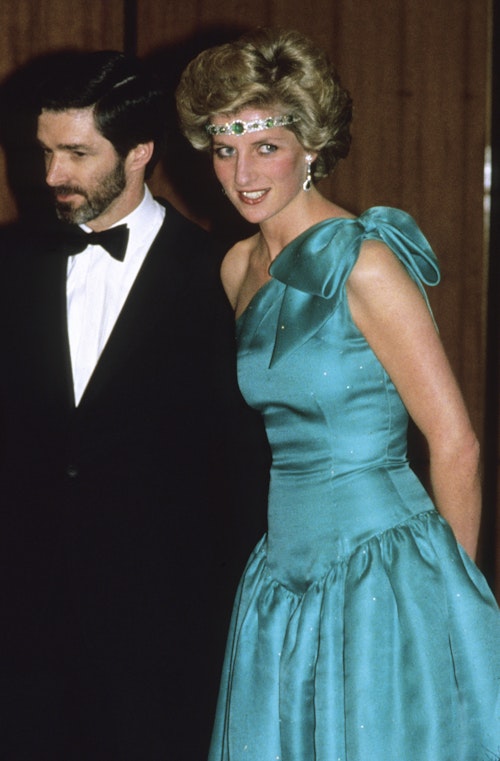 22 of 47
A bohemian take on the tiara in Australia in 1985.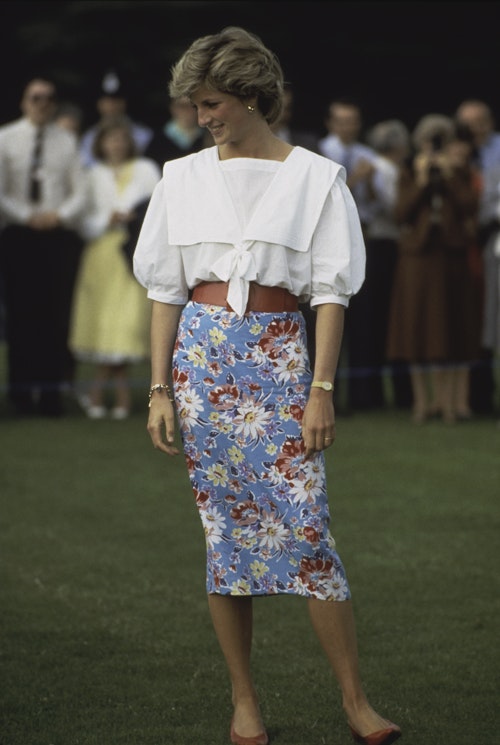 23 of 47
Pretty sure we've seen this exact shirt all over Instagram.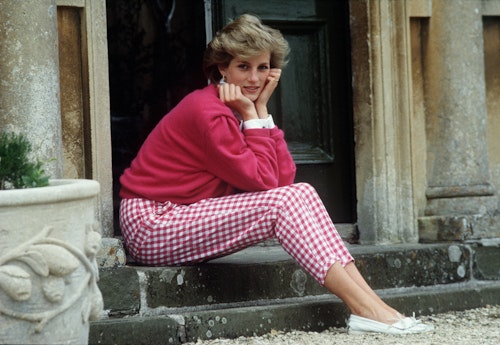 24 of 47
Colour and print weren't just for formal appearances, here in pink and white at Highgrove in 1986.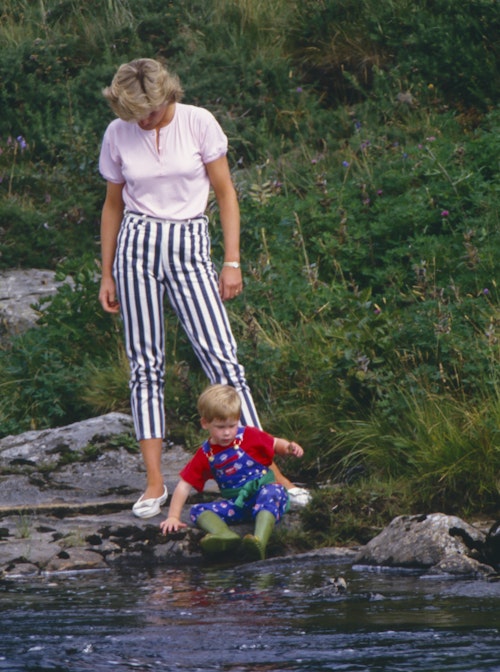 25 of 47
More printed pants in 1987.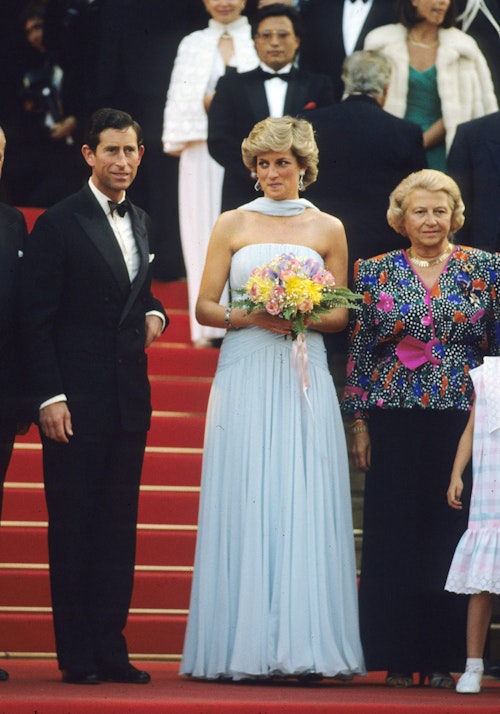 26 of 47
Stealing the spotlight from the Hollywood glitterati on the Cannes red carper in 1987.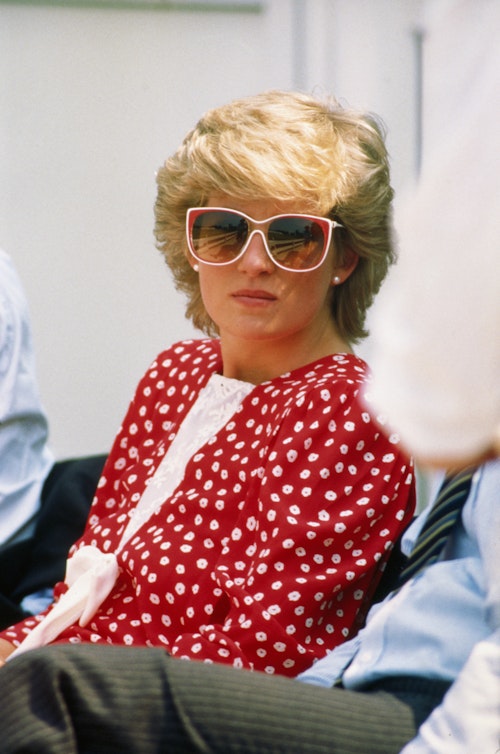 27 of 47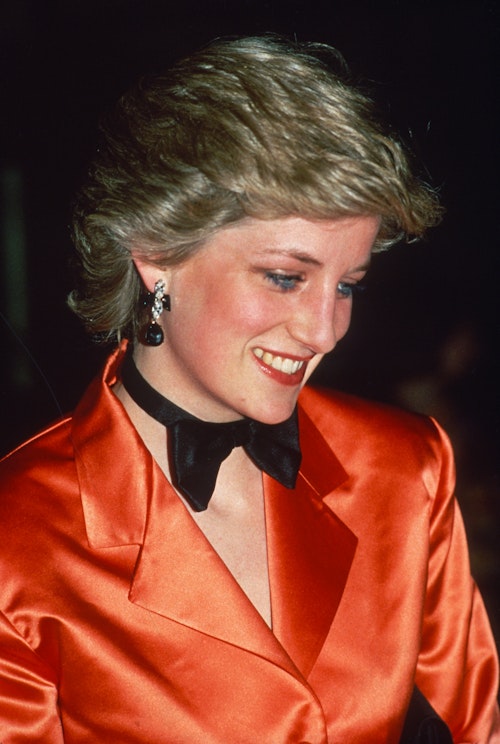 28 of 47
Another bow tie, this time in Lisbon in 1987.

29 of 47
The princess of... punk? Diana wore red leather trousers for a night out to see The Phantom of the Opera in 1987.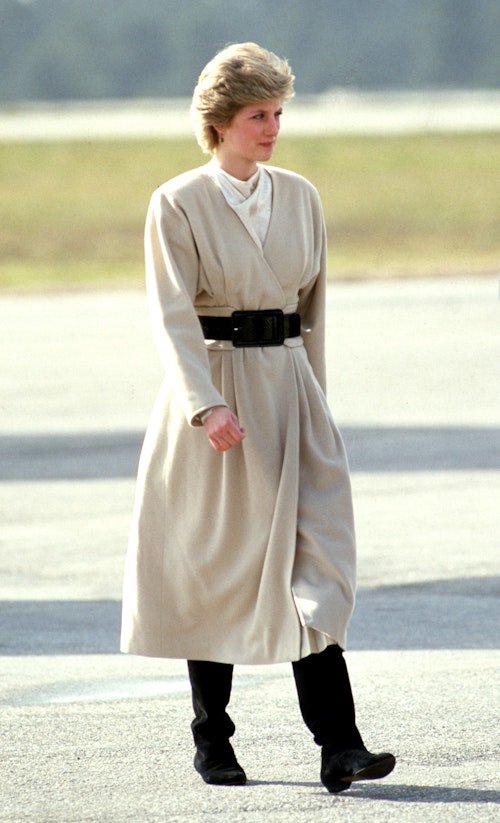 30 of 47
Perfect autumn outfit inspiration in Portugal in 1987.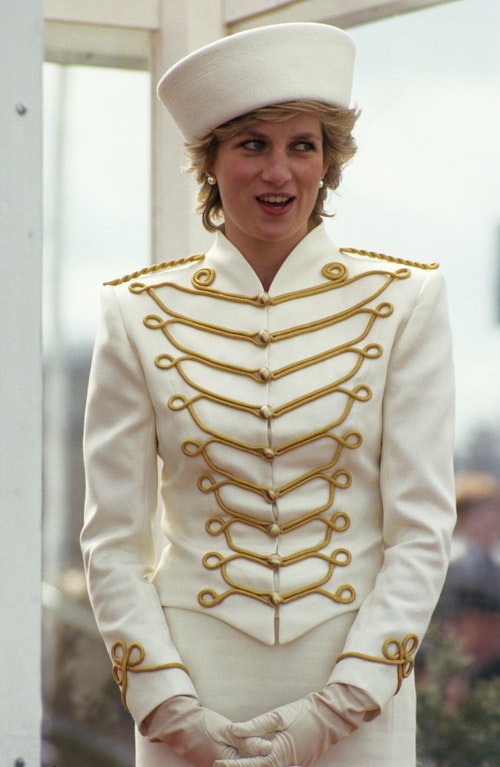 31 of 47
Embracing the military theme wearing Catherine Walker at Sandringham in 1987.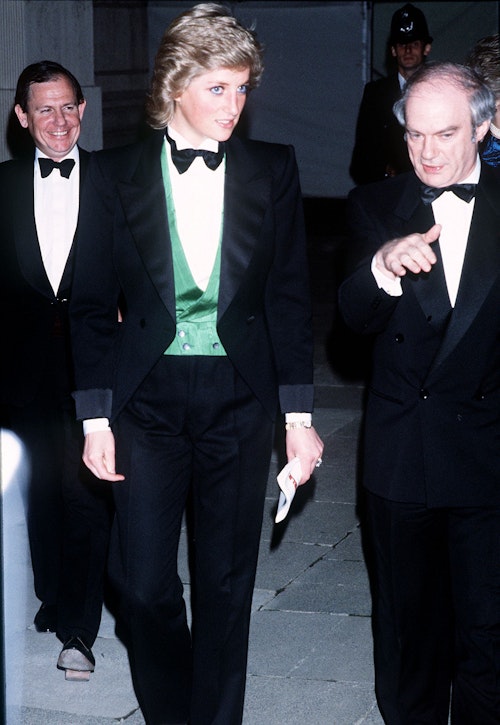 32 of 47
Diana in a tuxedo in 1988. Perfection.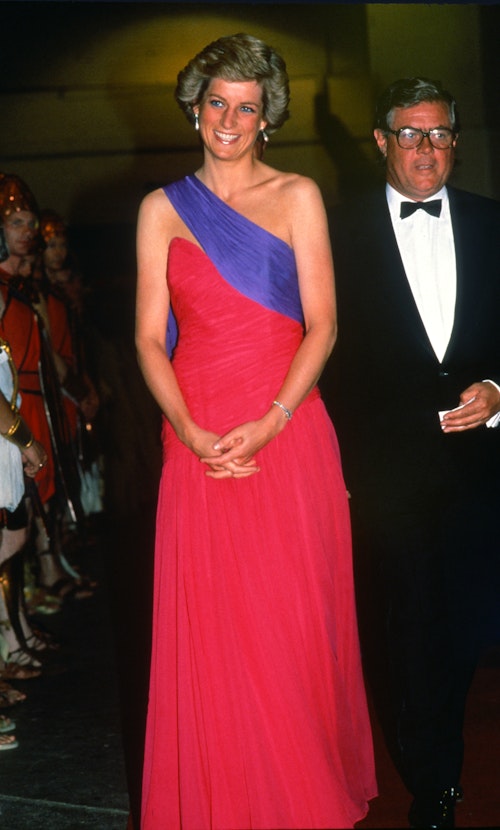 33 of 47
Red + purple = Diana's favourite power couple.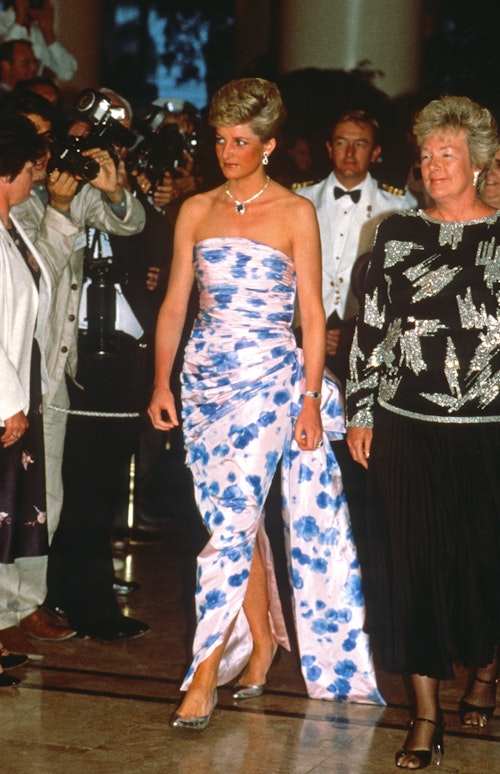 34 of 47
It was another star turn for Diana in Catherine Walker in Australia in 1988.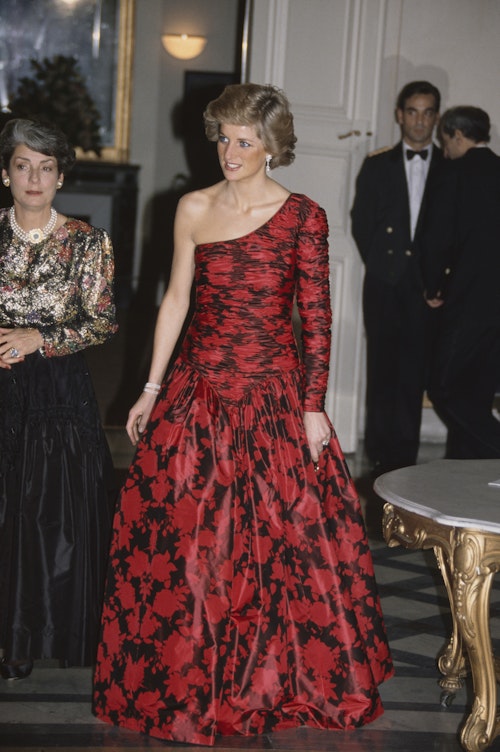 35 of 47
What did we tell you about one-shoulder dresses?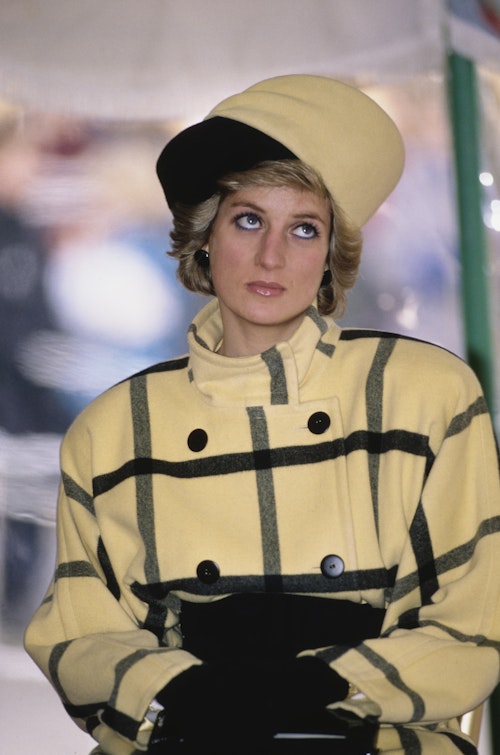 36 of 47
On the Isle of Wight in 1988.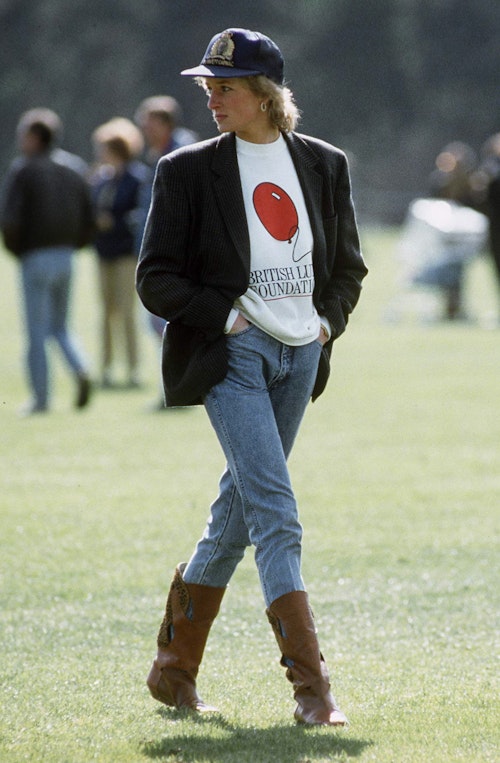 37 of 47
Such a look. Just take a moment to enjoy it fully. Western boots, jeans, a charity sweater, a mannish blazer and a cap: it shouldn't work but it does.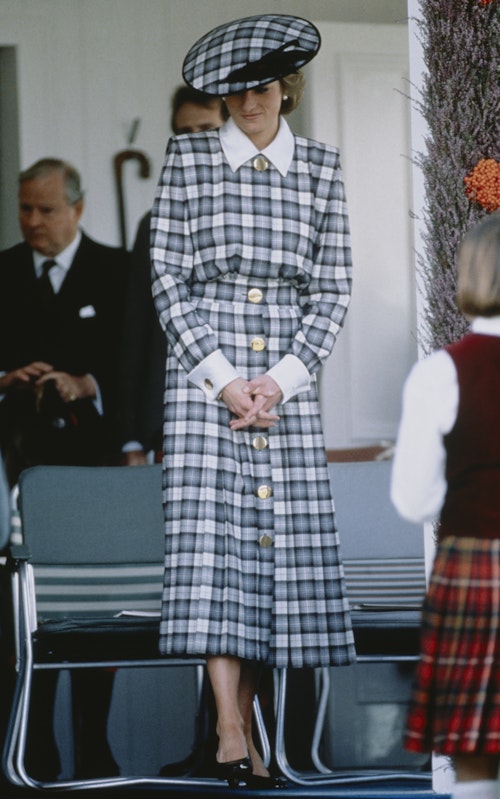 38 of 47
Head-to-toe tartan for a visit to the Highland Games in 1989.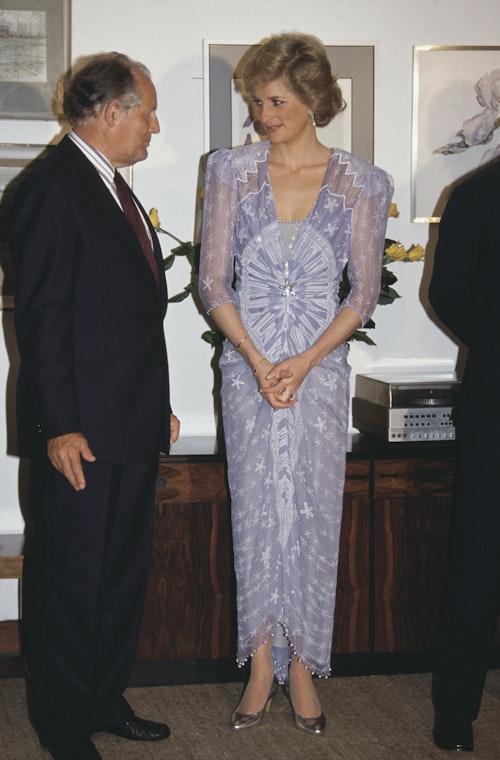 39 of 47
What we would do to get our hands on this Zandra Rhodes dress Diana wore in 1989 (actually... What wouldn't we do?)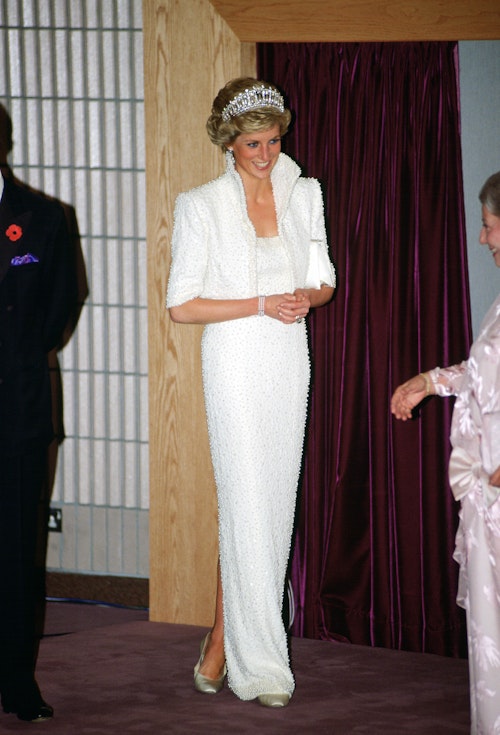 40 of 47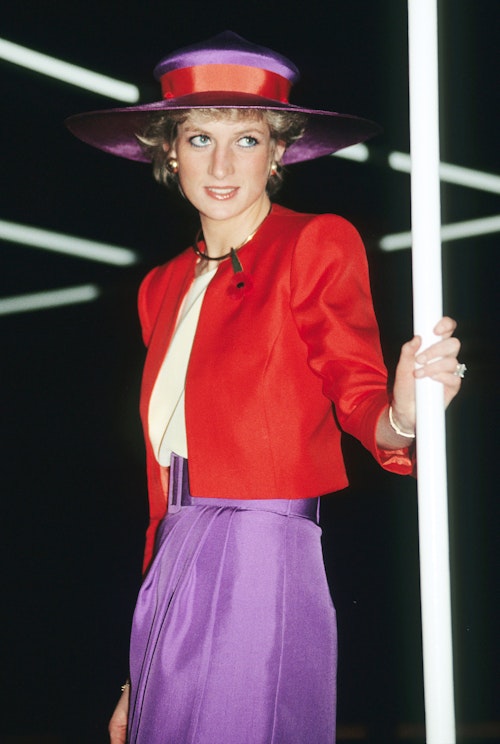 41 of 47
It's her favourite colour combination again in 1989...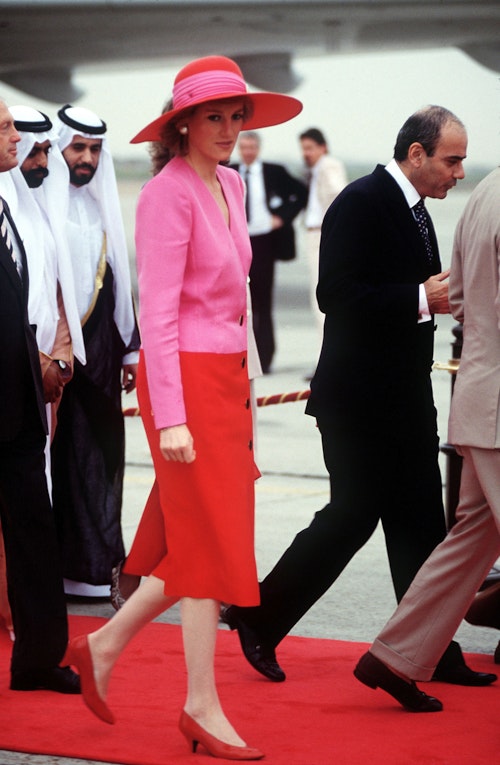 42 of 47
... Although she also had a soft spot for red and pink.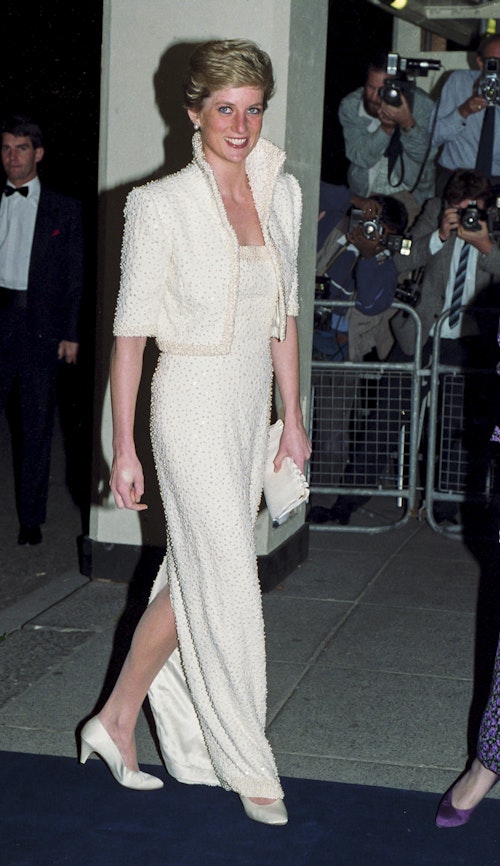 43 of 47
The 'Elvis dress' - so called for the high neck and pearl embellishment - got its debut at The British Fashion Awards in 1989.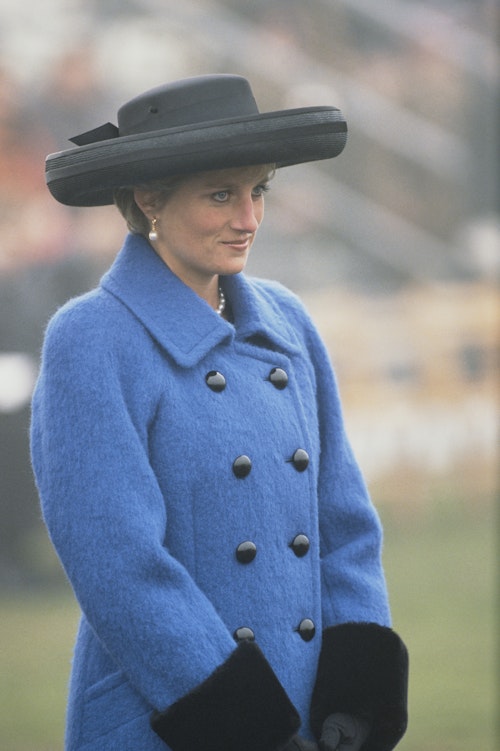 44 of 47
At Sandhurst in December of 1990, Diana debuted a statement coat that wouldn't look out of place today.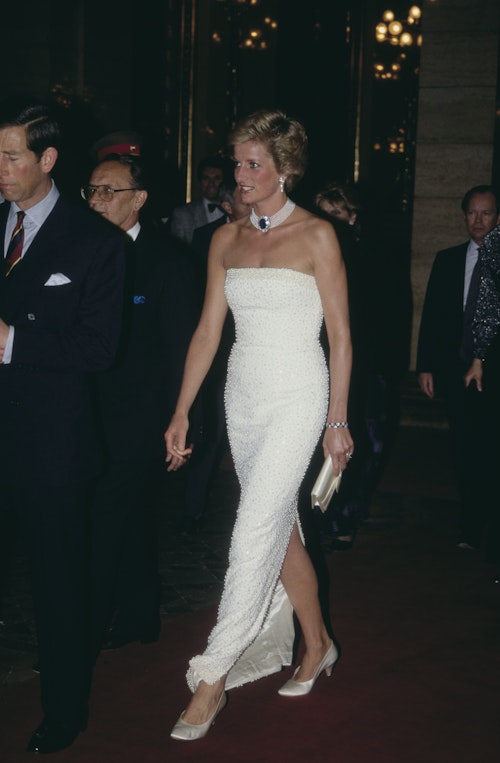 45 of 47
Another event, another white dress. This strapless beaded style was created by Catherine Walker, which Diana wore with her famous sapphire and pearl choker necklace.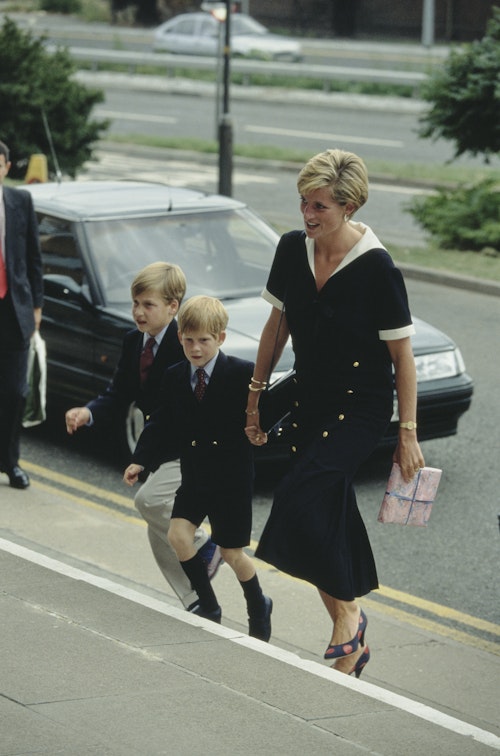 46 of 47
After Prince Charles required surgery on his arm, Diana took their sons to visit him and wore a nautical-inspired dress for the occasion with printed shoes.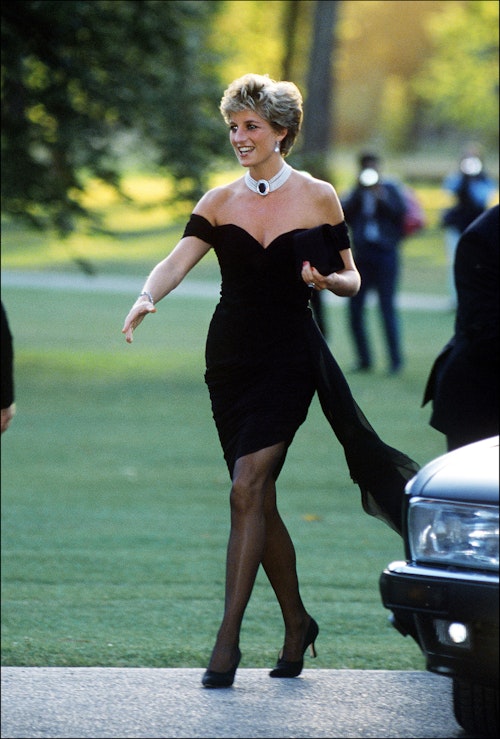 47 of 47
Designed by Christina Stambolian, this off-the-shoulder black dress became known as the 'Revenge Dress', so called because on the night Diana wore it, a documentary aired on television in which Prince Charles confessed to his affair with Camilla, now the Duchess of Cornwall.