One of our favourite things about Christmas? It's an excuse to wear pyjamas all day, every day, especially Christmas Day. But being stuck in close quarters with your family, random relatives you haven't seen since forever, or your in-laws, can over complicate normal, simple things like what PJs to wear.
But, rejoice, it's now socially acceptable to wear a pyjama set out in public, in fact it's actively encouraged (thank you Daily Sleeper). Throw a pair on with a cute pair of heels, some Christmas slippers or even a pair of classic trainers and you are free to leave the house in your PJs and still look fully dressed.
You've probably got your own routine where nightwear is concerned, whether your preference is a favourite old tee and shorts or a silk slinky camisole dress, but the likelihood is your usual go-to night-time attire won't be quite right for the big day.
From conservative but comfy flannel pyjamas to luxe feather-trim options this is the definitive run-down of all the types of pyjamas you might need over the festive season, so you'll be prepared for whatever your set up is this festive season.
Scroll to see our favourite Christmas pyjamas to wear this winter and beyond...
SHOP: The Best Christmas Pyjamas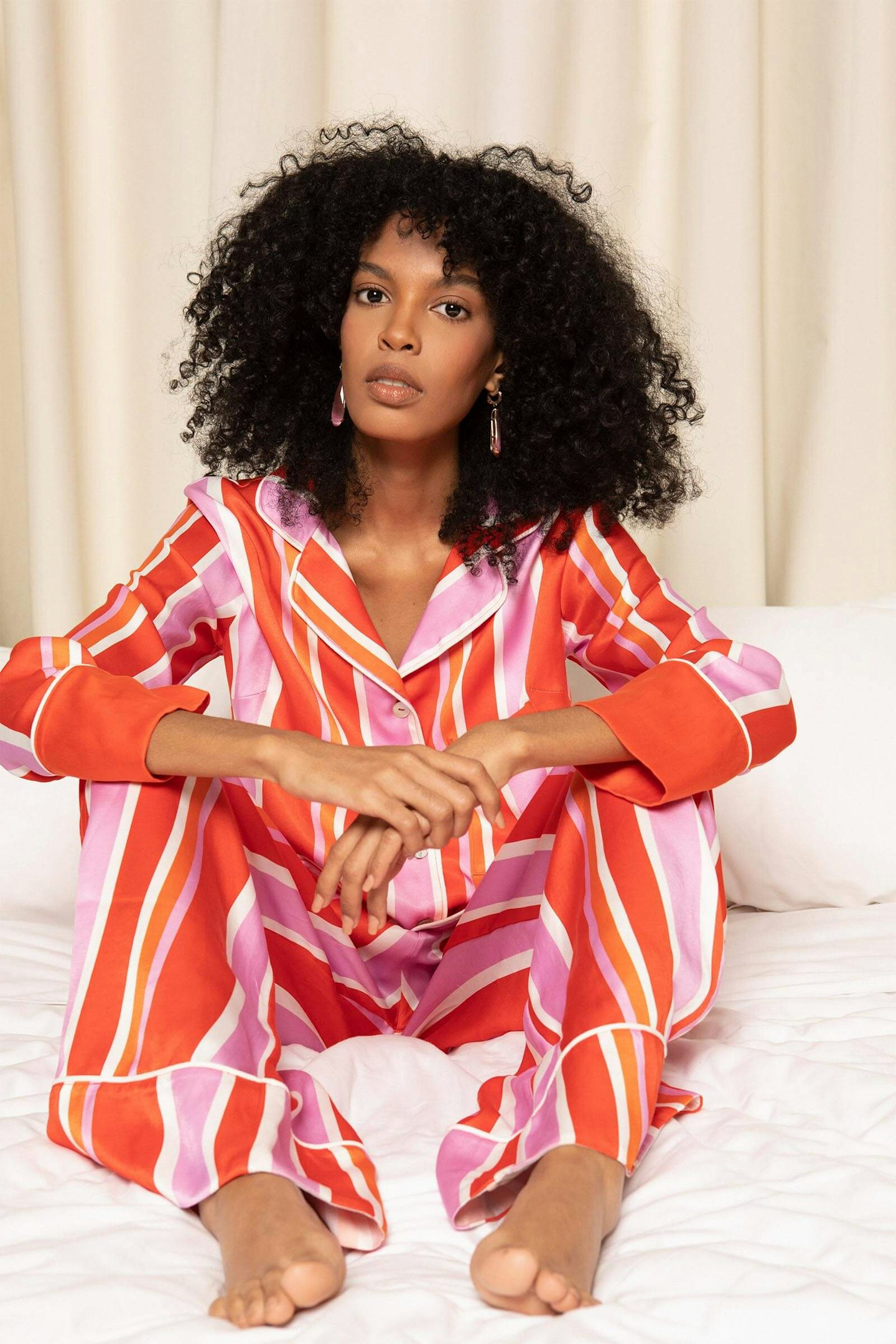 1 of 29
Deeba London, Candy pyjama set, £285
Christmas candy canes anyone?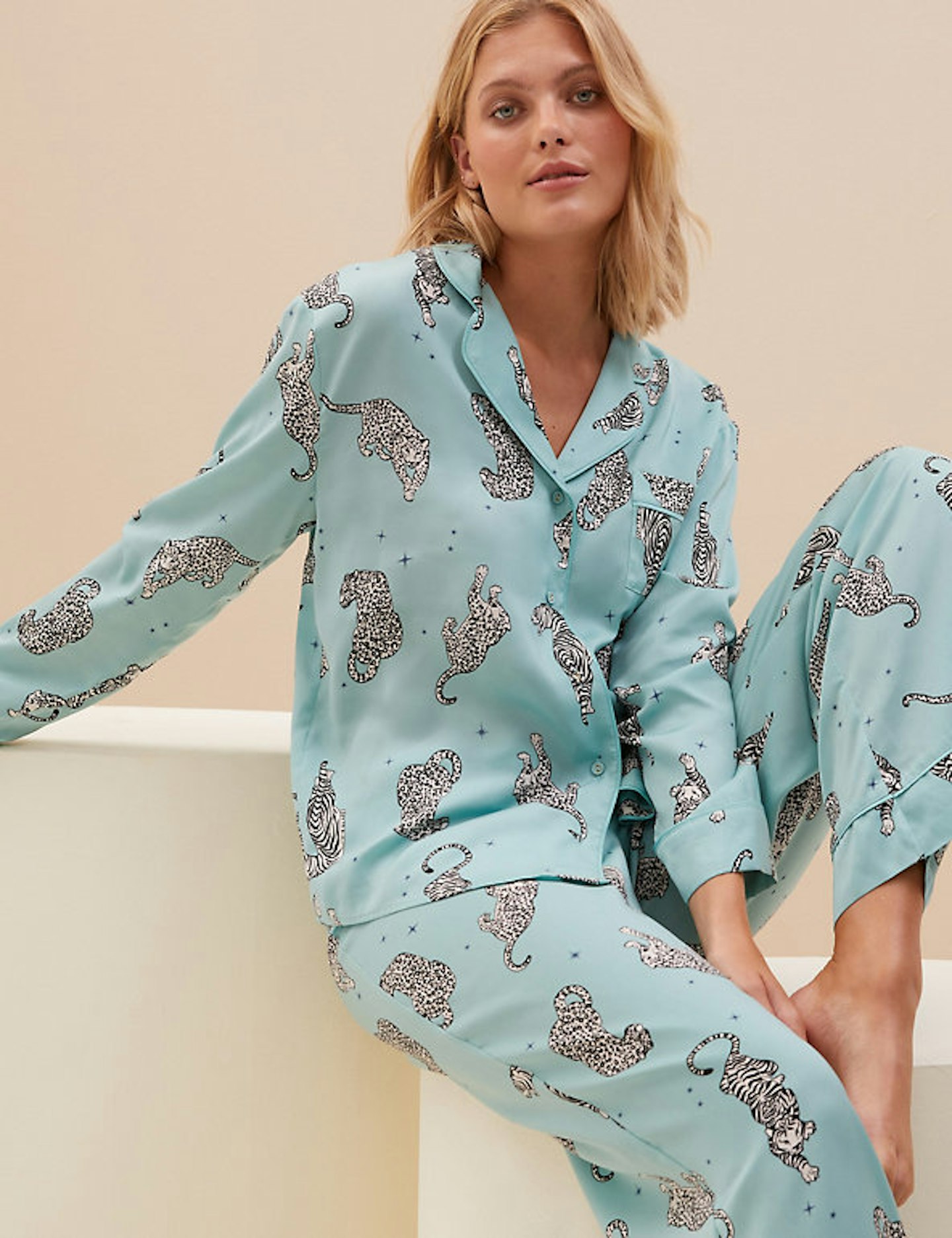 2 of 29
Marks and Spencer, Dream Satin Tiger Print Pyjama Set
Super stylish AND super comfy, it's a winning combination in our eyes.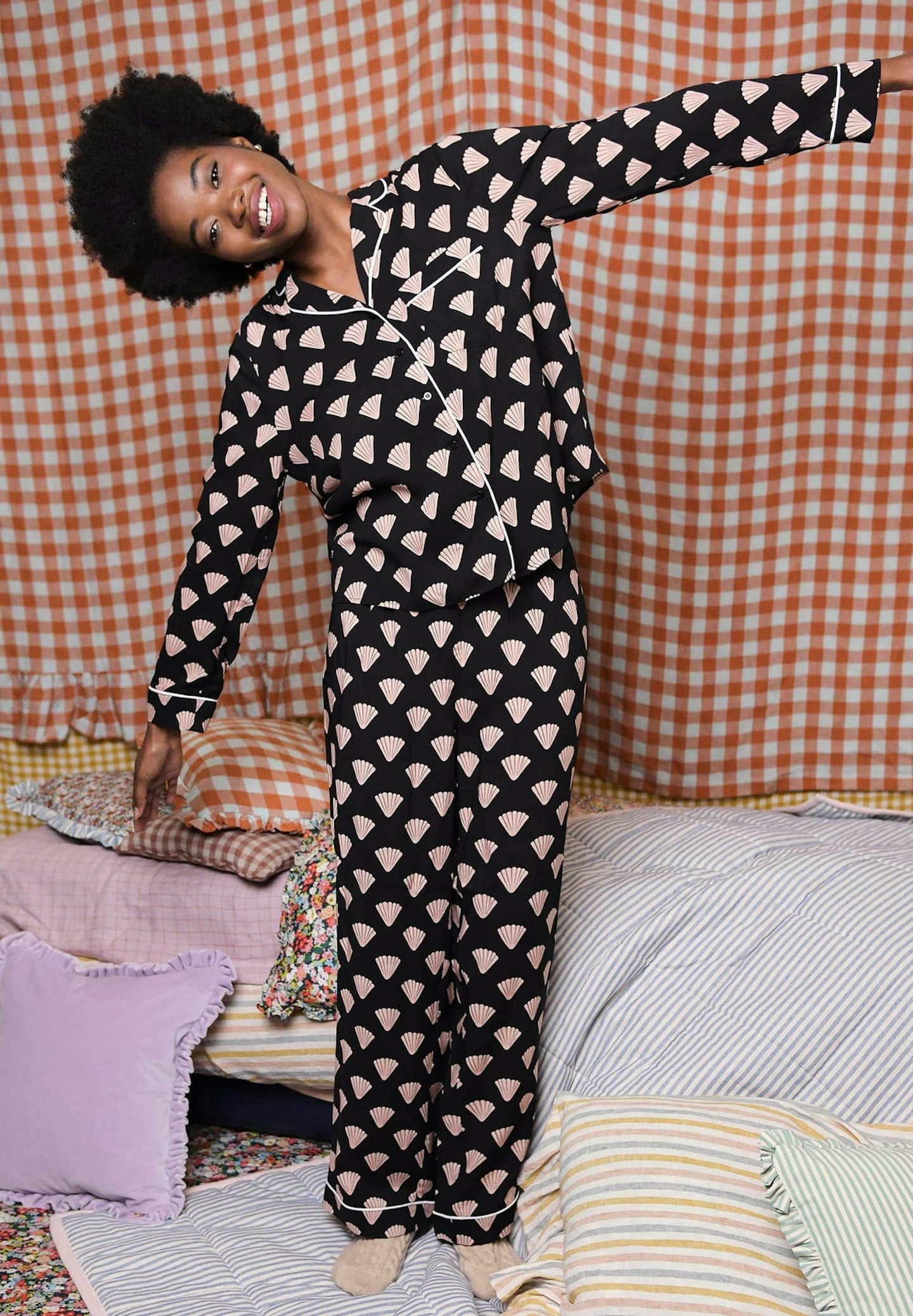 3 of 29
RIXO Austin Set
Get a fun print involved to really amp up the style factor.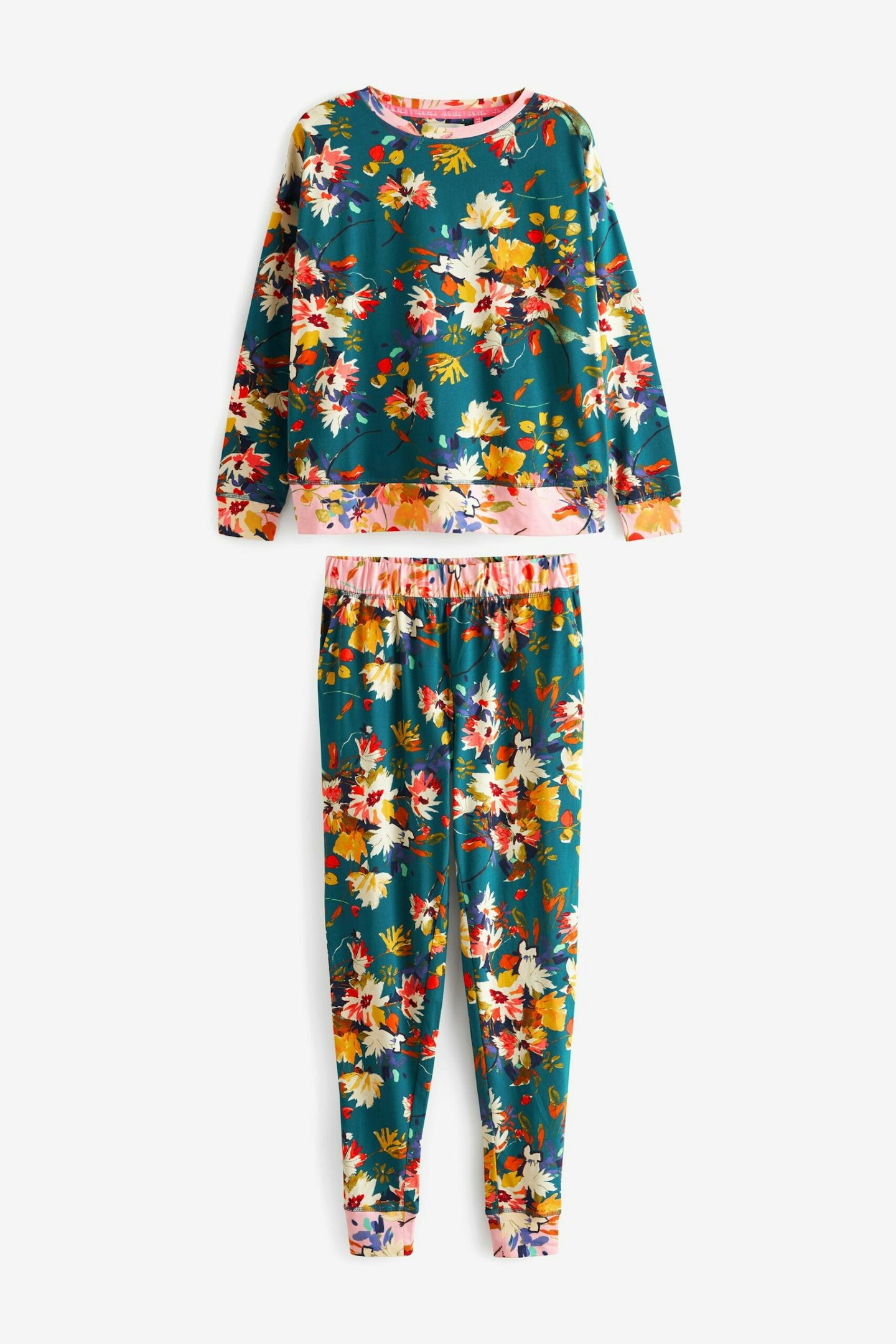 4 of 29
Next, Cotton Long Sleeve Pyjamas
Take a break from the stripes and checks and opt for a festive floral.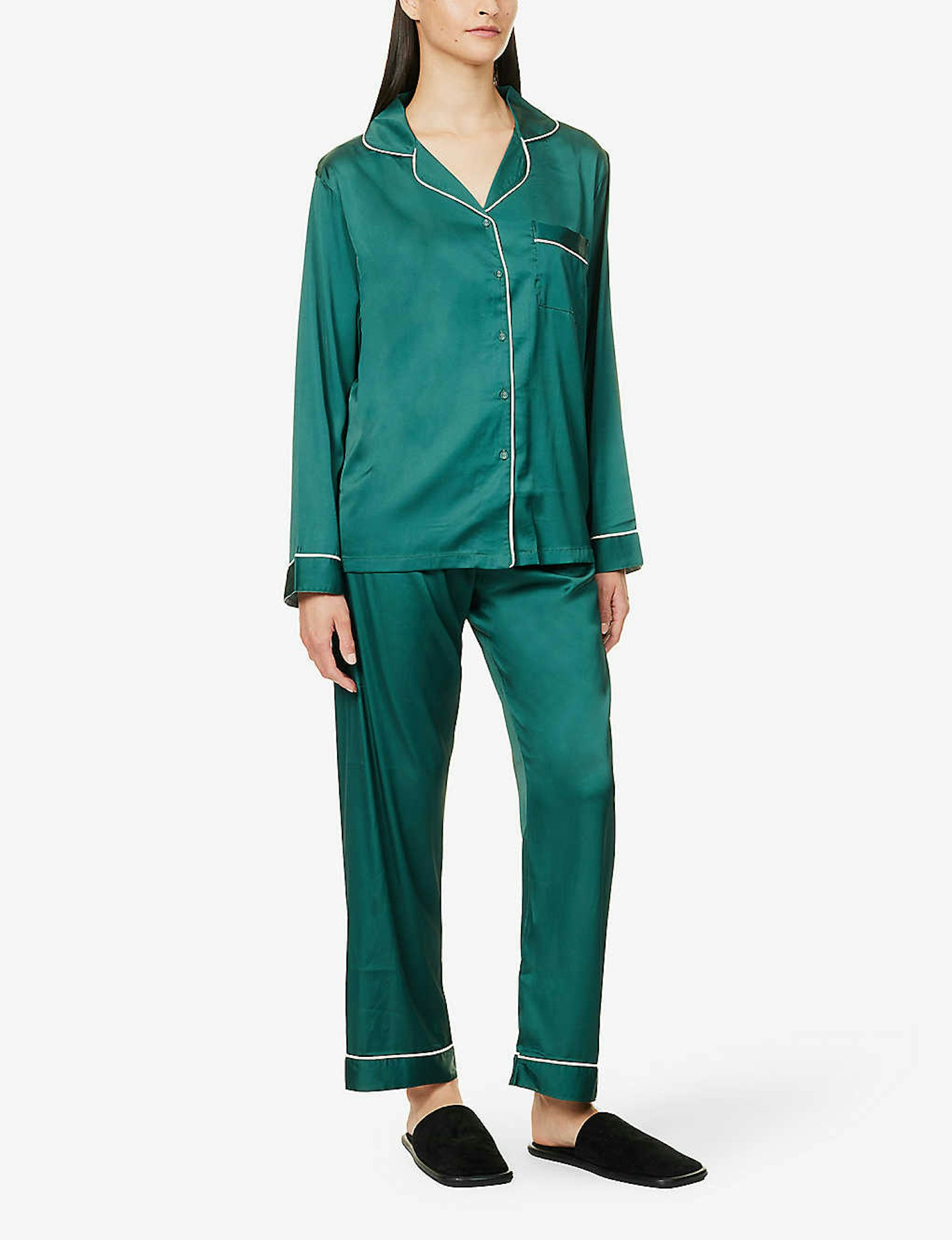 5 of 29
THE NAP CO Stretch Satin Pyjamas
There's something about rich jewel tones that always make anything look 10x more expensive.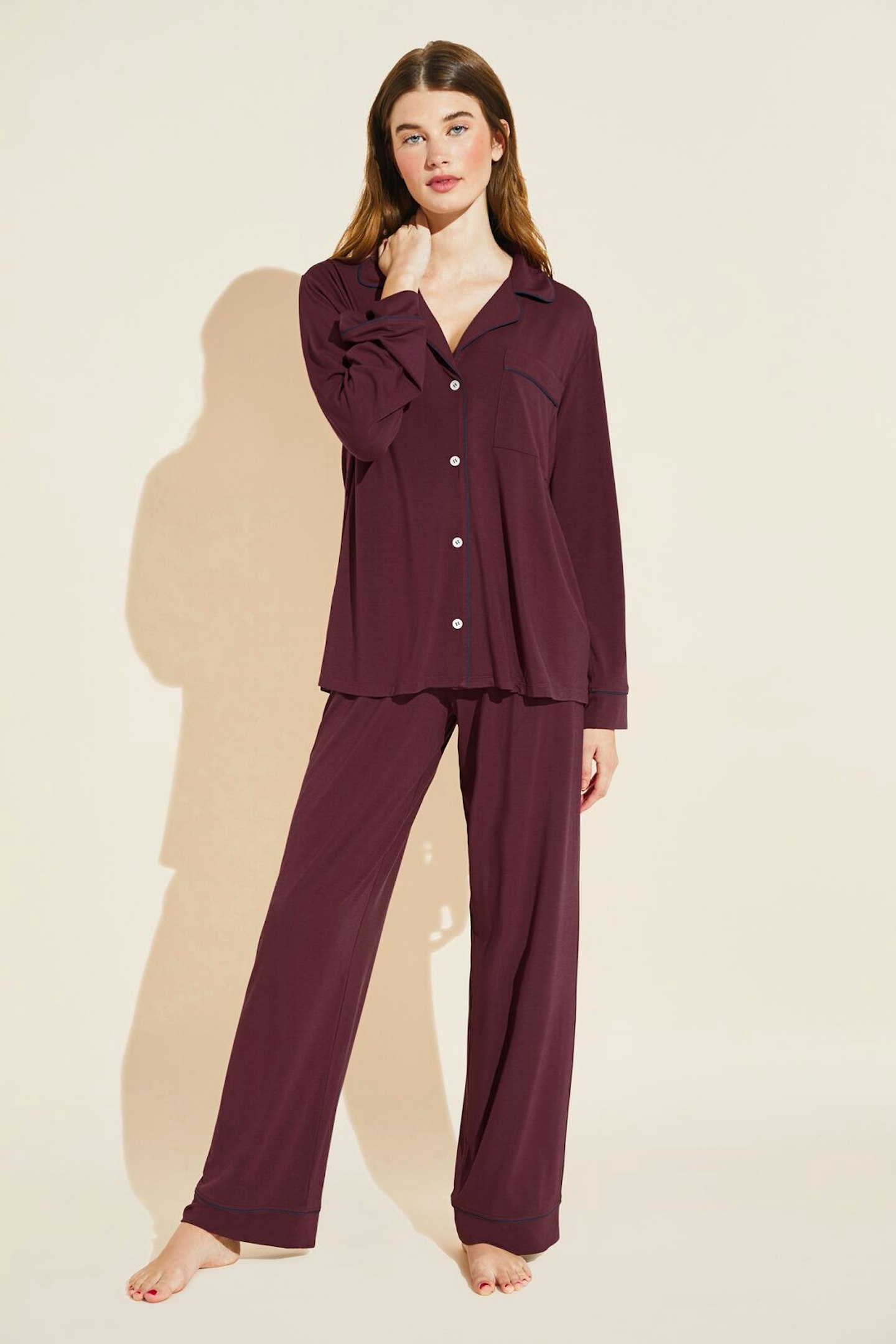 6 of 29
eberjey, Gisele Long PJ Set
eberjey have, hands down, the comfiest PJ sets going.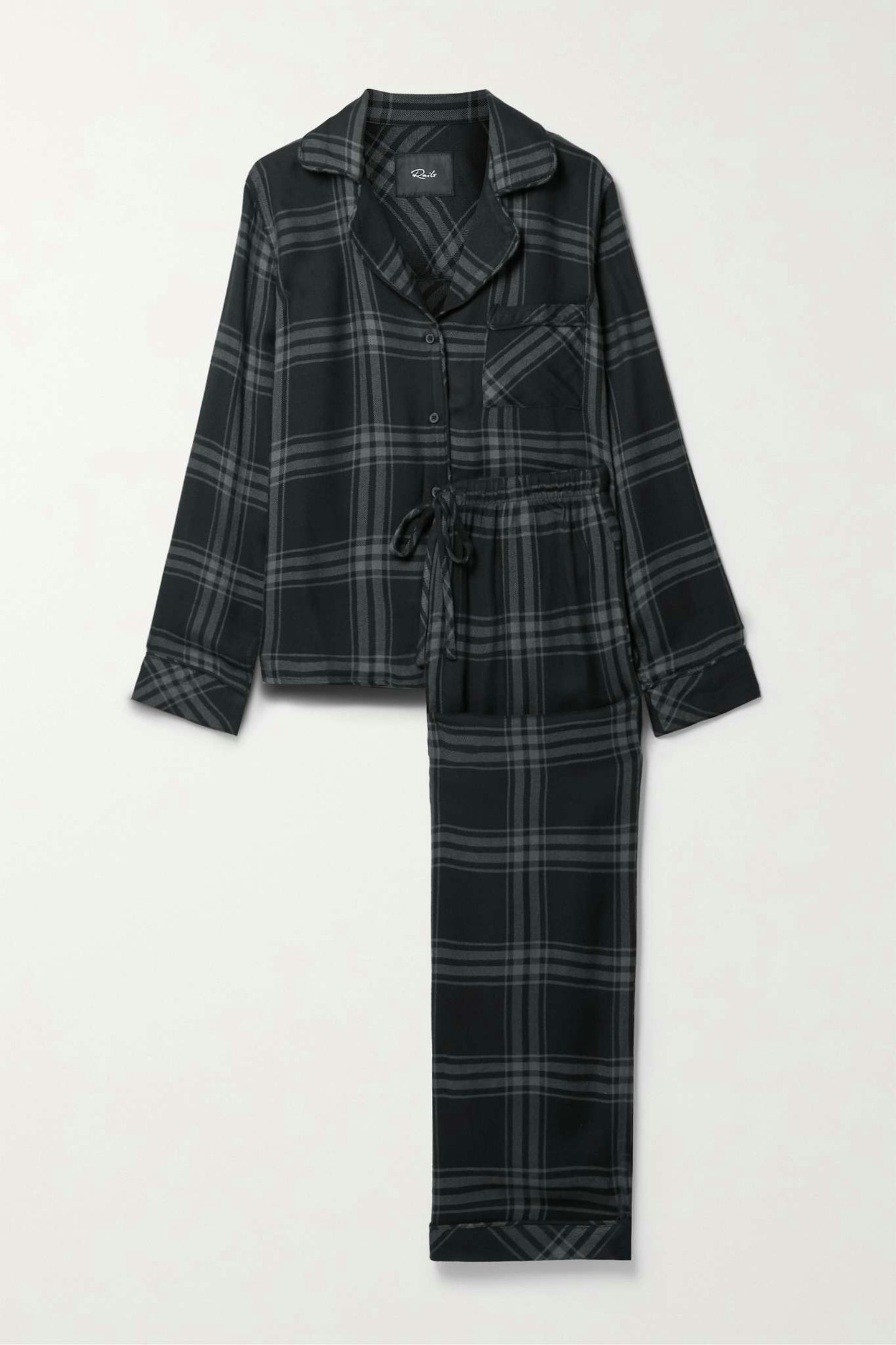 7 of 29
Rails, Clara Checked Flannel Pajama Set
A pair of checked will always be your go-to.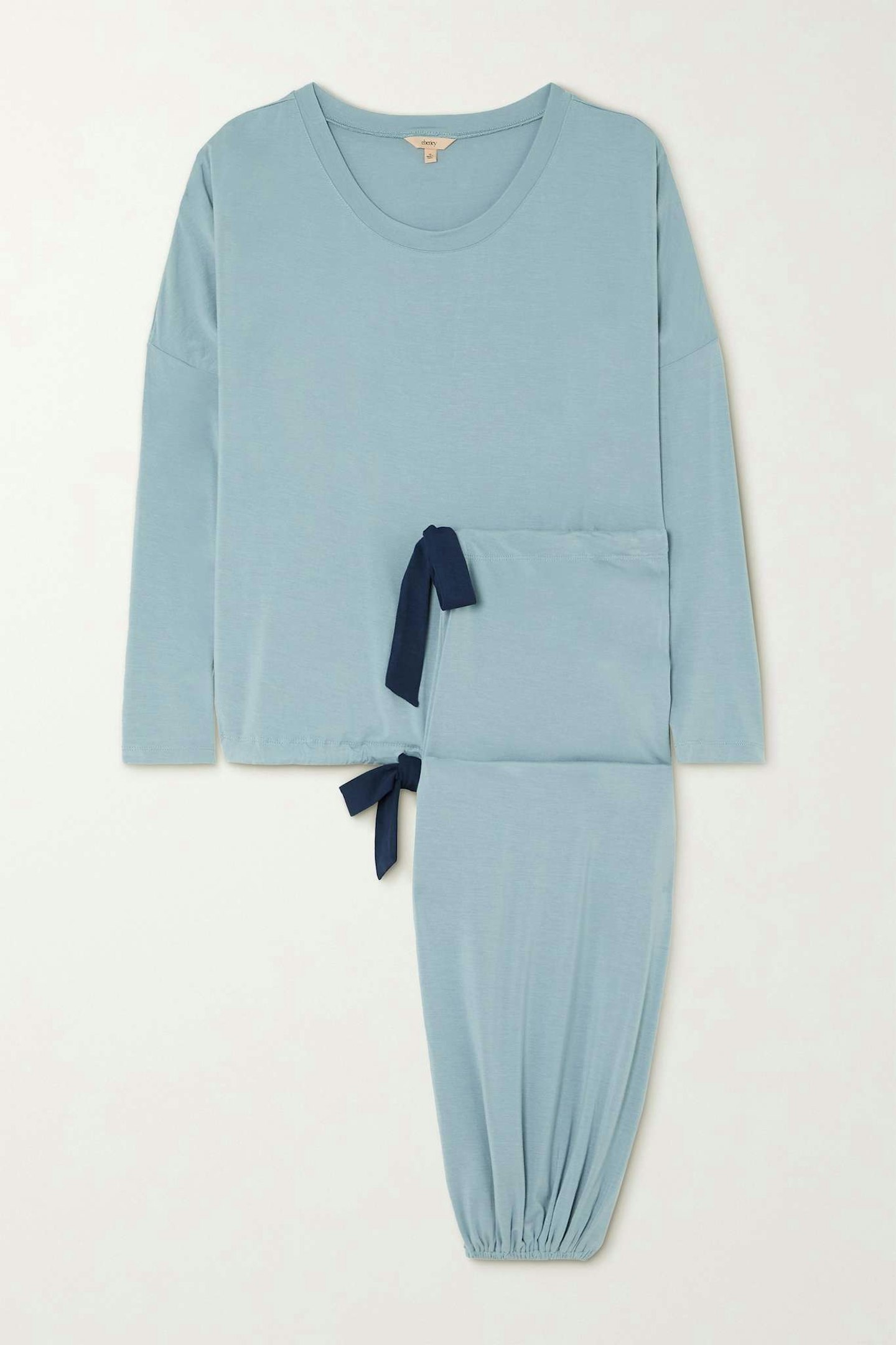 8 of 29
Eberjey, Blue Gisele Modal Pyjama Set
We can confirm these are some of the comfiest pyjamas that ever existed, wear with a fluffy mule for even more comfort.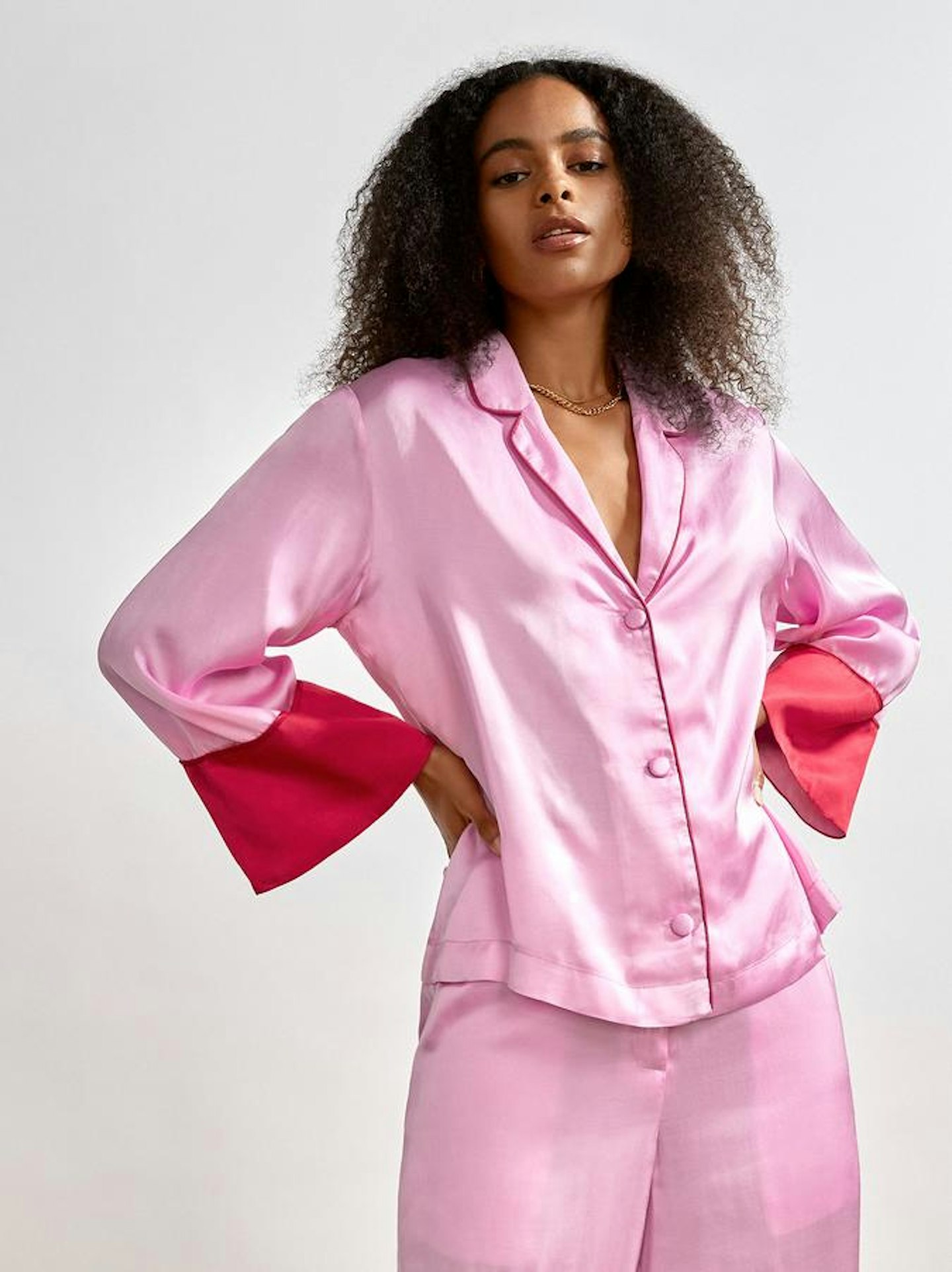 9 of 29
Kitri, Pink PJ Top
These pink and red pjs are too swish to save for the bedroom.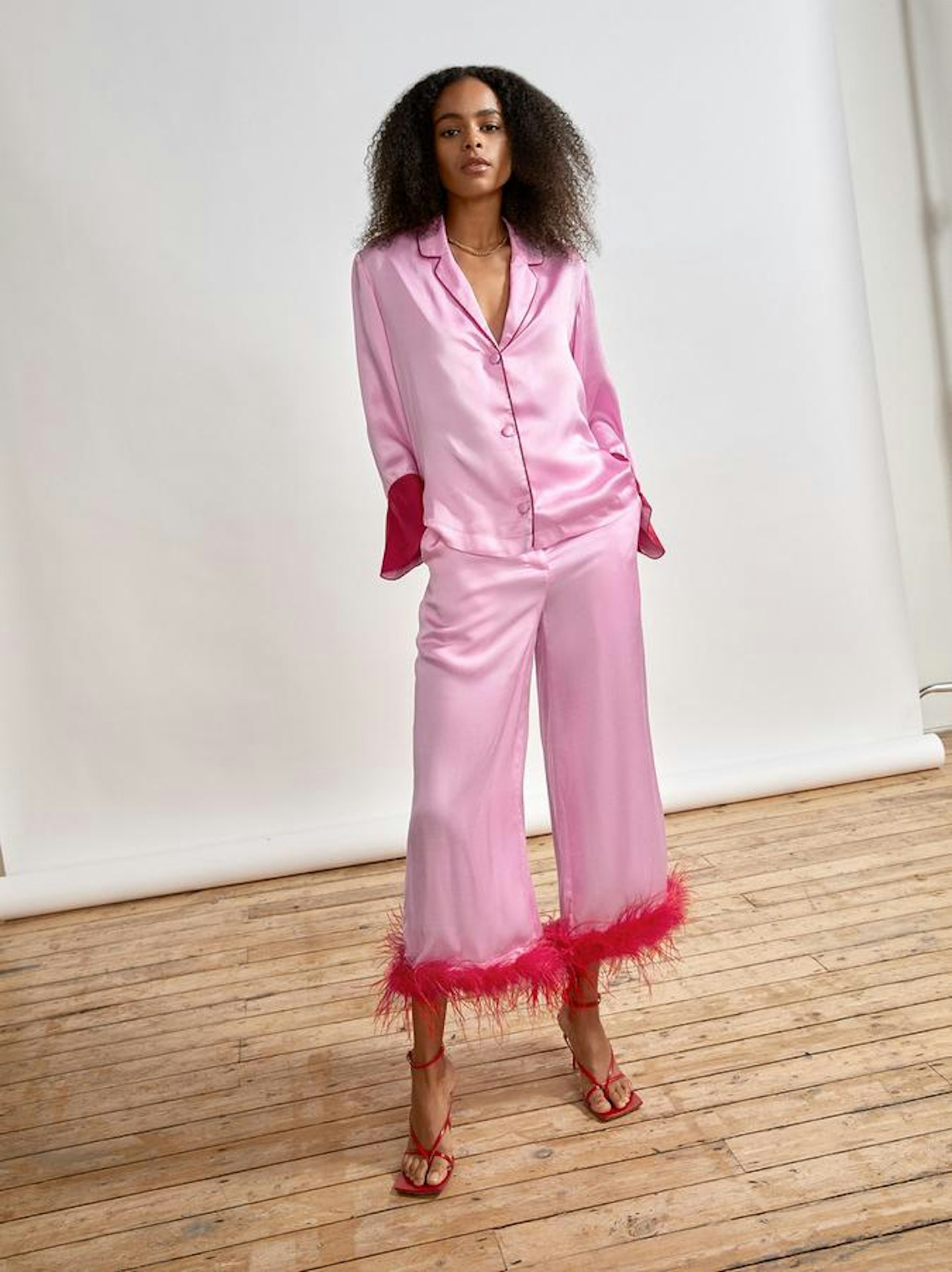 10 of 29
Kitri, Apollo Pink PJ Feather Trousers
Of course you'll want the matching feather-adorned bottoms, too.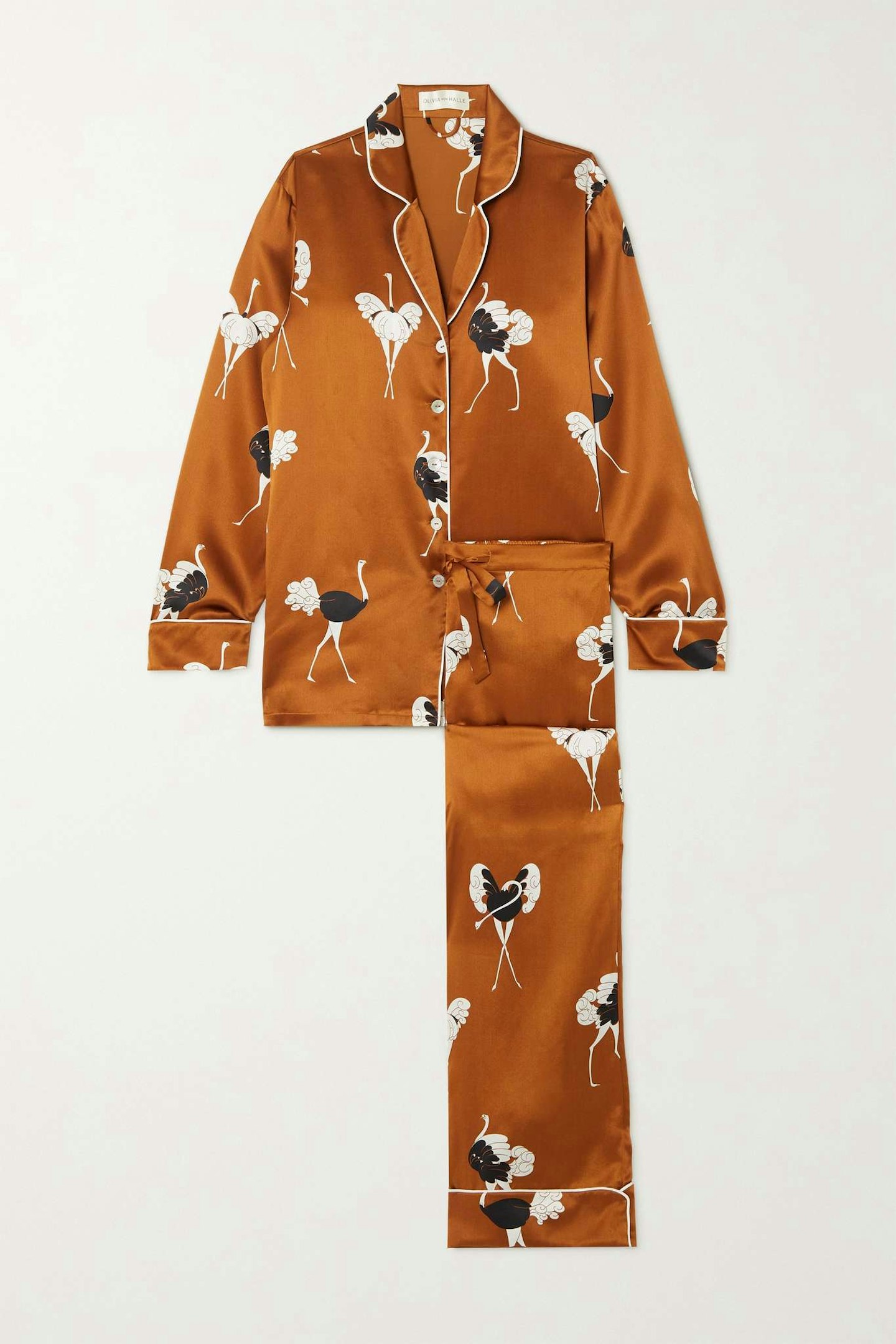 11 of 29
Olivia Von Halle, Lila Cascadia Pyjamas
These are the kind of pyjamas you'll want to take on a getaway for a special occasion.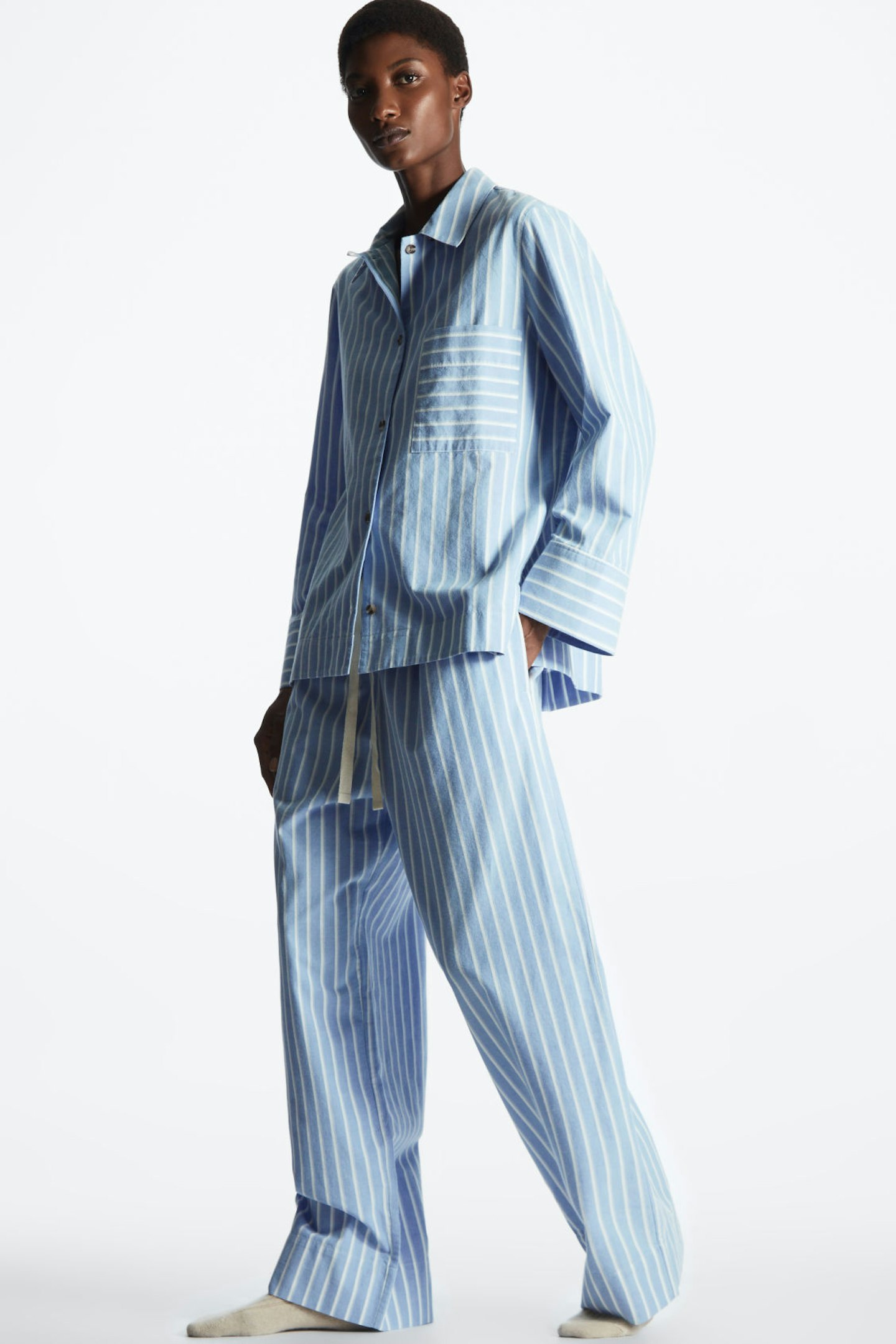 12 of 29
COS, Striped Pyjamas
A pair of good-quality cotton pyjamas will see you through all seasons.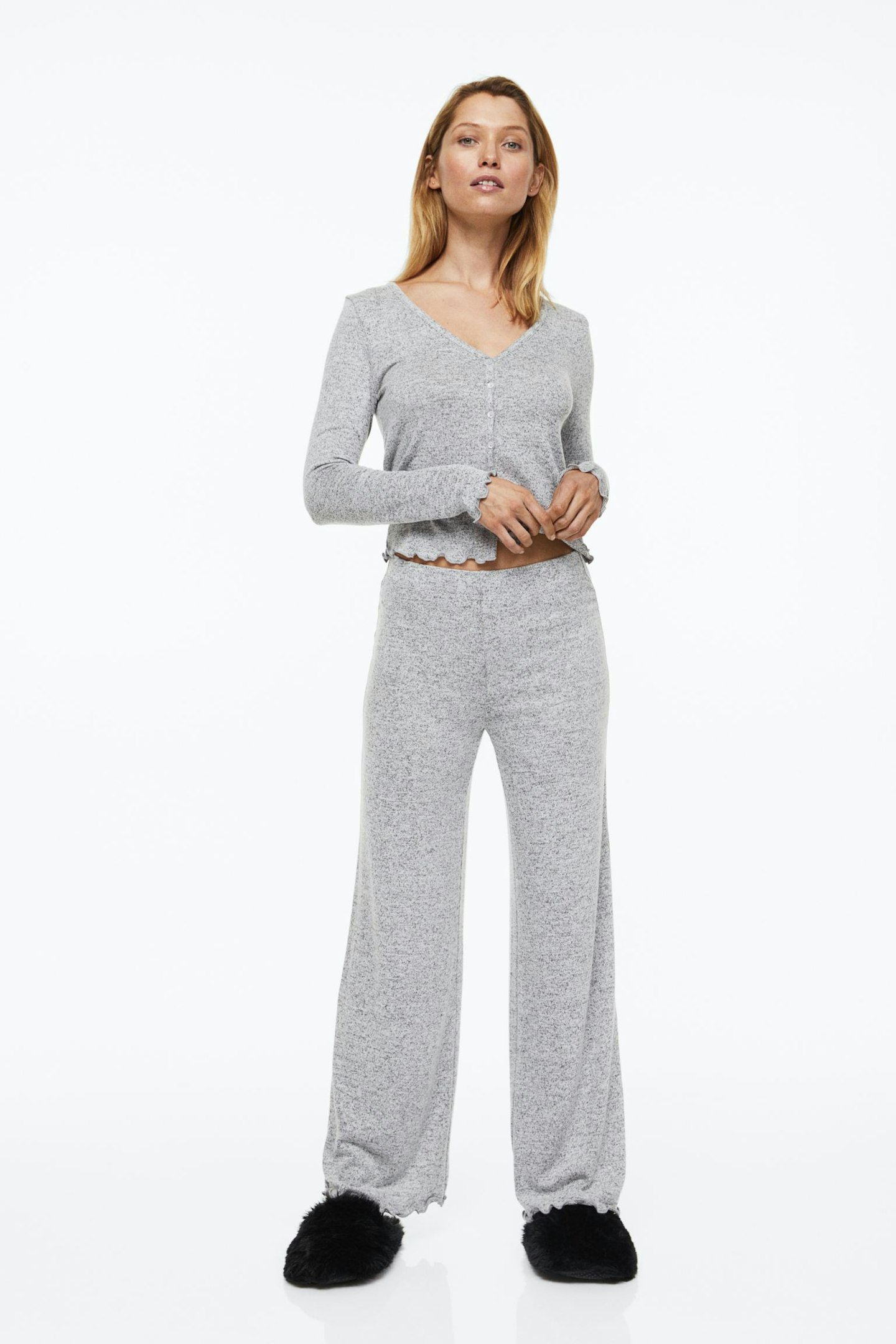 13 of 29
H&M, Pyjama Cardigan And Bottoms
We love the concept of a pyjama cardigan. This one could easily be worn out of the house with jeans and trainers, too.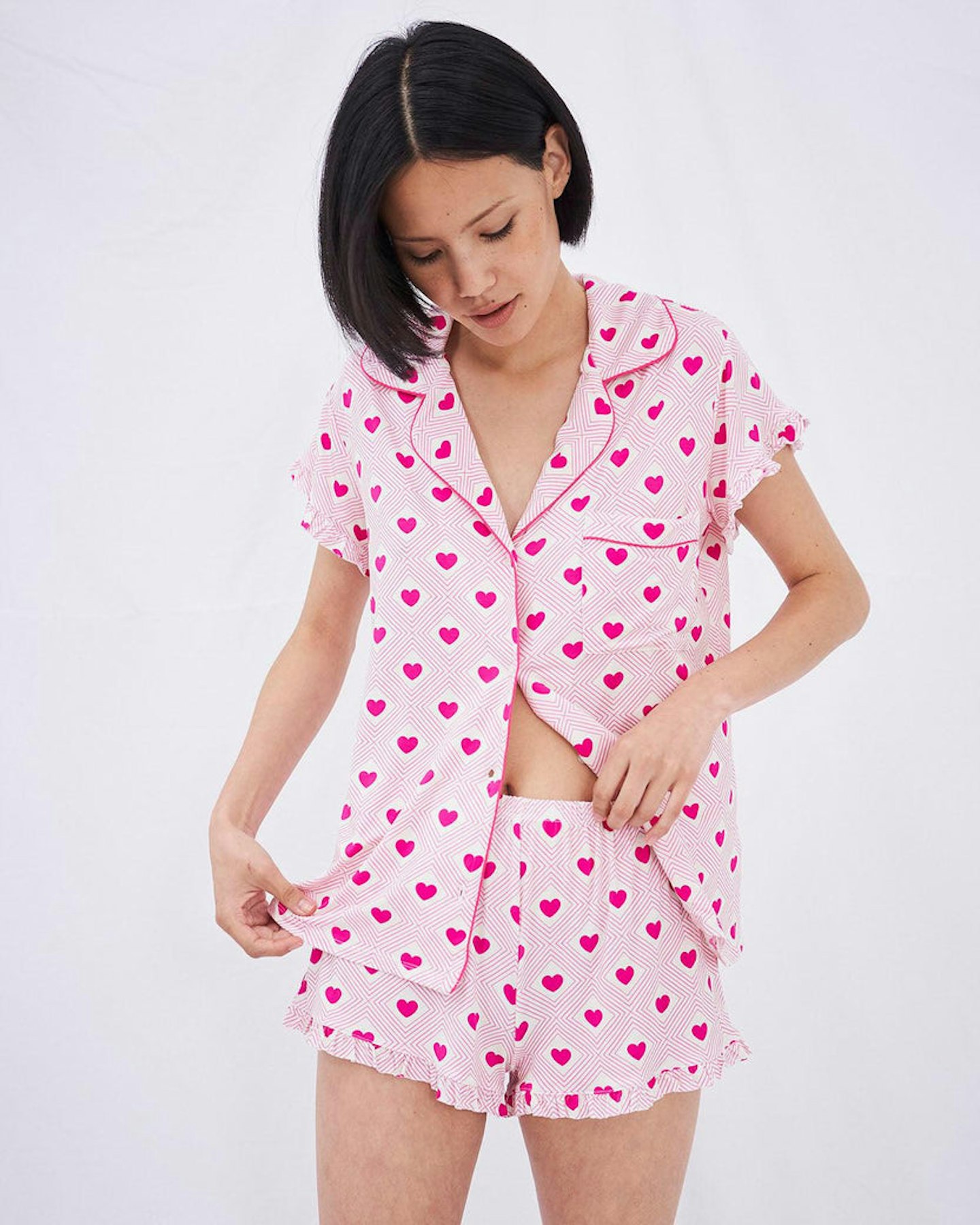 14 of 29
Stripe And Stare, Frill Short Set
Made from eco-conscious materials, these fun pyjamas are ideal for those who don't like wearing trousers in bed.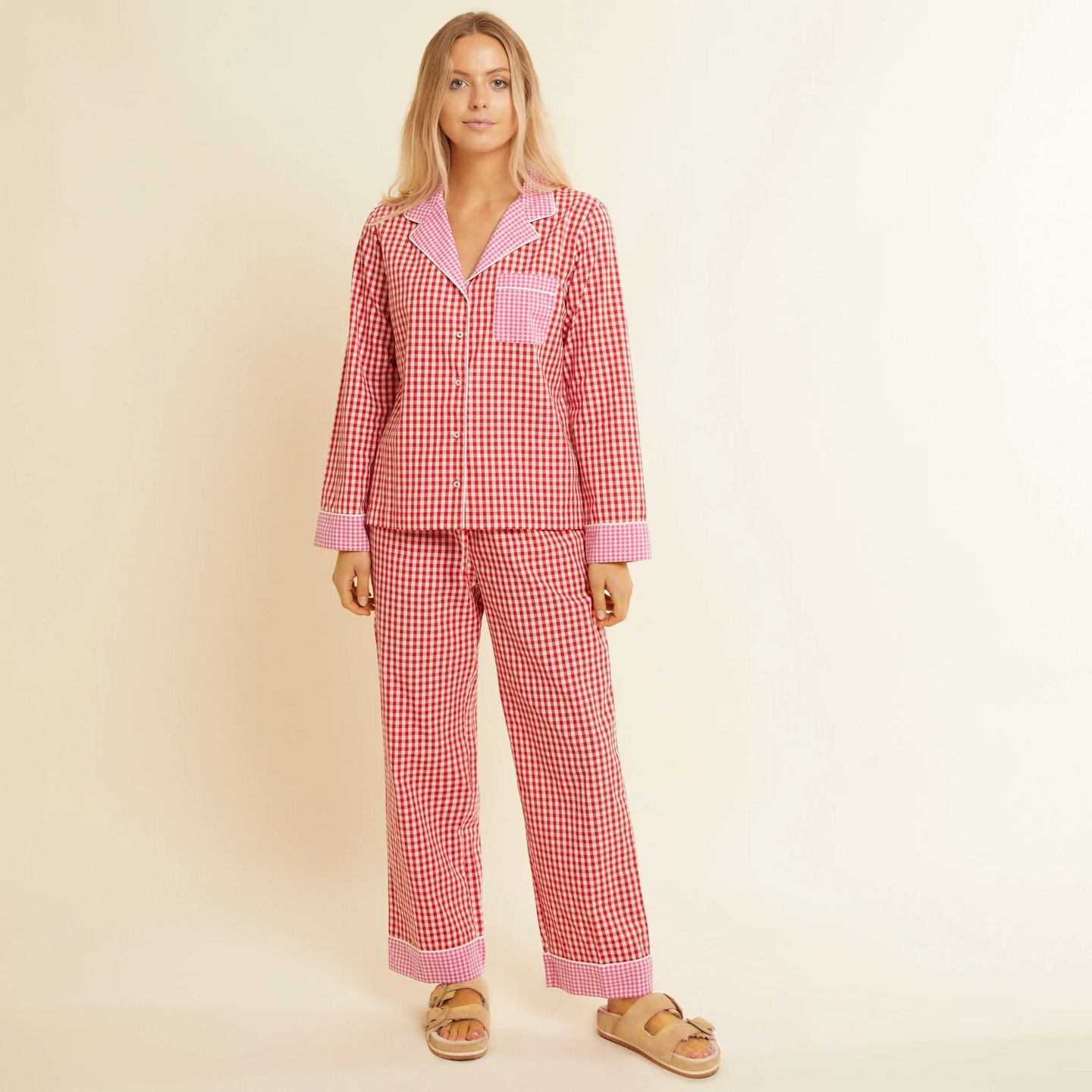 15 of 29
Albaray, Red And Pink Gingham Pyjama Set
Sustainable brand, Albaray, has some amazing patterns for people who like they're pjs on the punchy side.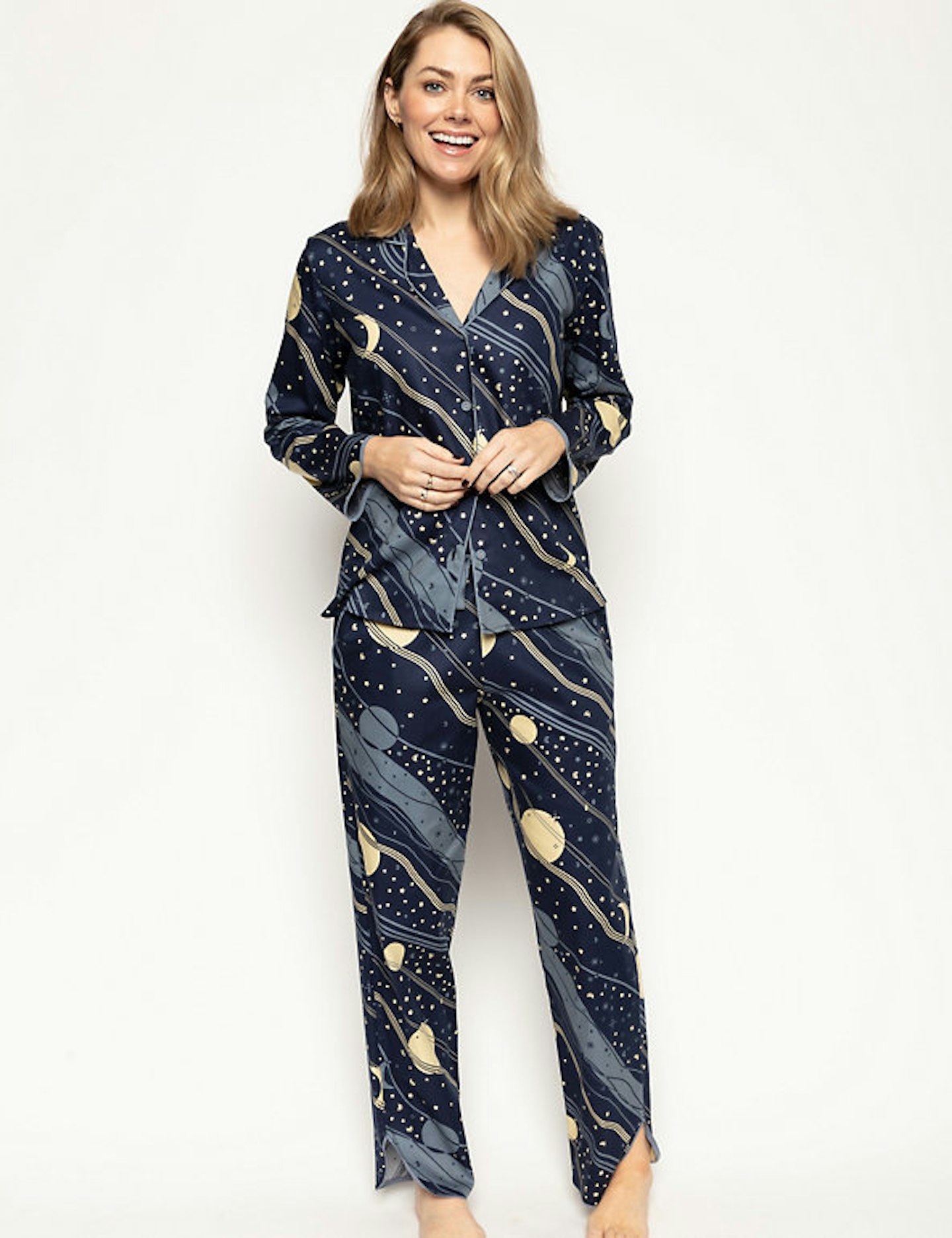 16 of 29
Cyber Jammies, Modal Celestial Print Pyjama Set
If you're on the lookout for fun printed PJs, look no further than Cyberjammies.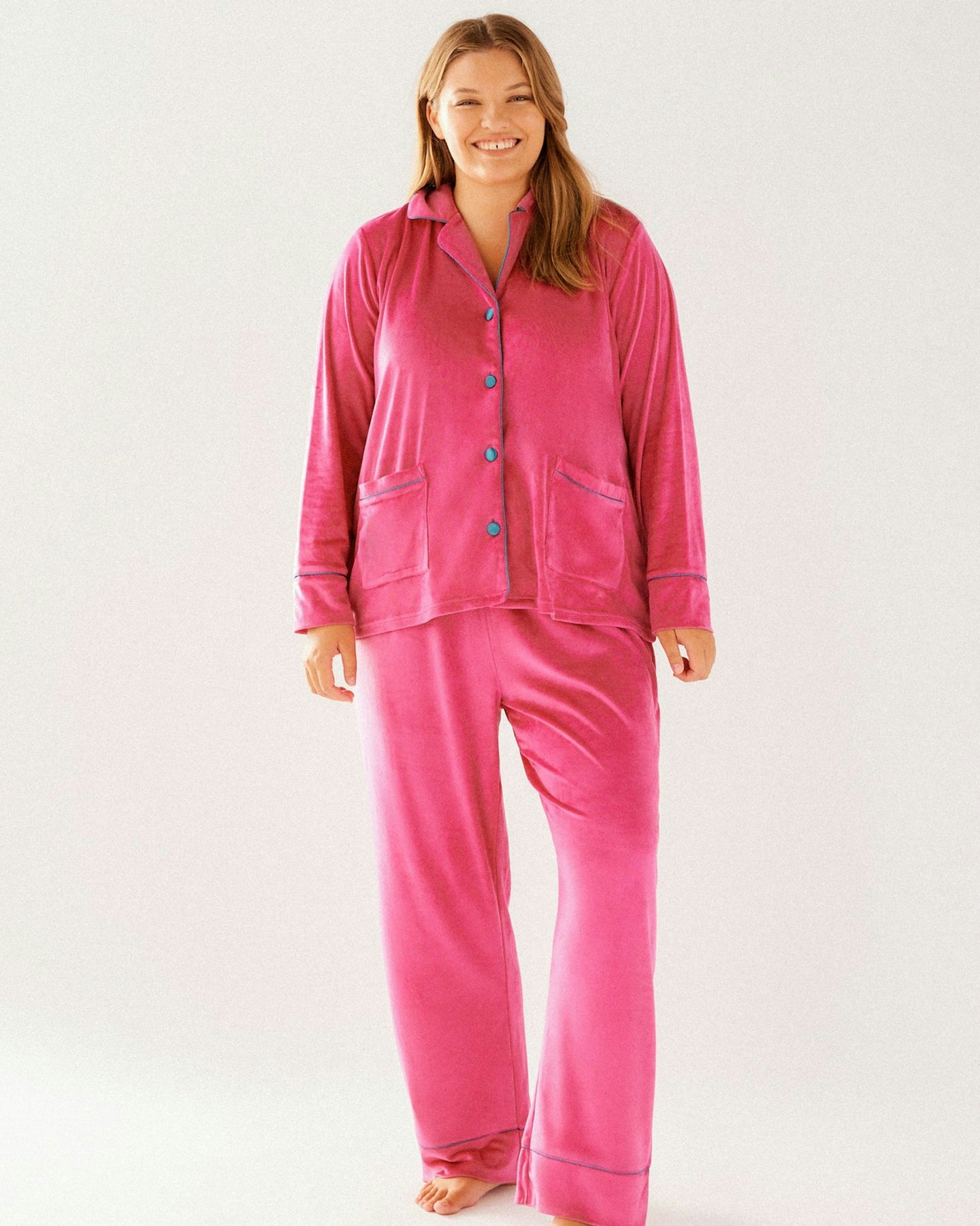 17 of 29
Chelsea Peers, Curve Hot Pink Velour Button Up Long Pyjama Set
A pair so soft, you'll struggle to want to wear anything else after all the festivities are over.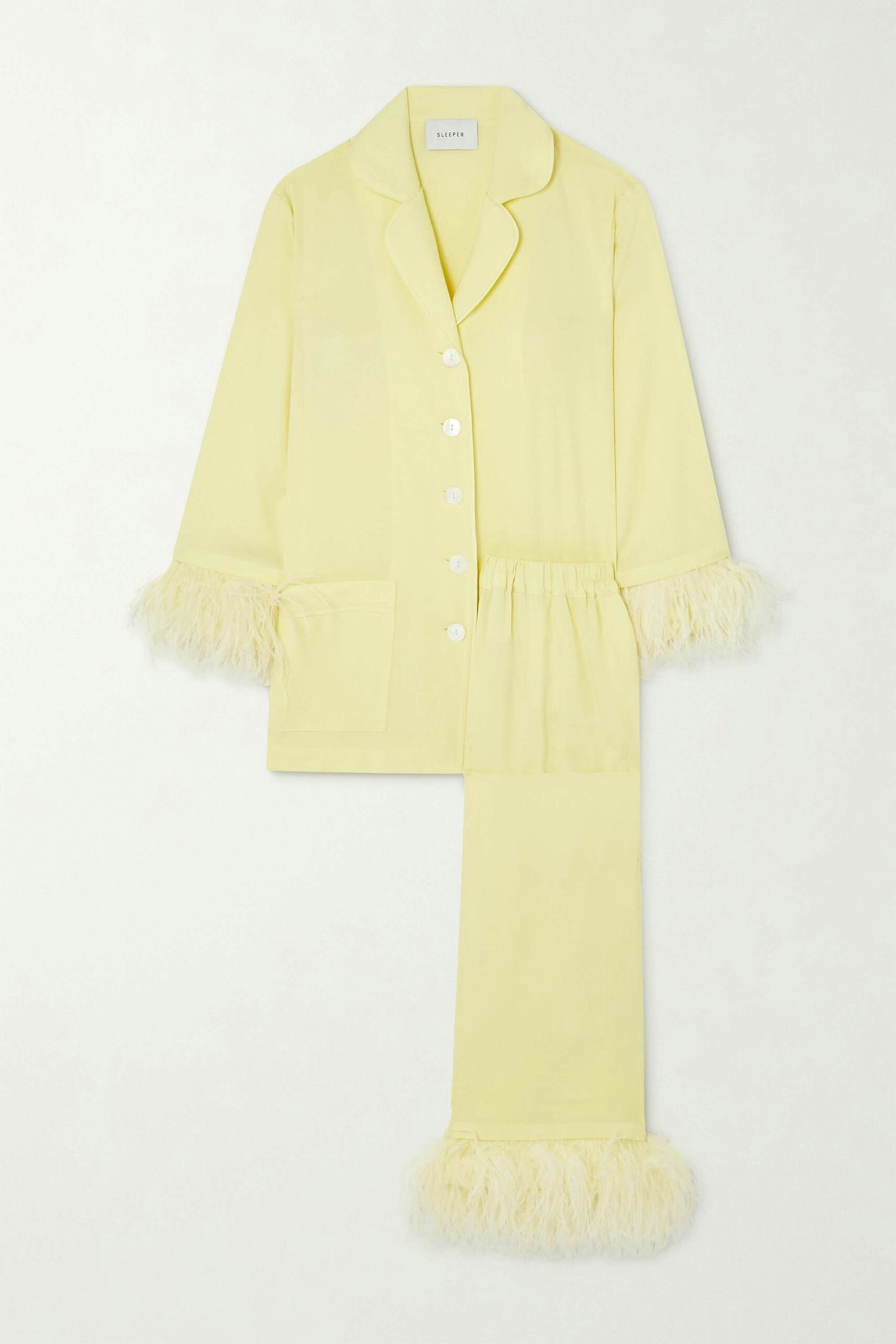 18 of 29
Sleeper, Feather-Trimmed Crepe De Chine Pyjama Set
A little feather trim to dress up your pyjama set, wear with a low heel mule or ballet pump for ventures outdoors.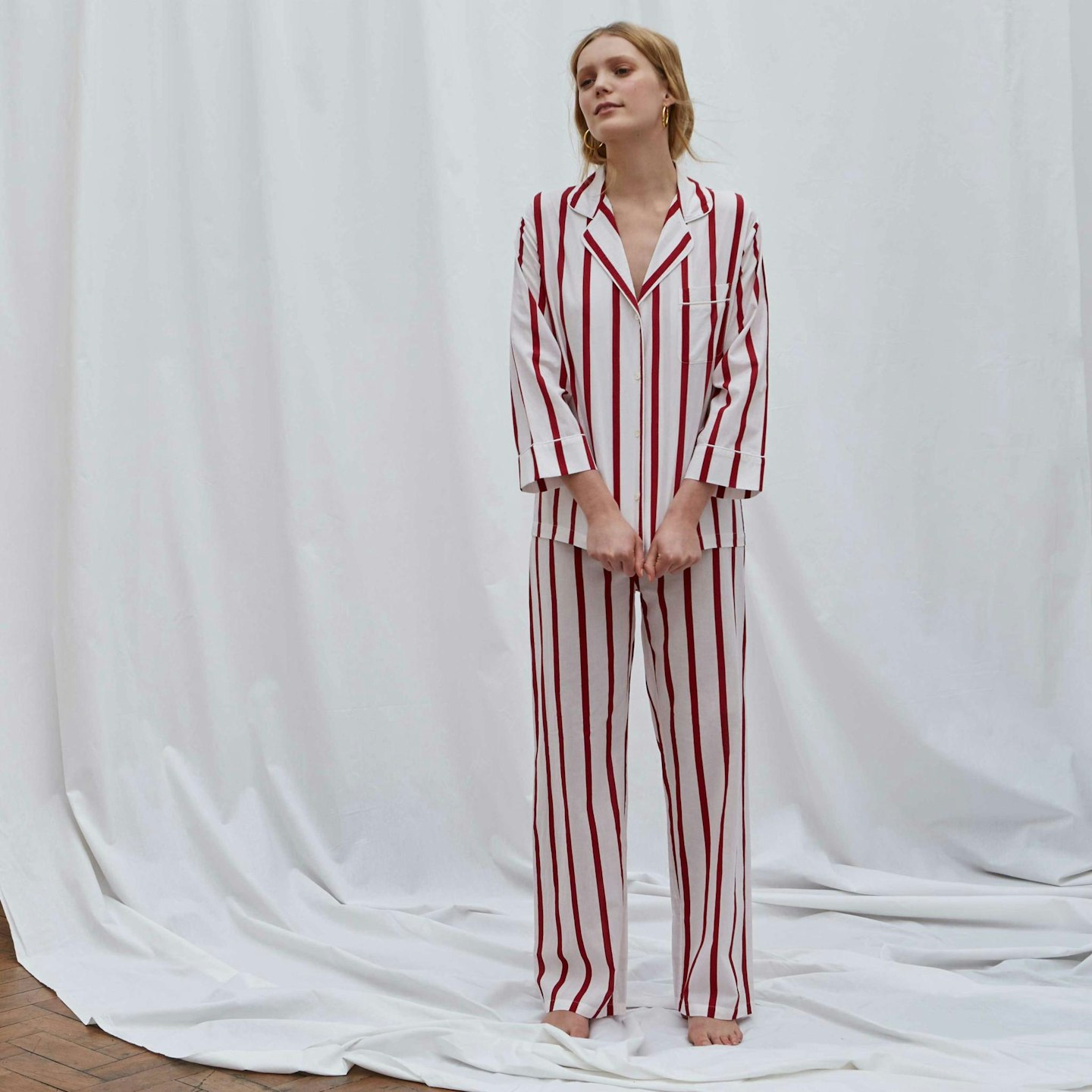 19 of 29
Honna London, Red Stripe Pyjama Set, £120
Christmas pyjamas that look like a candy cane? Yes please, Santa.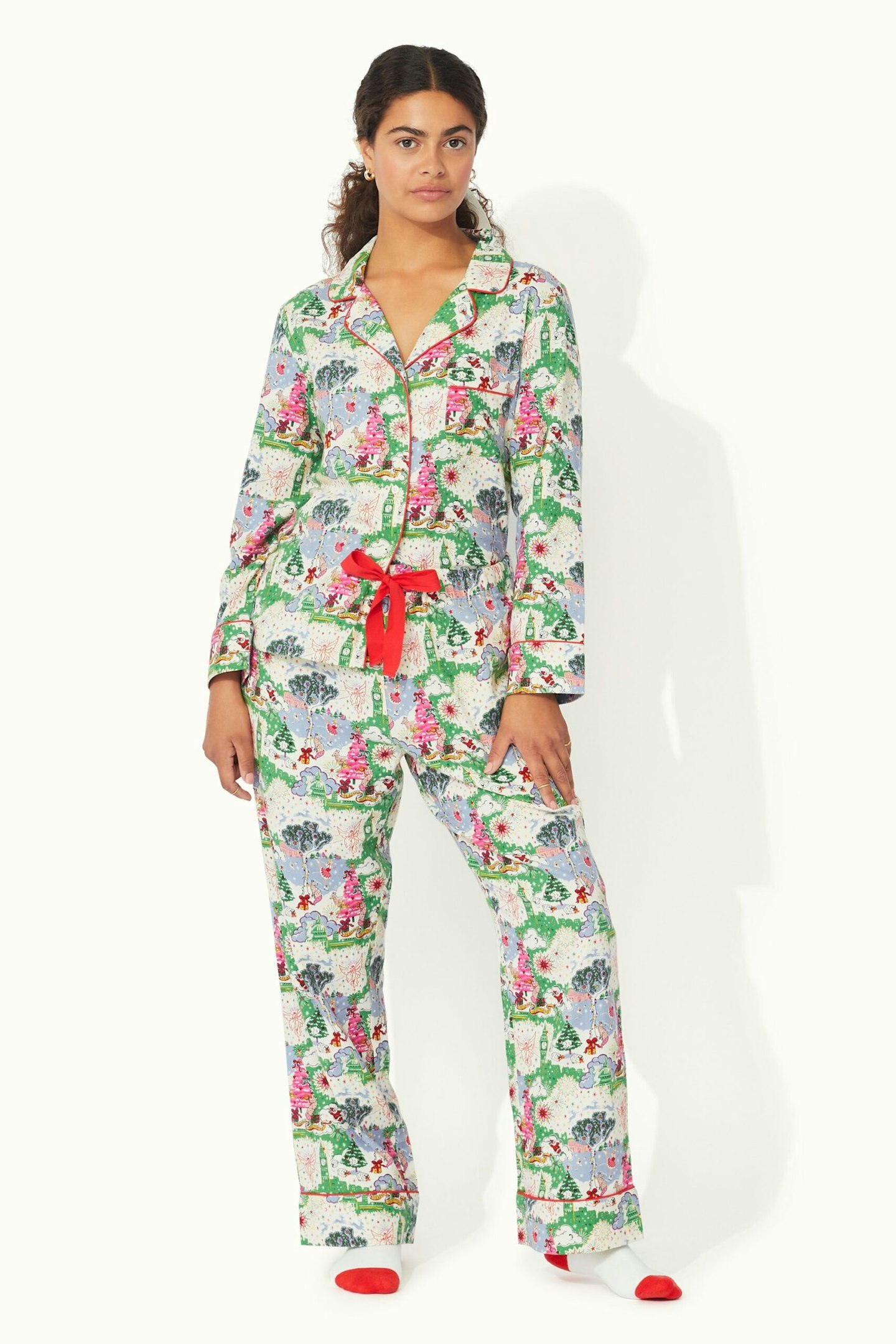 20 of 29
Cath Kidston, Christmas Sky Women's Woven PJ Set
Aren't Cath Kidston's pyjamas the most festive (and fabulous) you've seen?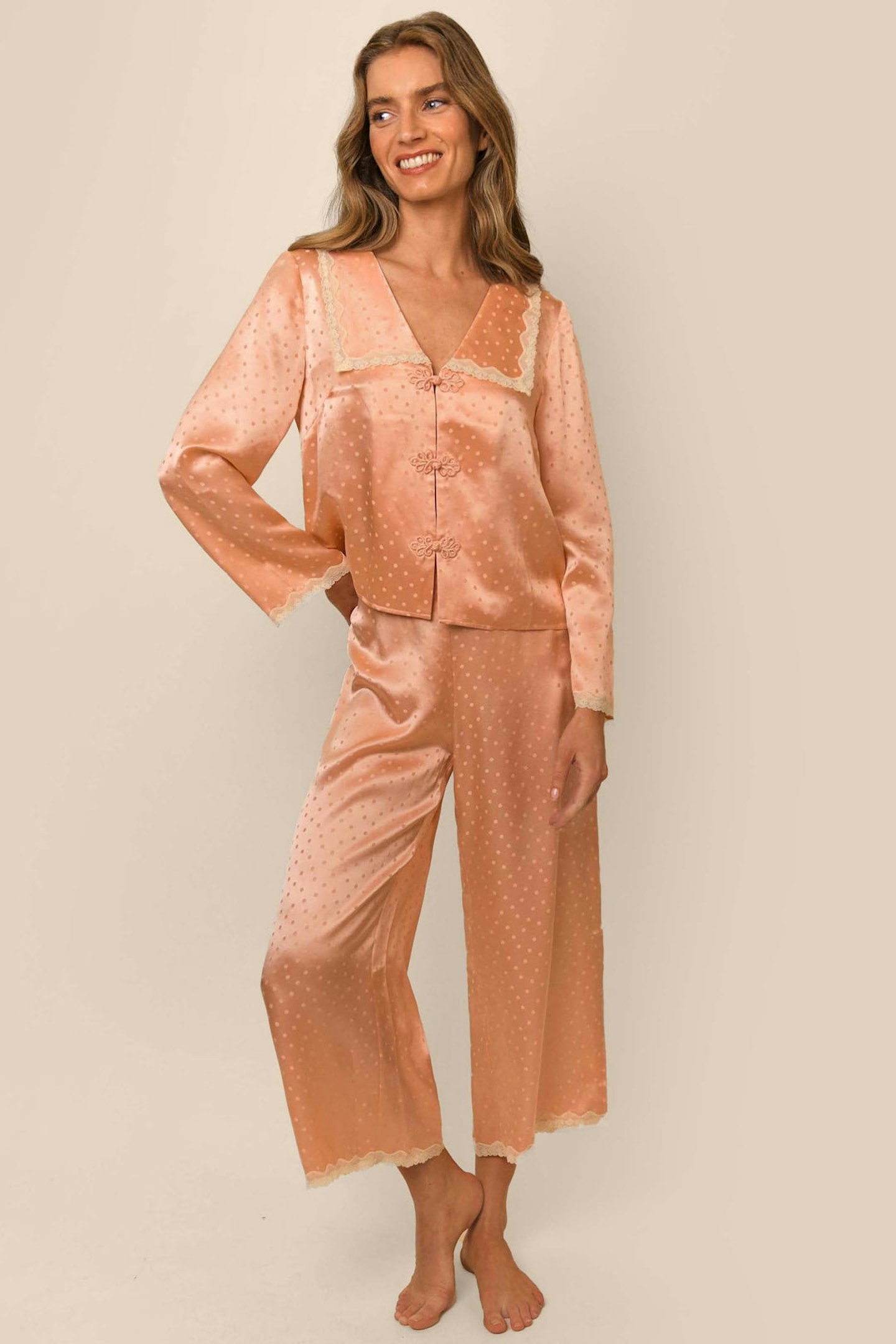 21 of 29
Rixo, Annabelle Square Collar Pyjamas
Rixo has some of the best party pyjamas, but our favourite has got to be this square collar set.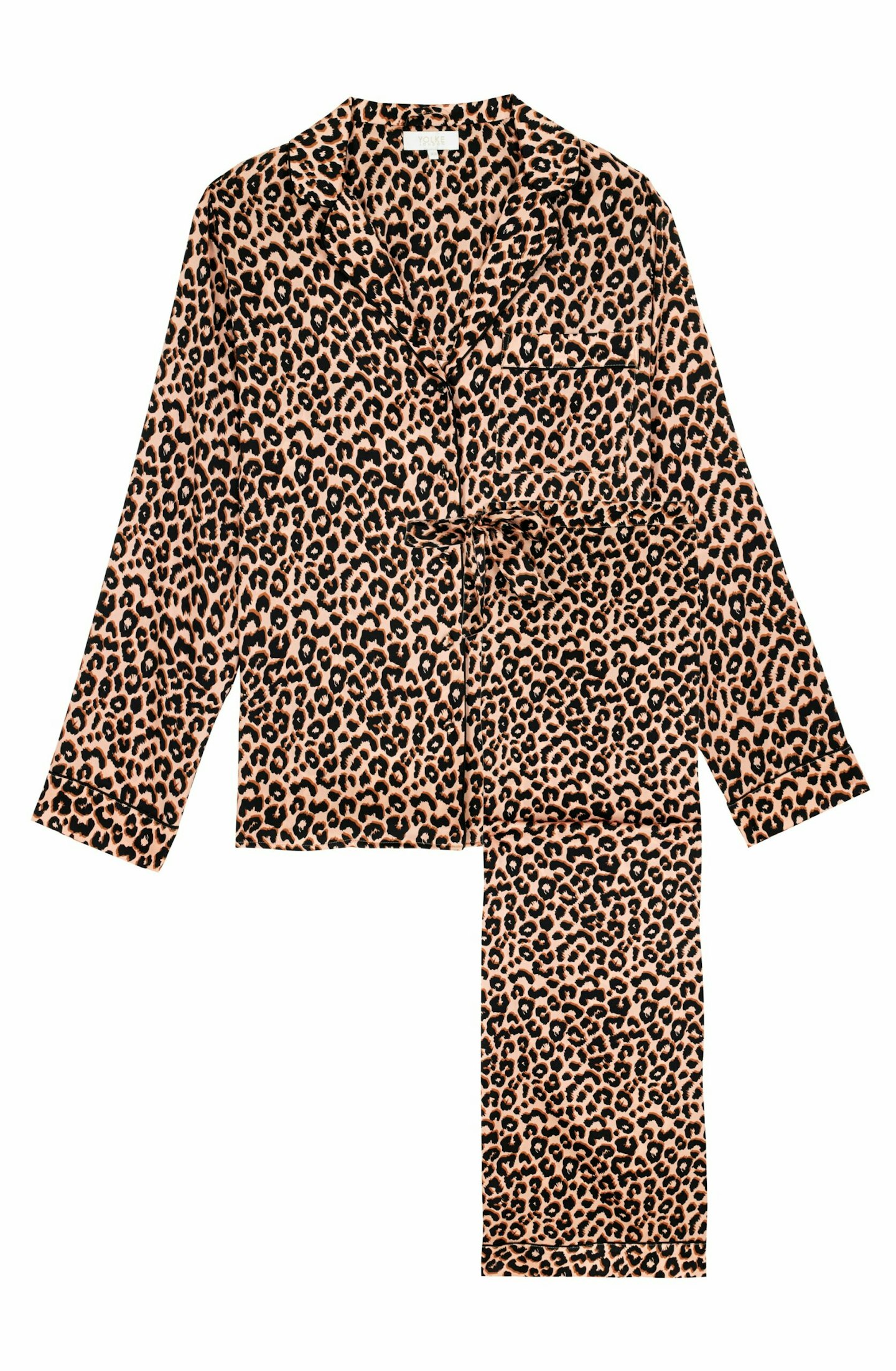 22 of 29
Yolke, Classic Silk Pyjama Set Leopard Print
As seen on Kate Moss, Yolke's silk pyjamas are almost too sumptuous to wear (almost)
and if they're good enough for Kate, they're good enough for us!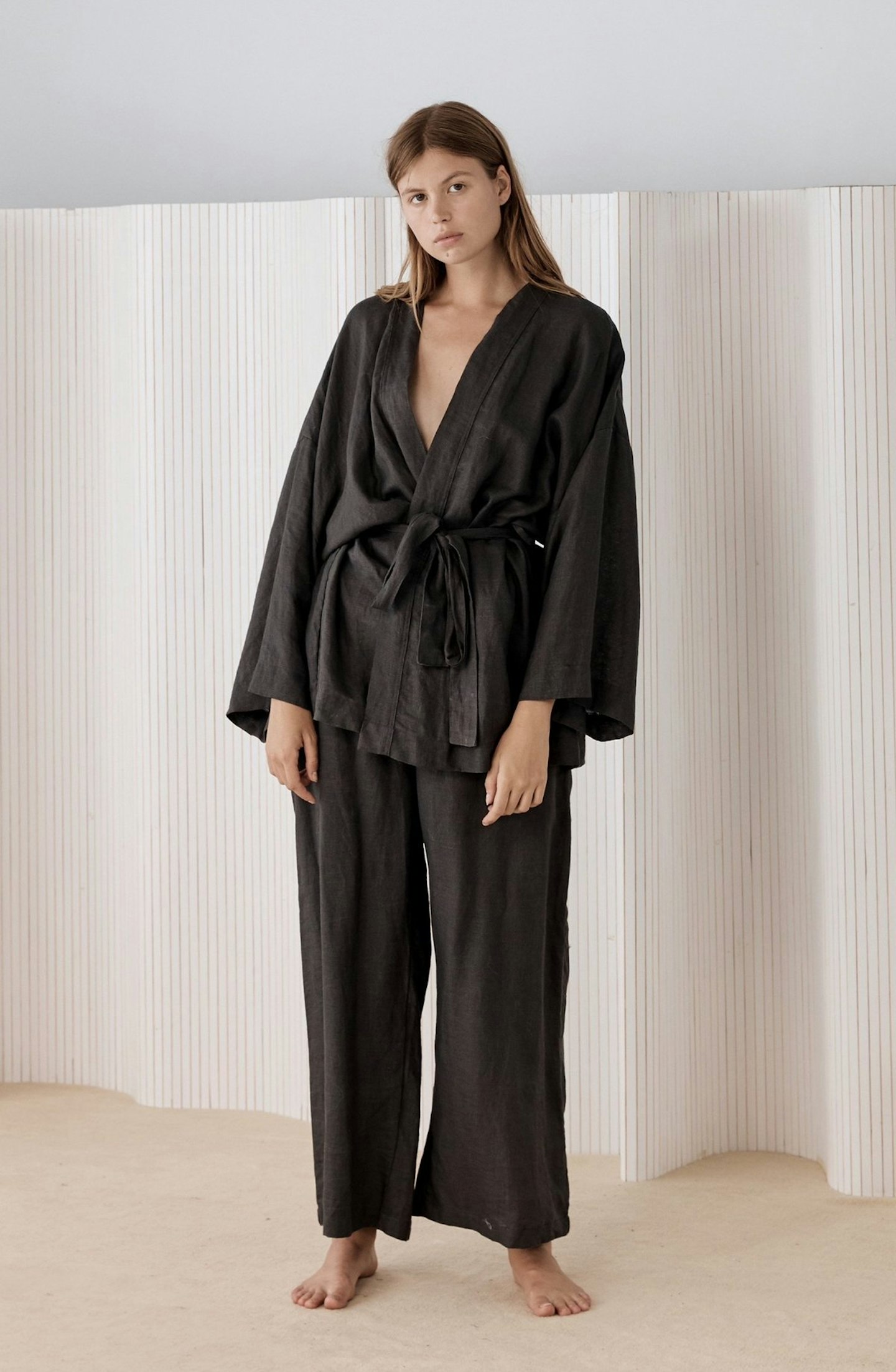 23 of 29
Deiji Studios, The 01 Set
Deiji Studios is a great shout for sleepwear minimalists who love their linen.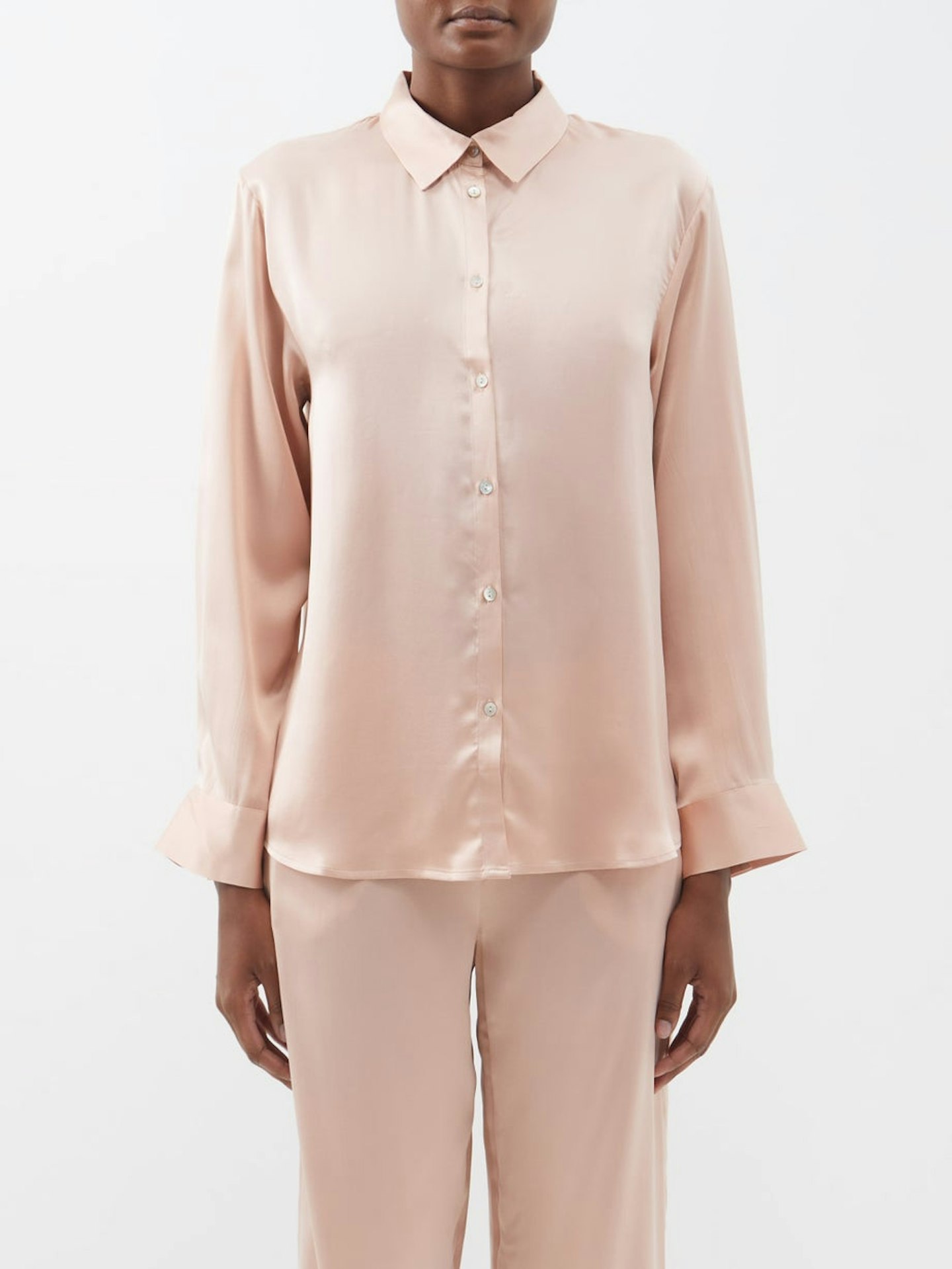 24 of 29
Asceno, London Sandwashed-Silk Pyjama Shirt
Asceno's silk pyjamas are the ultimate in silky luxury.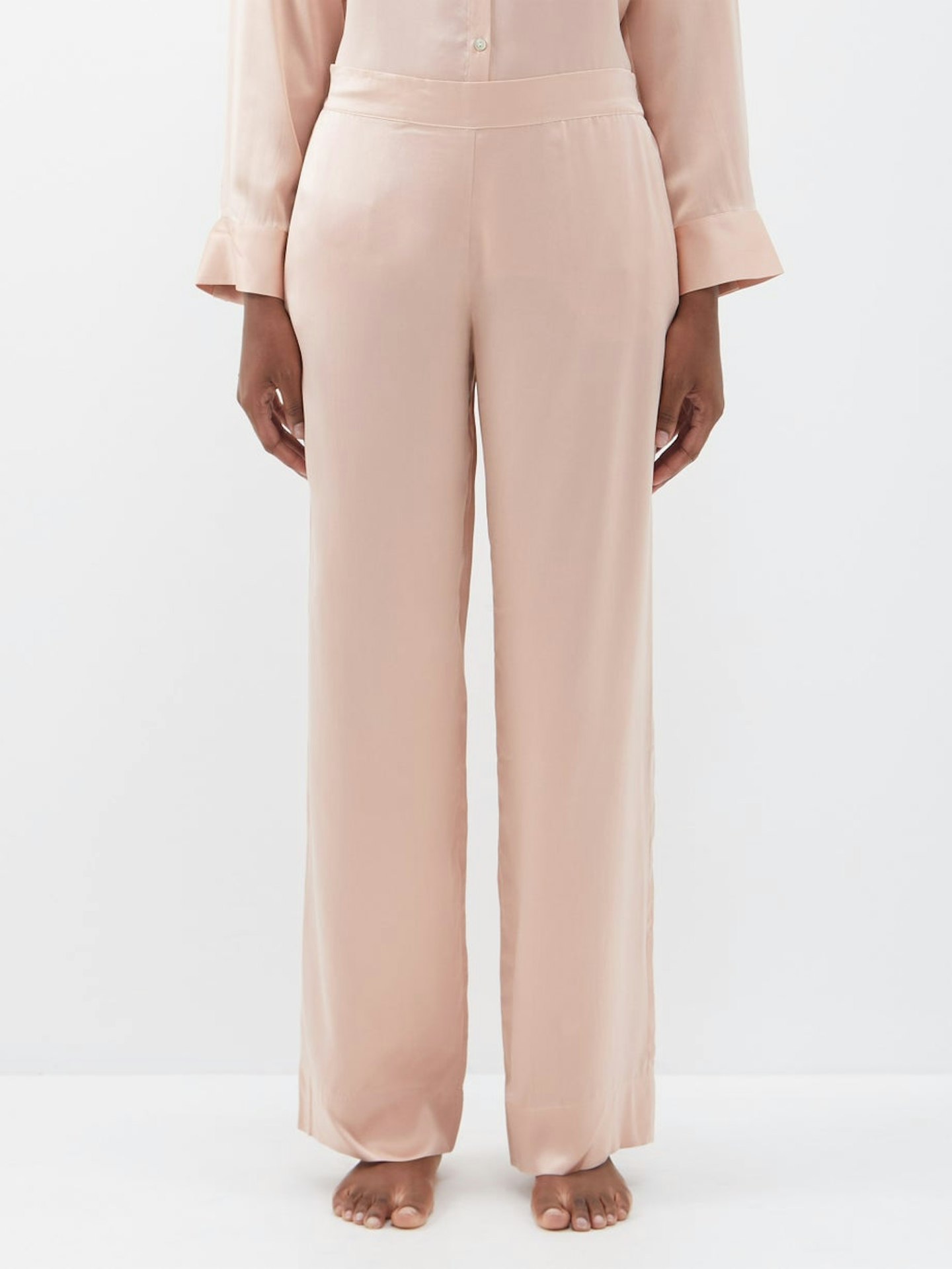 25 of 29
Asceno, London Sandwashed-Silk Pyjama Trousers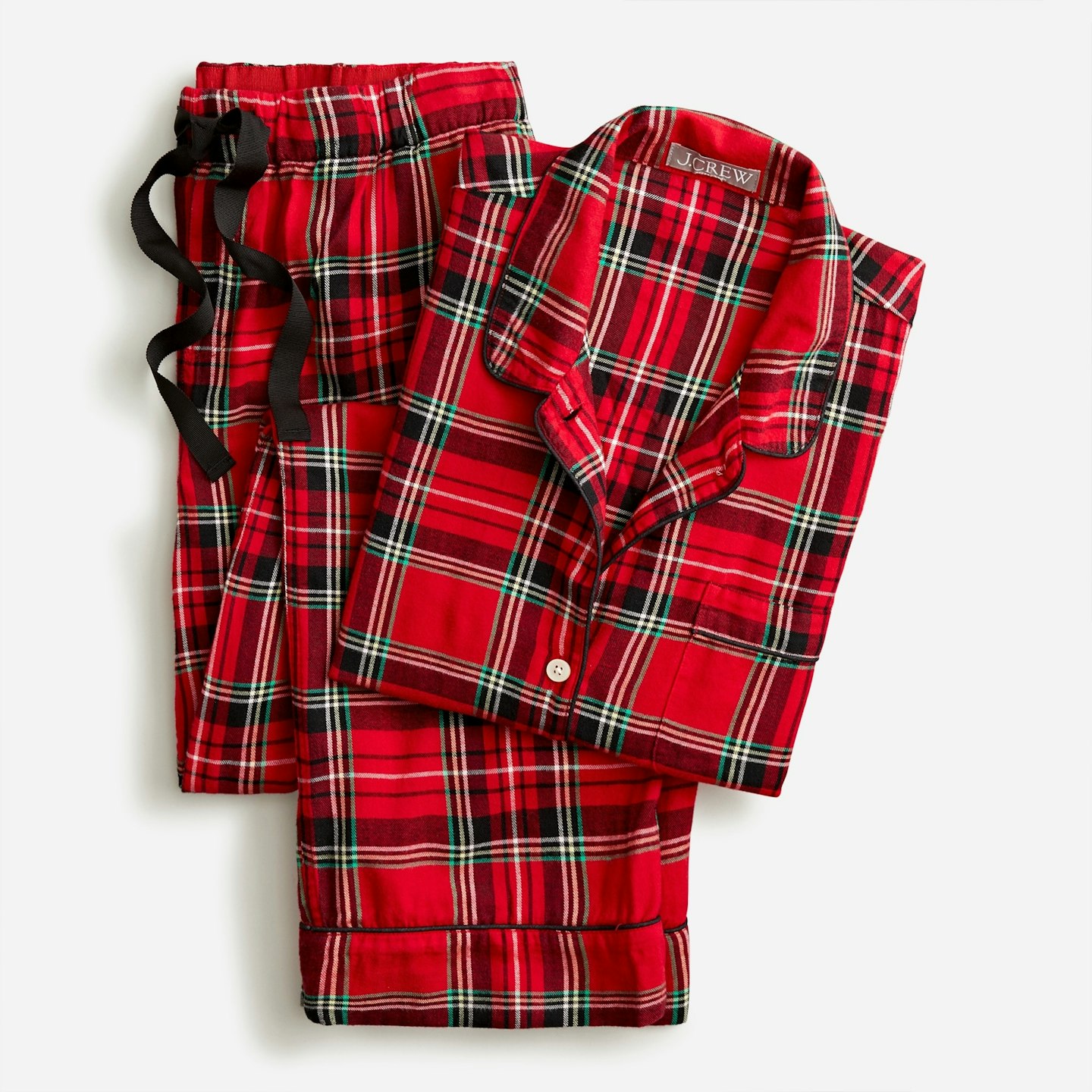 26 of 29
J.Crew, Long-sleeve flannel Pajama Set in Good Tidings Plaid
We would love to unwrap these - the perfect festive tartan - on Christmas morning.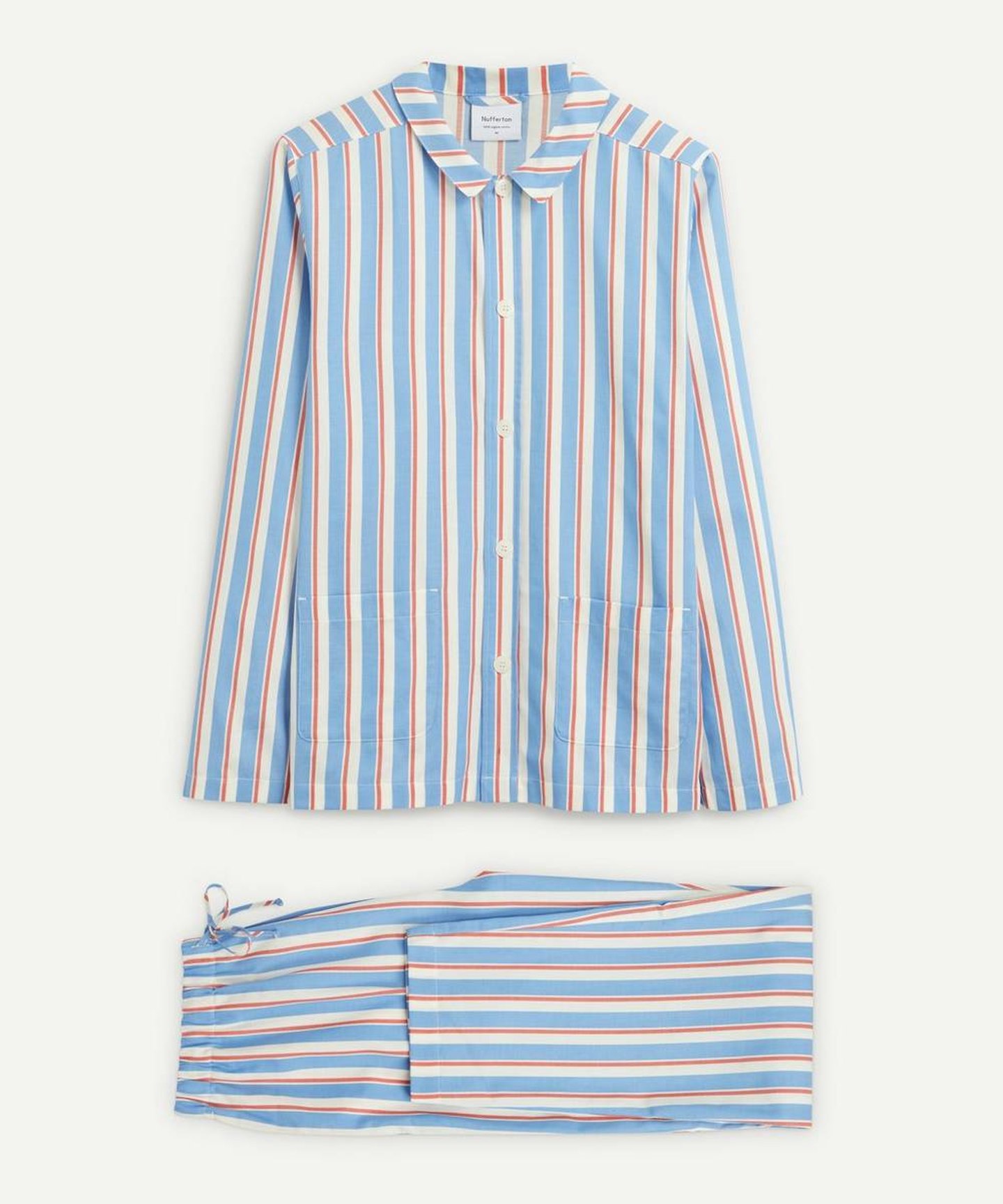 27 of 29
Nufferton, Uno Triple Stripe Pyjamas
You could easily wear these outside of the house for party season, too.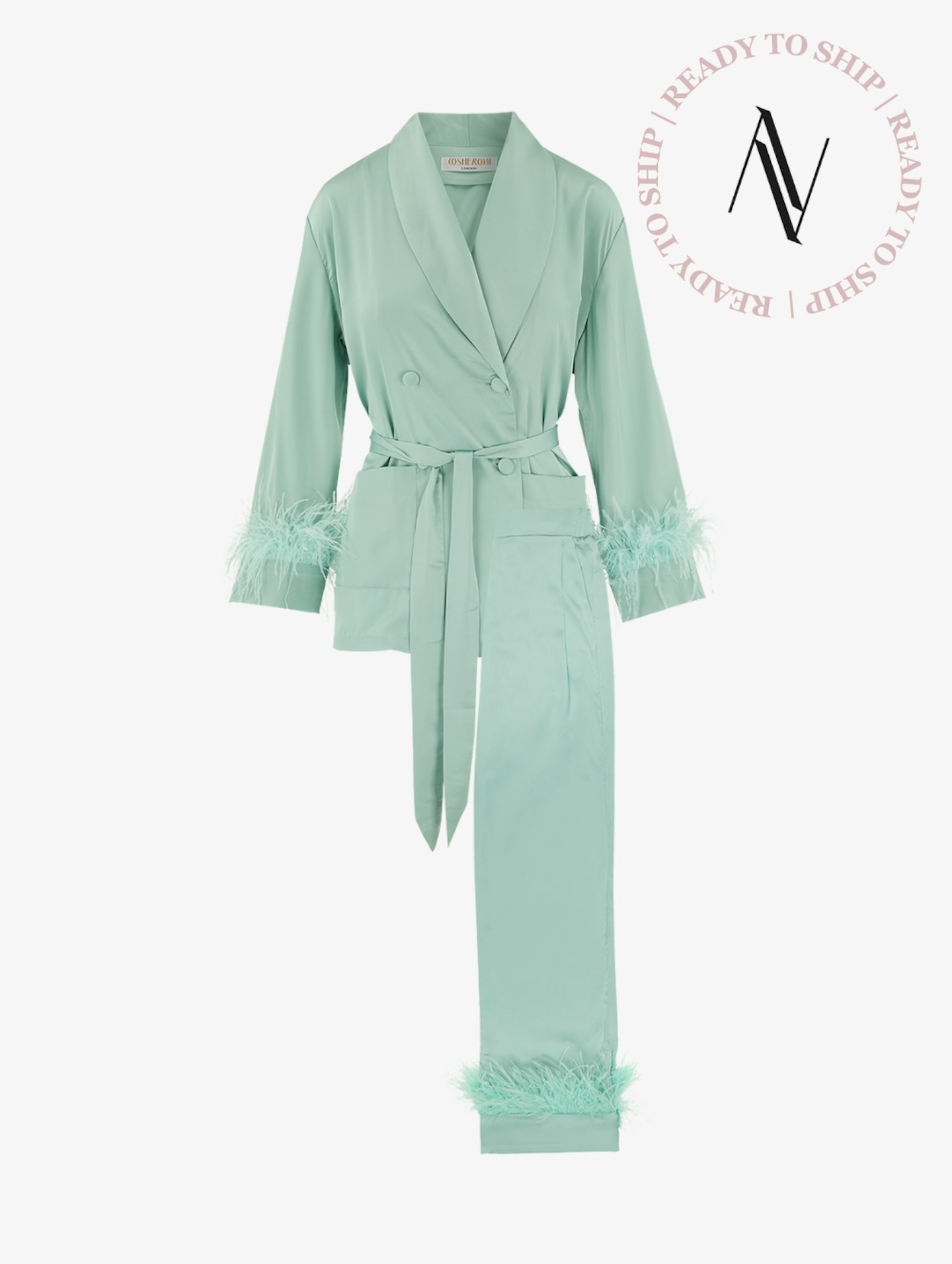 28 of 29
Amrika, Cosheroom Mint Frida Set
You could easily wear these outside of the house for party season, too.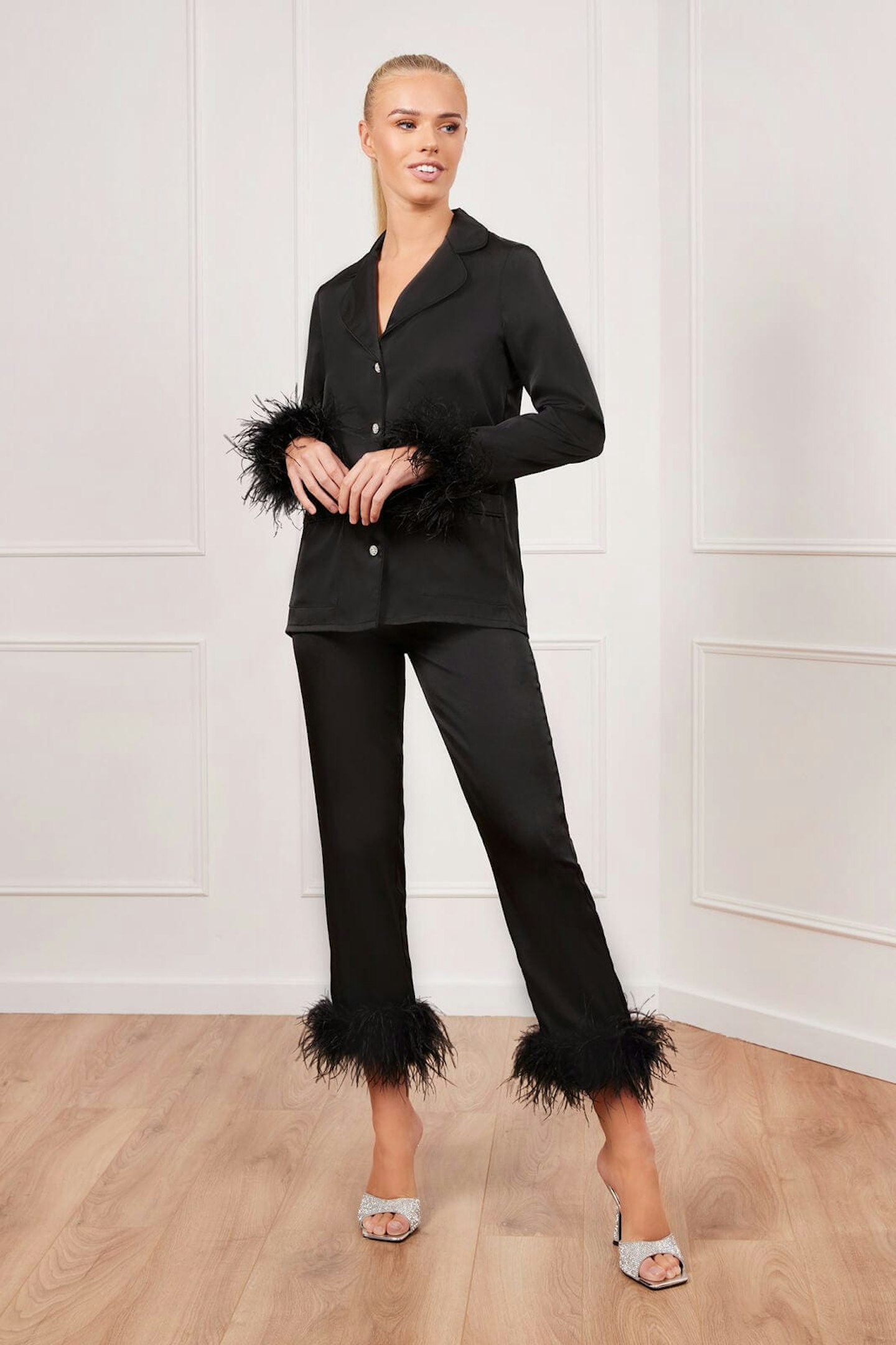 29 of 29
Madine Merabi, Darcie Black Pyjamas
You could easily wear these outside of the house for party season, too.