From Buckingham Palace to the BAFTAs, Kate Middleton's knack for occasion dressing is second to none. While the Duchess of Cambridge tends to rely upon a select group of designers for these high profile fashion moments — we're talking Erdem, Jenny Packham, Temperley and of course Alexander McQueen's Sarah Burton, the woman responsible for her wedding dress — you'd be hard pressed to narrow down a signature red carpet formula for Kate. Instead, she switches effortlessly from simple shapes in block colours to bold floral prints to fairytale embellishment to old school Hollywood glamour and everything in between.
Excitingly, it's now been confirmed that the Duchess, alongside her husband Prince William, will once again be attending this year's BAFTA ceremony on 2nd February. Kate has had some amazing BAFTAs looks over the years, and we're excited to see what she wears next. This year, attendees of the BAFTAs have been asked to 'dress sustainably,' which will be no problem for Kate who is known for her sartorial recycling.
With the BAFTAs right around the corner, what better time to celebrate some of Kate's most memorable fashion moments on the red carpet? Enjoy a look through Kate Middleton's best red carpet dresses...
Kate Middleton Red Carpet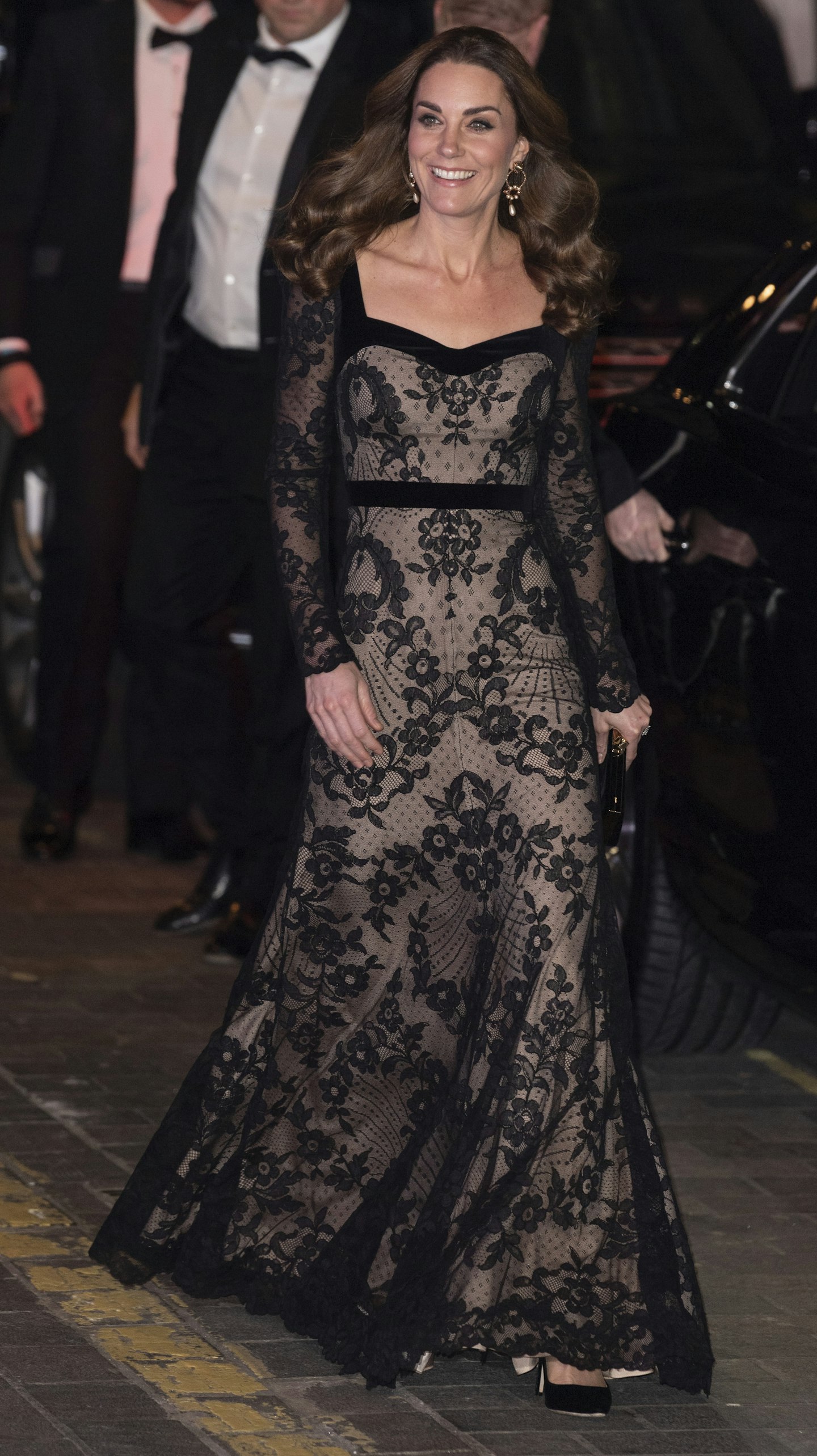 1 of 21
CREDIT: Getty
November 2019
While attending the Royal Variety Performance at the Palladium Theatre, Kate wore a stunning black sheer lace Alexander McQueen dress.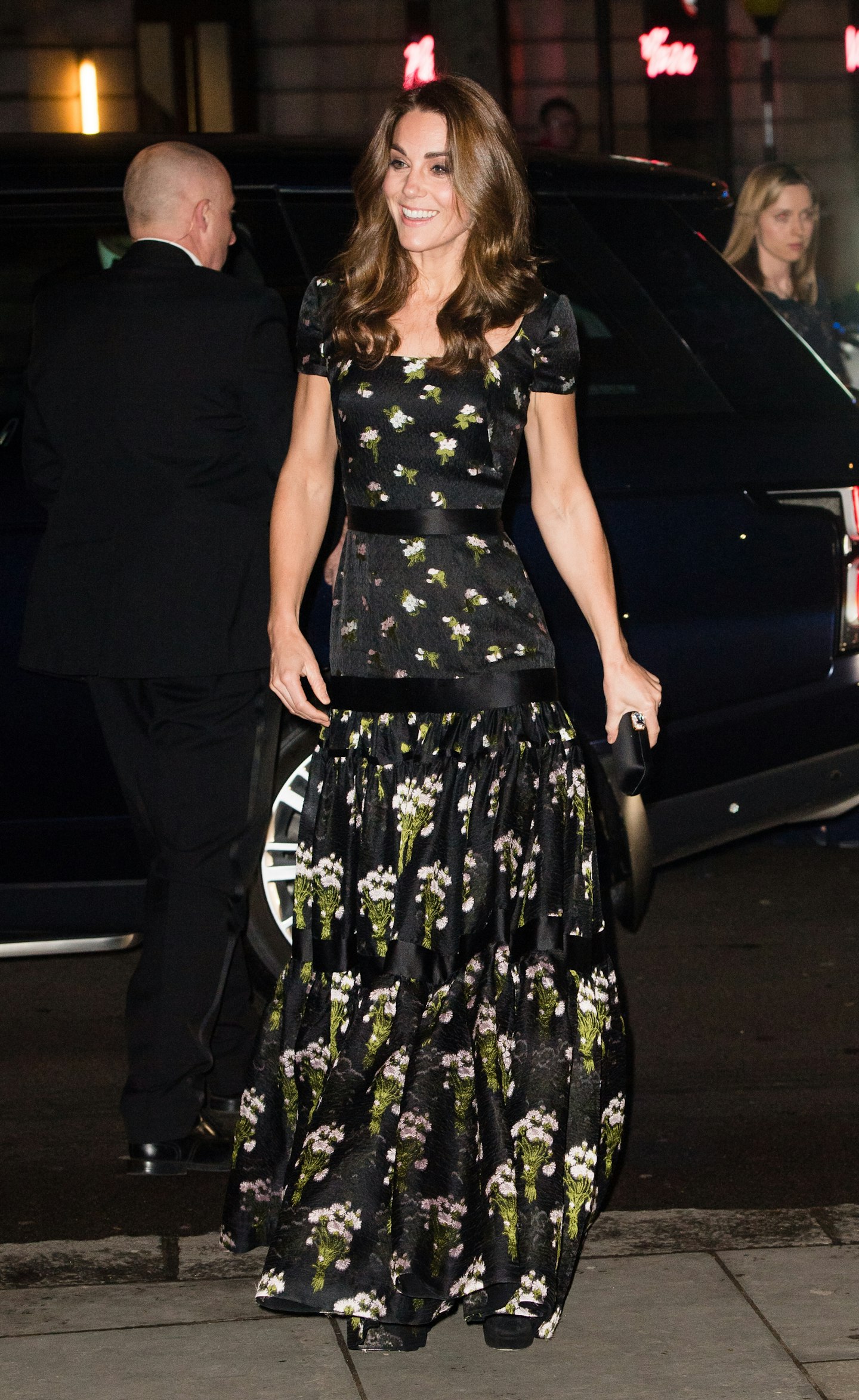 2 of 21
CREDIT: Getty
March 2019
For the Portrait Gala at the National Portrait gallery, Kate re-wore an Alexander McQueen printed gown that she had previously worn to the 2017 BAFTAs. This time, she added sleeves to the dress.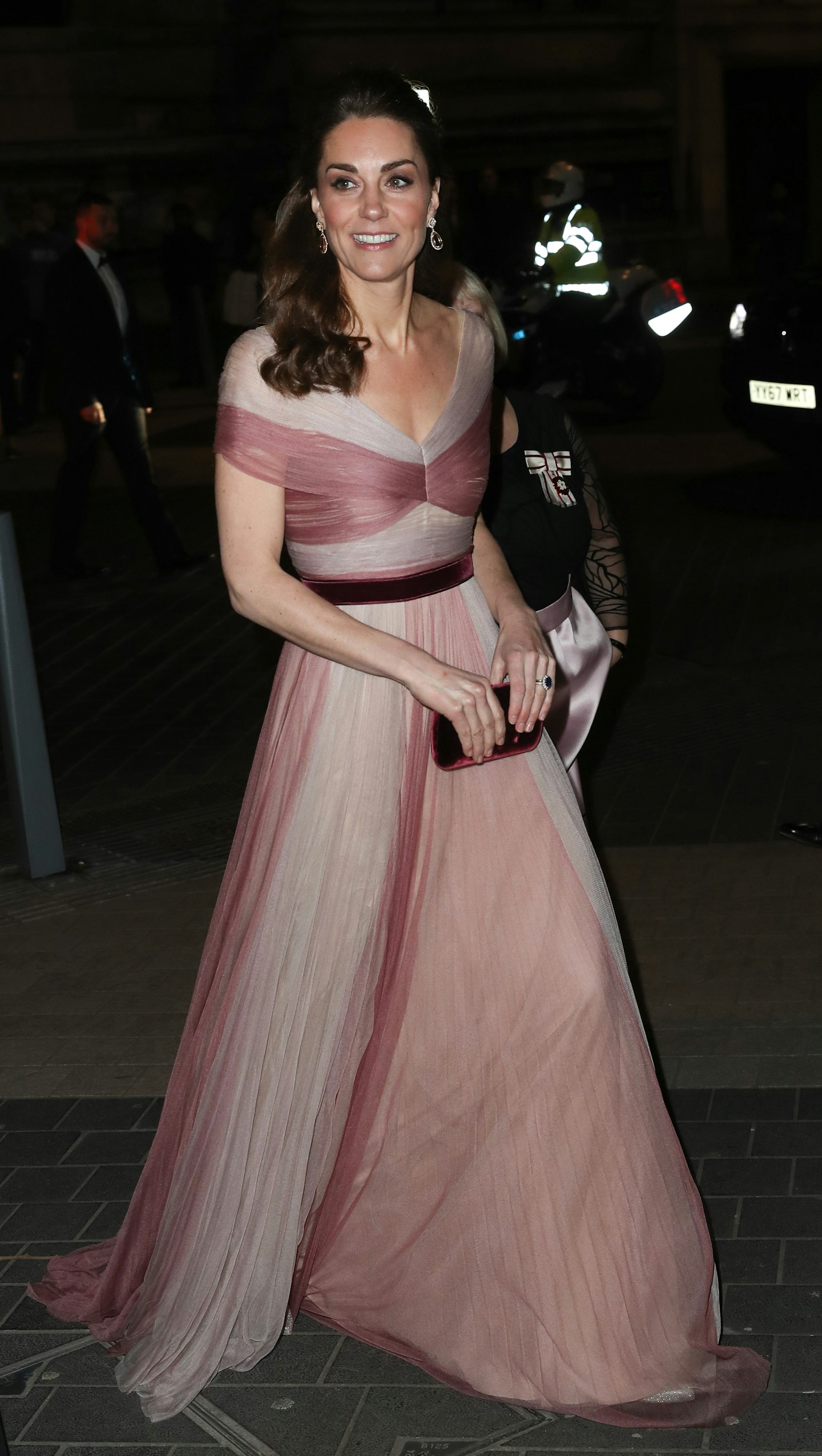 3 of 21
CREDIT: Getty
February 2019
Kate wore a glamorous blush pink off-the-shoulder Gucci gown to a gala dinner at the Victoria and Albert museum.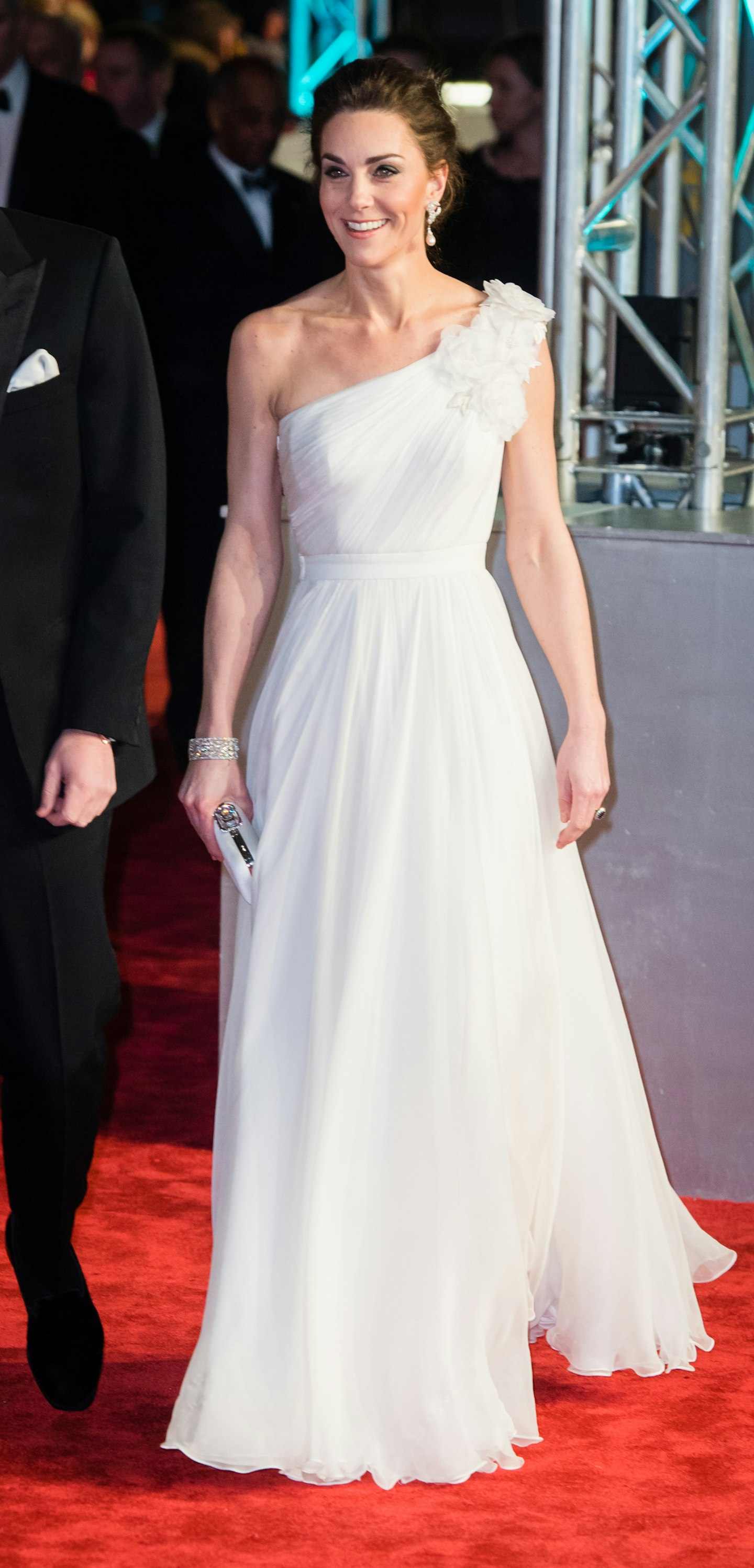 4 of 21
CREDIT: Getty
February 2019
The Duchess wore a stunning white off-the-shoulder dress by Alexander McQueen.

5 of 21
CREDIT: Getty
October 2018
Kate showed off her recycling skills once again by re-wearing this beautiful blue Jenny Packham gown to the Tusk Conservation Awards. She first wore it in 2012 to the 'Our Greatest Team Rises -BOA Olympic Concert' at the Royal Albert Hall.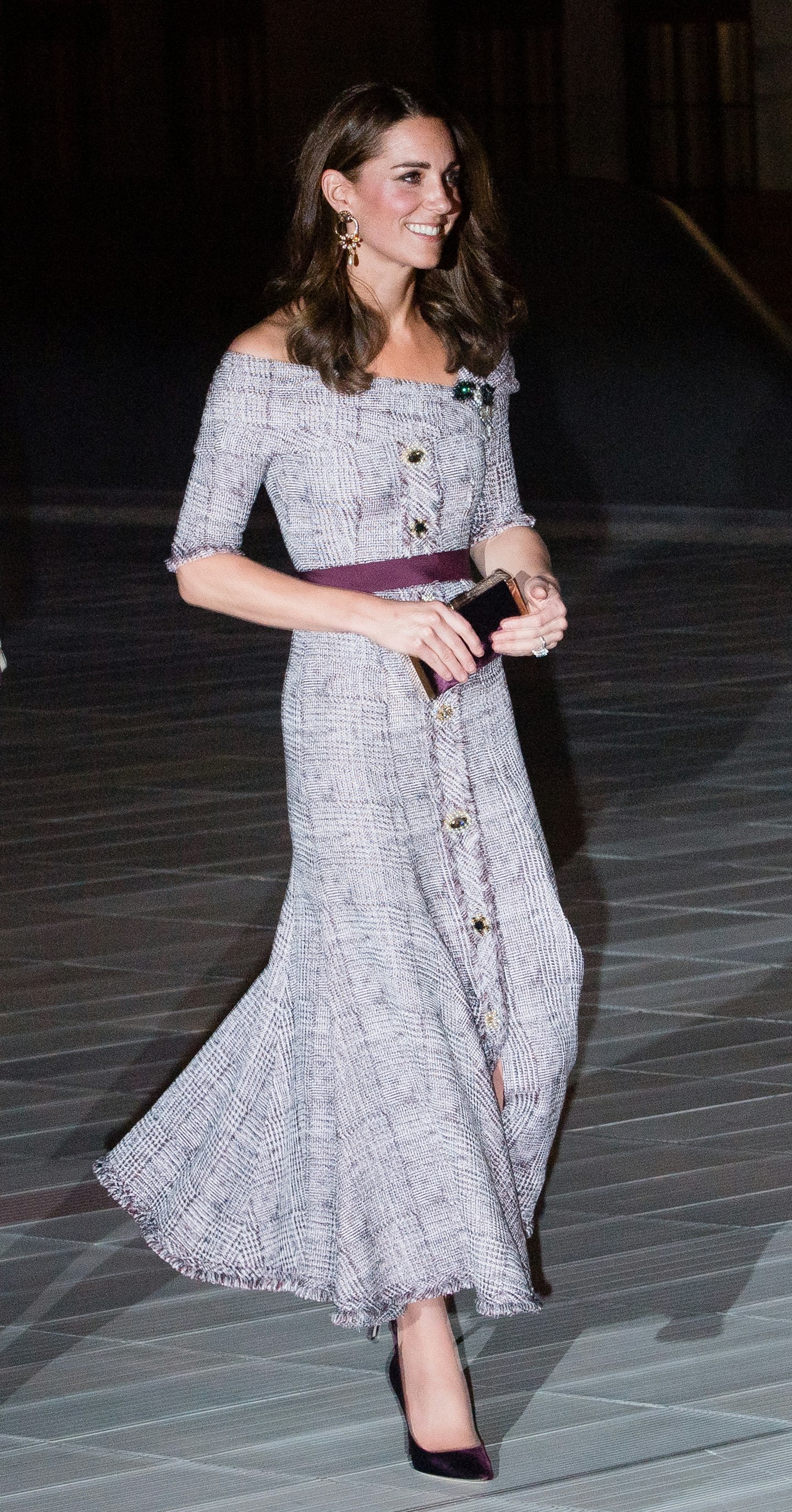 6 of 21
CREDIT: Getty
October 2018
After becoming the Royal Patron of the V&A in March 2018, Kate wore this stunning Erdem frock to open the V&A Photography Centre.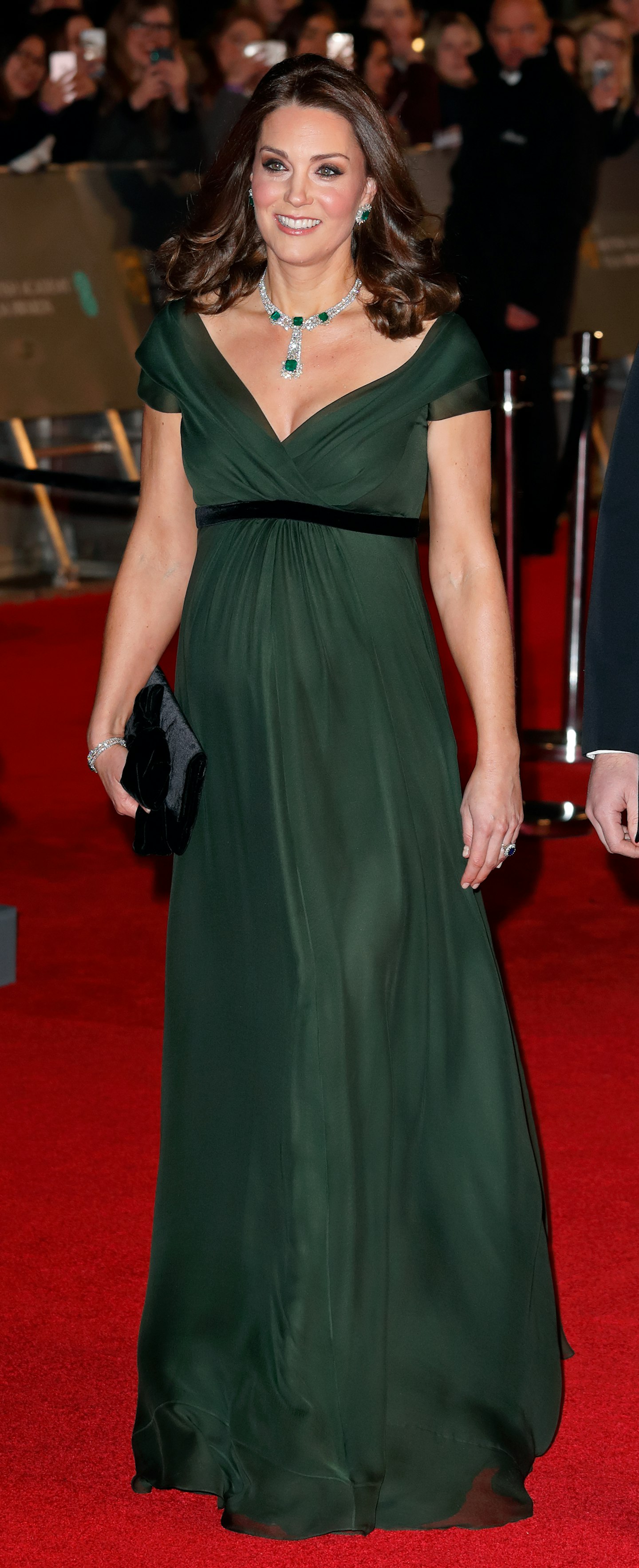 7 of 21
CREDIT: Getty
February 2018
To the 2018 BAFTAs, Kate wore a deep green Jenny Packham dress with a black belt.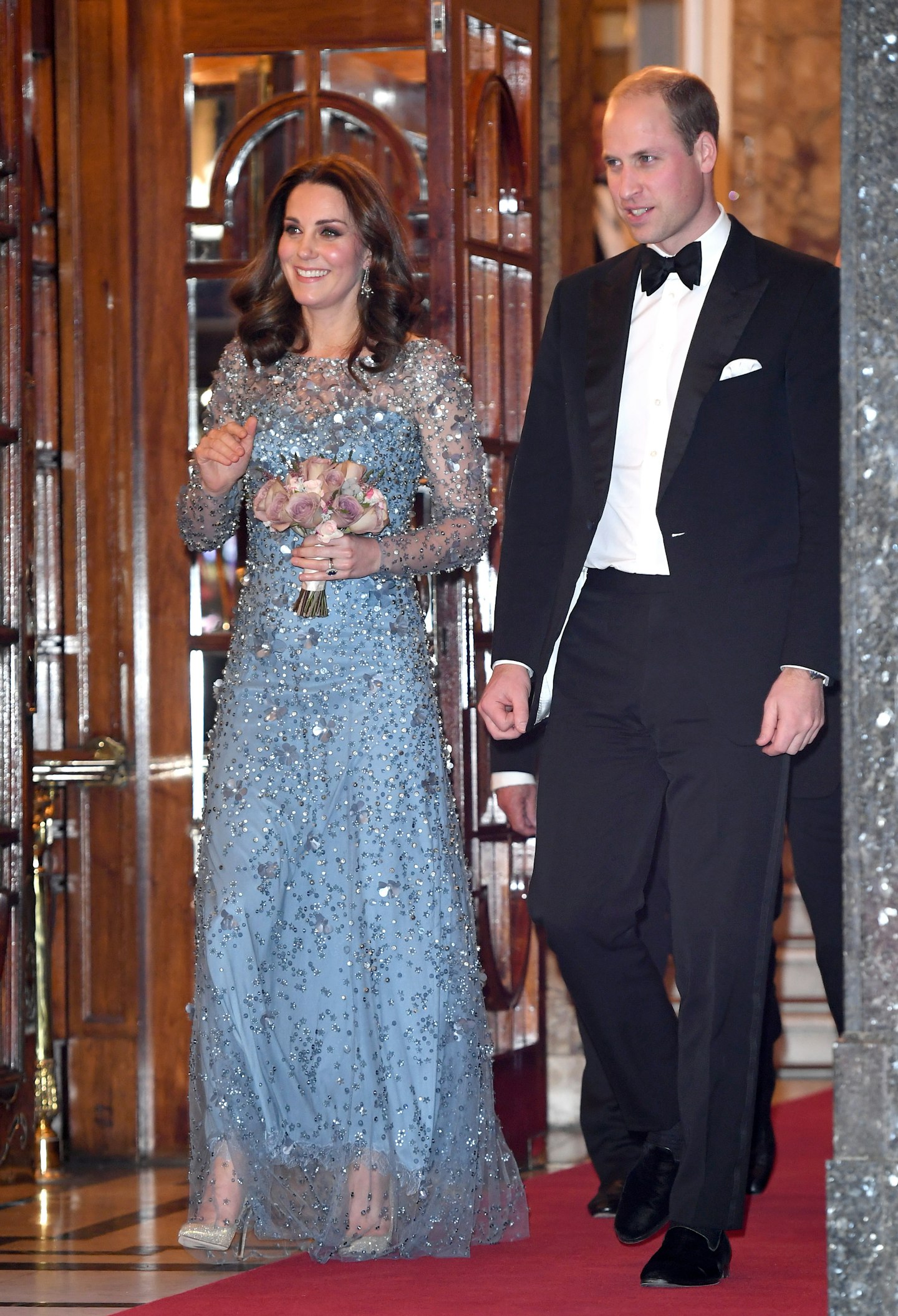 8 of 21
CREDIT: Getty
November 2017
Another red carpet event, another Jenny Packham gown: for the annual Royal Variety performance, the Duchess seemed to take inspiration from Frozen's Elsa (maybe George and Charlotte are fans?) in this shimmering ice-blue style.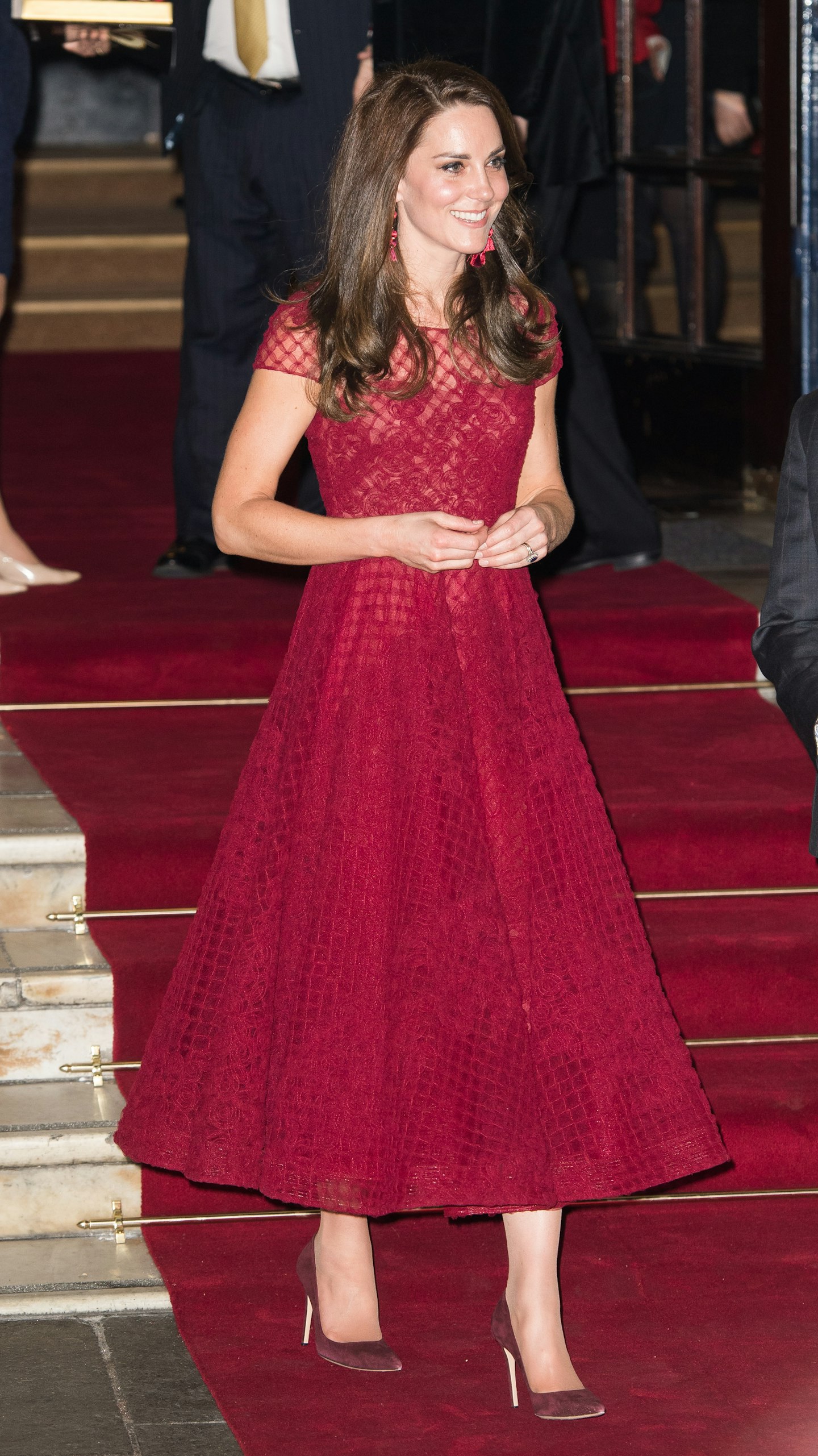 9 of 21
CREDIT: Getty
Kate Middleton red carpet
While attending the opening night of 42 Street at the Drury Theatre, Kate worse a Marchesa Notte dress in a deep berry colour.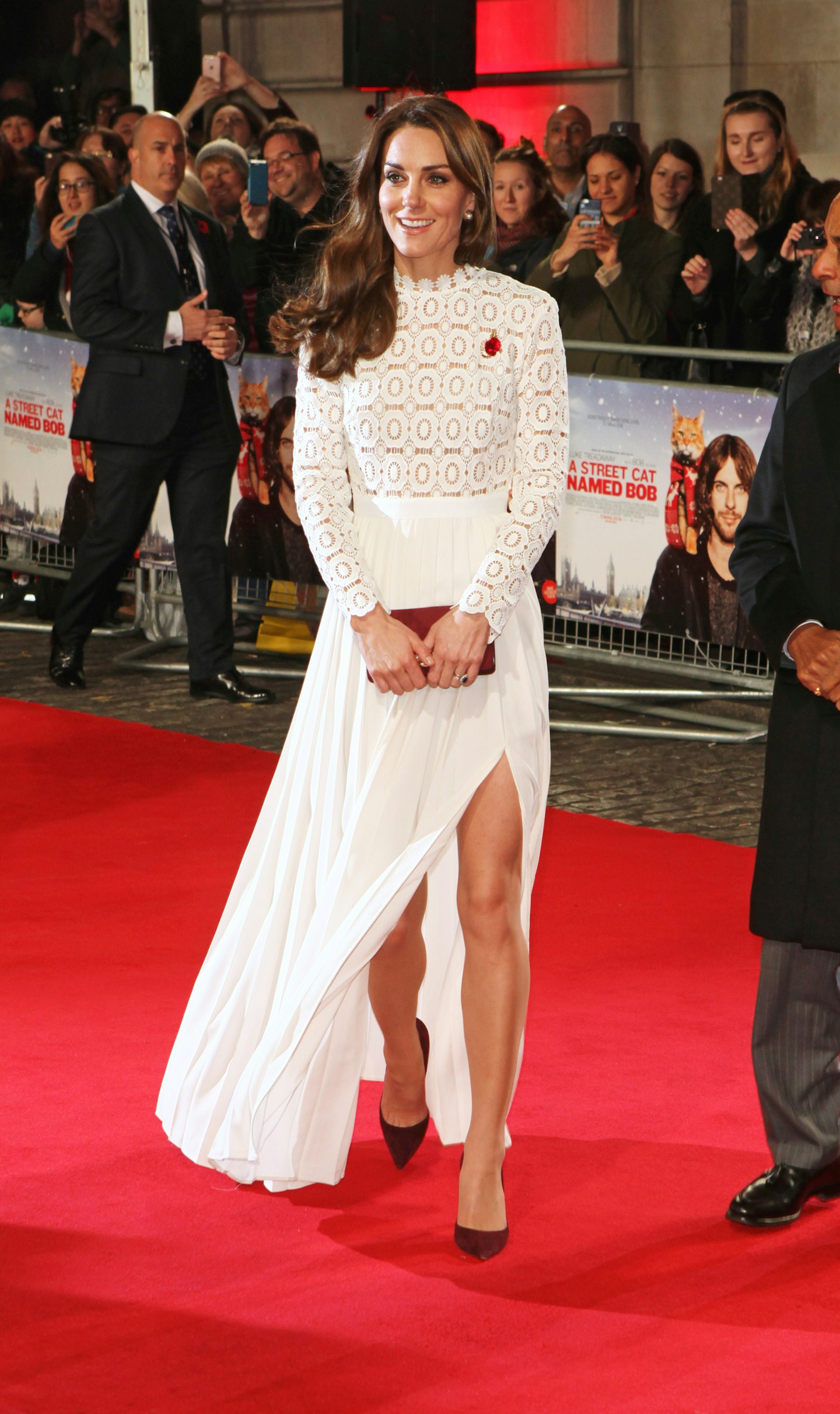 10 of 21
CREDIT: Getty
November 2016
Never did we expect to see the Duchess hit the red carpet in a dress previously sported by Paris Hilton, but that's exactly what happened when Kate wore this crochet detail maxi dress by Self Portrait to the premiere of A Streetcat Named Bob.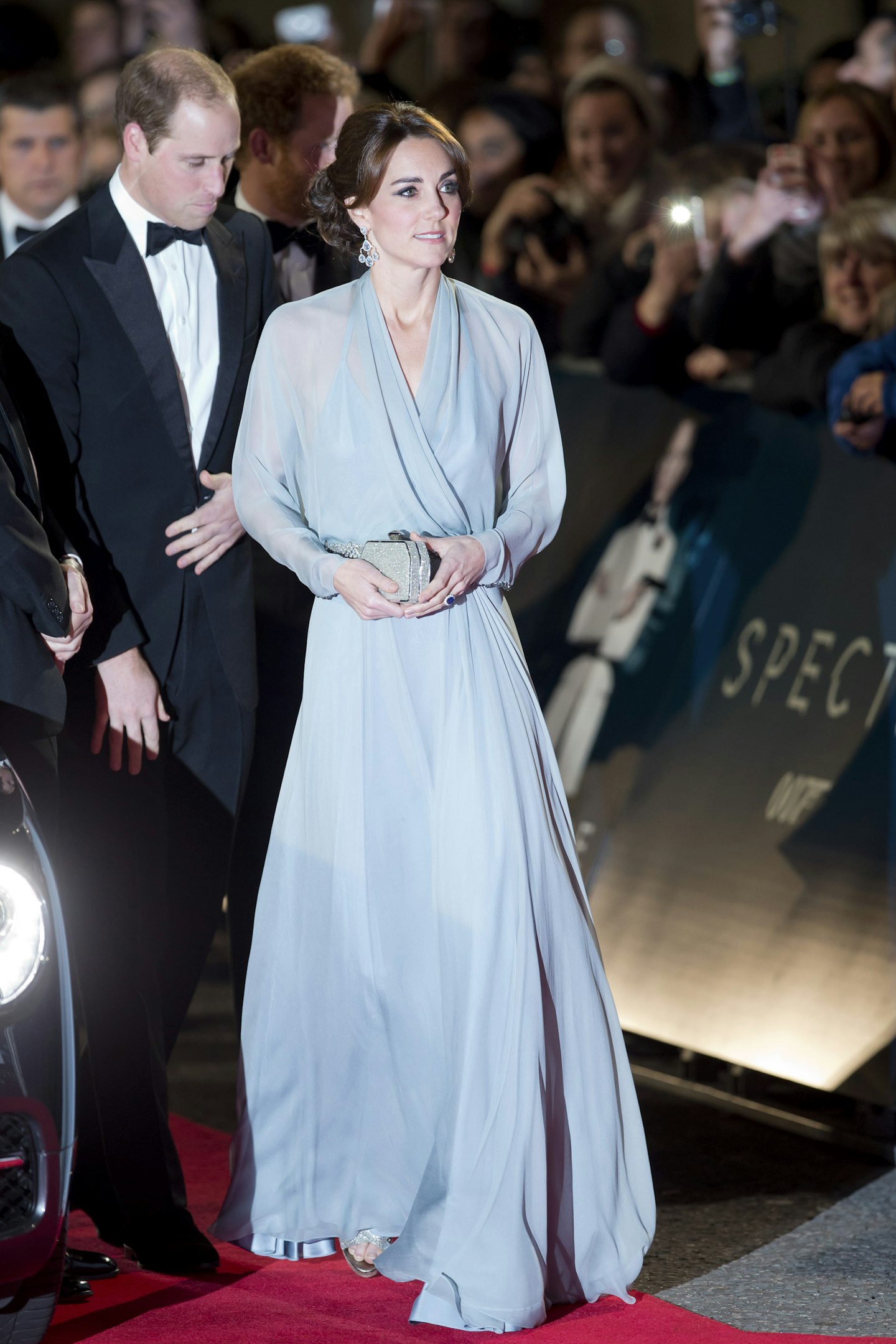 11 of 21
CREDIT: Getty
October 2015
Kate had her Hollywood moment at the premiere of Spectre, wearing this elegantly understated Jenny Packham gown in duck egg blue.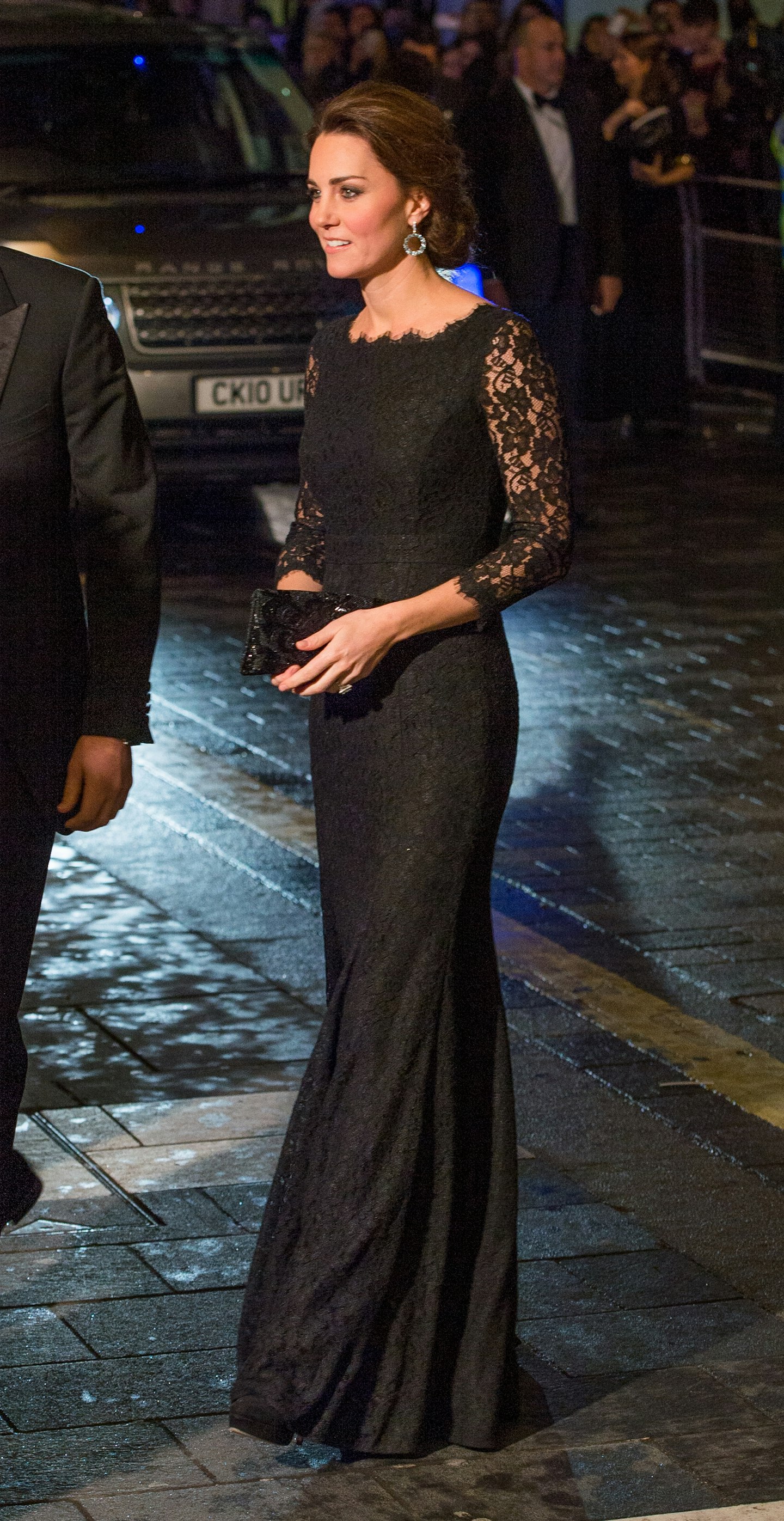 12 of 21
CREDIT: Getty
November 2014
For the Royal Variety, Kate opted to wear a black lacy Alexander McQueen dress.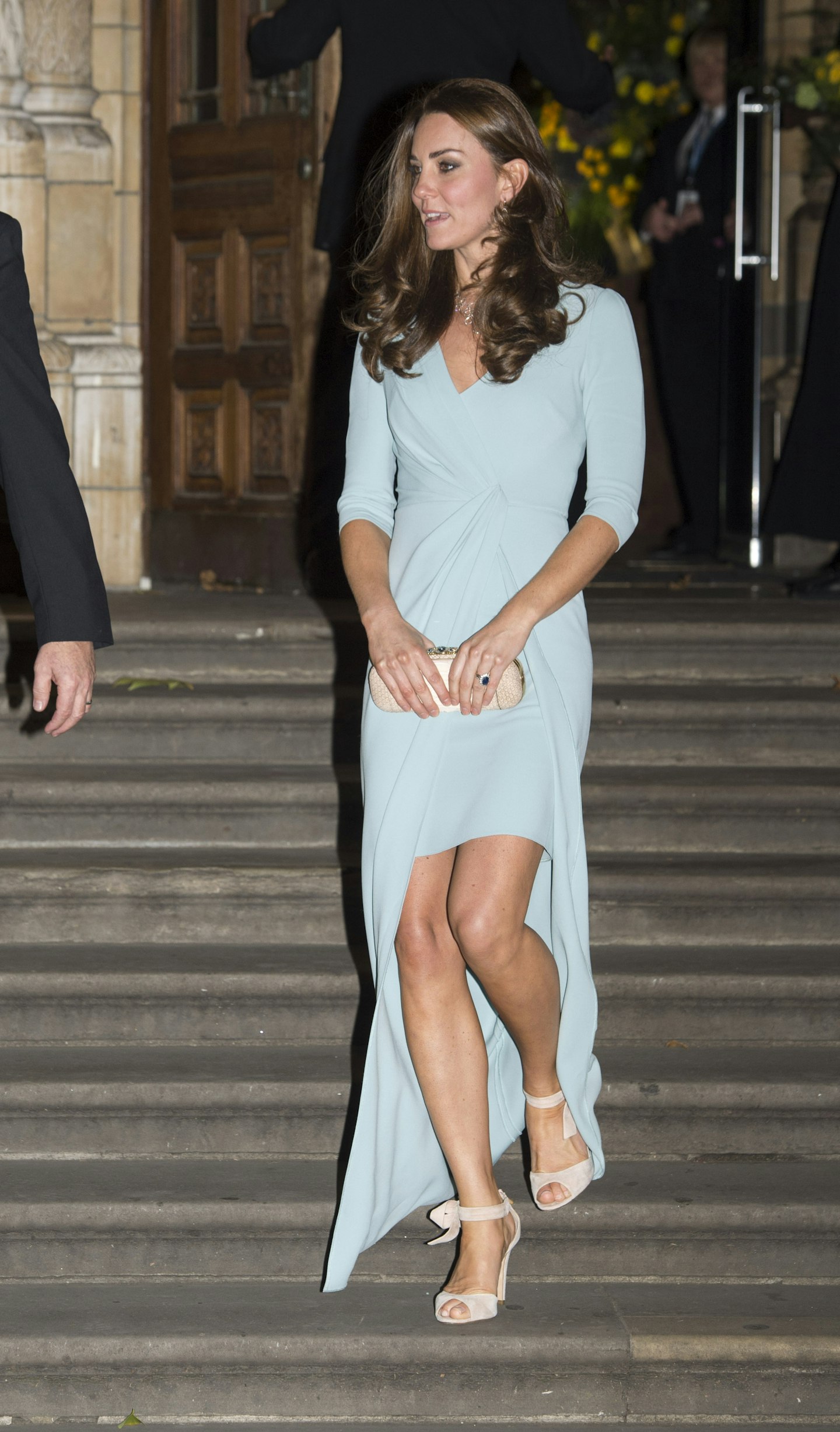 13 of 21
CREDIT: Getty
October 2014
Kate was seen leaving the Natural History Museum after she attended the Wildlife Photographer of The Year 2014 Awards Ceremony wearing a blue pastel high-to-low dress by Jenny Packham.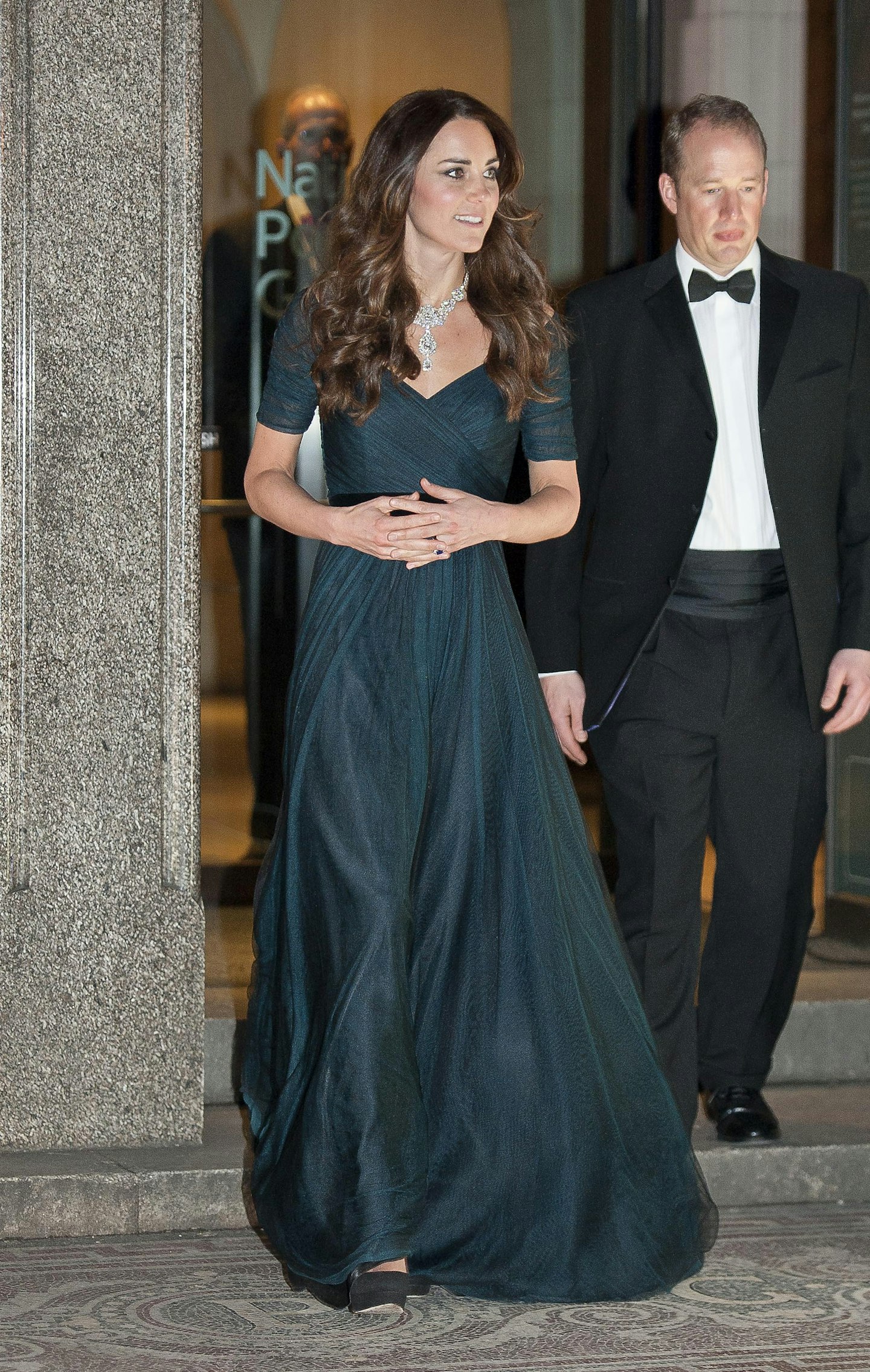 14 of 21
CREDIT: Getty
February 2014
For The Portrait Gala in 2014, Kate wore this stunning teal off-the-shoulder dress that she would wear again in December 2014 to the Metropolitan Museum of Art.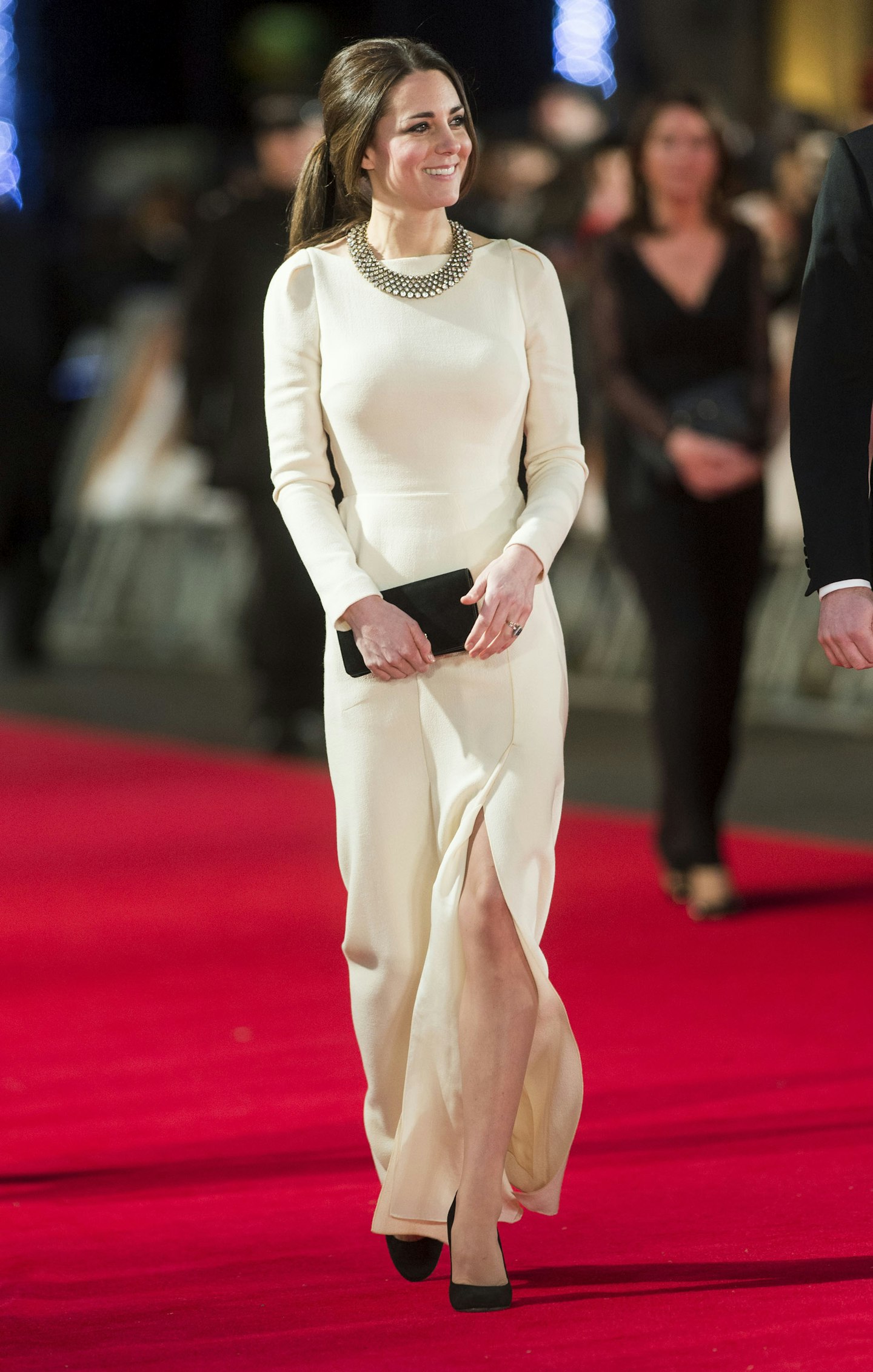 15 of 21
CREDIT: Getty
December 2013
Roland Mouret has long been a byword for simple red carpet elegance, and this classic gown (which the Duchess paired with Zara jewellery for the premiere of Mandela: The Long Walk To Freedom) certainly encapsulates that.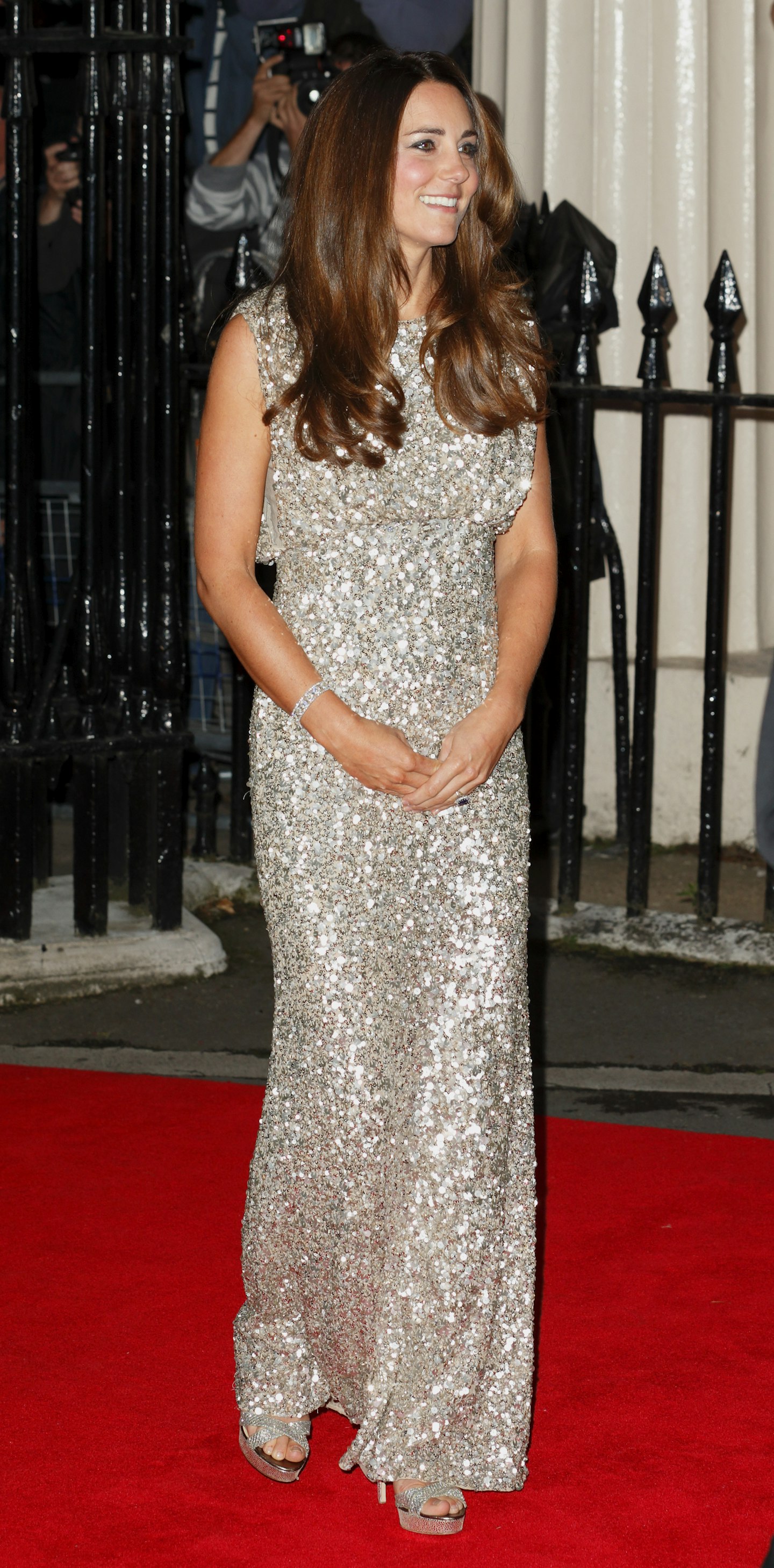 16 of 21
CREDIT: Getty
September 2013
Kate worse this very sparkly Jenny Packham dress to the Tusk Conservation Awards in 2013.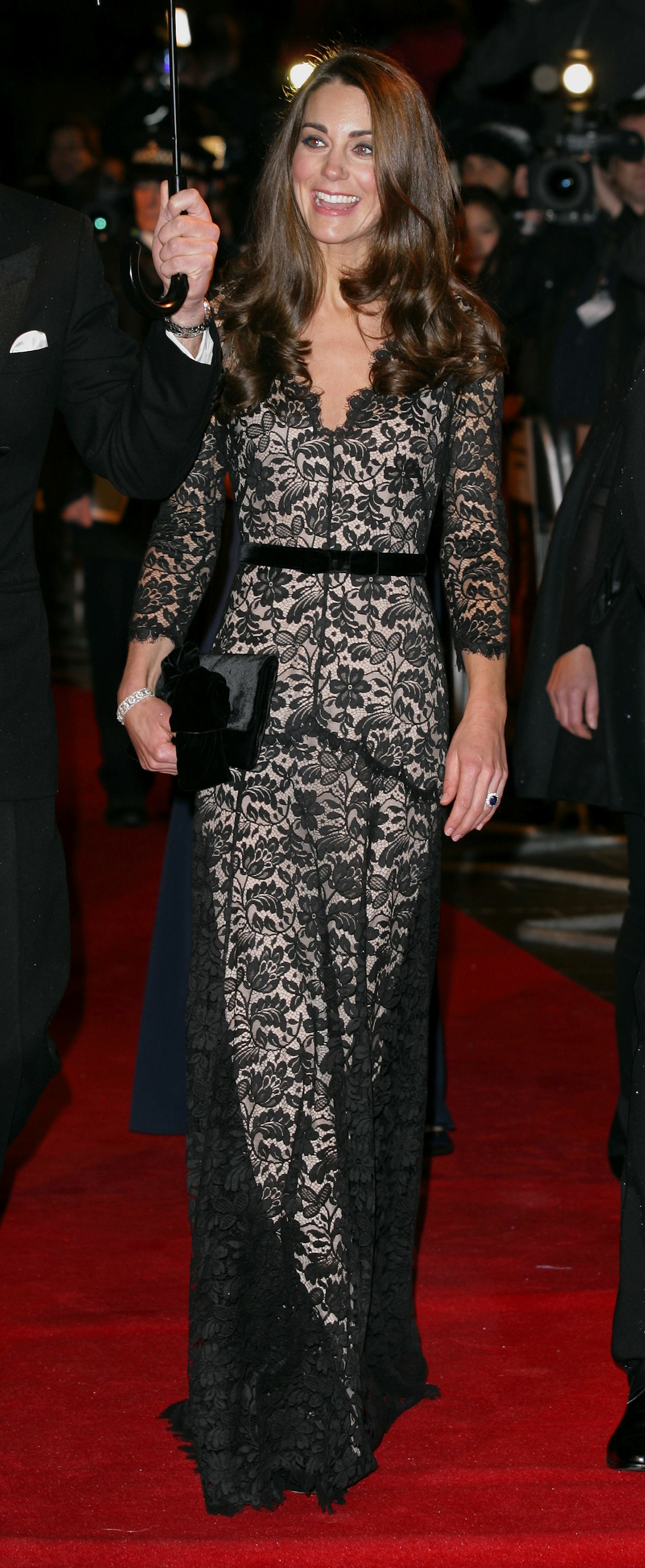 17 of 21
CREDIT: Getty
January 2012
This Temperley lace number is clearly a favourite for the Duchess, who first wore it to a reception at her alma mater St. Andrews, shortly before marrying Prince William. It then got a second outing for the premiere of War Horse, just under a year later.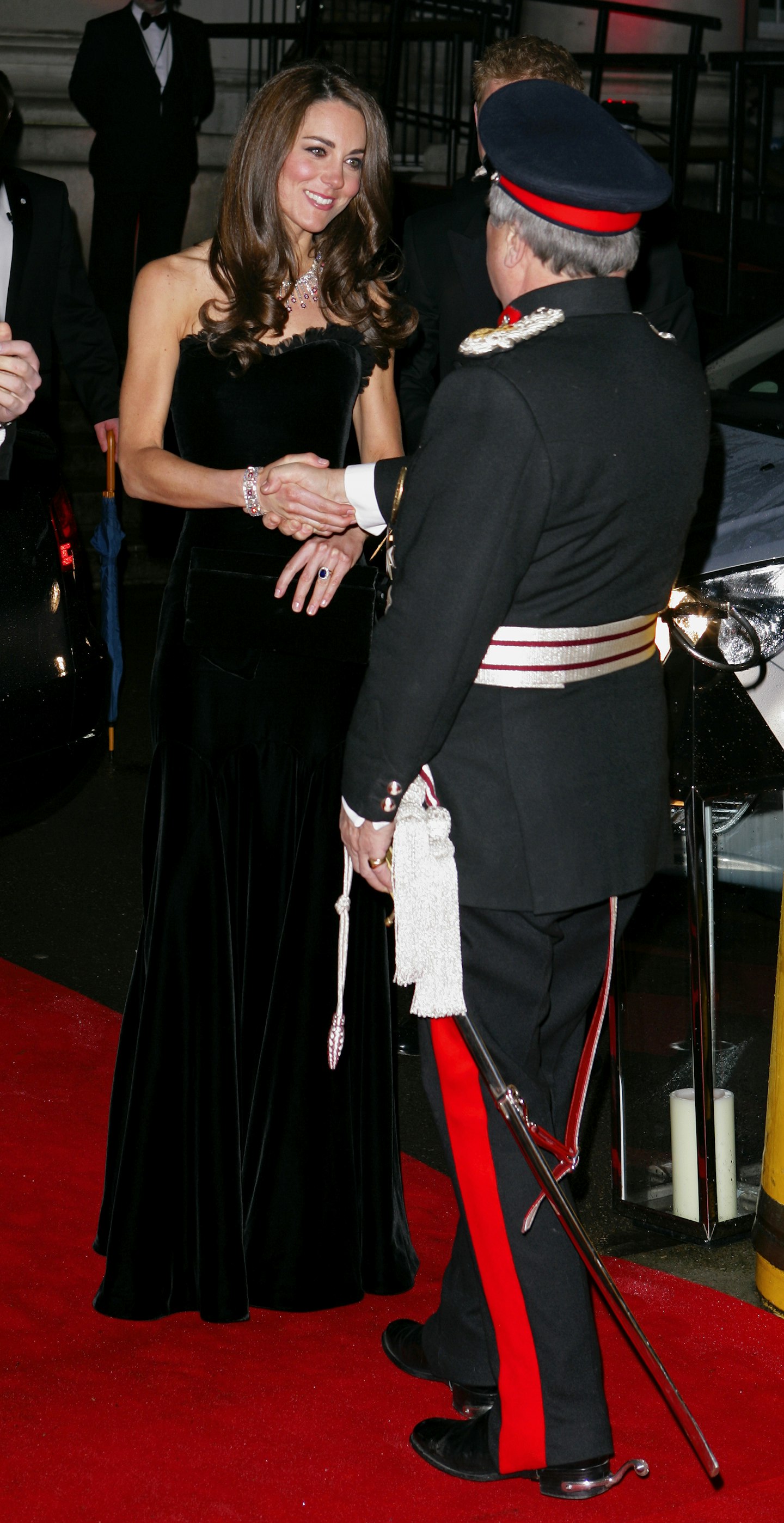 18 of 21
CREDIT: Getty
December 2011
Kate attended The Sun Military Awards in 2011 in a black strapless Alexander McQueen gown.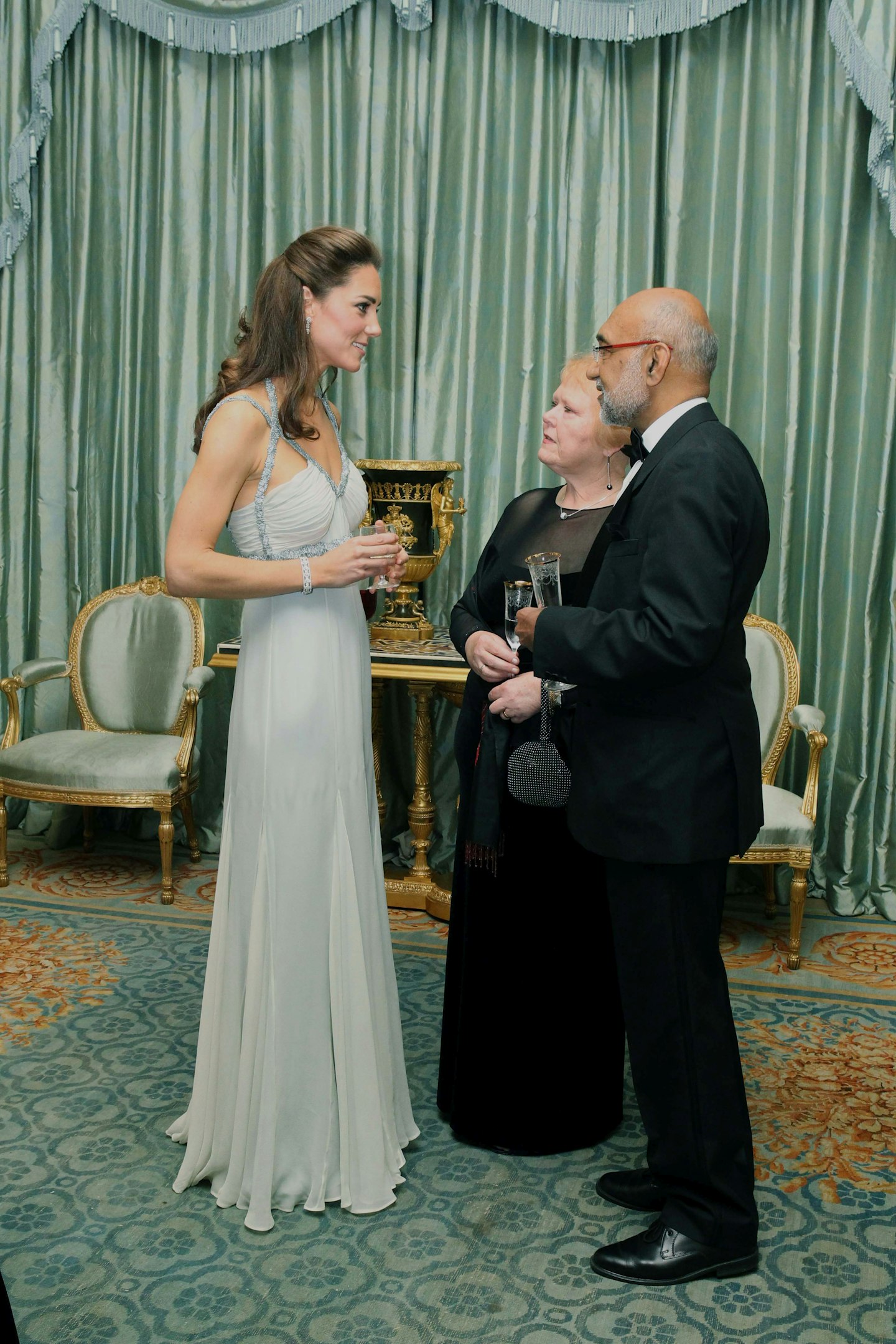 19 of 21
CREDIT: Getty
October 2011
She regularly sports Amanda Wakeley's coat dresses and shifts on official appearances, but the criss-crossed straps and a halter neckline of this evening gown made this an unusual - but certainly striking - choice for the Duchess.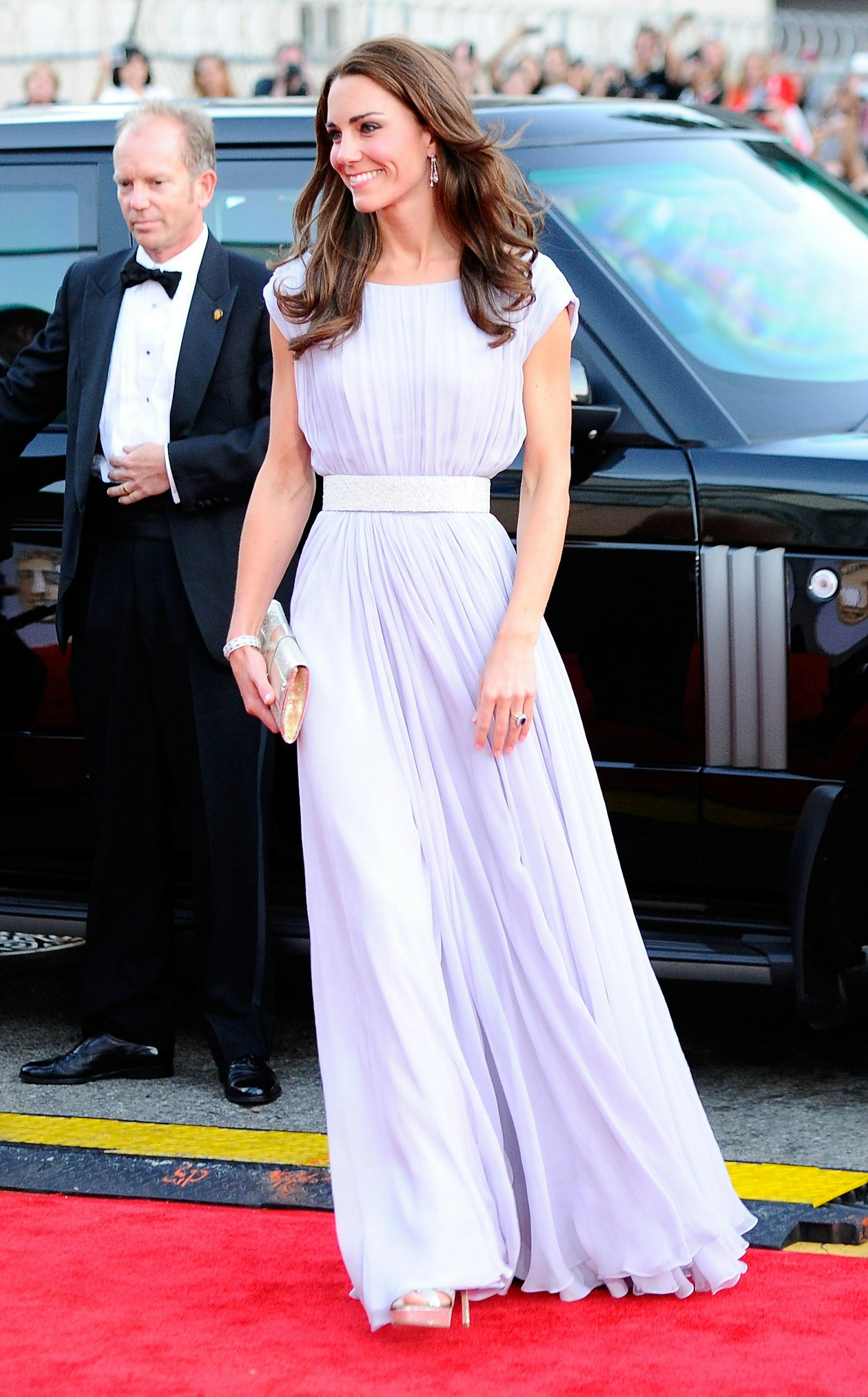 20 of 21
CREDIT: Getty
July 2011
Kate wore this beautiful lilac dress to the BAFTA Brits to Watch event in LA in 2011.
21 of 21
CREDIT: Getty
June 2011
Kate was always going to steal the show at the first official event following her wedding to Prince William, but this dazzling gown by Jenny Packham (soon to become one of the Duchess's go-to designers) made her debut even more memorable.
READ MORE: See The Best BAFTA Dress From The Year You Were Born
READ MORE: The BAFTA Nominations Are Here And There Are No Nominations for Non-White Actors