Raise your hand if you feel like you have grown up with the Olsen twins, Mary-Kate and Ashley? Thought so.
Ever since the days of Passport to Paris, Billboard Dad and all their other brilliant Disney movies (they're now available to stream on Netflix, FYI, if you're ever short of weekend plans...) along with their TV shows Two Of A Kind and So Little Time, we've been obsessed with their co-ordinating style. (Remember that George at Asda fashion range? These two were doing high street crossover style when Kate Moss's Topshop collaboration was just a glint in the supermodel's eye...)
While these days their photo opportunities are few and far between (which is probably why we can never wait to see what they'll be wearing for the Met Gala each year...) their sartorial sense is still unbeatable.
In celebration of our favourite Noughties fashion icons, we've put together a load of facts that you probably didn't already know about the famous sisters, covering everything from their net worth and their fashion label to their personal style icons to Ashley's middle name (yes, she has one too) and their collective love of vintage.
Grab an iced coffee, some over-sized sunglasses and prepare to celebrate the Noughties' most enduring duo...
Mary-Kate and Ashley Facts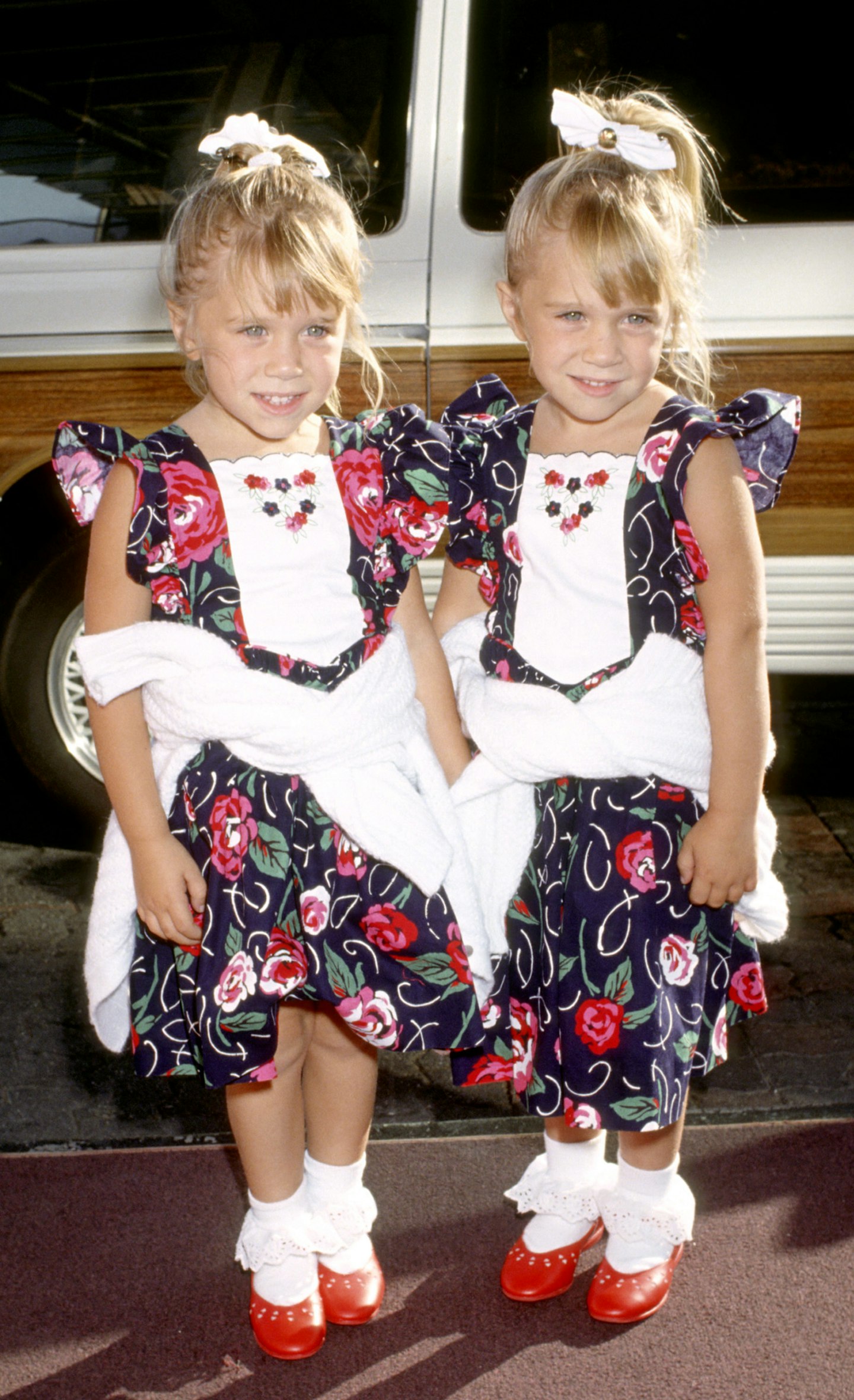 1 of 35
CREDIT: Getty
1. Ashley is oldest
By a mere 2 minutes to be precise.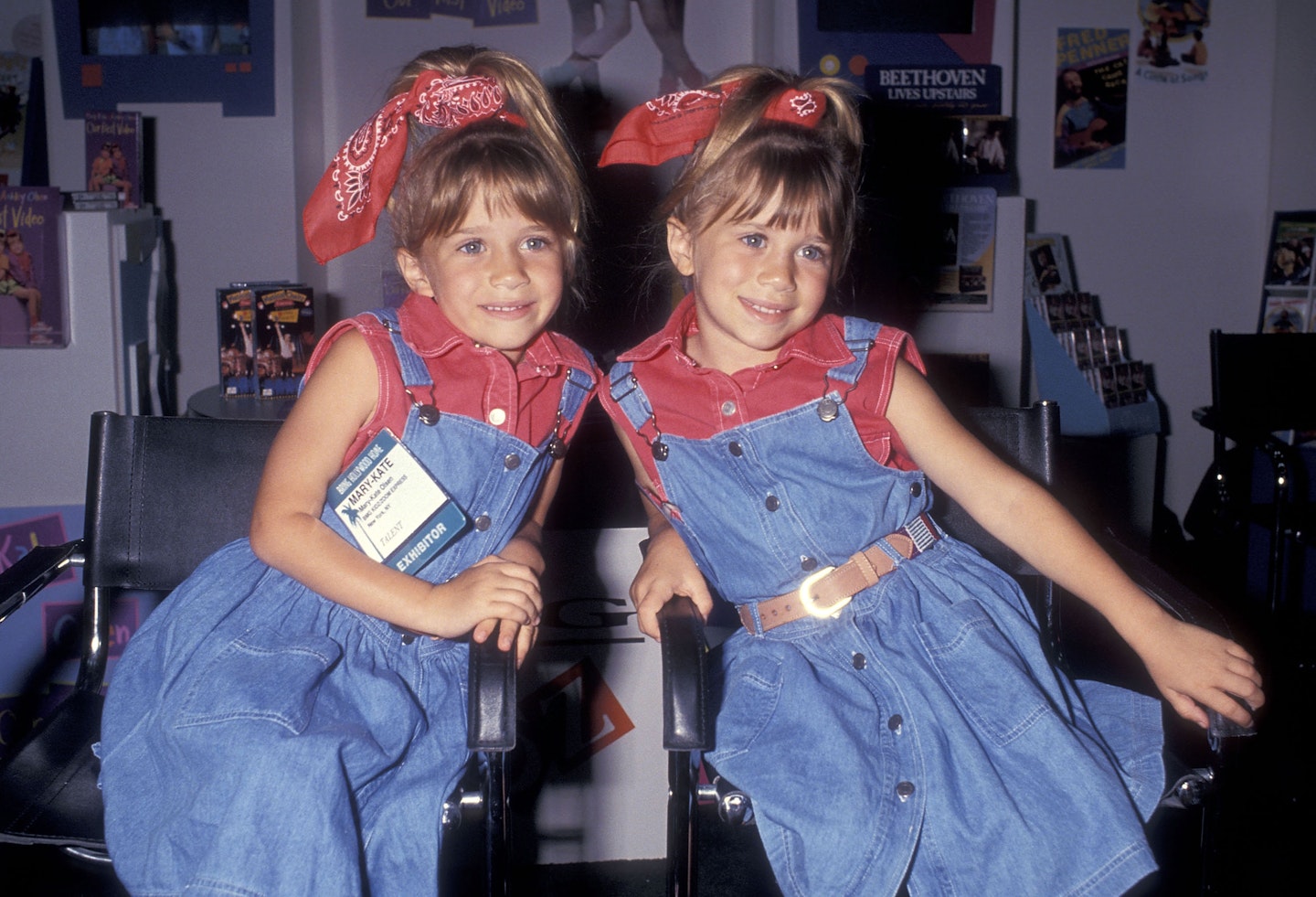 2 of 35
CREDIT: Getty
2. They're fraternal twins
This means they are not actually identical. Who would have thought it?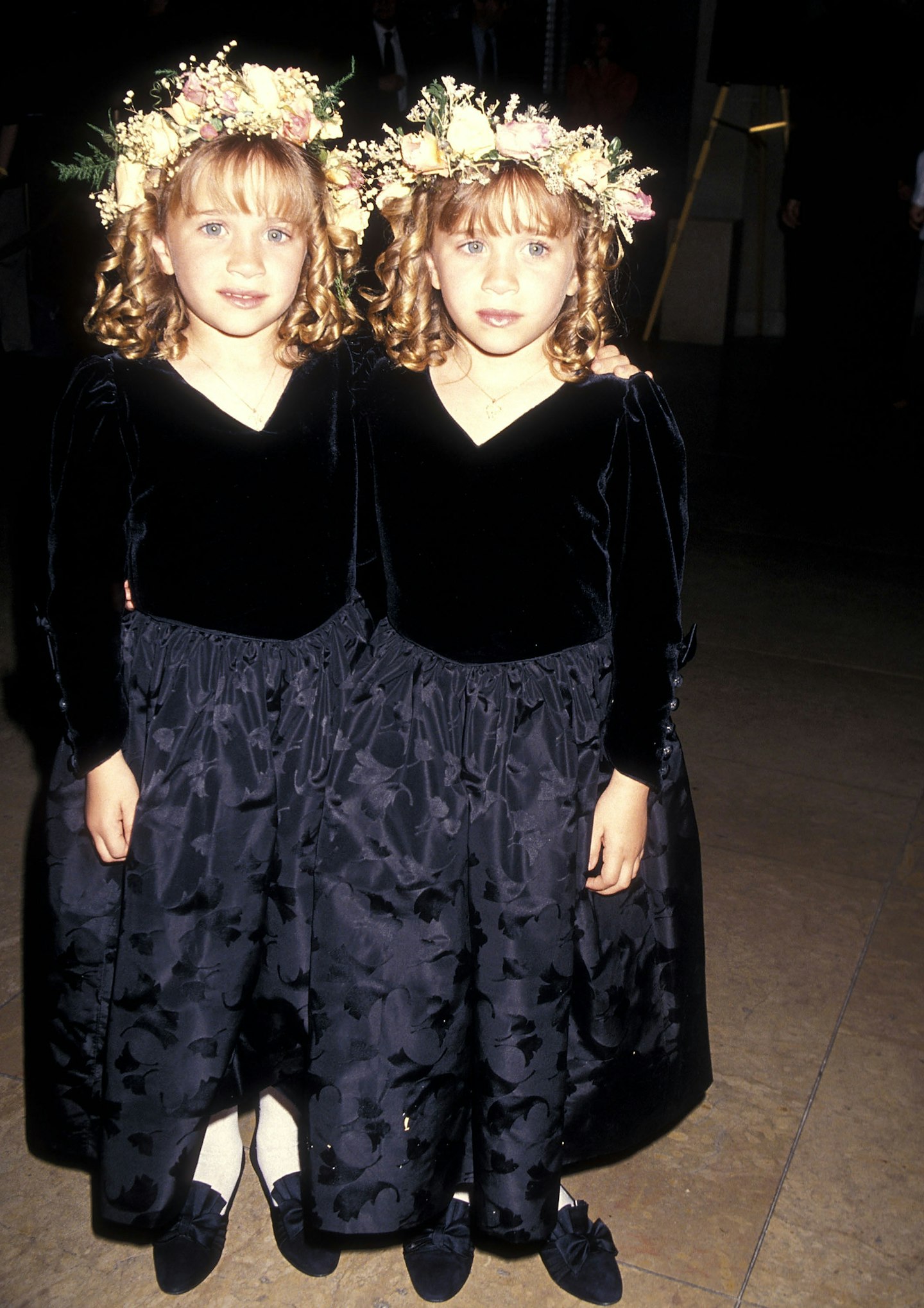 3 of 35
CREDIT: Getty
3. Ashley is actually shorter than Mary-Kate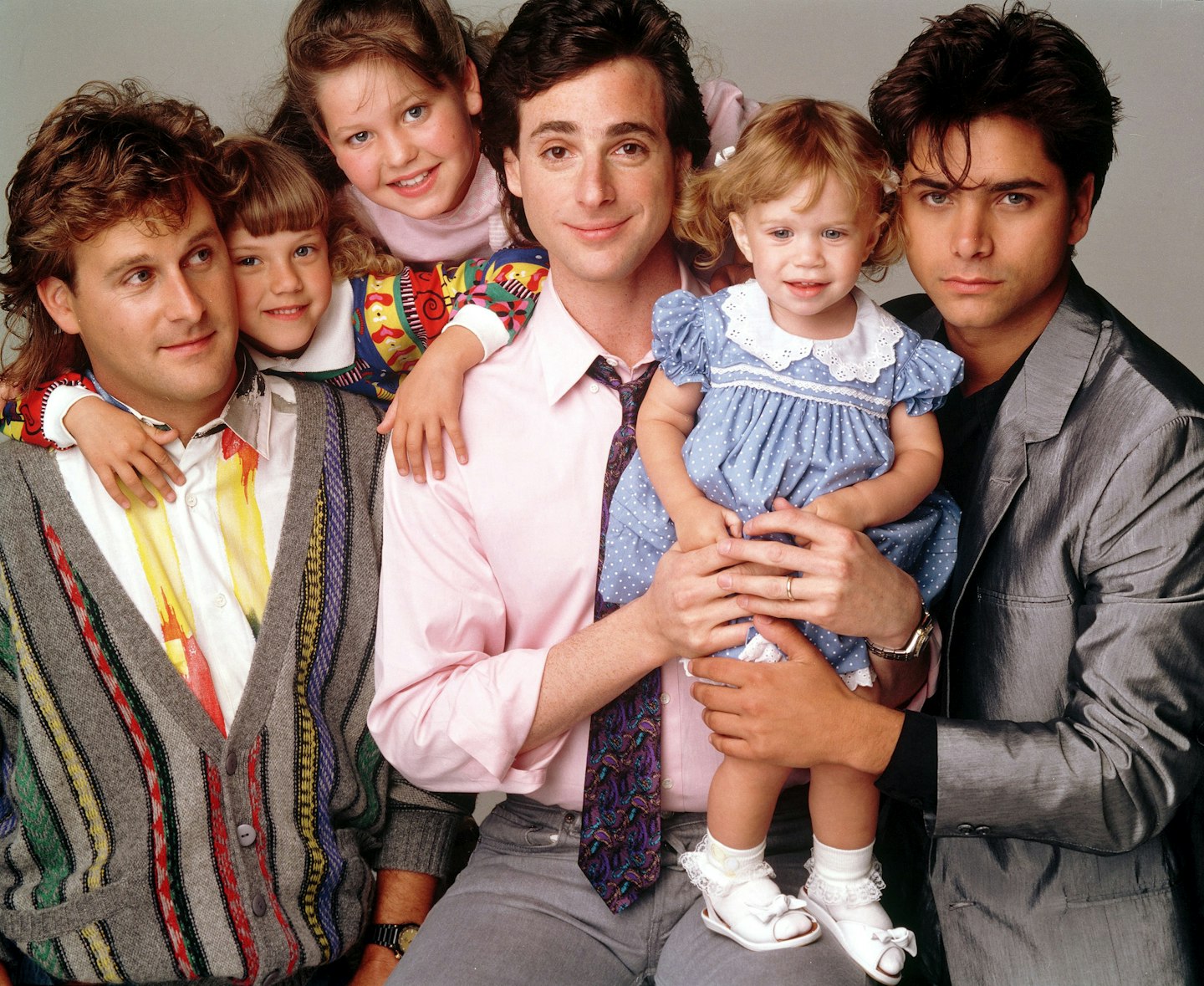 4 of 35
CREDIT: Getty
4. They started on Full House when they were 6 months old
The tiny tots use to the call the other actors on the show by their full names to avoid getting confused.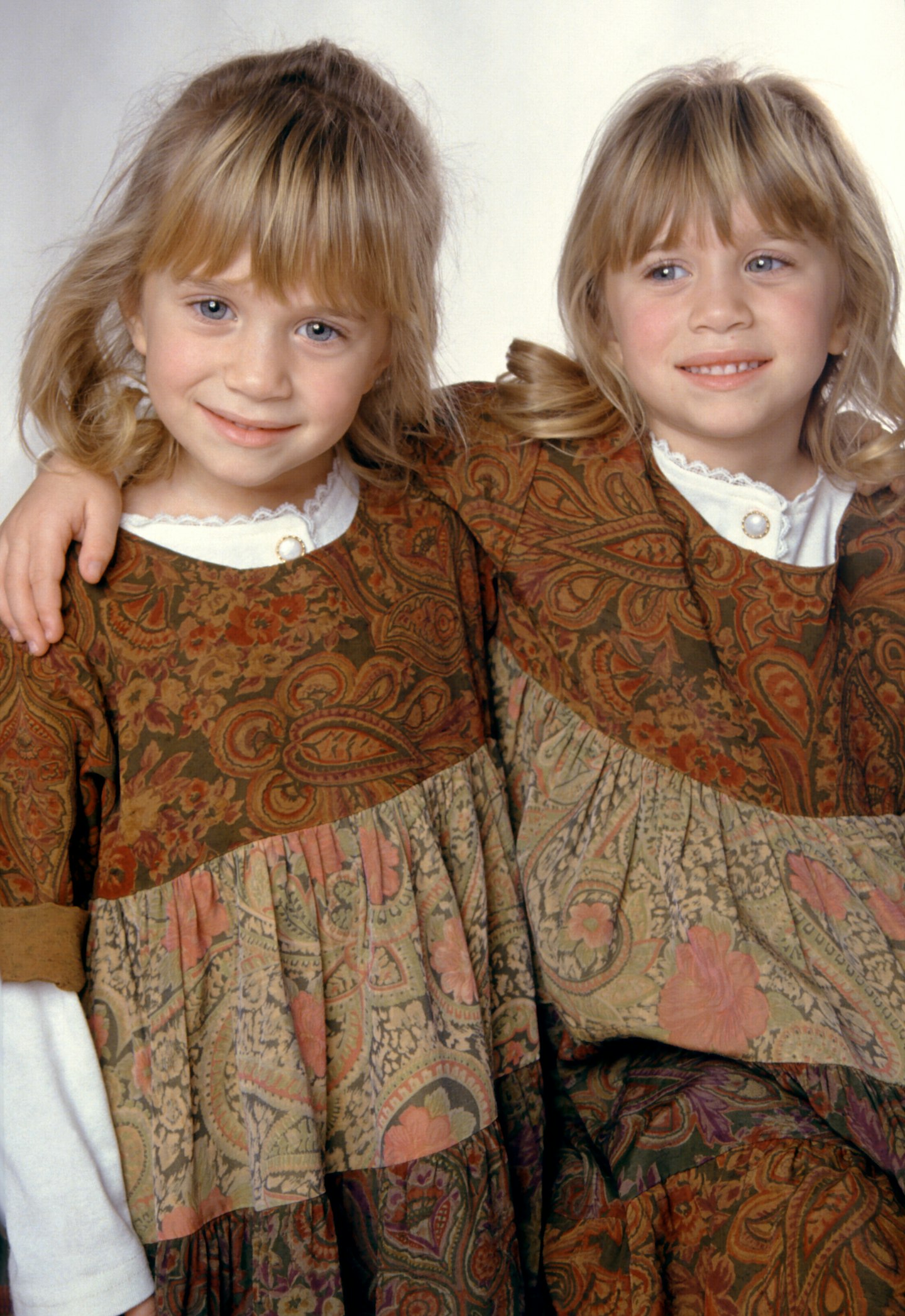 5 of 35
CREDIT: Getty
5. At 6 they became the youngest producers in Hollywood history
They created Dualstar Entertainment in 1993.
6 of 35
CREDIT: Getty
6. Back then they weren't individuals
Full House producers credited the twins as 'Mary-Kate Ashley Olsen' in early seasons of the television show. Apparently they didn't want people knowing Michelle Tanner was played by twins.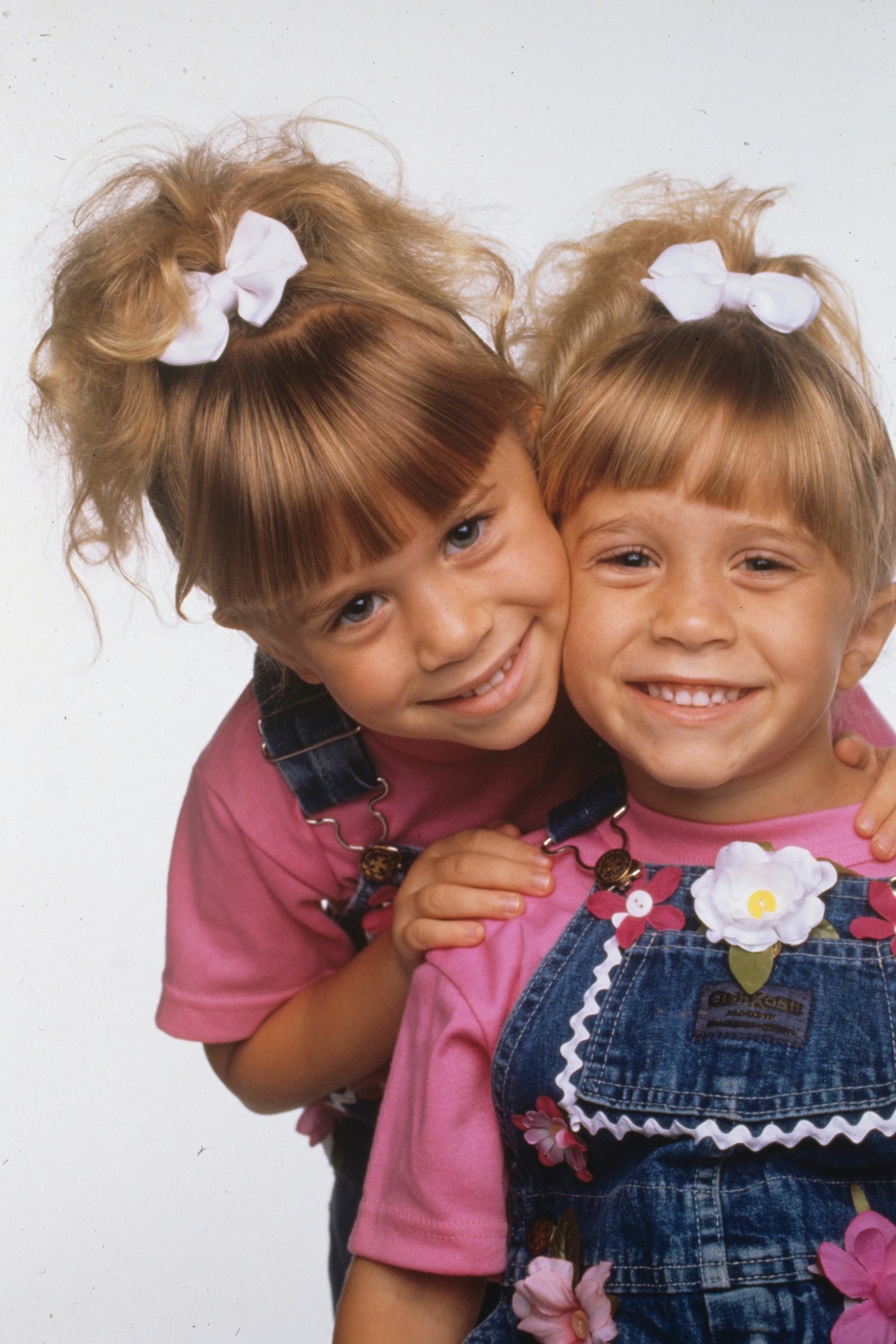 7 of 35
CREDIT: Getty
7. They had dentures on Full House
The twins lost their baby teeth at different times so had to be fitted with fake teeth instead.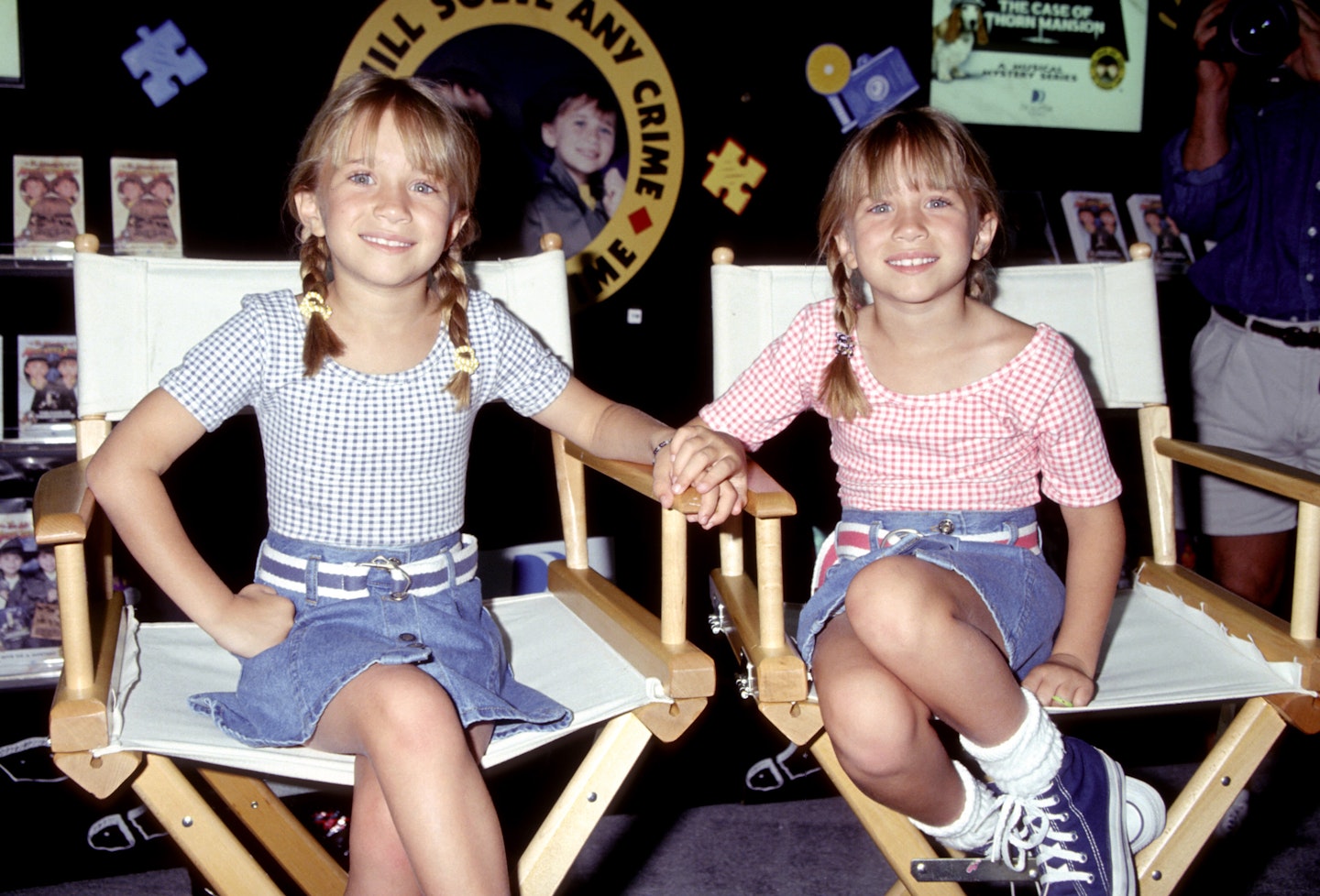 8 of 35
CREDIT: Getty
8. The duo were millionaires by the time they were 10
The youngest self-made millionaires in American history, in fact. Jealous, us?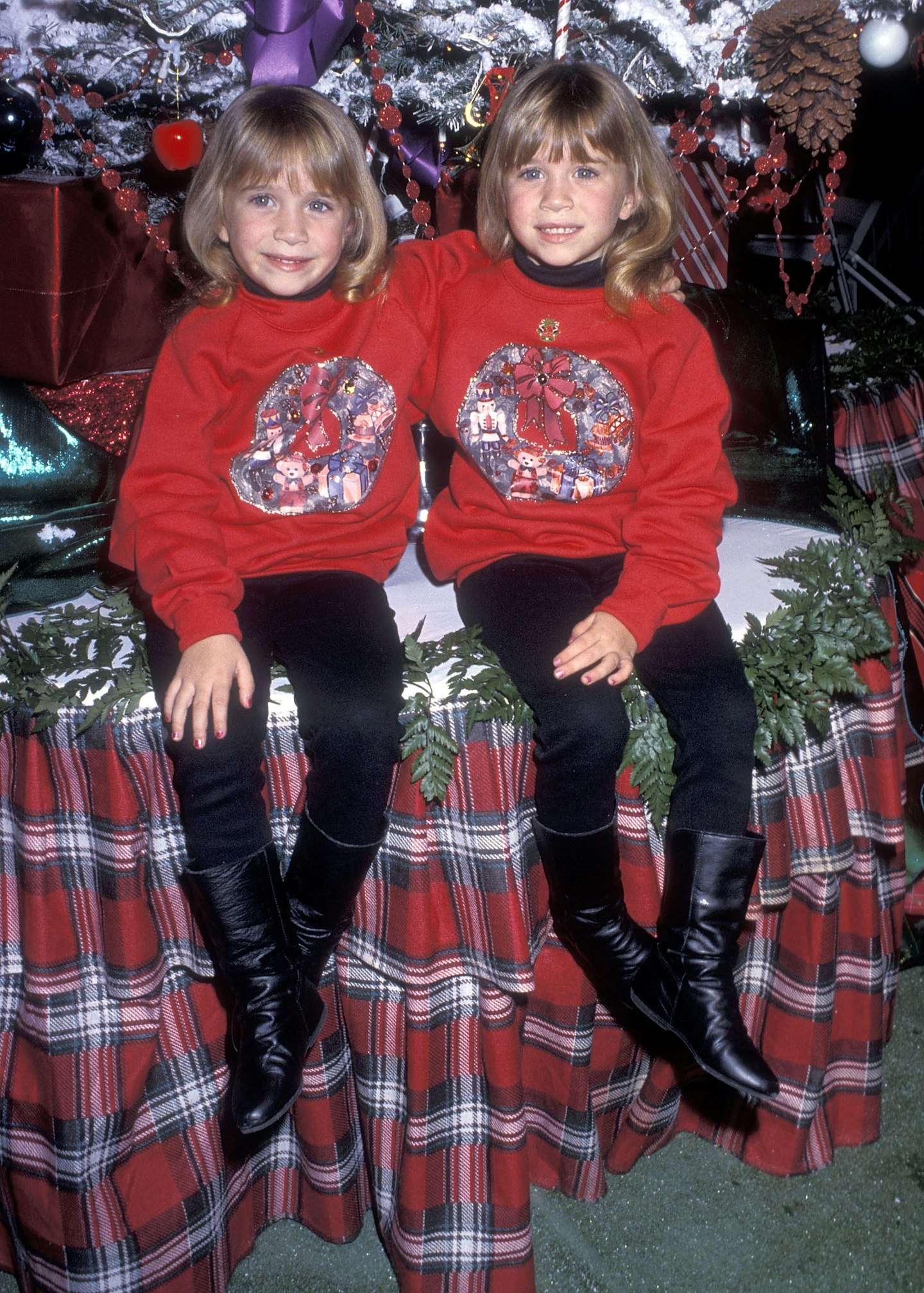 9 of 35
CREDIT: Getty
9. Ashley also has a second name
It's Fuller. Mary-Kate and Ashley-Fuller isn't exactly as catchy...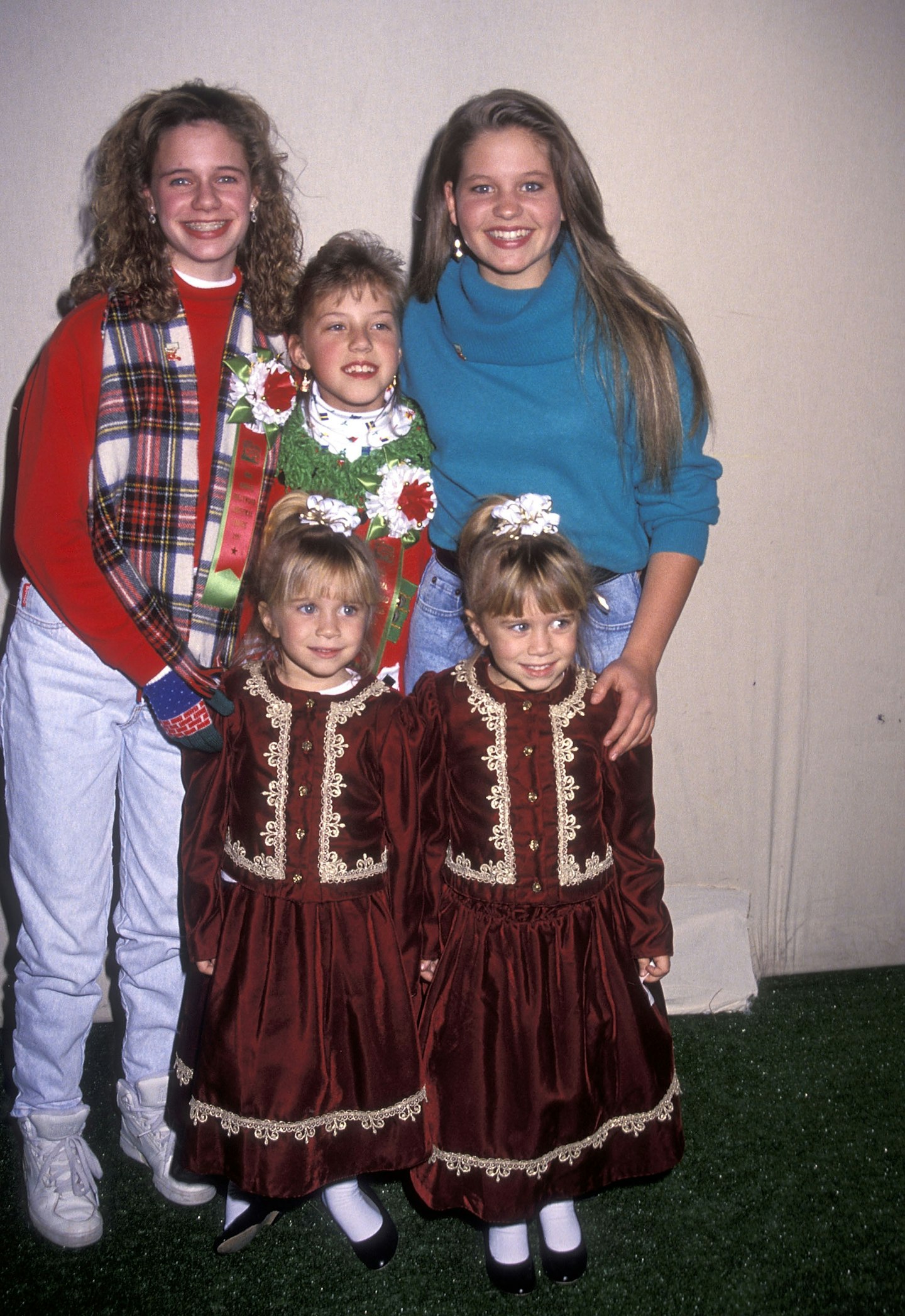 10 of 35
CREDIT: Getty
10. They've shared the stage with Wonder Woman and the cast of Friends
Full House was filmed on the same stage as numerous iconic shows.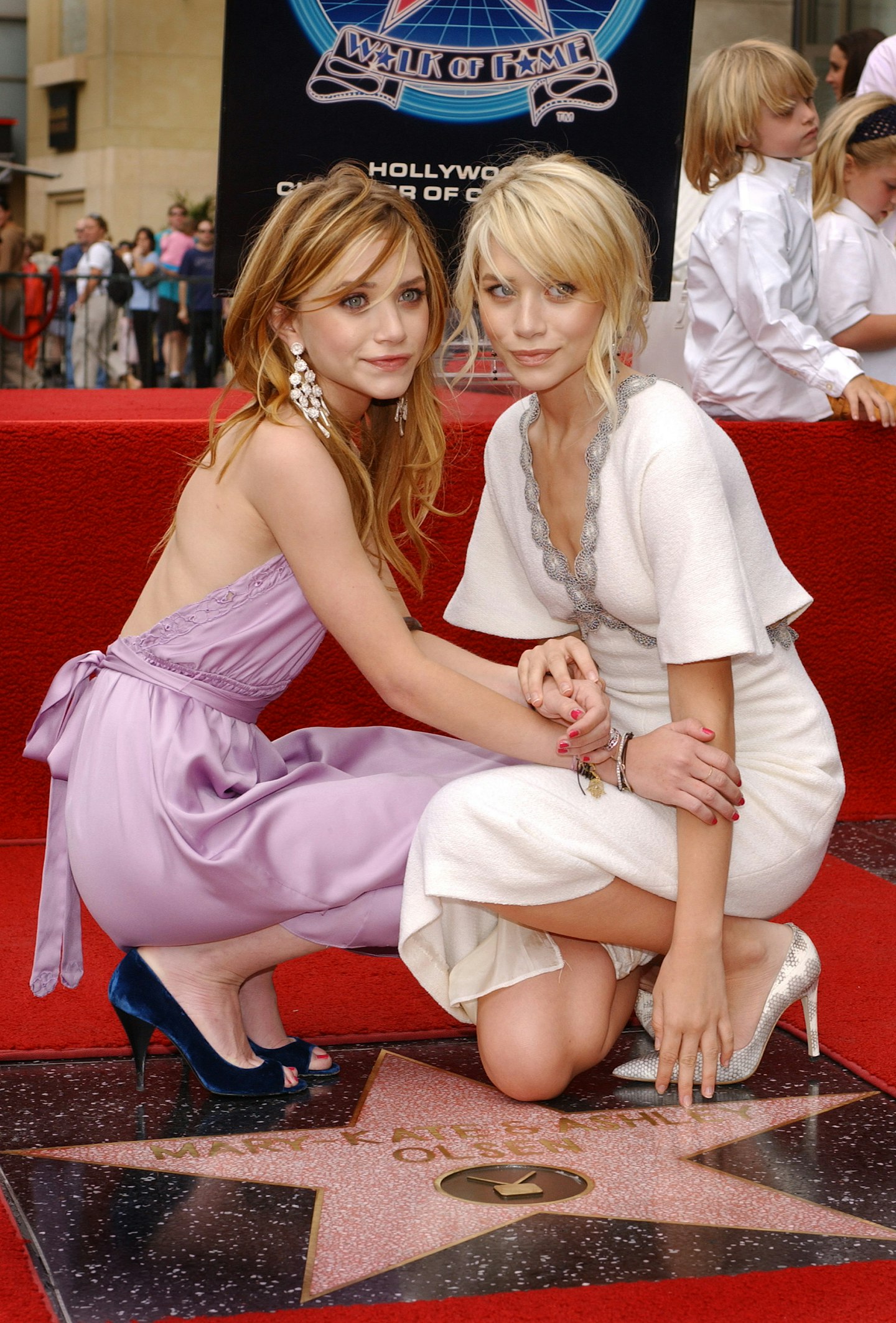 11 of 35
CREDIT: Getty
11. They broke records with the Hollywood Walk Of Fame
In 2004 they were awarded a joint star on the Hollywood Walk Of Fame - the first twins to ever be recognised in such a way.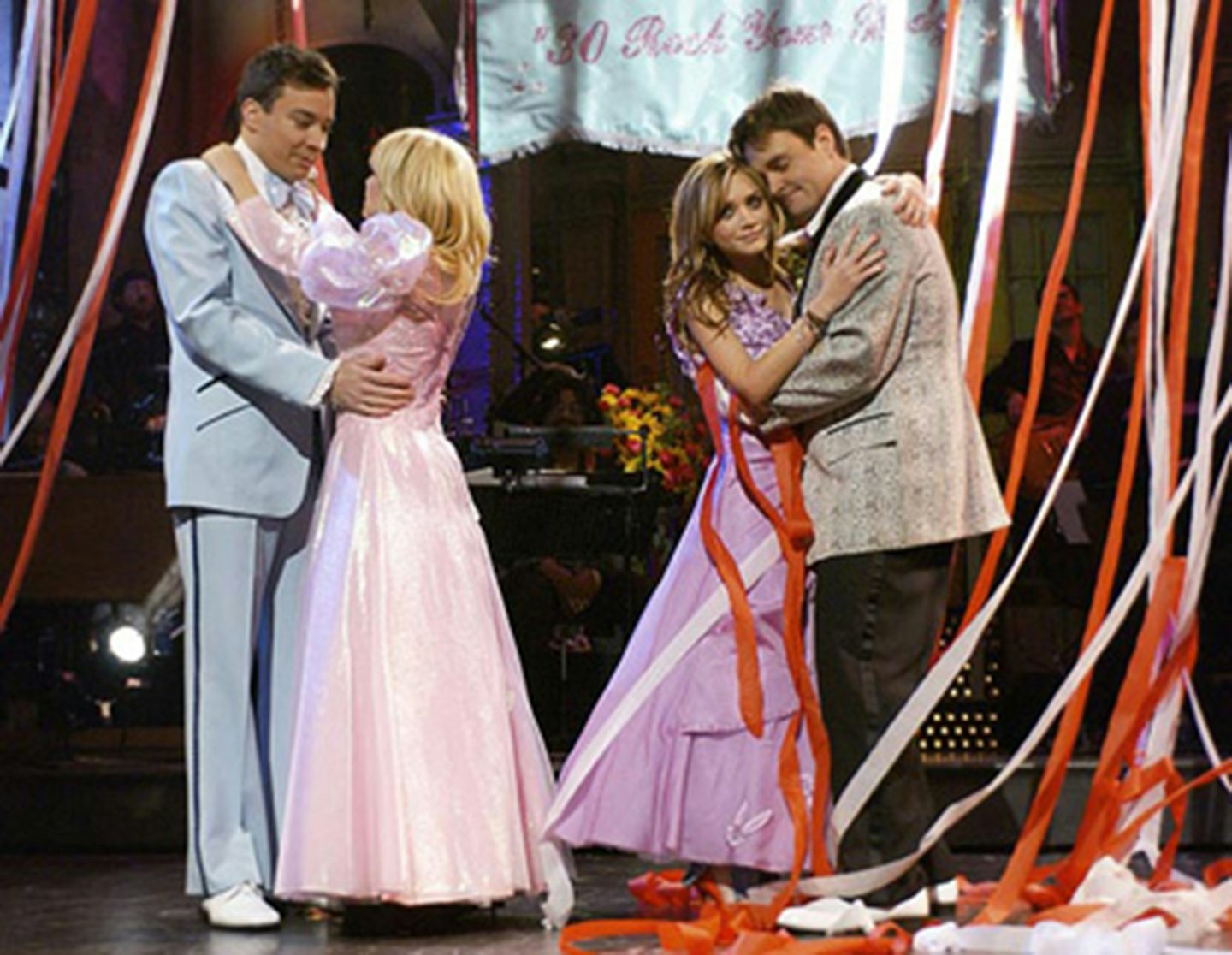 12 of 35
CREDIT: Getty
12. Jimmy Fallon and Will Forte were their dates for prom
Well, kind of. The girls had to miss their high school prom to appear on Saturday Night Live. To make up for it, Fallon and Forte served as their dates in a prom themed sketch.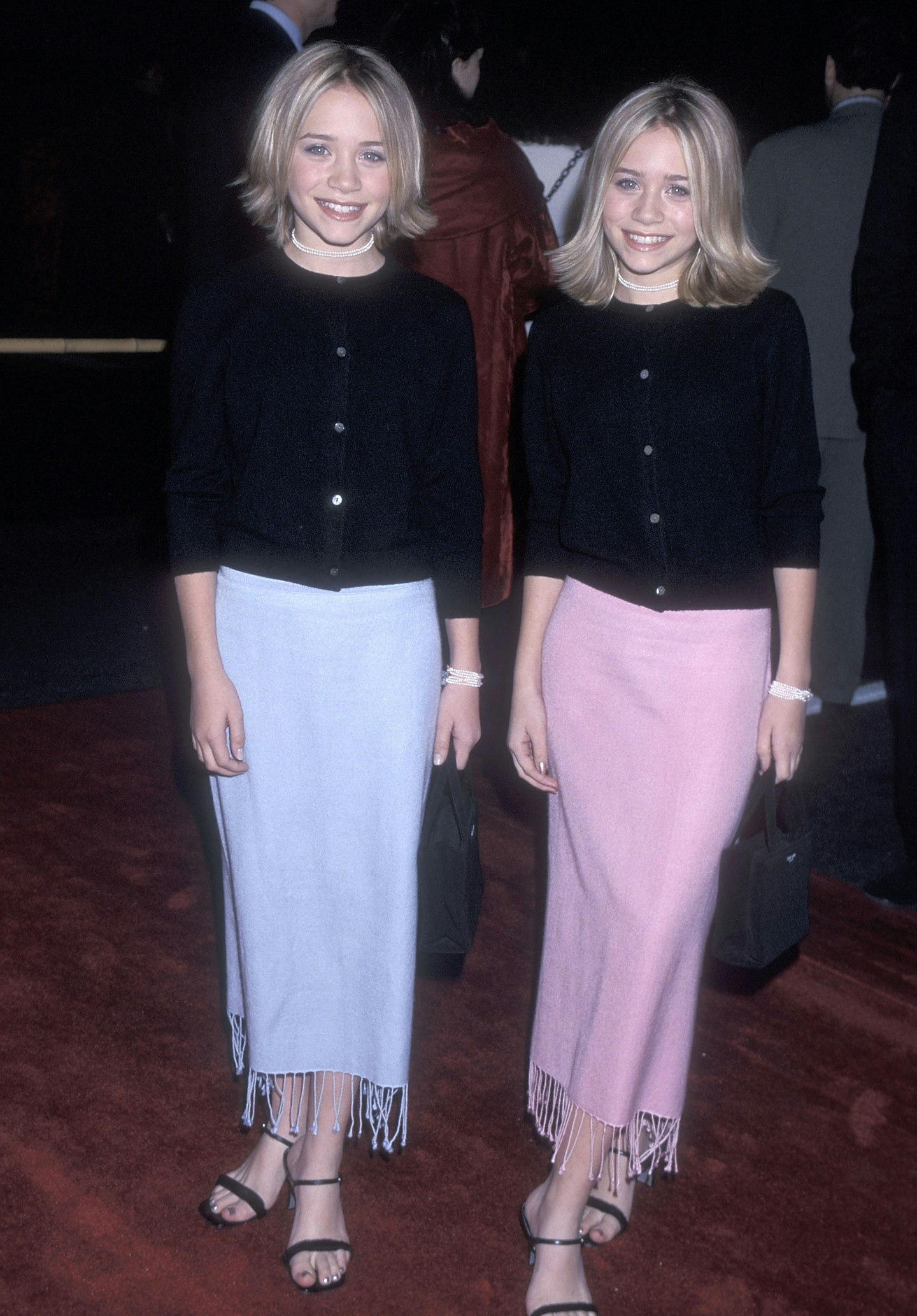 13 of 35
CREDIT: Getty
13. They are of Danish and Swedish descent
This surely explains their Scandi levels of good looks.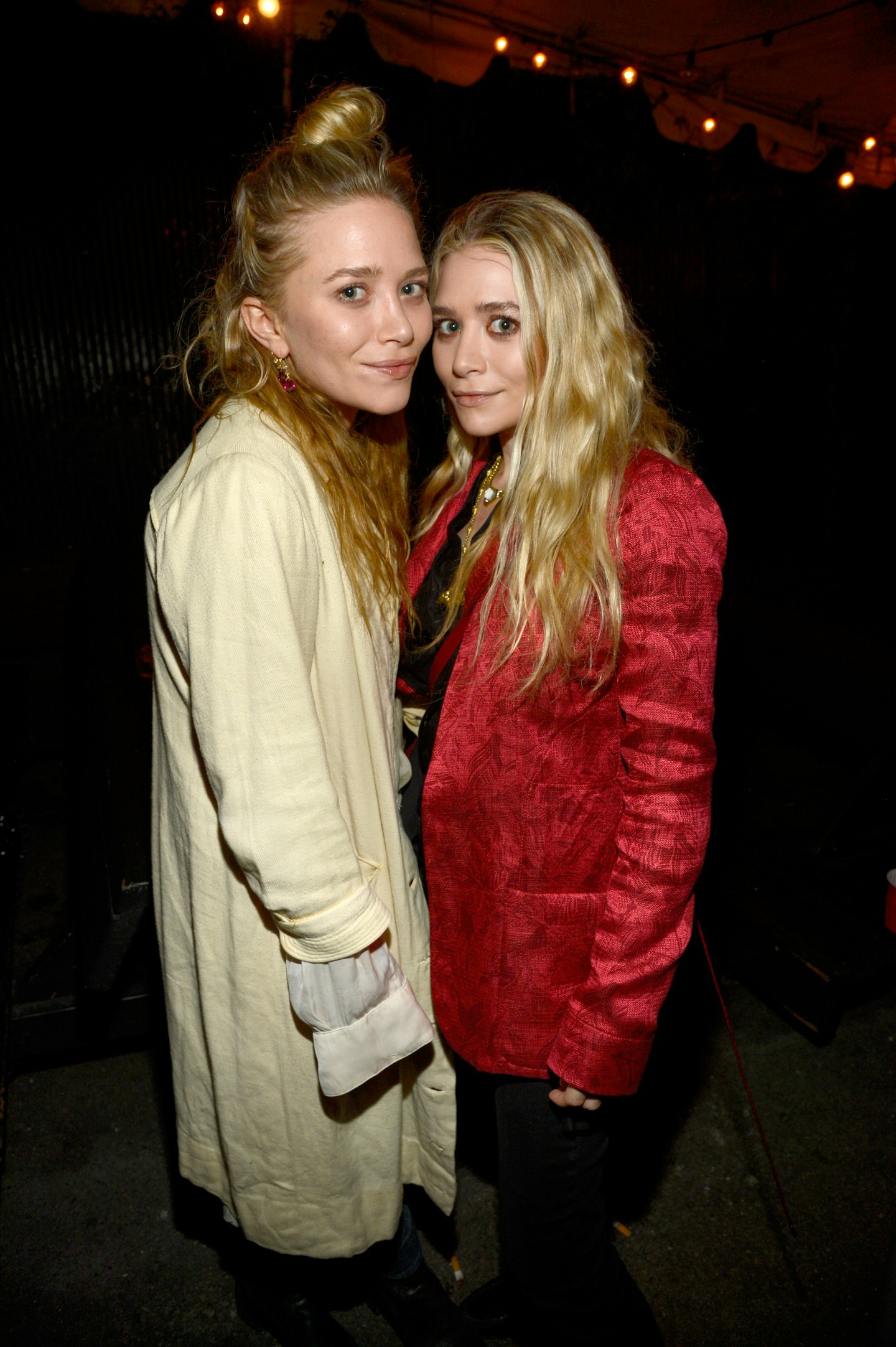 14 of 35
CREDIT: Getty
14. And they are pretty big in Norway
The twins launched a collection with Norwegian retailer Bik Bok in 2013.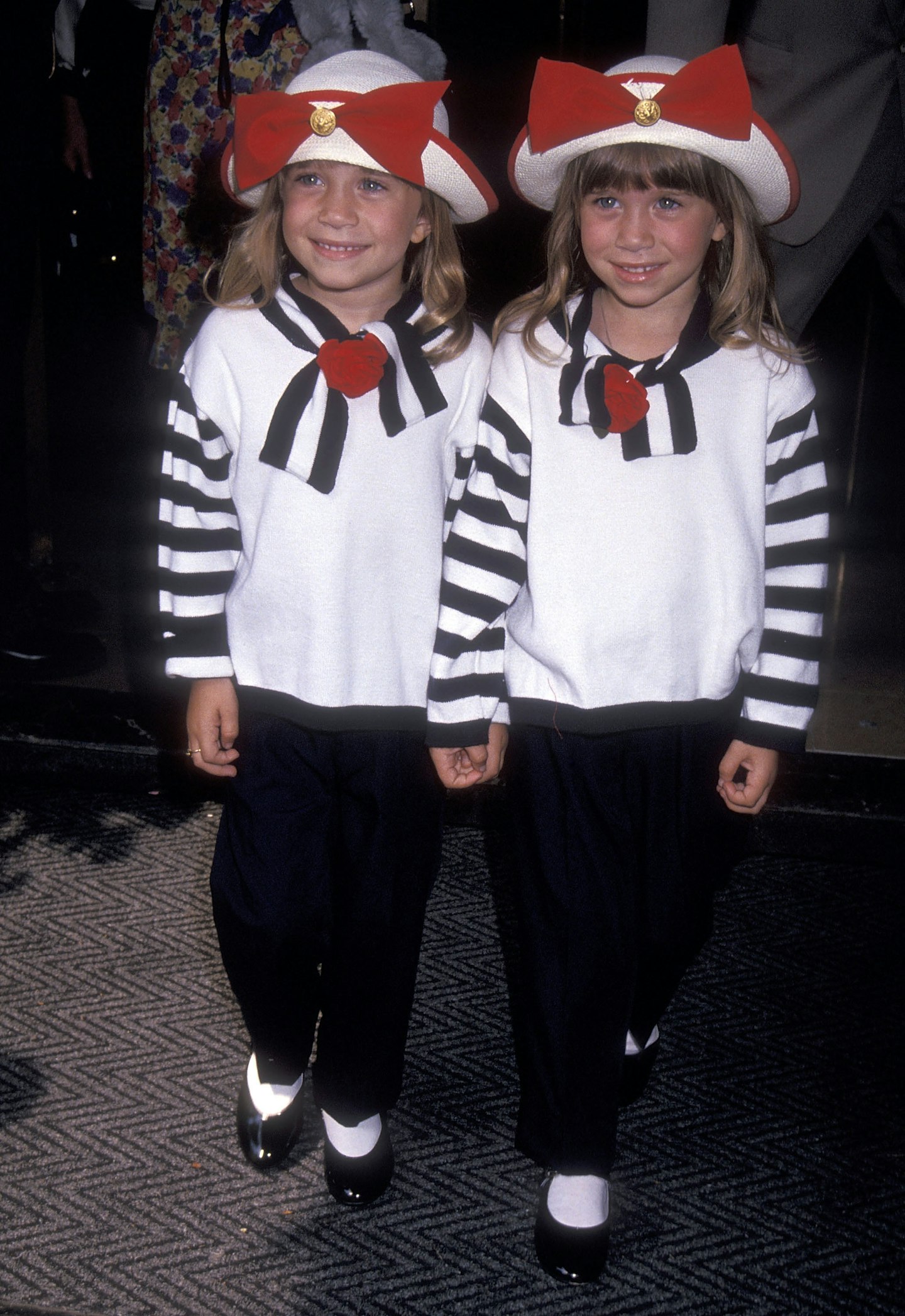 15 of 35
CREDIT: Getty
15. They were childhood friends with a Pretty Little Liar
Pretty Little Liars actress Troian Bellisario grew up across the street from the Olsens.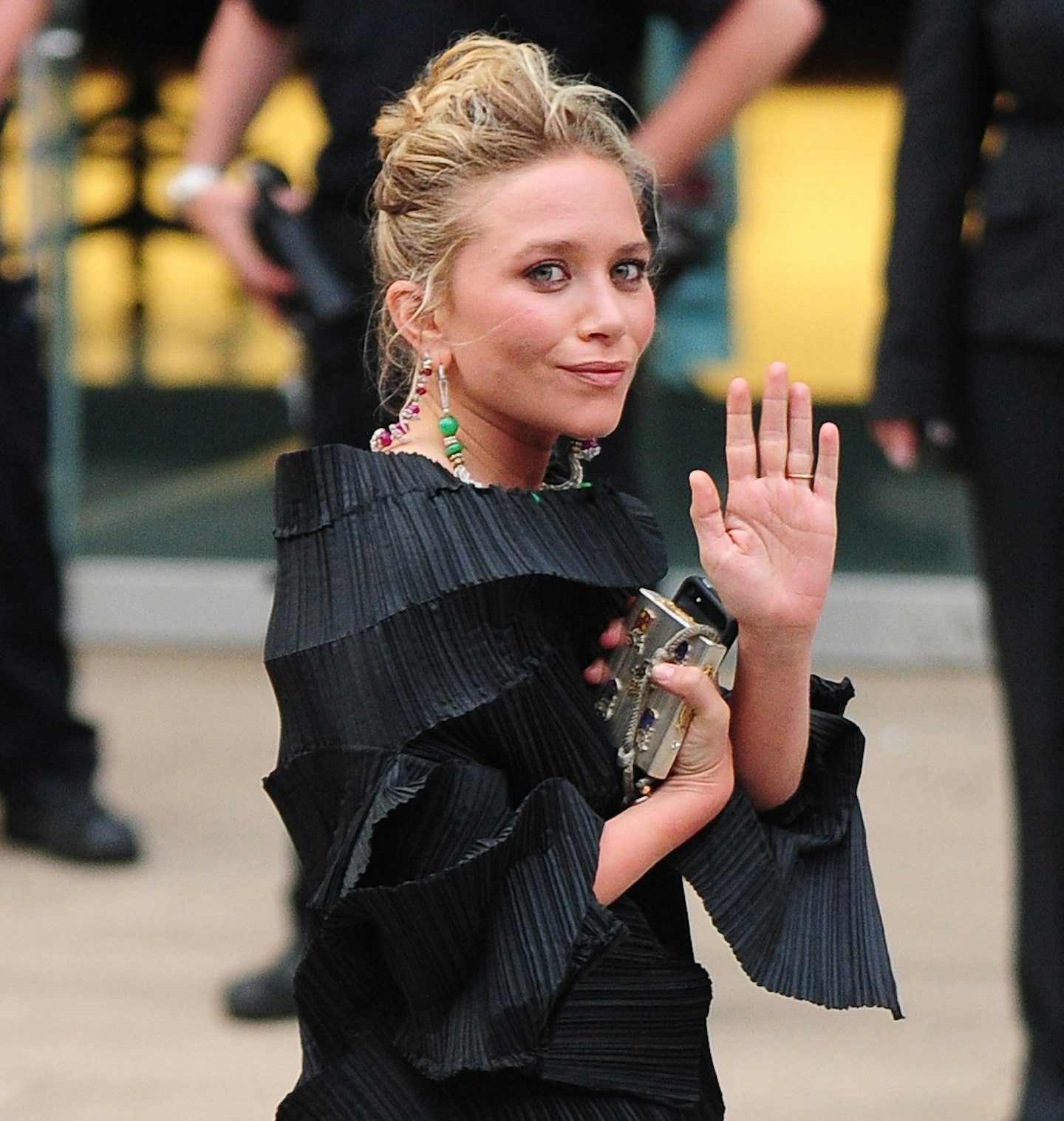 16 of 35
CREDIT: Getty
16. Mary Kate has ADD
That's Attention Deficit Disorder to you and me.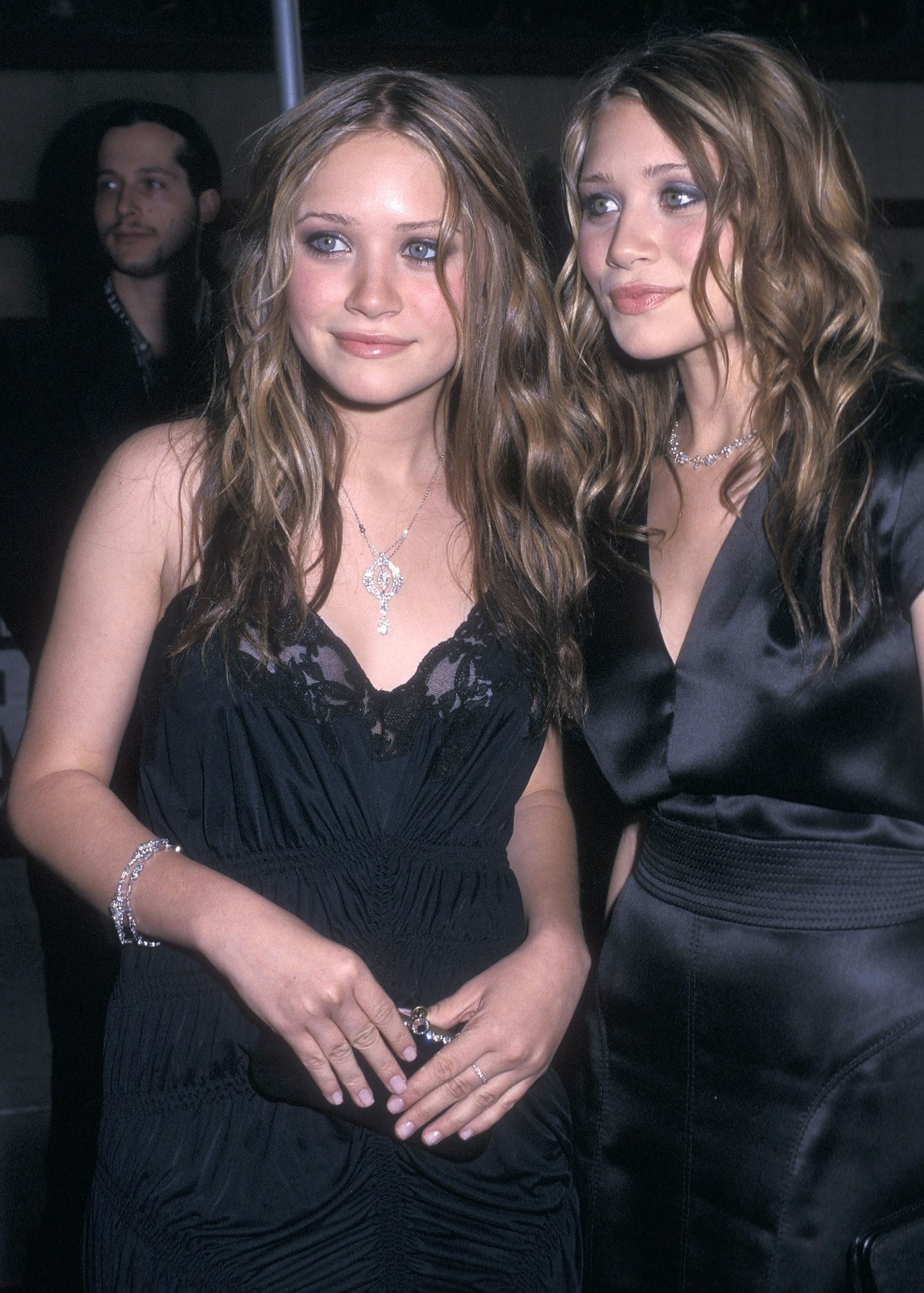 17 of 35
CREDIT: Getty
17. Only one of them was nominated for a Daytime Emmy in So Little Time
It was Mary Kate. Pretty awks.
18 of 35
CREDIT: Getty
18. But their movie was a flop
New York Minute earned only $5.96 million during its opening weekend - the lowest amount ever earned for any film opening in over 3,000 theaters. We still loved it, just saying.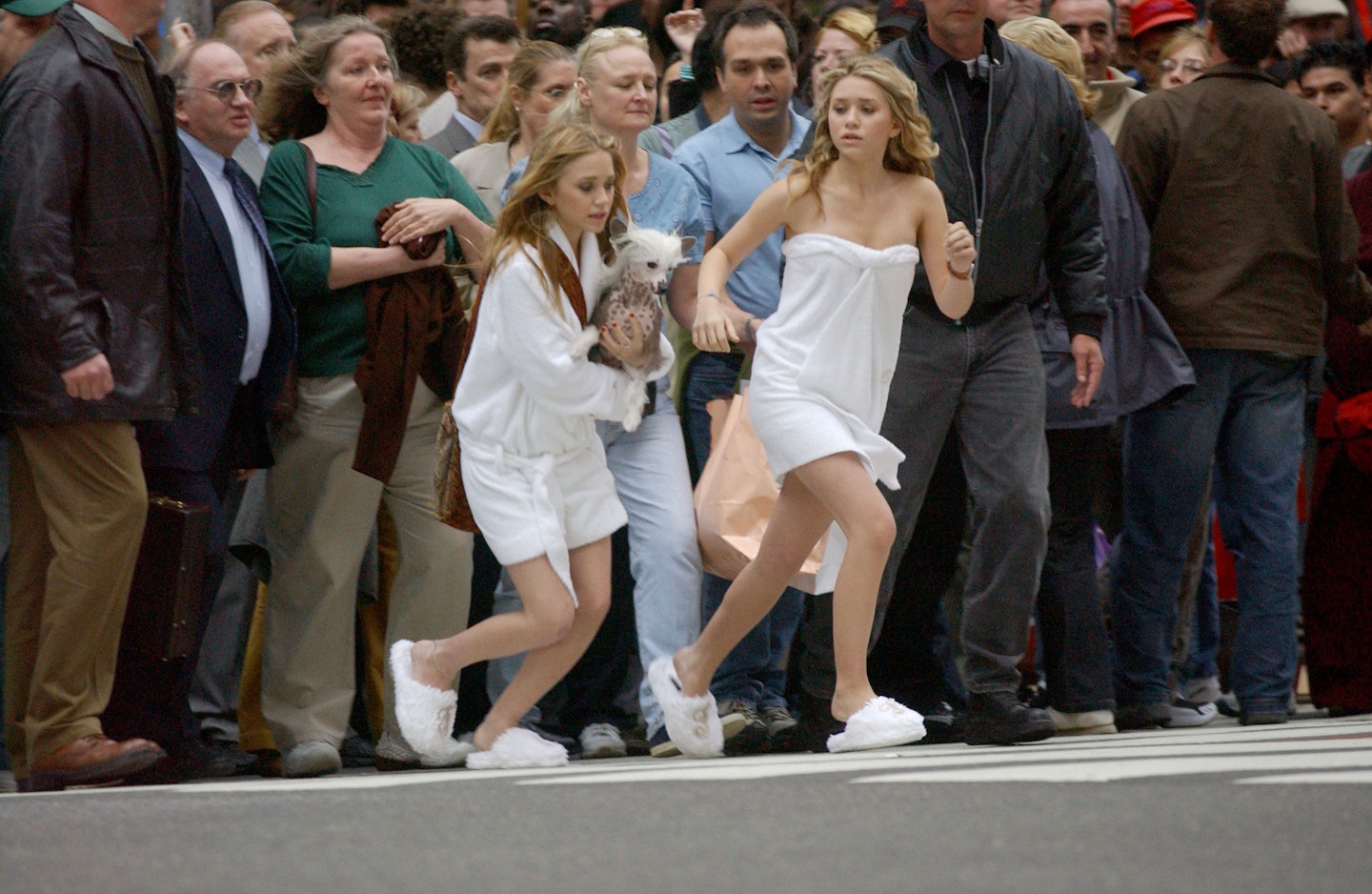 19 of 35
CREDIT: Getty
19. Mary Kate likes running. Naked.
'I run around my house naked with heels all the time,' Mary-Kate told Harper's Bazaar in 2007. Each to their own and all that.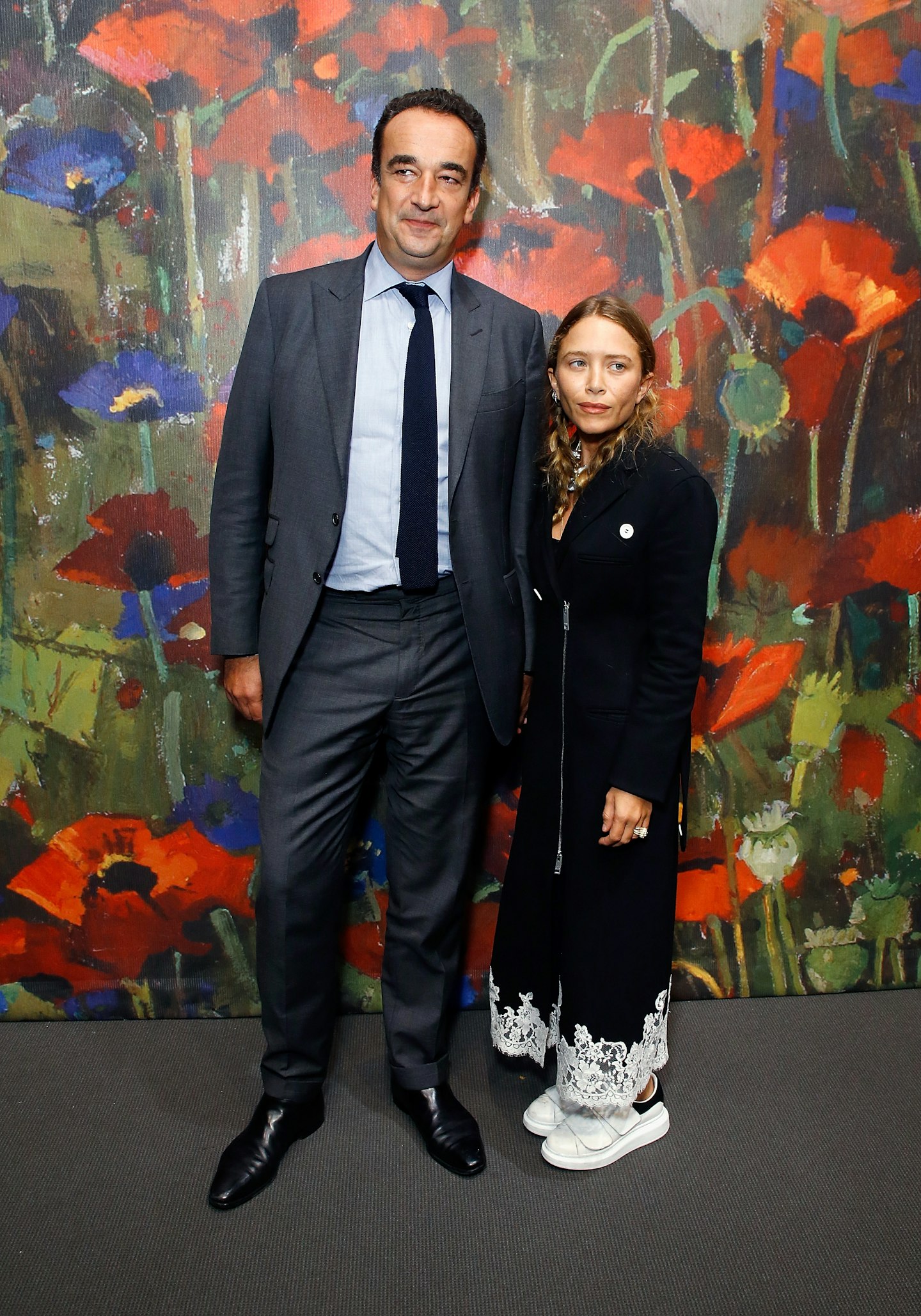 20 of 35
CREDIT: Getty
20. They have an unusual taste in weddings
At Mary-Kate's 2015 New York nuptials 50 select guests had to hand in their mobile phones before enjoying dinner, cocktails and, erm, bowls of cigarettes.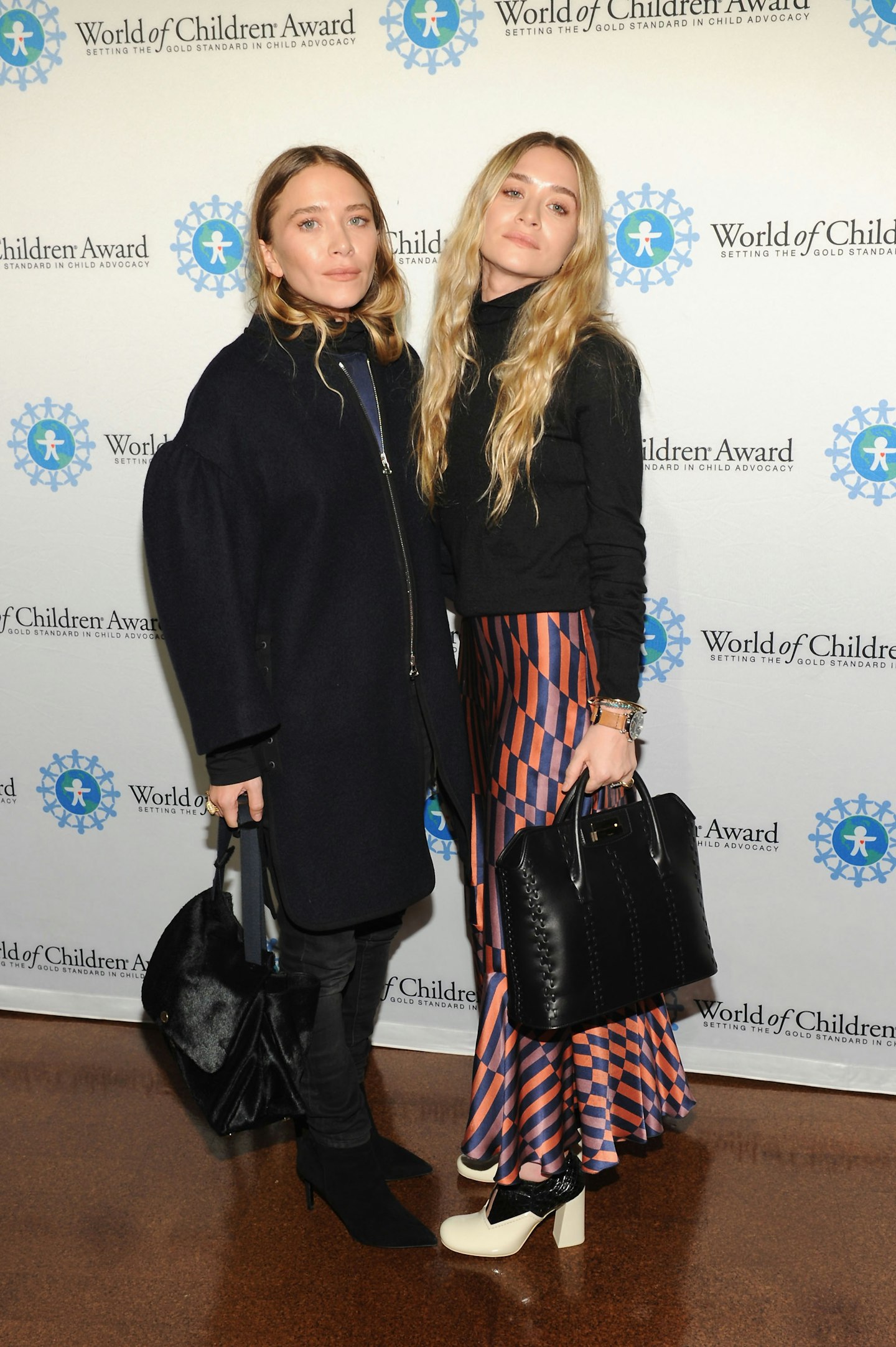 21 of 35
CREDIT: Getty
21. At the end of the day, they're just like us
'You know, the truth is I feel like I just learned how to brush my hair like last week,' Mary-Kate told Marie Claire in March 2014.
22 of 35
CREDIT: Getty
22. Their fashion career started young
On Full House their character Michelle Tanner sported pieces from the likes of Chanel and Marc Jacobs.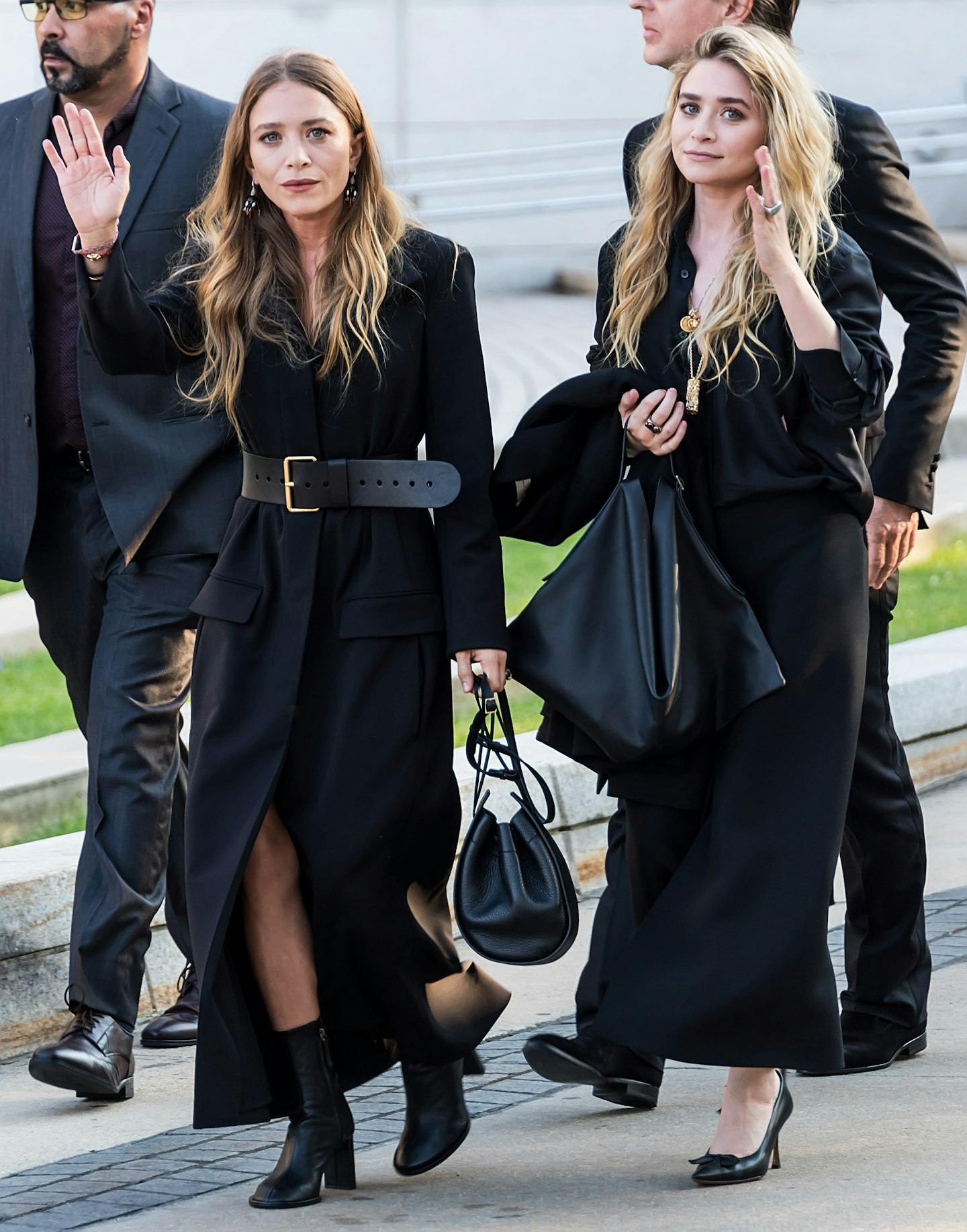 23 of 35
CREDIT: Getty
23. Their style icons might surprise you
In an interview with Miss Vogue last year Mary Kate cited Gigi Hadid as her style crush while Ashley went for Amber Heard. We love their muse Beatrix Ost.
24 of 35
CREDIT: Getty
24. They do not shop online
In fact Mary Kate recently admitted in a rare interview with Vogue, 'I've never purchased anything online'.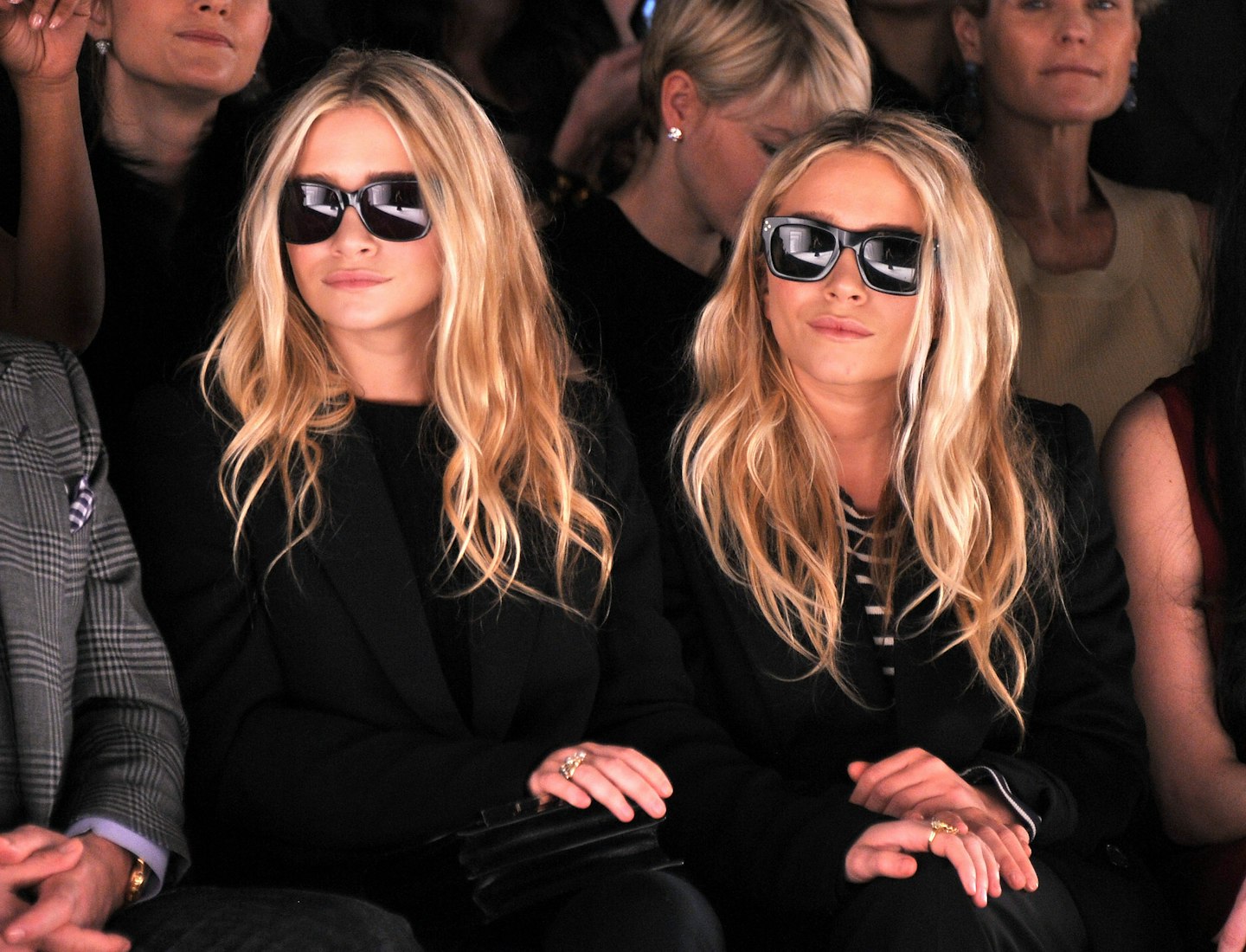 25 of 35
CREDIT: Getty
25. The t-shirt was the inspo behind their fashion line, The Row
Taking it's name from Savile Row, the twins started their fashion label The Row in 2006 in response to the question 'How could we make a perfect T-shirt in a great fabric that would fit any age?'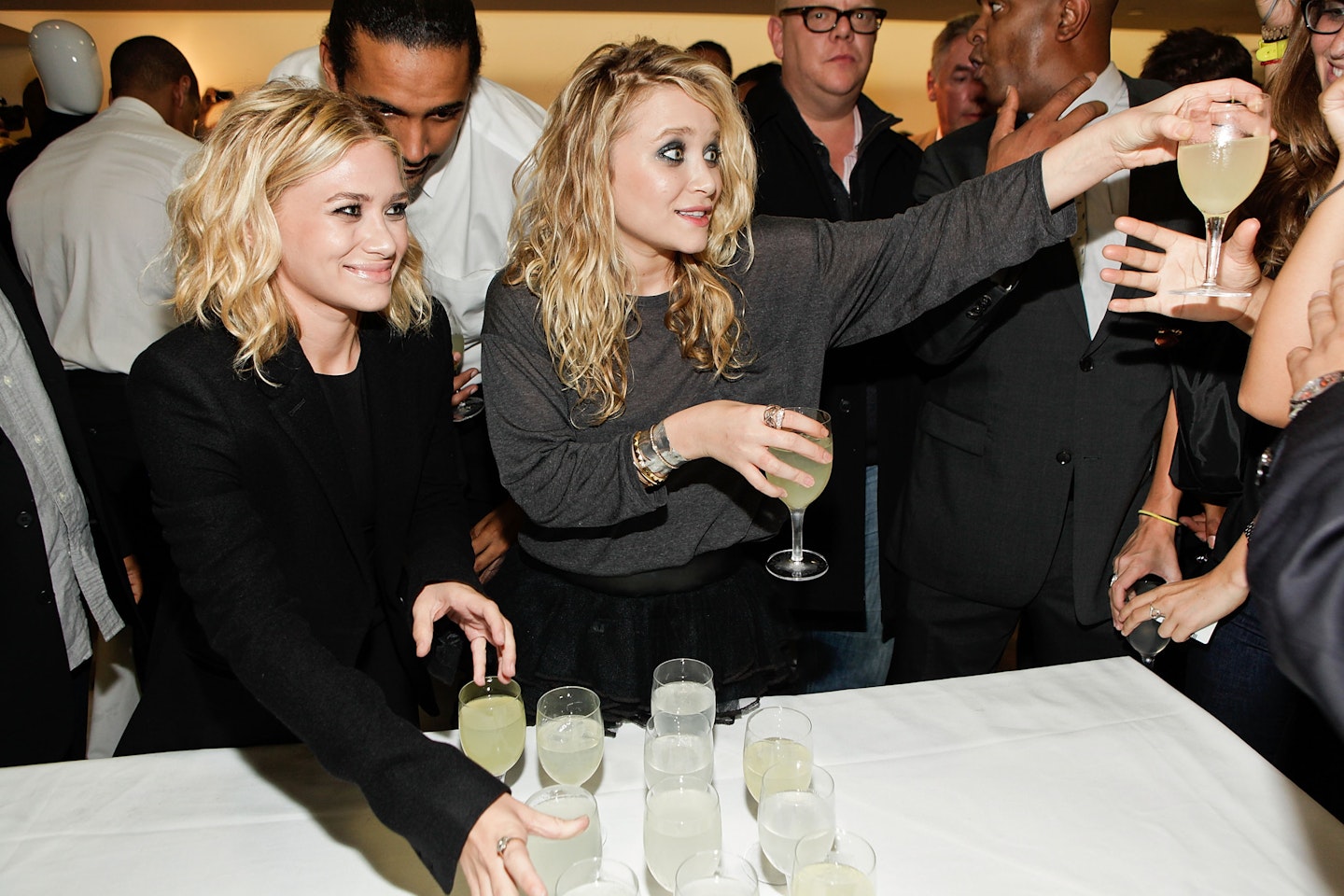 26 of 35
CREDIT: Getty
26. Shopping at The Row is not a normal experience
Think robes in the dressing room, free lunch and furniture borrowed from the girls' private apartments. Plus, their Melrose store comes complete with a full-size courtyard pool. Anyone for a dip?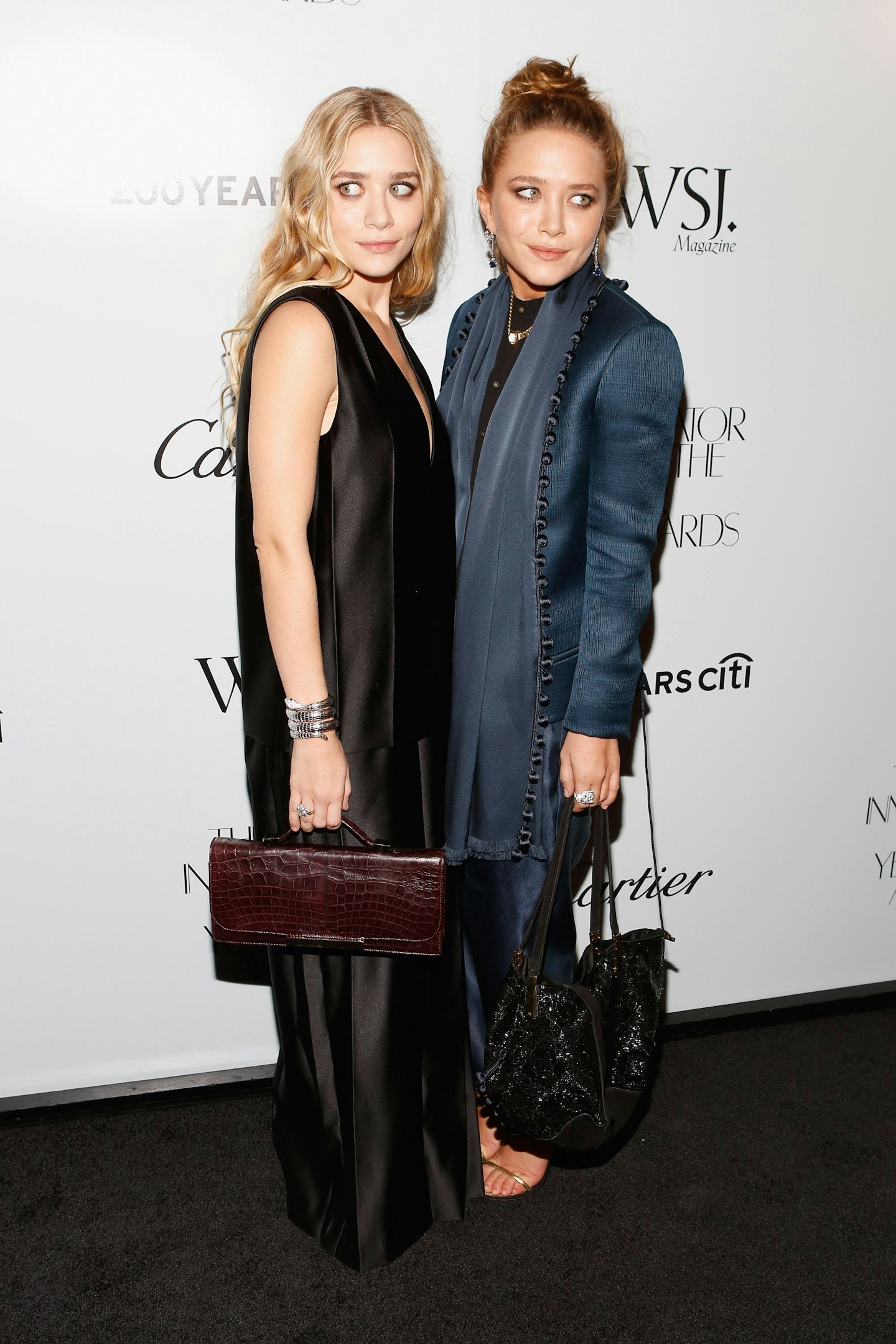 27 of 35
CREDIT: Getty
27. They are now bonafide fashion stars
In October 2012, Mary-Kate and Ashley won the WSJ magazine Innovator of The Year Award.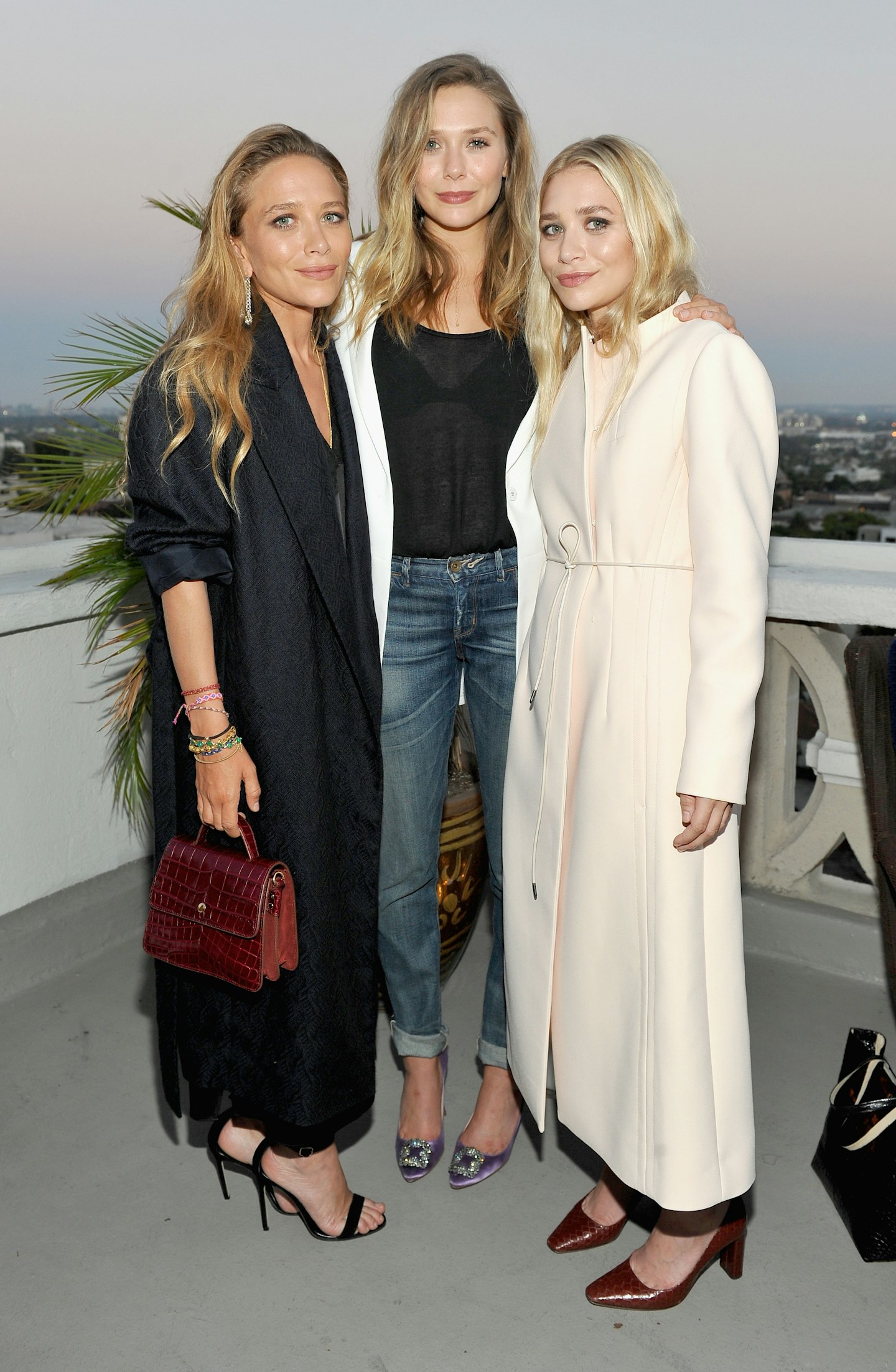 28 of 35
CREDIT: Getty
28. It's a family affair for the Olsens
Their second clothing line, Elizabeth and James is named after their two siblings.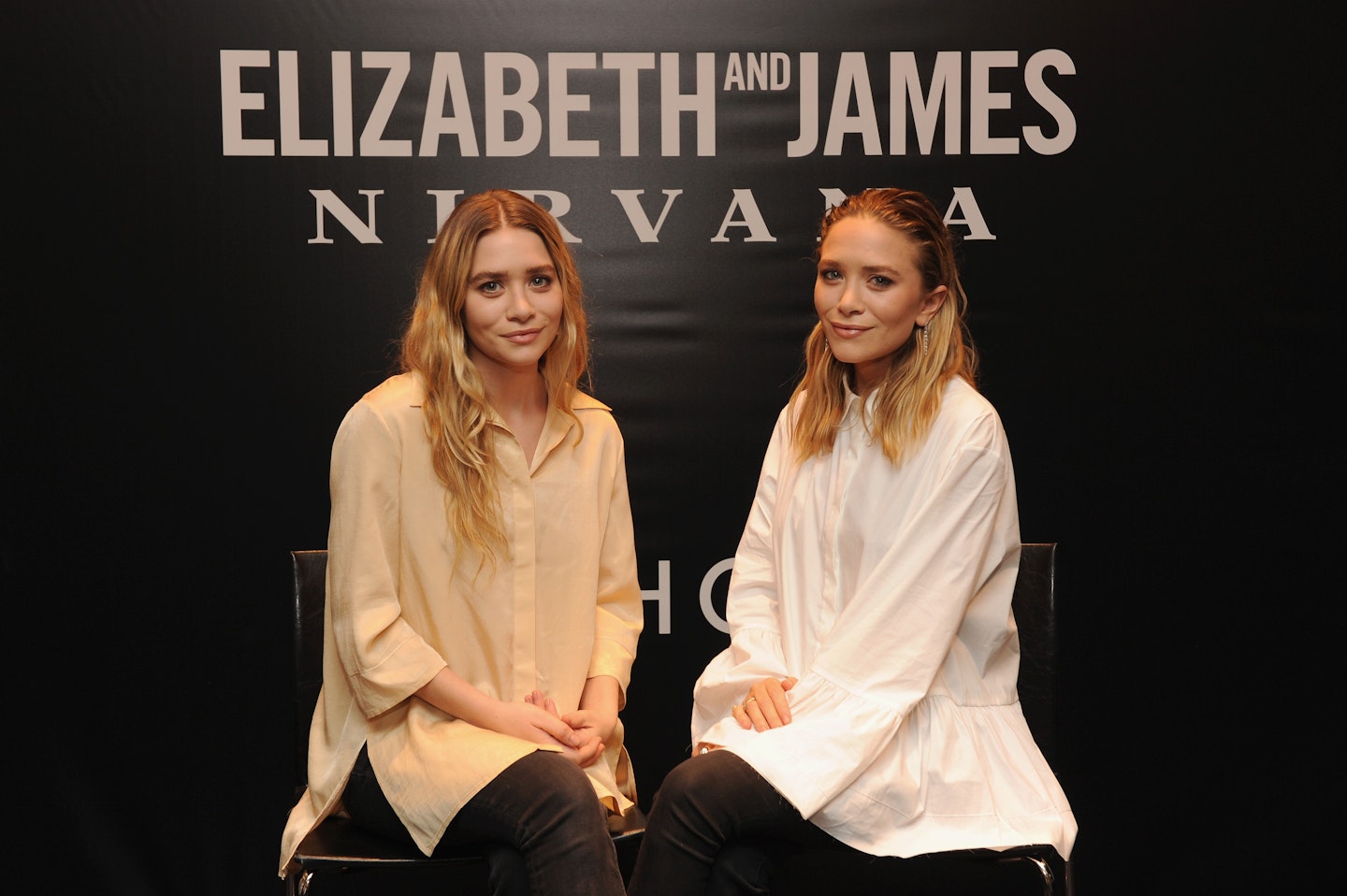 29 of 35
CREDIT: Getty
29. Mary-Kate and Ashley are not the only entrepreneurs in the Olsen family
Their brother James sold his classmates photos autographed by his famous siblings.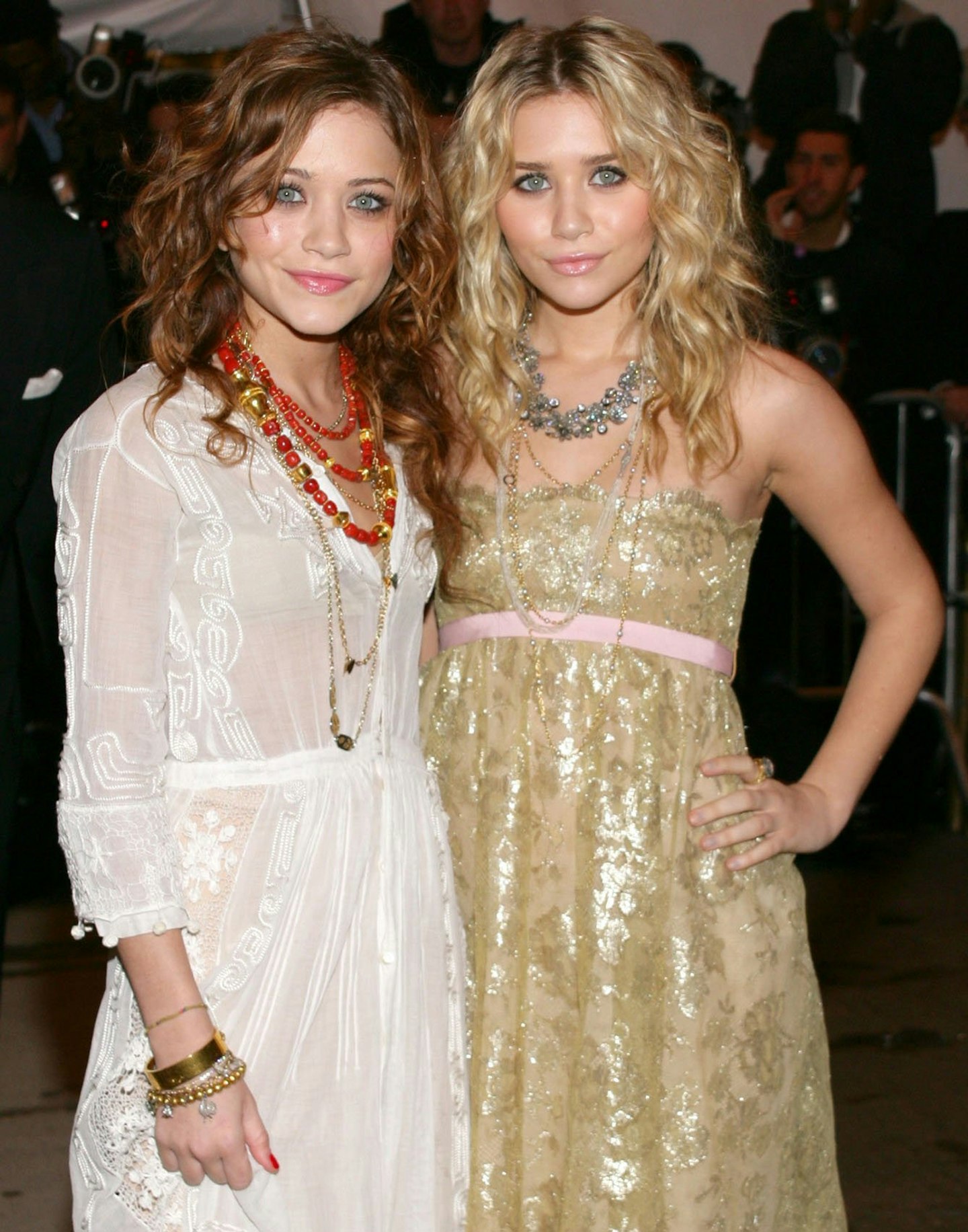 30 of 35
CREDIT: Getty
30. The Olsens changed their hair so people could tell them apart
To help tell the sisters apart, Mary-Kate had her hair tinted brown when they were younger.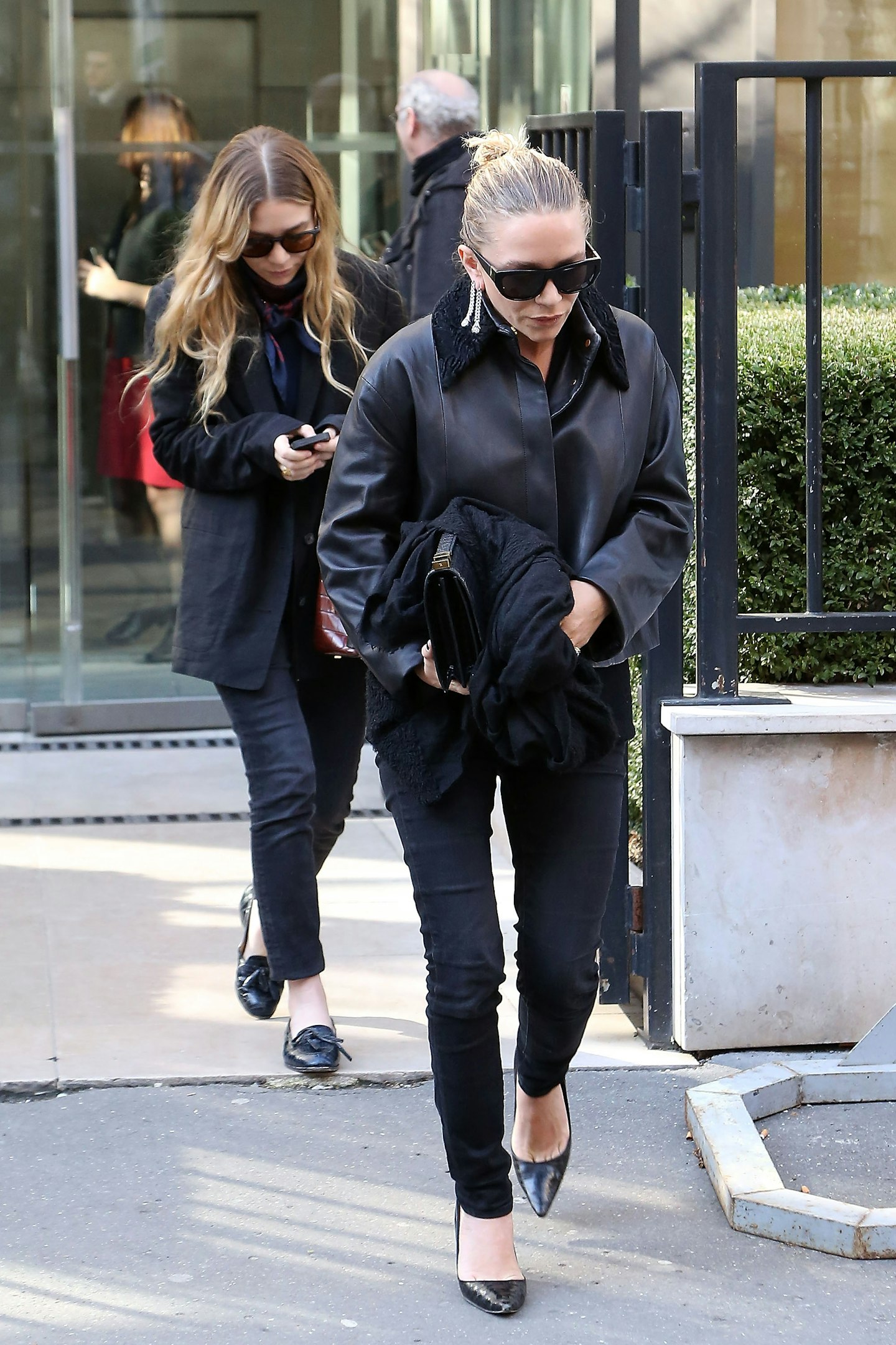 31 of 35
CREDIT: Getty
31. A museum was made in NYC and dedicated to them
Not even joking. The museum was dedicated to the twins 'hiding from paparazzi' after discovering an artist had several paintings of them hiding from the paps.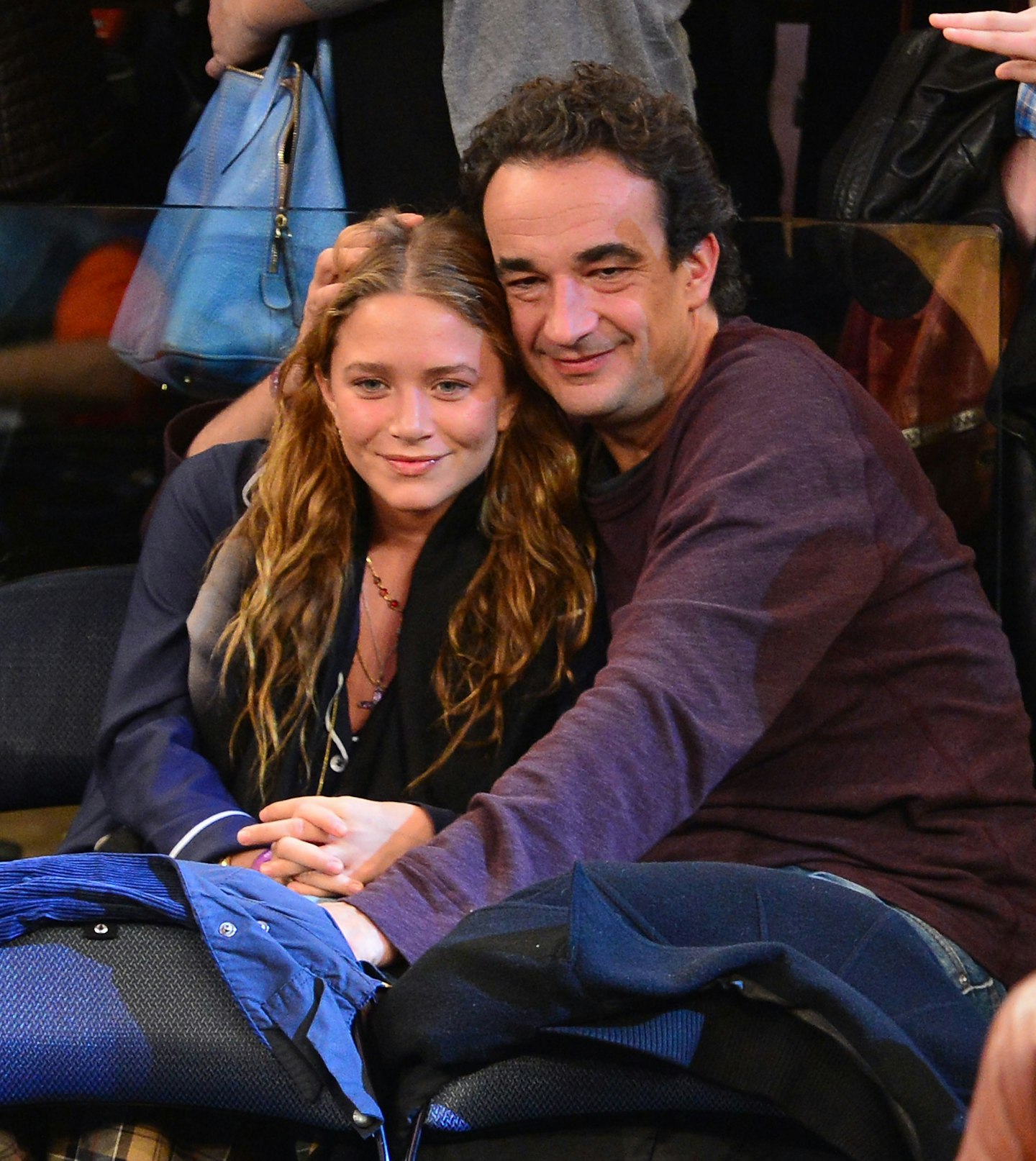 32 of 35
CREDIT: Getty
32. Mary-Kate was proposed to with a $81,000 vintage Cartier engagement ring
Not even the slightest bit jealous. Olivier Sarkozy proposed to Mary-Kate with an $81,000 vintage Cartier engagement ring. The couple got married in 2015, and Mary-Kate recently filed for divorce.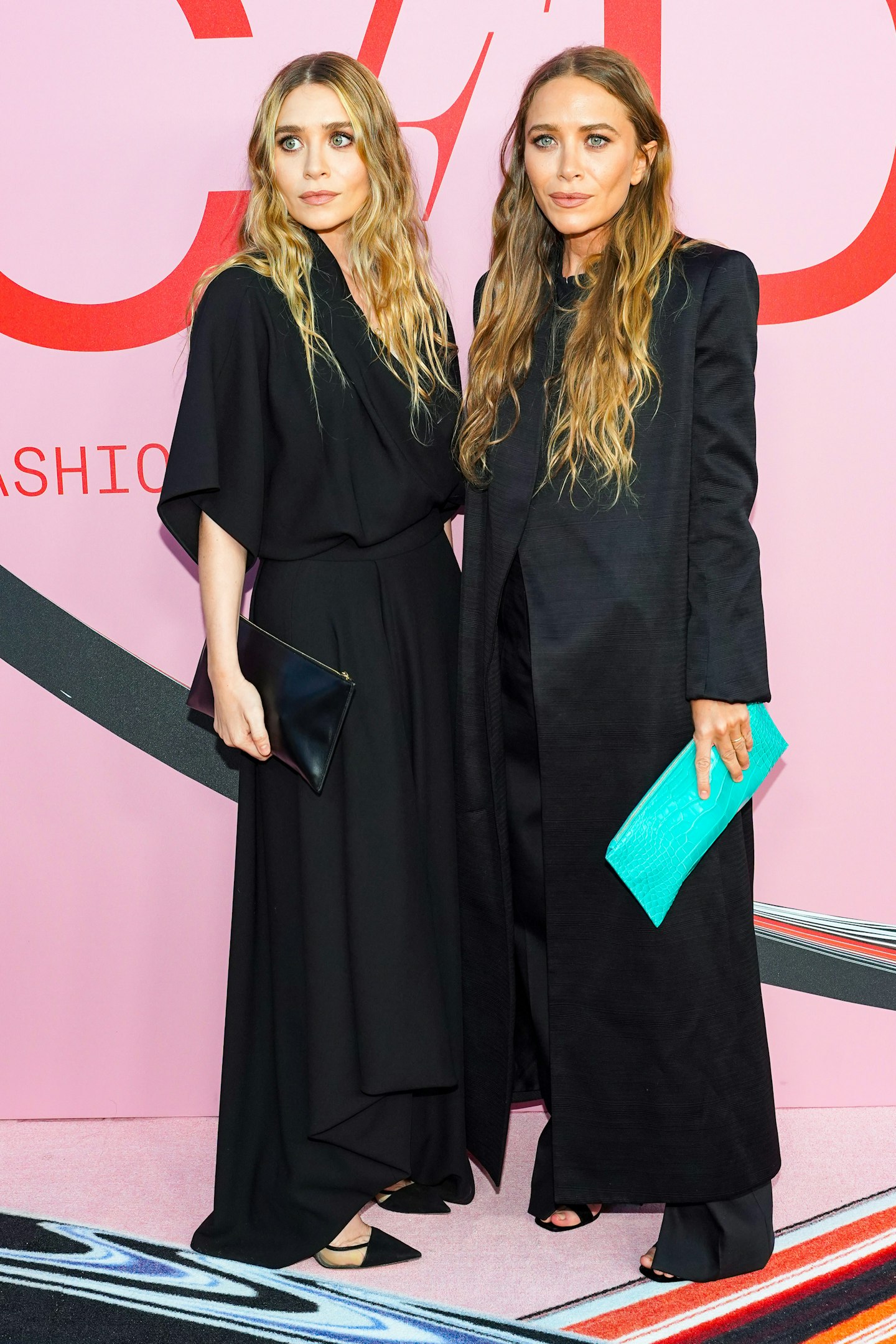 33 of 35
CREDIT: Getty
33. They were ranked as the eleventh-richest women in entertainment
It is estimated that their net worth combined is 300 million dollars. Woah.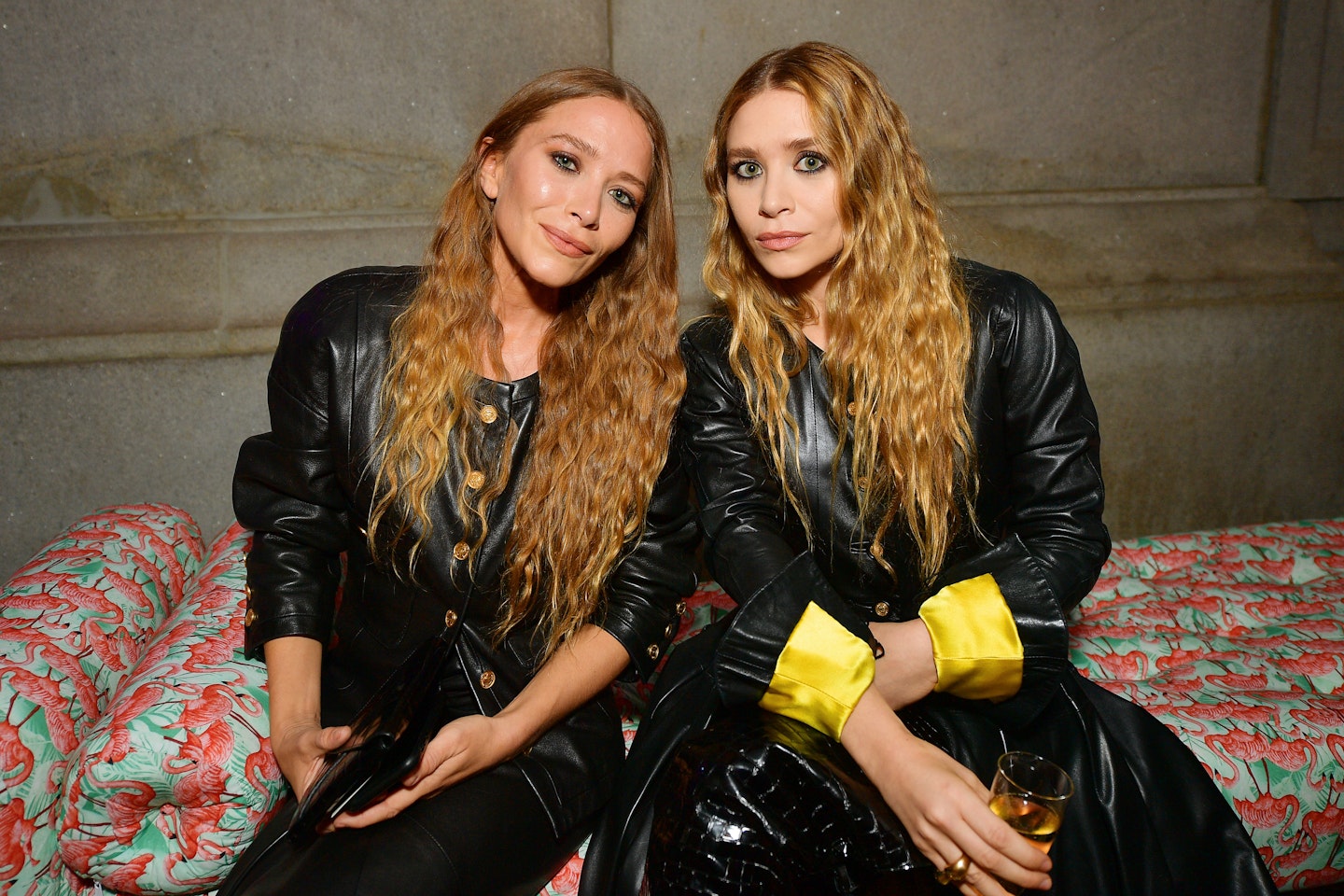 34 of 35
CREDIT: Getty
34. They exclusively wear vintage to the Met Gala
This year's look, worn for the Heavenly Bodies: Fashion and the Catholic Imagination event, was vintage Paco Rabanne...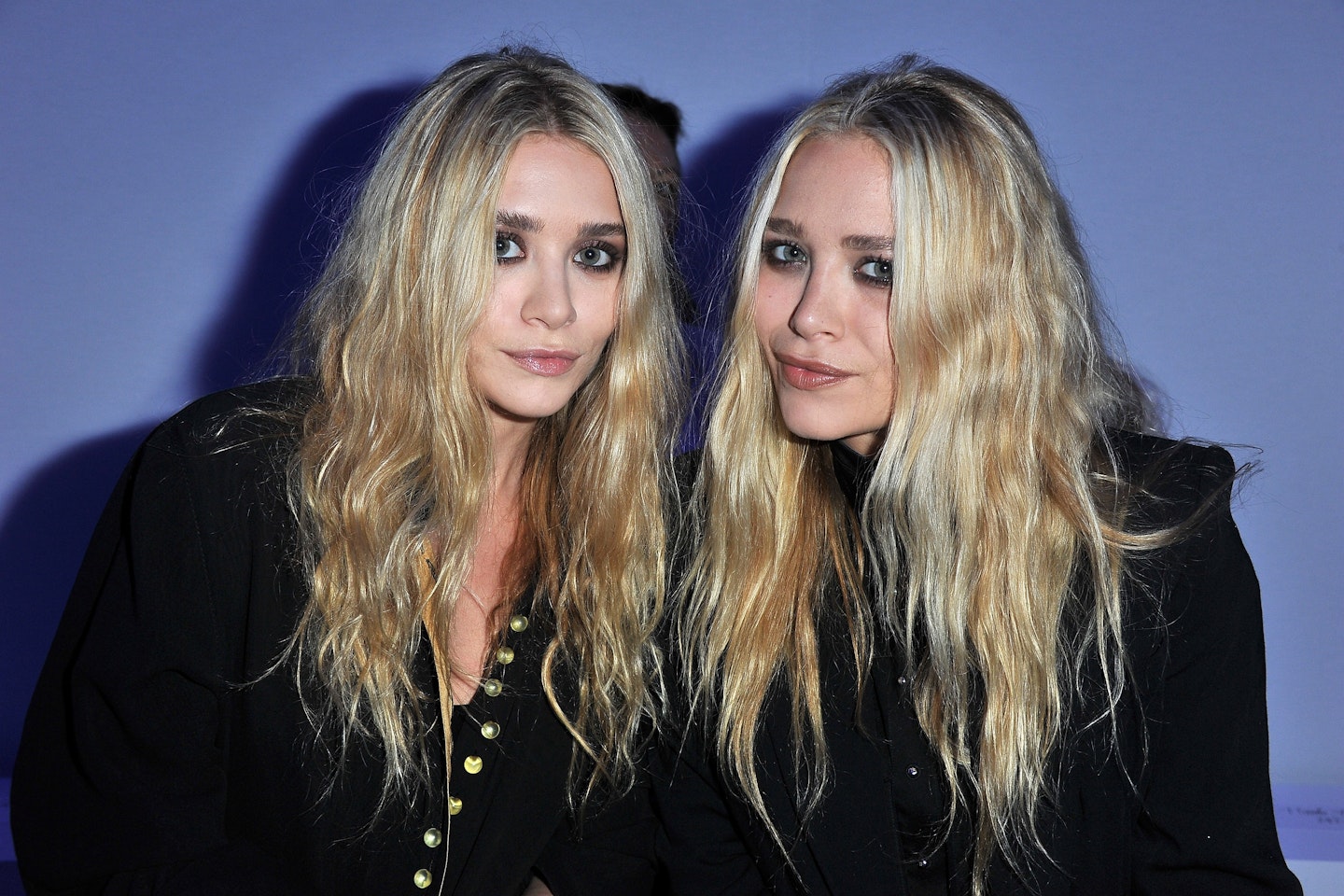 35 of 35
CREDIT: Getty
35. They prefer to get ready in the dark
'I don't do this myself, but I feel like the worst beauty habit that people have is when they pick their own skin,' Ashley told Elle a few years back. 'That's just really bad. Everyone's tempted to do it sometimes, but it's just the worst thing you can do. I prefer to get ready with the lights off so I'm never even tempted to look at my skin!' Surely there are less extreme ways... never mind.
READ MORE: Every Single Met Gala Theme From 1971 to 2020
SEE: Every Met Gala Theme From 1971 - 2021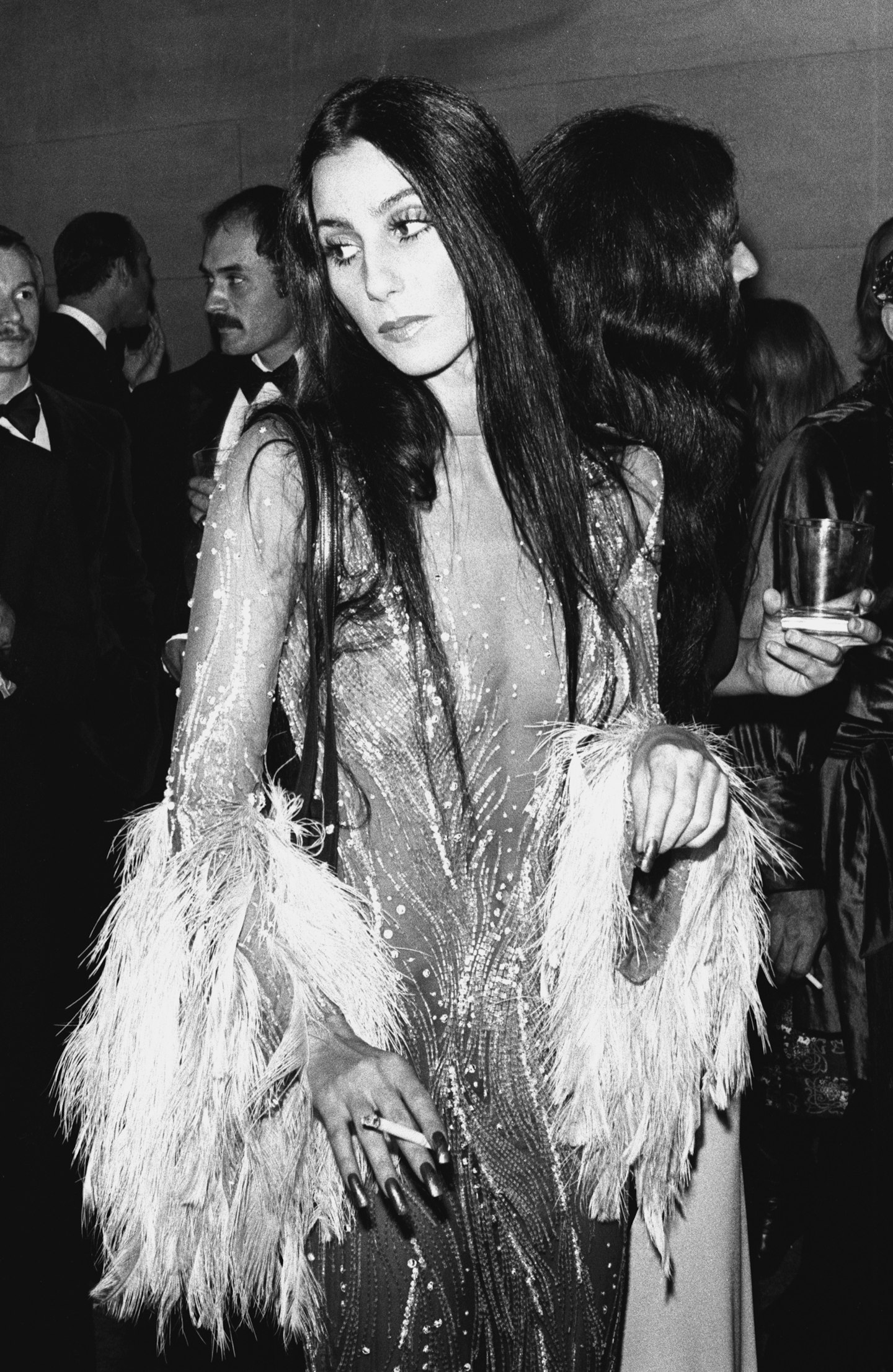 1 of 43
CREDIT: Getty
1971-1974
1971: Fashion Plate1972: Untailored Garments1973: The World of Balenciaga1974: Romantic and Glamorous Hollywood Design Pictured: Cher, 1974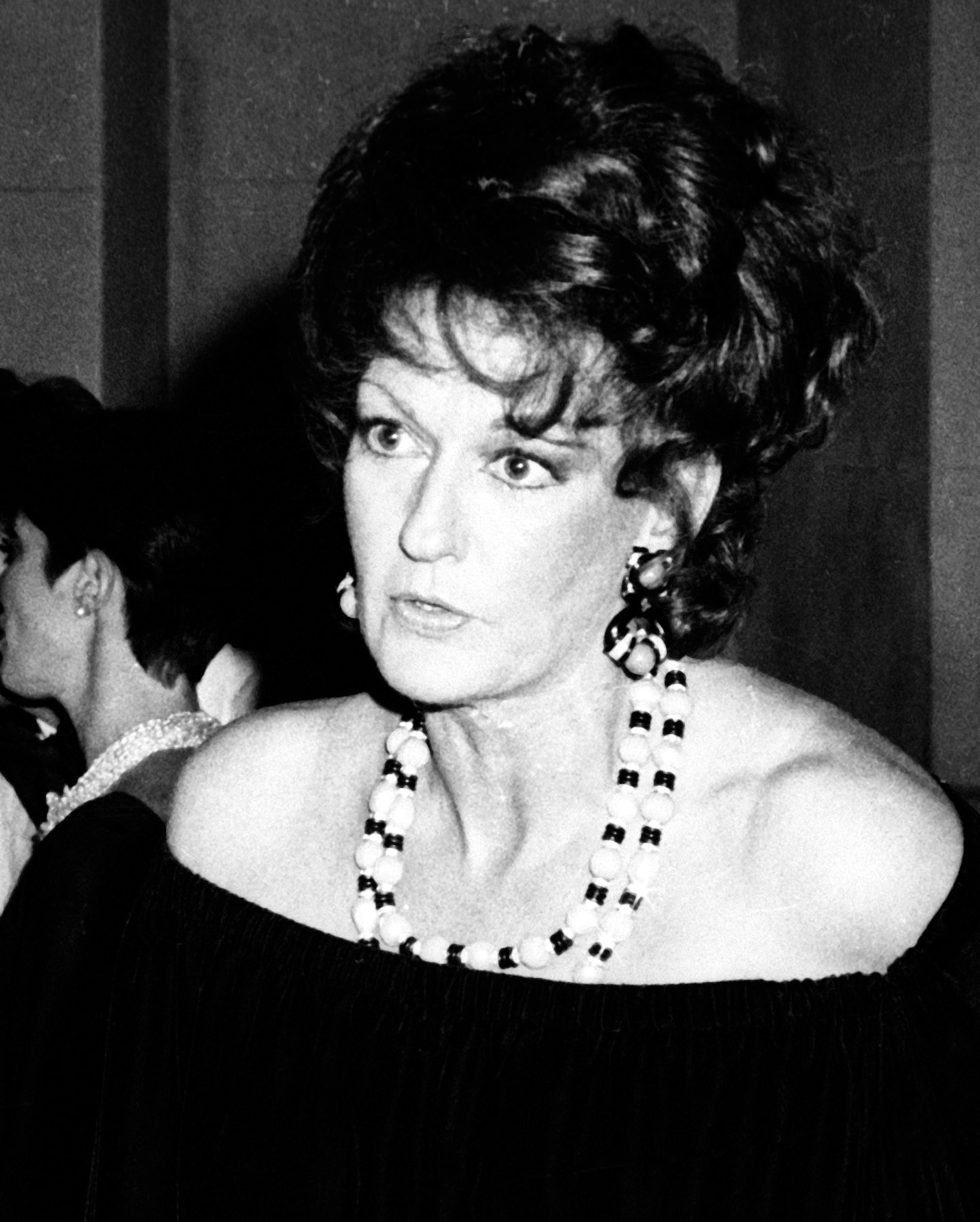 2 of 43
CREDIT: Getty
1975
American Women of StylePictured: Pat Buckley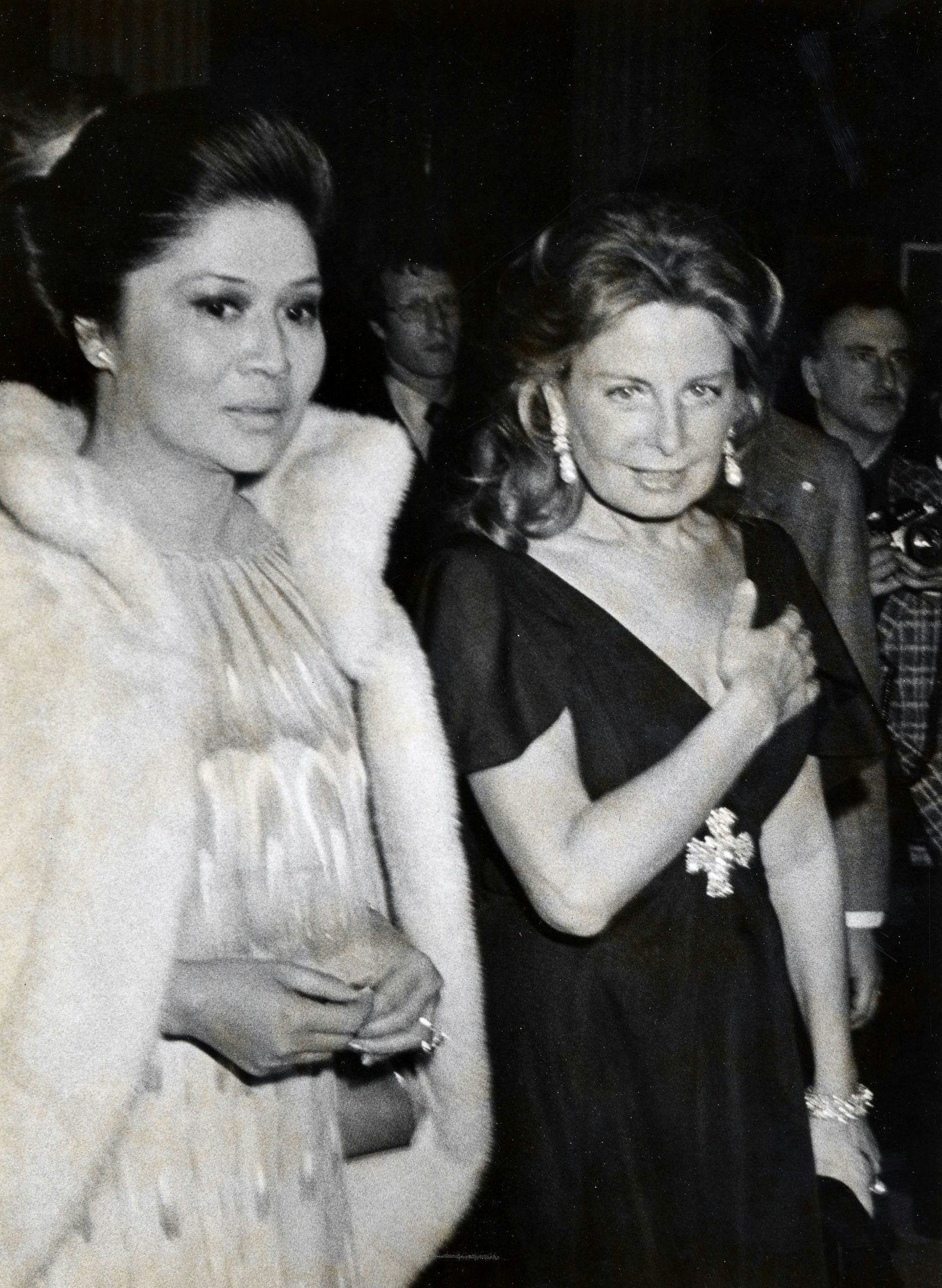 3 of 43
CREDIT: Getty
1976
The Glory of Russian CostumePictured: Imelda Marcos and Christina Ford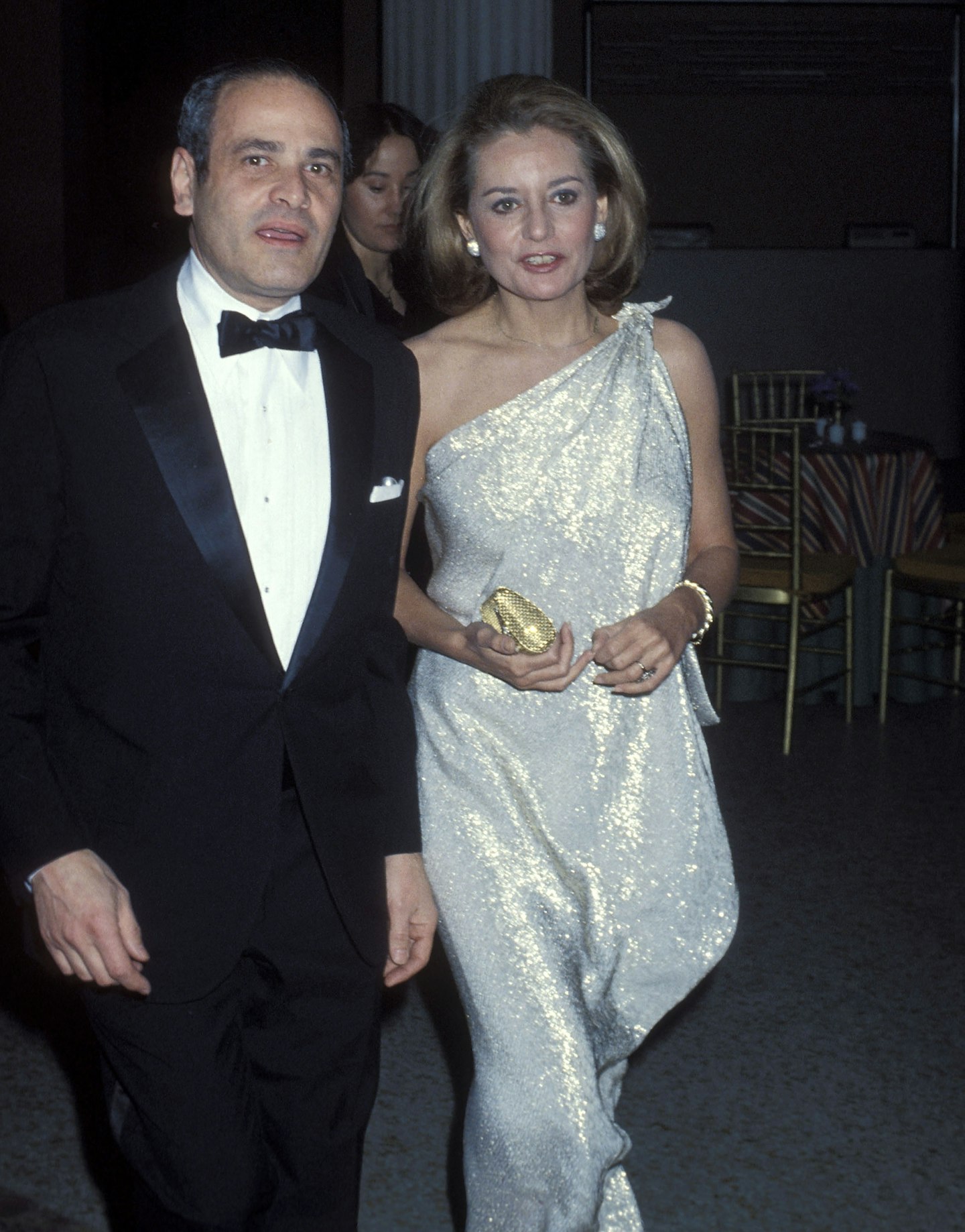 4 of 43
CREDIT: Getty
1977 - 1978
1977: Vanity Fair: A Treasure Trove1978: Diaghilev: Costumes and Designs of the Ballets RussesPictured: Barbara Walters, 1977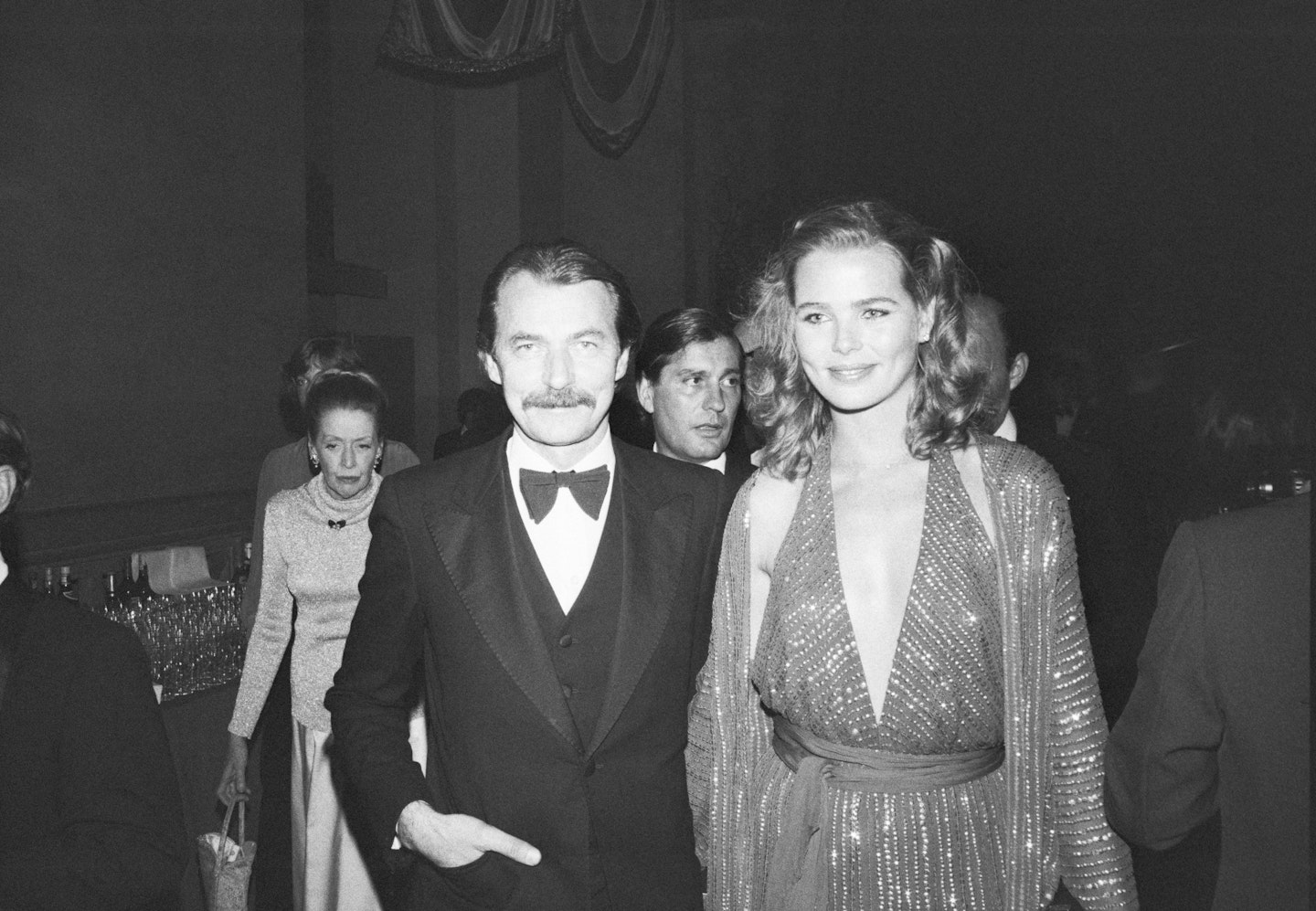 5 of 43
CREDIT: Getty
1979
Fashions of the Habsburg Era: Austria-HungaryPictured: Margaux Hemingway and Bernard Foucher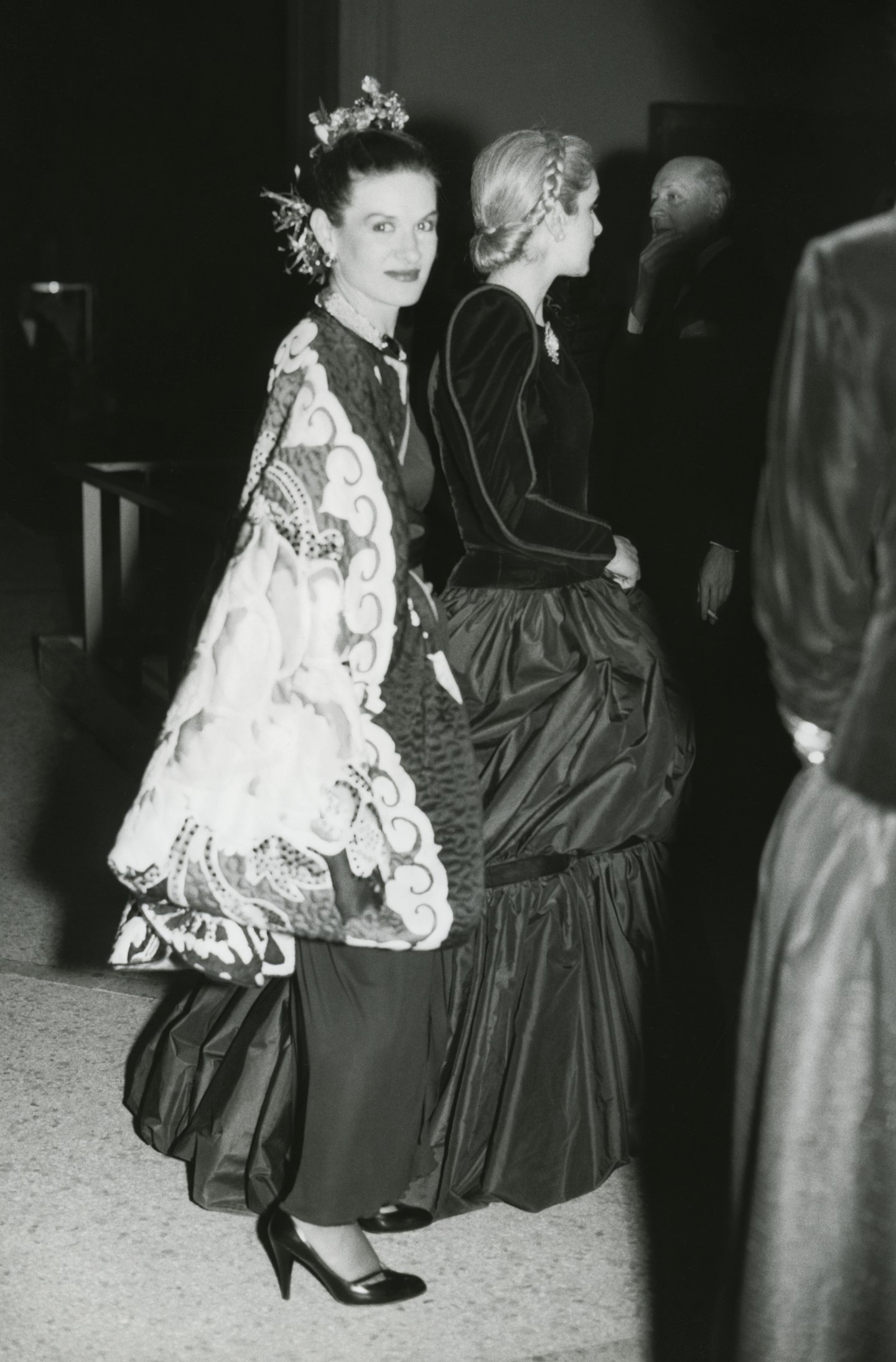 6 of 43
CREDIT: Getty
1980
The Manchu Dragon: Costumes of China, the Chi'ng DynastyPictured: Carolina Herrera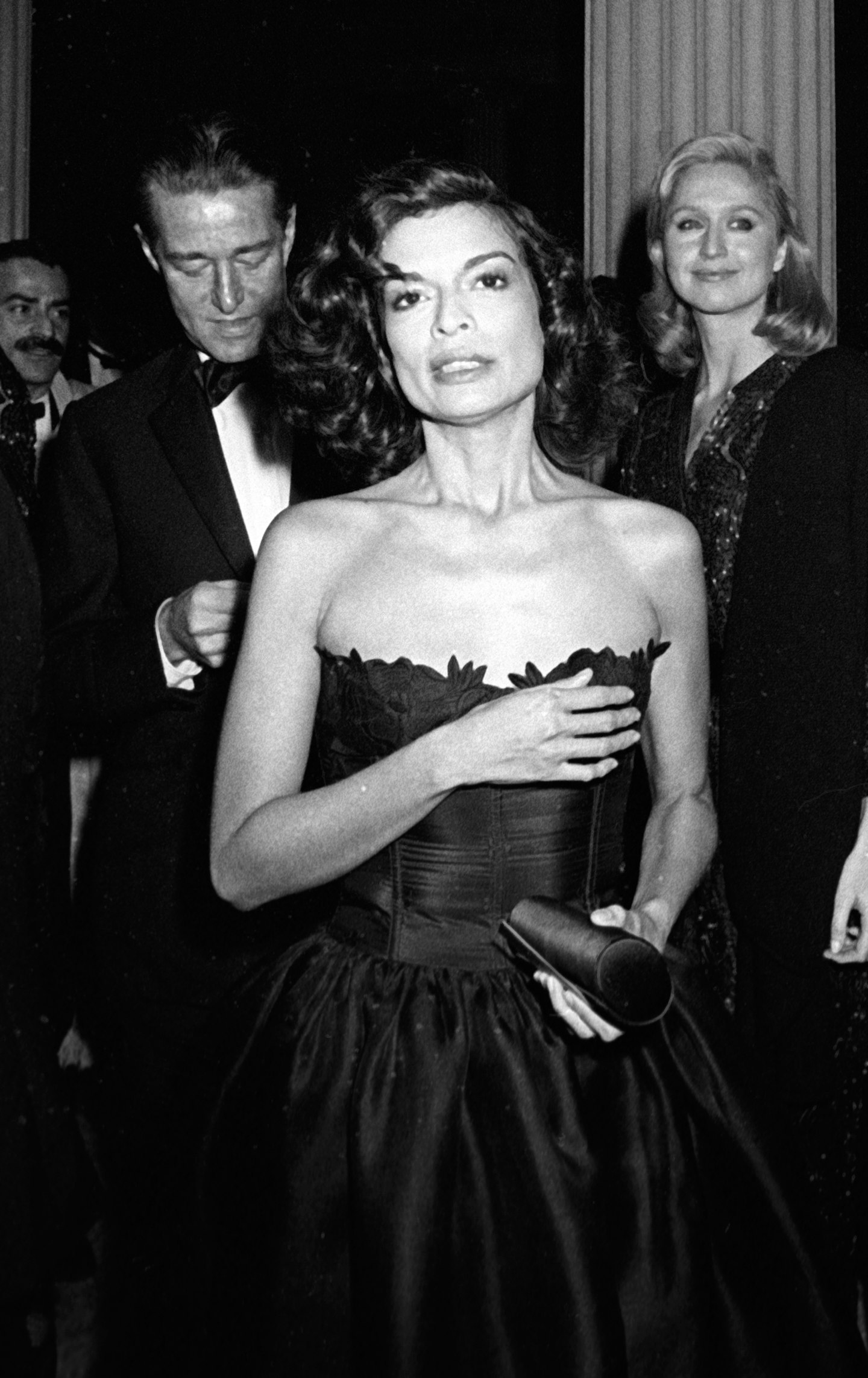 7 of 43
CREDIT: Getty
1981
The Eighteenth Century WomanPictured: Bianca Jagger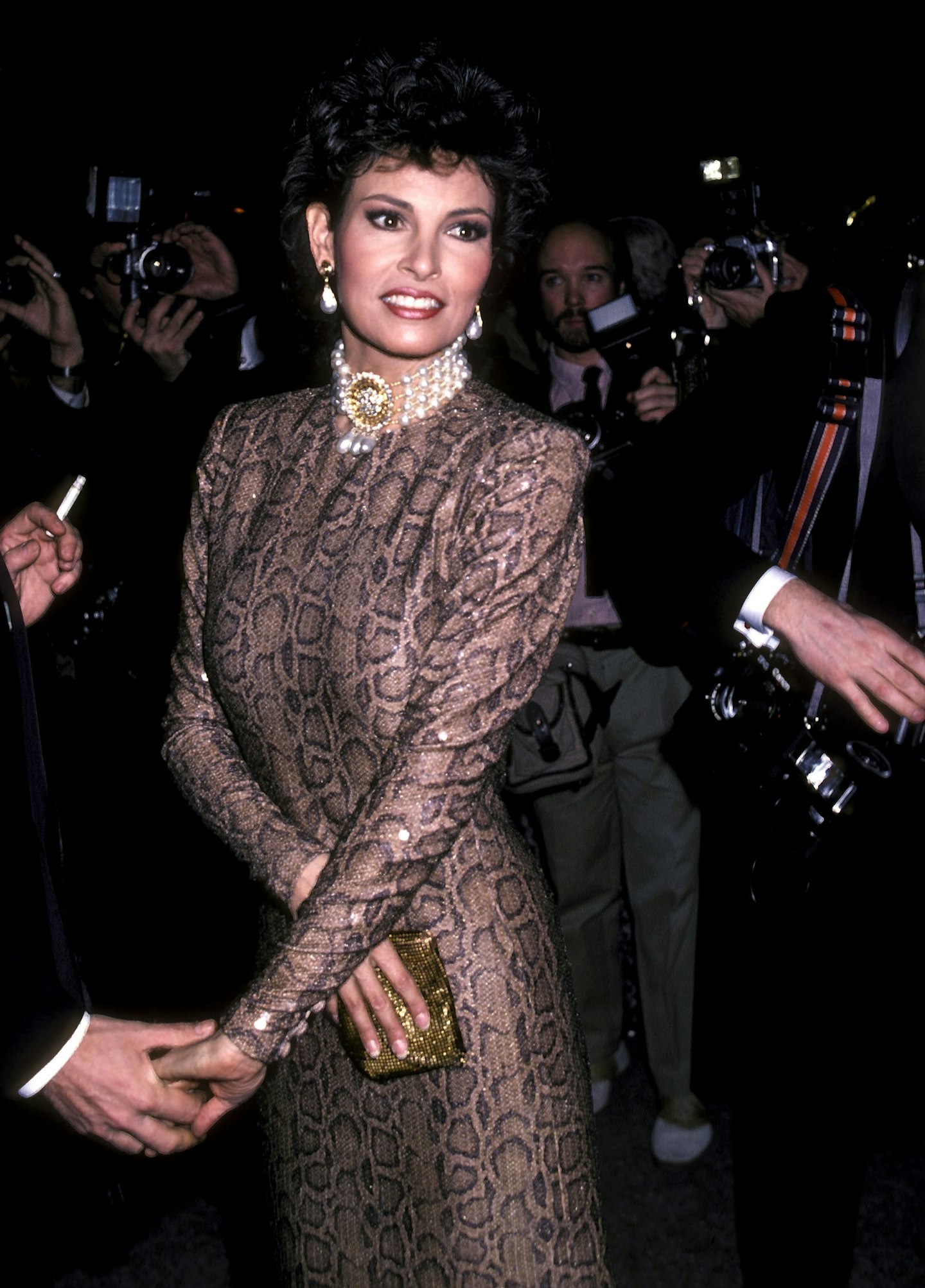 8 of 43
CREDIT: Getty
1982
La Belle ÉpoquePictured: Raquel Welch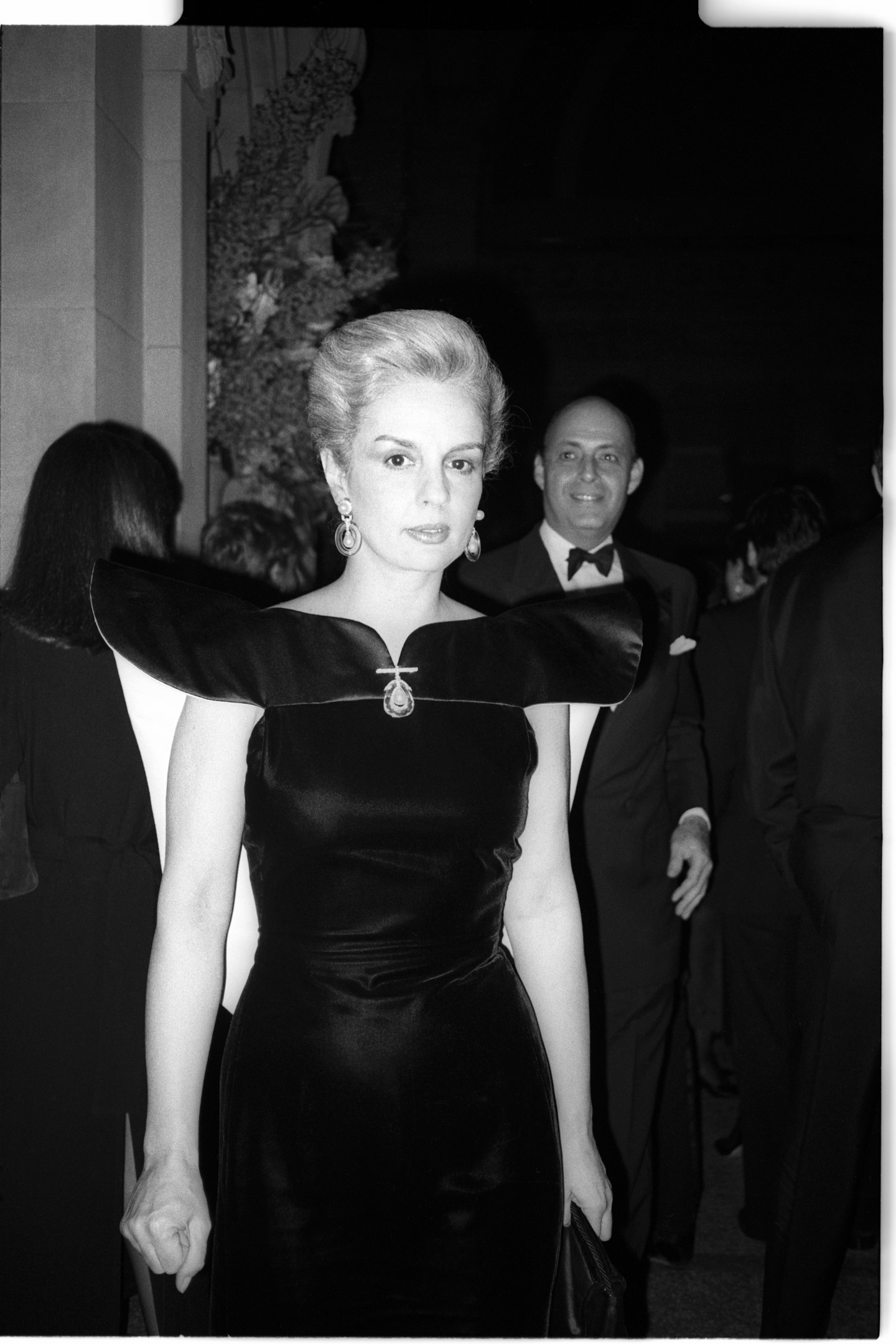 9 of 43
CREDIT: Getty
1983
Yves Saint Laurent: 25 Years of DesignPictured: Carolina Herrera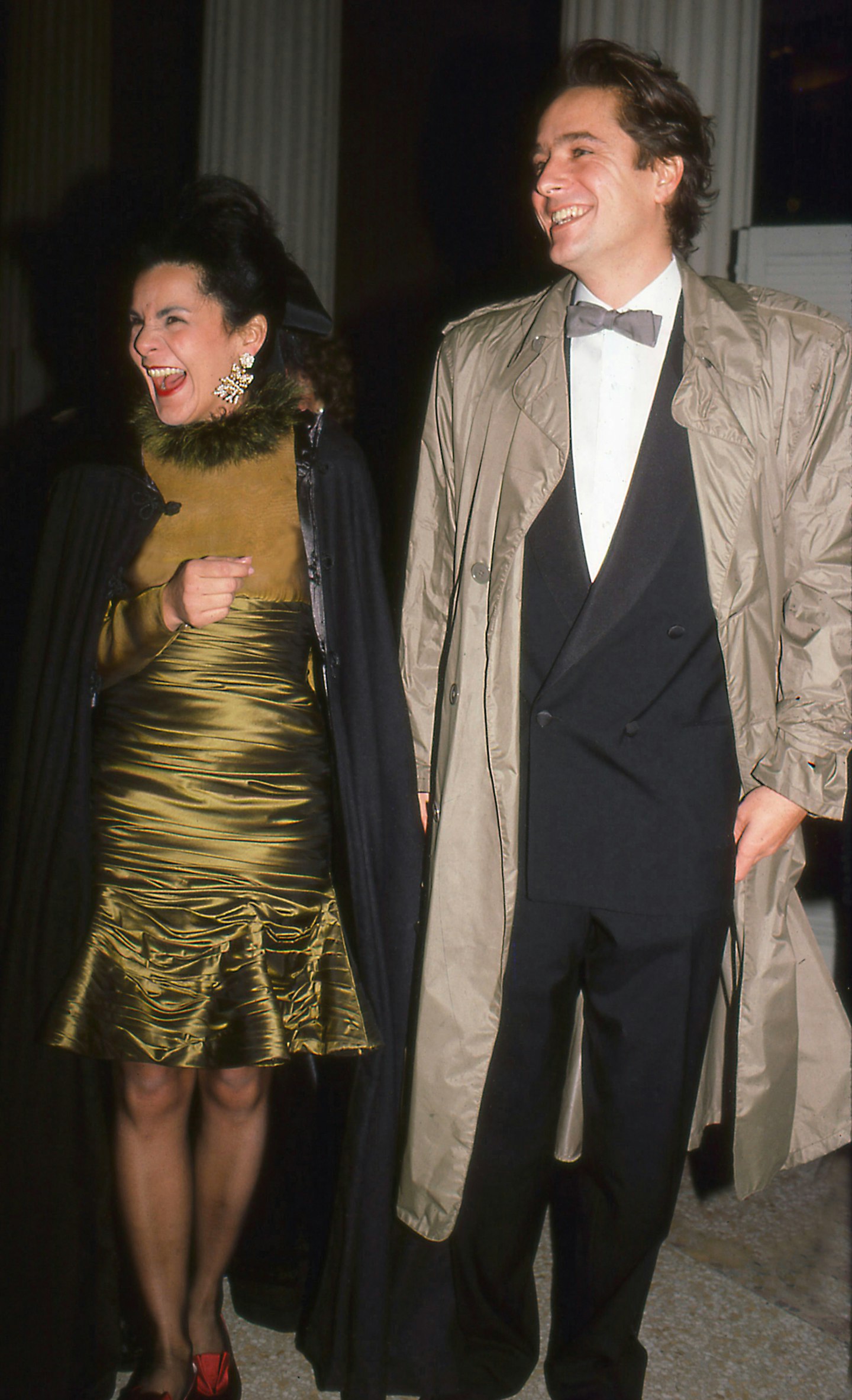 10 of 43
CREDIT: Getty
1984
Man and the HorsePictured: Candy Pratts Price and Chuck Price1984 - Man and the Horse1985 - Costumes of Royal IndiaLa Belle Époque1983 - Yves Saint Laurent: 25 Years of Design1984 - Man and the Horse1985 - Costumes of Royal India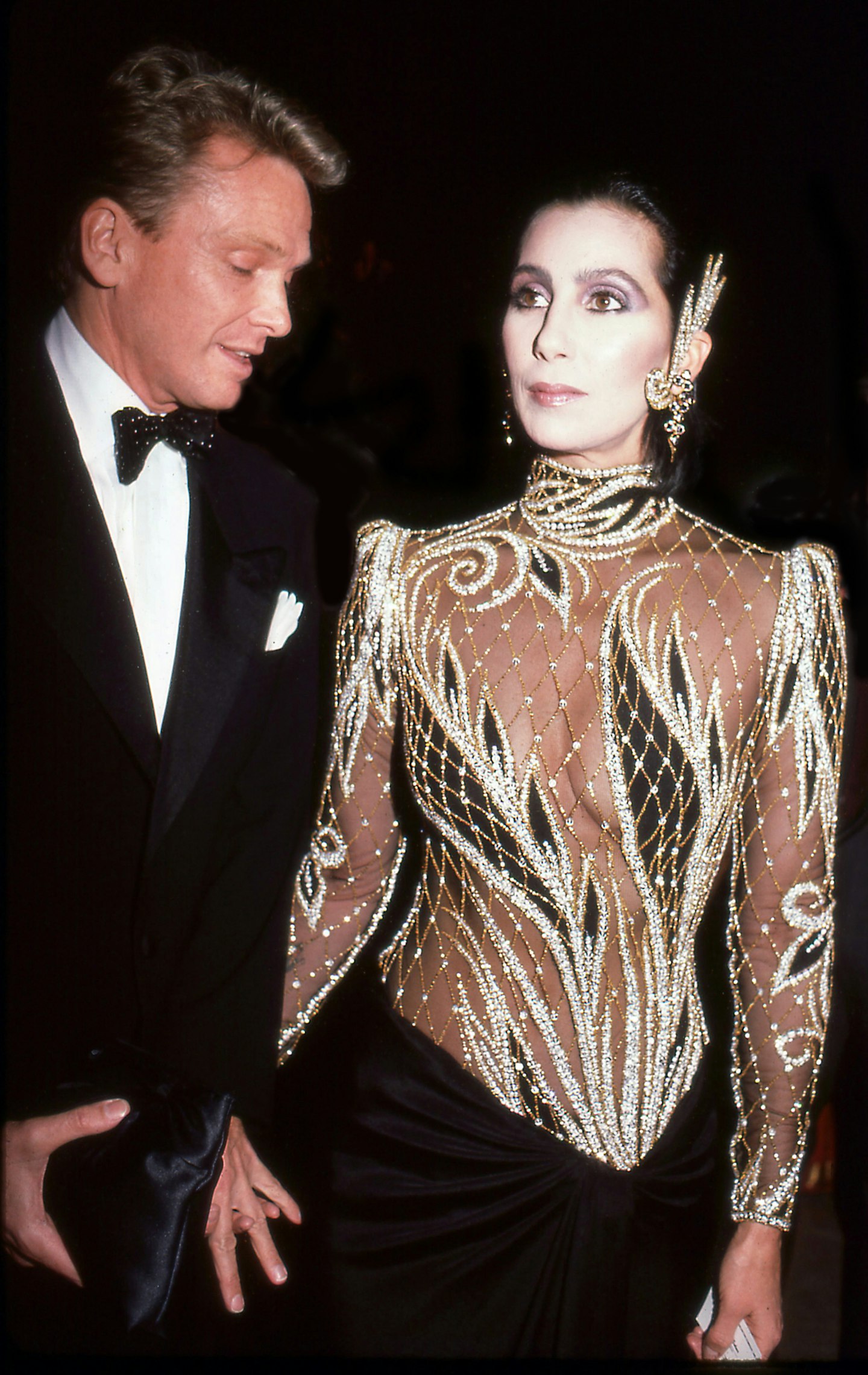 11 of 43
CREDIT: Getty
1985
Costumes of Royal IndiaPictured: Cher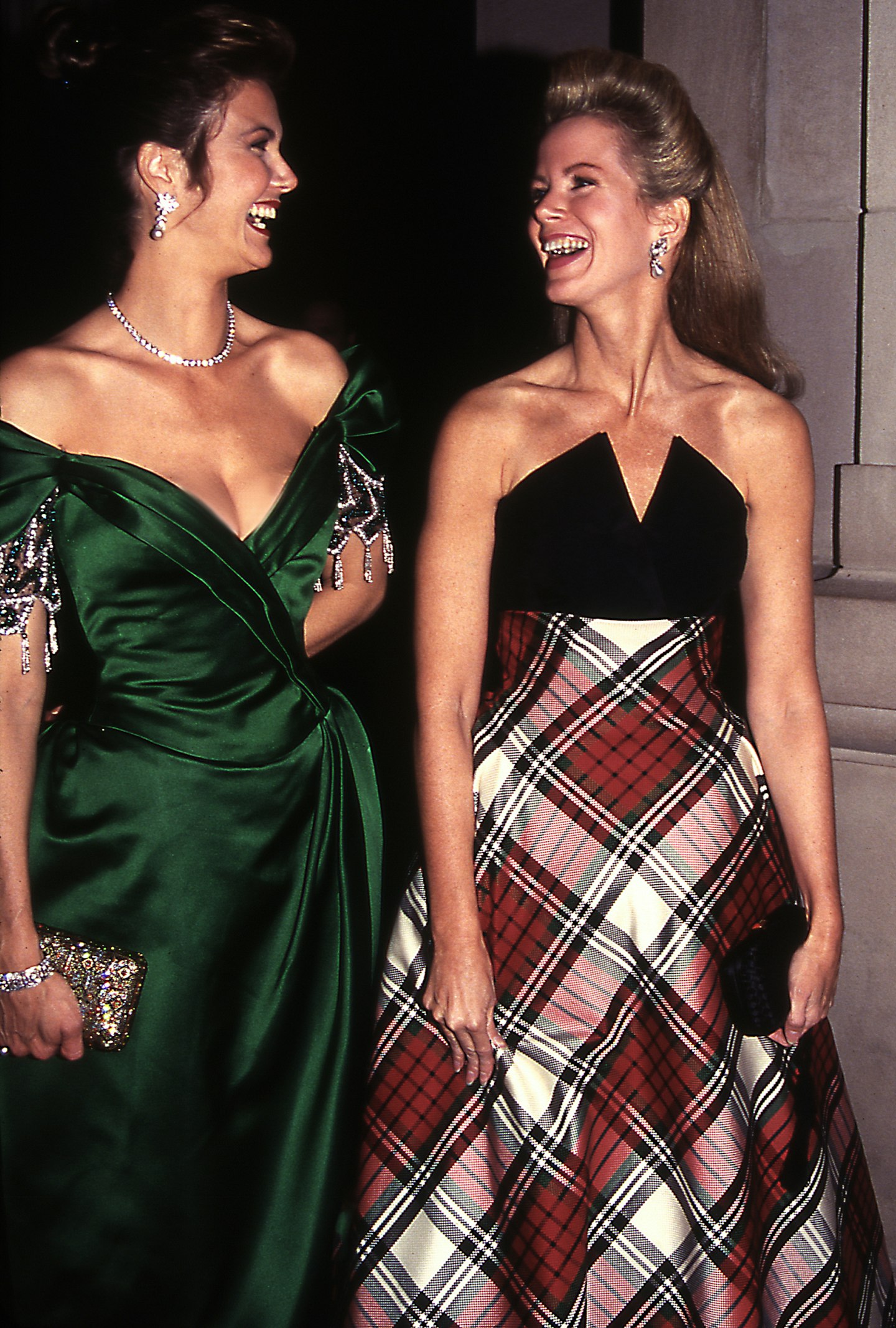 12 of 43
CREDIT: Getty
1986
1986: Dance1987: In Style: Celebrating Fifty Years of the Costume InstitutePictured: Linda Carter and Blaine Trump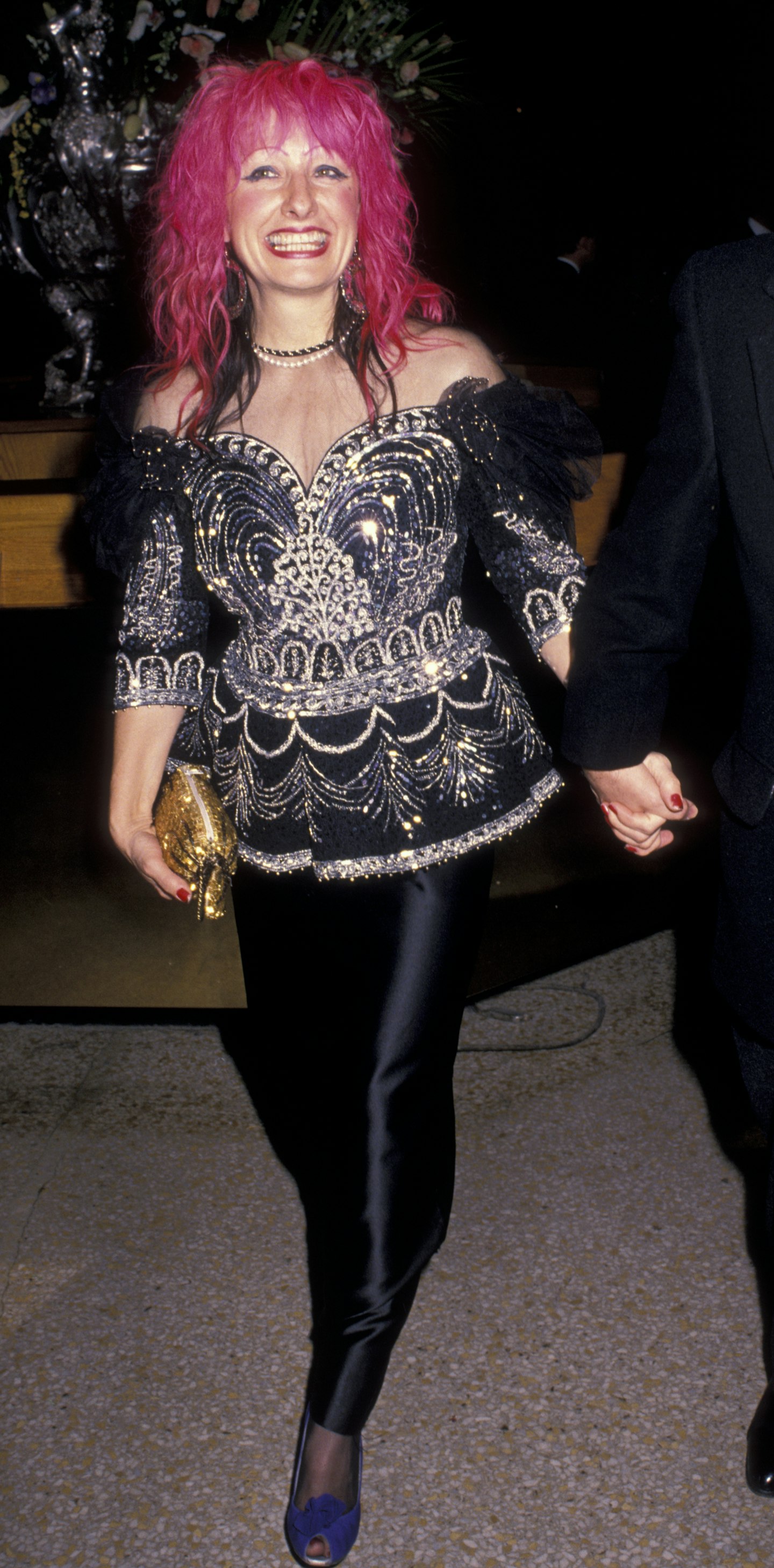 13 of 43
CREDIT: Getty
1988
From Queen to Empress: Victorian Dress 1837-1877Pictured: Zandra Rhodes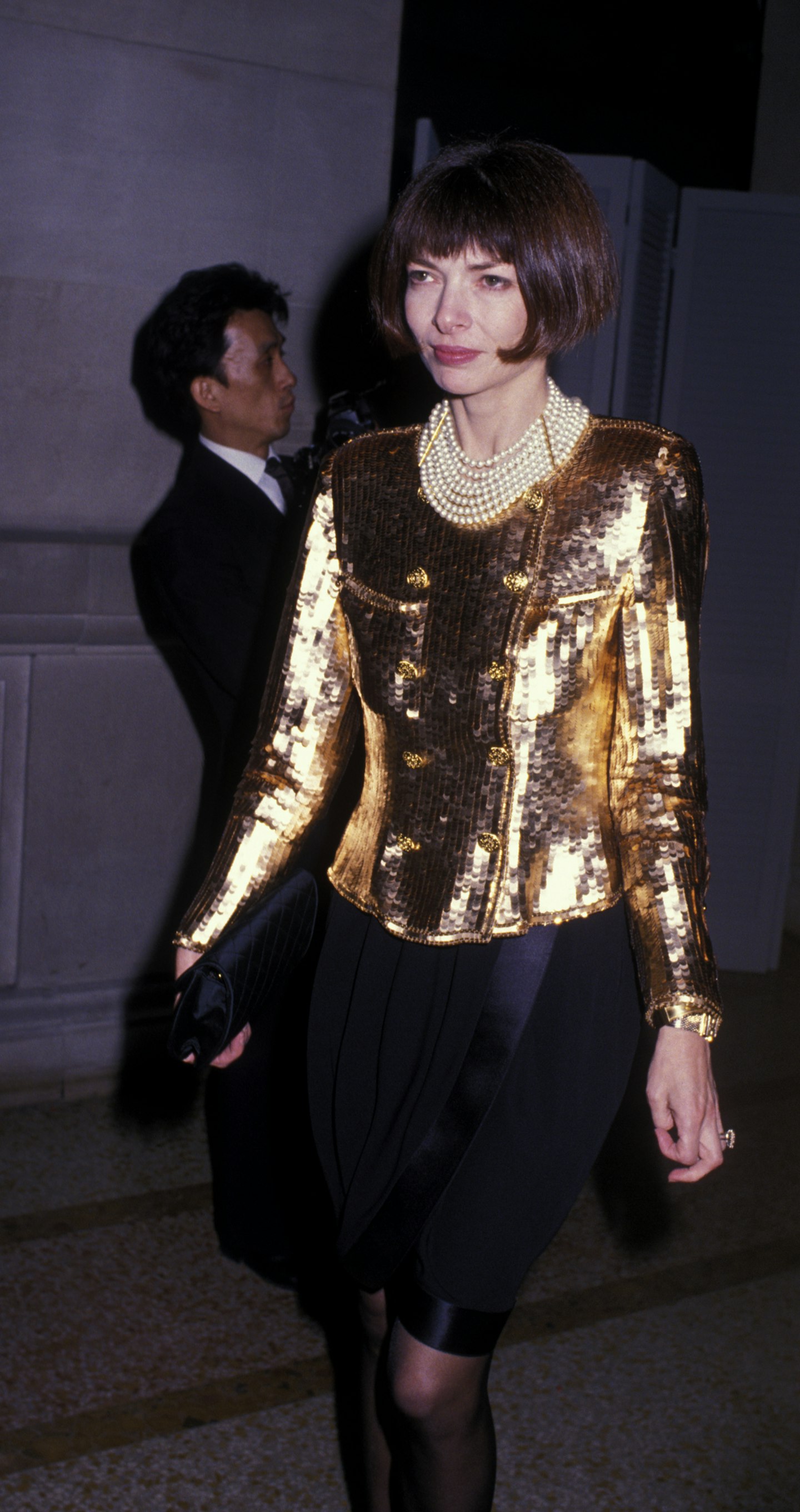 14 of 43
CREDIT: Getty
1989
The Age of Napoleon: Costume from Revolution to Empire, 1789-1815Pictured: Anna Wintour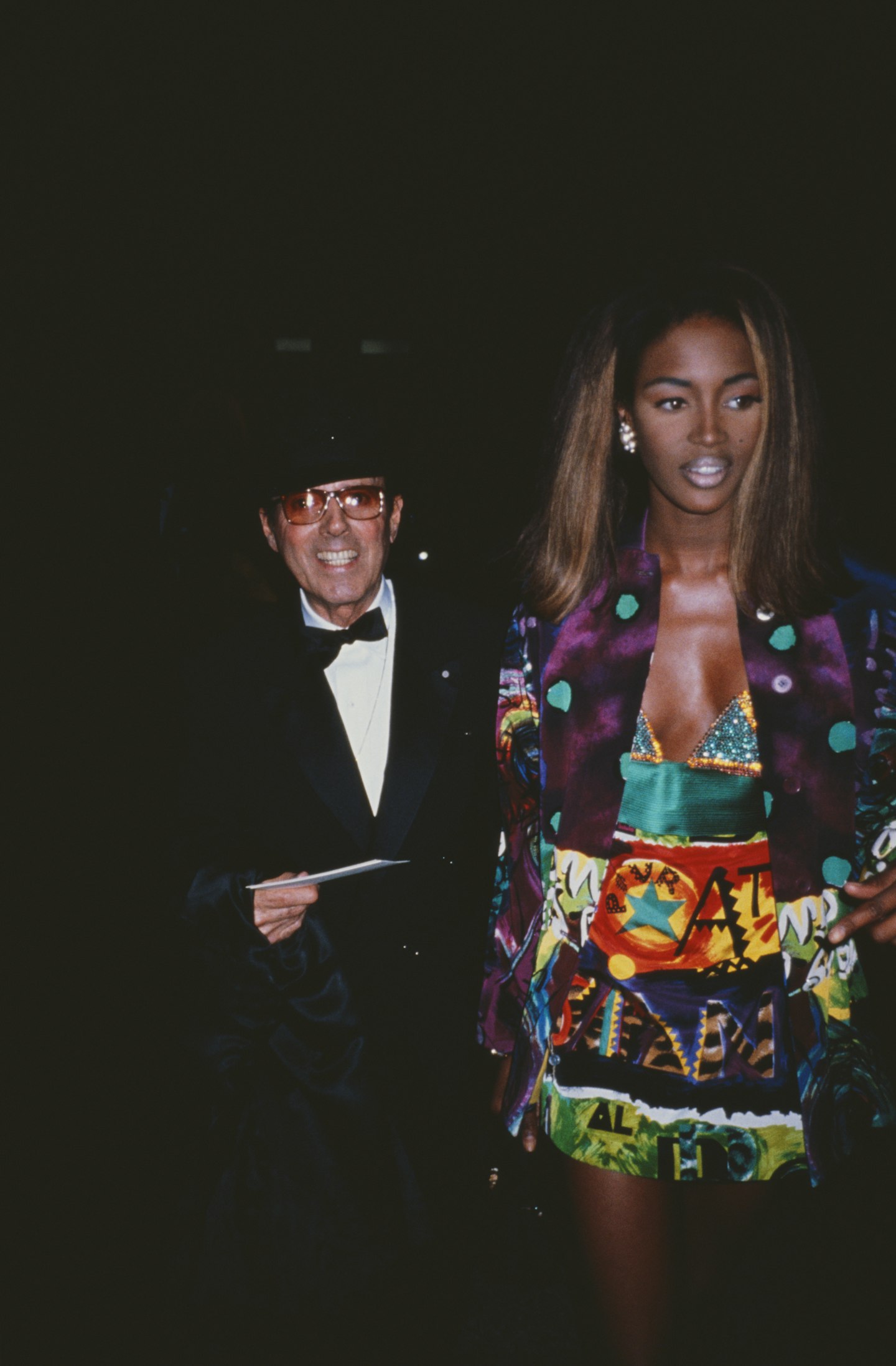 15 of 43
CREDIT: Getty
1990
Théâtre de la Mode: Fashion Dolls: The Survival of Haute CouturePictured: Naomi Campbell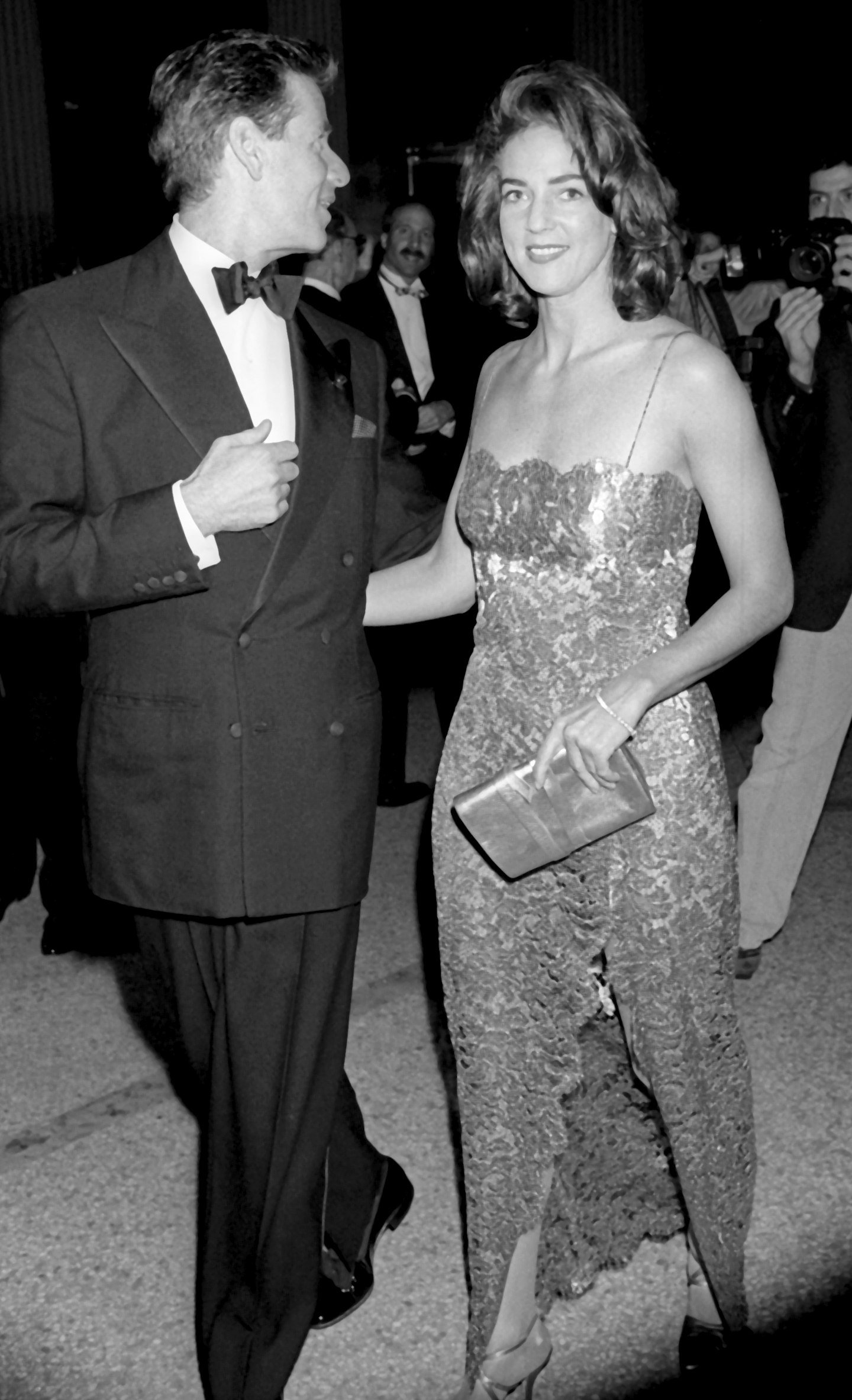 16 of 43
CREDIT: Getty
1991
_The gala was held without a theme_Pictured: Calvin Klein and Kelly Klein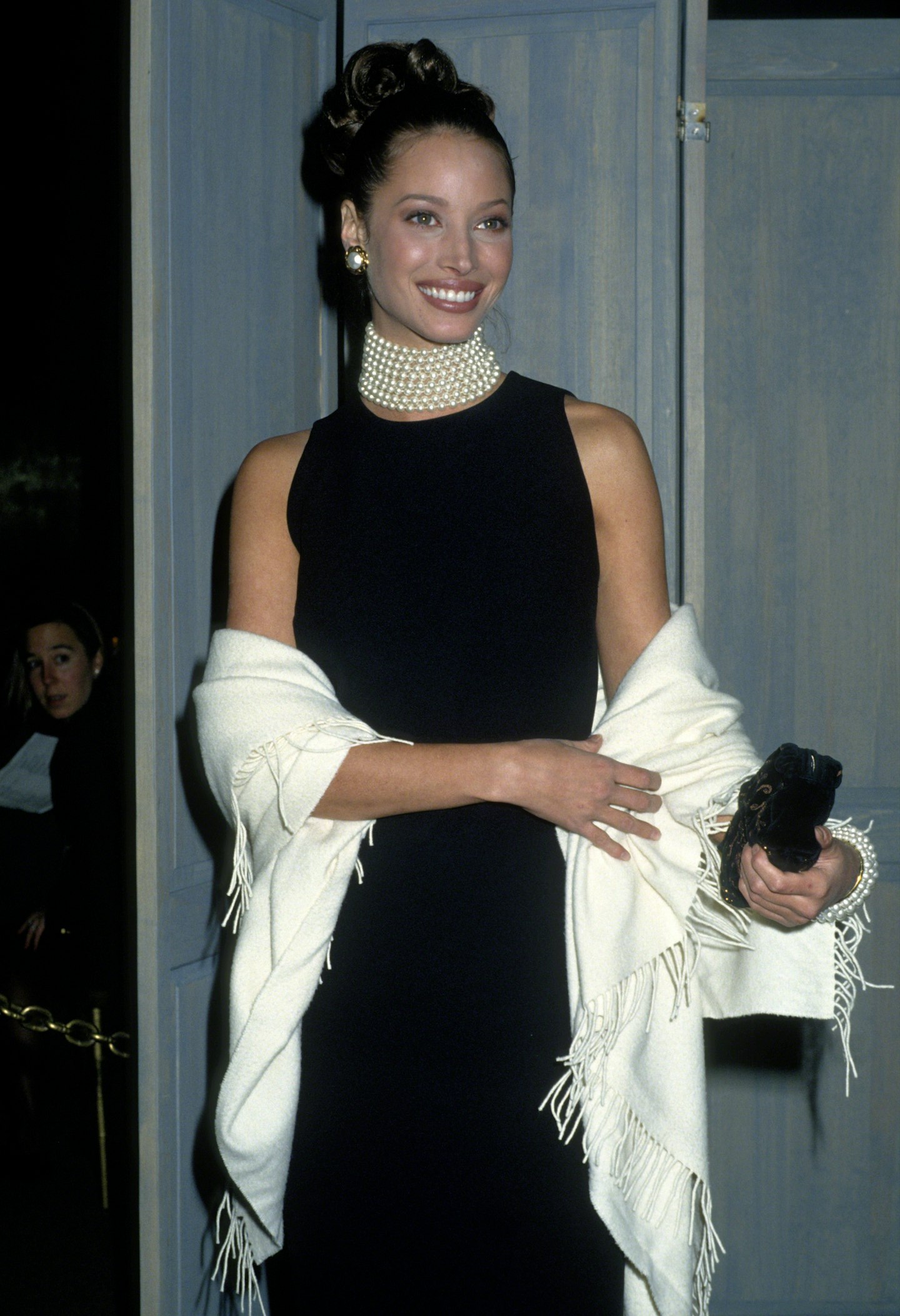 17 of 43
CREDIT: Getty
1992
Fashion and History: A DialoguePictured: Christy Turlington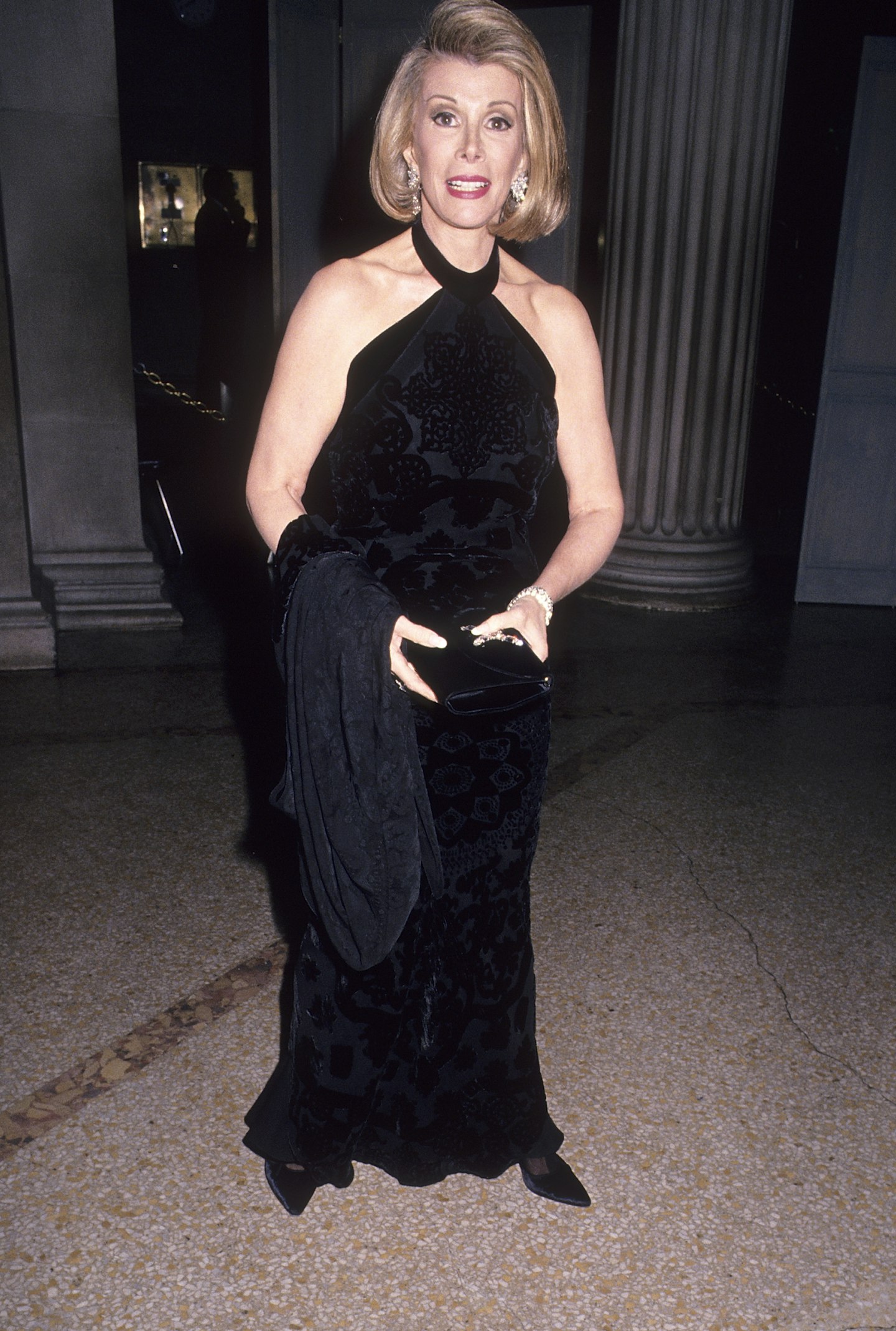 18 of 43
CREDIT: Getty
1993
Diana Vreeland: Immoderate StylePictured: Joan Rivers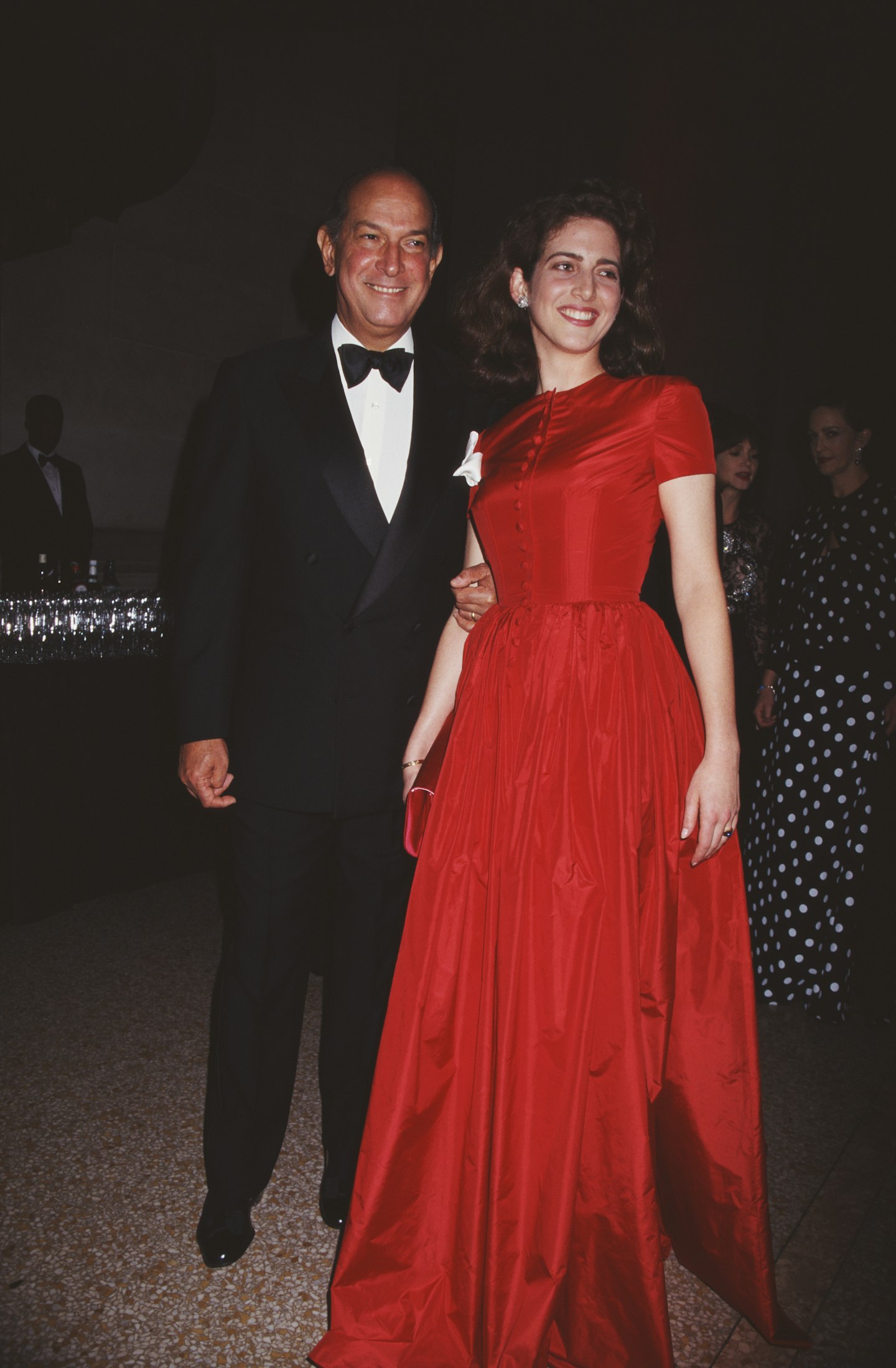 19 of 43
CREDIT: Getty
1994
Orientalism: Visions of the East in Western DressPictured: Oscar de la Renta and his stepdaughter Eliza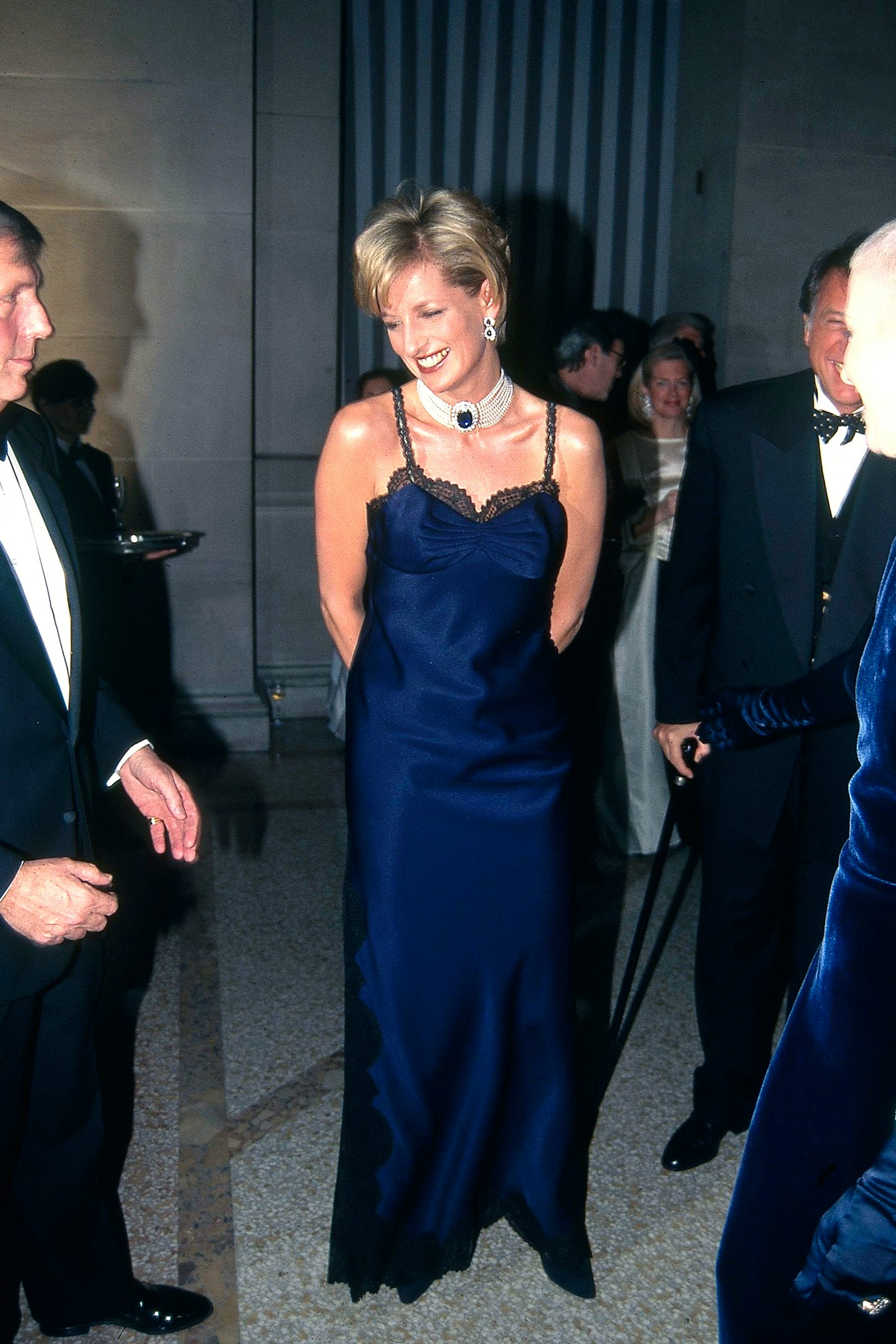 20 of 43
CREDIT: Getty
1995
Haute CouturePictured: Princess Diana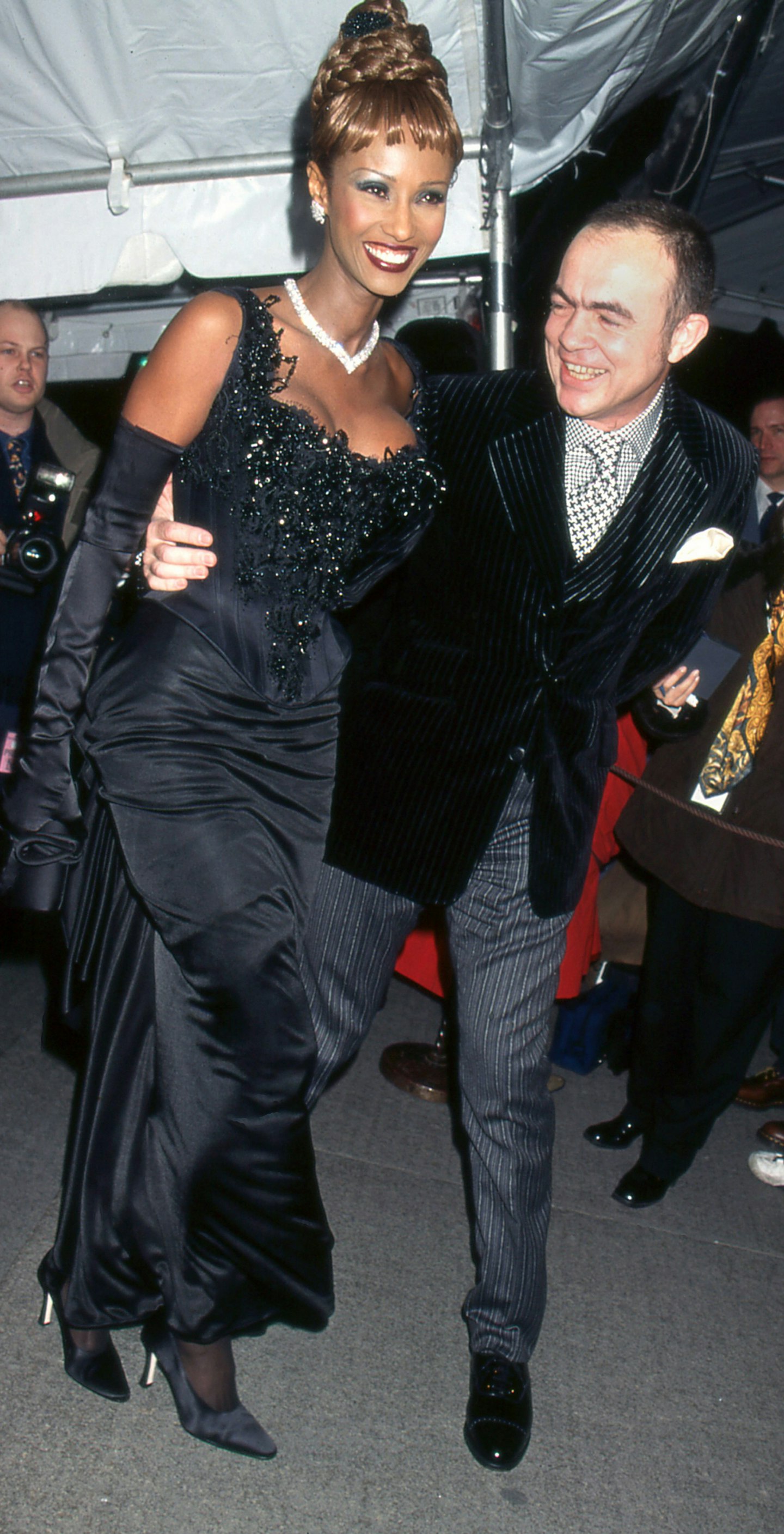 21 of 43
CREDIT: Getty
1996
Christian DiorPictured: Iman
22 of 43
CREDIT: Getty
1997
Gianni VersacePictured: Salma Hayek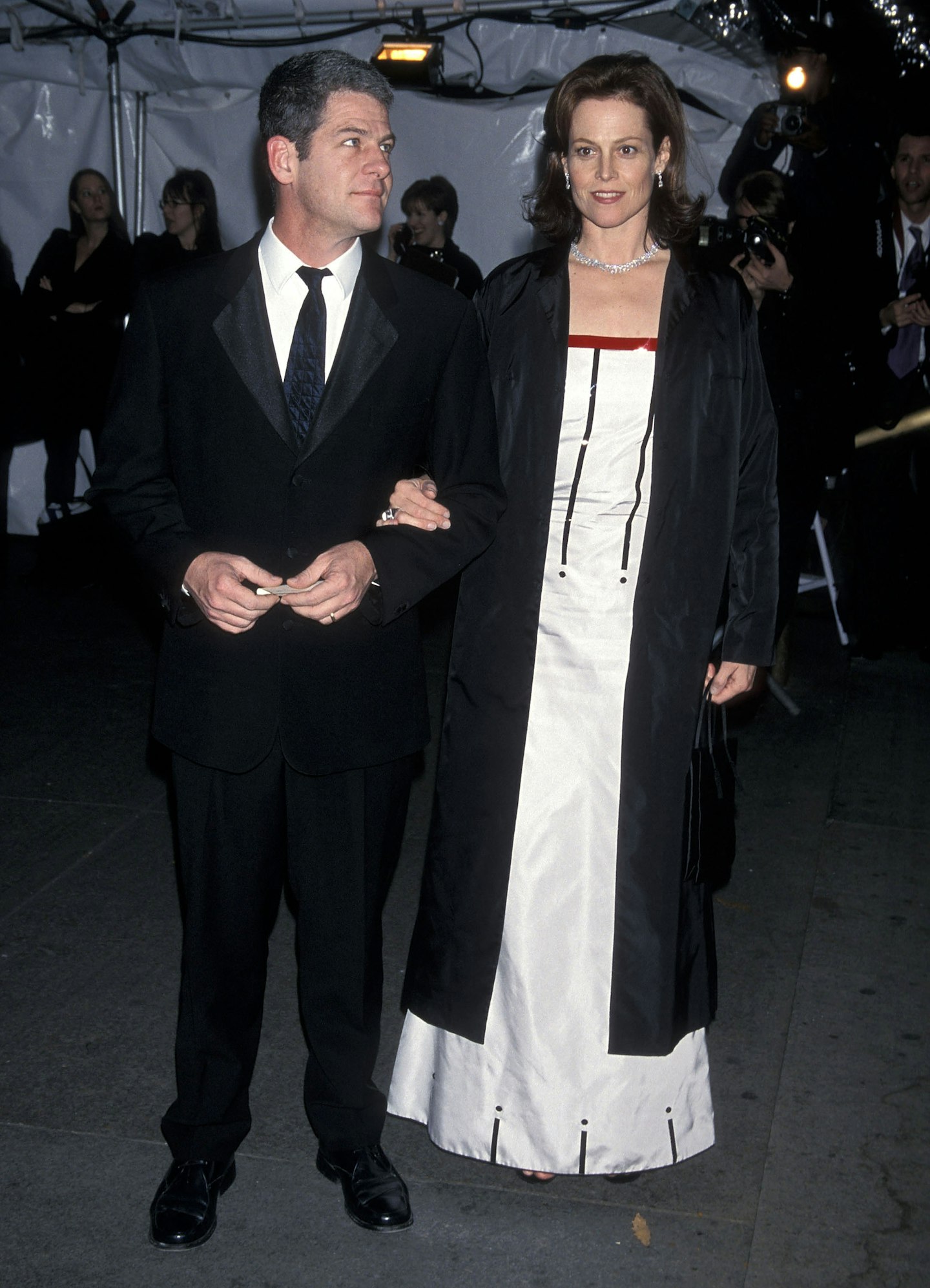 23 of 43
CREDIT: Getty
1998
Cubism and FashionPictured: Sigourney Weaver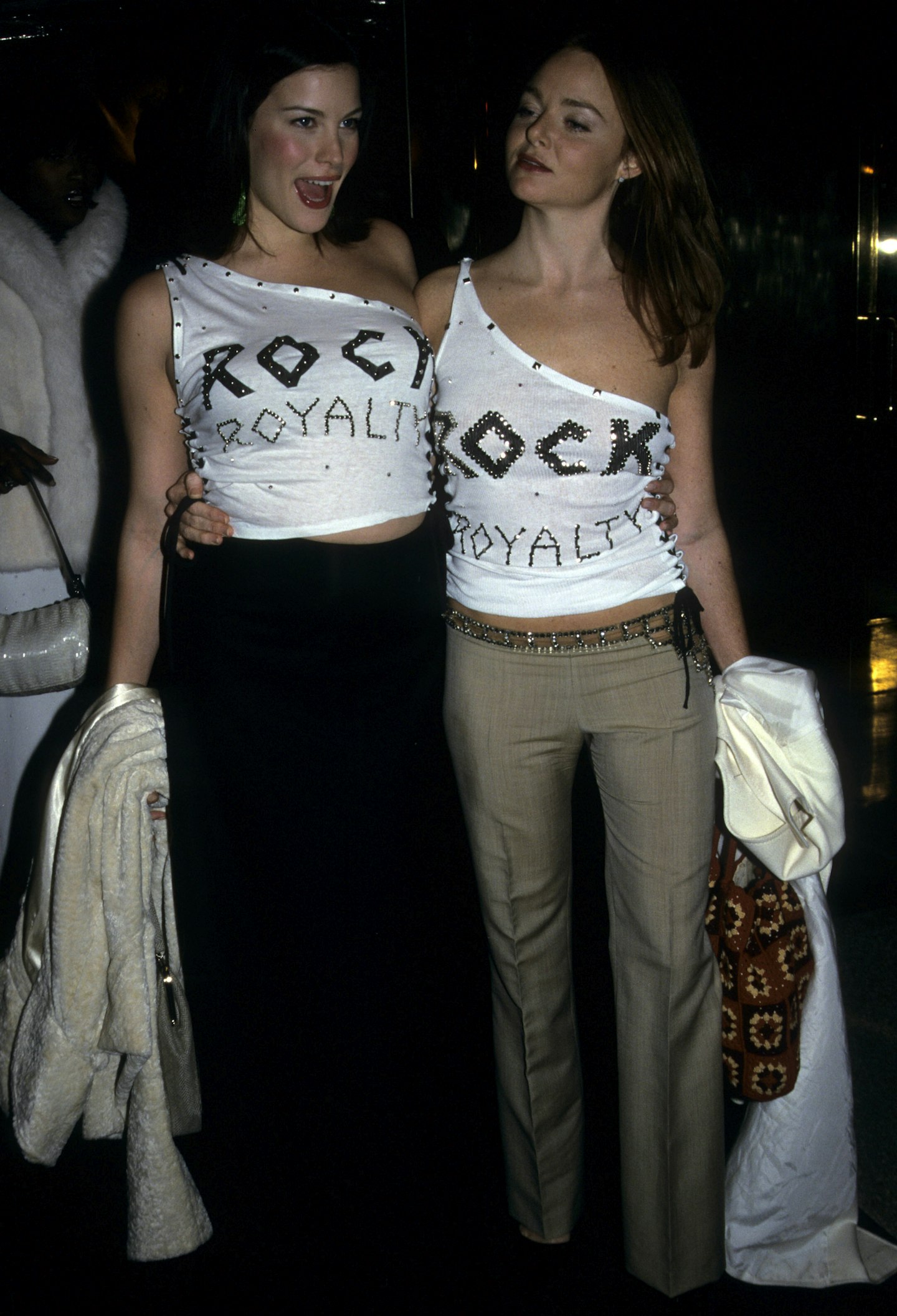 24 of 43
CREDIT: Getty
1999
Rock StylePictured: Liv Tyler and Stella McCartney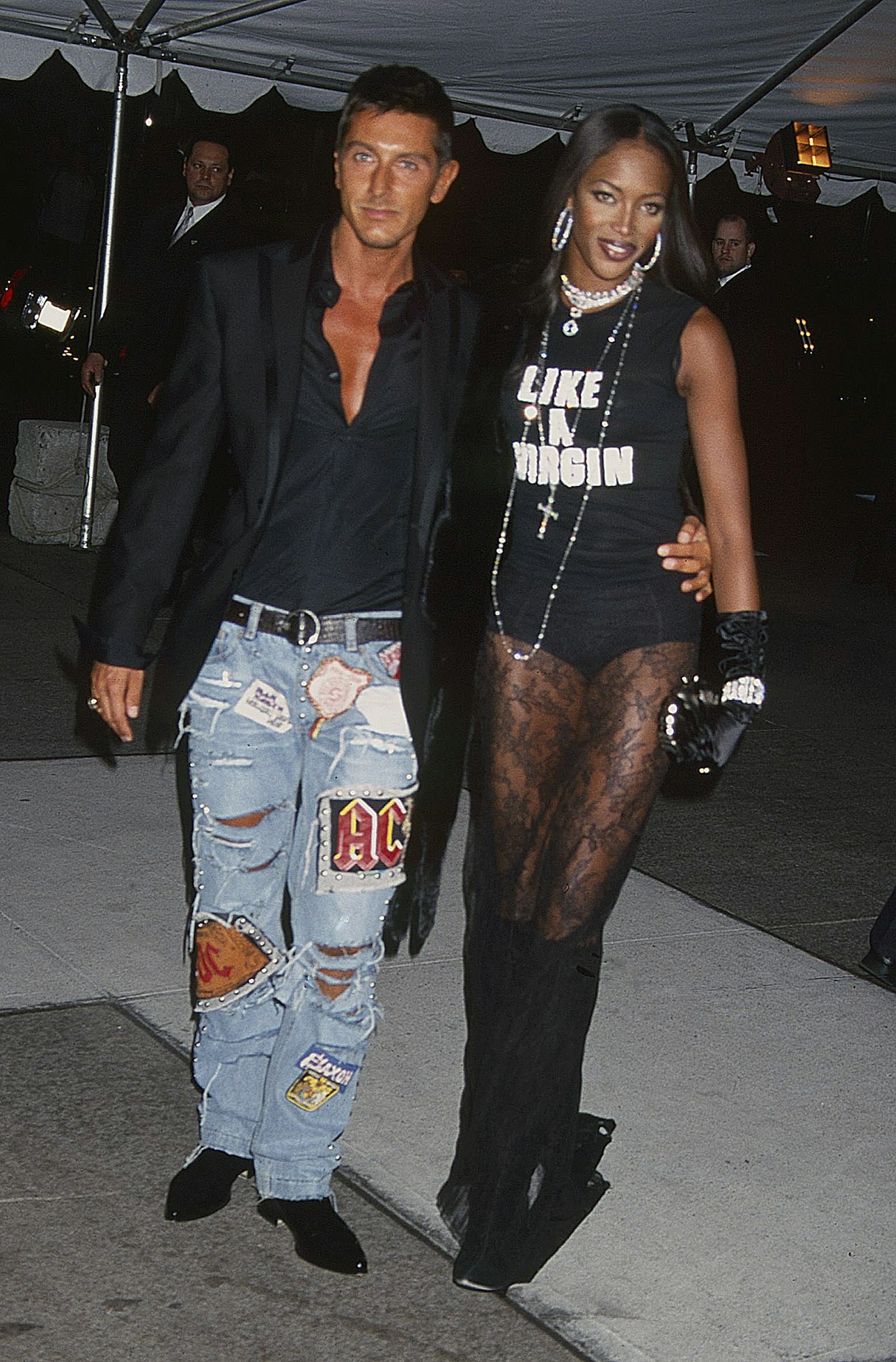 25 of 43
CREDIT: Getty
2001
Jacqueline Kennedy: The White House YearsPictured: Naomi Campbell
26 of 43
CREDIT: Getty
2003
Goddess: The Classical ModePictured: Stella McCartney and Kate Hudson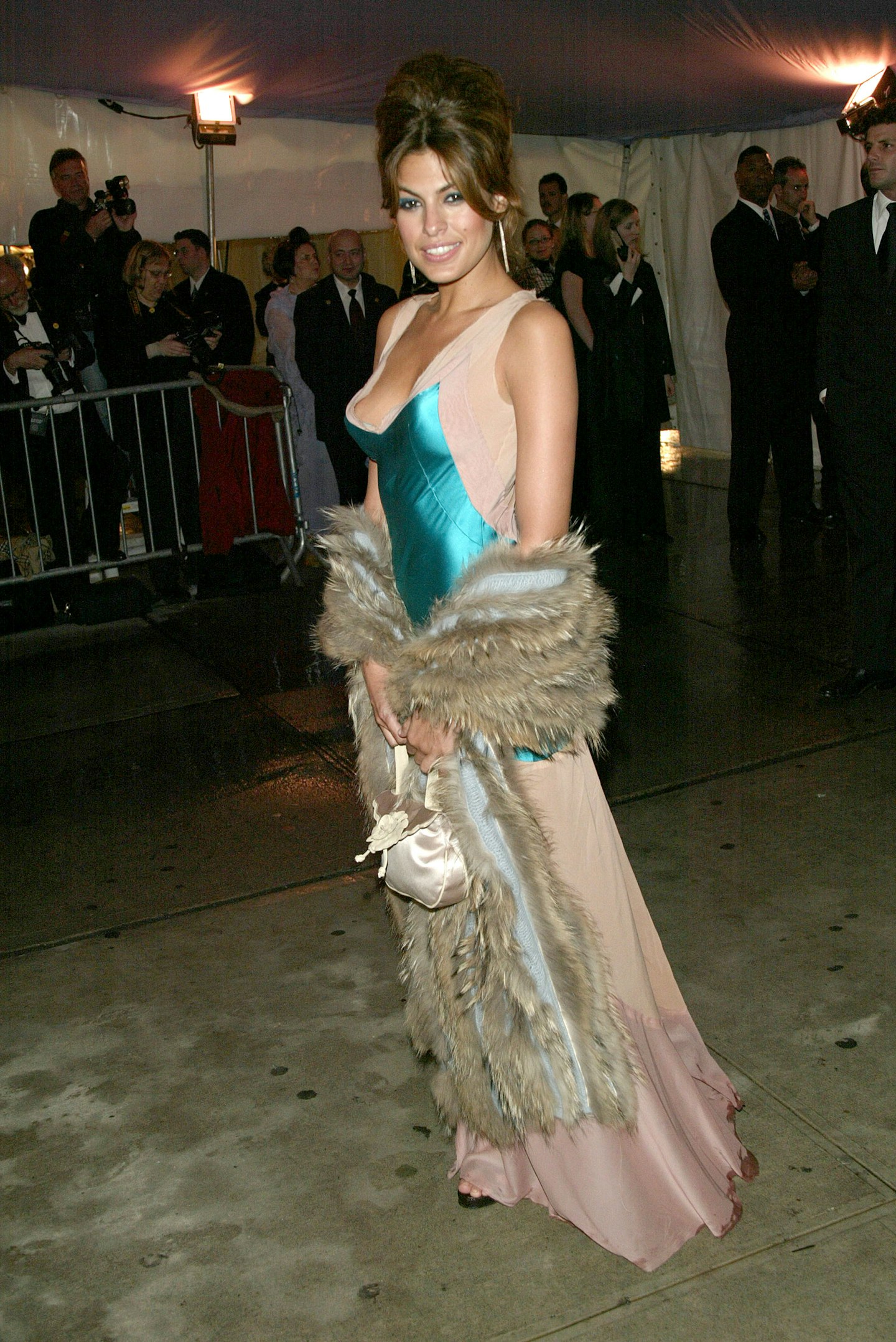 27 of 43
CREDIT: Getty
2004
Dangerous Liaisons: Fashion and Furniture in the 18th CenturyPictured: Eva Mendes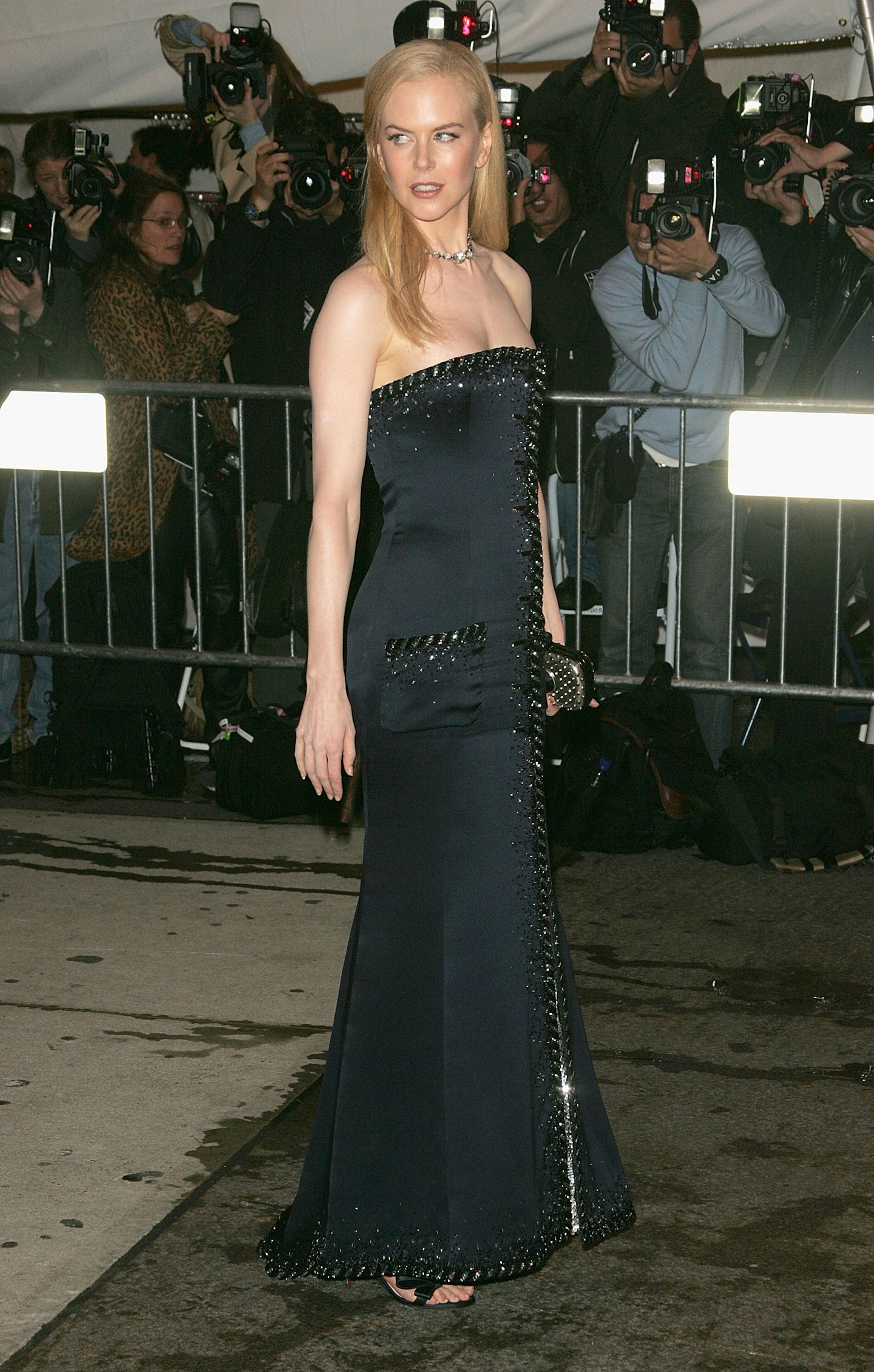 28 of 43
CREDIT: Getty
2005
The House of ChanelPictured: Nicole Kidman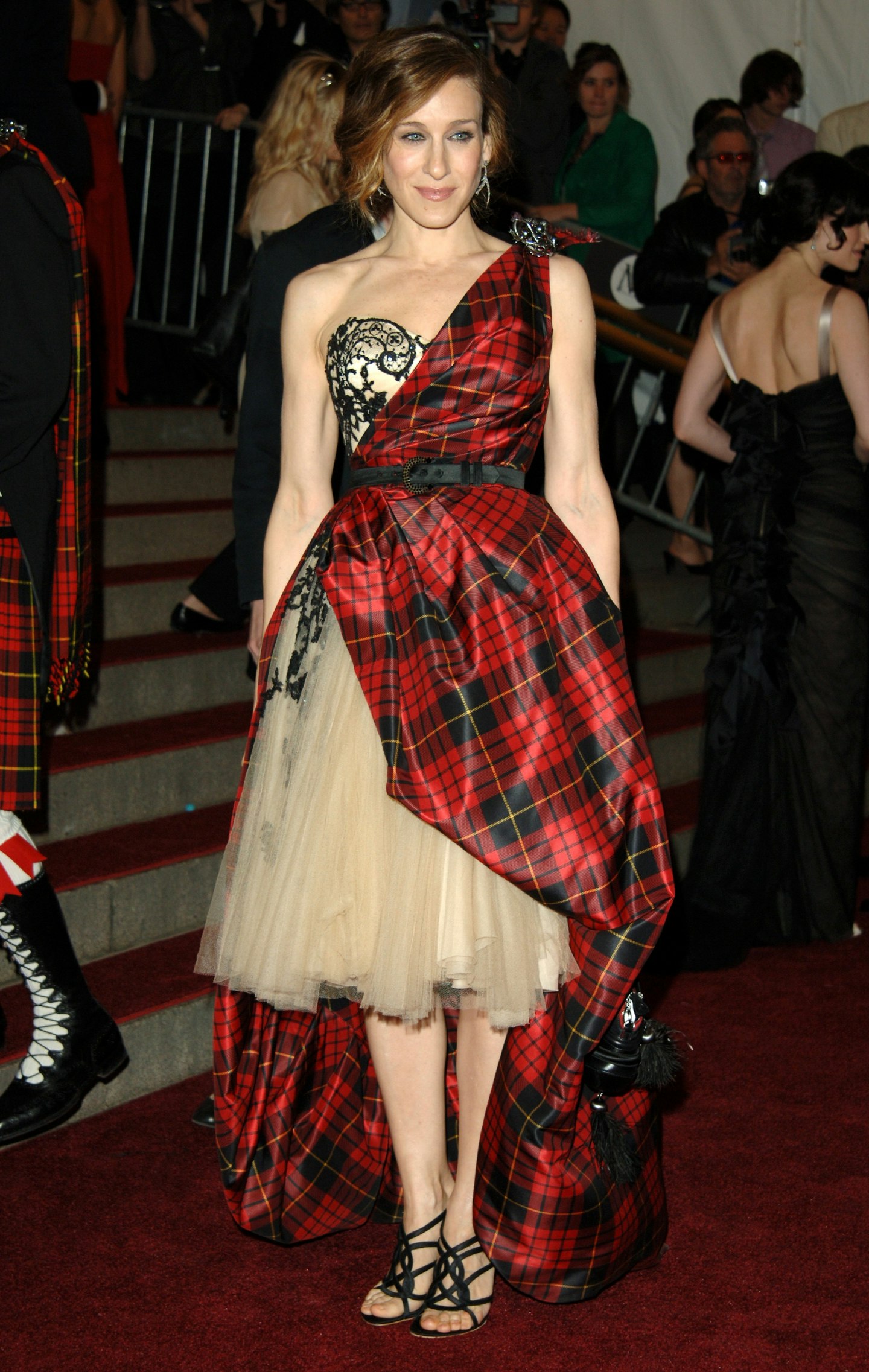 29 of 43
CREDIT: Getty
2006
AngloMania: Tradition and Transgression in British FashionPictured: Sarah Jessica Parker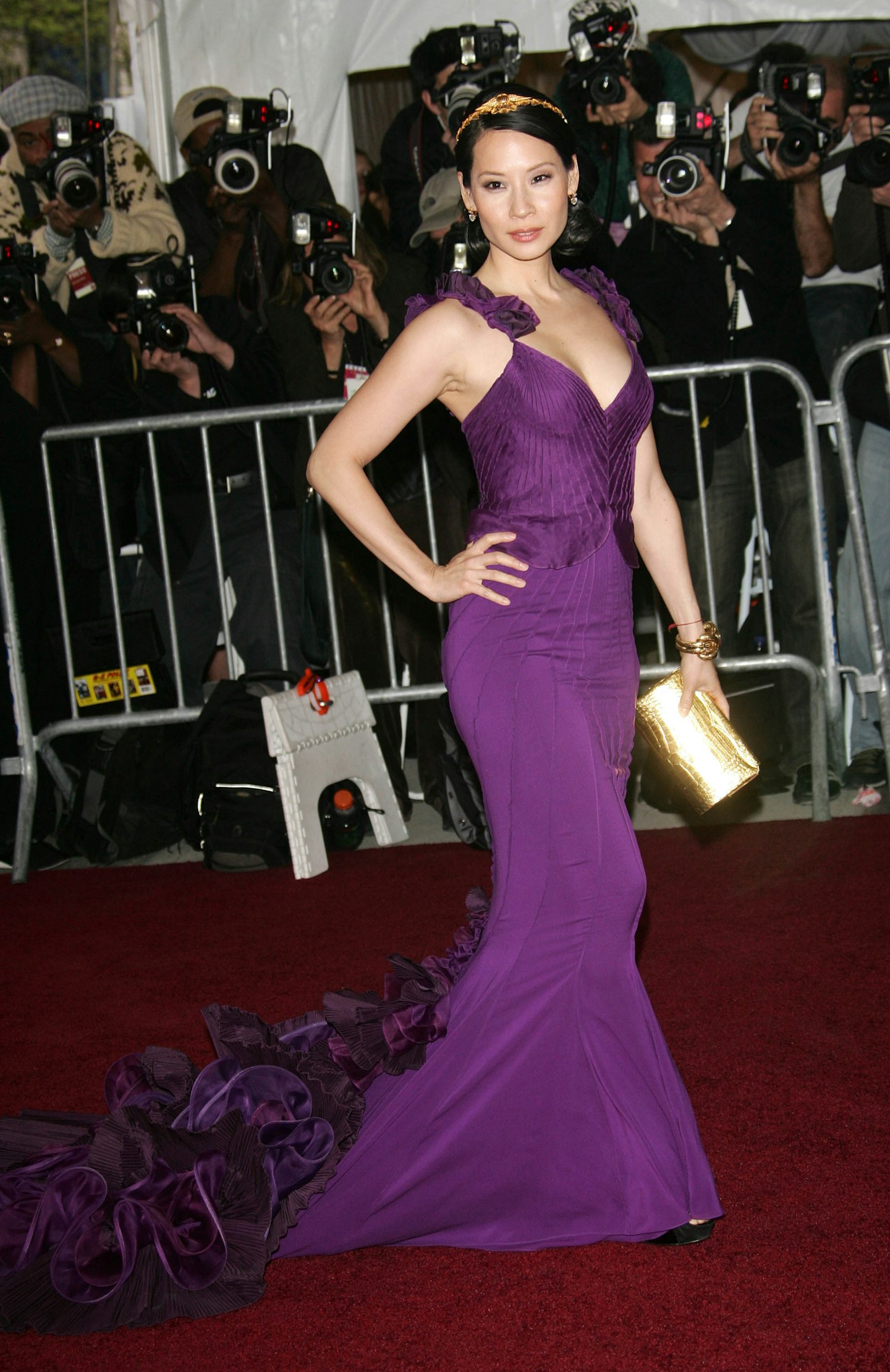 30 of 43
CREDIT: Getty
2007
Poiret: King of FashionPictured: Lucy Liu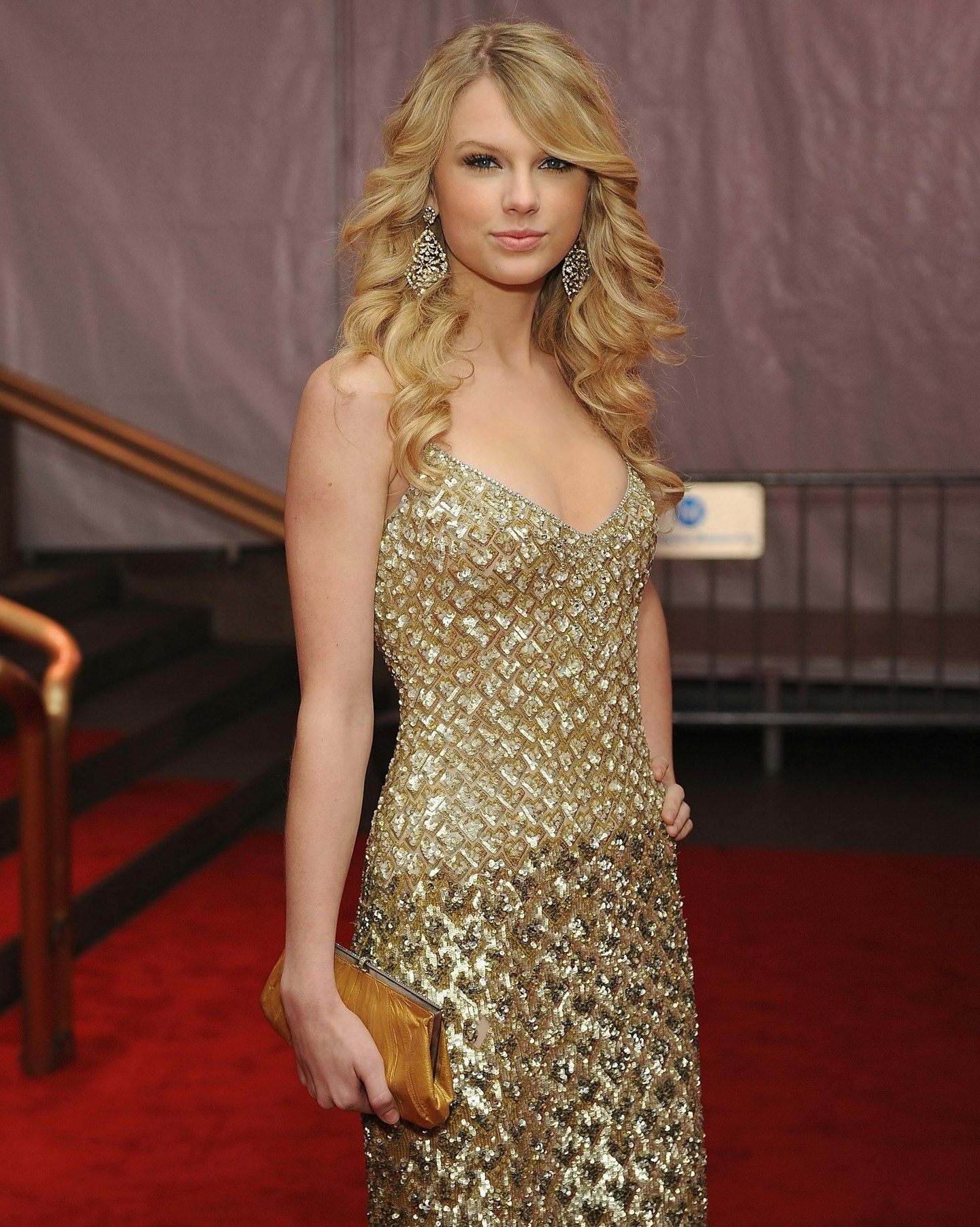 31 of 43
CREDIT: Getty
2008
Superheroes: Fashion and FantasyPictured: Taylor Swift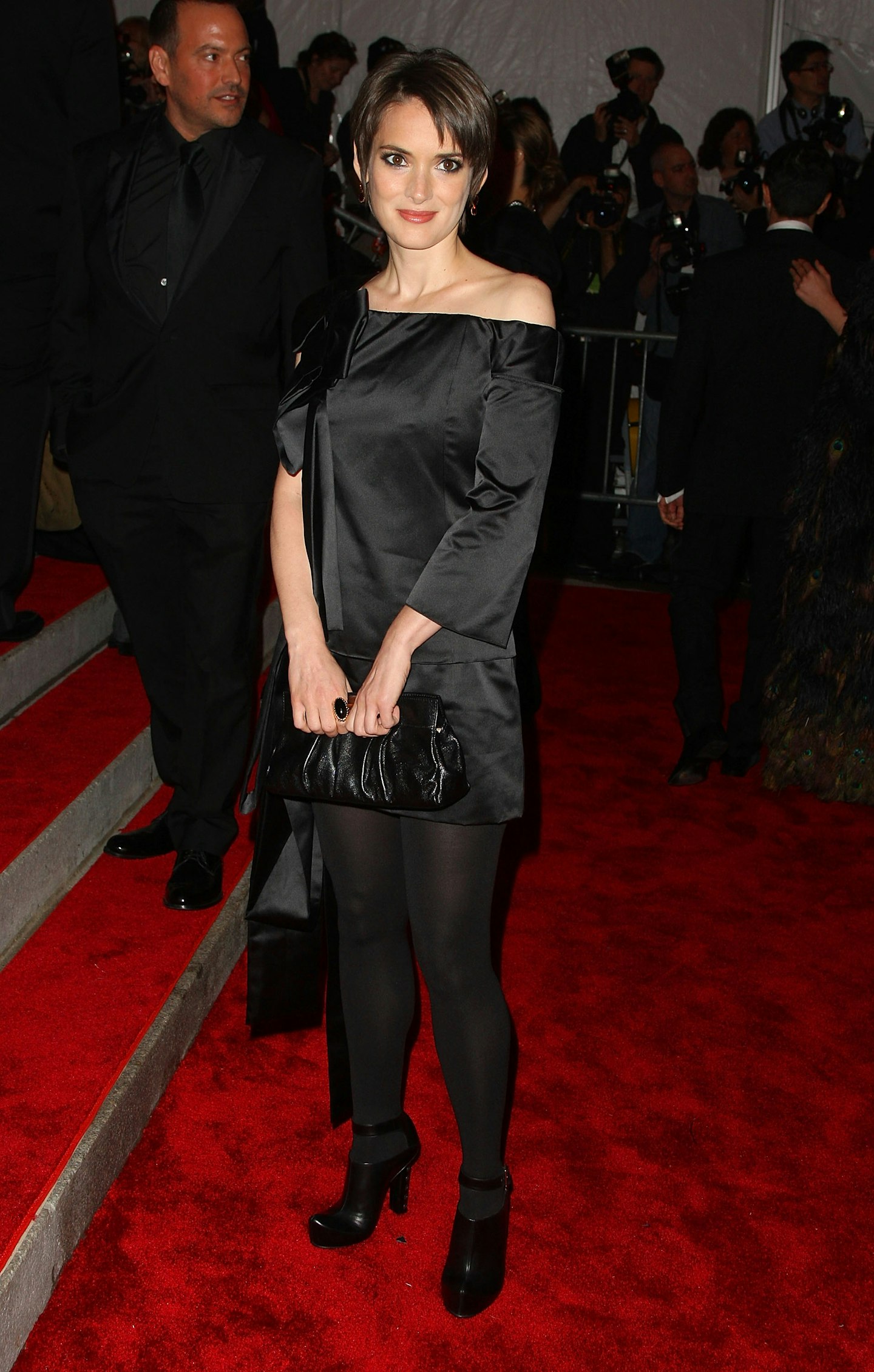 32 of 43
CREDIT: Getty
2009
The Model As Muse: Embodying FashionPictured: Winona Ryder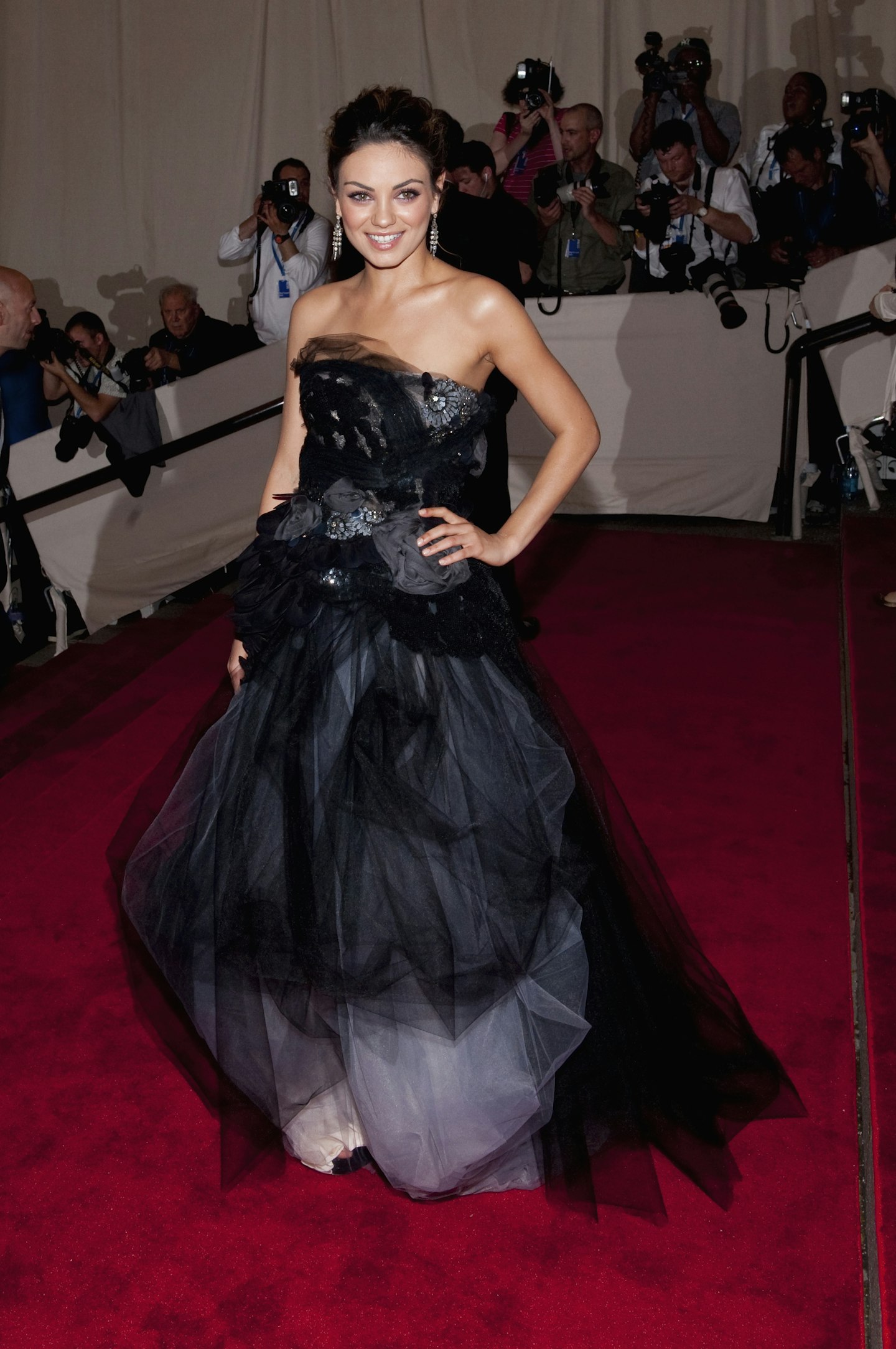 33 of 43
CREDIT: Getty
2010
American Woman: Fashioning a National IdentityPictured: Mila Kunis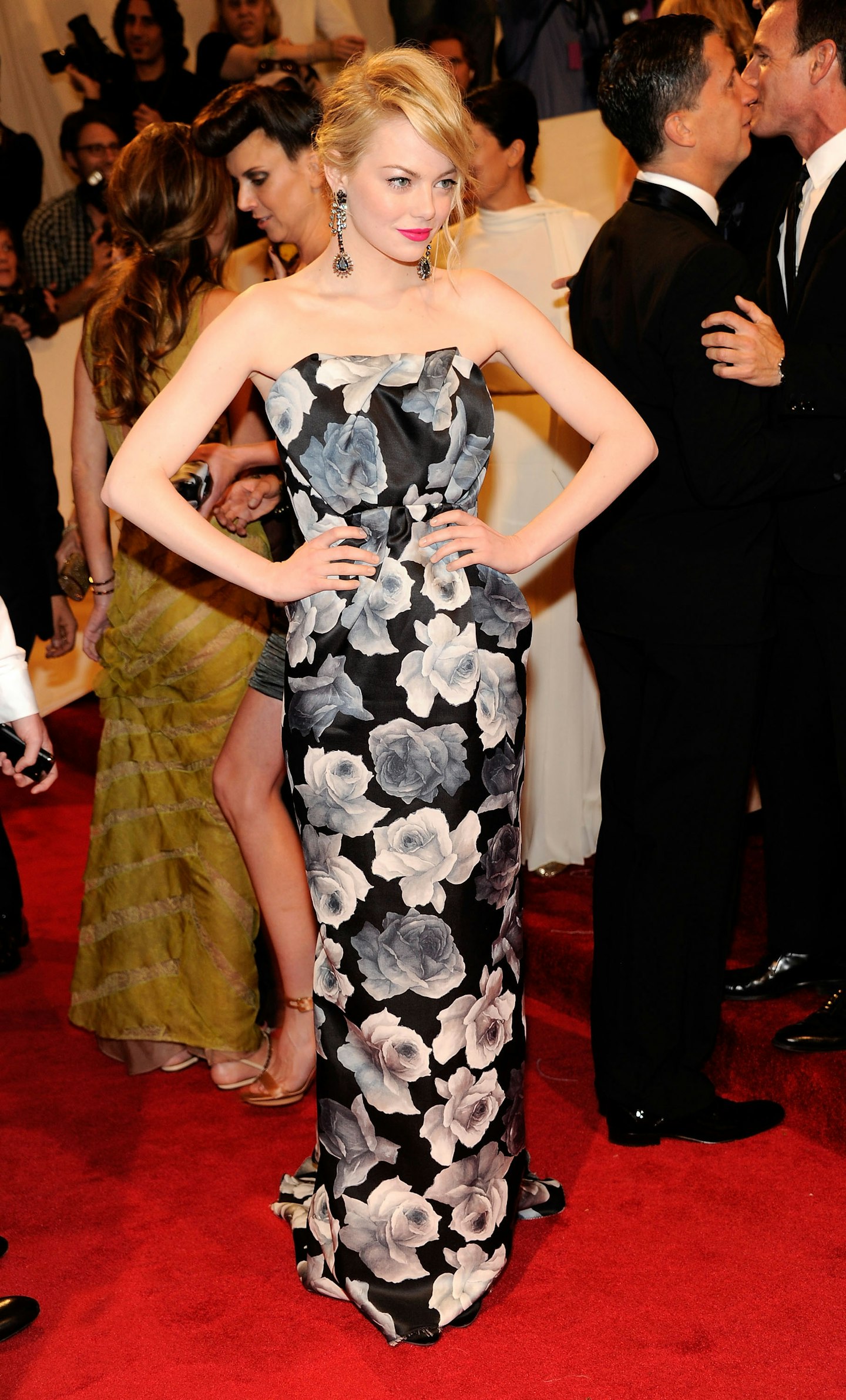 34 of 43
CREDIT: Getty
2011
Alexander McQueen: Savage BeautyPictured: Emma Stone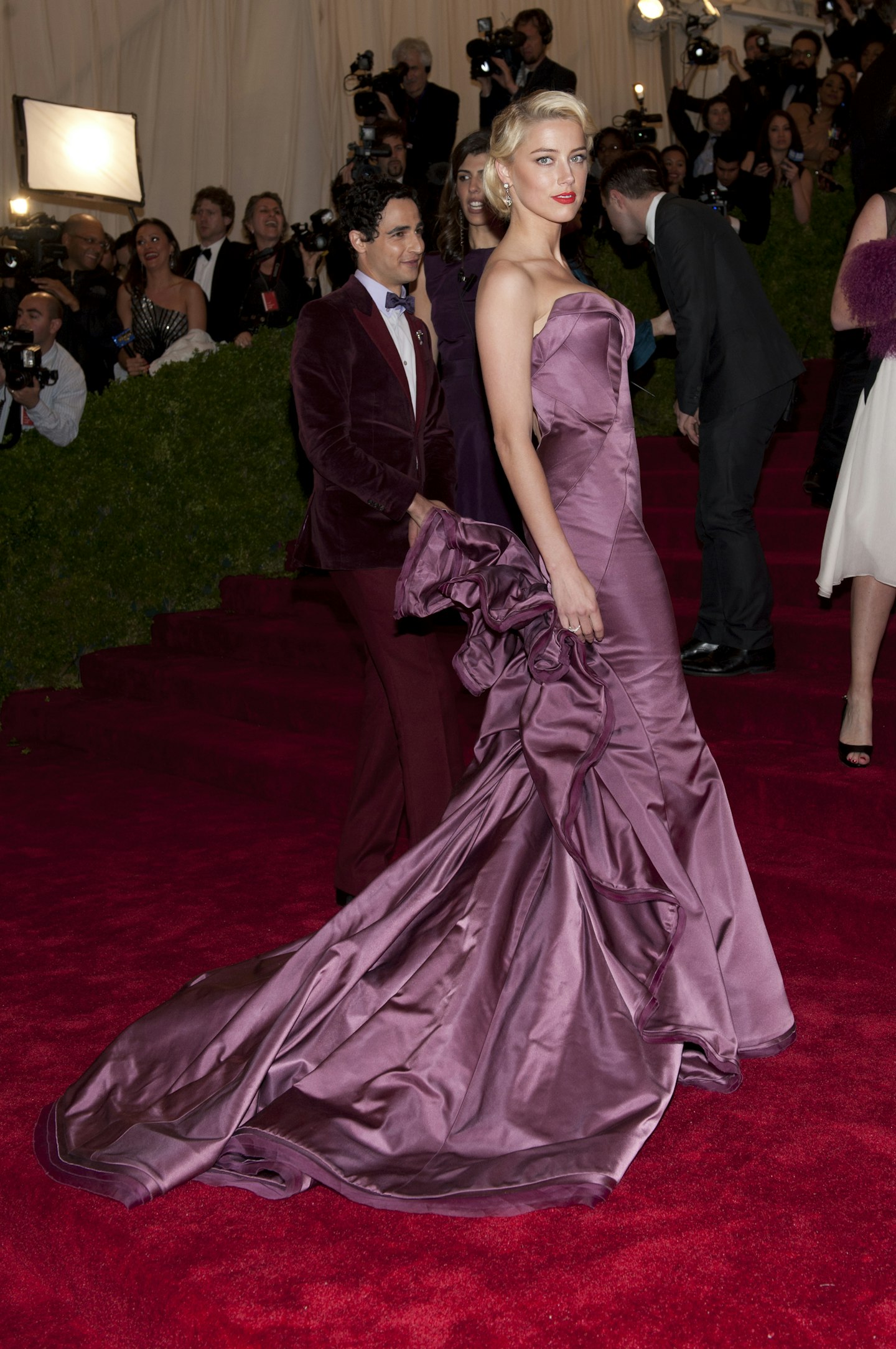 35 of 43
CREDIT: Getty
2012
Schiaparelli and Prada: Impossible ConversationsPictured: Amber Heard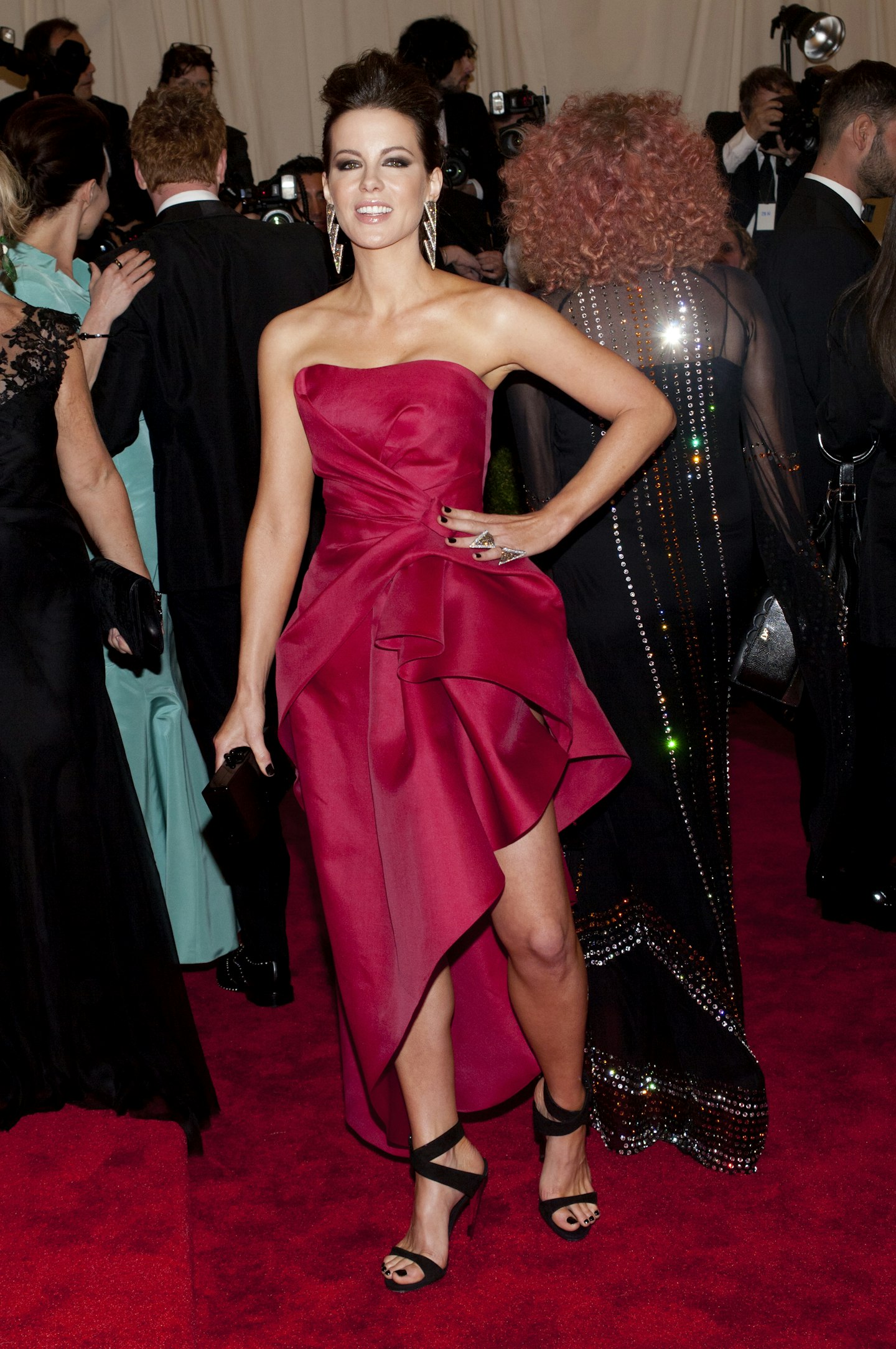 36 of 43
CREDIT: Getty
2013
Punk: Chaos to CouturePictured: Kate Beckinsale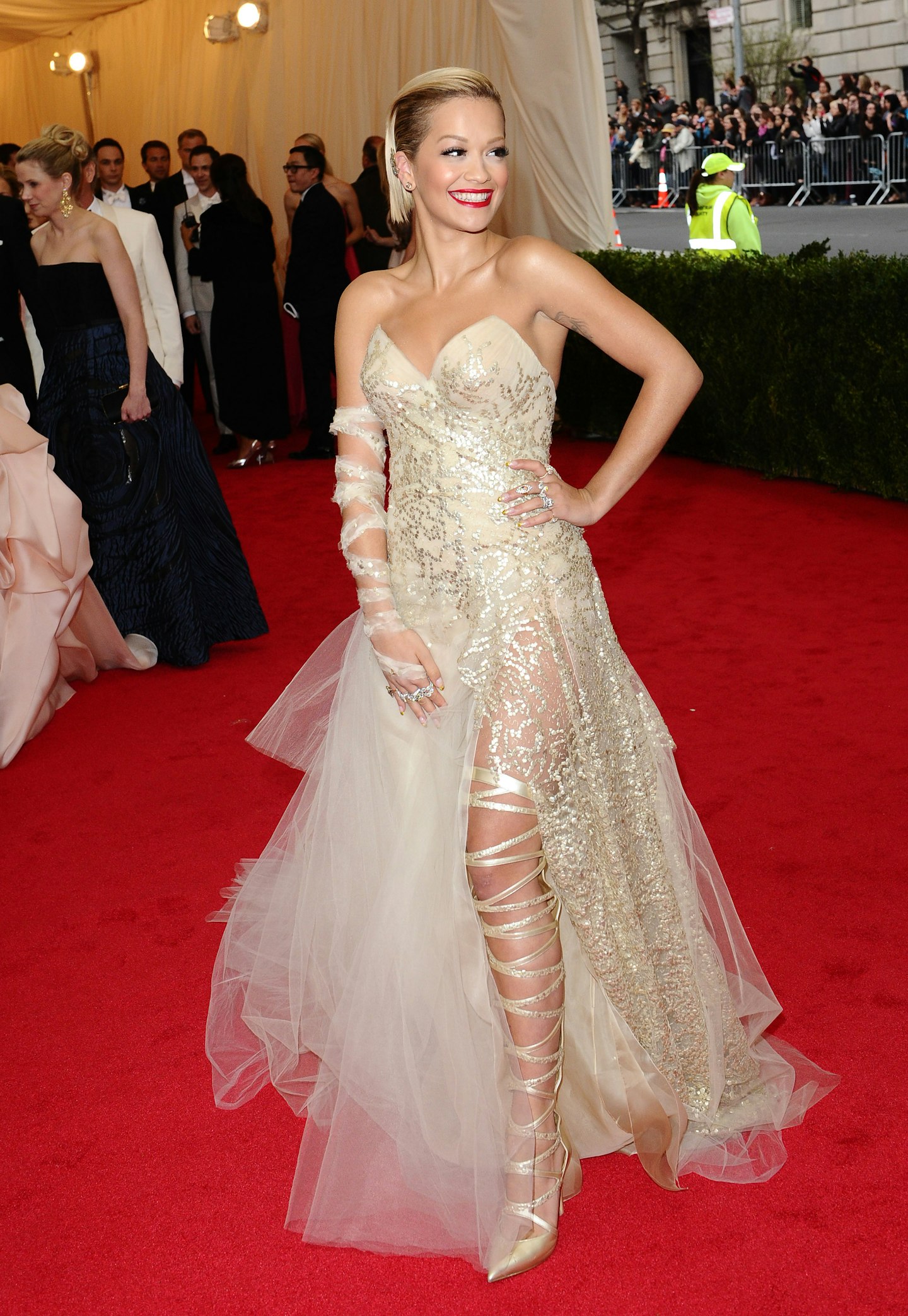 37 of 43
CREDIT: Getty
2014
Charles James: Beyond FashionPictured: Rita Ora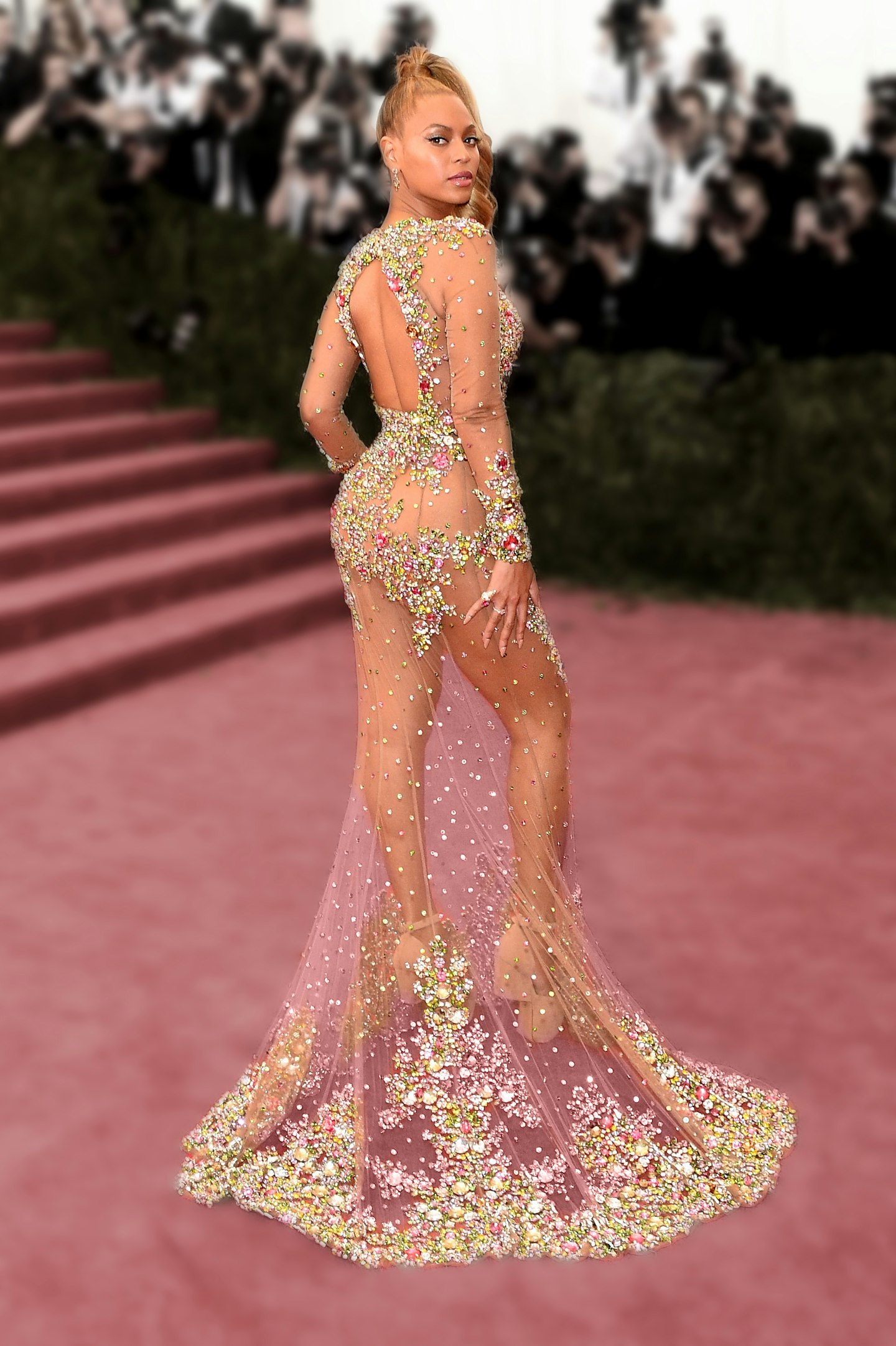 38 of 43
CREDIT: Getty
2015
China: Through the Looking GlassPictured: Beyoncé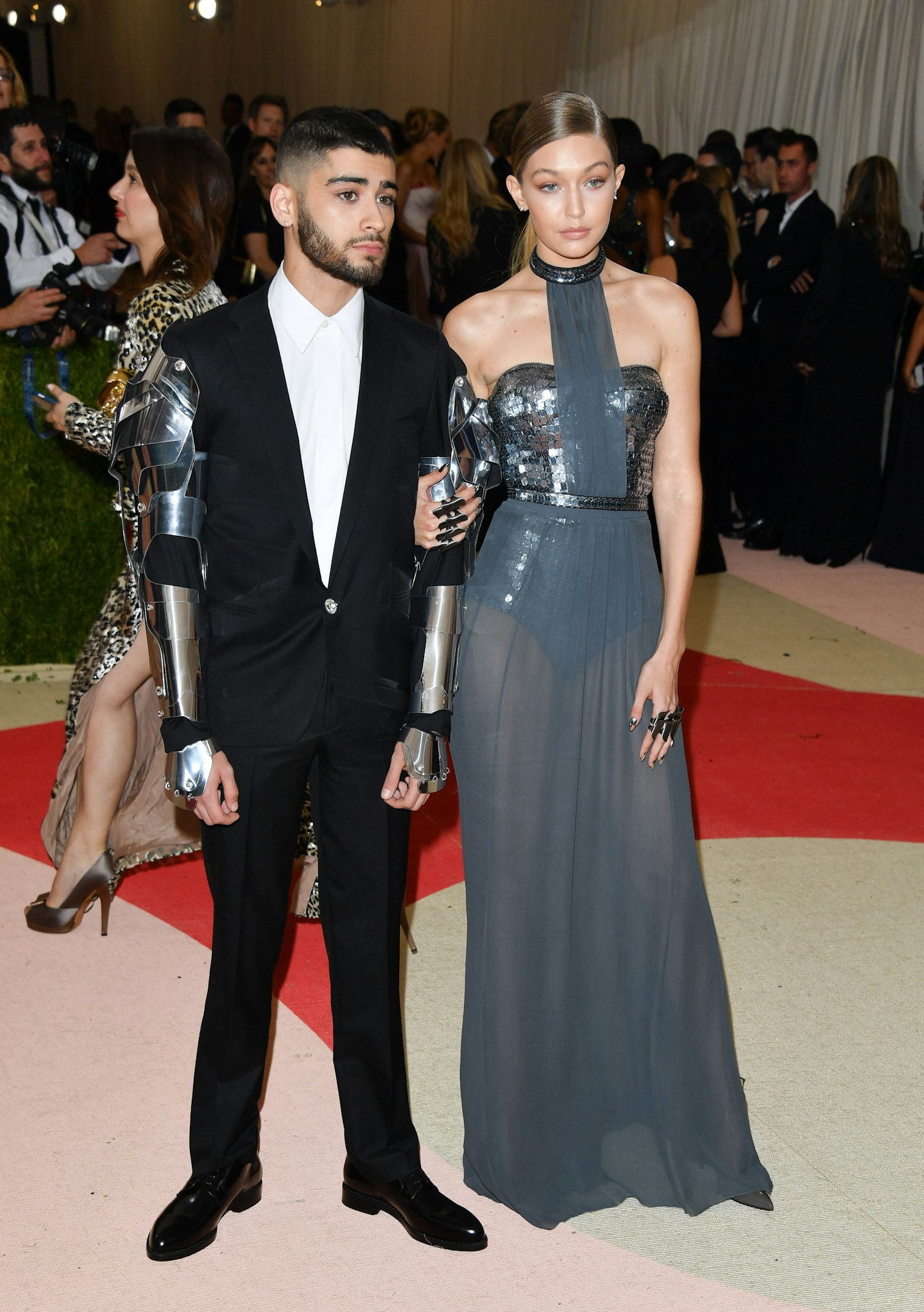 39 of 43
CREDIT: Getty
2016
Manus x Machina: Fashion in an Age of TechnologyPictured: Zayn Malik and Gigi Hadid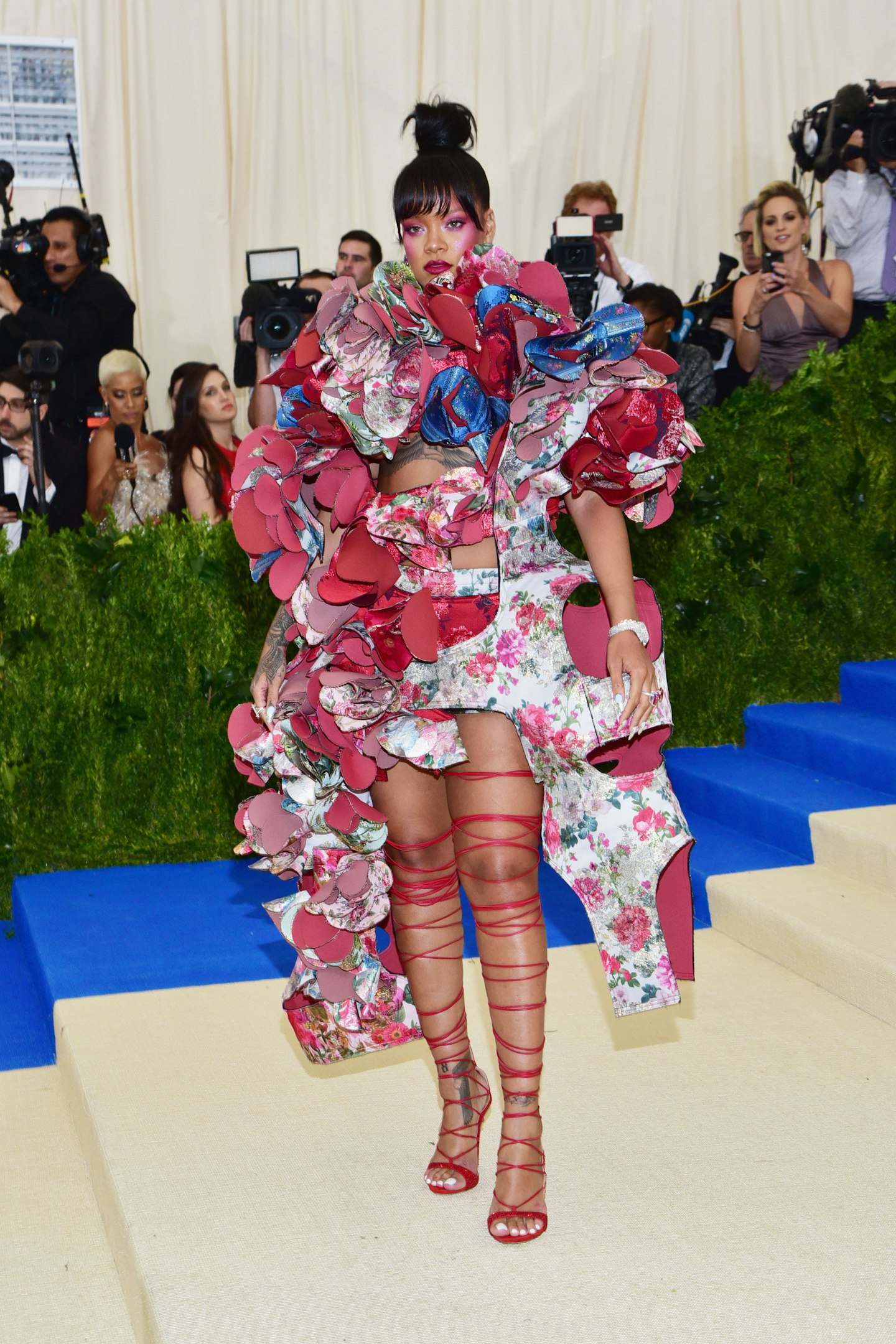 40 of 43
CREDIT: Getty
2017
Comme des Garçons's Rei KawakuboPictured: Rihanna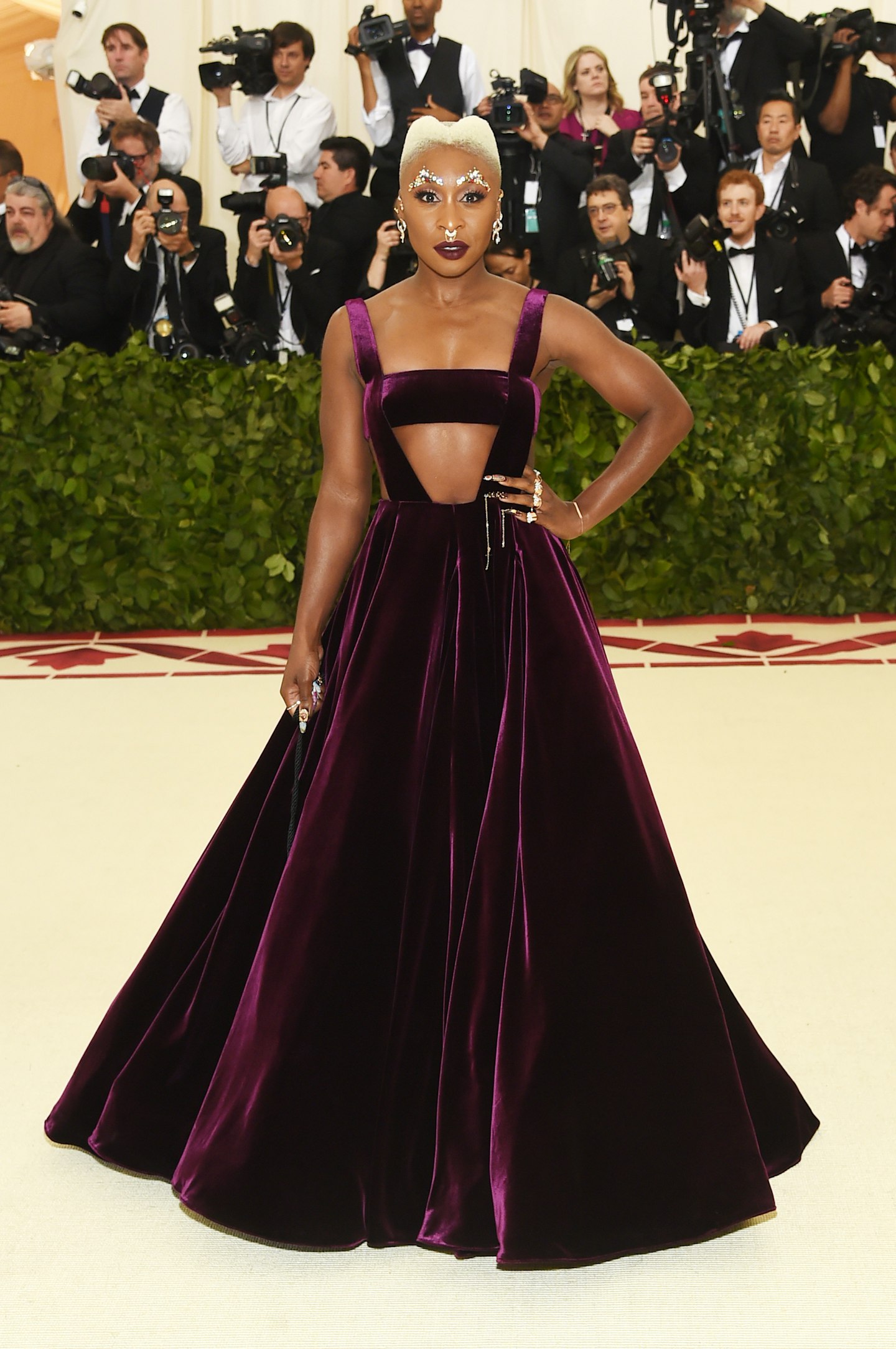 41 of 43
CREDIT: Getty
2018
Heavenly Bodies: Fashion and the Catholic ImaginationPictured: Cynthia Erivo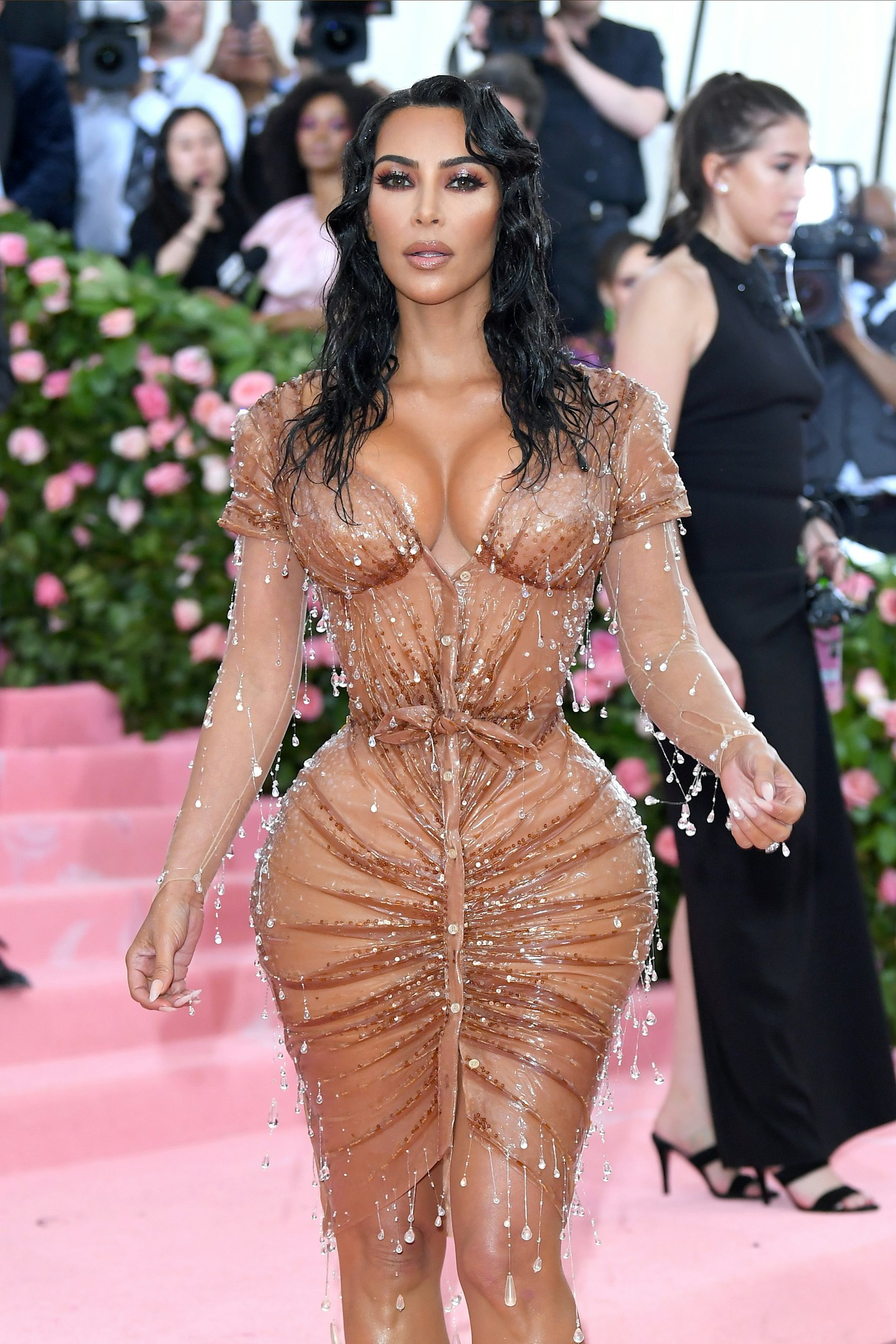 42 of 43
CREDIT: Getty
2019
Camp: Notes on FashionPictured: Kim Kardashian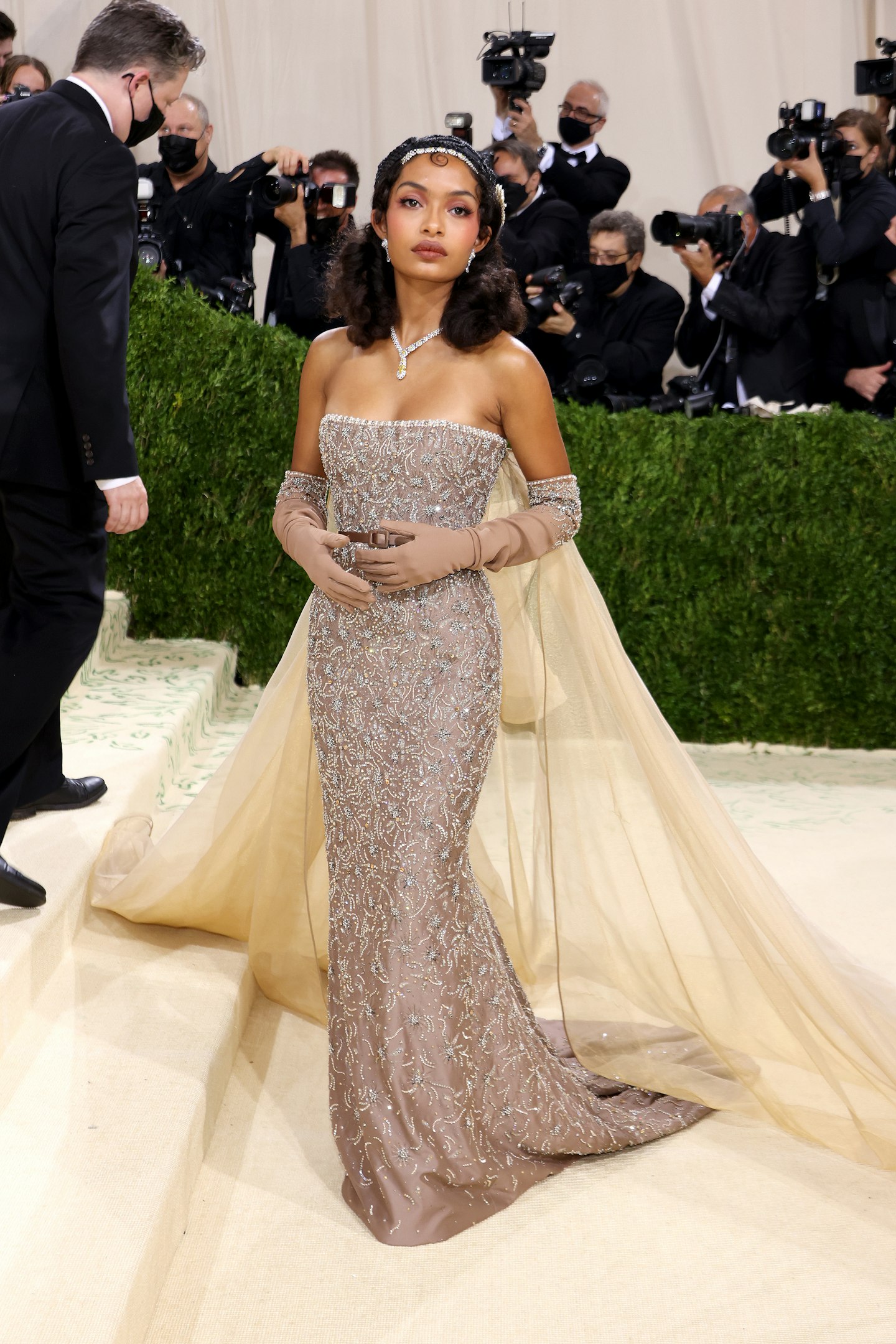 43 of 43
CREDIT: Getty
2021
In America: A Lexicon of FashionPictured: Yara Shahidi
READ MORE: IMHO Mary-Kate And Ashley Olsen's Passport to Paris Is Deeply Underrated