When it comes to the world of housewives, Ozempic is one of the hottest – and most controversial – buzzwords to be hitting our screens.
With a host of slimmed down stars stepping out, fans have been questioning whether their favourite reality TV stars could be using weight-loss drugs Ozempic to shed weight at alarming rates. Many of the Bravo housewives have been open about their relationship with the weight-loss drug – with the likes of RHONJ's Dolores Catania and Margaret Josephs both confessing to using Ozempic-like injections to drop pounds.
But stepping out at BravoCon 2023, Real Housewives of Beverly Hills star Erika Jayne once again refused to be drawn into the discussion over rumours she's using the weight-loss drug – saying 'it's really not anybody's business.'
Talking to Grazia, Erika said, 'I think that it's my body and I'll do with it whatever I want, just like it's your body and you'll do with it whatever you want. Whether it's your reproductive rights or anything else you choose to do, it's really not anybody's business.'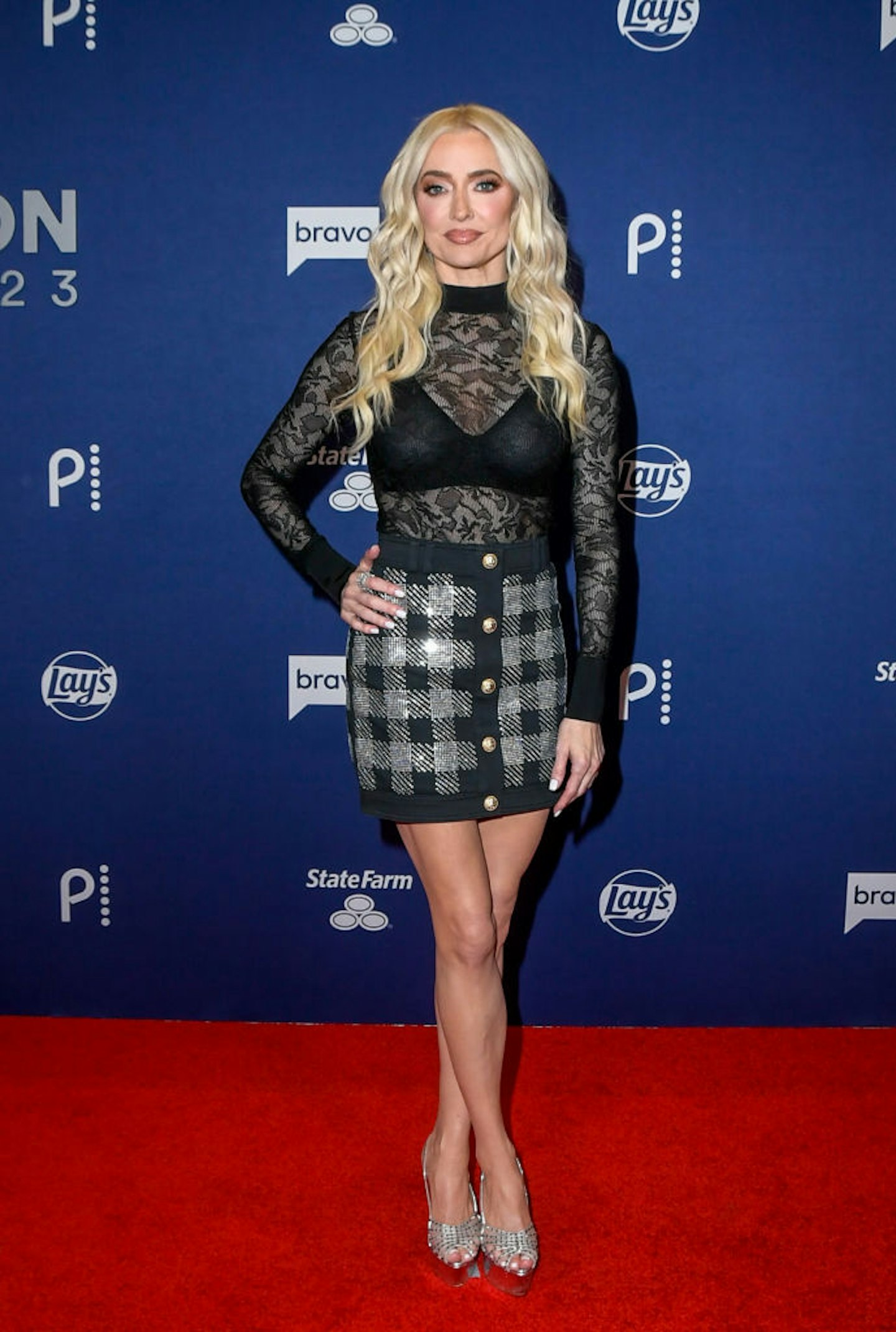 Rumours first swirled of Ozempic use after the RHOBH star debuted her new slimmed down look – leading many fans asking whether Erika might be the latest housewife to have turned to the weight loss drug.
Her fellow housewives even aired their own suspicions, with a recent episode of season 13 seeing fellow housewife Dorit Kemsley question Erika's new look. After the 'XXPEN$IVE' singer credited her weight loss to hormones, Dorit asked in her solo confessional, 'Is hormones spelled O-Z-E-M-P-I-C?'
Ozempic – the brand name placed onto semaglutide, used to treat diabetes but having appetite suppressant side effects – has been dubbed the drug of the 'super-skinny era'. Concerningly, it's not been approved by the FDA for this purpose – a fact made only more worrying with reports that shortages are forcing users to source the drug from online.
But despite the potential health concerns, Ozempic has already proved popular among many in the public eye – with the likes of talk show host Sharon Osbourne, tech giant Elon Musk, and comedian Amy Schumer all candidly admitting to taking the drug.
Erika has addressed her weight loss before, claiming that the weight loss came as a side effect of her divorce from husband Tom Girardi, who faced charges earlier this year for fraud. 'I've always been tiny,' she said, adding 'I got bigger during all of my depression and through everything else.'
In another public appearance, the 52 year-old also credited her weight loss to hormones – telling Andy Cohen, 'I did come down in weight, and I did it hormonally. I was going through menopause, so I took it all down.'
Erika has also insisted that she doesn't want to 'trigger' any viewers with the conversations around her weight. 'We have this conversation in Beverly Hills and we have a cast member with an eating disorder,' Erika said, referencing co-star Crystal Kung Minkoff. Crystal – who has been open about her previous struggles with bulimia – shared earlier this year that she had thought about using Ozempic following its boost in popularity, but that 'it's not a good place for me, personally, for my recovery.'
Attending Bravocon 2023, the housewife also opened up about the newest season of RHOBH. Sharing that fans would be seeing a softer side to her usual icy exterior, Erika told Grazia, 'I've finally been able to come up for air. I fought my way out of two years of being very defensive. Things have calmed down a little bit, so I'm able to be a different person and more of myself.'
Fans were shocked when a more emotional Erika appeared onscreen during a recent episode of season 13, apologising to her co-stars for her 'vicious' behaviour. Sitting down with the housewives during a retreat, Erika said, 'I was getting hit from all sides when I just needed a moment to catch my breath in this group. But as your friend, I'd like to apologise if I was rough, if I was vicious. I've never felt so low. I've never felt so unheard. I love you all and I'm very sorry.'
To stream The Real Housewives of Beverly Hills and all your other favourite Bravo shows, head on over to streaming platform Hayu.