If you're looking for chaos, all you've got to do is stick hundreds of reality TV fans into one giant convention. Welcome to BravoCon 2023.
The many faces of Bravo have flocked to Las Vegas, coming together for one wild weekend. Walking the red carpet and sitting down for panel talks, fans are treated to an inside look at what's really going on behind our TV screens. And with Hayu taking Grazia to BravoCon, we were treated to a front row seat for all the drama that unfolded.
From Below Deck to Vanderpump Rules, here's the lowdown on everything you need to know that's happened at Bravocon 2023 so far.
Real Housewives of Beverly Hills
With a new series of RHOBH streaming now on Hayu, fans are already getting a taste of what's to come - including Kyle Richards' split from husband Mauricio Umansky.
Earlier this summer, Kyle revealed that she had separated from husband Mauricio after 27 years of marriage - with social media speculating about her close relationship with country singer Morgan Wade.
However, Kyle did send one cryptic message to fans. When asked about advice for anyone 'going through some stuff,' she told fans 'I would just say don't hold back and try to save that person, because they're not going to be doing that for you.'
Whilst the panel talk seemed to show the housewives in good form, tensions did appear to fly after Kyle opened up about being grilled about her marriage on camera. Referencing the dramatic scenes that will unfold over the course of the series, she said 'If I was called on the phone and asked one on one, I would have been more open. But being asked in front of the cameras, I felt like I was on the defence. Instead of saying 'I'm here for you if you need me,' I felt that everyone was coming at me.'
Doris Kemsley quickly interrupted, arguing 'I actually did say when you and I spoke one on one,' with Sutton Stracke agreeing 'We did have a conversation before that dinner one on one.'
And taking none of the drama was housewife Garcelle Beauvais, who told fans that she refused to feel guilty for doing her 'job.' She said, 'You've been doing this for 13 years. That's part of our job, is to ask things of each other. We've had conversations, we talked and I would never share what we talked about, but the reality is we're on a reality show!' As the crowds cheered, the RHOBH star added, 'I don't want to feel like we're the bad guys for asking questions.'
Kyle responded, 'It wasn't the questions, it was the way the questions were asked. I didn't feel it was in a compassionate manner - less so with you than with Sutton, to be honest. I understand I've shared a lot of my life in these 13 years and I get that we're making a reality show, but at least have some compassion. That's all I ask for.'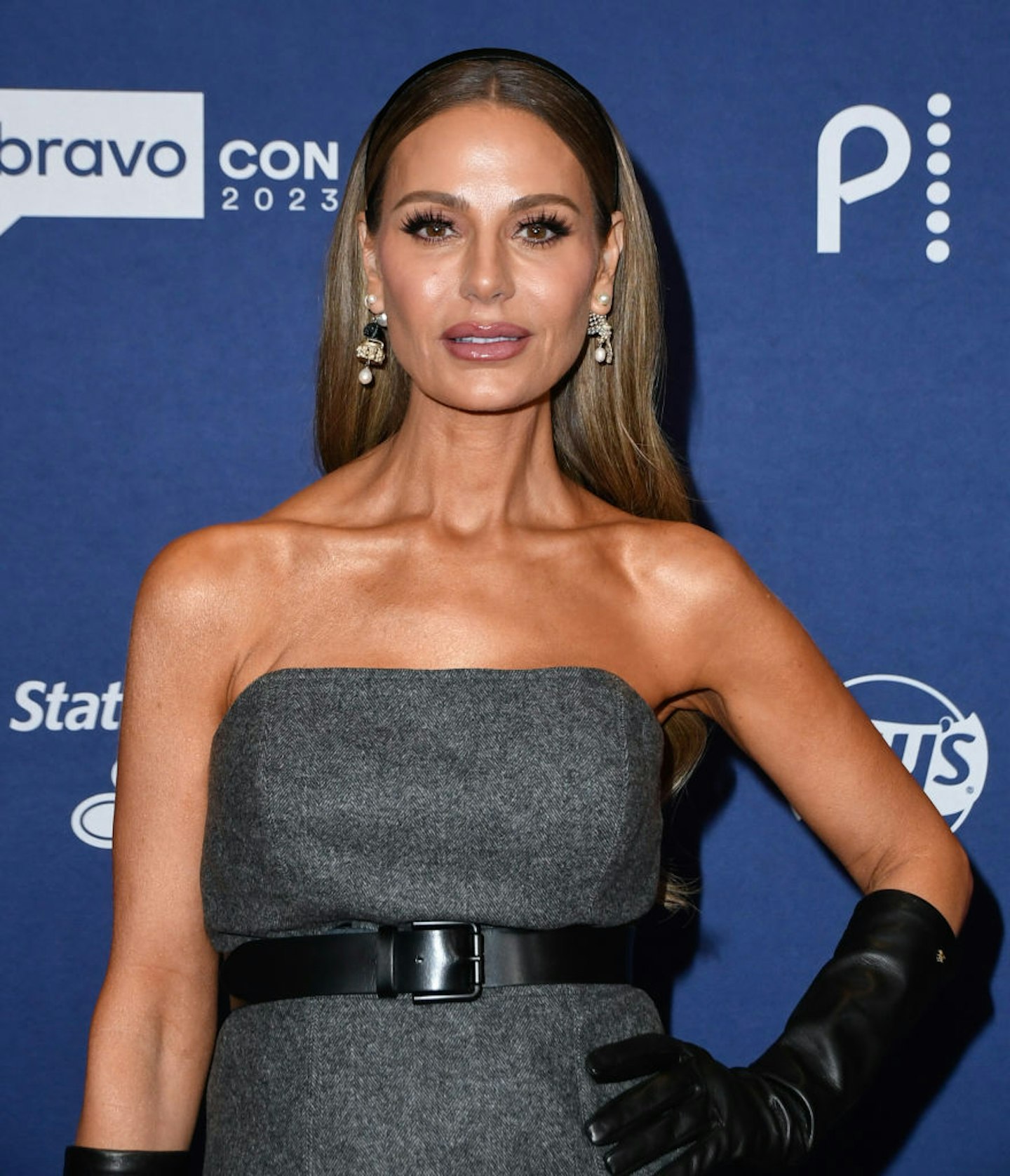 Later, Dorit also took to the stage to shut down allegations around her marriage to Paul 'PK' Kelsey. In past months, it was rumoured that the pair were facing some relationship struggles - with housewife Erika Jayne sharing at last year's BravoCon that she thought the couple would be next to split.
Responding, Dorit said, 'I mean, we can definitely discuss the elephant in the room: PK and I are not separated, even though there are those rumours.'
'We have had a difficult couple of years, really, since the home invasion,' she continued, 'But you work through things. We're married, 13 years together. You have your ups and downs, but we're not separated. And I don't think we will be.'
Real Housewives of New York City
Erin Lichy, Sai De Silva, Ubah Hassan, Jessel Taank and Brynn Whitfield sat down to talk all things RHONY – but missing from the panel was Jenna Lyons. When asked about her absence, Sai shared, 'She apologises that she cannot be here.'
But while Jenna's absence left fans questioning whether the star will be back for another series, some of her fellow housewives have their fingers crossed.
Speaking to Grazia, Jessel said, 'I hope she'll return! I don't think she's in any way questioning that right now. But who knows what's happening in the world of Jenna Lyons. We just don't know, and we won't ever know until it happens I guess.'
Also missing from the event was Ramona Singer - who recently came under fire following allegations of racist remarks, following an article published by Vanity Fair about her controversial time on the show. When Bravo's main man Andy Cohen was asked if Singer would be cancelled, he said 'I think the most I can say is that we already shot 'Ultimate Girls Trip' and she's on the show. She's not here - and that's where we're at.'
But while sources shared that a 'distraught' Ramona was skipping the convention and 'laying low,' her daughter Avery was spotted by Grazia multiple times during the convention. Making an appearance at her Bach Boss stall at the Bravo bazaar, Avery appeared to be enjoying her time.
Real Housewives Ultimate Girls Trip: RHONY Legacy
Elsewhere at BravoCon, it was announced that The Real Housewives Ultimate Girls Trip: RHONY Legacy would air in December - and boy, are we in for a treat. Reuniting Kelly Killoren Benison, Countess Luann de Lesseps, Dorian Medley, Sonja Morgan, Ramona Singer and Kristen Taekman for a trip to St.Barts, the teaser clip shows that we're in for a wild ride.
Real Housewives of New Jersey
Cast your mind back to last year's BravoCon, and you may remember some pretty big family drama that went down between Teresa Giudice and her brother Joe Gorga - with the housewife insisting 'fame and money ruined our family.'
Turns out, they're still not pals. When asked by a moderator where the Gorgas stand with their 'sibling-in-law and siblings,' Joe's wife Melissa Gorga responded, 'I think everyone knows where we're at – everyone's reading it. We're at a place of peace. I think everyone needs a minute, everyone needs a break and there's just a period on it right now. There were a lot of differences last season.'
She also shared, 'I've come to a point in my life where you can try, but at some point, you need to protect your peace and you need to create a boundary. I think that's what I did and that's what we're doing, and I think when something is really toxic and it doesn't work for you and it makes you uncomfortable, you don't need to force yourself to be around it. It's okay to let something go.'
Another housewife who won't be spending quality time with Teresa anytime soon is Margaret Joseph – who, when asked where she stands on the star, simply stated, 'On the opposite side of the room. I only want her to have a positive life away from me.'
Real Housewives of Miami
Lisa Hockstein took the time to update fans on her divorce from Lenny Hochstein, revealing, 'I'm still not divorced. It's worse than what I was dealing with in the beginning. I really don't speak to Lenny. He absolutely hates the show, and we don't want anything to do with him either.'
It was also a big moment for Guerdy Abraira – who revealed back in May that she had been diagnosed with breast cancer – as she confirmed to fans that she was cancer free. 'I'm about to ring the radiation bell on Wednesday' she shared, adding 'I'm very excited, and I'm so blessed. I literally wake up every morning counting my blessings and making it count.'
Real Housewives of Orange County
It's been a big season for the Orange County ladies, with Beverly Hills OG Taylor Armstrong joining the cast in the first ever franchise cross over.
But it might not be the last. After housewife Heather Dubrow recently sold her house in OC to build her 'dream home' in Beverly Hills, many have questioned whether she might be jumping franchises across to RHOBH. 'Obviously in the world of Housewives, anything is possible,' she shared, revealing that she's already close pals with Beverly Hills' Garcelle Beauvais and Kyle Richards.
Shannon Beader also opened upon during a panel talk about about her recent DUI and hit and run arrest, insisting, 'It's been a tough six weeks, but I will tell you that I made a terrible, terrible mistake. I'm incredibly grateful that I didn't hurt anybody. But I, on my own, just completed a 28-day wellness program with an alcohol component, and I have been able to focus on elements of my life that were unhealthy and toxic.'
Vanderpump Rules
The world erupted earlier this year after Tom Sandoval and Raquel Leviss's shock affair was revealed - and Scandoval's far from done.
Talking about filming with her ex, Ariana Madix revealed that shooting the upcoming season was 'difficult.' And after Tom Sandoval was met by boos upon joining the cast onstage, it seems public opinion is very much on Ariana's side.
Reacting to the less than friendly welcome, Sandoval shared, 'It feels good to be here in Vegas with everybody. It's BravoCon, it's crazy. I'd rather stand here and face it. I don't know what you did.'
But while the fans didn't seem to be cutting the TomTom founder any slack, his co stars Brock Davies and Lala Kent appeared to jump to his defence. 'In a weird way, I don't care if you f*cking boo me,' Lala said. 'With everyone really hating on Tom, he still went out, he still performed shows. Life went on... If I were in his position, I'd tell y'all to go f*ck off.'
"It feels good to be here in Vegas with everybody. It's BravoCon, it's crazy," the TomTom founder quipped to moderator Karamo Brown. "I'd rather stand here and face it. I don't know what you do."
However, the real red carpet guest came in the form of Lisa Vanderpump's pooch. Oh, to be a Beverly Hills dog.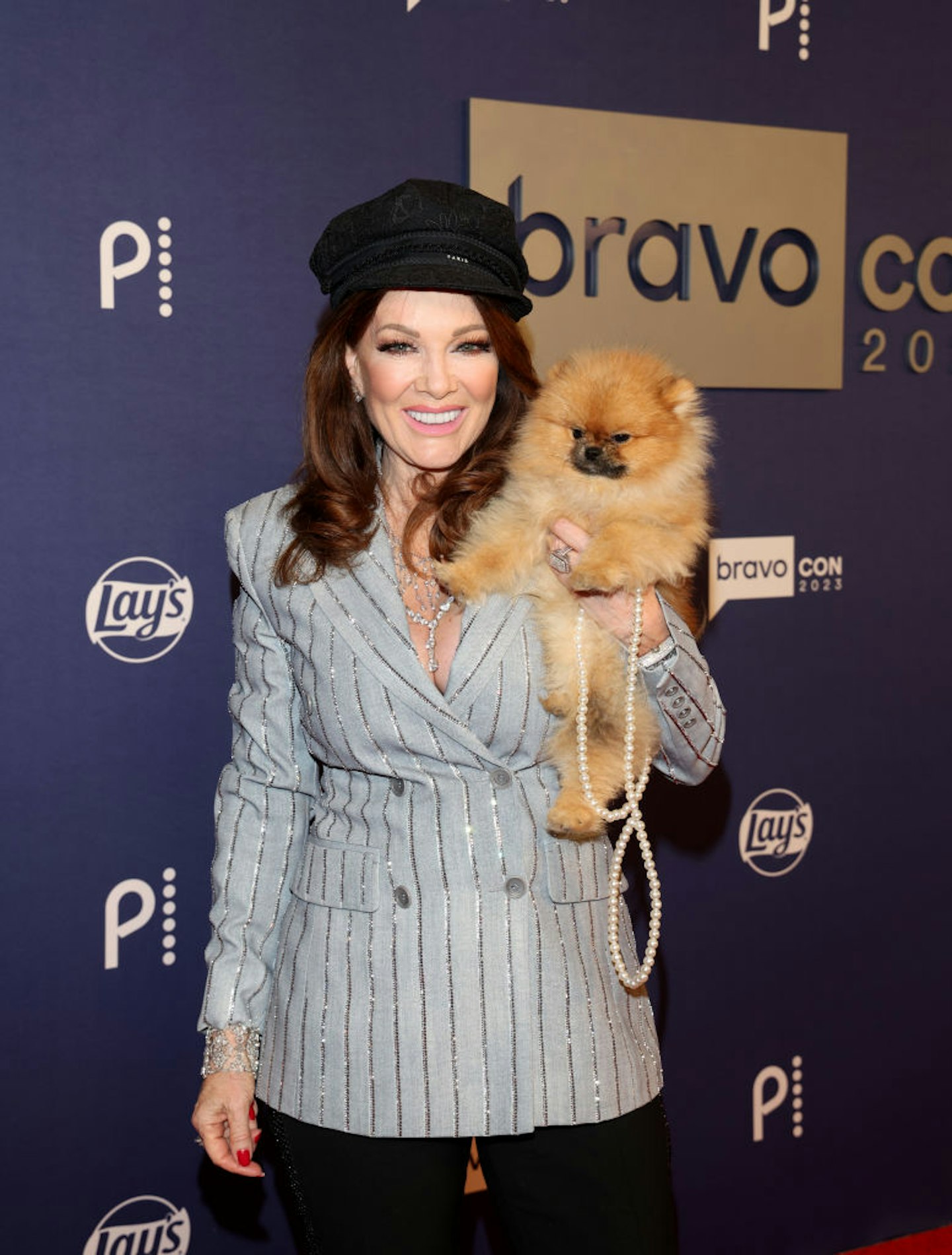 Summer House
First we had Scandoval, then we had Summer House. In yet another Bravo heartbreak, Summer House's Carl Radke and Lindsay Hubbard opened up about their shock split.
The pair - who were set to walk down the aisle this month - separated in August, with Carl calling things off with his fiancé.
But if there's anything more awkward that bumping into an ex, it's bumping into them on a stage in front of thousands of fans. Addressing the 'elephant in the room,' Lindsay and Carl said that the event was the first time they were seeing each other since their breakup.
Lindsay shared, '[Me and Carl] don't really speak unless he has to get into the apartment to get some stuff.'
Below Deck
The biggest news for the franchise was the announcement that the sweet-but-stern Captain Lee Rosback was stepping down from his post on Below Deck due to medical issues. The only silver lining for fans, however, was the follow up that his replacement is Below Deck's Captain Kerry Titheradge.
Attending the red carpet alongside Fraser Olender (who revealed his surprising MIC connection to Grazia), a teaser trailer showed the new Captain admitting that he had 'big shoes to fill, but I like it that way.'
Where to watch Bravo's shows?
If you're sat in the UK wishing you could catch up with all the latest drama, you'll be able to enjoy all things Bravo over on streaming platform Hayu. The on-demand subscription service brings you all the best reality TV from just £4.99 a month - with most episodes debuting not the same day as the US.