When it comes to self-care, embarking on a journey with sex toys can be difficult in order to find the one that really suits you. Fret not though, for venturing into rabbit vibrators doesn't have to be so daunting. Here's why these multi-stimulating toys are just as good as their smaller counterparts (and arguably, even better) and where to buy the best rabbit vibrators right now.
The clue's in the name of these toys, as you'll want to imagine a classic vibrator shaft with an additional arm strategically designed to provide precise clitoral stimulation – hence, being called the 'rabbit' vibrator. Known for their intense dual stimulation and multi-use functions, there's a reason why these rabbit vibrators are so popular as vibrators for women. Wondering which one is really worth your money? We've hunted down the best of the best.
Grazia's Best Rabbit Vibrators At A Glance:
Best overall rabbit vibrator: Lelo Soraya 2, £159 on Lelo
Best dual stimulation rabbit vibrator: Ann Summers Self Love Rabbit, £26.60 on Ann Summers
Best rabbit vibrator for settings: Smile Makers The Rabbit, £119.95 on Cult Beauty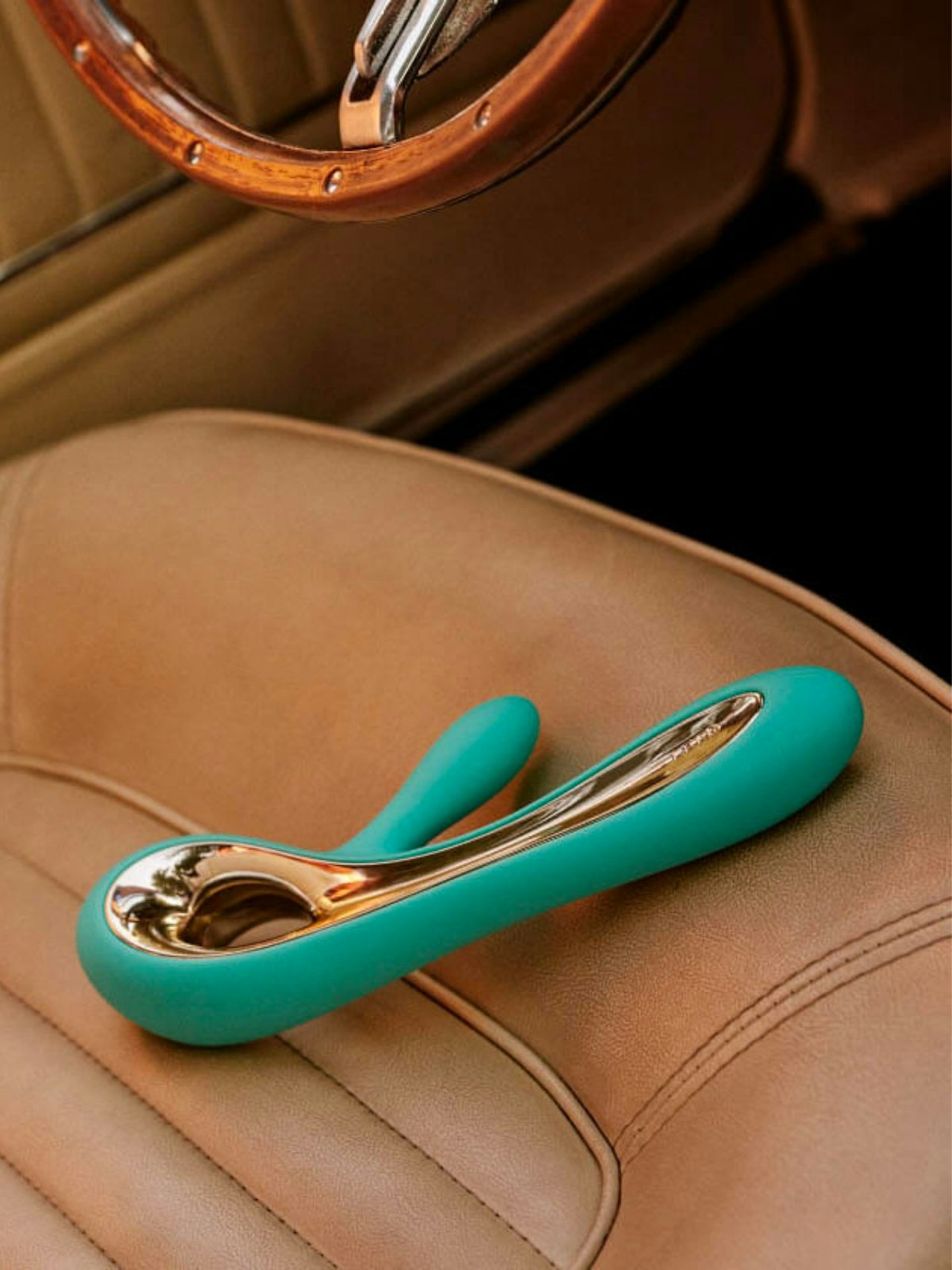 What elevates the rabbit vibrator to a league of its own is its remarkable multitasking ability. This device stimulates the G-spot internally while simultaneously bestowing attention on the external clitoral region. Yes, you read that correctly – it's a double delight, satisfying two of your most sensitive pleasure zones at the same time.
Rest assured, there's an entire collection of these pleasure-packed devices on the market, each vying for your attention with a repertoire of impressive features, an array of vibration modes and sleek, alluring designs. Fear not, as these are the best rabbit vibrators - from LELO to Lovehoney sex toys - that will bless your bedside table in no time.
SHOP: The Best Rabbit Vibrators To Shop
Best overall rabbit vibrator
Description
The Lelo Soraya 2 redefines the boundaries of pleasure, offering sensations that cater to both
Pros
100% waterproof
Twelve settings to play with
Highly rated
Cons
Can be hard to get used to
Best dual stimulation rabbit vibrator
Description
Seeking self-pleasure has never been more exquisite. Allow us to introduce the Ann Summers Self
Pros
Comes with travel bag included for discreet design
Variety of settings to play around with
Waterproof
Best rabbit vibrator for settings
Description
Designed by women, for women, Smile Makers' modern, elegant toys redefine sensuality, far removed
Pros
Nine pre-programmed strokes and vibrations
Waterproof
30-degree bendability
Cons
Can be complex if you're not used to it
Best luxury rabbit vibrator
Description
The Coco de Mer Dual Vibrator has multiple motors that vibrate independently, each offering 10
Pros
Soft and cushioned silicone
Dual motors to double the stimulation
Ten settings to play with
Cons
It's more expensive than others
Best g-spot rabbit vibrator
Description
The Satisfyer Pro G-Spot Rabbit is a real gem in the world of pleasure. To make the most of this
Pros
Rechargeable
Deep vibrations for more pleasure
Cons
Battery life may not be as long as others
Best rabbit vibrator with Pleasure Air Technology
Description
Prepare for an unforgettable experience with the Womanizer Duo, made of super-soft silicone. With
Pros
Distinctive Womanizer pleasure air technology
Made with super soft silicone
Cons
The clitoral stimulation can be very intense
Best remote-controlled rabbit vibrator
Description
Introducing the We-Vibe Nova 2 – where luxury meets pleasure. The shaft's curvature can be
Pros
Unique design of the clitoral stimulator intensifies this pleasure
Varied vibration patterns
Remote controlled for hands-free play
Cons
Can be quite intense if you're not used to it
Best popular rabbit vibrator
Description
In the iconic television series Sex And The City, Charlotte's memorable exploration of
Pros
Well renowned
Thrusting motion for higher pleasure
Bead vibrators for unique design
Cons
Known for being loud due to metal beads
Best rabbit vibrator with heat function
Description
If you're after a vibrator that gives you the classic rabbit feel, meet the Satisfyer Hot Lover
Pros
Heat function for intense stimulation
Remote-controlled
Can create your own custom patterns
Cons
Can be fairly complex to get used to
What Is A Rabbit Vibrator?
What's so popular about these rabbit-designed sex toys? The dual stimulation and multi-purpose choice is known for how varied it can really be. The most important aspect, though is that it's made for vaginal and clitoral stimulation simultaneously, making it a particularly powerful choice. It typically has a shaft for vaginal penetration and a separate attachment, often shaped like rabbit ears, for clitoral stimulation.
Are Rabbit Vibrators Suitable For Beginners?
If you're looking for a starter toy, rabbit vibrators can be suitable for beginners but you'll want to start with a less complicated model or something that's slightly smaller. This way, you can build up your experience toy by toy.
Less experienced beginners may find it helpful to experiment with other vibrators first, including bullet vibrators or even sex toys for couples.
Caitlin Casey is a Senior Beauty & Fashion Products Writer for heat, Closer, and Grazia. She covers shopping, women's lifestyle, popular culture as well as all things trending.