In the realm of with high-tech skincare, Lyma is a household name. The brand first made headlines for its subscription-based supplement offering. Aptly named The Supplement, it promised to address a myriad of health and beauty concerns in a single capsule – consider everything from mental wellbeing to nail strength, covered. Then came the acne, pigmentation and wrinkle reversing revolutionary laser, which changed the game of at-home devices. The handbag size tool is backed by the likes of Gwyneth Paltrow, Kim Kardashian and Victoria Beckham, no doubt because it offers clinical grade treatments in the comfort of your own home.
But now, the brand enters a new terrain with Lyma Skincare, a serum and cream duo that is being touted as having cracked the code of skin ageing. The two-step regime, which can only be bought as a pair, costs a cool £495 for the starter kit including copper vessels, with refills being £445 a pop thereafter. Keeping the subscription model in tact, this 30-day system wracked up a waiting list of 30,000 fans eager to get their hands on the first drop. But is it worth the hype? Scroll on to find out...
The Skincare Duo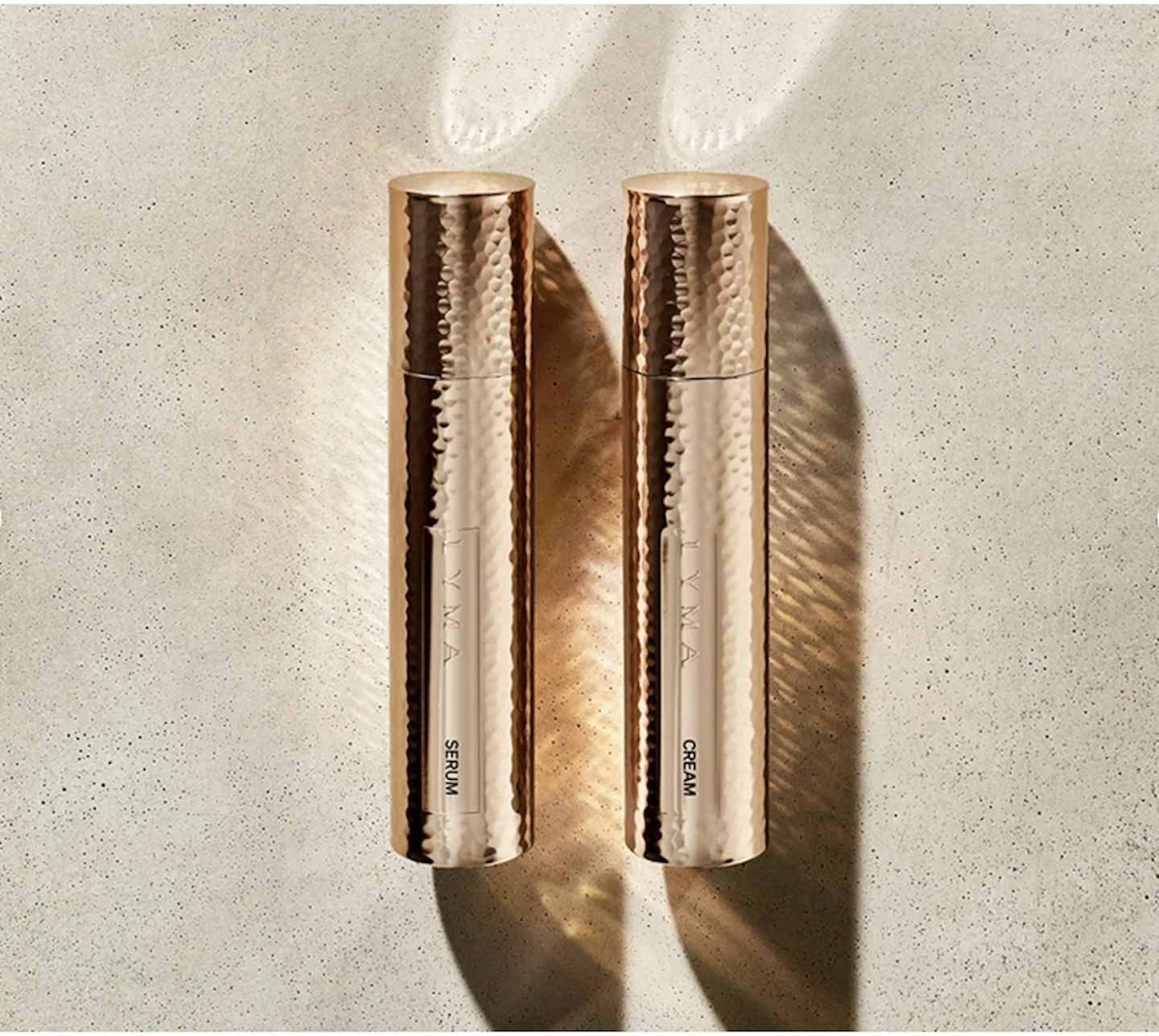 With a focus on epigenetic science, Lyma Skincare seeks to address why we age at a cellular level rather than reducing the signs of ageing. It does so in eight different ways, including: skin restoration; pathing the way for new active cells; creating the optimum microbiome environment; mitochondrial energisation (accelerated skin renewal); supporting cell nutrition; fortifying the skin's architecture and sustaining hydration.
It's all possible thanks to a rare of 80:20 ratio of actives to water formulation, which features an extensive list of carefully considered ingredients which work simultaneously to change the behaviour of the skin at a microlevel.
'Lyma Skincare takes several ground-breaking scientific concepts and combines them, to once again, create a revolution in skincare.The fact is topical skincare products are formulated to feel good, to look good and to smell good, in that order but with LYMA Skincare we sought to do things differently,' says plastic surgeon, Dr Graeme E. Glass PhD, a leading professor behind the launch.
Lyma Skincare makes certainly makes big claims that are only matched by a hefty price tag, but is it justified? Ridah Syed, Senior Medical Aesthetician at Skinfluencer London, thinks so. 'If the skincare product hails from an over-the-counter cosmetic brand, then you really are just paying for the association with a "designer" name. But, if the product is a medical-grade or pharmaceutical brand, then such products are brimming with higher concentrations of science-backed active ingredients that have been formulated in the most optimum way to not only ensure outstanding results, but often to transform the skin at a cellular level.
'These products will be at a higher price point, not only due to the cost of the highly effective ingredients but also to pay for the years of meticulous and thorough research and testing by dermatologists and skin care chemists that has gone into the products. When it comes to medical-grade skincare, the products with the highest quality ingredients tend to be expensive and so you get what you pay for.'
The results speak for themselves, in a 12 week clinical trial of 50 people aged between 30 and 65, 72% of participants reported an improvement in skin hydration, while 51% reported an improvement in skin firmness.
However, GP and dermatology expert for Olay UK, Dr Sonia Khorana, claims, 'There are a lot of prescription brands on the market now which actually deliver amazing results – so you don't need to spend lots of money to get a product that delivers results.' She recommends sticking to core ingredients which can all effectively support ageing skin without the price tag, these include gold standard ingredients found in countless products on the market including: SPF (a non-negotiable); retinoids to helps stimulate collagen; vitamin C to fight free radical damage; niacinamide (vitamin B3) to restore the lipid layer and peptides that serve as the building blocks for protein in the skin.
Can you live without it? Probably. But there is much to be said about this minimalist skincare launch which may just disrupt our maximalist single-ingredient skincare obsession, by transforming complexions from the inside out.
Shop: Lyma Skincare Duo
Description
Loaded with 80% active ingredients, this serum and cream duo seeks to simplify your skincare and