The Shark FlexStyle 5-in-1 Air Styler is worth the hype. Beloved by TikTokers the world over, it's a tool that's earned its place amongst the elite – and for good reason. Eagle-eyed viewers were quick to spot it being used on Winter Love Island this January – Islander Tanyel Revan was a fan – and you best believe that she boasted some seriously good hair as a result. Fancy getting in on the action? You'll want to scroll on down for the full low-down. And, spoiler alert, the Shark is included in the Black Friday sale already. Don't mind if we do.
What Does Shark FlexStyle 5-in-1 AirStyler Do?
Long story short? Everything. Also known as the Shark Hair Wrap, it's described as a 'powerful, fast drying multi-styler' that can be transformed from a styling tool to a dryer with ease. The set features 5 attachments that allow for easy curling, straightening, volumising, defining and smoothing. And good news, as it dries and styles without the need for extreme heat – the tool boasts impressive built in technology that measures heat 1,000 times per second ensuring consistent and gentle air temperatures. It's certainly handy if you're someone who styles your hair frequently and wants to minimise the risk of damage.
Shop: The Shark FlexStyle 5-in-1 Airstyler Black Friday Deal
How to Use The Shark FlexStyle 5-in-1 Airstyler
Depending on the style you'd like to achieve, there are several different ways to use to Shark hair wrap. The most popular style? Airwrap curls, which are characterised by by being big, bouncy and bold - think the ultimate 90s blow-out. Here's a step-by-step guide, according to the professionals:
Begin with 80% - 90% dry hair. Select the direction of the curls by choosing the corresponding barrel.

Separate the top and bottom sections of your hair.

Hold a ½ -1 inch section of hair 4 inches from the ends making sure to let the ends hang freely. Take a section that is even in length for best results.

Turn on the styling wand. Bring the wand behind the ends of the hair and let the ends wrap around the middle of the barrel automatically.

Once the ends wrap, let go of the hair section and slowly bring the barrel directly to the roots, allowing the hair to continue to wrap itself around the barrel. No need to twist the wand.

For best curling results and to avoid heat damage, hold the barrel in place for 10 seconds then press the Cool Shot button for at least 10 seconds. Repeat until hair is dry for best results. Turn off the styling wand and pull the barrel straight down to reveal your curl!
Of course, The Shark comes with a number of attachments that allow for different styling techniques. There's an abundance of tutorials out there, as well as a hefty how-to manual that comes with the Shark upon purchase. Our top tip? Keep in mind that it may take a little trial and error to work out what technique works best with your own unique hair type. Practice makes perfect.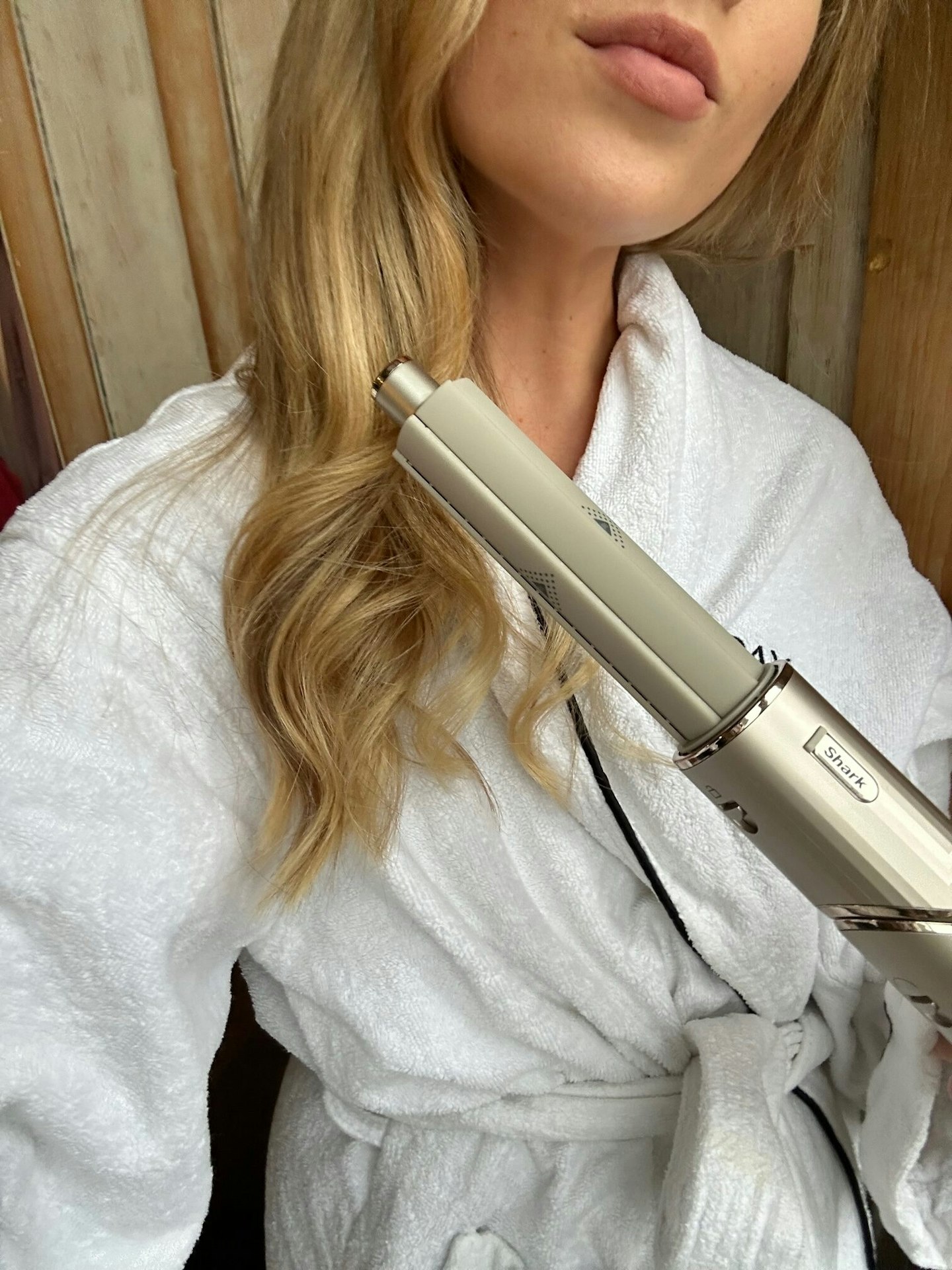 Our Verdict
Rachael Martin, junior beauty editor:
'I honestly think the Shark is worth making a play for – especially as the discount is so impressive ahead of Black Friday. I find the tool simple to use and can easily flit between hairstyles - I'll go for straight and sleek one day, and wear it curly and voluminous the next. And let's have a moment for the oval brush attachment in particular -it's become my holy grail of haircare. It's made with a combination of boar and plastic bristles and makes light work of de-frizzing the halo of shorter hairs that sit around my hairline. Since incorporating this one into my routine the compliments have come reeling in, and my hair looks healthy and shiny. Of course, sale or not, it is still an investment. But truly? I'd make it in a heartbeat.'
How We Tested It
Rachael says: 'I've had the Shark Hair Wrap for about a year now and it's become integral to my haircare routine. I typically wash my hair before bed and style it with the Shark in the evening. While it still looks pretty good come morning (I love a bouncy blow-dry) I'll refresh with the Shark once more before heading to work, and I'm good to go. It's salon-worthy hair, all with minimal effort. While the brand do say that there's no heat damage involved I'm still wary – I'll always apply a hefty dose of the stuff just to be sure.'
Overall rating
Guaranteed good hair day? It's a 4 out of 5 – and I'm only deducting a point because I don't think the Black Friday offer will stay around for long.
Rachael Martin is Grazia's Junior Beauty Editor where she covers all things beauty, health and wellness.