The 2023 series of I'm A Celebrity… Get Me Out Of Here is well and truly underway, which means we've scoured the internet to find out as much as we can about the celebrities living in the jungle. As avid TikTok users and JLS fans, we already knew a bit about some of the other contestants (Nella Rose and Marvin Humes), but someone who you may not have been as familiar with is food critic Grace Dent.
Sadly, just over a week into the reality competition, Grace Dent had to leave the jungle on medical grounds. An ITV statement read, 'Unfortunately Grace Dent has left the show on medical grounds. She has been a great campmate and will be missed by her fellow celebrities and viewers alike.' The news comes after Grace admitted to struggling and putting on a brave for her camp mates in the Bush Telegraph, the I'm A Celeb diary room.
If you're wondering who she is and what she does for work outside of the jungle now that she's gone, we're here to share our findings with you.
Who is Grace Dent and what does she do for a living?
Grace Dent is an English broadcaster and author, who rose up through the ranks from editorial assistant at Marie Claire to restaurant critic at The Guardian, even winning Reviewer of the Year at the London Restaurant Festival in 2017.
She is also host of the Guardian's food podcast, Comfort Eating with Grace Dent and had a book out this year with the same name.
Why did Grace Dent leave I'm A Celebrity?
Grace Dent left the jungle after just one week on medical grounds. She left a letter to her fellow camp mates to tell them. It read, 'My dear campmates, I'm so sorry to let you down. I have left the camp for medical reasons. My heart is broken, I have loved and enjoyed getting to know you all. You've held me up and it's been a pleasure being your friend through this experience.
'Leaving you all at this stage will be one of the saddest things in my life. I love you all. Your friend, Miss Grace Dent.' Grace had previously admitted that she was struggling in the jungle and had even told that she'd 'completely had enough' and just wanted to go home.
Will Grace Dent be paid her fee in full?
Before entering the jungle, Grace Dent was one of the only celebrities whose fee had been reported on. She was set to receive £100,000 for her time on the show. Apparently, the rule is that you have to spend at least 72 hours in the jungle to receive the full fee, and since Grace lasted as week in the jungle it is likely that she will be paid in full.
How did Grace Dent become famous?
Whilst being a restaurant critic sounds like an incredibly cool job, Grace Dent's fame also comes from the series of novels that she has published, as well as her role on multiple TV shows including Masterchef (in all its forms) and Great British Menu.
She also currently hosts the podcasts The Untold on BBC Radio 4 - a documentary series about life in 21stcentury Britain - and Comfort Eating, in which she interviews her celeb guests about food, cooking and cuisine.
What TV shows has Grace Dent been in?
Masterchef
Grace Dent is a regular critic on Masterchef UK, Masterchef: The Professionals and Celebrity Masterchef.
Great British Menu
Grace Dent briefly appeared as a judge on Great British Menu.
Grace Dent has also appeared as a celebrity guest on multiple British TV shows including Pointless: Celebrities, Have I Got News For You and Richard Osman's House of Games.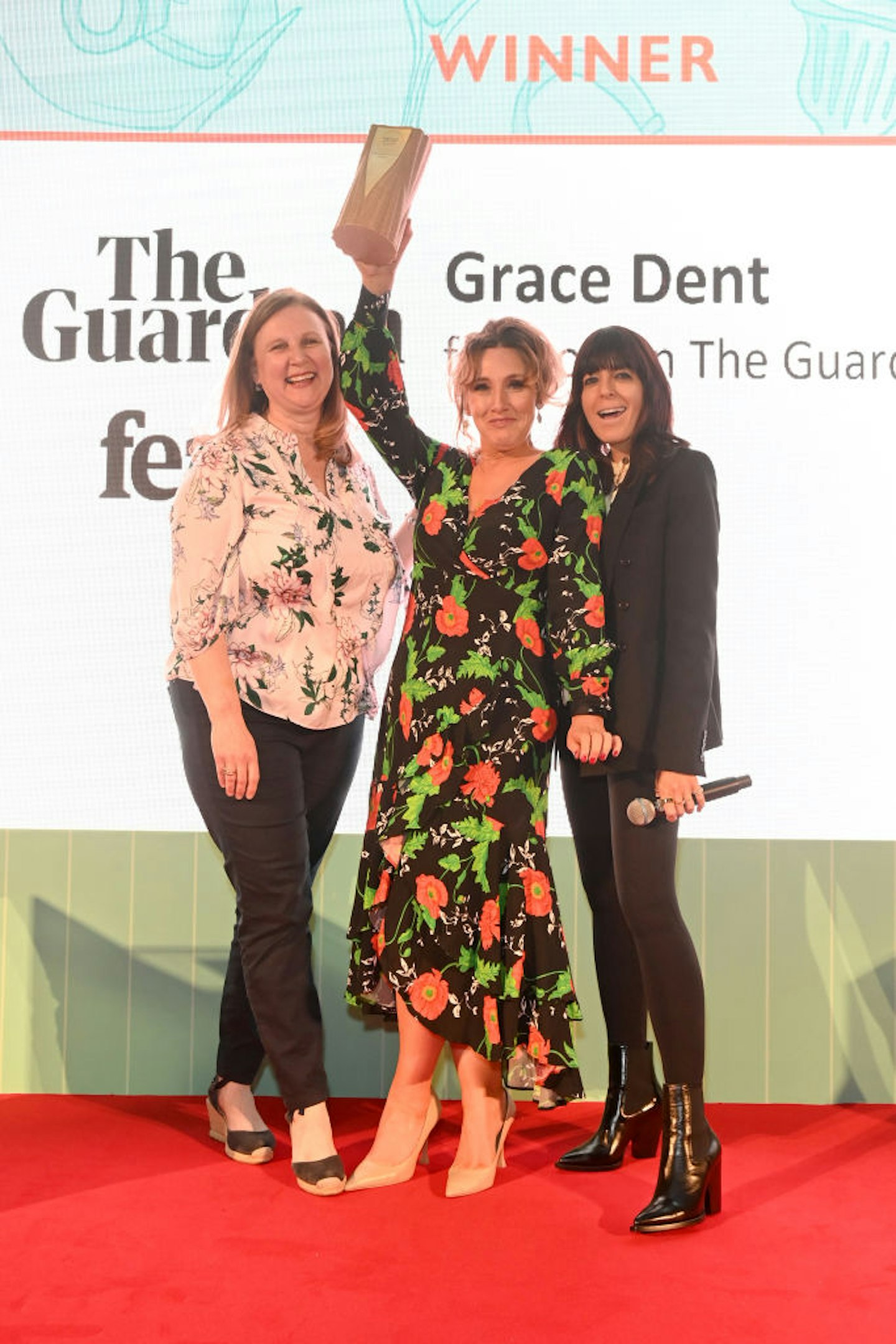 What books has Grace Dent released?
Grace Dent has written 11 novels, all aimed at a YA audience including six novels in a series called Diary of a Chav and two in a series called Diary of a Snob.
In October 2020, Grace Dent published her memoir Hungry: A memoir of wanting more which according to the tagline documented Grace's story from growing up eating beige food to becoming one of the much-loved voices of the British food scene.
Where is Grace Dent from?
Born in Carlisle, Cumbria in England, Grace Dent is from North West England. She now lives and works in London.
What age is Grace Dent?
Born 3 October 1973, Grace Dent is 50 years old.
Is Grace Dent married?
Grace Dent likes to keep her private life private and so not much is known about her current and former relationships.
She isn't thought to be married, but she is rumoured to be engaged to her boyfriend Charles. The pair met through social media with Grace saying in an interview, 'It was very gradual because we followed each other because we knew people in common. It's a very modern but very actually mundane way of people getting together.
'One of you leaves a comment and then the other one leaves a comment back but it was after about a year and a half, two years of leaving comments [that we met up].'
In an interview with the Evening Standard last year, Grace opened up about her partner saying, 'I live ostensibly on my own because my partner, Charlie, and I have separate homes, however the reality is he's in my house most of the time, making a mess, eating food from my fridge and being looked after.'
Does Grace Dent have any children?
Grace Dent doesn't have any children, and she doesn't plan to.
In an article for The Guardian in 2018 she wrote, 'I do like children. Just not enough. This still feels like a radical thing for a woman to say.
'Thank you for raising the future. You're all amazing. But it's still a no from me.'
Daisy Hall is a news and entertainment writer for Grazia, specialising in TV and film, meaning you can always count on Daisy for the latest (and best) viewing recommendations.