Finding a new date night restaurant in London is tricky. So often, we head back to our old favourites knowing exactly what to expect, nervous to waste precious pennies and much-needed romance on a new dud. But London is a city best known for its breadth of eateries, from understated gems to extravagant treasures. Seriously, there's a great place to eat every night in this city, and we've done the leg work eating out at every single one of them to nail down the best of the best... you're welcome!
So, if you're looking for a new date night restaurant or you're hunting down a new eatery for your girls night out - here's your absolute guide to the best restaurants in London.
Best Restaurants in London
1 of 32
Saltine
What do you look for in a date venue? If the answer is amazing food, a stylish but chilled out vibe, friendly service and thoughtfully-designed acoustics that mean you can actually hear your date talking? Then get Saltine on your list. The brainchild of Mat Appleton and Jess Blackstone, who are behind Fink's the North-London cafe chain, the pair teamed up with Chef Phil Wood for their new venture - a chic but welcoming neighbourhood restaurant in Highbury Park. The menu of seasonal dishes is led by sustainable ingredients that shine through in every dish. 
The waiting staff suggested we try the pumpkin starter, which has been flying off the menu since they opened in October, plus the roast beef and horseradish main. We happily obliged, adding a white crab and fennel starter to our order too. Each plate was impeccable - elevating relatively simple-sounding dishes to superstar status with a clever use of great ingredients. As I shoved the food in my mouth, I loudly proclaimed that I was eating the best crab and beef dishes I'd ever eaten - and I still think that now. 
The service was perfect - attentive without being overbearing, which is crucial when you're trying to work out if you're going to follow up with date number two (or in our case, discuss who's going to unload the dishwasher when we get home) and did we mention the acoustics? 
Whether it's date number three, date number 300, or a date with mates, get Saltines on your list, it won't disappoint.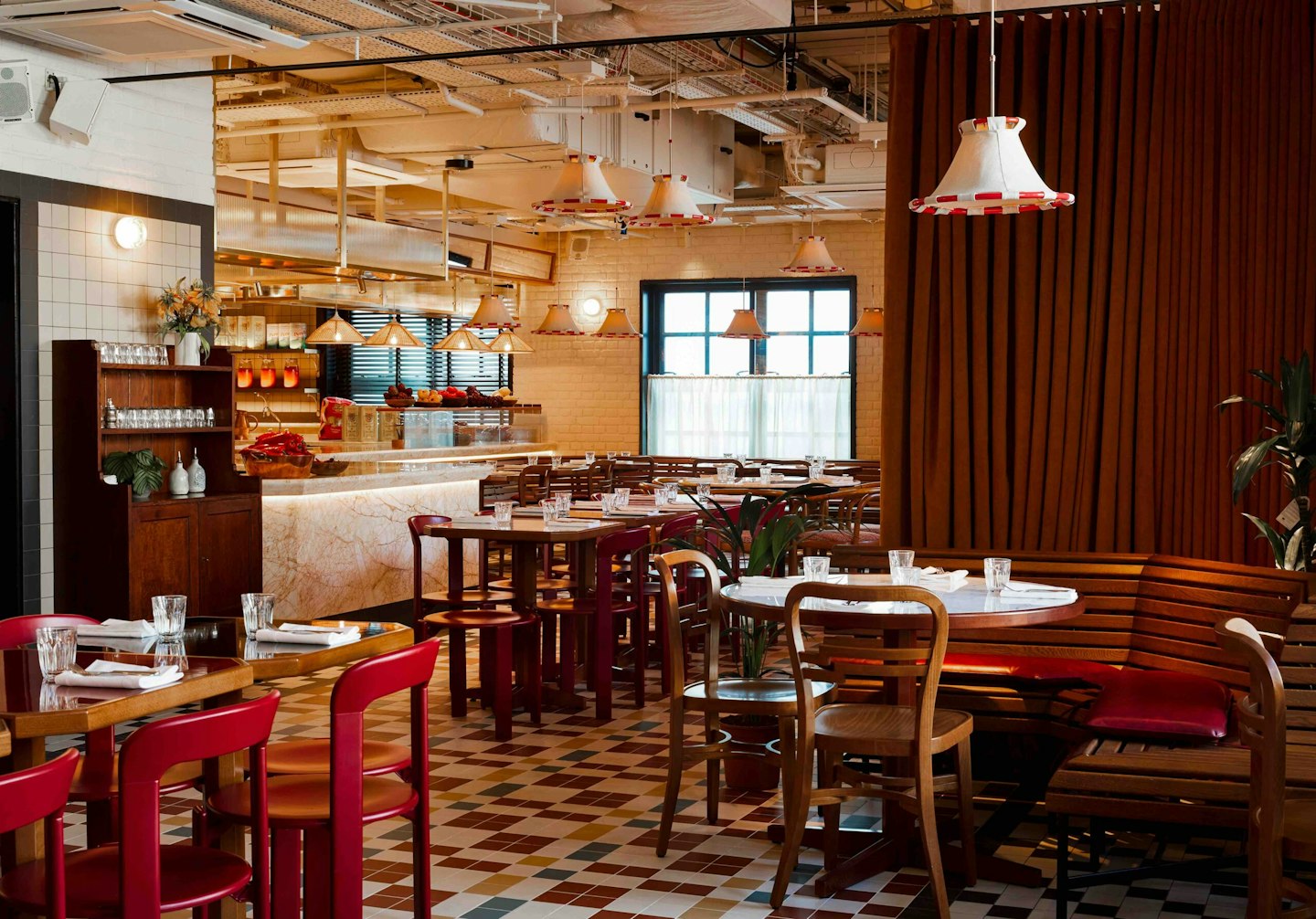 2 of 32
Cafe KOKO, Camden
The new celebrity hot spot gracing north London is Cafe KOKO, a lively day-to-night eatery and music venue in Camden, situated behind London's iconic KOKO. Serving up soulful Italian cooking with a modern twist by executive chef, Andreas Engberg, (from La Petite Maison) expertly curated music creates the most chic, cool vibe for any type of outing.
What's incredible about the newly refurbished KOKO is the sheer breadth of things to do there, there's House of KOKO - a sprawling private members club spanning private dining rooms, a luxe rooftop, and hidden cocktail bar as well as a number of performance spaces for artists to perform. Then there's Cafe KOKO, open to the public for intimate live performances and delicious food. And for even more culture? The KOKO Gallery, which houses contemporary art collections, and music moments that can be live streamed. From stunning interior design to authentically revived architecture, KOKO is beloved by artists, who can benefit from the venue's cutting edge audio, ultra high-quality streaming facilities, and top tier creative specs spanning recording, podcasts, installations, metaverse crossovers!
It's no wonder Stormzy recently had his birthday at the Cafe KOKO, we'd be there every night mingling with London's coolest crowd if we could.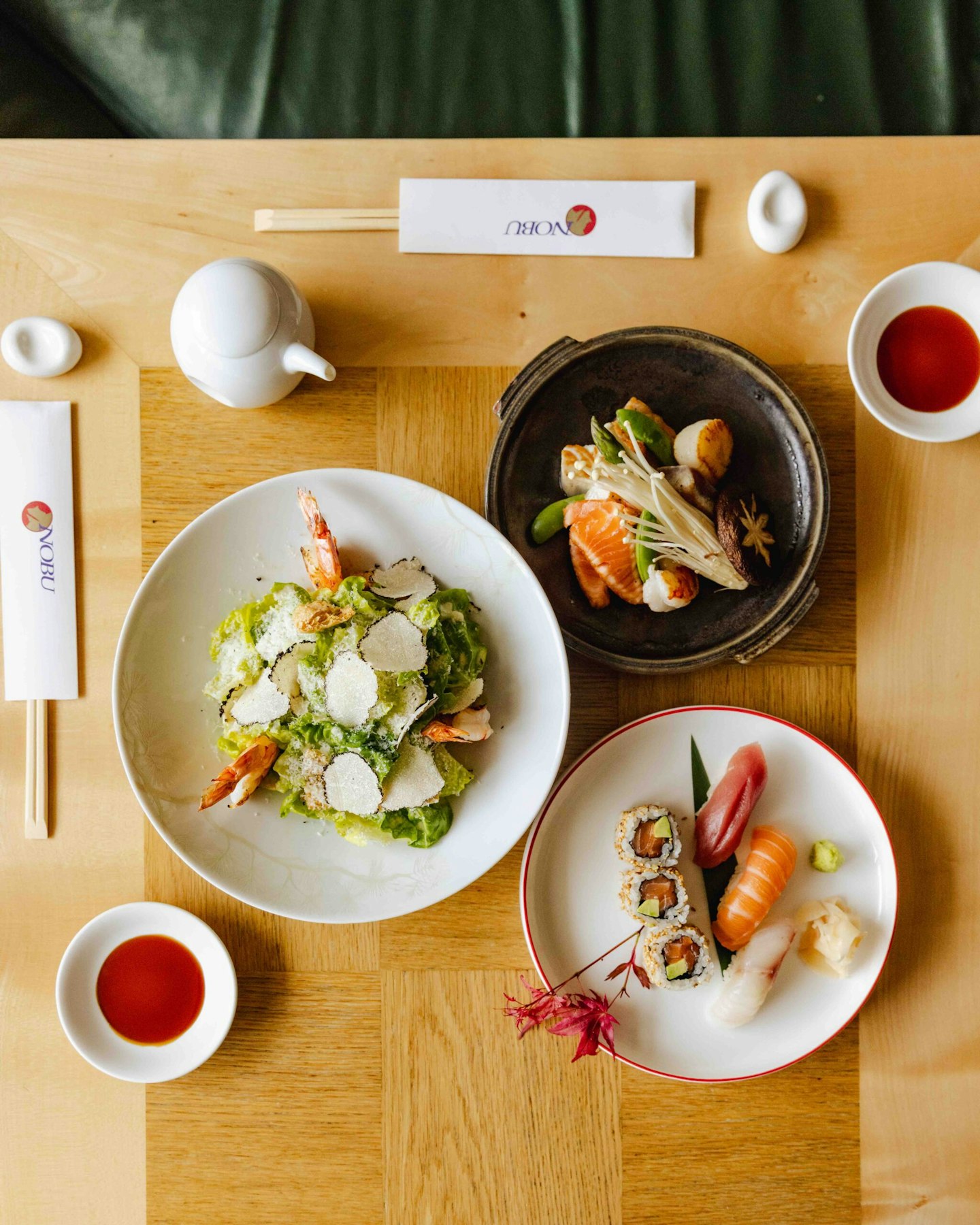 3 of 32
Nobu London, Mayfair
Another luxury option for anyone hoping to impress their date, Nobu London is the perfect blend of indulgent food and delightful vibes - especially if you're hoping to find a sweet summer date spot. On a budget? You're in luck. Nobu's four-course Summer Lunch Menu is bursting with flavoursome dishes for just £50 per person. 
Famed chef Nobu Matsuhisa's will induct you with one of his most celebrated starters, Yellowtail Jalapeño – delicate slices of yellowtail sashimi enlivened with yuzu soy sauce, garlic purée and thinly sliced jalapeño. Next up is Wasabi Caesar Salad Grilled Shrimp which combines creamy Caesar salad dressing with a hint of wasabi, tossed with greens, tofu croutons, Parmesan and shaved summer truffle, and topped with juicy grilled shrimp. Choose between the land and the sea with either Beef tenderloin or Seafood (shrimp, scallop, tuna, yellowtail and salmon) Toban Yaki. Roasted with sake and yuzu soy sauce and brought to the table in a sizzling traditional Japanese ceramic dish containing asparagus, enoki and shiitake mushrooms. 

Finish with a Whisky Cappuccino of rich coffee brulée layered with cocoa crunch, iced milk and cream, and whisky foam, or cool off as the mercury rises with a selection of Mochi Ice Cream. Could you ask for a better selection of courses? For those after a long-established Nobu experience, you can also add a Sushi Platter for £22.
Personally, we found Nobu London to be one of the best restaurants in London. From incredible food to stellar service, it should be up there as your date night regular!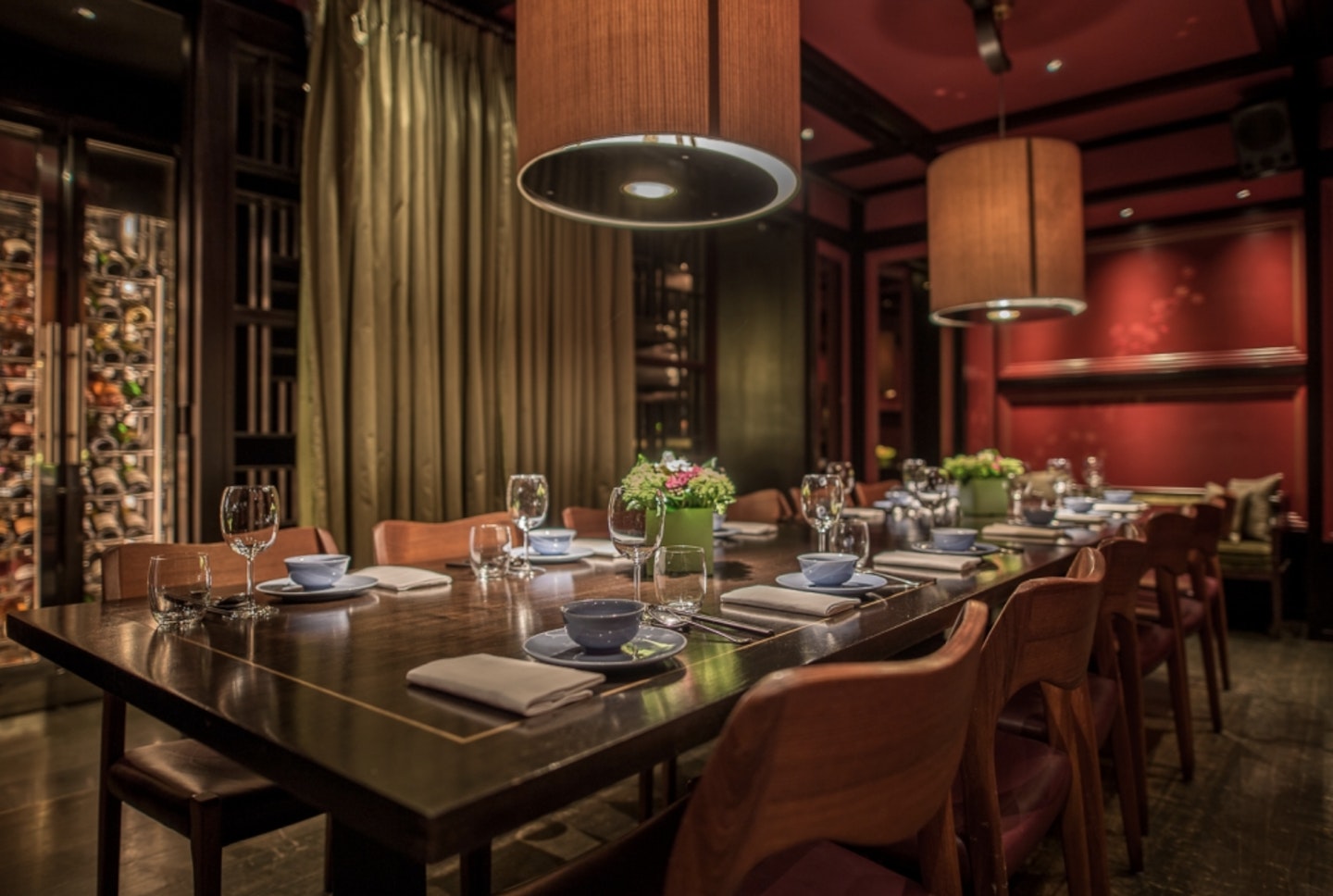 4 of 32
Hakkasan, Mayfair
 
For a more luxurious date night option, the globally renowned Hakkasan makes for an unforgettable experience. The sultry atmosphere gives an air of privacy even on the busiest of evenings (and with a Michelen star at both London locations - Mayfair and Hanway Place – there's rarely a quiet night at Hakkasan). A perfect atmosphere for a romantic occasion, or even a first date if you really want to impress.

The menu is a modern interpretation of authentic Cantonese cuisine, using the finest ingredients and expert traditional techniques to create timeless yet innovative signature dishes such as the Grilled Chilean Sea Bass and Crispy Duck Salad. My favourite was the Wagyu beef Shanghai dumplings and Hakka noodles – not to be missed.

The cocktails are just as delectable, from Lychee Martini's to their signature The Hakka and in exciting news, the signature cocktail menu is also available completely alcohol-free! Introduced by new Head of Bar for Tao Group Hospitality Wendy Hopkins, each cocktail on the signature list has a zero-proof version virtually indistinguishable from the original. 
Beyond the faultless food and drink offerings, it's the world-class service that Hakkasan is known for. Attentive, efficient and warm service staff make for a relaxing dining experience. It's no wonder Hakkasan is a celebrity hot spot, with the likes of Keanu Reeves, Fredo and Naomi Campbell dining there regularly.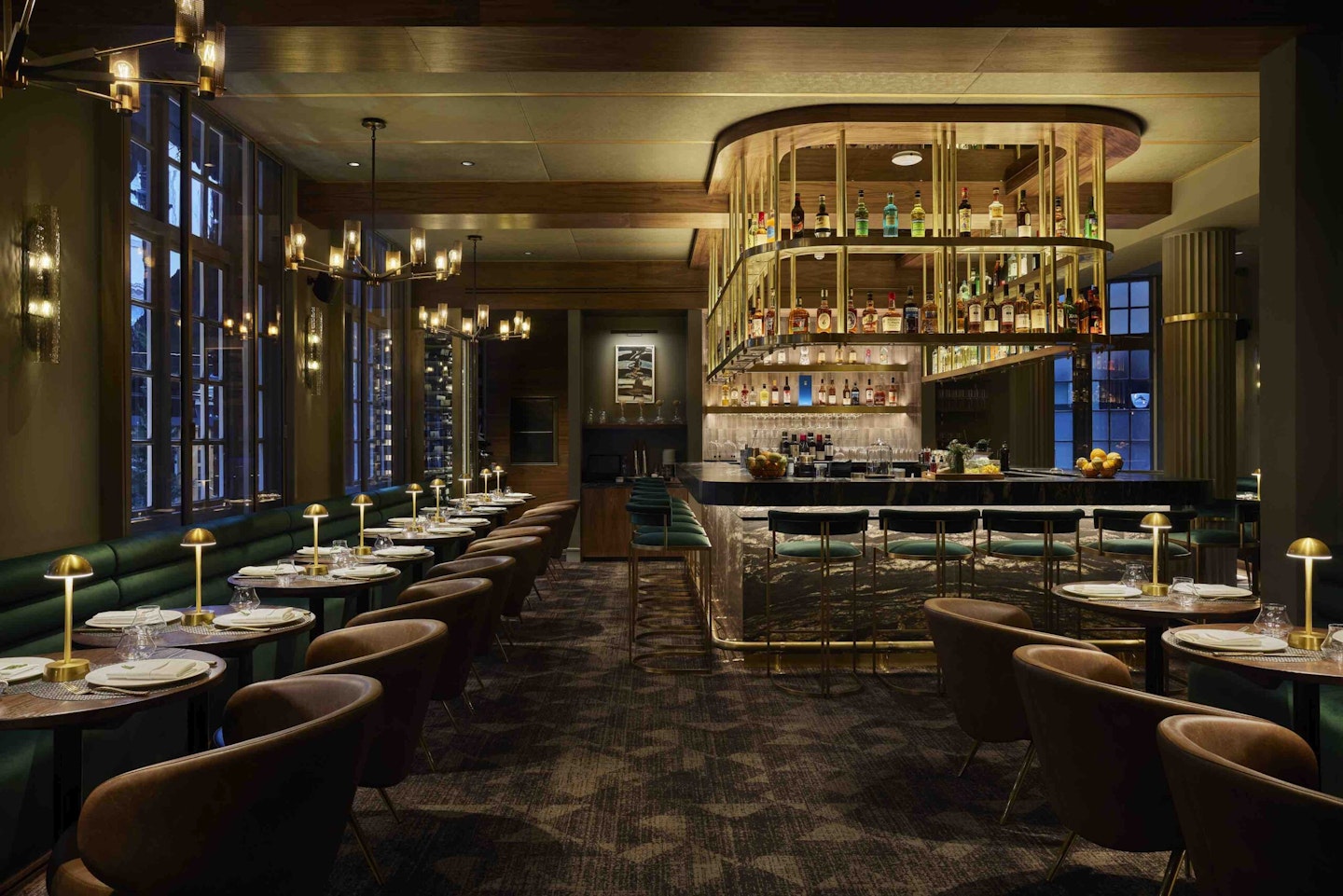 5 of 32
Sparrow Italia, Mayfair
Authentic Italian meets fine dining at this elegant Mayfair spot nestled inside the cobbled streets of Avery Row. The creative menu, curated by Chef AJ McCloud, offers luxurious delights from braised meatballs to grilled branzino to pane al tartufo - as well as a selection of pasta made fresh in-house daily. The flavours are adventurous and bold, made from high-quality, sustainable, and organic ingredients - complemented by a truly unique cocktail menu that will keep you coming back for more (our favourite is the campania). Make sure to try the crispy baby potatoes as a side, the herb butter melting into parmigiano to make the perfect mouthful of baked goodness!
If you simply fancy a drink, this chic location is perfect for after work drinks round the bar, a relaxed yet luxurious environment to unwind after a long week.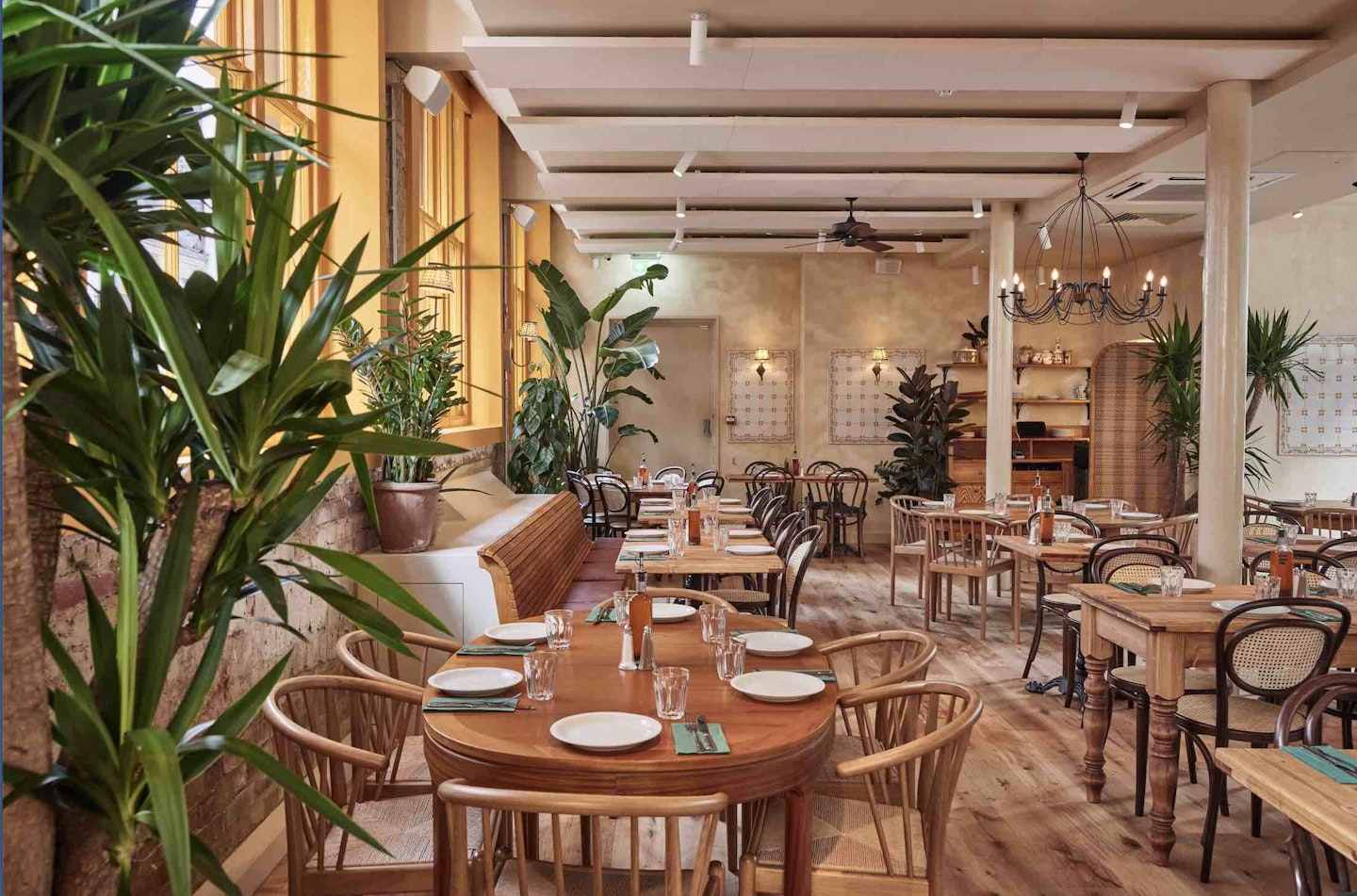 6 of 32
CREDIT: Charlie McKay (@CHARLIEMCKAY)
Casa Do Frango, Heddon Street
This Portuguese gem has a brand new location nestled in Soho. The cult piri-piri chicken favourite is situated at 31-33 Heddon Street, spanning two floors with a cosy, vibrant dining room, street-level terrace and cool drinks bar (The Green Room) alongside two private dining rooms.
The service is outstanding, but the food is even better. Their unimitable signature frango piri-piri chicken is a must, served alongside a selection of Portuguese sharing plates. Our favourites? The Iberico Pork Croquettes, kale and mushroom Salgadinhos and the Montanheira Salad. You cannot miss out on their dessert menu either, the Pastel de Nata's are the best in London - unsurprising for a Portuguese staple. Sharing plates, sangria and sublime service, what more could you ask for?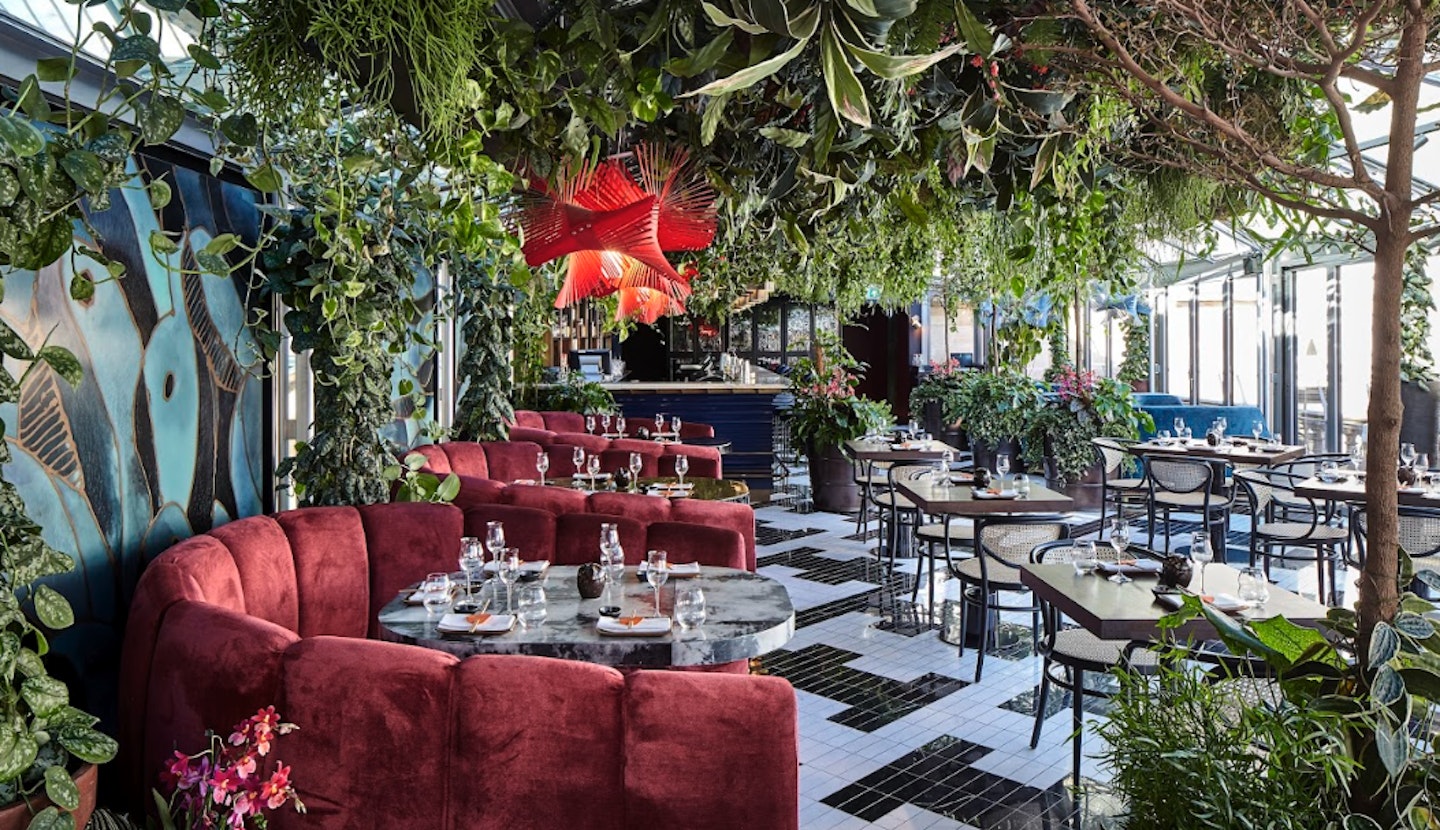 7 of 32
SUSHISAMBA Covent Garden
If you're looking for 'special' SUSHISAMBA fits the brief. The gorgeous interiors at the Covent Garden branch of the famously cool restaurant are only matched by the views by the windows on the first floor or the outside terrace across Covent Garden's main plaza. Or (when the weather warms up) opt for one of their outdoor tables to truly enjoy the hustle bustle atmosphere of a busy London summer evening. Don't waste conversation or flirting time perusing the menu for hours - we sampled the new Taste of Samba menu which was an incredible treat and perfectly pitched tour through the taste of SUSHISAMBA. Maybe do spend some time perusing the cocktail menu though. The fantastically unique menu deserves to be sampled... perhaps you could share a few? When it comes to the food though - especially the crispy lobster taquitos - we might not have been as up for sharing our portion. Luckily there's plenty of food to go around so it shouldn't spark an argument...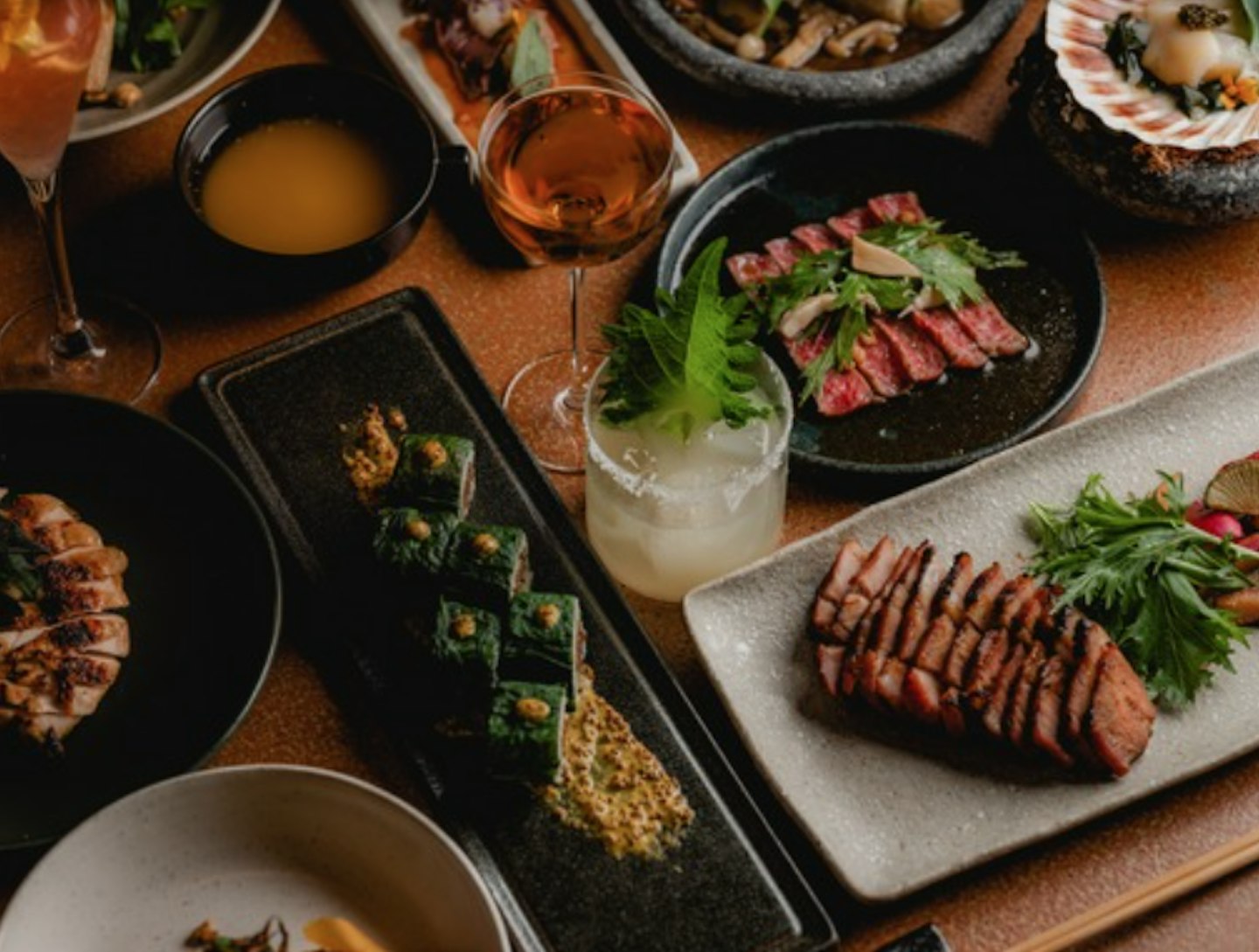 8 of 32
Sachi at Pantechnicon
Sachi have just launched their new autumn menu - and it's sensational. Seriously, it's quite possibly some of the best sushi we've ever eaten. Their sweet miso aubergine is comforting yet light and the wagyu tuna is so delicious you'll want to order it twice. Basically, expect a total celebration of Japanese culture in a relaxed and low-lit dining room you'll want to spend all evening in.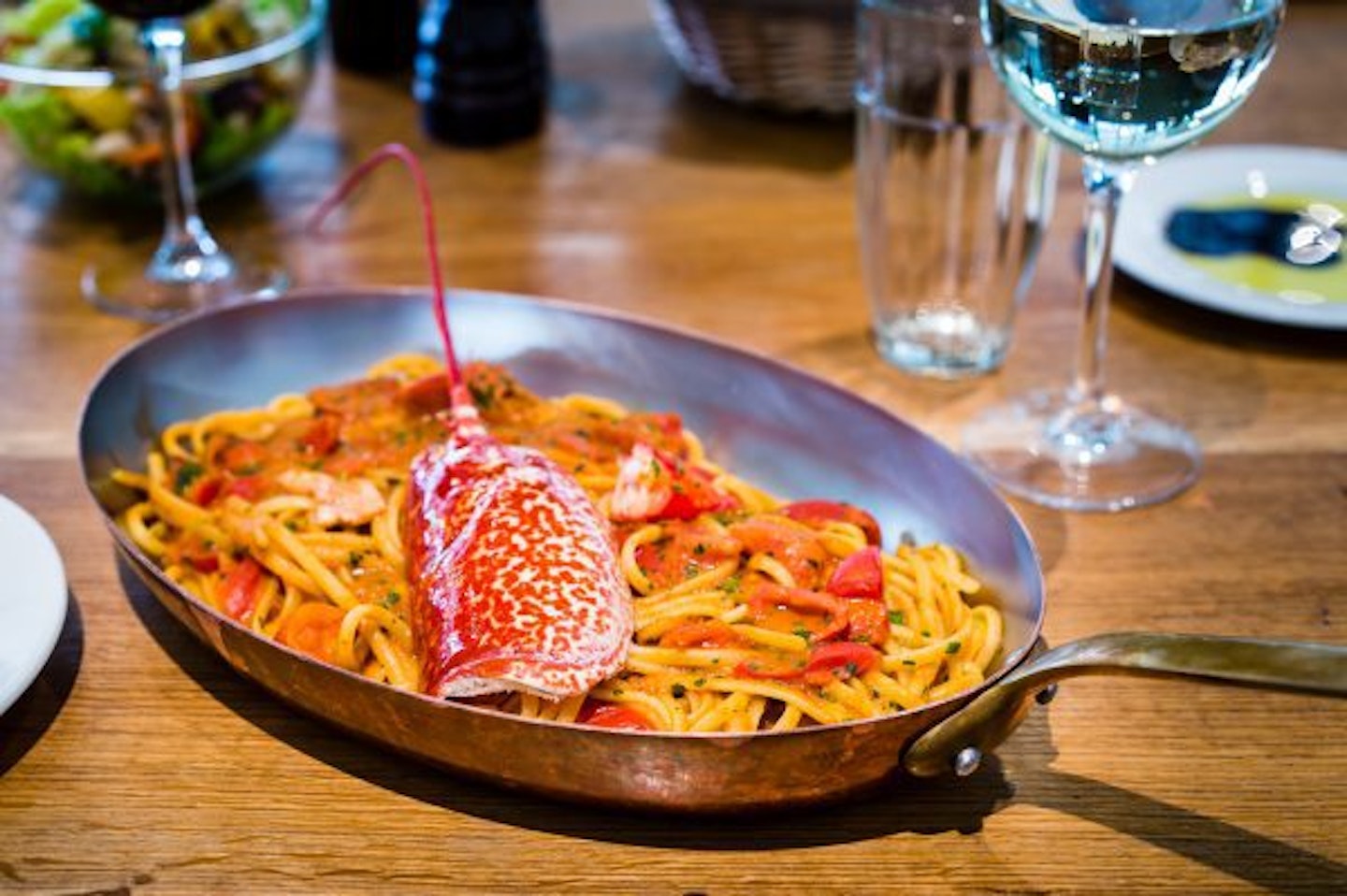 9 of 32
TOZI
Positioned in the heart of Victoria, TOZI is a Venetian-inspired Italian restaurant serving cicchetti style plates including stunning tuna tartare and buffalo ricotta ravioli with black truffle. Their waiters are passionate about the food and knowledgeable about their vast wine selection.The atmosphere in the restaurant is chic without being frosty and sociable without being over-attentive. Head here for a relaxed and delicious dinner.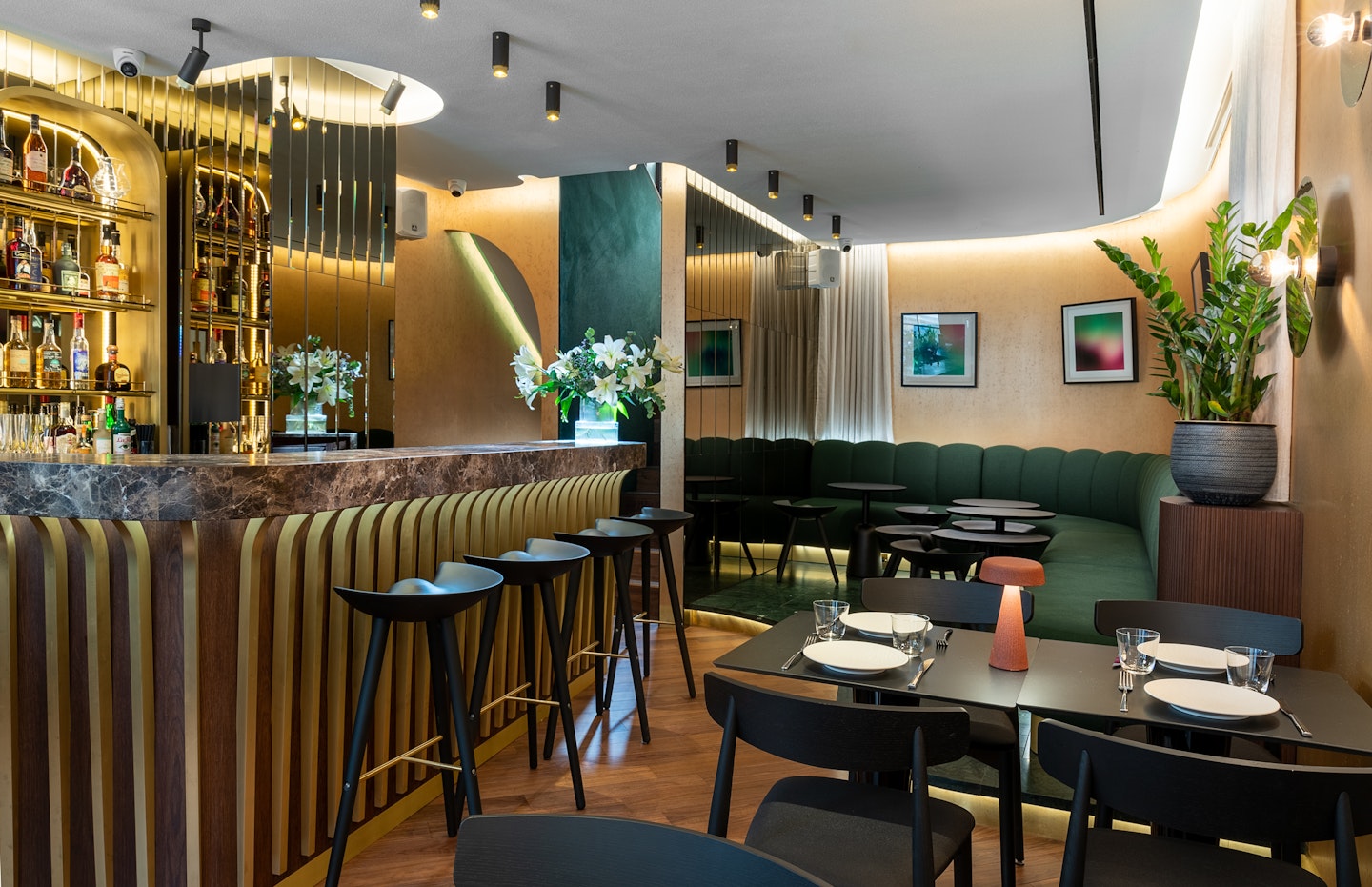 10 of 32
Bantof, Soho
Nestled in a cobbled corner of Soho, newly launched Bantof is a hidden gem of delectable drinking and dining. London's youngest Michelin chef, Asimakis Chaniotis, curated the menu that features pinach and Lemon Risotto with Mediterranean herbs; Rainbow Mini Burgers; Sea Bream Tartare with avocado, smoked almonds, and yuzu dressing; Black Truffle Pizza and many more sweet and savoury delights.

But the luxury doesn't end there, with an innovative cocktail menu created by SuperNacular, who, headed up by Cyan Wong, curated an exciting mix of new and classic cocktails with a twist – our favourites include their Fair Mary, Coffee House cocktail and Pina Quintas. When the sun sets on a Friday or Saturday evening, the vibe turns particularly chic with a roster of DJs spinning you into the night and small plates on offer

The most exciting part about Bantof is that from 2023, it will encompass a member's club without membership fees – that means all day dining, private meeting and workspaces, a regular roster of members events and much more. With the space designed by Camille Saad from ALN.CMY Architects, the design is focused on creating a social space that celebrates the eclectic experience of Soho – supporting new and uprising artists with the unique opportunity to exhibit and sell work (free of charge for three months at a time on a rotating basis), but you can check out more about that here.

All in all, Bantof is a must-visit.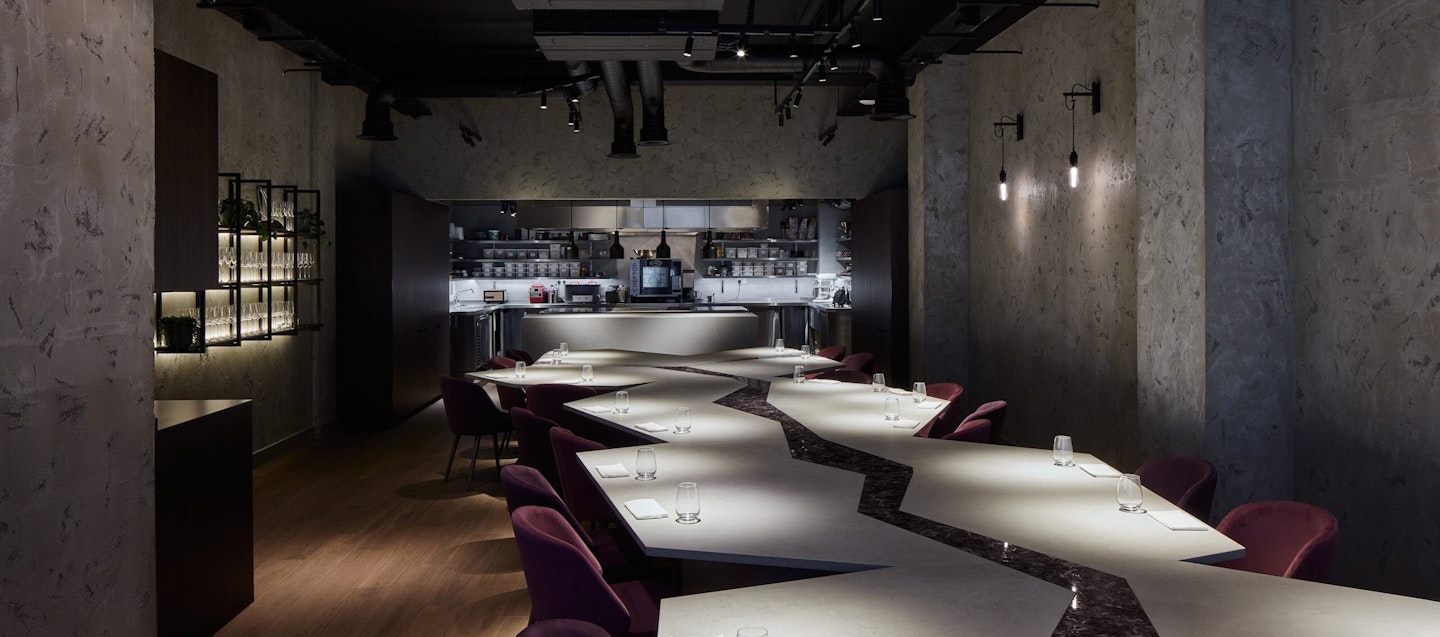 11 of 32
Amethyst
For a truly bespoke dining experience in the heart of Mayfair, look no further than Amethyst by ex-Xier star chef Carlo Scotto. In an inconspicuous space on Sackville Street, the clouded windows give no indication to what's inside. So, it's a remarkable sight when you walk in to see a 10-metre long, jagged chef's table shot through with real amethyst & quartz stone.
Carlo's expertise takes guests on a gastronomic journey via his unique tasting menus. The menu is influenced by the simplicity and elegance of Nordic and Japanese cuisine, with French and Arabic influences. Each dish is well thought out and flavoursome and was a dining experience we will never forget.
Stand out dishes: 12 course tasting menu featuring: Black cod that was left to marinate in caramel miso for 36 hours to create a sweet, smoked hay-dusted wedge. And it is difficult to forget the scrumptious flavours from the scallops filled with caviar.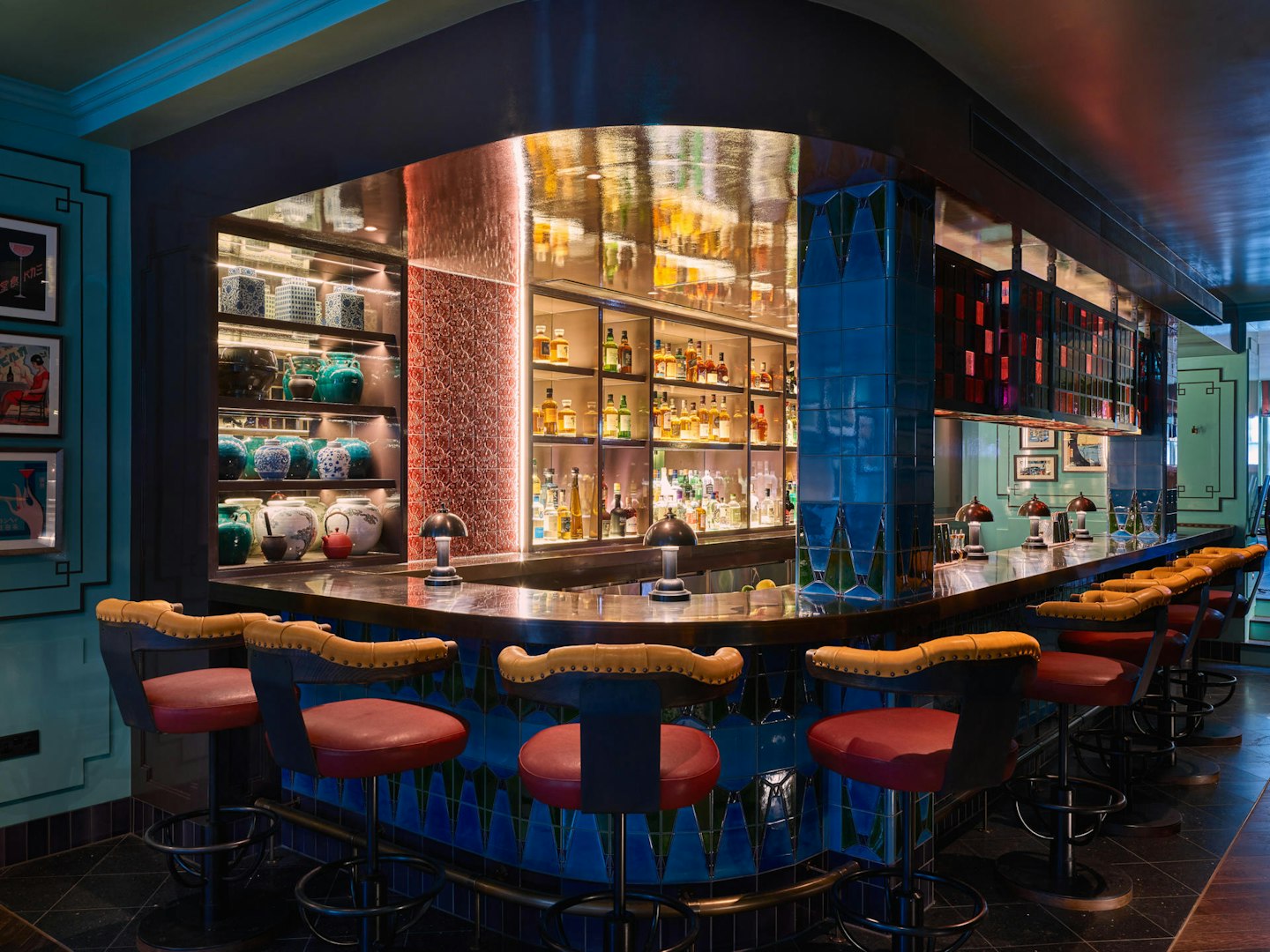 12 of 32
Fuji Grill, Beaverbrook Town House
We started our evening at Beaverbrook Town House with two perfect espresso martinis at Frank's Bar. After soaking up the relaxed and sociable atmosphere we moved through to the adjoining Fuji Grill where we ate some of the best sushi we've had in London. From properly spicy tuna rolls to daring bream covered in Kentish ants for citrus flavour - this is a must visit for any sushi lovers bored of the same old California rolls.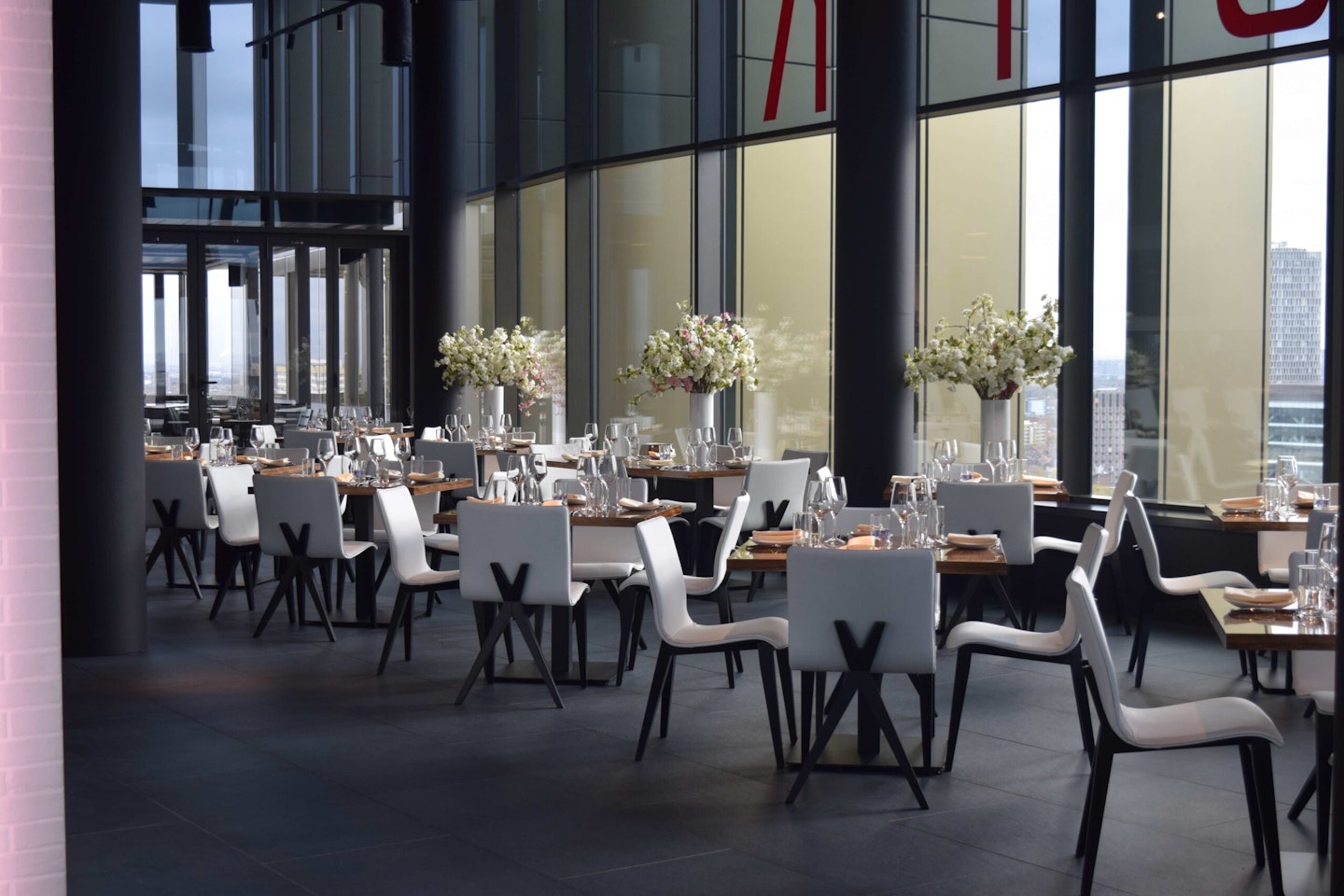 13 of 32
STK Steakhouse - Stratford
STK Steakhouse has always been a staple in elevated dining and it's brand new opening in Stratford, East London is no different. The new venue is located in the penthouse of The Gantry London Hotel, offering magnificent views of the city below. Feast on reimagined classic American cuisine, world-famous cocktails and live music spun by renowned DJs. Stand out dishes: Ancho Chilli Rubbed Striploin Steak and Tamarind Chicken Wings.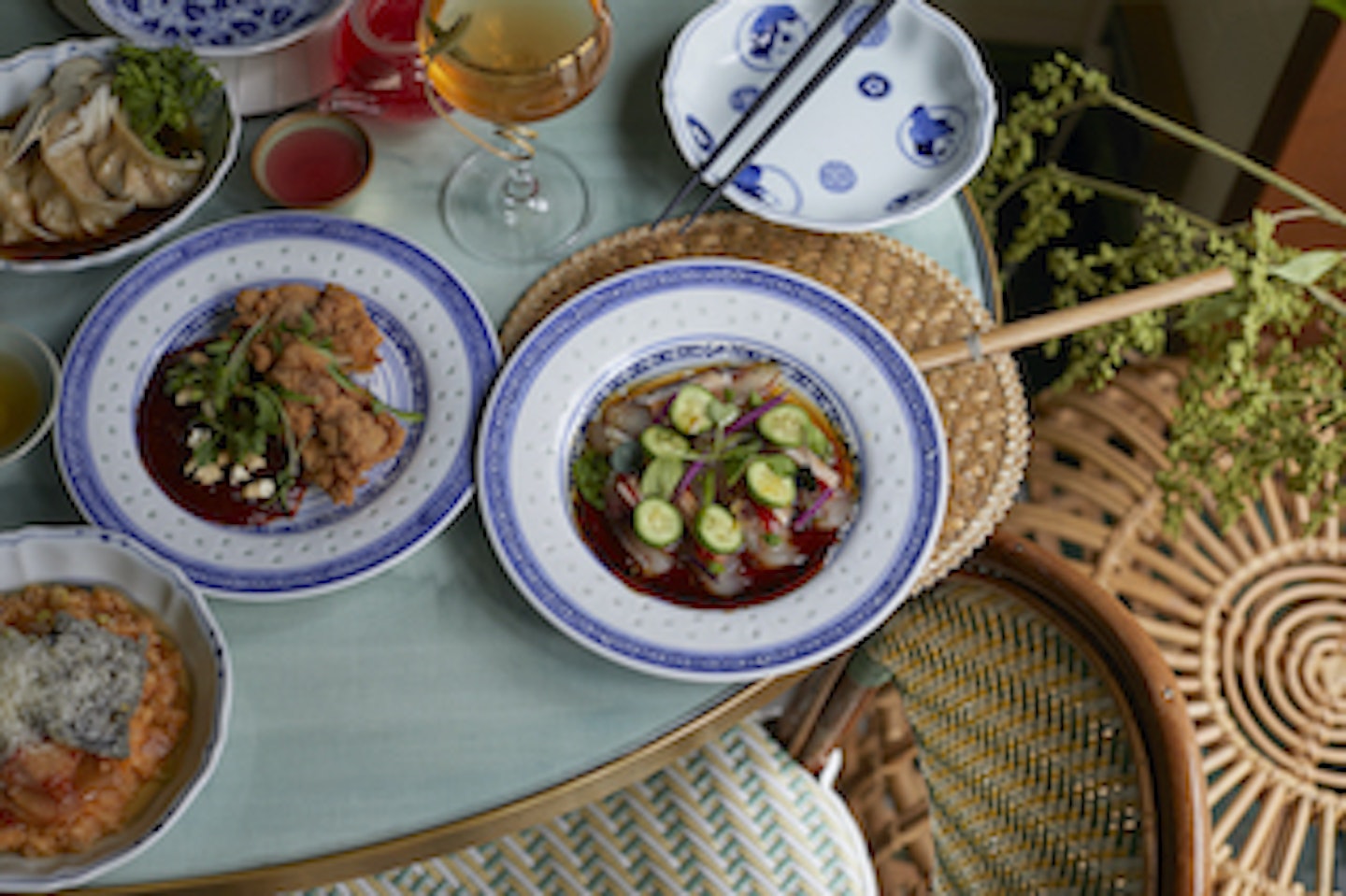 14 of 32
Joo Won at Bun House
Bun House, which offers Cantonese steamed bun heaven in London's Chinatown, has welcomed award-winning chef Joo Won for a pop-up running until October 4. Joo is serving a menu of South Korean and European-inspired sharing dishes, including his take on an Italian classic, a kimchi and cheddar risotto topped with poached egg and seaweed crisp (delicious) and his unique JFC - Joo's Fried Chicken – fried chicken paired with gochujang (red chili paste), ginger, honey and apple, topped with creamy cashews and coriander. Finish with a dark chocolate cremeaux with yuza marmalade, hoji tea and toasted grain cream.... and roll home happy. Click here to book.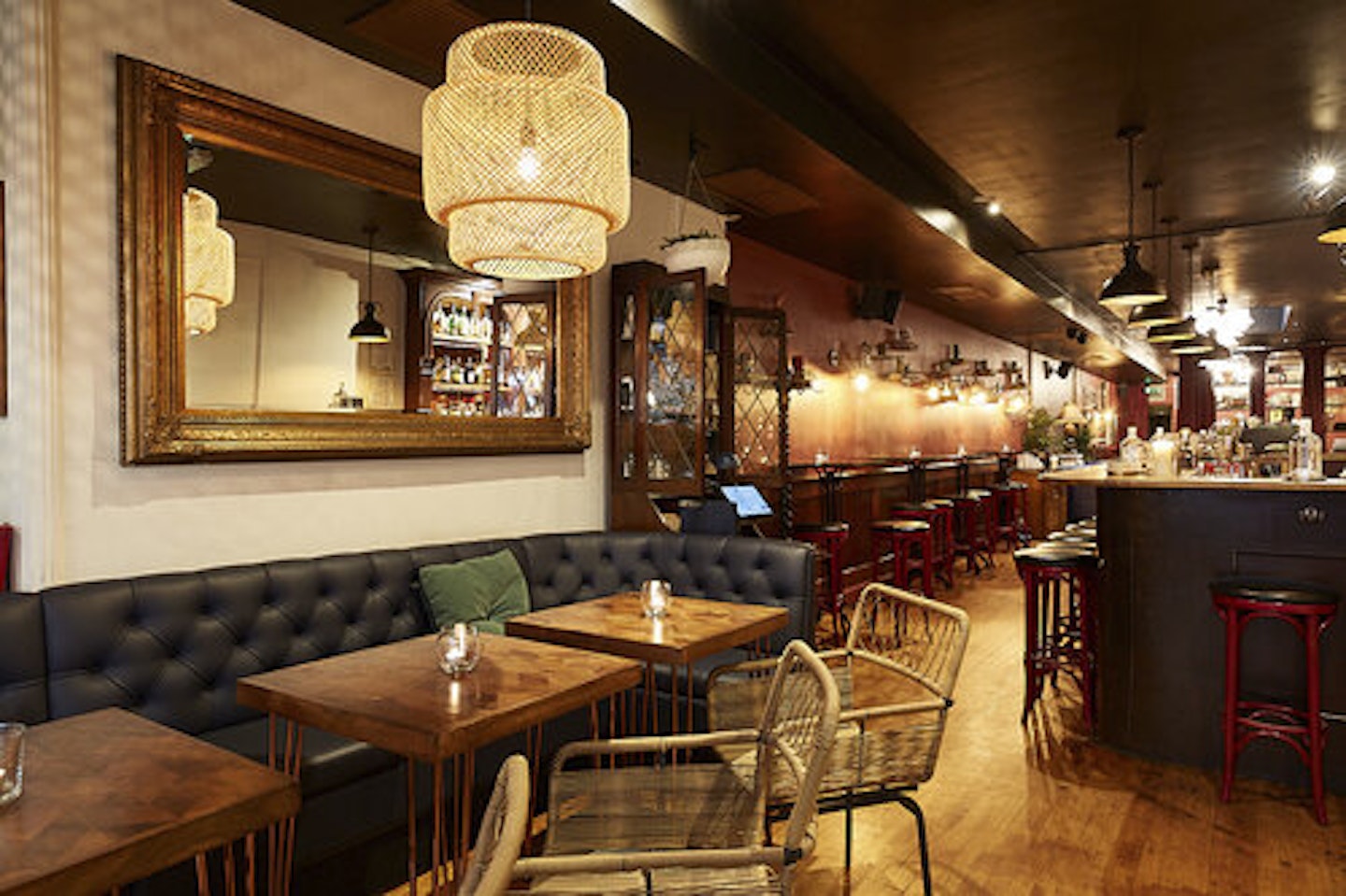 15 of 32
Little Bat Bar, Angel
Little Bat Bar is part of the world renowned cocktail bar Group Callooh Callay, with a 12 year track record for serving great drinks to amazing people. The Little Bat Bar food menu offers an impressive selection of small-plates, with dishes effortlessly fusing cosy Mexican cuisine with East Asian flavour and a whole lotta love. As well as small plates available every day from 5pm to 10pm, the bar also offers a bottomless brunch from 11am to 3pm each Saturday and Sunday, where £30 gets you 90 minutes of bottomless Prosecco or brunch cocktails, when ordered alongside a main brunch dish.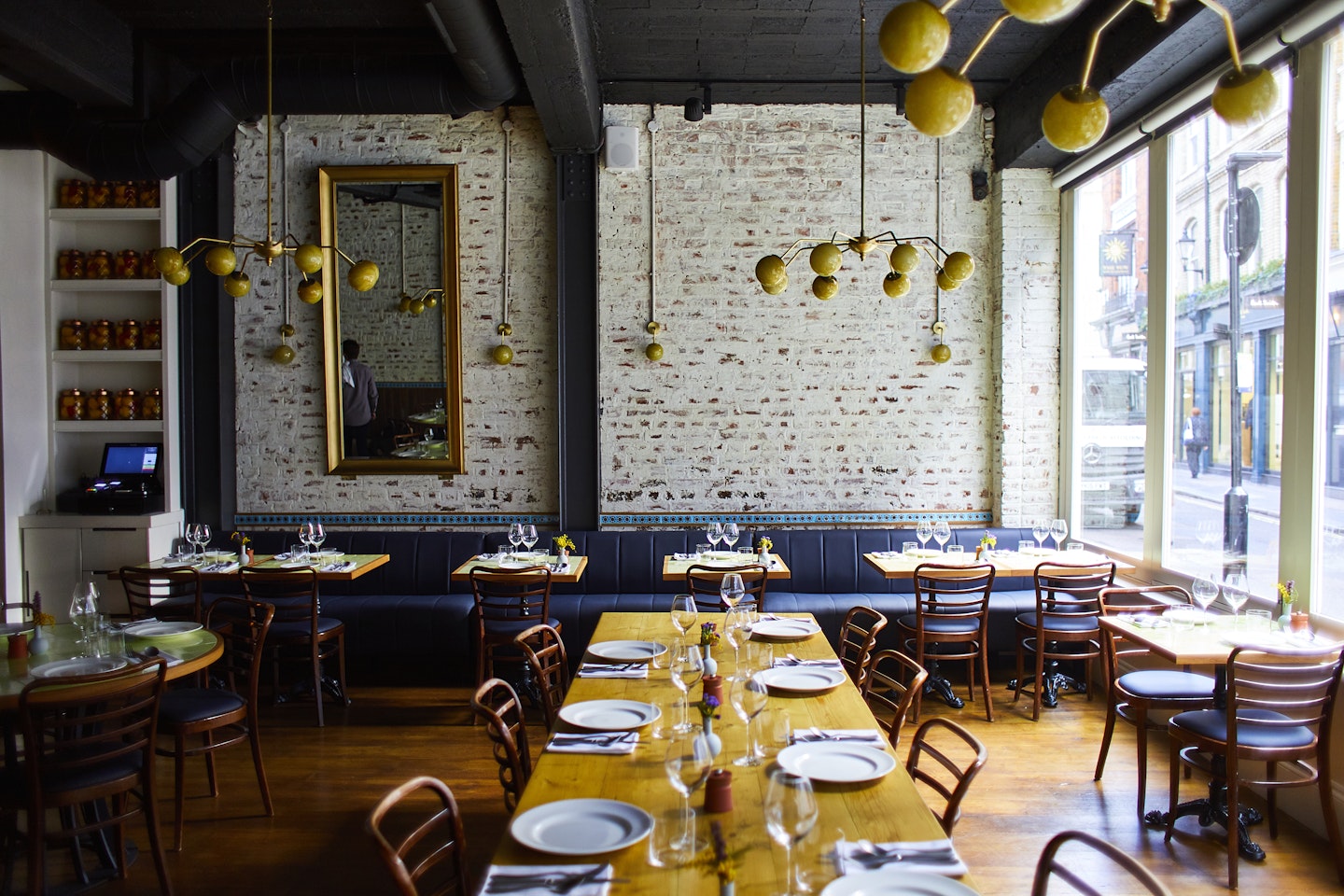 16 of 32
Yeni Soho
Just round the corner from Carnaby Street, Yeni Soho is the brainchild of Civan Er and Cem, who founded Yeni Lokanta in Istanbul. Their modern take on Turkish food comes on sharing plates, with treats including tempura courgette flowers, stuffed with aged feta and drizzled with honey, chilli, and almonds; aubergine baked with stilton, figs and sherry; and the dainty beef manti dumplings. Finish your feast with sütlaç (rice pudding) topped with oh-so-Instagrammable saffron sugar floss - and it all tastes just as good as it looks.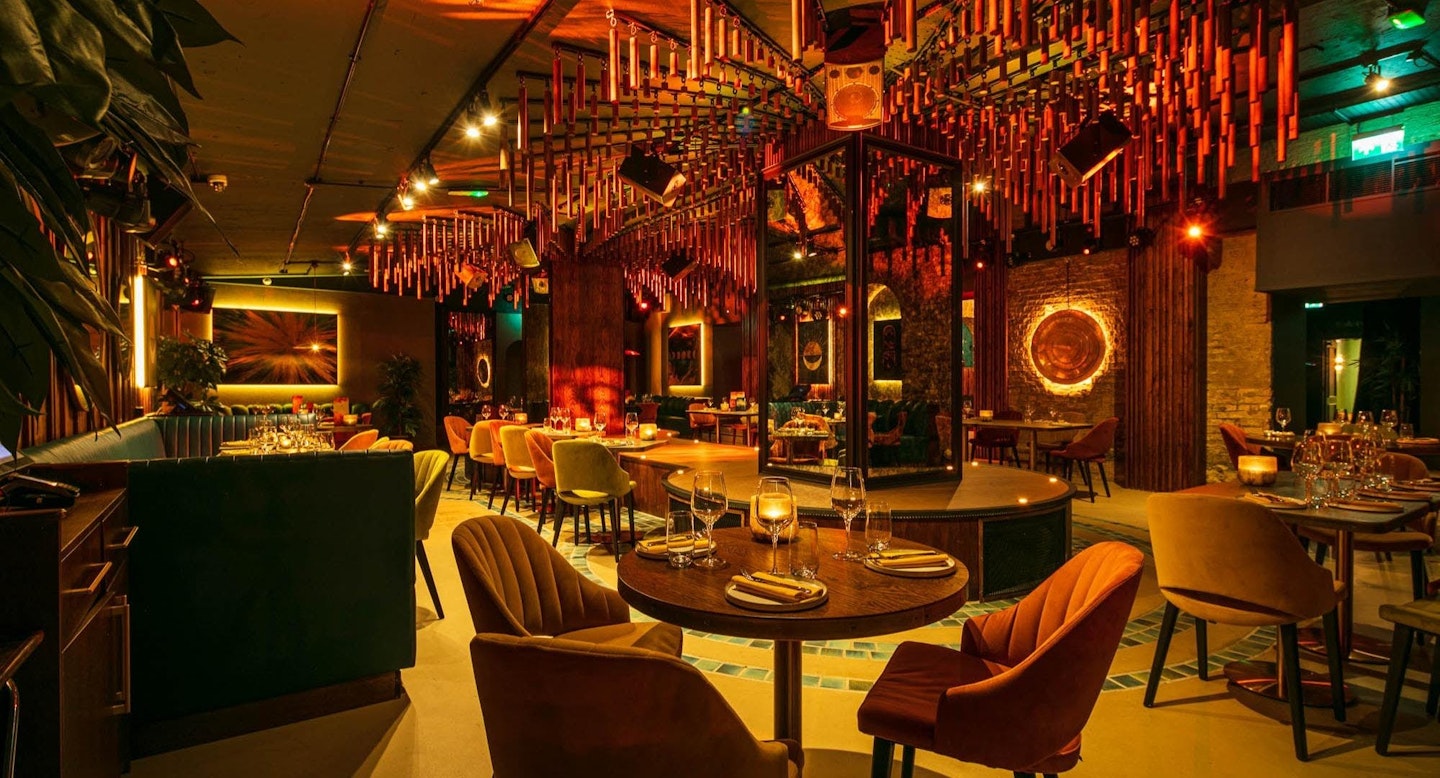 17 of 32
Inca
In the heart of Mayfair be prepared to be dazzled as you dine. Inca London is the hottest new destination for dinner and a show. Feast on South American inspired cuisine while performers entertain you with high energy dance routines and slow ballads. For a unique date night look no further than Inca. Standout dishes: Inca rolls.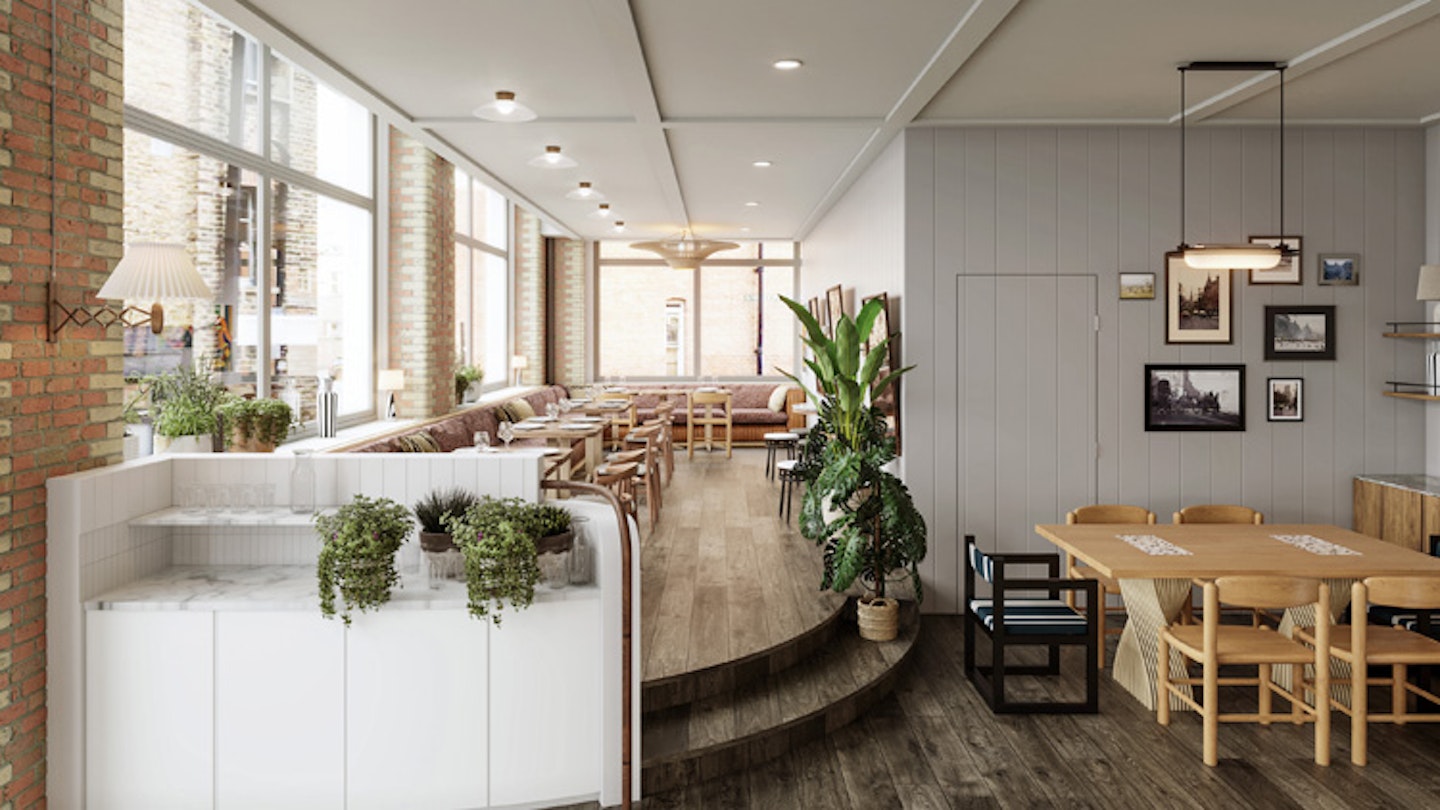 18 of 32
Boundary at The Boundary
Known for its stunning Shoreditch rooftop, The Boundary Hotel has now opened its latest food hot spot: Boundary. Formerly the Albion Café, the 100-cover restaurant and bar serve modern British fare with a European influence, inspired by Swedish-born Head Chef, Robin Freeman. Flooded by natural light and inside/outside dining on the ground floor, menus include Devon diver scallops in anchovy and parsley butter, short-rib polenta and (obviously) loads of delicious cocktails.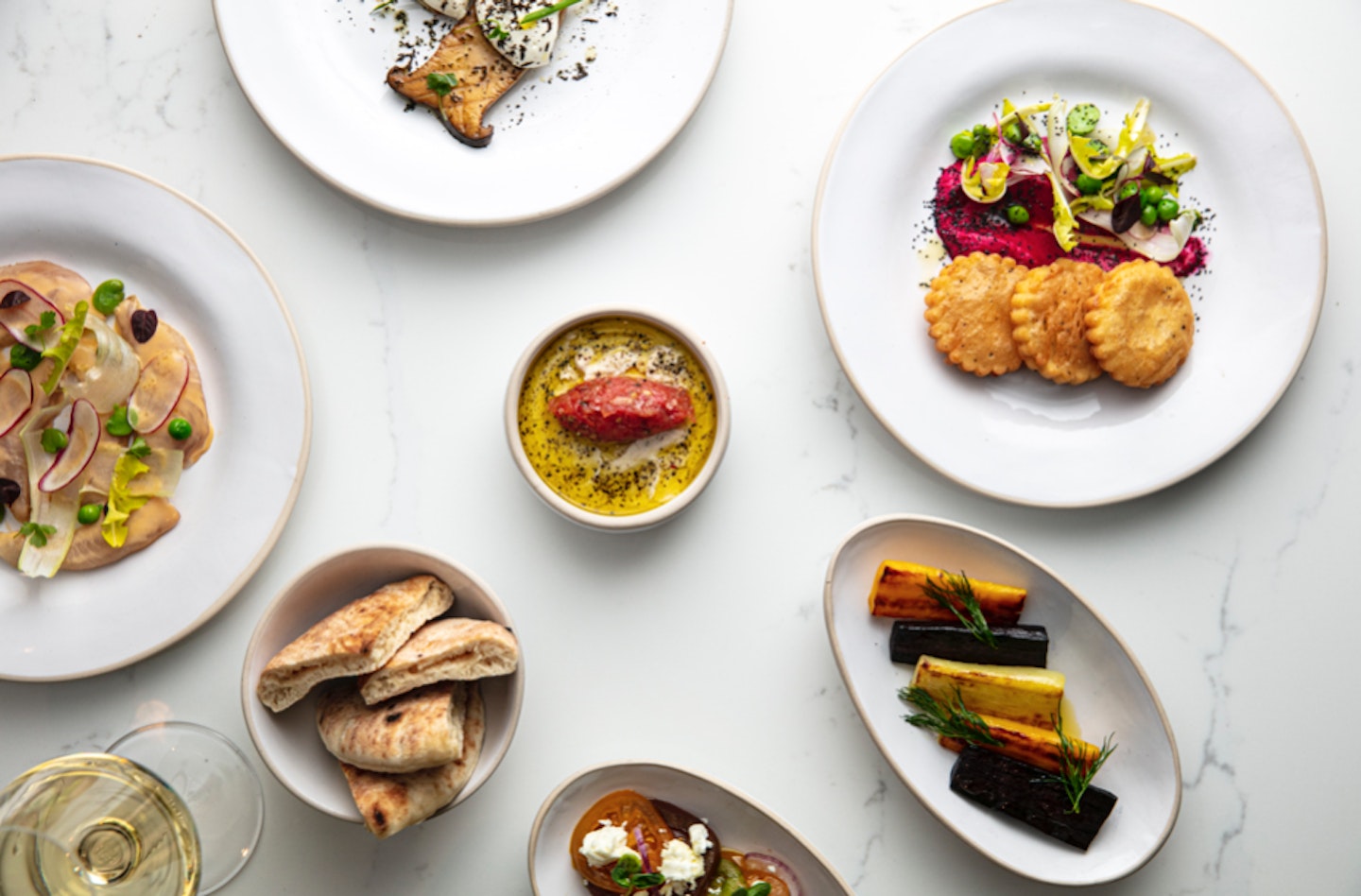 19 of 32
Kitchen At Holmes
With an open kitchen and warm decor, Kitchen At Holmes instantly makes you feel relaxed in the heart of Marylebone. Expect welcoming staff and dishes packed with flavour - from carefully crafted sharing plates to hearty bowls of pasta. We tried the tuna tartare, grilled octopus and lobster tagliolini and it did not disappoint.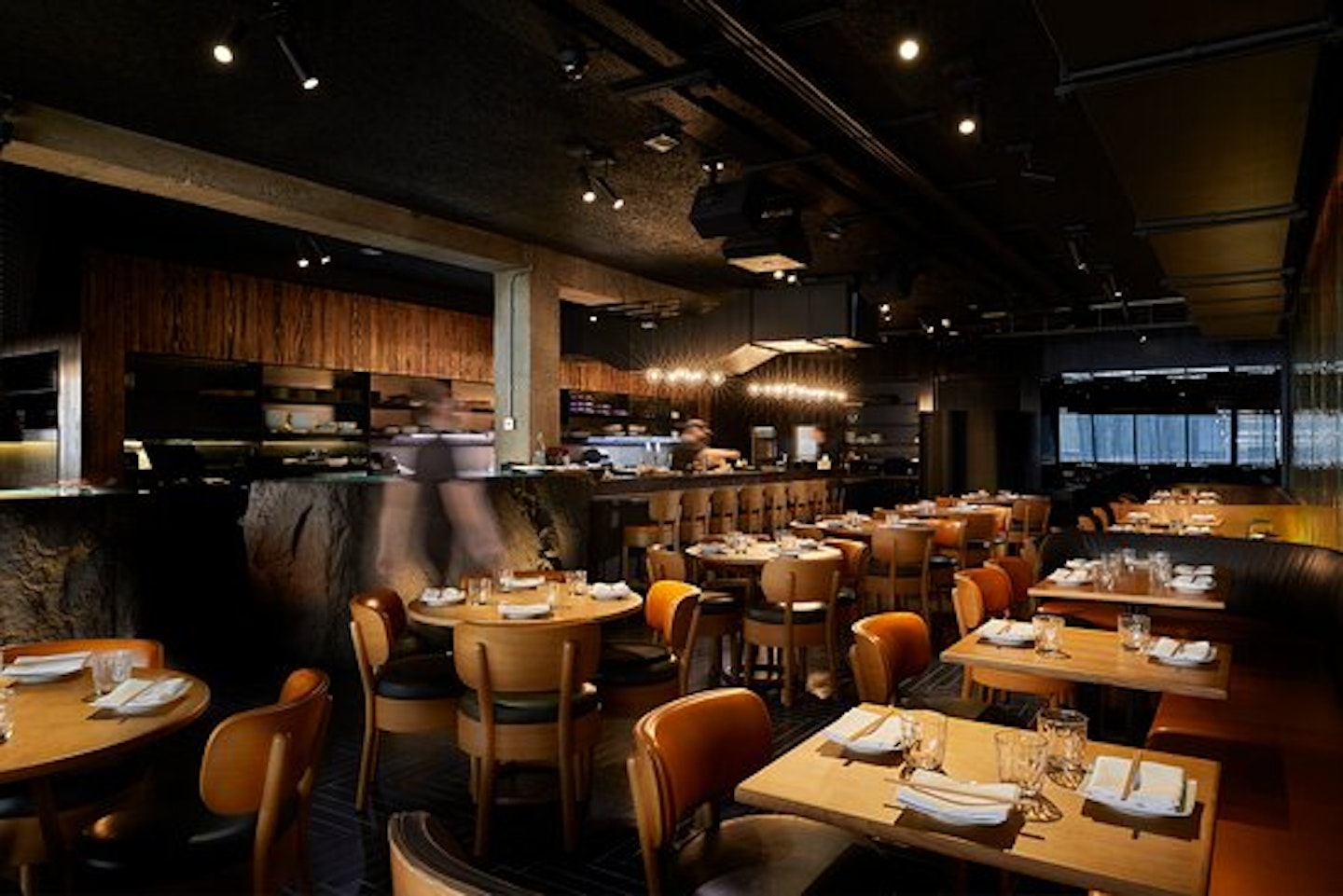 20 of 32
Chotto Matte
Quite possibly the liveliest sushi restaurant in London, the Chotto Matte menu has an amazing fusion of Japanese and Peruvian cuisine. From their Black cod ahi miso to their dragon rolls and tuna tatami, this food is seriously good. Expect DJs and evening entertainment while you eat and sushi rolls finished off at the table with a theatrical blow torch char.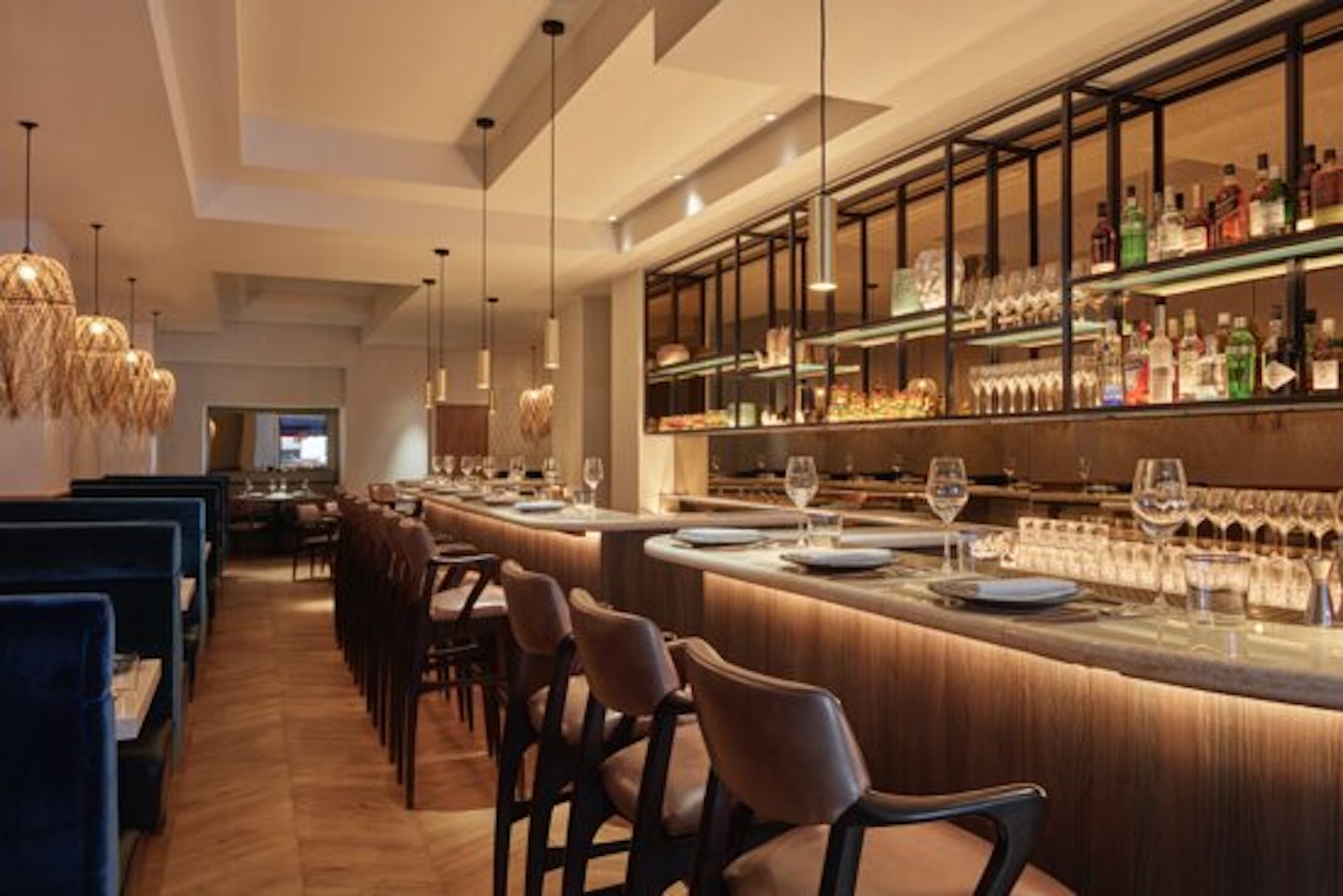 21 of 32
Bar Des Pres
Set within a small and charming 18th Century building just off Green Park, Cyril Lignac's Bar Des Pres has a Franco-East Asian fusion menu that includes marinated sea bass with yuzu and miso caramelised aubergine as well as classic California rolls and yellowtail sashimi. The upstairs restaurant is relaxed, light and elegant and if you want to continue your evening with some cocktails, head downstairs to their 1950s inspired lounge for drinks and light bites. Highly recommend.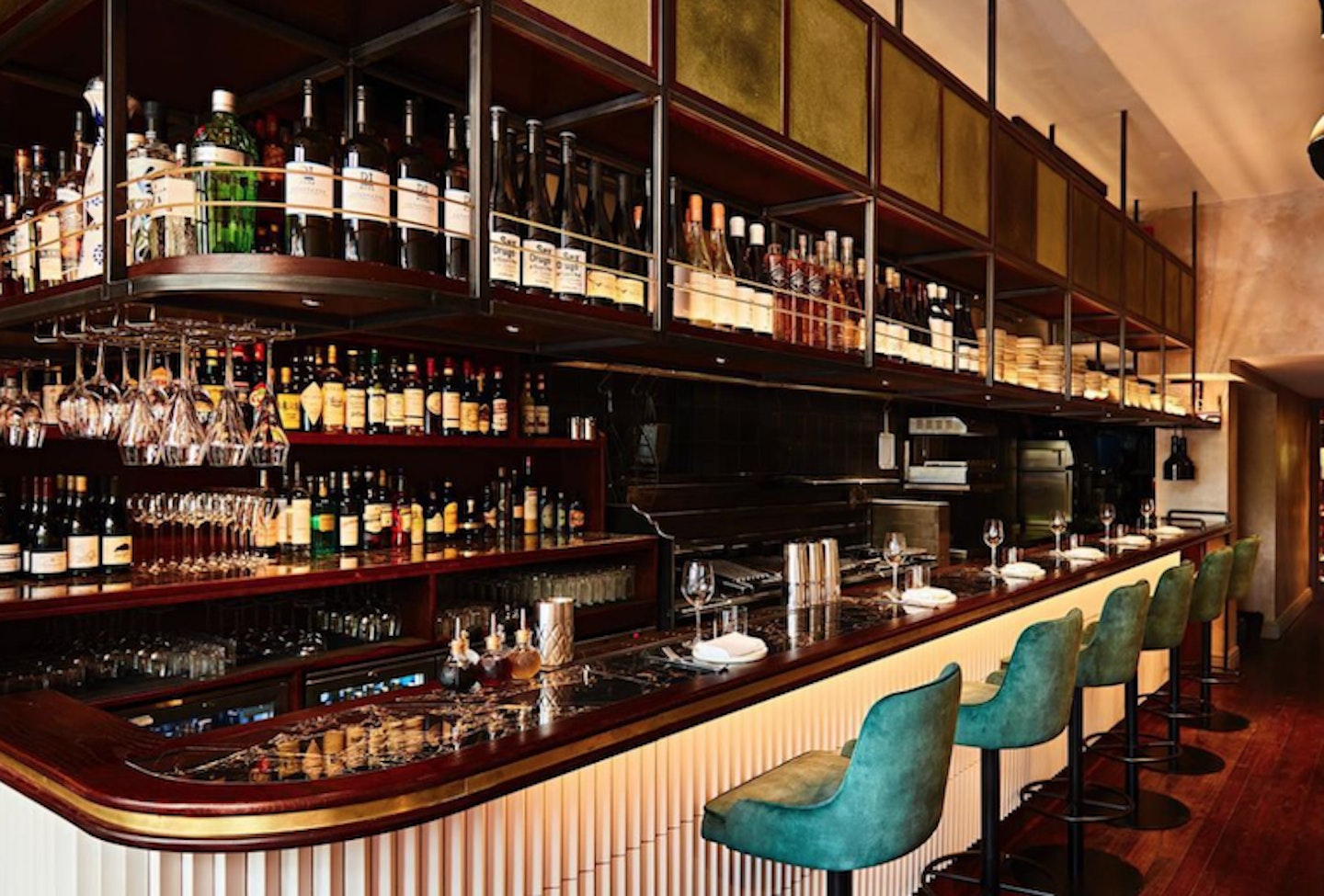 22 of 32
Caia
Open fire cooking, natural wines, guest DJs spinning vinyl: everything about Caia just screams passion. Situated on Golborne Road in West London, the small plates restaurant simultaneously offers fine dining and a really good party. We opted for a signature MiTo cocktail (sort of like a Negroni) and then experienced the joy of small plates - aka, eating loads of everything. The octopus ragu and purple sprouting broccoli are must haves. Visit asap.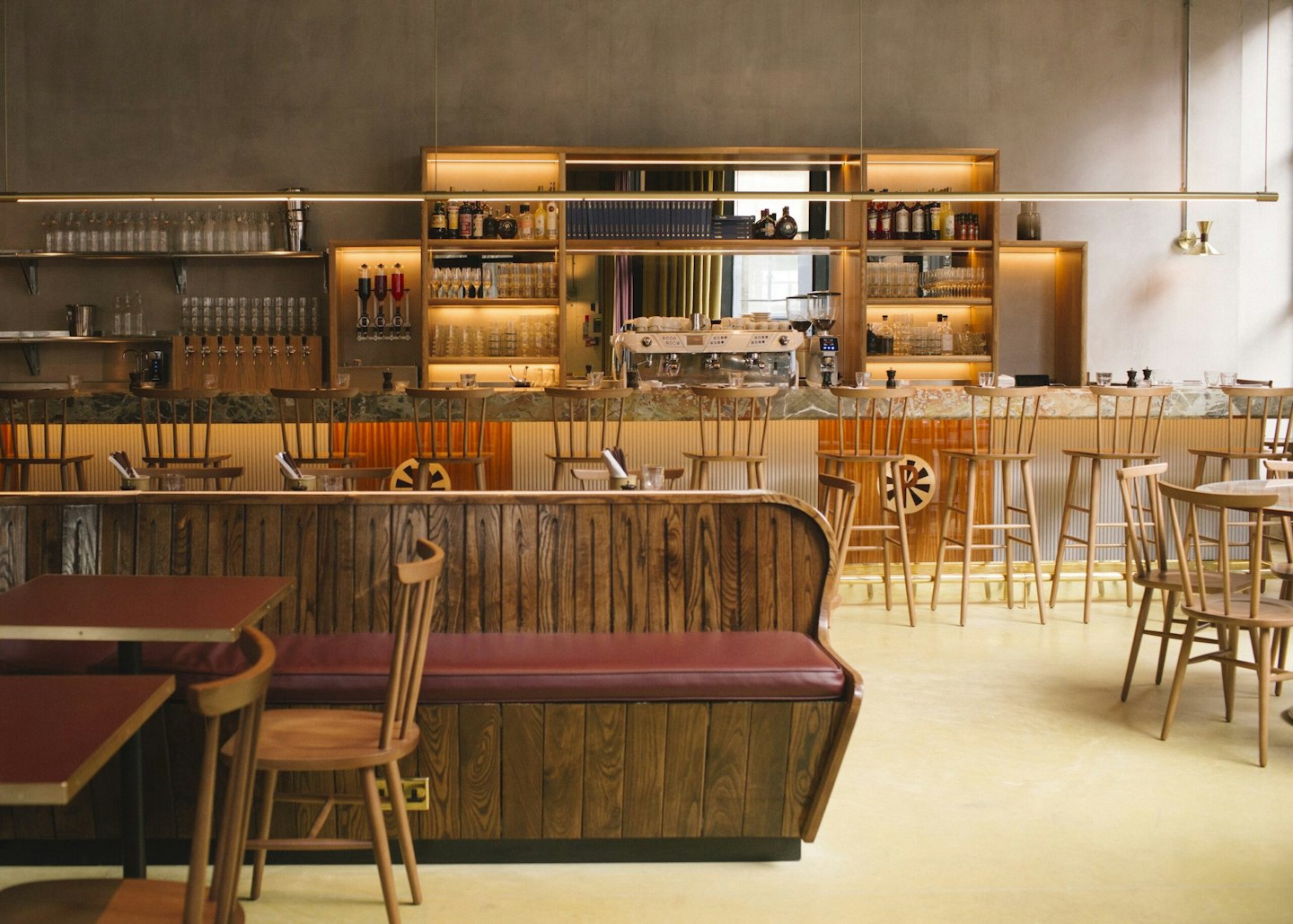 23 of 32
CREDIT: Padella
Padella, Shoreditch
Think 'romantic meal in London' and Padella is a natural choice. This intimate, darkly lit Italian in the heart of Shoreditch gives everything you want from date night. Cosy booths make you feel secluded, but the excitable chatter and bustle of diners around you brings atmosphere. And there's a lot to be excited about here: the Tagliarini with Dorset crab, chilli and lemon (and lashings of parmesan) in particular, but also the Padella negroni – best negroni we've ever tried. The Burrata and Bruschetta also hit the spot. This is fresh but rich and cheesy Italian fare done well. We've never had a dish we didn't love at Padella. So if it's a lively Italian joint that will transport you to coast of Amalfi that you're after this Valentine's Day, this is the one for date night.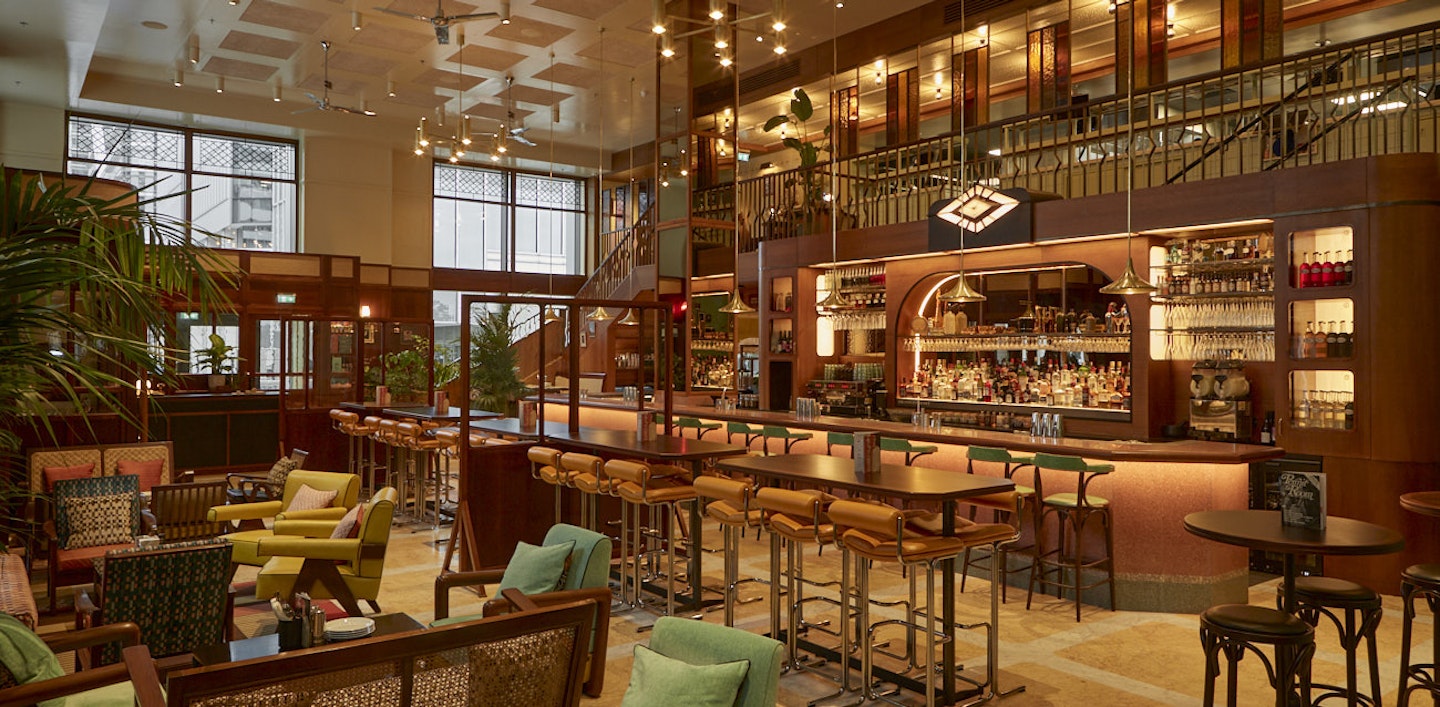 24 of 32
CREDIT: Dishoom
Dishoom, Canary Wharf
 
Dishoom, which pays homage to the Irani cafés and the food of all Bombay, is the restaurant chain famous for its queues. Diners are prepared to wait hours (even in the depths of freezing cold winters) to get a seat at the table at this quirky, fashionable Indian. And for good reason: it's delicious dishes and buzzy atmosphere make it the perfect night out. But with the new Canary Wharf opening, queues are far less likely at this enormous, 8,000sq-ft siteoccupying a striking double-height building overlooking the water. Plus, booking is allowed. Phew! Like all Dishoom cafés, Canary Wharf will share a deep love for Bombay. And unlike the Covent Garden or Shoreditch branches, the new Canary Wharf Dishoom has a slightly calmer, more romantic feel to it, whilst still being cosy and lively - perhaps it's being next to the water, or in the financial district after hours if you go in the evening. For the height of romance order the lobster. The house black daal has depth and the chilli broccoli salad should not be missed. Nor should a couple of delicious Dishoom cocktails.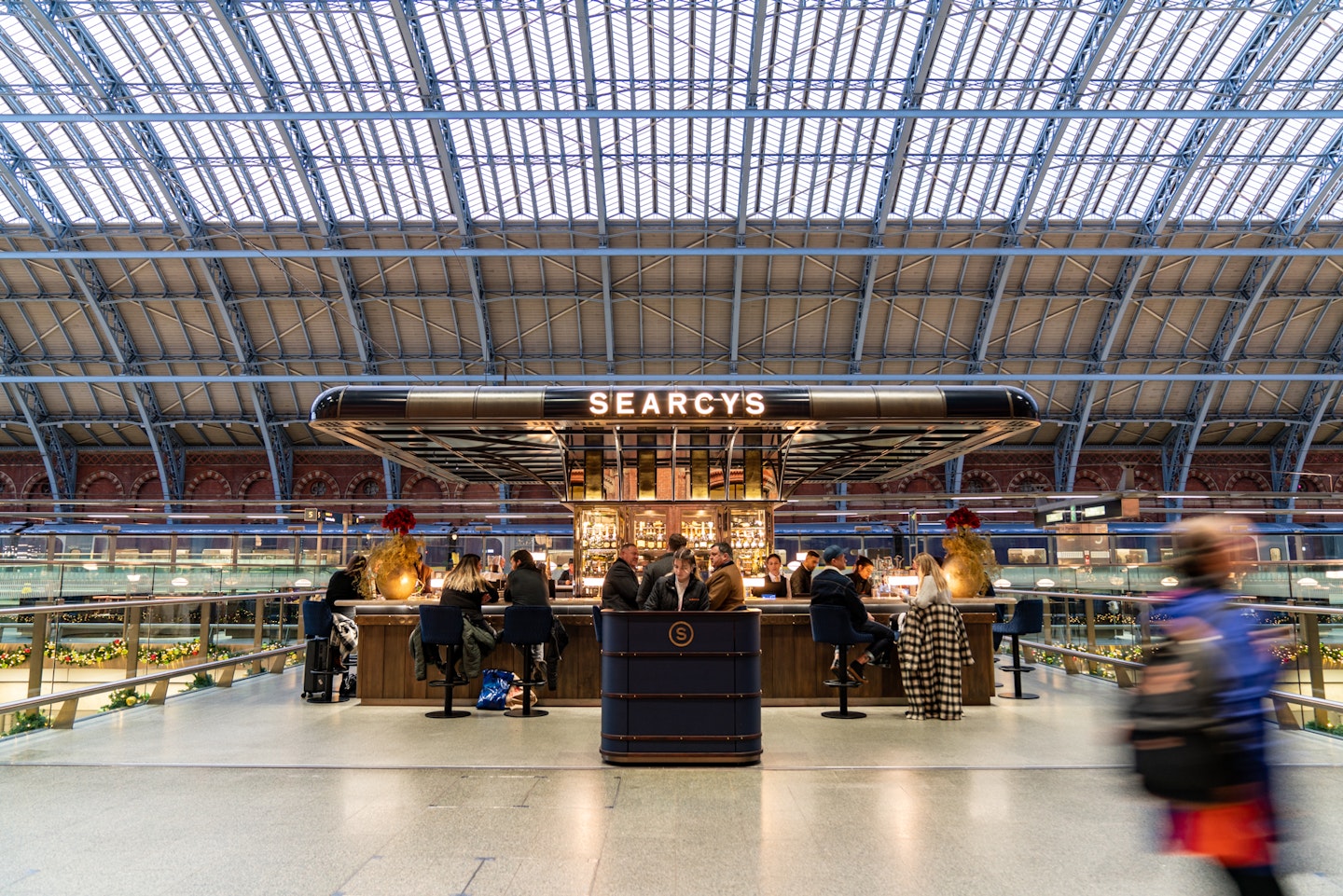 25 of 32
Searcys St Pancras
What better way to celebrate a special occasion than with a trip to Europe's longest Champagne bar for a masterclass in everyone's favourite bubbly drink alongside a superb three-course meal. Searcys, London's restaurateur, events caterer and experts in Champagne, have launched the Searcys Series - an immersive yet informative exploration into the world of Champagne - with a calendar of Champagne masterclasses and ticketed events curated by a team of its culinary specialists. The masterclasses at Searcys St Pancras take place in the beautifully appointed private Champagne Room within Searcy Brasserie. Each masterclass is an interactive dinner around a communal table, full of fun facts, hands-on experiences, accompanied by an exquisite paired three-course meal and of course, plenty of Champagne from independent, small growers to Grande Marques. They all follow a different theme, including Champagne and the Arts, Champagne goes to the Movies and The Seven Grapes of Champagne. This would be hard to beat for a date night.
The masterclass will be held on 15 Feb, 8 March, 19 April, 17 May, 8 June, 13 July, 28 September, 26 October and 9 November. Book at stpancrasbysearcys.co.u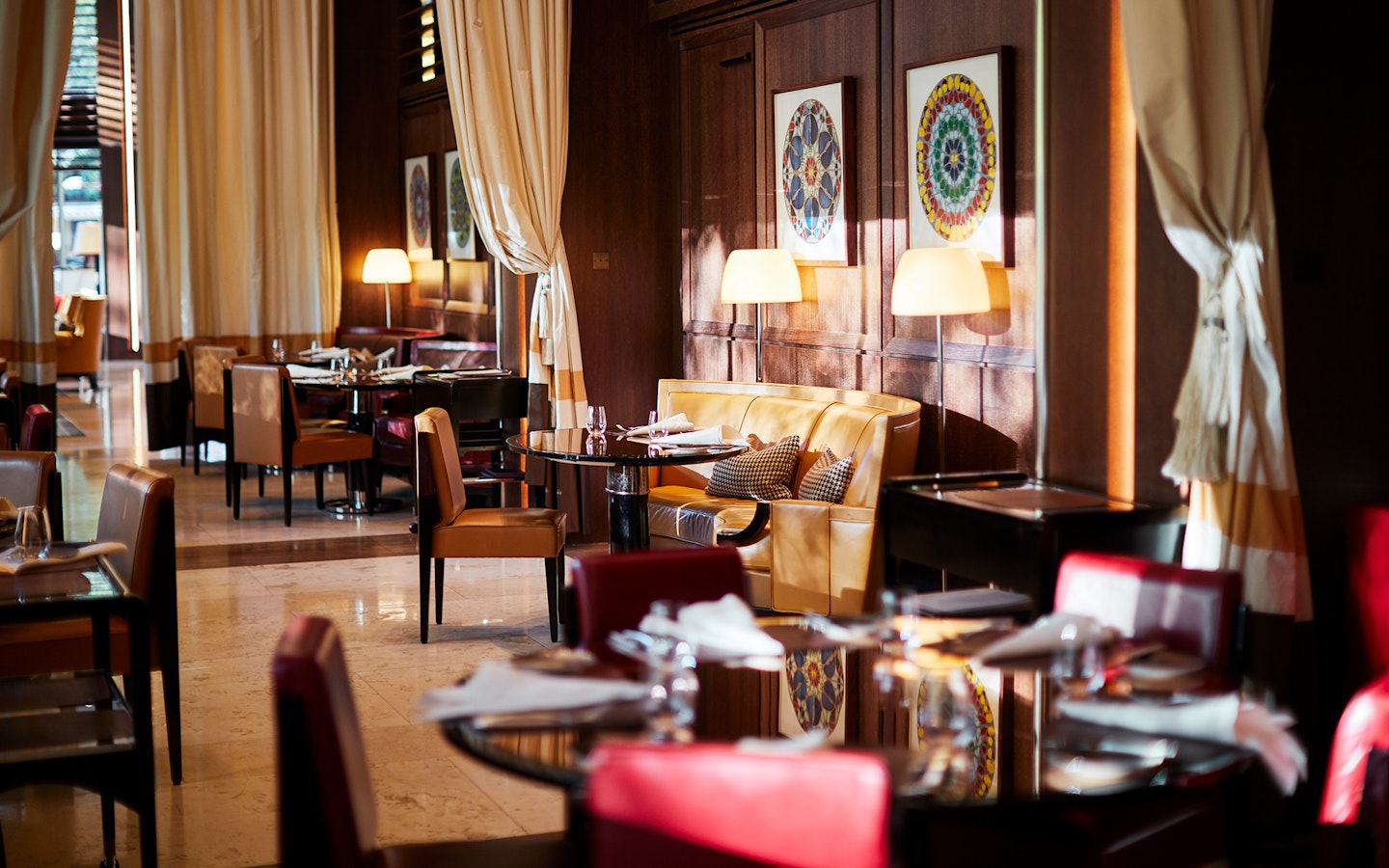 26 of 32
A taste of the Oscars at Cut
As if you needed a reason to visit CUT, 45 Park Lane. Well, more than ever, this is it. For the first time ever, executive chef Elliott Grover at CUT will be catering for the Oscars in March, alongside celebrity chef, Wolfgang Puck. This will also be the first time in ten years that a British chef has cooked at the Hollywood event. So to celebrate, Elliott has created the ultimate British menu fit for A-Listers at CUT, which will include chicken pot pie, fish and chips, trifle and a chocolate cake.The Chicken Pot Pie will also be available as a main dish at CUT. Known as one of the best steak restaurants in London, this new menu shakes things up to mark the glitzy event. And what better way than with a pie adorned with truffle shavings and a trifle so mouthwatering you'll want seconds and thirds. This is food fit to pair with a star-studded occasion alright. Get there between 1 February and 31 March (hello Valentine's Day) to try this one-off extravaganza.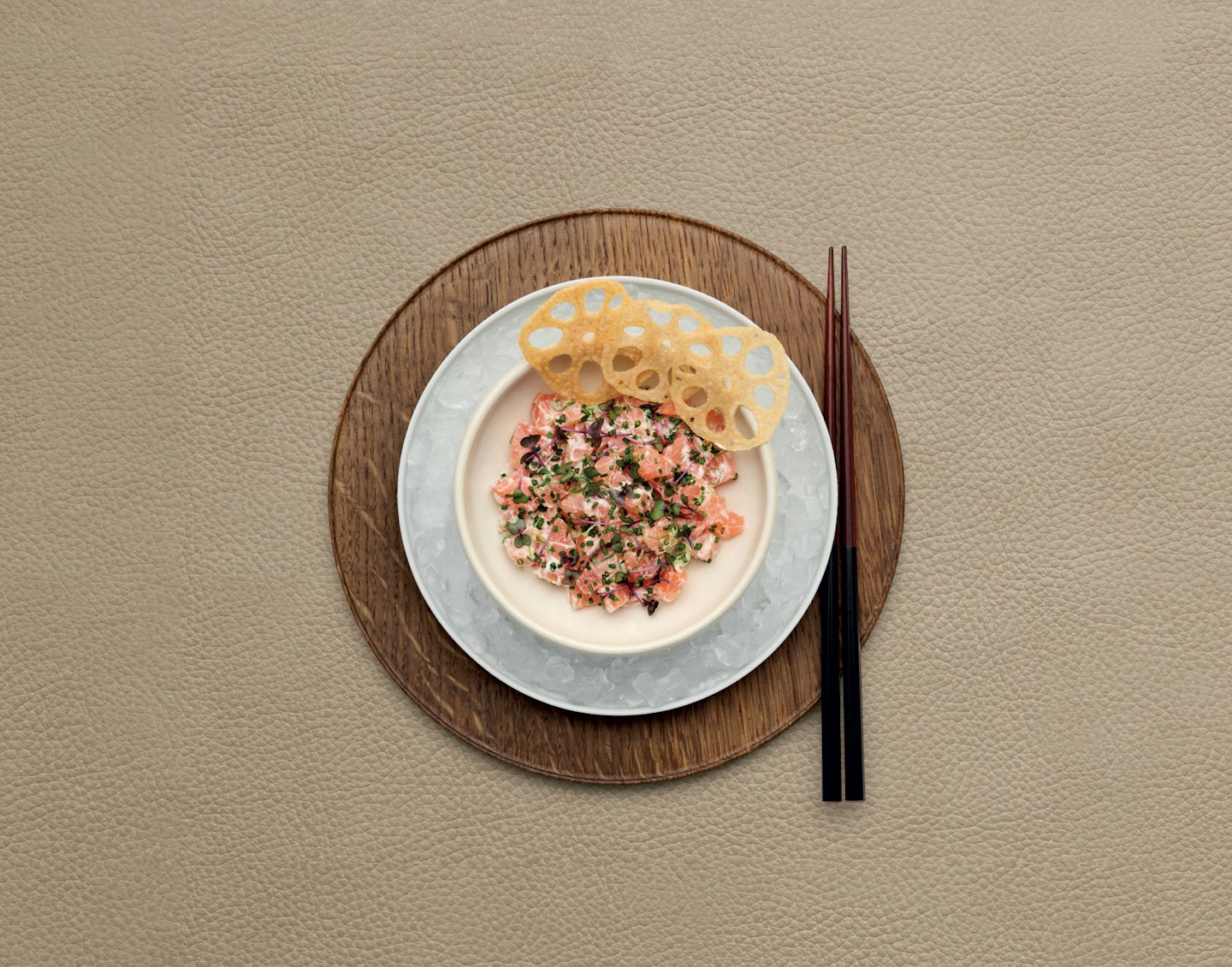 27 of 32
CREDIT: Sticks'n'Sushi
Sticks'n'Sushi
Maybe it's the dim lighting, the intimate seating arrangement or the fact that sushi is a pretty sexy meal (hello Samantha in the Sex and the City movie laying it over her naked body) that makes Sticks 'n' Sushi the perfect spot for date night. As for the sticks, no slurping and easy to eat off seductively? Yes please. If, like us, you feel everything on the menu looks too good and you can't possibly choose, opt for one of the boards which offer a very generous mix of all the biggest hits: Wagyu tartare with shiso, spring onion & kizami wasabi on toasted bread and maguro tataki? Say no more. You can go as light or as heavy as you like, from delicate hotate ceviche scallops with lime, chilli, coriander, red onion, celery & tiger's milk, to the rich and succulent fried cauliflower served with black truffle goma. Yum.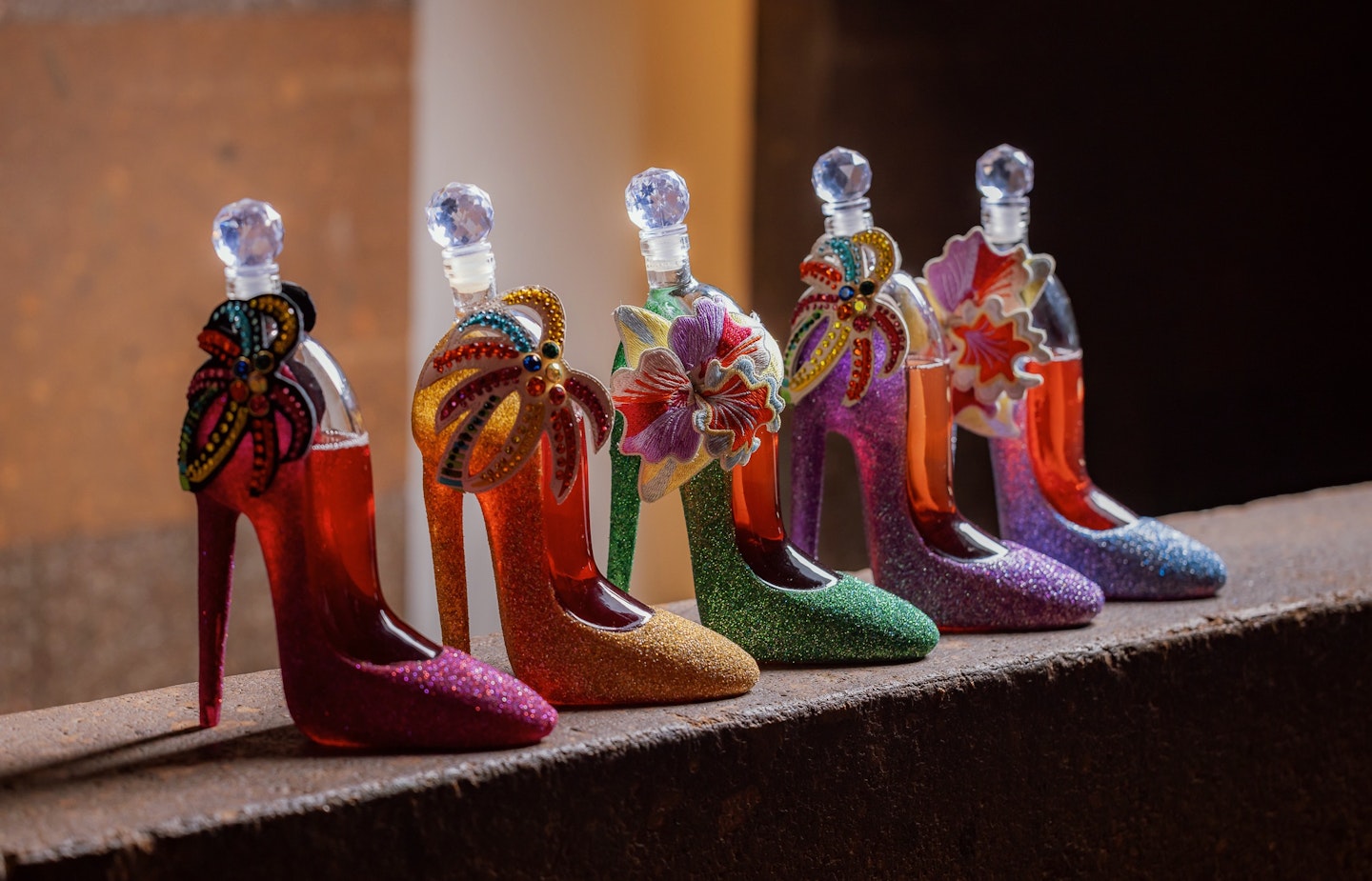 28 of 32
Kat Maconie Cocktail at Oblix
It's hard to think of a more impressive dining spot than Oblix, the sky-high restaurant at The Shard. And there's no better time to go than this week as acclaimed shoe and fashion designer Kat Maconie teams up with Oblix East, the cosmopolitan bar with unparalleled views, to create the Head over Heels cocktail, supported by Tanqueray No. 10.  The indulgent cocktail, designed for two to share, is served in one of six model high heels - which have been adorned by Kat just for the occasion. Imagine starting your romantic meal with an apéritif this remarkable. Costing £40 and available exclusively until Friday (31 March), the Head over Heels is perfectly accompanied by a number of supremely luxurious bar snacks including truffle flatbread with pancetta & ricotta, the Wagyu burger with matured cheddar & truffle fries and Crispy squid with chilli & lime.  Alternatively, enjoy alongside Oblix's 'Easy' set menu or their much-loved Afternoon Tea, both of which have recently been seasonally updated. A sure-fire way to get a second date. You've got a week - get going!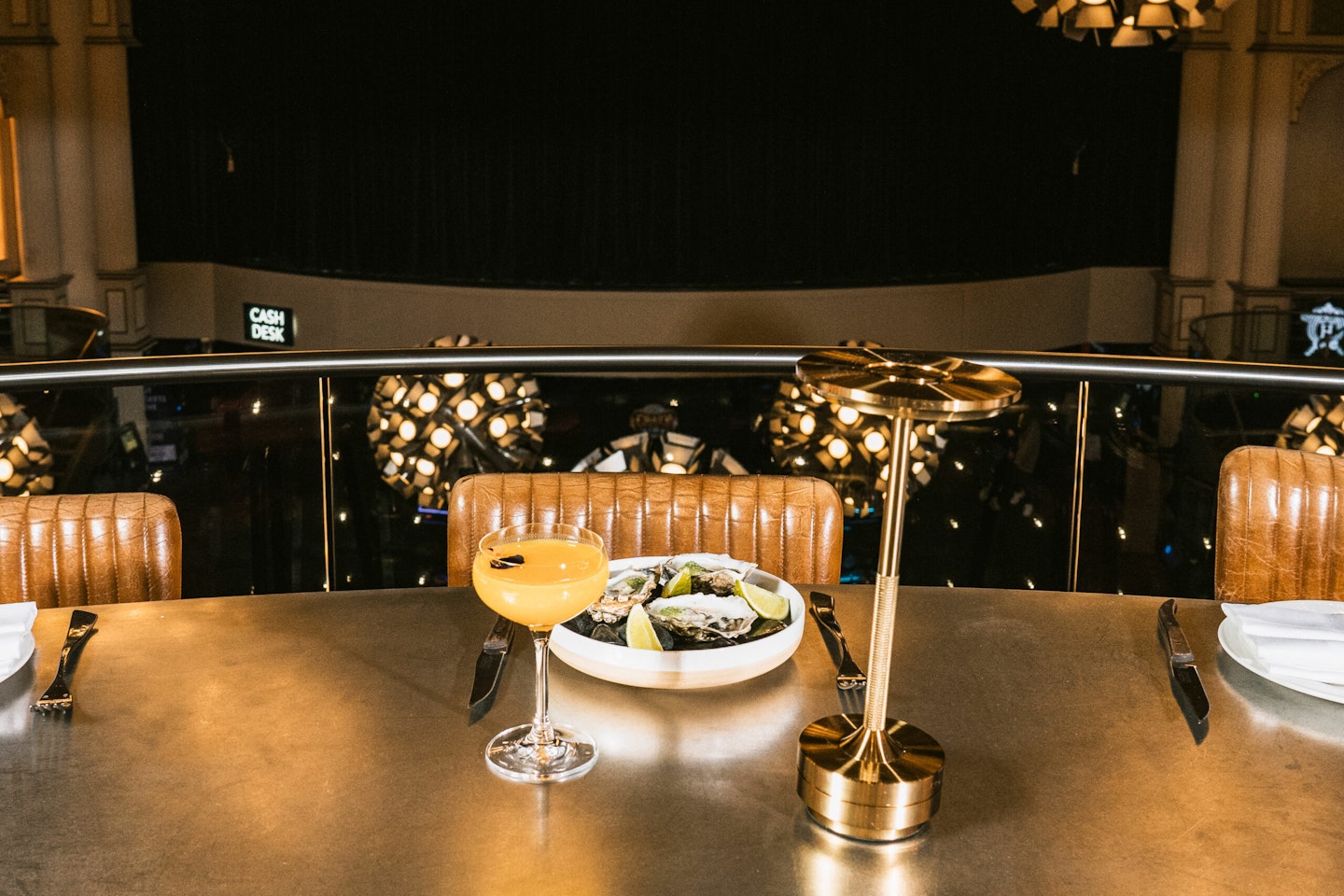 29 of 32
CREDIT: Heliot Steak House
Heliot Steak House
Steak and fine wine. It doesn't get much better than that for date night. But knowing which restaurant to trust when it comes to sourcing the finest quality cuts of meat can be hard. Look no further than Heliot Steak House, in the heart of bustling Soho. A stone's throw from Leicester Square and Oxford Street stations it hits the bullseye for taste, quality, atmosphere and location. With its globally sourced USDA prime steaks and an extensive wine list with over 120 options, you're in safe hands. Executive Chef and renowned Meatologist Ioannis Grammenos travels regularly to personally source and approve the cuts of meat before serving on his menu. He visits each individual farm to evaluate both the producers and the quality of meat.
To start, guests can choose from a range of dishes inspired by the Greek heritage of Grammenos, including the likes of the famed Grilled Octopus with Roast Baby Potatoes & Tarama. There's also exquisite oysters. If you can't pick a cut of meat for your main course and want to try everything, opt for the tasting board for Argentinian Rib Eye, USDR Sirloin and English Hereford Fillet. Or go all out and treat yourself with the Japanese Wagyu Sirloin. Heliot Steak House is special occasion territory. You could even squeeze in a meal before a Magic Mike performance, which is conveniently in the same building - the Hippodrome Casino. If it's a buzzy restaurant with a menu to die you're after this is a date night where you can easily impress.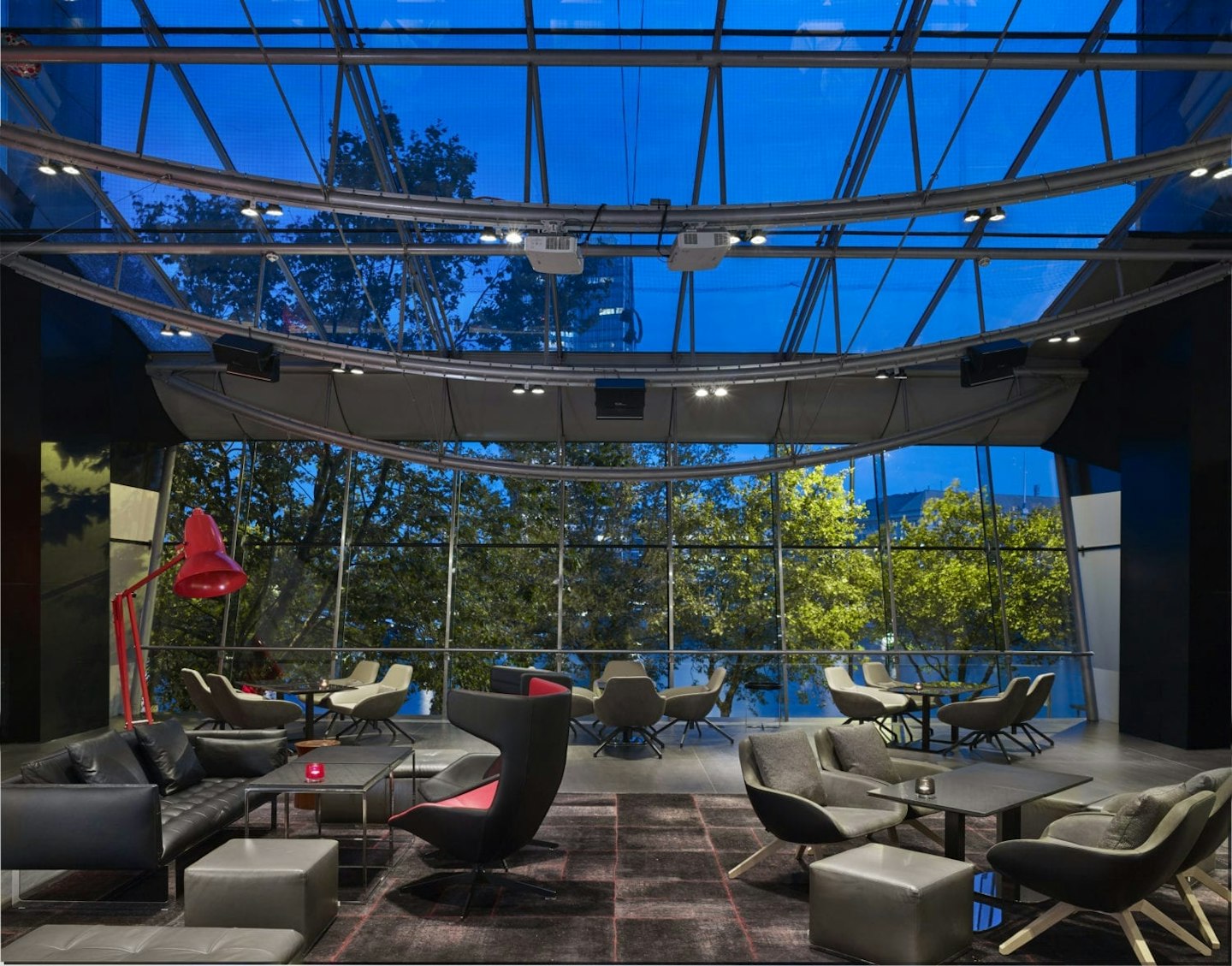 30 of 32
CREDIT: Chino Latino
Chino Latino
Come for the views overlooking the Thames' Albert Embankment, right opposite the Tate Britain, and stay for the cosy, inviting atmosphere and sensational food. The Pan Asian menu at Chino Latino has all the biggest hitters: sushi, seafood and indulgent meat or vegetarian dishes, including bau buns, Wagyu beef cooked on a hot plate in front of you and Moving Mountains vegan burgers. This is 'celebrating a very special occasion' territory. There's no requirement to, but if you dress for dinner you won't be out of place. The restaurant puts on brilliant entertainment - when we were there a soulful singer with contagious energy performed a collection of feel good hits and everyone joining in before they'd even reached their main courses. It was the perfect touch to complement the relaxed but fun and sophisticated atmosphere and delicious cuisine you'll definitely be returning for.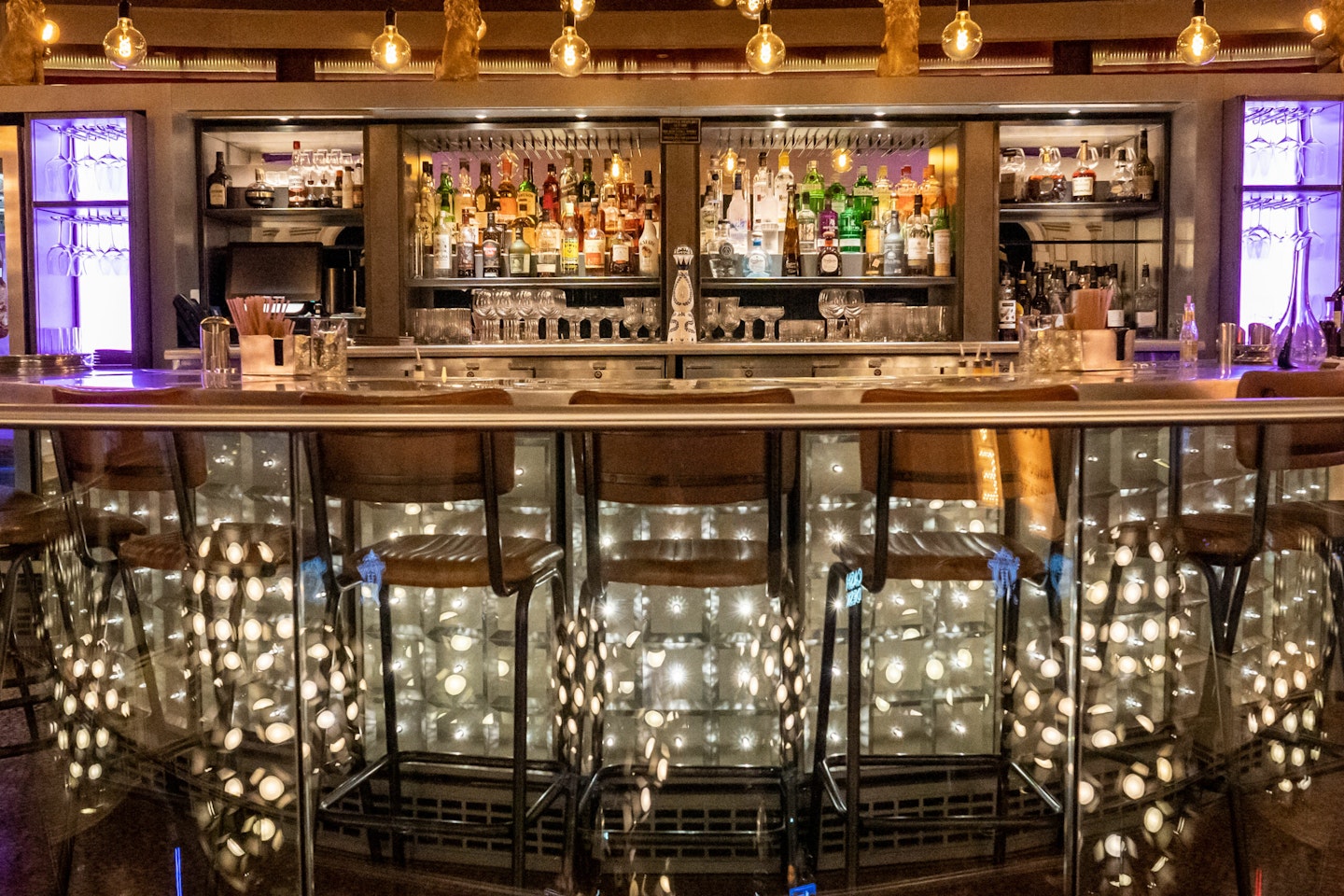 31 of 32
Heliot's Steak House's The Balcony
If you're ever wondering around Leicester Square after a show or looking for a quick bite to eat, Heliot's Steak House's The Balcony is a must. Located in the triple award winning casino the Hippodrome, the bar boasts a succulent menu filled with flavoursome oysters, grilled octopus and mussels with Thai Green curry. And if seafood isn't your vibe, don't stress, as The Balcony operates a rotating menu and with autumn almost in full swing you never know what they'll bring out next.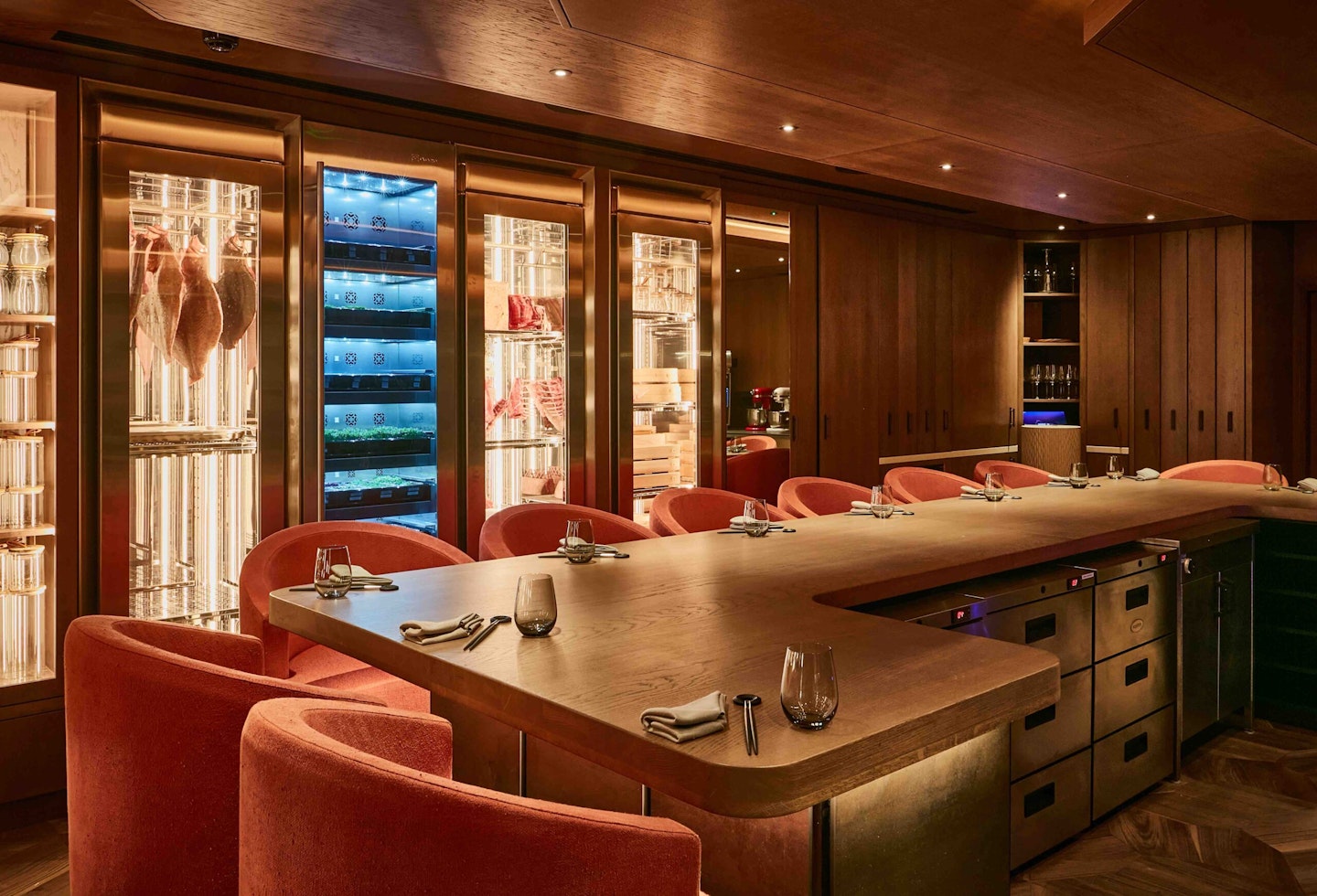 32 of 32
CREDIT: Humo
Humo
There's fine dining, and then there's Humo. And not in the white tablecloth, folded napkin sense. Humo is fine dining because it's a place for people who love and appreciate interesting, inventive, delicious food. The reason every morsel tastes so good? They specialise in 'Fire dining' - with no electricity or gas utilised as fuel. Food is grilled over different species of wood with the highest quality of seasonal British produce combined with influences from Japan. You won't realise how much you needed this in your life until you sit down at Humo's elegant open-air bar, as you watch talented chefs cook up one of the best meals of your year. The dark, smokey ambiance and dramatic flames whooshing from the grills make it a very romantic spot for date night. Trust the set menus and pour another glass of champagne. Head downstairs to experience Abajo - HUMO's exclusive 10-seat chef's table, with a weekly changing menu from Head Chef Giacomo Tranquill.