The life of a parent on the go is no joke. You're juggling a pram, a changing bag and baby bottles, all while trying to move in a straight line. It's hectic, to say the least. This is why we love products that can ease the struggle in any way. The prime example? Pram organisers. The best pram organisers can simplify your day trips with your little one and help you stay prepared for any situation that may arise.
Pram organisers are exactly what they sound like. They are accessories you pop on the handles of your pram and can be used to store muslins, wipes, bottles, and even your phone. This gives you an easy-breezy hands-free experience. With a pram organiser, you can easily access anything your screaming baby wants in a flash and free up precious space in your pram basket. Gone are the days you need to frantically search through your changing bag for a dummy; with these organisers, you can whip one out in seconds - like a pro parent.
Best pram organisers shortlist:
• Best overall pram organiser: Storksak Stroller Organiser - Leopard, £53.10, Natural Baby Shower
• Best compact pram organiser: Bugaboo Stroller Changing Bag Organiser, £49.95, John Lewis
• Most practical pram organiser: BTR Buggy Organiser, £21.89, Amazon
So, forget struggling to hold your keys, phone and baby bottle all in one hand. Pram organisers can lighten the load, and we've found the best ones out there. Shop our top picks below.
SHOP: The Best Pram Organisers To Buy In 2023
Best overall pram organiser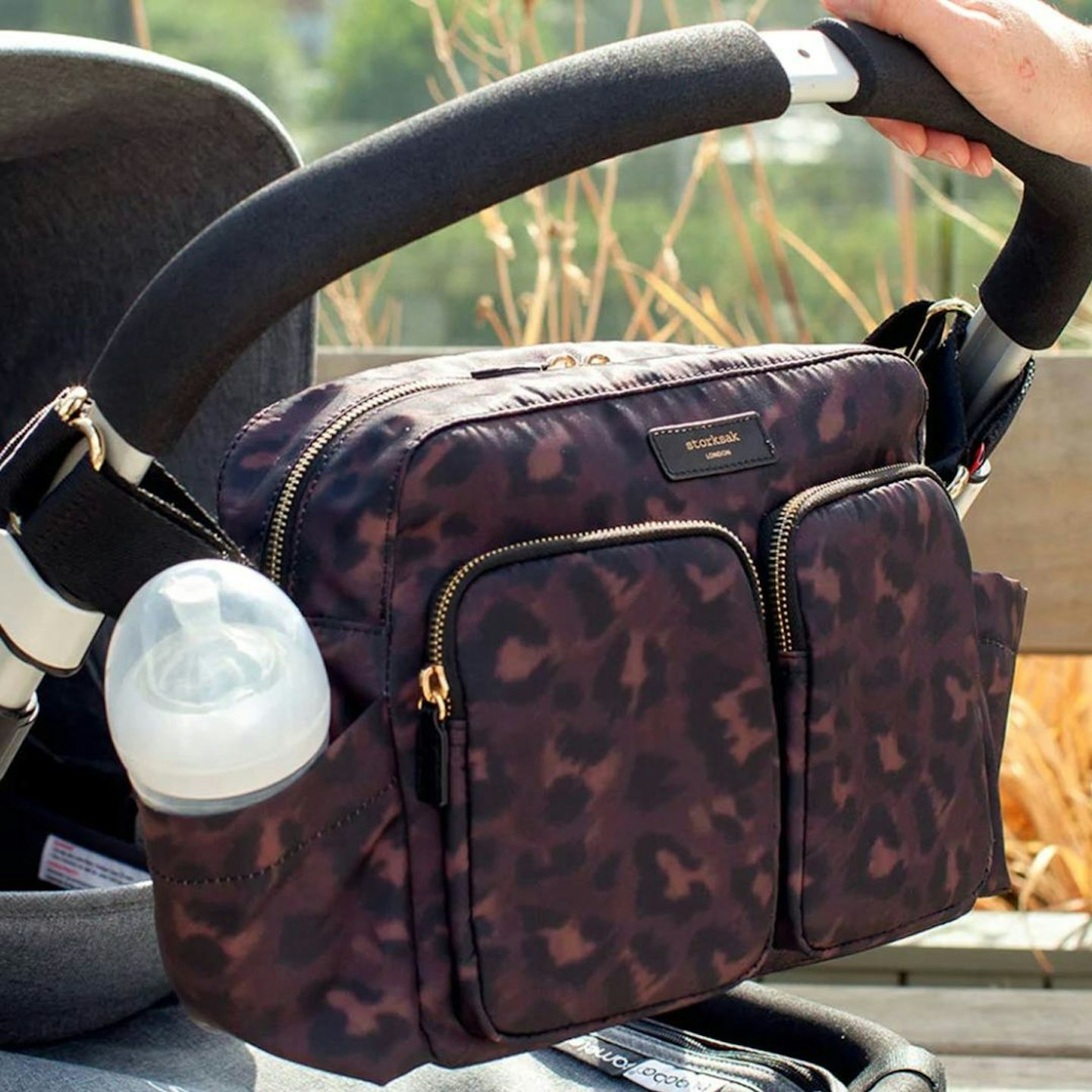 Credit: Natural Baby Shower
Description
The Storksak Stroller Organiser in Leopard is a fashion-forward essential. Meticulously crafted
Pros
It can be worn as a cross-body bag or easily attached to your pram
Insulated bottle sleeve
Crafted in a durable material
Best compact organiser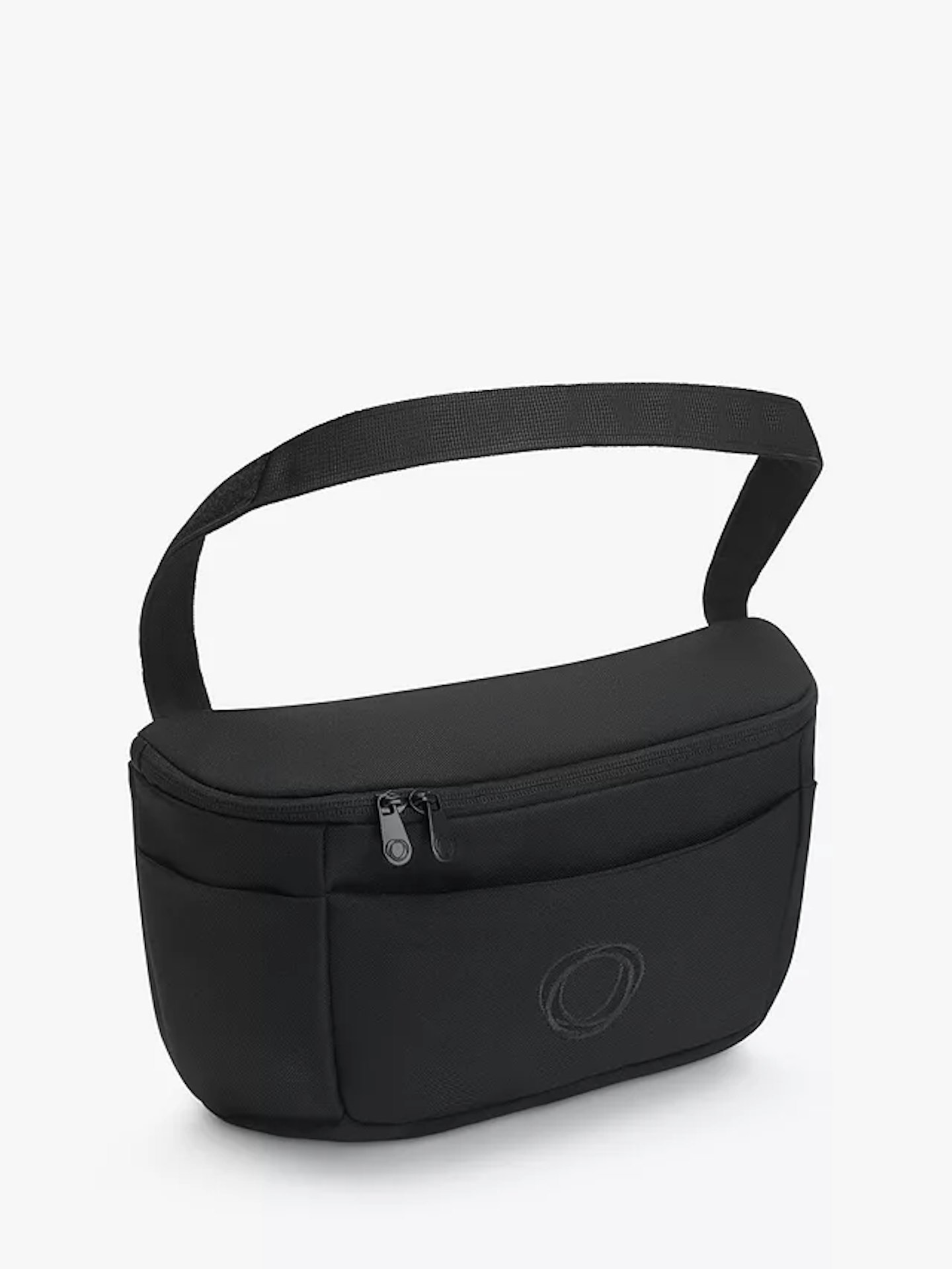 john lewis
Description
If you own a Bugaboo pram and love a matchy-matchy moment, then this is the pram organiser for
Pros
Large enough to fit all your essentials
Lightweight
Compact

Converts into a tote bag

Stylish
Water repellent
Wipe clean inside material
Machine-washable
Cons
One parent noted that it's not compatible with the Bugaboo Butterfly
Only two colour options
Best Eco-Friendly Pram Organiser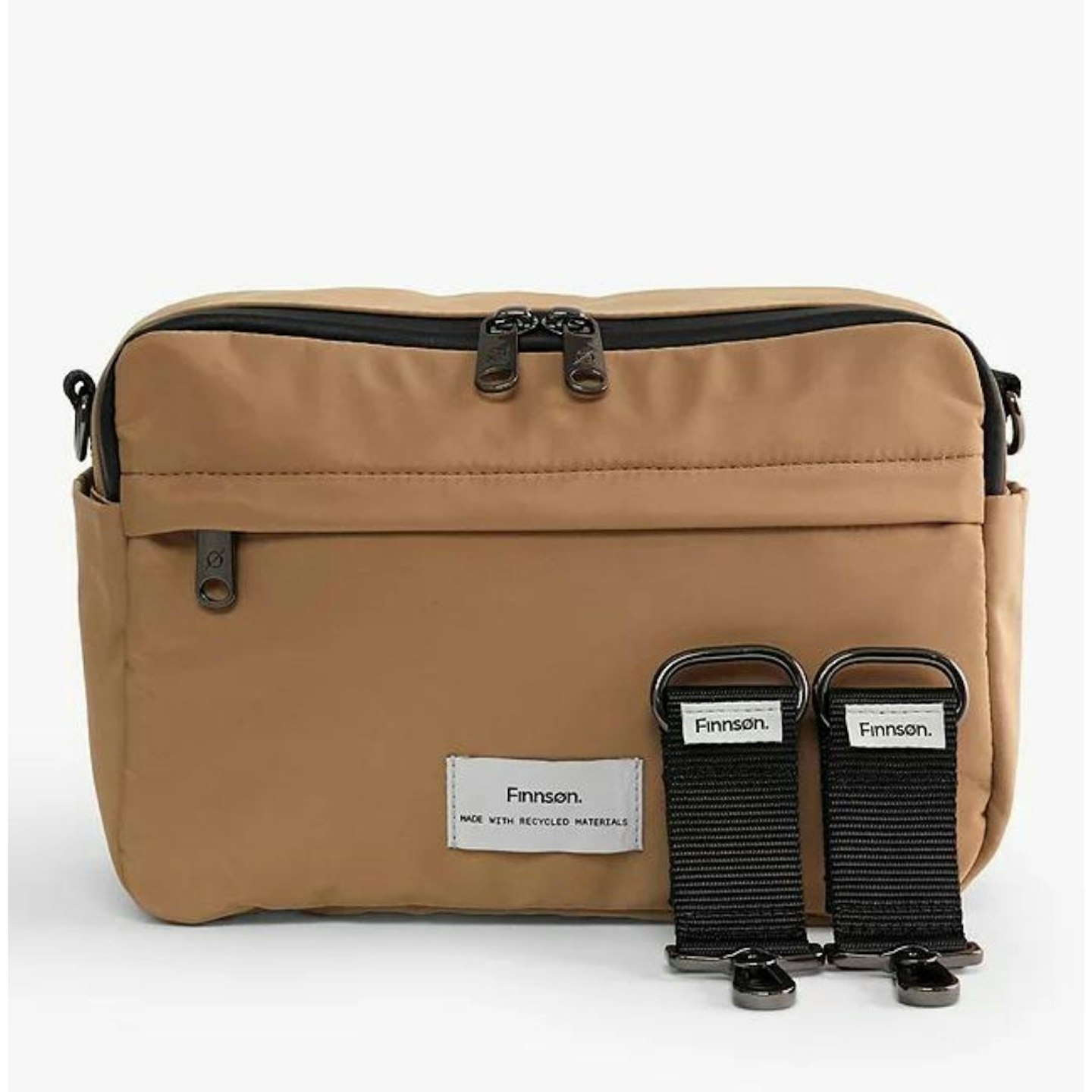 Credit: John Lewis
Description
This eco-stroller organizer is not just a bag; it's a statement. With a comfortable crossbody
Pros
Environmentally conscious values
Water-resistant
Osten stroller clips (worth £18)
Most stylish pram organiser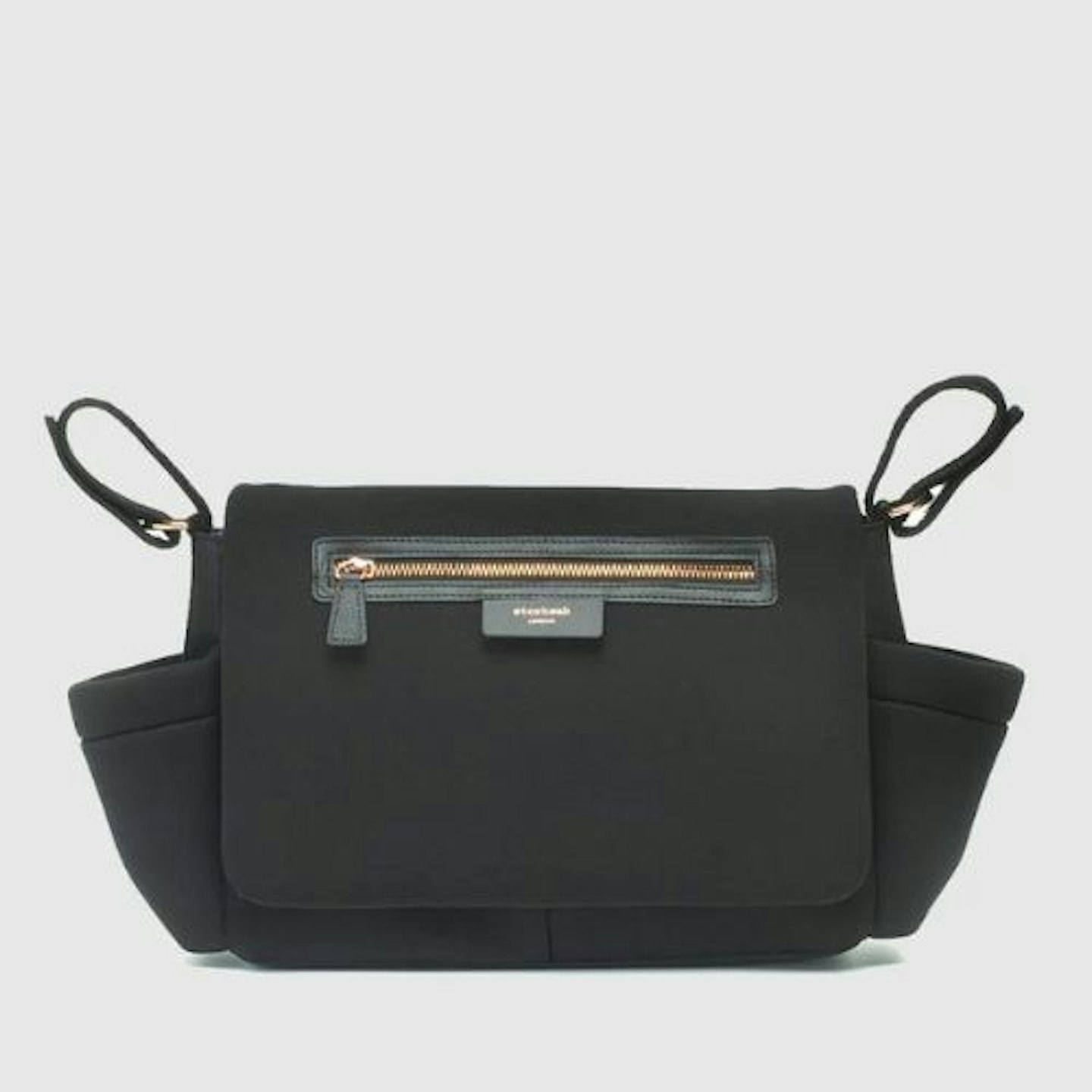 baby mori
Description
The Storksak Luxe Stroller Organiser is one of the most stylish pram organisers. It's made from
Pros
Stylish design
Spacious
Universal fit
Internal elasticated bottle strap to keep drinks upright
Removable insulated bottle pocket
Cons
Takes up a lot of space on the stroller
Most practical pram organiser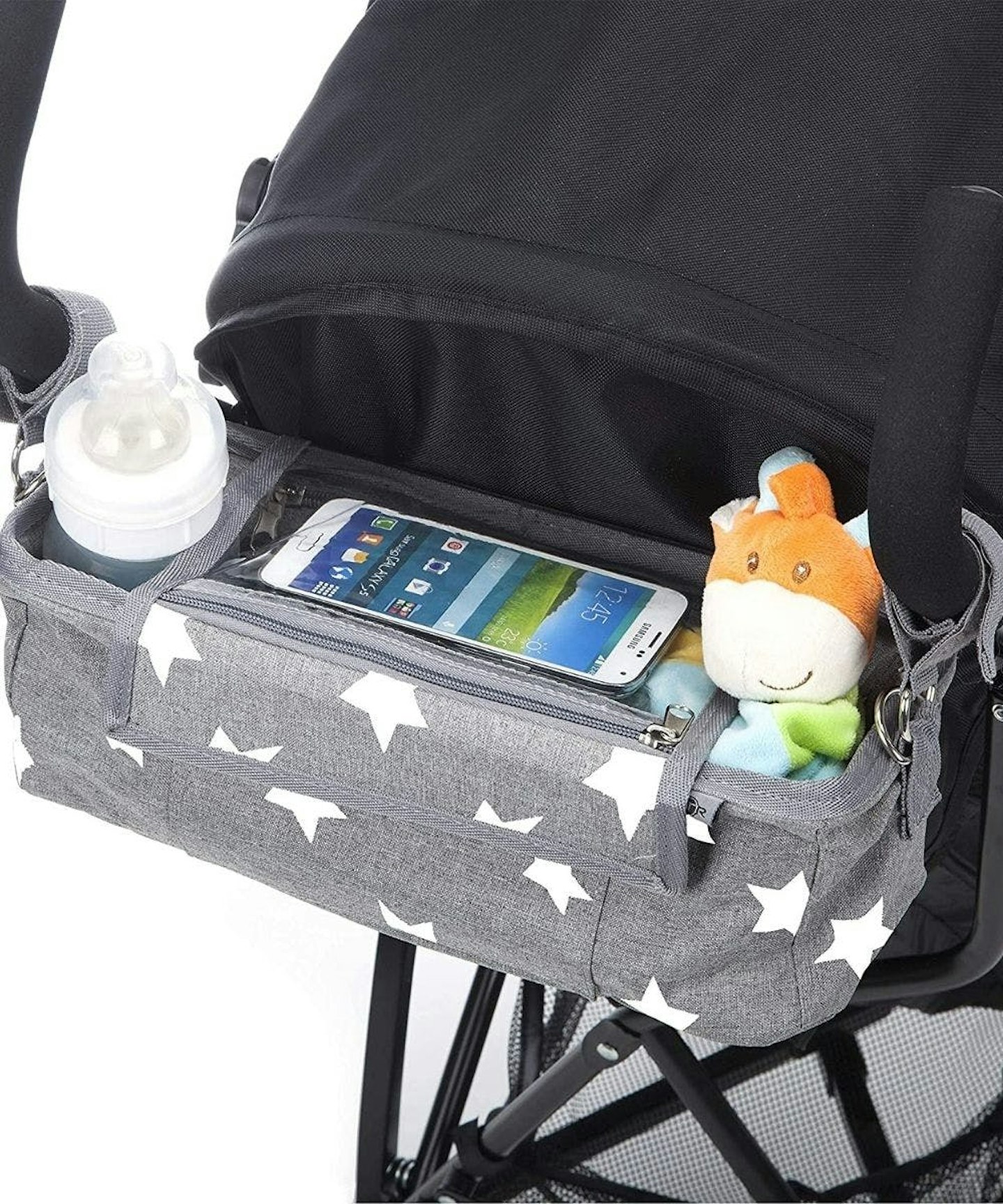 amazon
Description
Elevate the look of your pram with this cute starry design. It comes equipped with a clear zipped
Pros
Universal fit - will fit all single-width pushchairs and prams
See-through touch screen mobile phone pocket
Comes with a waterproof rain cover
Detachable carry strap
Cons
Some parents found it a little small
Best Pram organiser for Egg Strollers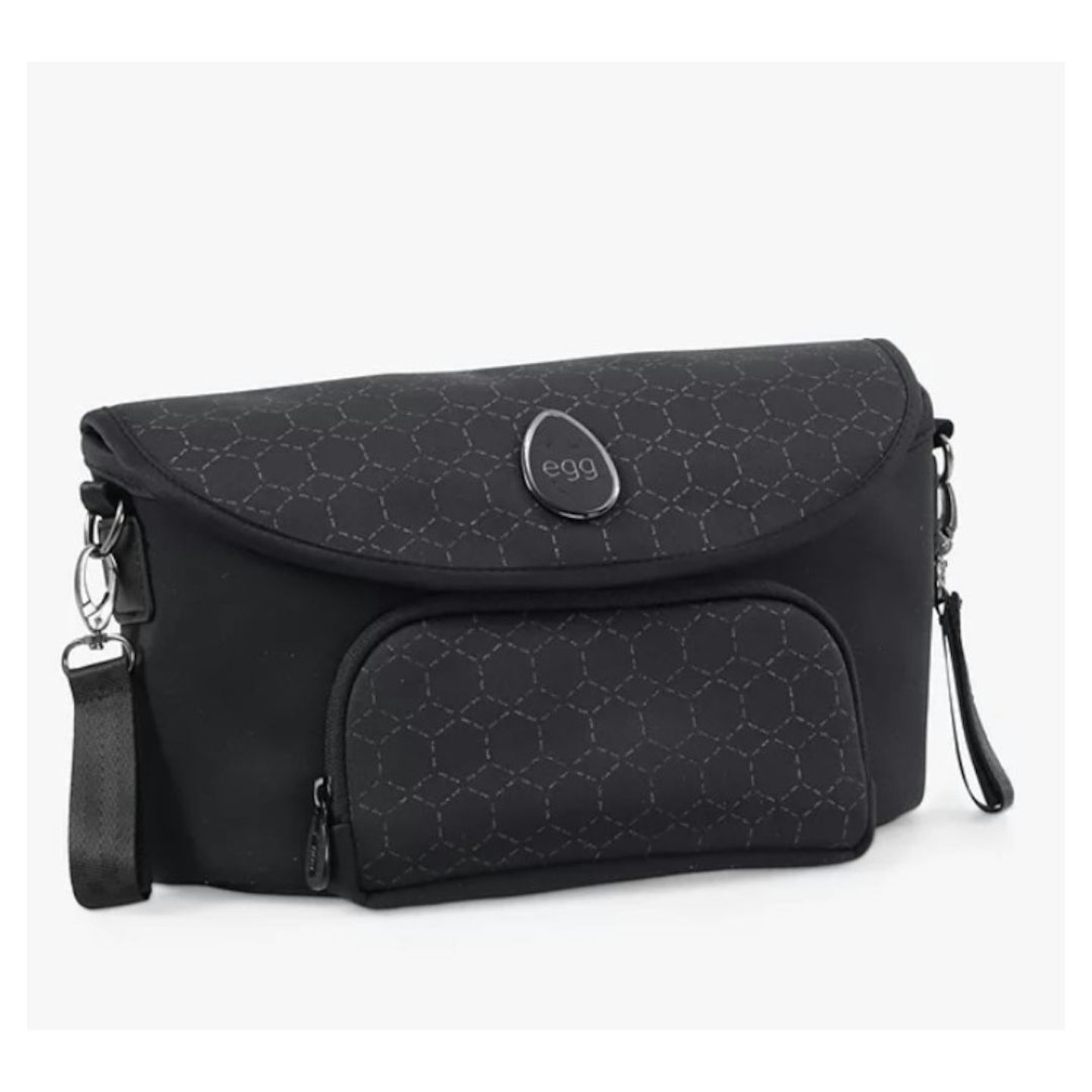 Credit: John Lewis
Description
The Egg2 Organiser is perfectly designed to match to the Egg's range of strollers and accessories.
Cons
Smaller than other pram organisers
Best personalised pram organiser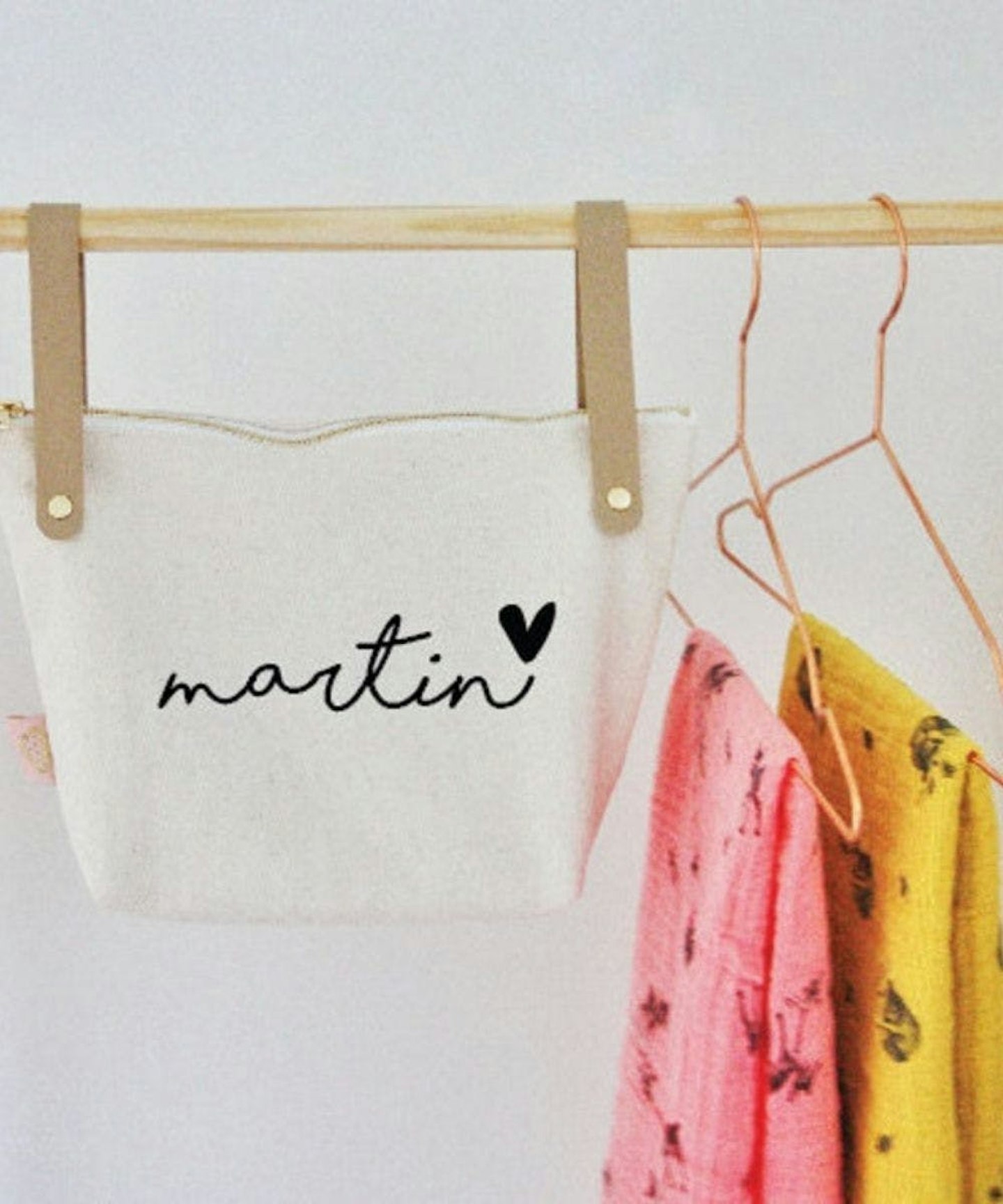 etsy
Description
Love a personalised product? As do we. Doubling as a clutch, this adorable pram organiser comes
Pros
Able to be personalised
It can be used as a clutch bag
Vegan-friendly materials
Multiple colour choices
What should you keep in your pram organiser :
What you keep in your pram organiser will depend on your needs, wants and the age of your child. However, here are some essential items that we keep in our pram organisers for some inspo:
Wipes: A travel-sized pack of baby wipes is fantastic for quick clean-ups, especially after messy snacks.
Baby bottles: If your baby is bottle-fed keep a bottle and some ready-to-feed formula in your organiser, this will save your sanity when your hangry baby needs feeding.
Snacks: Like the baby bottles previously mentioned, snacks are essential. A hungry child is rarely a happy child.
Dummies or comforters: If your baby uses a dummy is a great idea to have one or two spare pacifiers in the pram organisers. When your little one accidentally drops their soother you can swap it for a nice clean one. Similarly, having their favourite comforter can help to avoid breakdowns.
One or two spare nappies: It is a good idea to have one or two emergency nappies. But remember your organiser isn't usually a replacement for your changing bag, if you overfill it, it will be harder to find the items you need quickly.
Your items: We always keep our phone and keys in the pram organiser, they are much easier to find in there than in the overpacked changing bag.
For more parenting stories, (non-judgmental) advice, tips and memes, check out Grazia's new parenting community on Instagram, @TheJuggleUK
Hannah Carroll is a Parenting, Lifestyle and Home Product writer for Grazia, specialising in product testing and reviews. With three children, Hannah loves testing the latest industry products on her own family.