The much-anticipated seventh season of Selling Sunset finally dropped on Netflix last week and we were gutted to see that one of our favourite realtors Heather Rae Young is no longer a regular face on the show. We know she's had an incredibly busy year what with welcoming her first child and starting her own TV show with husband Tarek El Moussa, but it's still a huge disappointment.
So now that Selling Sunset will no longer be updating us what Heather Rae Young is getting up to these days, we've had to resort to an old-fashioned Google, and obviously on our journey we learnt a lot of Heather Rae Young's husband Tarek El Moussa.
Tarek El Moussa was first introduced to us back in series four, but what have he and his wife Heather Rae Young been up to since then?
Here's everything you need to know about Tarek El Moussa aka Heather Rae Young's husband as well as all the details about their relationship.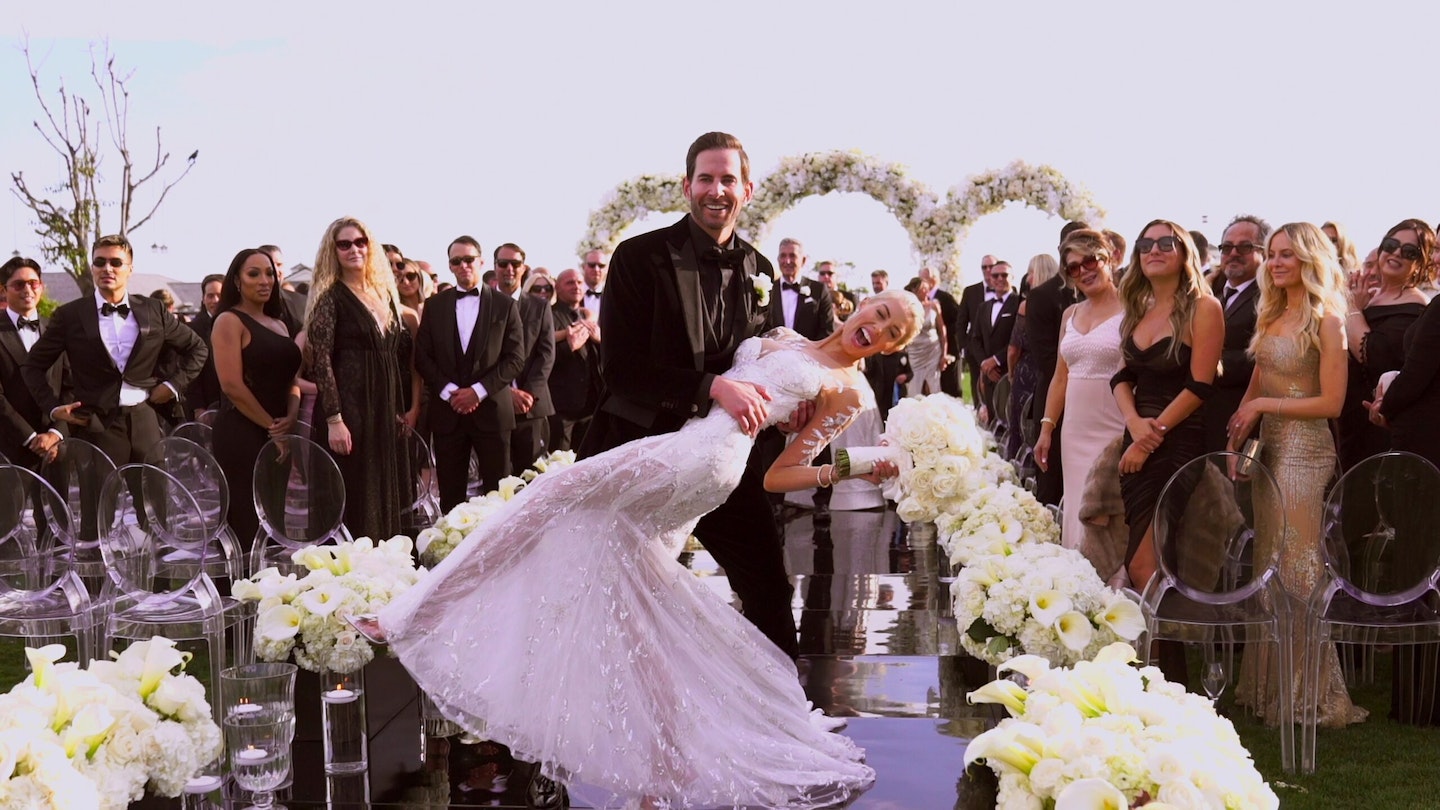 Who is Heather Rae Young's husband, Tarek El Moussa?
Tarek El Moussa is the now-husband of Heather Rae Young and describes himself as a 'self-made' real estate investor.
Like Heather Rae Young, Tarek El Moussa is also a reality television personality having been on a show not too dissimilar from Selling Sunset called Flip or Flop. His career on Flip or Flop started in 2013, and the show is still airing now.
What is Flip or Flop?
Flip or Flop is a little different from Selling Sunset. Rather than searching for already-gorgeous homes for rich clients, Tarek buys distressed properties - foreclosures, short sales and bank-owned homes - remodels them and sells them at a profit. The show follows through the process of the cash purchase at auction, the fixing up, and the wait for a buyer to place an offer.
How old is Tarek El Moussa?
Born 21 August 1981, Tarek El Moussa is currently 41.
Where is Tarek El Moussa from?
Tarek El Moussa grew up in California to his Lebanese father and Belgian mother.
What is Tarek El Moussa's net worth?
Tarek El Moussa reportedly has a net worth of $15million what with his two reality TV shows and property portfolio.
How many children does Tarek El Moussa have?
Prior to meeting Heather Rae Young, Tarek El Moussa was a dad of two, to Brayden El Moussa and Taylor El Moussa, who he shares with his ex-wife Christina Anstead.
In January 2023, Heather Rae Young gave birth to her and Tarek's son Tristan.
How did Tarek El Moussa and Heather Rae Young meet?
Tarek El Moussa and Heather Rae Young first met at a 4th July party in 2019 on Tarek El Moussa's yacht, which is named Bad Decisions (great name). It was docked at Woody's Wharf in Newport Beach in California when he saw heather Rae Young Young on a neighbouring boat and the two got chatting and of course partying.
While she declined his dinner invitation, she did agree to get drinks with him later that month — which must have gone well for the pair as they were soon confirmed to be dating that same month. The two were then reported to have moved in together just four days into their relationship.
Almost exactly a year later, Heather announced the pair's engagement on Instagram just before the third season of Selling Sunset arrived on Netflix. She uploaded a cute picture of the two of them mid-proposal, with the caption 'The Future Mrs. Tarek El Moussa!!!!'
Tarek also shared his own announcement on Instagram. Also posting a picture that captured the proposal, his caption read, 'This is the exact moment I got down on one knee and asked @heatherraeyoung to be my wife! You just never know where life is going to take you. If you told me 13 months ago I would be engaged today I would have called you crazy. You just can't predict what's going to happen. One moment you are sitting there and the next your life is completely different.'
The property investor didn't stop there, continuing a sweet statement about his future wife. 'The second I saw @heatherraeyoung I knew my life would never be the same. She's not only become my best friend but she's also incredible to Tay and Bray.'
Are Tarek El Moussa and Heather Rae Young married?
The two were married in October 2021 in a gorgeous outdoor ceremony that involved a lot of flowers. The pair officially announced to their fans that they were married with a funny mirror selfie on Instagram, captioned 'first mirror selfie as husband and wife'.
The wedding was filmed and aired on an HGTV special 'Tarek and Heather The Big I Do', which can be streamed on Discovery+. In an Instagram post, Tarek shared 'Never thought I'd fall in love or get married again and ESPECIALLY didn't think I'd film it… but here we are.'
The pair also filmed a wedding ceremony for Selling Sunset at which the whole cast of Selling Sunset were in attendance.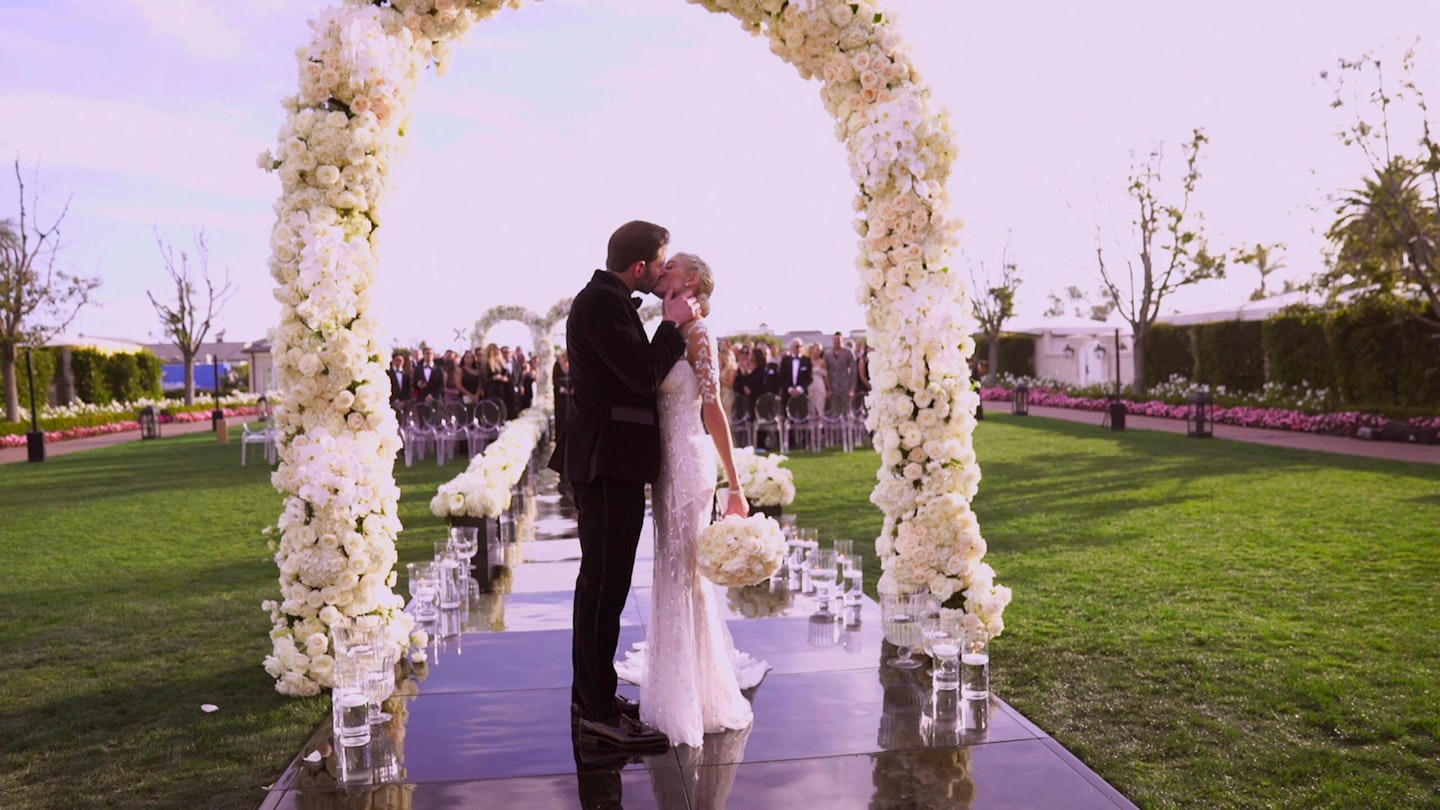 Speaking on the decision to broadcast their wedding, he said, 'This is something that Heather and I were reluctant to do, but I've shown you guys pretty much every aspect of my life from having cancer to my divorce to being a single dad and finding love again. You've all been on this long journey with me so I think you deserve to see me at my happiest, getting married to the love of my life.'
Do Heather Rae Young and Tarek El Moussa have any children?
Heather Rae Young gave birth to Tristan El Moussa in January 2023.
Her pregnancy - including her lavish baby shower - was well-documented on Selling Sunset.
This summer Tristan underwent a tongue-tie revision and is said to be doing well now.
Who is Tarek El Moussa's ex-wife and why did they get divorced?
When Tarek El Moussa starred on Flip or Flop, the show followed him and his ex-wife Christina Anstead and their real estate agency The El Moussa Group. Christina Anstead also has her own HGTV show about real estate, Christina on the Coast.
In September 2010 the pair welcomed their daughter Taylor and in August 2015 along came their son Brayden.
The two divorced in 2018, but there appears to be no bad blood between the pair. Unfortunately, it was stress and tragedy which resulted in their break-up.
Right when Christina Anstead and Tarek El Moussa were at the height of their HGTV fame in 2013, things took a turn for the worse. Tarek El Moussa found a lump in his neck and was subsequently diagnosed with thyroid cancer. Having their lives constantly broadcasted and being busy with filming only put more stress on Christina Anstead and Tarek El Moussa.
In 2017, Tarek revealed he'd been diagnosed with testicular cancer, making things even more difficult. Tarek told Country Living around the time 'I wasn't healthy for years. I had my cancer, and I was filming. Then my second cancer and I was filming. And then I hurt my back and I was filming, and then I had surgery and I was filming.'
The two tried couples counselling, but after a tragic miscarriage and two IVF attempts that didn't work out, stress got the better of them and the two fought frequently.
Despite the tragedies the two went through, they remain friends which is why they're still comfortable presenting their TV show together. After their divorce was finalised, Christina Anstead shared that the two had realised they were better coworkers than spouses. 'We met at work, and we actually probably get along best at work,' she said.
Christina Anstead went on to marry present Ant Anstead - who is currently dating actress Renee Zellweger - but the pair split in September 2020 after welcoming son Hudson in early 2019. Christina Anstead is currently married to real estate agent Joshua Hall.