Finding a surrogate in the UK can be a difficult pursuit, with laws around surrogacy giving the majority of rights to the surrogate. Legal contracts cannot be enforced, and surrogates cannot be paid except for reasonable expenses, which means that upon having the baby the surrogate has full maternal rights to the child even if she has no biological connection to it. With surrogacy legislation so complicated in the UK, many couples choose to go abroad to look for a surrogate.
While surrogacy tourism has been banned in India, Nepal and Thailand – former hotspots for the industry – amidst exploitation claims, other countries have slowly popped up to take their place. One surprising example is Ukraine, where a series of liberal laws has unintentionally created a thriving surrogacy industry.
It's cheaper than the US, where surrogacy contracts are also legal, and recognises the 'intending parents' as biological parents from the moment of conception. While there is no price limit on how much a surrogate can be paid, allowing women to demand their chosen price, the country's declining economy and living standards mean that prices are low in comparison to the rest of the world.
According to Sam Everingham of Families Through Children, demand for surrogacy in Ukraine 'has increased probably 1000% in the last two years alone'. He told the BBC that the country 'has found itself almost accidently as one of the handful of nation states' that allow surrogacy tourism.
However, there are an abundance of health concerns surrounding the industry. With reports of surrogates being mistreated, embryos being secretly swapped and poor health care once the women is pregnant, the surrogacy industry is fraught with apprehension. Everingham continued:
'We have seen examples where Ukrainian agencies have refused to pay the surrogate if she doesn't adhere to strict requirements, or if she miscarries. There are some awful examples where agencies really treated surrogates dreadfully in Ukraine if things haven't worked out to the benefit of parents.'
Clinics are also thought to have paid parents to leave positive reviews online, where the majority of would-be parents are getting their information. Surrogates have to be meticulous with choosing their clinic, for fear of being misdiagnosed, not treated on time for health conditions and having further complications that could result in them not being paid for the service.
There is also the issue of re-entering the UK once the child has been born, which can take between 4-5 months depending on certain conditions such as how soon you submit visa applications.
So, while the lack of surrogacy laws in Ukraine might seem beneficial at first, it has created an unregulated industry which puts both surrogates and expecting parents at risk. You only have to look at the logic behind some the legislation to be skeptical. One particular requirement in Ukraine is that the woman must already have given birth, based on the notion that they are less likely to be attached to the child if they already have one of their own.
It's rationales like this which are raising eyebrows over the growing industry, and while it is a cheaper option it is by no means an easier one.
Find out more information about surrogacy abroad here.
Click through to see Blake Lively's maternity style...
Blake Lively Maternity Style grazia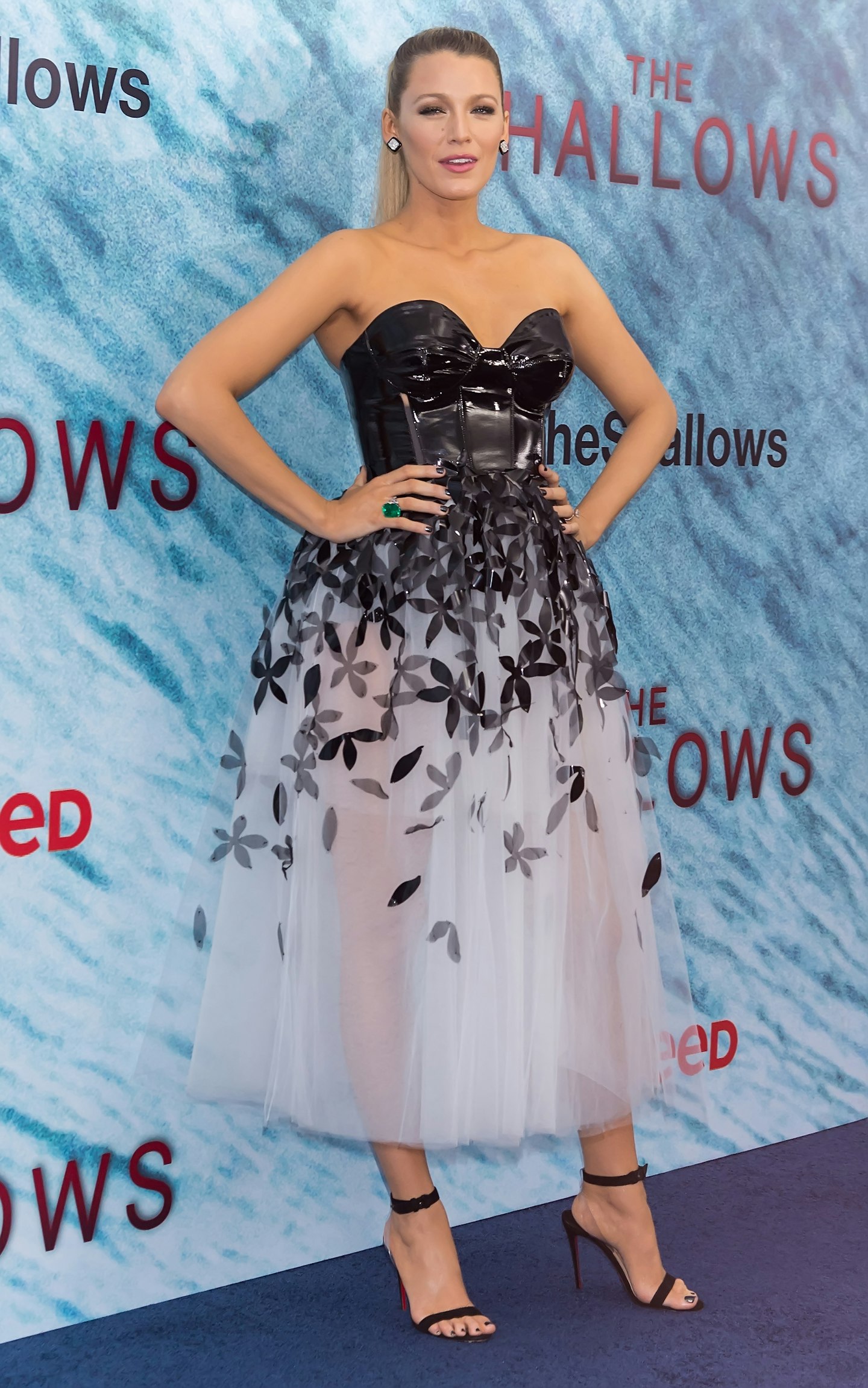 1 of 25
CREDIT: Getty Images
blake lively the shallows premiere
Red carpet fashion is Blake's strong suite, and this black and white dress by Carolina Herrera (complete with floral detailing and semi-sheer skirt) doesn't disappoint (June 2016)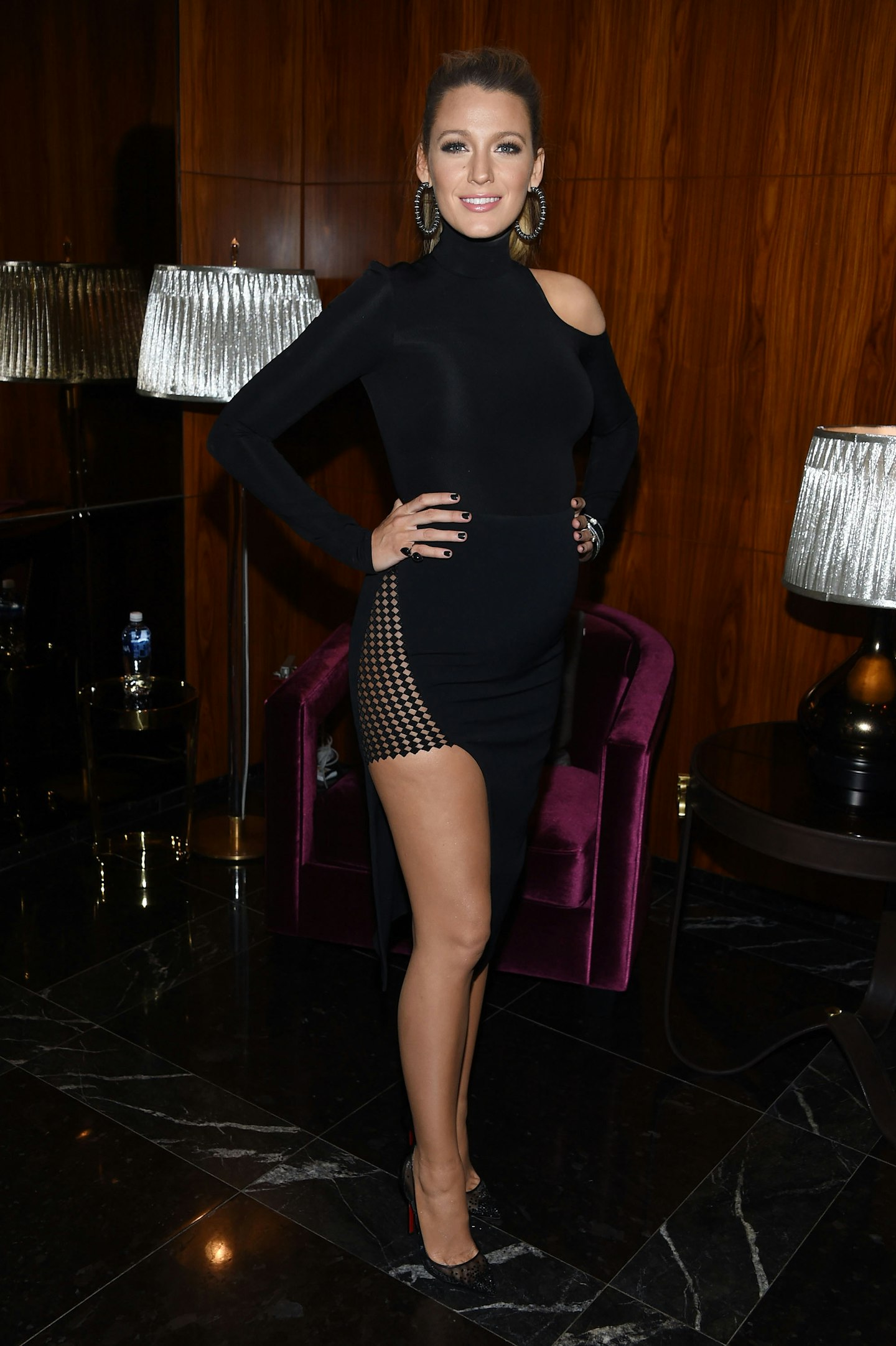 2 of 25
CREDIT: Getty Images
blake lively the shallows premiere
For 'The Shallows' after-party, Black chose an asymmetric look from David Koma's most recent collection, layering a cold-shoulder black body under a skirt with cut-out detail (June 2016)
3 of 25
CREDIT: Getty Images
blake lively maternity fashion
Another sartorial triumph for Blake, who stuck close to her winning maternity style formula of a form-fitting midi dress in a bold block colour (June 2016)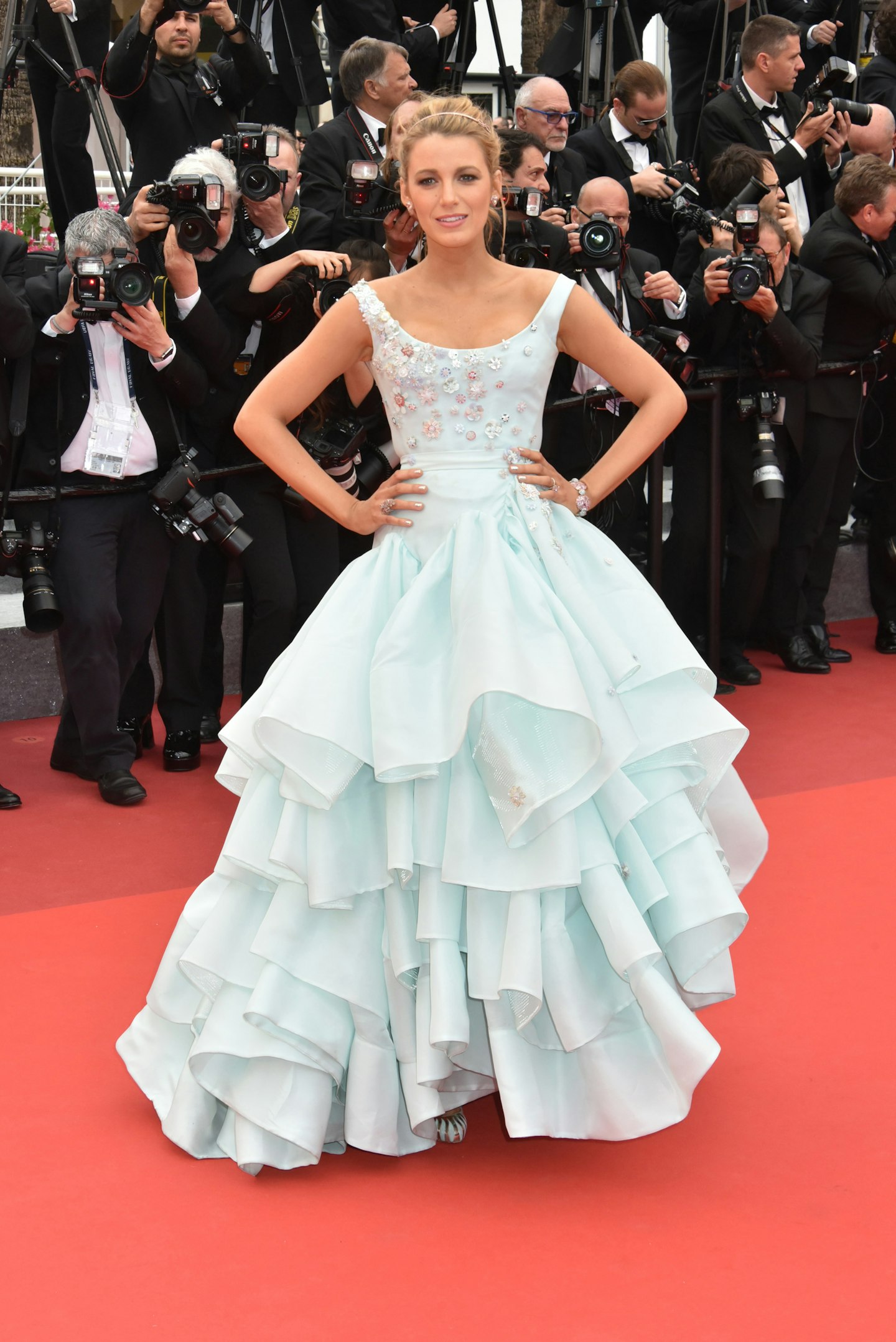 4 of 25
CREDIT: Getty Images
blake lively maternity fashion
For her red carpet 'princess' moment, Blake chose pale blue Louis Vuitton - and looked like she'd stepped straight out of a fairytale (May 2016)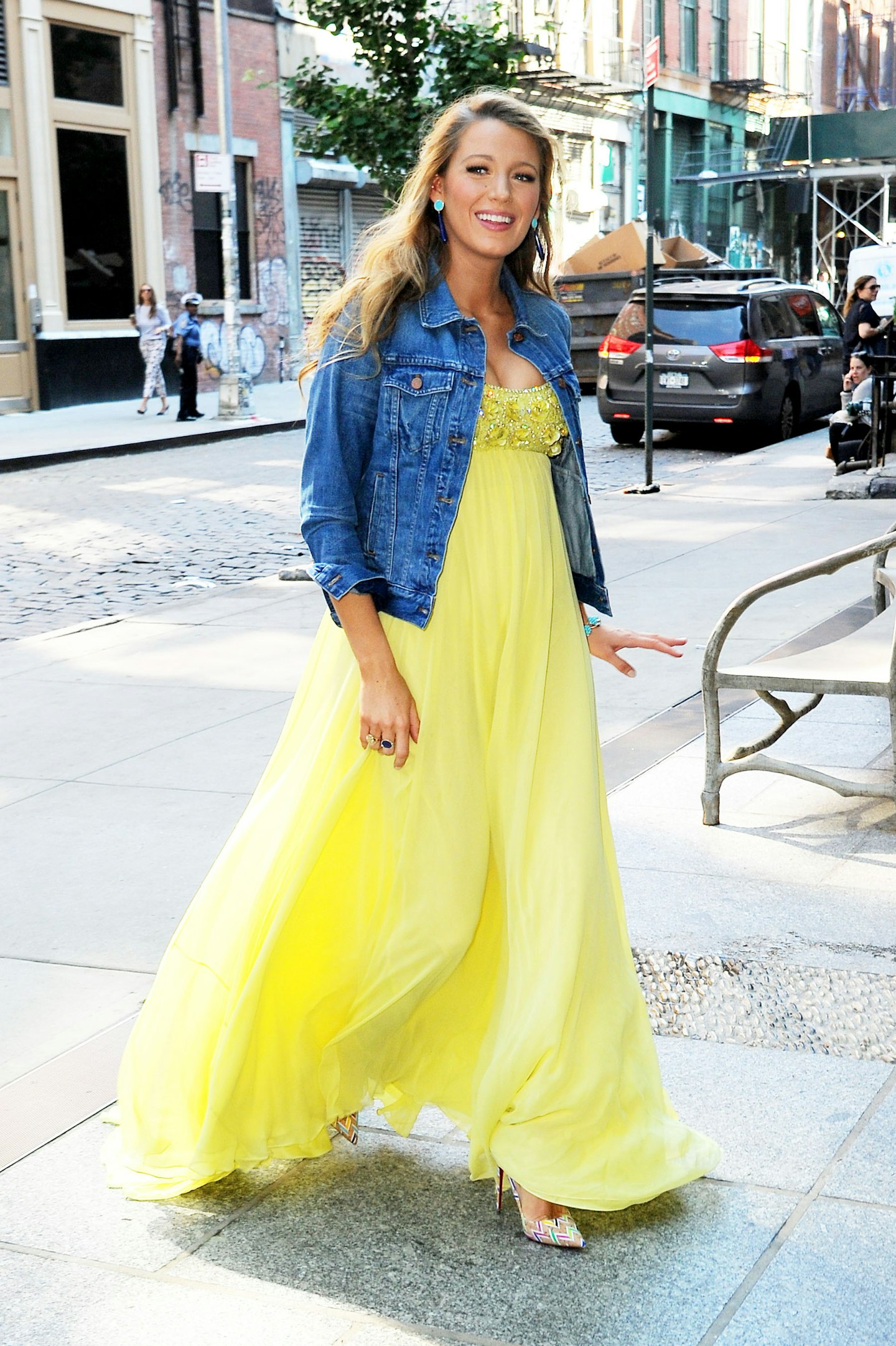 5 of 25
CREDIT: Getty Images
blake lively maternity fashion
Denim jacket + embellished ball gown = surprisingly cool. Blake went full Noughties when promoting 'The Shallows' in New York, layering a Madewell jacket over a Jenny Packham dress (June 2016)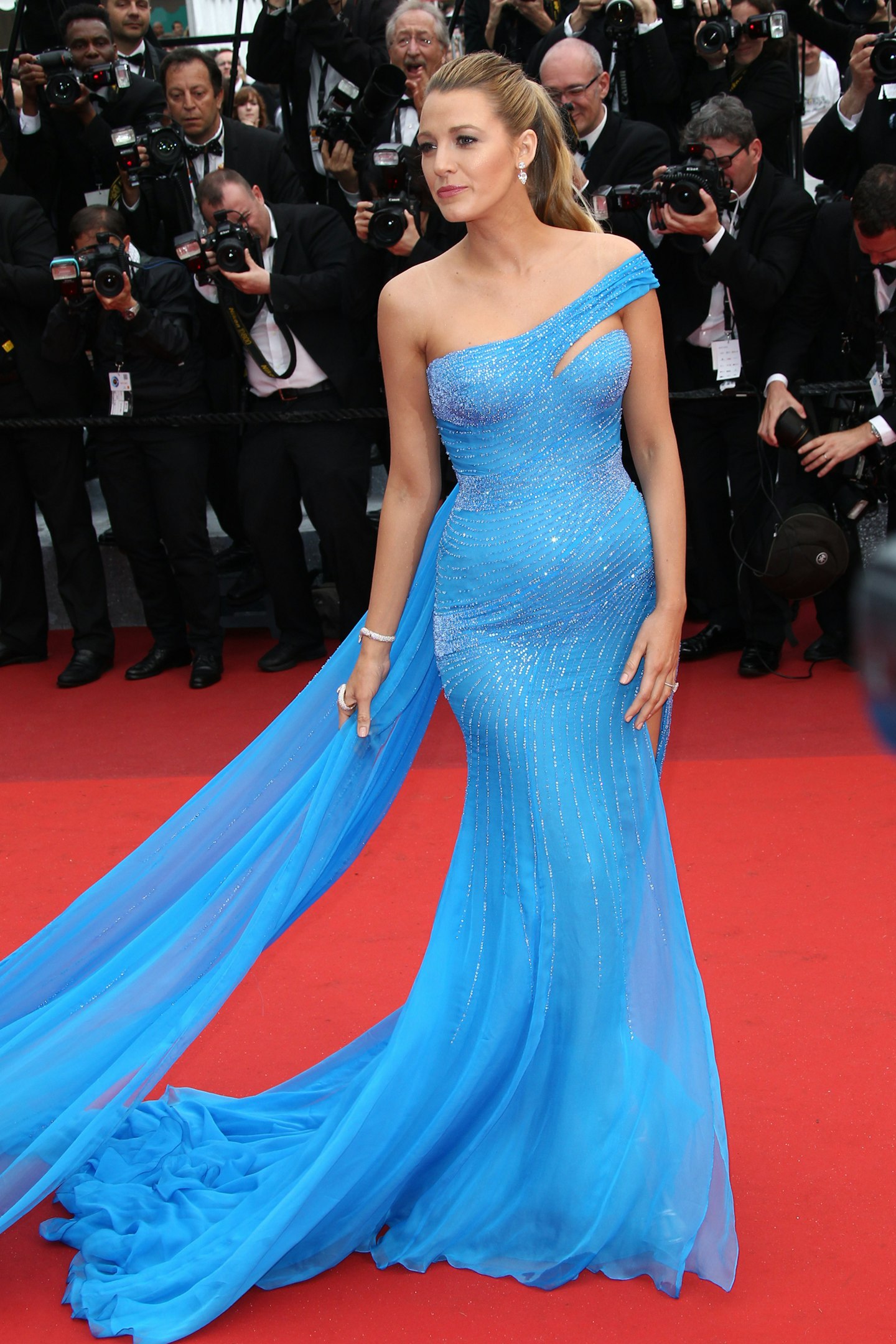 6 of 25
CREDIT: Getty Images
blake lively maternity fashion
Cinderella who? Blake chose another fairytale gown for the Cannes screening of The BFG, this time by Atelier Versace (May 2015)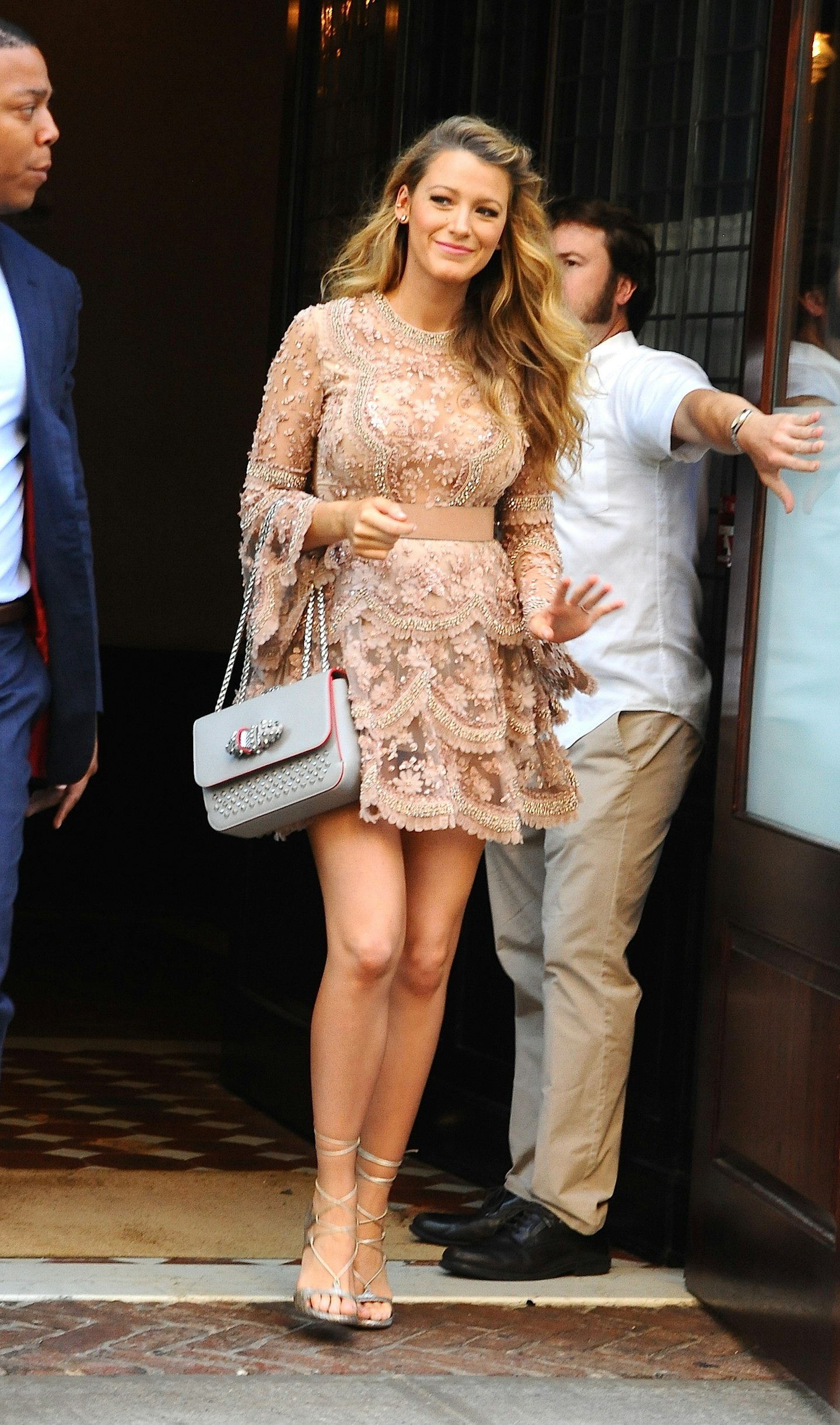 7 of 25
CREDIT: Getty Images
blake lively maternity fashion
The pale peach shade of this heavily embellished Elie Saab gown compliments Blake's skin tone perfectly (June 2016)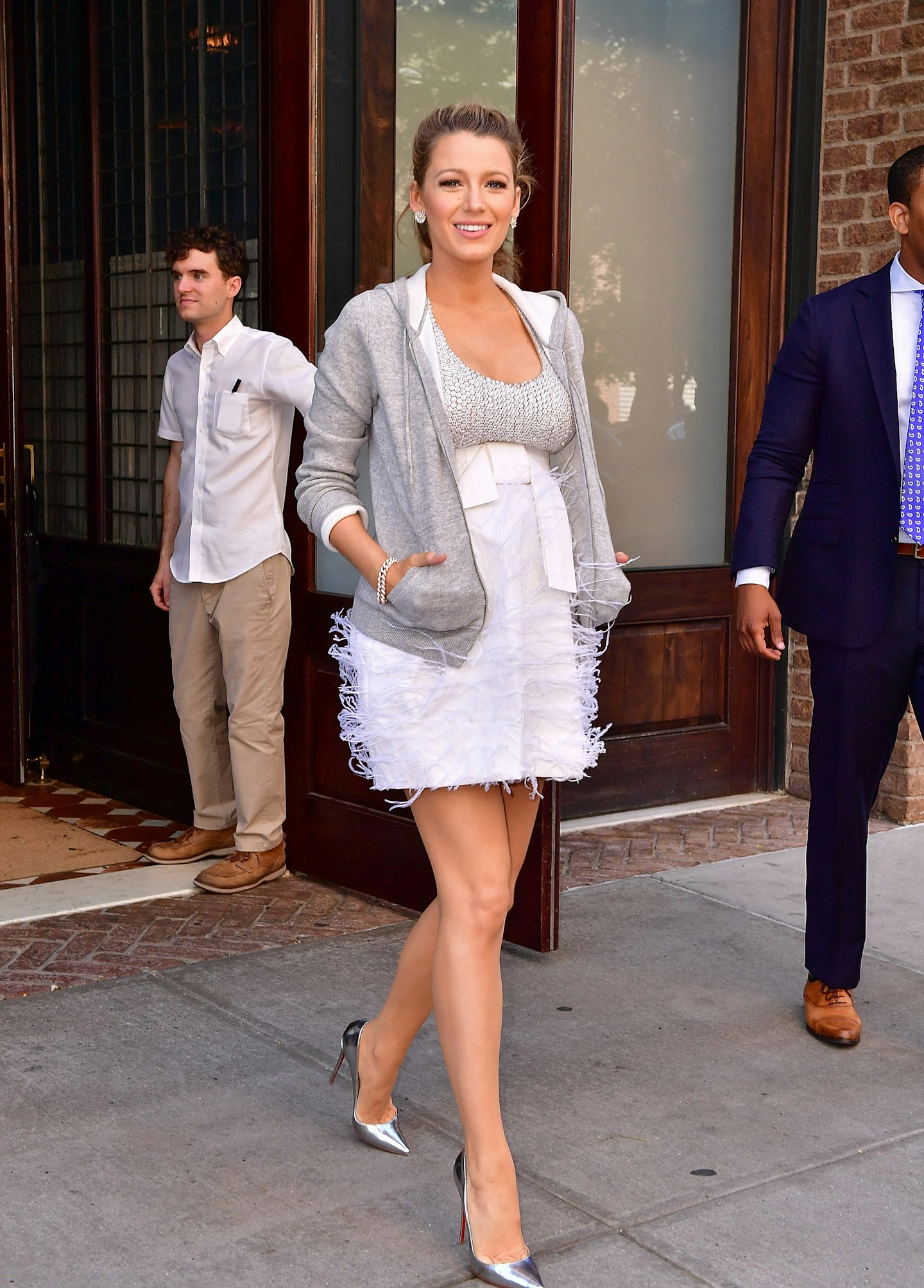 8 of 25
CREDIT: Getty Images
blake lively maternity fashion
Teaming a grey hoodie with a feathered mini-dress and towering Louboutins is certainly unchartered style territory - a move worthy of Gossip Girl's Serena? (June 2016)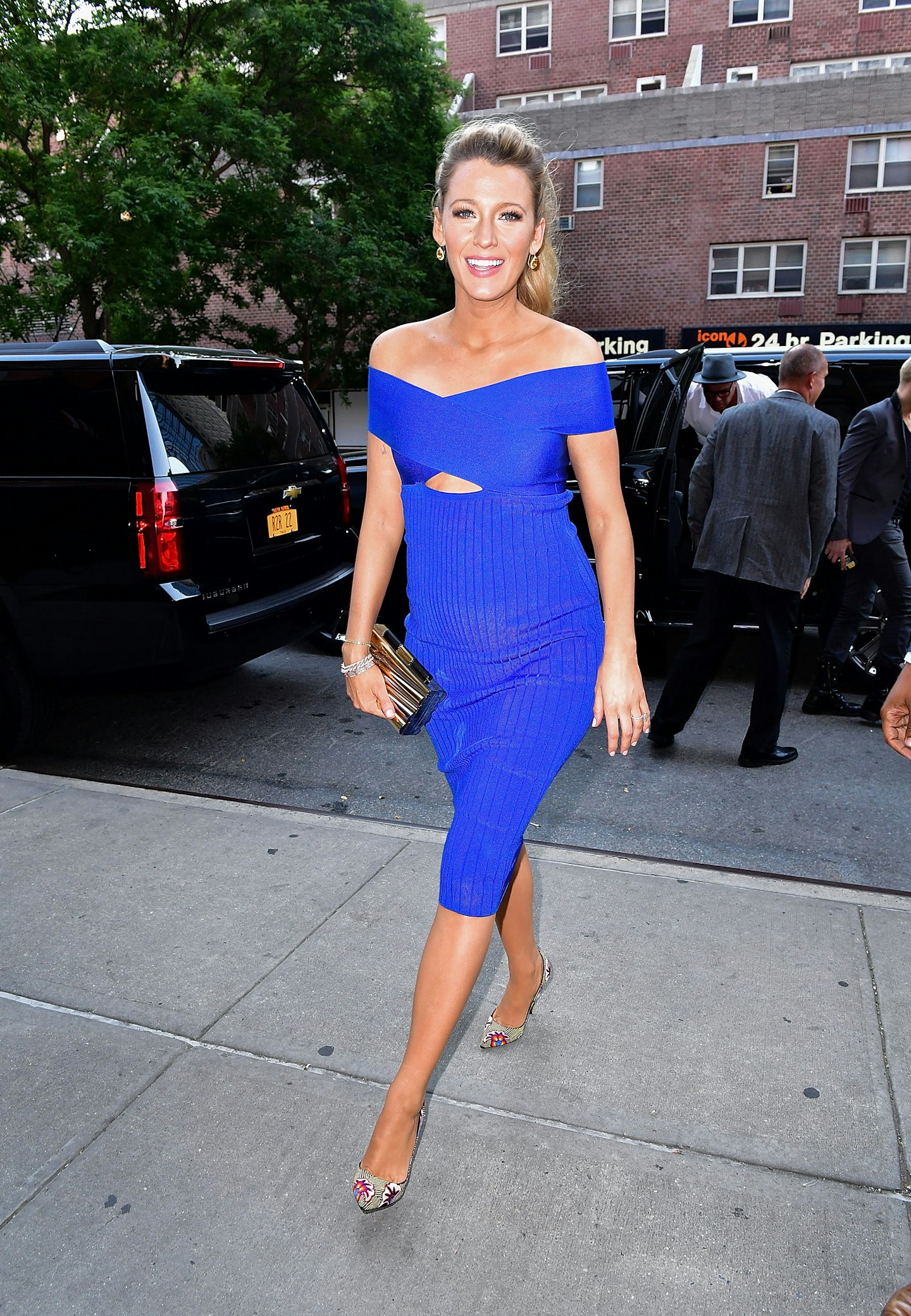 9 of 25
CREDIT: Getty Images
blake lively maternity fashion
Promoting her new film 'The Shallows' on 'The Tonight Show with Jimmy Fallon,' Blake channelled this season's off-the-shoulder trend in a royal blue midi style from Cushnie Et Ochs, complete with crossover neckline and cut-out detailling (June 2016)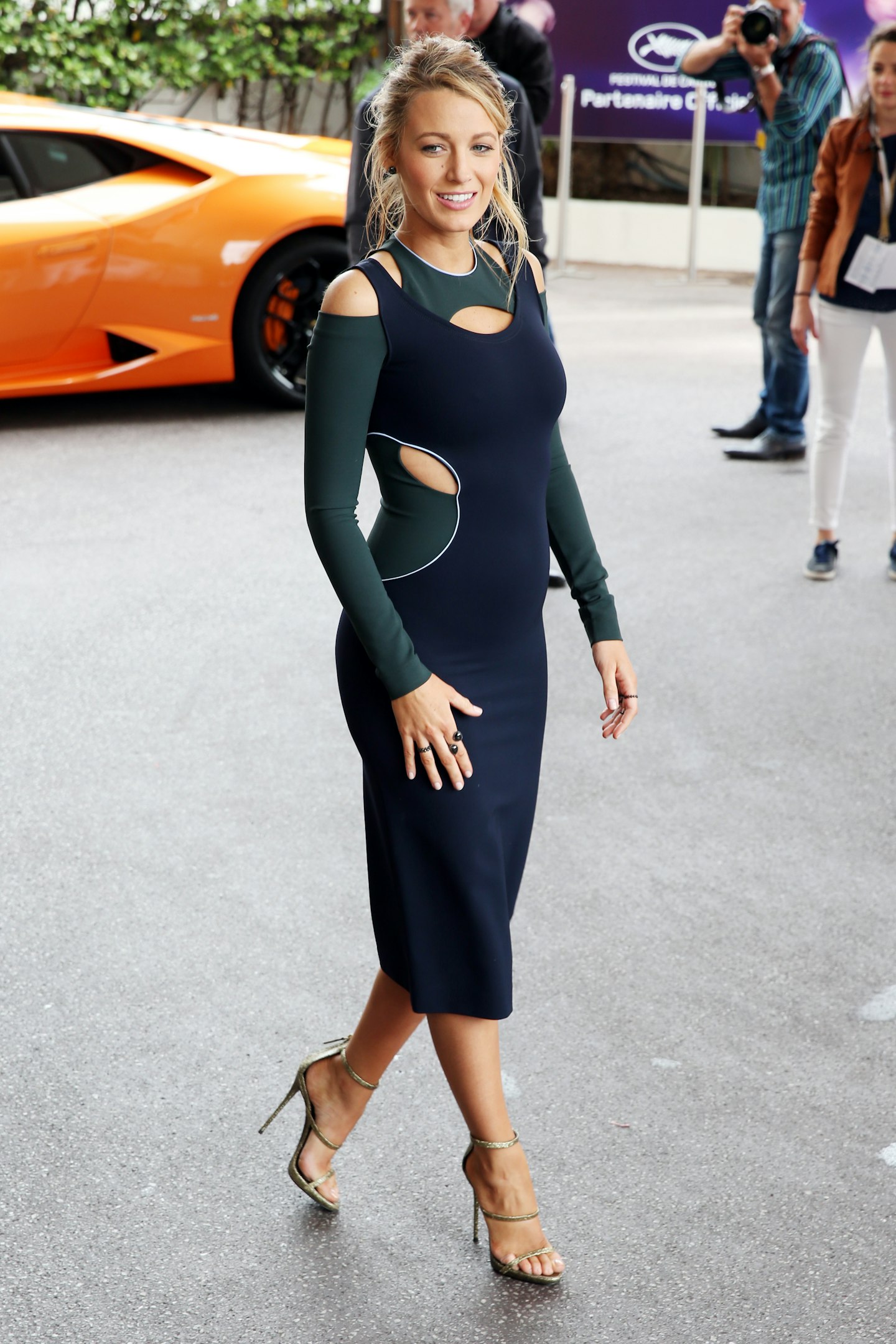 10 of 25
CREDIT: Getty Images
blake lively maternity fashion
Promoting 'The Shallows' at the Cannes Film Festival, Blake appeared to take inspiration from her role in the surfer horror flick, choosing a cut-out midi dress fashioned from scuba material (May 2016)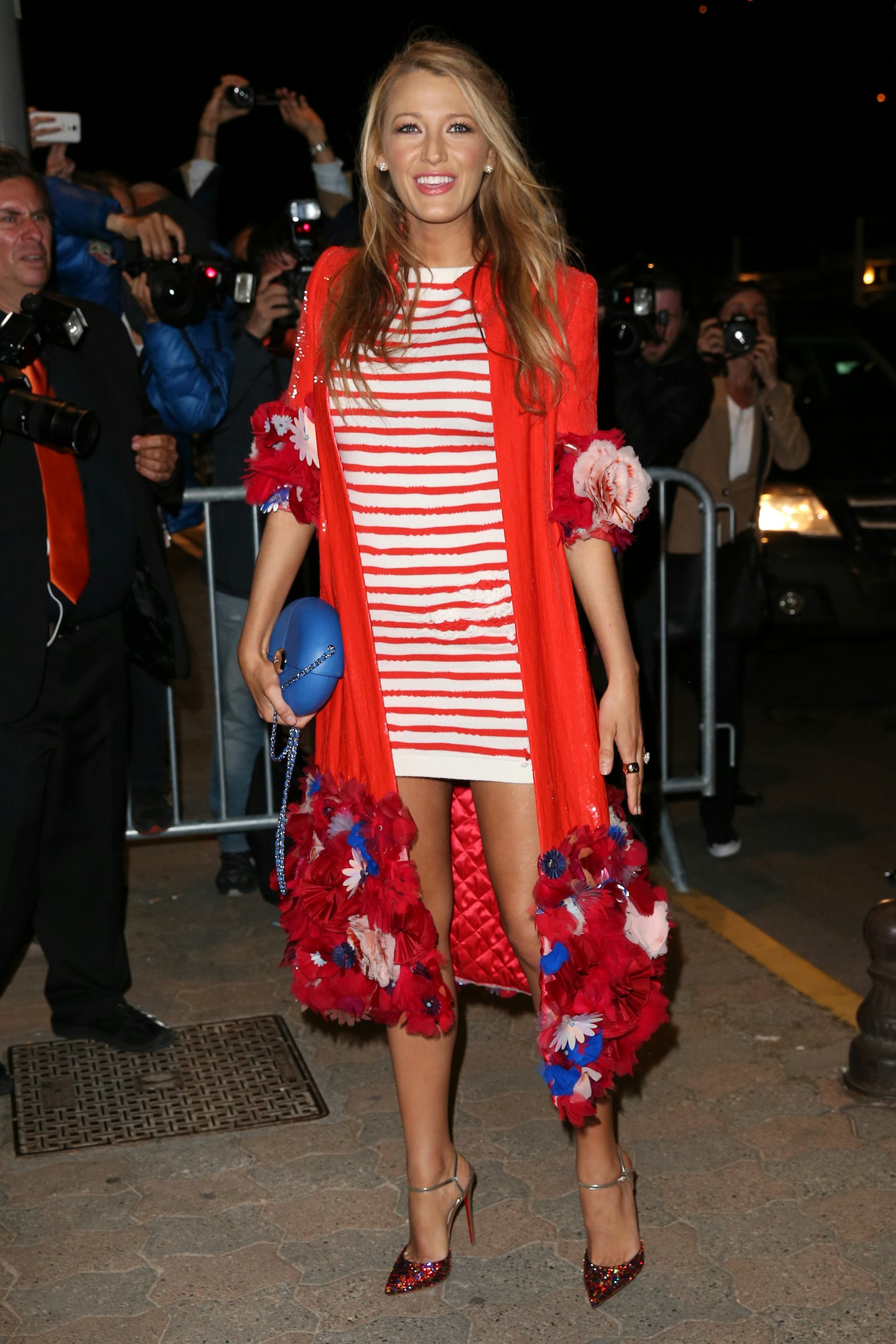 11 of 25
CREDIT: Getty Images
blake lively maternity fashion
Could anyone apart from Blake pull off this sequinned coat (heavily embellished with flowers, natch) and this striped red minidress (both by Chanel)? Probably not (May 2016)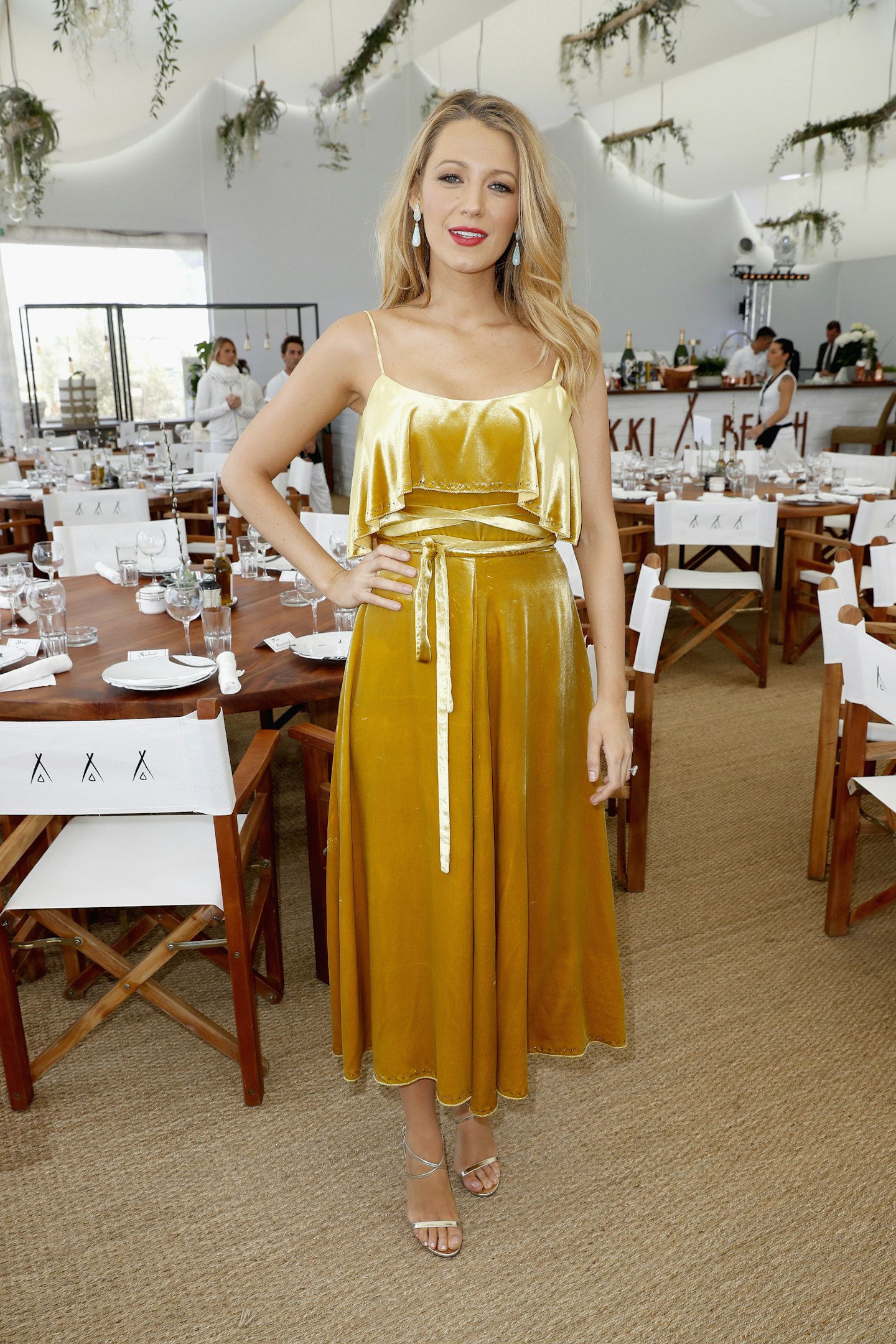 12 of 25
CREDIT: Getty Images
blake lively maternity fashion
Can anyone else pull off tricky shades of yellow with as much panache as Ms. Lively? We don't think so. Golden girl Blake chose velvet Valentino for the Café Society luncheon in Cannes (May 2016)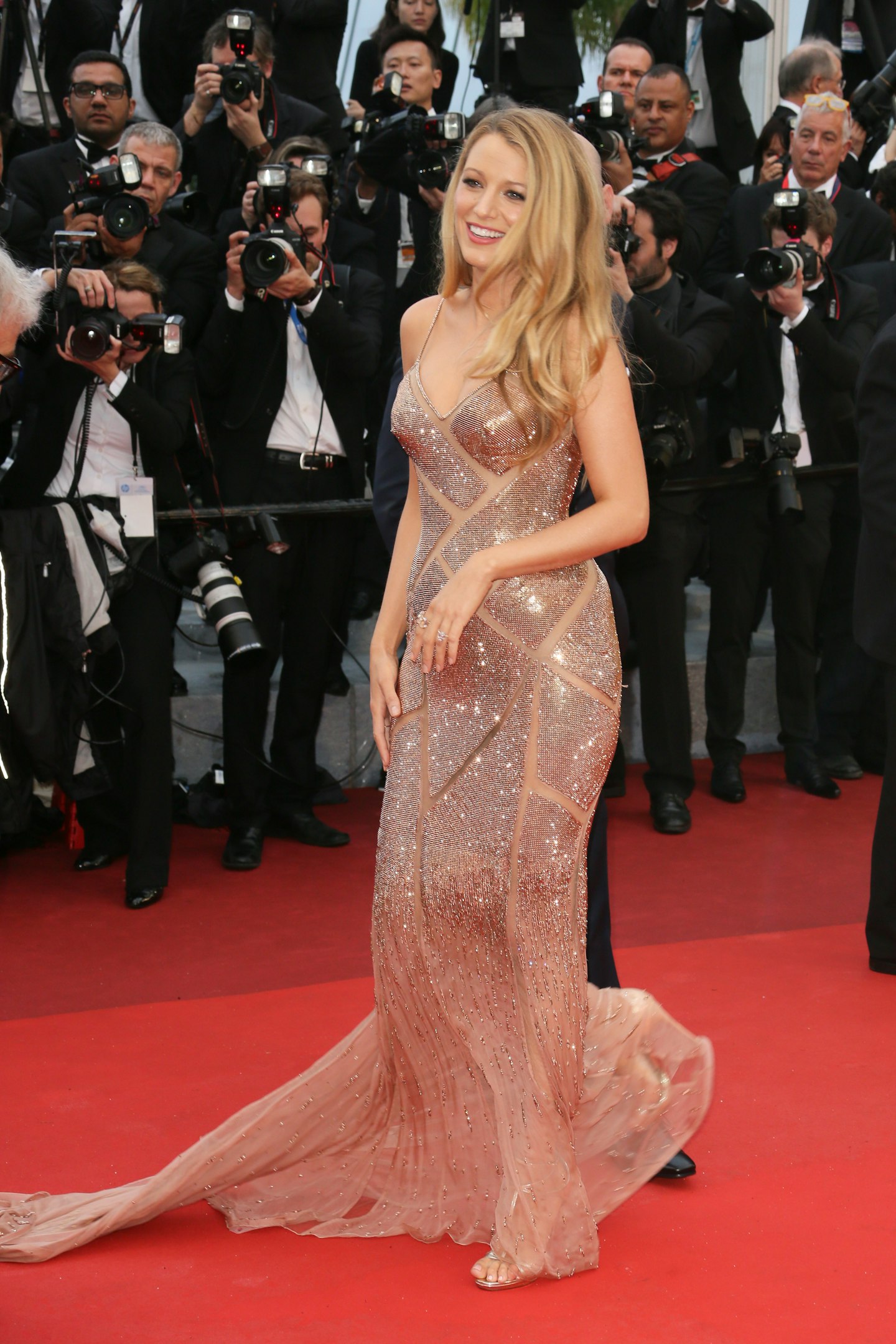 13 of 25
CREDIT: Getty Images
blake lively maternity fashion
Sheer panels? Check. Skin tight? Check. Sparkle? Check. Blake's fashion formula certainly isn't for the faint-hearted, but the actress certainly looked the part at the opening gala for her film, Café Society (May 2015)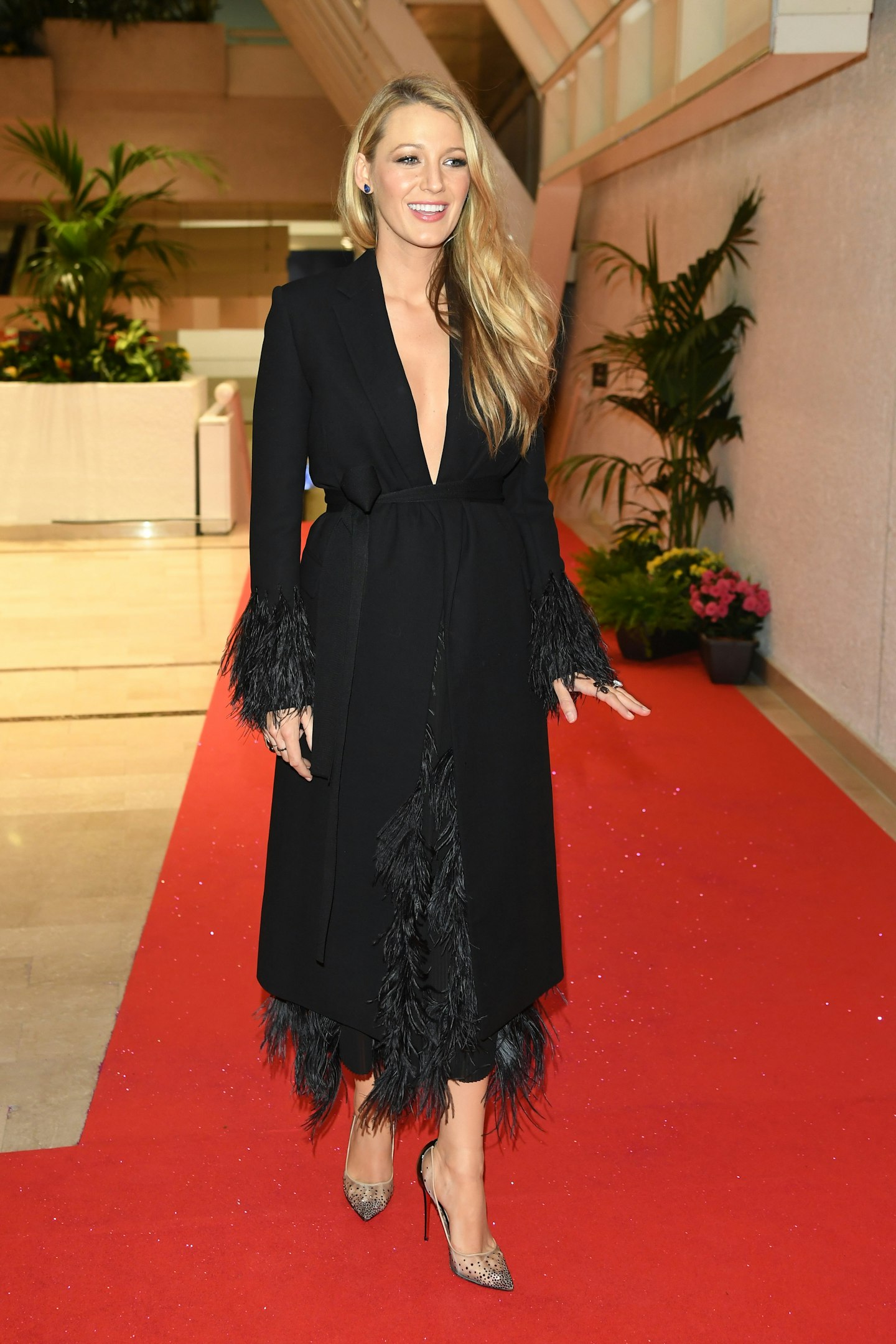 14 of 25
CREDIT: Getty Images
blake lively maternity fashion
Coat dresses aren't usually part of Blake's sartorial vocabulary, but she pulls off this chic feathered number by Salvatore Ferragamo with aplomb (May 2016)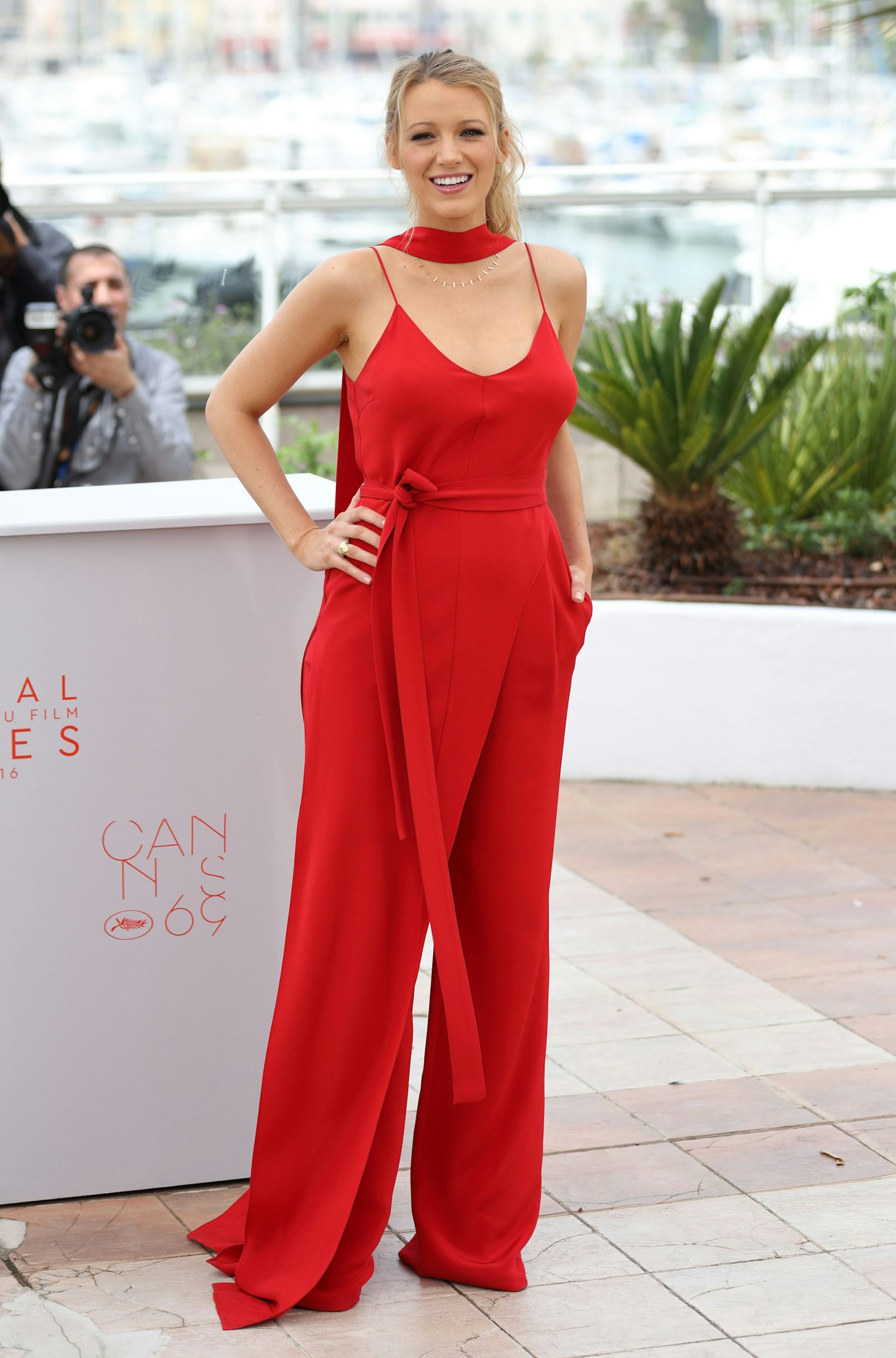 15 of 25
CREDIT: Getty Images
blake lively maternity fashion
For the Café Society photocall in Cannes, Blake channelled the dancing lady emoji (you know the one) in this scarlet jumpsuit by Juan Carlos Obando (May 2016)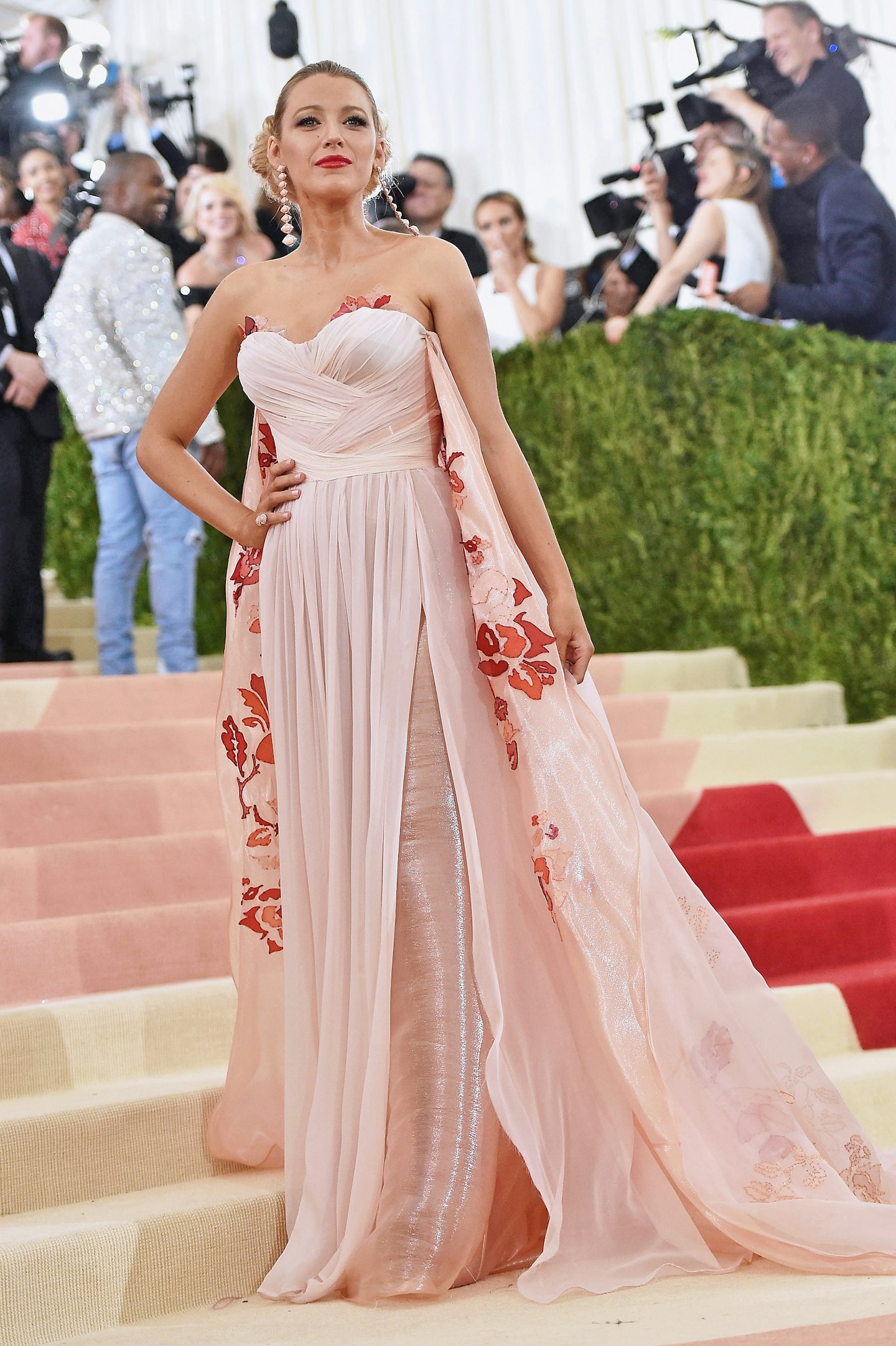 16 of 25
CREDIT: Getty Images
blake lively maternity fashion
So Blake's pale pink Burberry gown for this year's Met Gala didn't exactly tie in to the event's 'Manus x Machina' theme, but when she looks as great as this, we aren't exactly complaining... (May 2016)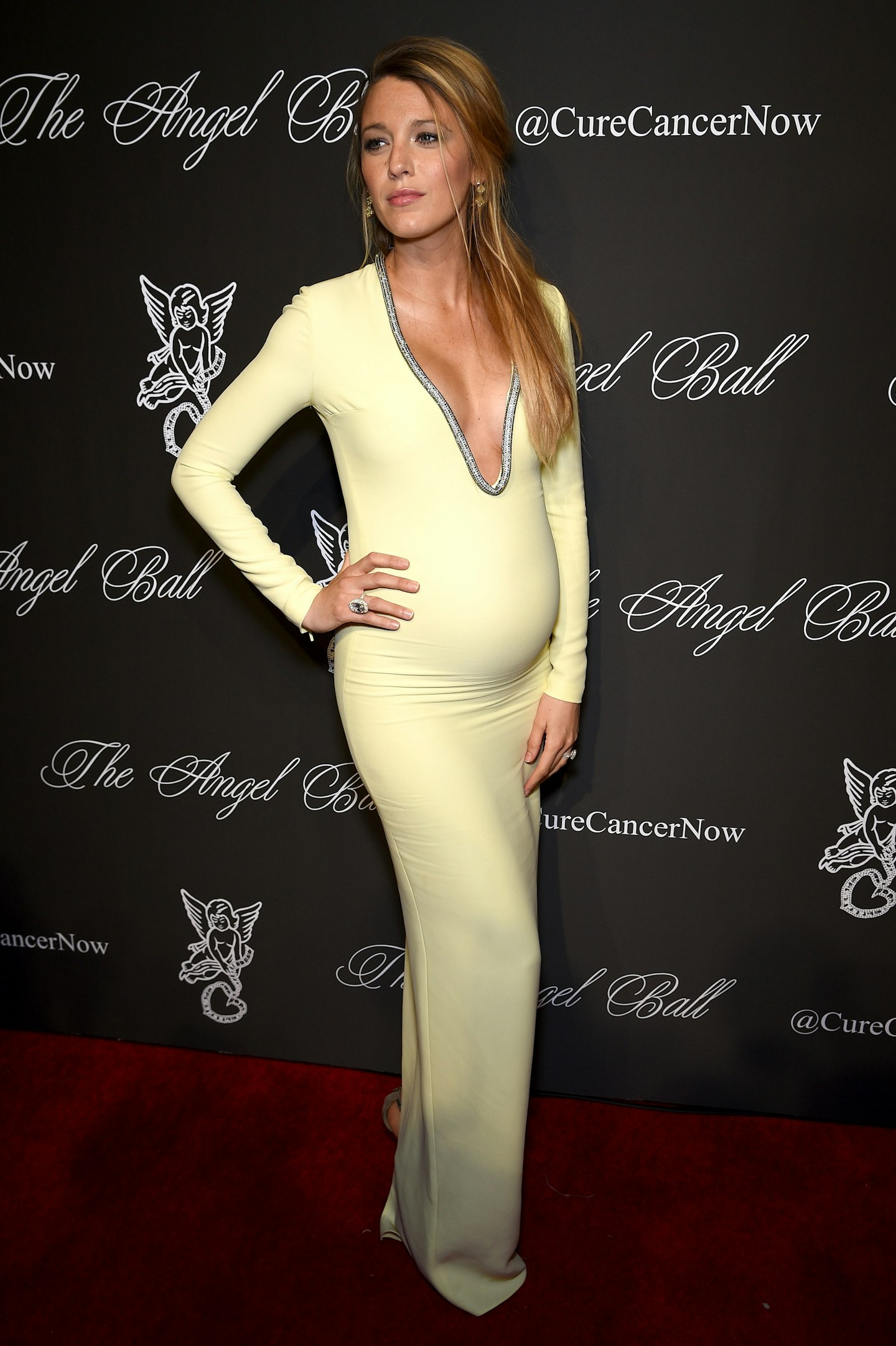 17 of 25
CREDIT: Getty Images
blake lively maternity fashion
Lemon yellow isn't the easiest shade to pull off, but Blake made light work of it in this V-neck Gucci style at the Angel Ball in New York, while pregnant with her first child (October 2014)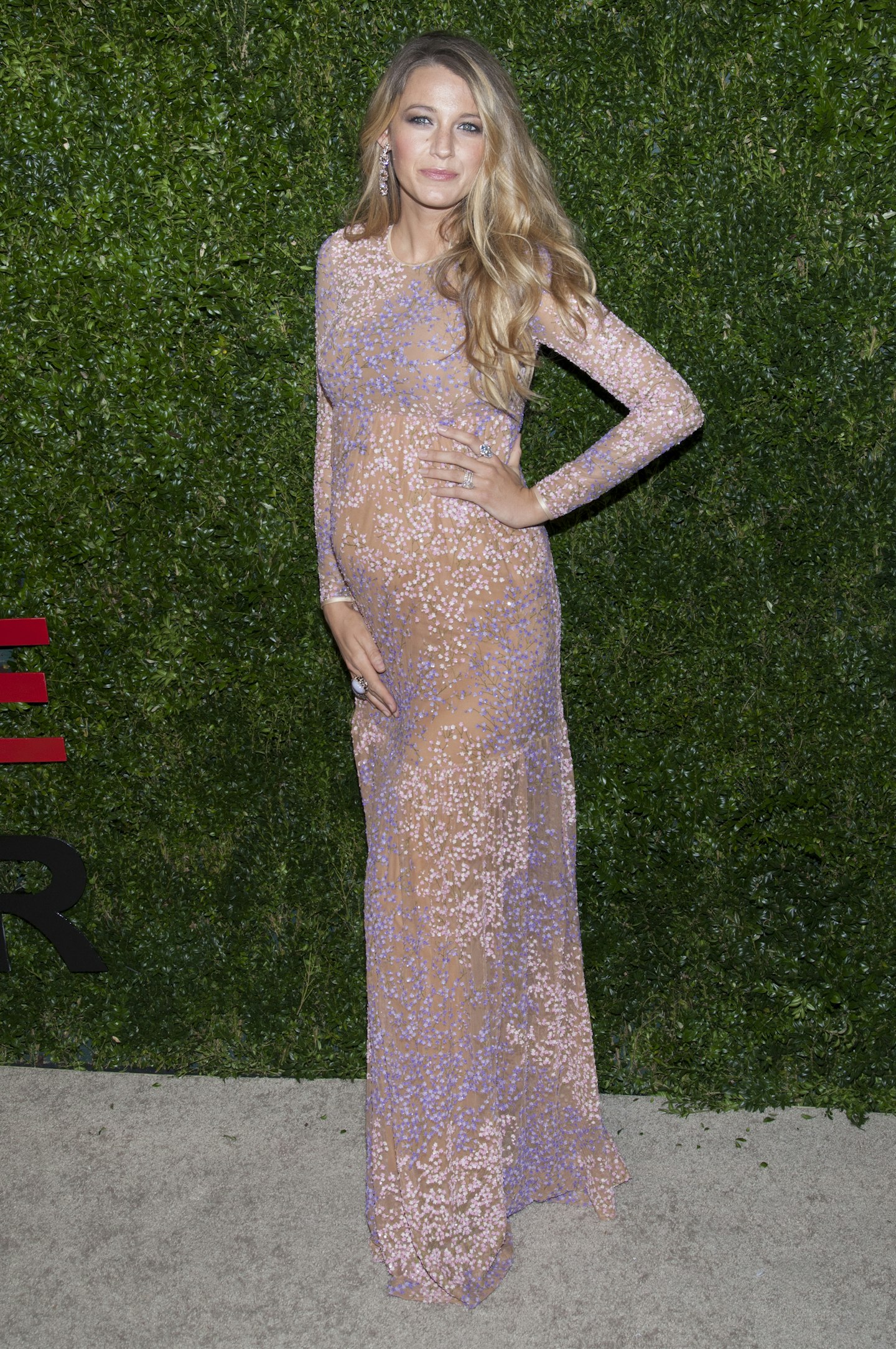 18 of 25
CREDIT: Getty Images
blake lively maternity fashion
The 2014 Golden Hearts Awards called for another pitch-perfect evening look from Blake – this time, a delicately embellished pale pink dress in a simple, A-line style from Michael Kors Resort. Straight out of Serena van der Woodsen's wardrobe, don't you think? (October 2014)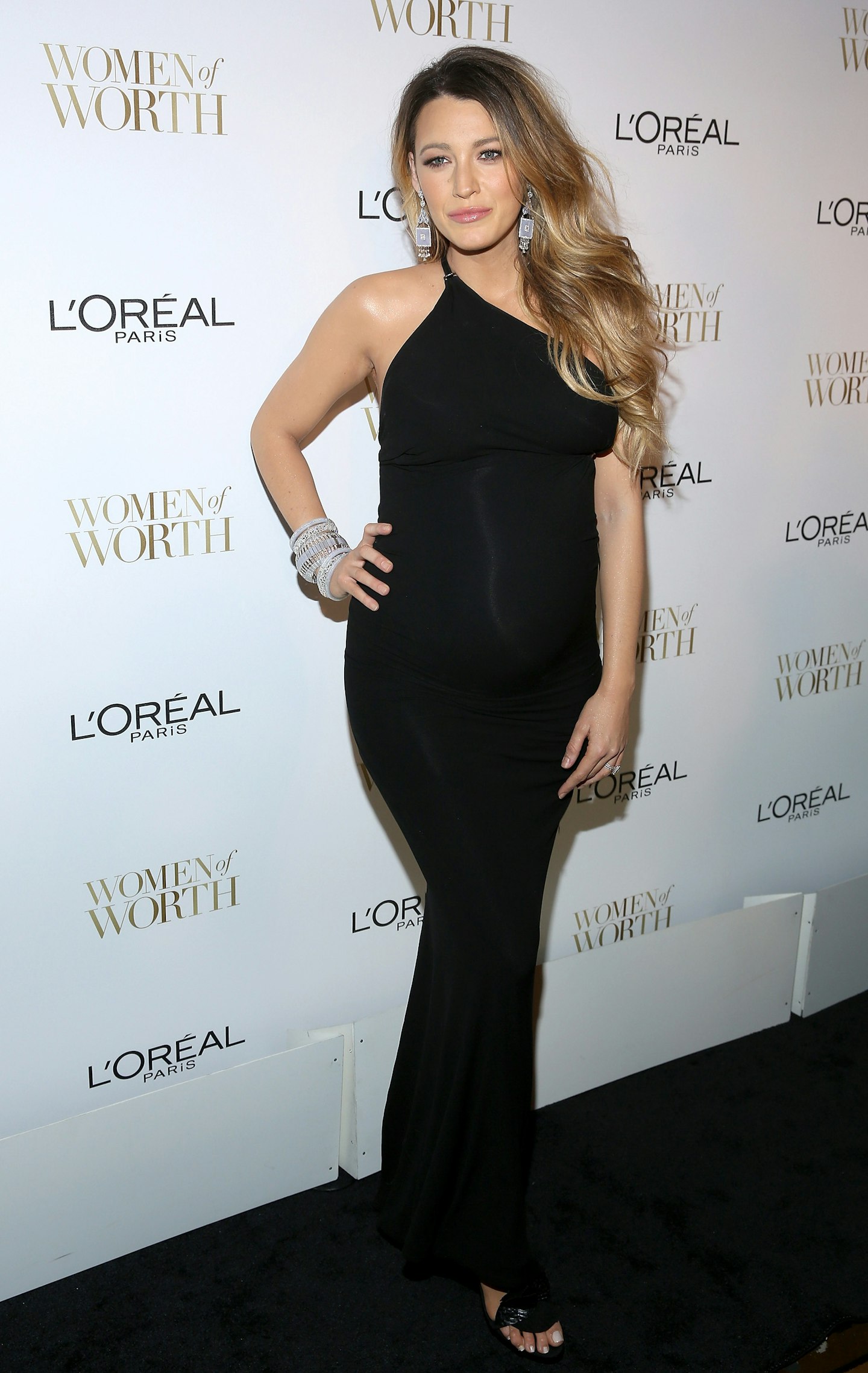 19 of 25
CREDIT: Getty Images
blake lively maternity fashion
Proving she can pull off 'bronde' just as well as her trademark California blonde, Blake looked effortlessly stylish in a form-fitting, one shouldered black gown by Kaufmanfranco at L'Oreal's Women of Worth dinner in New York (December 2014)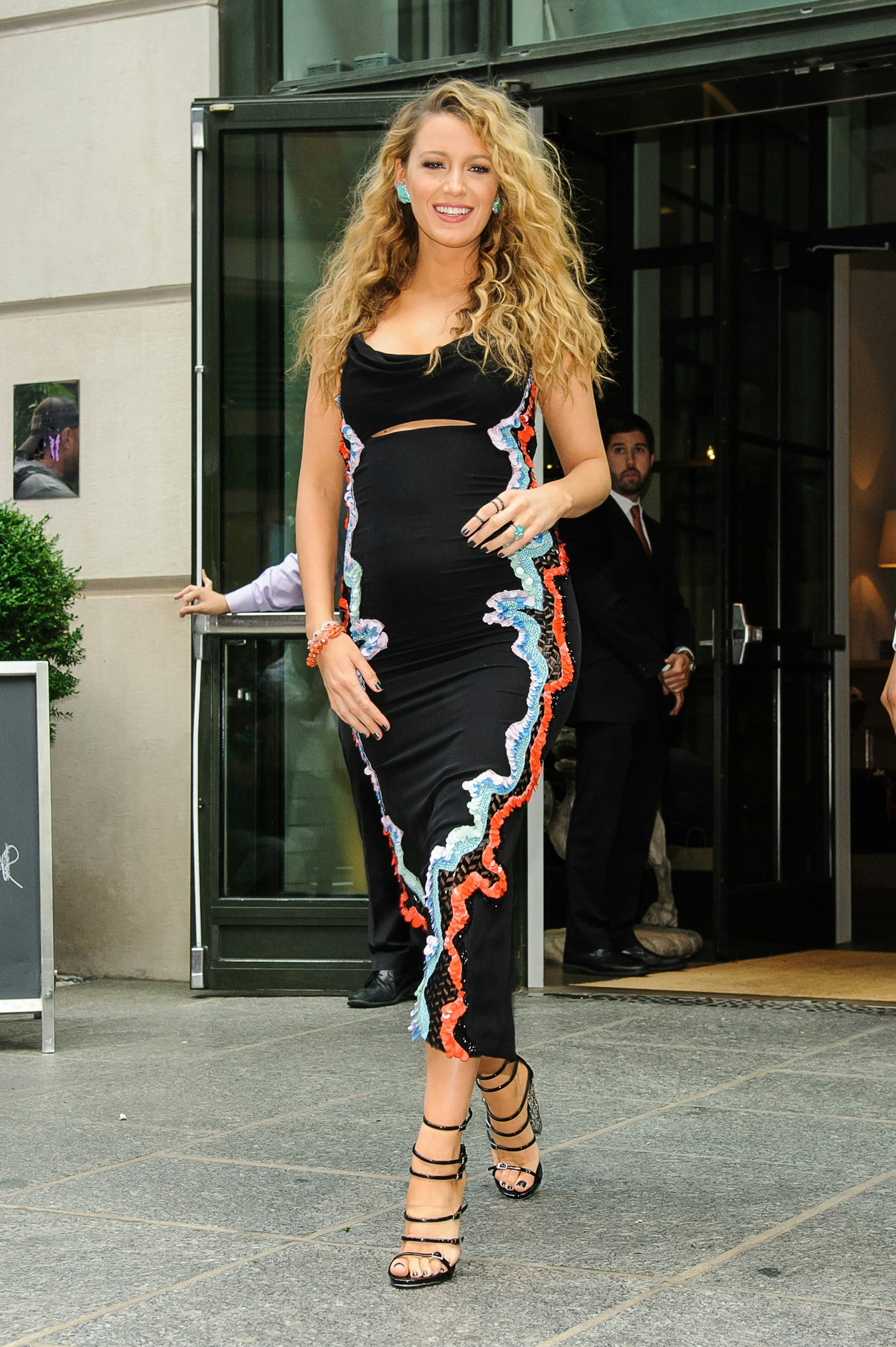 20 of 25
CREDIT: Getty Images
blake lively maternity style pregnant
Wave print Versace? So appropriate for another The Shallows promo appearance - complete with gloriously corkscrew curls (June 2016)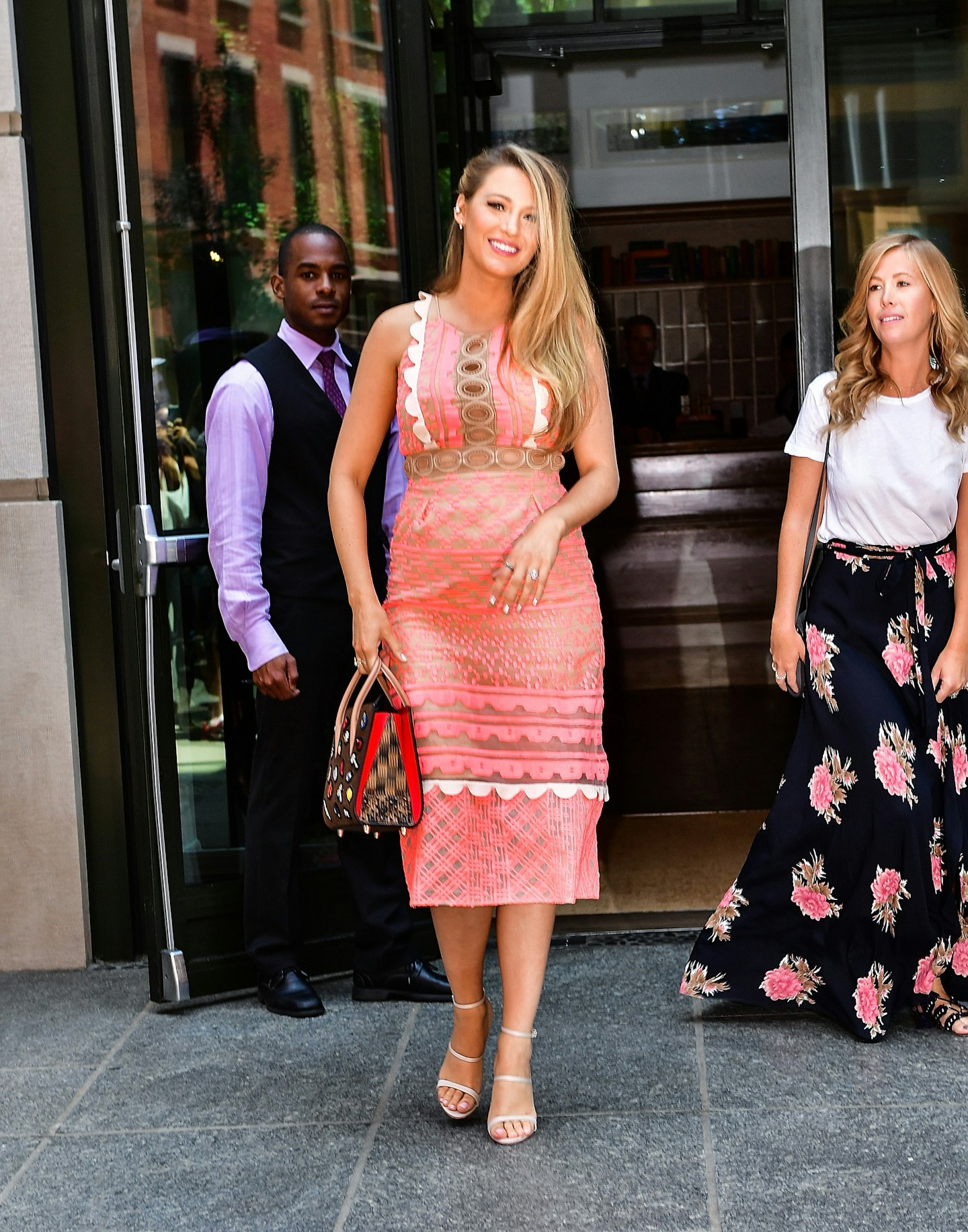 21 of 25
CREDIT: Getty Images
blake lively pregnancy style
For the press conference for her latest film 'Café Society,' Blake chose a patterned pink dress by Jonathan Simkhai, teamed with heels by Brit designer Sophia Webster (July 2016)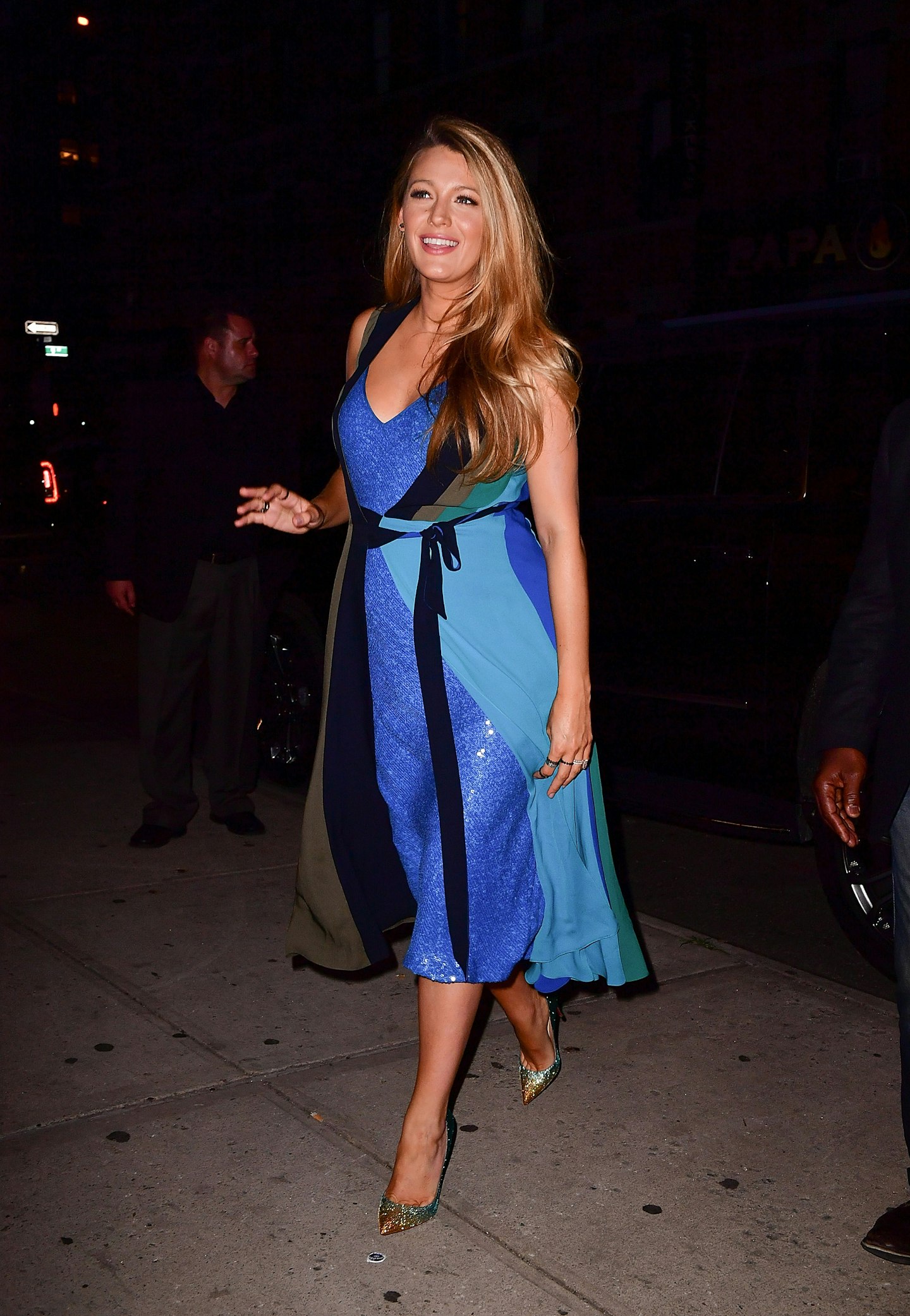 22 of 25
CREDIT: Getty Images
blake lively pregnancy style
For a night out with friends in New York, Blake wore a blue wrap dress with graphic stripes by Diane von Furstenberg (July 2016)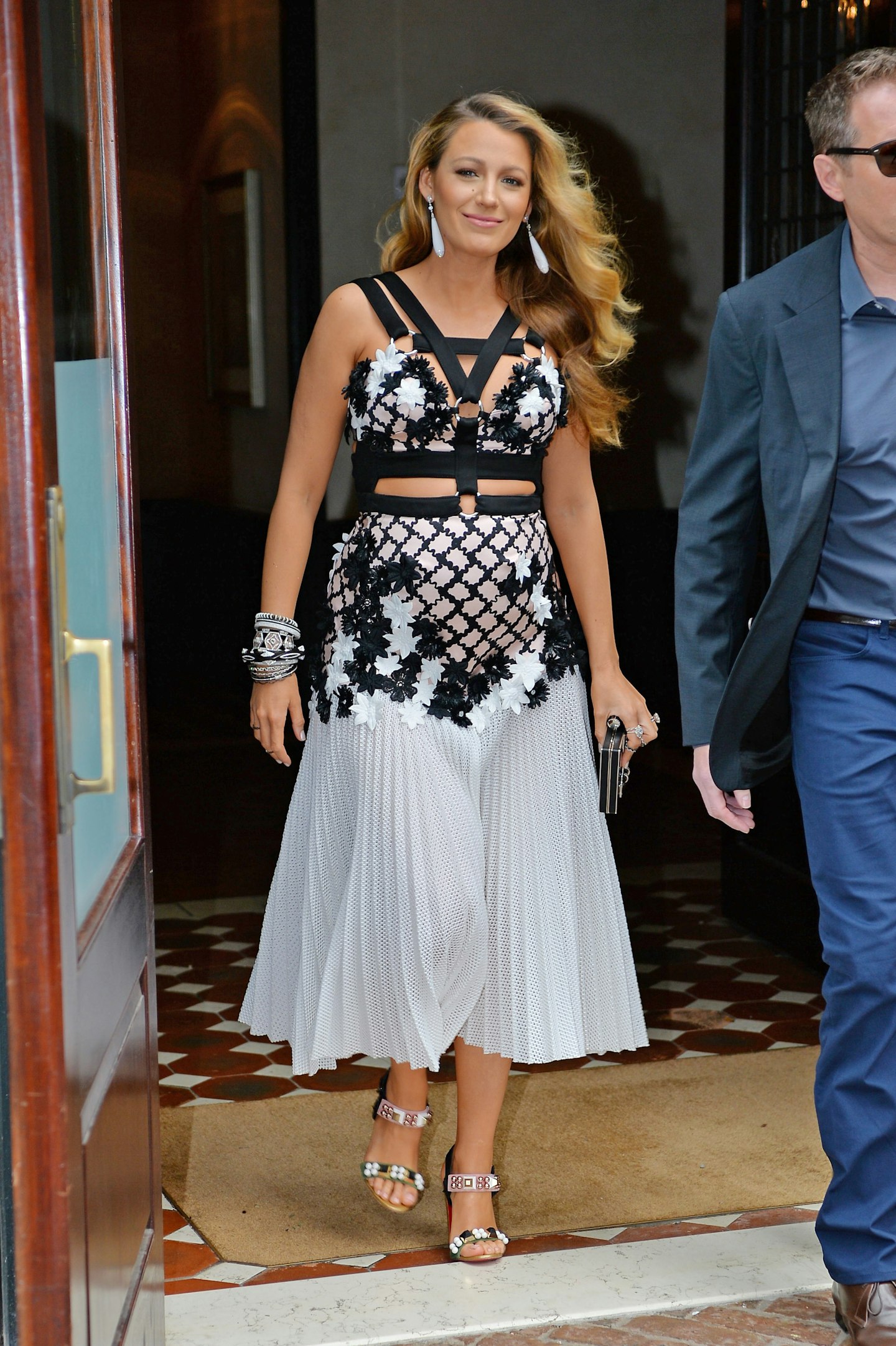 23 of 25
CREDIT: Getty Images
blake lively maternity style
For her appearance on the Tonight Show to promote new film 'Café Society,' Blake wore a dramatic cut out style with floral embellishment by Emanuel Ungaro. Who said maternity style had to play it safe? (July 2016)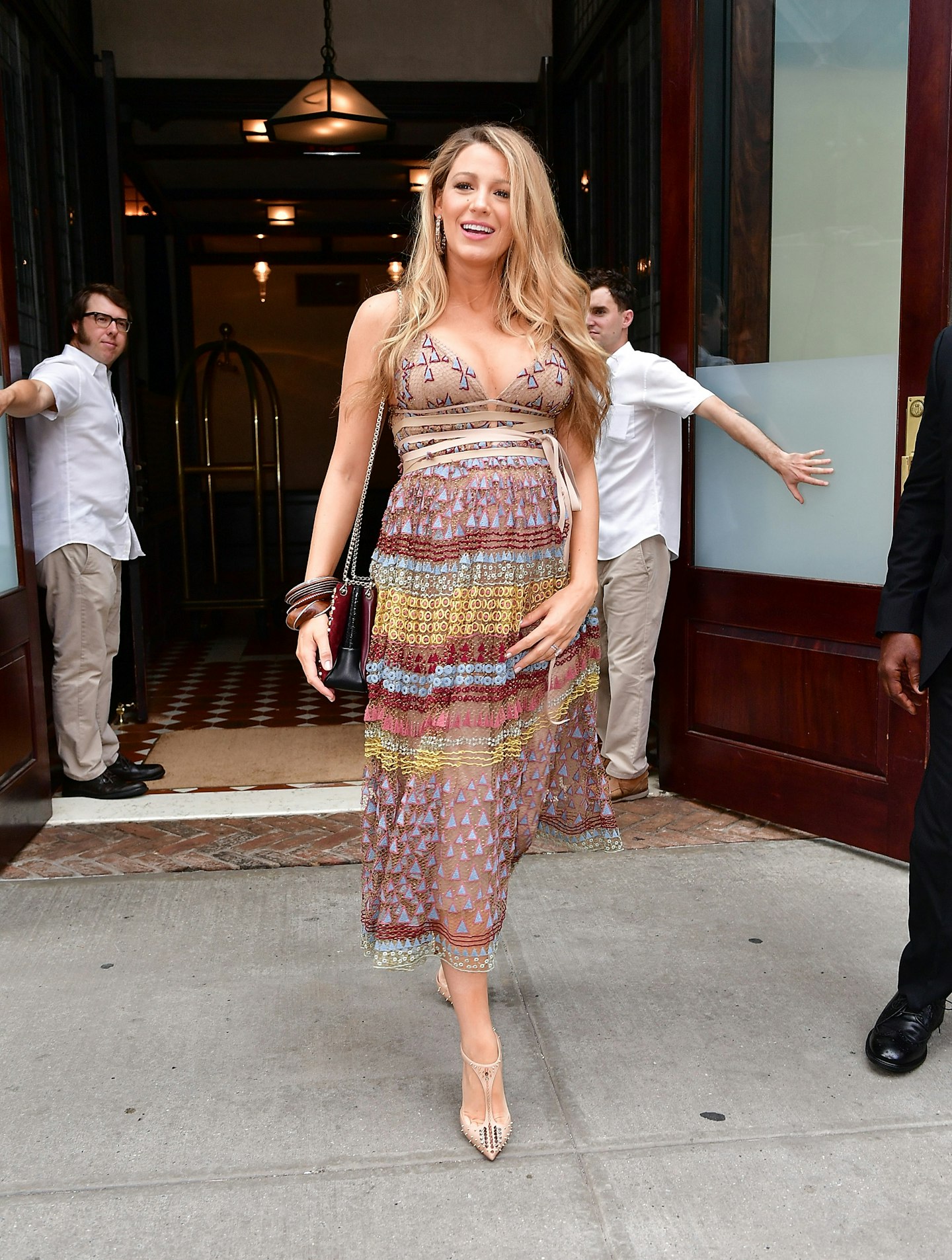 24 of 25
CREDIT: Getty Images
blake lively maternity style
Summer in the city calls for a fashion-forward take on the bohemian trend. Blake's patterned midi dress with mesh panels is giving us serious Serena van der Woodsen vibes, too (July 2016)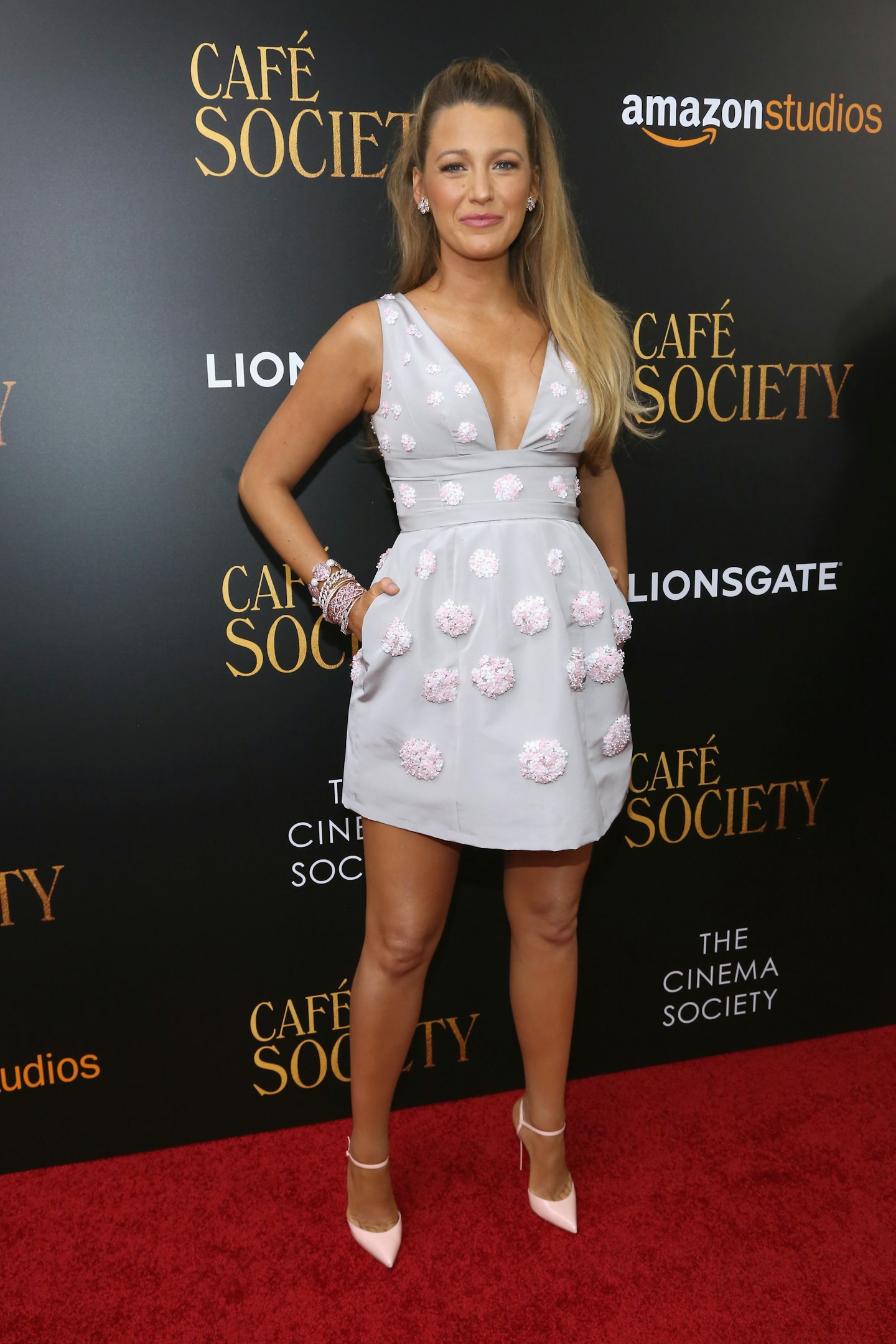 25 of 25
CREDIT: Getty Images
blake lively maternity style
Continuing her spot-on maternity style spree for the 'Café Society' promo trail, the actress opted for pale grey Carolina Herrera - complete with white pom-pom detailing (July 2016)