If you've recently kicked off a new workout routine or are becoming more of a gym buff, you may have also experienced aches and pains along the muscle journey. Thankfully, we have just found the one thing you'll want to be adding into your routine: massage guns.
Also known as percussion massagers, these massage machines can look slightly terrifying at first glance. Fear not, though, because they're actually a great tool to encourage muscle repair and growth. The vibrations can go over 3,000 strokes a minute, diving deep into that muscle tissue.
From Therabody to MuscleGun, we've taken a look at the best massage guns that you can get to improve your knotted muscles, joint pain and relieve any post-workout aches you may have.
How do I use a massage gun?
Grazia spoke to Alex Crockford, personal trainer and creator of the #CROCKFIT fitness app, on what these massage guns really do and how to use them.
He told us that we need to start slow and then build up our strength: 'Most massage guns have an intensity level (how fast the percussion is), so start with the lowest level and increase when used to it. The massage gun is supposed to be used on soft tissue and muscles, so avoid direct contact with bone or areas you feel uncomfortable with.'
'You can adjust how deep the massage feels not only by the intensity level but also by just allowing contact with your body or applying a little pressure if you want to push deeper. You can hold in one position if you like, or softly and slowly move up and down through a muscle group.'
But what about if it doesn't seem to feel right? Crockford tells us: 'When using a massage gun, I would make sure that you are aware of the difference between a satisfying feeling and a painful feeling. Don't massage any acute injuries or painful areas, and follow what feels good. Just like everything in your health and fitness journey, it's about starting something new with slow or small amounts and gradually increasing.'
What are the benefits of using a massage gun?
Massage guns have primarily been a recovery tool used with DOMS (Delayed-Onset Muscle Soreness), which many of us can relate to. After a hard workout, those tired muscles can benefit from a few minutes of a massage gun, to stretch out any pain and tightness. Although this is the most classic way of using a massage gun, you can also use them as warming-up tools before your workout as well as with injury recovery.
Lilly Sabri, the founder of online workout community LEAN, says that there's a variety of uses for these massage guns. 'Massage guns can assist in relaxing tight muscles, and breaking up scar tissue and adhesions. Some believe that massage guns can also minimise muscle soreness and tension.
On the other hand, you can easily use these muscles as a pre-workout warm-up. She adds: 'Anecdotally, people have reported using massage guns to 'wake up' the muscles or after a workout to facilitate recovery. When you do not have a specific injury, a massage gun can be a useful tool to use at home to help relax tight muscles, break up scar tissue and adhesions, and minimize muscle soreness and tension.'
SHOP: The best massage guns 2022
The Best Massage Guns For Your Fitness Journey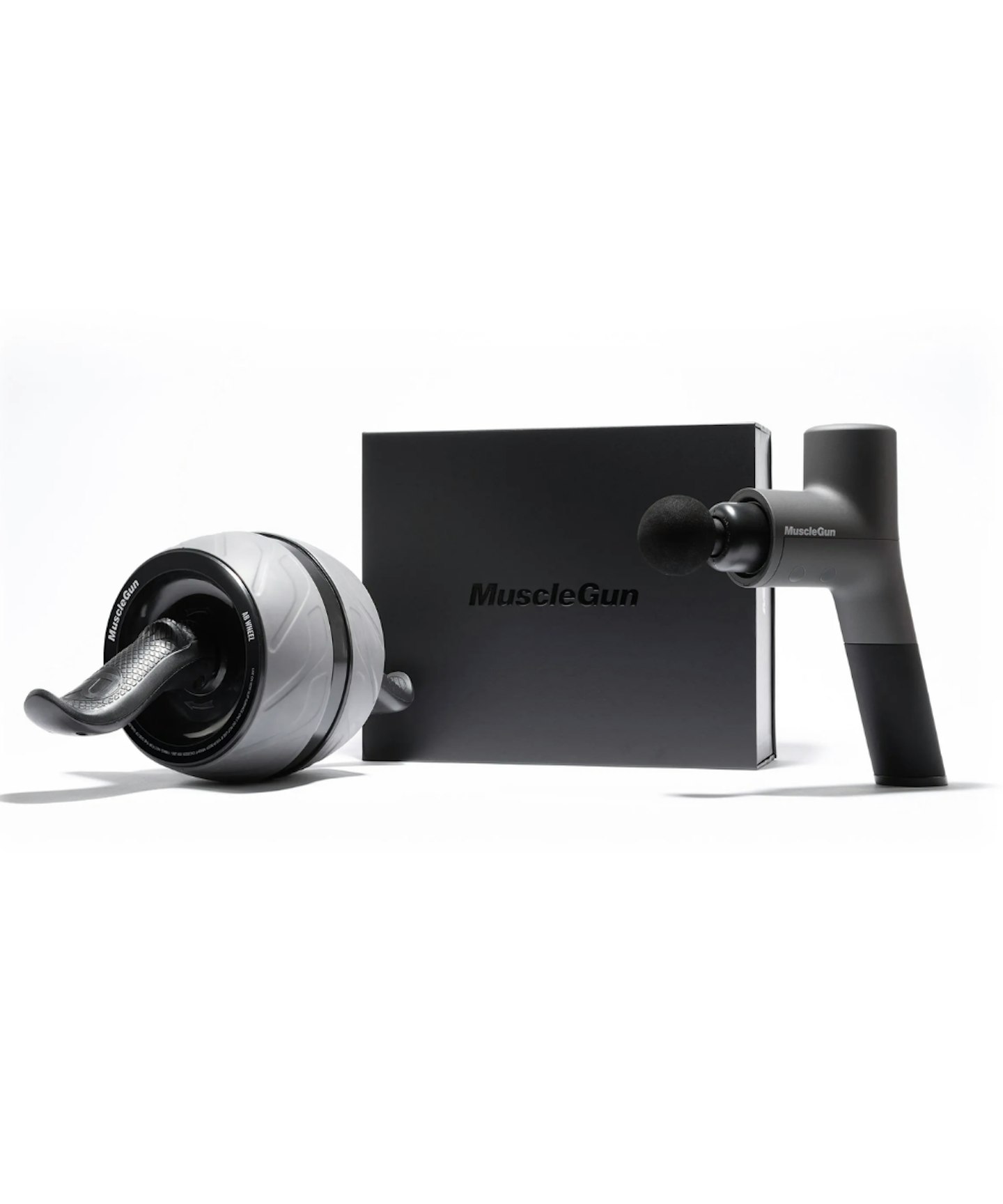 1 of 10
CREDIT: MuscleGun
MuscleGun Carbon
MuscleGun has a range of massage guns for every workout fan out there. Including a compact Carbon Go, Carbon Refurbished, and its own ab wheel, it's known for high-quality percussion and fitness products. Grazia tried out their Carbon set, including an ab wheel, massager and four custom massage tips - now we're feeling relaxed and ready for our next workout.
Tackling every part of the body with the helpful MuscleGun complete guide, the set feels sturdy, durable and easy to use. The design is sleek but doesn't hold back on intensity, with five settings to choose from. The robust carry case lets us take our massage gun where we need it most, too. Definitely, one to invest in.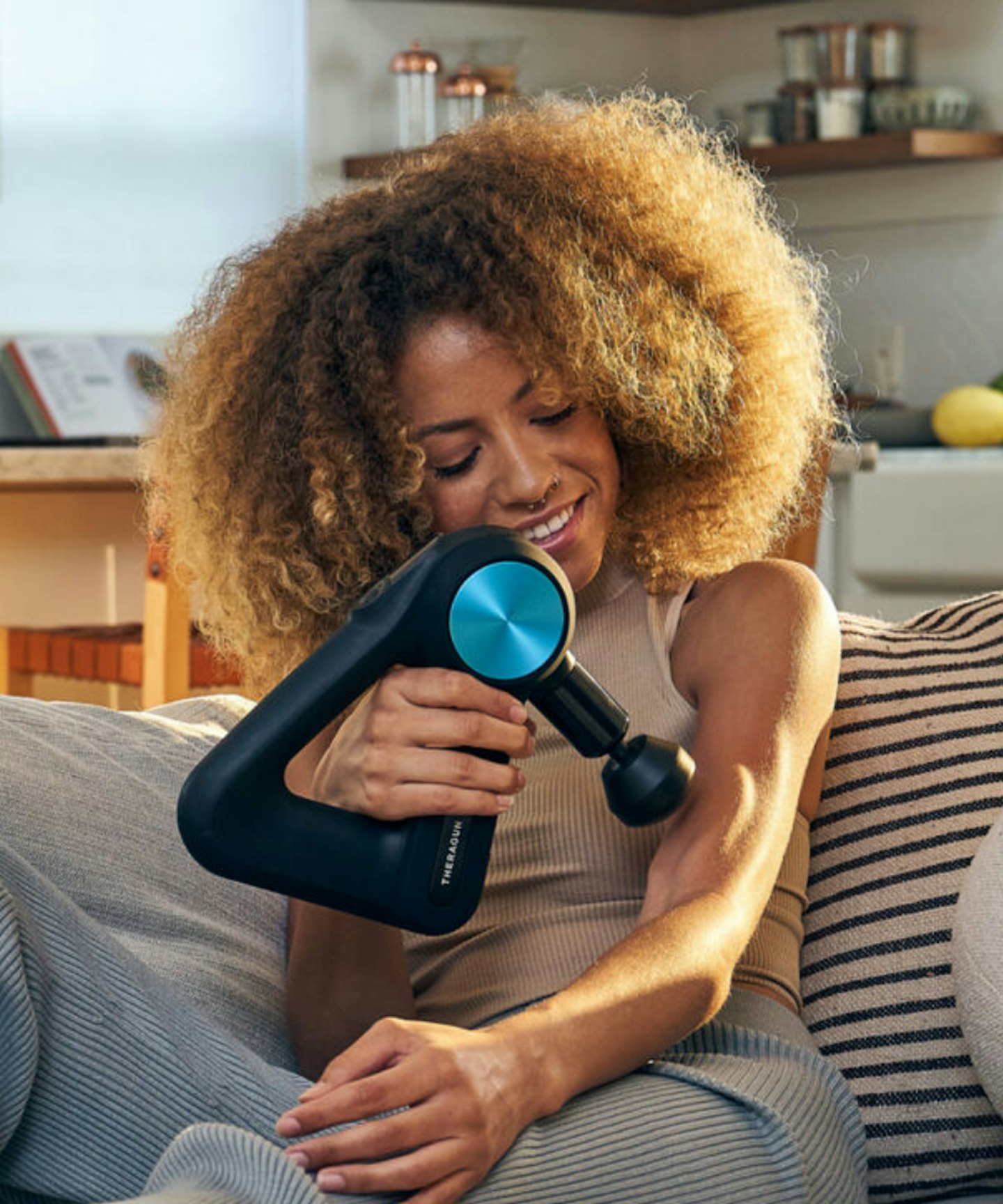 2 of 10
CREDIT: Therabody
Theragun PRO
If you're into fitness, you've probably come across Therabody at some point. This brand is known for its wellness products, including vibrating rollers, compression systems and, of course, its massage guns. Grab the Theragun Mini if you'd like an easy-to-hold massager, or splash out on this Theragun PRO, to get deep into your muscle recovery.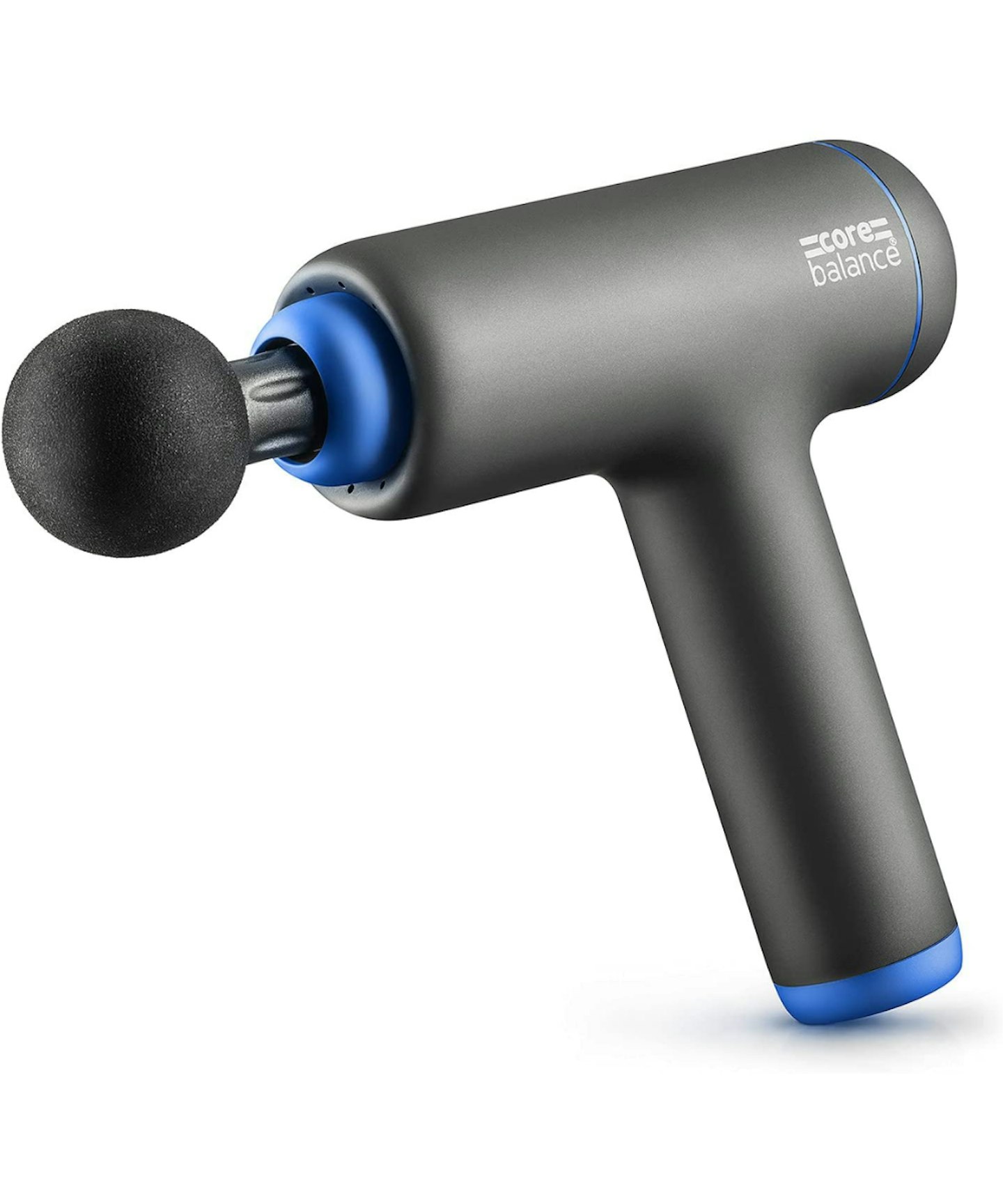 3 of 10
CREDIT: Core Balance
Core Balance Massage Gun
This Core Balance massage gun is easy to handle and has six massage heads for a full range of muscle therapies. Targetting as far in as 11mm, you can smoothly tackle those hard knots.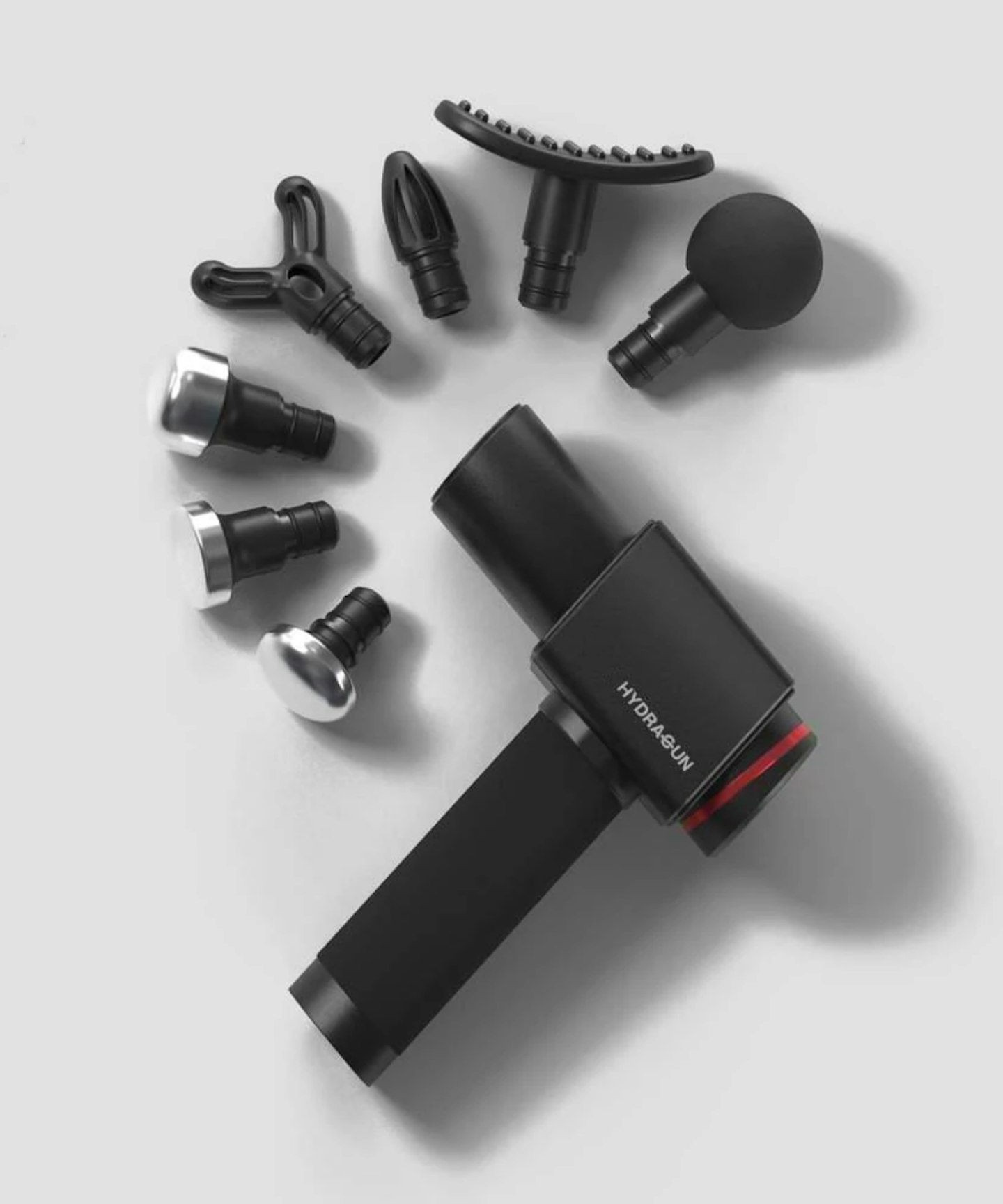 4 of 10
CREDIT: HydraGun
The Hydragun The Quietest Massage Gun
If you're concerned with the noise of more intense massage guns, The Hydragun is known for being the 'quietest' massage gun out there. With seven heads, you can make the most of its smooth settings, as used by professionals.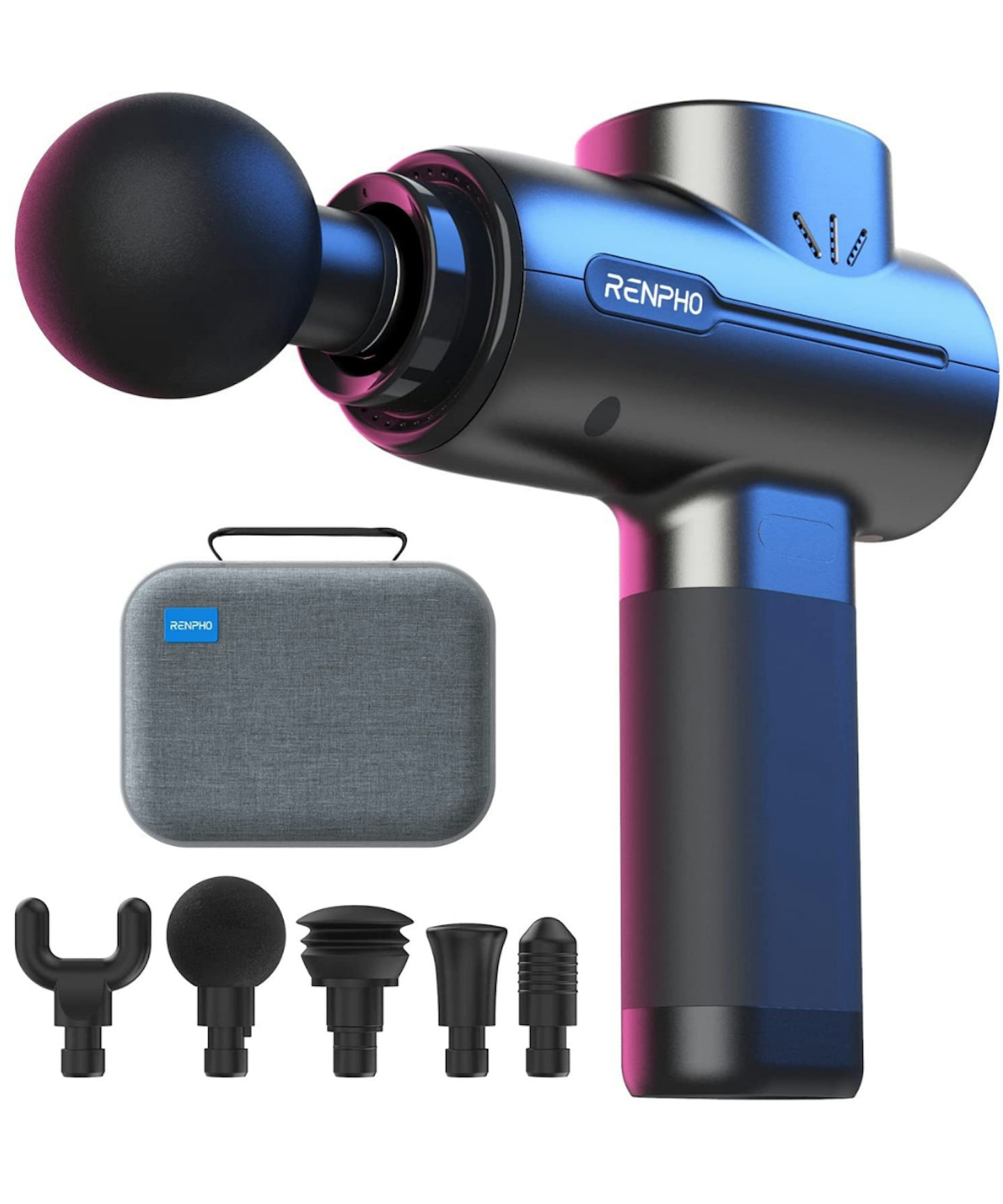 5 of 10
RENPHO Massage Gun
Sometimes finding the best product means stalking deep into reviews, so if you want to know what audiences really like, this RENPHO gun may be a good choice. It has over 8,000 positive reviews, making it a reliable massager on the market. People love that it's an all-round massage gun.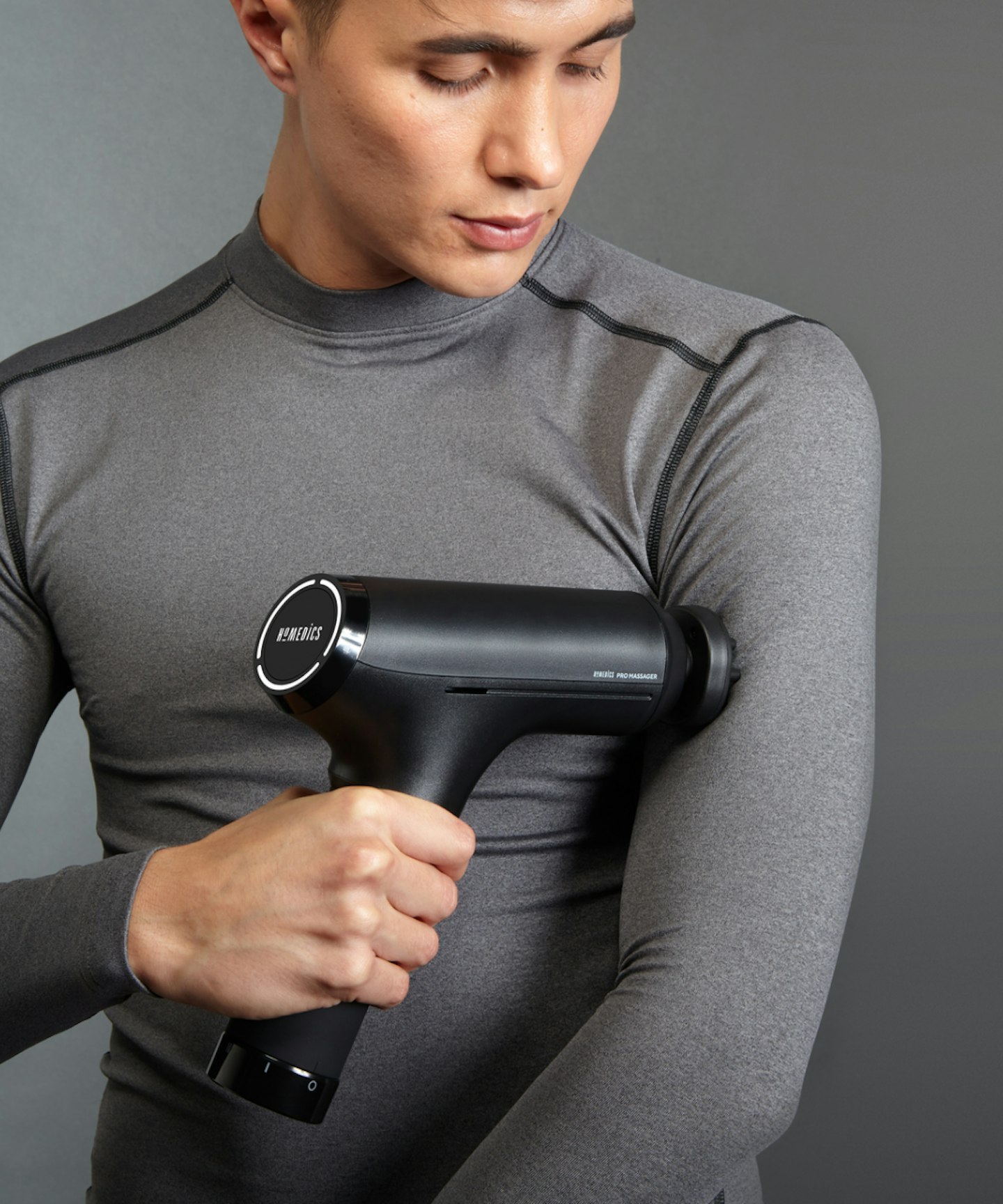 6 of 10
HoMedics Pro Physio Massage Gun
HoMedics Pro has a good range of speeds and five-hour battery life. If you're looking for something slightly different with your massage gun, this HoMedics Pro also has a cool gel head that you can freeze to provide an intense cool-down massage.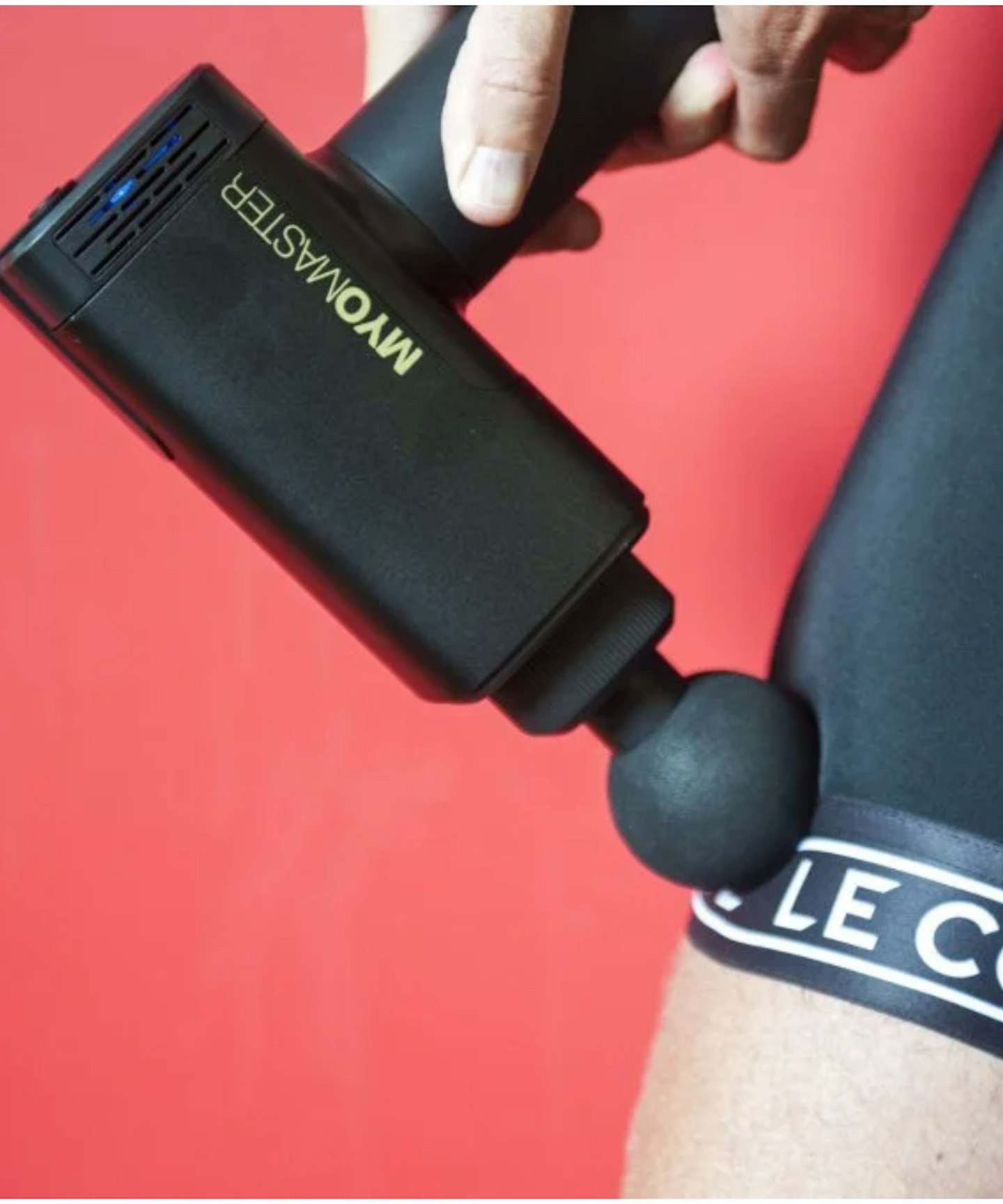 7 of 10
CREDIT: Selfridges
MyoMaster MyoPro Percussion Massager
For a bulky and effective massage gun, this MyoMaster MyoPro percussion master is perfect to have stocked at home. The full kit comes with eight heads, including a 'scraper' head, which reviewers particularly loved.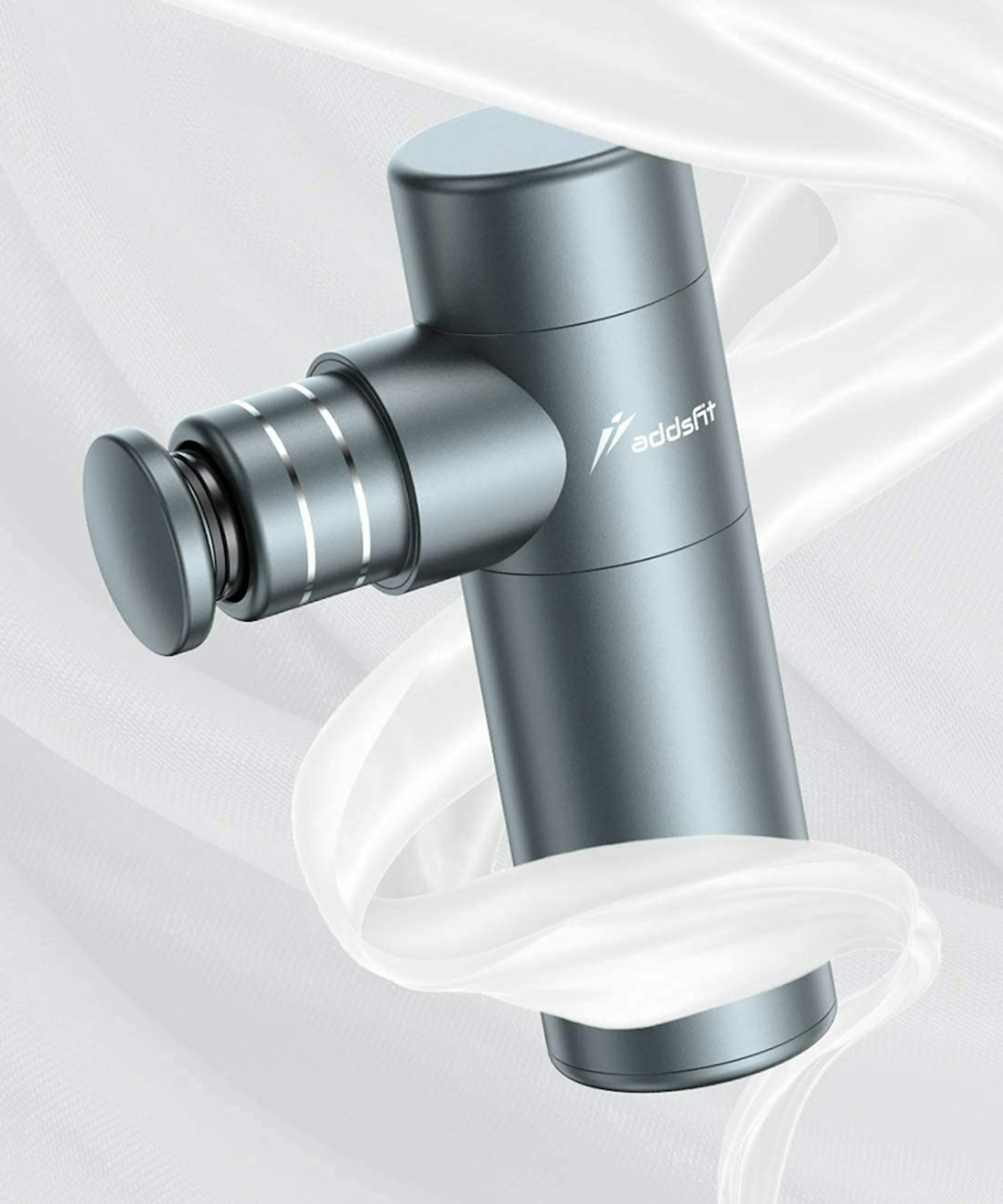 8 of 10
CREDIT: Amazon
addsfit Mini Massage Gun
Mini massage guns can be just as effective as the larger guns out there. Sized to fit in your palm with two heads to use, you can pop this in your gym bag to make for the easiest post-workout de-stress. Also a great option if you want to try a smaller option out before you invest.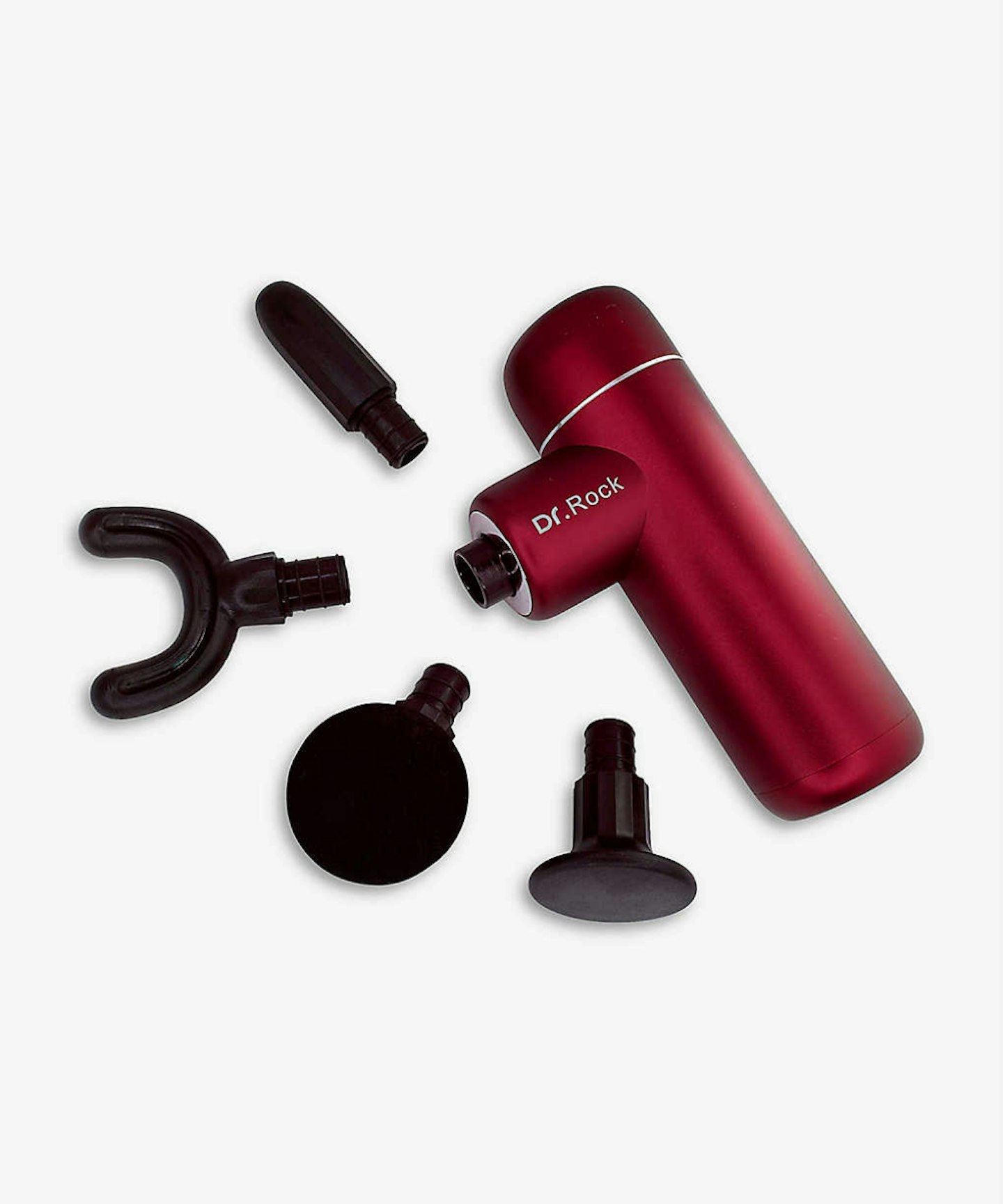 9 of 10
CREDIT: Selfridges
The Tech Bar Zikko Dr Rock Mini 2s Massage Gun
Just because we're focusing on fitness doesn't mean we have to cut back on design. We love this Zikko mini massage gun which comes in three sleek colours. You'll be the envy of the gym in no time.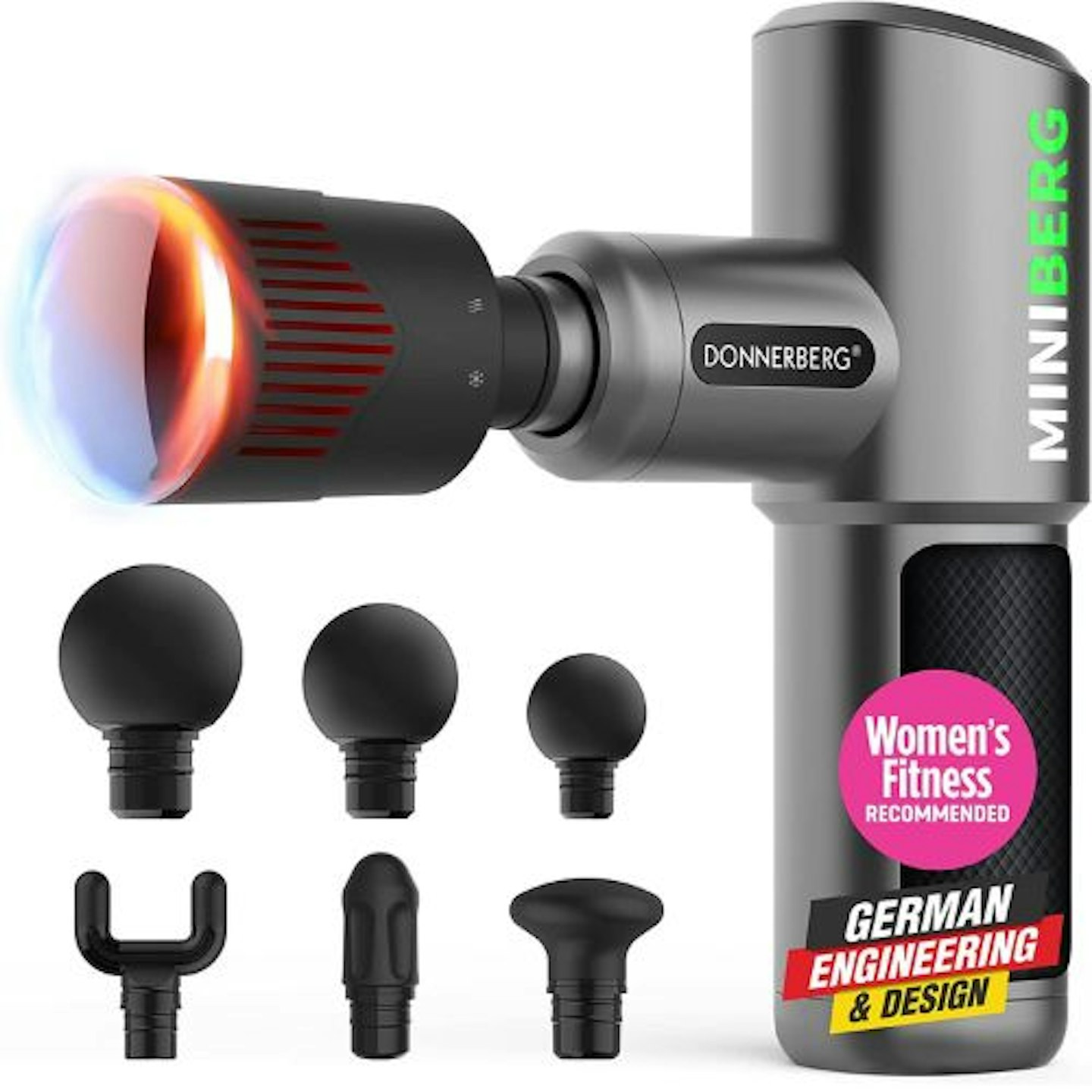 10 of 10
CREDIT: Donnerberg
Donnerberg - Hot&Cold Massage Gun - : Miniberg MG-111
If you are looking to relieve pain or aches then the Miniberg by Donnerberg is a fantastic option. With eight speed levels and six special silicone massage attachments plus a hot/cold attachment, Miniberg allows to customize your massage and target each and every muscle group for deep muscle relief. We love this massage gun which comes in a hard shell case and can be taken to and from the gym.