Sushi always looks prettier and more inviting than the usual assortment of sandwiches, salads and wraps in the 'to go' section of a supermarket. Also, it is just about the only item that is not easier or cheaper to make yourself at home.
However, while there is excellent and delicious sushi, there is also horrible and sometimes slightly disturbing sushi, especially if you're buying on a budget. So, in an attempt to settle the question once and for all - which supermarket sells the best sushi packs, I committed myself to a week of supermarket sushi for lunch at my desk, all in the name of journalism.
Related: These Are The Best Healthy Meal Kits You Need To Try Now
In my notes each lunchtime, I decided that I needed to take in factors such as price, how many pieces are in the pack and overall appearance as well as flavour to determine which store truly is the best lunchoption. I also thought it might be a good idea to consult an expert first as to what we should be looking for, and what to avoid when selecting our lunchtime sushi snacks.
So, what should you be looking for when selecting your sushi? According to Mike Lewis, the Group Executive Chef at YO! Sushi, 'ideally the sushi will include some fresh ingredients, not just smoked or cooked fish or just vegetables. If it does, it is a pretty good indicator that the sushi was not made that day.'
Related: 20 Of The Best Cookbooks If You Need Some Dinner Inspiration - As Recommended By Team Grazia
As well as what to look for, apparently, the shorter the shelf life, the better the sushi, and a good pro tip to keep in mind is to remove your sushi from the office fridge about half an hour before you plan to eat it — eating your sushi at room temperature enhances the flavour. If your sushi is too cold, you won't be able to taste it properly.
Check out the best supermarket sushi you can buy online now.
SHOP: Best Supermarket Sushi 2022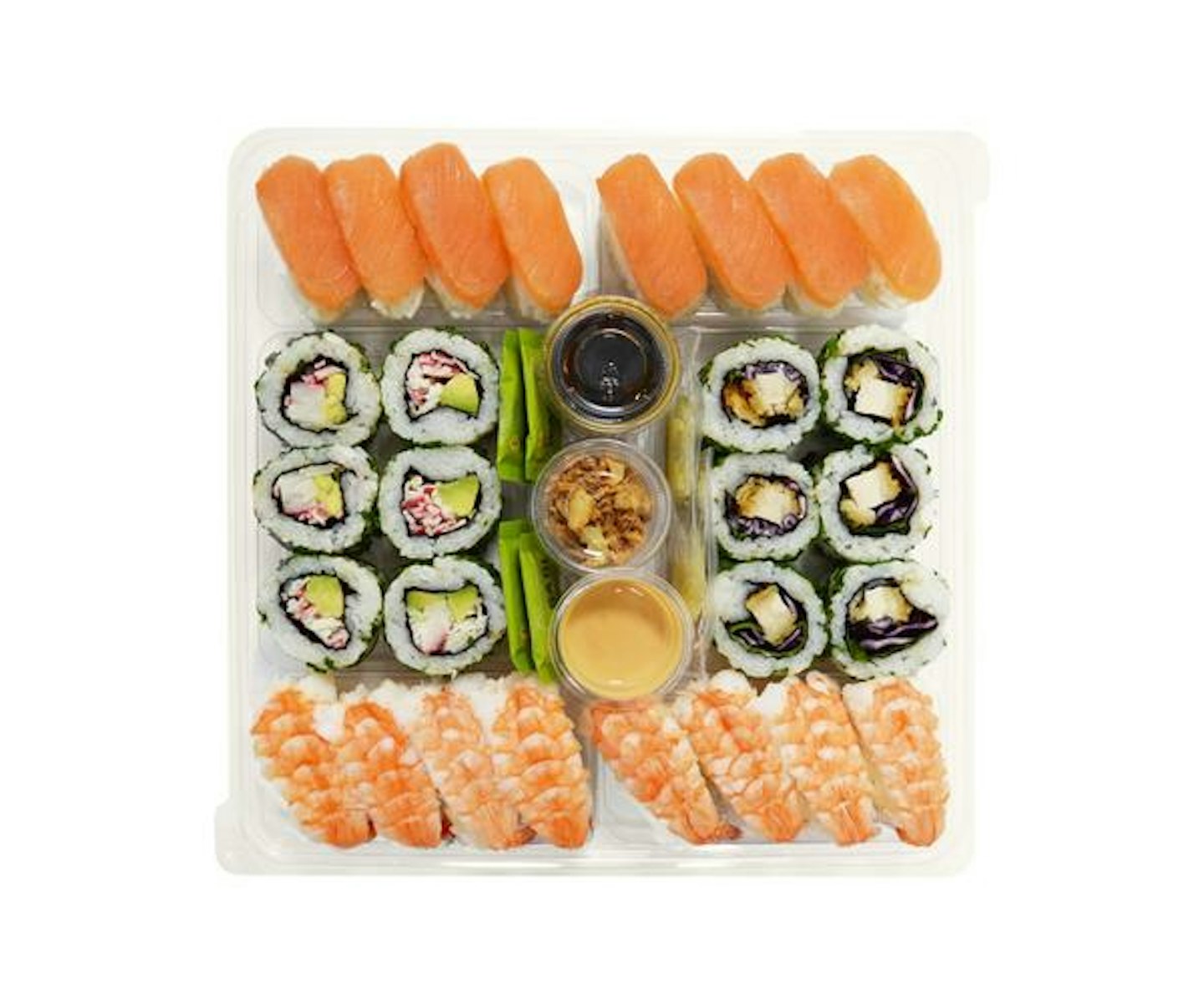 1 of 11
CREDIT: Ocado
Tanpopo Family Sushi Platter 800g
Contents: Smoked salmon nigiri, prawn nigiri, surimi and avocado rolls, chicken katsu rolls served with sweet chilli mayo dressing and crunchy onion.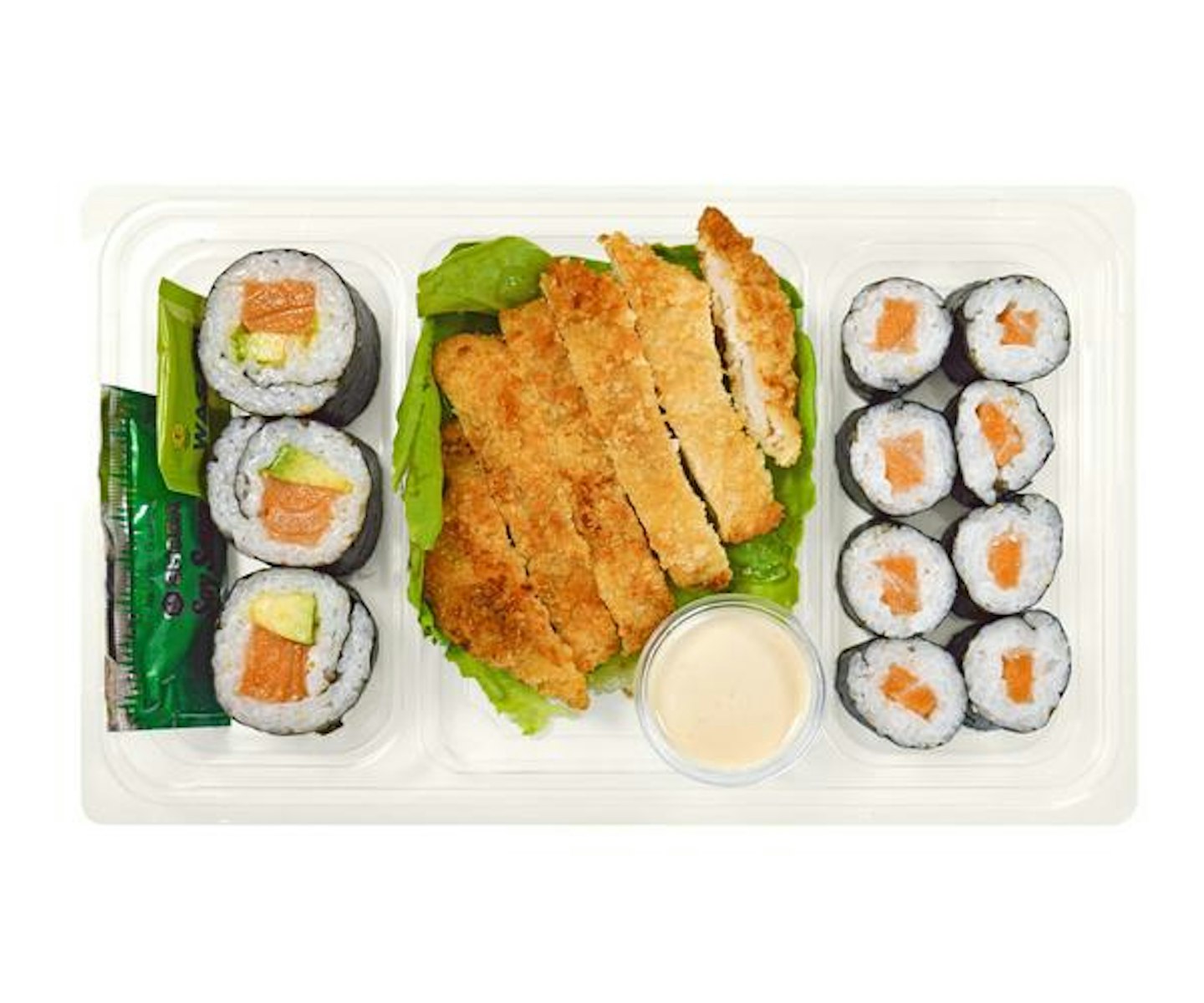 2 of 11
CREDIT: Ocado
Tanpopo Salmon Sushi & Katsu Bento
Contents: 3 smoked Salmon and avocado rolls, 8 smoked salmon small rolls and one whole chicken katsu. Soy sauce, wasabi and sweet chilli mayo dipping sauce are included.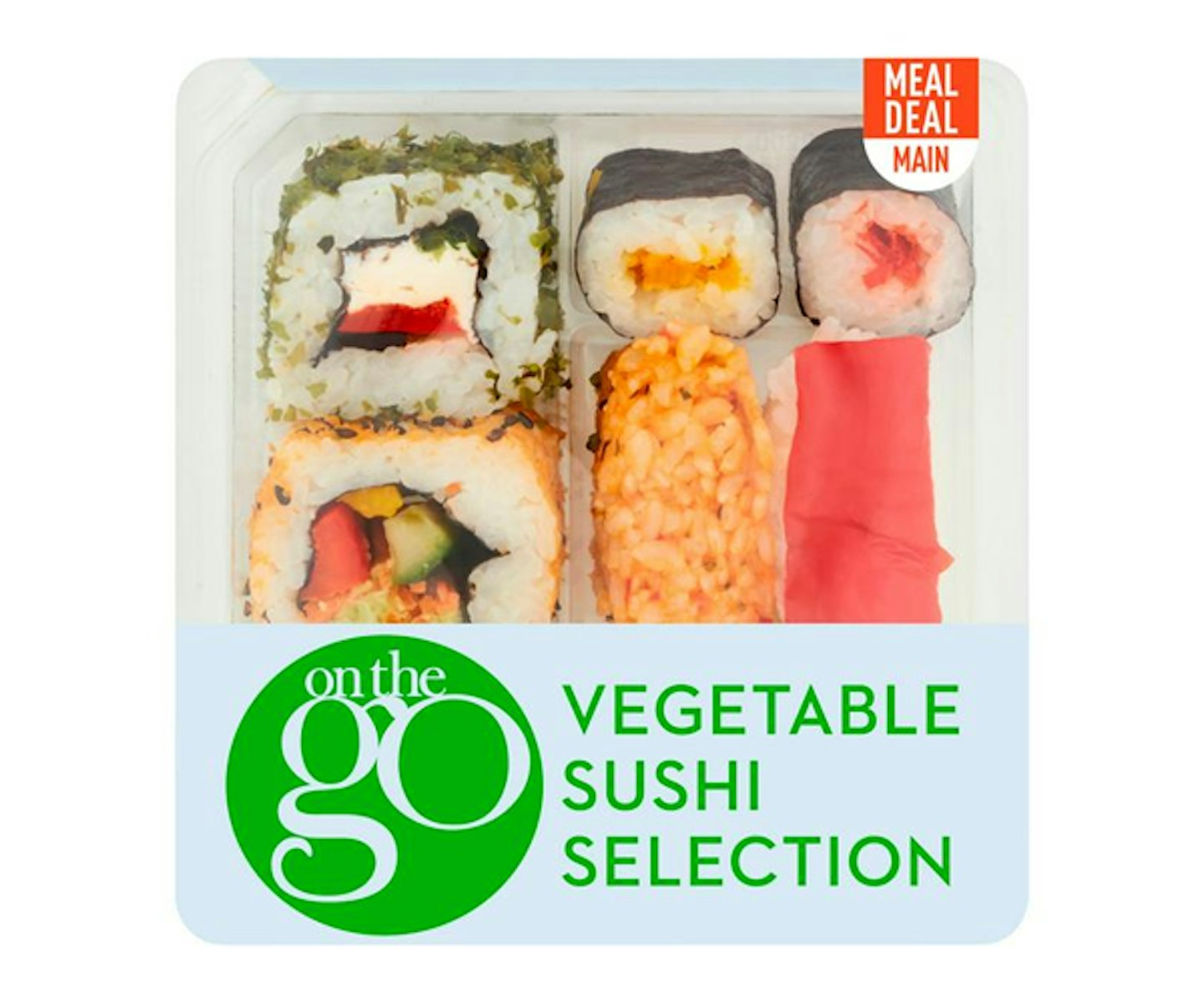 3 of 11
CREDIT: Sainsbury's
Sainsbury's Vegetable Sushi Medium 148g
Contents: 1 Soft cheese, red pepper and chive California roll with a seaweed powder coating, 1 vegetable medley California roll with a sesame seed and pumpkin powder coating, 1 red pepper nigiri, 1 carrot rice nigiri, 1 yellow pepper hosomaki roll, 1 red pepper hosomaki roll, with sachet of pickled ginger, sachet of wasabi and a bottle of soy sauce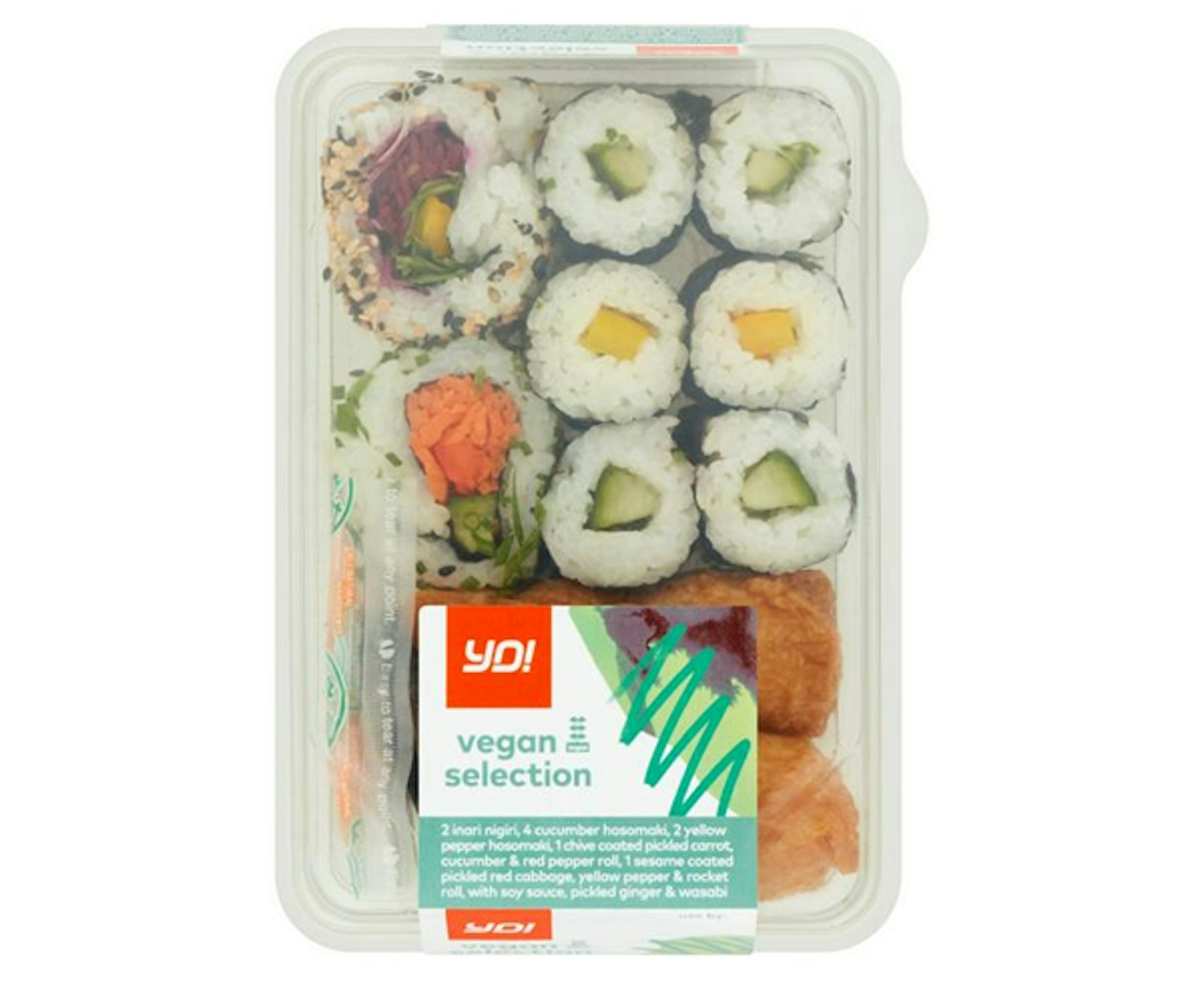 4 of 11
CREDIT: Sainsbury's
YO! Vegan Selection 222g
Contents: 2 inari nigiri, 4 cucumber hosomaki, 2 yellow pepper hosomaki, 1 chive coated pickled carrot, cucumber & red pepper roll, 1 sesame coated pickled red cabbage, yellow pepper & rocket roll, with soy sauce, pickled ginger & wasabi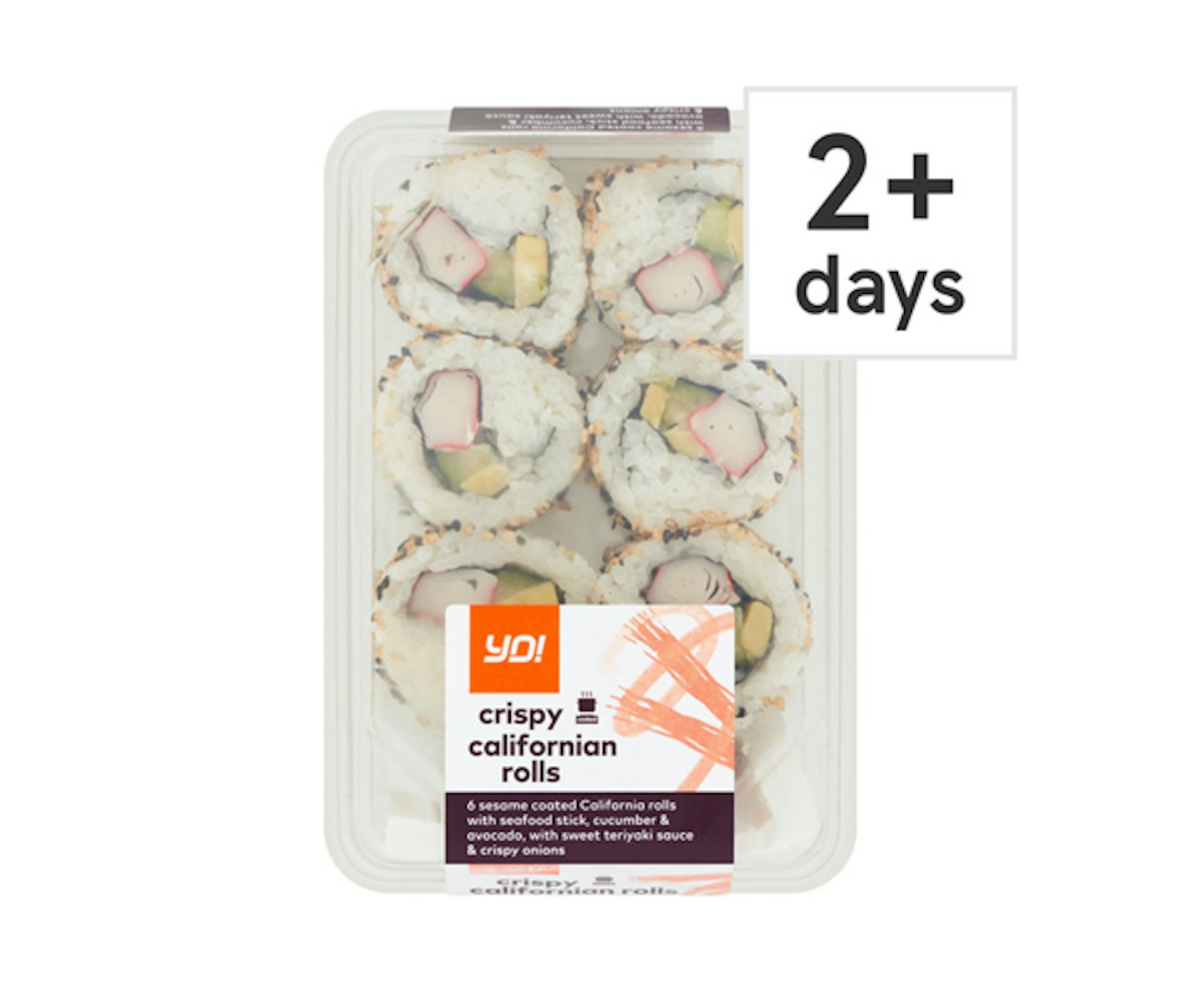 5 of 11
CREDIT: Tesco
Yo! Crispy Californian Rolls 186G
Contents: 6 sesame coated California rolls with seafood stick, cucumber & avocado, with sweet teriyaki sauce & crispy onions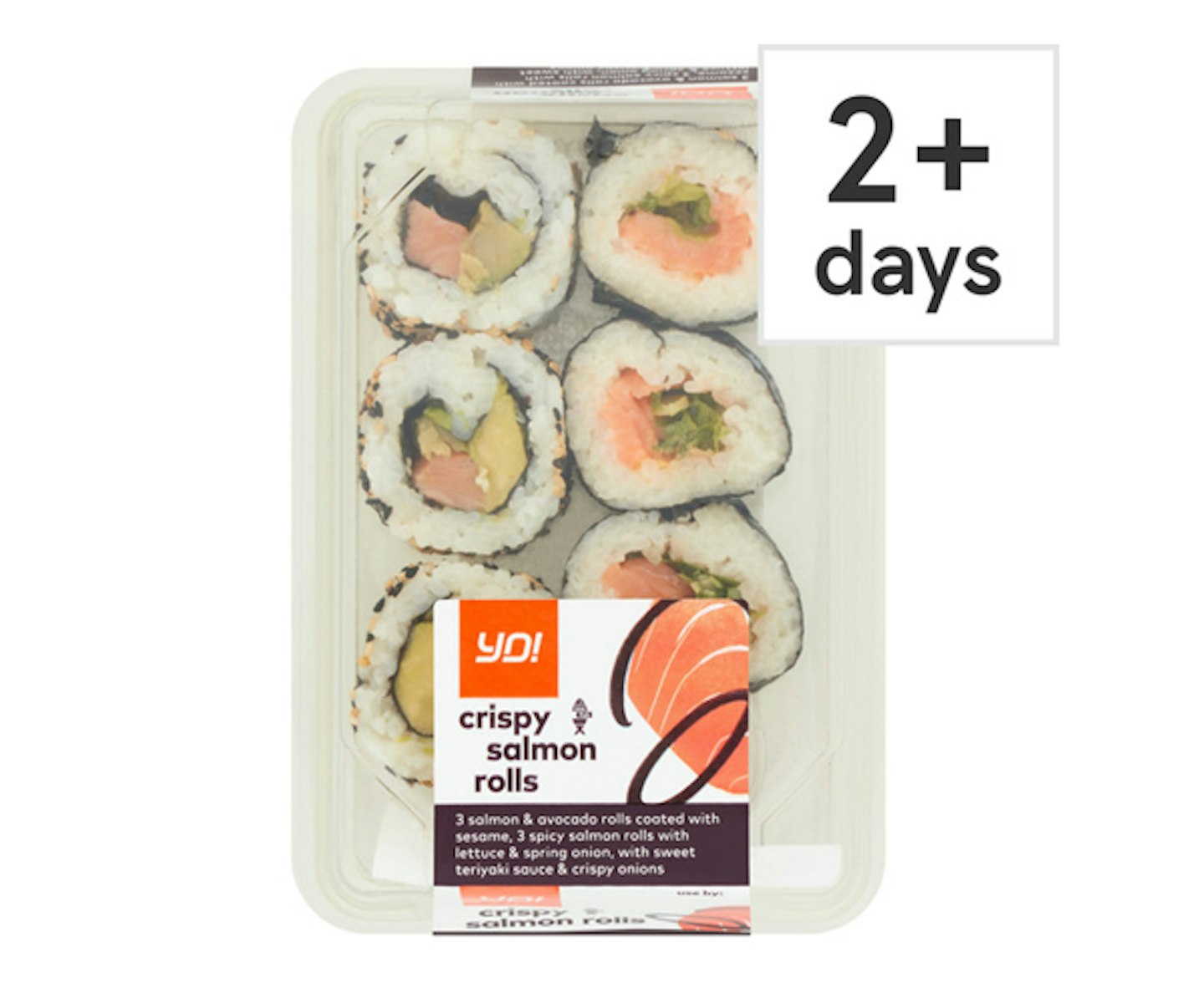 6 of 11
CREDIT: Tesco
Yo! Crispy Salmon Rolls 169G
Contents: 3 salmon & avocado rolls coated with sesame, 3 spicy salmon rolls with lettuce & spring onion, with sweet teriyaki sauce & crispy onions
7 of 11
CREDIT: Waitrose
Taiko Crispy Salmon Avocado Roll176g
Contents: 6 Salmon avocado rolls coated with sesame, with kabayaki sauce & crispy onions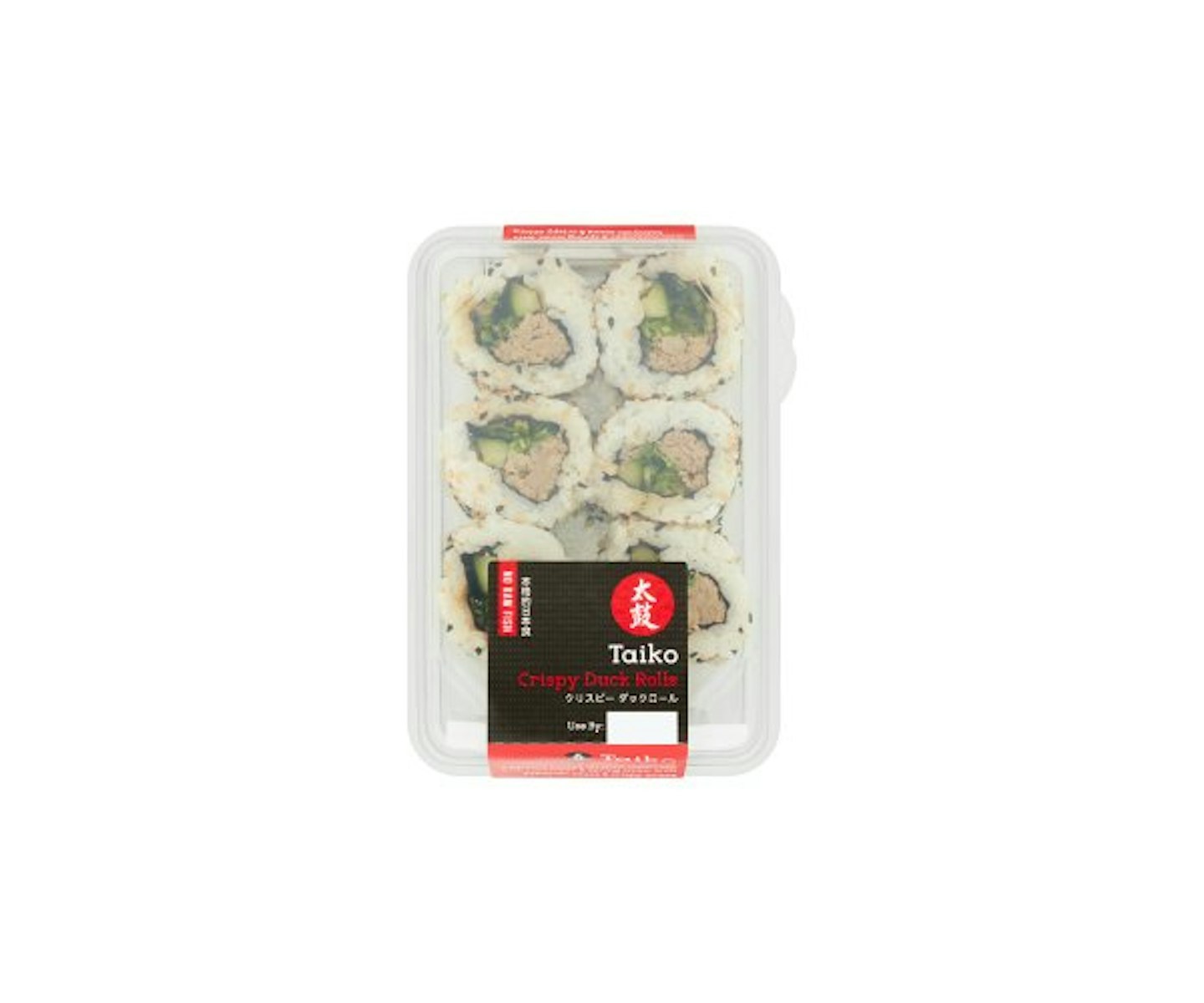 8 of 11
CREDIT: Waitrose
Taiko Crispy Duck Rolls181g
Contents: 6 Sesame coated teriyaki duck rolls with cucumber & spring onion, with kabayaki sauce & crispy onions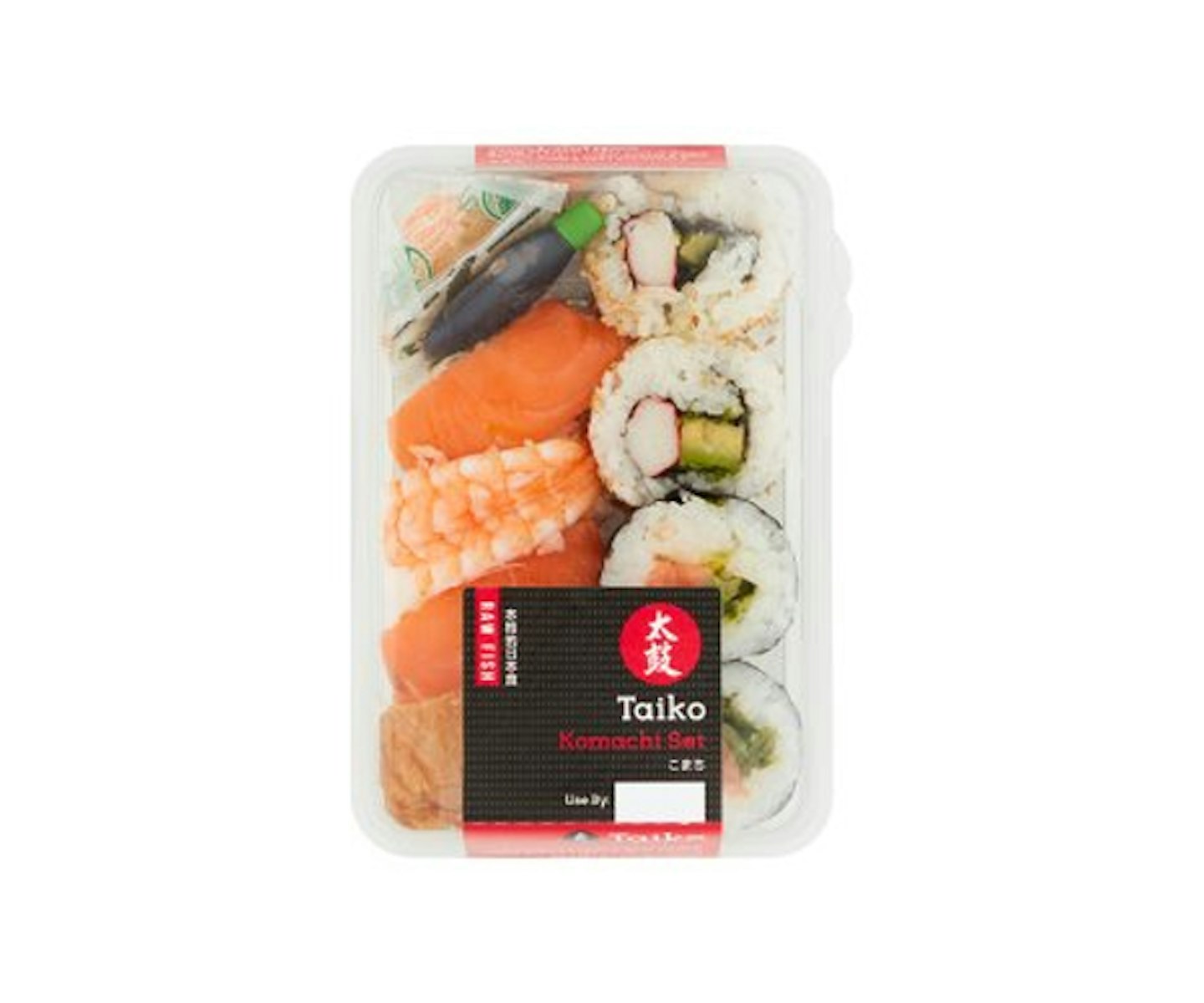 9 of 11
CREDIT: Waitrose
Taiko Sushi Komachi Set229g
Contents: 2 California rolls, 2 spicy salmon rolls, 2 salmon nigiri, 1 inari nigiri & 1 king prawn nigiri with soy sauce, pickled ginger & wasabi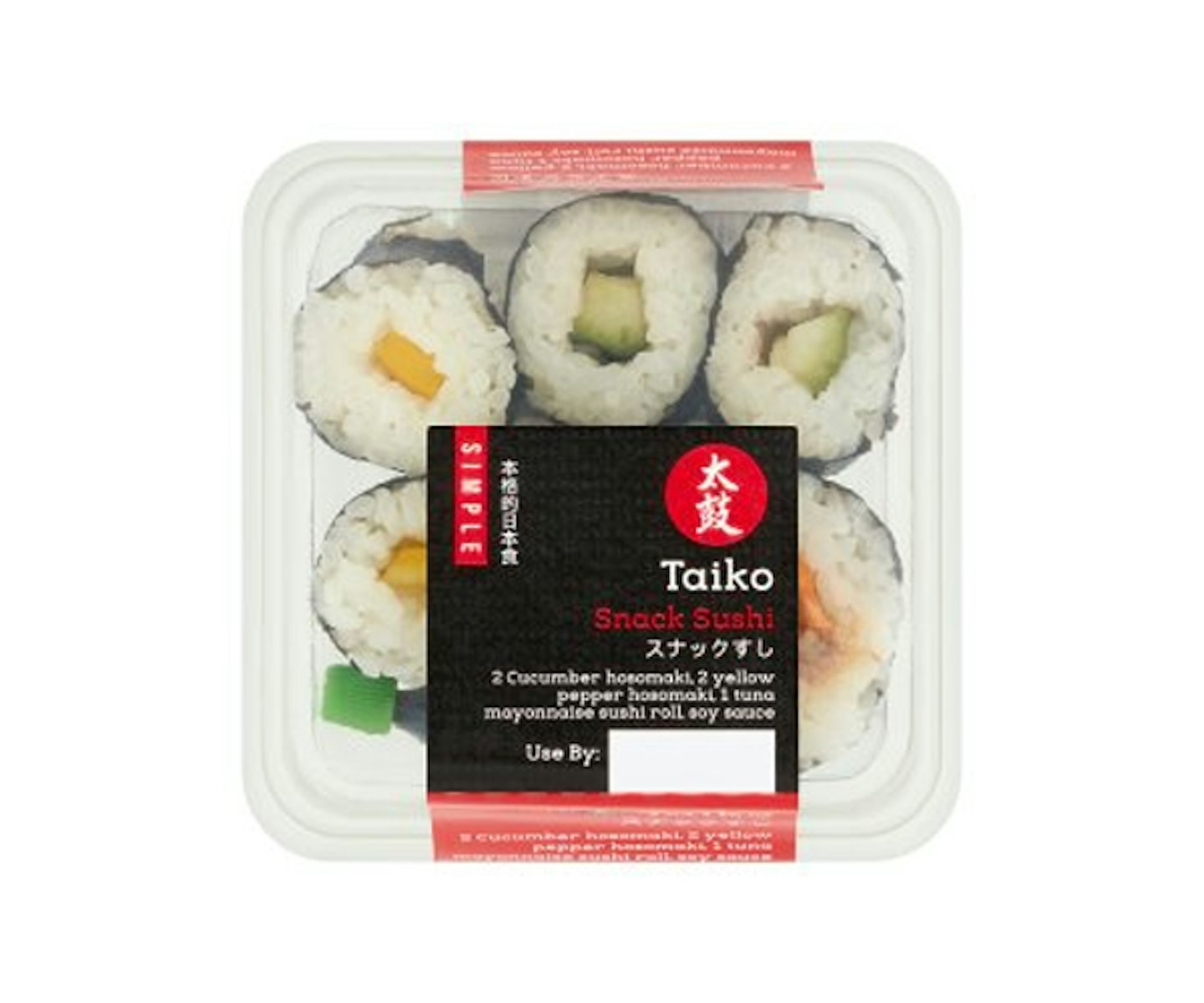 10 of 11
CREDIT: Waitrose
Taiko Simple Snack Sushi90g
Contents: 2 Cucumber hosomaki, 2 yellow pepper hosomaki, 1 tuna mayonnaise sushi roll, soy sauce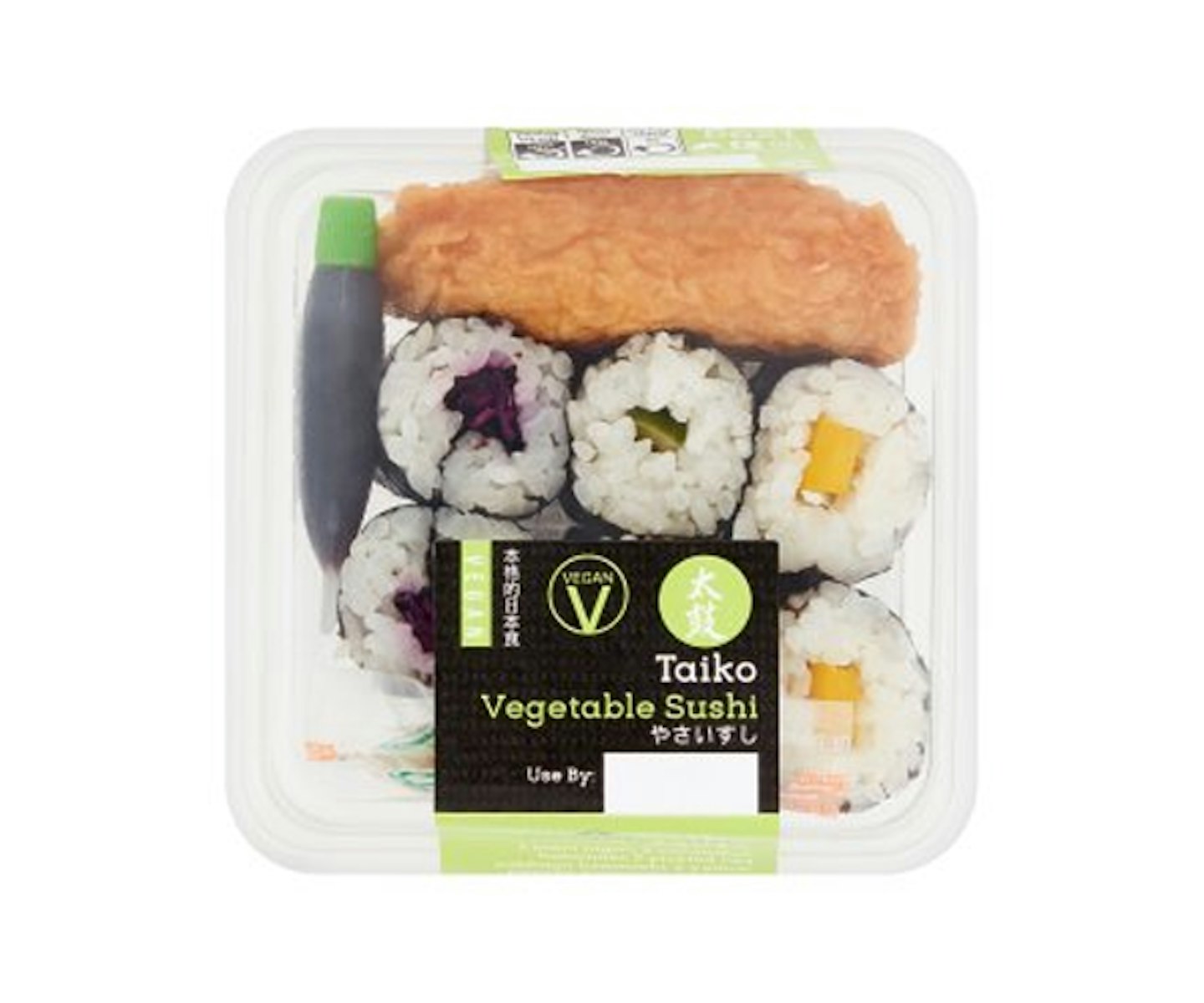 11 of 11
CREDIT: Waitrose
Taiko Vegetable Sushi129g
Contents: 1 Inari nigiri, 2 cucumber hosomaki, 2 pickled red cabbage hosomaki, 2 yellow pepper hosomaki with soy sauce, pickled ginger & wasabi
Can't get enough sushi? Read our reviews for the best supermarket sushi below
Asda Large Fish Sushi Selection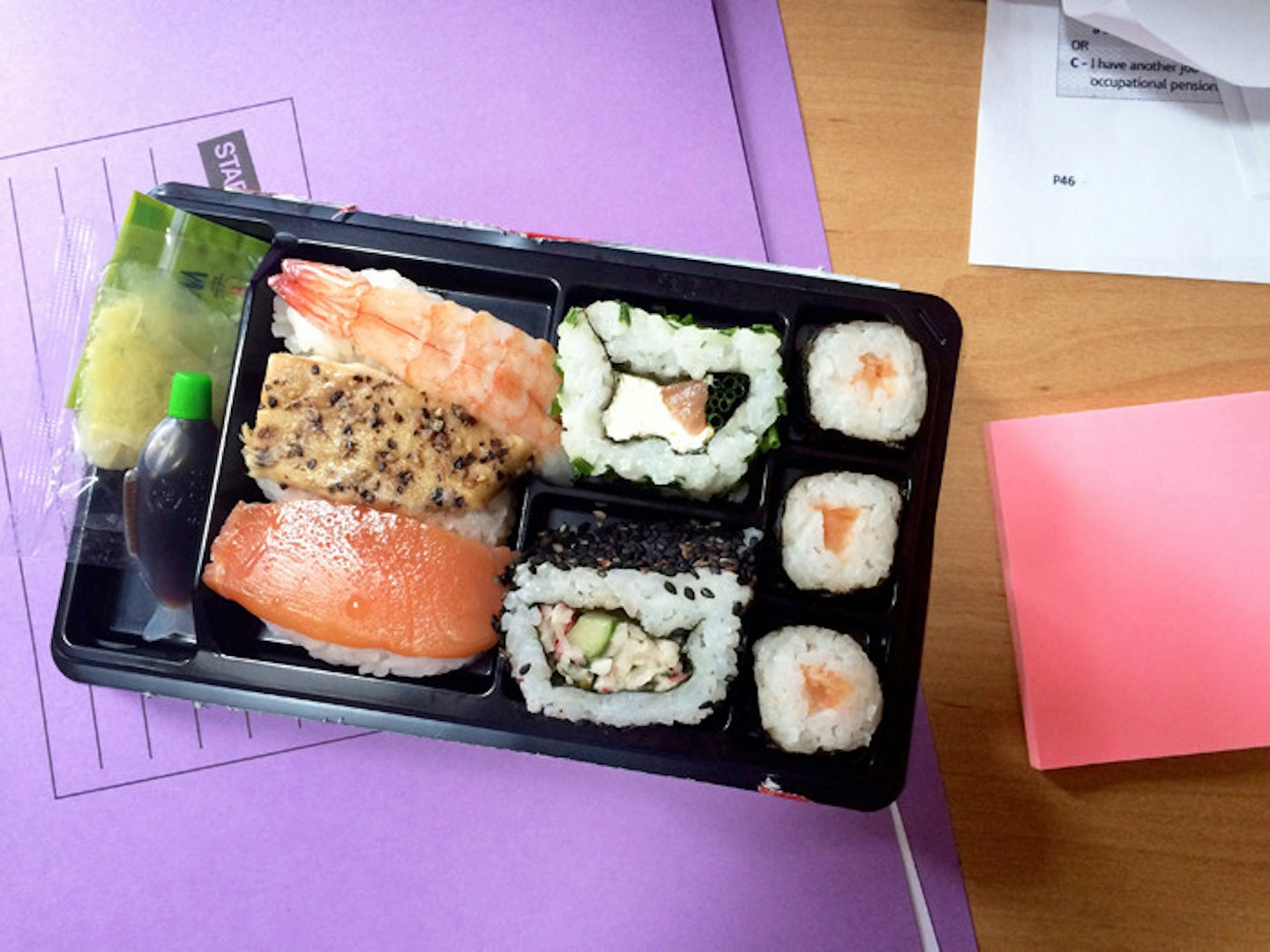 Several things worried me about the appearance of the Asda sushi selection I grabbed for lunch. The main staple of supermarket sushi seem to be maki rolls and salmon or prawn nigiri, and the salmon did not look a very nice colour, and was smoked. I know maybe I've got too high standards, but I get highly suspicious of any sushi made with smoked salmon, even if it does make sense from the supermarkets point of view. The pack also included a smoked mackerel nigiri. Curious.
So how did it taste? I've been told on numerous occasions that the most important thing about sushi is not the fish, that it is the rice. Well? This rice I think was the worst of the bunch; it reminded me of that cheap white stuff with the horrible after taste that put me off practically anything it was served with for school lunches. The bad smoked salmon, as predicted, was not good. And a special mention needs to go to the maki roll made with smoked salmon, cream cheese and chives. Is the idea to put people off eating bagels for life? Why?! The mackerel turned out to be suspiciously spongy. A beacon of shining light came in the form of the crab(stick) roll. It just tasted like sushi.
While soy is just an accompaniment, and the ginger is just a pallet cleanser (I'm afraid I can't rate the wasabi as I can't stand it, though every pack seemed to contain the same brand) I feel they need commenting on. The soy was good (kudos for the little fish shaped bottle), and the ginger was also perfectly serviceable, with just the very lightest whiff of the artificial.
My final verdict? 2/10. It may be cheap, but that does not necessarily mean that you should eat it.
Sainsbury's Medium Fish Sushi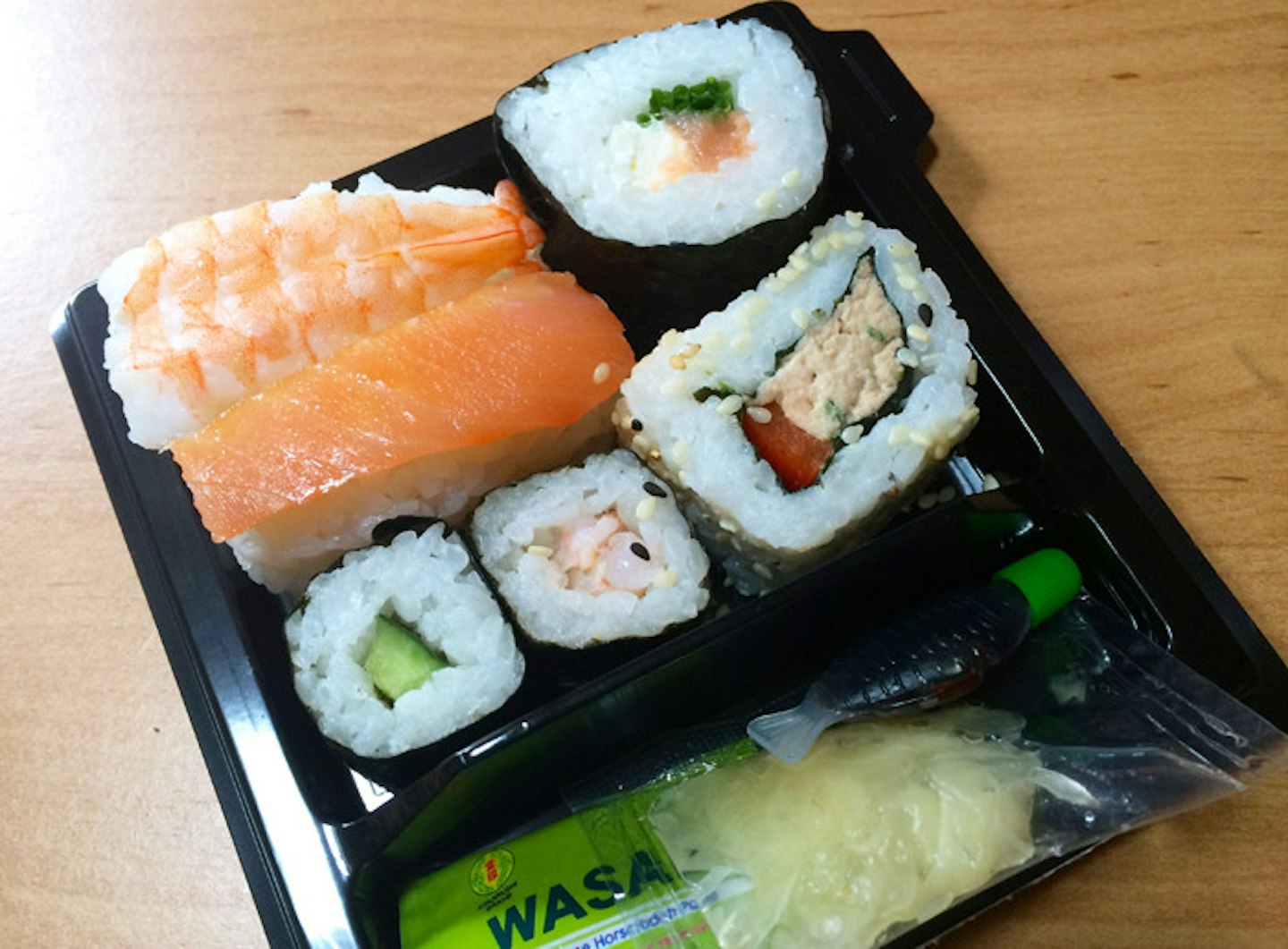 In the name of science I tried to buy similar sized sushi packs so I could compare them properly, but in my local (big) Sainsbury's I could only get a medium fish pack. They do however sell a large 'fusion' sushi pack for £3.50.
The rice in Sainsbury's sushi actually tastes good, and there's not too much of an overpowering flavour from vinegar. It makes a good base for the prawn nigiri, where the fish was nice and plump, and the whole thing had a good overall flavour. As for the various maki rolls kicking about, the little cucumber ones were not overly exciting. The prawn ones were actually really good, and the larger, cooked tuna and red pepper roll, while not traditional, was actually a very good bite. However, the whole pack let itself down yet again by using smoked salmon (a slightly better quality smoked salmon this time, but still!) and by including a smoked salmon and cream cheese sushi roll. I know fusion is all the rage (there is a Korean sushi joint in Covent Garden I keep on meaning to check out because it looks delicious), but if you take away the word 'sushi', who would ever agree that putting smoked salmon, cream cheese and rice together would be a good idea?
My final verdict? 6/10. If you get to know which pieces are good and which are less than ideal, and look at the various selections available, Sainsbury's sushi is totally a viable lunch option.
Waitrose Taiko Sushi Fuji Set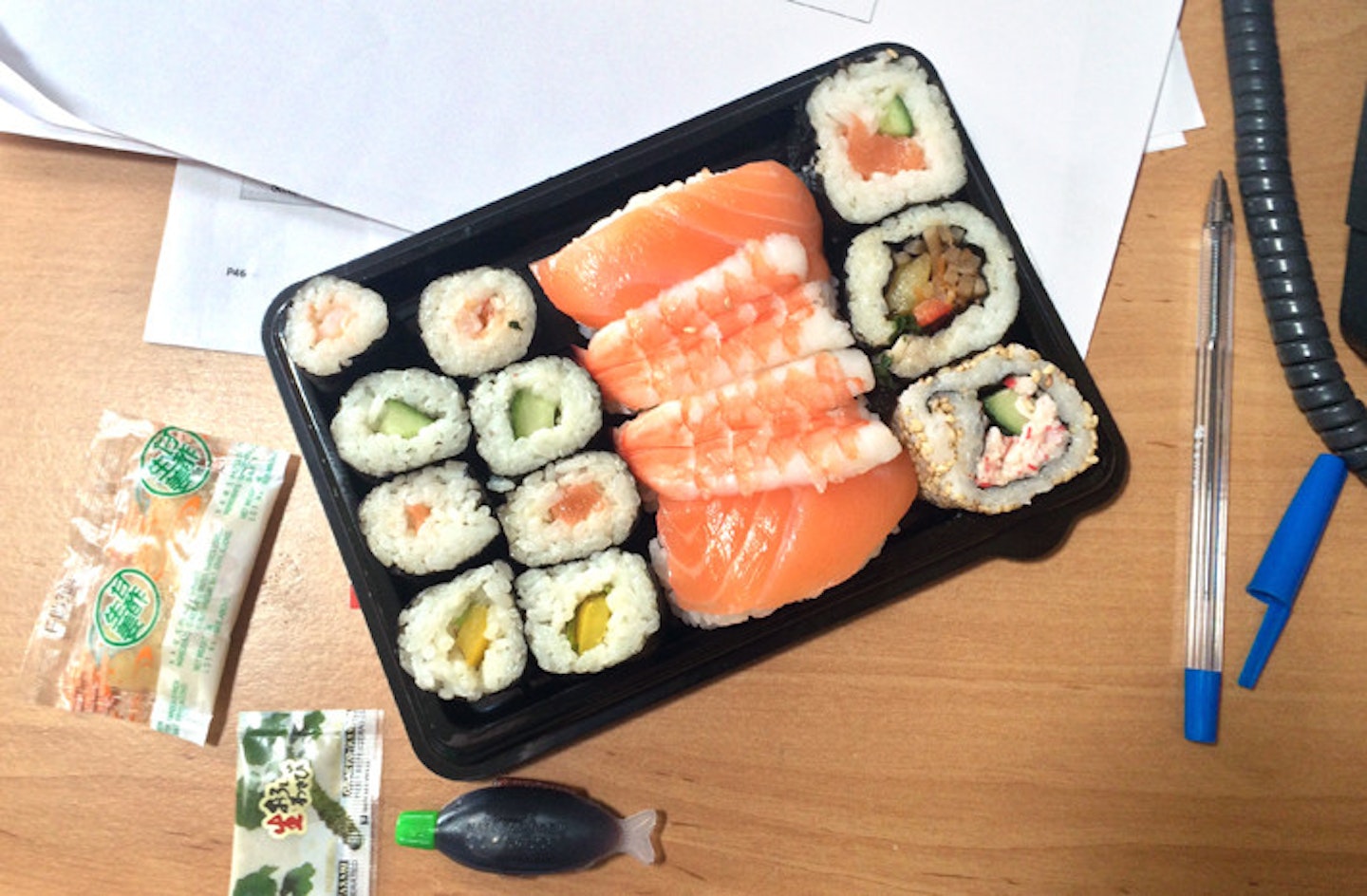 While this is the most expensive sushi pack in this feature, if you look at how many pieces you get and the size of the pieces, it is actually not any different in piece per pound value than you get in Asda. And it was the sushi selection I tried that looked the most appetising.
Something else worth noting is you get what you pay for; the sushi may be more expensive, but the fish is fresh and not smoked. This greatly improves all of the nigiri, though the prawn version was slightly flavourless without the addition of soy, and and unorthodox addition of a piece of Waitrose's far superior pickled ginger. The salmon was lovely and fresh, how you want your sushi really to be. As for all the various maki rolls, the standard ones were very, very good, but when they branched out a bit into more imaginative offerings, things got a little more average.
My final verdict? 8/10. Waitrose is my favourite, and probably what I'd recommend as the gold standard in supermarket sushi.
Tesco Large Fish Selection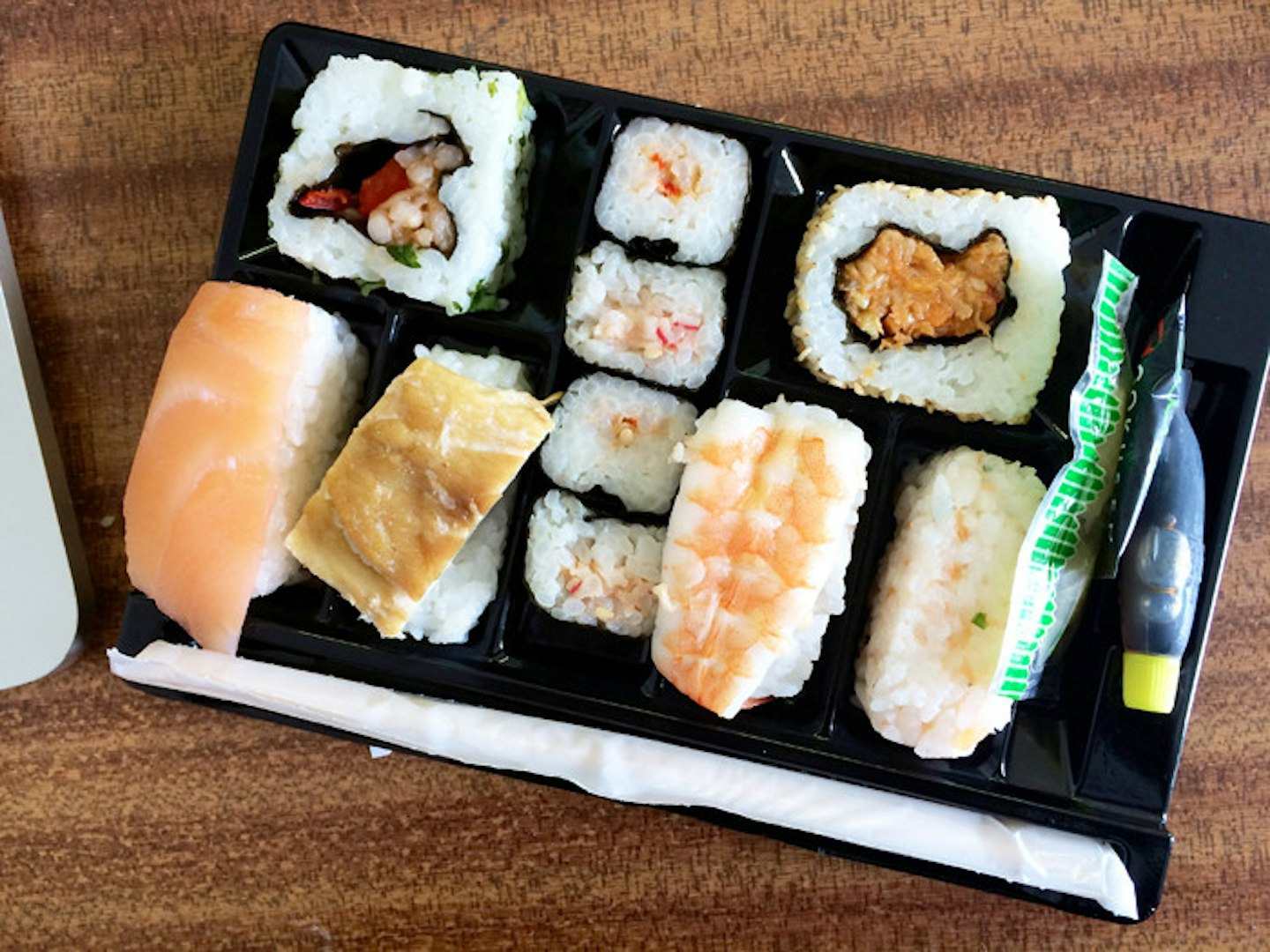 In the middle of eating my Tesco sushi selection, I spent a fair bit of time seriously considering who would come out on the bottom; I honestly did not think that it could get any worse than Asda's offering. First, shall we focus on the positives? Tesco is the only supermarket who provide chopsticks in their sushi offering, so that you won't have smelly, fishy fingers all afternoon. However, the rice is very dense and actually makes every bite taste rather sour, and a lot of the maki rolls look more than slightly slimy. On a lighter note, while the orientally flavoured sweet chilli roll was rather unexpected, the flavour was not all that bad.
My final verdict? 2/10. Honestly, I would not recommend Tesco sushi; I ended up throwing my half eaten tray out and buying a baguette for my lunch instead.
Marks & Spencer Fish Sushi Selection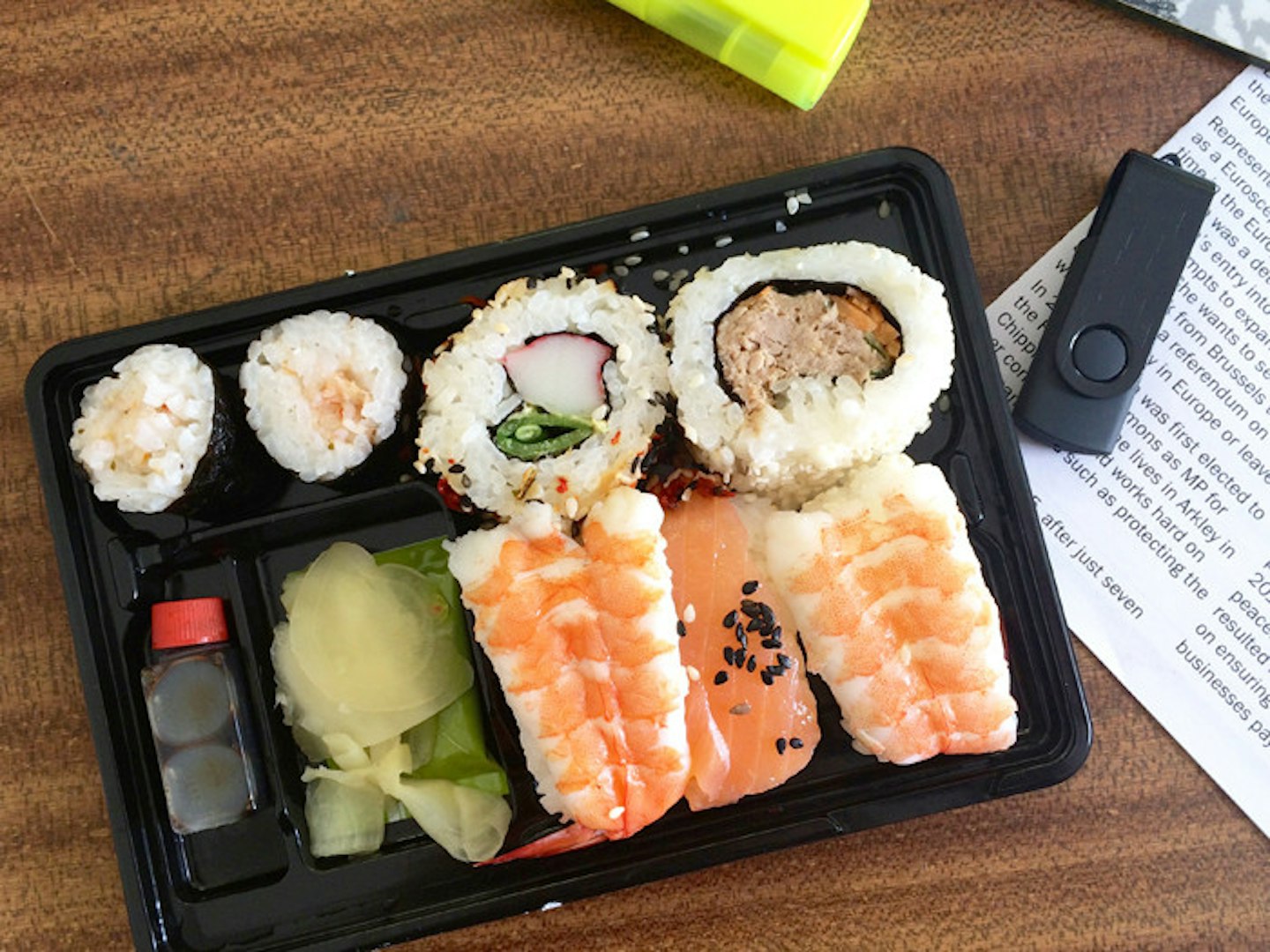 When you work out how many pieces you get for how much money, M&S sushi is bloody expensive! However, while none of the fish was fresh, it all did have good flavour. They even used good quality smoked salmon. This sushi is made with good rice, and while I was upset it did not come in a little fish shaped bottle, the soy was delicious. They also provided some pretty impressive fresh ginger that did not even have to come in a little packet. A big shout out needs to go to the snap pea and crab stick roll which have great flavour and texture - the pea provided a nice bit of crunch.
My final verdict? 7/10. M&S does a good, solid sushi lunch with some good flavours, it just doesn't provide the best value for money. Bonus points though that you can grab some Percy Pigs or Extremely Chocolaty Mini Rolls for dessert at the checkout.
Related: How Gut Health Can Change Your Life