Modest proportions needn't hold you back - Interior Designer Beata Heuman on how to make bijou work.
Small space living doesn't have to mean being short on style. In fact, there are advantages to decorating a petite home. 'It costs less and it's quicker to make a small space look fabulous and amazing,' says Beata Heuman, the interior designer of the moment, who is famous for layering pattern and colour to create joyful spaces.
This she knows from experience. Beata learned the art of decorating small space living when she moved into her own first home, a petite flat in west London. 'It was split into four rooms and space was at a premium,' she says. 'I had to think practically; everything has to work, and you don't want anything in it that you don't like. At the same time, though, you need to add character and have some fun.' This philosophy is evident in this two-bedroom London apartment, designed by Beata for a young couple.
Keeping scrolling for Beata's best tips & tricks for small space living...
How to decorate a small living room, lounge or snug:
A green velvet sofa sits below horizontal shelving that was installed for extra storage. This also frames the space, which makes the artwork on the walls feel like it belongs. A curving seat below the window feels generous and inviting and the tallish legs help it sit lightly in the space.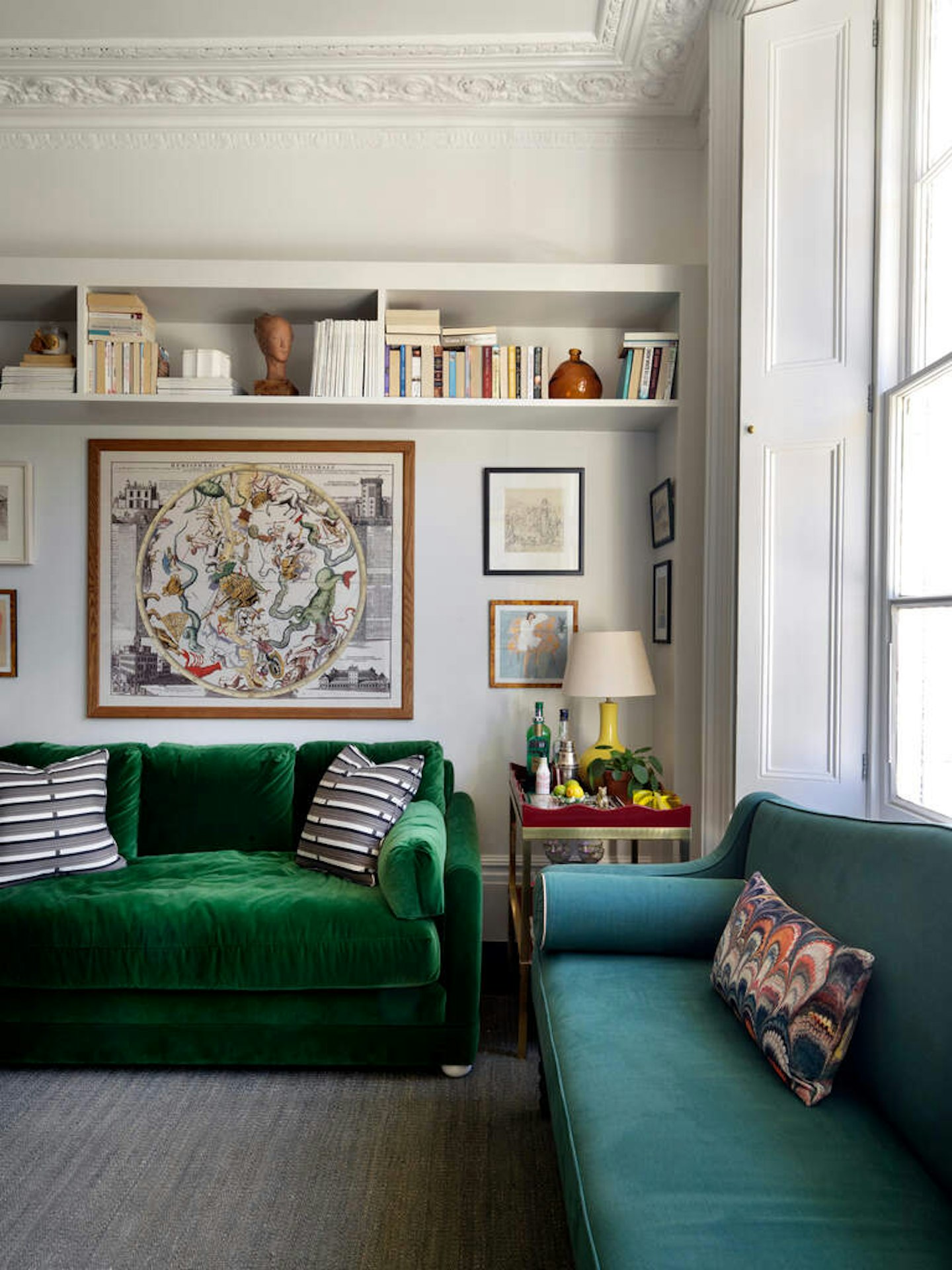 How to decorate an open plan living room meets kitchen meets dining room:
The dining table, with its rounded corners, doubles up as a place to sit and work. In a corner, Beata has created a 'bar nook', which is a convivial place to gather with friends.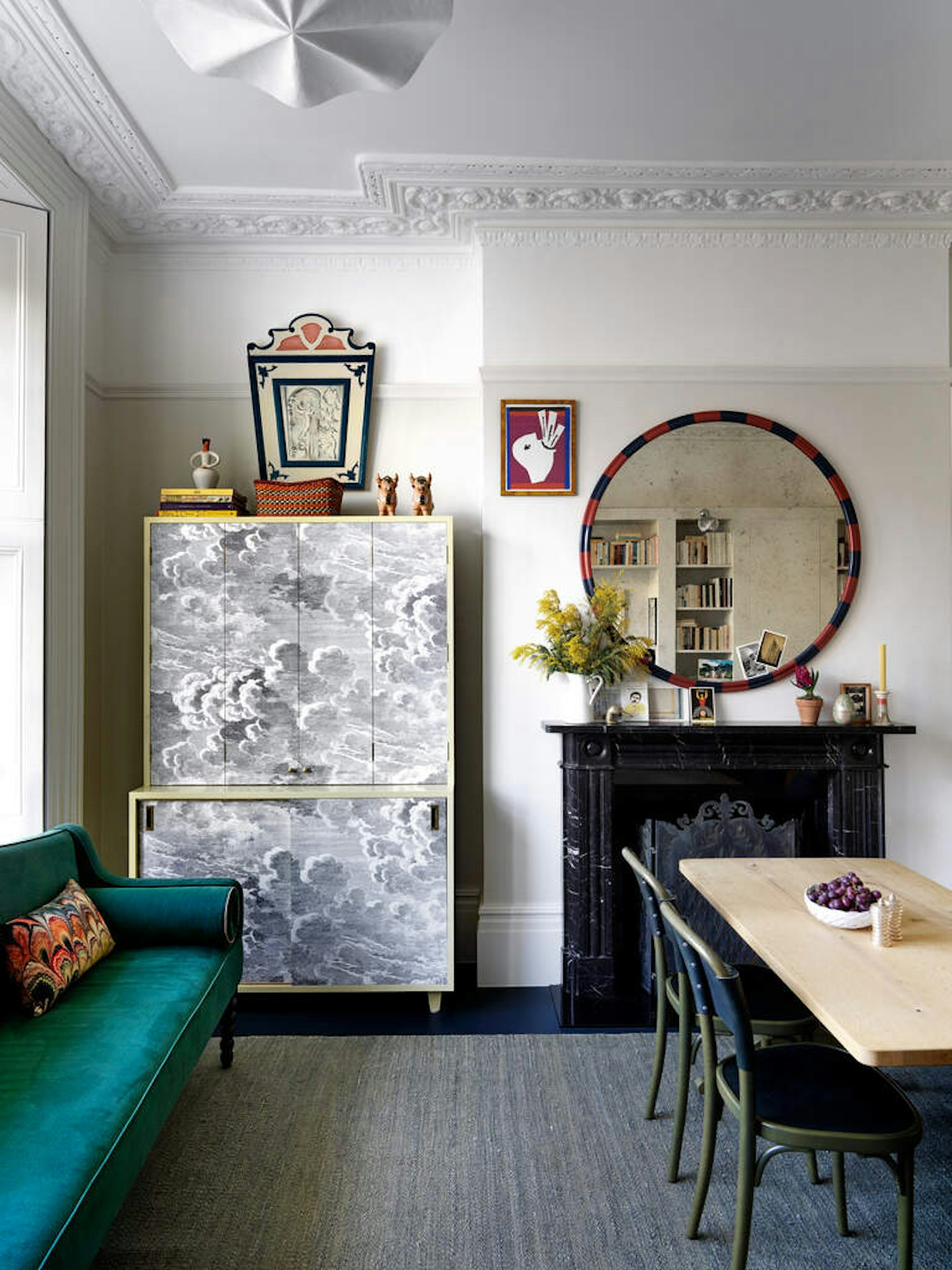 An expert tip for open-plan kitchens - make them U-shaped!
A U-shaped kitchen zones the space, creating an area separate to the living room. It also gives extra work surfaces. The kitchen cabinets are the same colour as the walls so they don't dominate the space and the marble's subtle pattern gives a sense of gentle movement.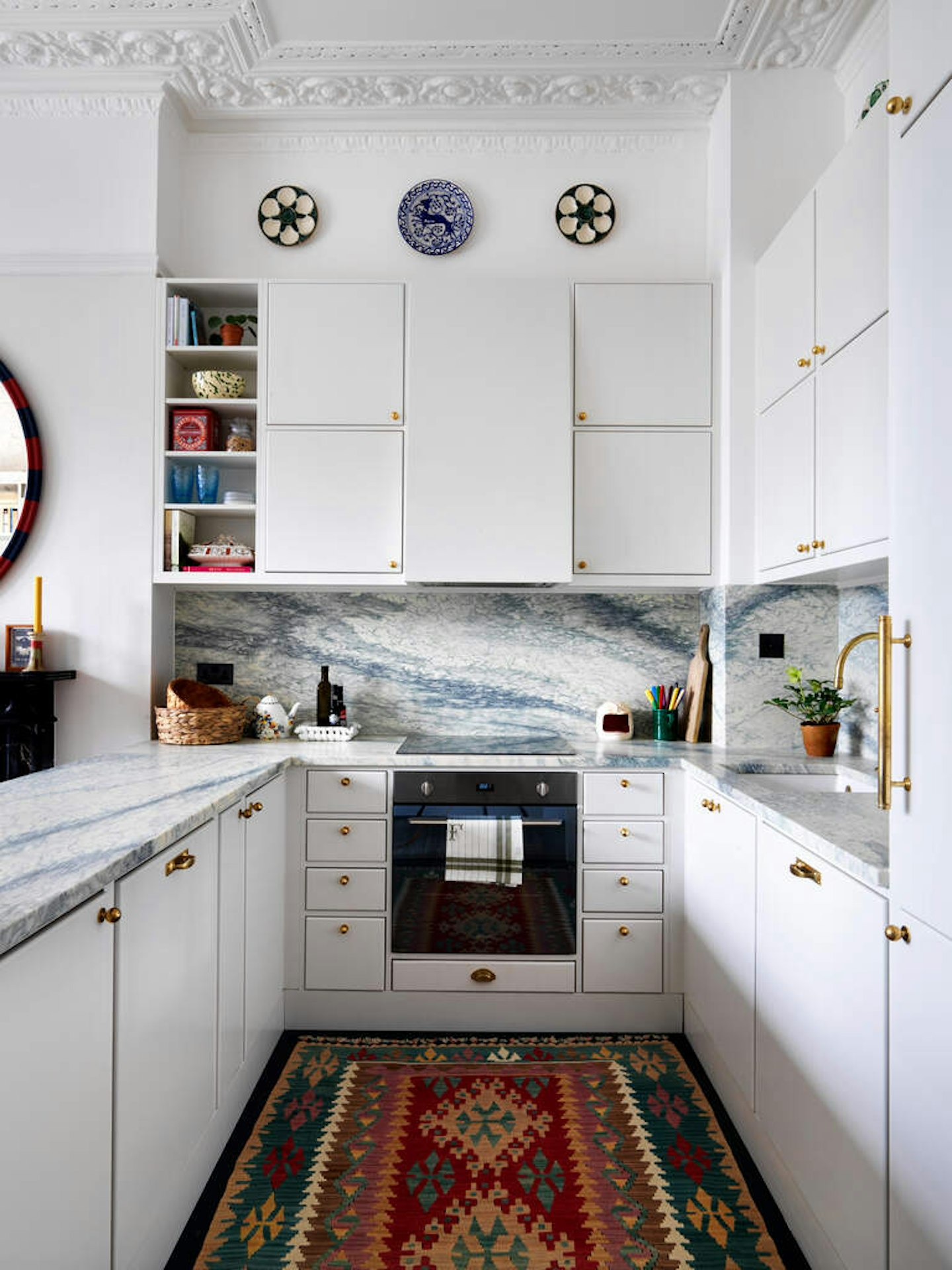 Can I use dark paint in a small space? Beata says go for it!
Painting the bathroom dark was a bold move. 'But a glossy varnish on the midnight-blue paint reflects rather than absorbs light,' explains Beata. 'The shaped marble around the shower also lightens up the space.'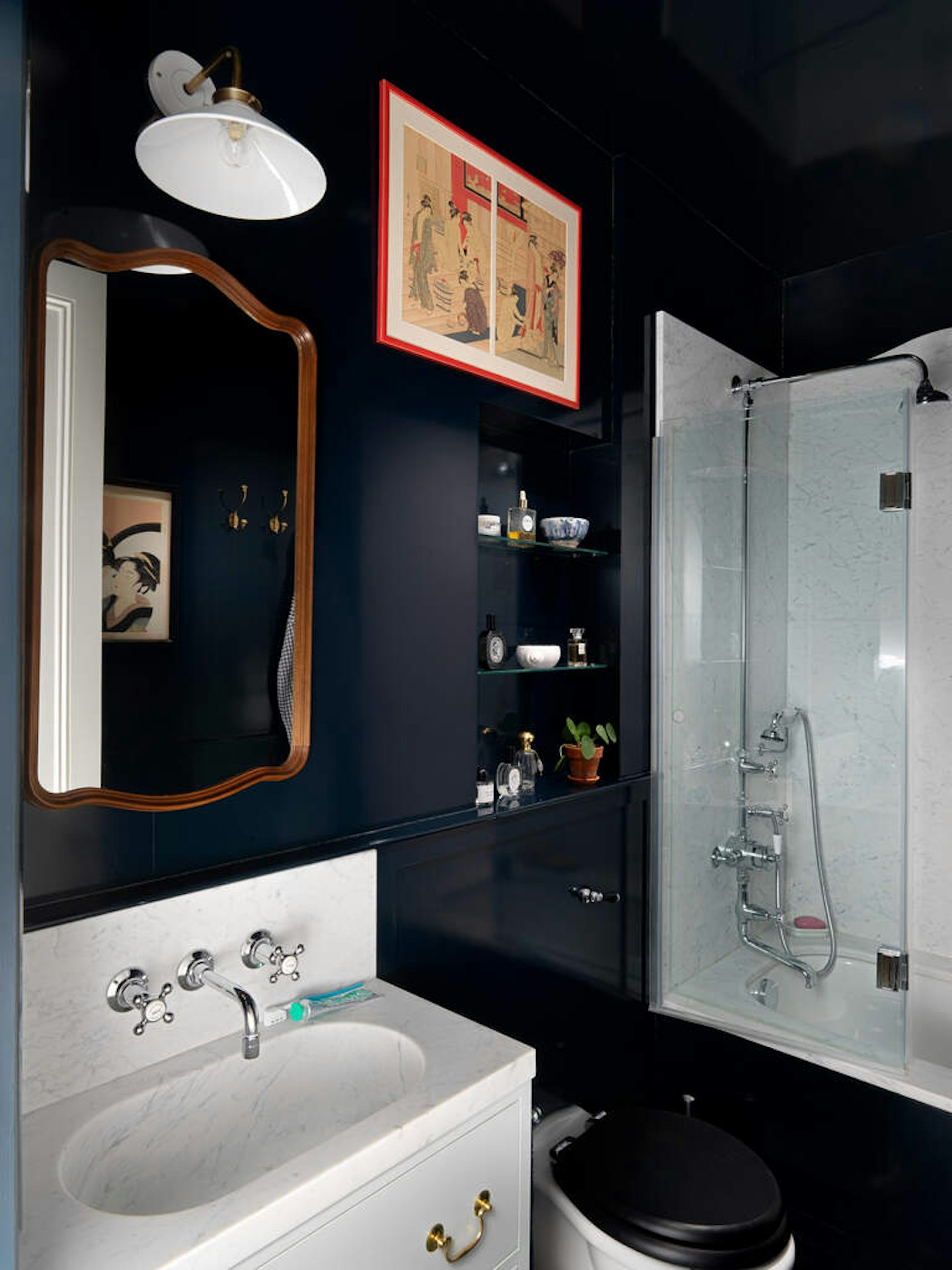 How to add texture and print to a small room without being overpowering?
In bedrooms, a headboard is a great way to add character. Here, the oversized headboard is the only bit of colour in an otherwise white room. Opposite the bed is a wall of built-in wardrobes. There's extra storage underneath the bed, and a big mirror on the wall opposite the window to make the room as light as possible.
Beata's 8 top tips for decor ideas that make a home come alive: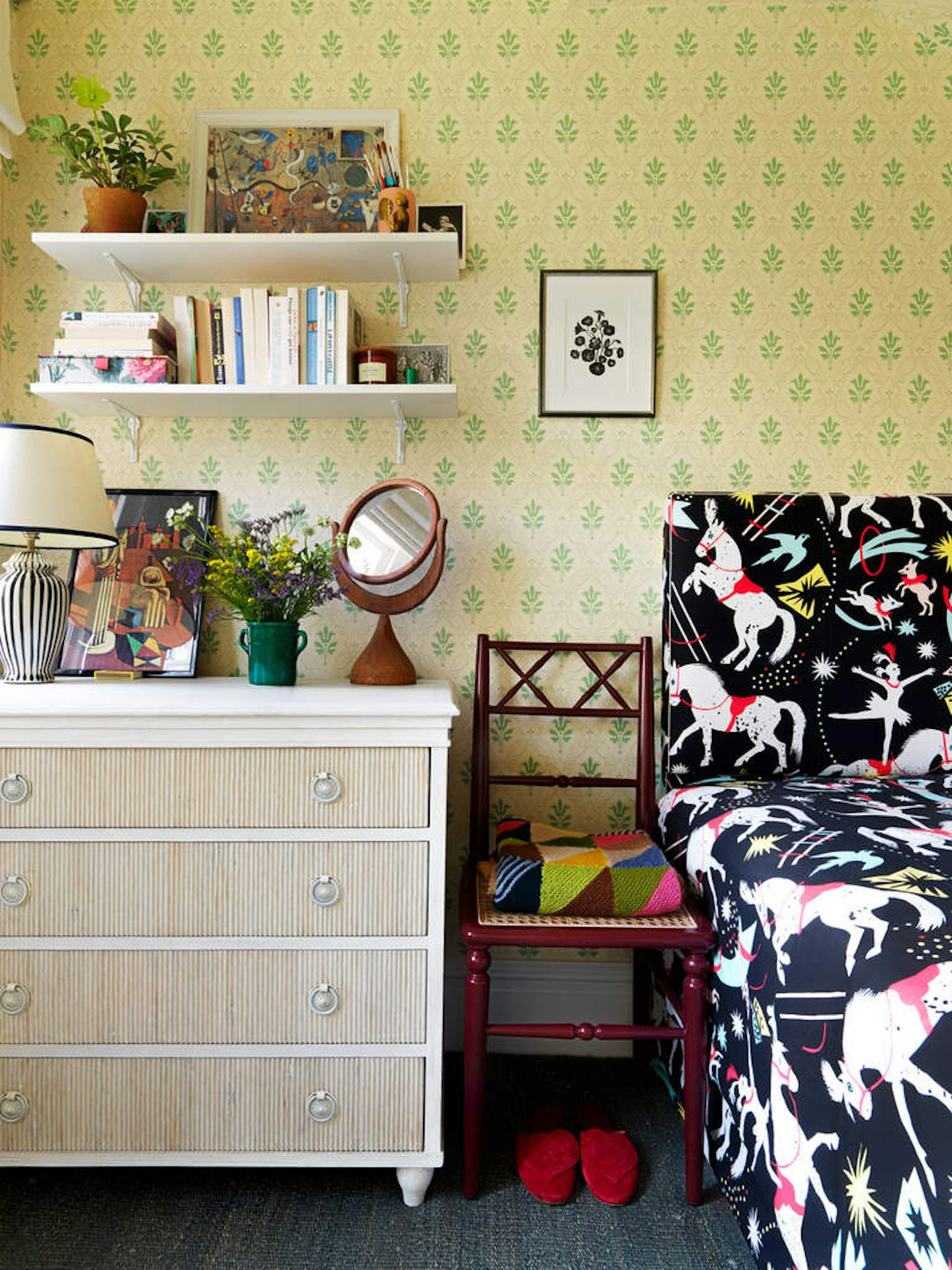 1. Make rooms feel different
'Giving each room its own character and mood creates a sense of space,' says Beata. She does this by layering in a variety of colours, textures and objects, such as mismatched vintage tables and clashing fabrics and adding unusual touches such as feet to sofas. 'A bit of everything in a space ensures that there are lots of different things to look at; this makes a room more interesting to be in,' she adds. 'Use materials that age well – in a small space everything is used quite a lot.'
2. Add character with accessories
'I keep the walls and floor neutral – a favourite shade of mine is Farrow & Ball's Strong White, which I use on walls, ceilings and woodwork to unify the space,' says Beata. 'I then add character through fabrics, rugs and furniture. Green and blue is a good combination because of the association with nature – it's vibrant and uplifting but also calming.'
3. Choose flexible furniture
'Furniture that can be moved easily, such as side chairs and stools, allow you to change the way a room feels for an easy refresh,' Beata advises. 'At the same time, don't be mean about furniture – make a sofa as big and comfy as possible to create a sense of comfort. Furniture on legs sits better in a small space as the light is able to flow beneath the pieces. This works particularly well if they are placed in front of a window.'
4. Throw in plenty of curves
'They are softer and feel more welcoming than sharp angles,' says Beata. 'It's also why I like to use an ottoman as a coffee table.' In this home, she has added curves in a variety of ways, including the cloud wallpaper on the cabinet, the round mirror, curvy furniture and even the plates on the wall in the kitchen.
5. Always look up
If you have high ceilings use the height they give you. 'A favourite trick of mine is using the walls all the way up,' says Beata. 'The rooms might be tiny in terms of square footage, but if the ceilings are high they can lend a grand air, as the proportions become kind of warped.' Draw the eye up with a mirror above a door and pictures hung high.
6. Storage, storage, storage!
'You want your small space to feel as relaxing and roomy as is possible so keep unnecessary clutter to a minimum,' says Beata. 'Carve out a space for everything – a good rule of thumb is to give over 15-20% of your space to storage. In my apartment, I had drawers in the bed base and extra space underneath the sofa. I even built out a small fake partition wall between the kitchen and the living areas that became my all-important cleaning cupboard. The high ceilings were dropped in the hallway to create another place to put things, such as suitcases. If you have a built-in bath, use the space behind the panel.'
7. Change things around
'Add variation by changing things around – it will be refreshing and uplifting when you do,' says Beata. 'A bookshelf can be restyled, and the contents will say something about your personality at any one time. I had a huge blackboard in my first apartment that my friends and I used to draw on, which meant I had a changeable artwork, adding a different feel to my little dining area depending on our mood. Postcards on a fridge, vases of flowers and potted plants have the same effect.'
8. Lighten the mood
'I always use dimmer switches as they allow you to change the lighting level for another mood. This makes a room feel different, which is what you want in a small home,' says Beata. 'I also love candles as they allow you to do something similar.'
SHOP: Small Space Living Expert Buys
Hint - it's all about curves and light.
SHOP: Homeware buys for small space living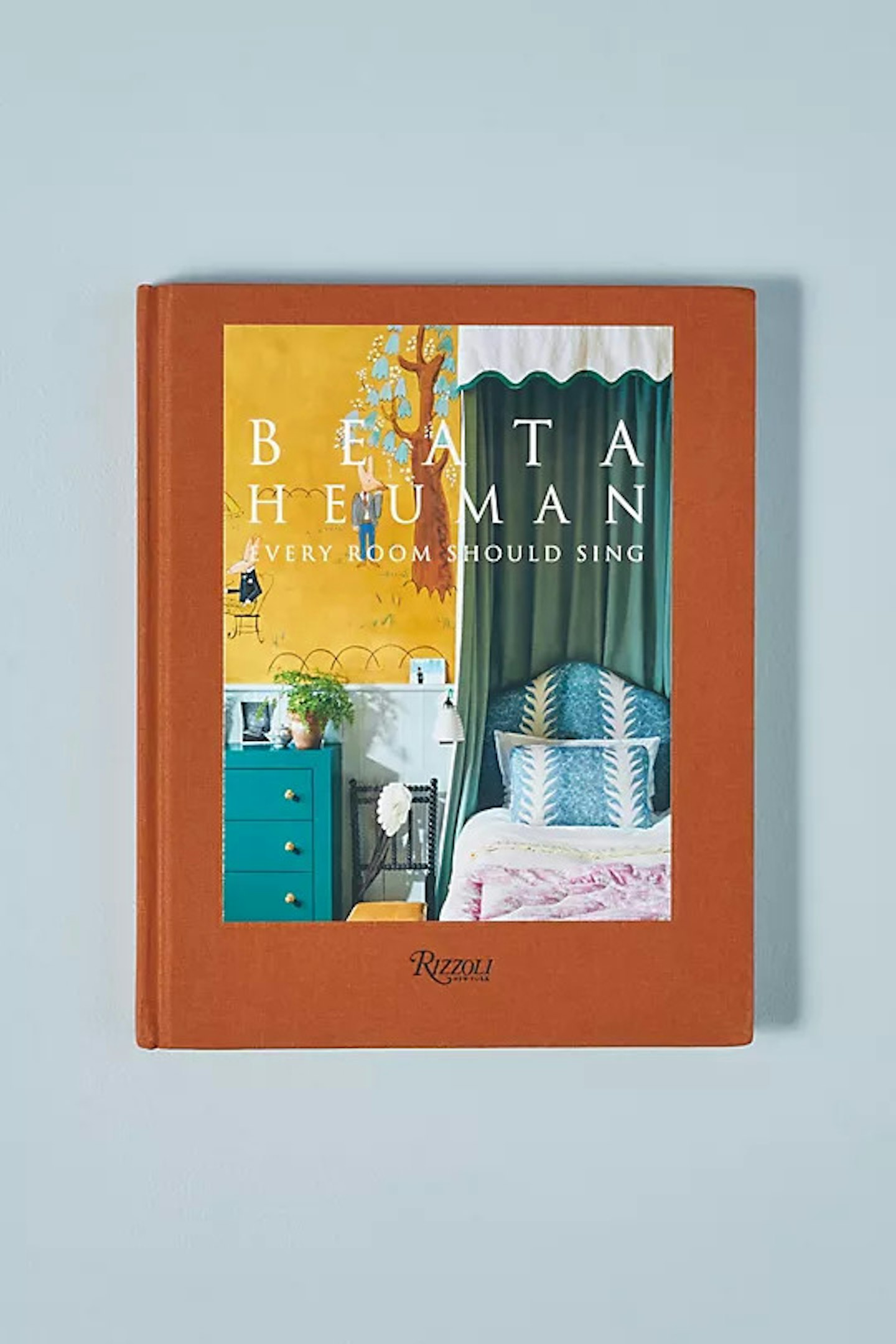 1 of 15
Anthropologie, Beata Heuman: Every Room Should Sing, £45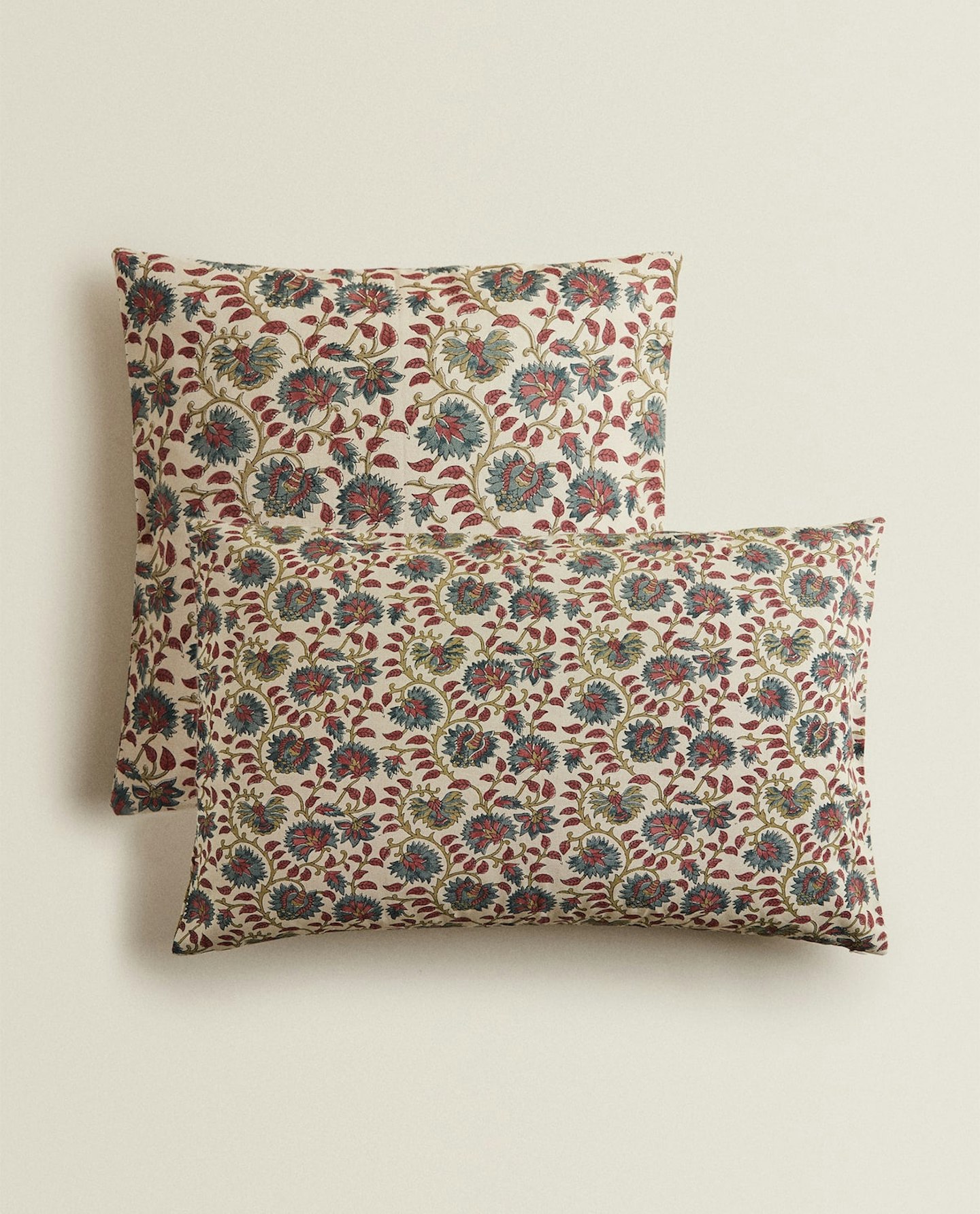 2 of 15
Zara Home, Floral Print Cushion Cover, £17.99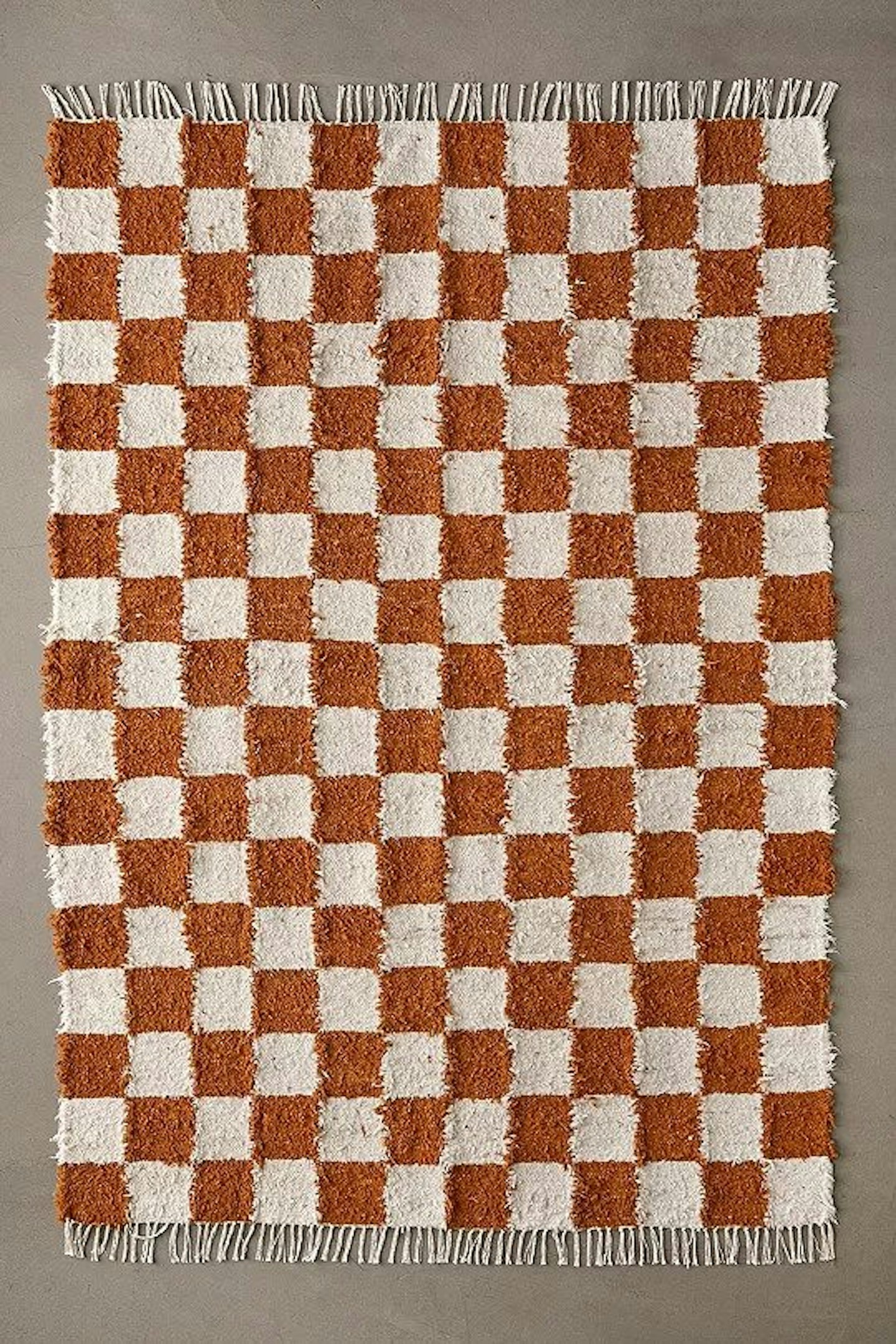 3 of 15
Urban Outfitters, Checkerboard 5x7 Rug, £149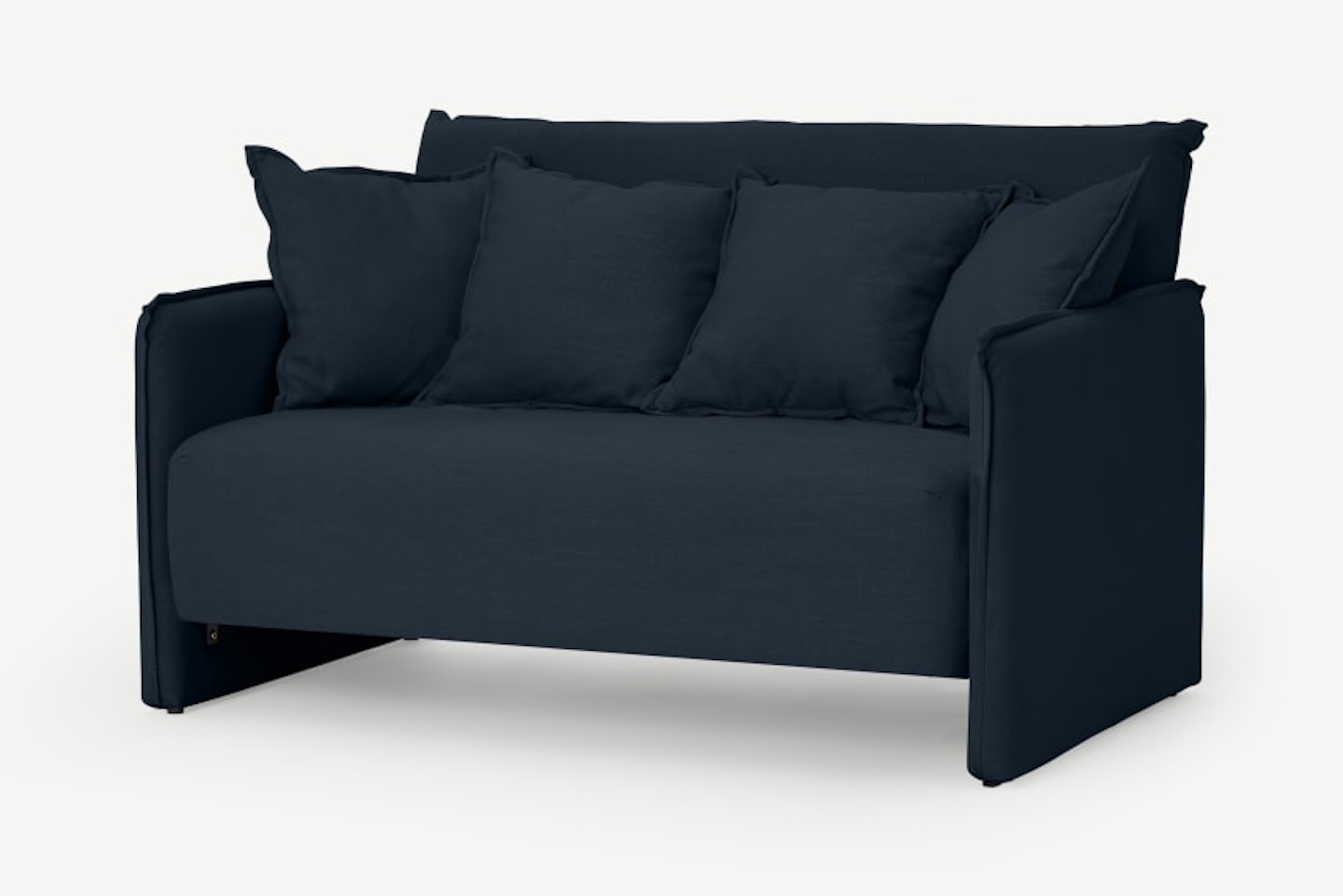 4 of 15
MADE, Medina Small Sofa Bed, Oxford Blue Fabric, £495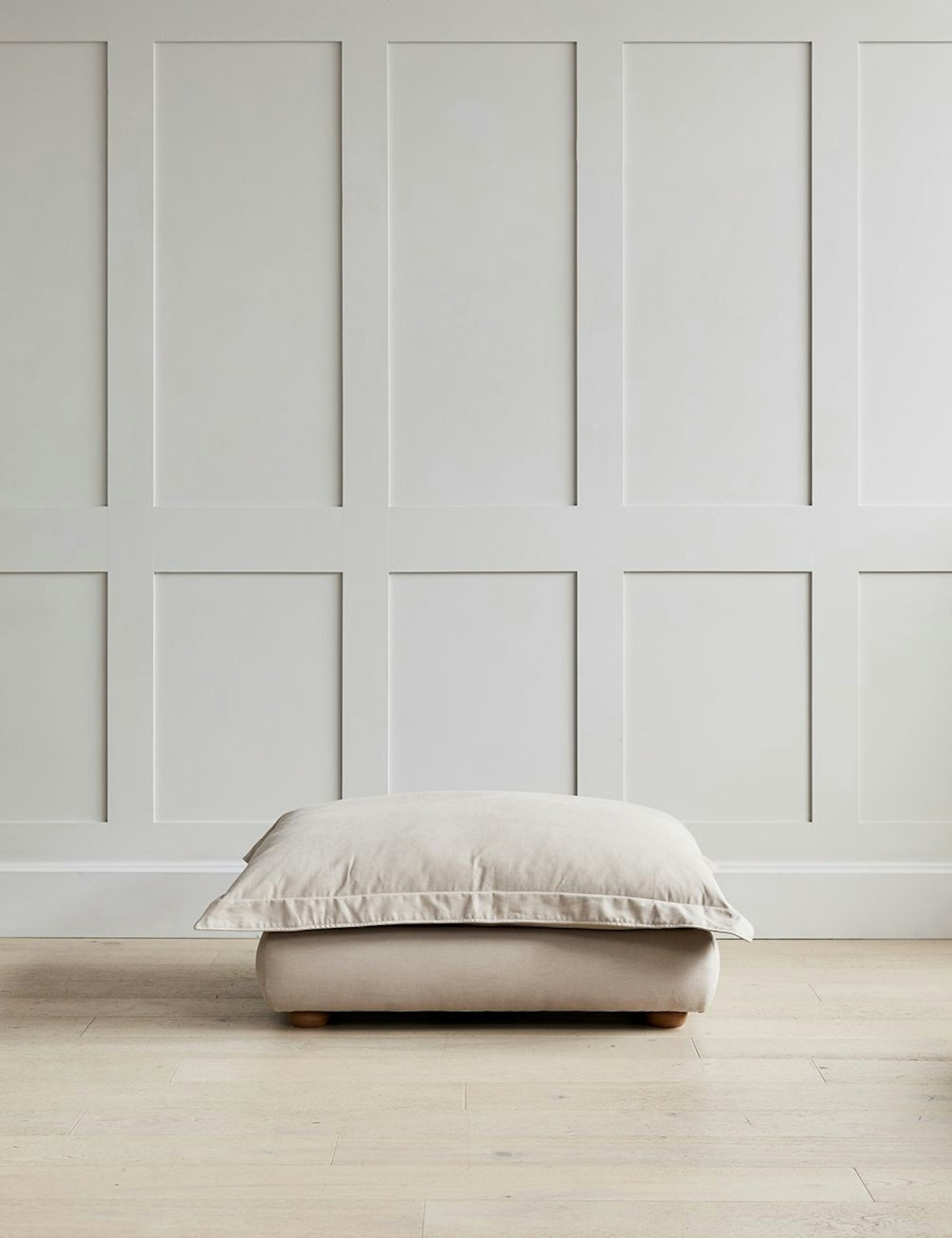 5 of 15
Rose & Grey, Penny Footstool, From £625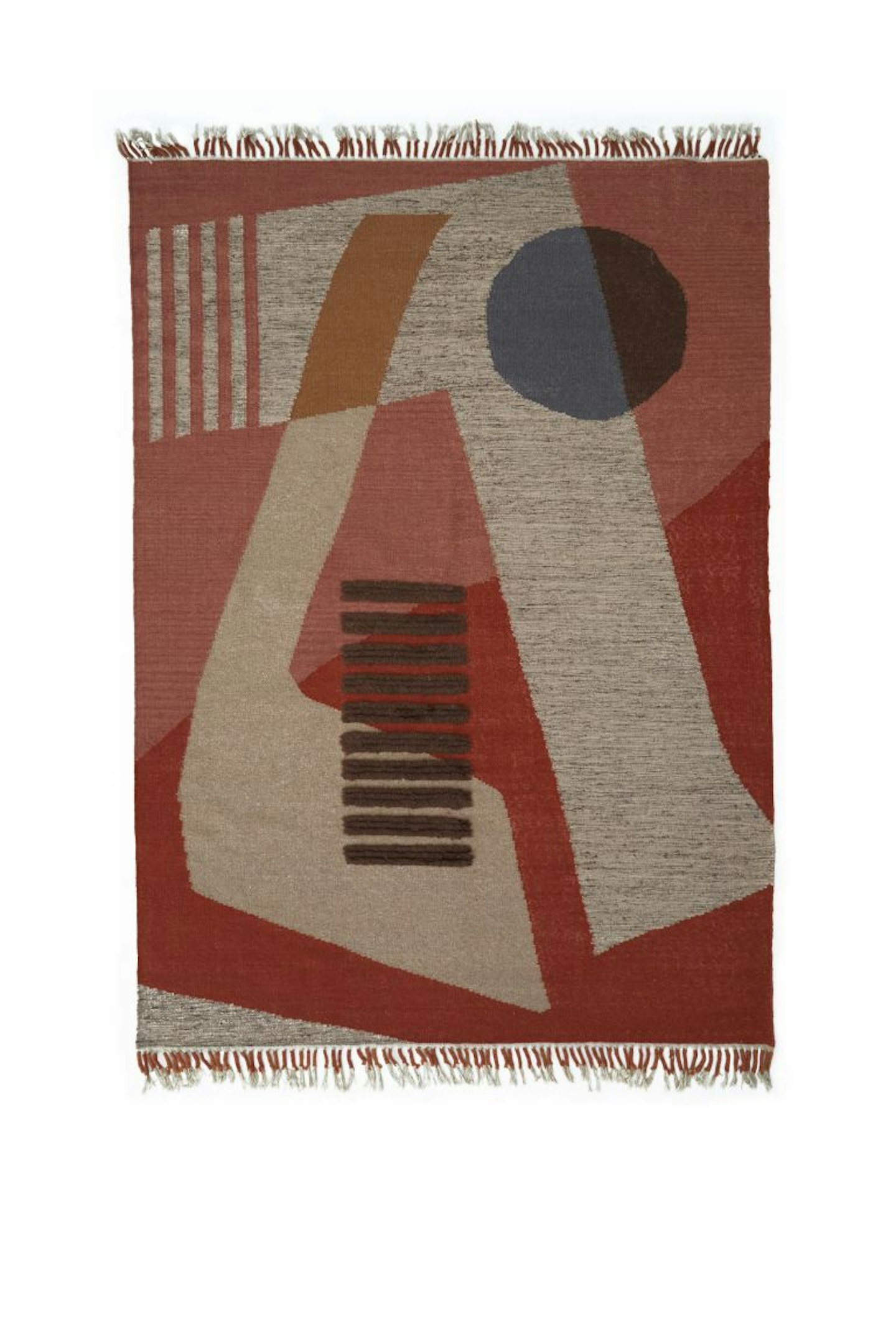 6 of 15
Fifty Five South at H&M, Multi Coloured Bosie Villon Rug, £459.99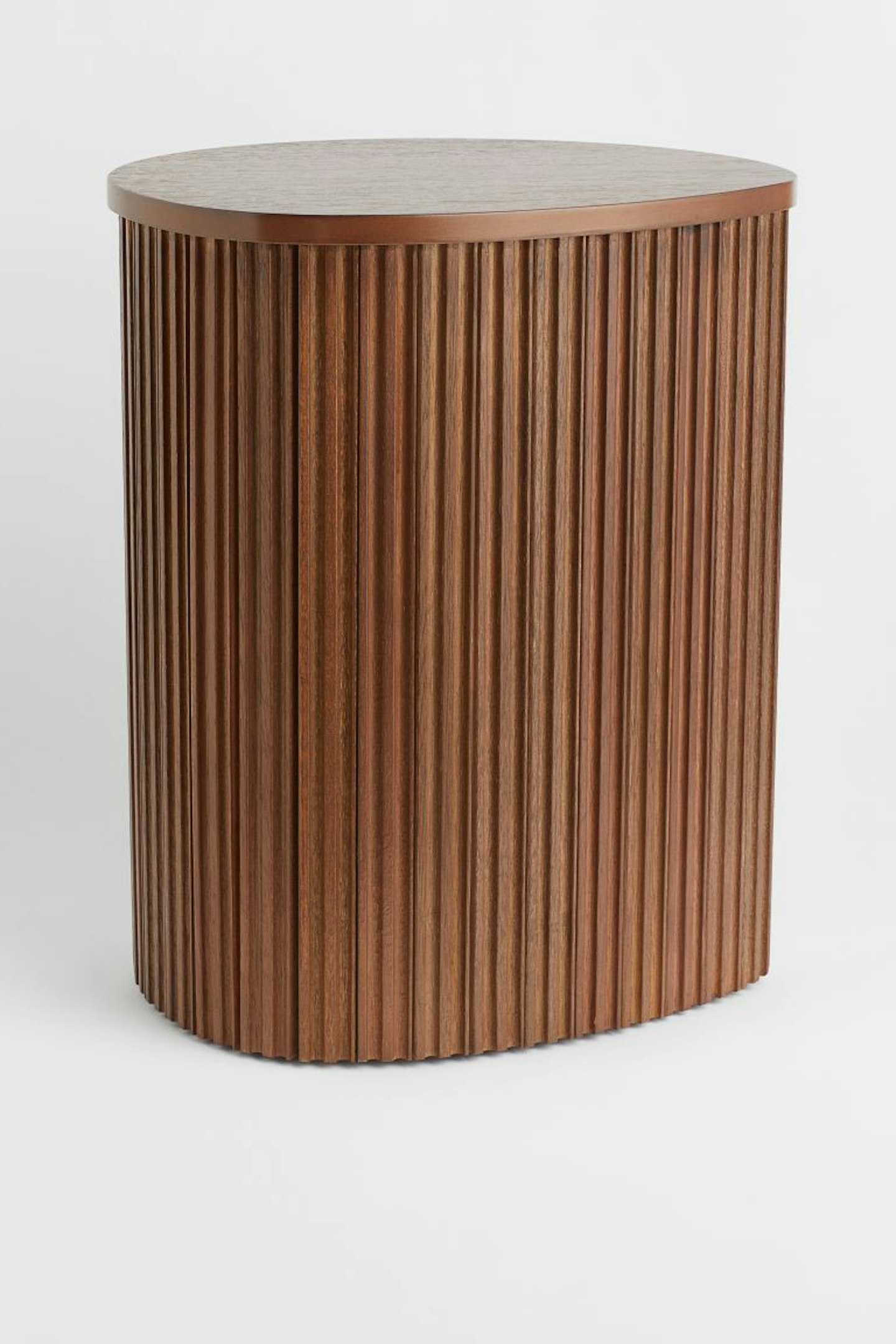 7 of 15
H&M, Wooden Side Table, £119.99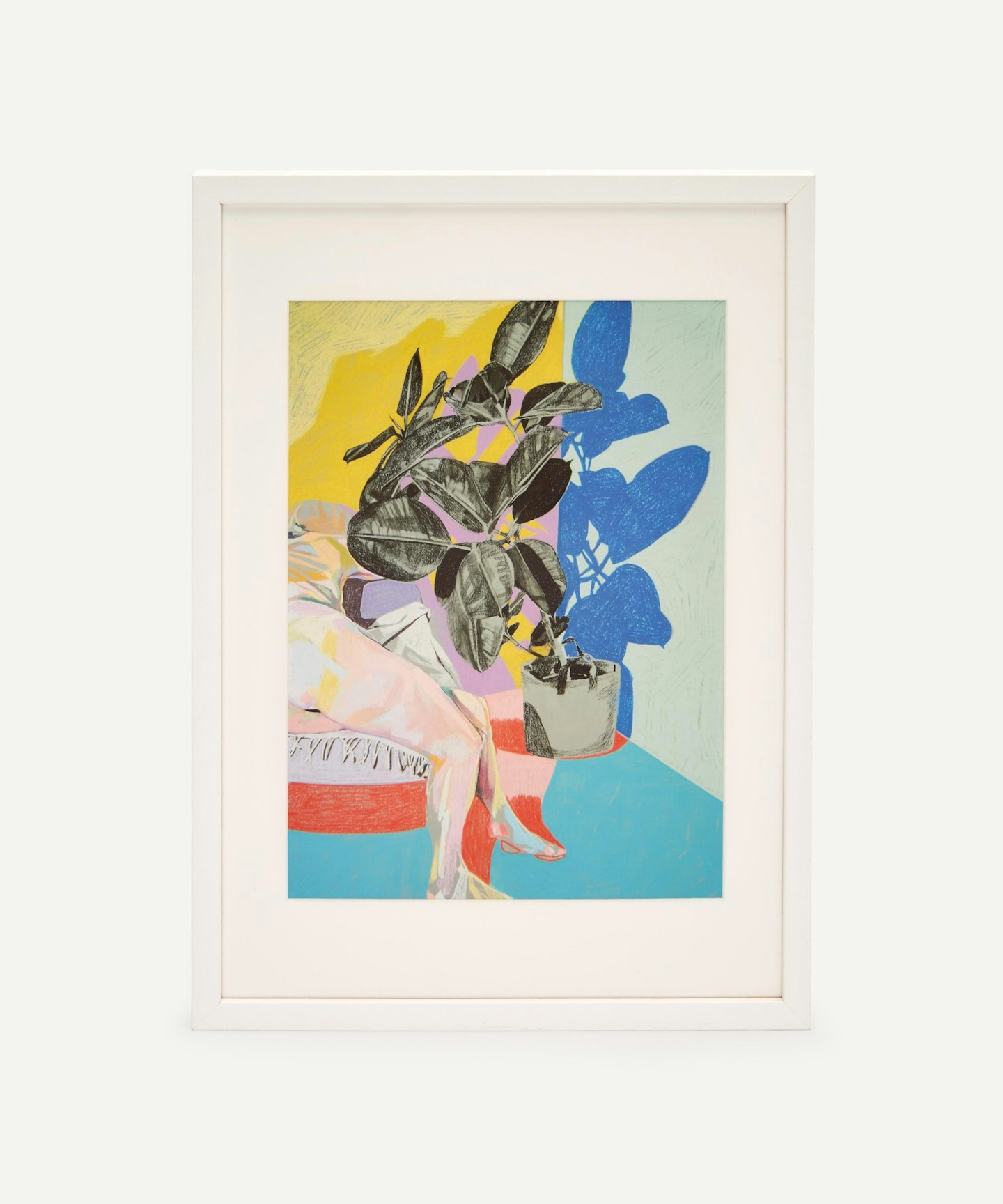 8 of 15
Partnership Editions, Hester Finch Nude on Grey with Black Plant & Yellow Wall Framed Giclée Print, £195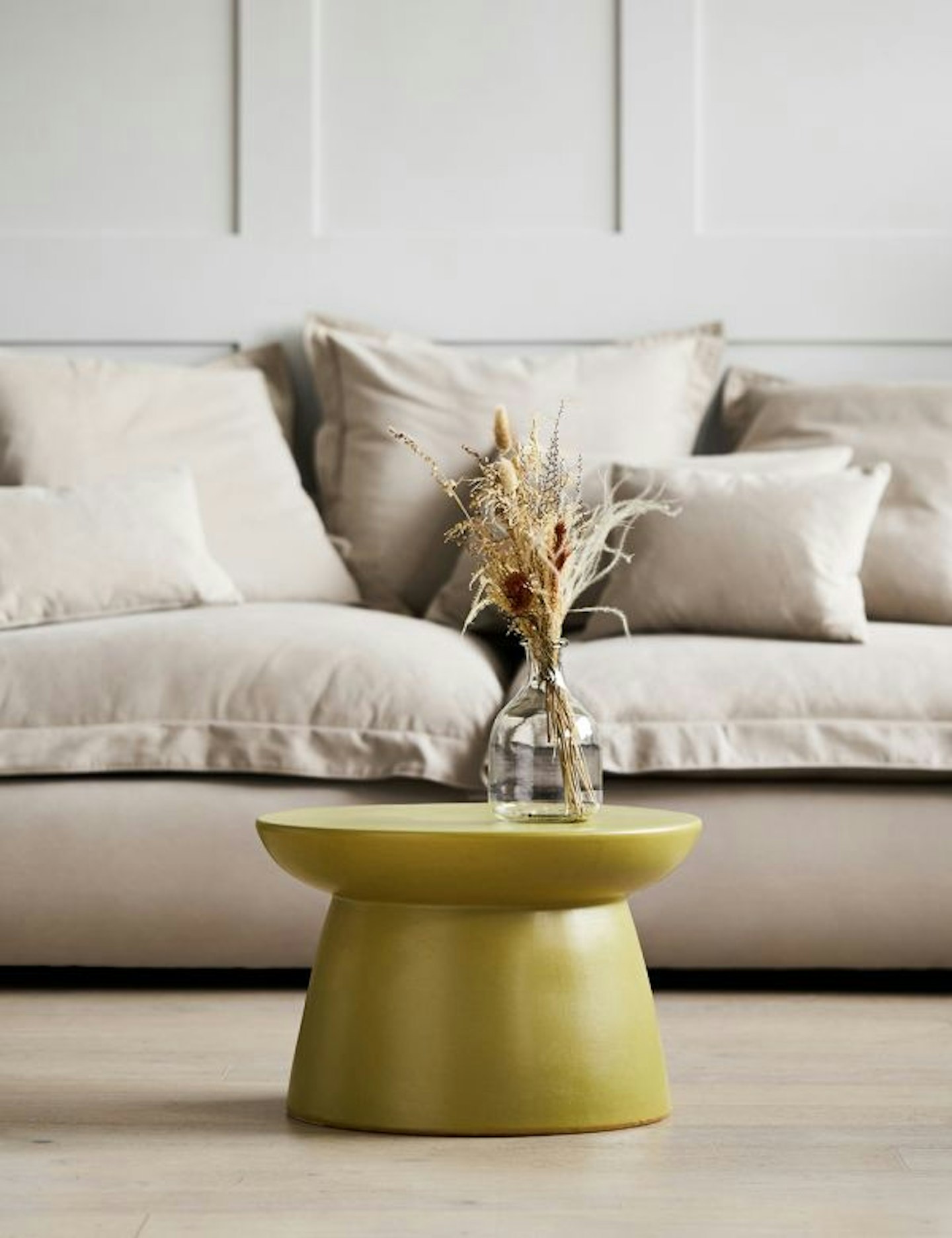 9 of 15
Rose & Grey, Olive Green Stone Coffee Table, £275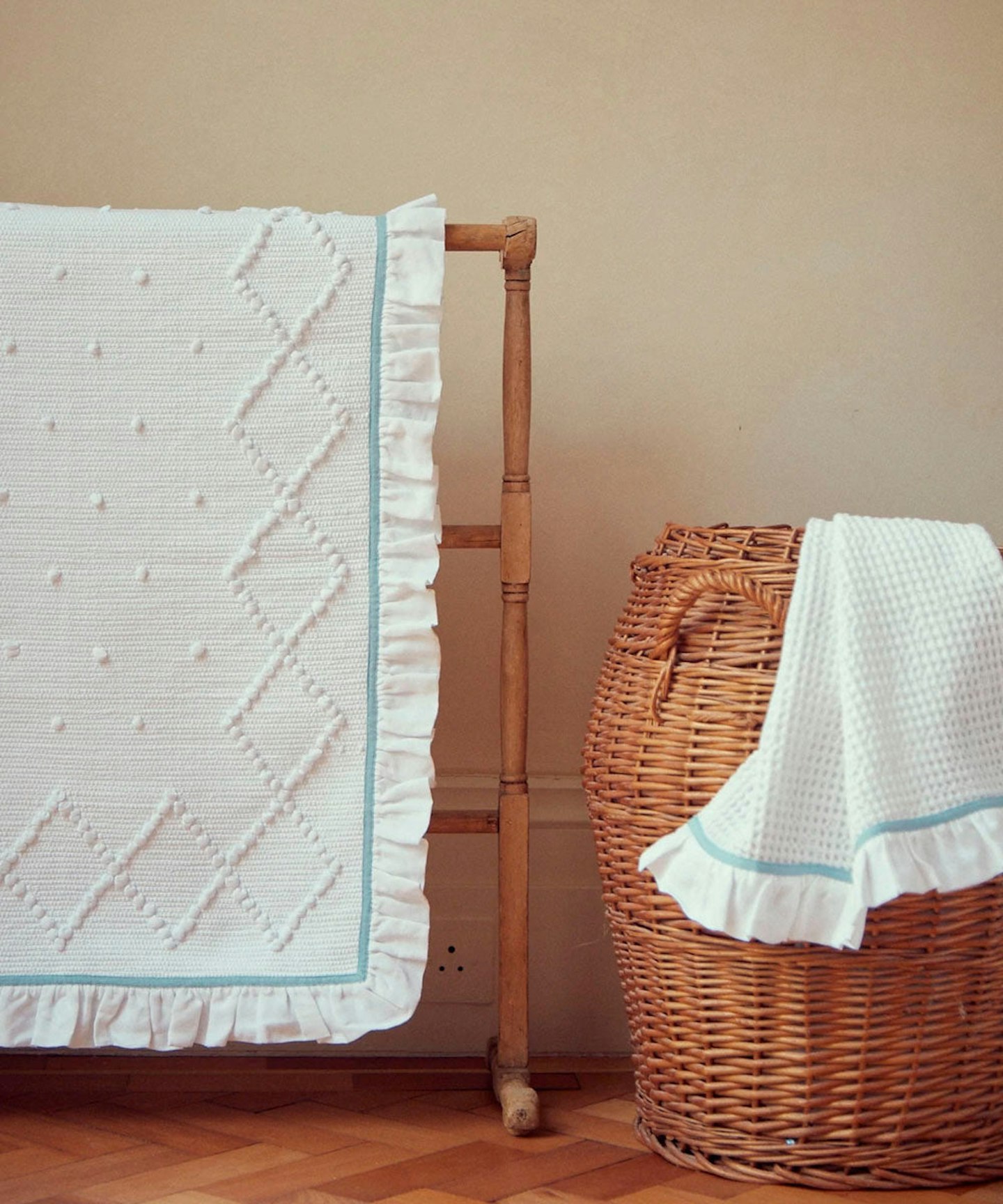 10 of 15
Matilda Goad, Linen Frill Bath Mat, £50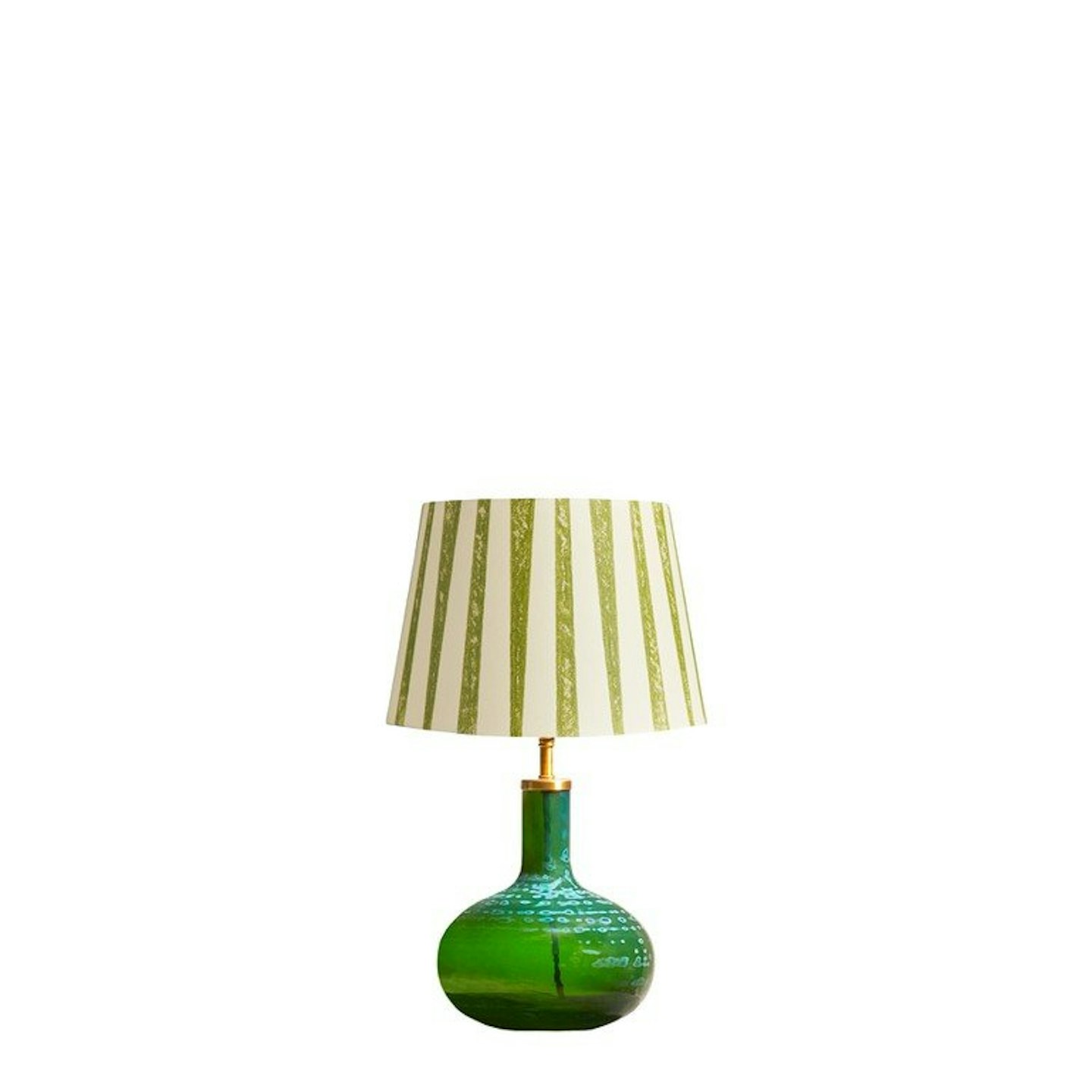 11 of 15
Pooky, Gruber table lamp, £178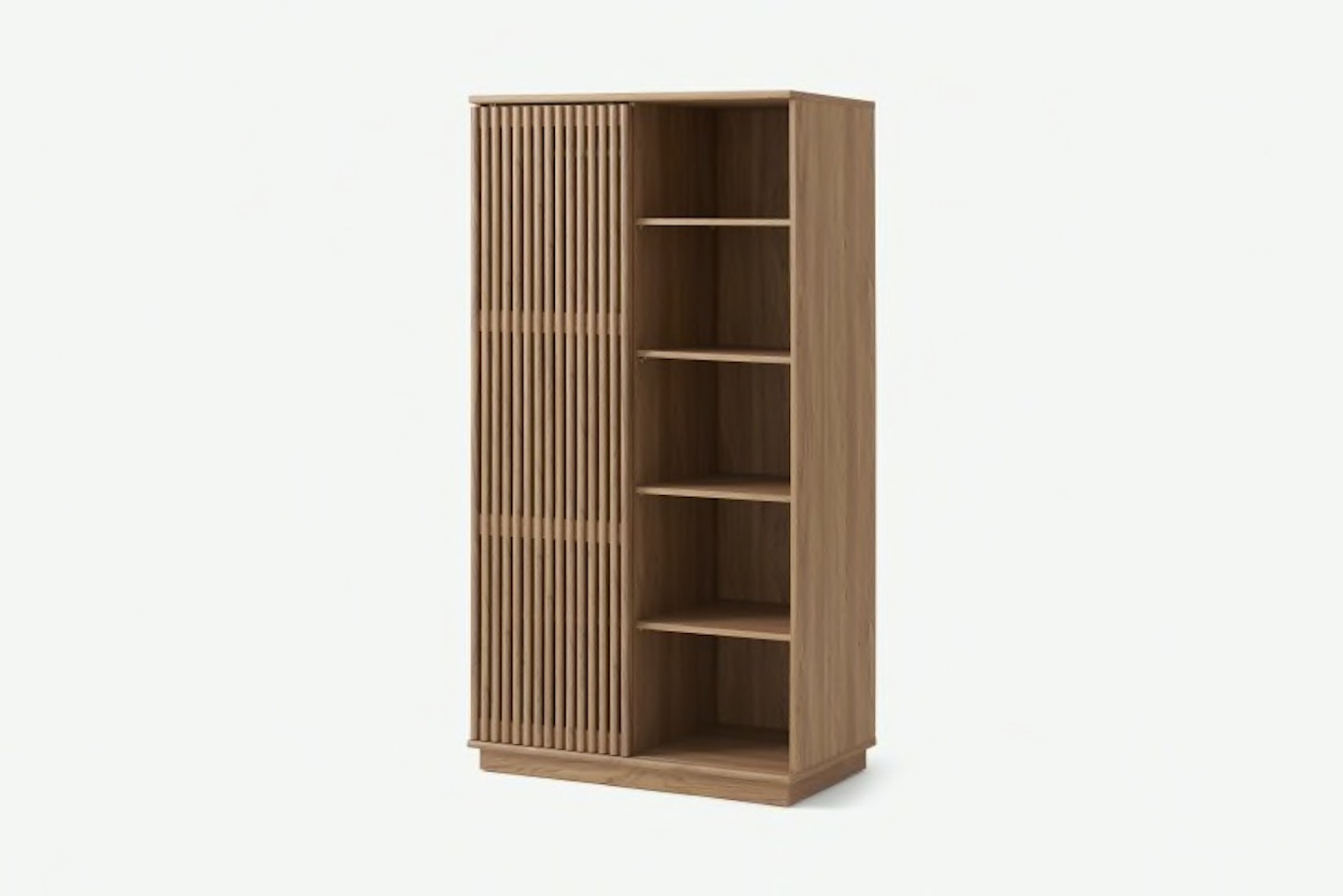 12 of 15
MADE, Tulma Double Sliding Door Wardrobe, Oak Effect, £495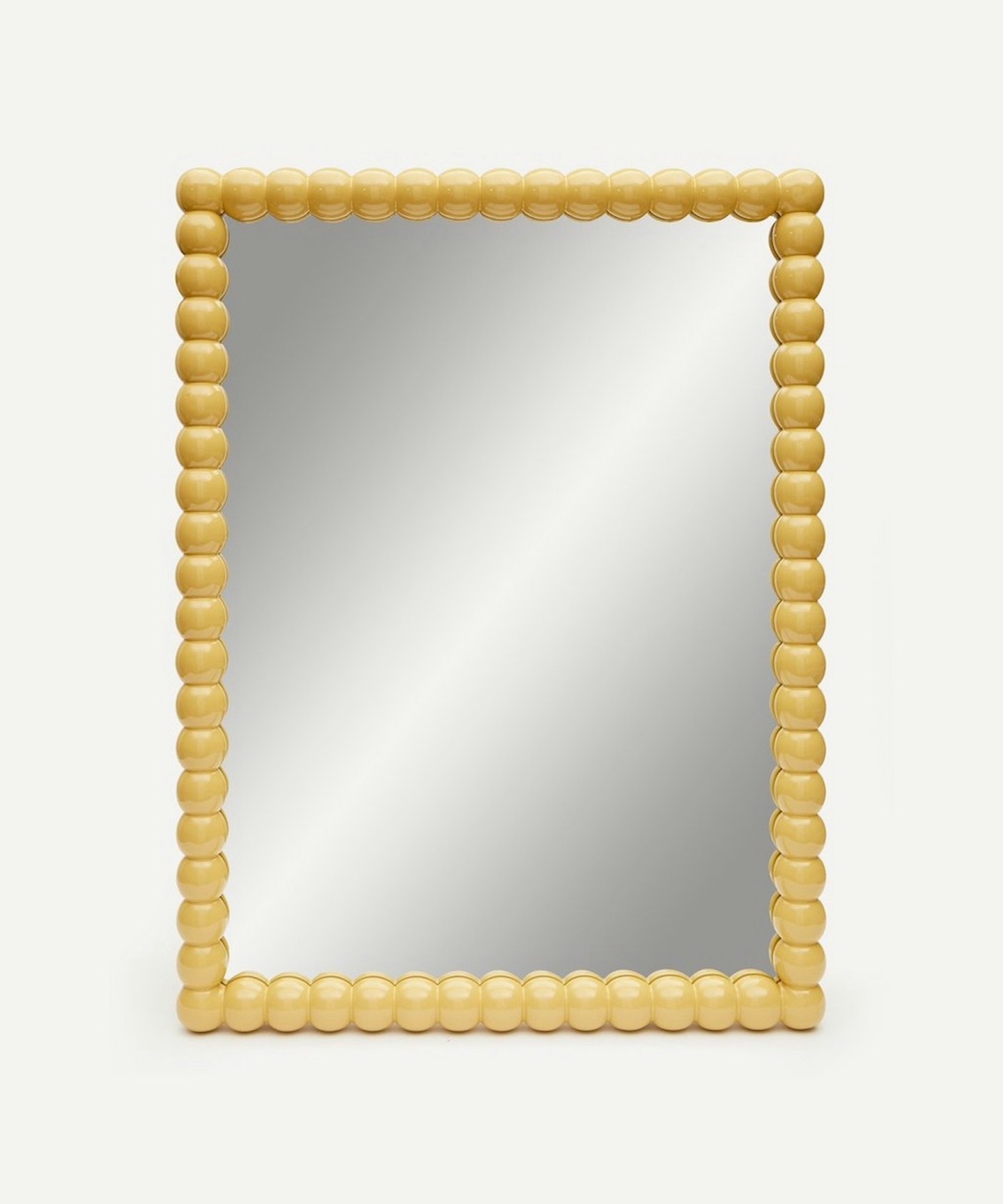 13 of 15
Folie Chambre, Bobby Mirror Large, £775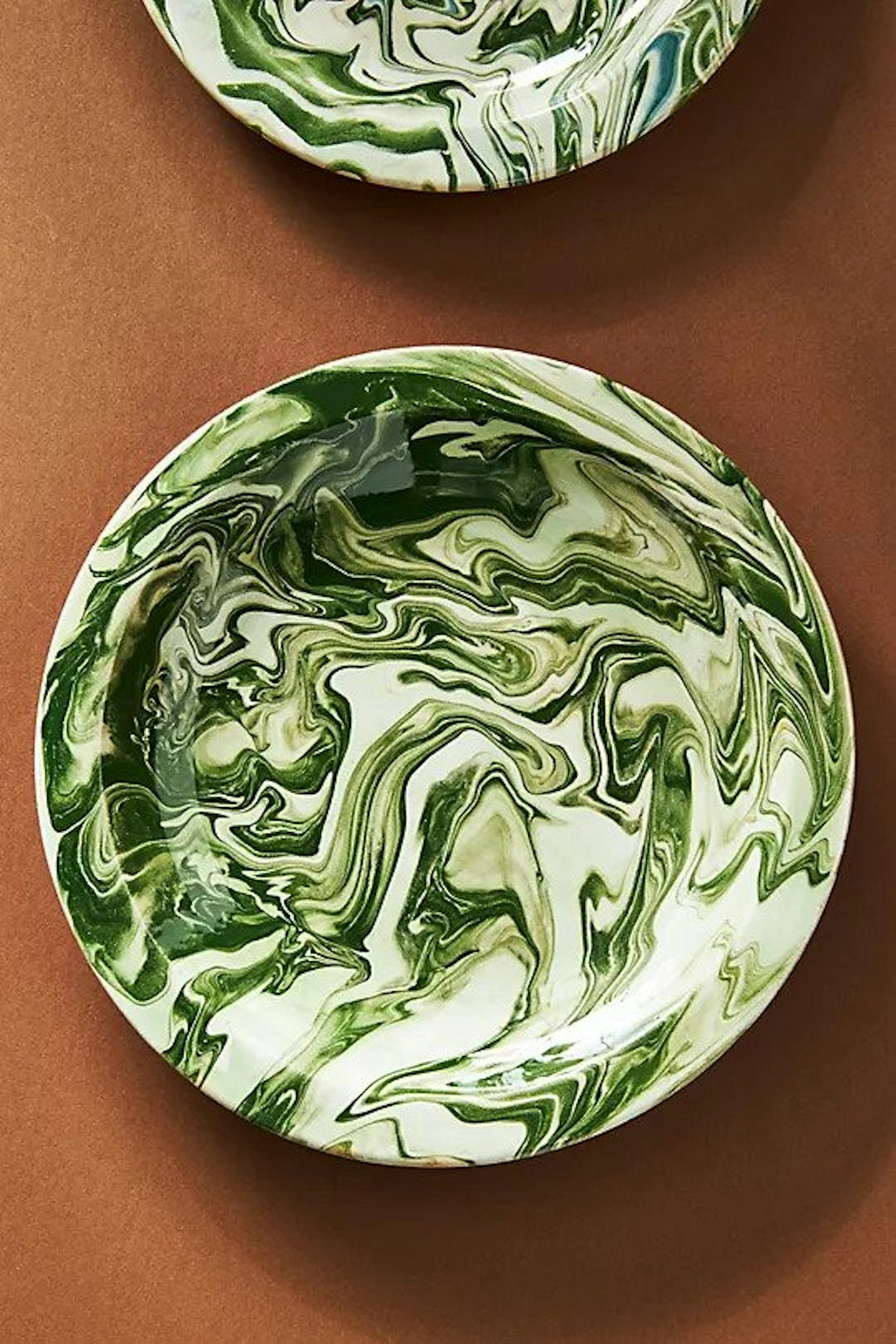 14 of 15
Anthropologie, Swirl Dinner Plate, £48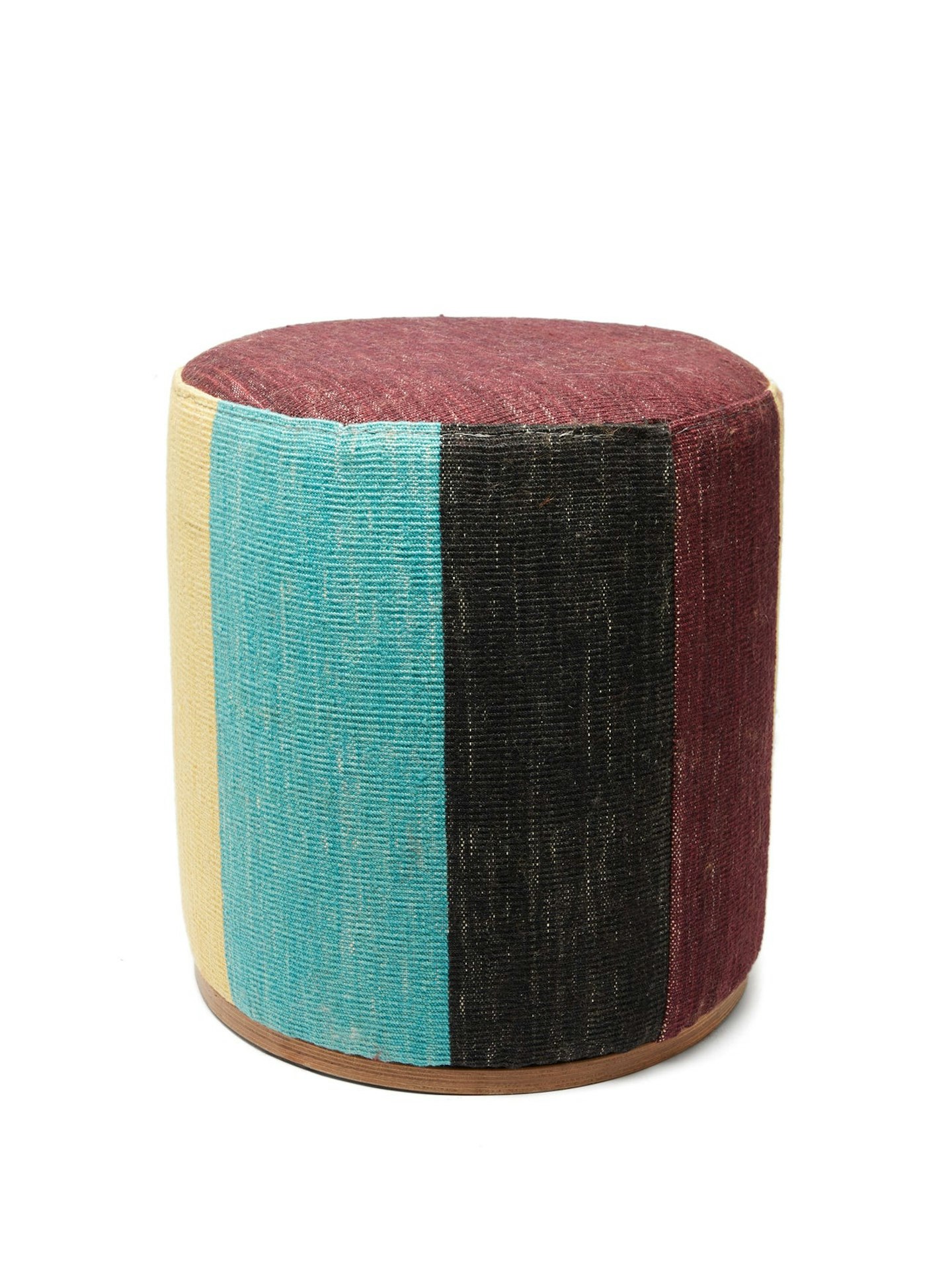 15 of 15
Colville, Striped wool pouffe, £1,210
READ MORE: How To Rent In Style: Home Buys That Make All The Difference To Your Space