No matter how productive you claim to be, we all reach that point of procrastination when we will quite literally do anything to avoid sitting down to get some work done. Especially when you're working from home without any responsible adult supervision and Netflix is just a few clicks away. But what we told you that you can turn procrastination into something really rather constructive, without even realising?
Use those couple of hours you'd normally spend absentmindedly scrolling through Instagram and making unwanted cups of tea to transform (or create) your home workspaceinto an area you actually want to be in with these really easy Pinterest tricks.
1. Try Wall Storage For Your Office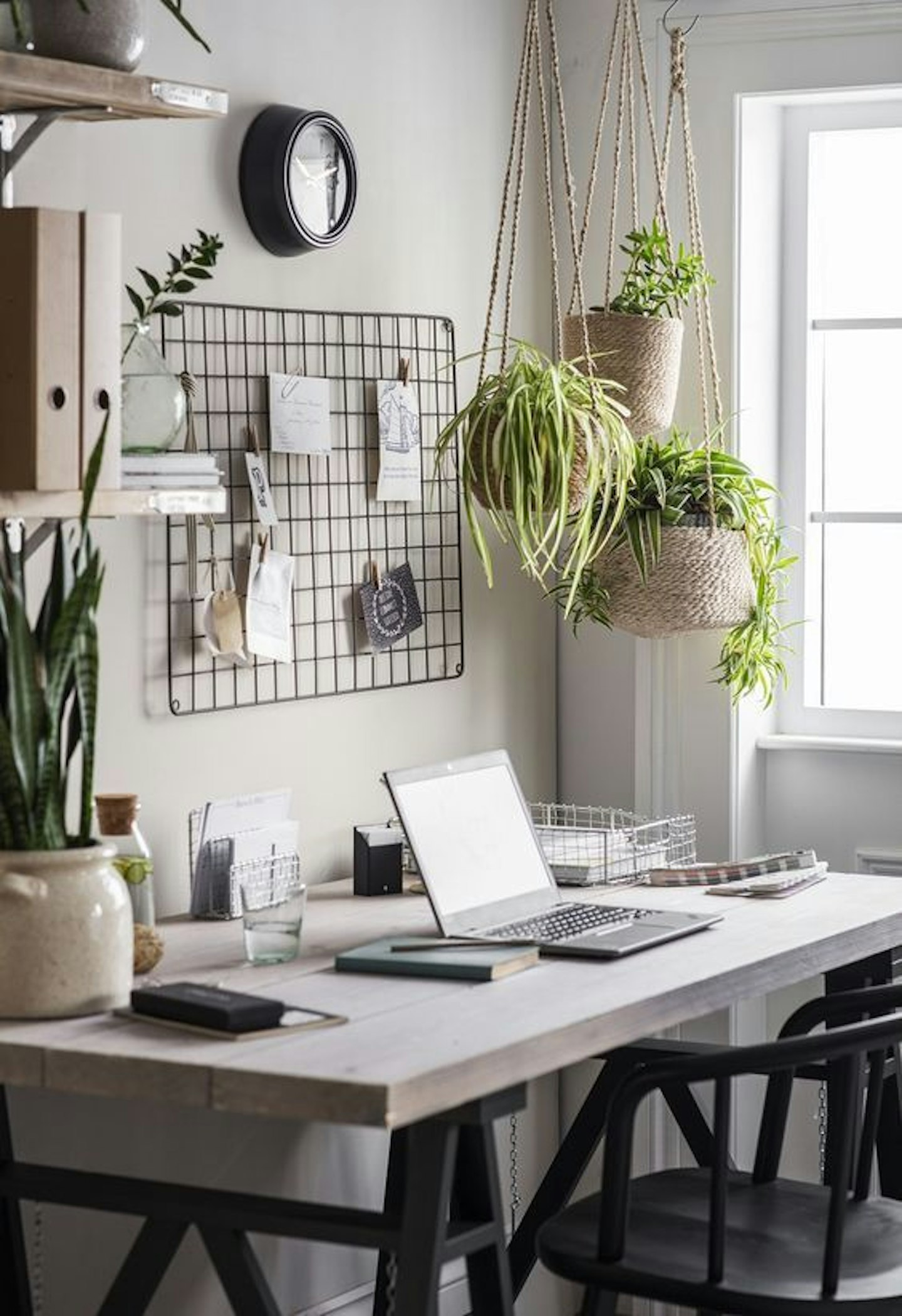 If you don't know what to do with all those little tokens of inspiration and happy photos of your loved ones without cluttering your desk, pop them on one of these super trendy wire racks or try a peg board.
2. Short On Space? The Floating Desk Is Your Solution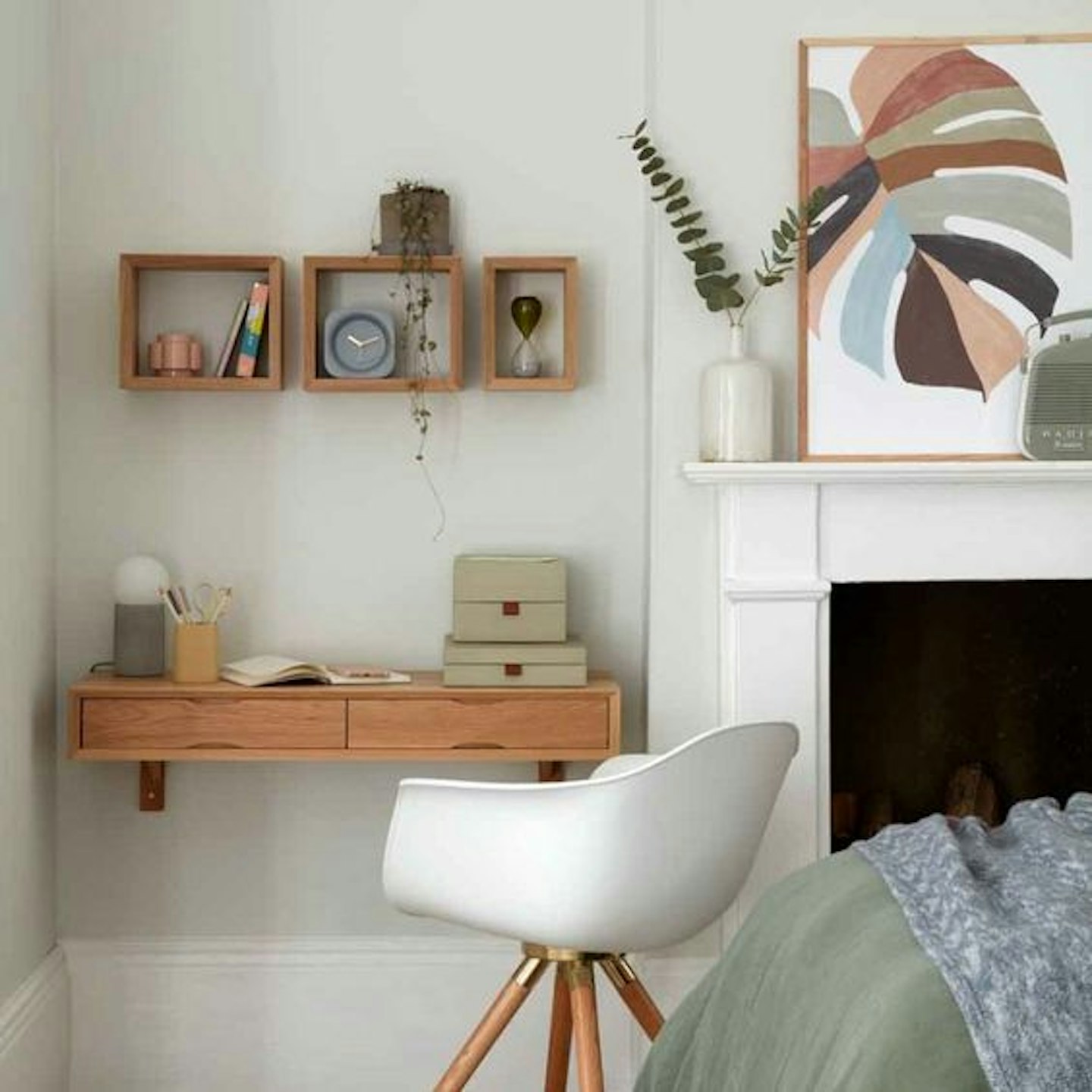 If you're short on space, then a floating desk fixture is for you. Plus, they're a great way to ensure that you don't have to convert an entire room into your office.
3. Ideas On Wheels - Trolley Storage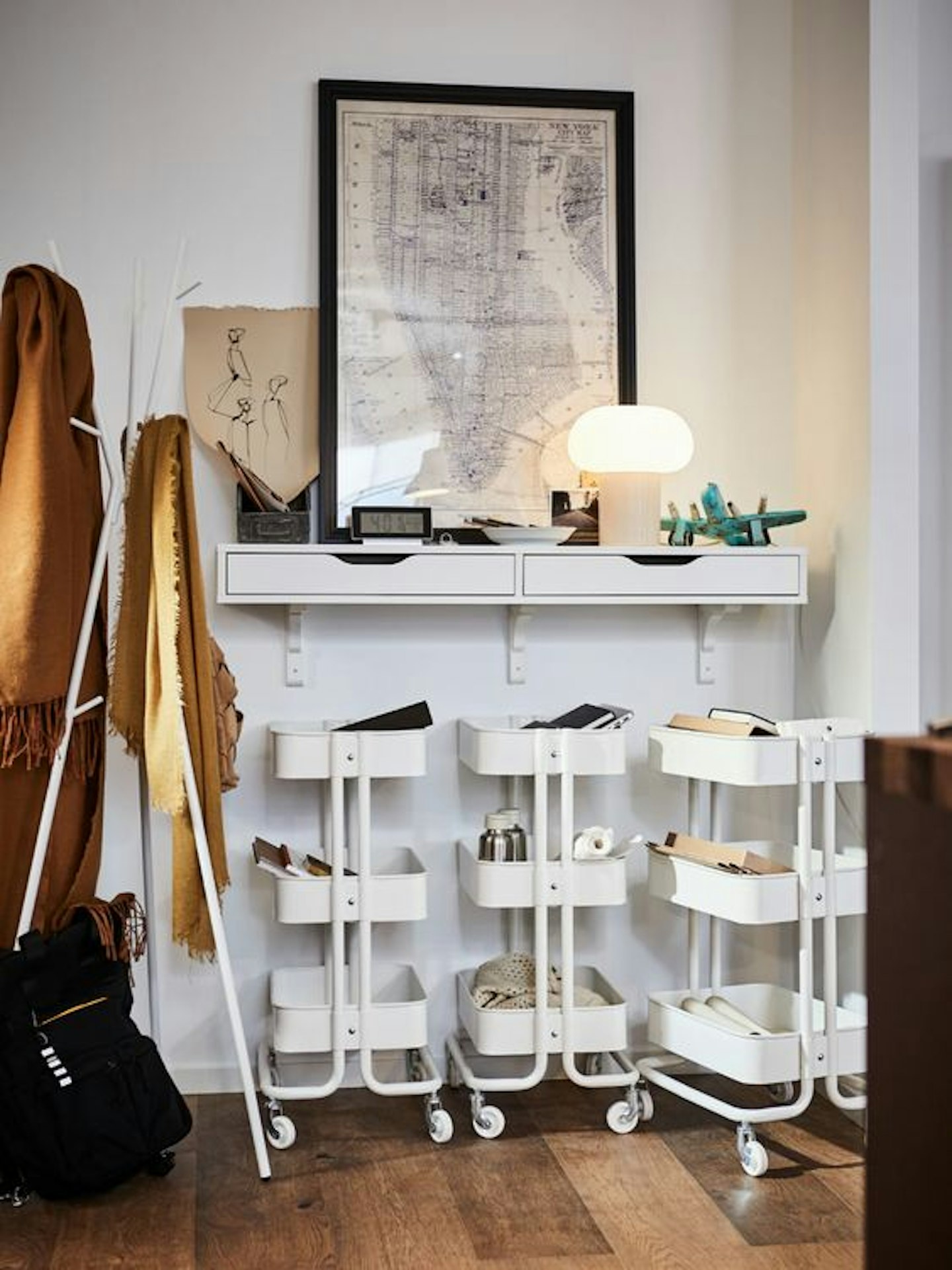 No fixed space to knuckle down to work? Pop everything on a well-decorated trolley to become the agilest of the agile workers. Ready for anything. Prepared to nail any and all projects at all times. Queen Of Mobile Productivity, if you will.
4. Introducing The Cloffice (Closet Meets Office)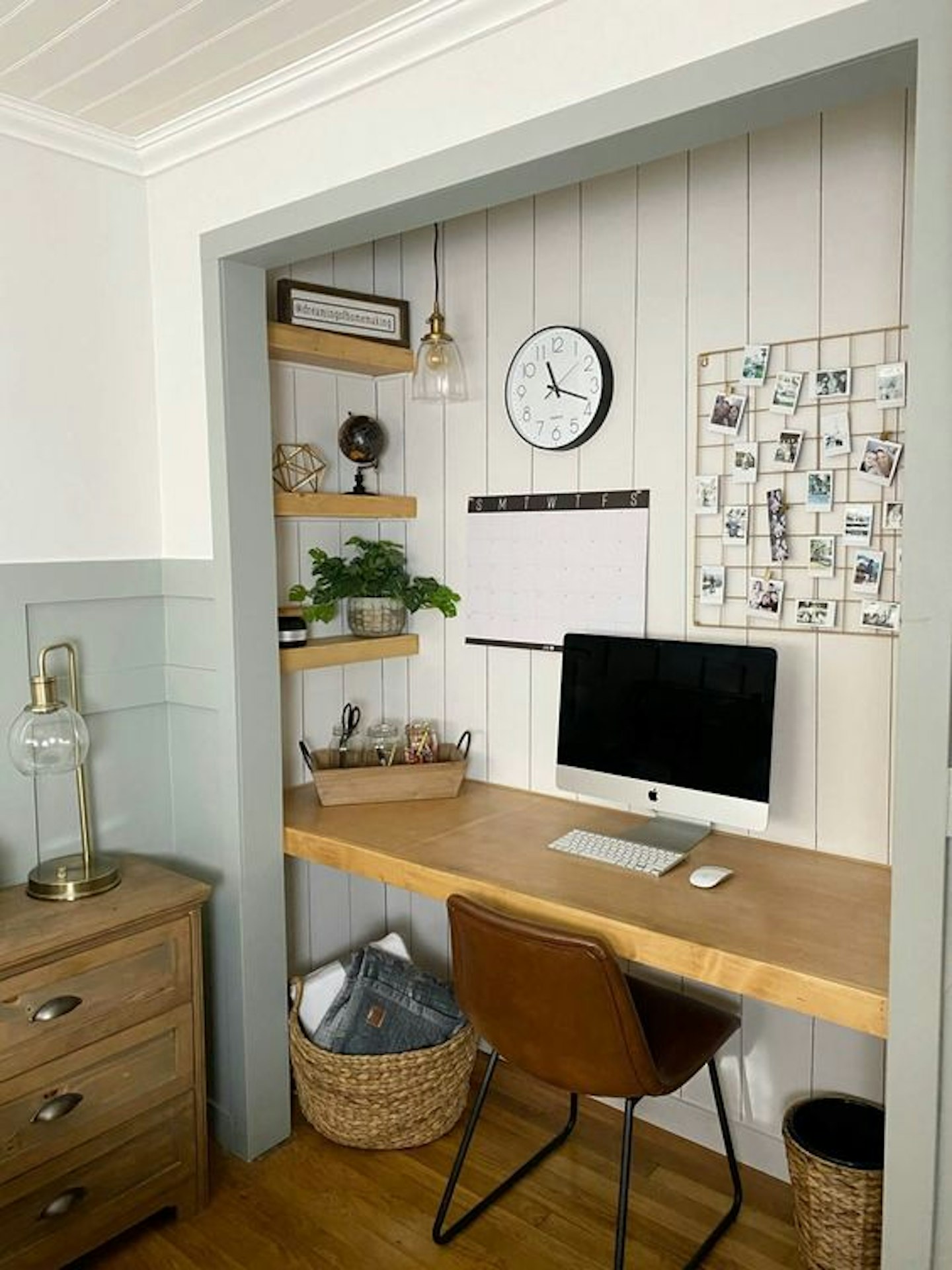 You say cupboard, we say an alcove of opportunity. Turn an empty wardrobe into a cosy little work haven that's as easy to use as it is to ignore. Simply close the doors and forget all about that unfinished essay/report/thing you're trying to ignore.
5. Hide Your Desk Under The Stairs
Struggling for space? Find another home for your vacuum cleaner and old unwanted shoes and instead use the area under the stairs to get your best work done. The most neglected space in the house can very easily become the most creative one, don't ya know?
SHOP: Home Office Decor Essentials
SHOP: Home Office Decor Ideas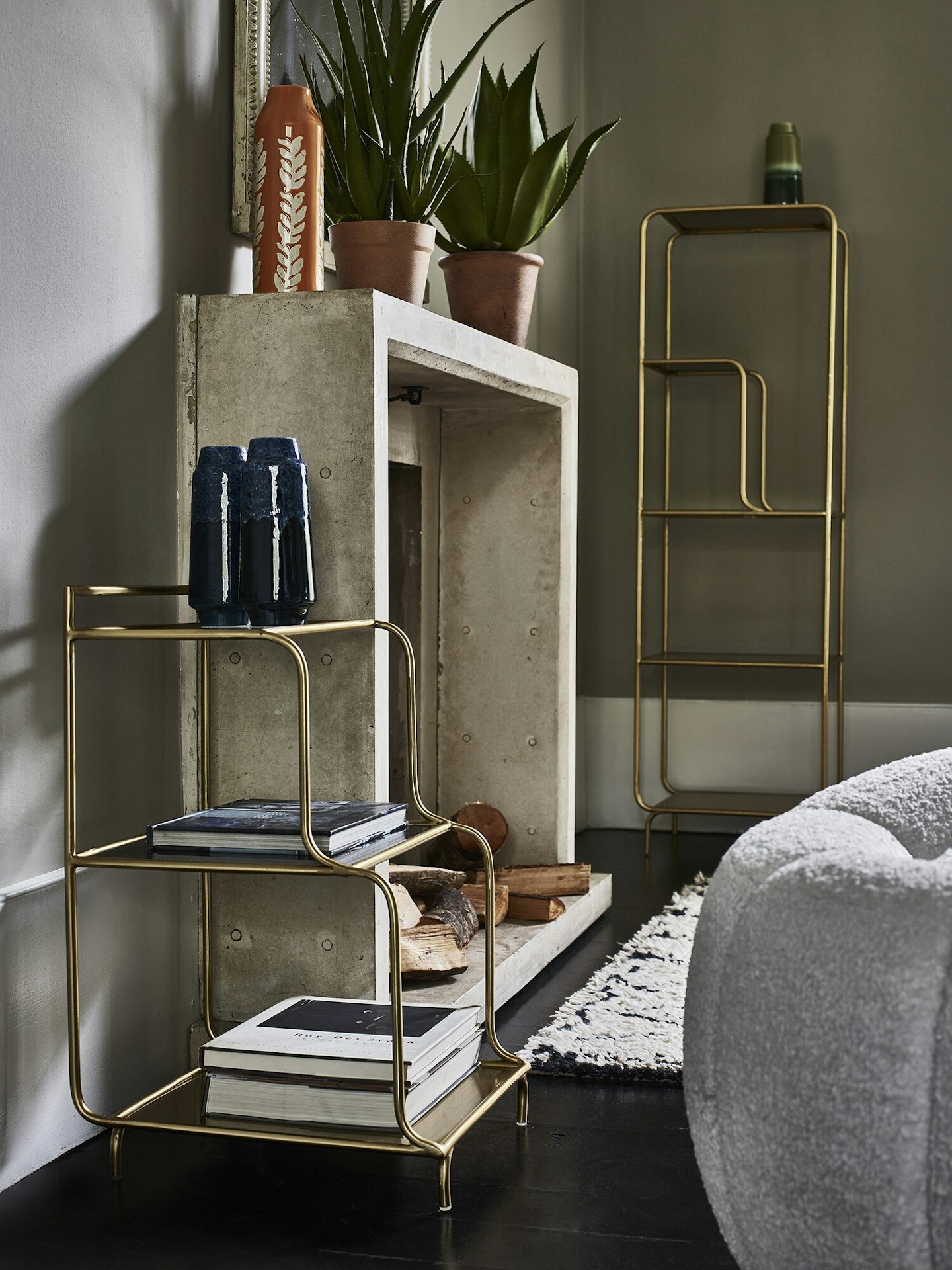 1 of 18
Oliver Bonas, Luciana Glass & Gold Metal Shelving Unit, £235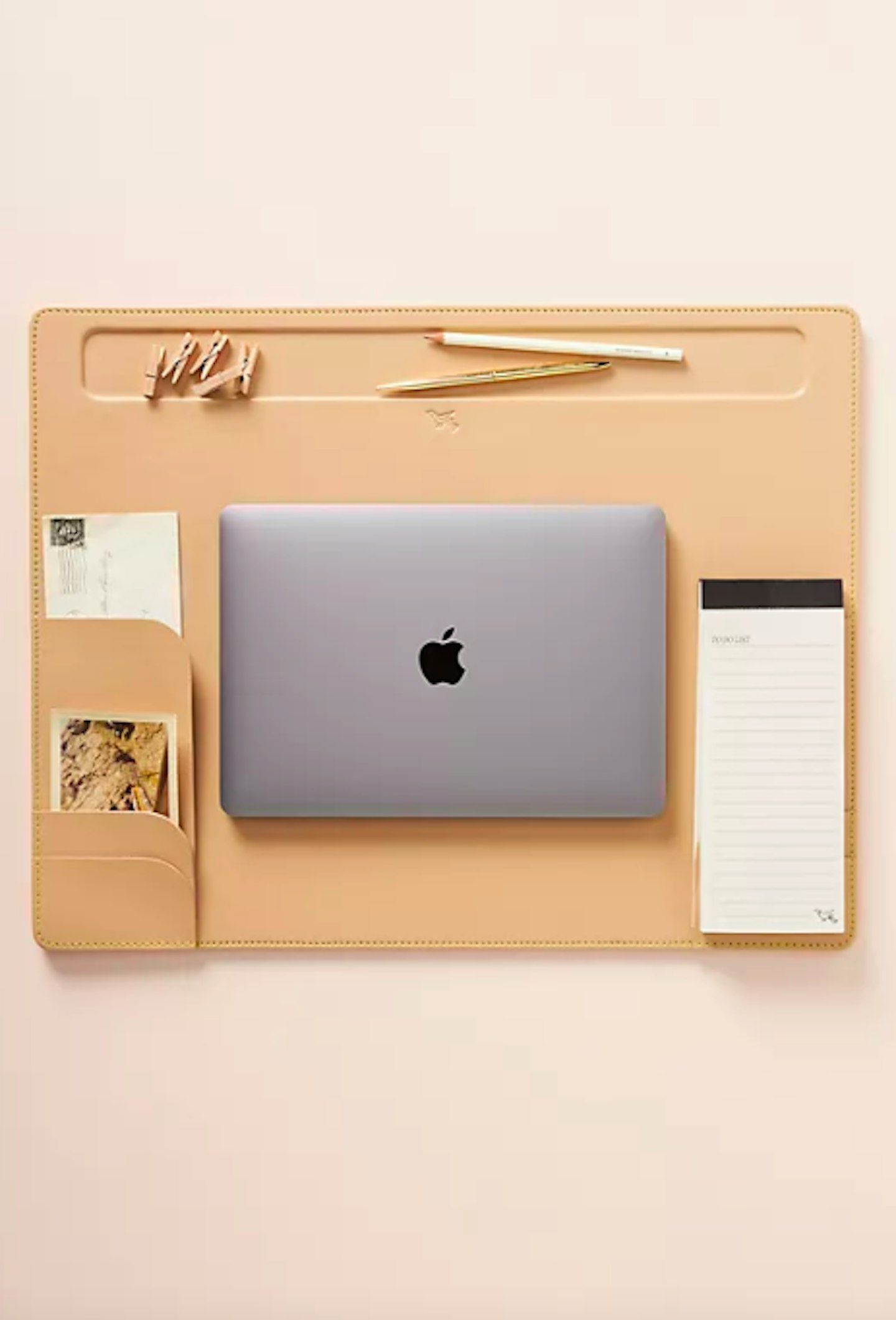 2 of 18
Anthropologie, Maren Leather Desk Blotter, WAS £96 NOW £67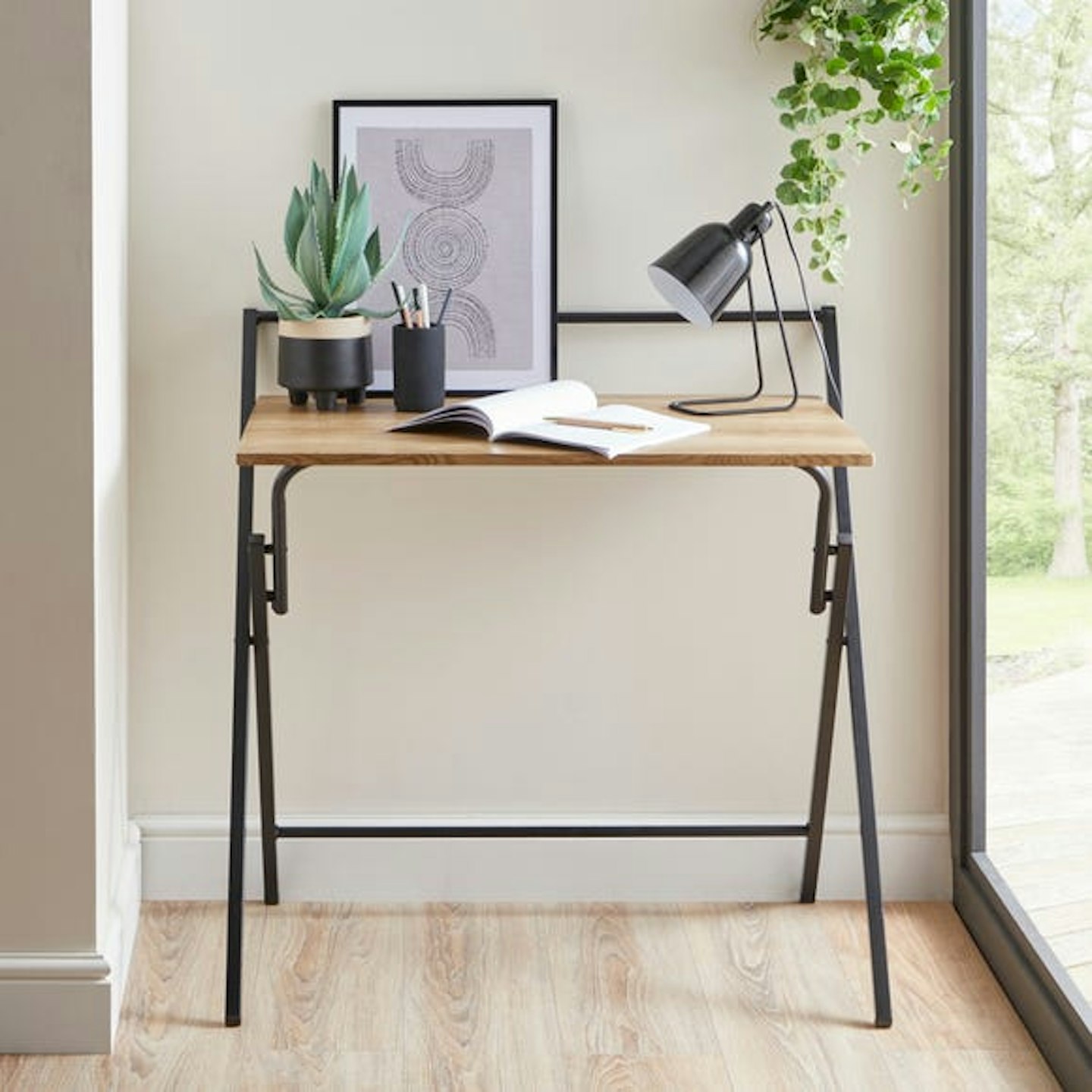 3 of 18
Dunelm, Evelyn Oak Effect Folding Desk, £49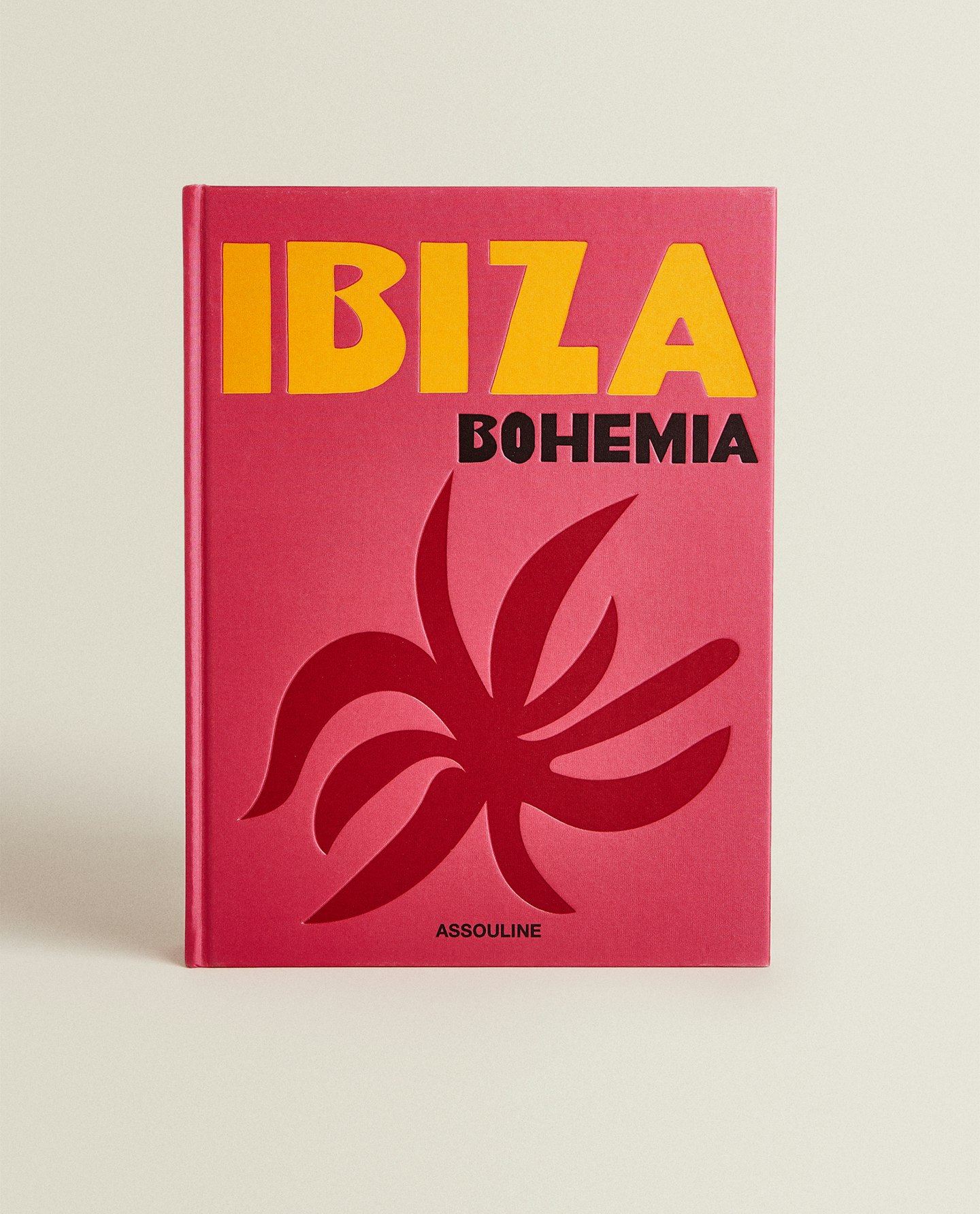 4 of 18
Zara Home, Ibiza Travel Book, £70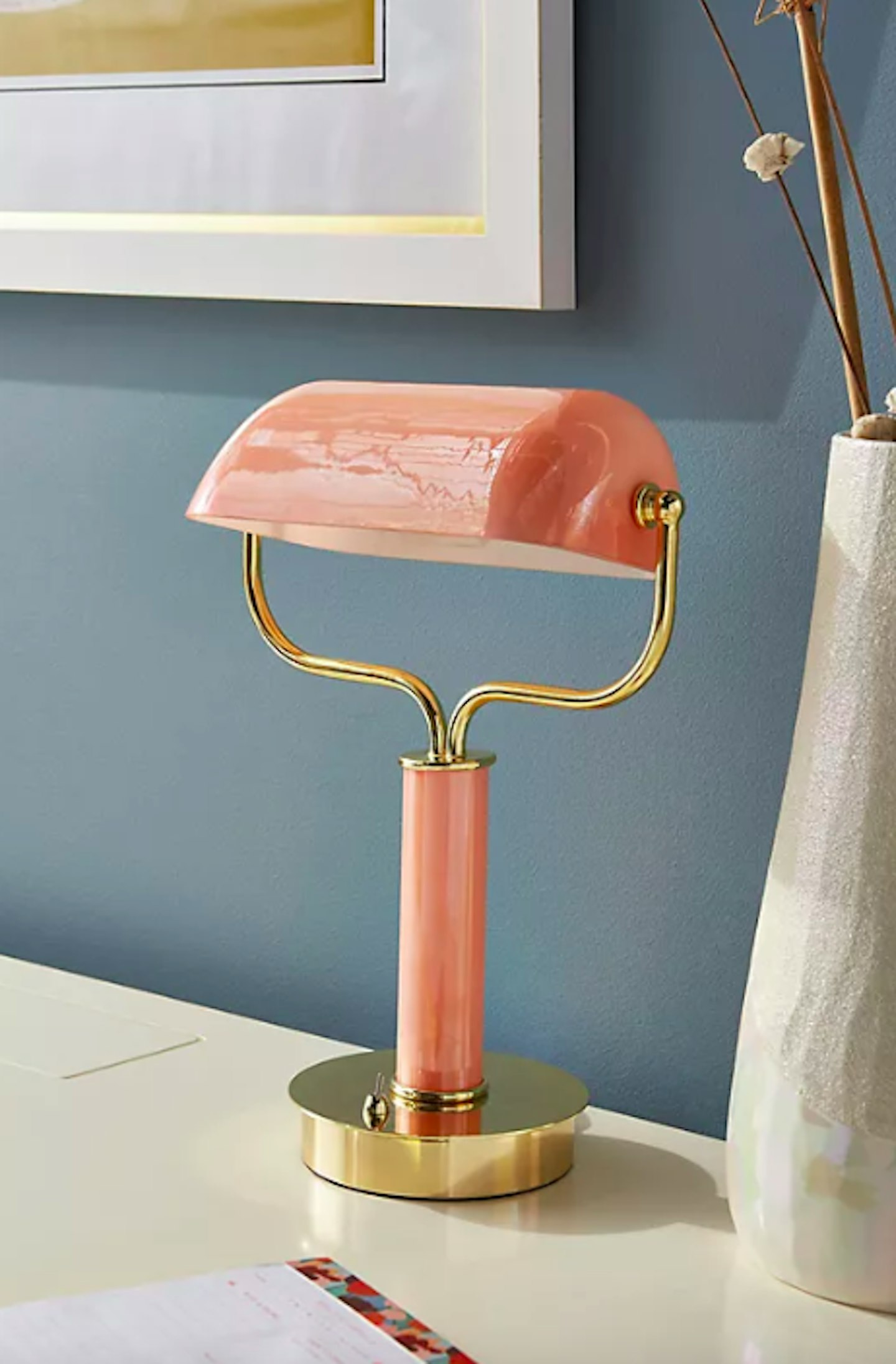 5 of 18
Anthropologie, Bethany Task Lamp, £178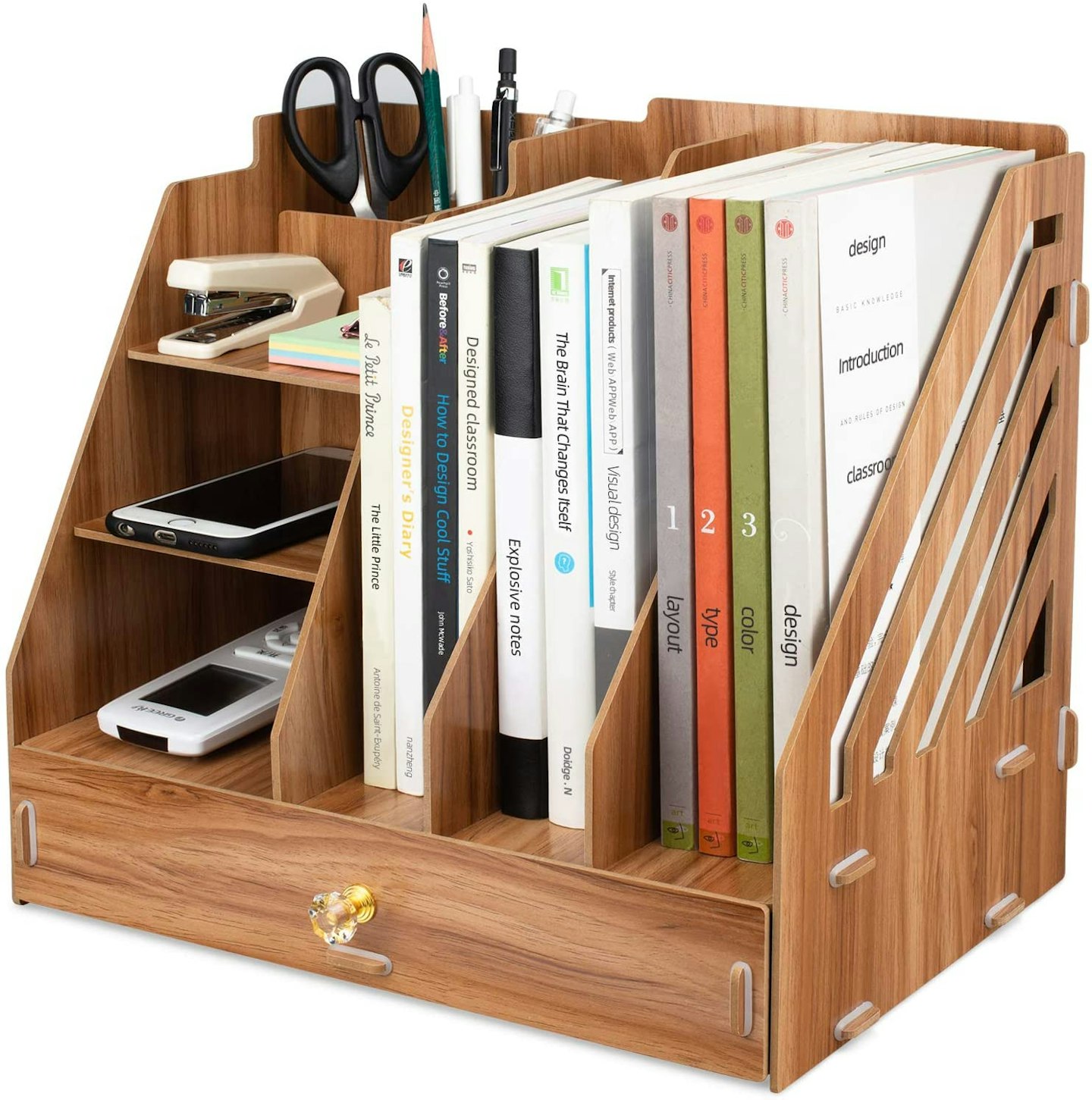 6 of 18
Amazon, Office Wooden Stationery Desk Tidy Storage Organiser, £16.99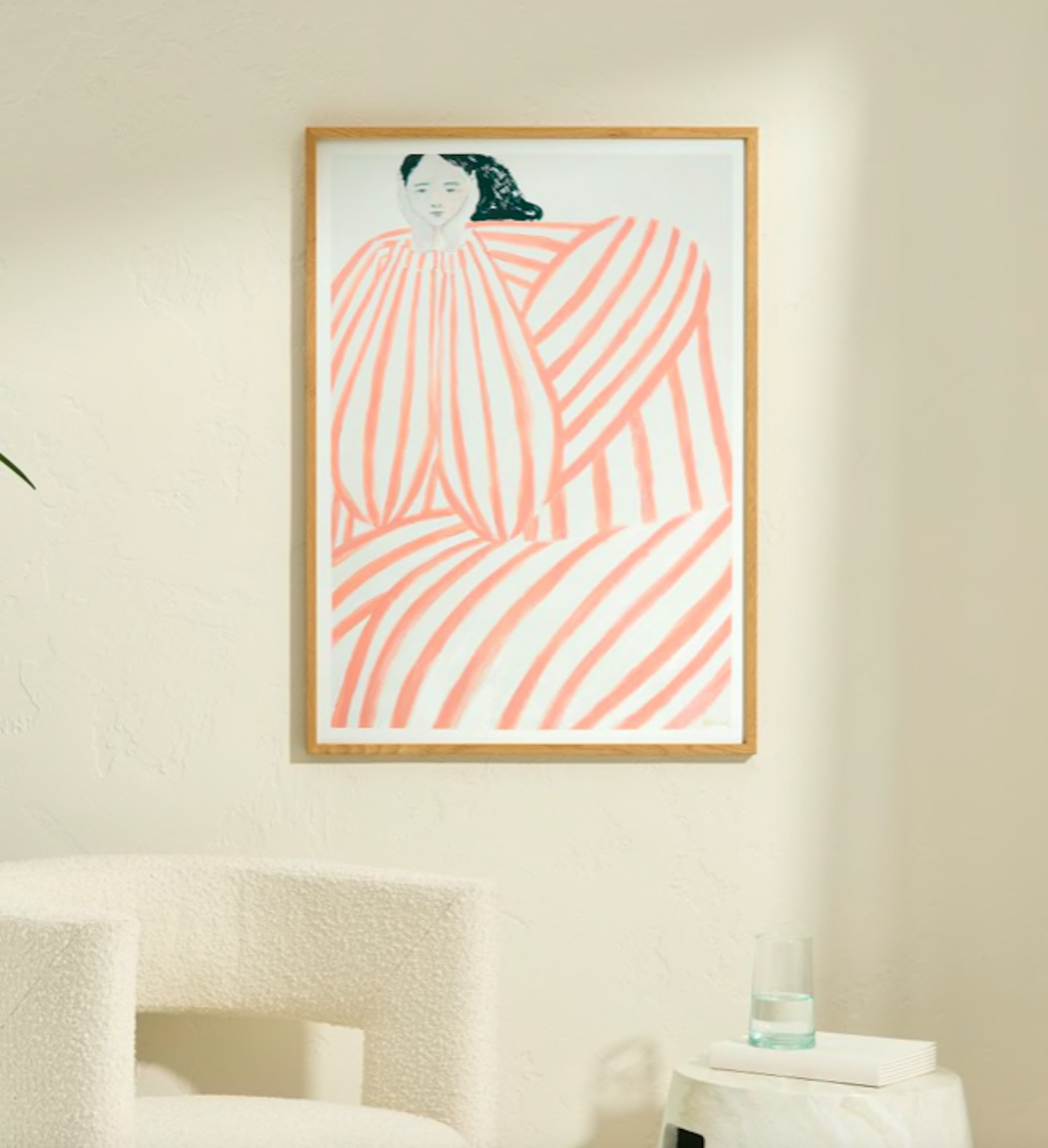 7 of 18
MADE, Still Waiting Print by Sofia Lind, £79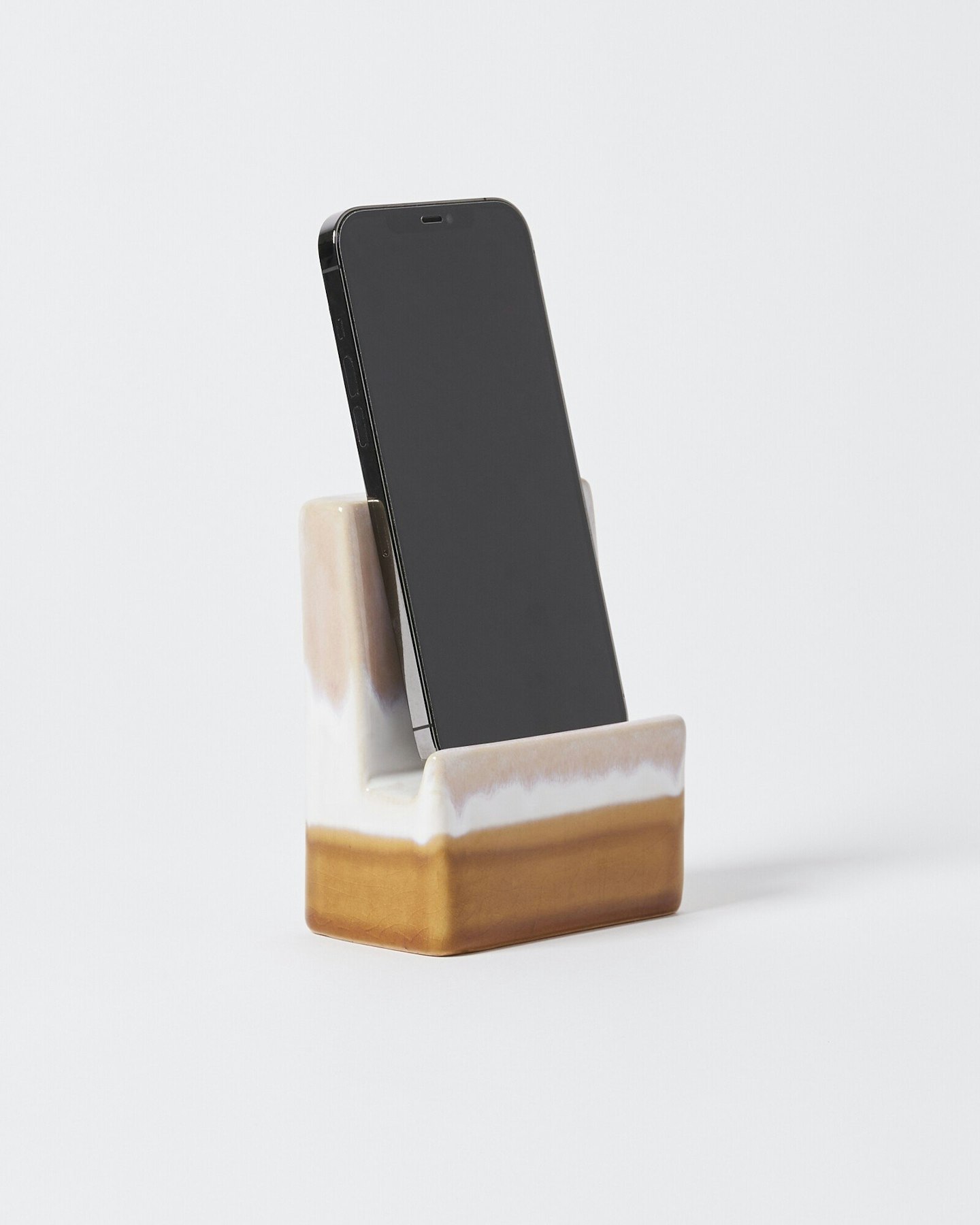 8 of 18
Oliver Bonas, Ebel Pink Ceramic Phone Stand, £15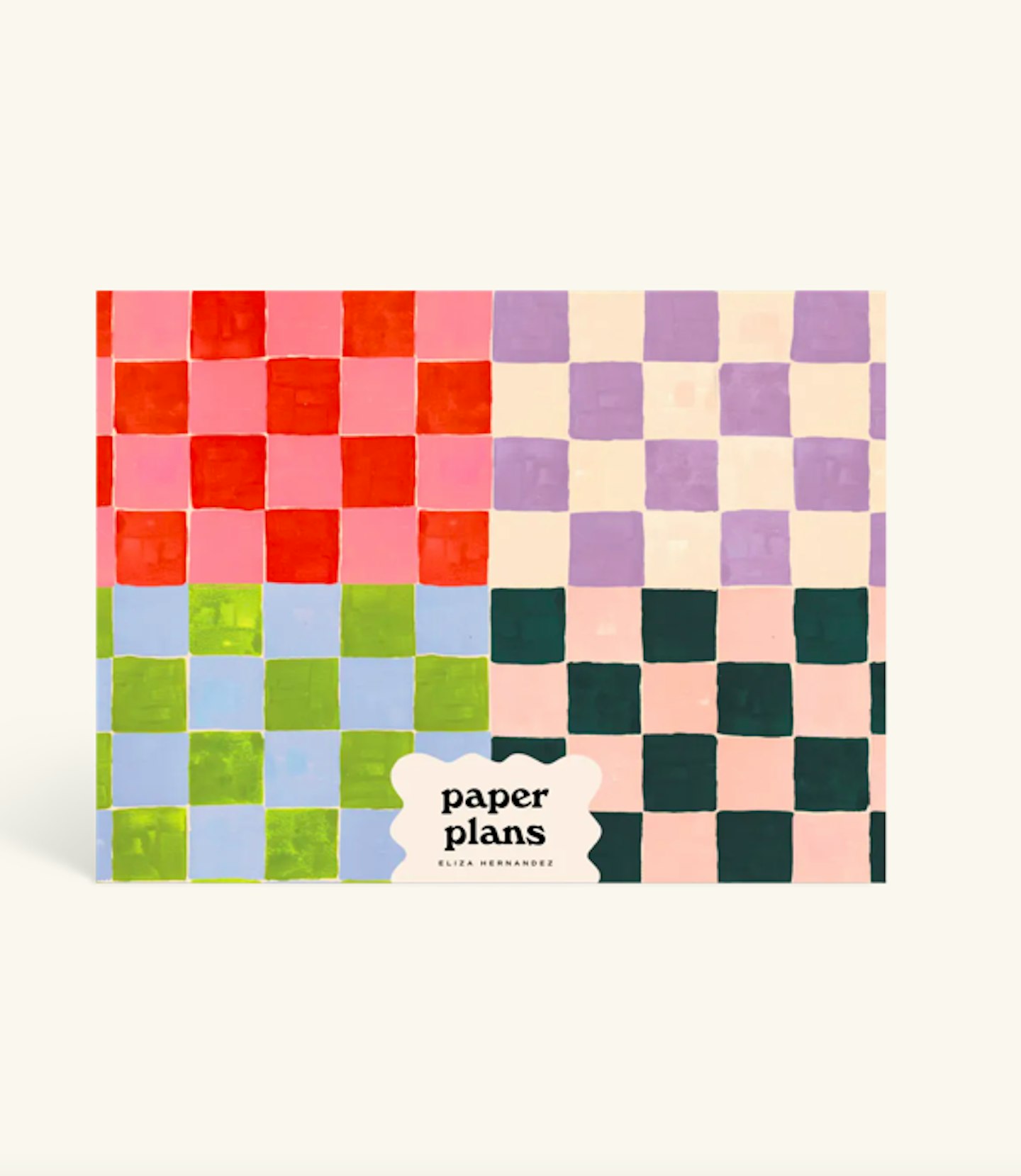 9 of 18
Papier, Growth Weekly Desk Planner, £21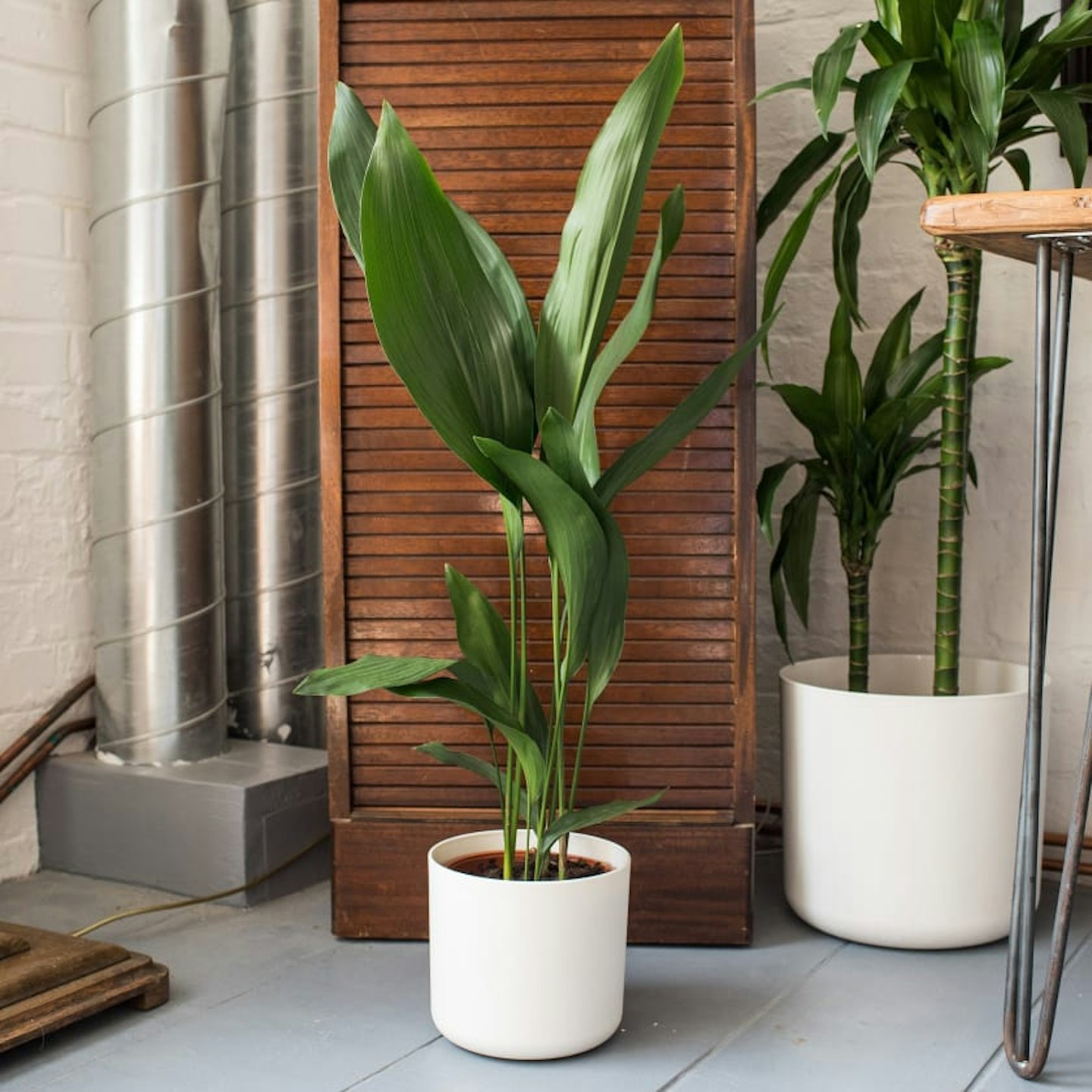 10 of 18
Patch Plants, Howard Aspidistra, £40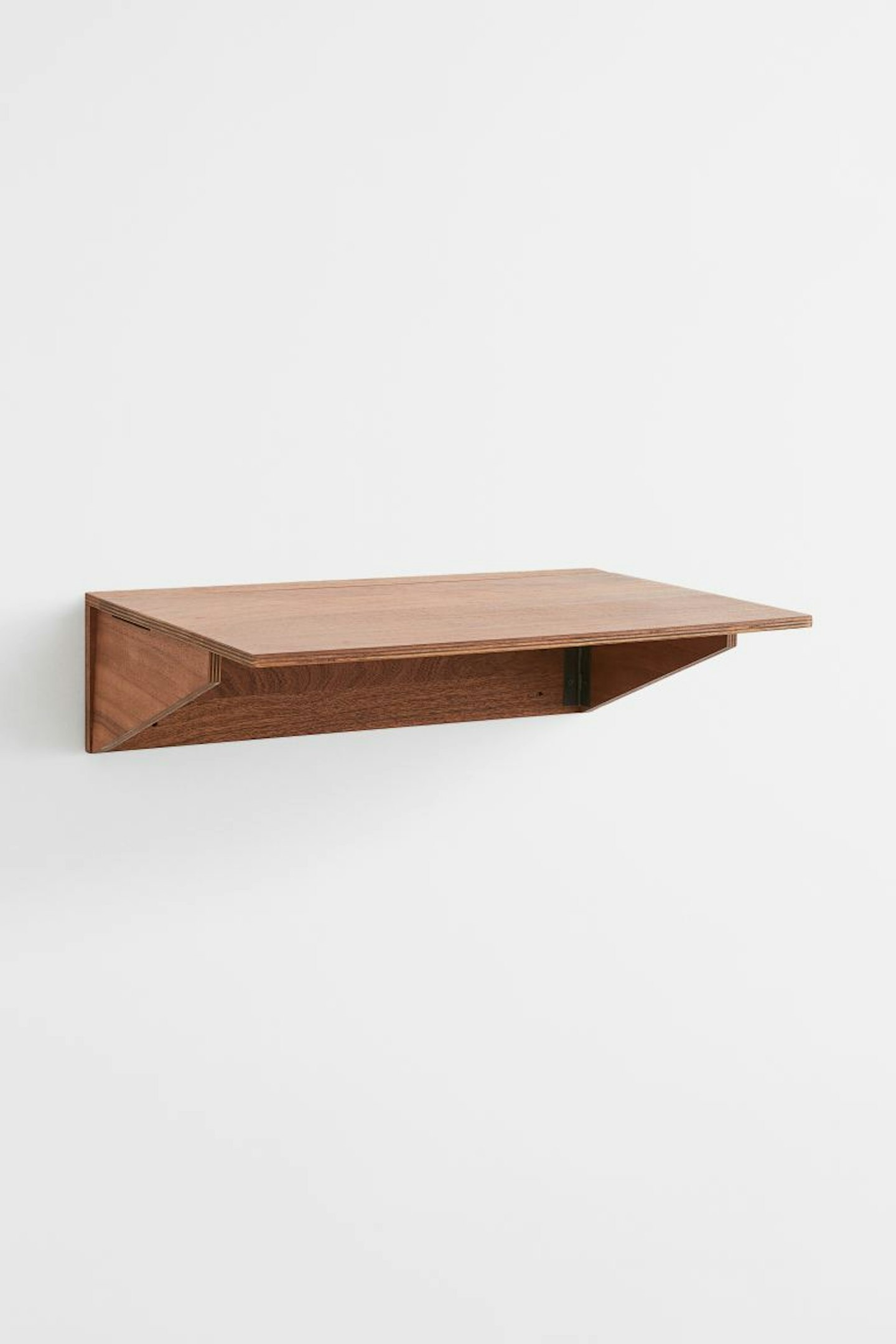 11 of 18
H&M, Wall-hanging desk, £39.99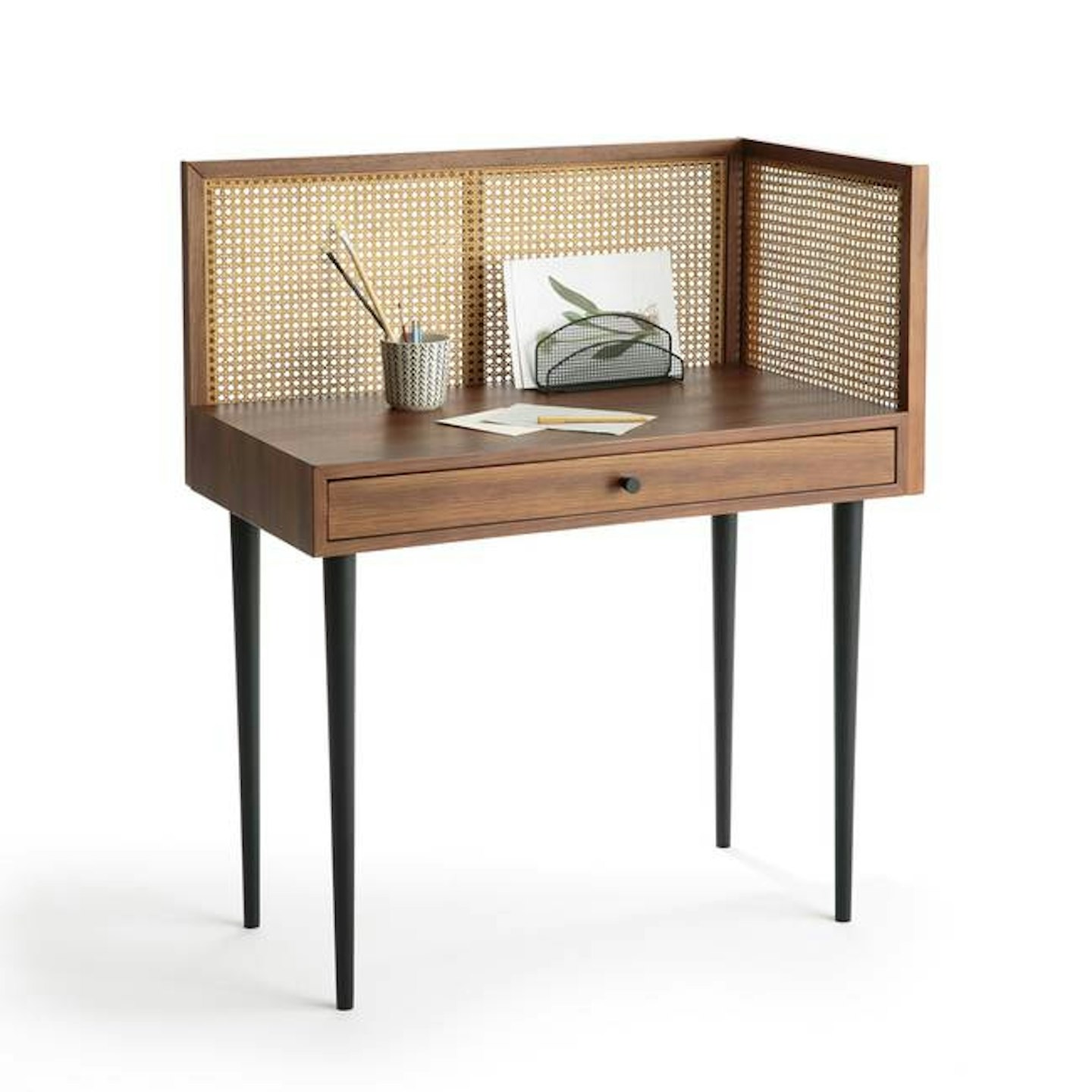 12 of 18
La Redoute, Noya Vintage Desk with Rattan Panels, WAS £450 NOW £292.50
13 of 18
Tikamoon, Sona metal square Shelf, £89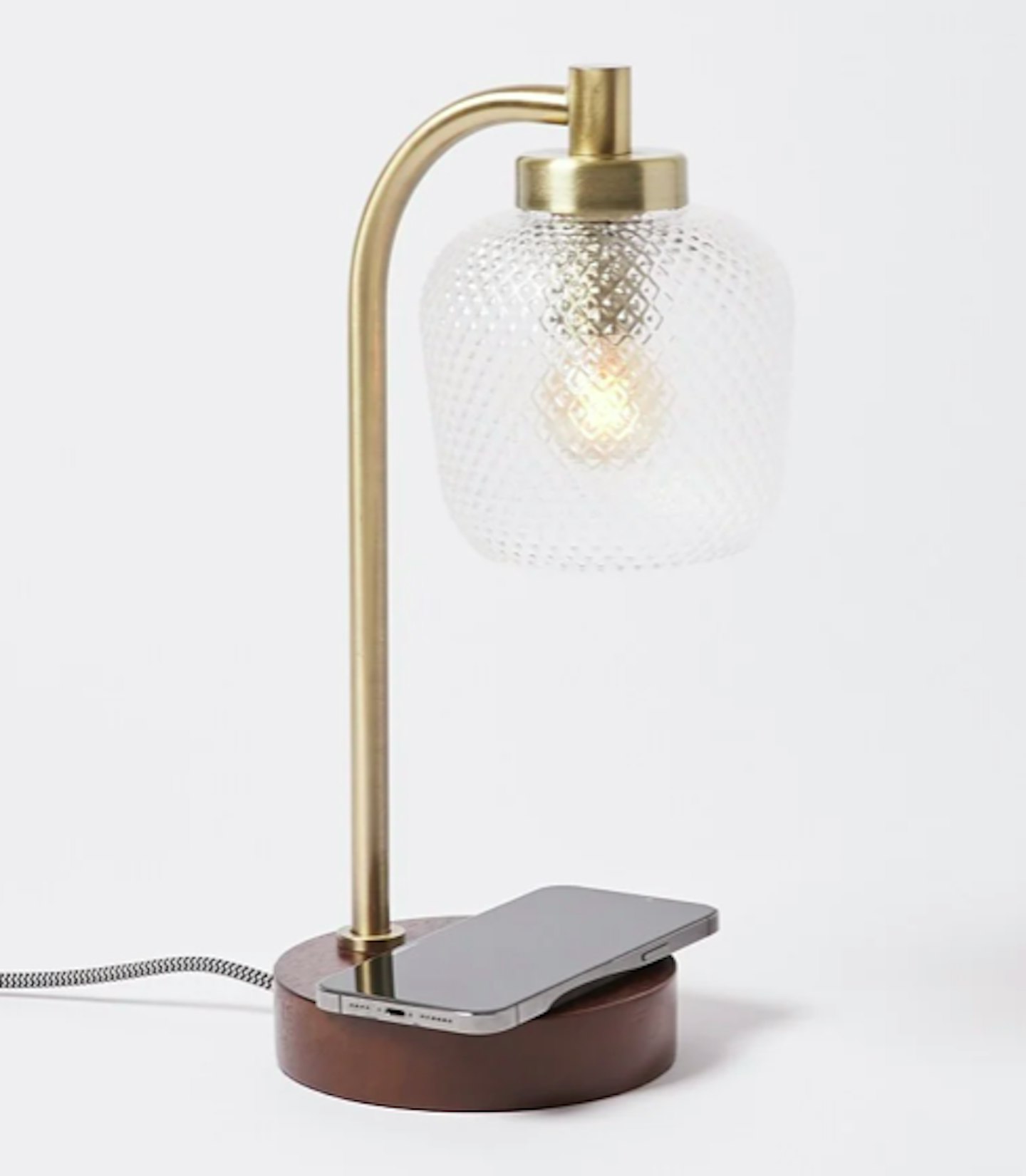 14 of 18
Oliver Bonas, Luce Gold Glass & Wood Wireless Charging Desk & Table Lamp, WAS £115 NOW £78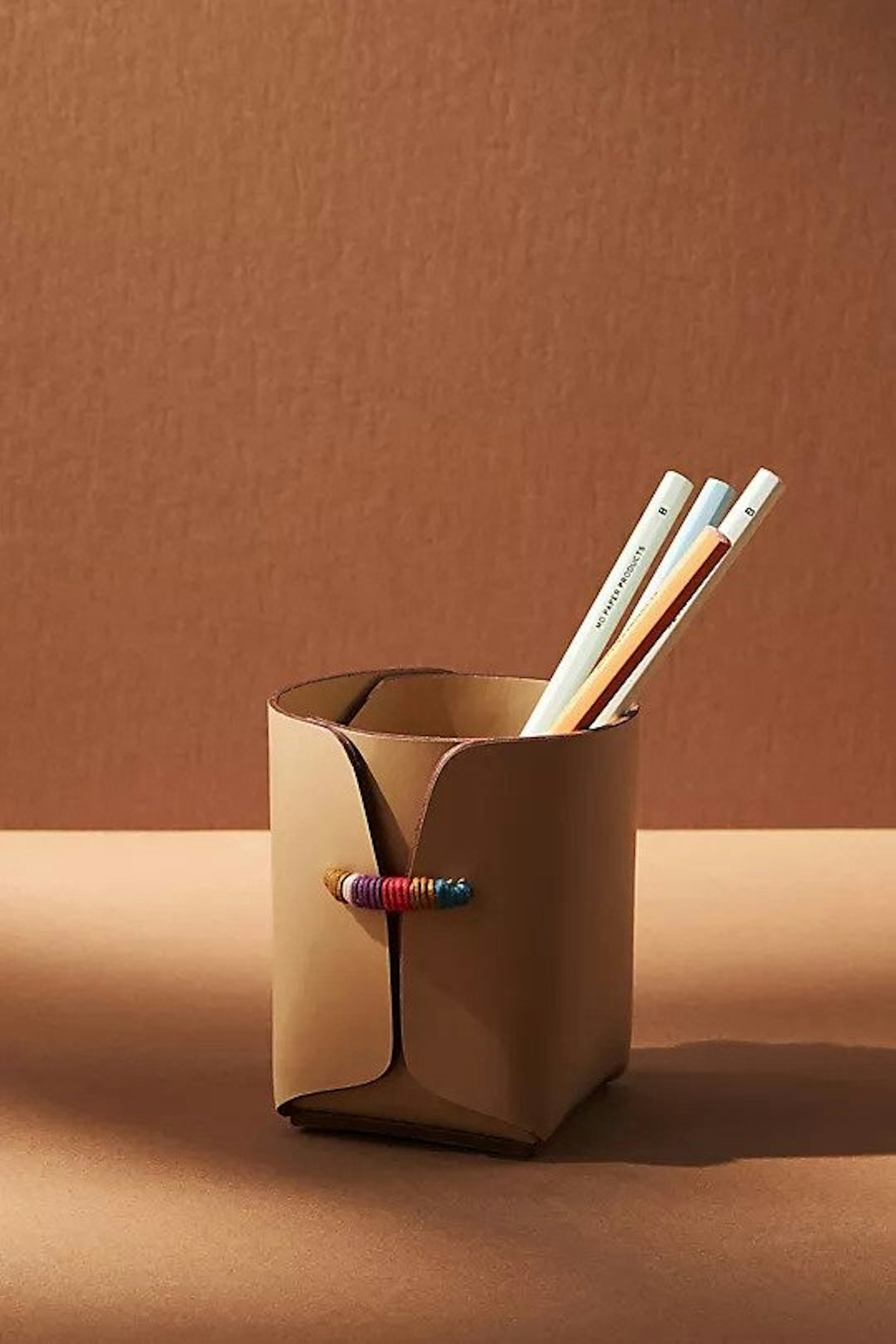 15 of 18
Anthropologie, Viv Leather Pencil Cup, £36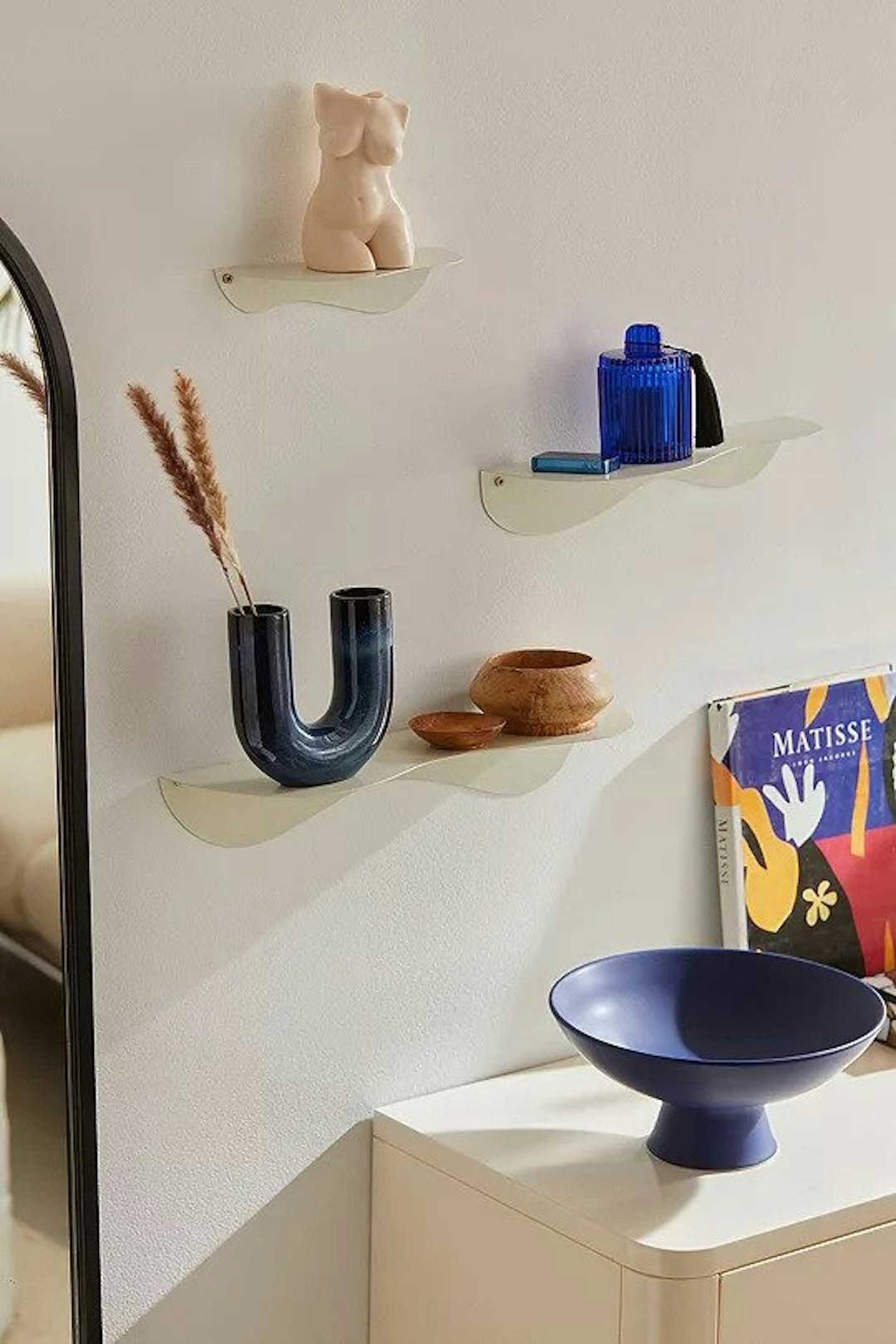 16 of 18
Urban Outfitters, Maeve Medium Wall Shelf, £25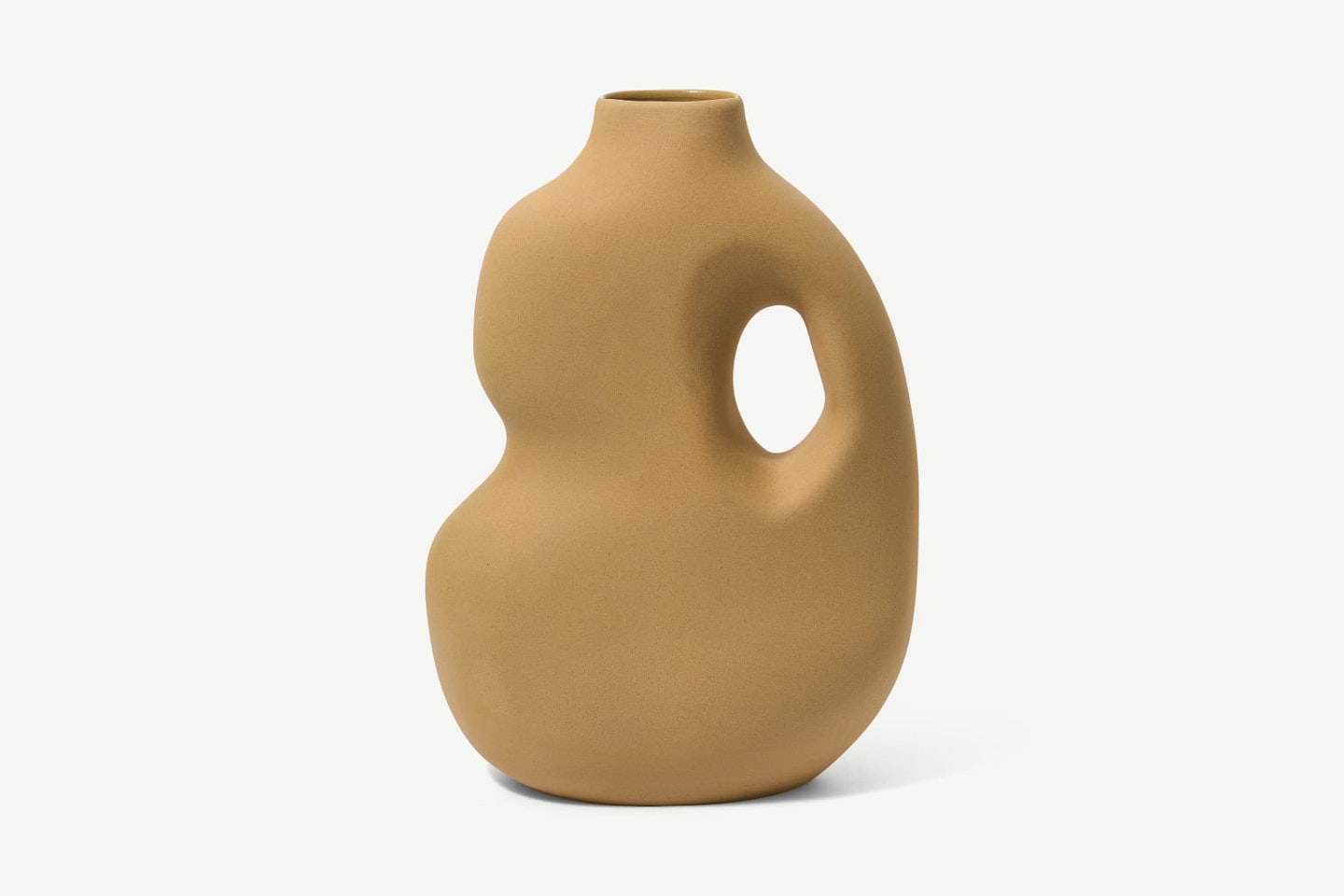 17 of 18
MADE, Aura Vase 2, Mustard, £77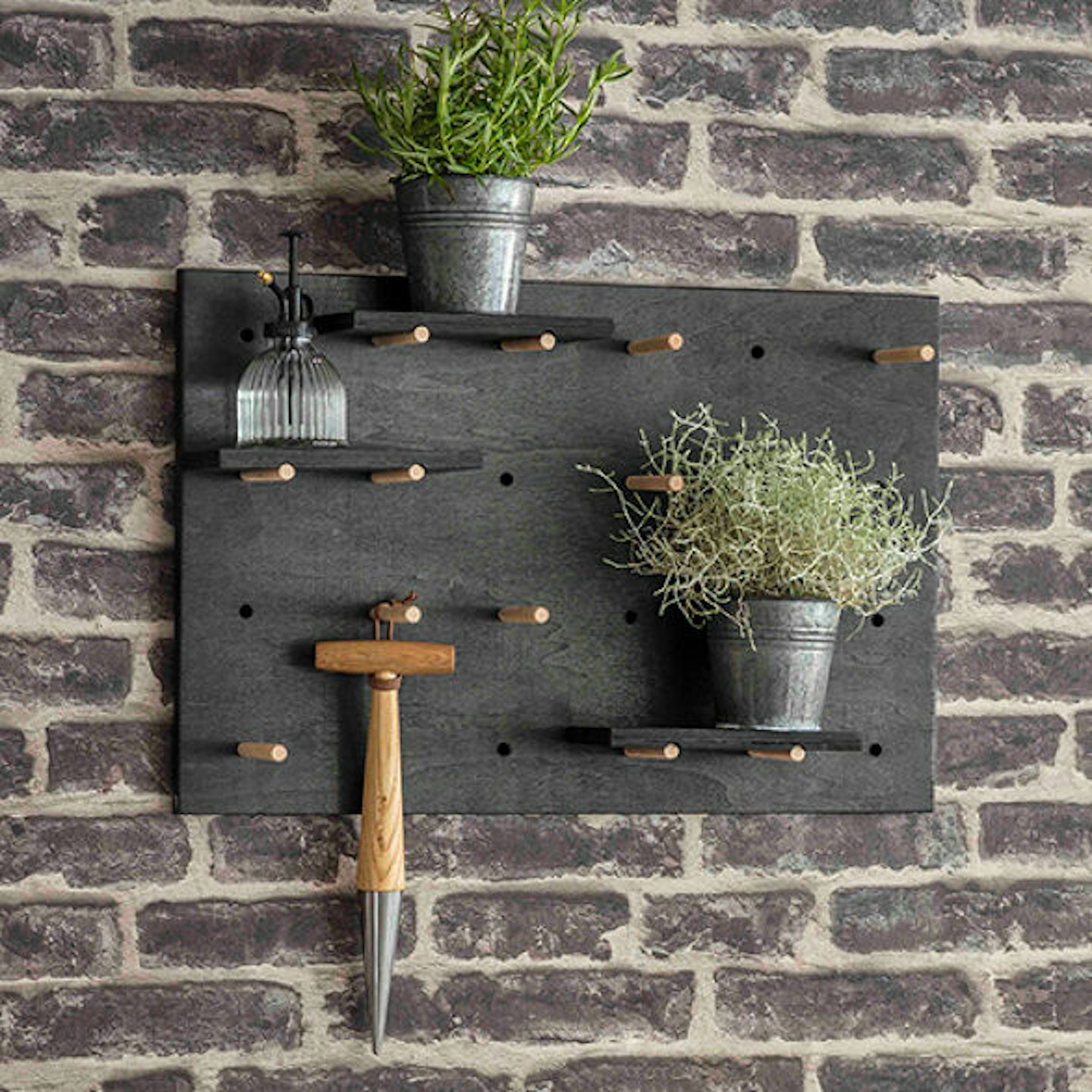 18 of 18
A Place For Everything, Wooden Pegboard - Moreton, £35
READ MORE: If You're Working From Your Bed, Why Not Create A Chic Home Office Instead?