However we emerge from this current lockdown, working from home is likely to remain the norm for many of us, even if it's just for one or two days a week. Freedom from commuting and the attraction of a more flexible working day means many of us now want to ditch a Monday to Friday office life even when a return is allowed.
Working from home long-term, though, does mean having to switch up from a laptop on the kitchen table and Zoom meetings from the sofa. Invest in a fitted home office and you will be able to work more easily and efficiently, and, crucially, be able to close the door on your working day, both physically and mentally, in the evening.
You can find everything you need for a stylish fitted home office at Wickes which now offers a range of 44 inspiring designs, including integrated workspaces so you can find just the right home office for your space, whether you're looking to kit out an entire room, fit an office into an existing room or squeeze a working area into a small space such as under the stairs. Your home office can be a dedicated working area or a multi-purpose family space.
Take advantage of Wickes' free design service to help maximise the area you have. Their designers can help you create a space that includes a desk designed to optimise posture, plenty of storage and clever lighting such as LED backlit cupboards. Opt for Wickes' installation service and all the hard work will be done for you.
Choose from a variety of styles from classic to modern. Browse the extensive choice of desktop surfaces from solid timber to laminates that include wood and marble-effect which are complemented by a wide range of handles – or opt for a design with no handles at all. Wickes also offers those all-important accessories such as charging stations, pop-up sockets and integrated bins, along with all you need to finish the room, from flooring to paint and wallpaper.
A brilliant Wickes innovation is the home office that's integrated into the kitchen and the Sofia Cream (below) is one of a number of possible design solutions. A multi-purpose integrated design, it can be easily personalised to suit your space – here, with an Apollo Slab Tech worktop in Copper Pearl, it fits seamlessly and stylishly into the kitchen, and combines plenty of surface space with shelving, storage and bespoke lighting.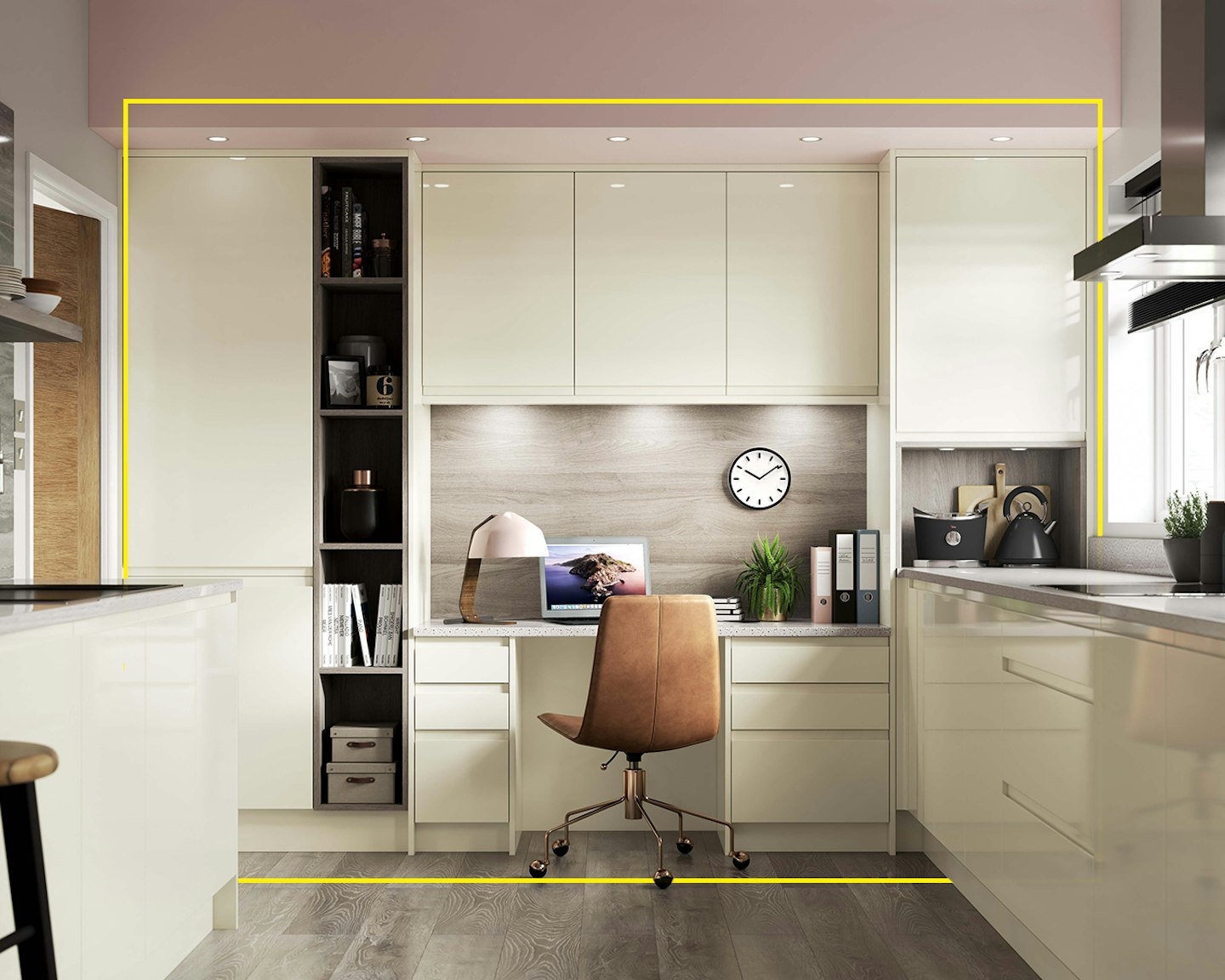 If you're looking for a home office to fit an entire room, the Camden White (below) is a super-chic option. With fingerprint-resistant satin-smooth matt doors, drawers and open shelves, it has a double desk and wide-spanning surfaces.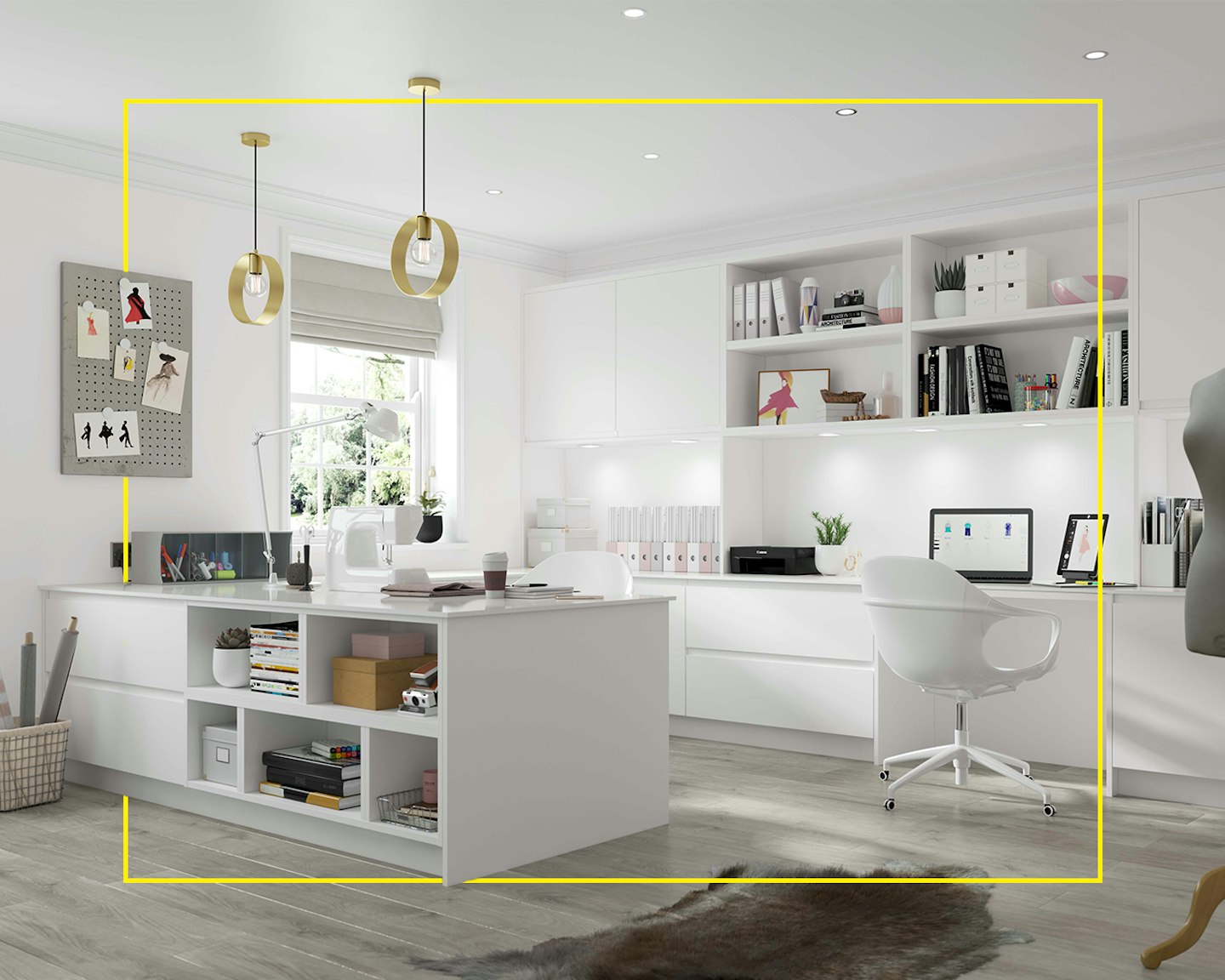 Perfect for a home office located in an attic room is the Shaker-style Tiverton Bone (below). When every inch of space counts, this office has floor-to-ceiling storage solutions, all designed to fit your room's unique measurements and your personal work requirements.
Whatever space you have, Wickes has a fitted home office to fit - perfectly.
Wickes Free Design Service
Your fitted home office begins with an appointment with a Wickes Design Consultant. During the 90-minute meeting, they will listen to your ideas and requirements; they will then use 3D software to design your home office, which you can then amend together. If your home office is being installed by Wickes, a technical survey will be carried out to check measurements and see if any other work needs to be done before the office can be installed. You'll also receive a two-year workmanship guarantee in addition to the one for the home office you have chosen. For more information or to book an appointment, visit wickes.co.uk/designconsultant