Looking for the best wedding dress for your big day is hard enough, but making sure it's a sustainable wedding dress, too is even more of a mission. Pinterest – the modern bride's best friend – has reported that online searches for 'low-waste weddings' have increased by an impressive 235%, while there's been a 41% hike in searches for second-hand wedding dresses. This can hardly come as a shock – our ears are ringing with Greta Thunberg's prophetic words, and we're all attempting to alter our daily habits to ensure we're being as kind to the planet as possible. But weddings have been built into a billion-pound industry – one which is predicated on the very idea of transience: your wedding day is just that, so you may as well make it one to remember.
At the very centre of this is the issue of The Dress, which has become synonymous with expense and single-use. That, however, seems to be changing. We've entered a new era of bridalwear, where what you wear has the potential to become a part of your life – not simply gather dust after it's one and only outing. Whether you;re opting for a boho wedding dress, or a beach wedding dress, it's important to know that you can shop sustainably. Even Princess Beatrice's wedding dress was vintage, after choosing to borrow a dress from the Queen for her secret wedding – a sustainable alternative to the usual royal practice of commissioning one of fashion's most notable designers to create something entirely new.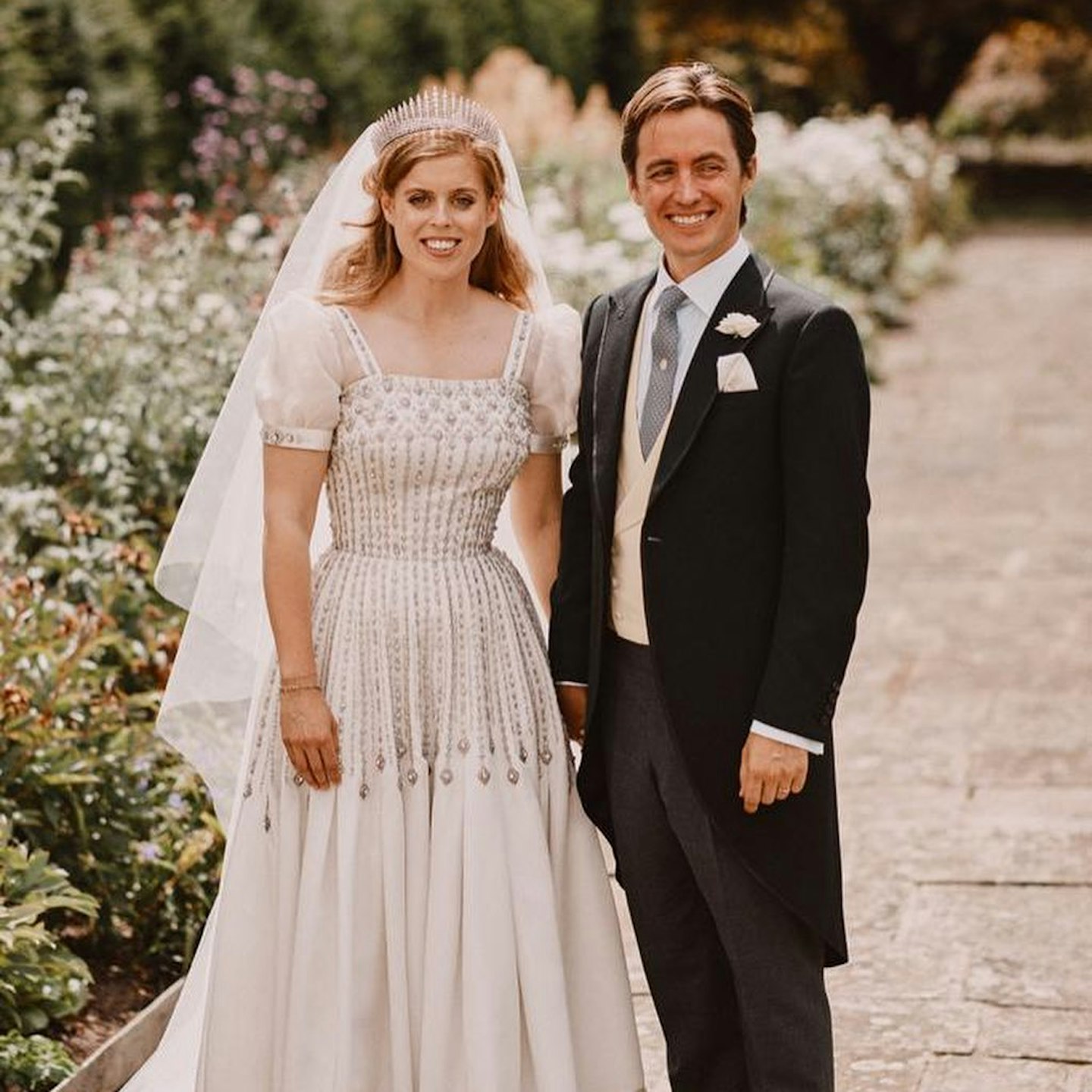 Since then, we've seen retailers get on board. Matchesfashion.com launched its Wedding & Event Dressing edit, a dedicated space for the modern bride comprised of ready-to-wear, accessories, footwear bags and jewellery, including 250 unique pieces created by designers such as Christopher Kane and Vivienne Westwood. There are dresses – of course, there are – like the whimsical romance of Cecilie Bahnsen's square-neck dress or the feathered glory of Taller Marmo's one-shoulder style. But there are also sharp-shouldered suits from Alexander McQueen, crop tops from 16Arlington and wedding dresses with pockets (!) from Vivienne Westwood – pieces which would all have a life far beyond the wedding day.
SHOP: The best Sustainable Wedding Dresses
Editor's Choice
Description
Needle & Thread's responsibly made off-shoulder gown is show-stopping enough for your bridal look
Description
Searches for short wedding dresses are on the rise, and this Molly Goddard number is one of the
Description
Rixo's own co-founder, Henrietta Rix, changed into this dress on the evening of her wedding and
Description
Dress this Vivienne Westwood dress up for your wedding day with a veil or cape and then enjoy
Description
You can shorten this Solace London, One Shoulder Gown after your big day for the ultimate party
Description
For any non-traditional brides (or those looking for a second-party look), Margiela's gathered
Description
If you're looking for a bridal look that doesn't include a dress, McQueen's trousers will do the
Sustainable wedding dress inspiration
Having a sustainable wedding dress was extremely important to climate activist Venetia La Manna, who wanted her wedding day to be as low-waste as possible. 'My main dress was made by Jane Bourvis, who has the most unbelievable selection of vintage and antique lace,' she says. 'For the evening, I rented a beautiful bright yellow dress from Hurr that I absolutely loved wearing.'
In many ways, La Manna represents the new order, which tries to, ahem, marry the growing need to live more sustainably without sacrificing the glamour and romance of a wedding day. Danielle Copperman is another bride who had sustainability at the forefront of her mind.
She had three different dresses: one for her civil ceremony, one for a bigger ceremony and one for an evening look. The two dresses she wore for her ceremonies were crafted from deadstock material, while the party dress was a second-hand find on eBay. So, if you're considering multiple dresses (a day before the wedding dress, for example) it's even more important to make sustainable choices.
Hannah Banks-Walker is the Head of Fashion Commerce for Grazia, where she waxes lyrical about midi dresses and tries not to collect any more red lipsticks.