We're making an educated guess that, according to your calendar, 2022 is the summer, autumn and winter of love. In fact, the UK Weddings Task Force (yes that's a thing) forecasts that there will be a whopping 350,000 weddings this year. That's nearly 200,000 more weddings than in pre-pandemic years. And while this is super exciting - let's face it, getting dressed for a wedding is tricky at the best of times, let alone when you're pregnant, staring at your existing clothes and wondering if they'll ever fit you again.
The good news is that it does present the perfect excuse to go shopping – an activity anyone can get on board with. Since you'll probably have less stamina for browsing while you're pregnant, it pays to do a bit of research in advance and consider your options before you set out. That way, you don't waste time marching around stores that don't stock maternitywear or trying on items that just won't work with a bump.
Here are a few things to bear in mind before you splash the cash…
Watch The Waist
There will come a time when you're growing bump might start to strain against your waistline, which won't be comfortable for a long day of celebrations, trust us. Dresses with an empire-line that are cut under the bust are much easier to wear as they'll flow over your tummy and be much less constraining.
Floaty Is Your Friend
Kaftan and smock-style dresses are not only super-chic, but are preggo-friendly too. You'll find lots of great floaty dresses this season; stylish but also great bump-coverers.
Size Is Just A Number
Not all shops stock a dedicated maternity dress range but you can still find items in non-maternity collections that would work, provided you go up a couple of sizes. Shape and fit is much more important than size here, so make sure you opt for a style that makes you feel comfortable and try it on in a couple of options if necessary.
Longer Is Better
When shopping for dresses, look carefully at the hemlines and make sure you have a bit of slack built in for when the bump gets bigger. If necessary, go a size up to get the length right.
Don't Be Afraid Of Bodycon
There's nothing more beautiful than a bump so don't feel conditioned to hide away in layers of tulle if that's not your style.
And finally, why not consider renting? Not only is this better for your purse, but it's kinder on the environment, too - plus you can borrow a dress from around £20, in any size required for your whatever stage of pregnancy you're at - win-win.
SHOP: What To Wear To A Wedding When You're Pregnant
SHOP: Maternity Wedding Guest Style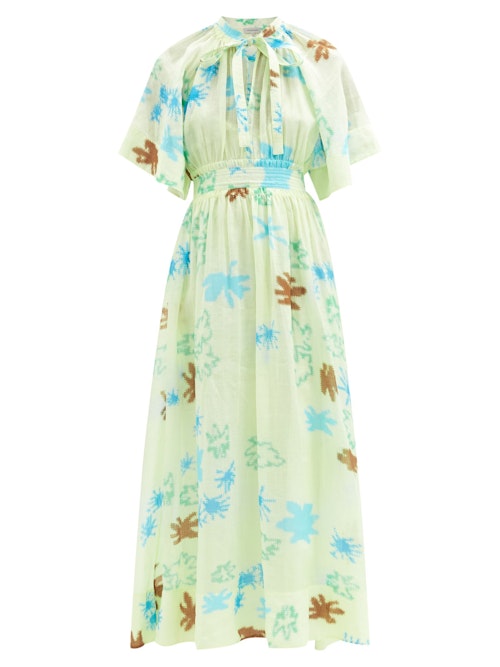 1 of 9
Lee Mathews makes the most amazing all-year-round dresses to wear on repeat.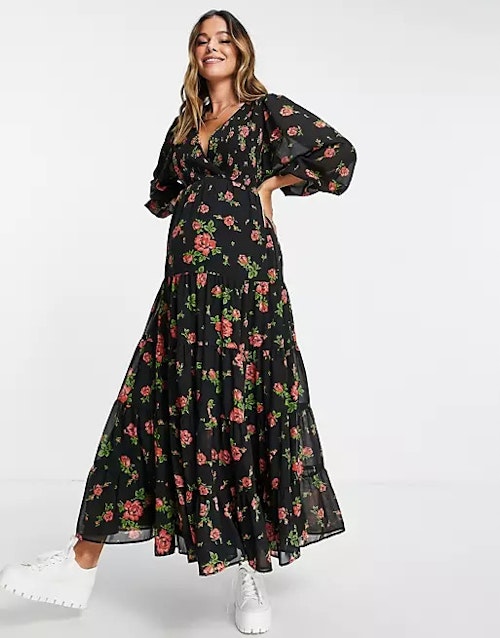 2 of 9
ASOS has a great maternity edit - and this rose-bud print gets our vote.
3 of 9
Designed to sit on the looser side of things, this silky dress is perfect for wedding season.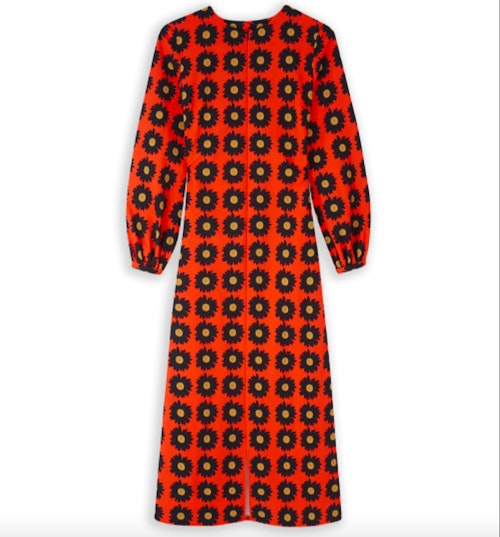 4 of 9
Made of stretch fabric, Phoebe Grace's daisy-print dress is a maternity option that can be worn with (and post-) bump.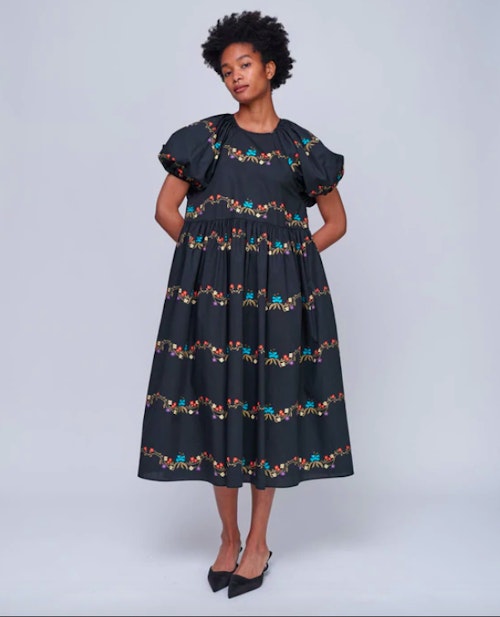 5 of 9
A T-shirt-style dress is always a great option.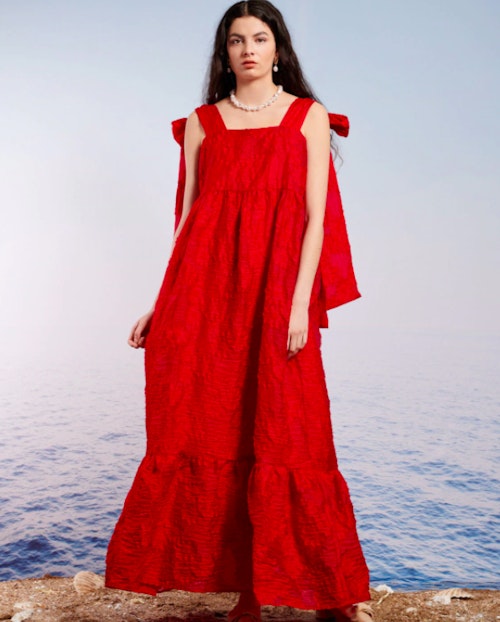 6 of 9
How glorious would this tiered dress look for a destination wedding?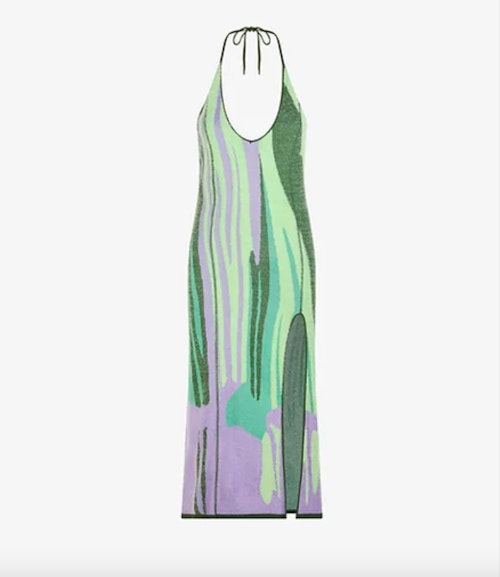 7 of 9
This dress' stretch-knit is perfect to wear during and post-pregnancy.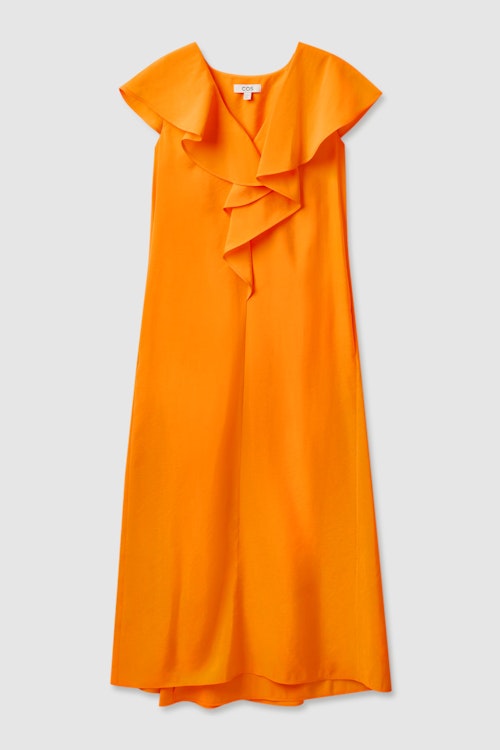 8 of 9
This ruffled maxi dress in tangerine is the definition of easy, breezy.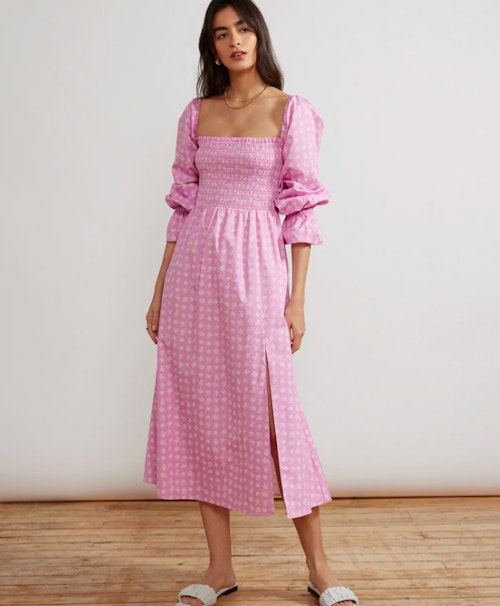 9 of 9
This square-necked, shirred dress is a winner.