It is a sunny spring day in her London office, and Victoria Beckham is holding her immaculately manicured hands in front of her, gesturing as if she were stroking and squeezing a football. Or perhaps a giant peach.
'Every woman wants a nice, round, curvy bottom, right?' she says. 'For that, you need a really tight knit that nips you in at the waist and holds you in all the right places.
You need fully fashioned details, considered and perfectly placed to create a really flattering silhouette. That's how you make what I call the ultimate sucky-sucky dress.'
The more official name for the 'sucky-sucky dresses' that are inspiring Victoria to caress an imaginary derrière for my benefit is VB Body, a just-launched line of jersey dresses and separates that are taking the designer back to her bodycon roots. After a decade of pussy-bow blouses and wide-legged tailored trousers, of midi-length dresses and oversized tailoring knits, Victoria is once again embracing the sultry date-night looks with which she first won over a sceptical fashion industry when she pitched up in a hotel room during New York Fashion Week with a clothes rail of va-va voom dresses, back in 2008.
Women want to look healthy and curvy... To have boobs and a bum
Fast-forward to Miami in the spring of 2021. Escaping Britain's never-ending lockdowns, the Beckhams are hanging out en famille in the city where David Beckham co-owns the Inter Miami football team. 'There are a lot of really curvy women in Miami, and they really own it, you know?' recalls Victoria. 'They walk along Miami beach with not a lot of clothes on, and they look fantastic. They show their bodies off with such confidence. I found both their attitude and their style really liberating. And as a mother, I loved that Harper was around women who were really celebrating their curves and enjoying how they look.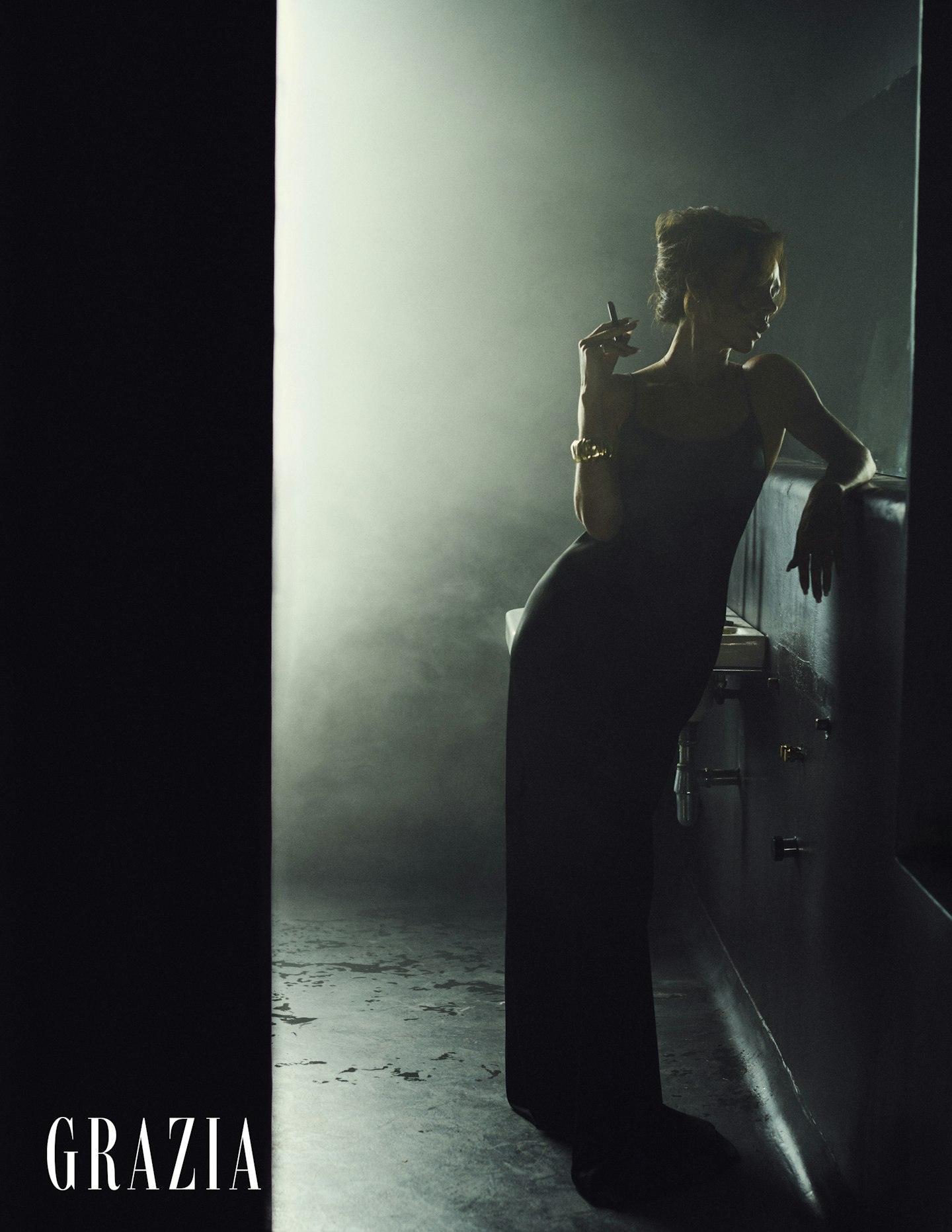 Slip dress, £850, Victoria Beckham; bangle, £775, Saint Laurent
'It's an old-fashioned attitude, wanting to be really thin,' Victoria adds. 'I think women today want to look healthy, and curvy. They want to have some boobs – and a bum.' On her ring finger, a diamond the size of a Jelly Baby catches the light as she squeezes her imaginary peach for emphasis. 'The curvier you are, the better my VB Body dresses look.'
Dressed all in black, with thigh-high Balenciaga stiletto stocking boots under a long split skirt and silk blouse from her own collection, Victoria appears as slender as ever. When I point this out, she shrugs. 'It's not about being a certain size. It's about knowing who you are and being happy with who you are. I have found my own balance between wanting to have fun and being disciplined about eating healthily and working out. When you're younger you fight against that balance, but through being older I've reached a place where I know what that balance looks like. I just know what works for me.'
But she also wants 'as good a bottom as I can get' – to which end, she's been doing a lot of squats every morning. After years of doing Tracey Anderson's method 'and tons of cardio' she has switched up her fitness regime to focus on lifting heavy weights five or six days a week, with David and their personal trainer. 'I've always been a bit scared of weights, but it turns out I love them. I've even got those special gloves to wear! It's good to switch things up and keep your body guessing. I've got so much more muscle tone now,' she says. What's David like as a workout buddy? 'Hilarious,' she says. 'I mean, obviously he's amazing in the gym, but in our sessions he's always the one who procrastinates.'
I was scared of weights, but it turns out I love them. I've even got the gloves!
VB Body will be a 'permanent capsule' collection to sit alongside the fashion-led seasonal Victoria Beckham ready-to-wear collections. Sizes range from a UK 6 to 18; a colour palette has been chosen to work across a range of skin tones, and prices start at £90. On repeat in Victoria's own wardrobe right now is a one-shoulder dress in sunset orange, and black leggings. 'But I want this to be inclusive of body shape, of skin colour – and of budget,' she says. 'This isn't just about me.'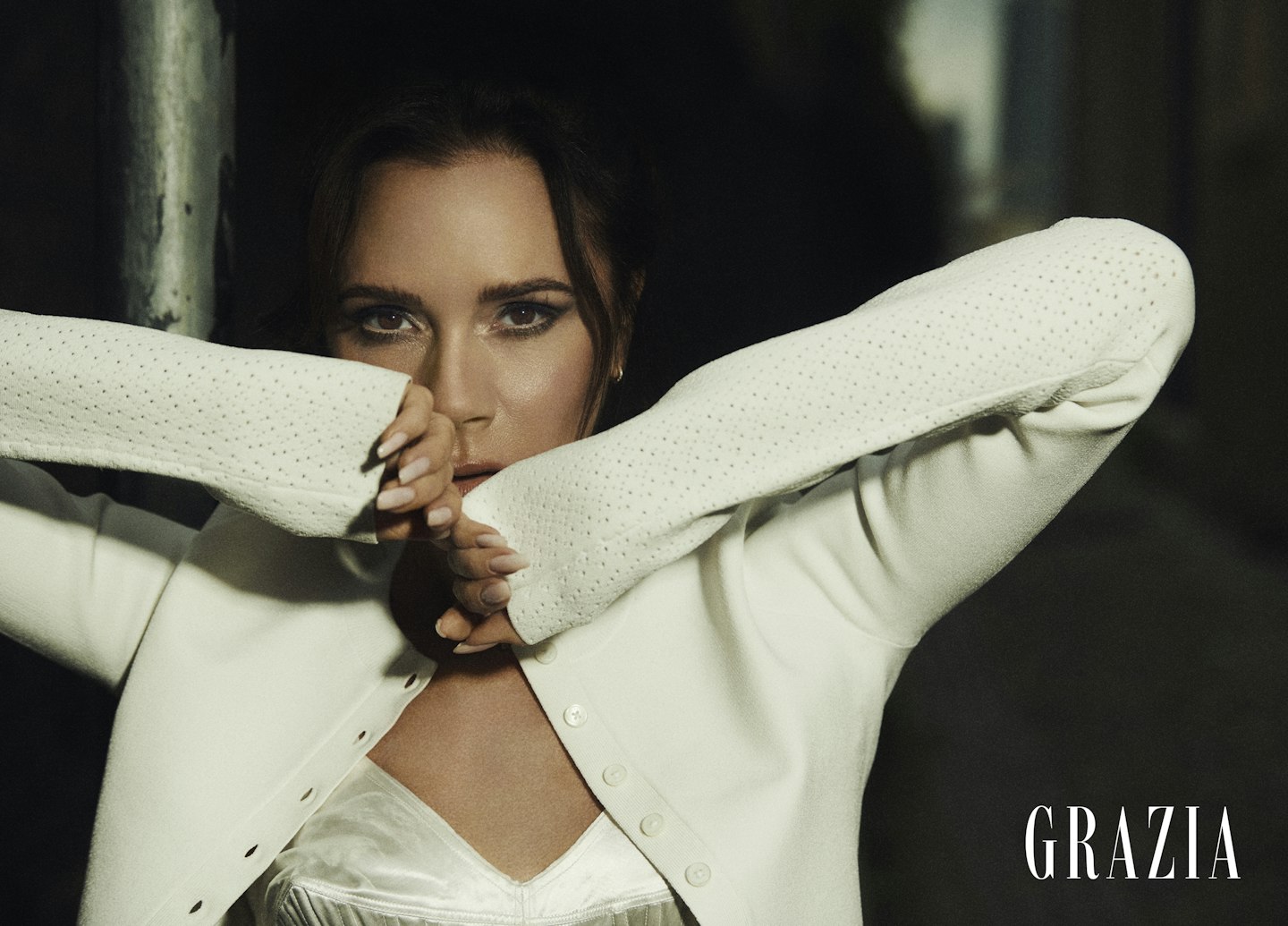 Cardigan, £390, Victoria Beckham; bra, £70 to rent, Found and Vision
Except that the secret sauce of the Victoria Beckham brand, as the designer knows very well, is that it is actually always about her. From Spice Girl to fashion mogul, from being a Wembley Stadium WAG alongside Coleen, Cheryl and co to today's place in fashion's front row, from half of '90s London's hottest couple to the matriarch of a 21st-century transatlantic dynasty, Victoria has always given her public seriously compelling storylines. Which brings us to how she pivoted from floaty dresses to tight ones, before plot-twisting back.
'For quite a few years, the more time I spent working in fashion,' she says, 'the more clothes I wore and I ended up buried under all these "fashion" layers,' she says laughing. 'So last year when I was in Miami and starting to go out again, post-Covid, I wanted a change. I wanted to feel sexy again.' Taking inspiration from her collection of vintage Azzedine Alaïa dresses, she set her factories the challenge of revisiting the form-fitting silhouette with which she first made her name, but this time in knit. 'I love how Azzedine's dresses made me feel. His designs really stand the test of time because the shapes are simple but the technical execution is perfect.' (That perfect cropped black cardigan that made repeat appearances on the recent family holiday on the Beckhams' yacht, Seven? Vintage Azzedine.) 'That's what I want VB Body to be: dresses that you wear time and time again, because the silhouette is timeless and makes you feel great.' And yes, as it happens, David is a big fan of the new look. 'Much as I do dress for myself, I also love the fact that he [David] loves me in these dresses. Men love to see a bit of shape.'
But for Victoria's most high-profile appearance of 2022, there was not a sucky-sucky dress to be seen. For her eldest son Brooklyn's Palm Beach wedding last month, she and her newly appointed design director Lara Barrio created a floor-length slip dress in liquid-effect silk, trimmed with hand-cut French lace. 'It took me quite a while to figure out what I wanted to wear,' she says of her mother-of-the-groom outfit. 'The day wasn't about me, it was about Brooklyn and Nicola. So I wanted to look appropriate, and really to be comfortable and to feel like myself.' Harper, whose 'angelic, sweet and simple' bridesmaid dress was Nicola's vision, loved her role supporting her beloved big brother 'and the whole day, and being able to hang out in Florida with her cousins. They had a wonderful time,' she says.
'It's a big deal, your child getting married. I was very emotional. David's speech was beautiful,' says Victoria. Multi-Grammy-winning singer, close family friend and Cruz's godfather Marc Anthony sang four songs, while Fat Tony got the after-party going. 'Marc and Fat Tony did an amazing job too – they always do. It seems like yesterday that David was holding Brooklyn in his little purple cowboy hat and outfit at our wedding – now our baby is married.'
This summer will be Victoria and David's wedding anniversary. 'And they said it wouldn't last! From the minute we got married – and here we are about to celebrate 23 years,' she laughs. The secret, she says, is 'that we have so much respect for each other. David is an incredible dad, and husband, and he's very supportive of my work. We are really good partners.' Still, she won't be jumping in to offer advice to the newly-weds. 'Claudia and Nelson [Peltz] have also been married a long time, so Brooklyn and Nicola have both seen that growing up. All of us are there to support them.'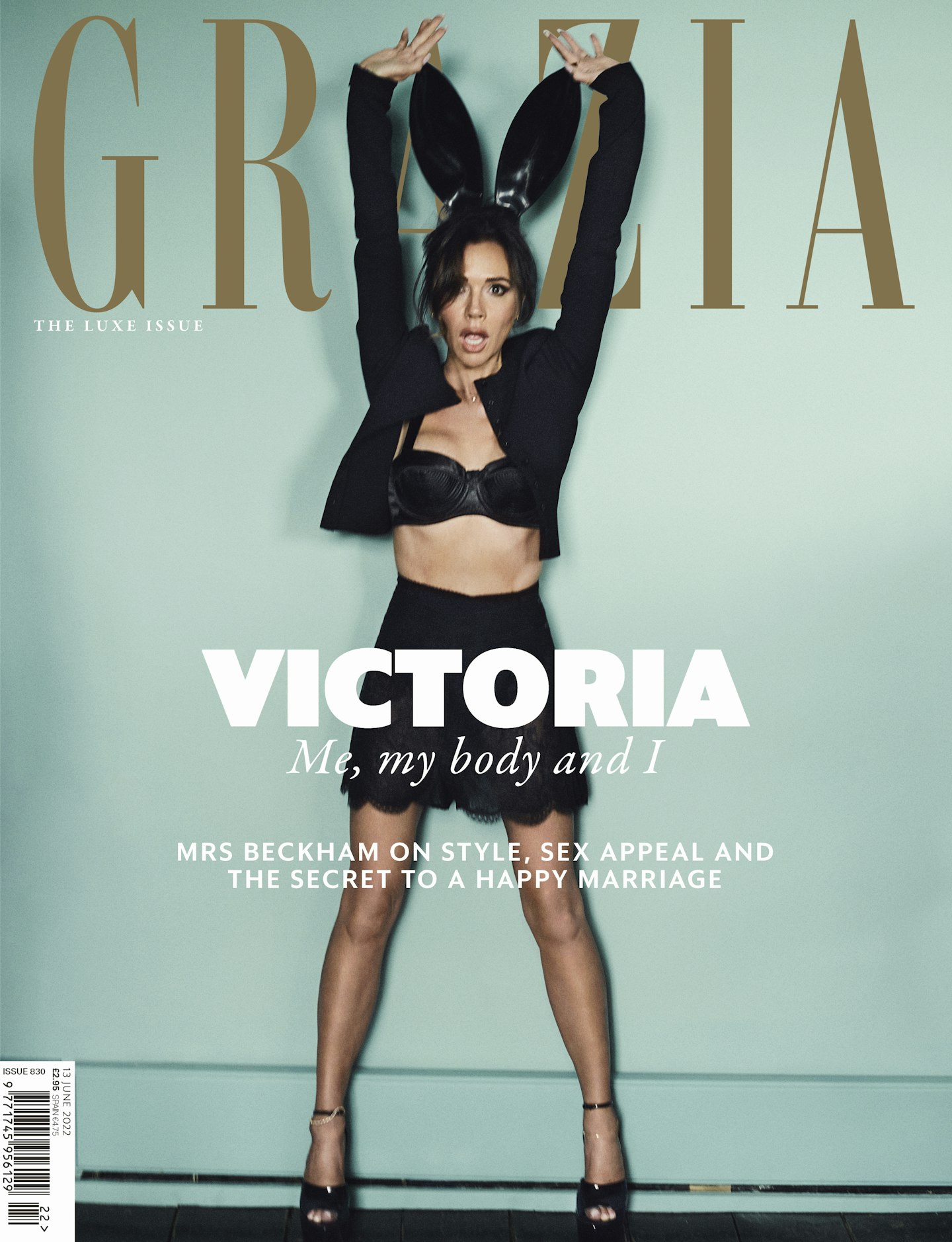 Cardigan, £390, Victoria Beckham; bra, £59.50, and briefs, £36.50, both What Katie Did; lace shorts, £150 to rent, Found And Vision; shoes, £970, Saint Laurent; bunny ears, £204.17, Atsuko Kudo
Back in London, Victoria has been back to the office every day, working alongside Lara. 'She has impeccable taste. We are very aligned in our aesthetic, and she brings a great energy and experience. The team love having her here.' The label, which is yet to turn a profit, had found a growth trajectory in 2019, just before the pandemic set it back again. 'I dress women to go out, to travel, to go out to work – so Covid made us rethink our strategy,' says Victoria. 'The business isn't in a position to do anything huge this year, but I am hoping there will be a presentation or a small show in September.' In a blow to London Fashion Week, she isn't committing to keeping her show in the city where she has been on schedule since 2018. 'We are looking at different options at the moment,' is all she will say. London, New York, Paris... Miami? 'It won't be Miami. But we are still working on the city.'
Victoria's phone rings and Romeo's voice comes down the line from Miami. ('Hi Mum! It's me!') After a quick chat she blows him a kiss and promises to call back when we're done. 'I miss him so much,' she sighs. 'David and I have gone from having four kids at home to having one-and-a-half. Brooklyn and Nicola are going to be living between LA and Palm Beach, Romeo's living in Miami, and Cruz is in-between home and boarding school.' Only Harper, who turns 11 this summer and will start secondary school in September, is still home full-time. 'We all love being in Miami. And my beauty team, which is a super-important part of my business, is based in New York, so I go there a lot, too. But London is where I come to the office every day and where Harper goes to school. This year is a new chapter for my brand, and for our family – but London is still home.'
The VB Body collection is available to buy now; victoriabeckham.com
Photographer: Boo George
Stylist: Luke Day
Photographer Assistants: David Mannion, Sebastian McCluskey, Jake Milsom
Digital Tech: Bror Ivefeldt @slick__studio
Stylist Assistants: Poppy Norton, Remy Farrell
Hair: James Rowe at Bryant Artists
Makeup: Valeria Ferreira at The Wall Group using Victoria Beckham
Nails: Sharon Baker
Creative Director: Caz Roberts
Shoot Producer: Nathan Higham
Social Media Producer: Lillian Sesiguzel
Editor: Hattie Brett
Associate Editor: Jane McFarland