It is nine years since the model Emily Ratajkowski became famous off the back of the video for Robin Thicke's hit song Blurred Lines. The debate that song ignited – about consent and rape culture and the nature of sexiness – raged on through the intervening near-decade, defining Emily's star as it ascended.
She rode – continues to ride – the row deftly, embracing the nuances around it, making both a quasi-feminist statement and a highly lucrative brand identity of it. She wrote a book about it, My Body ('a portrait of the tension between objectification and empowerment', according to The Atlantic), launched a swimwear line and built an influential social media presence, one that has merged so completely with her public identity, she's now more commonly known by her Instagram handle – @emrata – than her actual name. Hers is a potent kind of fame: it's got edge and bite, as well as the standard allure of phenomenal good looks, all of which compels vast swathes of the public to want to look like her – even if they're not entirely sure they agree with everything she says and does.
This should explain her latest project: a collaboration with Superga trainers: 'The genesis' of which, Emily tells me over Zoom, 'came from me just wearing the shoes and being photographed in them in New York. They reached out, and I was super-excited about sticking to the DNA of the brand. They were like, "What are your crazy ideas?" But I just love the simple sneaker. I feel that's what makes them unique, special and kind of outlandish.'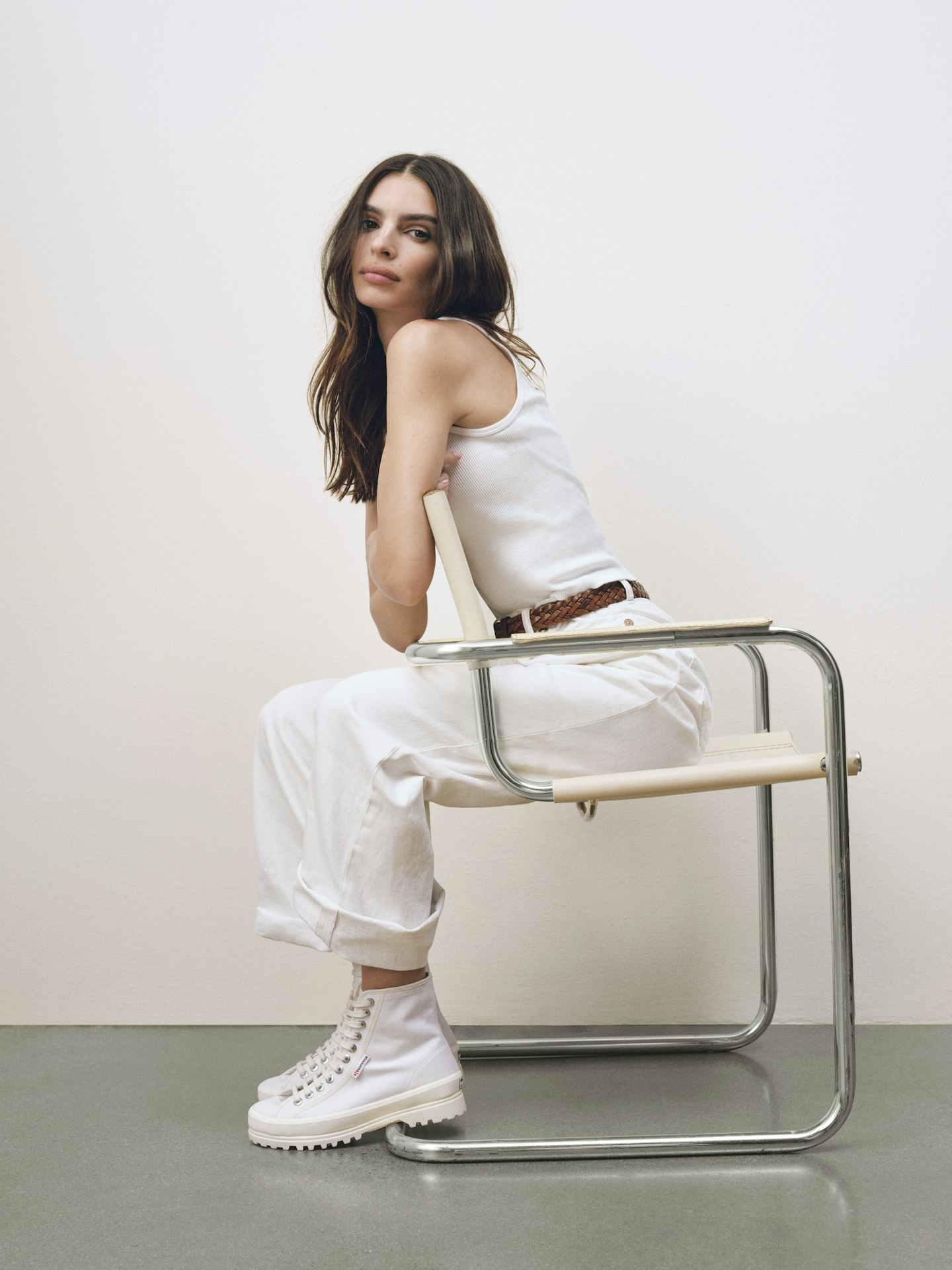 She is heartbreakingly pretty, exactly as you'd expect; her eyes and lips take up most of the screen, but there's space left to accommodate the flawless, poreless wonder of her skin. She's evidently bright – anyone who knows anything about Emrata knows that, especially those who read 'Buying Myself Back', the online essay she wrote in 2020, the starting point for My Body.
And what was the Superga design process, I ask. Furious all-nighters in ateliers surrounded by mountains of crumpled scraps of rejected ideas; all pizza cartons and moments of pure inspiration at 3am? 'It was over Covid, so phone calls and Zoom calls, a lot of emails, exchanging ideas; finessing the final.'
I wonder if fashion is a long-standing passion for Emily. 'When I was eight years old and in third grade, I'd draw sketches. I remember my teacher was getting married, I drew options for her wedding dress. Very ornate. Lots of flowers. I loved the empire waist at that point.' How Bridgerton of you! 'Very Bridgerton.' Did she take you up on any of them? 'No! Then, in high school, I had a serious grunge phase. I was wearing flannels and a little black choker; dresses that were very short but oversized; thigh-high stockings, stuff like that. Then, when I started modelling full-time, I felt intimidated by fashion. I felt there were so many rules. But as I grew up and became more comfortable with myself, more of a woman, I was like, "This can be fun." Breaking the rules intentionally, understanding the history of fashion in the way I hadn't before. Pulling from that.'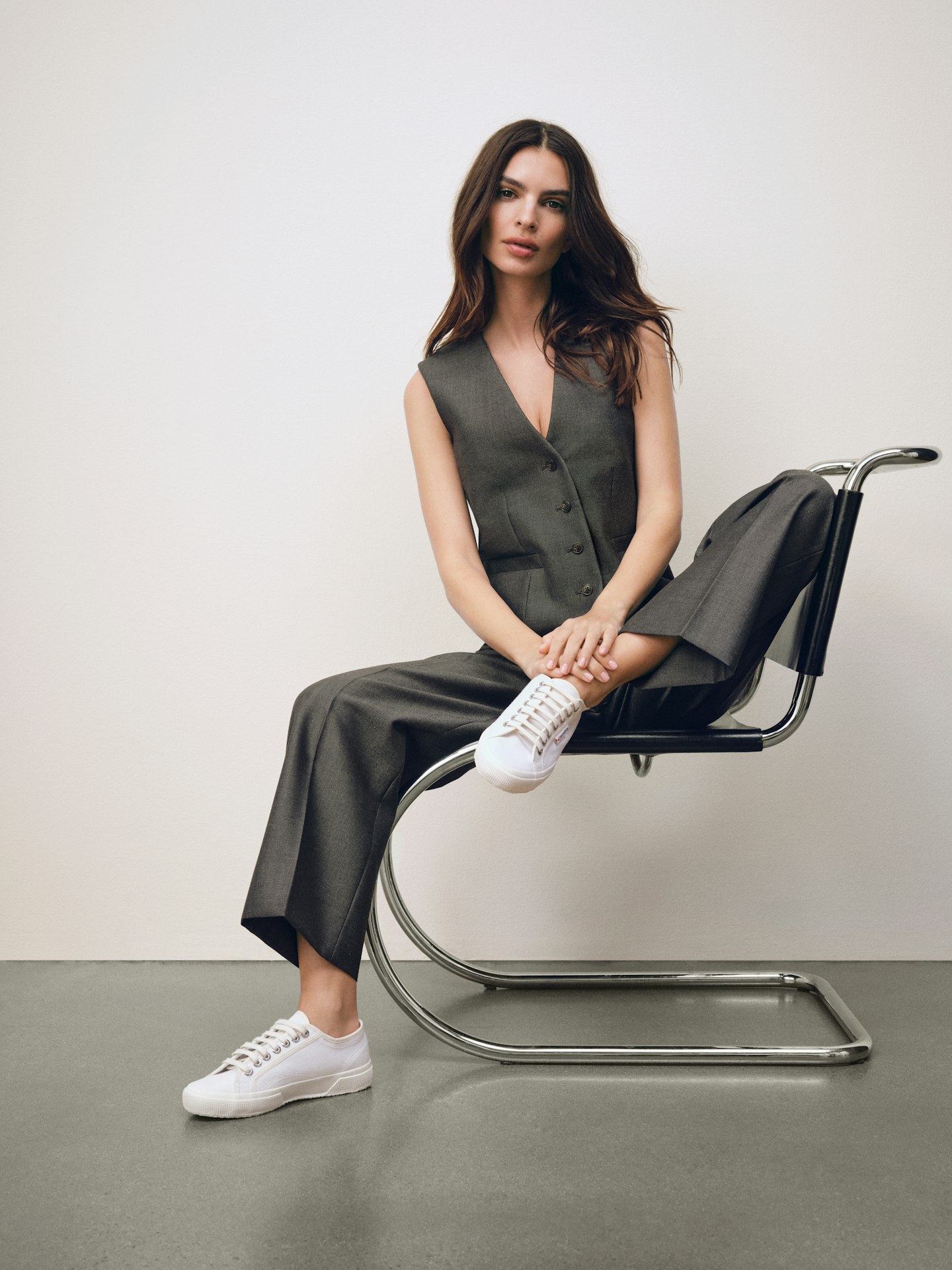 She tells me motherhood has inevitably altered her wardrobe choices. In the spring of 2021, Emily gave birth to her first child, her son Sylvester Apollo, whom she shares with her husband, the actor Sebastian Bear-McClard. And now: 'I'm more obsessed with getting him dressed, I have to admit. It's just really fun to dress him right now and I know that that's not going to be forever. What happens is, in my process of getting ready, I end up giving him a lot more of my time, then I'll have the last 15 minutes. I'm in sweats right now, and a big oversized shirt. I don't know that I'm giving fashion right now.'
Emily's transition into motherhood has – I'd imagine – been slightly complicated by her public identity as a sex symbol. That's how she became famous; it's a label she's toyed with ever since. How does she feel about it now?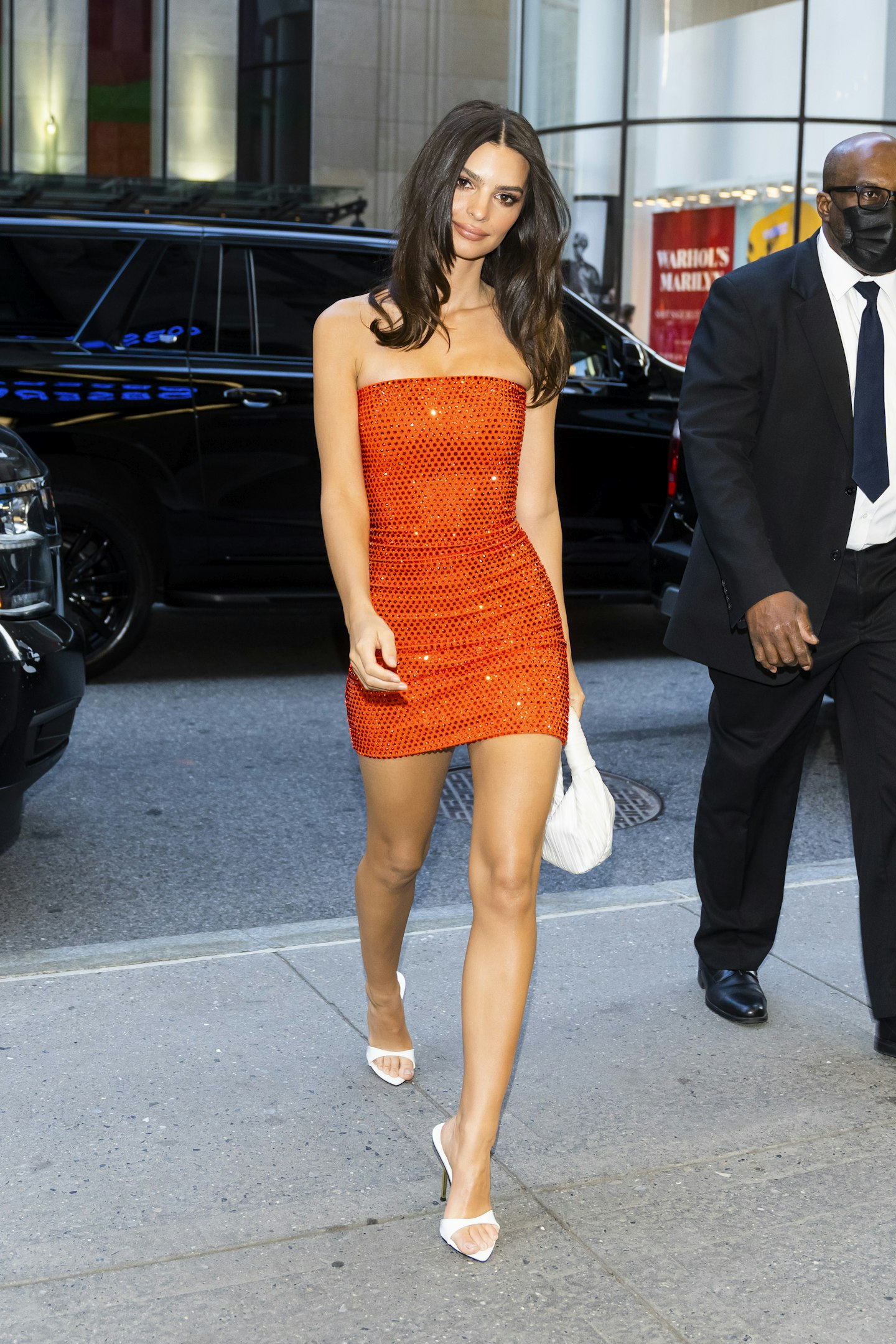 'I think it's complicated. I think all women in film and fashion have an element of that, this feeling of how good-looking you are. Now, looking back, there are images of myself, and I'm struck by how young I was. That shocks me. At the time, it just seemed like, "Well, that's what it is." But now, being older, thinking, "Oh my god, I was two years out of high school. I was still a kid!" That definitely feels a little weird.'
Emily has spoken about being sexually assaulted by a photographer on a shoot; in My Body, she refers to the time she says Robin Thicke groped her breasts on the Blurred Lines shoot, but I wonder, overall, does she feel her career has exploited her – or that she leveraged it to get what she wanted? She says she exists somewhere between those two ideas. 'There's just a lot of grey areas, a lot of nuance, and a lot of unintentional exploiting on both sides. Much as we wish things were black and white – this person had it out for you, or you were aware that you were working the system – when you're 18, 19, it's difficult to say.' Also, 'There's a world where people just want me to be a victim.' Is she a victim? Has she ever felt like one? 'I don't like the word.'
This is music to my ears, because nor do I. I have railed against recent feminism's tendency to cast women as victims; wondered how empowering that is, how useful, how accurate, even. Like Emily, I've experienced a lot of push back upon expressing those ideas. I've also, like Emily, experimented with the line on sexiness; asked in my writing whether inviting and enjoying sexual attention compromises you as a feminist, because (whisper it) it can be fun. Freeing. Even empowering. And isn't feminism's distaste for sexiness really just a result of classist snobbishness? After all: any woman who judges the barmaid for hustling for extra tips, the model for shooting nude, is a woman who's never had to do that herself to get by. So I'm very keen to talk feminism with Emily.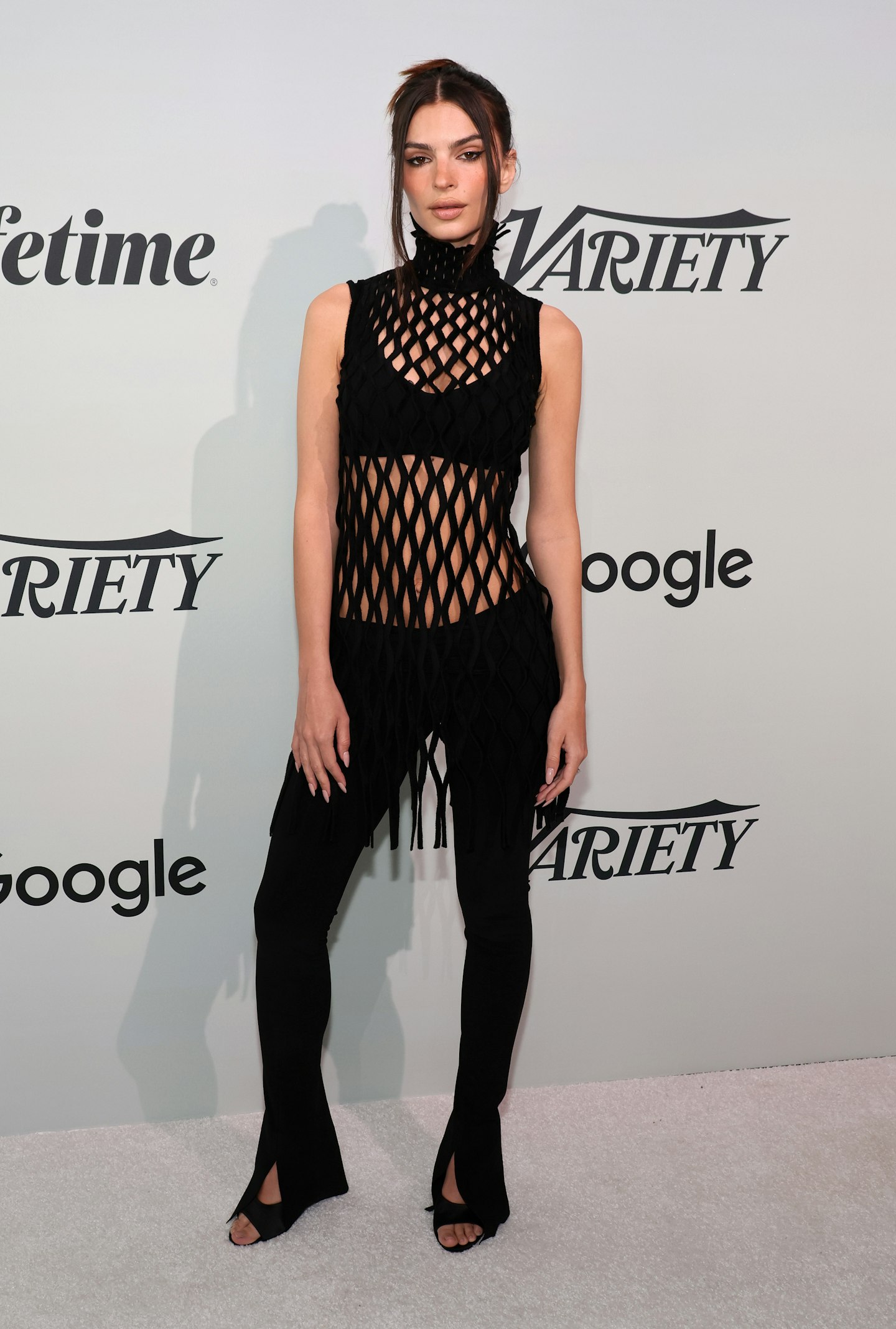 'I have found there's a type of feminism that's very exclusive: very afraid and closed-minded. I have a hard time with that group.' Me too! 'Although I really enjoy reading feminist writing and whatever. But I also feel like, sometimes, people on my TikTok have more interesting and open-minded things to say about feminism than people who are self-proclaimed feminist academics, or intellects.' Right? 'There's such divide, generationally, between Gen X, Millennials, and Gen Z, when it comes to the way they think about women.'
Oh really? Because I sort of think you and I agree on some of this, and I'm Gen X and you're a... 'I think a lot of the things in my book were more in conversation with Gen Z. This is why this Millennial approach of "you have to work yourself to the bone and build your own brand, and make as much money as you can to protect yourself as a woman" is not the ideal. I do think the younger generation has surpassed it. Millennials are shocked to come out of the pandemic and realise there are people who are younger than them who have maybe better ideas about certain things. As far as Gen X and Boomers, they're having a conversation with themselves at this point. I'm over it.'
OK then.
I ask Emily what's next, and she says, 'raising a child' (Does she want more? 'Eventually. I'm not in a rush'), then talks about a big new project she can't officially announce, but which sounds very much like a podcast to me: 'An extension of my POV and perspective on the world, including other people into that, so it will be more conversational.'
But, it's back to Superga for now. We talk a little about Italian style (Superga is an Italian brand), about how: 'there's something so clean and beautiful about it, it feels nostalgic, while also feeling really modern'. Emily tells me she used to be a heels girl 'because I'm short for a model, I was addicted to appearing taller', but moving to New York 'a walking city' changed all that; and I ask her if turning 30 has had any impact on her style. She says no, because, 'I don't think of myself as an "older lady",' but then again, 'I definitely put myself together better than when I was 21 or 25. So I guess, in that sense, that's true.' And then, because I'm almost certainly in danger of raising the prickly issue of feminism again, I thank Emily for her time.
Emily Ratajkowski is Superga's® newest global brand ambassador for spring/summer 2022. Her exclusive capsule collection, which reworks Superga's® classic 2750 and Alpina styles, is available now; superga.co.uk
SHOP: Emily Ratajkowski x Superga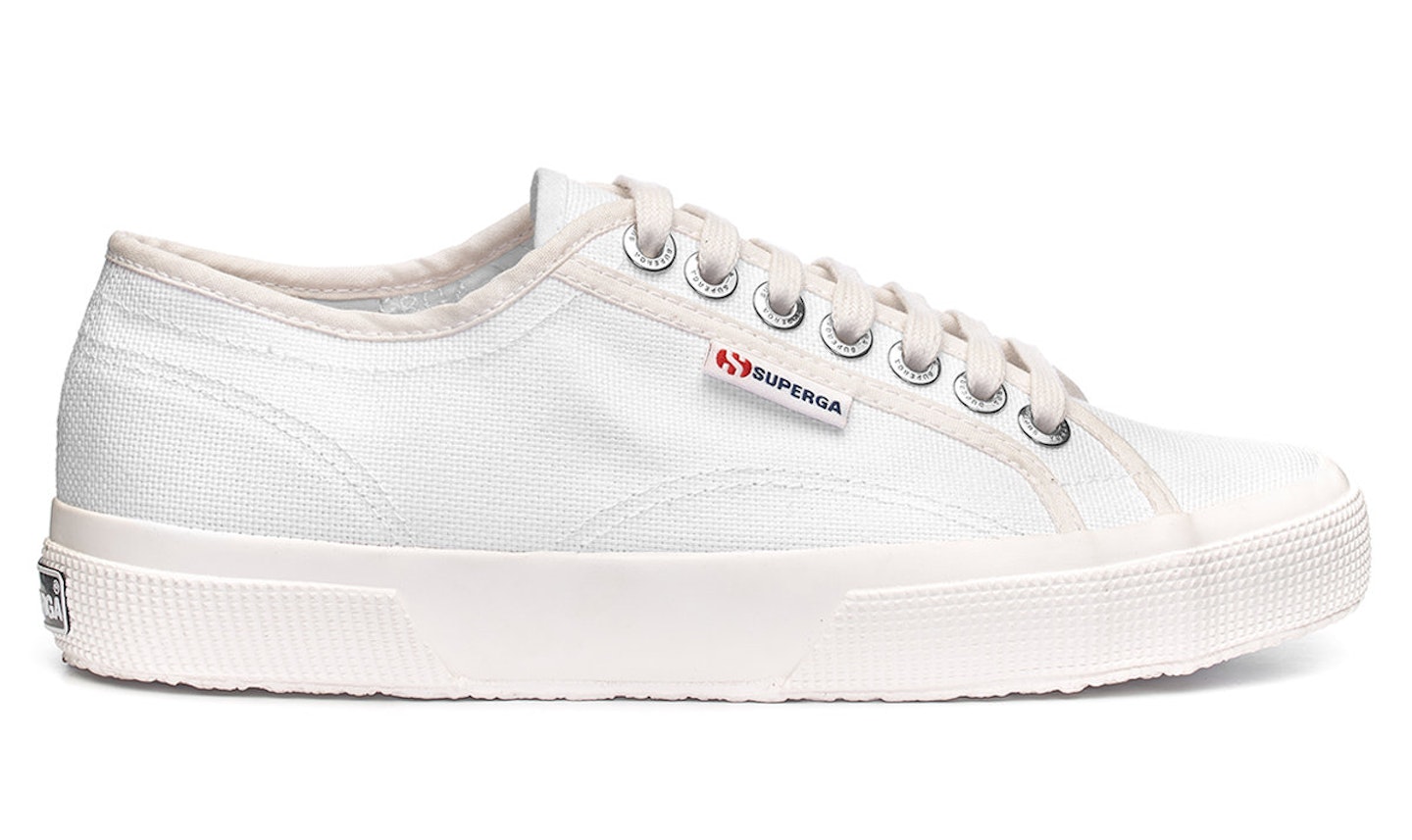 1 of 2
2750 Emrata, £90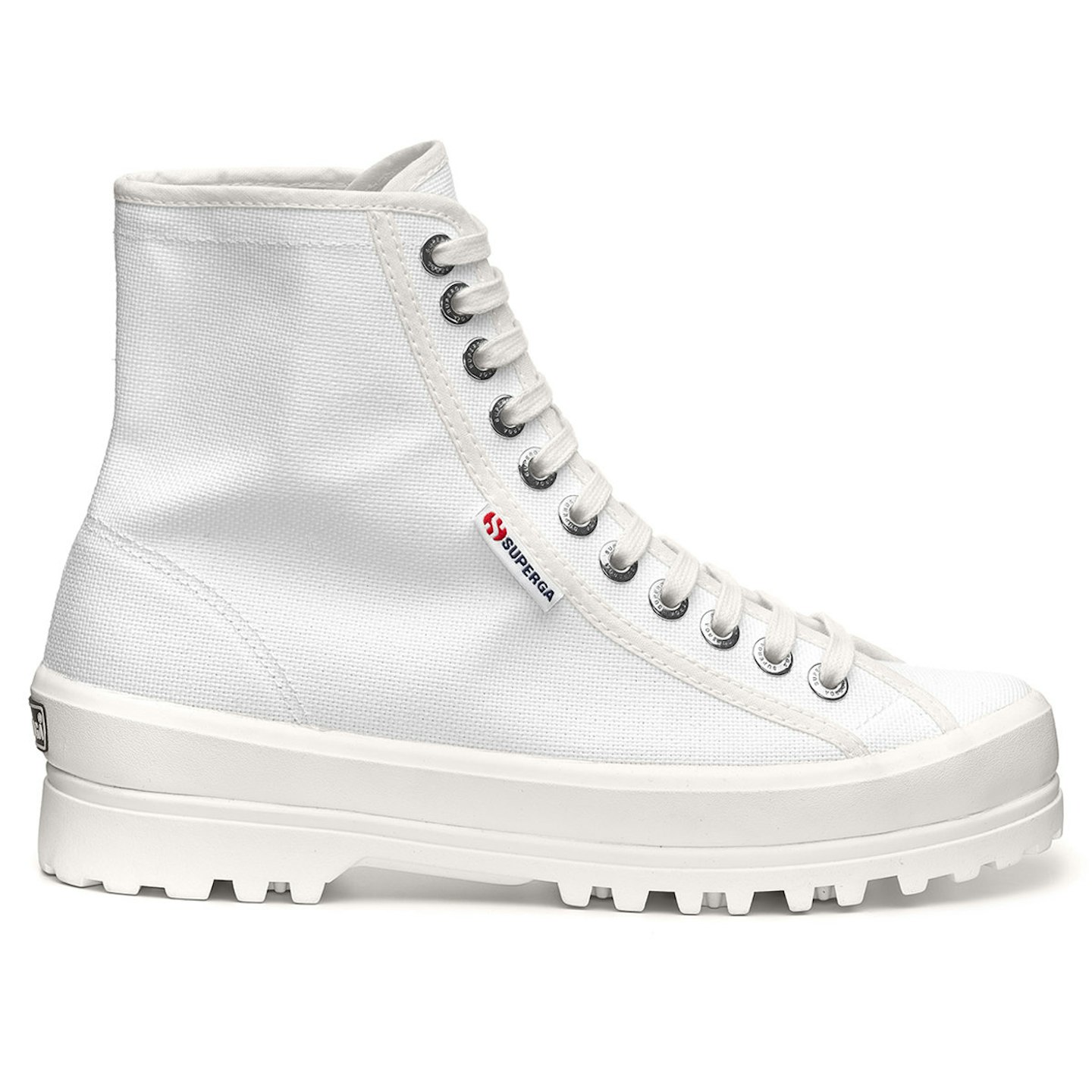 2 of 2
2341 Alpine Emrata, £109