When it comes to celebrity tattoos, Cara Delevingne's are almost as famous as the model-actor herself, with more than 20 to her name (or should that be body). The inking started in May 2013, when she had a lion tattooed onto her index finger, and has since progressed to being tattooed by Margot Robbie, her co-star in Suicide Squad. In fact, Cara has come clean about her tattoo obsession to Grazia Daily, confessing: 'I can't stop!'
Cara's tattoos are more than works of hand-drawn body art though. They have been the main feature of campaigns (see her Tag Heuer ad), were referenced in her range of Mulberry handbags and have even been copied on the catwalk (models at one Giambattista Valli show were covered in Cara-esque temporary tats).
Her artist of choice is usually New York-based Bang Bang (aka Keith McCurdy), who is the go-to tattoo artist of many A-listers, including Cara's friends Rita Ora and Rihanna, but also Katy Perry and Justin Bieber.
Keith has cultivated a reputation for creating some of the most realistic and detailed tattoos out there, and is now considered one of the most in-demand tattooists of the entertainment industry. His name comes from the the two guns that are tattooed on his neck, and, incredibly, he taught himself the craft from his mother's kitchen.
Back to Cara, who has confessed that getting more tattoos done isn't out of the question. As she told ELLE__, her next one will probably be a fairy inspired by one of her friends.
Here's a look at some of the model-actor's existing tattoos that we've long admired. From her undying love for bacon to her quest for quiet and the eyes on the back of her neck, there's a lot to unpick. Here's a list of her tattoos and where the inspiration for each came from.
SEE: A Complete Guide To Cara Delevingne's Tattoos (And Their Meanings)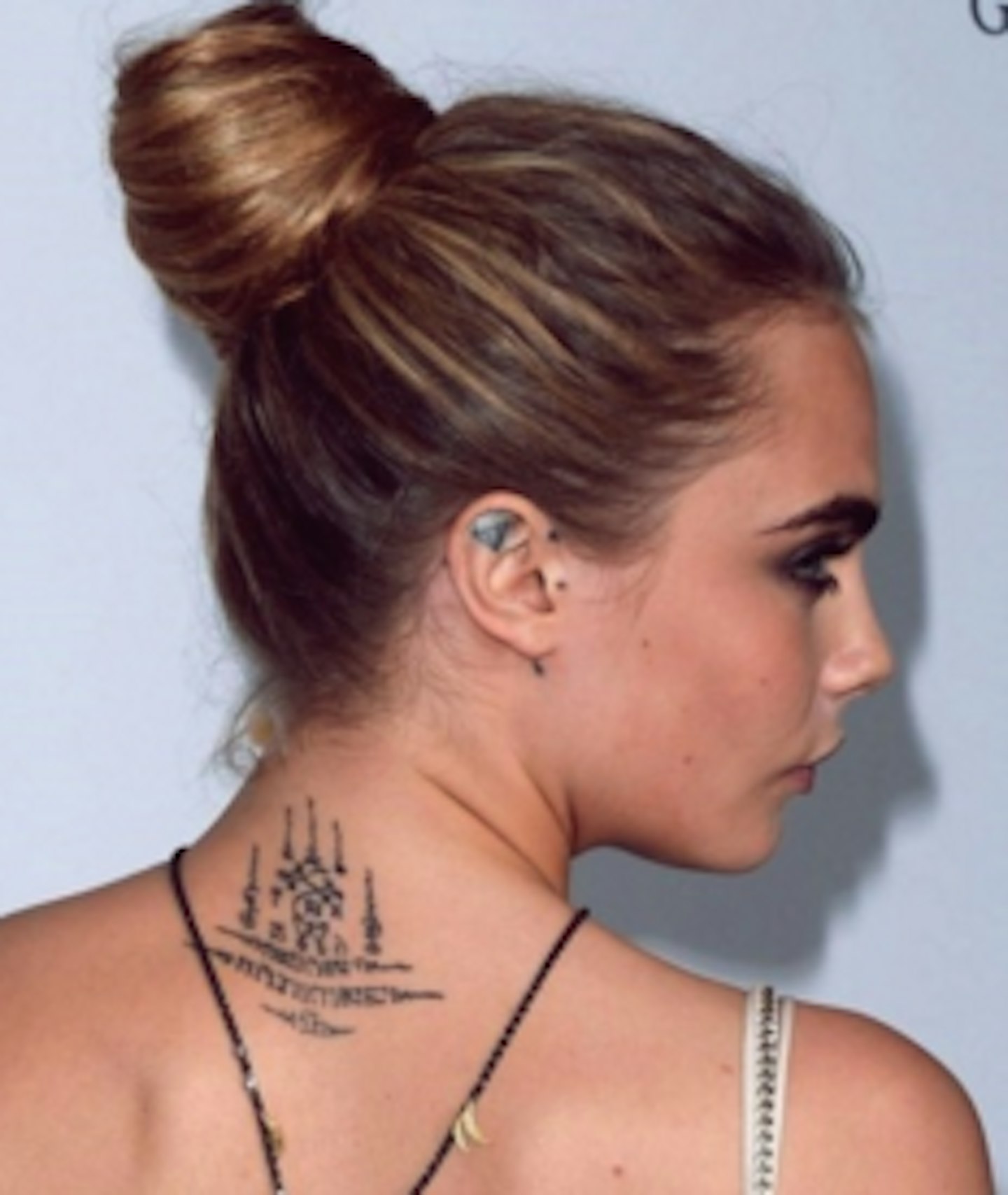 1 of 17
The tattoo on her back (first seen at her sister Poppy's wedding)
This is one of Cara's most intricate tattoos, a magical symbol on the back of her neck inspired by yantra tattooing.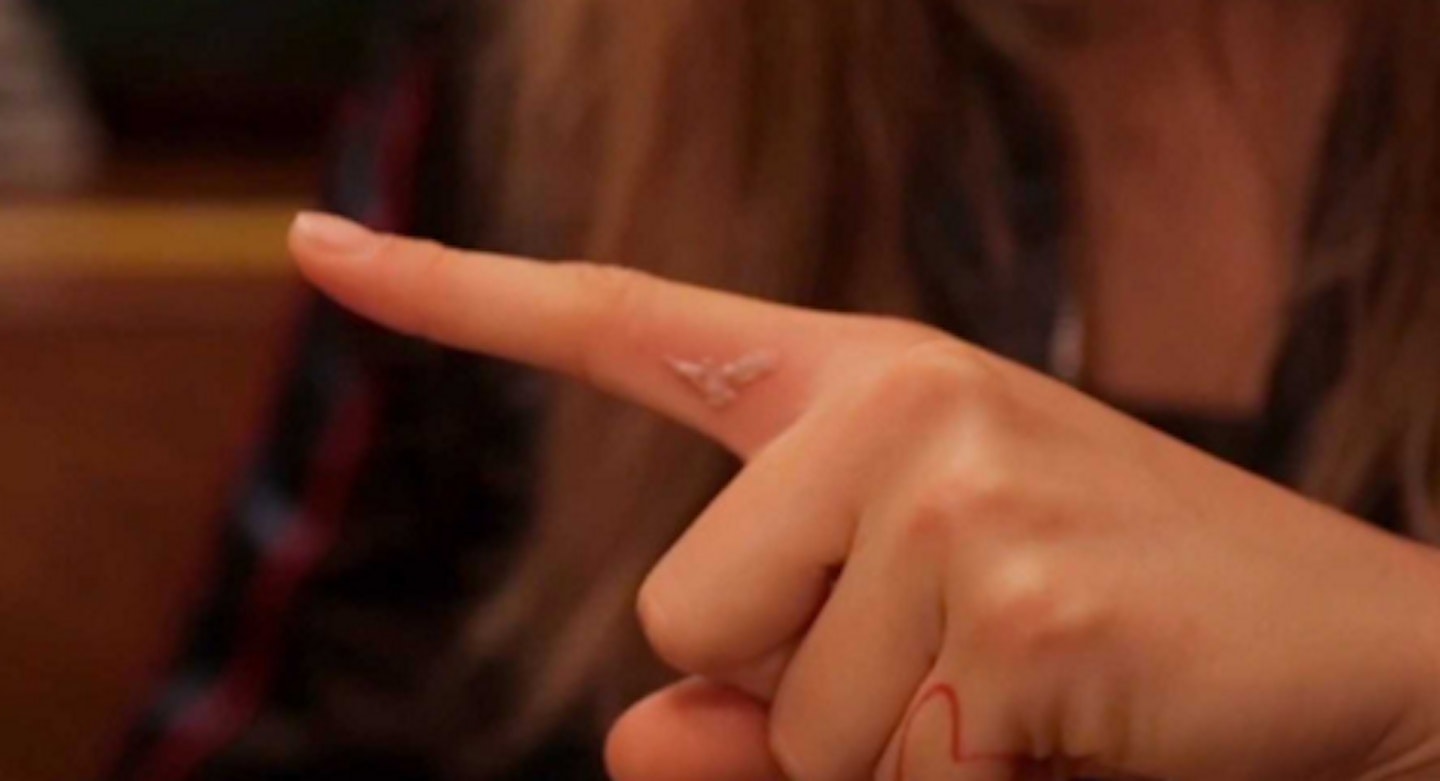 2 of 17
The white dove tattoo on her finger
Cara got her white ink dove tattoo at the same time as the white 'breathe deep' tattoo on a visit to Bang Bang NYC.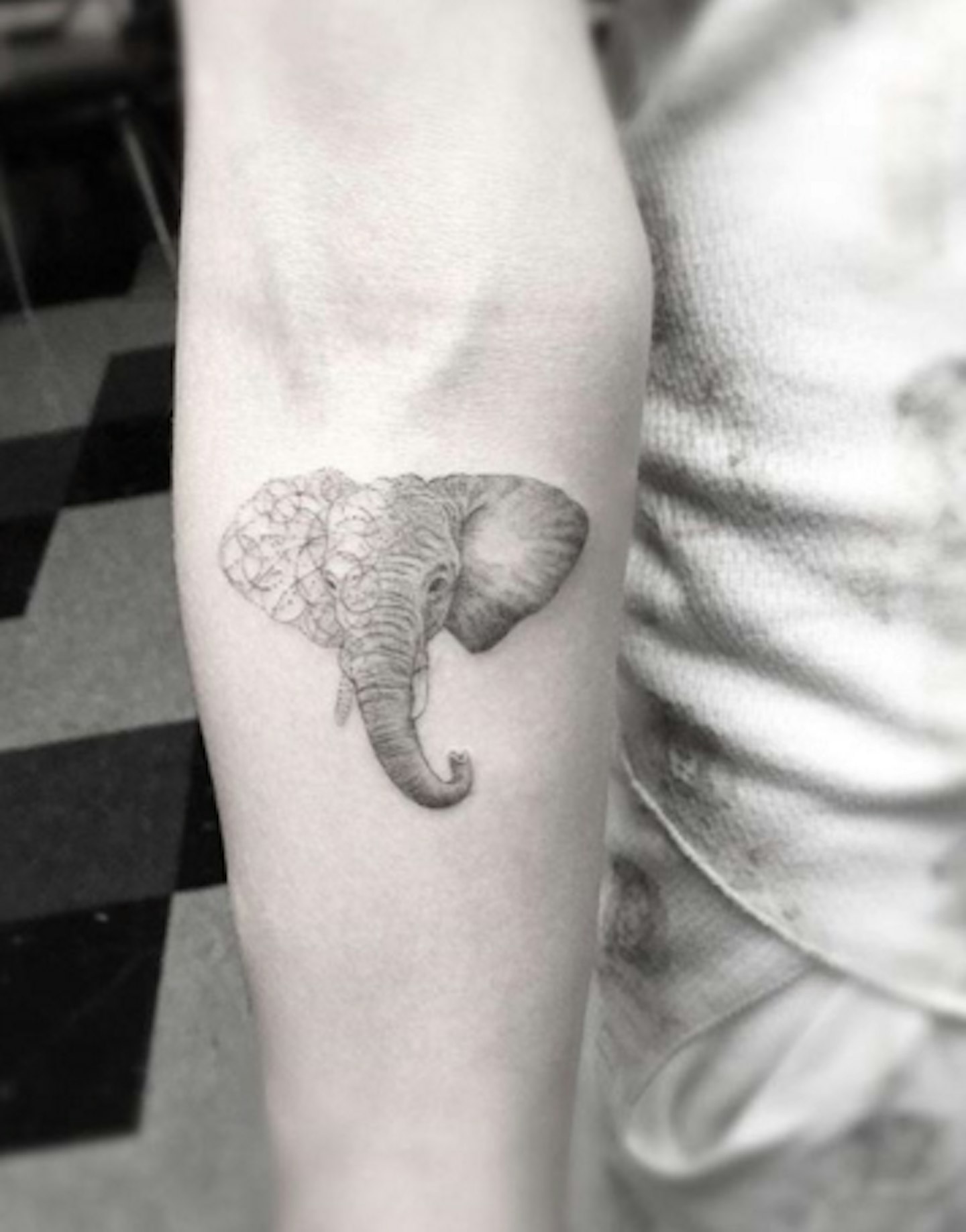 3 of 17
An elephant on her arm
Though the actor has yet to debut the elephant tatt, Doctor Woo unveiled the artwork on his Instagram.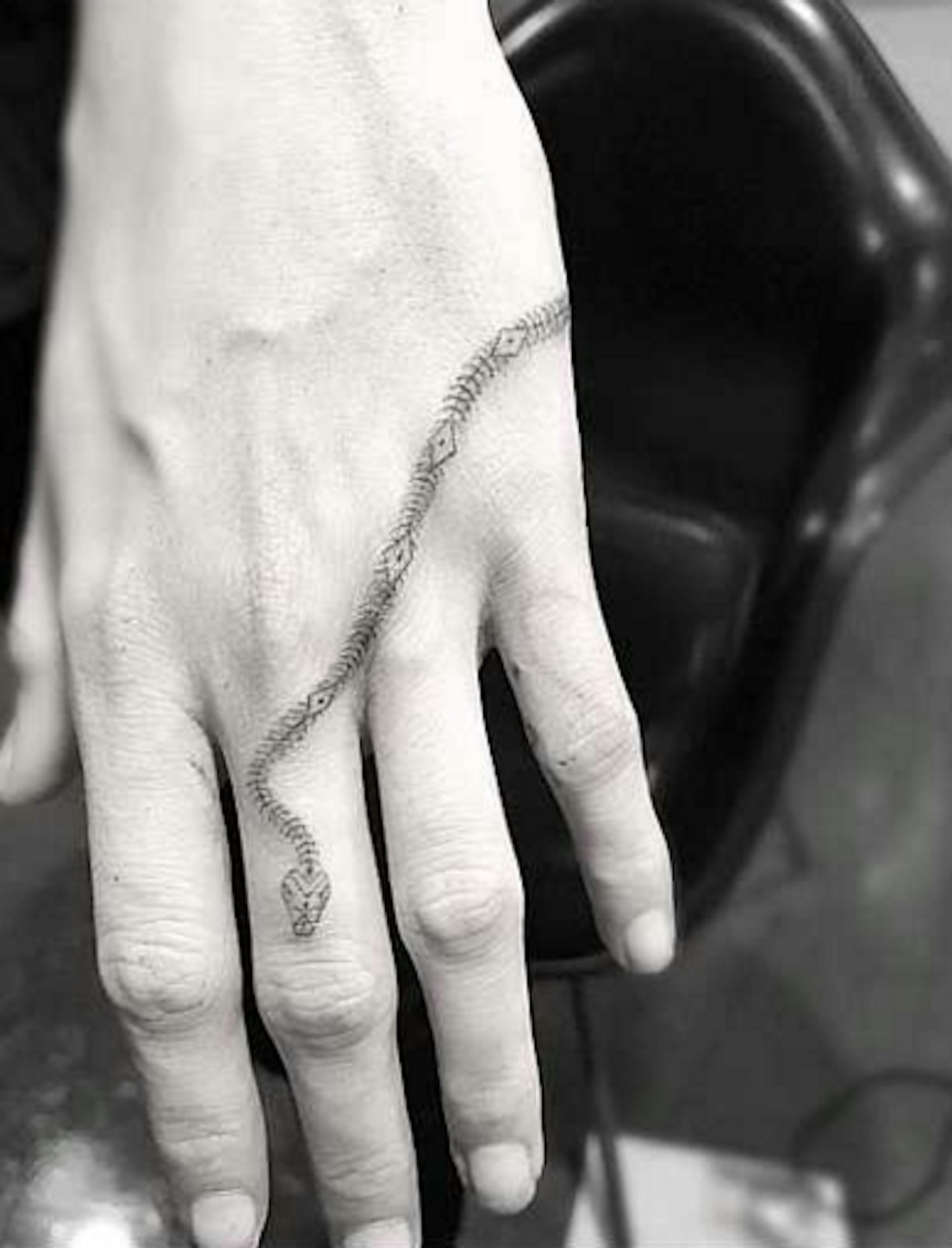 4 of 17
A serpant on her left hand
Her go-to tattoo artist - Doctor Woo - revealed a darker inking for the model-turned-actor. Could there be a hidden meaning behind her new skeletal snake tattoo - debuted days after her ex, musician Annie Clark (aka St Vincent) made her first red carpet appearance with Kristen Stewart. Hmm...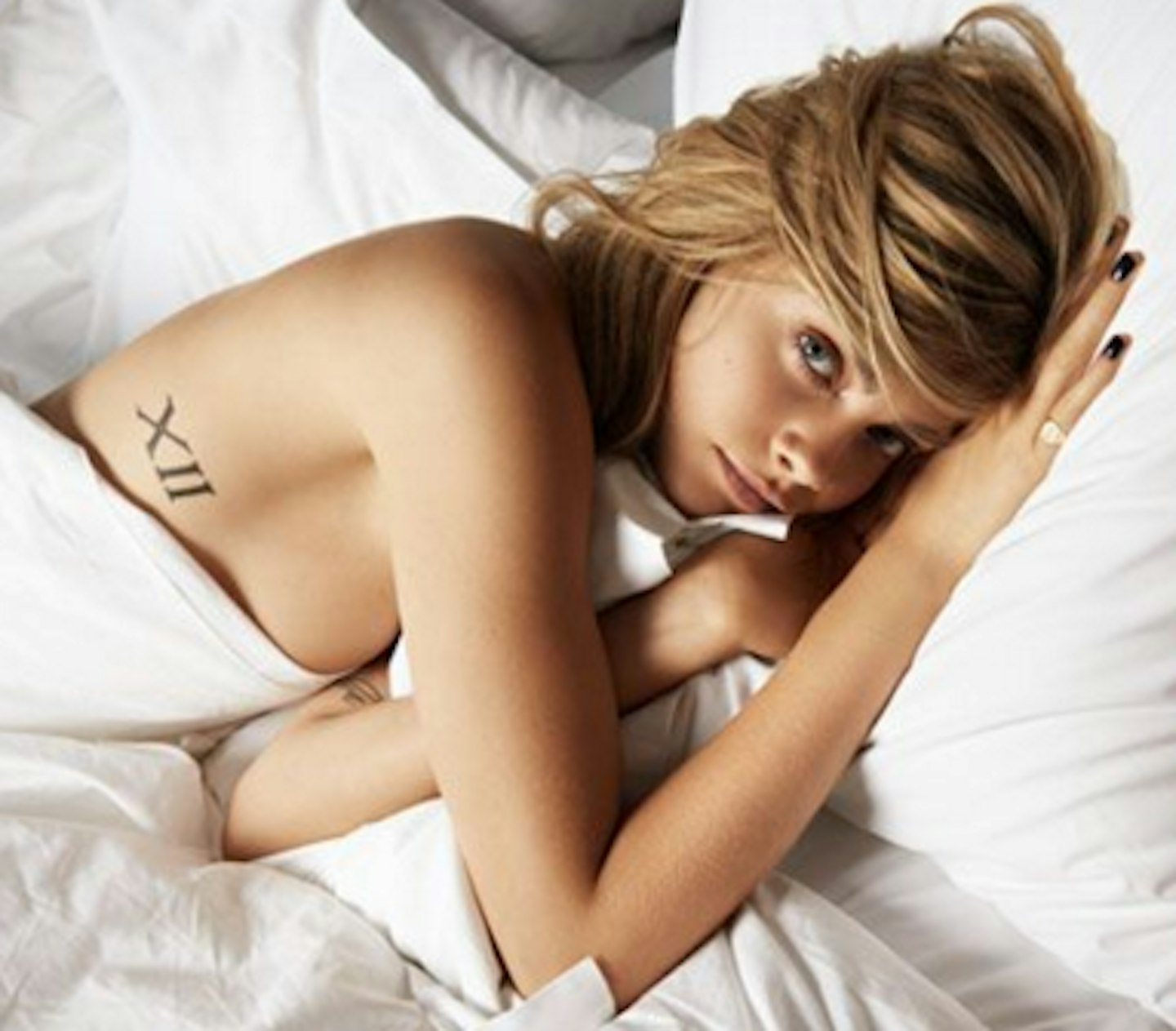 5 of 17
The Roman numerals and
During a trip to Rio de Janeiro, Cara got a couple of tattoos from tattoo artist Daniel Tucci - including the number 12 in Roman numerals on her side and a Southern Cross behind her ear.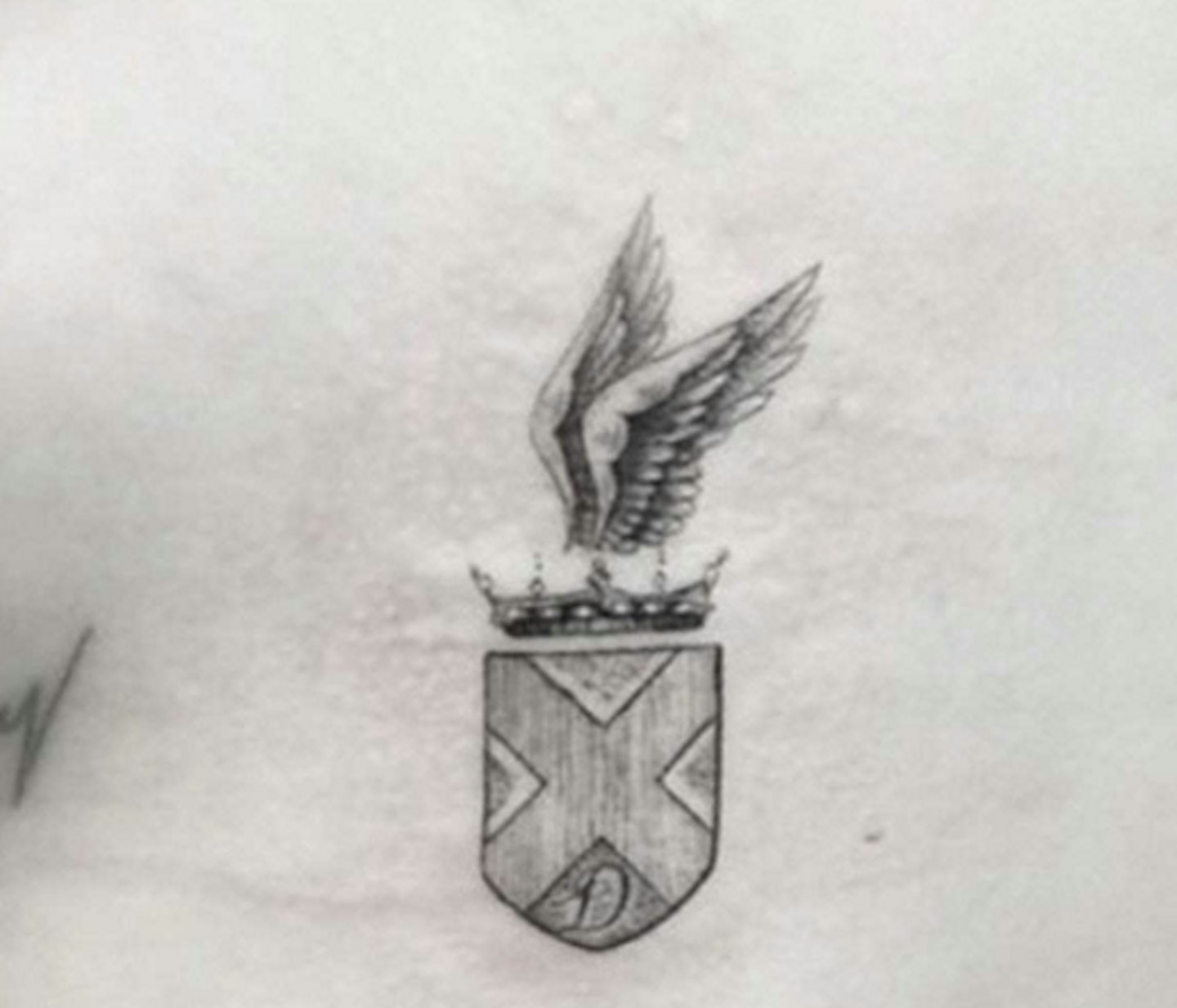 6 of 17
The coat of arms tattoo on her left ribcage and 18. the mysterious white dots above it
In January 2015, Cara got a tiny coat of arms with a 'D' at the bottom on her ribcage, inked by tattoo artist Dr Woo in LA.Just above it, she also inked five white dots, which she has said represents the members of her immediate family.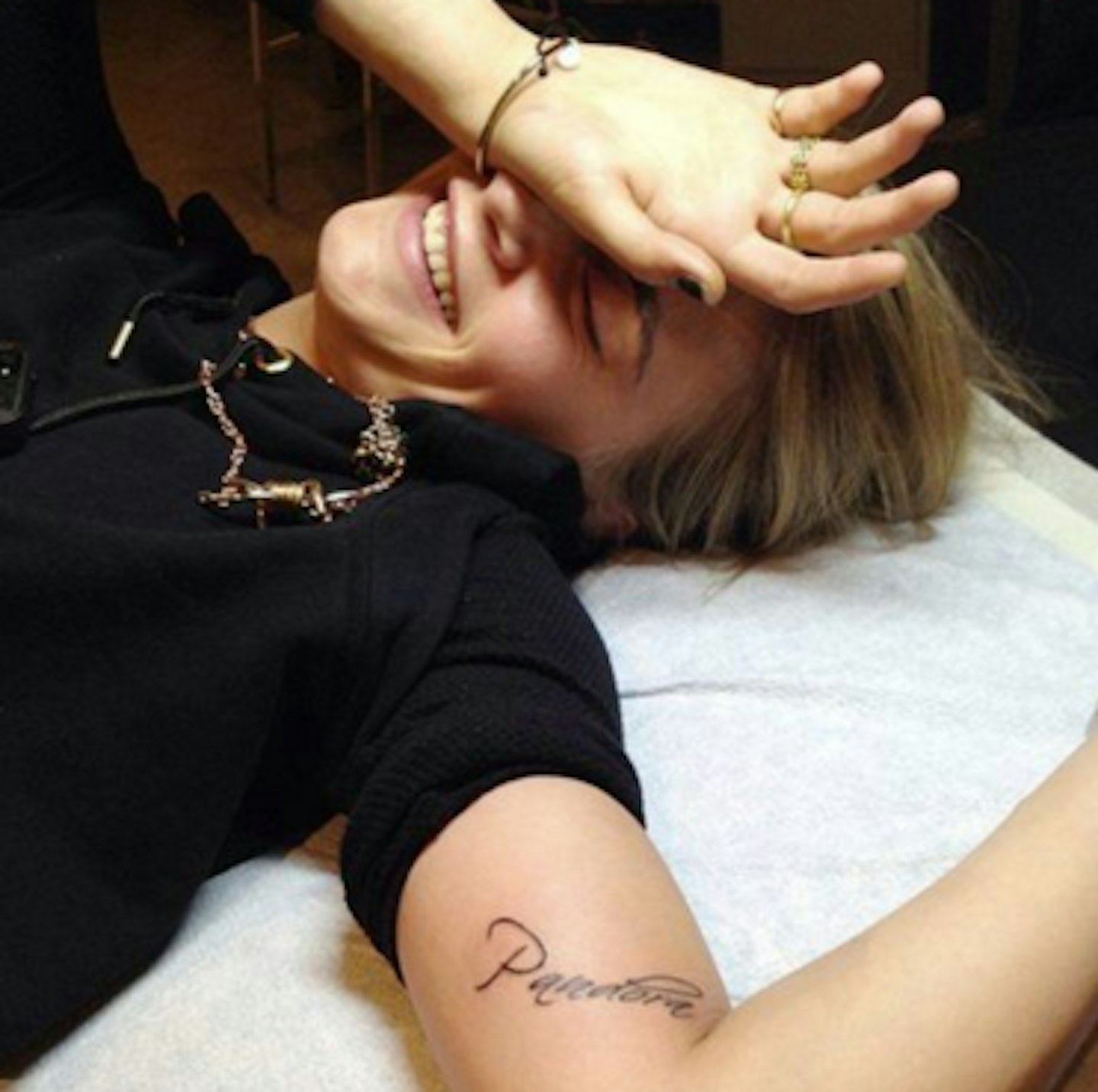 7 of 17
Her mum's name, Pandora, on her bicep
Cara kept it in the family for her fourth tattoo by getting her mum's name, 'Pandora', on her arm. She got the tattoo on a trip to Bang Bang NYC HQ with her friend Rita Ora, who got a tattoo of an Alberto Vargas pin-up girl on her ribcage.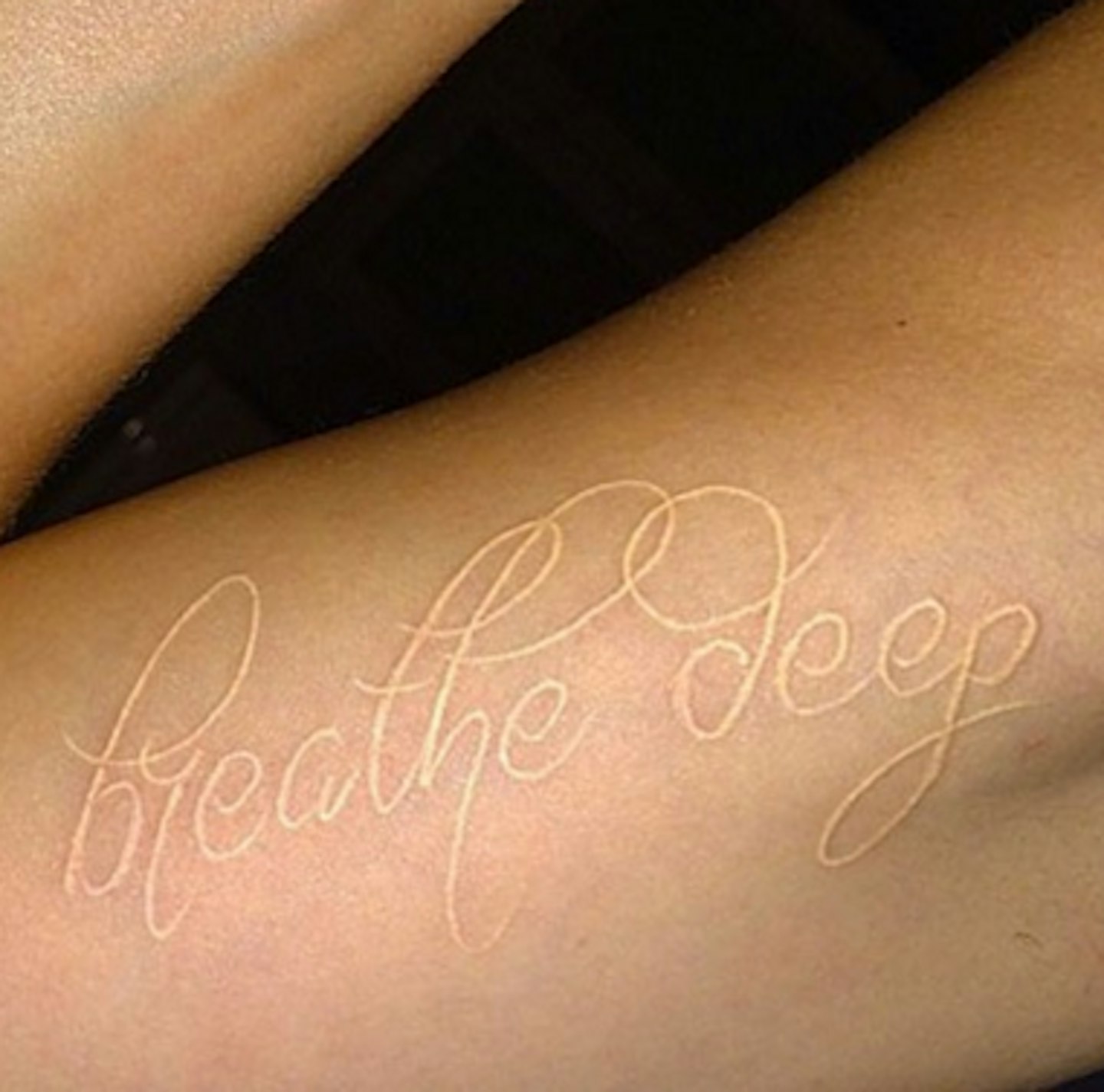 8 of 17
The 'breathe deep' white tattoo on her bicep
Cara has 'breathe deep' in white ink on her bicep, a reminder to herself to keep cool.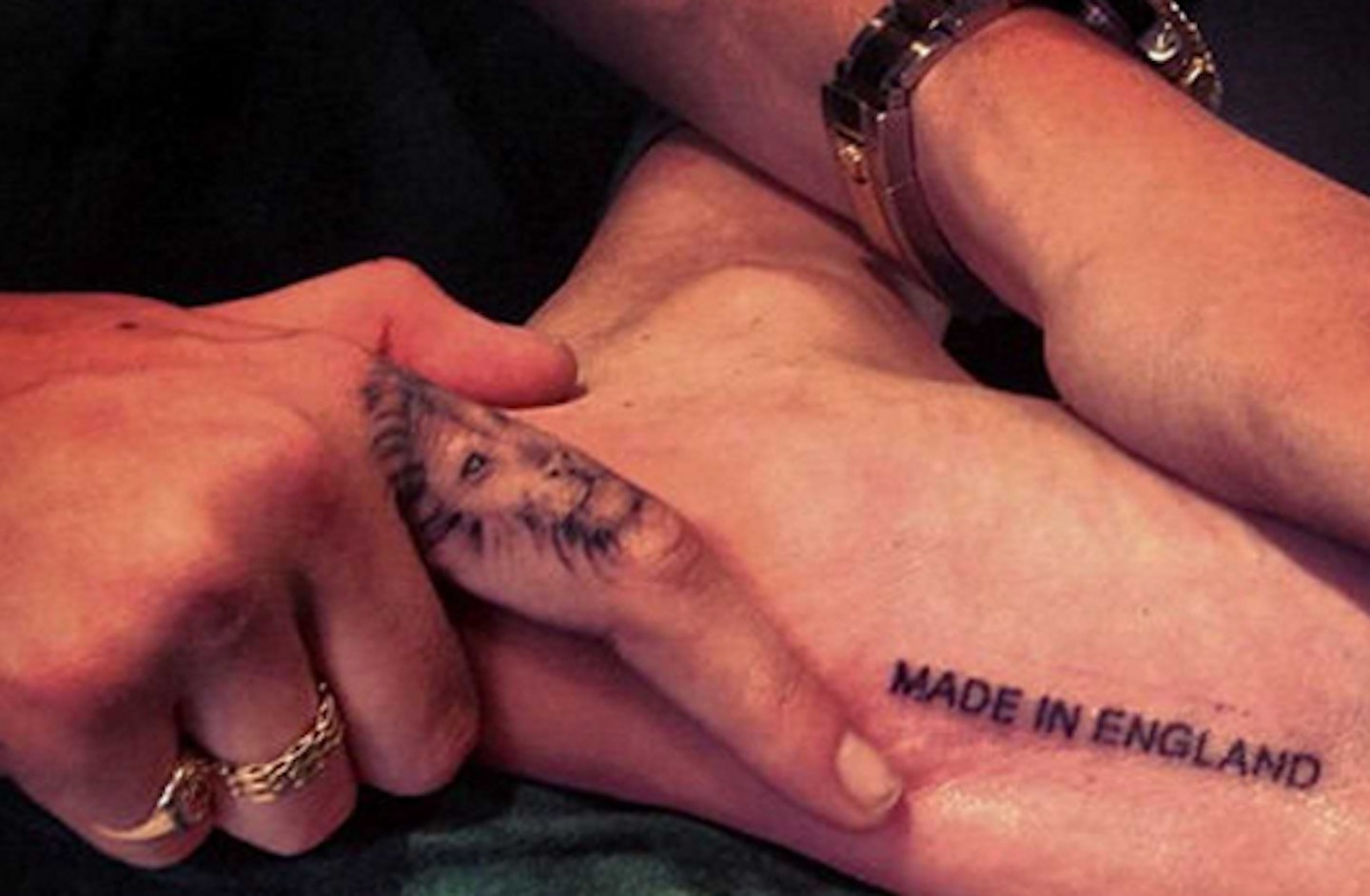 9 of 17
The 'Made in England' tattoo written on her left foot
Cara explained to The Guardian that her 'Made in England' tattoo on her foot represents how she feels as a model. 'You're looked through, you're not looked at, you are treated as a kind of mannequin. I got a tattoo saying 'Made in England' above my foot to represent that, that I felt like a doll for so long. Because you are just a kind of puppet, you know, entertainment. You kind of feel that you need to have no soul really, to do that job, a little bit.'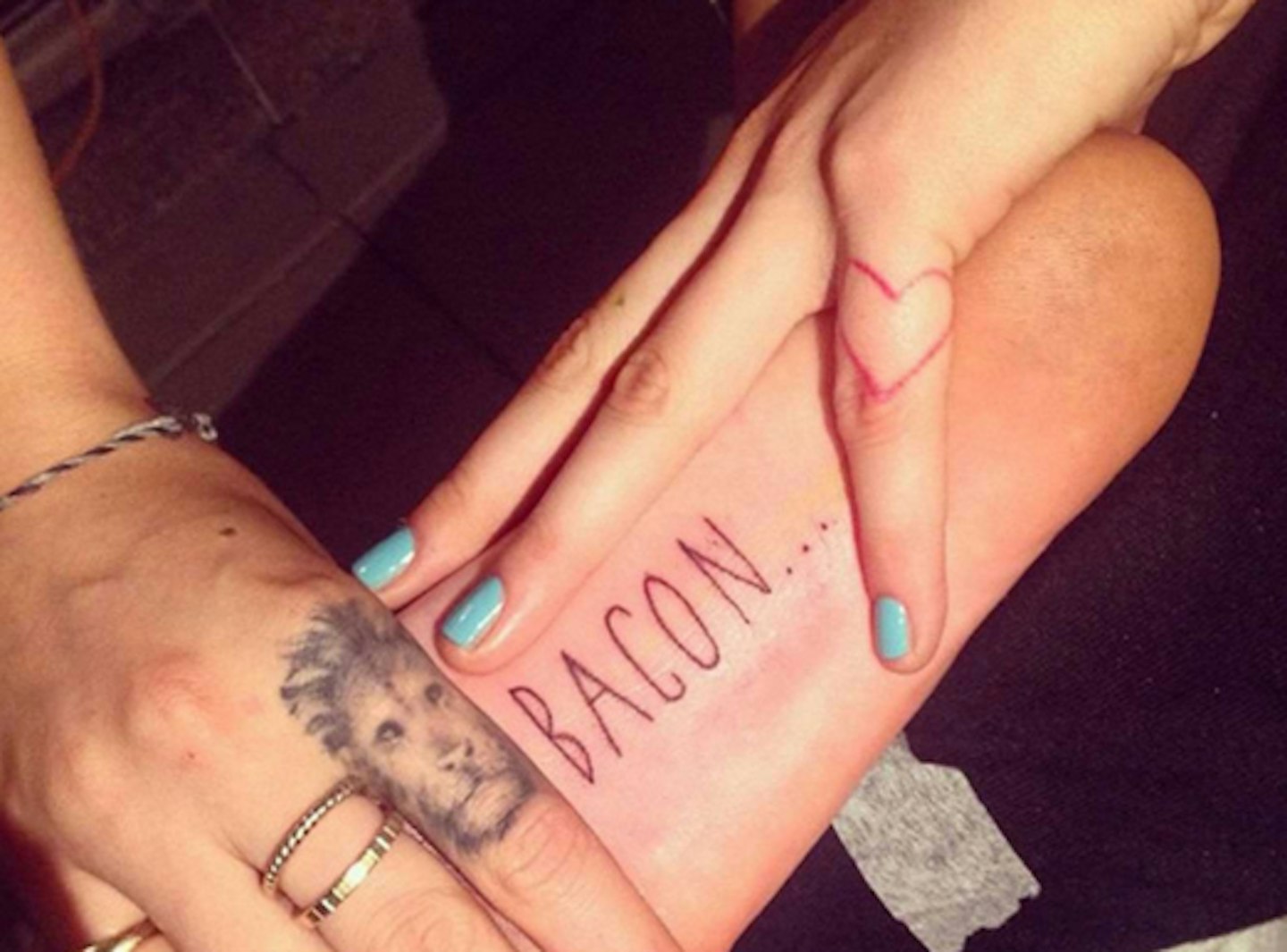 10 of 17
The bacon tattoo on the botton of her left foot
Cara has a 'Made in England' tattoo on the bottom of her right foot, and a 'Bacon' tattoo on her left. Cara explained the tattoo to The Cut: 'The tattoo was inspired by my love for bacon, obviously. I think of bacon every five seconds. It's the meatiness. I love the salt. Bacon is love to me. Bacon will always love me back. It's unconditional.'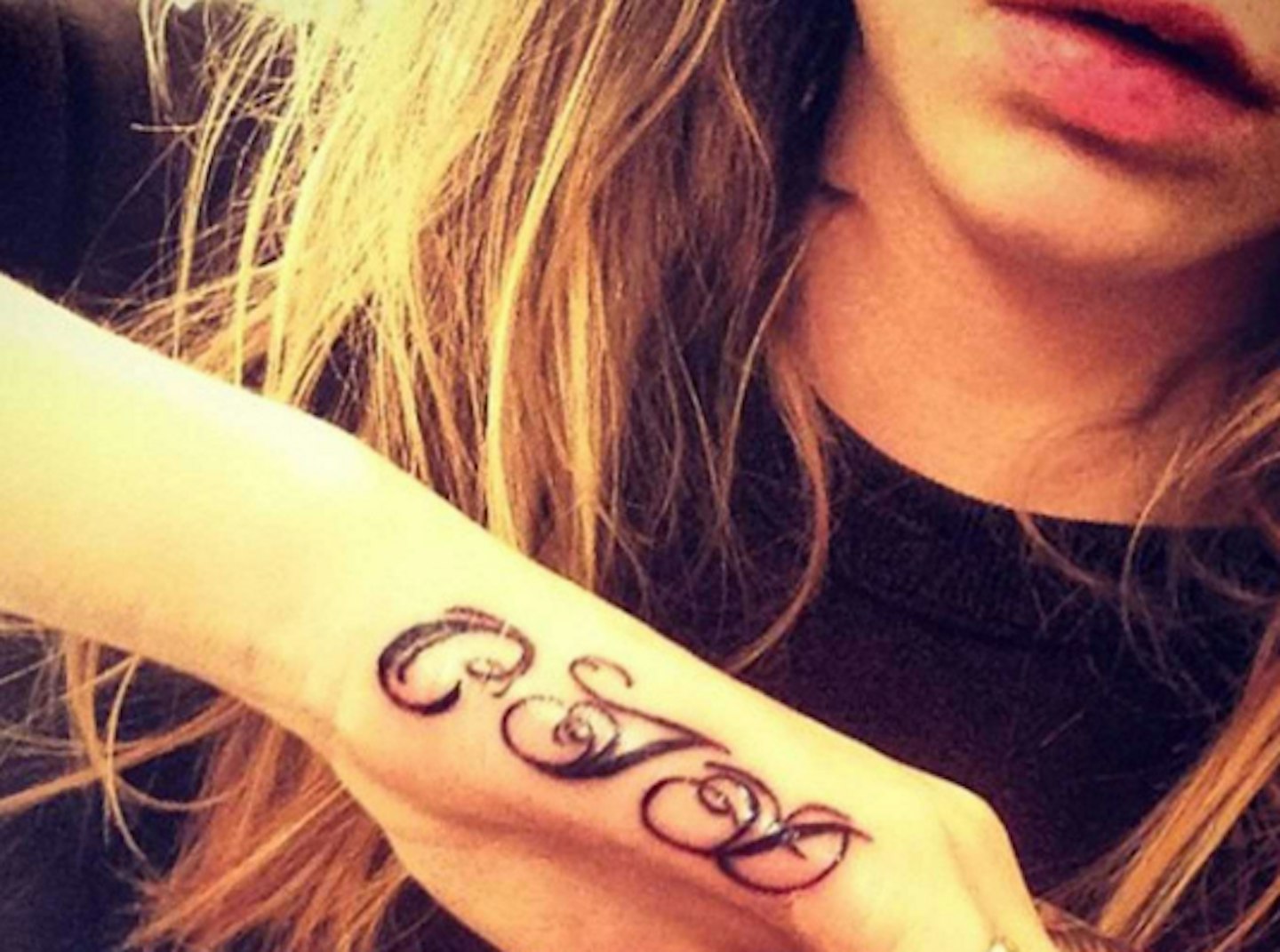 11 of 17
The initials 'CJD' on her right hand
Cara's 'CJD' tattoo on her wrist stands for her initials, Cara Jocelyn Delevingne. This was also done by Bang Bang NYC.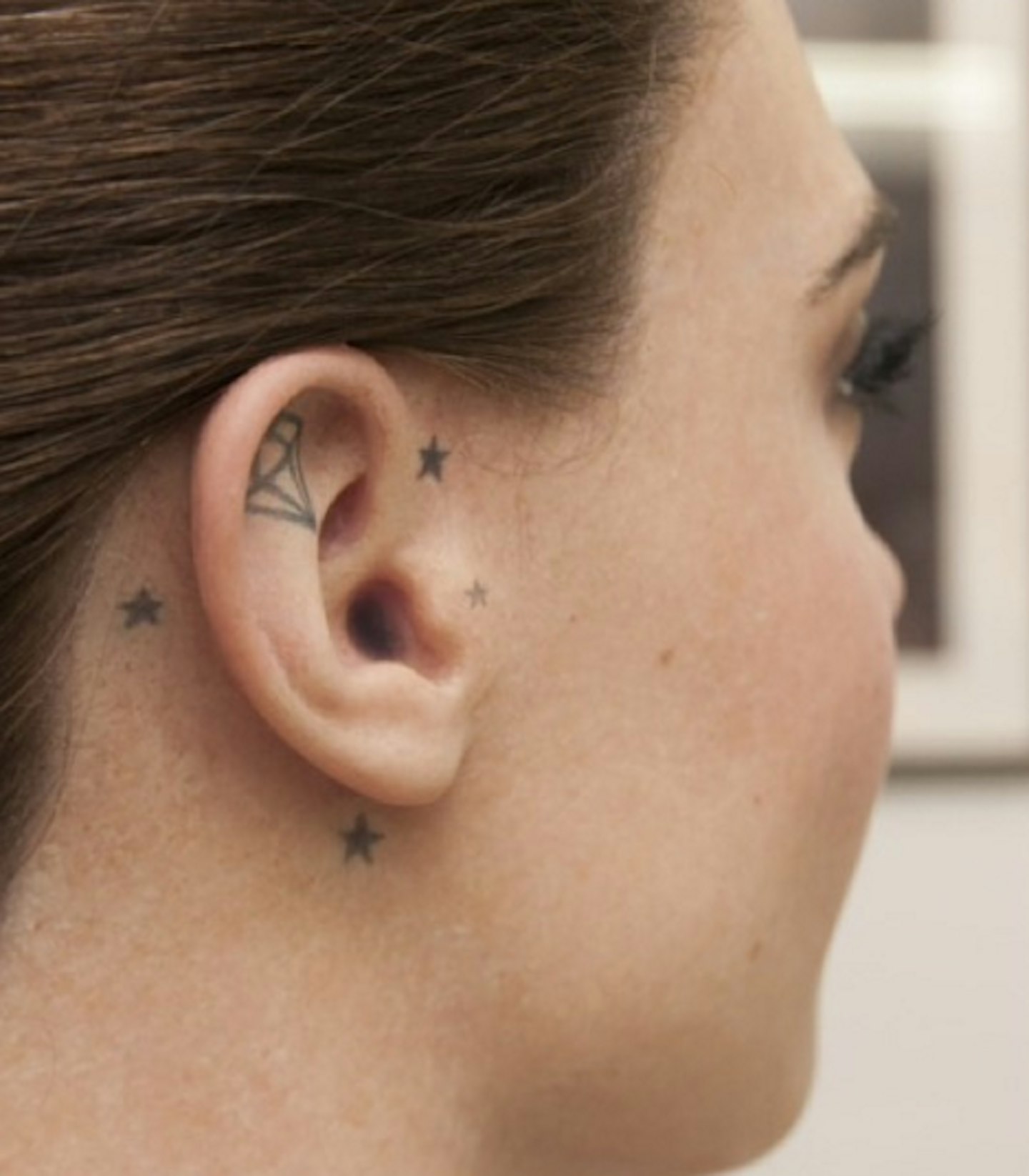 12 of 17
The diamond in her right ear
Cara had a diamond tattooed inside her ear in February 2014 - perhaps a nod to her pal Rihanna's song Diamond?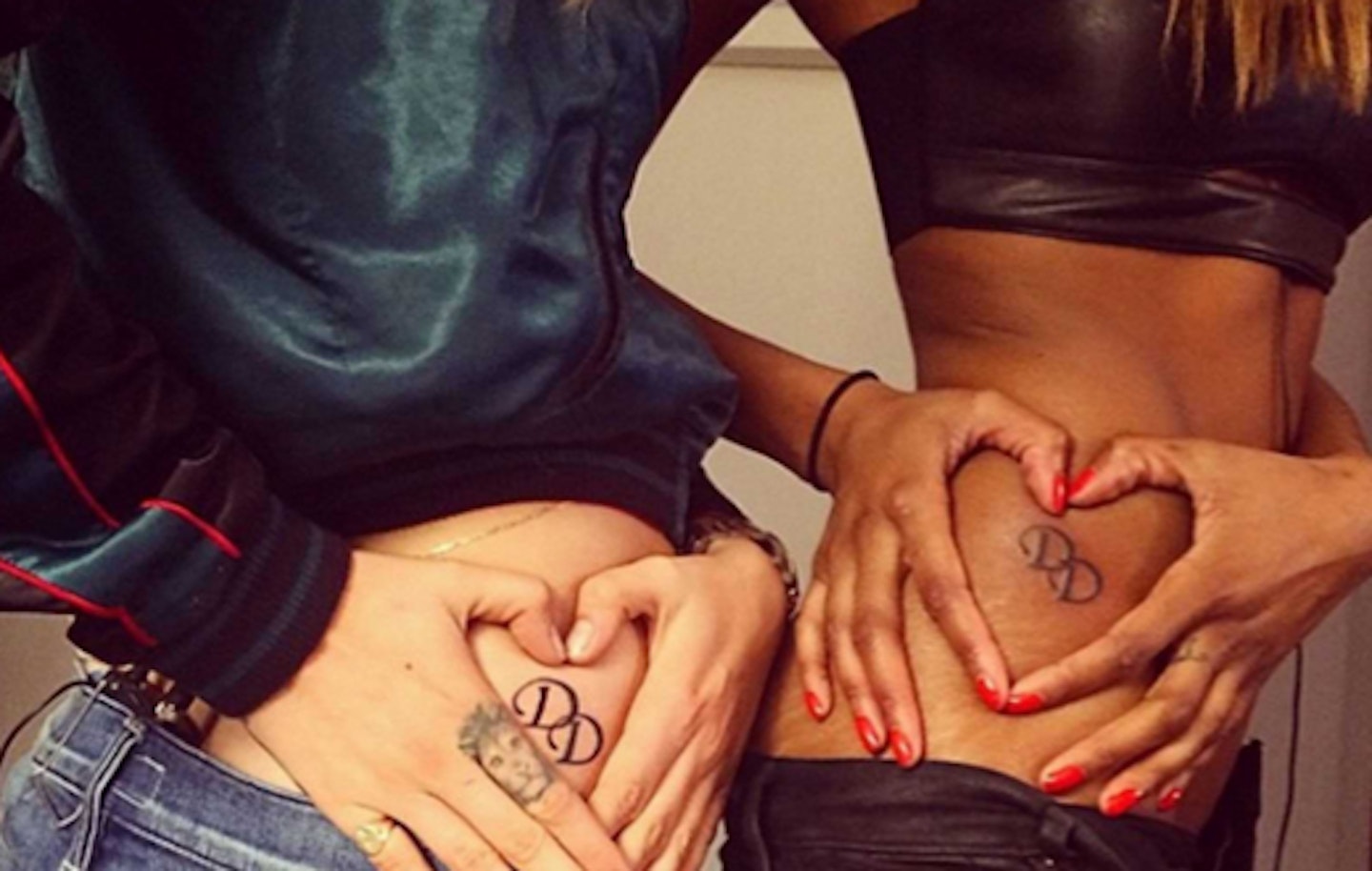 13 of 17
The 'DD' tattoo on her hip
Cara and Jourdan have matching 'DD' tattoos on their hips, inked by Bang Bang NYC back in June 2014.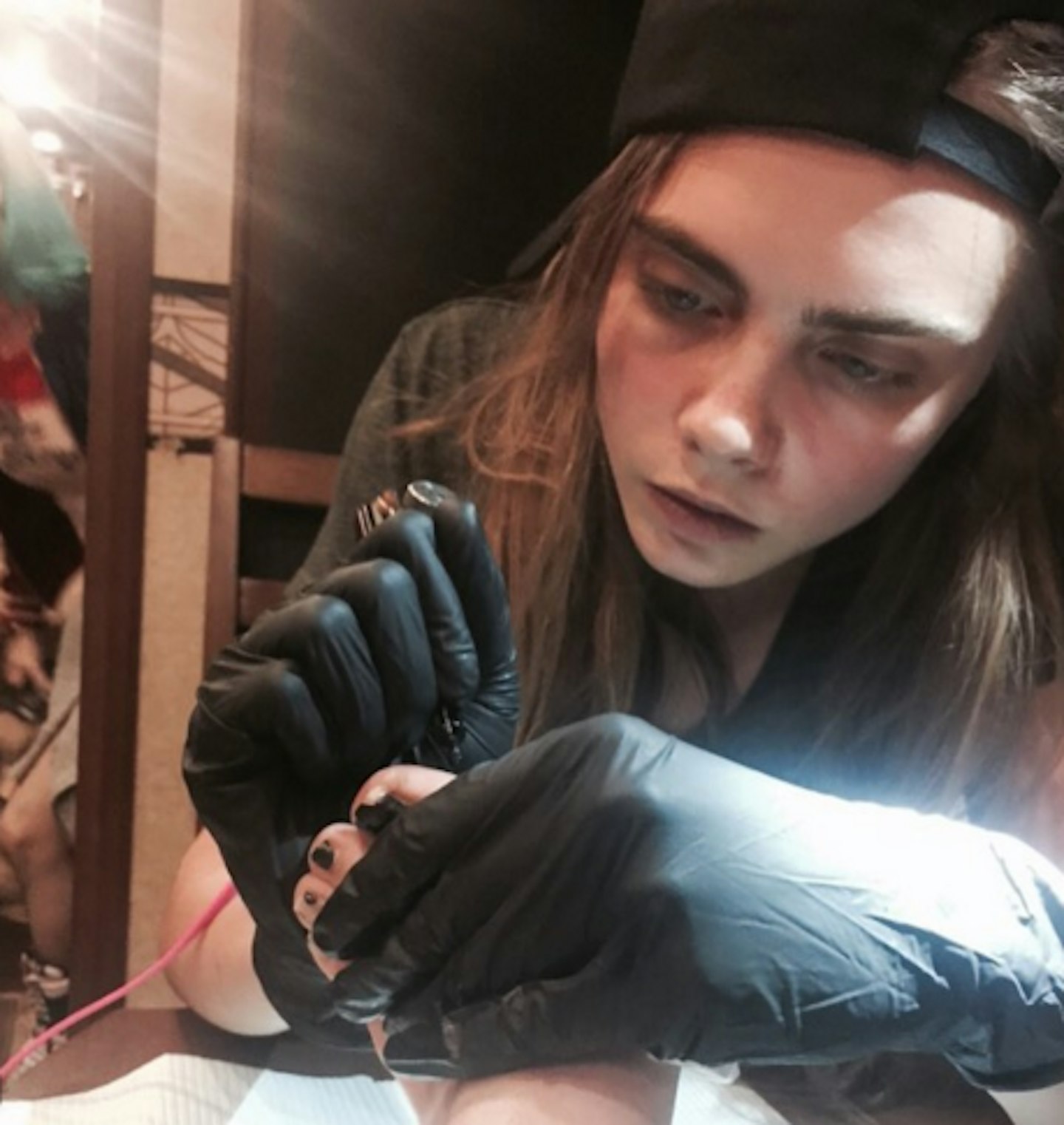 14 of 17
The toemoji tattoo
Following actor Joel Kinnaman and director David Ayer, who allowed fellow Suicide Squad members to ink the word 'SKWAD' on various body parts, Cara decided join to them. Margot and Cara gave each other matching toemojis - which is the art of a smiley face etched on to the bottom of one's toes.
15 of 17
The wasp tattoo on her middle finger on her left hand
On the other hand to her lion finger, Cara has a small black wasp on her middle finger. She posted a picture of the new inking in November 2014.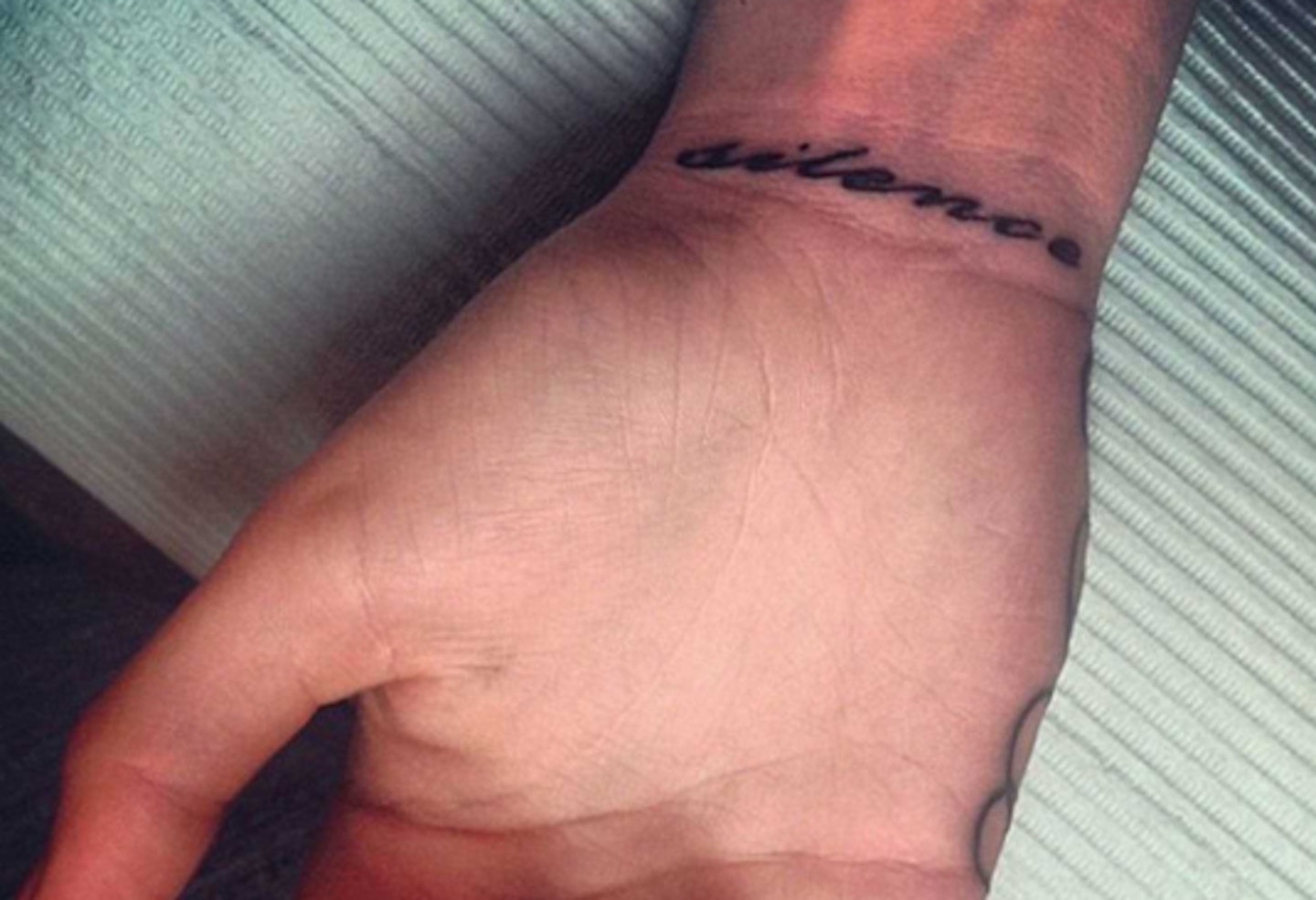 16 of 17
The 'silence' tattoo on her wrist
Cara added the word 'silence' to her wrist claiming, 'Silence speaks when words can't'. The ink was done at Cara's tattoo parlor of choice, Bang Bang NYC, run by the artist Keith McCurdy who goes by the name Bang Bang.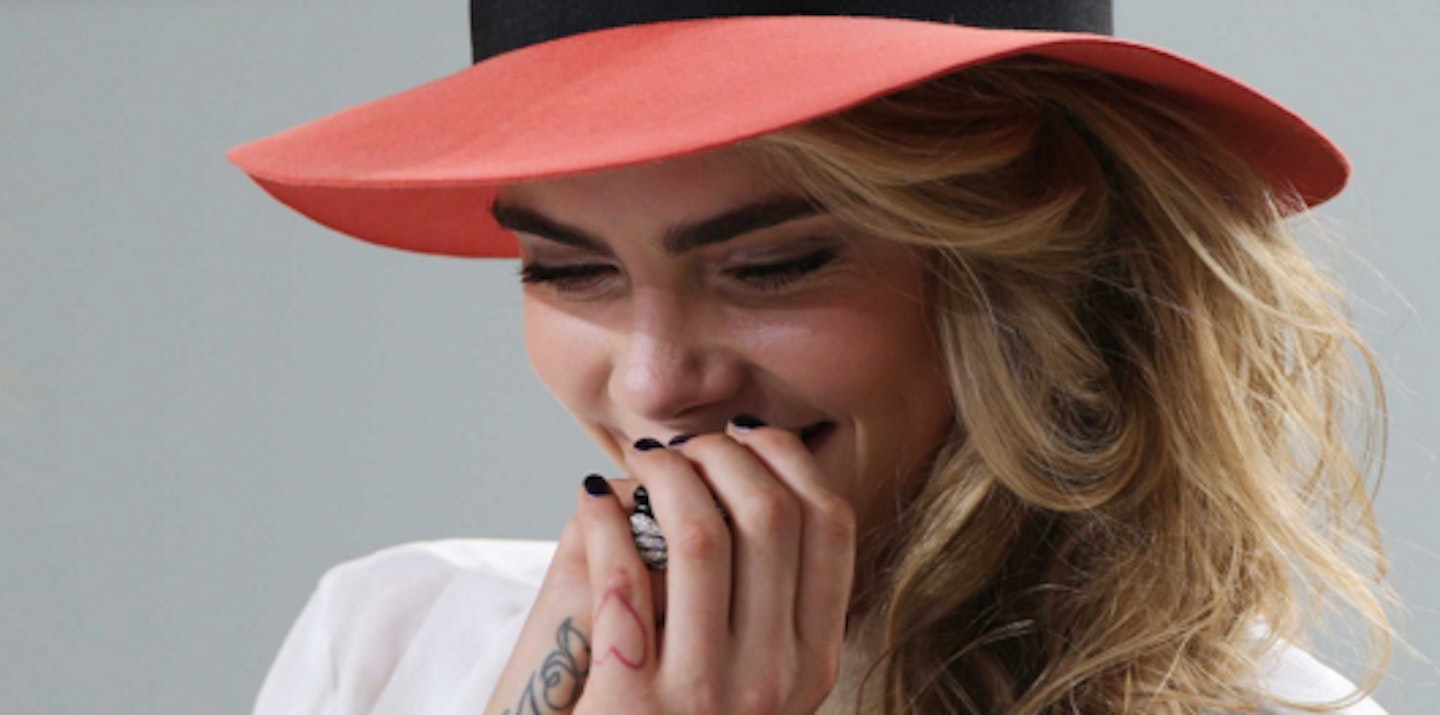 17 of 17
The red heart on her pinky
Cara got the outline of a red heart drawn on her pinky by - you guessed it - Bang Bang.