While everyone was waiting to hear what the Prime Minister would say during his speech at the Conservative Party Conference in Manchester today, it was his wife who surprised the crowd by taking to the stage to introduce him. Akshata Murty joked that she had 'gatecrashed' the event to introduce her husband to the audience, but not before delivering her own speech. Cementing the fact that the suit is this season's ultimate power player, Murty chose a striking coral two-piece for her moment on stage.
The suit is from The Fold, the British tailoring brand founded by Polly McMaster and previously worn by a diverse list of women including Catherine, Princess of Wales, her sister Pippa Middleton, Holly Willoughby, Maisie Williams and Samantha Cameron. McMaster says she established the label as a response to the lack of appealing workwear options on the market, which she has evolved to meet ever-changing dress codes.
Murty's suit is currently on sale, with the jacket reduced from £550 to £385, while the trousers are £227. Since she took to the stage earlier today, searches for her outfit have spiked and, unsurprisingly, The Fold has labelled the pieces on its website as 'selling fast'.
It's no secret that, particularly for women – and especially those existing in a political sphere – clothes can be a powerful and invaluable tool. The sad truth is that women's appearance is still dissected in a way men's is not and, as a result, making certain sartorial choices can communicate a message the wearer may want to implicitly share with the world.
In this case? Murty has been careful to choose a British label – and one helmed by a woman. McMaster has openly said in the past that when she started work, she was in a male-dominated industry and wanted to feel confident in her clothes, which led to her founding The Fold. Murty's coral suit stands out in the sea of grey and black that is the Conservative Party Conference but remains professional and serious. It's stylish without being too fashion which, let's face it, is often (unfairly, in my humble opinion) regarded as frivolous and not to be taken seriously.
There is also, of course, the delicate matter of cost. Murty clearly engages with fashion; she established her own , now-defunct fashion line in 2011 and has often chosen those IYKYK pieces (read: quiet luxury) like JW Anderson's chain-embellished suede slippers, which she was photographed in as she took her children to school and which prompted outrage.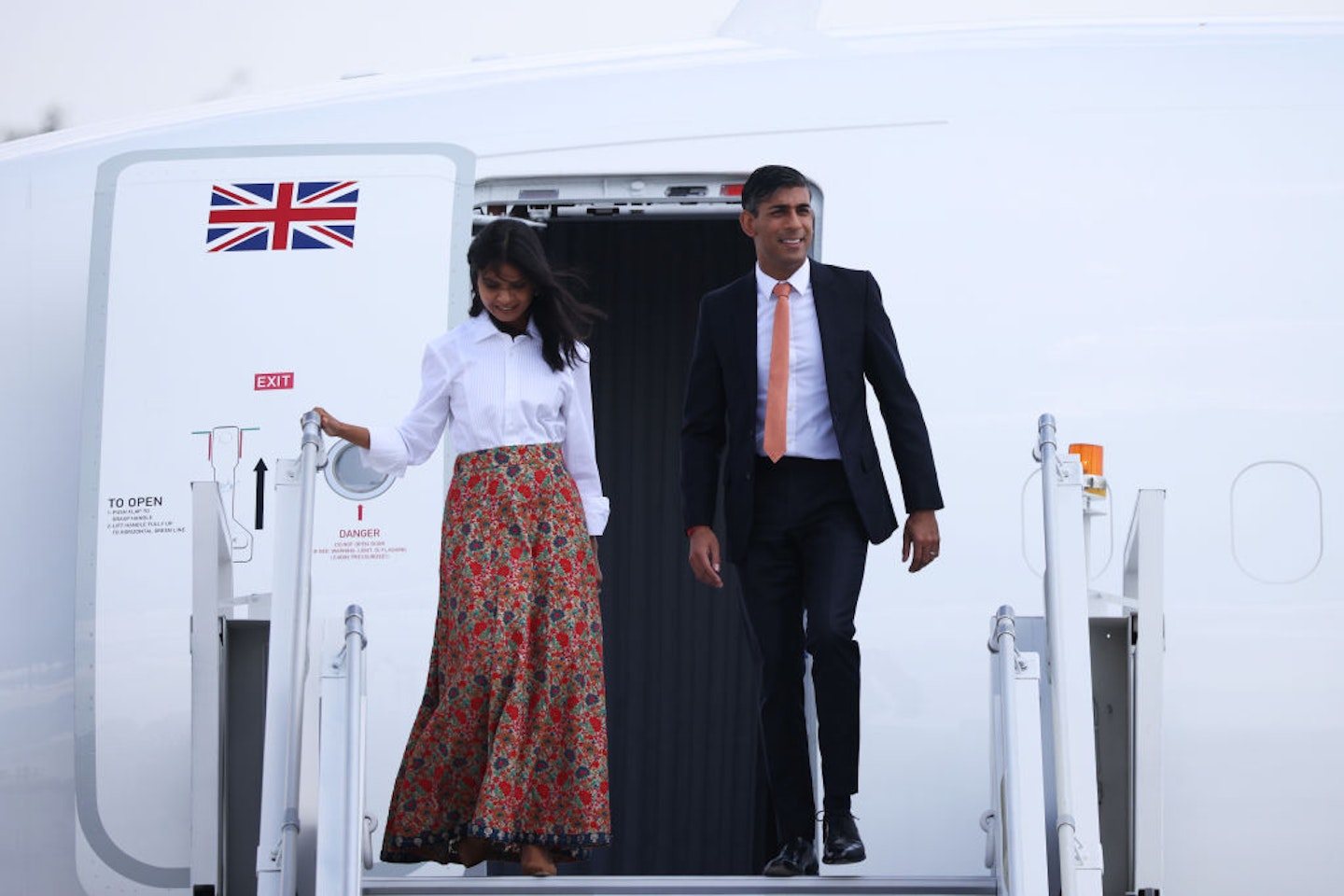 Since moving into Number 10 with her husband, Murty has started to select mid-range British labels that are aspirational without straying into eye-watering price tags. For the G20 summit in India, for example, she wore a crisp white shirt which costs £95 from With Nothing Underneath (also loved by Meghan Markle) and she chose a fuchsia knit of the same price from cashmere label Chinti & Parker to wear with £165 trousers from ME + EM at the G-7 summit in Tokyo.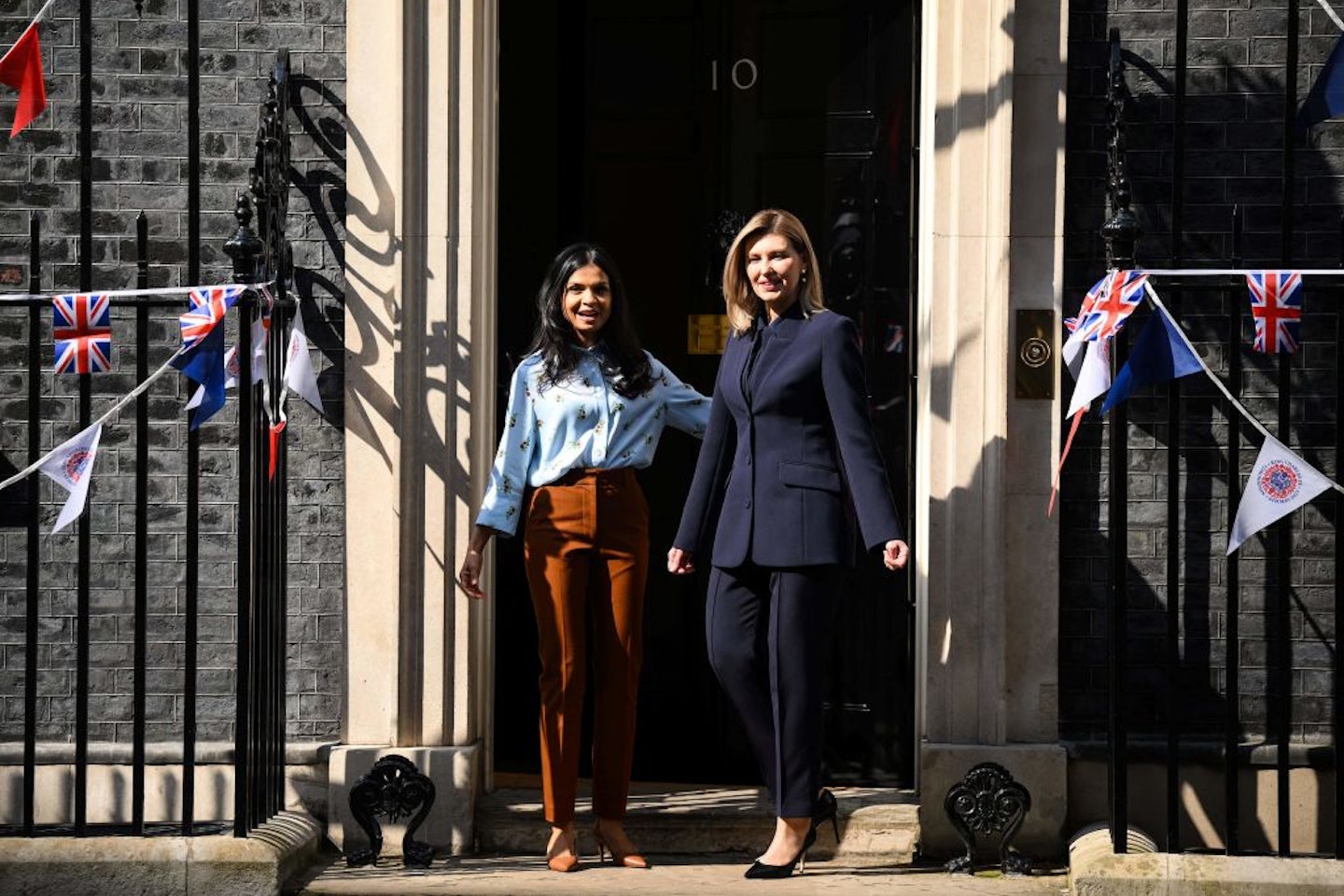 Murty has also worn pieces from Rixo, Jigsaw and Ukrainian label Sleeper, which she wore to greet Olena Zelenska, First Lady of Ukraine. Just like the Princess of Wales, Murty is exhibiting some fairly diplomatic dressing, avoiding the super labels one might usually expect to see in the wardrobe of a billionaire.
It's clear that Murty is using fashion to her own advantage; she's a tactical dresser, whatever you may think of her husband's policies.