Akshata Murty is frequently spotted by her husband Rishi Sunak's side. In October, she made a surprise appearance at the Tory conference, leaving the country desperate to know more about the woman supporting the Prime Minister behind the scenes.
Making a surprise speech at the Conservative Party conference to support her 'best friend,' Akshata insisted that her husband has 'honesty, integrity, and a firm understanding of right and wrong'.
Admitting that her husband had 'no idea' that she'd planned the gushing tribute, Akshata - who was wearing a burnt orange suit from The Fold - joked, 'As you'd expect, there's been a lot about Rishi in the media. About who he is, what he likes, what he doesn't like, what motivates him and so forth.
'Now some of it is accurate, I'm afraid he does love a good rom-com - the cheesier the better even. Some of it is not so true, so you'll be relieved to hear that episodes of Emily in Paris are not informing his outlook on the EU.'
After taking to the stage the public are even more intrigued, and there's some familiar questions cropping up, especially around Akshata Murty's bank balance, considering she's richer than some of the royals. Here's everything you need to know about the Indian-born heiress who married the future Prime Minister back in 2009.
How did Rishi Sunak and Akshata Murty meet?
Akshata met Rishi while studying at Stanford University in America in 2004, where Rishi had won a prestigious Fulbright scholarship. Tatler described her as 'an artistic and fashion-loving student with a deep passion for India's traditional craftsmanship.' Apparently, Rishi even switched classes just to get to know the girl with 'glossy black hair tumbling everywhere' better.
Opening up in her speech, Akshata shared that Rishi's 'smart suits and love for hoodies' were what initially caught her eye when they met at just 24 years old.
The millionaire heiress has received a great deal of attention since her husband Prime Minister Rishi Sunak assumed office in October 2022. She's often seen accompanying her husband at various high profile events - including this week's Tory conference - where all eyes are on her fashion choices.
Speaking to The Times, Rishi said of his marriage: 'My family all drink, my wife definitely drinks. It massively irritates her that I don't,' adding that he was persuaded to have a couple of shots before his wedding to Akshata, but didn't enjoy the taste.
And when it comes to Rishi and Akshata, it seems that opposites really do attract. 'I'm incredibly tidy, she's very messy....I'm much more organised, she is more spontaneous,' he revealed. 'She is not going to love me for saying this but I'll be honest with you, she is not big on the whole tidying thing. She is a total nightmare, clothes everywhere... and shoes... oh God, shoes!'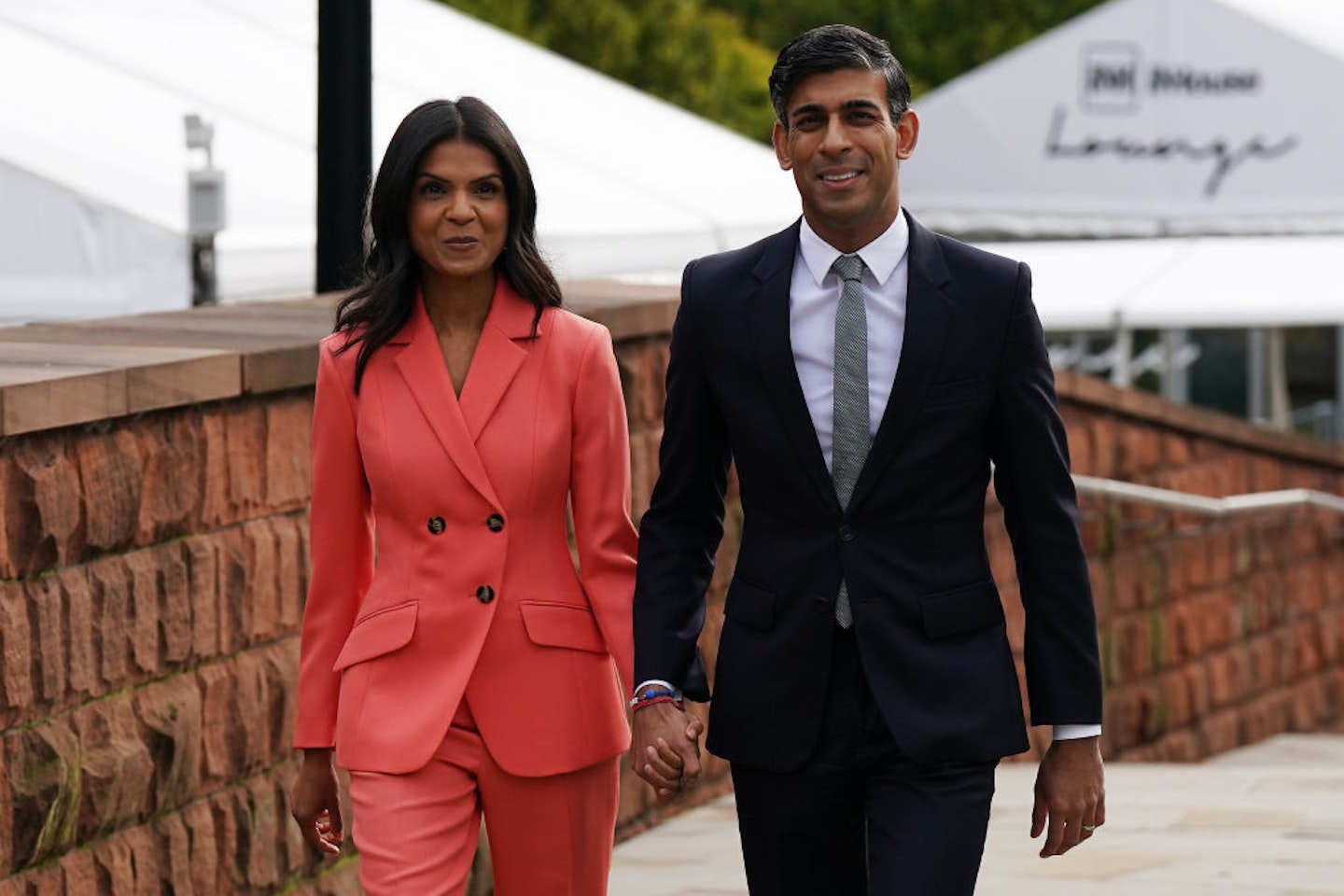 Who is Akshata Murty's dad?
Her father Narayana co-founded IT company Infosys in 1981, making him now one of the richest men in India. It's been reported that Akshata holds £430 million in shares in her family's firm - which actually makes her richer than King Charles. The business currently has an office in Moscow, which raised many questions in relation to the Russo-Ukrainian War.
Where is Rishi Sunak's wife, Akshata Murty, from?
Despite Akshata's massive fortune, she was brought up with much less. In fact, her own father learnt about her birth in 1980 through a colleague, as the family did not own a phone.
At just a few months old, Akshata went to live with her grandparents so that her mother and father could focus on advancing their careers in Mumbai. After one year, her father Narayana founded Infosys - the company that would go on to create generational wealth for the Murty family.
Akshata's mother, Sudha, was the first female engineer to work at TELCO (India's biggest car manufacturer), and also found success as an author. But despite the family's new success, Akshata and her brother, Rohan, had a very normal upbringing. According to AFP, siblings grew up with no television in their house, and rode a rickshaw to school like their friends,.
And the millionaire heiress doesn't forget her humble beginnings. Speaking about wealth, Akshata said in an interview in 2017: 'Class does not mean possession of a huge amount of money. There are plenty of wrong ways to earn money in this world. You may be rich enough to buy comfort and luxuries, but the same money doesn't define class or give you the ability to purchase it. The concept that you automatically gain class by acquiring money is an outdated thought process.'
How do Akshata Murty's friends describe her?
In her profile with Tatler - in which she did not give an interview, but allowed her close friends to spill some secrets - Akshata was described as 'a reserved, rather sweet, nerdy person'.
Another friend later added, 'Akshata is a total feeder. You come away from any meal in her house stuffed to bursting, with a Tupperware box of food in your hands for the next day. Just as you're leaving, she and Rishi go to the fridge and load you up – they both hate waste.'
Where did Akshata Murty study?
Rishi Sunak's wife was born in Hubli, India, before moving to Bangalore where she attended Baldwin Girls' High School. She then went to Claremont McKenna College in California, and completed a Masters in Business Administration at Stanford University.
When the couple married back in 2009, the couple tied the knot with a two-day ceremony hosted in Akshata's hometown of Bangalore.
What is Akshata Murty's net worth?
She's built an impressive reputation for herself, but most of her fortune comes from her father's impressive dynasty. Holding a share of her father's company, it's been reported that her net worth sits around £51 billion.
What is Rishi Sunak's net worth?
Her husband Rishi has an estimated net worth of £200m according to The Sun. According to the Sunday Times Rich List, the couple's combined wealth is a massive £730 million - which is more than the late Queen Elizabeth II.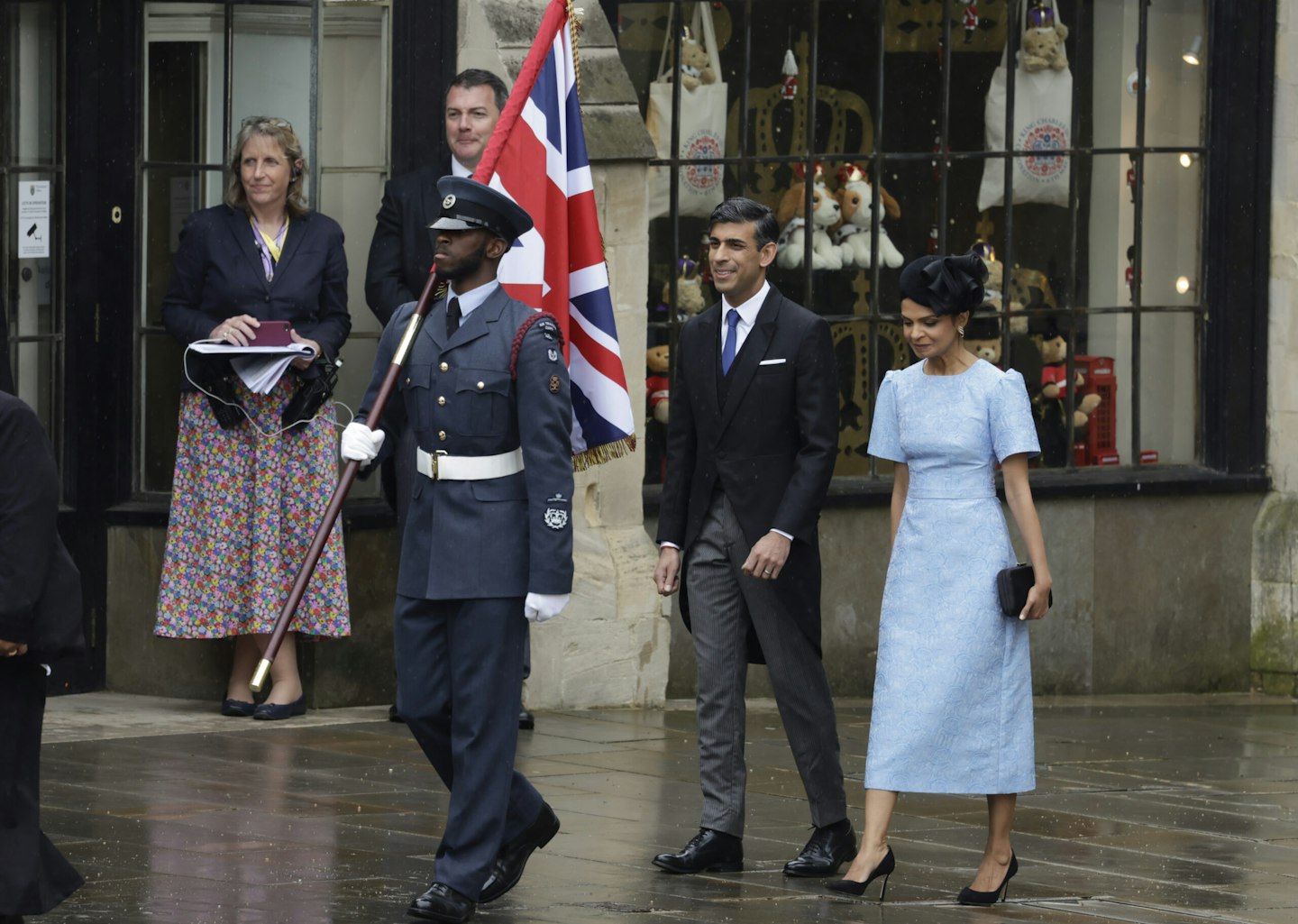 The couple own 'at least four properties', including a £7 million house in Kensington where they live - when not in the flat above Number 10, that is - with their two children, Krishna and Anoushka. Their other properties include a country house in Yorkshire - Rishi's constituency - called Kirby Sigston Manor which was acquired for £1.5 million and boasts a pool and gym.
Who are Rishi Sunak and Akshata Murty's children?
The couple share two daughters, Krishna, 11, and Anoushka, 10.
Their two daughters attend a prestigious private all-girls school in South Kensington, where Victoria and David Beckham's daughter Harper Beckham is their fellow pupil.
The couple choose to keep their daughters out of the limelight, although they do sometimes make an appearance alongside their parents.
What is Rishi Sunak's wife's job?
In 2007, Rishi's wife set up her own fashion brand called Akshata Designs after studying at the Fashion Institute of Design and Merchandising in LA. The aim of the company was to celebrate Indian culture by sourcing and championing artists in remote villages, working with them to draw inspiration and create something new.
'I'm about the story behind a particular garment, its authenticity, craftsmanship and protecting a rich heritage,' she told Vogue. 'I care about doing something in India, for India, because it's part of our family's DNA.'
Akshata also holds shares in her family business Infosys, and on her LinkedIn is listed as director of the business she and Rishi set up together called Catamaran Ventures, the gym chain Digme Fitness, and the Etonian tailor New & Lingwood. She's also been linked to Jamie Oliver's Pizzeria.
Does Rishi Sunak's wife have non-dom status?
Back in April, Akshata was revealed to have non-dom status in the UK, after it was revealed that she used the said status to avoid some taxes. Put simply, non-dom status meant she didn't have to pay UK tax on income from foreign investments, rental payments on overseas properties, or bank interest. It's been estimated that Akshata may have been able to save around £20 million through having non-dom status.
At the time, a spokesperson said, 'Akshata Murty is a citizen of India, the country of her birth and parent's home. India does not allow its citizens to hold the citizenship of another country simultaneously. So, according to British law, Ms Murty is treated as non-domiciled for UK tax purposes. She has always and will continue to pay UK taxes on all her UK income.'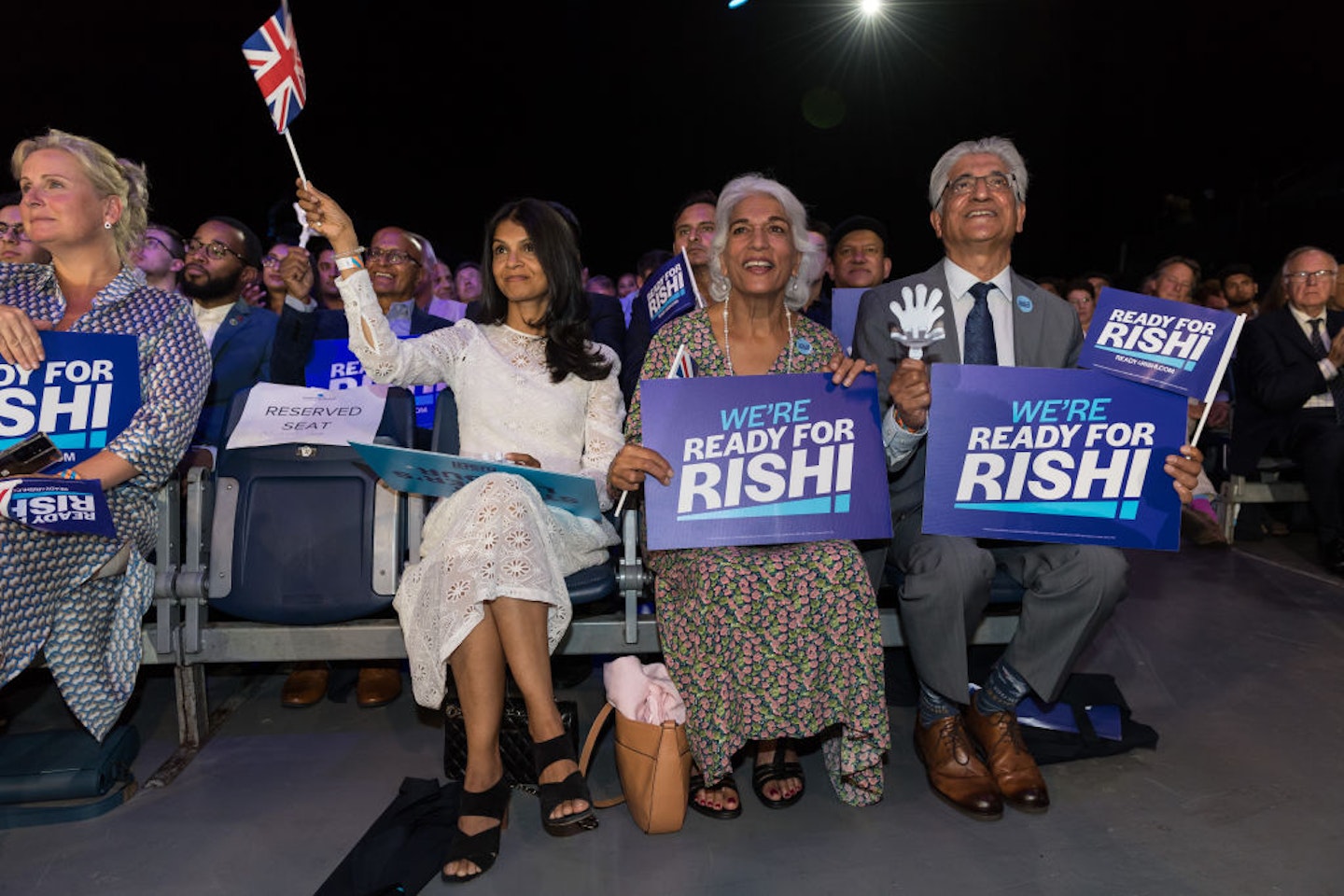 In response to a public outcry, Akshata relinquished her non-dom status - now paying British taxes on all her worldwide income.
In a statement, she said: 'It has become clear that many do not feel it is compatible with my husband's role as chancellor. I understand and appreciate the British sense of fairness and I do not wish my tax status to be a distraction for my husband or to affect my family.'
She added: 'Rishi has always respected the fact that I am Indian and as proud of my country as he is of his. He has never asked me to abandon my Indian citizenship, ties to India, or my business affairs, despite the ways in which such a move would have simplified things for him politically'
'My decision to pay UK tax on all my worldwide income will not change the fact that India remains the country of my birth, citizenship, parents' home and place of domicile. But I love the UK too. In my time here I have invested in British businesses and supported British causes.'
Does Rishi Sunak's wife do business with Russia?
After Russia invaded Ukraine and Rishi urged UK businesses to 'think very carefully about their investments in Russia and how they may aid the Putin regime', it was questioned whether his wife and family were actually benefiting from business with Russia themselves...
When asked about his wife's shares, Rishi told reporters: 'I'm an elected politician and I'm here to talk to you about what I'm responsible for. My wife is not.'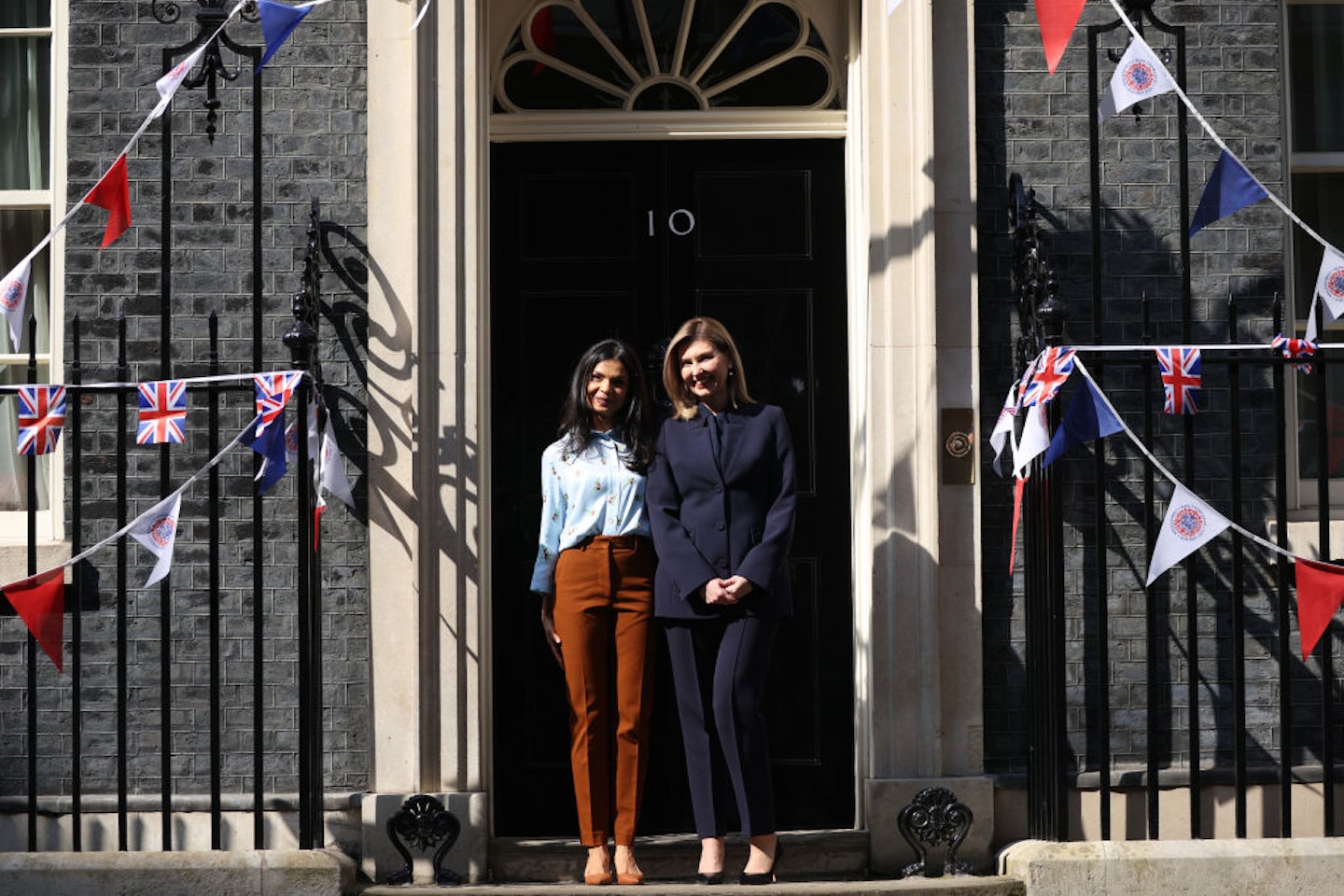 The PM denied he or his family were profiting from any business with Russia, insisting 'I really don't think that's the case.'
A spokesperson for Infosys told Sky News, 'Infosys supports and advocates for peace between Russia and Ukraine. Infosys has a small team of employees based out of Russia that services some of our global clients, locally. We do not have any active business relationships with local Russian enterprises.'
Why was Rishi Sunak investigated over Koru Kids?
The couple previously hit headlines after Parliament's commissioner for standards announced an investigation into Rishi Sunak over a potential breach of rules relating to the declaration of interests, understood to be related to his links to a childcare firm in which his wife is an investor.
While an update posted did not include any details of the enquiry, it did say that it relates to paragraph six of the updated code of conduct for MPs, which states they 'must always be open and frank in declaring any relevant interest in any proceeding of the house or its committees'.
It comes after Sunak announced a pilot scheme that would incentivise people to become childminders, with £1,200 offered to those who train through specific childcare agencies. Koru Kids, which Akshata Murty is listed as a shareholder in, was among six private childcare providers likely to benefit from the scheme.
When speaking about childcare changes before the liason committee, Sunak was asked by the Labour MP Catherine McKinnell whether he had any interests to declare. 'No, all my disclosures are declared in the normal way,' he told McKinnell.
Does Akshata Murty have social media?
Yes! You can follow her over on @akshatamurty_official to keep up.
What are Akshata's plans as the UK's First Lady?
A close friend told Tatler that Carrie Johnson and Akshata Sunak couldn't be more different, saying, 'There will be a different vibe now. Akshata is putting her stamp on that and is rolling out plans for more events and meetings.'
They continue, 'She wants to open up the state rooms as much as possible, so that the public gets to understand the building's history and its significance. She is keen to celebrate the stories of Britain through Downing Street – whether the visitors are heads of state or members of the public.'
And after her latest appearance at the Tory conference, we might be seeing a lot more of Akshata making her mark in the political world - ensuring the world knows exactly what she thinks of her husband, the Prime Minster.