Hello and welcome to the ramblings of a geriatric millennial who's just had the best 20 minutes of her week, pausing and screenshotting the incredibly grainy video of Girls Aloud's debut single and seminal pop piece, Sound of the Underground.
Why? Because yesterday Girls Aloud announced a reunion tour in memory of member Sarah Harding, who died from breast cancer in 2021.
Anyway, soon as we heard that electric guitar intro on our GIRLS ALOUD 4 LYF Spotify playlist this morning, we were back there, in a club swinging our hips VERY badly to this song, in our shiny black bootcut trousers (stinking of cigarette smoke) and strappy going out top, pretending we were in this video. So, in celebration, here's every element of the outfits from Girls Aloud's Sound of the Underground video that you definitely wore, tried to wear, or made a friend wear after a shopping trip to Jane Norman, Morgan and Bay Trading, before bobbing into Faith for some kitten heels to really set the whole thing off.
(Note: We beg for mercy on the screengrabs, the girls were literally behind a cage for most of the video...)
Hello and welcome back to 2003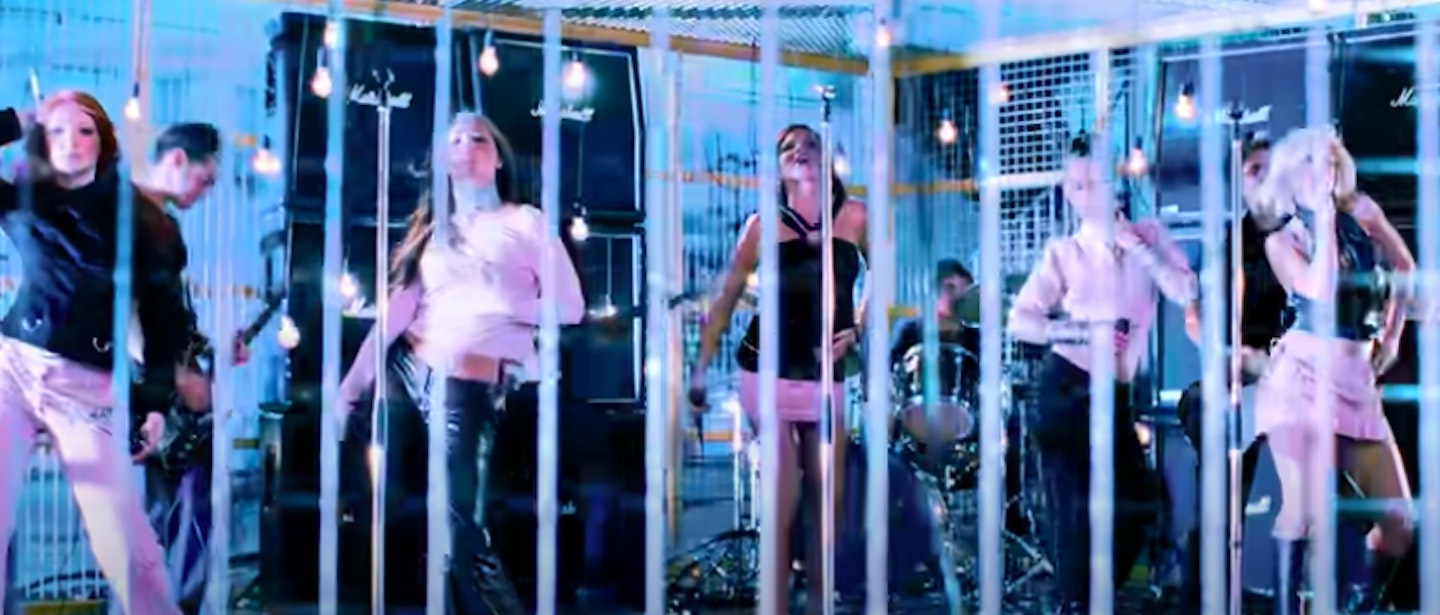 You're in your friend's living room, having some pre-drinks (Cheeky Vimto?) and this banger is playing on MTV... you're about to create your dream wardrobe, let's go...
Sarah's black halterneck going out top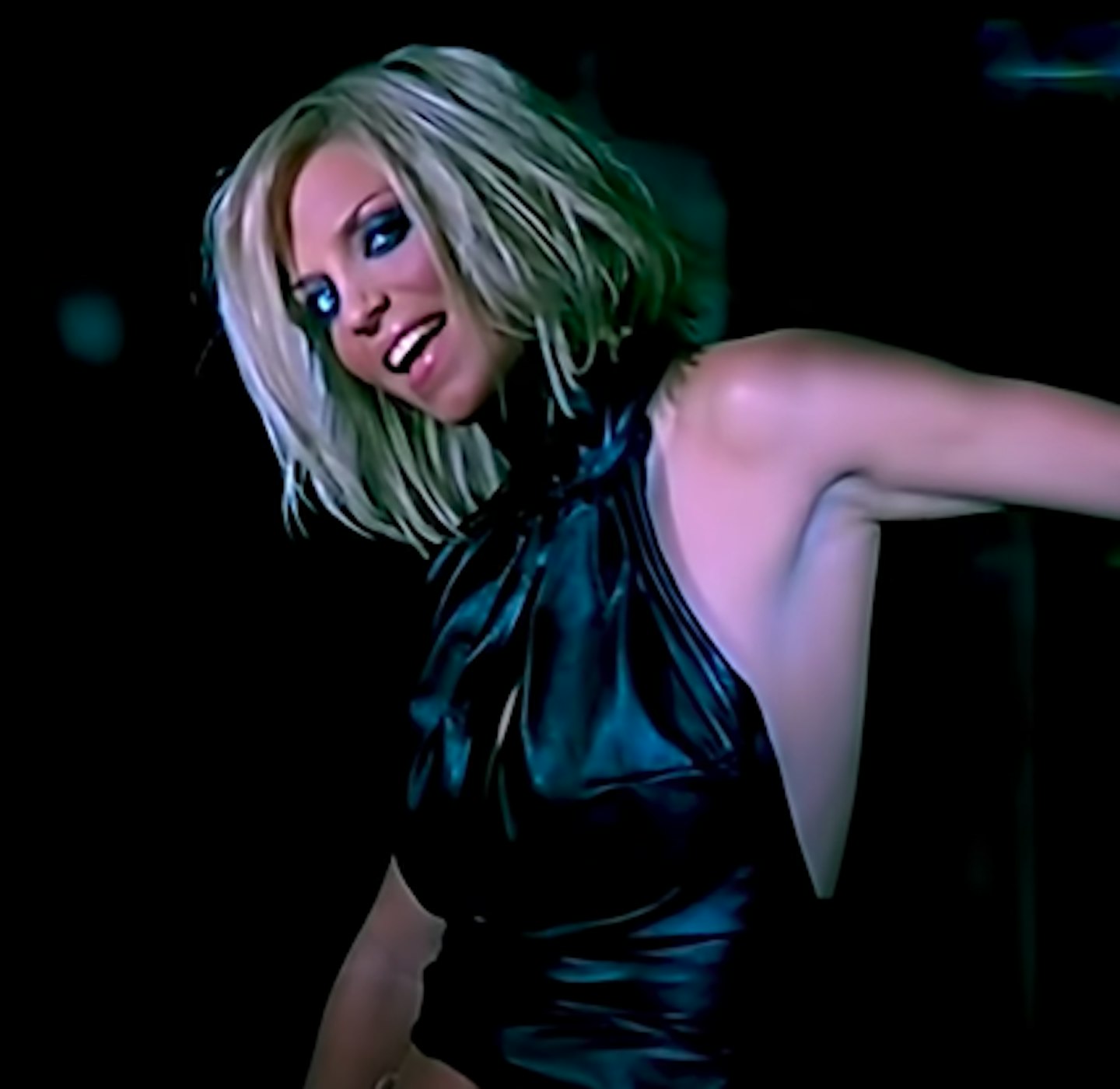 The scarf-look top was a key stable in the going-out top section of the wardrobe... the specific area that could be worn with absolutely NO BRAS. We can feel that material just looking at it. The high neck is an absolute classic. Would probably pair with some bejewellled, light-coloured denim, bootcut jeans from River Island. 2003 bonus points for the dark eyes, light lips and bob you tried to achieve with some mousse and Babyliss steam straighteners.
Nadine's hoops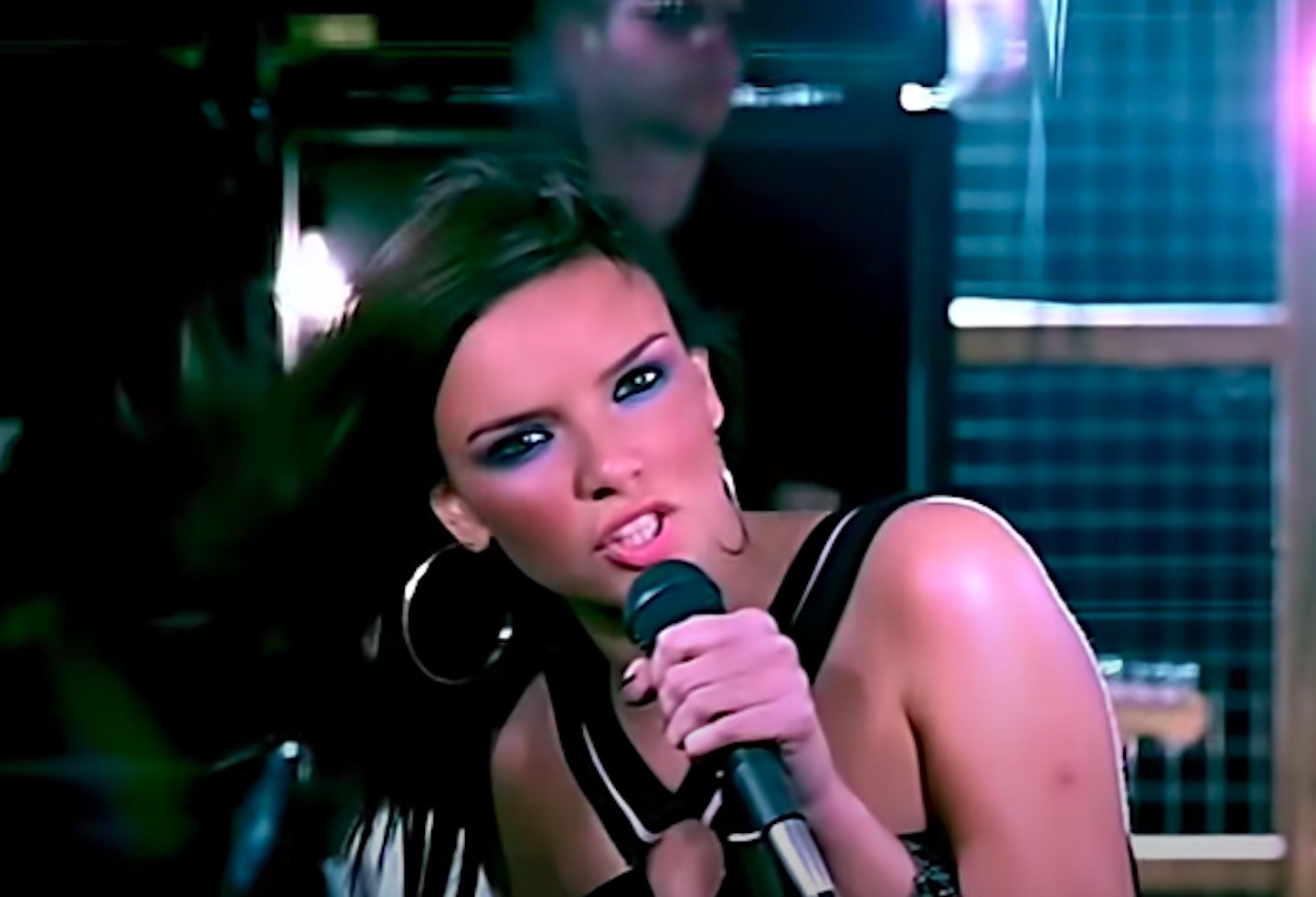 No notes on the hoops, because we still wear these and always will no matter how much 20-somethings laugh at us. Your brows have never likely have recovered from trying to look as incredible as Nadine's. 2003 never saw Cara Delevingne coming. Probably because their eyes were watering like all hell from all that kohl eyeliner on the inside lash line.
This pose you did at your small town nightclub and Nadine's short skirt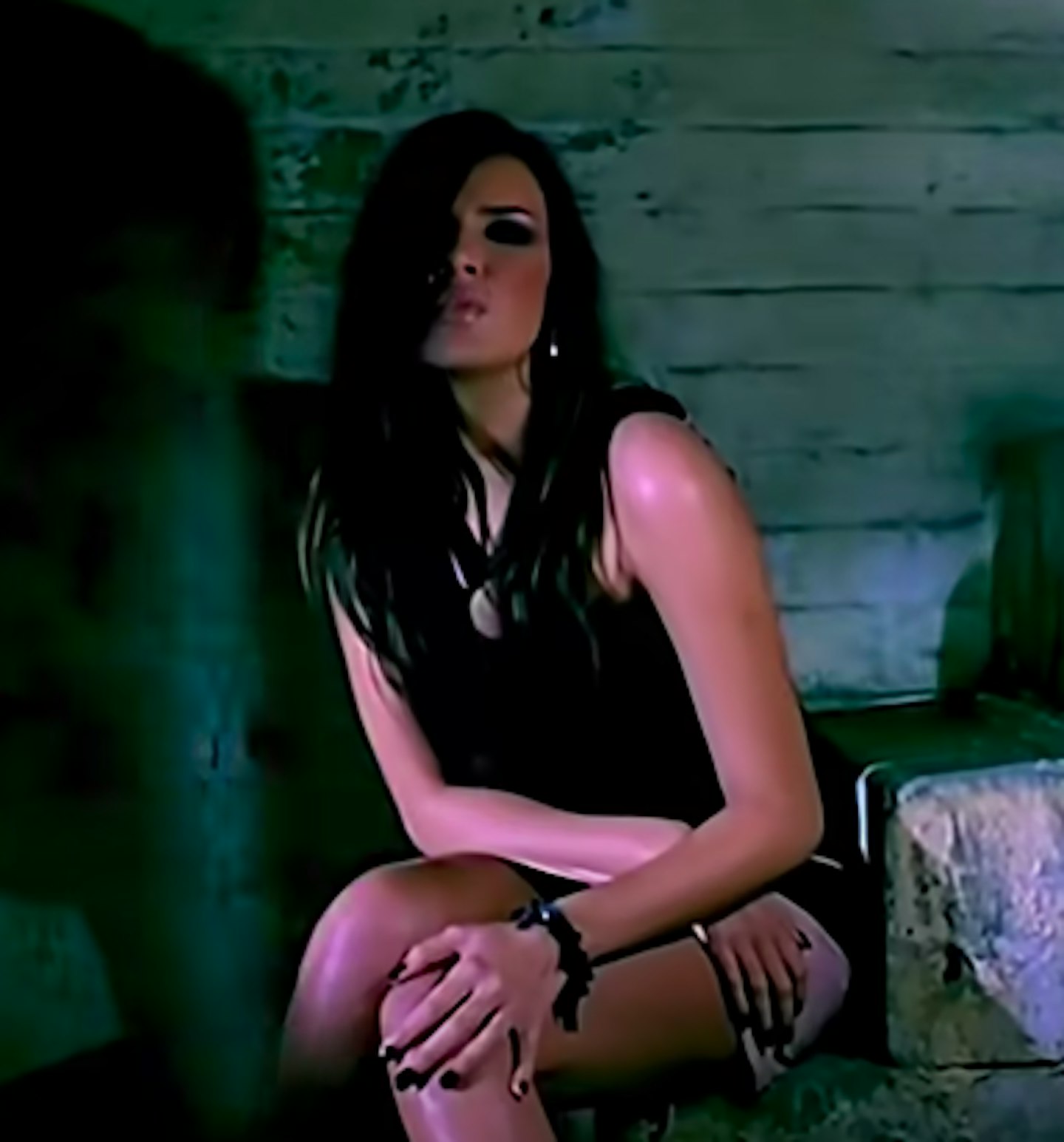 This looks incredibly like the infamous Miss Sixty skirt one of my friends had that was so short it had knickers sewn inside it. J'adore. You definitely tried to sit like this for a picture. Or accidentally pulled it off while being sick on the back stairs in the avenue behind the club. Hard to see in this shot, but Nadine is also wearing some black jaggedy gem stretchy bangle things (iykyk) that you 100 per cent owned too.
Nicola's combat trousers
Ok, they're definitely stocking these in H&M right now, but back in 2003 the cargo pant was a staple. Though you might've had a dragon or dubious 'Chinese symbol' embroidered on the back, along one of the calves?
Nicola's side chain belt thing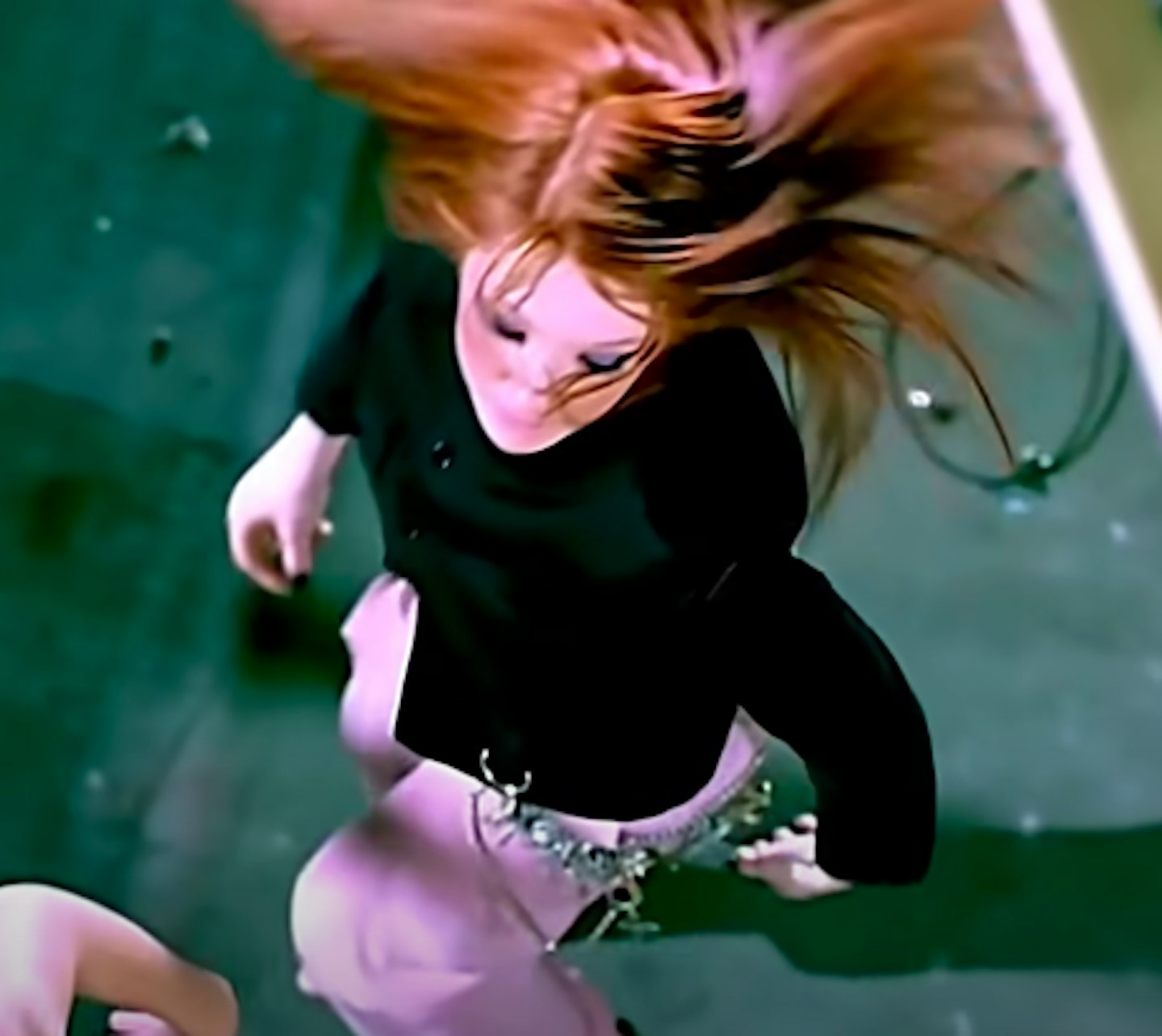 Yeah you're bopping along to Girls Aloud, but you're a grunge girly too! You loved Papa Roach when you were at school! This side chain belt thing helps you signal that. But, may we suggest, if you wanted a similar look, you could get a thin scarf and tie that around your hips and let it flow down the side of your leg too?
Kimberley's dramatic choker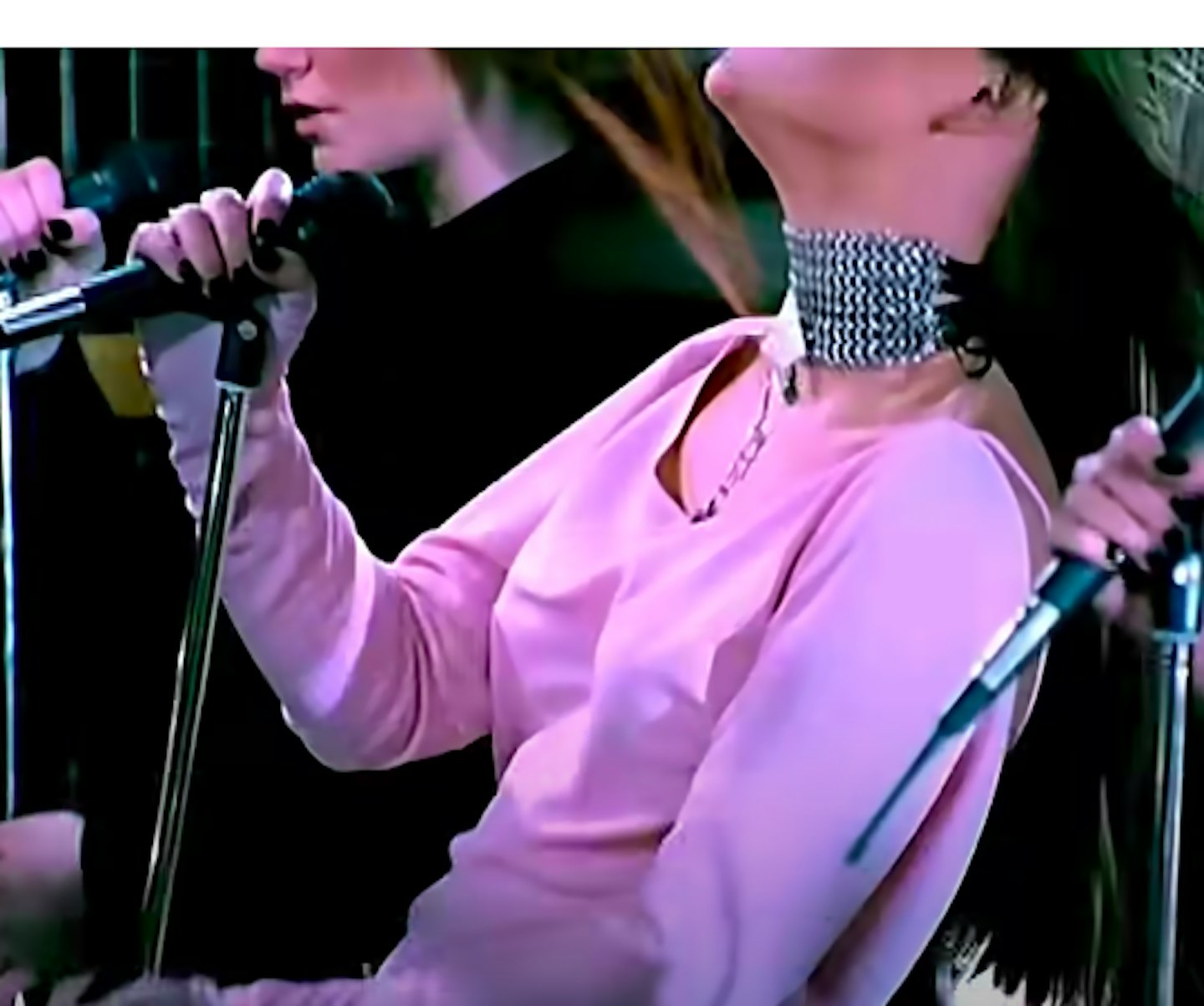 Look, the GREAT thing about a dramatic choker is that it can really dress up a look, yknow? Jeans, plain black top, choker and fancy make-up. Done!
Nicola's kitten heel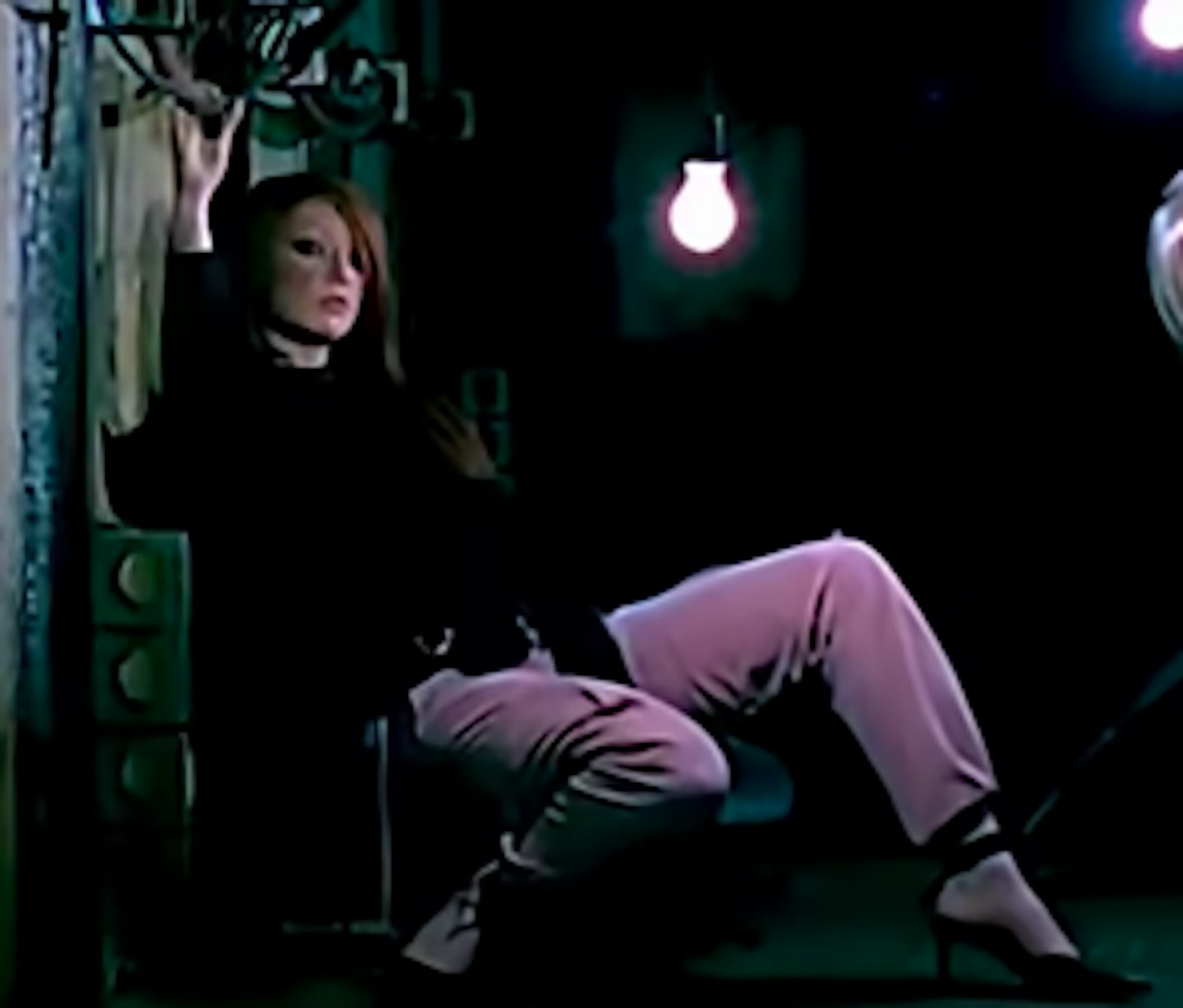 If you want a night off from your Faith strappy shoes and to spend the whole evening on the dancefloor, then the kitten heel is your friend. It looks like a heel at the front and the rest is hidden under your bootcut!! These are actually quite nice and we'd wear now, but at the time, we had them in a horrible plastic in ever colour (which you could then match to your bag, eyeshadow and scarf belt, gorge).
Nadine's top with some sort of metal hoop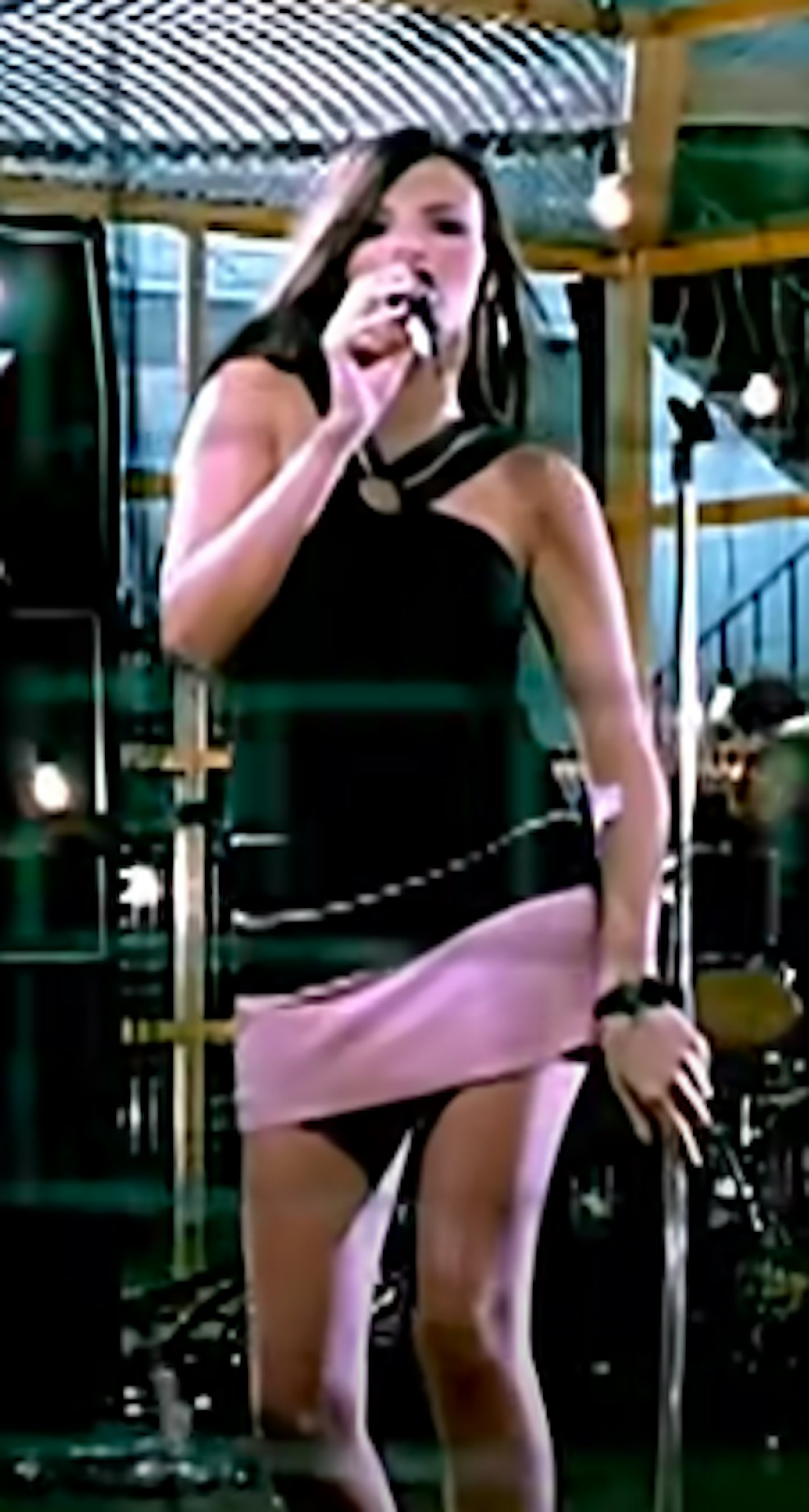 Black going out top, tick. Bit of a fancy neckline, tick. A metal hoop holding the neckline together?? Take my mum's debit card RIGHT NOW.
Cheryl's 3,000 bracelets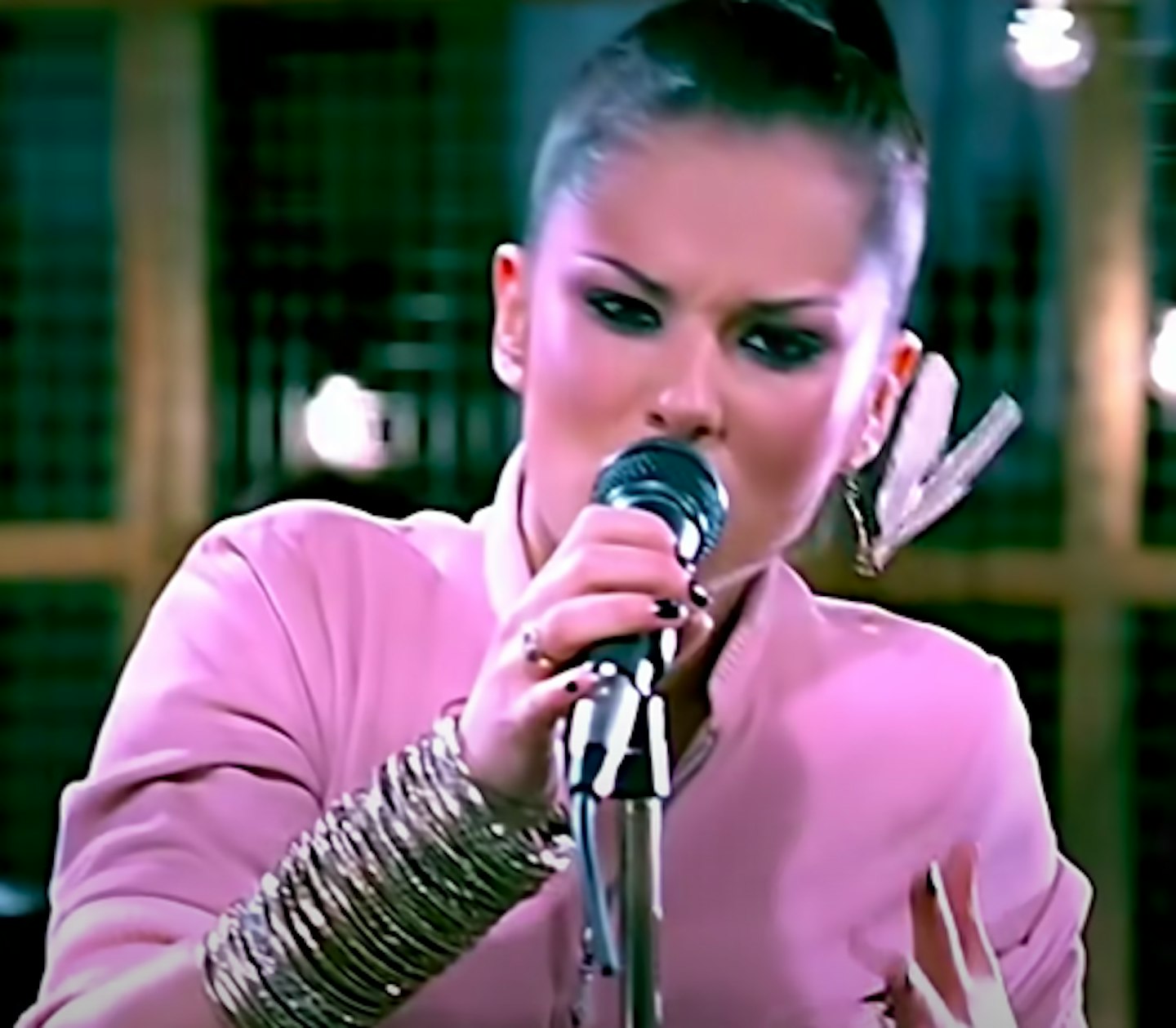 Again, another option to zhushing up any jeans and a nice top night... the 3,000 metal bracelets. We can absolutely smell these now. And then, for a holibobs option, you could do plastic multicoloured shag bands! A versatile look.
Cheryl's entire look actually, we just wanted to look exactly like this.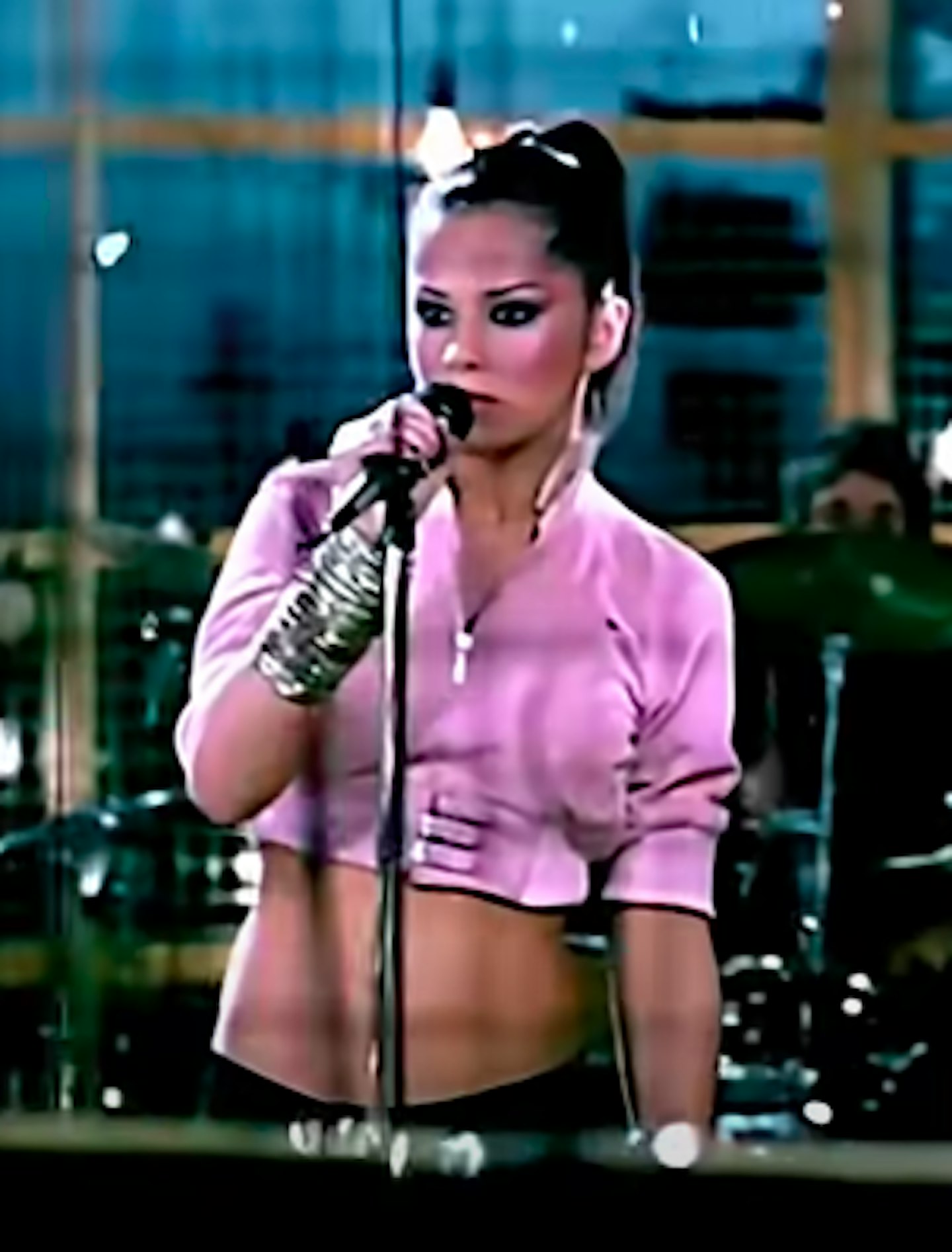 We're not going to pretend we could pull this one off. But this was THE LOOK you dreamed of and could maybe adapt. You might've tried the elements. The tummy out. The possible belly piercing. The buckle detail on the bottom of the top. The zip front. The Juicy Couture vibes. The flattering sleeve length. The low slung trouser! Chefs kiss kiss kiss. Oh, you probably definitely tried to do this hairstyle, but just looked like you were ready for PE :(
Kimberley's 'The straps make it dressy' top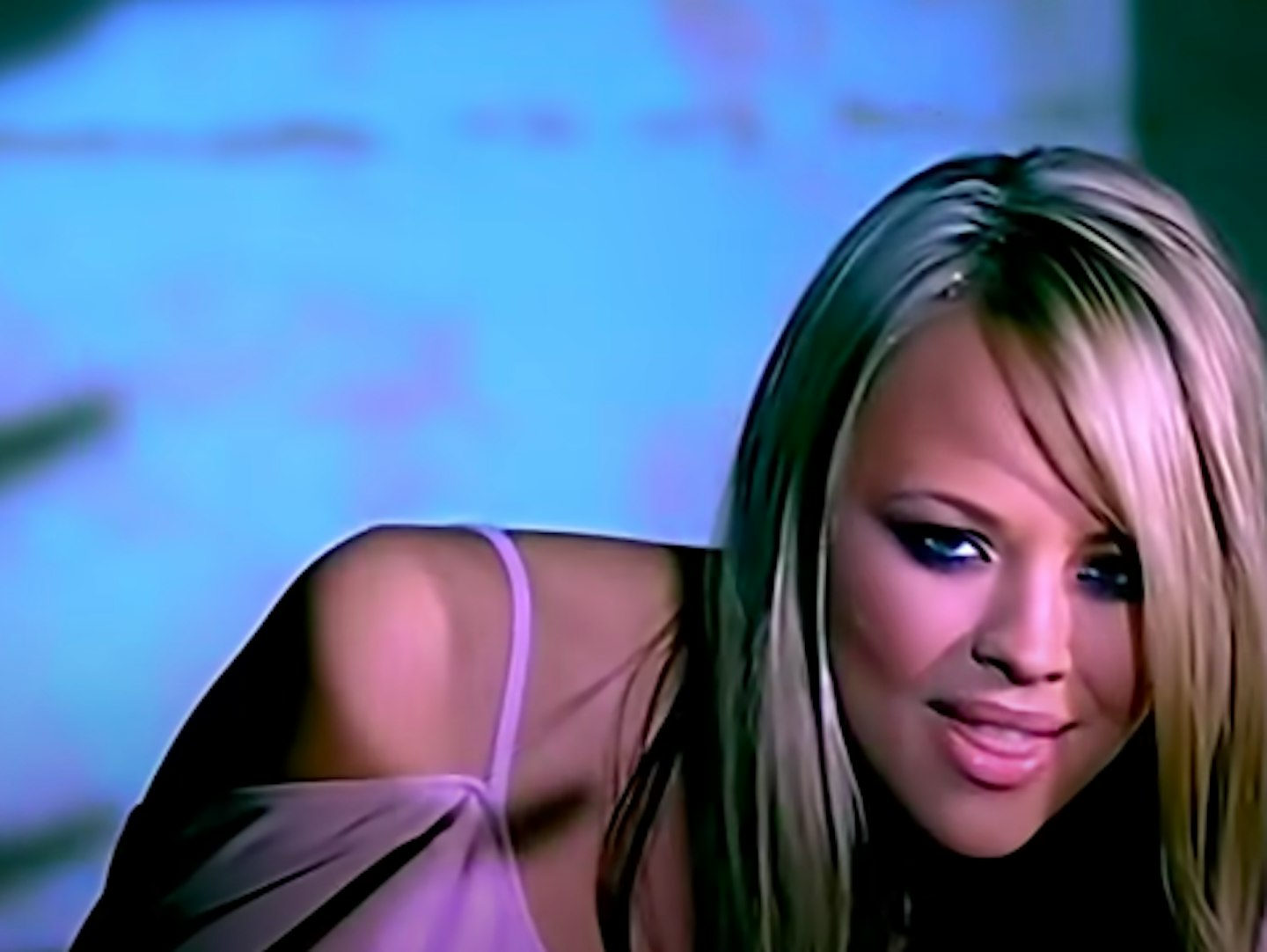 Plain pink top and black trousers like you're going to the office? Yes please! And especially if it had like, a bit of a fancy shoulder, or a bit of a different strap, yknow. We don't want to play with perfection, but we may have worn a different coloured bra strap to show off with this one, just putting it out there. Oh, and love, love, love the black/blonde hair. A dye job cut out and taken to a thousand salons.
Cheryl's one feather earring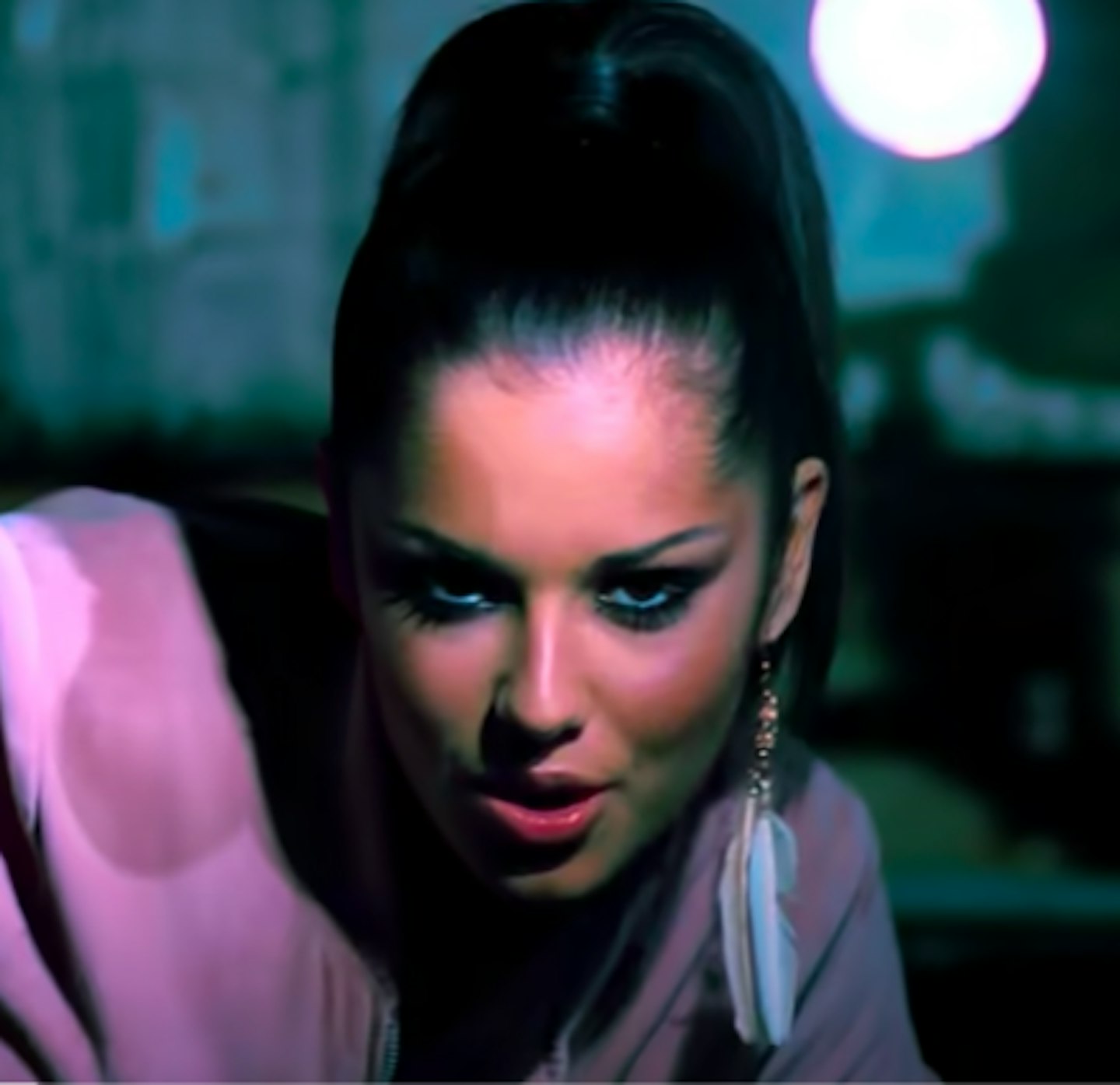 Quite a handy look because your jewellery collection of a billion Claire's Accessories 99p buys was such a state you could often not find a matching pair. This is absolute jewellery perfection.
Cheryl's tattoo that spawned a million tattos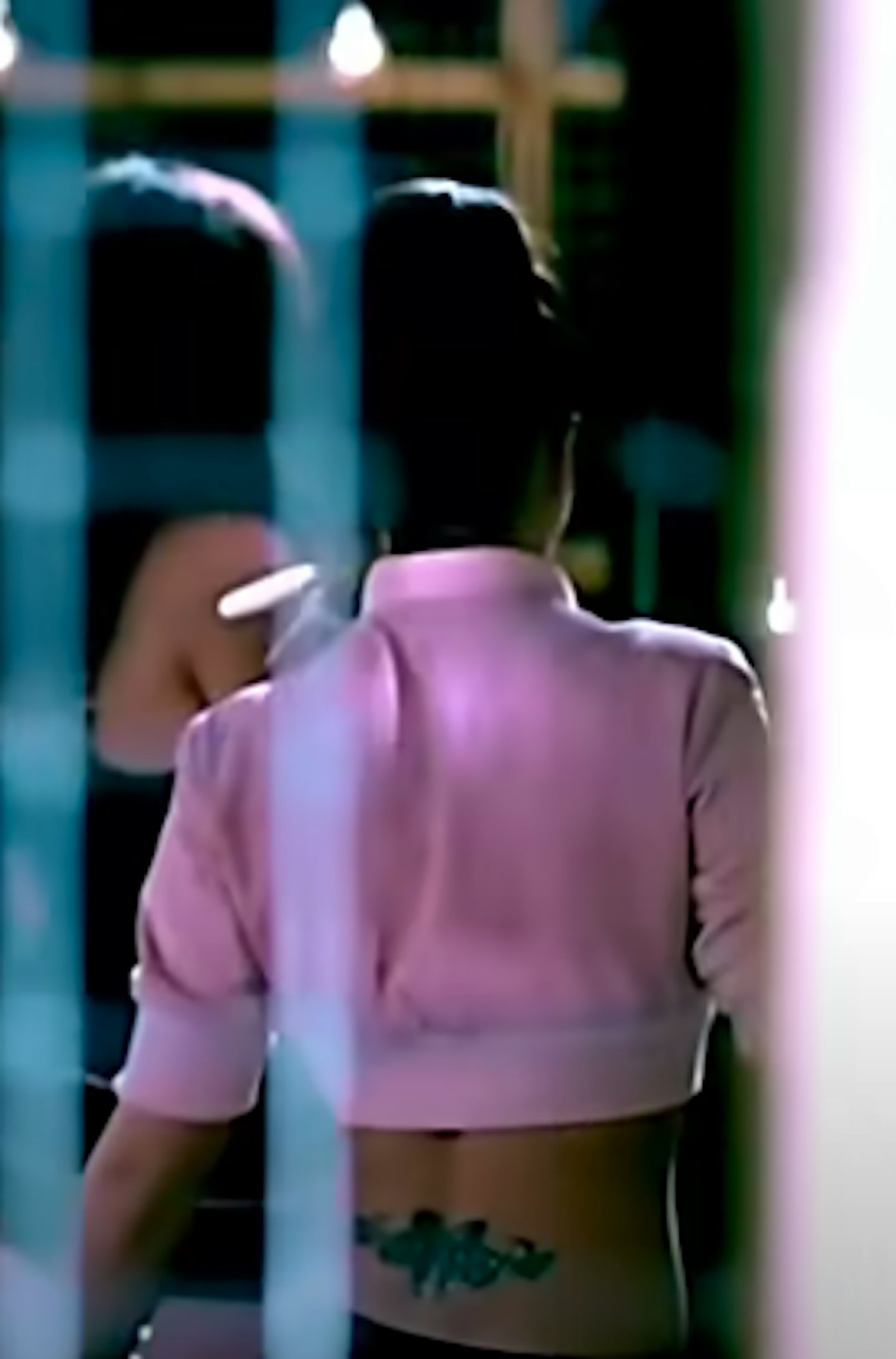 Have you got a lower back tattoo like this? Were you influenced by this exact closing video shot into thinking you'd always want to show it off with low slung trousers? Then you could be entitled to compensation by calling 0800-CHERYL-IS-OUR-QUEEN.