Suki Waterhouse has been sitting in the basement kitchen of an East London townhouse, waiting patiently and quietly for Grazia's photoshoot to begin.
Nursing a cup of tea, she seems something of a wallflower. But when the hair and make-up teams have finished, and the photographer picks up her camera to begin, Suki is asked if she has any preferences for what music is played while she poses. 'Busta Rhymes,' she answers. 'Or maybe Missy Elliott.' The music begins and she is suddenly dynamic, emanating control and power.
Blonde, slight and with big, brown eyes, it was inevitable that she would catch the eye of the modeling industry. And that like many before her, she would move into acting. But whereas many of her predecessors - Rosie Huntington-Whiteley, Kate Upton and Tyra Banks among them - have had limited success as blockbuster bombshells, Suki has intertwined her mainstream work in commercial films like Insurgent and this year's Detective Pikachu with more interesting fare like nihilist satire Assassination Nation, or the darkly dystopian The Bad Batch.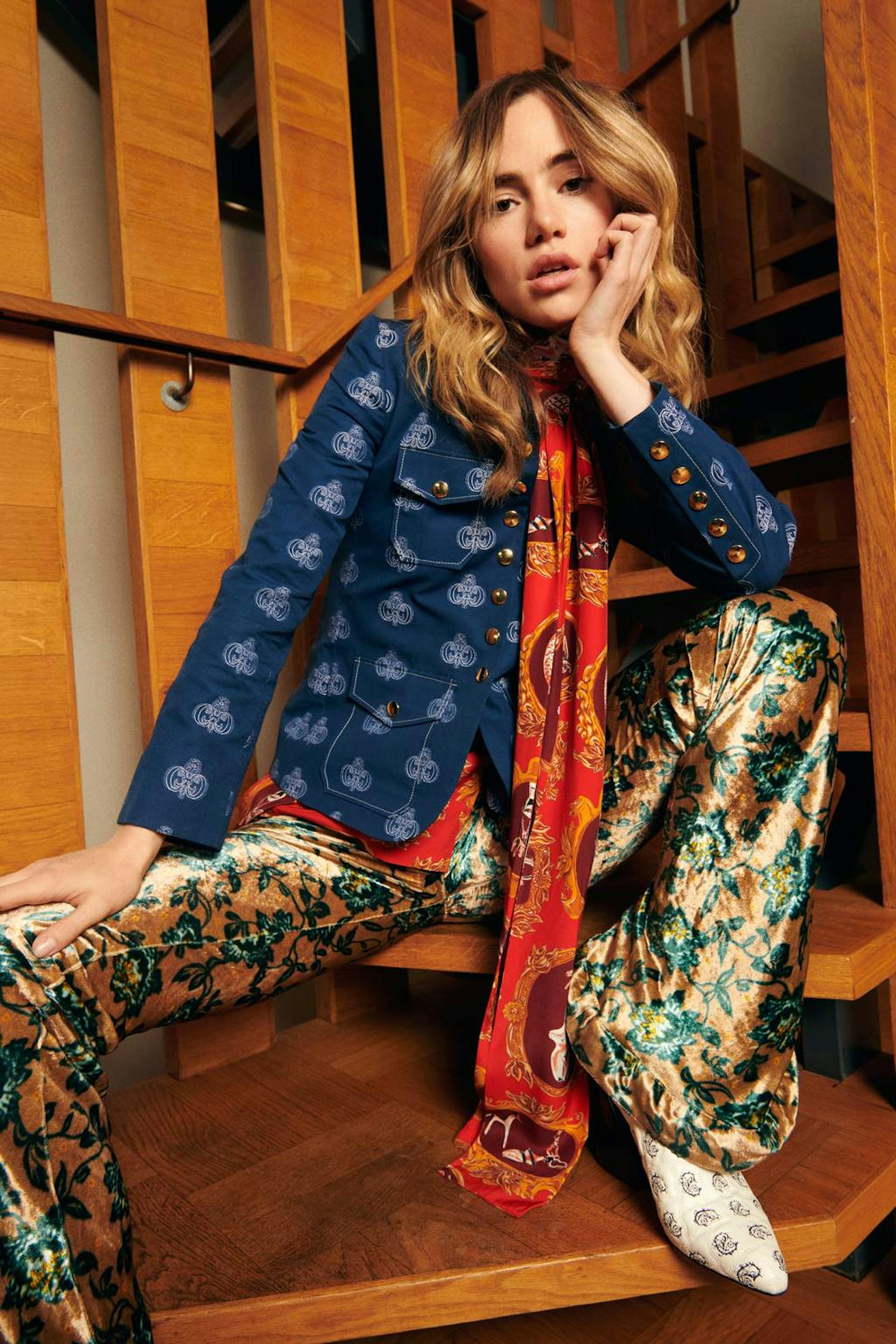 'My burning desire is just to make good art,' Suki, 27, explains during a break for lunch. 'Making a good movie is a miracle, it really is. It's such a mad soup.' Choosing good projects, is crucial, then, but there are other factors. 'It's really about who you want to spend your time with,' she explains. 'Time is the most valuable thing we have. Even if the movie turns out to be a piece of shit, which a lot of them do, it doesn't matter.'
Her acting means that she regularly commutes from London to LA, where she enjoys driving out of Hollywood and into the mountains for camping weekends. She seems drawn to this nomadic lifestyle - perhaps even thrives on it. 'When I did the Bad Batch' - she played a young woman captured by cannibals - 'I loved being intensely physical. Feeling completely battered by the end of the day, having your leg in a brace, and being in the middle of the desert. It's such an intense environment that there's no sense of reality around you.' It may sound isolating, but she doesn't see that as a negative. 'I like the escape of that, and I like being away for long periods of time. It's a really good job for someone who doesn't need stability whatsoever.'
She's more comfortable in the US than she once was: as a teen, she got carried away in the rush of New York. 'My first time, when I was 18 in New York, I just got everything pierced. I went straight to the East Village and got a bar put through my left ear: it was horrific, it got so infected.'
Nevertheless, her family back in London keep her anchored, especially her mother, who checks up regularly. 'She sent the best one the other day, just a random text to the family WhatsApp, just saying "Vitamins. All of you."' Suki laughs. 'She gets very worried about iron deficiencies.'
Despite a burgeoning film career, she still keeps firm links in fashion, though, and is the face of new fragrance Amo Ferragamo Flowerful. Being tapped for such a campaign seems surreal to her. 'Getting to be the face of a fragrance is a pinnacle,' she says. 'It feels huge. I'm going to be able to see my face at airports. It's funny, to be walking through the airport in your hoodie, looking absolutely debased, and you see yourself in a campaign.'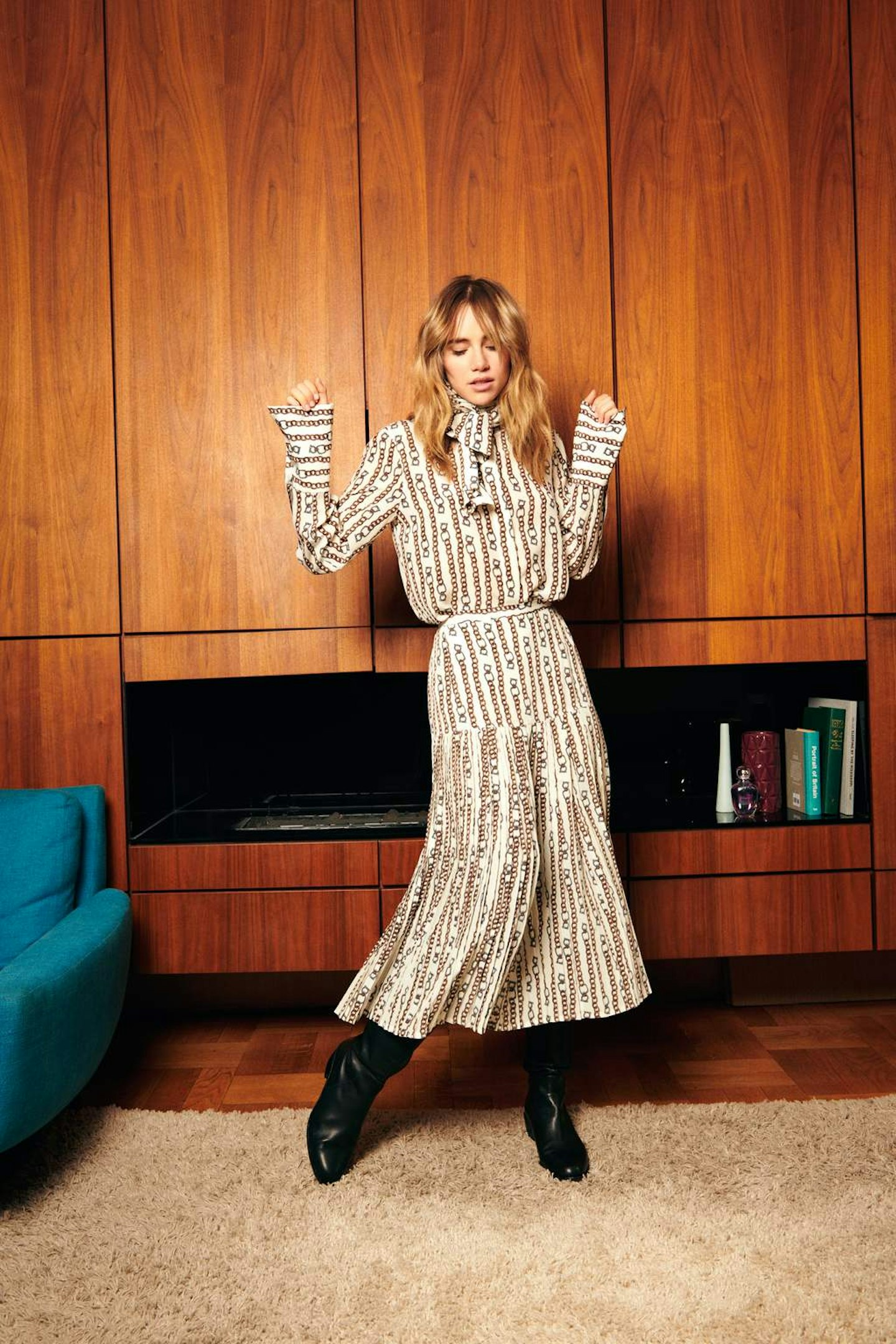 Such self-deprecation is a constant throughout our conversation. 'There's a big part of me that enjoys that grandiose level of glamour,' she concedes. 'Who doesn't love that? But I feel like I have terrible style. I don't really even know when I have something on backwards. It's always a bit off. It's how I feel most comfortable: something has to be a bit undone.'
Robert Pattinson, Twilight actor and new Batman, confirmed their relationship in May. They were recently spotted on a double date with Taylor Swift and Joe Alwyn earlier this month at Hollywood's San Vicente Bungalows, which enforces a no social media, no cameras rule. Consistent with this desire for privacy, she doesn't discuss Robert during the interview, but she does FaceTime him during a short break on the shoot.
Beyond her next few projects, she wants to take her work into her own hands. 'I've got an idea for a show that I'm working on, and I'd like to star in it,' she says. 'Making something for yourself, that you know is in your wheelhouse, is ideal.'
Could she be the next Phoebe Waller-Bridge, I ask? 'She is my absolute hero,' she gushes. 'I can't even with Fleabag.' Judging by her slightly dark humour and consistently interesting career choices, she could be on track to step up into her orbit.