While Kyle Richards has been candid about her relationship status with Mauricio Umansky, the housewife has now opened up about her 'divorce' from the real estate mogul at BravoCon 2023 - telling Grazia she's taking it 'a day at a time.'
Real Housewives of Beverly Hills fans were shocked earlier this year when OG cast member Kyle Richards revealed that she and Mauricio Umansky were separating after 27 years. Now, appearing at BravoCon in Las Vegas, the star has opened up about her divorce - insisting that she's nothing like the housewife fans first met over 13 years ago.
Opening up about her current situation, Kyle told Grazia, 'I just take it a day at a time right now. I'm grateful that we get on so well and we love each other very much. We're putting our family first, and we're still living together under the same roof. I'm proud of the way we're navigating through this.'
With a new series of RHOBH airing now, Kyle also touched on how it feels to be watching her split back for the first time. Revealing that she hasn't seen the new episodes, Kyle said, 'Watching it on television is going to be hard for me, looking back and seeing my kids faces and some of those conversations. I didn't even see last week's episode. I tried to watch it on my phone, but I was getting stressed. Then I forgot to even post about it, so maybe that's a subconscious thing I'm doing. It's going to be hard to relive that.'
The current season of The Real Housewives of Beverly Hills is set to follow the couple in the lead up to their split, with fans already seeing some tense moments unfold between the couple.
And although she admits reliving her heartbreak on screen is far from easy, Kyle insists that she's coming out of her split a completely different person. 'I have changed a lot,' she shares, adding 'I've gone through a lot this last year, and that does change you. Losing my best friend to suicide changed me, and then I went though my divorce. All of that made me stronger, but it definitely changes you as a person. I feel good.'
But while she put on a brave face on the red carpet, a tearful Kyle took to the stage during a panel talk the following day. Breaking down as she told fans that her and her ex were simply 'trying to figure it out,' she said 'I just want to say that a lot of people say 'What are you doing? Just pull it together and fix everything." Obviously that's what I would want, this is not my idea of a fairytale. My marriage and my family, what we built, was one of my biggest accomplishments.'
Kyle first appeared on the hit Bravo TV show back in 2010, appearing alongside Mauricio and their four daughters as she took on the world of reality TV. Over the years, the pair were thought to be one of the Housewives most solid couples - with her tagline reading, 'I'm not the richest girl in Beverly Hills, but I am the luckiest.'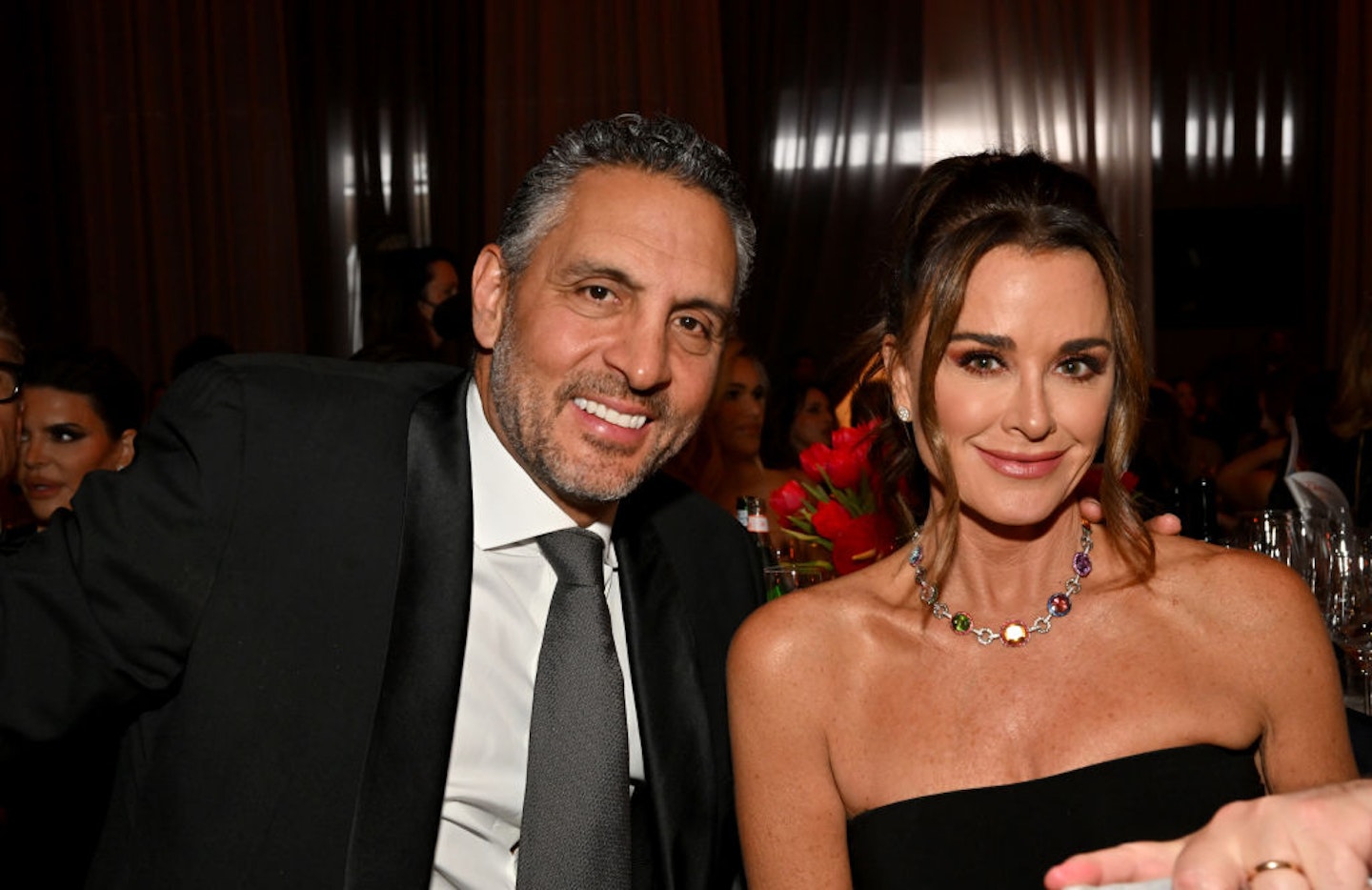 But earlier this year, rumours swirled that the couple were facing relationship struggled after Kyle was spotted without her wedding rings. Mauricio quickly shut the rumours down, insisting 'We're not getting divorced. I mean, it's so dumb. That one stupid story that came out there, and then the girls all, you know, decided to talk about it on the _Housewive_s, and so now it's a storyline.'
Despite the real estate mogul's denial, a source later told PEOPLE that the couple 'have been separated for a while now but are still living under the same roof.' That same day, RHOBH's golden couple released a joint statement confirming that they were facing a rough patch.
'Any claims regarding divorcing are untrue,' they said. 'However, yes, we have had a rough year. The most challenging one of our marriage. But we both love and respect each other tremendously.'
'There has been no wrongdoing on anyone's part. Although we are in the public eye, we ask to be able to work through our issues privately. While it may be entertaining to speculate, please do not create false stories to fit a further salacious narrative.'
To watch the latest episodes of RHOBH alongside all your favourite Bravo shows in the UK, head to Hayu.com.