'I was absolutely thrilled! I was the face of Covid, Ofsted, 2021 (broad), venereal disease...' Yes, Anna Maxwell Martin was 'super-chuffed' to be 2021's biggest meme, when one of her expressions – as the smug, achingly irritating DCS Patricia Carmichael in Line Of Duty – went viral, to be rapidly branded the face of everything awful the internet could think of.
Anna really has been everywhere this year – 12.8 million watched the LOD series six finale and Motherland (which she leads as frantic, hard-to-love Julia) is currently airing as one of the biggest hits on BBC Two, while its earlier seasons top Netflix charts. She's filming an ITV thriller, Hollington Drive, as we speak, will be in West End show Constellations with Chris O'Dowd from August, has a cross-Atlantic- funded six-month project later in the year ('which I can't talk about') and something else she can't divulge 'but literally when I got the email I nearly died'. She's already won two BAFTAs during her 20-year career, but is it too much to say this is her best year ever?
'I think it'd be obtuse to say there isn't a big thing around Line Of Duty,' she says. 'There's a huge zeitgeisty moment and I just happen to be in it.' However, at 44, Anna specifically seems to be emerging as one of the UK's biggest stars, in what's traditionally an ageist industry (well, for women). 'Maybe the industry's changed though, hasn't it caught up a bit?' she says. 'You've got Sarah Lancashires and Keeleys [Hawes] all leading the way in massive shows built around them... Nicola Walker [in, respectively, shows such as Happy Valley, Finding Alice and Unforgotten]. I'm really glad I'm working, but I always assumed I'd always work. I always thought something would pop up! I am busy...'
Despite this, Anna says she can go about life with her two daughters (she and their father, director Roger Michell, are separated) mostly unbothered. 'I don't really get recognised a lot, maybe a bit more recently, but that's probably because Line Of Duty's watched by 10 billion people,' she says. 'I think there must be something about my face that's quite rubbery and it morphs into the background. And also, they help you out a lot, hair and make-up – maybe I look so haggy and baggy in real life that people just can't tell.'
There's no hagginess or bagginess as Anna sits wearing a P&Co jumpsuit after our shoot. 'I'm not mega-confident about my face or anything like that, but I really do like clothes and I work with [stylist] Alexandra Mann, and she's amazing at getting weird stuff and putting it on me and weirdly I feel fine and confident. I do really enjoy that side of it.' But is she really not that confident about her face? Seeing as it's... 'My stock in trade! This is where the money is!' she interrupts, laughing. 'No, I don't really feel anything about my face. In acting you've got to have a face that's memorable, whatever that might mean.'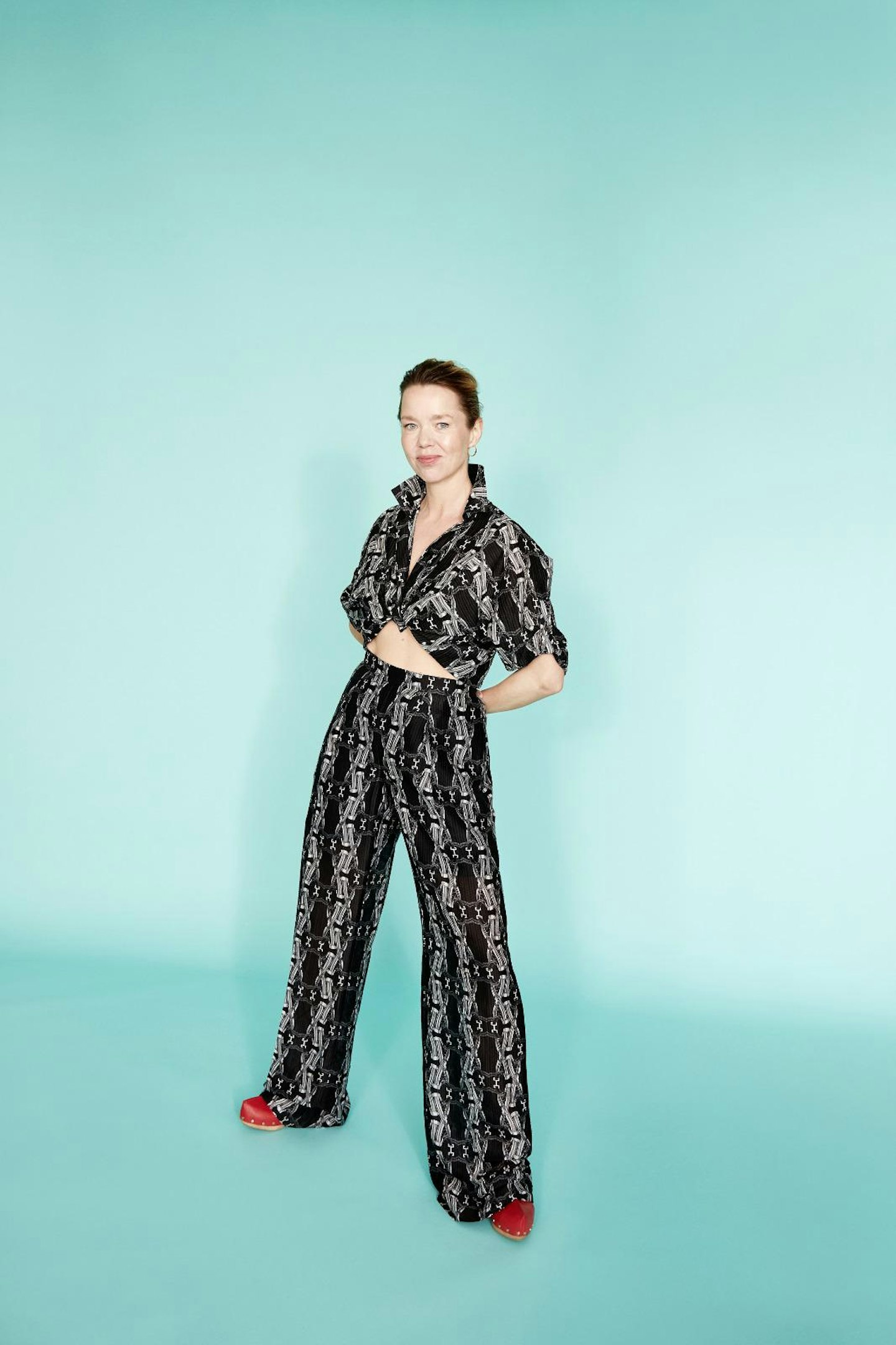 Funny she should say memorable – when the latest season of Motherland started, half of Twitter couldn't believe Julia was the same person as LOD's Carmichael, while the other half tried to explain, that's acting. She laughs (she laughs a lot, but not in that distinctive, near-the-edge Julia way). 'In a way it's flattering – overwhelmingly, I felt really lucky to have two very different parts.'
Did she feel quite as lucky filming Line Of Duty, Motherland and Sky's Code 404 simultaneously in a pandemic? 'I wasn't much of a parent during that time,' she jokes, pointing to her two lovely, very polite daughters who have joined her on set. 'That's why they're slumped over there on an iPad – they don't know why they're here, they don't know who I am.'
So no moaning – Anna's highly privilege-aware. 'On Motherland we're all pals, so you're going back to a set like that and you feel taken care of and you're having a giggle with your mates, it's not that hard is it?' She's careful when we talk about theatre reopening to make it clear times haven't been as hard for bigger actors like herself, as they have for all the behind-the-scenes and theatre staff.
As for whether she loves the very female- centric cast and crew of Motherland, she says, 'I don't think, "Hooray, I'm on an all-female show," I think we really address the balance when it's not dominated by men and Caucasian people. We absolutely need a different face of film and TV and we're getting there, so that's good.'
For most people, Motherland is brilliant because it's such a cringeworthily recognisable take on middle-class parenting. But Anna doesn't see herself in any of the characters, 'because they're quite extreme and I think the show increasingly isn't really about parenting. Essentially, it's adults behaving like children.' She does know how Julia would have coped with the pandemic, though, 'Ooooh, badly. Very, very badly. She would've killed [her husband] Paul.'
Anna's never been sucked into 'mumfluencer' culture or comparison. 'No, I've got a radar, "Beep beep, seeking out the fun mum friends,"' she says. 'I've cherry- picked my mum friends. All of them at the school gates are a real hoot and the group is a real laugh.' Not an Amanda in sight.
Her knowledge of her own meme-iness aside, Anna barely has a social media presence, only recently joining Instagram. 'My friend forced me on to Instagram when I was quite drunk,' she says. 'I'm not hugely interested in people constantly posting or looking like they have super-idyllic lives. I'm bringing up two girls so it's not massively healthy, is it? But I like the other bumf, like, "You like floral wallpaper, so we're going to bombard you with chintzy sofas."
'I don't follow my friends,' she adds. 'I'll call them, why would I speak to them on direct message? I'm not on Twitter, you can't let this gob loose on Twitter. Diane [Morgan from Motherland] tried. We both know that shouldn't happen. I'd be cancelled before you could say, "Hashtag the face of the cancelled year."'
Far from being cancelled, Anna is about to return to Wales for ITV's new four- parter, Hollington Drive, a project she scouted after loving Irish crime drama Blood, which Sophie Petzal also wrote. 'Front-footed – I never do that, but it's so good I thought I'd give it a go.'
And her newfound 'front-footedness' means she might not just be UK-based forever. 'Only recently actually I've thought, "Oh, we might all go over and I'll try and finally work with Wes Anderson – my dream – and try and be a bit more ambitious,"' she says of a potential transatlantic move. 'It's only now I've thought I could go to LA and tout myself around a bit. When I was younger, I just couldn't... I love my forties. I'm at the beginning of it and I feel definitely it's my best decade. You really know yourself, you've got loads of mates, I've got my lovely kids, I have a lovely life, I'm very lucky and I work and when I go to work I never feel shy because I know people, so I have a lovely time there. I feel much more confident than I did in my twenties. I was miserable in my twenties,' she says, adding, 'If Covid doesn't put things into perspective, what does?'
Before she heads off to LA, though, could she squeeze in another turn as Carmichael – will there be another series of Line Of Duty? 'I wouldn't know and I would never be told,' she promises, despite internet rumours that casting has started. Terrifyingly, it does all sound a bit OCG (organised crime group, in the show's lingo). 'Until I was in the car and popped on the plane to Belfast [where it's filmed], I wouldn't know... I'm not in with the in-crowd there and I'm not sure the in-crowd even knows.'
She can't weigh in on the reaction to the divisive ending, with some – spoiler alert! – seeing the unmasking of Detective Superintendent Ian Buckells as criminal mastermind H as a damp squib, others as a sharp political commentary on the nature of corruption. 'I haven't seen it,' she says. 'My friends were quite mixed, some of them loved the ending because they felt it was open for new stuff. I liked that it was Nigel [Boyle, who played Buckells], I've always thought he's hilarious. I've been away filming and my TV in my hotel doesn't work,' she adds, as to how she's managed to avoid the finale. 'I've still not talked to reception. I'm like, "Oh I feel bad, they're so nice!"'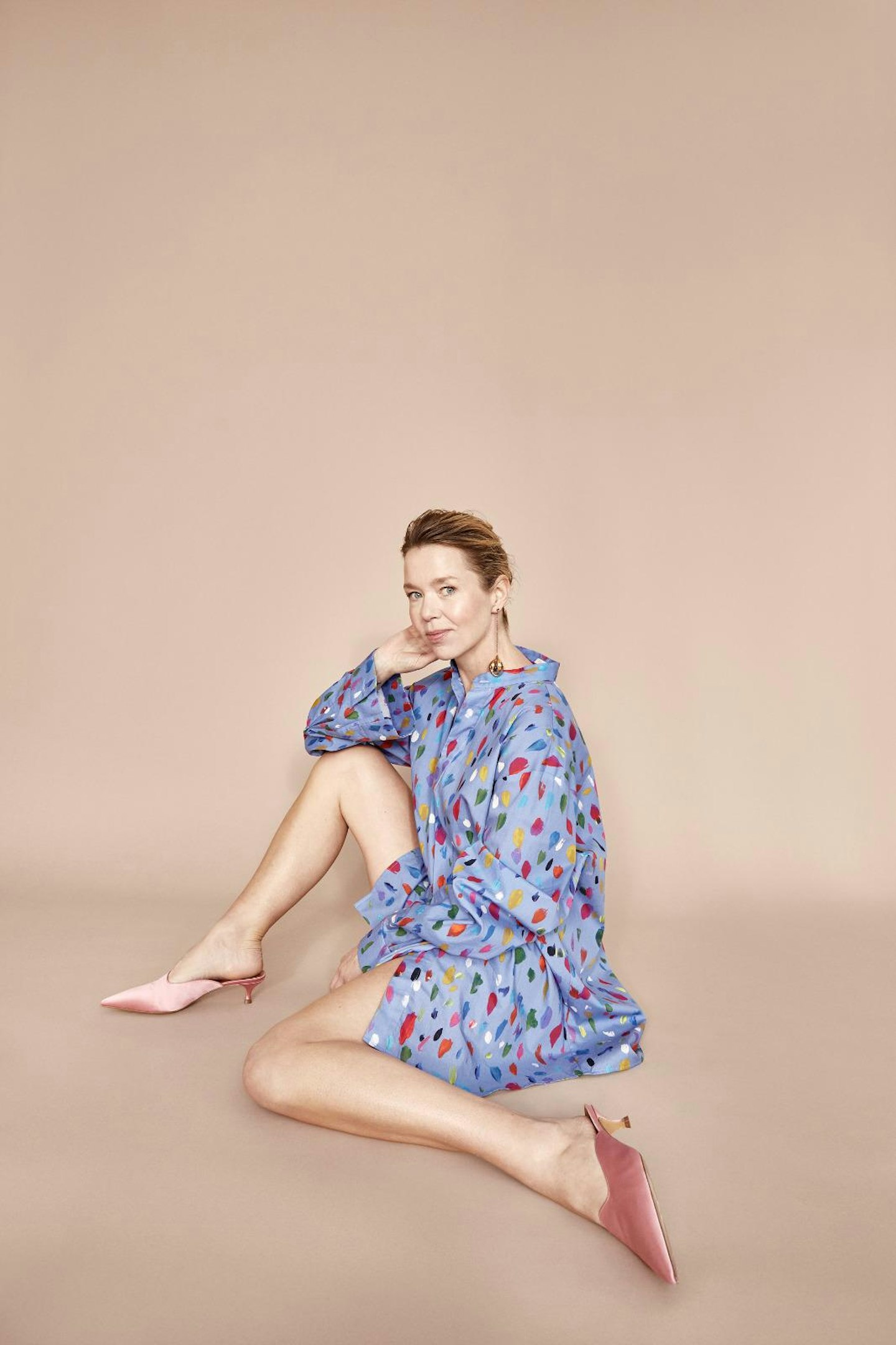 As we wrap up, me trying to guess one of her secret projects, we joke about her doing I'm A Celebrity – not so ludicrous an idea, it turns out. 'I was asked to the jungle; I would love the challenges, but I wouldn't like the boredom,' she says – though her daughters were enthusiastic. 'They were like, "Oh my God, we're going to be in the Versace hotel for five weeks!"' In case future producers are reading, Anna shares that her two phobias are sandwiches and mayonnaise (she's not kidding, she can't say the words and has to spell them out). 'If they threw me in a coffin with those... it would be good TV,' she muses.
Now, though, she needs to go home for family time ('Oh, me and the kids will get hammered,' she jokes), homemade chicken Kiev and 'panicking about walking the dog – that's not done yet'. The dog, Bobby, is the star of her Instagram. 'I support Battersea and all that they do – Paul O'Grady is my hero,' she says. 'Me and Diane want to go on it. They once had Tom Hardy on. It was the best TV ever.'
One of the few great shows she's not starred in this year. Yet...
'Motherland' is on Mondays at 9pm on BBC Two. Series 1-2 are available on BBC iPlayer
Photographer @zoemcconnell Styling @whatmollysees @alexandramann Hair @bjornkrischker Makeup @florriewhitemakeup Stylists' assistants @sammiey_hughes @remyfarrell
READ MORE: Which Motherland Character Are You?
READ MORE: Kim Kardashian West: 'Life Becomes A Little Bit Less About You Than It Used To Be'