What do the Prince and Princess of Wales, the Kardashians and George Clooney all have in common? That would be a penchant for padel tennis and Pickleball. Lost? Allow us a moment to explain. Two new games with roots in traditional racket sports are on the rise, namely padel tennis and Pickleball. In the last two years both have earned earned the approval of celebrities and royalty alike. These trending racket sport mash-ups bring together key elements of tennis, squash, badminton, and table tennis, in a non-traditional and disruptive racket ball format that makes for a fun couple of hours on court and an effective form of exercise - if you're looking to improve your fitness without pounding away at a treadmill, read on.
Fun, fast and by all accounts pretty addictive, padel tennis and Pickleball share certain similarities, but have thus far drawn in different crowds. While padel tennis has reportedly caused a significant stir in Europe and boasts the support of sporting legends like Andy Murray and Lionel Messi, as well as Eva Longoria and even Wimbledon regulars the Prince and Princess of Wales (who reportedly regularly play padel tennis doubles with friends), Pickleball has made waves State-side and counts George Clooney, the Kardashians, Emma Watson and Reese Witherspoon as fans.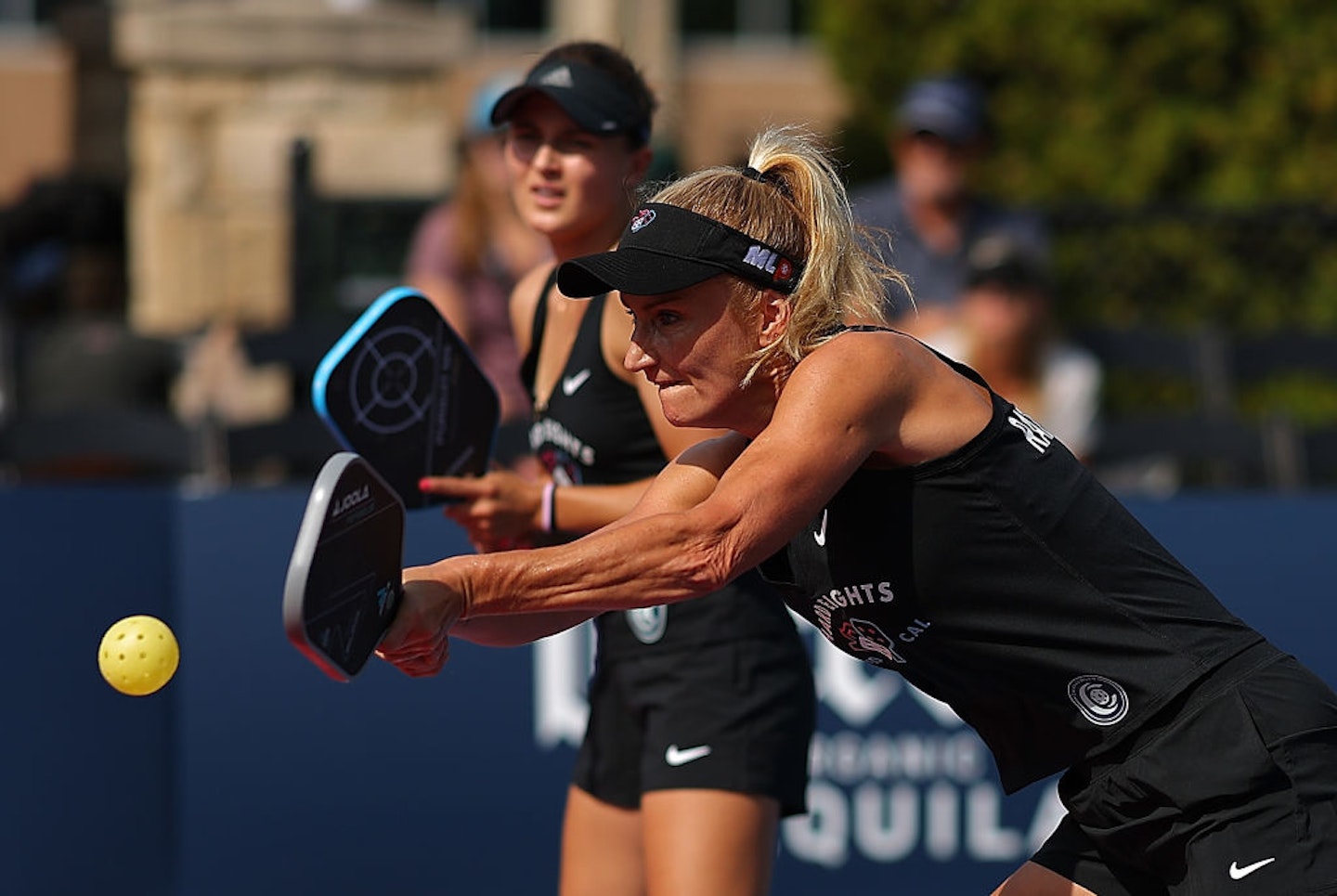 In fact, celebrity commitment to the games are so significant, they're getting competitive. In 2022, Emma Watson and Kelly Rowland, as well as a number of other famous faces, were involved in 'Pickled' – a first-of-its-kind celebrity Pickleball tournament aired on CBS and Paramount+, which raised funds for Comic Relief.
Early bird adopters of the game, Kourtney, Kim and Khloe Kardashian were also spotted in a serious game of Pickleball with best friend Malika during an episode of Keeping Up With The Kardashians in 2019.
What are the health benefits of panel tennis and Pickleball?
Performance coach, personal trainer and founder of TwentyTwo Training, Dalton Wong, says, 'both padel tennis and Pickleball are great for cardio - you're chasing a ball and have to use all your different energy systems. Your body is also utilising various planes of motion, you're hitting the ball, chasing it, moving forwards, to the side, backwards, all very quickly, which makes it great for your core.'
'The activity is also great for your balance and stability,' Wong continues, 'your body has to get used to accelerating and de-accelerating while moving in a variety of directions, which is great for honing total body stability and balance. It goes without saying, too, that these activities are great for developing your hand-eye coordination – everything has to be in sync,' he explains.
Watch: Eva Longoria Play Padel
What is padel tennis?
Born in the late '60s in Mexico, padel tennis was invented by Enrique Corcuera who modified his garden squash court to include elements of tennis. Classic tennis rackets were replaced with wooden beach rackets and the length of duels were given precedence over power. The aim was to have fun with family and friends, which meant competitive factors in tennis like strength, technique and serve were not as valued as match-craft and strategy. The perimeters of the new game meant men, women and children of all ages could compete together.
Padel is usually played in doubles on an enclosed court which is one third of the size of a tennis court. As for rules of the game, Head.com indicates that 'the ball can bounce off any wall but can only hit the turf once before being returned. Points can be scored when the ball does bounce twice in the competitors' field.'
Where to play: Head to ukpadel.org for a comprehensive list of clubs around the UK.
What is Pickleball?
Described as one of the fastest growing sports in the United States, Pickleball was invented by three families in 1965. While it boasts millions of players State-side, it has manages to make waves on home soil, too. PickleballEngland estimates that there are 12,000 people playing Pickleball in the UK right now.
A combination of tennis, badminton, and table tennis, the sport is designed for all ages and abilities, and is played both indoor and outdoor on a badminton-sized court. It has a slightly modified tennis net and includes two or four players who use solid paddles to hit a hollow perforated polymer ball over a net. The game is generally played to 11 points, and you can only win a point if you or your teammate is serving.
The game has proved so popular, it's caught the attention of A-listers including Kim Kardashian, Jamie Foxx, Reese Witherspoon and Bill Gates. PickleballEngland reports that George Clooney and Leonardo DiCaprio have even gone to the length of installing Pickleball courts in their own homes. Now that's some serious commitment to sport.
Where to play: Find your nearest place to play by heading to the 'Club Locator' section PickleballEngland.org
Shop: The Best Padel Tennis And Pickleball Gear
Description
With a durable fiberglass surface and honeycomb polypropylene core this easy-grip paddle boasts a
Description
Available in solid blue, vibrant orange, toucan green and candy red, this comfy padel racket is
Description
Perfect for comfort and support on the court, these lightweight trainers offer durability and
Description
There is no formal dress code in padel and Pickleball games, but if you want to look pro on the