Jennifer Aniston long agoestablished herself as a voice of authority in the world of wellness. Fromthe nutrition-packed salad she reportedly ate every day on the set of Friends, to her newest fitness obsession – Pvolve, Jen An's influence in the wellness sphere is undeniable. The latest Jen-approved piece of self-care kit to hit the ether? Lymphatic drainage suits. This weekend Jen baffled her 42.9 million strong Instagram following with a picture of herself zipped into a pair of lymphatic drainage trousers, which appeared somewhat incongruously in the middle of a holiday photo dump.
While traditional 'lymphatic drainage' has been steadily growing in popularity for some time – it's received a whopping 939.1 million views on TikTok and counting – Jennifer's take on the massage method is a wholly modern approach that comes highly-rated by health experts. Lying on the floor of what appears to be a fitness studio, the Instagram post captures a zen Jennifer strapped into her lymphatic drainage suit. Sure, it's a funny looking thing, overly padded and sprawling with tubes and cables, but in the wellness world this treatment is no passing fad.
Founder of Decree and The Nuriss Clinic in London, GP Dr Anita Sturnham, explains lymphastim technology is routinely used in her clinic alongside facial and body treatments to improve wellbeing and enhance results. But what exactly is it? Find out everything you need to know below: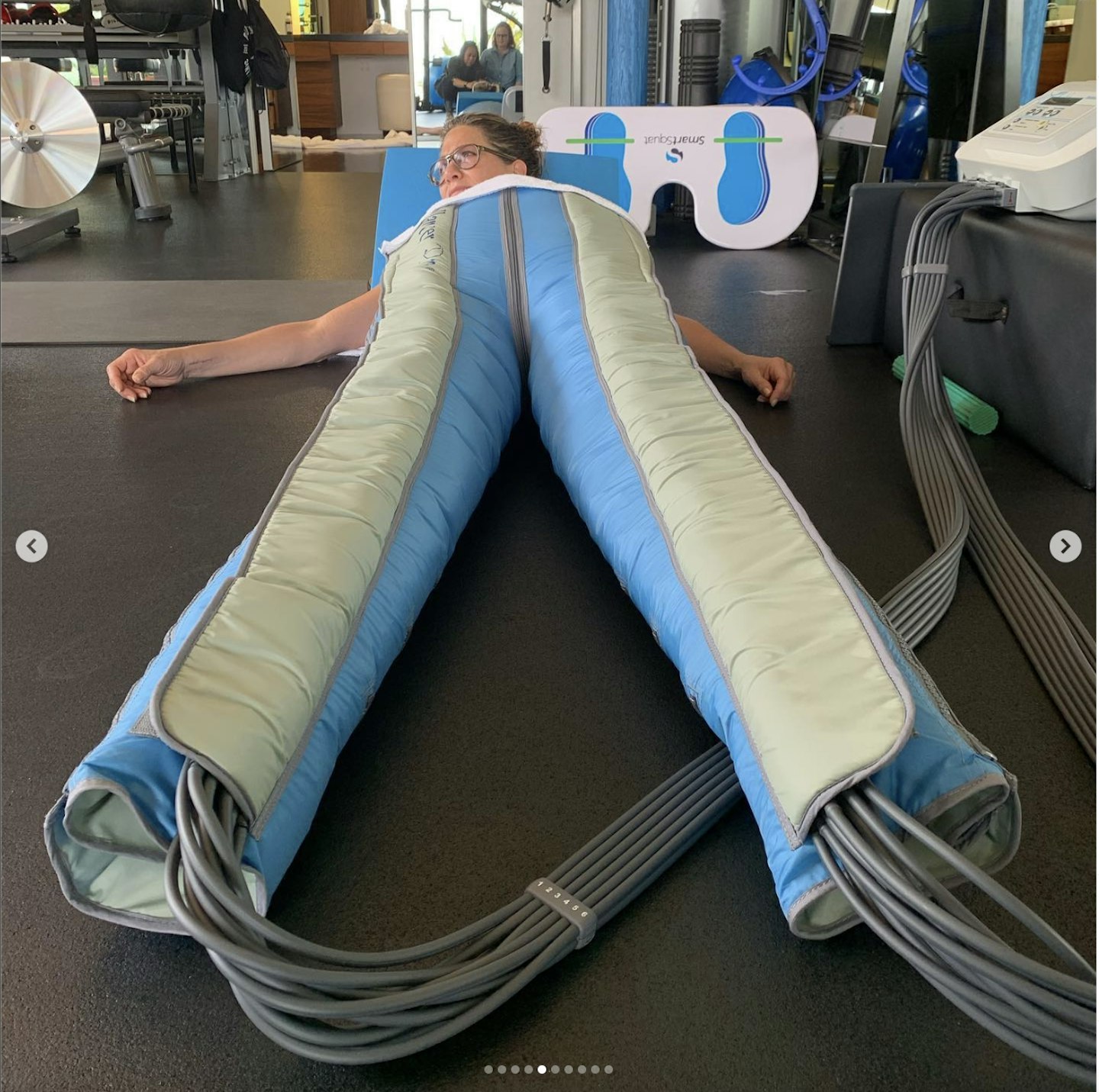 How does a lymphatic drainage suit work?
Also known as pressotherapy, 'the technique involves chambers within a bodysuit that uses air pressure systems, alternating between compression and decompression, to help stimulate the lymphatic system, boost detoxification and aid muscle repair,' says Dr Sturnham.
Ayurvedic massage and body sculpting expert, Dimple Amani, adds, 'the lymphatic drainage suit is a specially designed garment that uses advanced compression to gently massage different areas of the body. It utilises the natural proven manual lymphatic drainage principles help flush out excess toxins, fluids and waste products that have accumulated due to lack of movement.'
What happens during a lymphatic drainage suit session?
Once strapped into the suit, Amani explains, 'a combination of 24 overlapping air chambers are programmed to apply an exact amount of pressure to specific areas of the body. The massaging technique pumps and activates the lymphatic system, helping to circulate fluids full of toxins to the lymph nodes where they can be flushed out.' Amani adds, 'the garment's gradual and gentle inflation provides a comfortable and relaxing experience for the client.'
What are the benefits of using a lymphatic drainage suit?
There are a host of benefits associated with the use of lymphatic drainage suits. 'It can help with muscle recovery, detoxification, muscular pain relief, reducing water retention, and heavy legs syndrome,' notes Dr Sturnham, while Amani adds, 'the treatment can also help fight off infections, aid cellular rejuvenation, improve circulation, support fitness, calm the nervous system and is especially effective pre and post-surgery.' Lymphastim is even used by professional athletes post-workout and events to speed up the rate of muscle recovery and repair.
How are lymphatic drainage suits best used?
Both Dr Sturnham and Amani agree that consistency is key with this treatment, and recommend that, if you have access to a lymphatic drainage suit, you use it for 40 minutes once a week. There is no down time involved.
What does being in a lymphatic drainage suit feel like?
'I won't lie, it's an absolute dream,' says Grazia's beauty director Annie Vischer, who has been zipped into a set of lymphatic drainage a number of times during a series of facials at Dr Sturnham's Nuriss Clinic, 'it's like gua sha for your body, you flick a switch and the padding inflates, compressing your limbs. The compression flows up and down the padding, gently squeezing your limbs and speeding up lymphatic drainage.' Vischer continues, 'the compression itself feels supremely comforting, it must activate your parasympathetic nervous system in some way - it feels like an gentle massage coming at your limbs from all angles - would recommend. I can't imagine the luxury of having one of these suits at home and indulging in a 40-minute lymphatic drainage massage session in front of Netflix - Jen An is on to something.'
Shop: The Best Lymphatic Drainage Suits
Description
This features six automatic massage modes and three intensities that meticulously work on each
Description
With five overlapping zones that use biomimicry to replicate the way our natural muscle pump, this
Description
If tight muscles, spasms or stress is the problem, this leg massager will use compression and heat
Description
For the whole body experience, look to this. It treats from toes up to shoulders, and helps to
Description
This boats a massive eight intensities, six air chambers and six modes with an array of duration
Description
Perfect for those with poor circulation, impaired mobility, cold feet and toes, or tired aching
Description
Six modes and four massage intensities make for a tailored course of at-home treatments, as do the