How does Maya Jama gear up for big events? Well, it's no easy feat. For the beauty brand founder, model and TV presenter extraordinaire preparations consist of an unwavering glam squad (who deliver faultless hair and make-up looks week after week), a vitamin, mineral and acid infused 'Cocktail Hour' facial, and... a debloating massage. The latter is the latest Maya-approved treatment under the spotlight, after the Love Island host took to Instagram today to share her experience.
Posting on her Stories, Maya shared a video of herself receiving a 'debloating massage with metal therapy' with body contouring specialists Momo's Beauty. The treatment involved Maya laying on her side, as a therapist rubbed the flat side of a metal plate along her back, sides and hips, in a fairly rough, back and forth motion. It's a method that is reminiscent of Gua Sha, the traditional Chinese technique that uses massage to improve circulation. But this isn't Maya's first run with the treatment.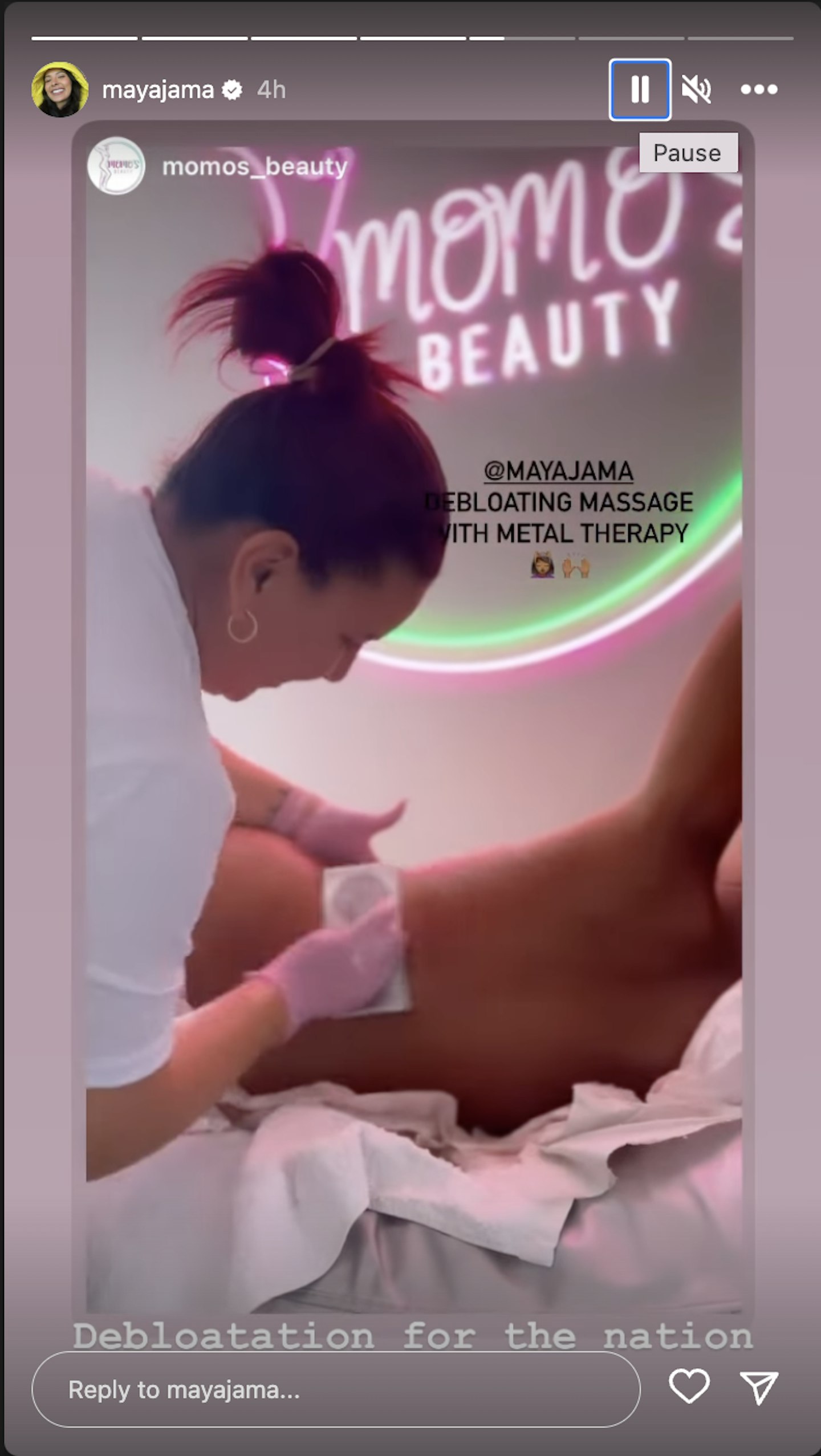 Ahead of hosting the red carpet for the BRIT Awards 2022, Maya posted on Instagram saying, 'So I am getting a lymphatic drainage massage because last minute I decided I want my belly out for Brits and I've been eating McDonald's like a pig, so I will update you on what's happening'. After posting a series of Stories of the treatment with London-based lymphatic drainage specialist Flavia Morellato, Maya explains it's good for, '[Reducing] bloating, getting rid of toxins, helps to flush out excess fluids & so much more,' and finishes by recommending it to her 2.8M followers. But how exactly does abdominal lymphatic drainage, or the 'debloating massage', work on the stomach?
What is lymphatic drainage?
The lymphatic system is a key part of your immune system and acts like a drain for the body, helping to deluge toxins, waste and excess fluid. Sometimes, the system can struggle to cope and can become ineffective, leading to swelling and poor skin health.
Ayurvedic lymphatic drainage sculpting expert, Dimple Amani, describes it as 'a network of delicate thin vessels throughout the body and face, which drains fluid that sits below the skin called the lymph that has leaked from the blood vessels into the tissues and empties it back into the bloodstream via the lymph.'
Lymphatic drainage is a technique used to promote the flow of fluid in the lymphatic system. Unlike the circulatory system, it doesn't have its own means of transportation and thus needs to be manually encouraged through lymphatic massage, exercise or even breathing.
How does abdominal lymphatic drainage work?
Just as we have seen its benefits on the face, lymphatic drainage works wonders on the stomach too. By stimulating the system through massage, lymphatic drainage helps to drain excess fluid from the body back into the bloodstream from where it can be flushed out through your kidneys. Dimple explains that the various holistic benefits include feeling 'lighter, rejuvenated, slimmer, toned , de-bloated and de-puffed'. She explains that the treatment can also break form cellulite and fat cells, boost your immunity, and give you a sculpted look.
Treatments starts with clearing lymph nodes, so that they're ready to receive the liquid that is about to be drained. Some treatments may include work on the legs which tend to hold a lot of water, before moving up to the stomach. When massaging the stomach, therapists will start by pressing down on the area in circular motions. Here, passing wind and gut guttural sounds are perfectly welcome. If you're doing it at home yourself, it is advised you work in a downward motion towards the belly button.
What are the benefits of abdominal lymphatic drainage?
Maya hit the nail on the head with her review of the benefits. Acting as a deep tissue massage, it is relaxing, therapeutic and holistic in its approach to wellbeing. As mentioned it removes waste and toxins from the deep within, and helps to de-puff, decongest and reduce inflammation. One of it's main benefits is its positive effects on bloating and constipation.
'Lymphatic drainage benefits the full body all over as it drains all the toxins out from our body. When you have a focused abs treatment, we use Ayurveda elements starting with navel oil, which helps melt any congestion in the intestine and organs, to clear and flush away toxins from the stomach to completely de-bloat and release any gas or trapped air bubbles helping with digestion and inflammation and constipation.'
Consider us sold.