Pregnancy can be a tough gig when it comes to skincare. All of a sudden myriad ingredients are off the menu, at the time you most want to indulge. Hope Smith is the founder and CEO of MUTHA, a skincare brand that quickly proved a hit in the US and was created back when Smith was carrying her first child in 2014. Smith spoke exclusively to Grazia and revealed that back then, one of her biggest preoccupations was stretch marks. Smith had experienced stretch marks during her teens and didn't like having them. Her M.O? To ward them off during pregnancy.
Smith's first port of call was her close friend and celebrity make-up artist Joyce Bonelli who advised smoothing a very expensive face cream over stretch-mark-prone areas and then wrapping them with clingfilm for maximum absorption. Smith tried this once before looking for an alternative, natural-ingredient-led method.
'To start with, I ordered raw ingredients online and made different versions of a body butter,' says Smith. 'I had a spreadsheet of ingredients and their benefits that detailed all the vitamins they yielded, things like that. I took a really deep dive.' Once Smith started using the homemade body butter her friends wanted in on the action. 'They all asked to try it out,' one of those friends was Bonelli, 'she has a lot of high profile clients and she gave it to people like like Khloe Kardashian. Joyce really encouraged me to turn it into a brand.' And Smith listened. 'Once the formula got to a lab we went through so many testing stages, and over 50 different version of my original recipe.'
Thanks to Bonelli's introduction, the brand - and more specifically, the MUTHA Body Butter - became a beauty product to know about.
'Joyce really was my champion,' Smith says, 'Joyce was on tour with Nicki Minaj at the time too, who ended up using it during her pregnancy.' Smith's friend Cassandra Grey - founder of beauty-focused editorial platform Violet Grey - fell for the products too. 'She came to my kitchen and got hold of some too,' says Smith, 'she used it during her pregnancy, bearing in mind she has access to every single beauty brand going,' Smith says, still clearly in awe. 'She trusted me to care for her skin, that still blows my mind.'
Kate Hudson and Kelly Rowland and Christine Quinn have also been spotted waxing lyrical about MUTHA. Hudson took to Instagram during the pandemic, and declared herself obsessed with MUTHA's The Body Butter. Her verdict? 'It's oily and it's yummy,' she professes. 'I load myself up with this and I hang out naked for a while, topping it off with oil. The result is insane.'
Kate Hudson, Kendall Jenner, Kelly Rowland And Christine Quinn On MUTHA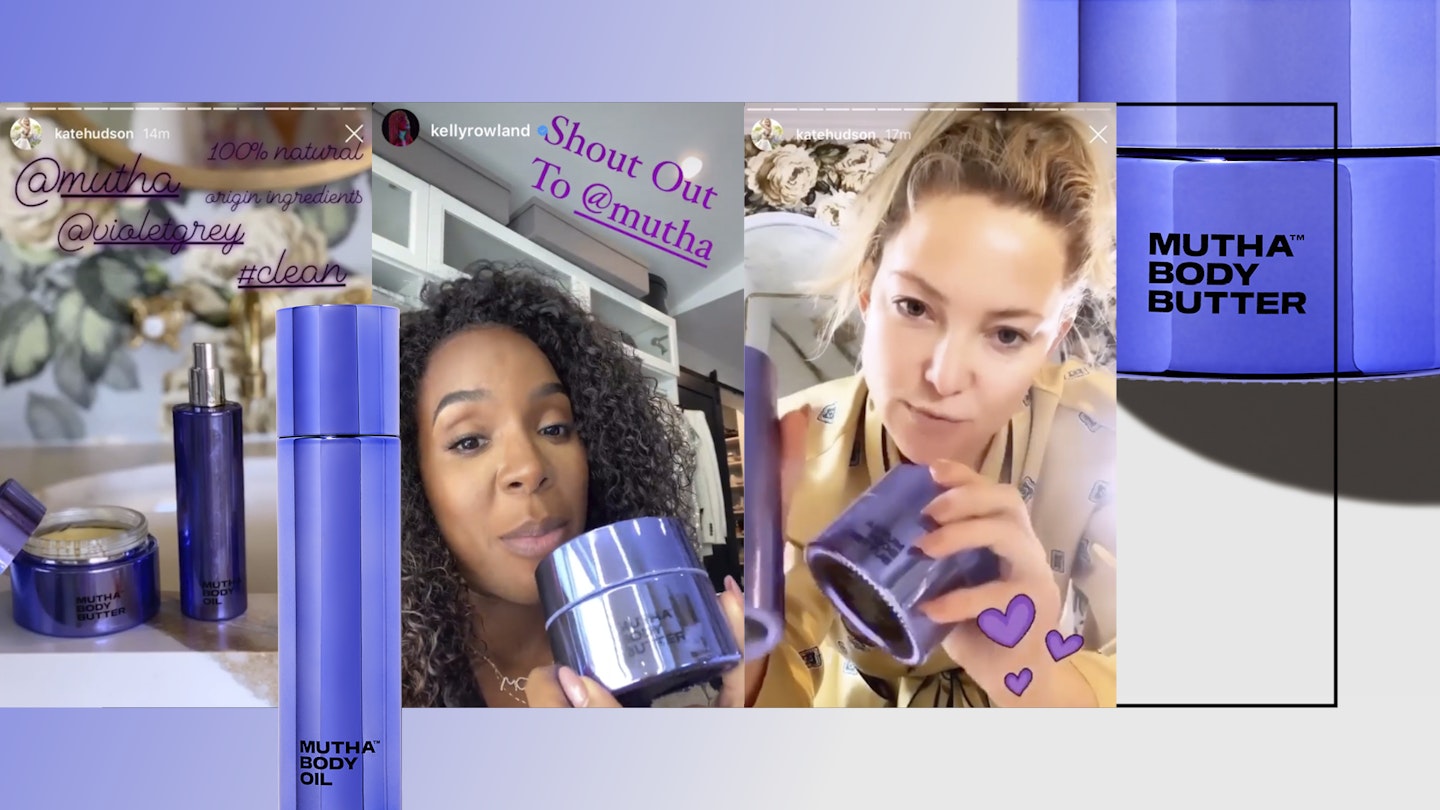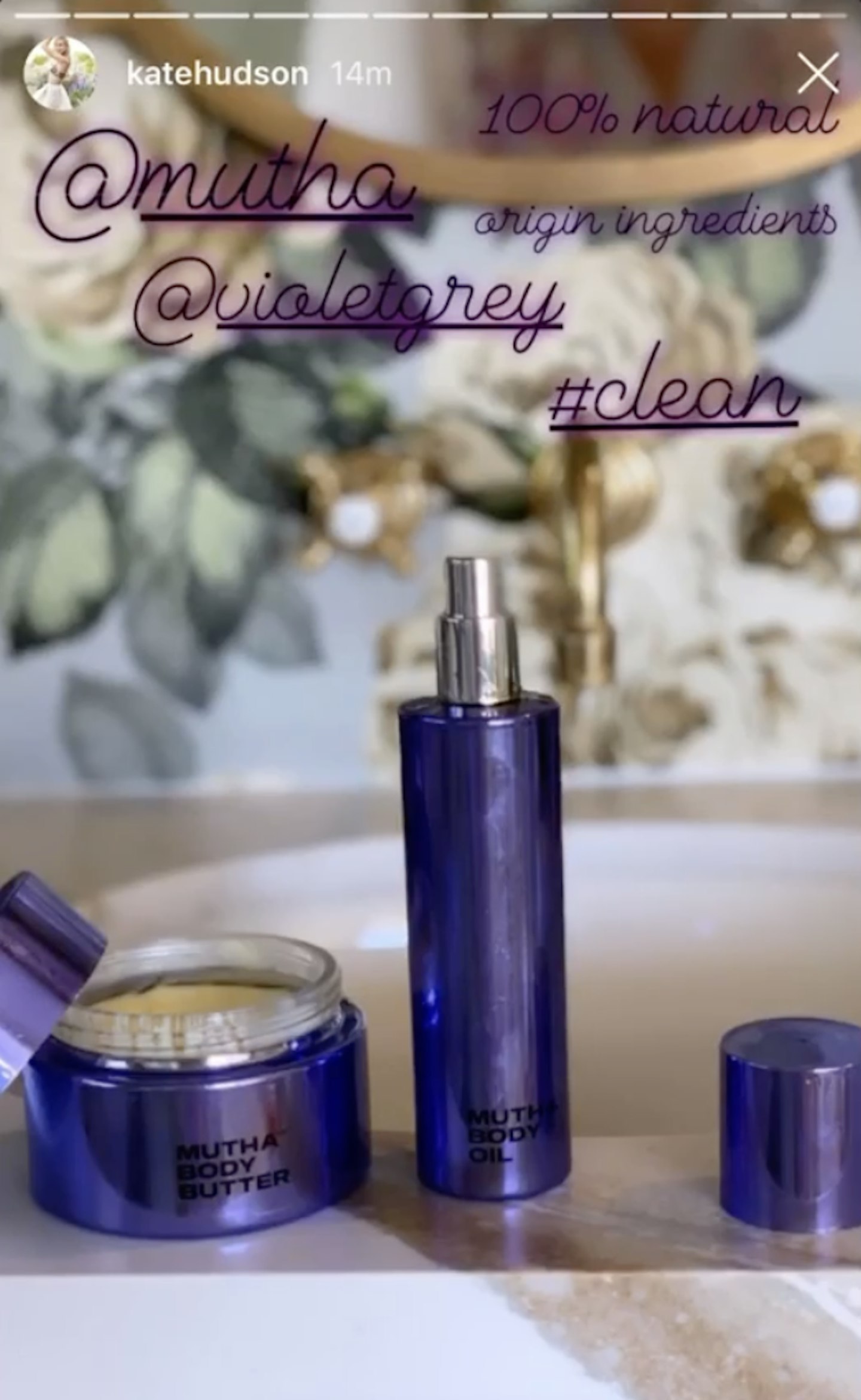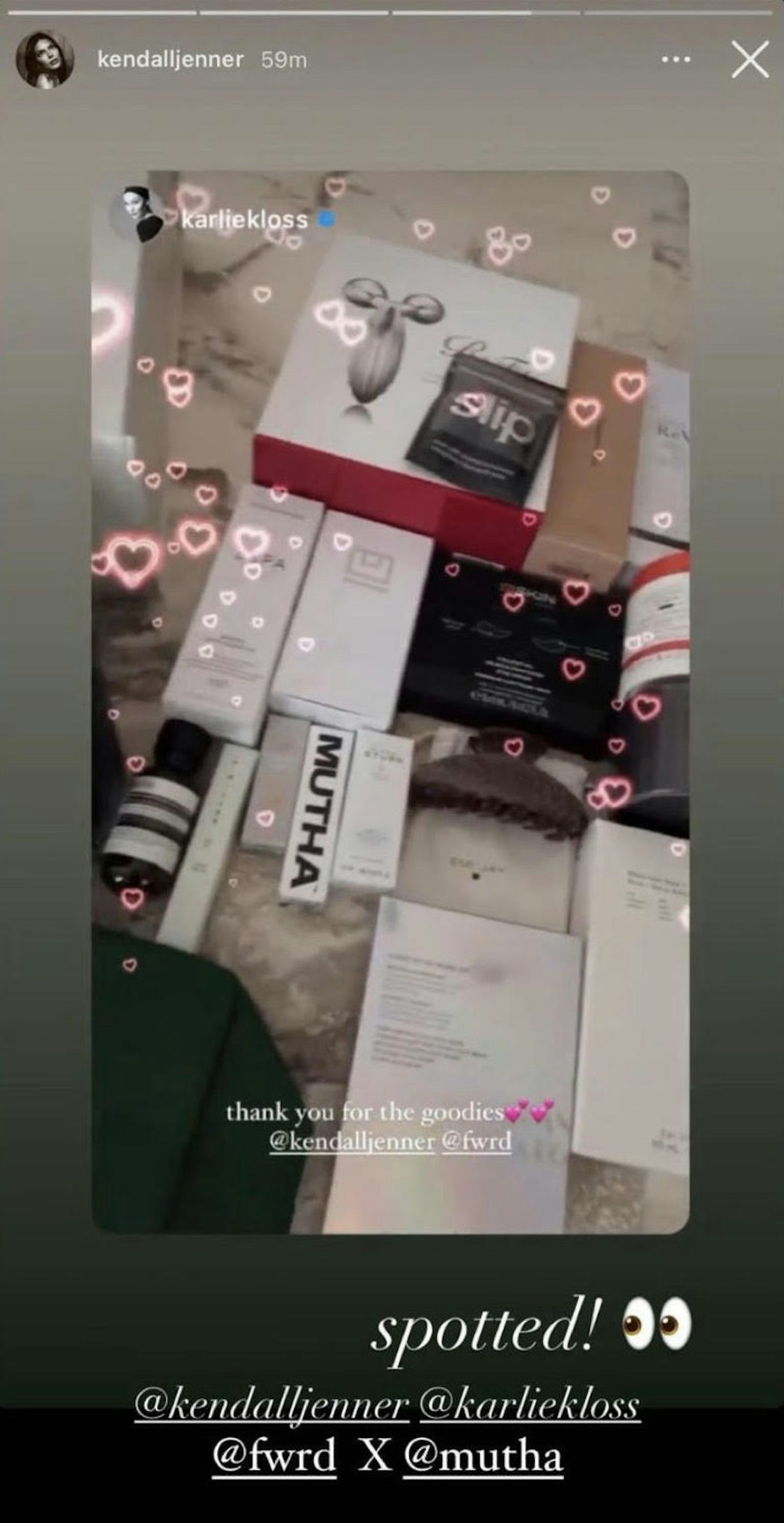 As for Hudson's love for the brand, Smith 'doesn't actually know how Kate Hudson got hold of the products but it could have been through Violet Grey.' What is certain though, is that Kate's support of the brand was entirely genuine. 'There was no agreement between her and our team, nothing was sponsored,' says Smith, 'she just filmed this long self-care video in her bathroom during the pandemic and included the products. That was a really exciting brand moment for me.'
In an arena where so many ingredients are off-limits, MUTHA's arrival in the UK is a welcome relief. You can shop MUTHA in the UK now, from Cult Beauty. Get to know the heroes below:
Shop: The Hero MUTHA Buys To Know About
SHOP NOW: MUTHA's Range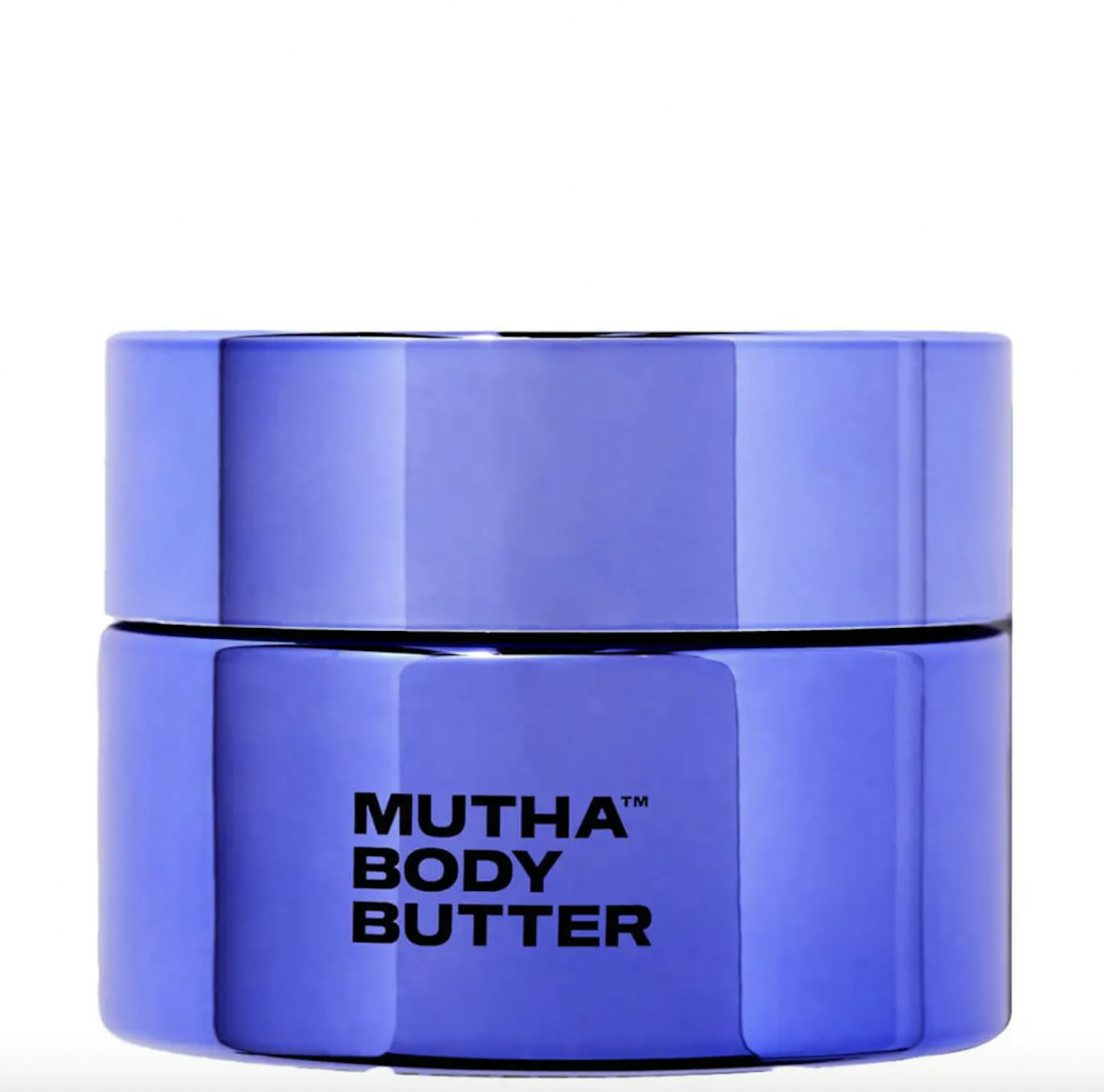 1 of 3
MUTHA Body Butter, £80
The cream that started it all. Hope Smith created this nurturing butter to help prevent stretch marks during pregnancy, but it's so delicious, you'll want to use it postpartum too. It's full of rich, whipped shea butter to moisturise, fatty acids to strengthen the skin barrier and a pregnancy-safe derivative of vitamin A that encourages skin cell turnover for fewer stretch marks. Genius.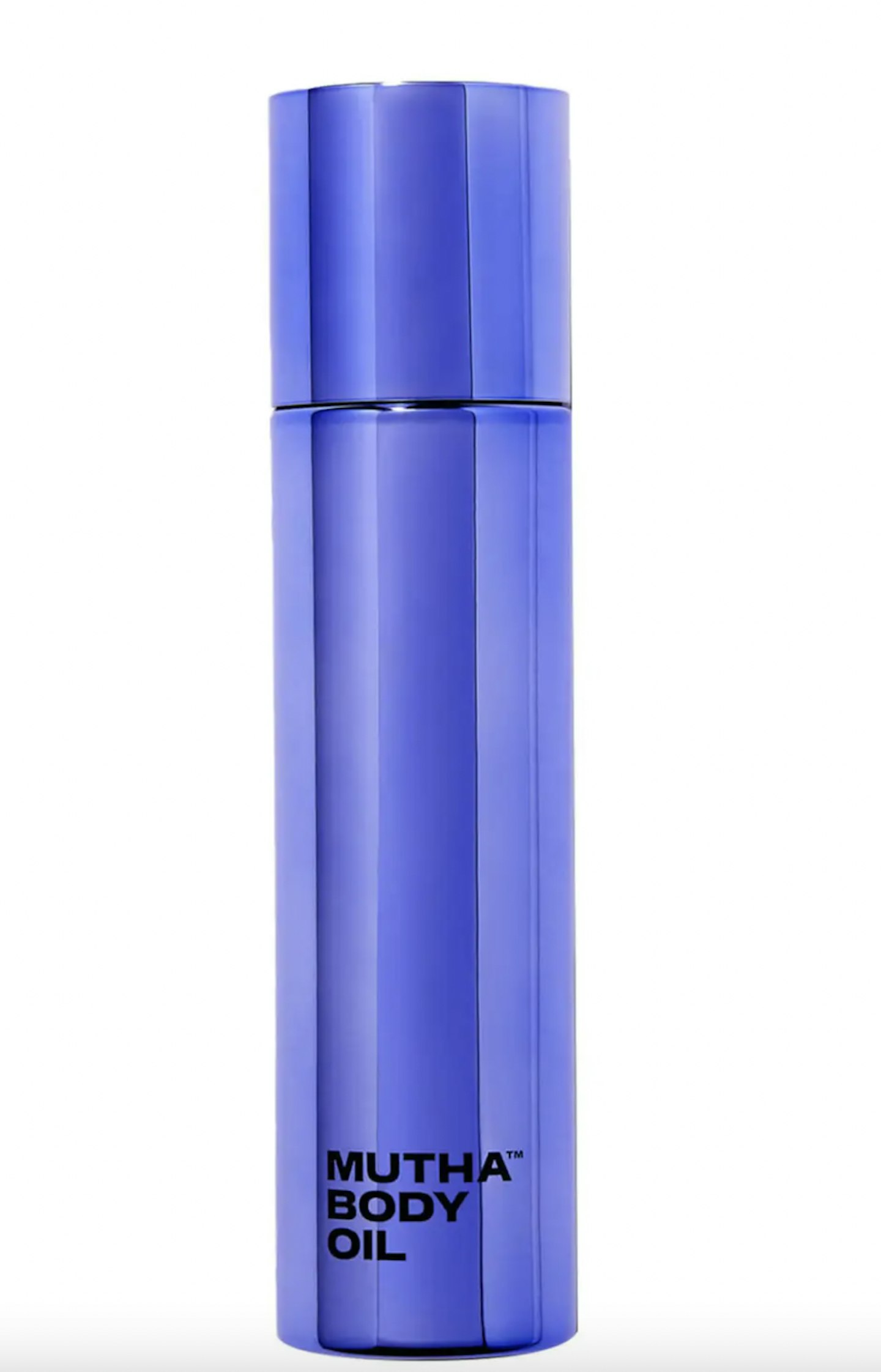 2 of 3
MUTHA Body Oil, £80
For those who aren't a fan of rich creams, turn to this featherweight oil. It features the same cell-renewing vitamin A derivative to keep stretch marks at bay, as well as rosehip oil to nurture and condition. MUTHA does textures well, and this product isn't an exception: it absorbs beautifully and leaves skin with a subtle gleam.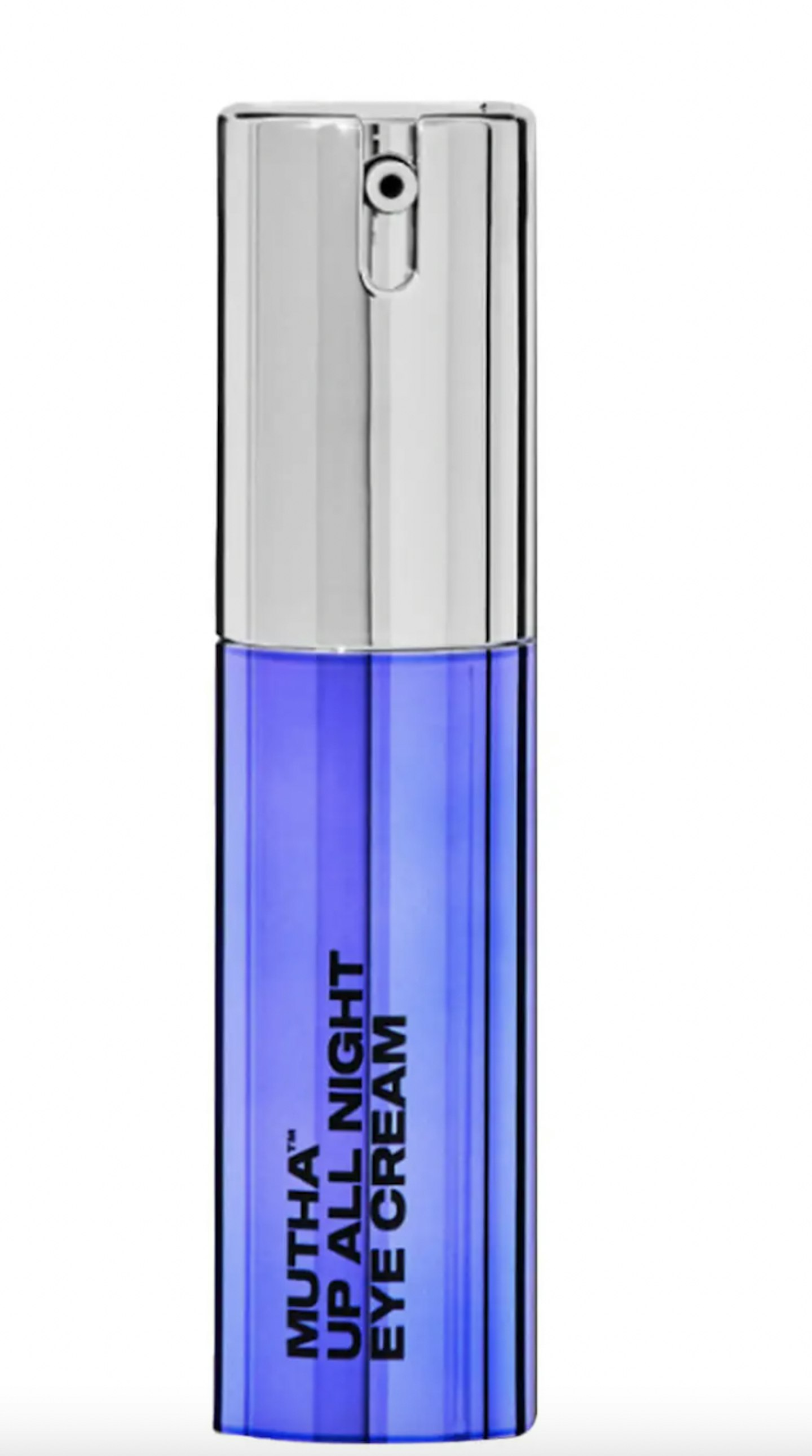 3 of 3
MUTHA Up All Night Eye Cream, £75
Eye creams are hard to get right: to warrant using one, it must offer a point of difference to your ordinary moisturiser. MUTHA's does. It combines a hyaluronic acid (the stellar hydrator) with peptides, a combination which promotes elastin production for brighter, smoother, bouncier skin. You'll also find pearl powder, which gives an instant brightening effect to tired eyes.
READ MORE: Rosie Huntington-Whiteley's £120 Styling Trick To See Her Through Pregnancy
READ MORE: How Are Pregnant Women Meant To Get The Covid Jab Quicker?