When it comes to celebrity beauty routines, we're fairly used to hearing whacky stories about multi-step routines and elaborate procedures. But what about the everyday skincare habits of the A-list? Well, as it turns out, they come with their own eye-watering price tags. They do for Margot Robbie, anyway, who clearly has the most expensive taste of her peers given her favourite skincare products.
READ MORE: There's A Reason Why Beauty Routines Are More Important Than Ever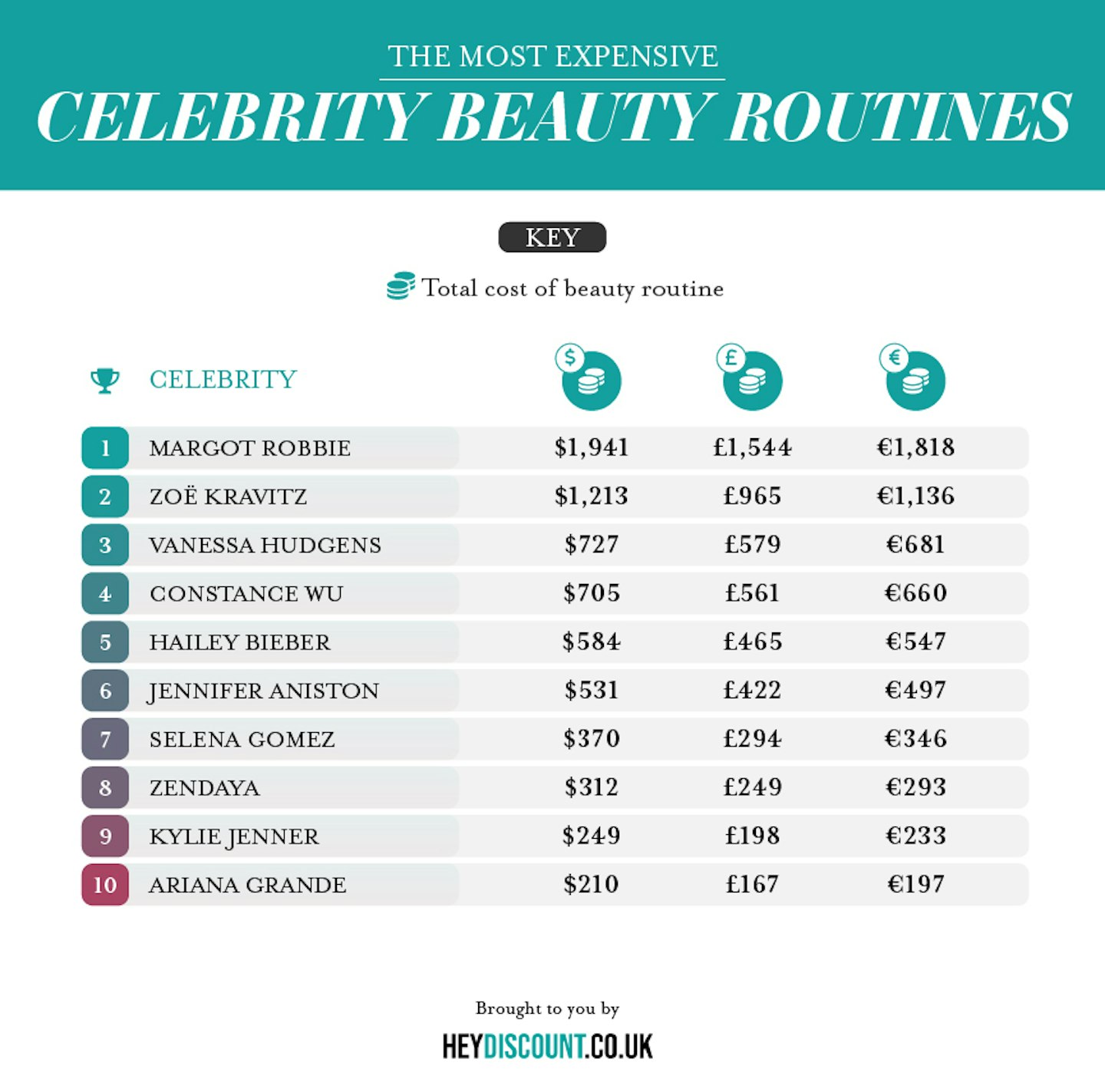 To coincide with the launch of Rhode, Hailey Bieber's debut beauty brand, Hey Discount conducted research into the beauty routines of our favourite celebrities to investigate exactly which products they use and how much they cost.
Which celebrity has the most expensive beauty routine?
Despite her recent foray into the world of skincare, Bieber isn't top of the list. In fact, her own routine is the fifth most expensive at £465. It also, presumably, only consists of Rhode products now.
Margot Robbie's skincare products, however, come in at a whopping £1,544 altogether. This is largely thanks to her predilection for La Prairie products, renowned as some of the most expensive beauty buys in the world. In fact, there are two products from the Swiss brand that Robbie loves: the La Prairie Skin Caviar Luxe Cream, £439 for 50ml, and the La Prairie Skin Caviar Luxe Eye Cream, £329 for 20ml.
READ MORE: Hailey Bieber's Beauty Brand Rhode Has Landed And This Hero Product Is Already Flying Off The Shelves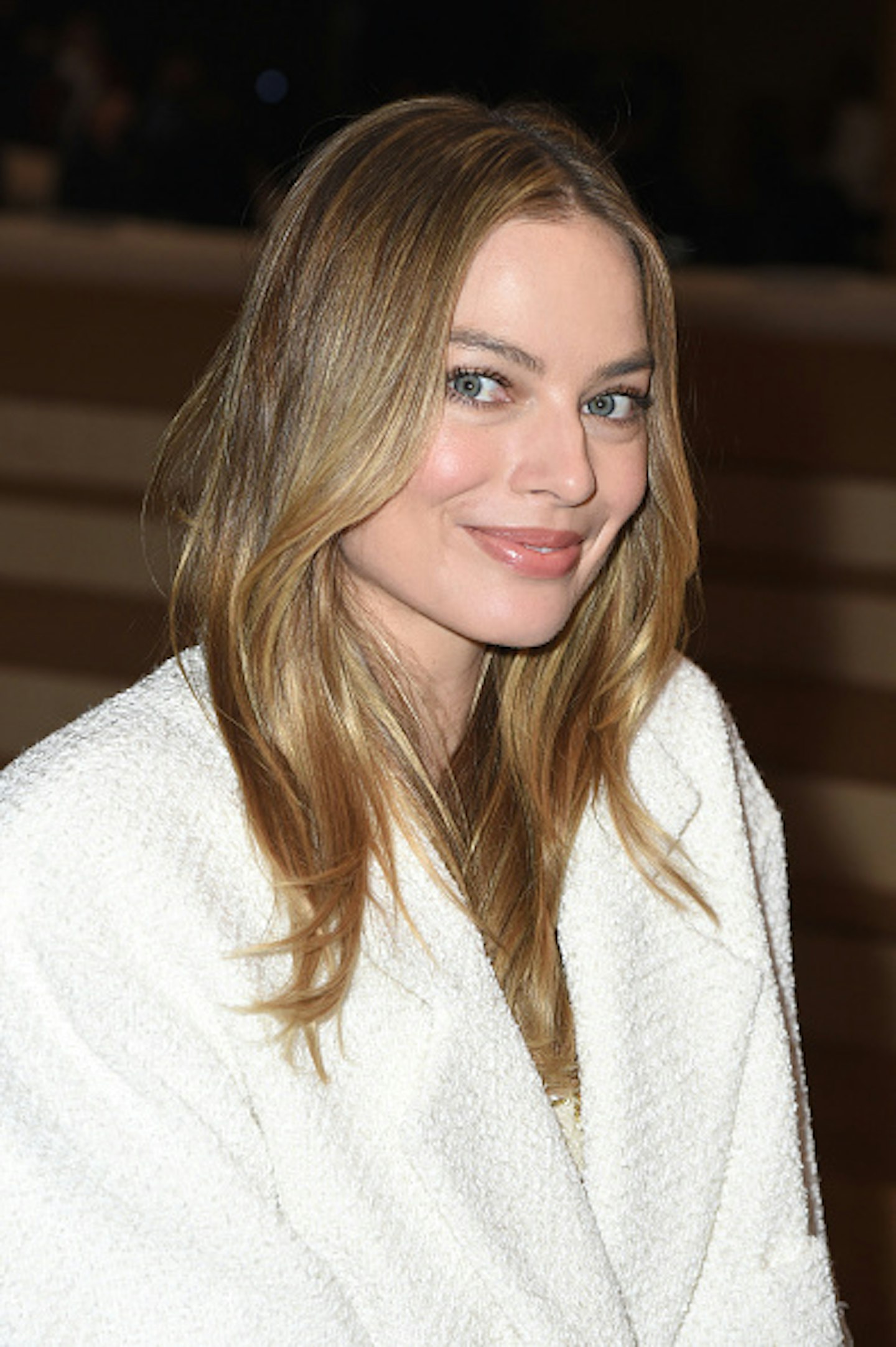 Whatever she's doing, it seems to be working – Robbie has one of the most flawless complexions in Hollywood. Interestingly, however, she told The Skincare Edit back in January that she has sensitive, acne-prone skin, so she makes an effort to really look after it. 'It's all the things that we knew all along: wear SPF, drink lots of water, get enough sleep,' she said.
'Ultimately, you realise, 'Oh yeah, I do look my best when I've had 10 hours of sleep and drunk a litre of water.' It's the simple things that work.'
What skincare products does Margot Robbie use?
Despite her expensive taste in moisturiser, some of Margot Robbie's skincare products that she uses every day are surprisingly affordable. In order to remove her makeup at night, for example, she uses £1.25 makeup wipes, while her favourite tinted lip balm is just £5.99 and available in five different shades.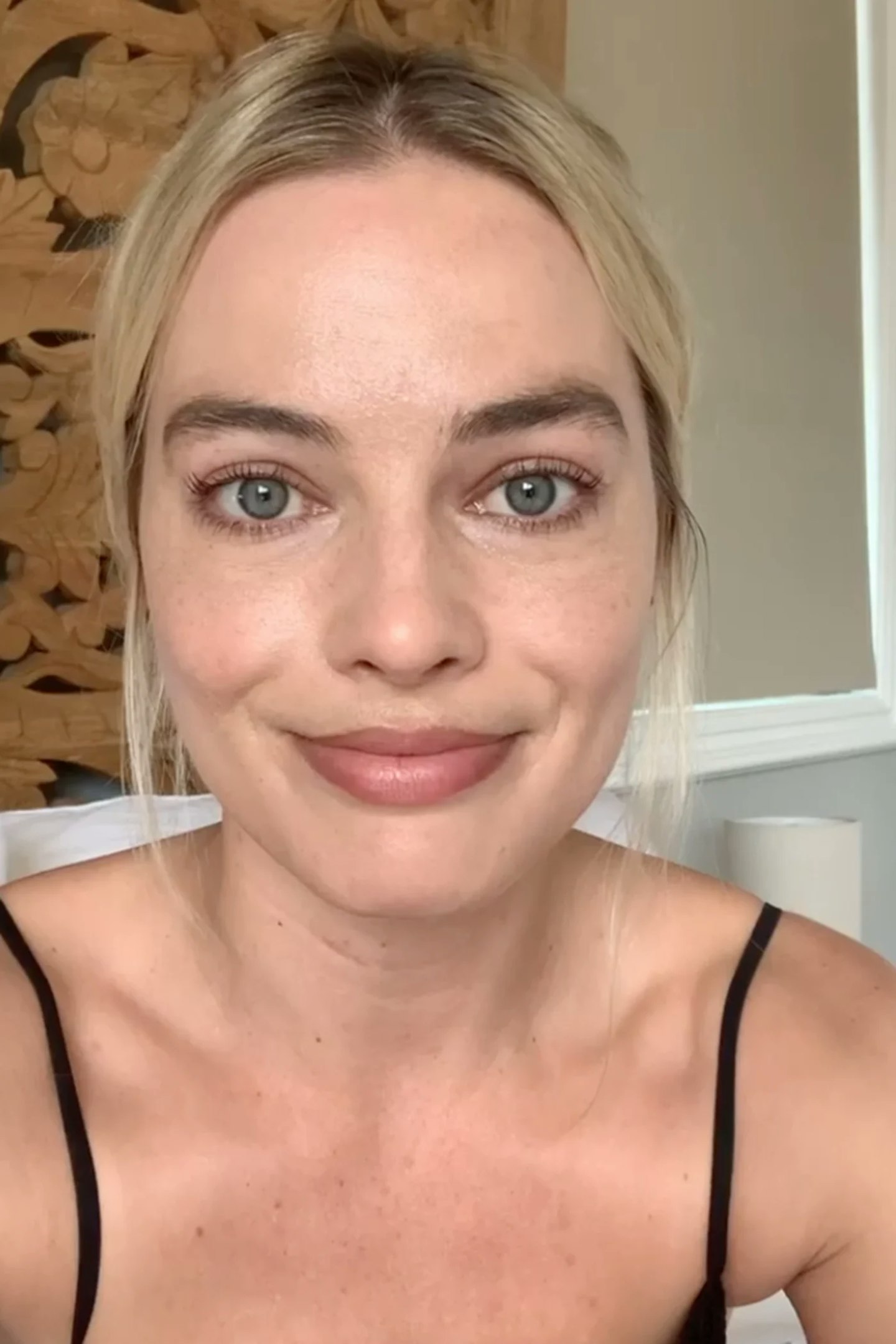 SHOP: Margot Robbie's Daily Skincare Routine: Every Product She Uses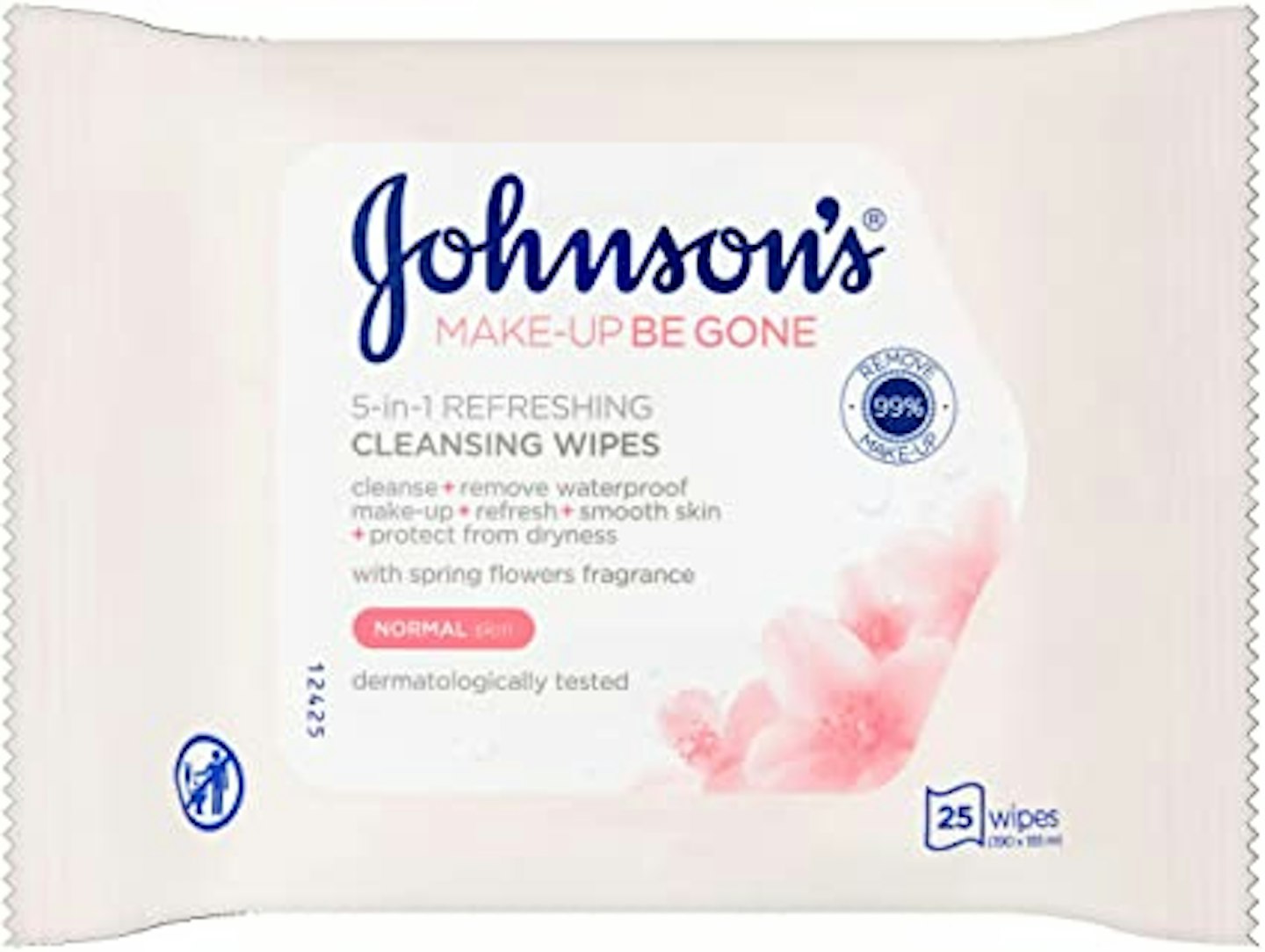 1 of 10
Johnson's Make-Up Be Gone Cleansing Wipes, £1.25 at Boots
Speaking to The Skincare Edit, Robbie explained: 'No matter how drunk I am, I don't go to sleep with makeup on. As soon as I get home, I scrub it off. I use Johnson makeup wipes.' Of all Margot Robbie's skincare products, this is certainly the most affordable.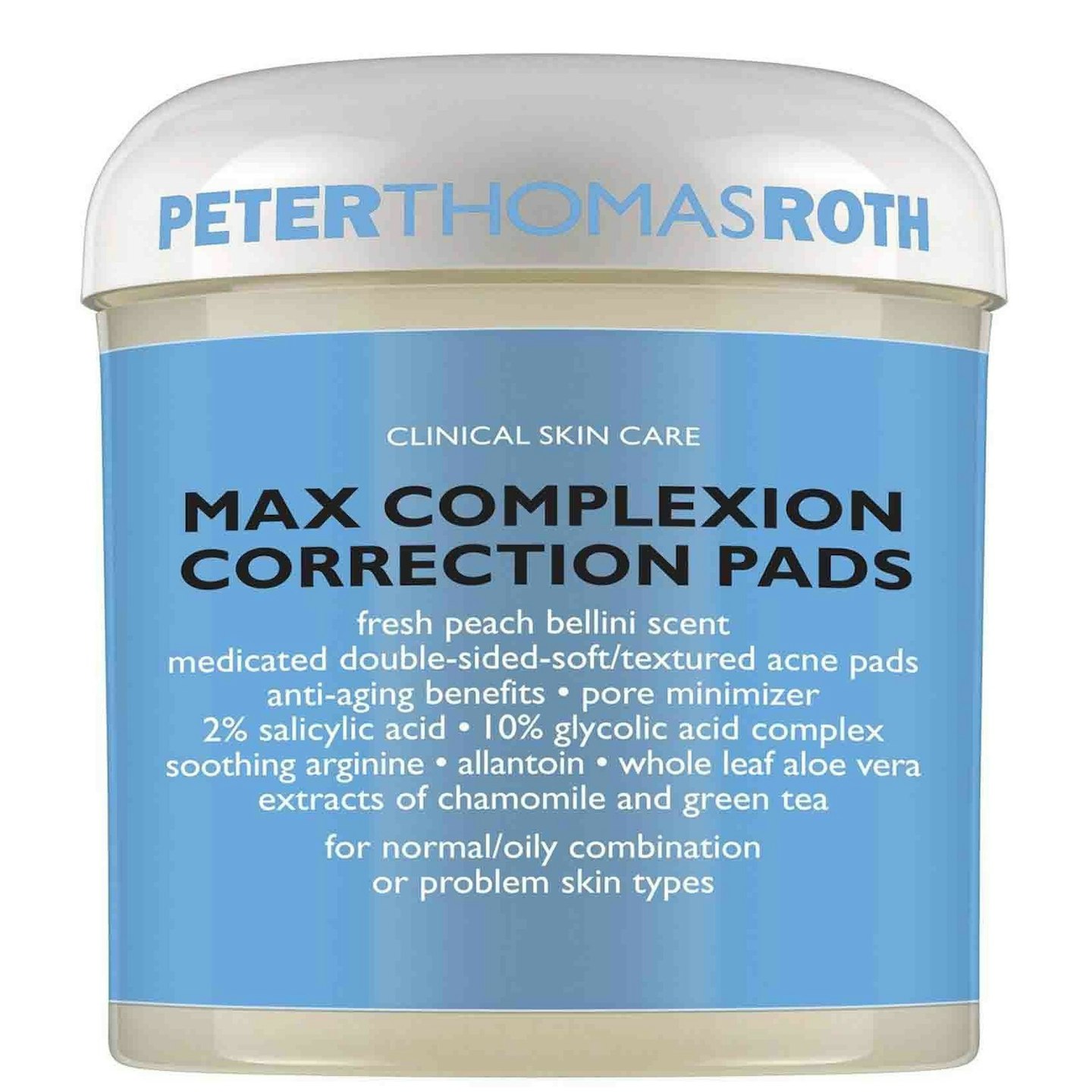 2 of 10
Peter Thomas Roth, Max Complexion Correction Pads, £26.25
'I honestly stumbled across them, and now I can't live without them. Your skin is better after. They're really strong,' says Robbie.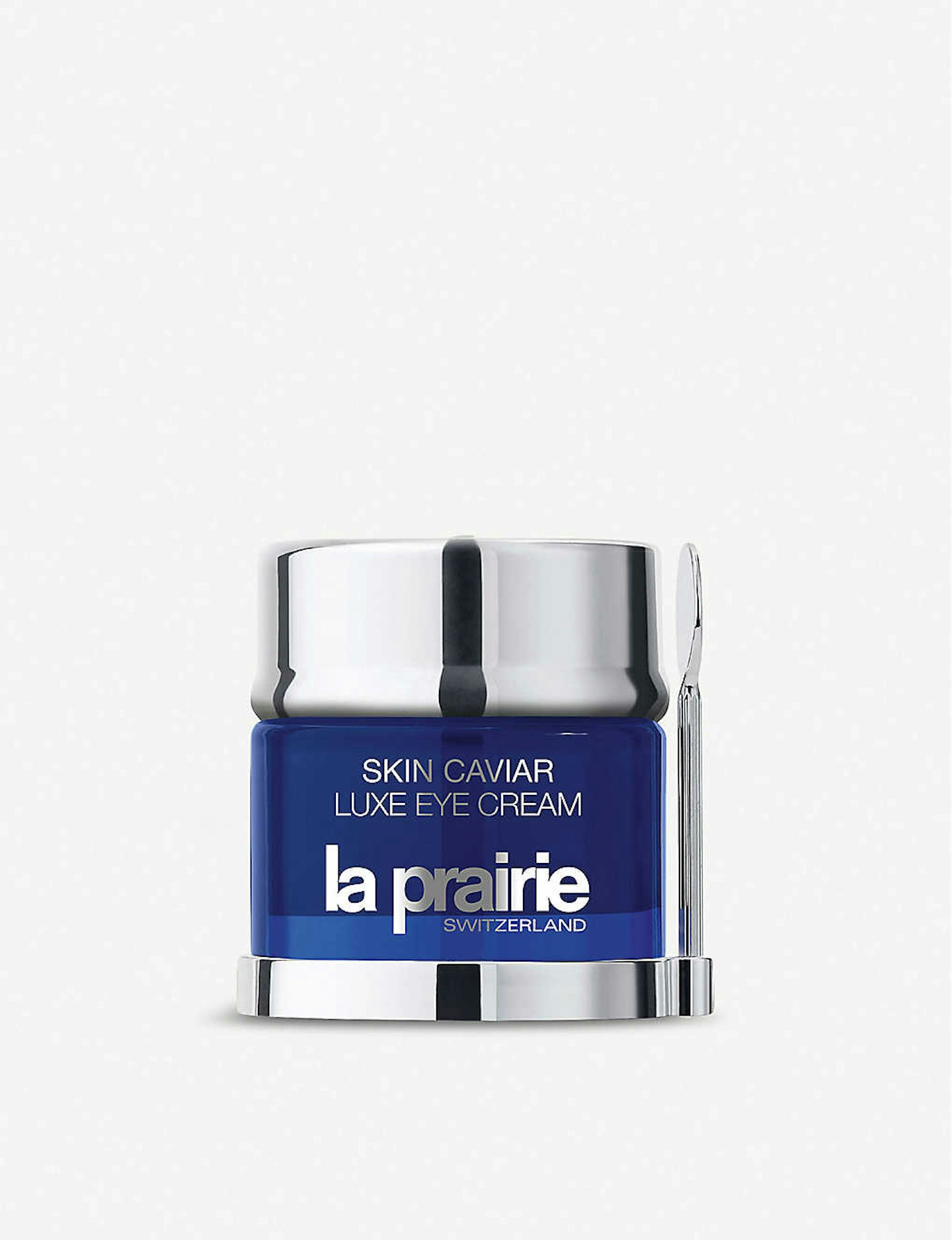 3 of 10
La Prairie, Skin Caviar Luxe Eye Cream, £329
Robbie says she likes to dab this under her eyes just after having a shower.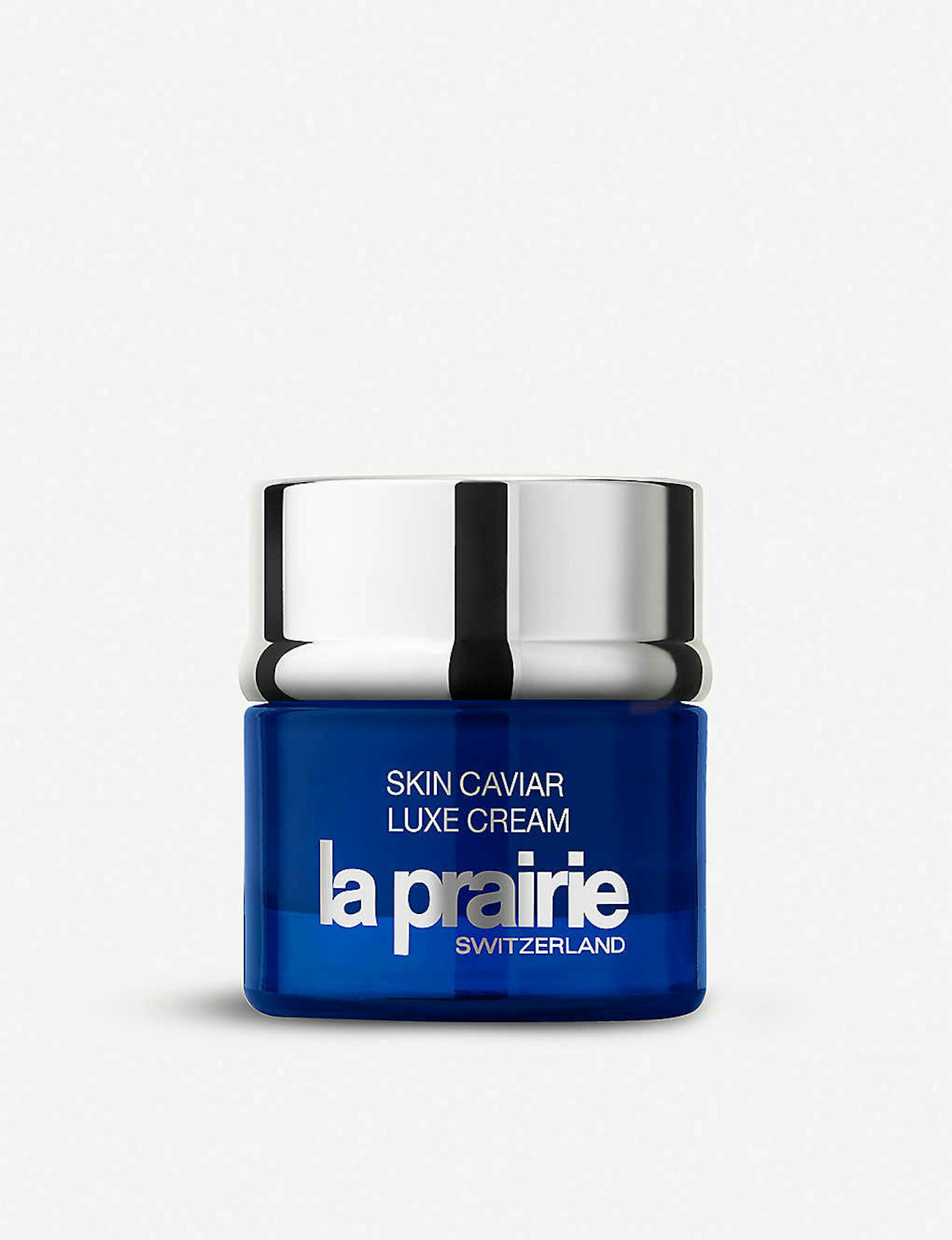 4 of 10
La Prairie, Skin Caviar Luxe Cream, £439
One of Robbie's favourite moisturisers, this is one of the main reasons why the actor's skincare regime is so expensive.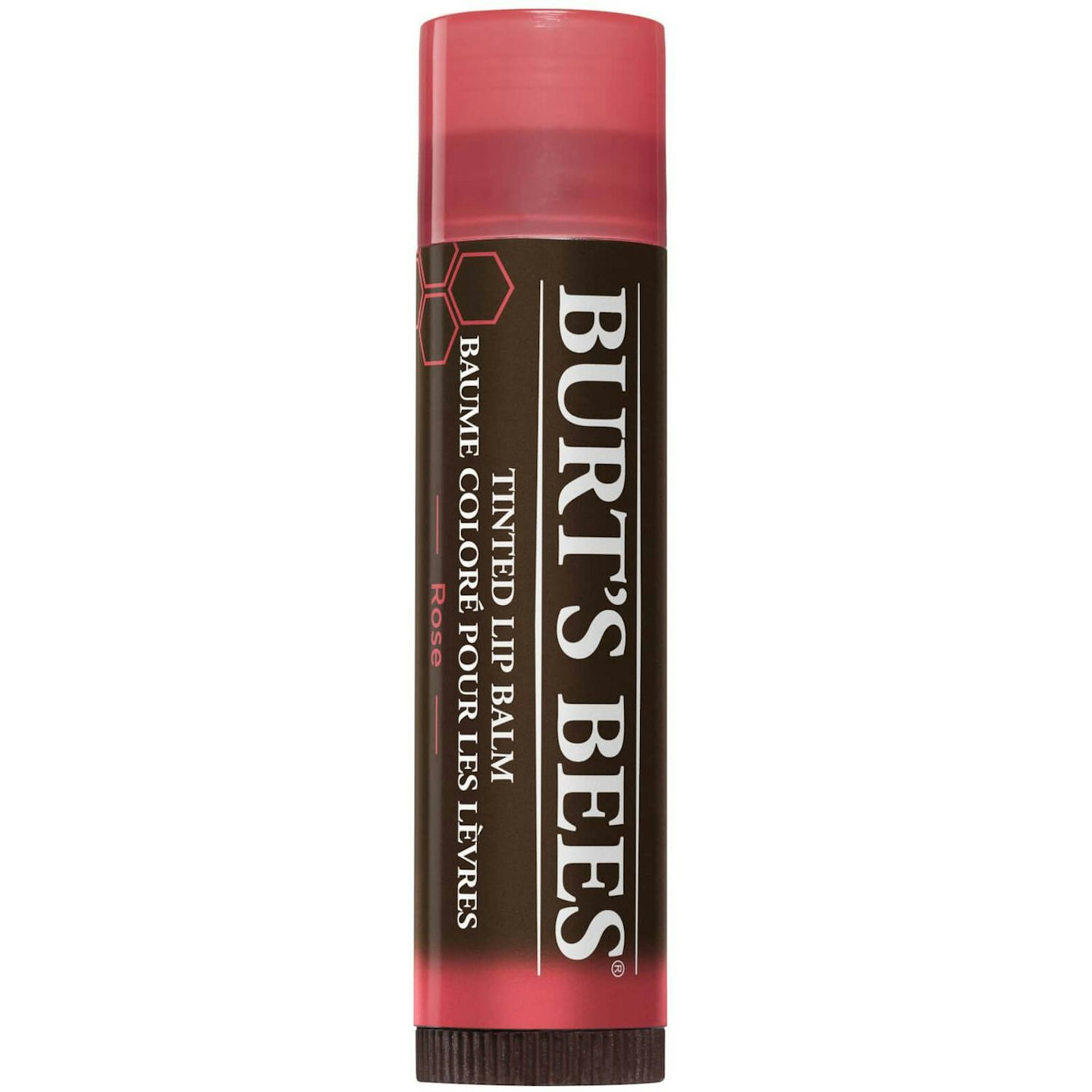 5 of 10
Burt's Bees, Tinted Lip Balm, £5.99 at Look Fantastic
Robbie keeps this in her bag with her at all times.
6 of 10
111SKIN Rose Gold Brightening Facial Treatment Mask, £20
Like many other celebrities, Robbie is 'obsessed' with 111Skin's masks, which really do make a notable difference to skin. And it seems that just like Jennifer Aniston, Robbie uses them to prep for big red carpet events: '[111Skin] have these sheet masks, they're made out of a jelly sort of stuff and the serum they're soaked in is so good. So when we're getting ready for an event she'll put one of those on while she's doing my hair. The 111Skin Rose Gold Mask is unbelievable.'
7 of 10
Talika, Eye Therapy Patch, £19.99 for 6
According to Robbie, these under-eye masks really help with puffiness.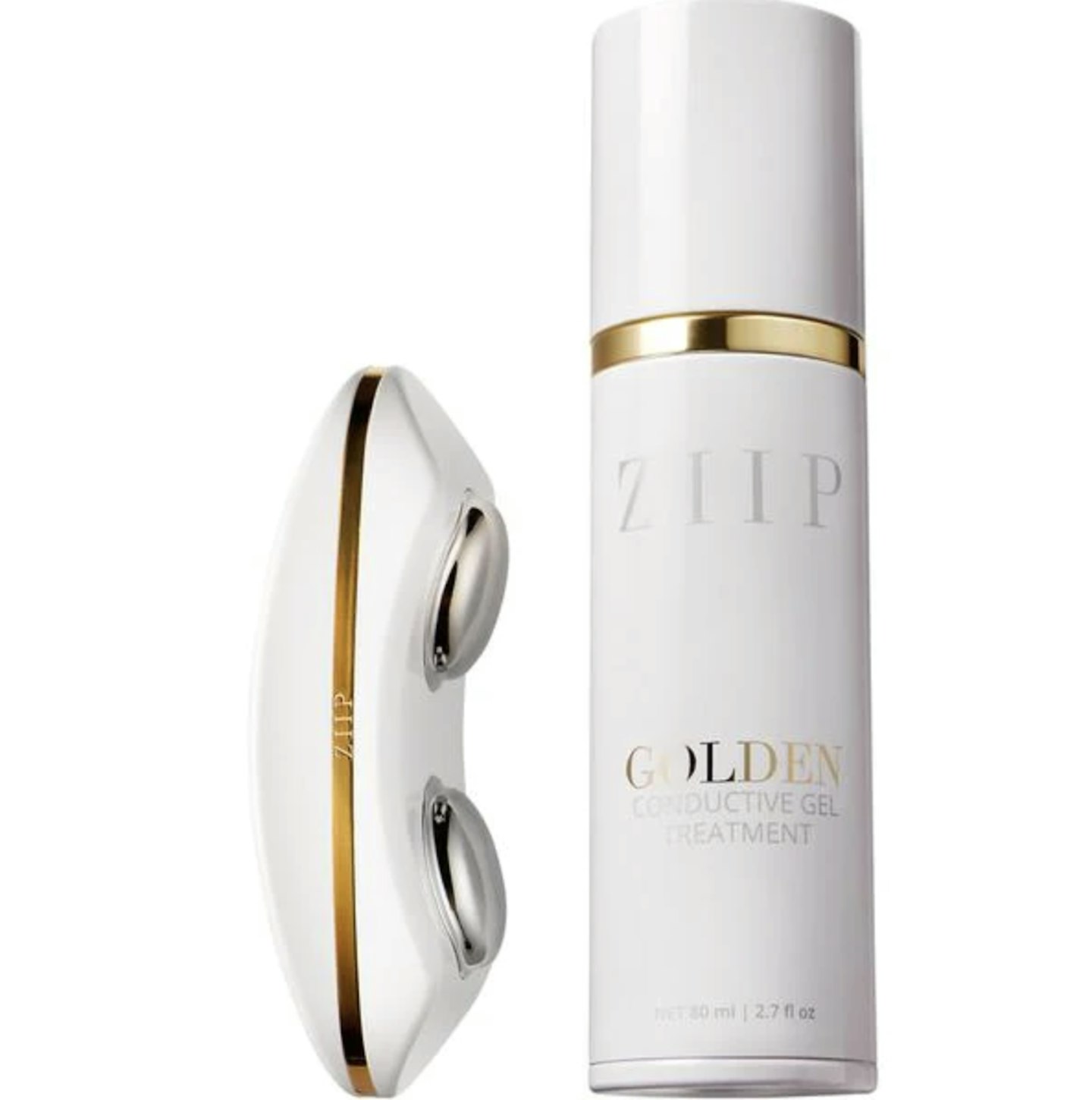 8 of 10
ZIIP Beauty GX Series Nano Current Skincare Device, £425
Robbie said this beauty device has given her 'noticeable results', so it's no surprise lots of other celebrities love it, too, including Kim Kardashian. It uses two types of electrical pulses to firm skin, boosting collagen in a pain-free way.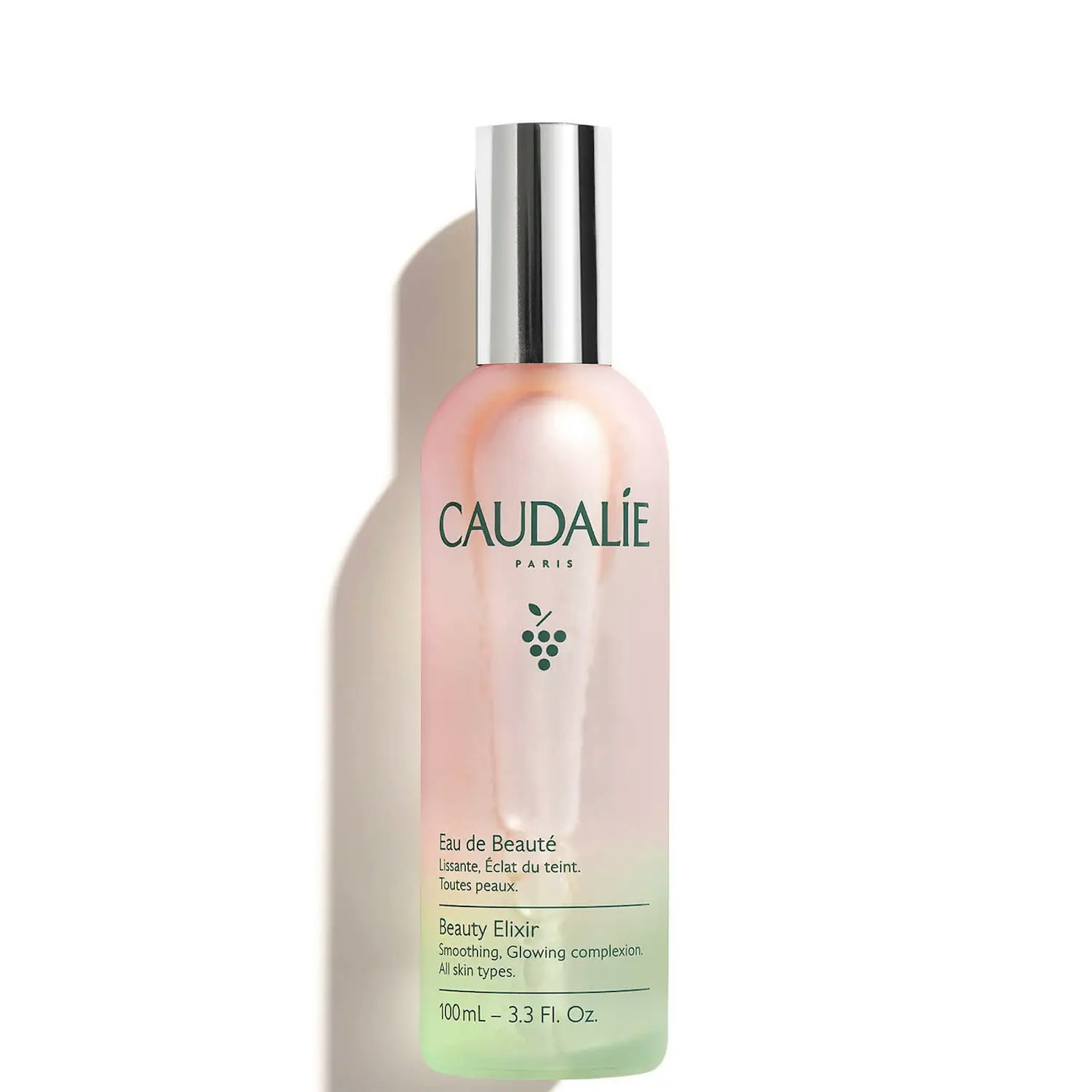 9 of 10
Caudalie Beauty Elixir, £24
'I keep this hydrating spray in my bag at all times; I mist it on like crazy! It has an amazing herbal scent that wakes me up,' Robbie told The Skincare Edit.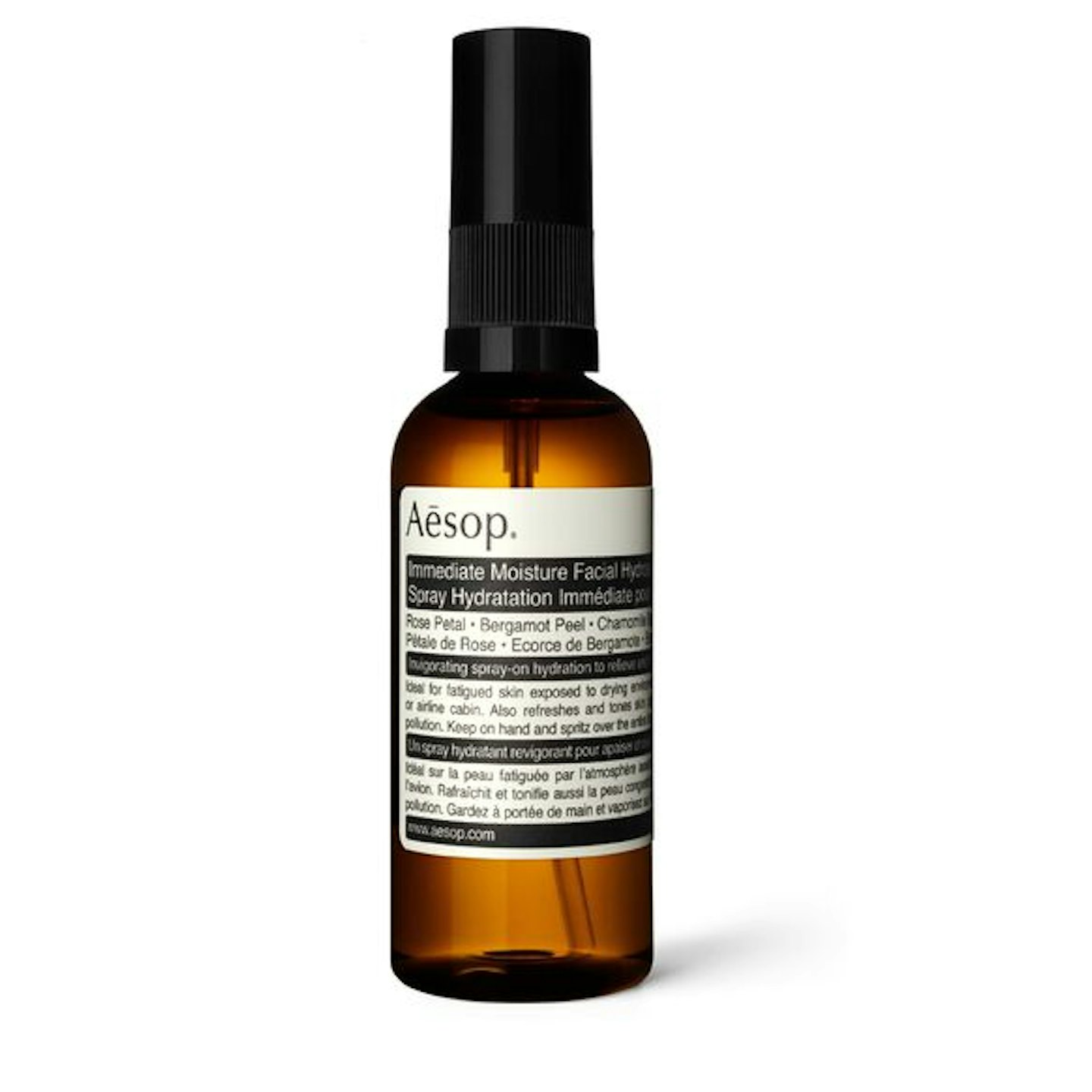 10 of 10
Aesop, Immediate Moisture Facial Hydrosol, £17
Another of Margot Robbie's skincare products that she mentions often is anything by Aesop. She has cited the brand's facial mists as one of her handbag staples.