Clarins Double Serum is worth talking about. Considered the crème de la crème of skincare buys by industry experts the world over, this one has earned its rightful place in the beauty hall of fame. And for good reason. Beloved by beauty editors and celebrities alike (Kourtney Kardashian is said to be a big fan of the stuff) it's described by the brand as its 'most powerful age control concentrate'. If the customer reviews are anything to go by, it's absolutely worth the hype. If minimising wrinkles and boosting firmness is your goal then you'll want to scroll on for the full low-down.
What Does The Clarins Double Serum Do?
Formulated to 'act on the appearance of major signs of skin-ageing' this nourishing serum contains an impressive 21 active plant ingredients including turmeric, which is renowned for its ability to boost the appearance of a tired complexion. 'The benefits of turmeric in skincare are well documented,' explains Ridah Syed, senior medical aesthetician at Skinfluencer London. 'Turmeric boasts anti-inflammatory, antibacterial and antioxidant properties which may be able to offer positive effects to skincare issues including acne, dermatitis and pigmentation.' It's no wonder then that Clarins Double Serum is often touted as the cream of the crop - fans leave consistently positive reviews raving about the reduction in the appearance of fine lines, uneven texture and enlarged pores.
How To Use Clarins Double Serum
As the role of a serum is to flood the skin with active ingredients it's a great way to amplify the efficacy of your moisturiser, allowing for more effective anti-ageing. 'I always advise warming the serum in your hands first,' says Syed. 'This will help aid absorption. You can then apply the formula to the face and neck in gentle massaging motions - light tapping and circular movements work well. Of course, be careful not to rub and take care around the delicate eye contour.'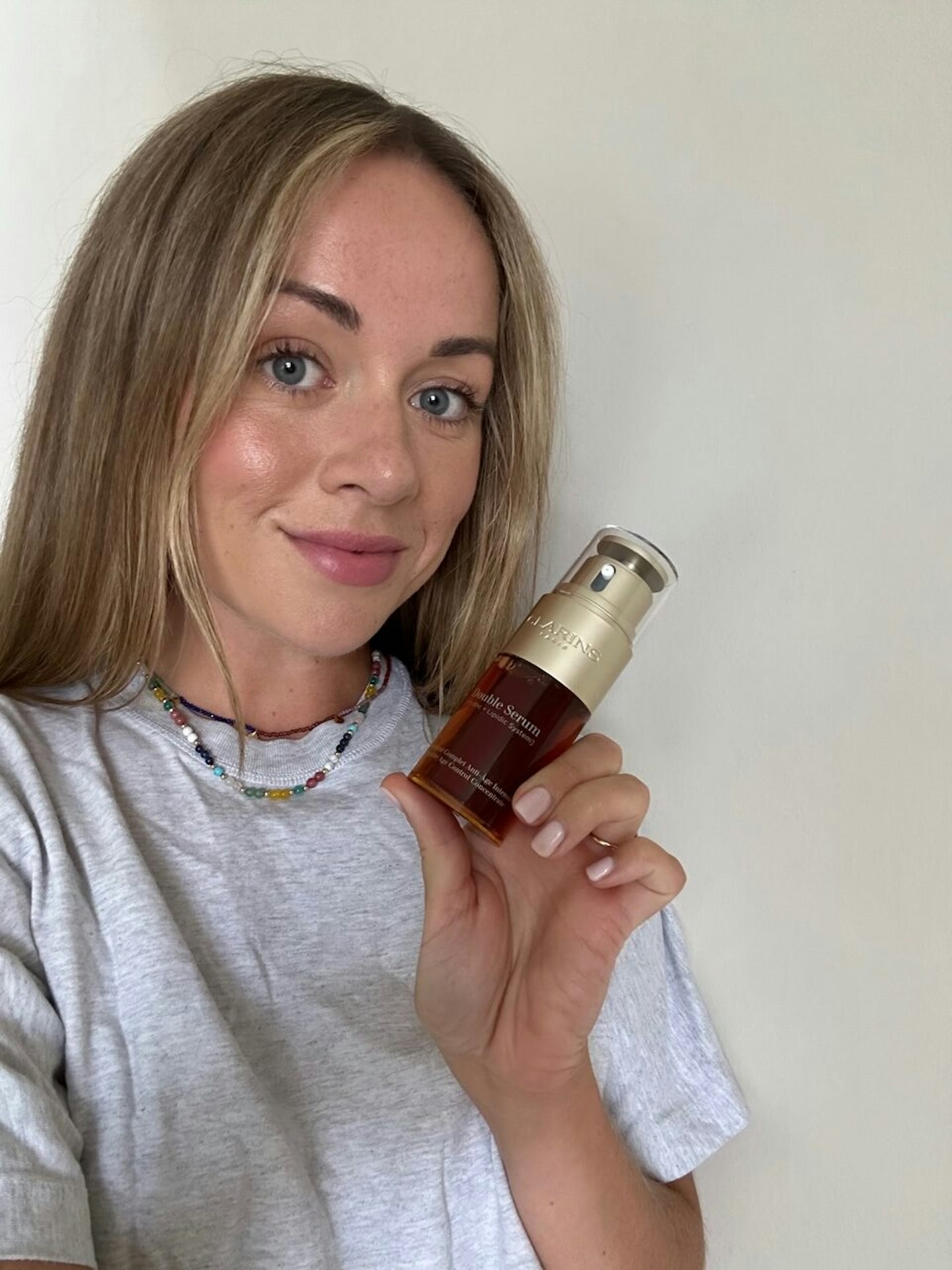 BUY: Clarins Double Serum
Best for: mature skin
Description
Whatever your skincare concern may be - wrinkles, loss of firmness, lack of radiance, an uneven
Pros
The innovative bottle delivers the perfect dose thanks to the handy push button
Contains 21 active plant ingredients
Suitable for all skin types
Our Verdict
Rachael Martin, junior beauty editor:
'I honestly think I've fallen in love with this one – and there's a high chance I won't be without it again. It applies beautifully, plays well under make-up and such a small amount tends to go a long way. The texture is light and non-greasy and while it's certainly an investment, I saw tangible results within just three days – my eye area in particular looked considerably fresher and more wide awake. The most dramatic results didn't come over night, however. It took upwards of two months for others to compliment my skin, so although I'd absolutely recommend this one, a quick fix it is not.'
Best for: minimising fine lines
Description
Consider this nourishing eye cream the ultimate accompaniment to the Clarins Double Serum. Use
Pros
20ml
Contains 13 plant extracts
Suitable for all skin types.
How We Tested It
Rachael says: 'I tested the Clarins Double Serum over the course of several months – in fact, I've just hit the five month milestone and it's fair to say it's become integral to my skincare routine – even when travelling I pumped some into a mini bottle to ensure I stayed consistent. As a beauty editor, part of my job is testing new products (a blessing and a curse) but I was incredibly strict with myself here – I used this serum, and this serum only - and I won't be swapping it out any time soon.
Overall rating
Long story short, Clarins Double Serum does what it says on the tin. It's a five out of five from me.
Rachael Martin is Grazia's Junior Beauty Editor where she covers all things beauty, health and wellness.