Resisting the allure of TikTok trends, especially those in the realm of beauty, can be quite the challenge. One such trend? Russian manicures. Chances are you'll have seen several cropping up on your For You Page, and it's fair to say their popularity shows no sign of waning. Just take a peek at #RussianManicure for proof - you'll find a staggering 993.4 million views and counting. More intriguing still, is the 120% rise in people searching for 'Russian manicure near me,' suggesting that the masses want in on the action. However, it's not a nail technique without its controversy - and allow us to explain why.
Before you book in for your next appointment, we've consulted with an array of experts across the industry, from Kamola Malikova, founder of Minx Beauty Beverly Hills, to Sharin Shafer, the founder of skin and aesthetic dermatology clinic Skinfluencer, and GP Dr. Sonia Khorana, to provide you with some essential insights to consider before scheduling that 'photo-shop mani'.
What is a Russian manicure?
Often called a 'dry manicure,' the Russian manicure focuses heavily on cuticle work and can take between 1.5-2 hours to complete.
'It's a technique that focuses on the cuticle area,' explains Shafer. 'Basically, the nail technician uses an electric filer to open up the eponychium to remove the cuticle - this is the thickened layer of skin at the base of the fingernails and toenails.'
'People love the precise look and the long-lasting wear,' adds Malikova. 'Expect a magazine-cover worthy manicure that lasts for up to four weeks.'
What's the difference between a traditional manicure and a Russian manicure?
Typically? The long-lasting results, and precise finish.
'Traditional manicures use fast soaking methods which do not allow for long wear,' Malikova explains. 'The Russian technique and its signature gel application allows the customer to have an extra long lasting manicure with extreme attention to detail.'
Do Russian manicures hurt?
When done properly a Russian manicure should not inflict any pain. 'The nail drill is a powerful tool but it should never hurt - if your nails or fingers are hurting, this is a sign the technique is not being performed correctly,' says Malikova
Why are Russian manicures so controversial?
'Are Russian manicure safe?' is a question that many have been typing into Google. As reminder - this technique involves removing the cuticle, allowing the polish to be applied to a section of the nail plate that would have otherwise been covered.
Shafer says, 'Although this might sound like a good idea, there is a real risk of infection - the eponychium has a functional role in protecting the nail plate from infection. If this is disrupted, as it is in a Russian manicure, it's easier for bacteria and other microbes to enter into the body and cause an infection. This risk can be even higher if the tools used during the treatment have not been thoroughly sterilised.'
And Dr Khorana agrees. 'The Russian manicure is controversial because when you're drilling closely into the nail bed (or drilling in general) to remove gel polish, rather than soaking using foils and acetone -meaning it can be invasive.'
Malikova recognises that Russian manicures can be dangerous, but only if they're done by the wrong hands. 'I advise that this kind of technique is not done at home,' she warns. 'A manicure like this needs to be undertaken by an experienced specialist in a sterile environment at a reputable salon - this will prevent damage or risk of infection and leave you with the most beautiful nails.'
Grazia's Junior Beauty Editor, Rachael says: 'I recently had my first Russian manicure and was blown away by how beautiful the results were. I was initially worried about the use of the drill, yes, but my experience was a wholly positive one. My manicurist worked precisely, and always made me feel like I was in safe hands. The salon were also meticulous about keeping the tools used sanitised, which is a must when it comes to this type of manicure. If there's any risk of infection it's so important to go to a salon you trust.'
'We work with Victoria's Secret models, who come back to the salon time and time again,' reminds Malikova, 'Standards need to be high, and I always ensure my manicurists are trained to the highest of standards.'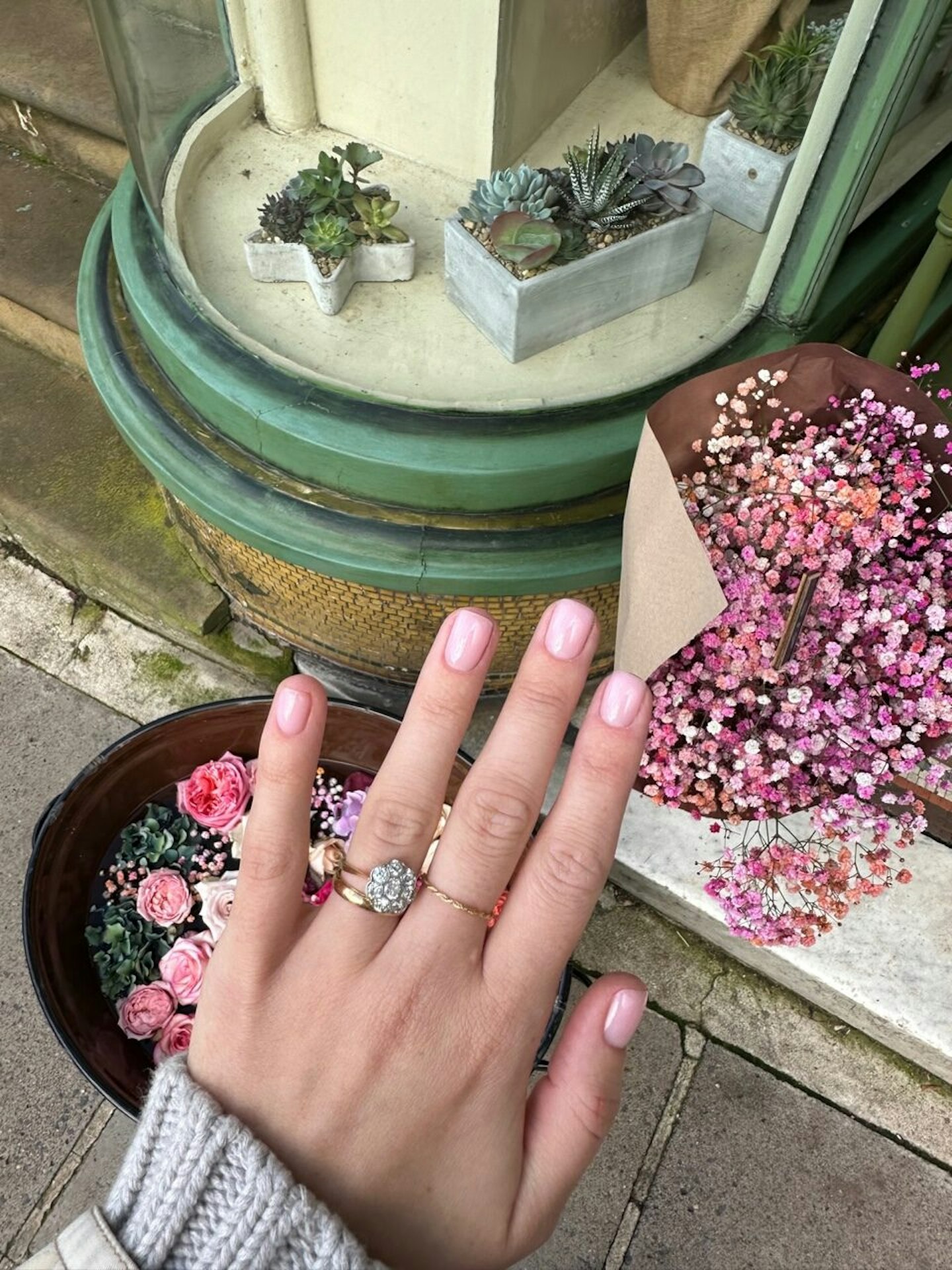 Can Russian manicures damage your nails long term?
'A Russian manicure can only damage the nails when carried out by the wrong person,' reminds Malikova, 'And I'd always recommend follow-up care. Keep the hands and nails in excellent condition by following with cuticle oils and nourishing hand creams.'
How much does a Russian manicure cost?
The cost of a Russian manicure can vary from place to place dependent on your location, the design chosen, and the level of experience the nail technician carries.To give you a rough idea, Malikova says, 'A Russian manicure starts from £65 at our London location and from £90 at our Beverly Hills flagship salon.'
The takeaway
While the experts are unlikely to recommend the Russian manicure technique, there's no denying its popularity. Our advice? If it's something you'd still like to pursue then ensure you're headed for a reputable salon with qualified practitioners.
Main image credit: @nailsbycarolinaayarde @like_my_nails_london