Salons are finally back in business (hurrah!) and if you're looking for the best hot-spots in the capital for Afro hair, you're in the right place. From curly cuts and styling to weaving, braiding and extensions, we've rounded up the very best Afro hair salons across London that will meet your every haircare need. Curls and coils, look this way...
Best Afro Hair Salons In South London
Linnaean Living: Best for Defining Curls
Where: South West, Nearest Station: Vauxhall
What to get: intricate braids and cornrows
Offering a holistic approach to afro hair, this hybrid space includes a restaurant, salon and spa. Plump for an appointment with Senior Style Director Tony Grant, who has decades worth of experience, and countless awards (he's won Top Colourist at The Black Beauty Awards four years in a row), and has worked with brands such as Gucci, Fendi and Versace. An expert in everything from cutting and perming to colouring, you may never go elsewhere.
Hype Coiffure: Best For Chemically Treated Hair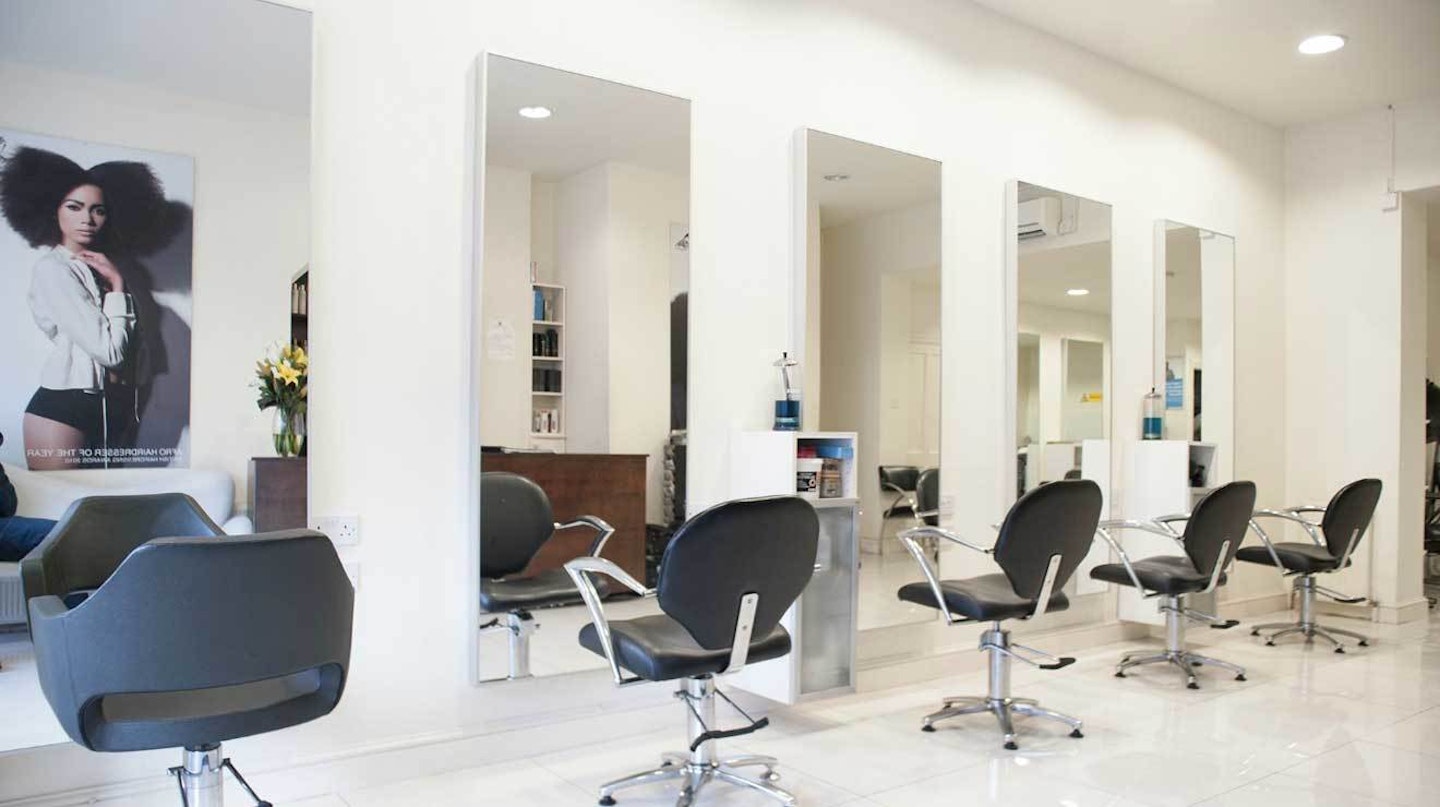 Where: South London, Nearest Station: Brixton
What to get: Treatments, chemical treatments relaxers and cuts
Having first opened its doors in 1995 in Balham, Hype Coiffure now has three salons across London. As pillars of the British afro hairdressing, the salon specialises in straightening treatments and relaxers, and has won a multitude of awards, including Best Afro Hair Salon in 2016. If you're looking for a healthy way to return to relaxers, or for a fresh updated take on a cut, ask for Schola.
C-Suite: Best For Sleek Wigs
Where: South East London, Nearest Station: North Greenwich
What to get: Lace front wigs
In the market for seamless lace? Look no further than this 2017 founded salon that deals in high quality sew-in bundles, weaves and wigs, with endless cut and colour possibilities. Whatever you want, C-Suite will deliver. You'll come for the wigs (prices from £100), but stay for the stupidly chic interiors.
Peckham Palms: Best For Braids, Wigs and Treatments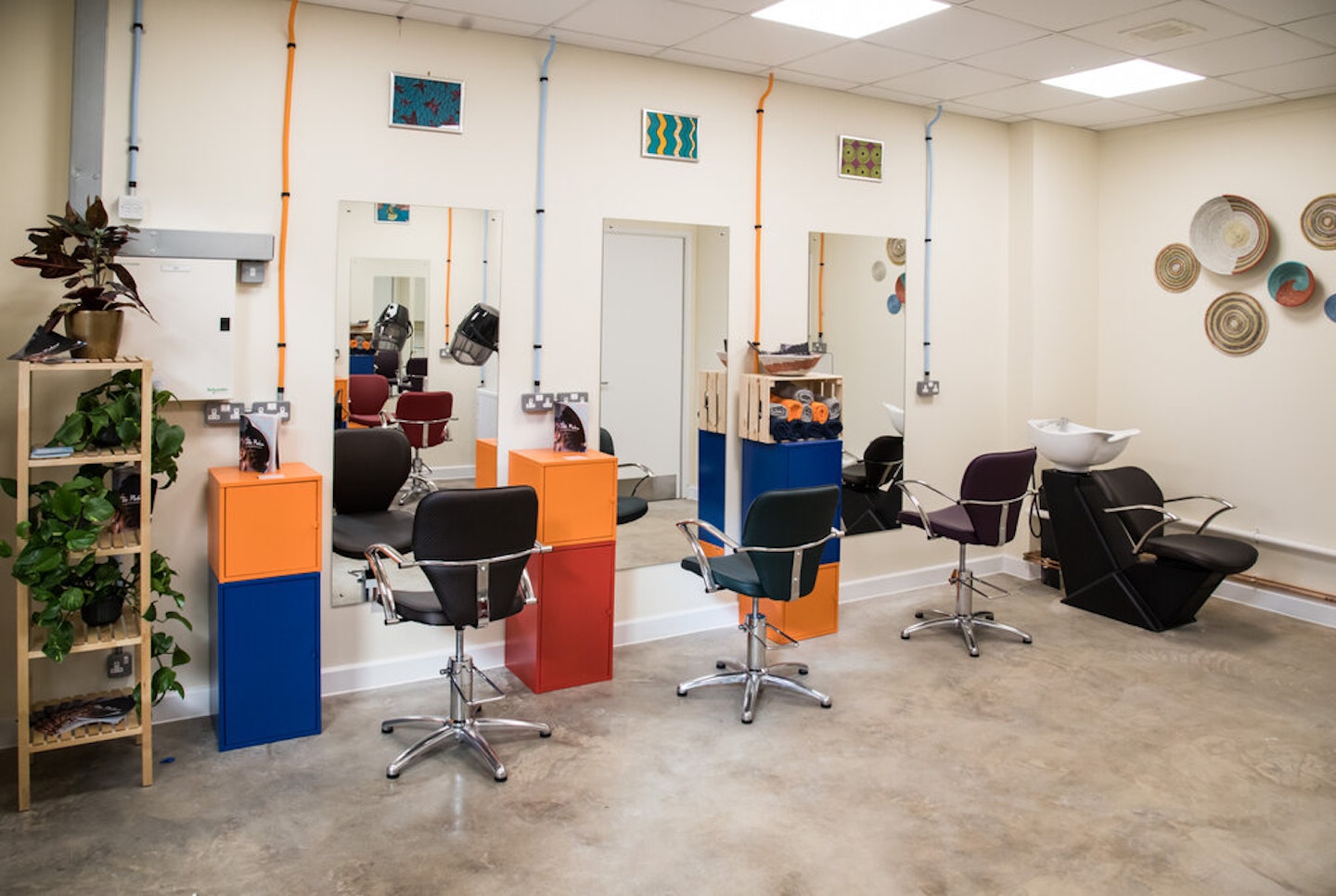 Where: Peckham, Nearest Station: Peckham Rye
What to get: Shop products from the extensive marketplace, home to several independent small businesses, primarily led by Black women.
Situated in the heart of Peckham, The Palms is a Afrocentric retail space that's home to over 20 professional hair and beauty stylists. Expect first class service from stylists who specialise in everything from protective styling to braids, weaves and custom wigs. Asides from beauty and hair, you'll also find an impressive range of food and drinks venues within the retail space.
Cherub London: Best for hair loss treatments
Where: Charlton, South East London
What to get: Treatments for hair loss, weave, colour
Cherub London, founded by Rachael D Sey, is a hair salon and restoration clinic dedicated to transforming damaged hair into a healthy and vibrant state. The salon features a classy green and gold decor, offering a five-star customer experience with tea and coffee. Specialising in both promoting healthy hair growth and restoring damaged hair, Cherub London provides a personalised 360 approach to hair care. CEO Rachael, with over 15 years of experience, has a genuine passion for healthy hair and scalp. The clinic also offers advanced treatments such as PRP, Biotin Shots, and IV administered by a nurse practitioner. Services range from sew-ins and micro links to colour weaves, blow-dries, and treatments, all aiming to kickstart a positive and fulfilling hair journey for clients.
Rachael said, 'After I was made redundant from my HR role, I created this salon after suffering from hair loss problems. This salon is a leading provider in helping individuals with hair problems. Specialising in Afro hair we can provide services for natural hair, relaxed hair and transitioning hair. We want to position ourselves as the leading hair providers for afro-hair creating a space that helps redefine your hair journey as well as offering any advice if you're suffering from hair loss. Everyone is welcome at our salon, making customers feel beautiful while elevating trendsetting hairstyles.'
Best Afro Hair Salons In North London
Beah & Kadi Hair Lounge: Best for Innovative Hair Extensions
Where: North London, Nearest Station: Mill Hill Broadway
What to get: Silk Press, Colour Matched Hair Installations
Founded in 2006, Beah & Kadi is a family owned hair salon based in north west London. The mother and daughter duo have over 25 years of experience in the hair industry, and although they work with all hair types, they're especially well versed in black hair. Everyone is welcome here, whether you want custom extensions or a full glam weave. The salon is worthy of a square on your gram, too.
The Curl Bar: Best For Natural Hair Styling and Curl Definition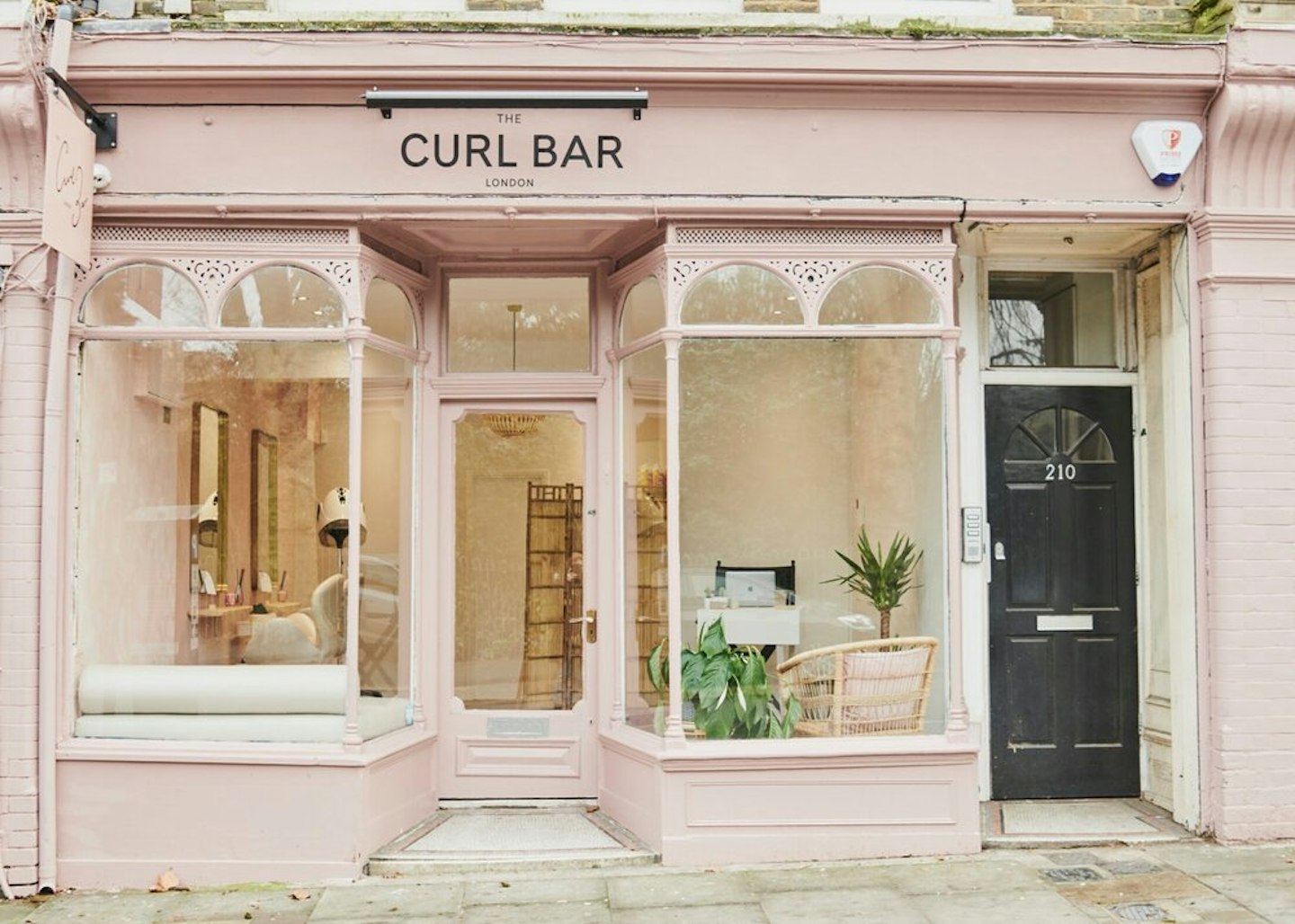 Where: North London**, Nearest station:** Hornsey
What to get: The Curl Bar Deluxe Treatment
A millennial pink Afrocentric haven located in North London; The Curl Bar describes itself as a safe place for women with natural hair to feel embraced. Relax and unwind to the mellow music with a refreshing tea while the experts treat and style your hair. Focused on natural hair styling and curl definition, choose from a treatment, protective styling or 'the big chop'. Whatever you opt for, you'll leave feeling part of a community and can even make use of the classes on offer – from learning how to style children's hair to better understanding your own curls and coils.
SIMPLY Gorgeous: Best for Braids and Protective Styling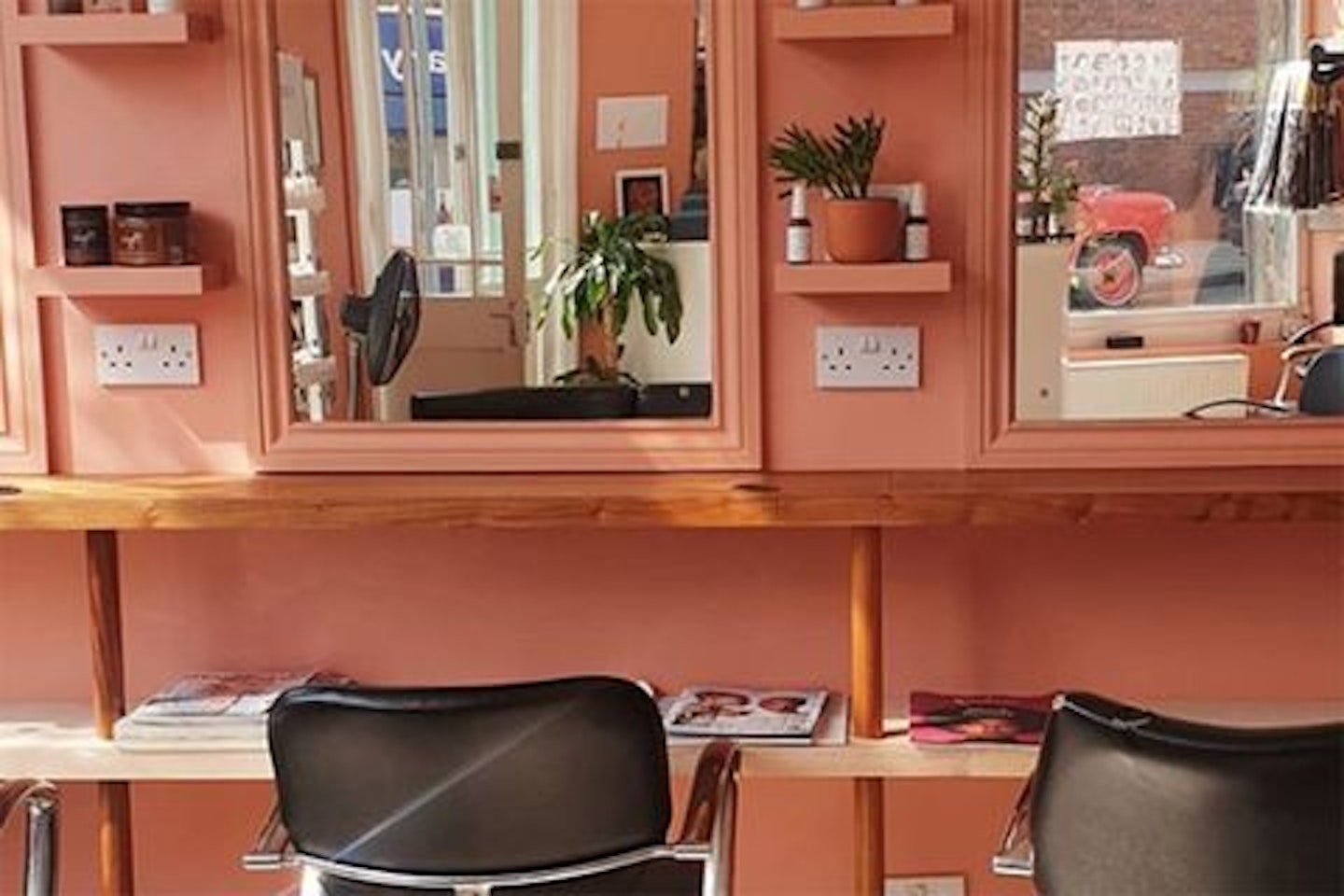 Where: North West, Nearest Station: West Hampstead
What to get: intricate braids and cornrows
Founded by a mother and daughter duo, Simply Gorgeous offers braids, weaves, cornrows, gel twists, trims and more. A lot, right? Good job then that they offer a virtual consultation beforehand, for just £15, to decide on the best style for you. More than just a salon, on the website you'll find a vast array of blog posts featuring interviews with notable black women and educational pieces on the history and culture of black hair.
Afrotherapy: Best For Treatments and Weaves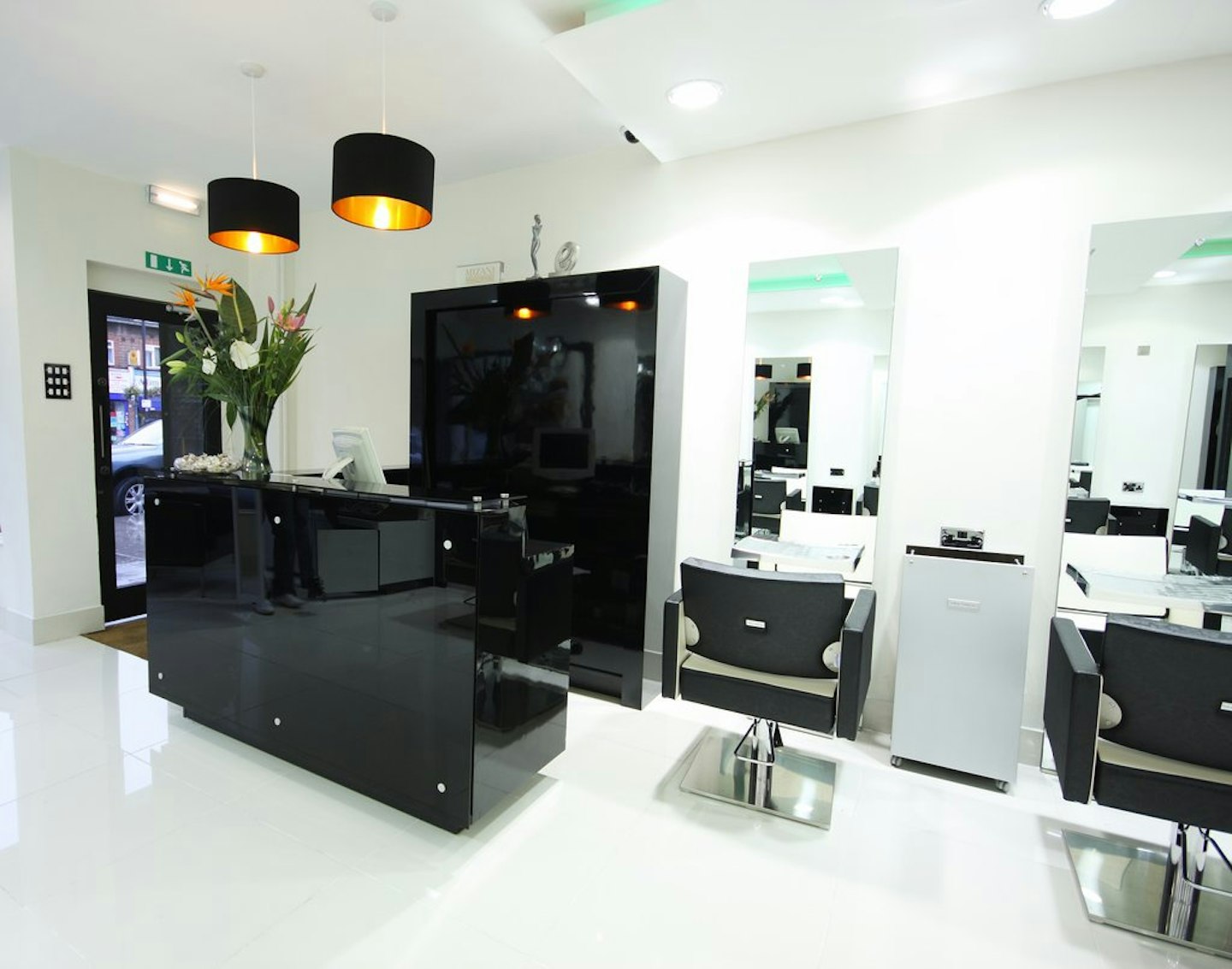 Where: North London, Nearest station: Silver Street
What to get: a cut and colour
Born out of a desire to create the best hair dressing experience for Afro hair, Afrotherapy launched back in 2001 by Joseph and Harriet Cudjoe. Seriously stylish with a minimalistic vibe, the team of experts specialise in afro, kinky and multi-textured hairdressing. Choose from scalp treatments, colour services, weaves and extensions. You can also shop a curated edit of hair, skincare and make-up products for Black and ethnic hair and skin online at Afrotherapy.com.
Best Afro Hair Salons In West London
Hair Lounge by Charlotte Mensah: Best For Treatments and Education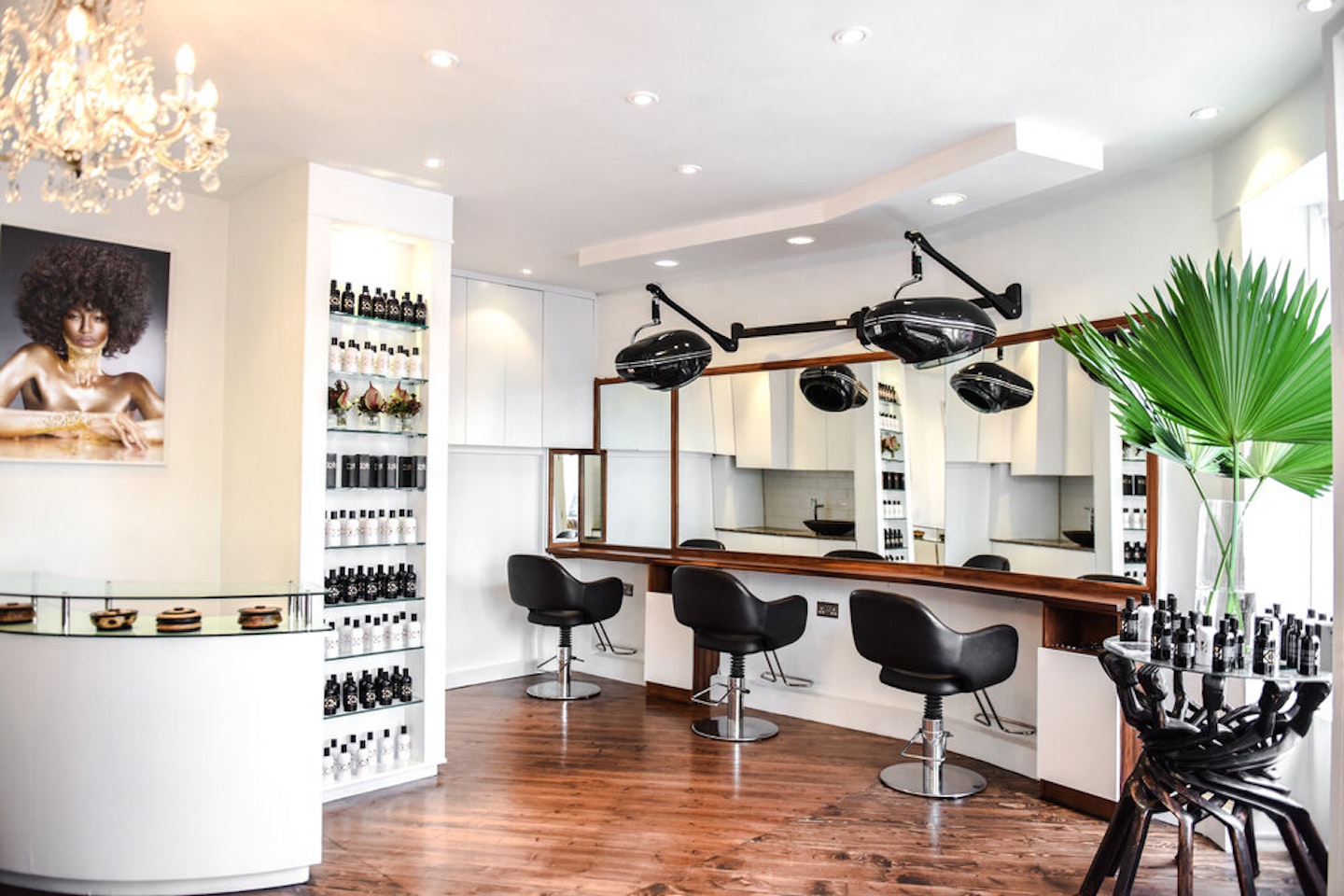 Where: West London, Nearest Station: Notting Hill
What to get: products to guide at home care
Charlotte Mensah is a pillar of the black the community both in Ghana, where she works on educational initiatives, and in Notting Hill, where she's had a salon for 18 years. Her client list reads like a dream dinner party guest list, including names like Chimamanda Ngozi Adichie, Michaela Coel and Zadie Smith, with the latter writing the foreword to her book, Good Hair. Make an appointment and expect homemade cake, unparalleled expertise and an introduction to her eponymous line that includes shampoos, conditioners and treatments, based on the centuries old Manketti Oil.
Unruly Curls: Best for Cut and Curl Definition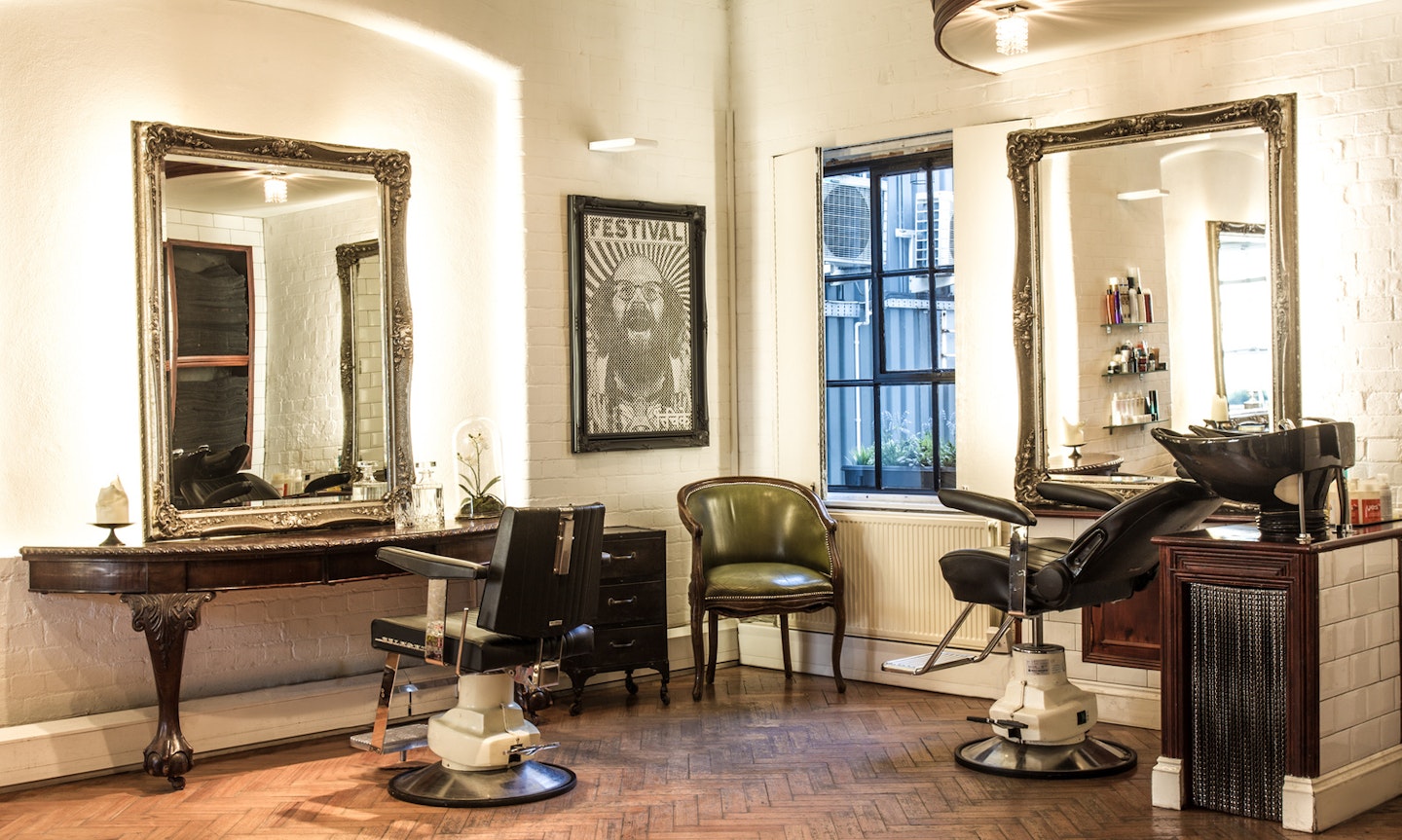 Where: West London, Nearest tube: Latimer Road
What to get: the Curl by Curl/Deva Cut
'A union of independent freelance hair and make-up artists with a broad set of skills', Unruly Curls is an uber-cool salon situated in the backstreets of Notting Hill, that caters to every hair type. After a cut? Ask for Director, Anthony Carenza who is one of four certified specialists in London trained in the Curl by Curl (CBC) technique. Invented by Lorraine Massey, CBC involves cutting curly hair dry which allows for far more control and will take into account each client's individual curly or wavy pattern and hair texture. The results? Your best curly cut yet.
Best Afro Hair Salons In East London
Honey Hand: Best for Innovative Styling
Where: East London, Nearest Station: Leytonstone
What to get: Pixie cut wigs
For the best in the pixie wigs look no further than east London's Honey Hands, whose name tells you all you need to know about their unmatched approach to lace front wigs. For the best in the pixie/bixie's business with numerous colour options, expect high grade quality that's as far from your auntie's wig shop as you can get.
Styles By Fola: Best For Lace Closure and Frontal Sew Ins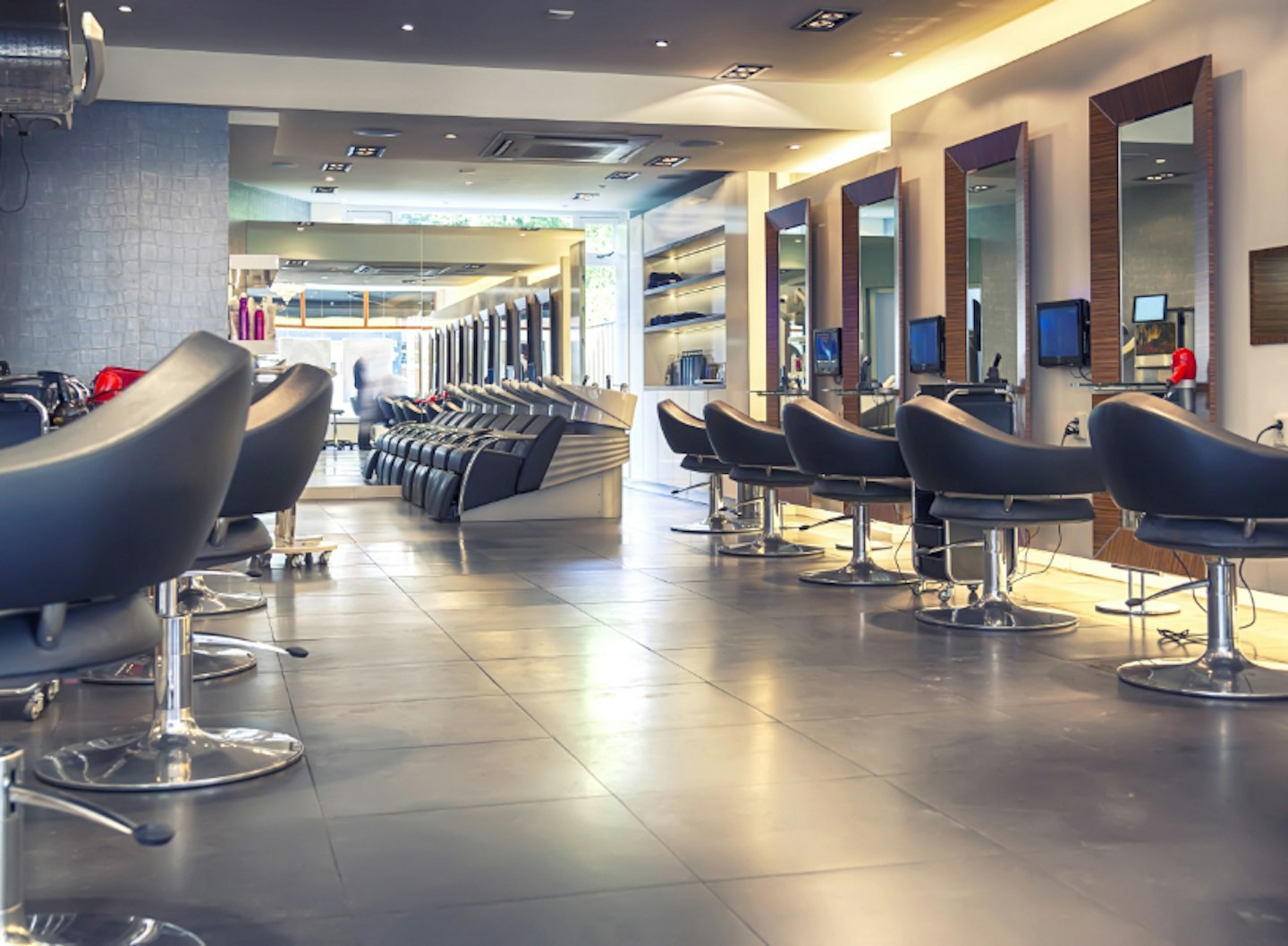 Where: East London, Nearest tube: Stratford
What to get: glueless lace frontal sew in
For extensions, wigs and sew-in weaves, look no further than professional Afro hair salon, Stylesby Fola. Located in Stratford shopping centre, the salon has garnered hundreds of 5-star reviews and has a page dedicated to customer pictures for each service so if you're in need of some inspiritation – start here.
Purely Natural: Best For Locks and Braids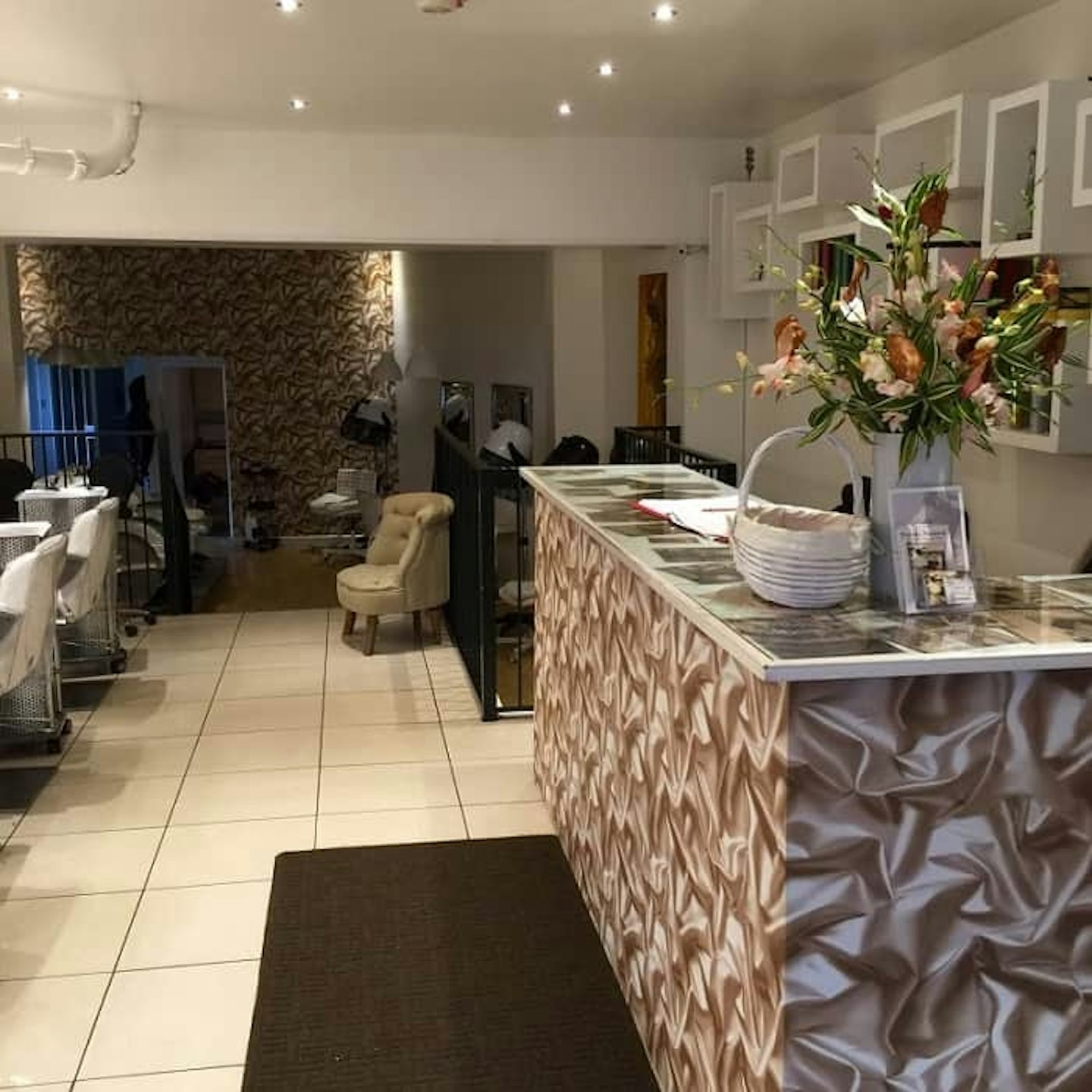 Where: East London, Nearest tube: Stratford
What to get: locks retwist
Award winning salon Purely Natural was founded by stylist Anastasia Chikezie in 1990 (you may have even seen her on the BBC documentary report 'Natural Hair Revival for Black Women'). This year the salon celebrates 31 years of working with natural and afro textured hair, and even have their own line of organic hair products to help grow your hair to it's full potential.
Best Afro Hair Salons In Central London
The Collective: Best For Afro Cuts and Reshaping
Where: Central London, Nearest Station: Oxford Circus
What to get: natural afro cuts and reshaping
This modern, buzzy salon in central London has an innovative approach to hair styling. HairByCollective sees a host of independent stylists with their own chairs, under one, uber chic roof. Subrina Kidd is The Collective's resident textured hair expert, and a shining example of how salon experiences should be for those with afro hair. Her detailed consultations include bespoke styling techniques and product recommendations, to suit your individual texture and lifestyle.
Junior Green: Best For Party Ready Blowdries
Where: West Central London, Nearest Station: High Street Kensington
What to get: A sleek blow out
Heat and afro hair have long been considered enemies, not when in the hands of expert stylist Pashcan'el Mitchell, however, who's a three time winner of Afro Hairdresser of The Year Junior Green. His speciality blowouts ensure coil protects and preserves coil patterns. In addition to temporary styles, the salon also offers more long term smoothing and straightening options, that deliver on results without compromising the health of your hair.
READ MORE: Black Female-Owned Beauty Brands To Support Now, And Always
READ MORE: The Very Best Hair Salons In London Worth Visiting Now