With the warmer months fast approaching (fingers crossed) we're looking to switch up our fragrances. Gone are our heady, heavy numbers, and in their place is something lighter, brighter and reminiscent of sunnier climates. As Spring turns to Summer, we're using the impending sunshine as the perfect excuse to indulge in a little fragrance shopping.
The good news? While we'll always appreciate the mood-boosting power of a luxury purchase, there's no longer any need to drop upwards of £100 to be assured of a unique scent with staying power. And that's where Zara comes in. We've said it before (and we'll say it again) but the high-street store is something of a gold-mine when it comes to their scent selection.
No matter your taste, from flirty and floral to deep and musky, you'd be forgiven for thinking that a high-street store couldn't compare to their designer counterparts. But that's where you'd be mistaken. In fact, Zara's catalogue of scents is brimming with internet breaking dupes. Read: The signature amber and sandalwood notes of Gypsy Water by Byredo, and Lancome's patchouli and vanilla based La Vie Est Belle. The best part? They're usually £19.99 or less.
The latest Zara fragrance launch to pique our interest (and a hefty portion TikTok for that matter) is a body oil which has been compared to the Tom Ford Soleil Blanc Shimmering Body Oil, £85. While Tom Ford's fragrance is an utter treat that will always have a space in our beauty cabinet, Zara's version is an excellent alternative for those hoping to save some money - without scrimping on a truly beautiful product.
Revealed: The £10 Zara Body Oil TikTok is Obsessed With
The Zara body oils are brimming with gold particles, leaving behind a luminous shine that's never greasy. Just a sweep is enough to illumine the whole body, meaning that one bottle has the potential to last for months. The three scents, Wonder Rose, Gardenia and Soleil, ensure there's something for all tastes, and we can personally attest to these oils being powerful, long lasting and luxurious - with striking similarities to their more expensive counterparts.
Scroll on to shop this summer holiday must have...
Shop: The Zara Body Oil Tom Ford Dupes
Zara Wonder Rose Shimmering Body Oil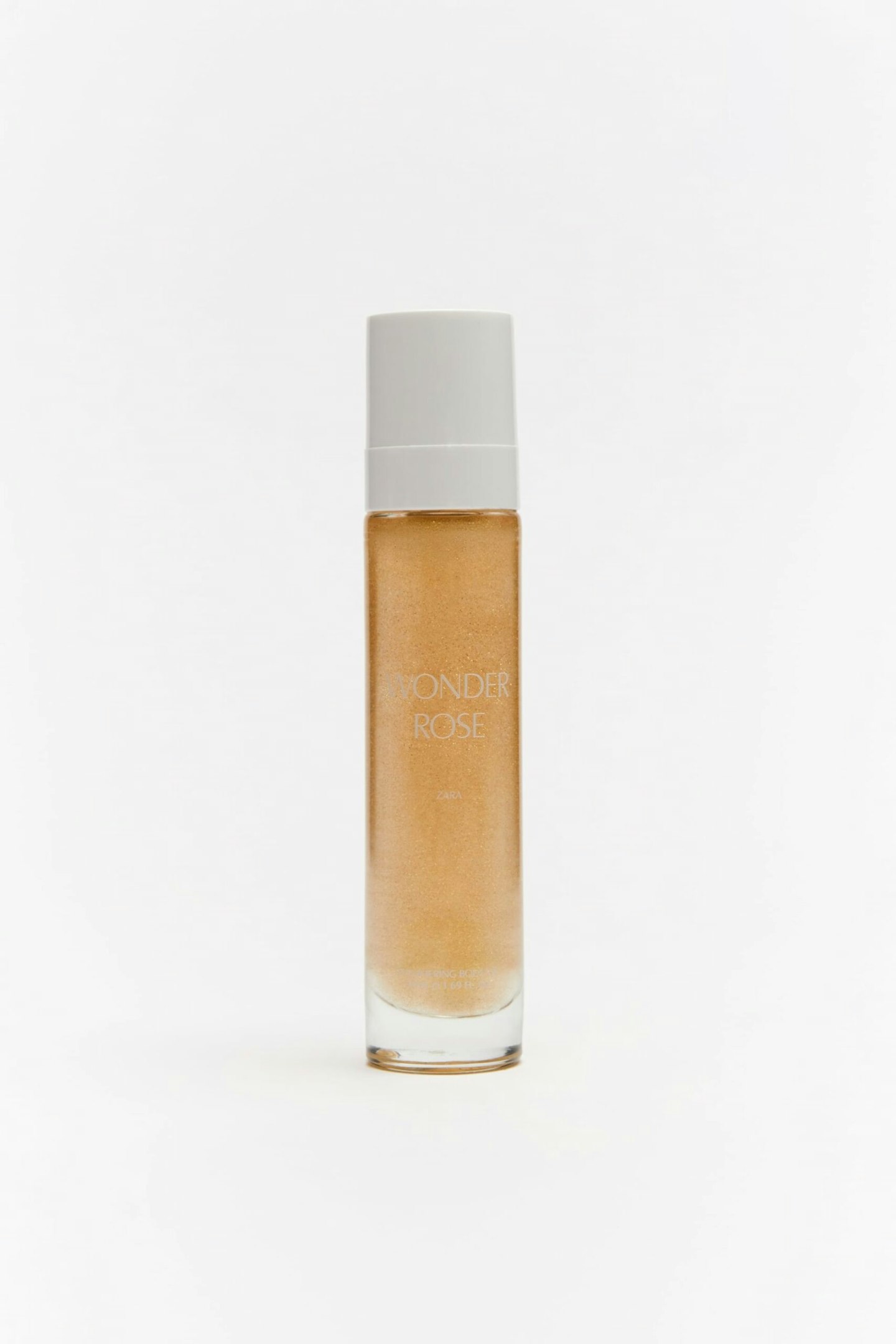 Zara Wonder Rose Shimmering Body Oil
Description
This brightening oil is silky in texture, gliding on like a dream without feeling wet or sticky.
Zara Gardenia Shimmering Body Oil
Description
Gardenia and orange blossom combine for a radiant, floral oil that remains fragrant from dawn
Zara Soleil Decade Shimmering Body Oil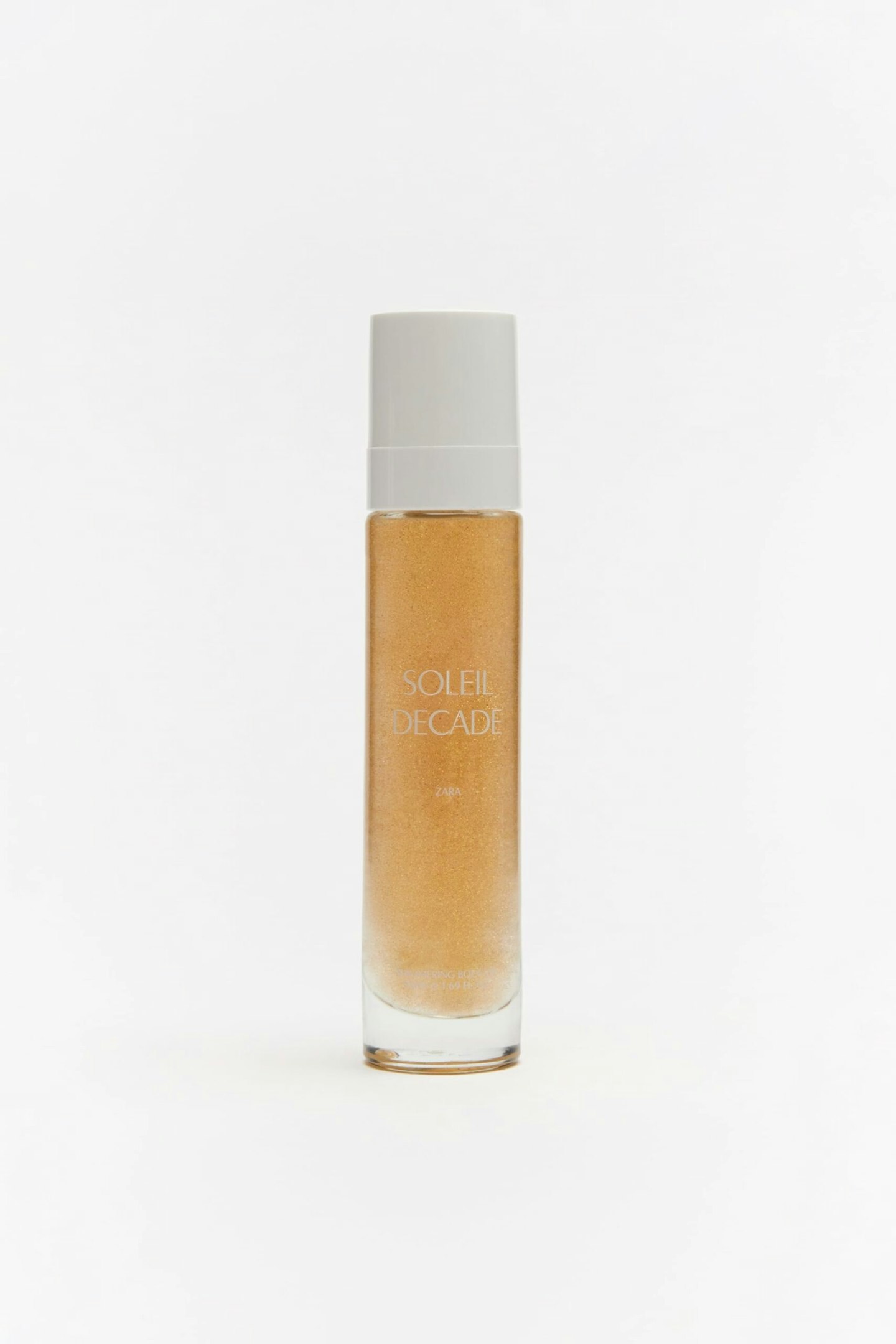 Zara Soliel Decade Shimmering Body Oil
Description
Infused with light-reflecting golden particles, this shimmering body oil is a sensory dream. It's
Wondering 'What are the Zara perfume dupes of?' or 'What are the best Zara perfumes? Check out our Grazia approved edit, from Baccarat and Chanel to Dior and Jo Malone.
Main image credit: Instagram: @goldiffic