Whether it's upgrading your SPF or making weather-appropriate make-up switches, summer has a way of encouraging us to rethink our beauty routines and if you don't know where to begin, we advise you take a leaf out of Molly-Mae Hague's book and capture the essence of the season with scent. A failsafe way of boosting mood and triggering memories, scent can also set the tone and there's nothing that spells summer quite like the scintillating wafts of fresh, fruity and floral notes.
The former Love Islander and beauty brand founder, certainly knows a thing or two about impeccable fragrances and routinely shares her go-to scents with her 7.5 million Instagram followers, including the timeless perfume that takes her right back to the Love Island villa.
Taking to Instagram yesterday, Molly revealed the designer perfume brand she has been scenting her home with, and it's safe to say we are all ears. The brand in question is Maison Margiela and its niche fragrance line Replica, which quickly helps to whisk you away. If you've ever imagined what Molly's house smells like, now you know.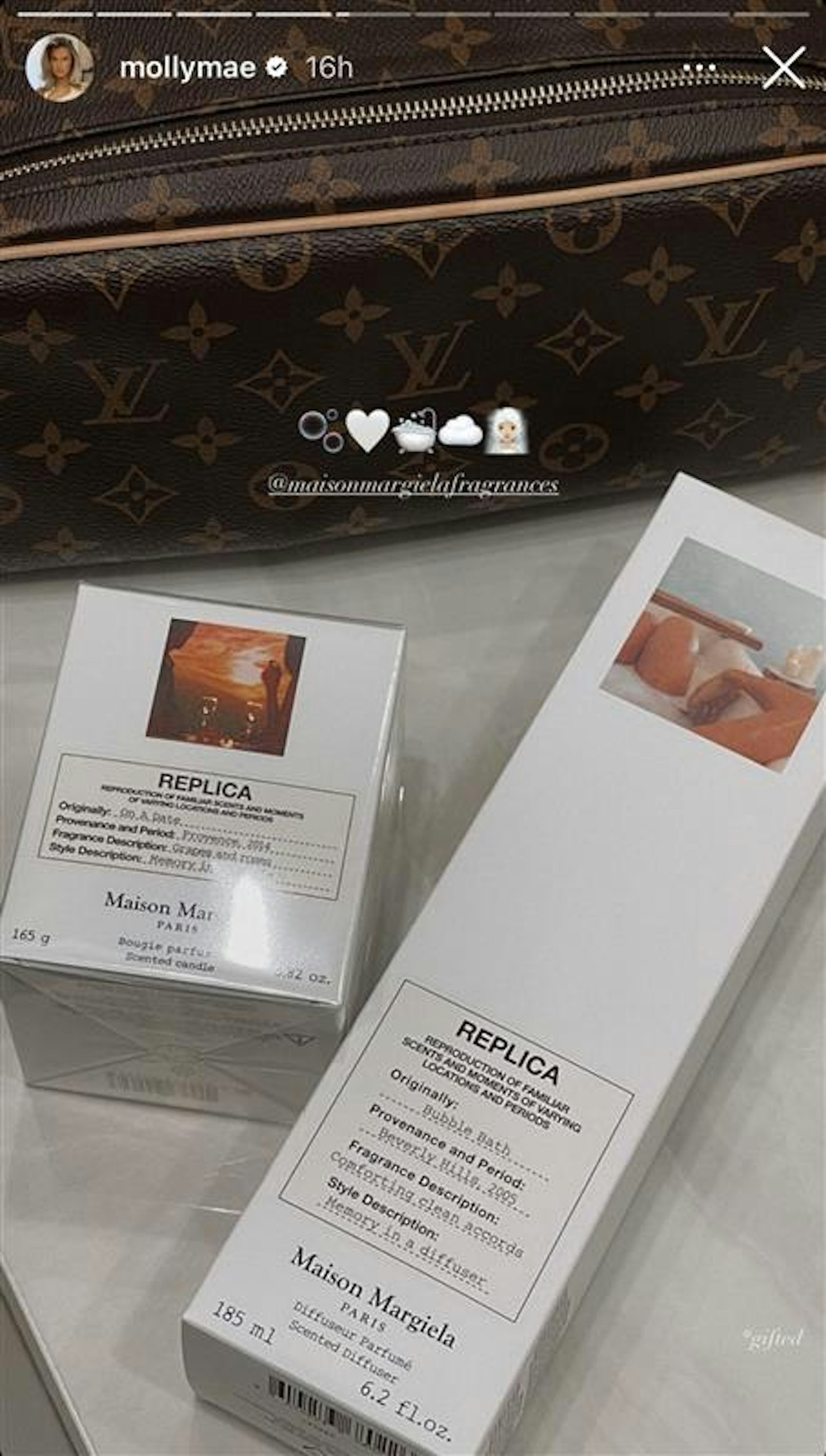 When it comes to setting the mood and creating a cozy ambiance, Molly-Mae turns to Maison Margiela's On A Date Candle, £52, a fragrance marvel that oozes the perfect combination of romance and sophistication. With notes of vanilla, amber, and patchouli, it creates an alluring atmosphere that is perfect for a summer evening.
Her love for Replica doesn't end there. Enter: Maison Margiela's Bubble Bath Diffuser, £80. If you want to bring the spa experience home this summer, this is it. With delicate floral and musky notes, this fragrance evokes a sense of relaxation and tranquility. Ready to elevate your home scent this summer? Take cue from Molly and explore the world of Maison Margiela.
Description
A floral scent that encapsulates the excitement of a first date. The candle infuses a sweet
Description
Indulge your senses with bubble accords. This diffuser captures pink pepper and lavender flower,