Brace yourself because your dating life is about to get a hell of a lot more interesting. How much storage capacity do you have on your phone? Coz we have 55 dating apps (that aren't Tinder) for you to download, all sorted out for you in alphabetical order. You're welcome.
Aisle is the dating app for those looking for meaningful relationships. It's not likely that someone who is in search of just a hook-up will be on this dating app, so if you want to get married or have a long-term relationship, this is your direction. Although FYI, you do have to be Indian to join - just before you dive right in.
A comprehensive astrology dating app, based on your horoscope and the way your planets are aligned. Your 'home' on Align is your Constellation. Every day, you receive a new constellation of potential matches which refreshes at midnight. You have 24 hours to decide if you want to Align with any of your matches. The matches appear as stars; the larger the star, the more astrologically compatible you are. When you both like each other, you've 'aligned.' Congrats!
AYI (Are You Interested) is a fast growing dating app with over 20 million singles registered on it. You have the option of registering by email or Facebook and can narrow down your search immensely to include interests and traits you'd like to see in the other person. It's also available on desktop.
There are over 298 million people on Badoo (and counting - they have a cool counter on their site showing the growing number of Badoo users which rises by the second). They have a Tinder-like game called 'Encounters' (or Hot or Not) where you can match with other users and it's available on desktop and mobile.
With a name like that, it's no secret that Bootyshake is a hook-up app. Give your phone (and your booty if you wish) a little shake and people in your area who have logged in over the last 60 minutes will appear on your phone. You can 'hide' who you don't want to see, and the rest are available for you to connect with.
Really like beards? No, we mean do you REALLY like beards? Well this is the app for you. Bristlr is the app that links beard-lovers with bearded connections. 'Connecting those with beards to those who want to stroke beards.' It does what it says on the tin.
A cute (and very yellow) dating app with a twist - only girls are able to make the first move. This saves girls the aggro of getting those hideous openers ('What's the difference between jam and jelly? I can't jelly my dick in your butt') and saves men from having to think of them. You can also undo a bad left-swipe by shaking your phone.
Clover is a fast free dating app which prides itself in taking the simplicity of Tinder and combining it with the science of match.com. You can filter matches by relationship intention: looking for friends, hookup, casual dating or something serious, and search people by body type, height, ethnicity, and even occupation. You can pretty much tailor-make your date.
CMB offers quality internet dating and was started by 3 sisters with the same question: 'where are all the good ones?' Their innovative, non-greedy service is aimed at busy professionals who will get sent one match (a 'Bagel') by the app per day at noon - just in time for lunch - which you can either like or pass on.
This app boasts being the very first dating app ever for iPhone and only people who meet the criteria that you set are able to view your profile, pics or send you messages. After filling in their whopper joining questionnaire (they say this is for weeding out the fakes and the 'players'… Go DNA!) you'll be given a DNA Dating Number, which will be compared to other DNA Dating Numbers to show you how much of a match you are on a scale of 1 to 10.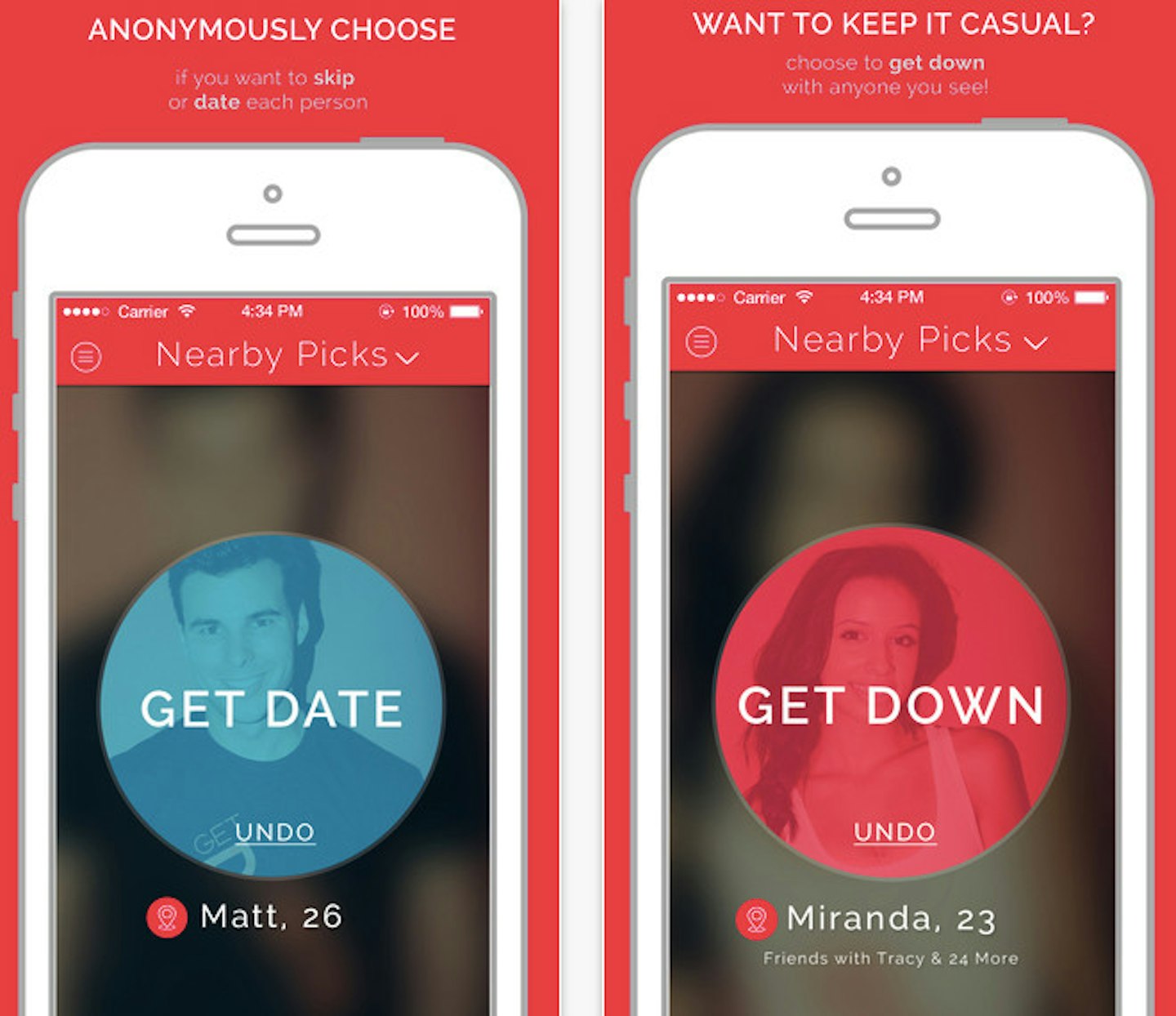 This is an app that doesn't mess about or make any apologies for being a hook-up app. As they themselves say, it's 'the secret way to get down with people nearby.' So, if you want to get your rocks off and not have to pussyfoot around it, this seems to be the app for you. It does offer you the chance to 'Get Down' or 'Get Date' with matches, but why buy the whole cow for just a little milk, amirite?
This is essentially a paid for dating app but sometimes, this weekend for instance, they allow you to communicate for free with your matches. eHarmony sets out to be different, declaring that you are worth more than a free dating site. Founded by a clinical psychologist and marriage counsellor, eHarmony matches you up with people based on compatibility.
Available on iPhone or Android with no web based version, FindFlirt allows you to 'like' people, message them, send them gifts (emojis), and choose your favourites that you can make your own reminder notes for so you can keep on top of things (i.e. 'this is the one I lied to about being vegan').
Hailed as a message in a bottle for the 21st century, fling lets you send your video message to 50 random people around the world who can then message you, with you choosing to reply or not. The only information about you given out is your username, your general location and whatever else you wish to disclose.
This is a video dating app with real-time video and text chat that helps you figure out if you have chemistry with potential matches or not before matching with them. It allows you to hear and see potential matches in motion before you decide to 'yes' or 'no' them.
This is a pretty basic dating app which allows you to meet people based on your preferences and their proximity. You can chat, see who checked you out, get updates from nearby users, buy and send gifts, save your favourite users and earn points to unlock their premium features.
Believing that 'everything starts with friendship,' Friendable focuses on helping you make new 'friends' who share the same interests as you. You can connect with people around you by chatting and sending gifts to them. You are also able to find events near you or set them up and arrange hangouts inviting new people to join.
Grindr is the world's largest gay social network, a.k.a. the dating app for gay casual sex. What? It's true. It's available in 192 countries and is location-based, so anywhere you are, you can log in, meet someone near you (perhaps at the next table) and then chat, send pics or do whatever else you want to do, consensually.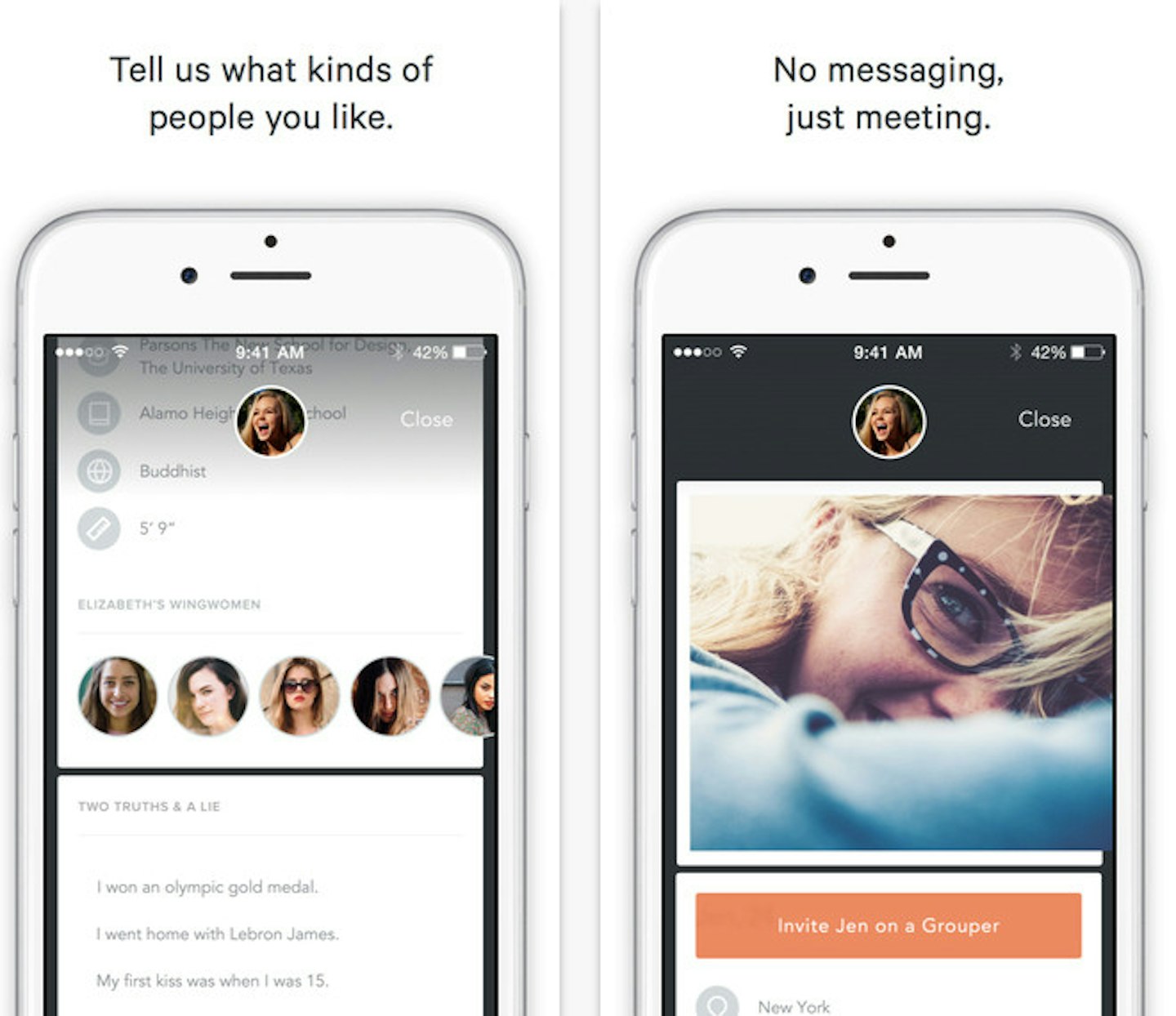 This innovative app allows you to meet friends-of-friends. The app has a scheduling tool which plans the date for you, a 'Grouper,' which is not a one-on-one date but rather drinks between your friends and your match's friends. It even chooses the perfect time and place and coordinates with your friends for you so you don't have to. You can't send messages, you just have to be there or be square.
Happn gives you the chance to meet people you've literally crossed paths with during the day. The fact that these people were actually near you at some point makes them a little more real and a little less internet. Every time you cross paths with another Happn user, their profile will come up on your timeline allowing you to like (or ignore) them, and if they like you too, you can start nattering.
Like to get high on weed? Want to meet people you can potentially get high with (and then maybe fuck)? There's an app for that. It's called HighThere. This cannabis dating community is a totally legal and legit 'Tinder for tokers.' You can even choose how you prefer to have your weed; smoking, vaporising, edibles or all of the above.
Hinge reckons it's old-fashioned, in that it only lets you meet friends who are first or second tier friends-of-friends on Facebook. They pride themselves in getting rid of clutter, creeps and games. You have 24 hours to talk to your matches otherwise they will disappear into the internet abyss once and for all.
Fancy yourself a bit of a matchmaker? This app allows you to set up two of your friends via Facebook, like a Tinder for pimps matchmakers. At first the chat begins anonymously, but you have the option of revealing your identity thereafter. If you're the one who wants a date, you can scroll though profiles and if you see someone you like, you can send a 'Meet Suggestion' to your mutual friend so that they can introduce you.
Instead of offering 'people,' How About We offers up dates, allowing you to order a date on demand. You can fill in your ideal date and browse through dates that appeal to you before connecting with the suggester of said date. They also have a swipe-based feature for finding matches called 'Pool.'
This basic, easy-to-use, 'flirt messaging' app was created by two guys from Germany who believe that flirting should be easy and a lot of fun. It's location-based and allows you access even if you don't want to link it to your Facebook account. Message sending is free but you have to pay for any other perks like sending gifts or not seeing ads.
JustSayHi is a video and chat app that lets you interact with the people around you. You upload a profile video (kind of like a Snapchat story) and look at other people's videos. You can see clips of people near you (better than pictures at giving you an idea of what they're really like in real life) and if you like them, click the like button. If they like you back, it's a match, and, well, you know the drill.
Lovoo is kind of like an Instagram but for dating. You can upload pictures with hashtags and get to show potential dates what your interests are and generally what you're all about and vice versa. You also get to see who is posting what near you with their live radar. As with any dating app though, beware of fake profiles.
Lulu is your pretty average dating app with nothing major to write home about apart form one thing… women get to rate the men on there by filling in questionnaires about their matches based on looks, personality and commitments levels, allowing them to choose from hashtags such as #HandyMan or #KnickerDropper.
The match.com people know what they're doing. They've been in the business since 1993 and have had countless success stories. Even though they own other successful dating apps such as Tinder, OKCupid and How About We, this app has their original concept of matching people by compatibility using their tried and tested matching algorithm.
This started as a dating site in 2004 before entering the world of apps. It originated (and is still big) in Russia but has gained popularity worldwide. It is majorly image-orientated allowing users to upload as many pics as they like for free as well as being able to instant message, photo-rate and have an interactive diary. They also own Wamba.
Your bog standard swipe and match dating app based on location which allows you to send text, voice, video messages and even doodles to matches. You can see the last time matches logged on and also who's been rummaging around in your profile.
Meet24 is a free dating app with no ads or banners. You can see the distance between you and other users and can exchange messages, photos and voice messages.
This is more of a chat-based service. You can see people based on location who are available and ready to chat and then get to know them. It's free for the basic features like chatting and updating your timeline (think Twitter) to let people know what you're up to.
Another free 'social' app which allows you find new people nearby or even around the world. You can chat by text, stickers, voice messages or video messages. You also have your own space (like a Facebook wall) where you can share anything you like.
Coming to something a tad more original, this dating app lines your astrological stars up with other astrological matches to try and get the best match for you. If you are in a relationship (hello, why are you here?) you can use the 'Couples Horoscope' section to see what the stars say about you and your partner.
OK Cupid say that they will 'multiply your odds of finding a date by, like, 100000%.' Their words, not ours. They claim to use algorithms, formulas, heuristics and a lot of crazy math stuff to help people connect faster. Everyone is welcome (even the polyamorous) and they don't judge if you only want a quickie. Their only rule is that you're not a jerk about it.
Once's thing is giving you one match per day. Yup, only one. But apparently, it's a good 'un, based on your compatibility. You and your daily match will see each other at the same time and have 24 hours to make a move before the offer expires.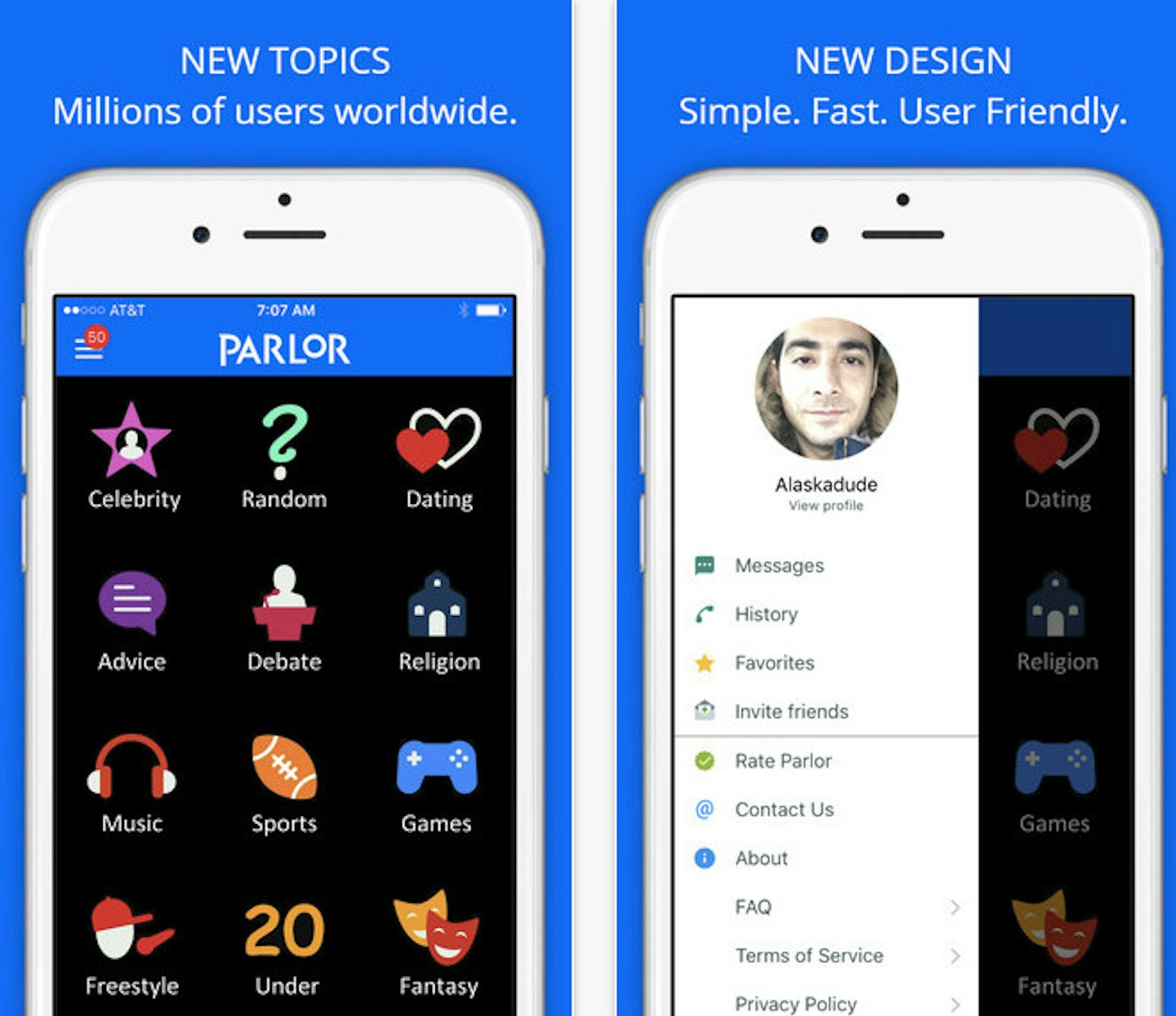 The people at Parlour believe that when it comes to communicating, there is nothing better than phone calls. The app allows you to connect with people and get to talk to them over the phone for free, even if they're on the other side of the globe. You choose a subject that you'd like to talk about and Parlor will connect you with another user who wants to talk about the same thing.
POF is owned by the match.com group and is an internet-dater favourite because you can view matches (and sort through them, i.e. who was last online, newest user, etc.) and communicate with them for free. They use an advanced matching algorithm to find the best suitor for you. The site has over 3 million active daily users and 85% of all its traffic comes from the mobile app.
Want sex? Yes, you read that right. Pure is a minimalist, no-frills, unapologetic sex app delivering sex on demand. Private, with no traces and no evidence (chat and photo history self-destructs after an hour) and none of this logging in with Facebook malarkey, this is the app for you if you just want to tap dat ass and bounce.
Skout says it's the the world's largest app for meeting new people all over the world, no matter where you are. Shake your phone to chat to random people and use the passport section to "virtually travel" anywhere in the world. They have 2 separate communities, one for teens and one for adults and claim to have zero tolerance for bad behaviour which is great if you've had your fair share of jerks.
The SpeedDate app is another one that is part of the match.com group. This app has the game-like feel of Tinder or Hot or Not but you have to pay to talk to your matches. Playing the game and sending winks is free though if you want something non-essential to do while on the bog.
Ever just want a cuddle without any pressure or expectation? Spoonr (ex Cuddlr) lets you find people near you who are up for a cuddle. When you match with a potential cuddle-buddy, you have 60 minutes to chat otherwise you'll get unmatched. You can then set up when and where you'd like to cuddle. Your profile will have two numbers on it to show how many successful cuddles you've had already (and if you've had any dodgy ones).
Finally a bit of a moral dating app which actually brings up the subject of marriage (dubbed 'The Marriage and Dating app'), SweetRing is here to help you find a date who also wants to get married soon, allowing you to search, like, match and chat with your future spouse. They have a 24-hour team to get rid of arseholes (but if one slips the net, you can block them).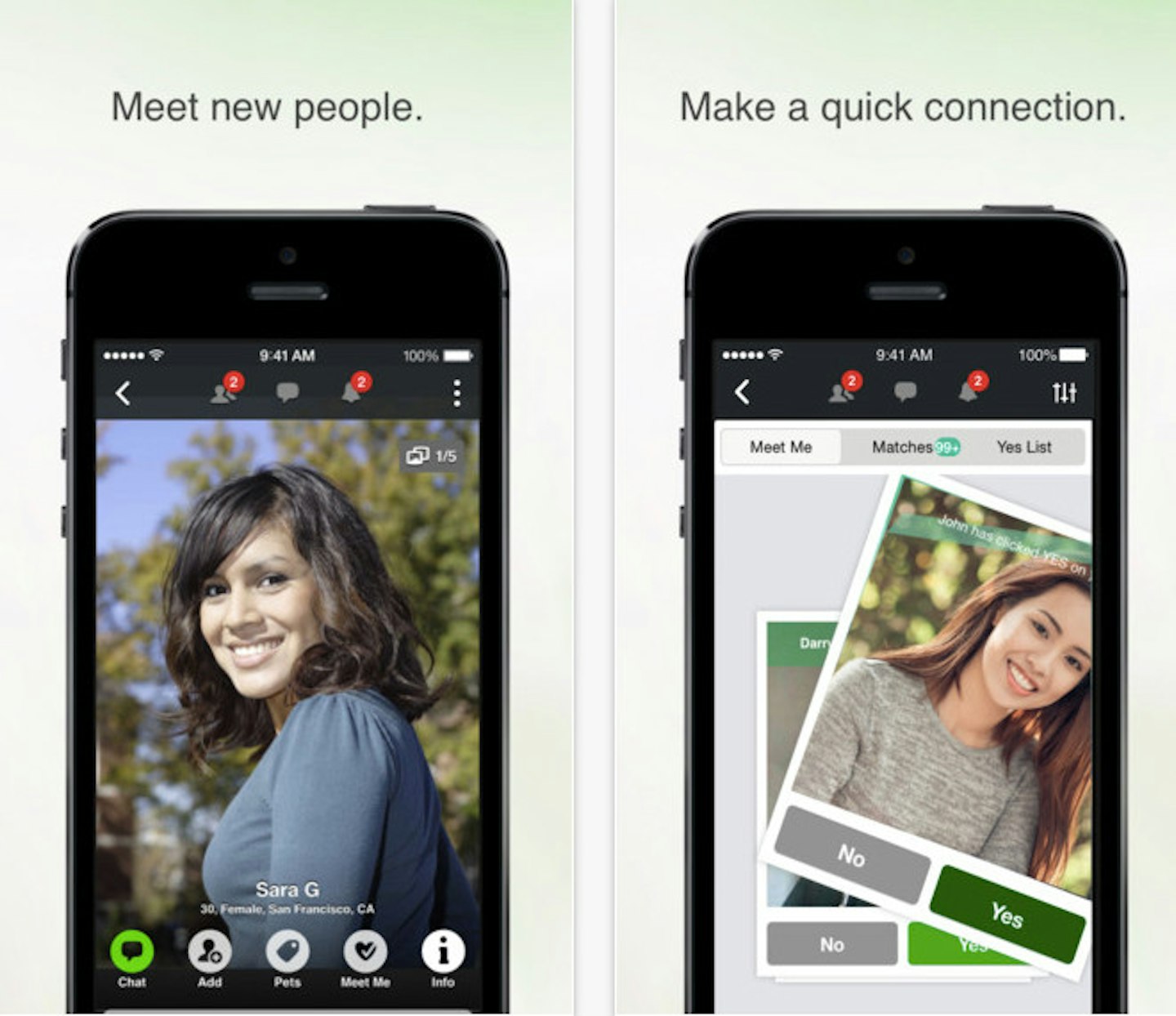 300 million people have signed up to Tagged, the app which allows you to filter people by age, gender, location and… nationality! Described as a mixture of Tinder, Words With Friends and Facebook, Tagged lets you 'yes' or 'no' potential matches, message them and play games with them.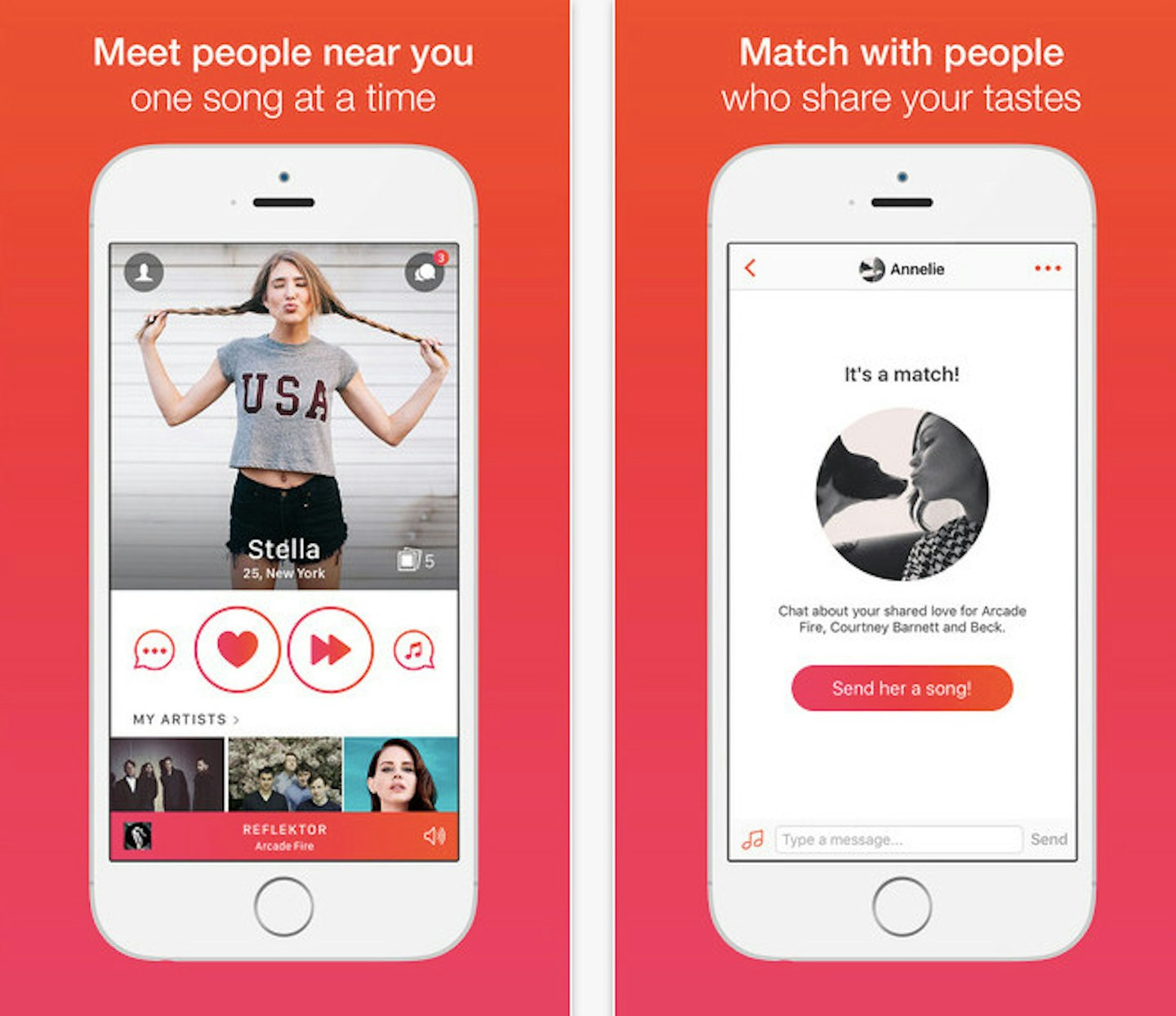 Meeting people through music is the name of the game for Tastebuds. Have trouble convincing friends to come to your Cher karaoke night? With Tastebuds you can find people who have the same taste in music as you (people to join you at random concerts that your friends won't come with you to), and you can even send them a song to break the ice.
The Catch is a question and answer game where the winner (after 3 question rounds) gets to chat with their Catch. Ladies get to pick and choose which Gents get to play, having to invite a minimum of 6 guys to each game. When she hits 'create game,' the men will be notified and have 24 hours to opt in and answer the questions. The Lady gets to rank the guys by their questions and the winner is added to her chat list. It then encourages users to go out, not just chat.
Say goodbye to the douchebags with The Grade, the dating app promising to weed out all the knob-ends, leaving only good guys who message you back, aren't already in relationships and don't send you photos of their ballsack at any given moment. Users are graded algorithmically based on popularity (profile likes), message quality (grammar and tastefulness) and responsiveness. Anyone who gets an F gets the boot and anyone graded a C or lower will get tips to up their dating game.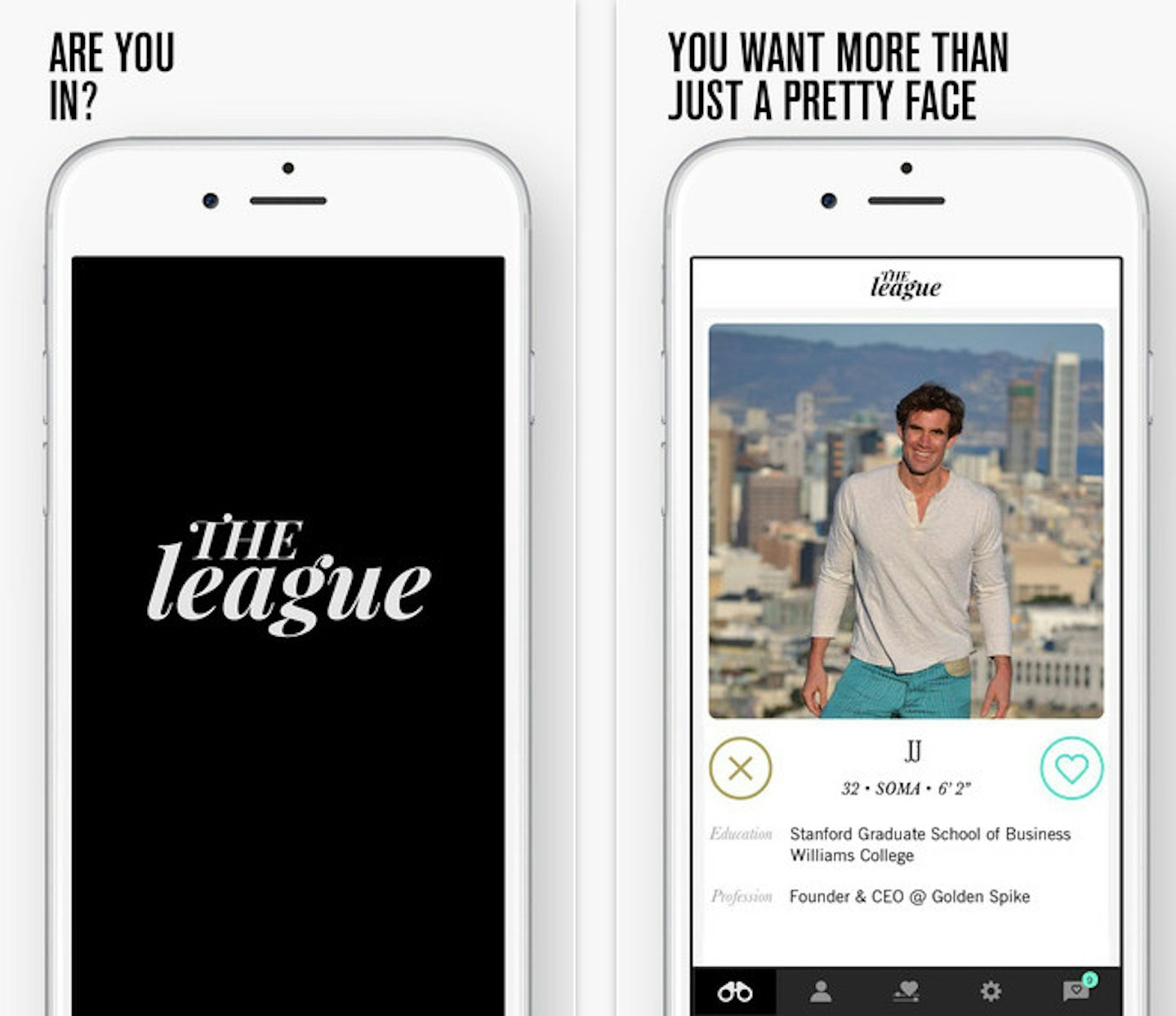 The League is a self-proclaimed 'Elite' dating app for successful singles. 'You're smart, busy & ambitious. You don't need a dating app to get a date – you're too popular as it is.' Yes, this is their tag line. It hides your profile from friends, business contacts and co-workers, and only gives you up to 5 potential matches per day who you can say yes or no to. Matches have a three-week expiration date. True to elite form, there's even a waiting list to get on it.
A dating app for dog owners! At least you know you've got one thing in common, right? You both love dogs. At the very least, you'll meet playmates for your four-legged-friends. Oh, by the way, you need to have an actual dog to apply. This is not a metaphor.
With 103 million subscribers and counting, the international dating app Topface promises that in just 5 minutes you'll get the attention you deserve; more than 50 people will be interested in meeting you, your profile will get more than 100 likes, and your photos will gather over 20 comments. Great if you've been feeling rather invisible lately.
Waplog is a fast growing social network/dating app having over 60 million members from more than 20 countries since it launched in 2012. It only shows you who is online and close to you now, saving the aggro of wrong timing. You have the choice to register with either Facebook, Twitter, Google or Yahoo. It's free and there are no limitations on searching and matching.
The people at Zoosk are a romantic bunch whose mission is to help people live more empowering love lives. Zoosk has a clever technology which learns who you are attracted to and who's attracted to you so that the more you use it, the smarter it gets, making it easier for you to connect with local singles that are right up your alley.
Our final app in this series is a corker. 3nder is a dating app for singles and couples… basically it's an app for threesomes. You can use a fake name, get unlimited swipes and can create group chats with matches. The more the merrier, right? The app lets you see who already liked you so you never miss a match. Incognito Mode lets you stay invisible to friends and you can lock the app with a passcode or touch ID.
And finally... let's not forget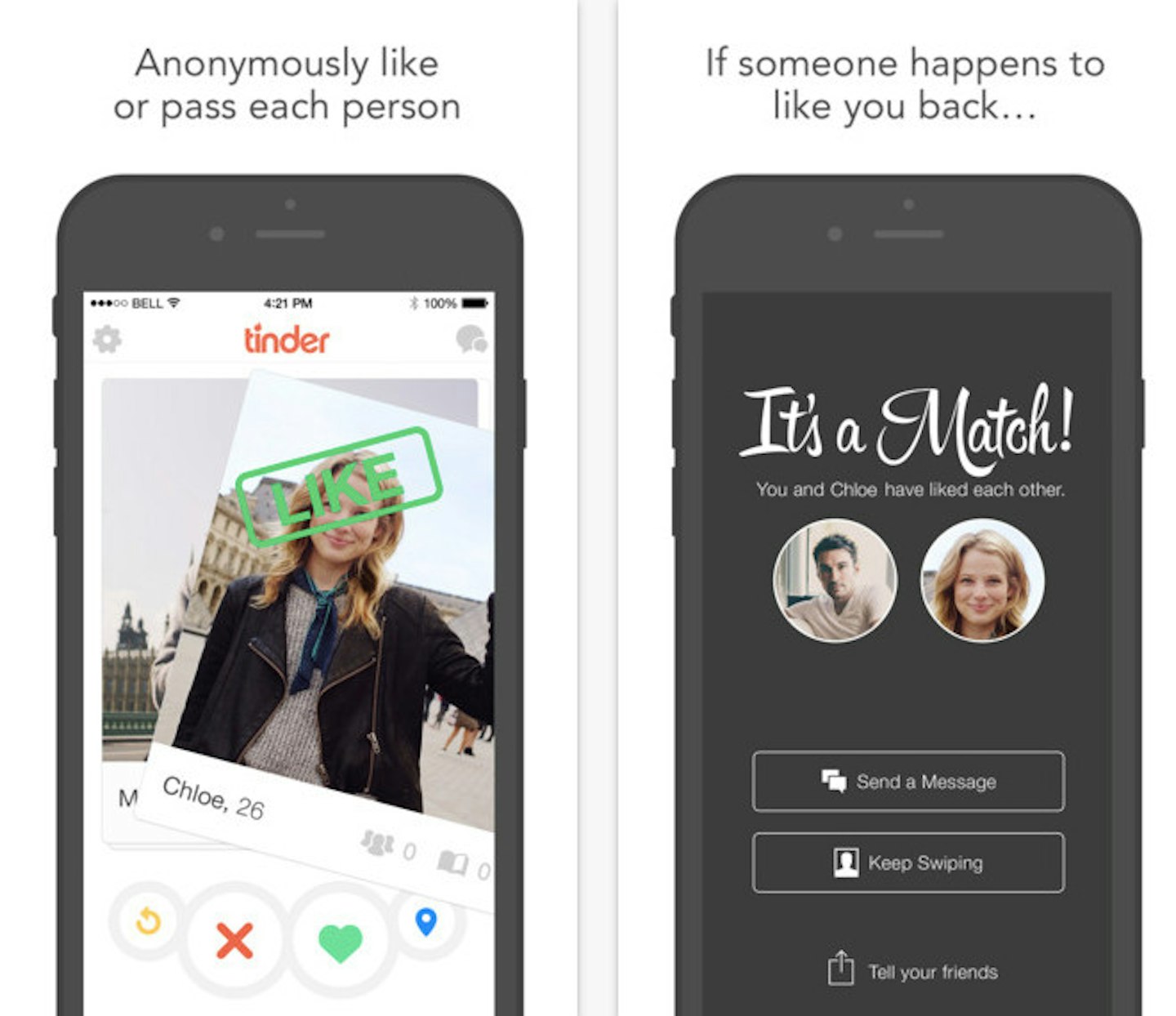 As the king of dating apps, Tinder is the most talked about dating app in history. With over 9 billion matches since it first launched in 2012, Tinder's has had it's fair share of success stories and nightmares. Tinder is the original dating app game; you are shown potential matches based on your preferences of age, gender and proximity, swipe left for 'nope' and right for 'like' and if they like you too, it's a match, and you can begin messaging.
Looks like you've got a pretty busy weekend ahead then. We'll leave you to it.
**like this? Then you might also be interested in: **
Follow Kat on Twitter @SuperKaterina
This article originally appeared on The Debrief.