The atmosphere outside the Big Brother house when Trish Balusa got evicted was one of shock. Fans were aghast, tears were shed, 'recount' was chanted from the crowd.
To many viewers - before the tweets emerged - Trish was dubbed 'the People's Princess'. She called people out; she stood up for what she believed in, and she kept an open mind in testing situations. But within 24 hours of her leaving the Big Brother house, an extensive series of tweets in which she wrote derogatory comments about the LGBT community, Asian people and other minority groups resurfaced. Grazia has chosen not to reshare these tweets.
Some of the tweets were more than 10 years old, but some were written as recently as this year. It's fair to say they clash with everything Trish had come to represent to her fans on the ITV reality show.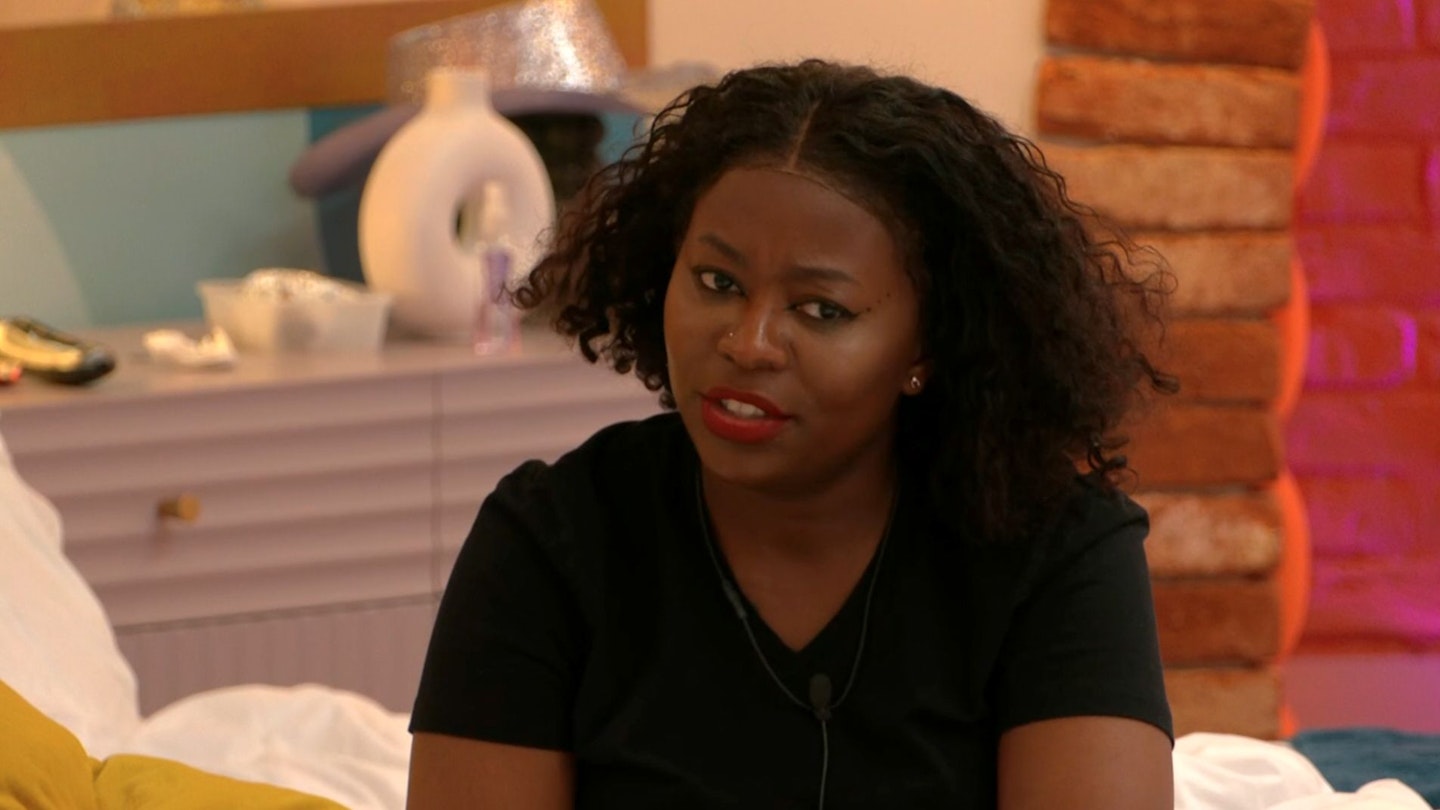 Grazia in no way endorses the content of Trish's tweets, but did sit down with her after she put an apology out on social media.
'It's been a big rollercoaster,' Trish tells Grazia in one of her first interviews since leaving the house. 'I think shock is probably the most accurate word. Coming out of the house, the love I received was shocking to me and then how quickly things changed, that was shocking as well. It's been shock after shock.'
Trish's fans were shocked too. Instead of doing the usual press rounds following her eviction, Trish was advised to tread carefully and has only given a handful of interviews. 'I'm still kind of finding my ground, still settling back home and dedicating myself to my son while trying to navigate the world,' she says, speaking to me from her flat in Luton.
'The first thing I'd like to say, going back to my apology, is to anyone who I've been complicit in marginalising, I'm genuinely sorry. It's not the type of sorry where I want to explain and say "yeah, but", that almost justifies it. But that disappointment – I felt it myself.
'You know when you grow past a certain mentality or you don't participate in certain conversations anymore, or you've outgrown certain mentalities, you almost disassociate to that part of you,' she continues. But these weren't just juvenile quips, these were numerous abhorrent tweets targeting marginalised groups.
When she was first alerted to the tweets, Trish says she didn't want to believe them herself. 'I wanted to look at them and say, this is Photoshop, it's not me. I had spoken about people in a way that stands against everything I believe in.'
'It brought back the fact that we get to write something, but we don't get to go back on it and kind of edit and say, "I've moved on from this view."'
'I think there was a certain time on Twitter where humour was, I guess diabolical. It was unacceptable for today's world.
'It was ignorance that came into it.'
'Maybe years ago, someone who's my age wouldn't be so aware of social issues as I am now, despite us being the same age. I think we didn't really dive into the microaggression type of discrimination before – the conversation was pretty much black and white. Now we're more conscious of unconscious bias.'
However, the tweets collated from Trish's past weren't just from 10 years ago.
In terms of her growth, Trish explains that a lot has happened in her life in the past 10 years that has forced her to interrogate the darker corners of her worldview. Having worked in two schools where she worked closely with children with special needs, as well as in a mental health ward, she says she was exposed to how discrimination and stereotypes perpetuate people's struggles. In that same period, she also became a mother to her now five-year-old son Sankara.
'Becoming a mother has been another life changing experience for me,' she explains. 'My son's autistic and, coming back to the ableist comments I made, I look back at myself and know that I'm going to have to explain this to my son. One side of me is going to be telling my son how to stand up to people who make ableist comments, and the other part of me is going to have to be like I've been complicit, and I've been one of those people.'
In response to the events of the past week, Trish might also be uninvited to the Big Brother final, but the fallout has raised other issues: it has been branded an oversight of the third-party organisation, Initial TV, that screened and cleared Trish's social media accounts before she entered the house. People are also understandably flagging that Nigel Farage, the former UKIP leader, who has been accused of having some abhorrent views, is being paid an exceptionally large sum of money to star on another ITV reality show this weekend.
A Big Brother spokesperson told Sky News: 'This weekend, we have been made aware of concerning historical tweets.
'We are currently looking into why they were not identified by the independent supplier we engage to review the digital footprint of potential Housemates as part of our pre-checks.'
Trish is not interested in playing the blame game. She is also aware that there are hundreds of thousands more eyes on her than there were before. 'I have to be conscious of how [what I say is] perceived, especially by the people who are directly impacted by the issue.'
And this includes almost all of Trish's close friends on the show, which is something that weighs heavy on her. 'I kind of want to leave it to my housemates to have the freedom to feel what they feel. And then I want to be able to have a conversation with them.
'Hopefully, if it was up to me, selfishly, I wish they could see those tweets and be like, "no, that's not who she is." But the truth is, it's a shock for different people, and different people receive it differently. And however they feel, I hope that they do give me the space and the grace to have a conversation with me about it.'
The Big Brother contestant adds, 'I want the people who are looking at me, anyone who's saw and liked me in the Big Brother house, to trust in themselves and to trust in me, that's literally who I am. And I have a lot more to give. I'm so grateful for the love I've received so far. I was so glad that people were able to kind of relate to me and understand the things I was going through and see my joy. But just know that there's a lot more goodness.'