Queen Elizabeth II ruled for longer than any other monarch in British history. Loved and respected across the globe, she never faltered in exhibiting impeccable style and poise. One constant throughout her 70-year reign was the miniature black handbag she wore elegantly in the crook of her arm, as much as a signature as her block colours and head scarves.
Where is the Queen's black handbag from?
The Queen's go-to handbag was a patent black mini bag made by the heritage British luxury handbag and leather small goods brand: Launer. According to reports by Town & Country, the Queen owns more than 200 of the brand's bags and her top styles are 'the black leather Royale, black patent leather Traviata and a third custom handbag.' According to Launer's website, they've been supplying the Queen's handbags since 1968.
What did the Queen put in her handbag?
According to Phil Dampier, author of What's In The Queen's Handbag: And Other Royal Secrets she carries a myriad of items in her purse—including dog treats.
Dampier told Hello! Magazine in 2016 that the Queen often packed 'treats for her much-loved corgis; sometimes a crossword cut from a newspaper by a servant in case she has time to kill; a penknife, a diary and a small camera.' She even playfully nodded to the ever-present accessory in the Paddington Bear sketch at the Platinum Jubilee, pulling a marmalade sandwich out of the bag.
Why does the Queen always carry a handbag?
It has been reported that the Queen also used to the patent purse to communicate messages to her staff.
In 2011, royal historian Hugo Vickers told People that if she passed her handbag from one hand to the other it was a signal that she needed assistance getting out of a conversational corner.
'It would be very worrying if you were talking to the Queen and saw the handbag move from one hand to the other,' he said.  'It would be done very nicely. Someone would come along and say, "Sir, the Archbishop of Canterbury would very much like to meet you."'
A stealthy and diplomatic tool of communication, the Queen's handbag epitomised her always appropriate - sometimes playful - approach to getting dressed.
The Queen's Stand-Out Style Moments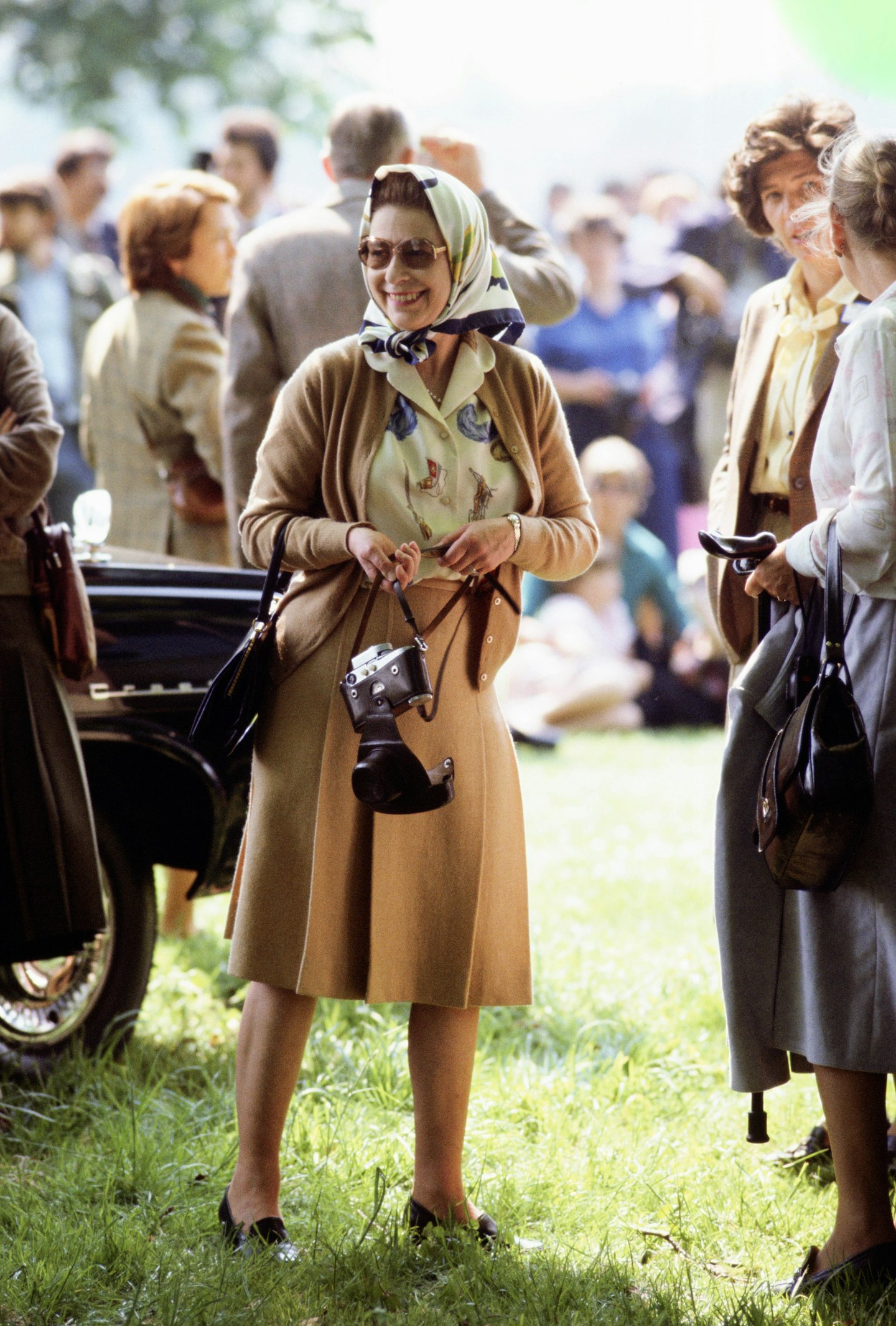 1 of 37
CREDIT: Getty
Country Chic, 1982
Elizabeth II's off-duty look became as iconic and influential as her on-duty one. This cardigan and silk scarf ensemble, worn in Windsor in 1982, is a perfect example of the genre.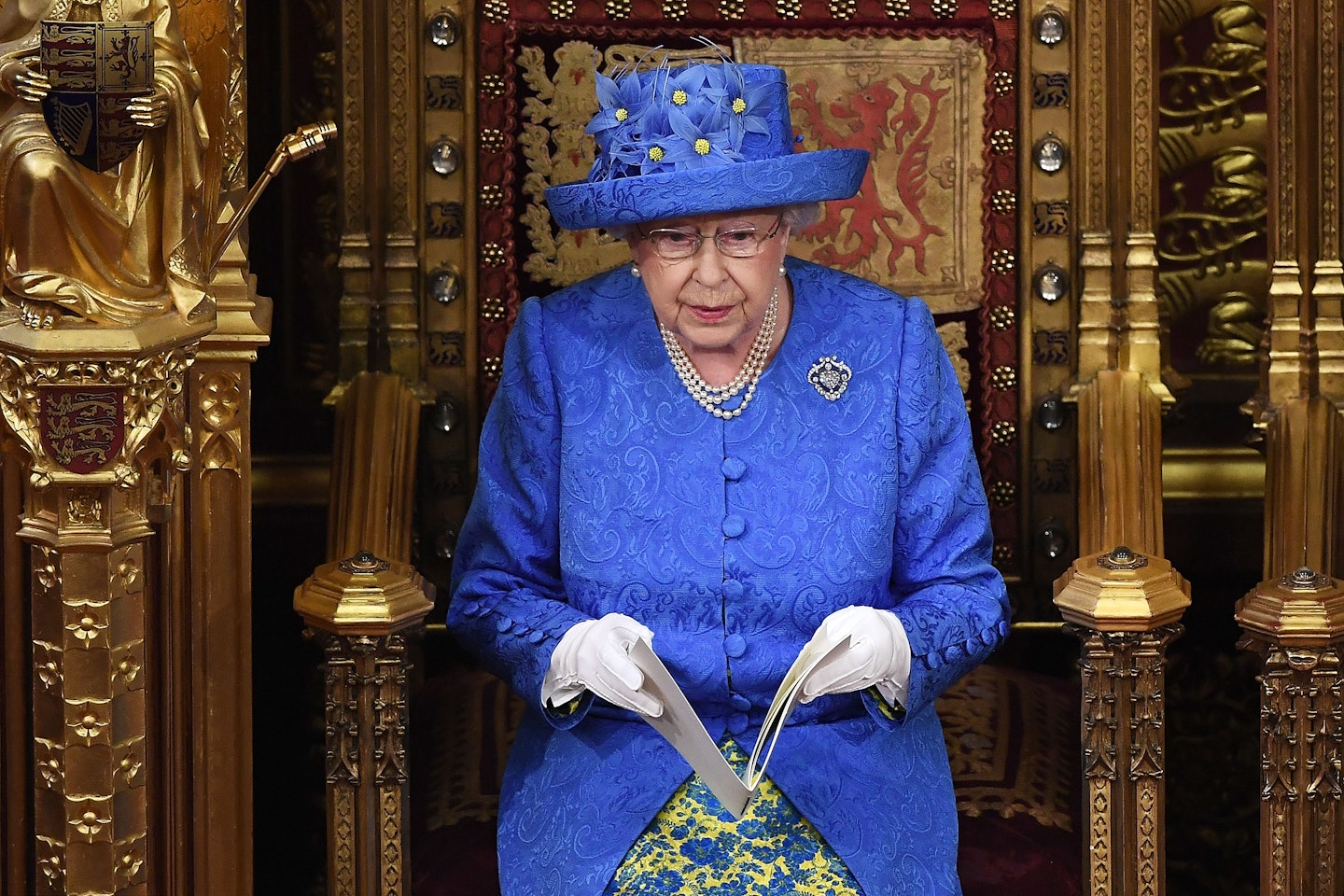 2 of 37
CREDIT: Getty
The 'EU' Hat, 2017
It was incredibly rare for the Queen to cause controversy with her fashion choices, but social media exploded with theories about the hidden messages behind this hat, worn for the State Opening of Parliament in 2017, which seemed to recreate the EU flag at the height of Brexit negotiations. Her dresser Angela Kelly later said it was simply a 'coincidence'.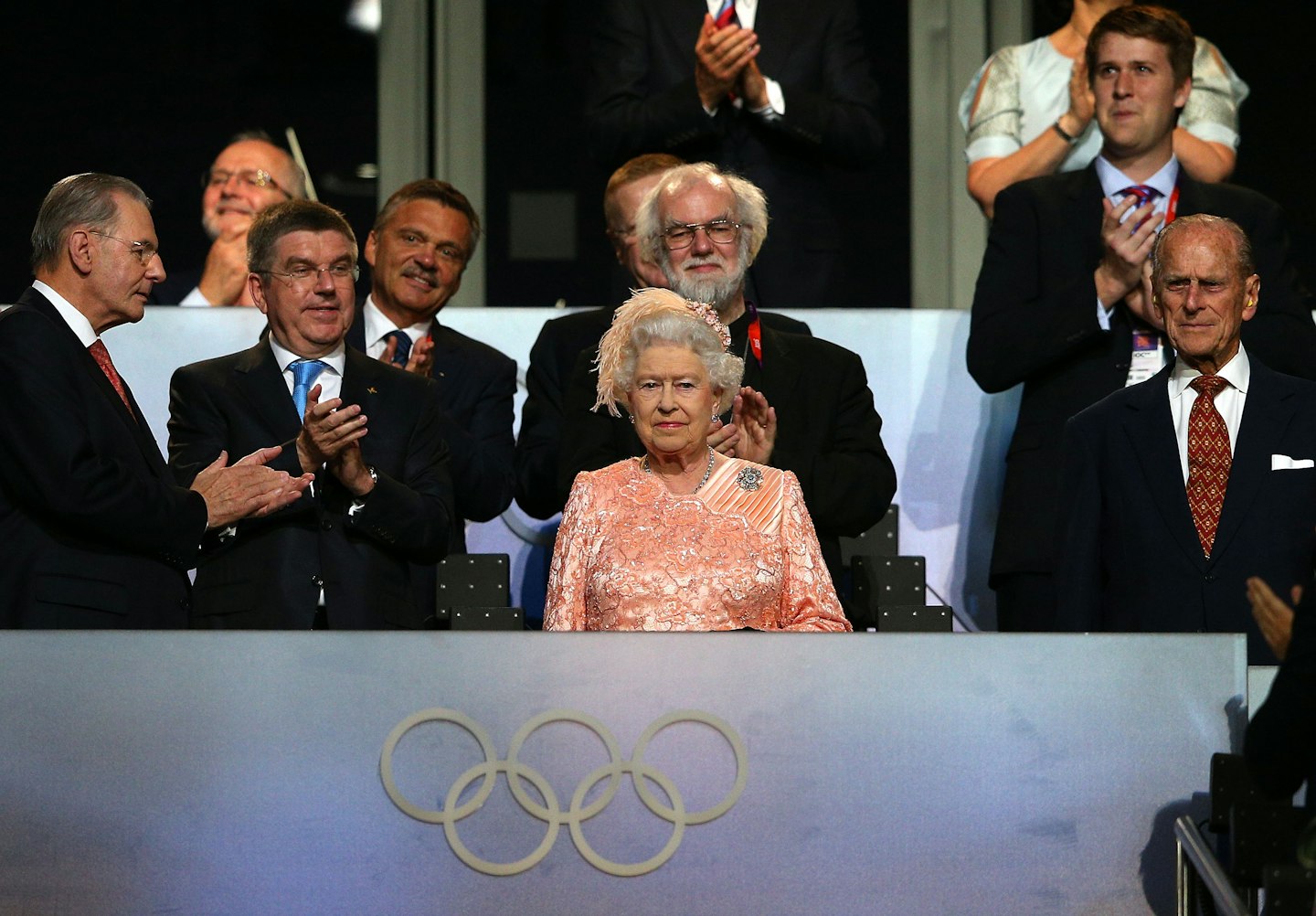 3 of 37
CREDIT: Getty
Bond Girl Moment, 2012
For the Opening Ceremony of the 2012 Olympics in London, Her Majesty agreed to become a Bond Girl for the night and needed the outfit to match. Angela Kelly settled on vibrant coral shade which would stand out without showing support for a particular country. A secret second version of the glamorous look was made for stuntman Mark Sutton to wear as he parachuted into the stadium.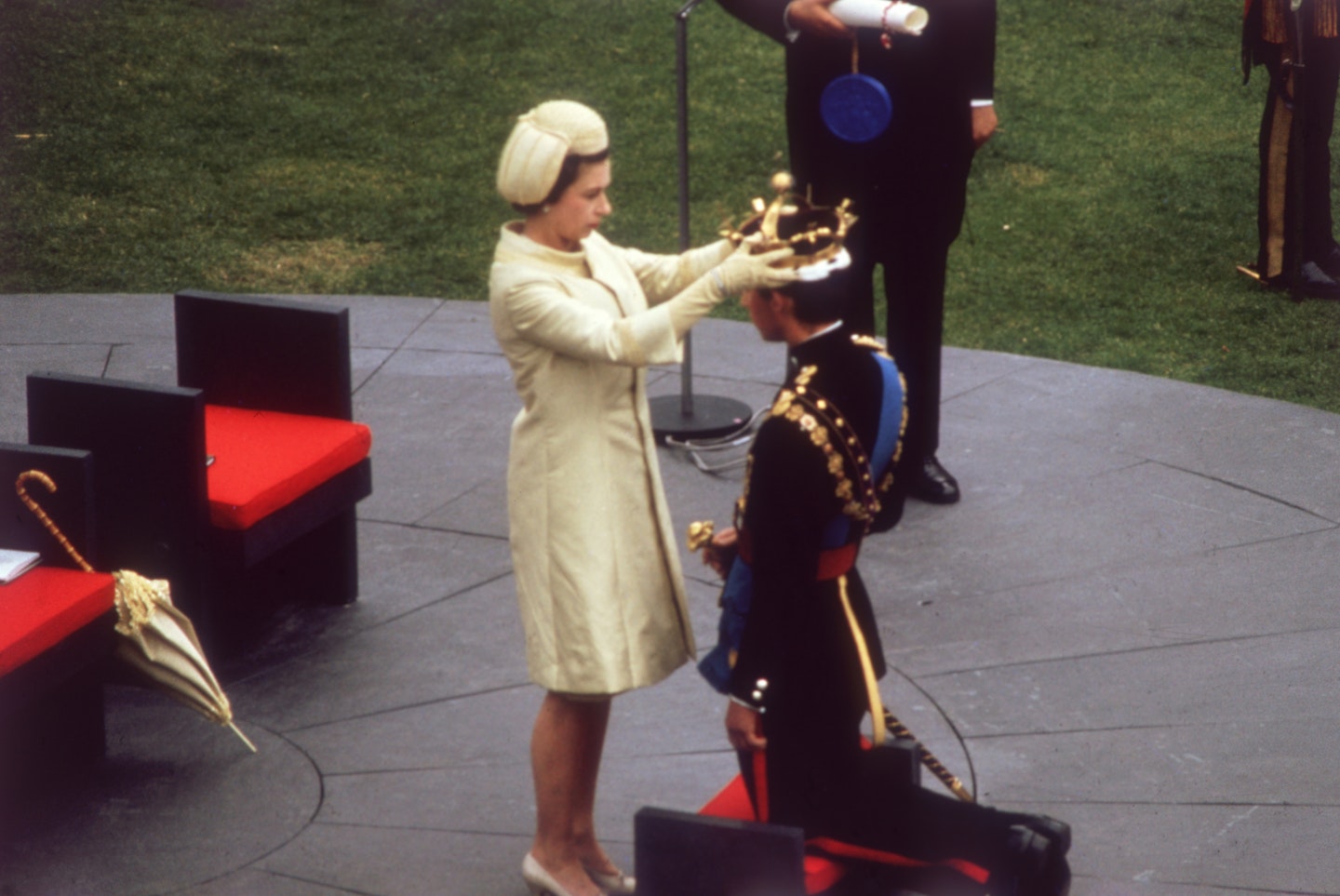 4 of 37
CREDIT: Getty
Prince Charles' Investiture, 1969
As was so often the case with the Queen's looks, it was her hat which really did the talking in her look for Prince Charles' investiture as Prince of Wales in 1969. The 'medieval helmet', as Norman Hartnell called it, was a 'labour of love' for milliner Simone Mirman, who embellished it with hundreds of pearls and beads.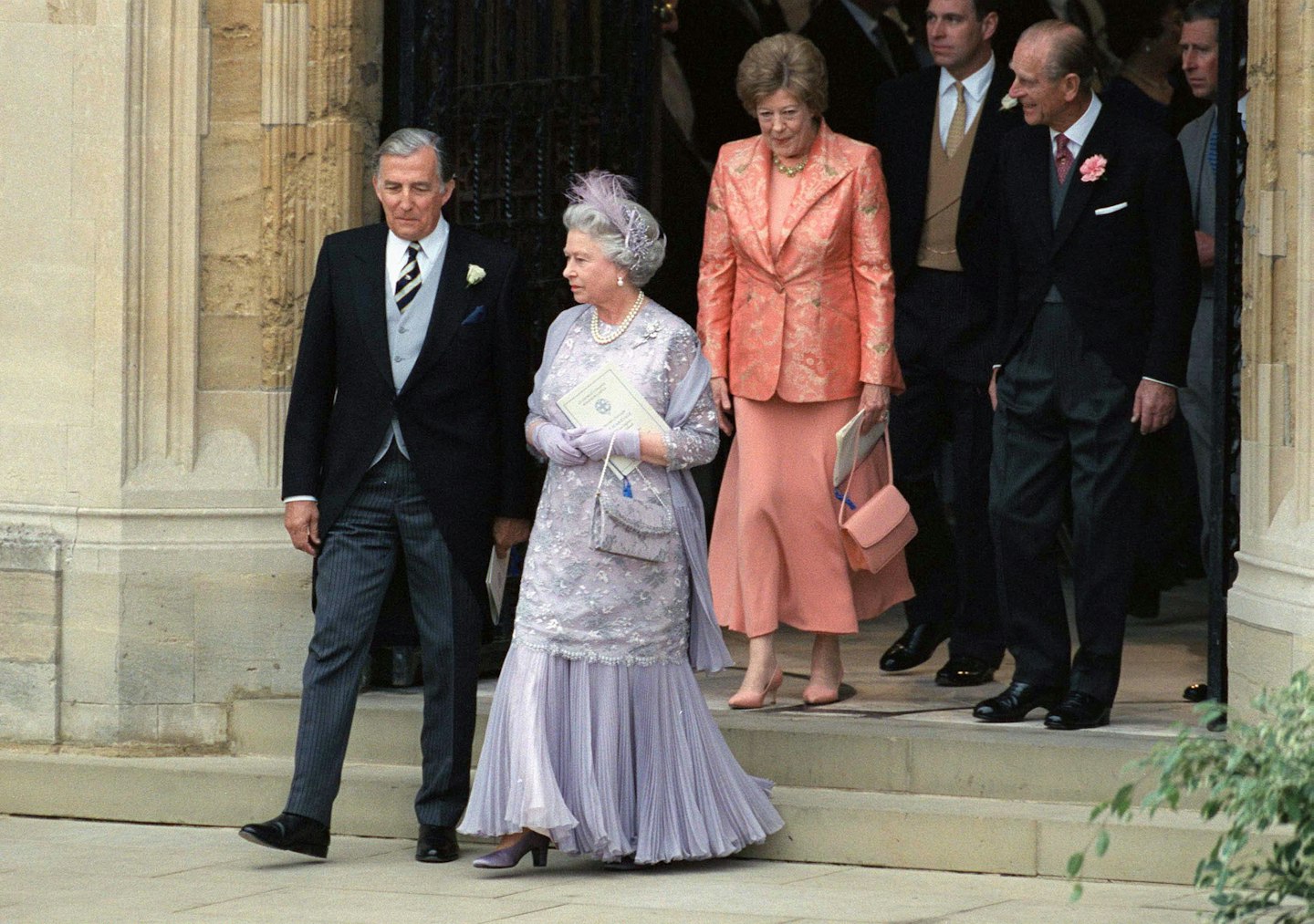 5 of 37
CREDIT: Getty
Prince Edward's Wedding, 1999
Prince Edward mixed up the usual royal wedding dress code for his 1999 marriage, instructing guests to wear evening gowns and no hats. The Queen, naturally, rose to the occasion in a glittering lilac dress and feathered headpiece.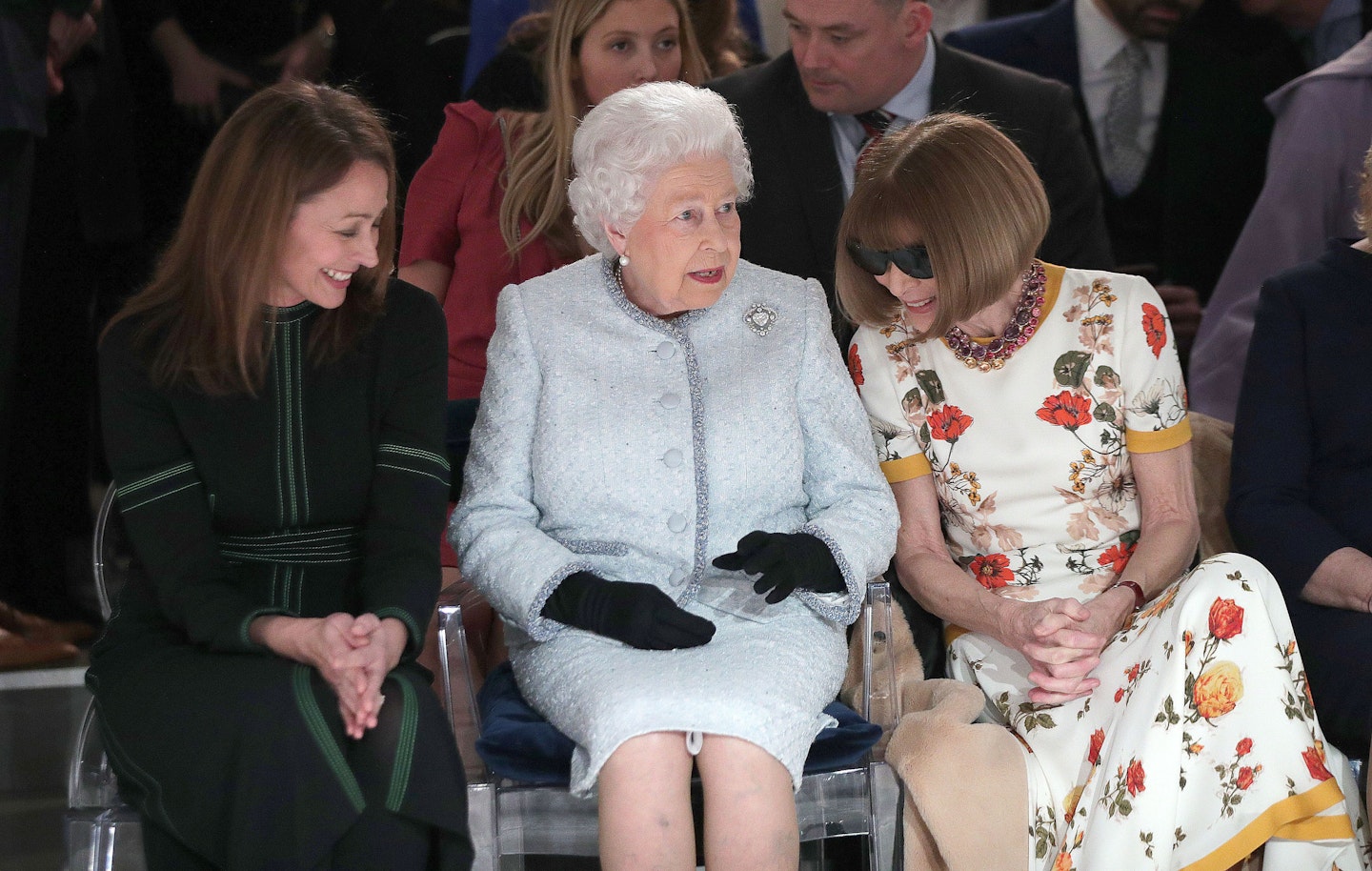 6 of 37
CREDIT: Getty
LFW, 2018
Her Majesty showed fashion editors how it's done when she attended her first fashion show in 2018 wearing a chic blue tweed Chanel-inspired skirt suit and timeless pearl earrings.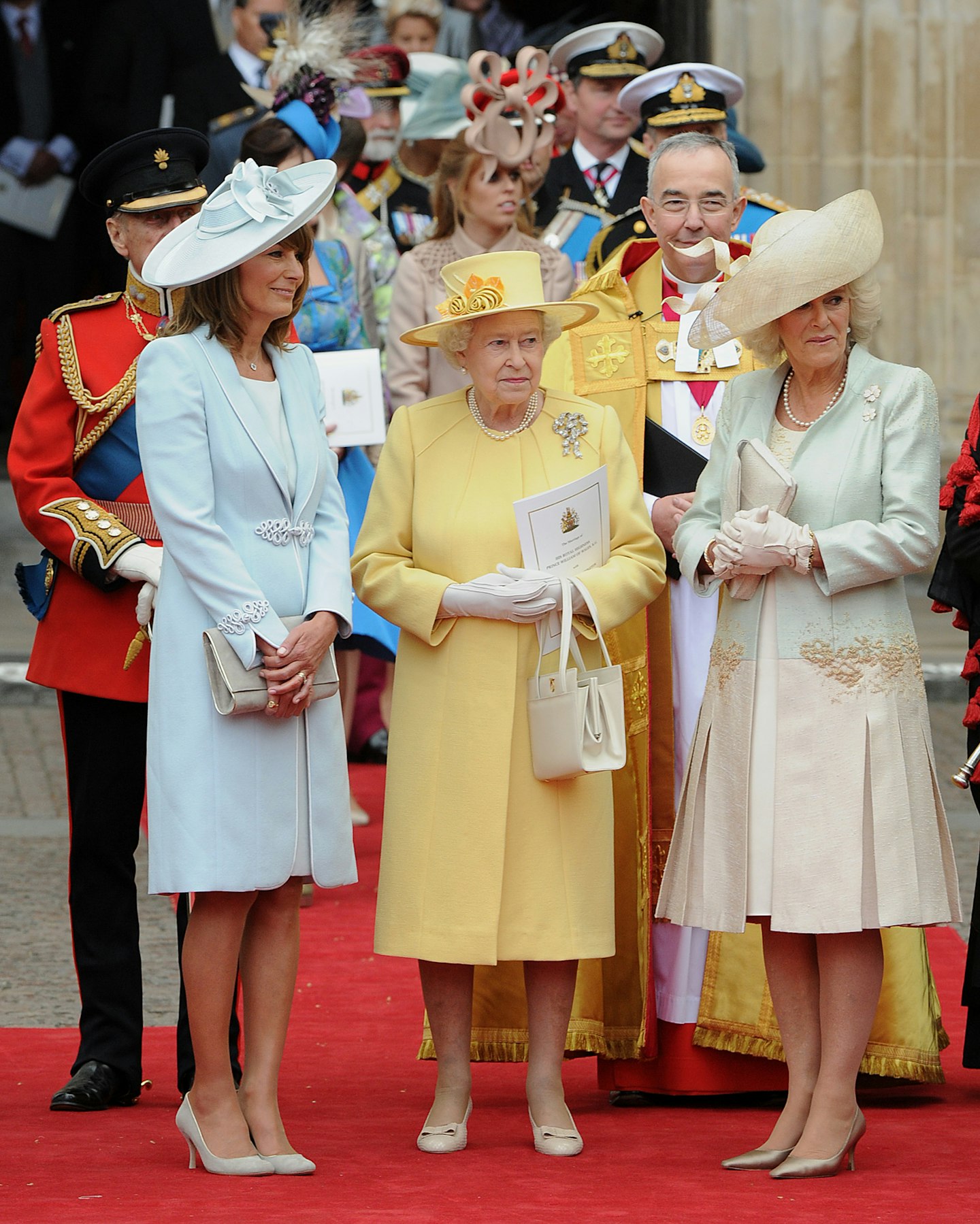 7 of 37
CREDIT: Getty
Prince William's Wedding, 2011
The sunray details of the lemon yellow coat which the Queen wore to William and Kate's wedding were designed to radiate light and joy. It was an outfit which introduced millions to her iconic style - sales of HM's beloved Launer handbags shot up by 60% after she was spotted carrying one at the ceremony.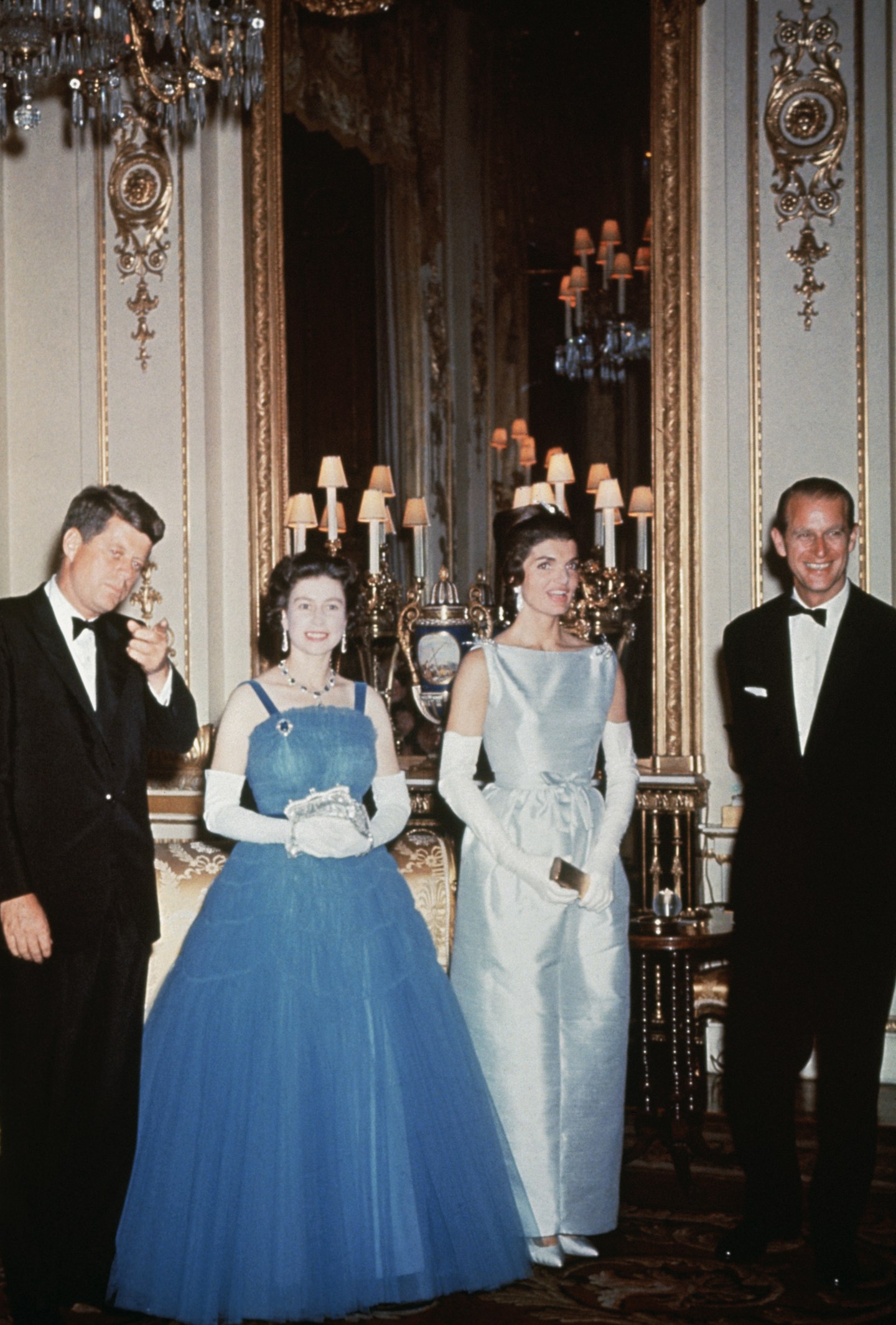 8 of 37
CREDIT: Getty
With John And Jackie Kennedy, 1961
The Queen rarely followed trends, as evidenced by this tulle ballgown from 1961. While Jackie Kennedy embraced the elegant streamlined look which was becoming fashionable, Elizabeth II stuck to 1950s frou-frou romance which now looks like it could be straight off the Molly Goddard catwalk.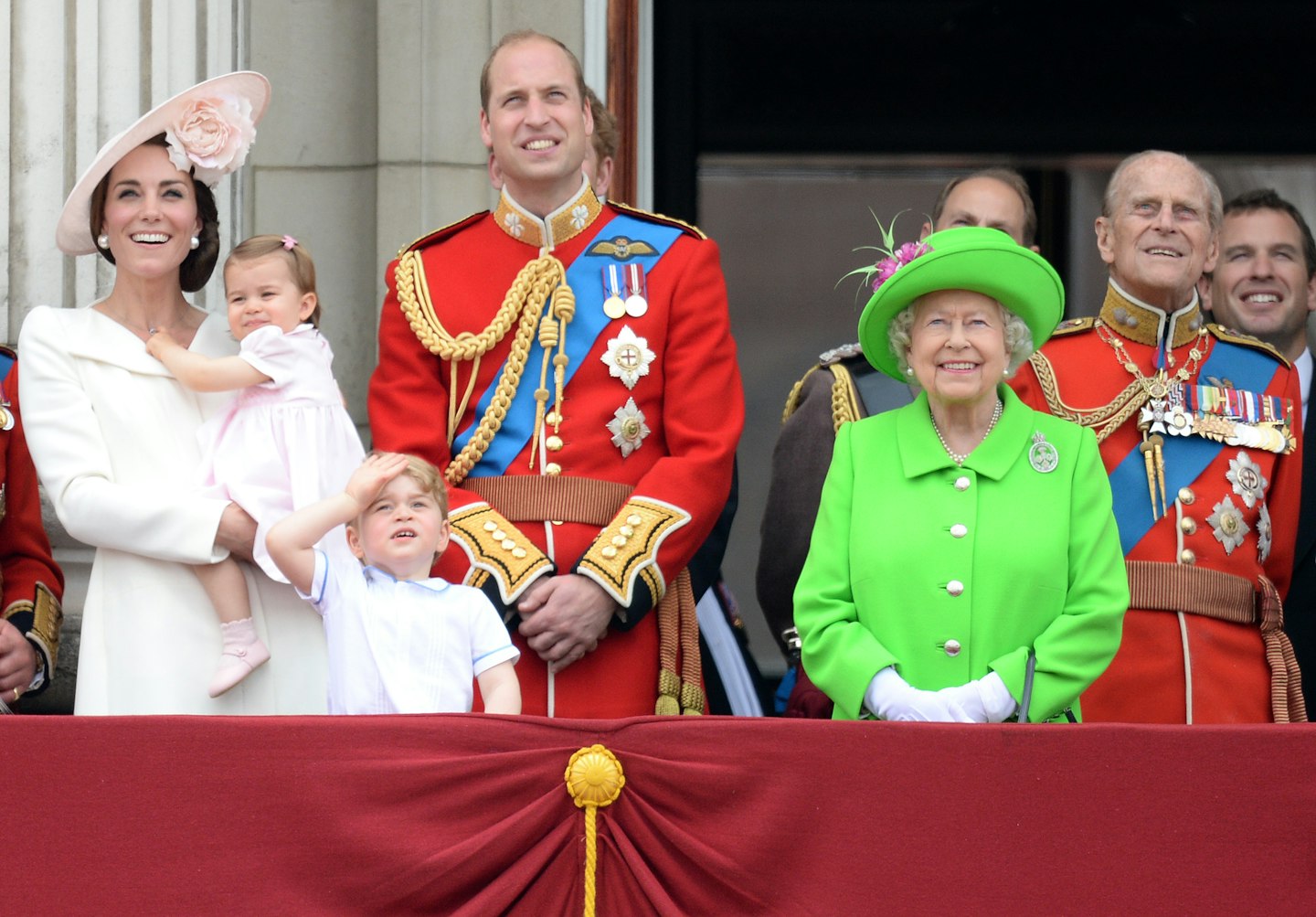 9 of 37
CREDIT: Getty
Neon At 90, 2016
Her Majesty was dubbed 'high vis highness' when she opted for this vivid green look for her 90th birthday celebrations - far from blending into the background as she became a nonagenarian, it was a look which made her more admired than ever.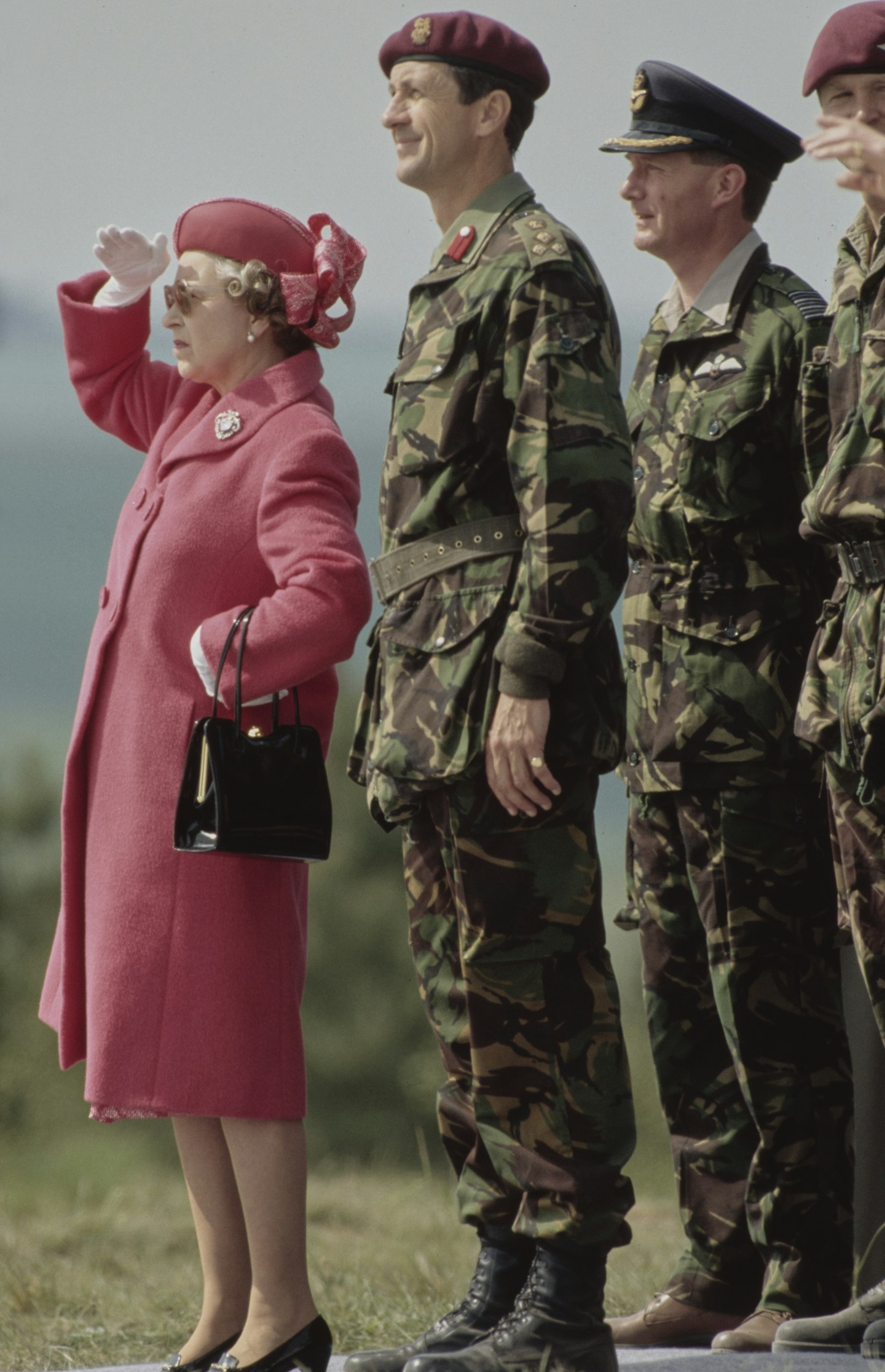 10 of 37
CREDIT: Getty
Pink, 1990
Elizabeth II was always a woman in a man's world, which she often underscored by choosing ultra-girly pink for particularly masculine moments, like this visit to the Parachute Regiment in 1990.
11 of 37
CREDIT: Getty
Saudi Arabia, 1979
For her tour to the Middle East in 1979, the Queen commissioned a wardrobe of turbans and long dresses to conform to the modest dress codes of the countries she visited - but she stayed true to her love for bold colours.
12 of 37
CREDIT: Getty
Christmas Red, 2020
Always brilliant at dressing to a theme, Her Majesty cheered up a nation in the midst of Covid-19 gloom in December 2020 with this 'Christmas red' look, accessorised with a jolly candy cane scarf.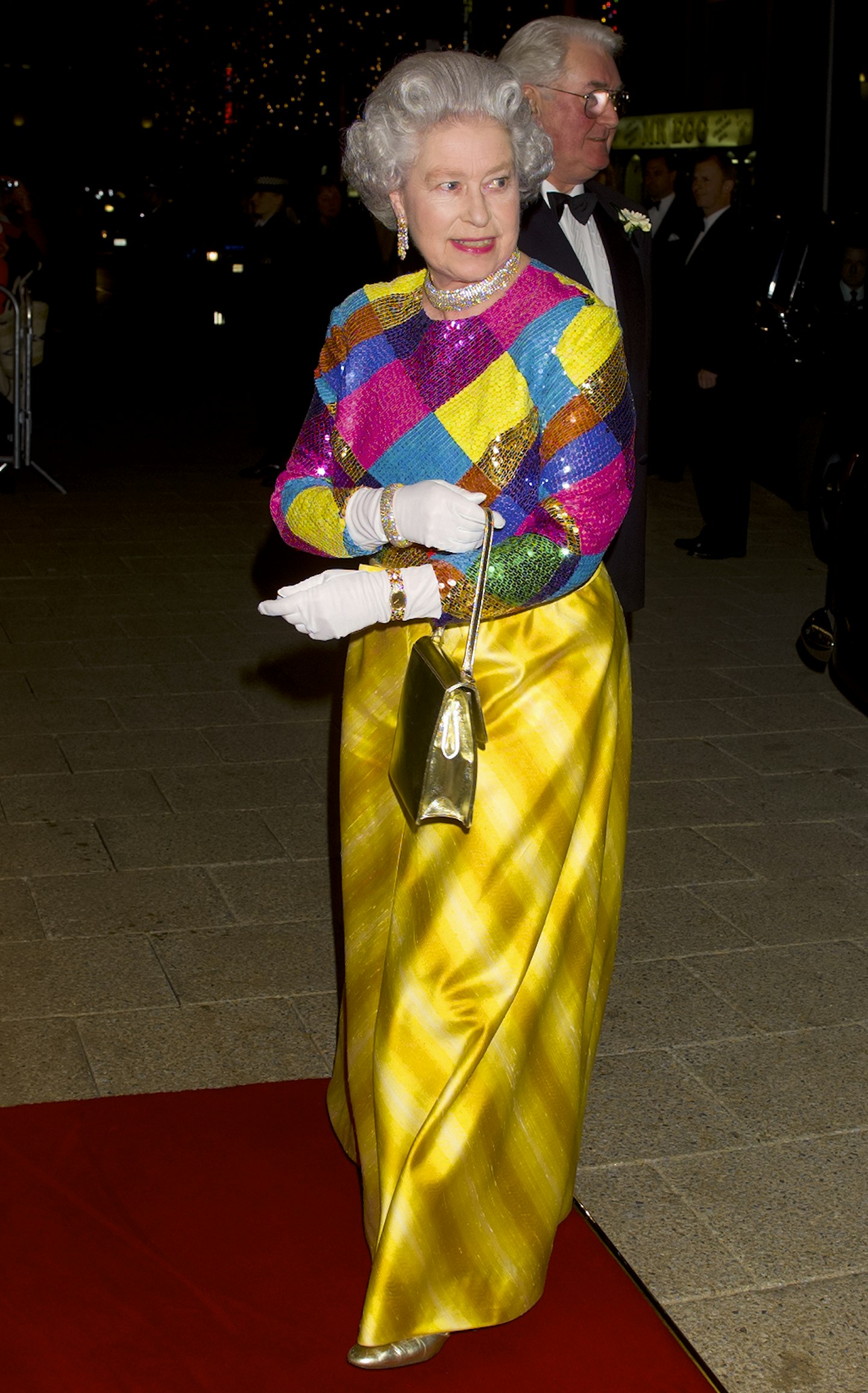 13 of 37
CREDIT: Getty
Harlequin Dress, 1999
This 'Harlequin' gown is one of the most famous evening dresses the Queen ever wore, loved for its vibrant pattern. Its designer, Karl Rehse, said he was 'overwhelmed' by the reaction to his creation.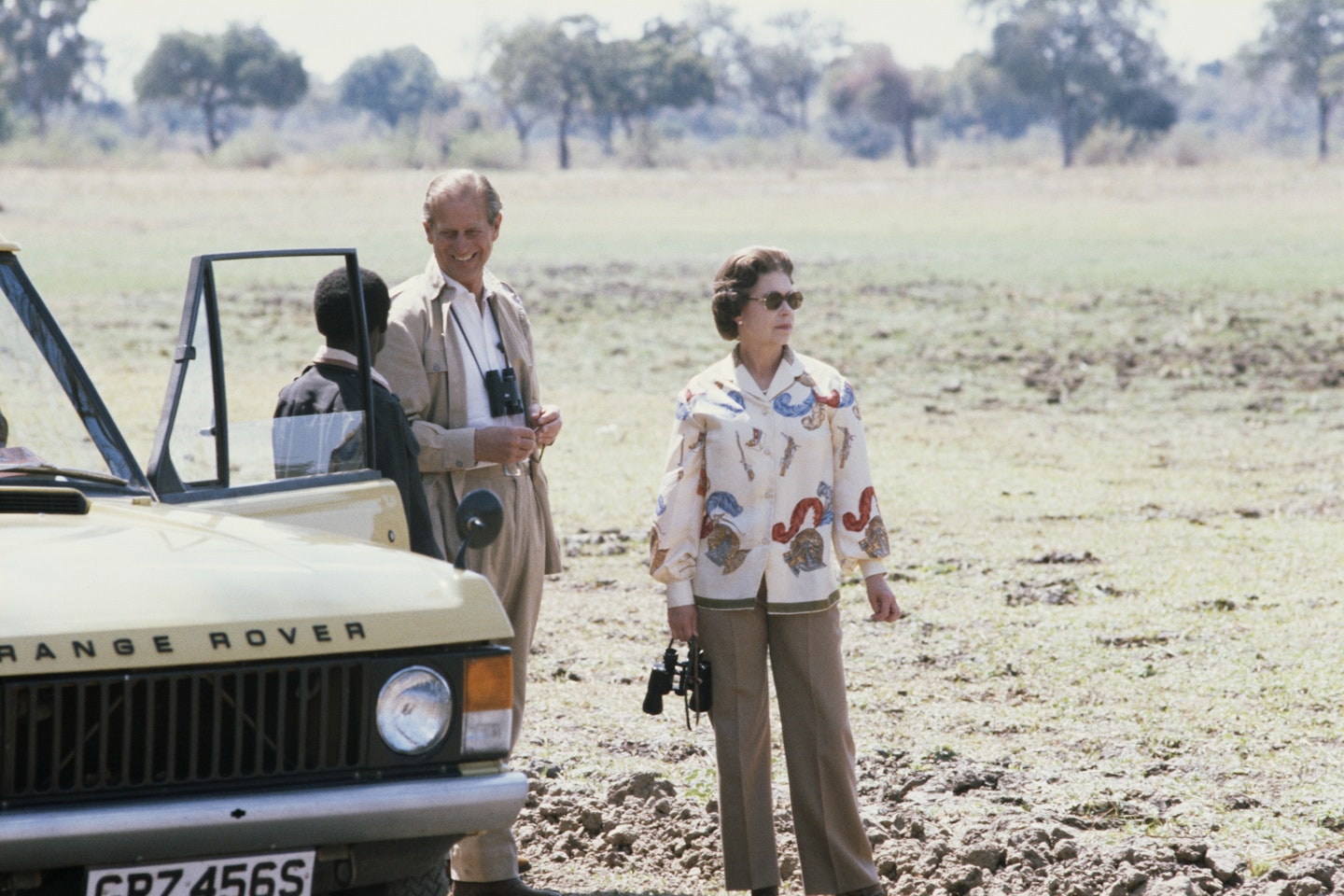 14 of 37
CREDIT: Getty
Trousers, 1979
The Queen was seen wearing trousers in public only a handful of times. This silk shirt and cream slacks combination - worn on safari in Zambia - proves that she wore them just as elegantly as her usual knee-length frocks.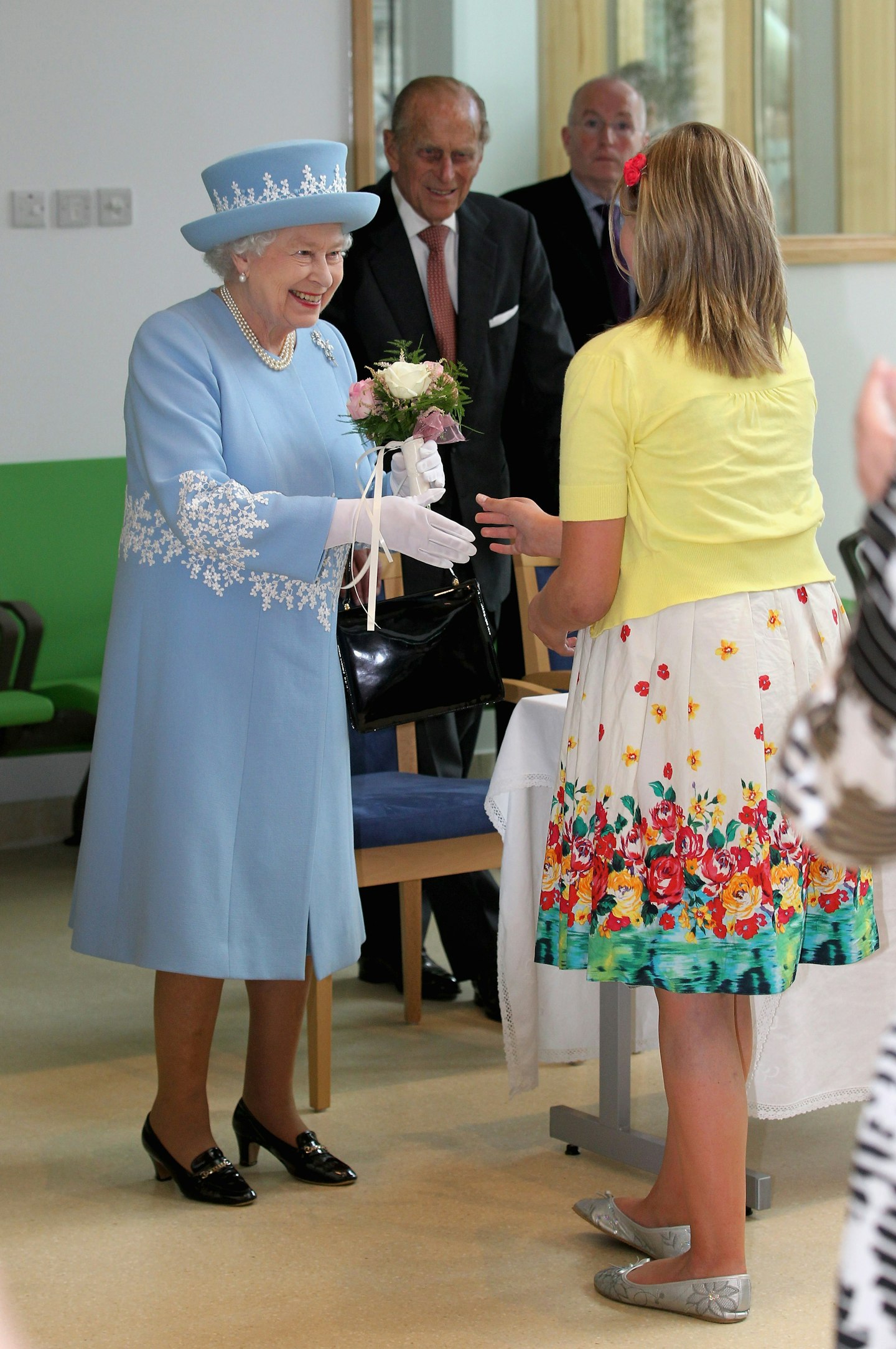 15 of 37
CREDIT: Getty
Wedgwood, 2012
Created by Angela Kelly as a 'calming' outfit for a day visiting different religious groups in Northern Ireland, this look was inspired by vases in the corridors of Windsor Castle and became a tribute to one of the UK's great craft exports.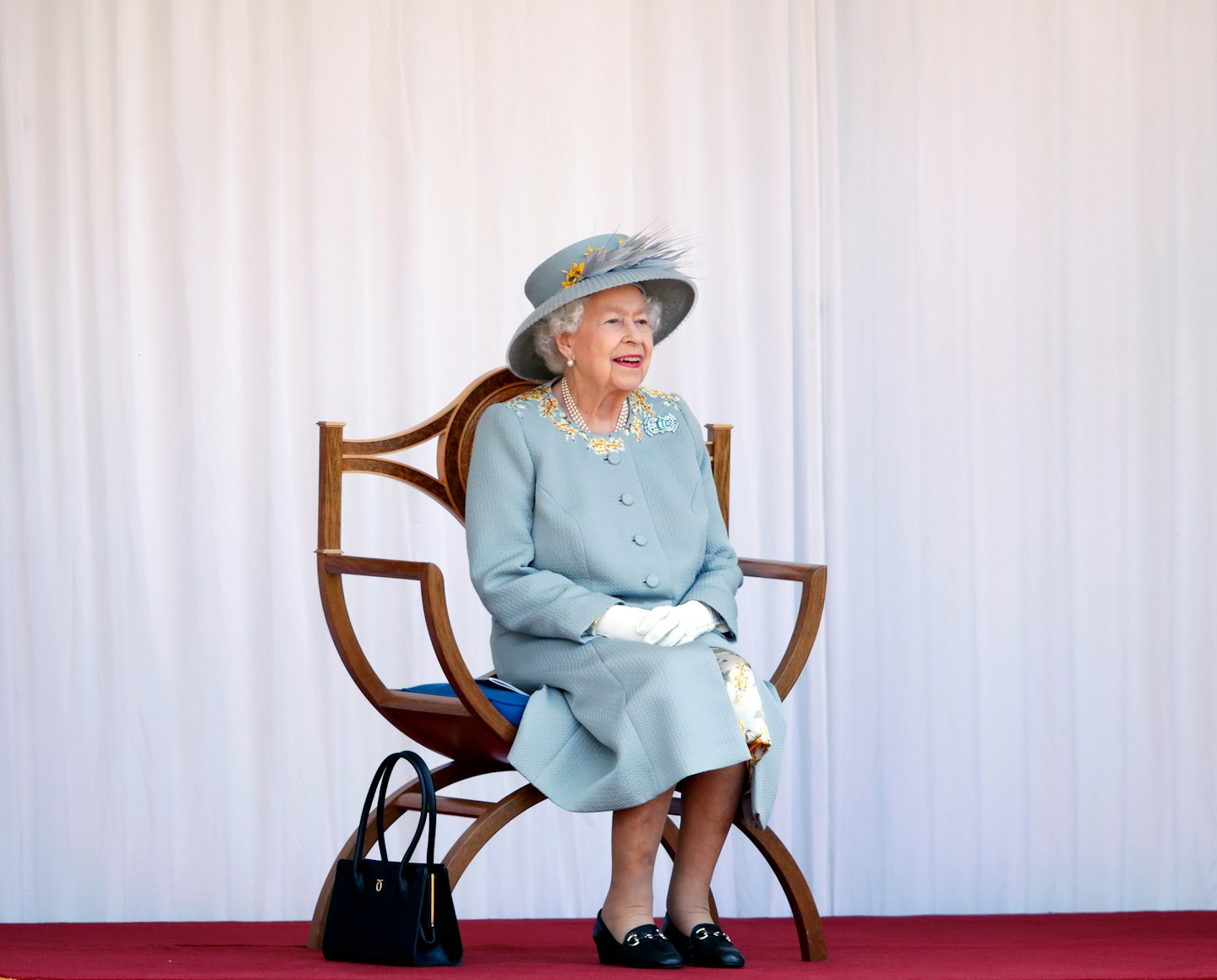 16 of 37
CREDIT: Getty
Trooping The Colour, 2021
Still mourning the recent death of her husband, in June 2021 the Queen wore a pared-back mauve look instead of her usual rainbow brights for a dialled-down Trooping the Colour parade.
17 of 37
CREDIT: Getty
San Diego, 1983
From the baker boy cap to the quirky print, this ensemble - designed to match the sailors she was inspecting - is one of the most fun the Queen ever wore - and showed that she was never afraid to experiment with something outside the box.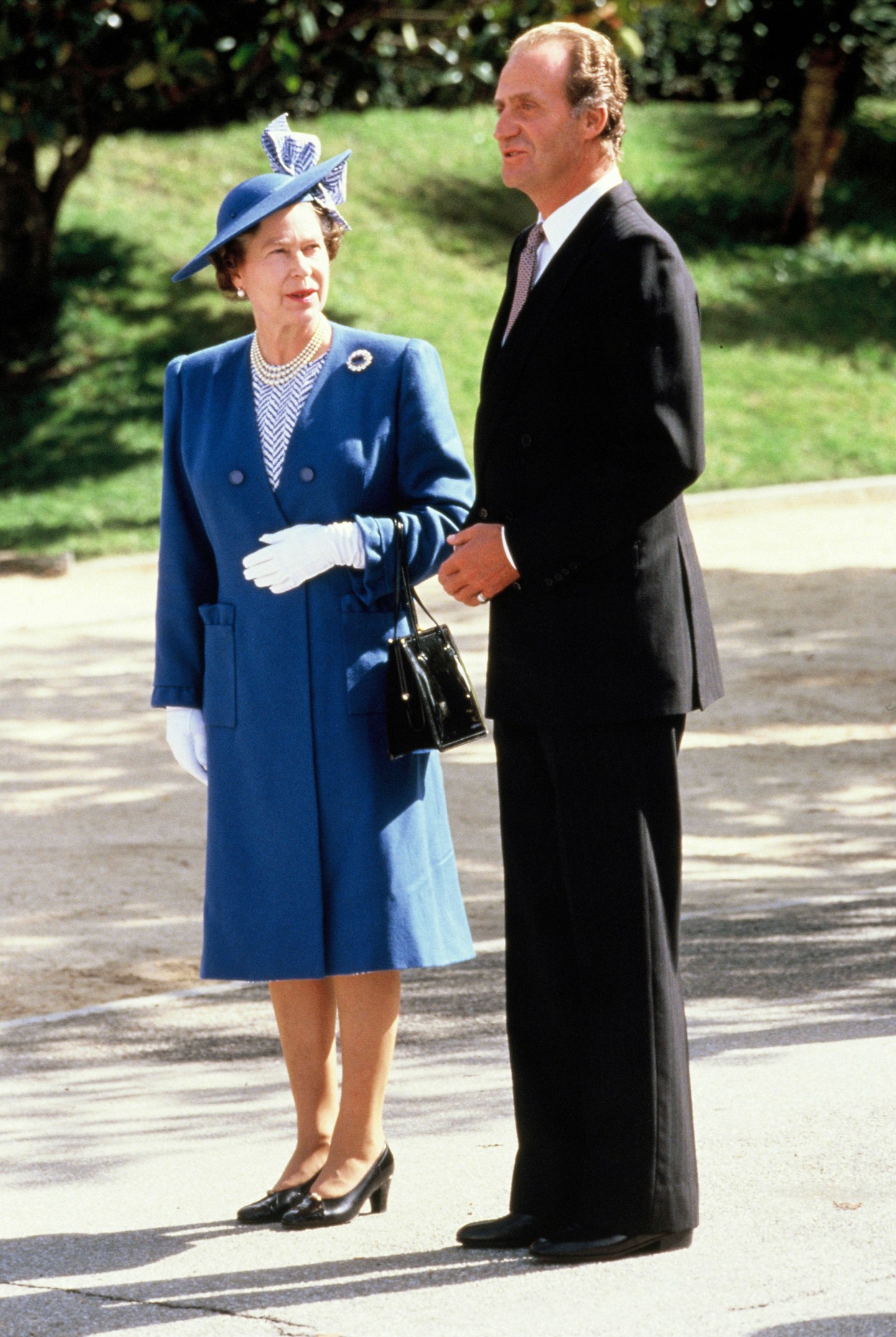 18 of 37
CREDIT: Getty
Spain, 1988
'Darling, you look wonderful,' King Juan Carlos of Spain told the Queen when he saw her wearing this outfit by a new pair of designers she had decided to trial. That compliment meant that Karl Rehse and John Anderson became instant favourites.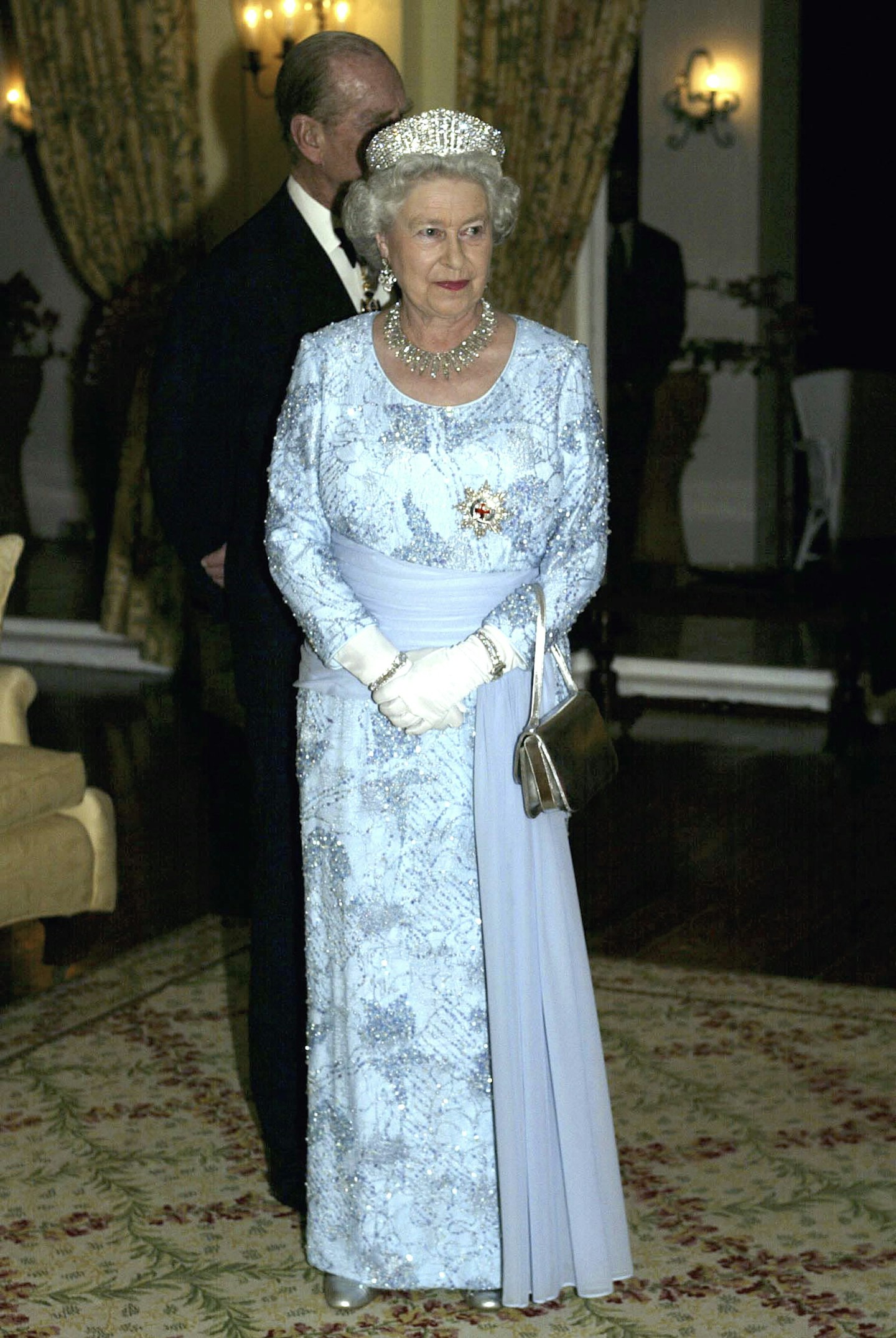 19 of 37
CREDIT: Getty
Jamaica, 2002
This pale blue gown was the first design created for Elizabeth II by Stewart Parvin, the man described as 'the most streetwise dressmaker ever to have designed for the Queen'. There was a powercut on the night she wore it, and it was said to have glimmered beautifully in the candlelight of the dinner she attended.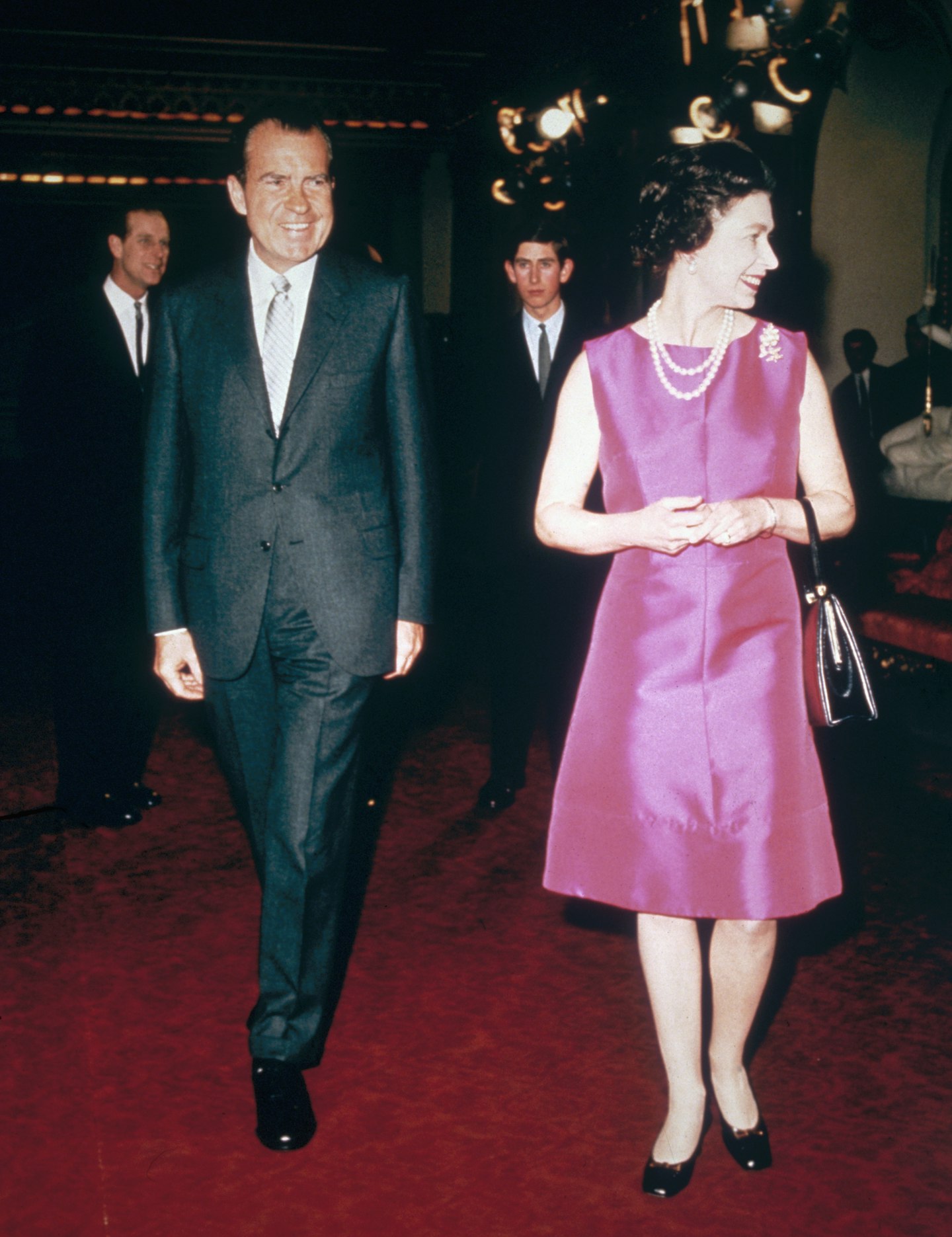 20 of 37
CREDIT: Getty
With Richard Nixon, 1969
Simple but super-chic, this hot pink silk shift worn to host President Nixon at Buckingham Palace in 1969 still looks the epitome of sophistication today and was about as mini as the Queen ever went.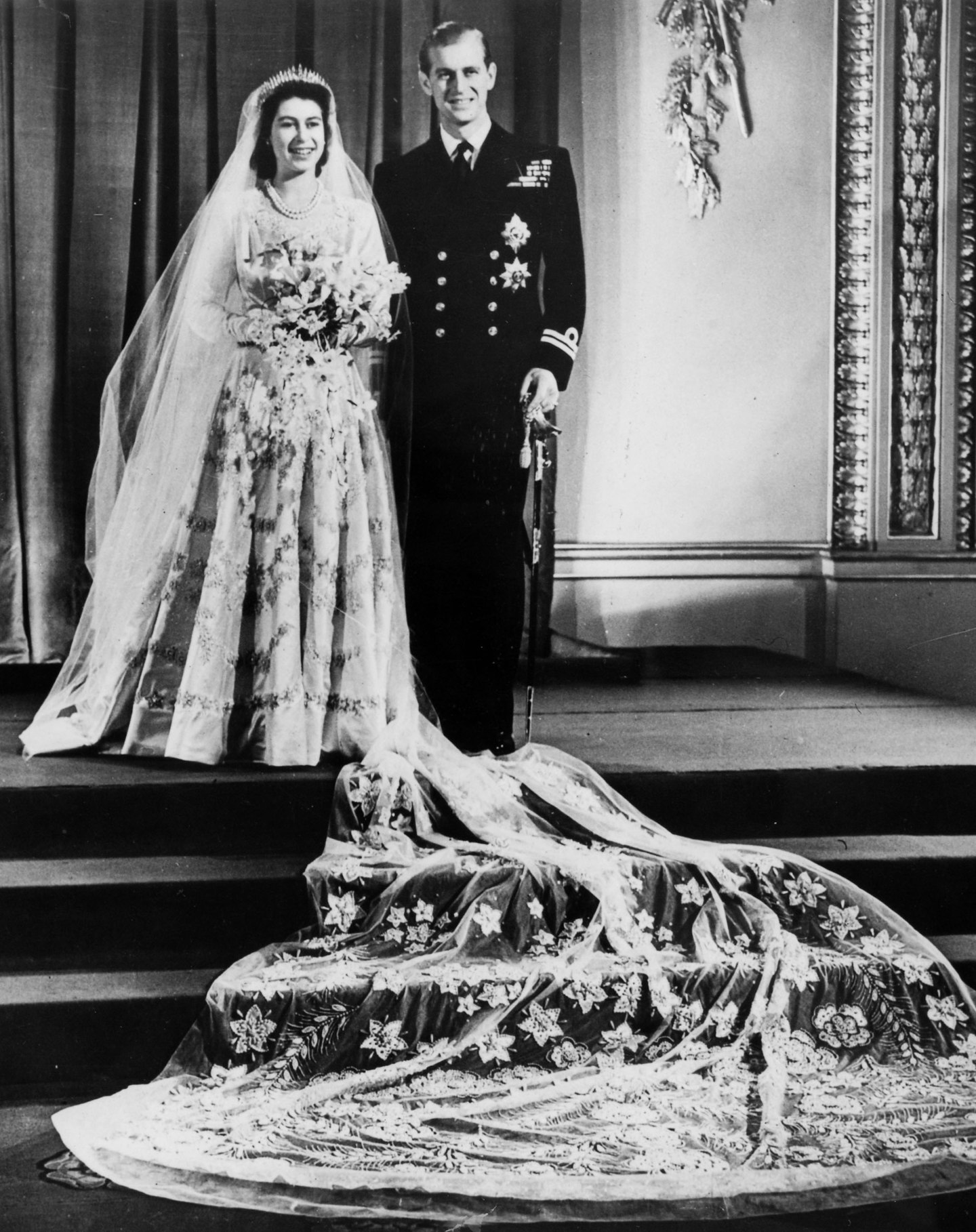 21 of 37
CREDIT: Getty
Wedding Dress, 1947
The Queen's beautifully classic wedding dress was designed by Norman Hartnell, who took Botticelli's 'Primavera' painting as his starting point. A symbol of post-war optimism, it took 350 dressmakers seven weeks to create and has inspired many more brides since, including the Duchess of Cambridge.
22 of 37
CREDIT: Getty
Hand-Me-Downs, 1945
When 19 year-old Princess Elizabeth was photographed by Cecil Beaton after the Second World War, her thrifty side was already on display. Instead of wearing a brand new gown for the occasion, she was dressed in a hand-me-down from her mother's collection.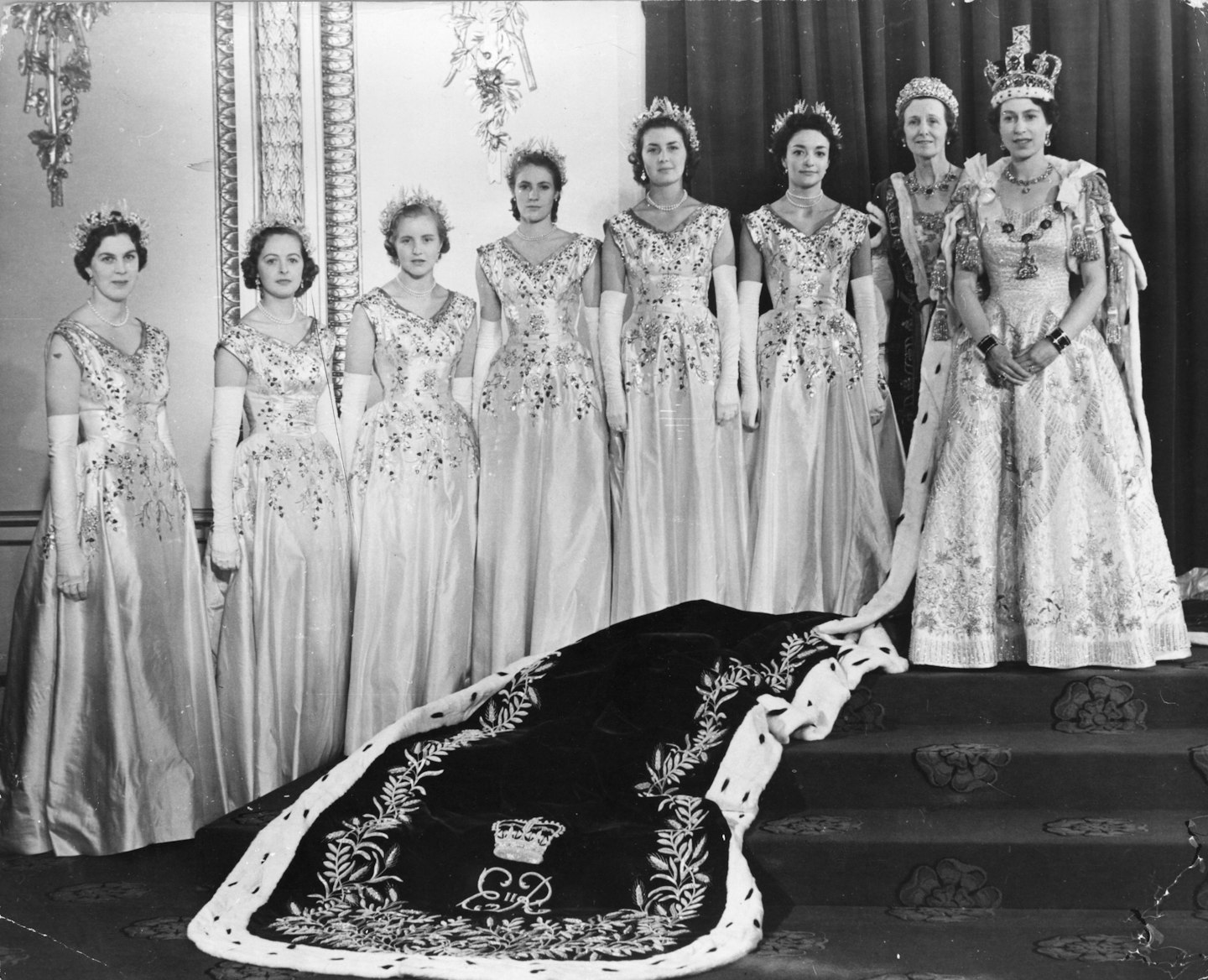 23 of 37
CREDIT: Getty
Coronation, 1953
The grandest gown the Queen ever wore, Norman Hartnell's magnificent coronation design was so heavy Her Majesty compared it to wearing a radiator. The dress painstakingly incorporated floral emblems from every country the Queen would reign over, from English roses to Canadian maple leaves.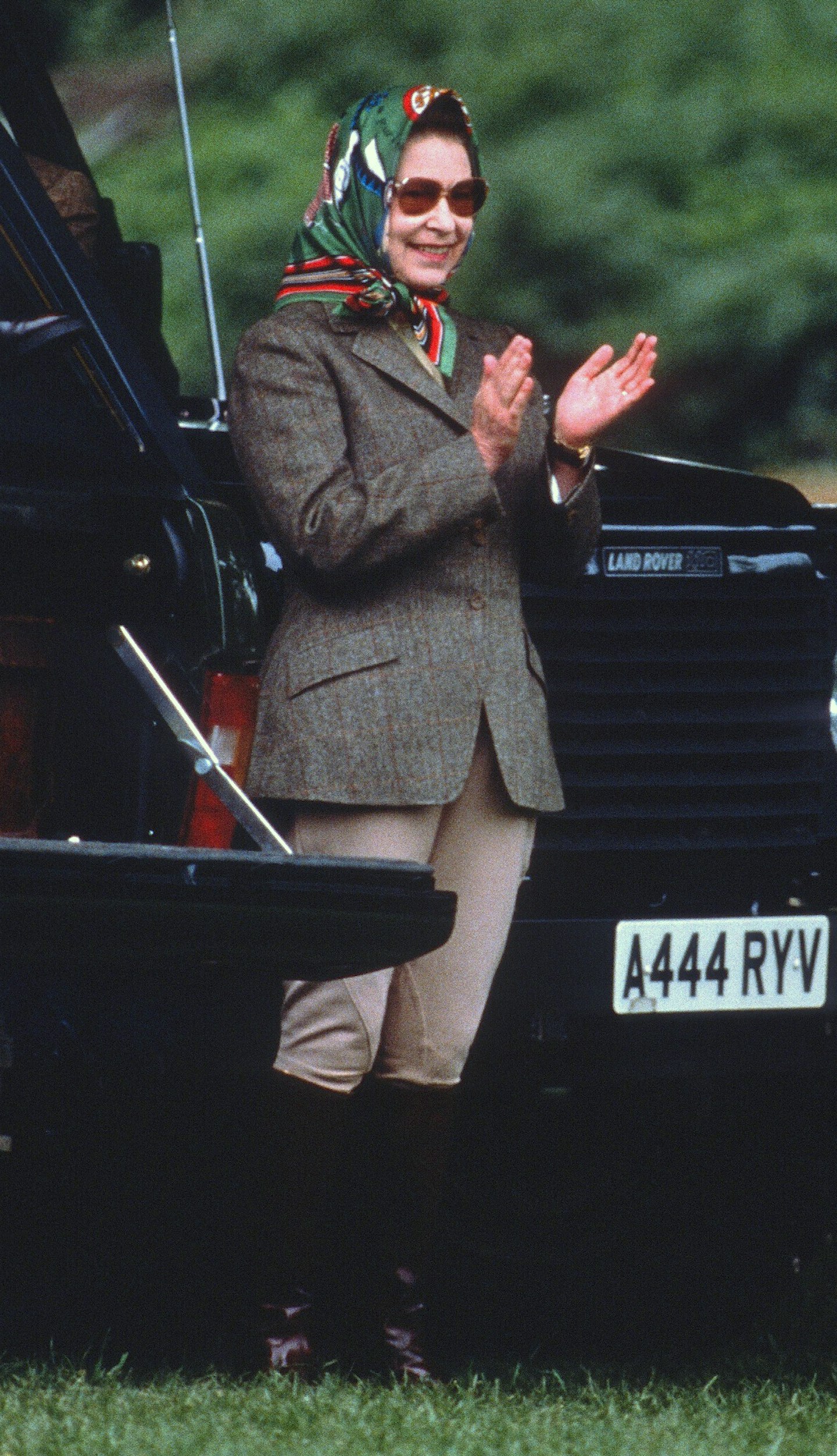 24 of 37
CREDIT: Getty
Jodhpurs, 1988
The Queen arguably never looked chicer than when she was in her riding gear - see this 1988 look, from the meticulously tied headscarf to the tailored tweed jacket and elegant jodhpurs, it's perfection.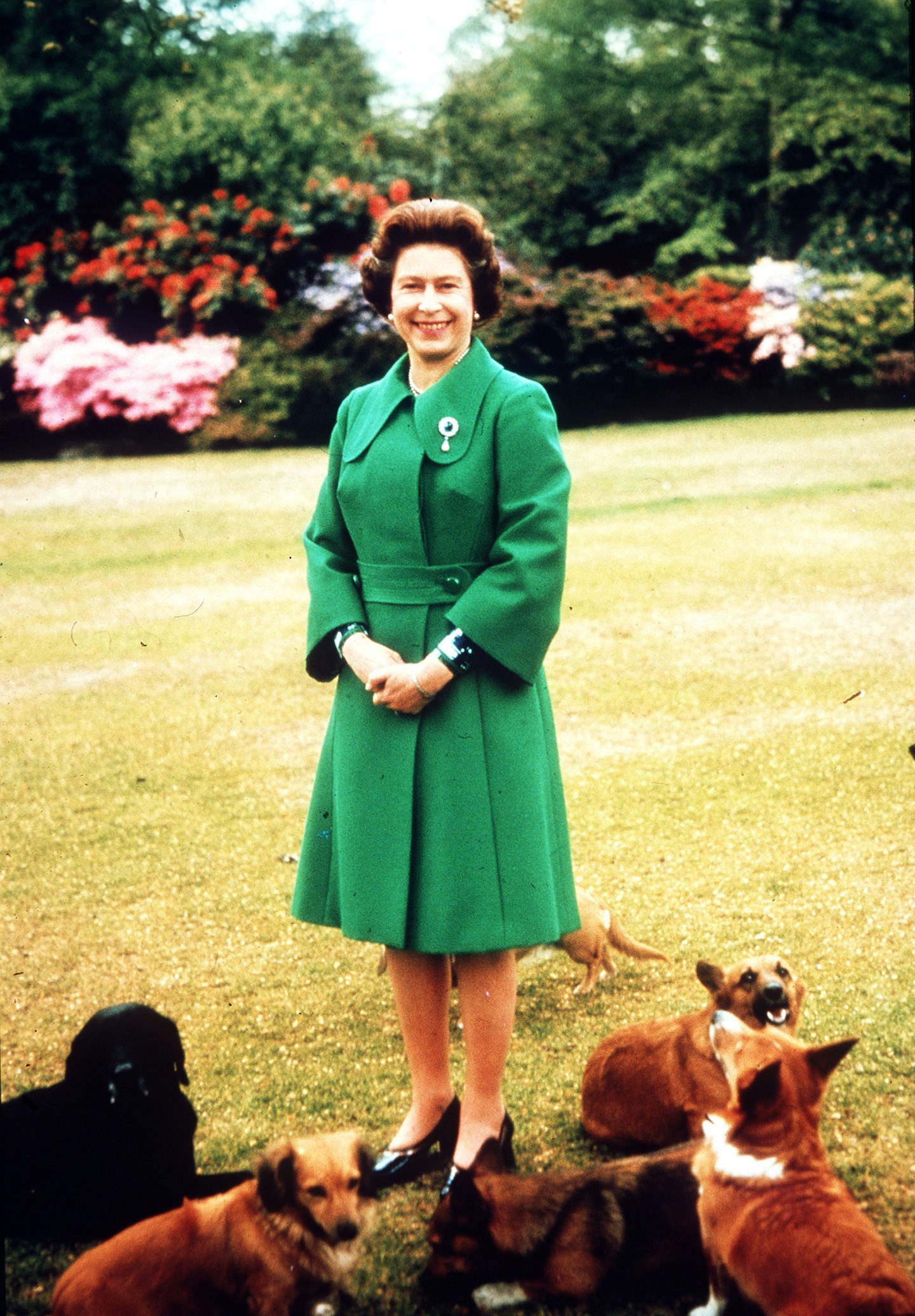 25 of 37
CREDIT: Getty
With Her Corgis, 1960
The oversized collar of this grass green coat means it still looks stylish now - and proved to be the perfect backdrop for one of the Queen's vast collection of precious brooches. This sapphire, diamond and pearl piece was inherited from her jewel-adoring grandmother, Queen Mary.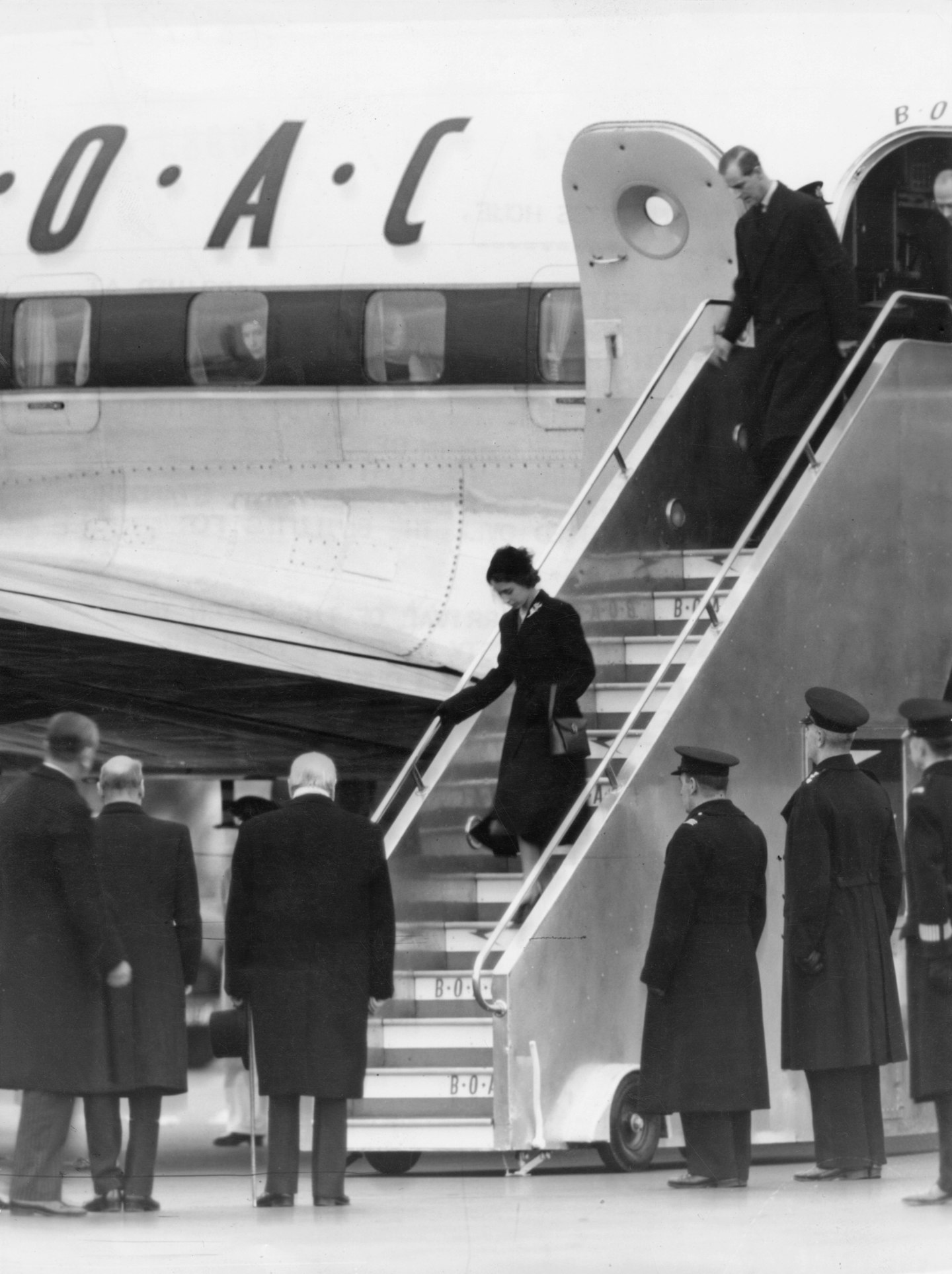 26 of 37
CREDIT: Getty
After Her Father's Death, 1952
Elizabeth was in Kenya when her father died and had no black mourning clothes to change into, so an outfit had to be rushed onto the plane when she arrived back in London. She added a diamond brooch which had been given to her while on tour with her parents five years before - a sign of happy memories at a very sad time.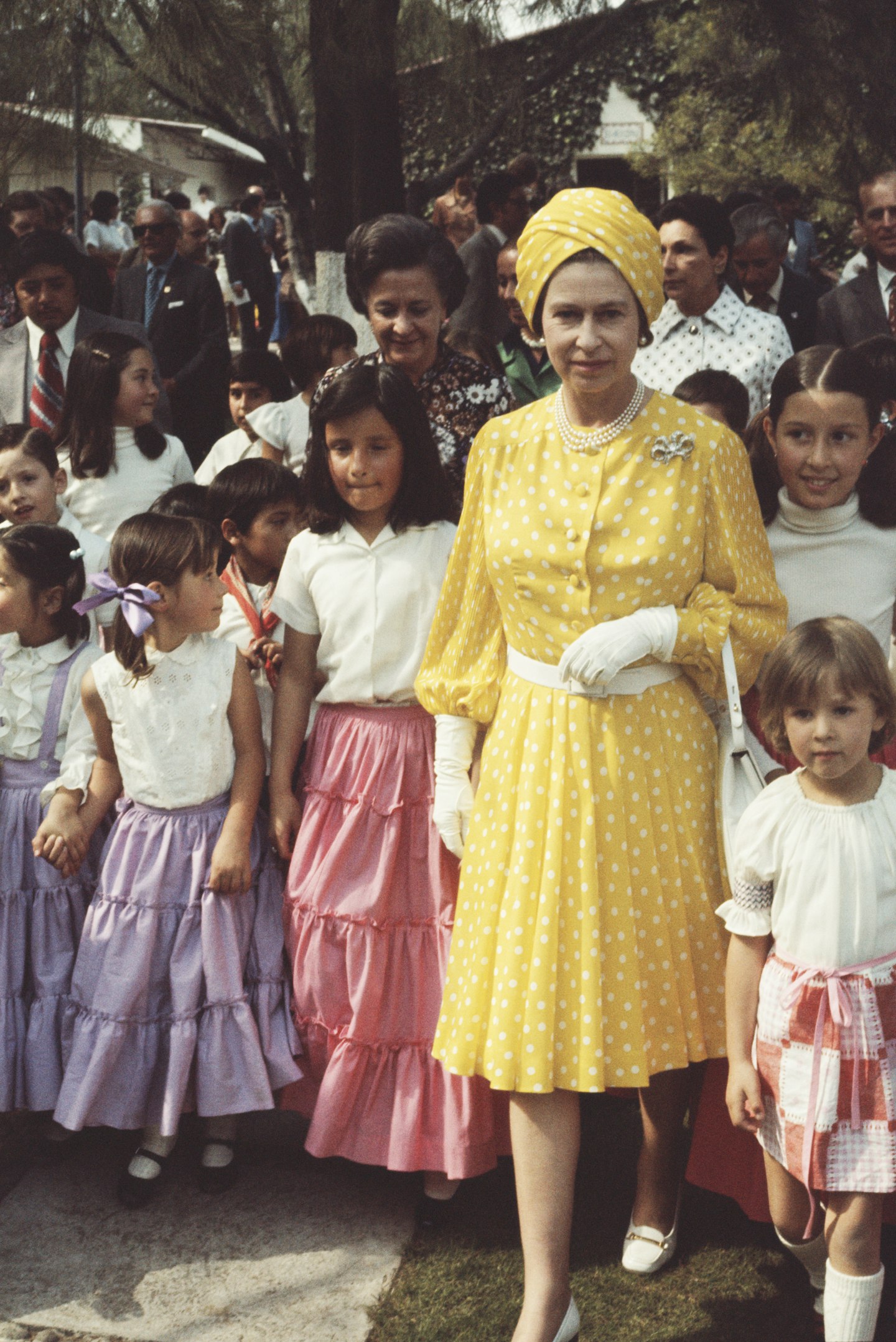 27 of 37
CREDIT: Getty
Polka Dots, 1975
Yellow! Polka dots! Gucci-esque loafers! Turban! This 1975 look, worn on tour in Mexico, has it all.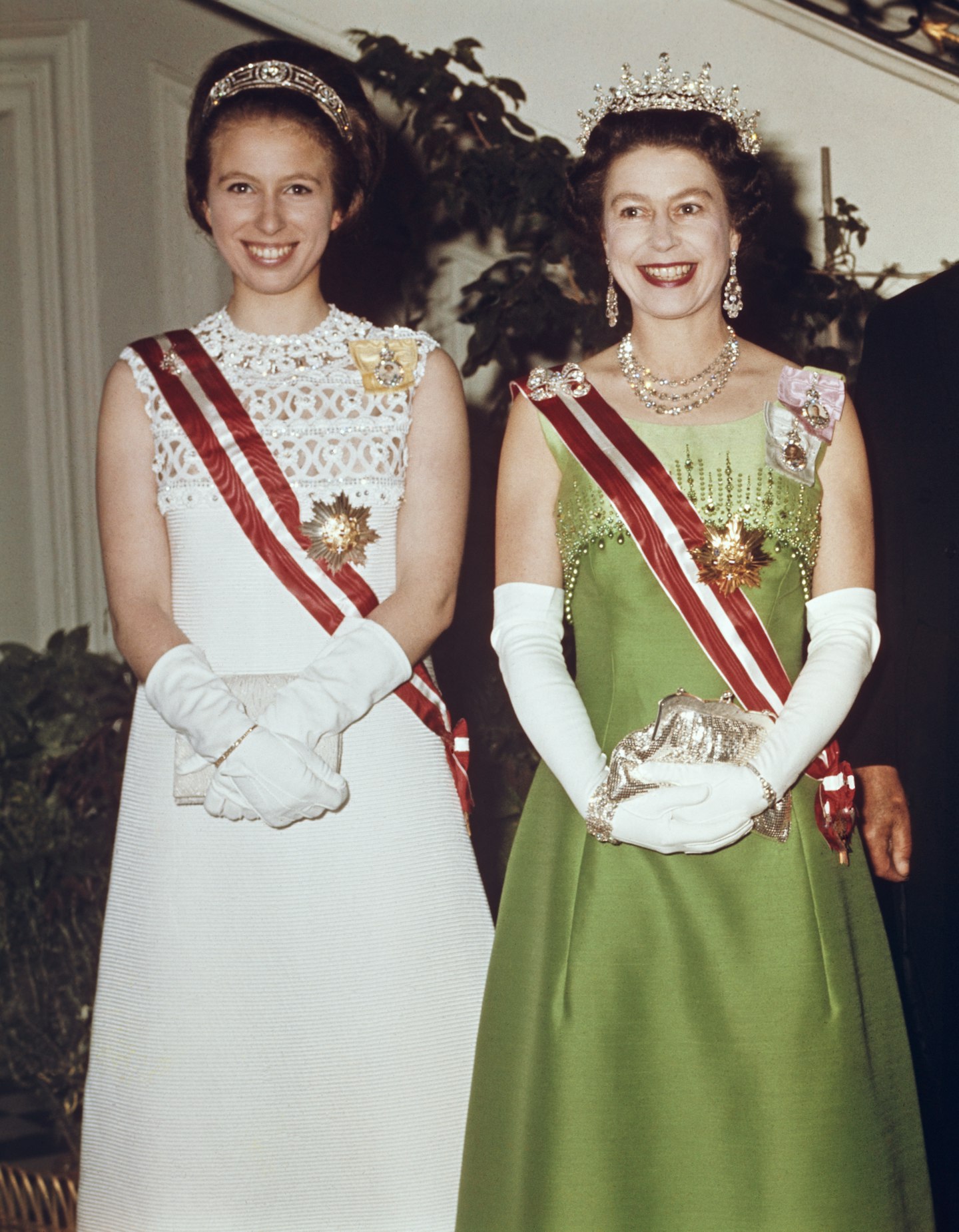 28 of 37
CREDIT: Getty
With Princess Anne, 1969
Most mother-daughter style moments might stretch to a coordinating print or matchy-matchy dress, but in Vienna in 1969, the Queen and Princess Anne went a step further, both stepping out in sleeveless A-line gowns accessorised with oodles of priceless jewels.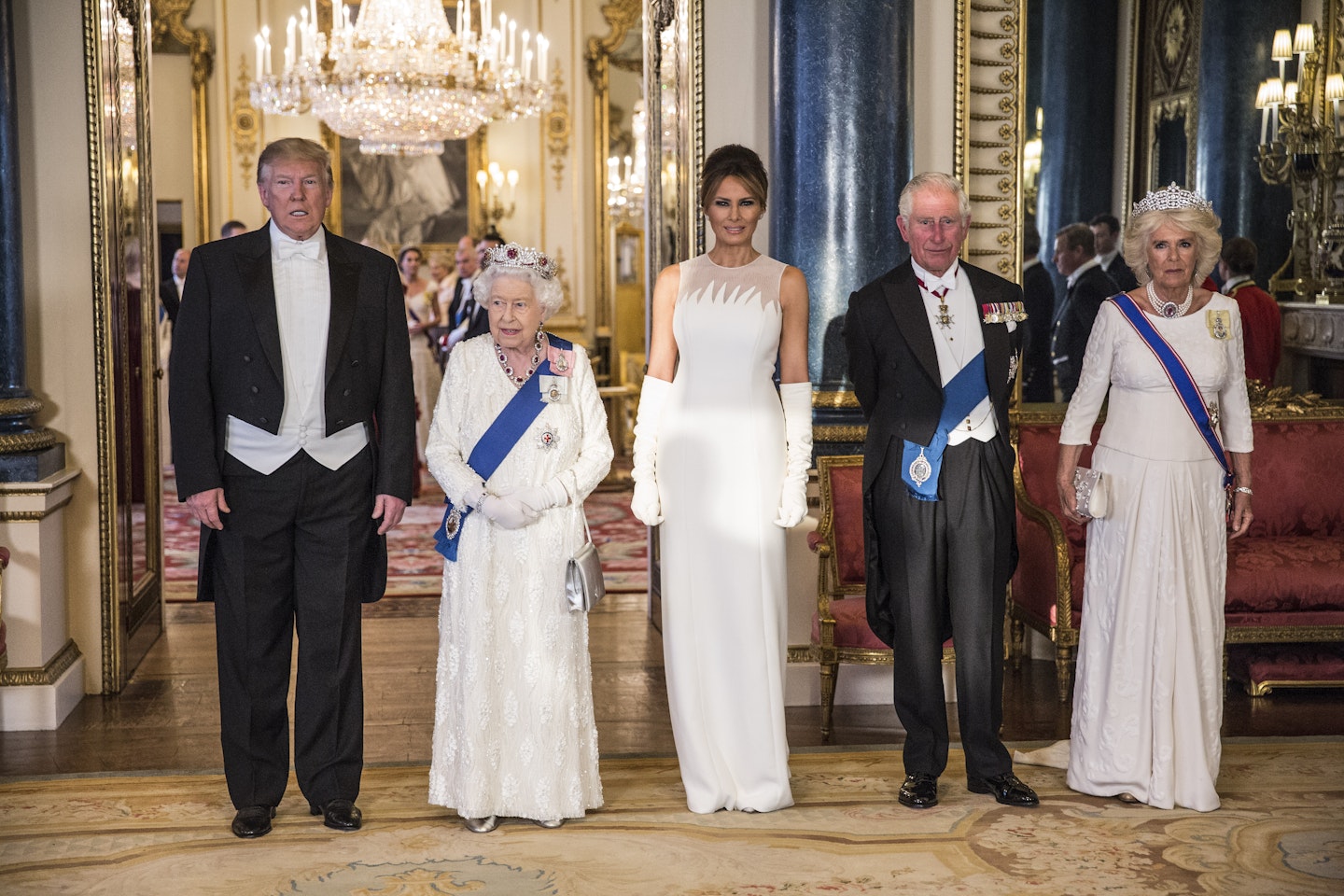 29 of 37
CREDIT: Getty
Hosting Donald Trump, 2019
We very rarely heard the Queen express an opinion but there was feverish speculation about her opinion of US President Trump when he visited the UK in 2019, only fuelled by Her Majesty's decision to wear a suite of jewellery made from Burmese rubies, given to her to ward off evil.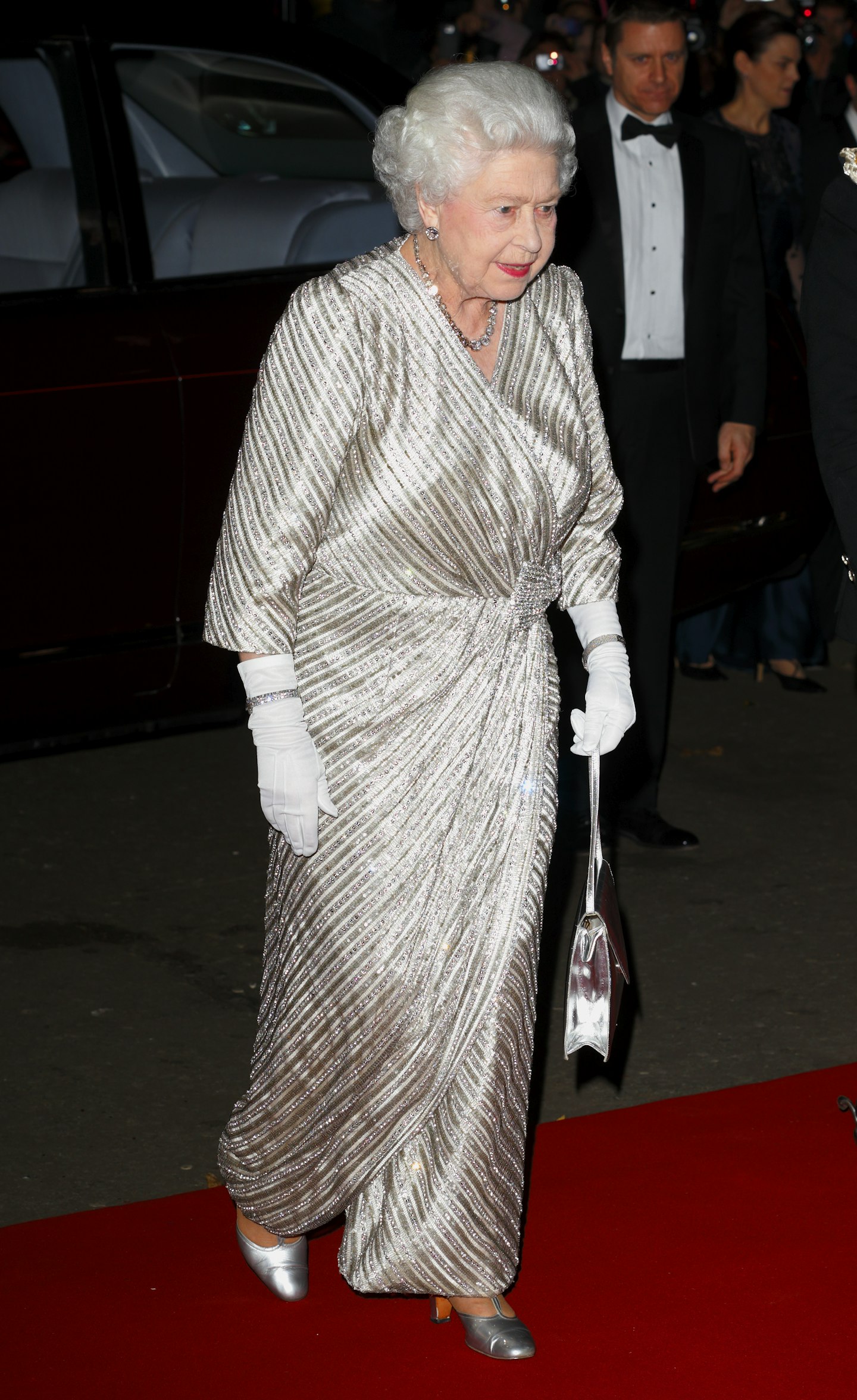 30 of 37
CREDIT: Getty
Film Star-Chic, 2012
You might not think that glamorous 1930s film stars would be on the Queen's style moodboard, but Angela Kelly confirmed that this striking wrap silver gown worn for 2012's Royal Variety performance was inspired by that era's glittering fashions.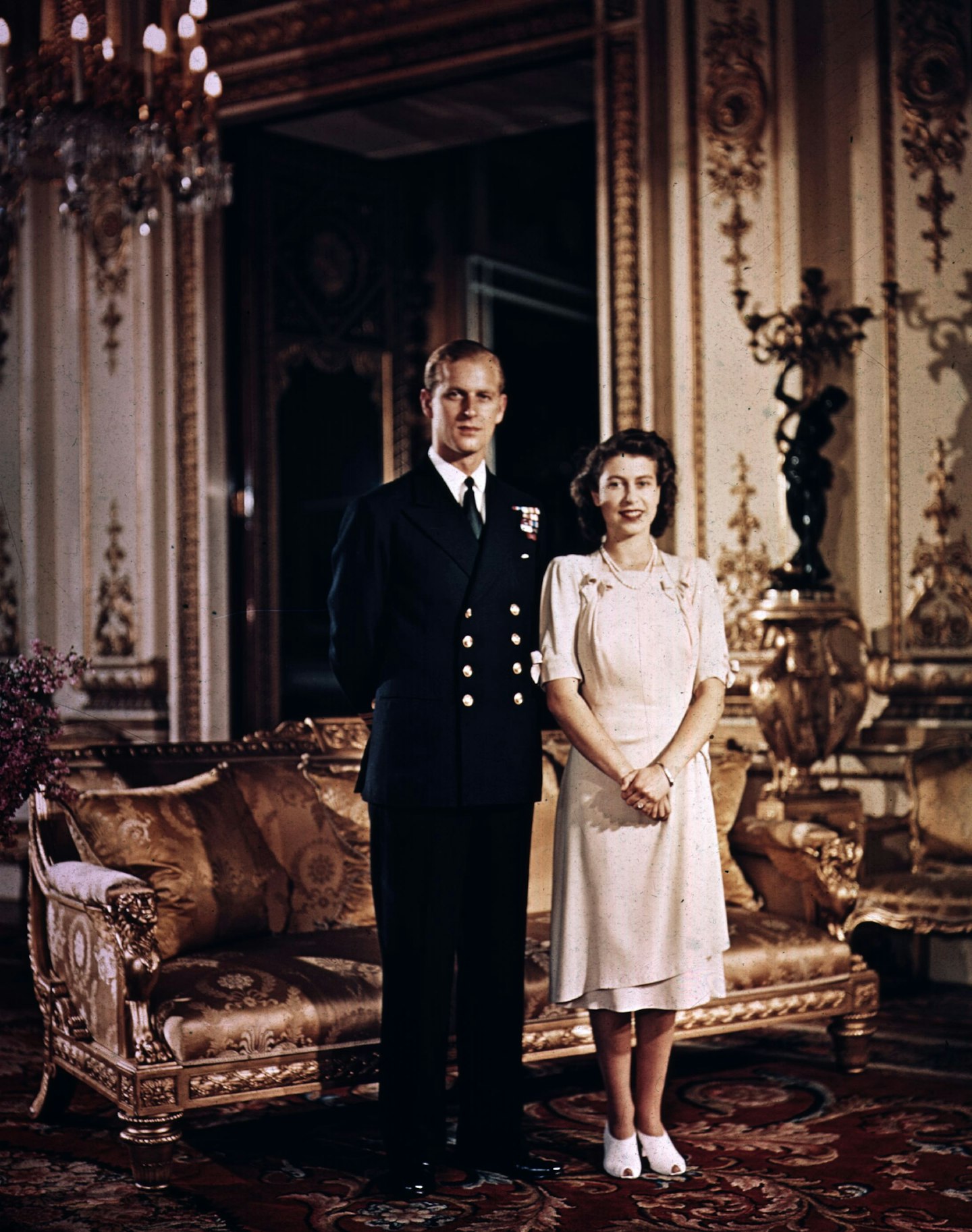 31 of 37
CREDIT: Getty
Engagement Dress, 1947
The pretty bow-adorned pink dress worn by Princess Elizabeth for her engagement announcement in 1947 wouldn't look out of place on a Miu Miu catwalk today. In fact, it was a re-wear and had already been seen on a tour to South Africa earlier that year.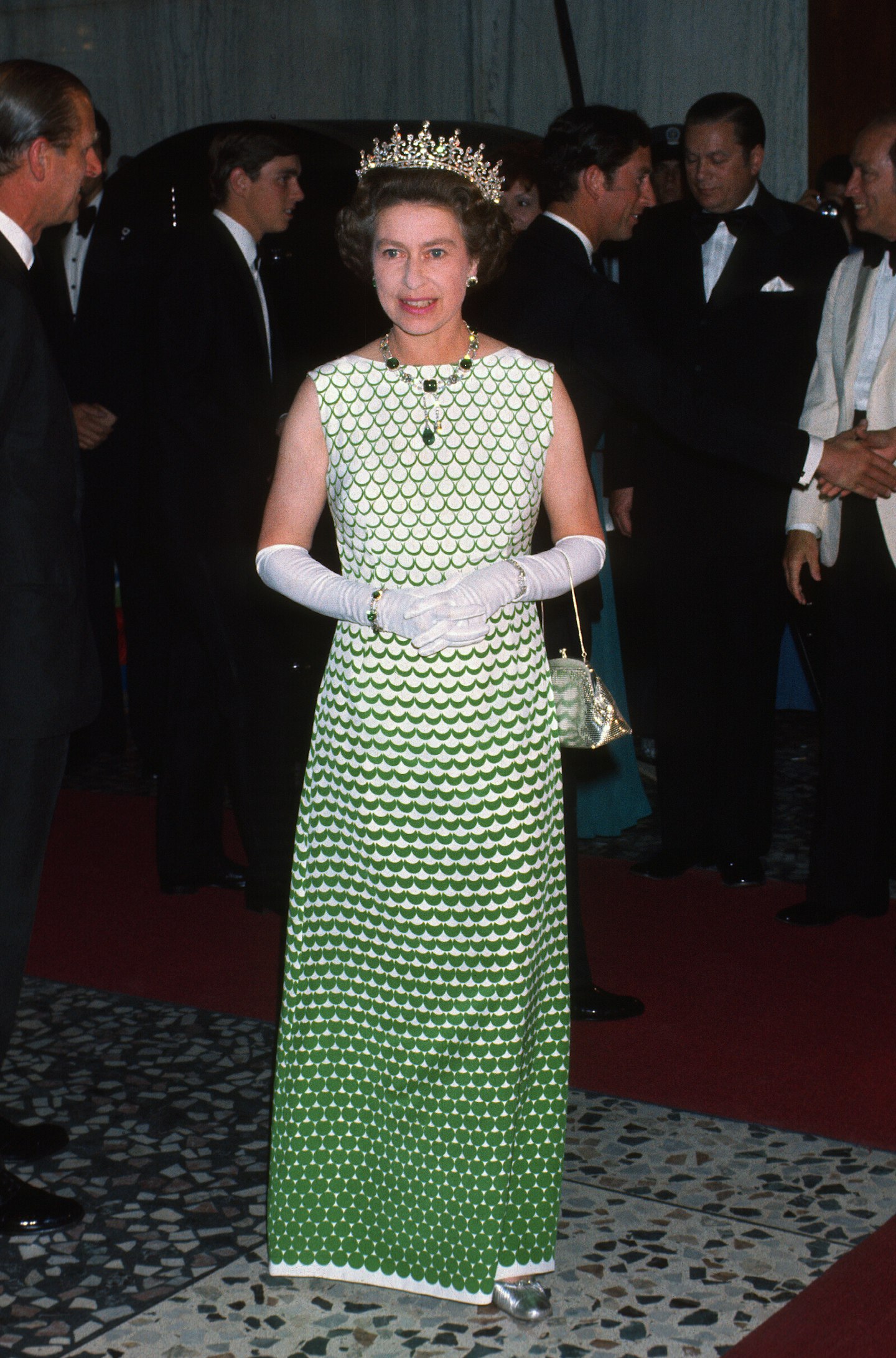 32 of 37
CREDIT: Getty
Canada, 1976
New and old collided in this evening look from a visit to Canada in 1976. The Queen wore her favourite Girls of Great Britain and Ireland tiara with a fashion-forward graphic print gown.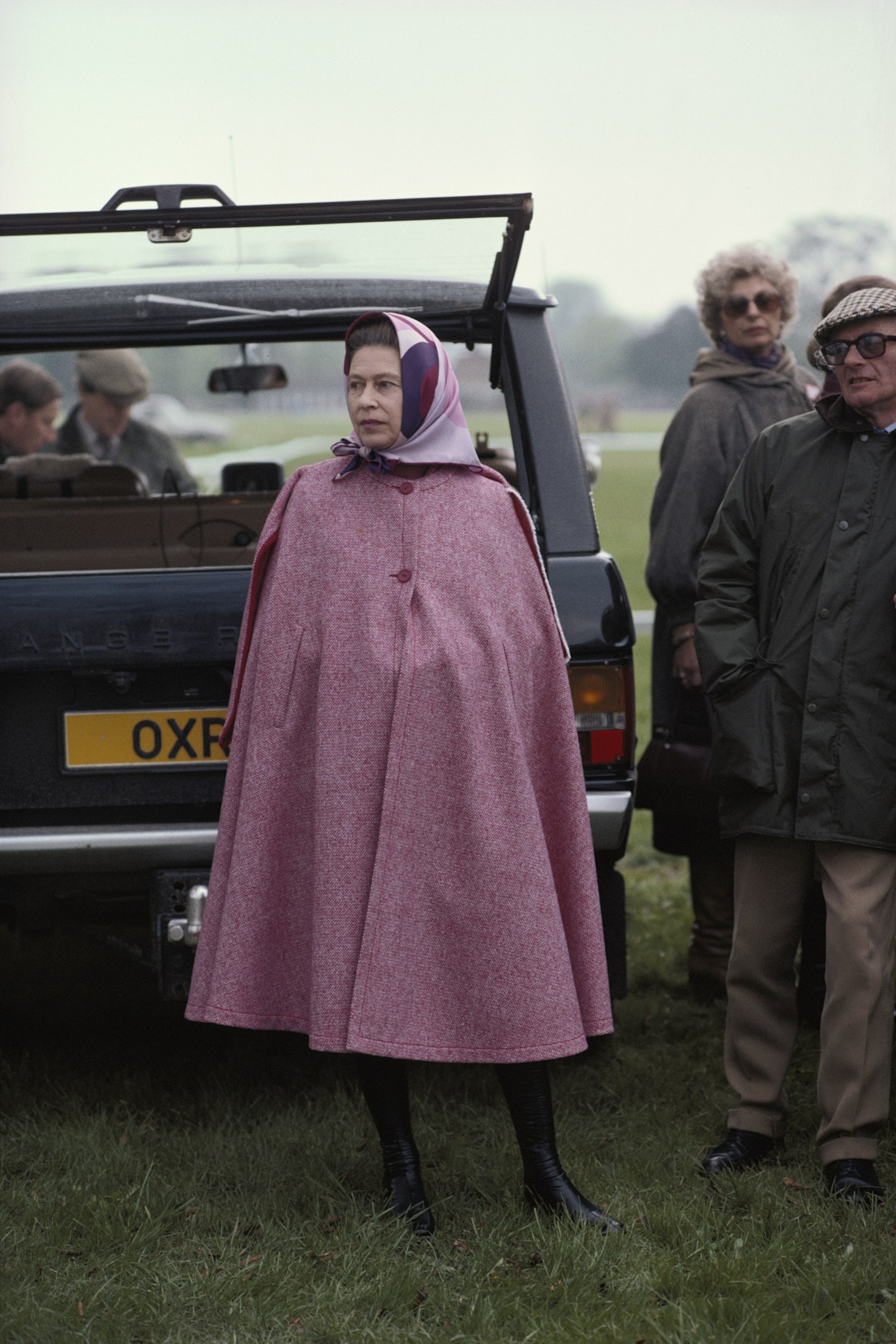 33 of 37
CREDIT: Getty
Cape, 1979
With the fabulous cape and tonal blush pink silk scarf, this look could be straight out of a fashion shoot. In fact, it was the Queen's outfit for the Royal Windsor Horse show in 1979.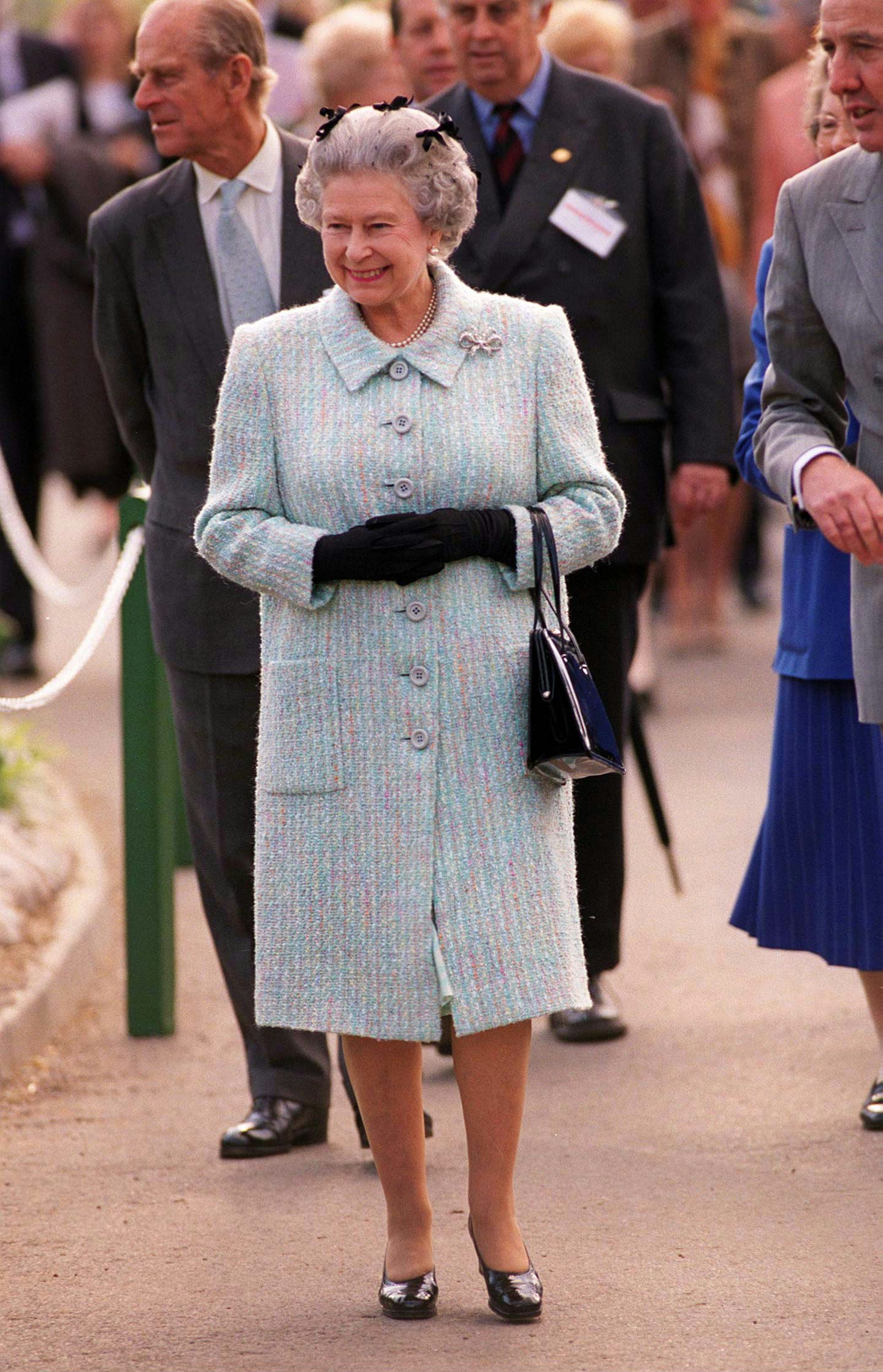 34 of 37
CREDIT: Getty
Bow Hairnet, 1996
She was renowned for her love of hats, but one of the Queen's most striking headwear moments was when she wore a hairnet decorated with bows to the Chelsea Flower Show in 1996.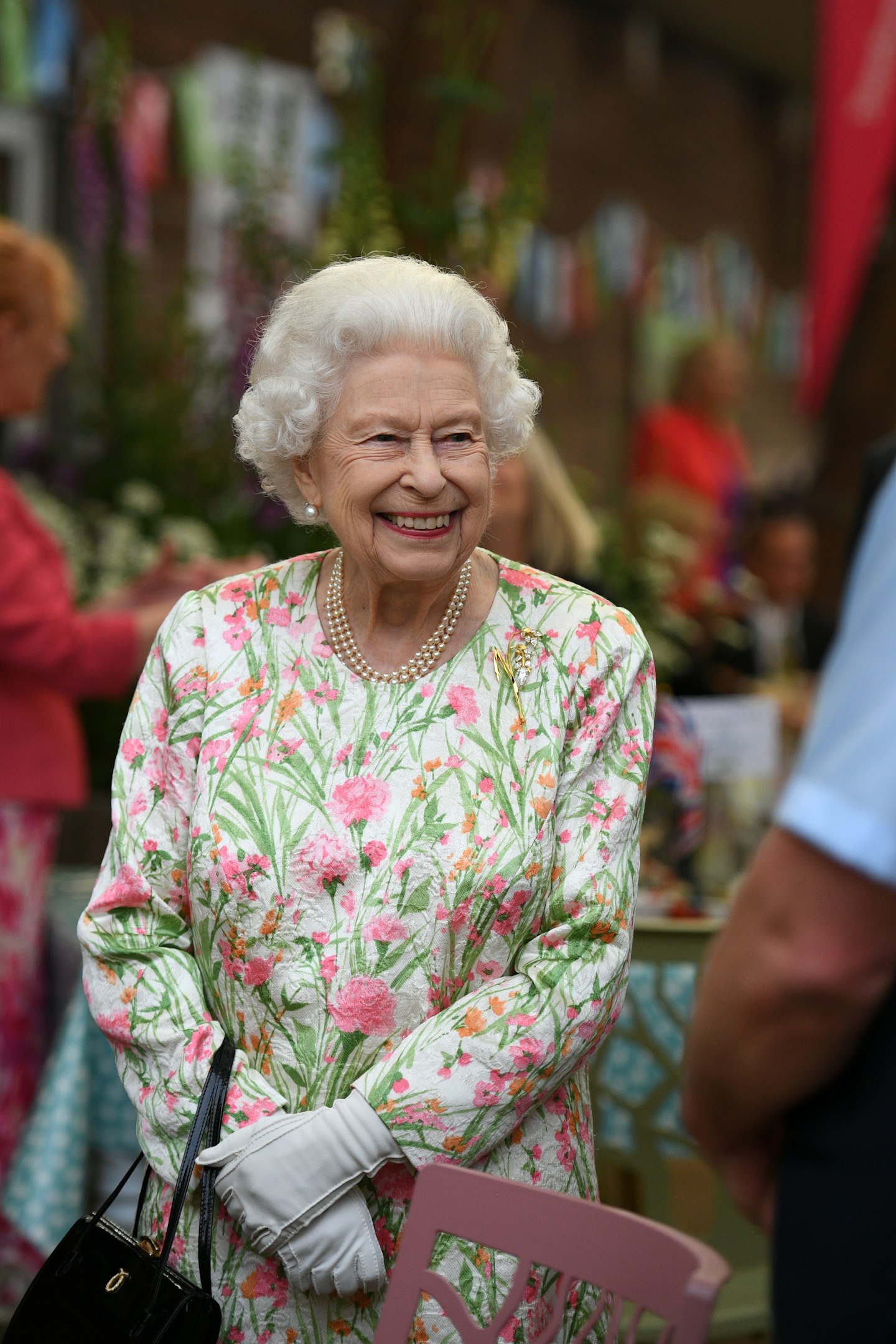 35 of 37
CREDIT: Getty
Florals, 2021
Timeless, upbeat and feminine, the Queen wore florals in every decade of her life, but some of her most charming botanical looks came in her '90s, like this silk shift worn, very appropriately, at the Eden Project in 2021.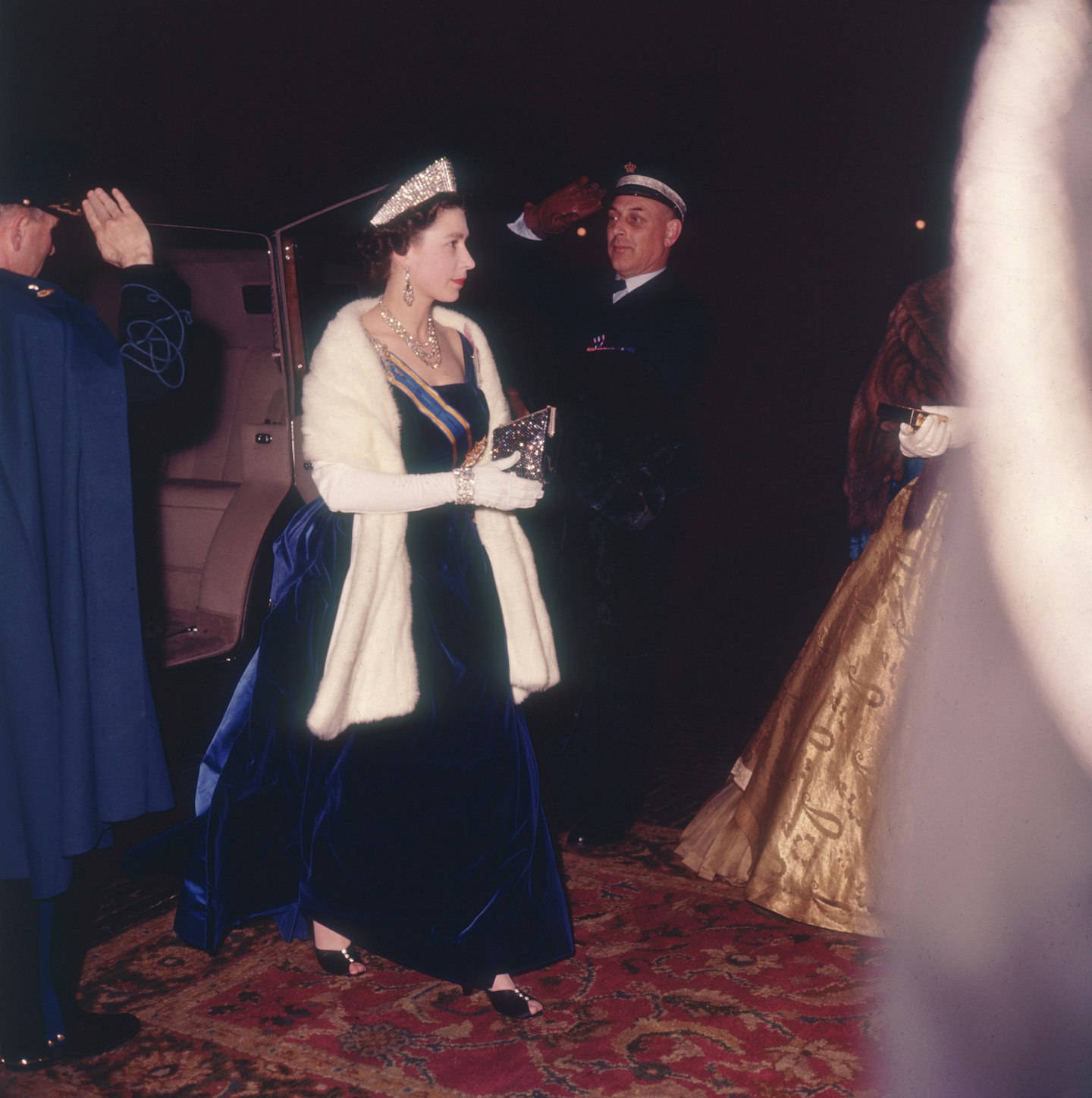 36 of 37
CREDIT: Getty
Blue Velvet, 1958
Elizabeth II's 1950s eveningwear was unfailingly spectacular. A case in point is this sumptuous royal blue velvet gown worn in the Netherlands in 1958 which would still wow on the Oscars red carpet today.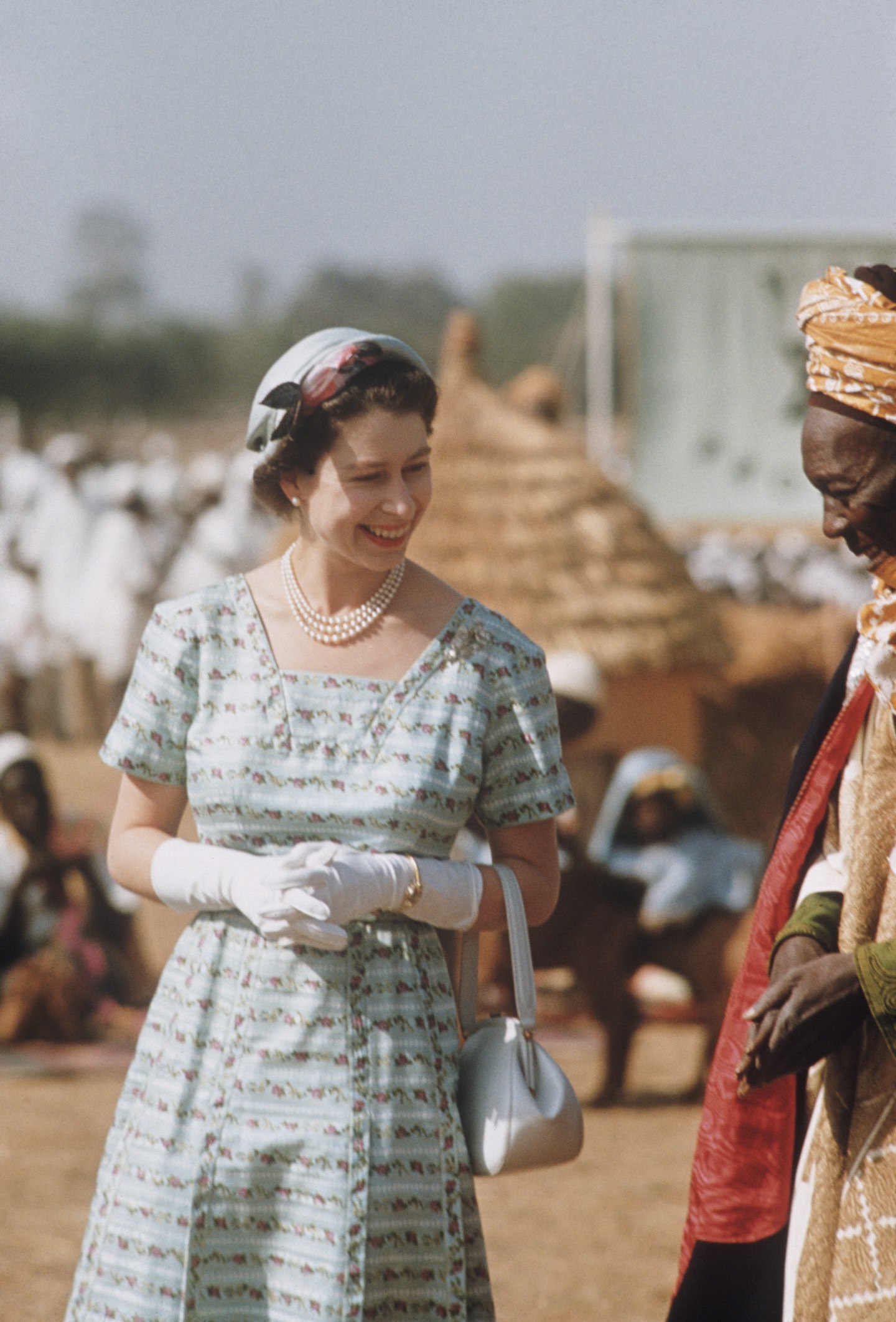 37 of 37
CREDIT: Getty
Nigeria, 1956
It was rare to be able to copy the Queen, but when she developed a penchant for cotton dresses by British label Horrockses in the 1950s, women across Britain, Australia and New Zealand were able to get the look themselves.