Last month, on my way to horse riding, I received a message. It was far too early in the morning – I was tired, and groggy – but, still, I glanced at my phone and opened it. "You're to [sic] thin", the message said. I snarled at the screen. For weeks, my inbox had been continuously attacked by similar body-shaming comments, with people saying they could see my ribs and that I needed to start eating. That morning, I'd finally had enough of it. To prove a point, I posted my healthy BMI (19.7 – I'm 64kg and 5'11") to my Instagram stories.
I try to be as honest as I can on Instagram, and yet still, my DMs can be a toxic place. I get skinny-shamed and exercised-shamed frequently – and before I had a baby I was fat-shamed, too. And I know that I shouldn't let the comments get to me but, sometimes, when there are loads of them, I feel obliged to respond. My husband, Spencer,wonders why I give a shit about what people think of me.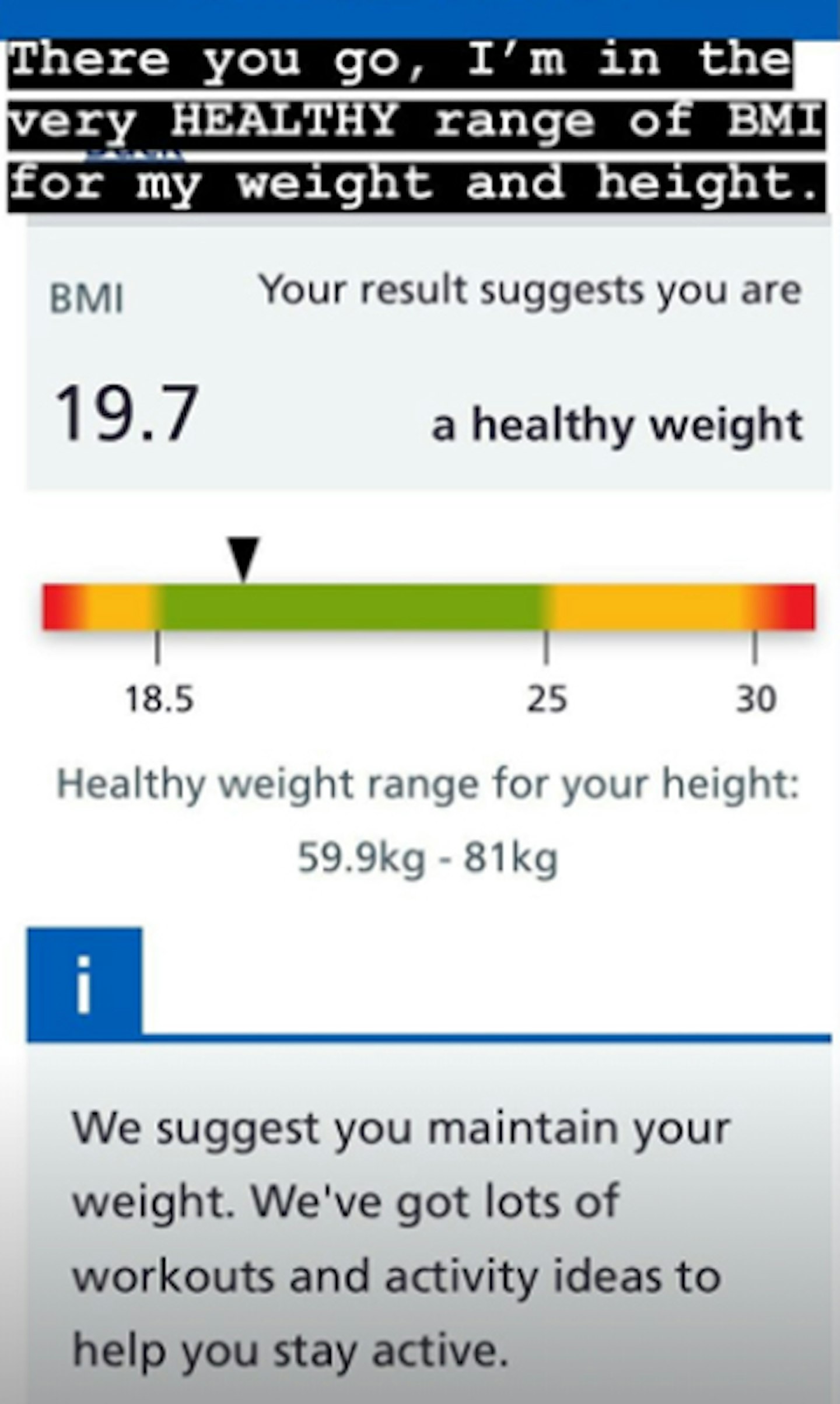 The fat-shaming was mostly in tabloid comment sections – they would say that I was too big and needed to go on a diet. It's quite sad, because now I look back and think 'Wow, I was in really good shape', but I remember, at the time, thinking I really needed to lose weight – and I now know the only reason that I thought that was because I was subject to so much cruel trolling.
When I became pregnant, people's perceptions of me started to change – and that was mostly because I'd decided to continue training. Instead, I had so many people saying I needed to watch myself, that I was really going to be putting pressure on the baby, that I was so irresponsible – even though obviously I was exercising less than before. These comments hurt me the most; it was mind-boggling that people thought I would willingly put my unborn child at risk.
Strangely enough, the comments are usually from women. I've tried to figure out why people say such horrible things to mothers online. I genuinely don't think it comes from a place of concern, I think maybe people just like to have an opinion on everything.
I also think that as soon as you become pregnant, you're thought of as not capable; that you're not able to do the things you could before. At the start of my pregnancy I felt a little upset about the changes happening to my body. It's weird, because your body is changing – but you're not at the stage where you have a bump, so you just feel bigger, bloated and uncomfortable. I didn't like what I was seeing in the mirror. I was bloated, and my face was constantly green. But then when the bump popped out after 16 weeks, I started feeling better and it gave me a new lease of life. Once I was back training and being a bit more active, I felt really good.
But that didn't stop a fitness brand dropping me, four and a half months into mypregnancy. They said it wasn't to do with my pregnancy but I really think it was, and it stung. I'm lucky enough now, since having my son, Theodore, that I get to work on campaigns that are really supportive towards mums, like the Fairy Non-Bio campaign To My Baby I'm working on to raise money for Great Ormond Street Hospital.
And Theodore is amazing. Having him has made me more resilient to other people's opinions on what I look like. After pregnancy, you kind of look at your body differently; it's not just there to look great in a bikini or anything like that, like my body was strong enough to bring a baby into the world. When I started exercising again after Theodore was born, though, I was shamed for that, too. Even now I've cut back training from six days a week to four, I still get messages from people saying, 'What's wrong with you? You should be sitting down and doing nothing. You should be enjoying this time in your life – why don't you just eat whatever you want.'
Of course, exercise is the last thing on a lot of women's minds post-pregnancy – and that's totally okay – but that lifestyle just simply isn't for me. I love spin classes, boxing, pilates, resistance training – and of course, walking my dog Winston with Theodore. Annoyingly, people also tell me they feel sorry that I felt the 'pressure' to lose the baby weight, but that couldn't be further from the truth. And infuriatingly, I also know that if I hadn't lost the weight I'd get messages like, 'Oh look, she still hasn't dropped the weight since she's had her baby.'
Now I'm happy with my body, it's in good shape, I'm able to run 10ks now when I wasn't before. Whether I'm fat, skinny, pink or green; I'm at a point where I just don't care. My advice to other women grappling with their bodies post-pregnancy is to embrace it – whatever it looks like – because you're creating a life, and that's what's most important. And also, don't let anybody give you too much advice because that's so annoying.Parent-shaming is such a big thing; just remember that you are doing the best for your child. Most importantly, just don't take any notice of the nastiness online.
Vogue Williams is working with Fairy Non-Bio on a campaign To My Baby****. For every share of the video, letter or wishes shared using #ToMyBaby, Fairy Non- Bio will donate £1 to Great Ormond Street Hospital Children's Charity.