So, here's some news: apparently Snapchat is not just for teenagers and people are still actually using it. Evidently, adults need to get with the programme because Snapchat is still around even after the introduction of TikTok. Who would have thought...
And we've been told that you can use it for things other than sending your face with a doodle on it to your friends when you're bored at work. Supposedly, it comes in quite handy in the old erotic department too...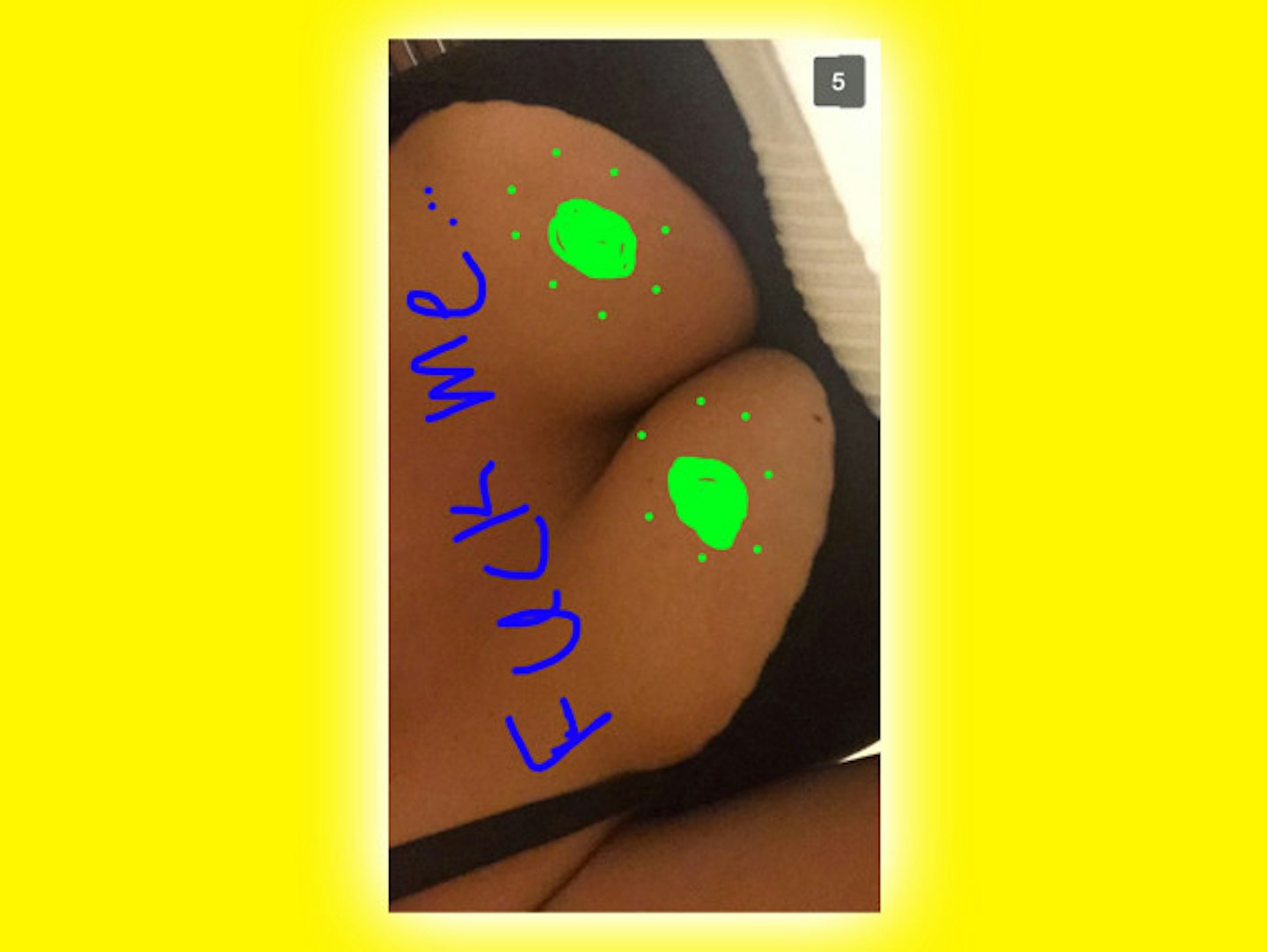 (1) Snapchat Sexting: How to do it
Well, we're not going to tell you what to sext; each to their own. But here's a complete dummies guide to the Snapchat sexting methodology.
Select your sextee (is that a word?) of choice from your friends list.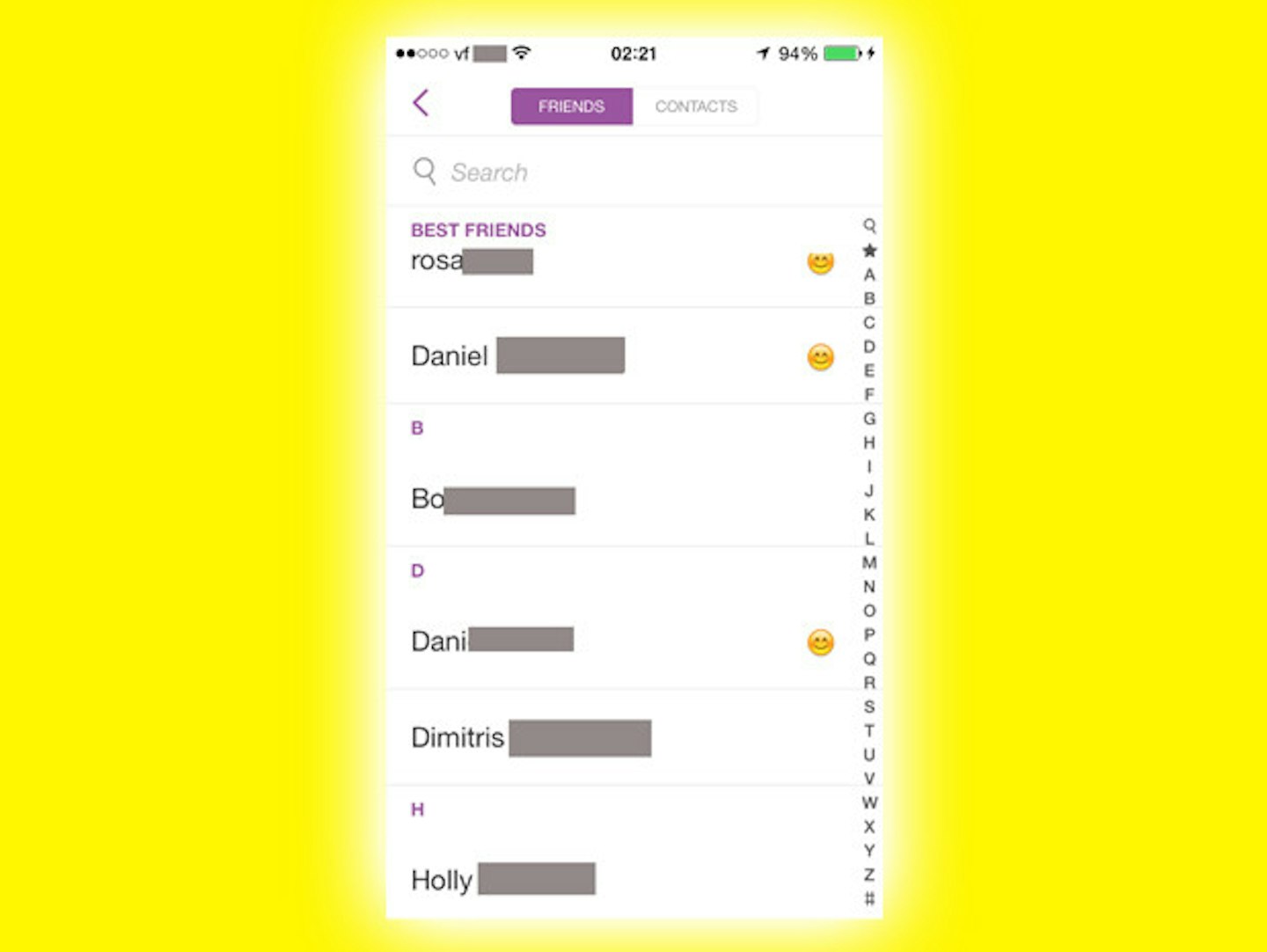 Send them a message (perhaps start with a little introduction instead of going straight in for the dick pic).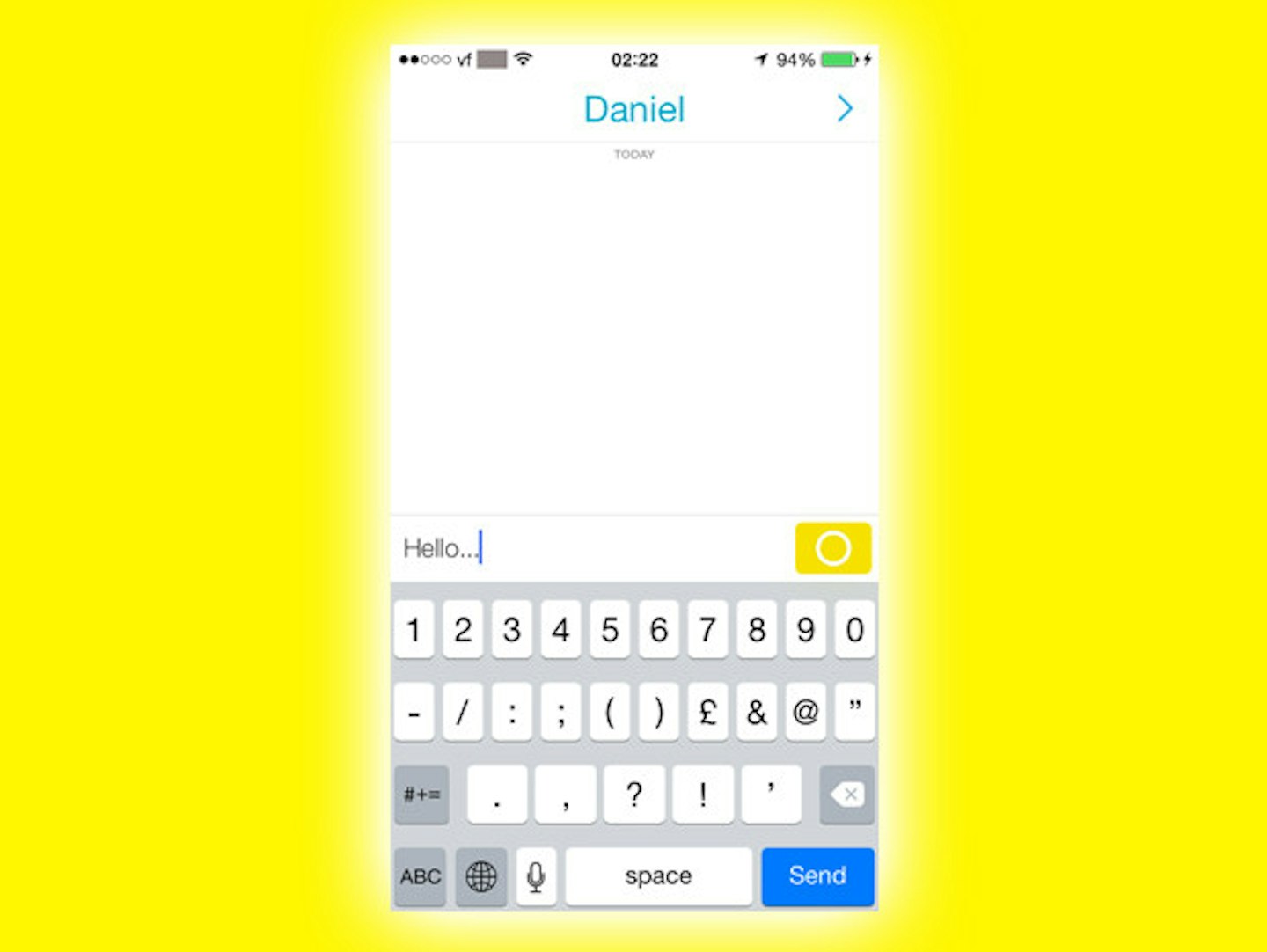 Once it seems to have been mutually consented that this is happening, you can let the sexting commence. This is important, don't send anyone a sext unless they have expressly said that they would like to receive one. That is not cool.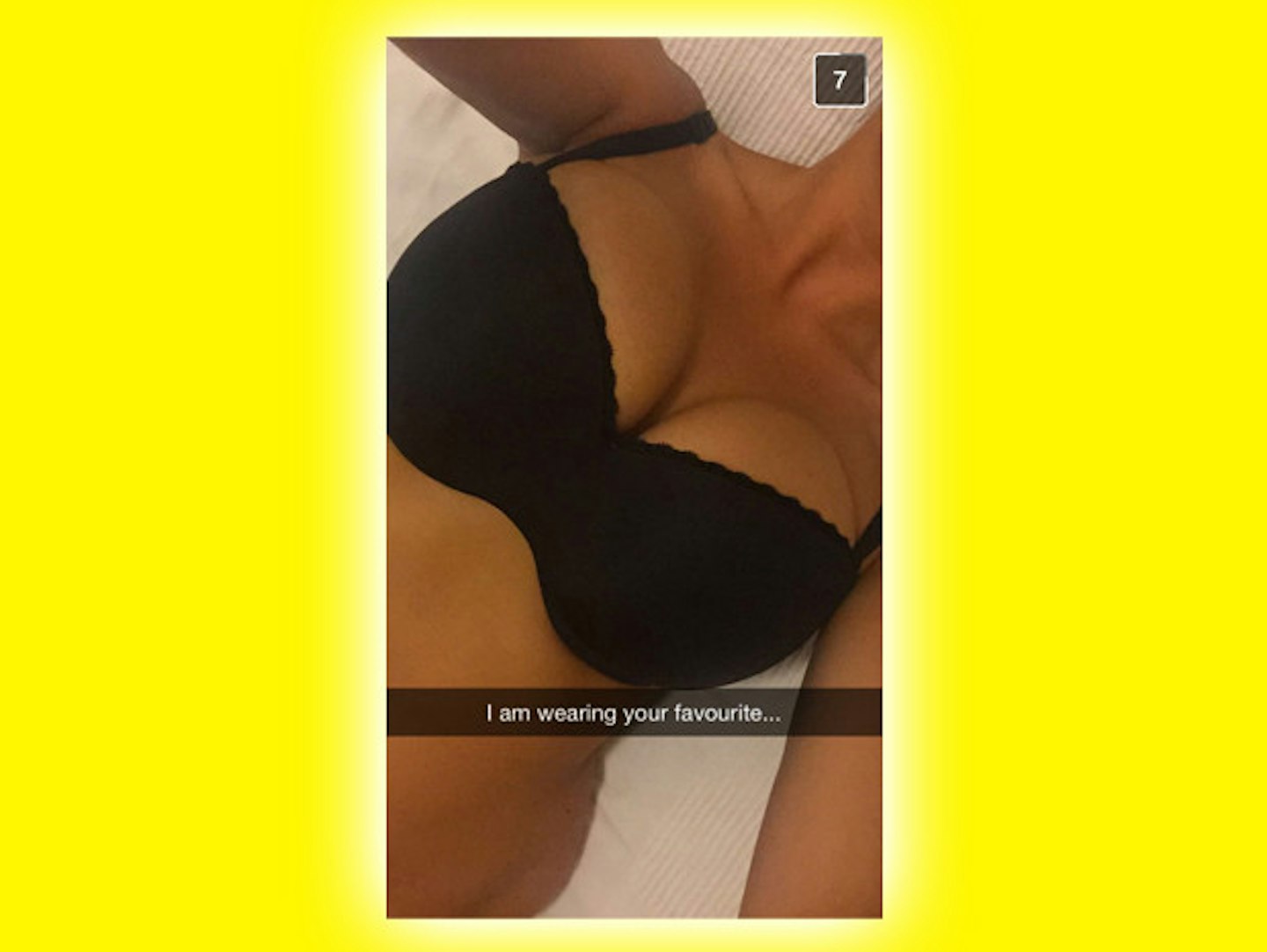 There are five Snapchat methods to send your saucy content that you can choose from (or do all of them): -
(i) Snapchat Sexting: chat
Just type in what you want to say and press send.
The conversation is deleted once you both leave the chat. You can however choose to save the chat, and if either user does this, the chat is saved for both parties.
(ii) Snapchat Sexting: Pictures
Take a photo of yourself by pressing the round button at the bottom of the screen. You can turn the camera around by clicking the top right icon.
After this you can amend your pic with the option to add emojis, draw on your picture or add a filter. Here is a video tutorial on how to edit your pictures on Snapchat.
(iii) Snapchat Sexting: Saved pictures from camera roll
This is a newer option from Snapchat. You can now send pre-saved pictures from your camera roll to Snapchat (accessed by pressing the square at the bottom left of the screen), and amend these as above.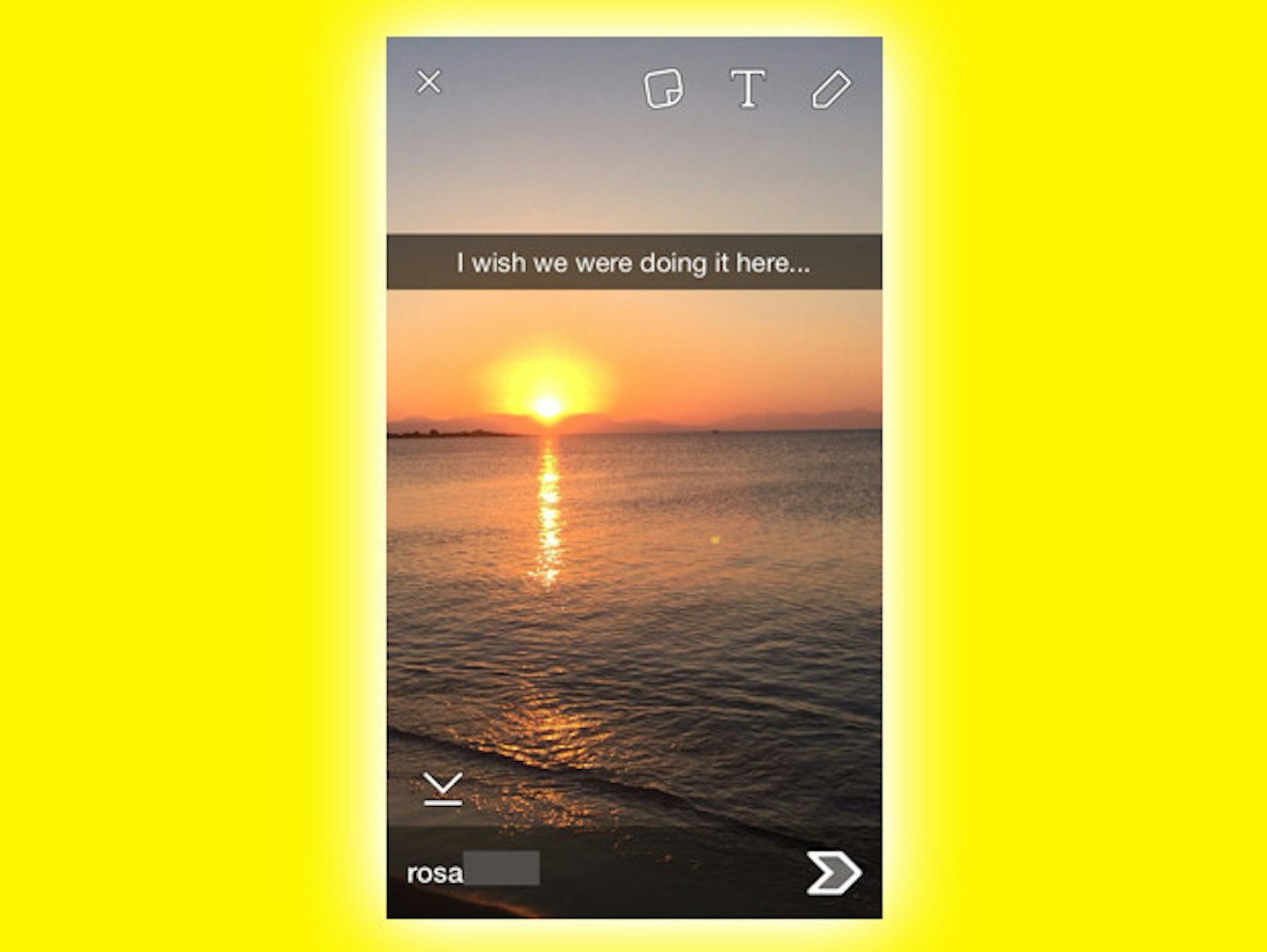 This is where all those nude pictures you've got saved in your secret photo vault could come in handy.
(iv) Snapchat Sexting: Videos
If you press the same button you did to take the photograph and keep it pressed down, you can take a video of up to 10 seconds. The video can also be edited as with pictures, with emojis, text and doodles.
(v) Snapchat Sexting: Live chat
If your partner is up for it, Snapchat now provides a new service whereby when the yellow 'send' button turns blue, indicating that your partner is also currently in Snapchat, and if both parties hold down the blue button at the same time, a Snapchat live chat will ensue, kind of like Facetime.
In case your thumb starts to hurt (or you need both hands free) you can drag the icon of yourself to the bottom middle of the screen to the lock sign and the live chat will continue.
Tip: Sending nudes on Snapchat without showing everything
What if you want to send nudes but don't really feel comfortable and prefer to cover your private parts? Paste emojis over anything you don't want the rest of the world to see (although we don't promise that your dignity will remain in tact in this way - it kind of depends on the emojis you go for).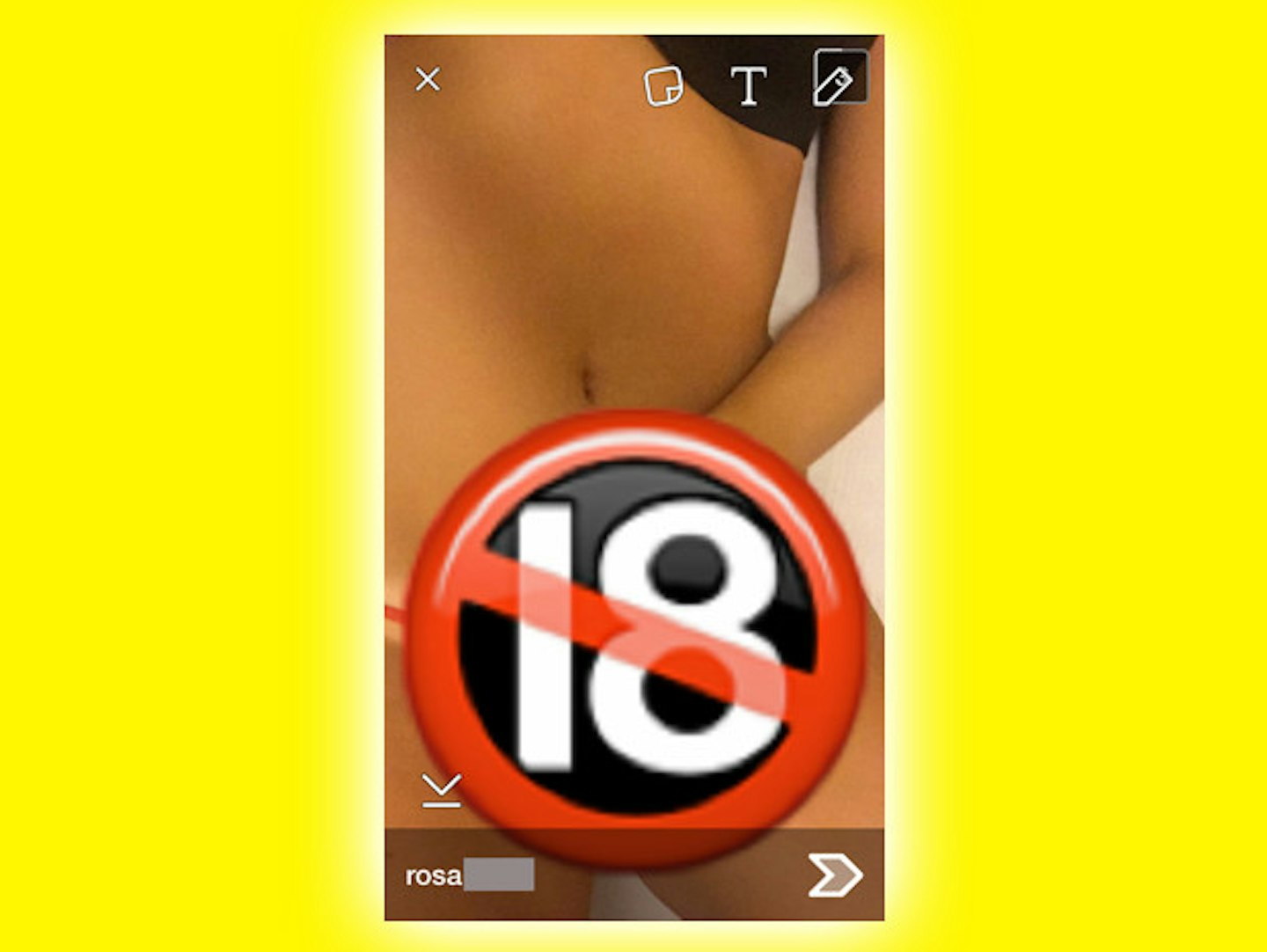 It may seem like a lot to take in for someone who hasn't used it before but give it a couple of hours and a couple of friends to talk to and you'll be a Snapchat whizz. This is all well and good, but what good is Snapchat if you don't have any friends? Here's how to build up your Snapchat friends list.
2. Snapchat Sexting: 4 ways to find people to Sext with on Snapchat
If you're having trouble finding people to sext with, here are a few pointers: -
(i) Snapchat Friends: Address book
Snapchat gives you the option of adding friends/contacts from the contacts list on your phone to Snapchat. Just click on the + sign next to their name and if they add you back, voilà, you are Snapchat friends.
Anyone who has your phone number can send you a message on Snapchat but if you only want your Snapchat friends (the people you have accepted) to be able to do so, change your 'Who Can Send Me Snaps' settings to 'My Friends.'
(ii) Snapchat Friends: Request usernames
Apart from finding people from your contacts list, in order to make connections on Snapchat, you have to know the person's username. So if there is anyone in particular you would like to be Snapchat friends with, go ahead and ask them for their Snapchat username.
(iii) Snapchat Friends: Share your username
If you really want Snapchat buddies, you can share your Snapchat name on your Facebook, Twitter, Instagram and even Tinder and hope that people will add you. However, this may warrant some unwanted attention so thank God 'blocking' is an option.
Tip: How to block someone on Snapchat
To block a bug-a-boo on Snapchat, select the Snapchat Menu icon, go to 'My Friends,' find the person you want to block and swipe right across their name. Click on the first icon which is 'settings', and select 'Block' (for Android users, long-hold their name, press 'Edit' then 'Block.')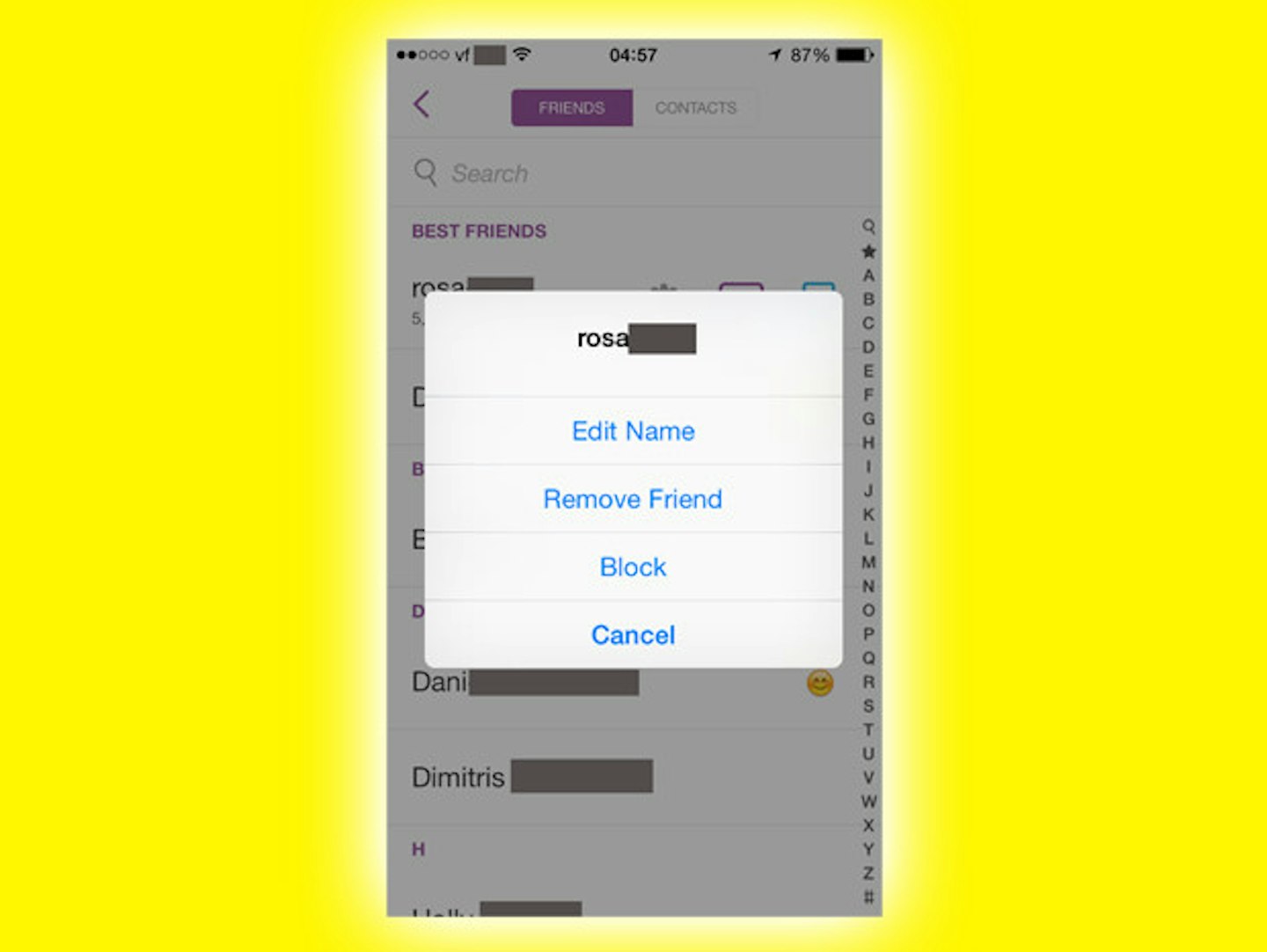 (iv) Snapchat Friends: Find sexy people to follow
If you are interested in simply sexting with strangers on Snapchat (yes, here at Grazia we make sure to fill the weird and wonderful needs of our wide array of readers), we have found this list of the best dirty Snapchat users and also this forum with sexy Snapchat people for you to add. Alternatively, if all this is too tame for you, there is another app called Snapsex which is for this sole purpose and they provide you with the people you are looking for.
3. Snapchat Sexting: 3 Reasons Snapchat Sexting is the best way to sext
Snapchat still has huge popularity as the best way to sext and here's why: -
(i) Snapchat Sexting: The photos you send can't be saved (per se)
Unlike sending pictures or videos on Viber or Whatsapp, which automatically get saved to your camera roll, or Facebook which saves conversations and gives you the option to save any pictures or videos, in Snapchat, your photos are apparently lost forever after the set time (you can choose anywhere from 1-10 seconds). Unfortunately, Snapchat's original genius plan for privacy was kind of thrown out the window when screenshotting became a thing. If however, someone screenshots what you've sent them on Snapchat, Snapchat lets you know that they have done so.
You can then you can act accordingly (march over to their house and break their phone… it really does depend on how seriously you take your privacy). Other than that (and unless the other person has set up a camera to record his phone (in which case, a restraining order is in order) and if everyone adheres to the rules, it should be the safest form of sexting.
(ii) Snapchat Sexting: Photos that don't last keep the passion alive
We'll elaborate. When sexting photos of yourself to someone that they can keep, they can always go back and look at these photos whenever they please. In Snapchat, photos are in real time and are then 'lost,' making the experience hotter - essentially because you're always leaving your sexting partner wanting more.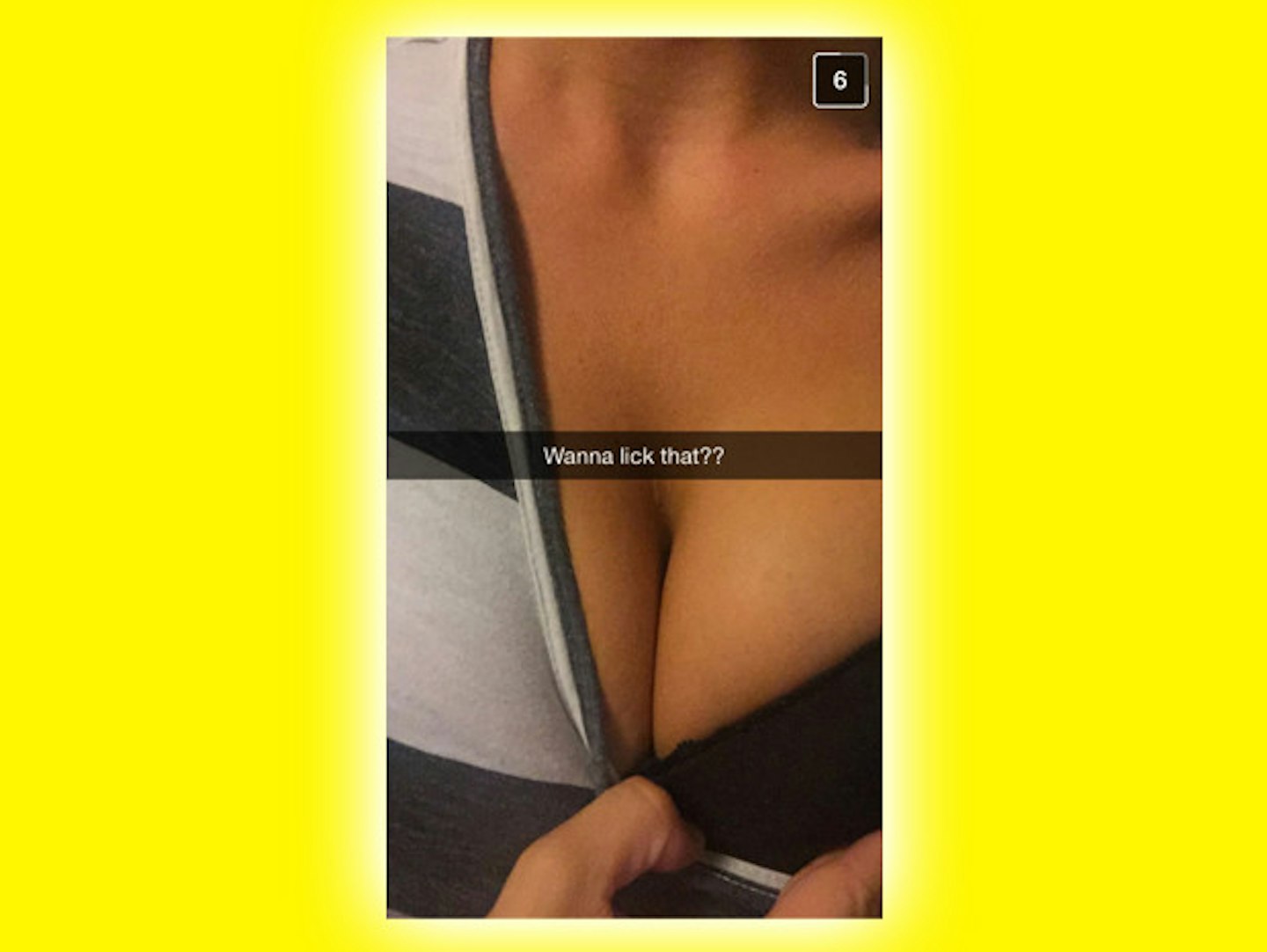 (iii) Snapchat Sexting: You can do it anywhere
With the new feature which allows you to send pre-saved pictures which will automatically be 'lost' after your buddy has seen them, you can sext with someone while, for instance, waiting in the dentist's waiting room. Just, you know, for example.
(4) Snapchat Sexting: Concerns
There are a few 'buts' to take into consideration…
(i) Snapchat Sexting: Photos can be 'undeleted.' Yep.
24-year-old Richard Hickman, a forensics examiner from Utah, made a discovery that proves that photos are not in fact 'lost' forever. Forbes reports that Richard found out how to retrieve Snapchat pictures from Android phones by downloading data from it using forensics software and removing a ".NoMedia" file extension that was forbidding the pictures from being viewed on the phone. This is not a load of rubbish, unfortunately. Richard has published his findings online and he even has a video showing how to do it.
--- 'I was surprised no one else had done it because of how easy [retrieving deleted Snapchat photos] was. It just took a couple of days to discover it.' – Richard Hickman, Decipher Forensics
Snapchat's response?
**--- 'If you've ever tried to recover lost data after accidentally deleting a drive or maybe watched an episode of CSI, you might know that with the right forensic tools, it's sometimes possible to retrieve data after it has been deleted.' – ** The Snapchat peeps
Jeez, Snapchat, we were kinda hoping you'd declare it all lies, but alas. It would appear that our nudes are not as safe as we thought.
(ii) Snapchat Sexting: You don't know who you're really talking to
As with any form of 'talking-to-strangers-over-the-internet', you never know who you are really talking to. Your new Snapchat friend may be underage, or a psycho or something. You could get in trouble with the police… or their parents. Be careful out there.
(iii) Snapchat Sexting: Accidentally posting nudes on 'Stories' or sending to the wrong person
With 'Snapchat Story,' if you accidentally post something you don't want, you can take it down (a new perk from Snapchat) and pray that no one had a chance to view it already. What if, however, you send an inappropriate message, picture or video to the wrong person? Then you're pretty much stuffed there, matey. Unfortunately, you can't retrieve a message once it's been sent out. Take this poor girl here for instance who accidentally sent a nude of herself to her dad. Gah!
As always, we are glad to be of service to your and your sex life.
This article originally appeared on The Debrief.